HERE NOW ARE ITEMS THAT WE HAVE SOLD OR NO LONGER IN OUR INVENTORY
CONSIGNMENT
Here is a North American Arms Sidewinder in .22 magnum! North American Arms has been making high-quality mini revolvers for a long time. They have always been reliable little weapons, carried by thousands of people either as a backup to their primary weapon, or as the only firearm that is small enough to conceal easily, every day. This is a new model called the Sidewinder. The sidewinder has the cylinder that pivots out to the side like the bigger revolvers. Up until now you had to pull the front pin and the entire cylinder came out entirely to load so this is quite an improvement. This is a .22 mag and is a great concealed revolver for self protection. It's a single action model meaning you have to pull back the hammer before firing. It's all stainless steel with nice wooden grips and made in the USA! Comes in the case with paperwork. Brand spanking new and never fired. For this piece $350.00 jmn 2 Modern Guns 53
CONSIGNMENT
Here we have a great condition Ruger Bearcat!!
Sold!!!
The Ruger Bearcat is a single-action, .22 caliber revolver manufactured by Sturm, Ruger & Co., introduced in 1958. It is based on the classic Remington revolvers of the mid-1800s. Because of its compact size and frame, it is advertised as being ideal for hikers or campers in need of a .22 LR revolver. This particular little .22 revolver is almost in like new condition! There are the smallest lines on the cylinder from turning. This is the steel frame model with the steel triggerguard. This is a totally unmessed with example and sure to please! According to the Ruger website this particular revolver was made in 1965 but it looks like it was made yesterday! Excellent, excellent quality!!! The only thing I see that keeps it from being mint besides the very light turning lines on the cylinder is a couple of the smallest marks on the triggerguard where the color is lacking, other than that this gun would be considered mint- as is very good +++. For this outstanding piece-- $645.00 item jmn 5 Modern Guns 50
Here's another H & R type pistol that is actually the Iver Johnson make that follows the designation of the HUNTER model but the top of the barrel is marked TARGET and I believe it's made about the same time as the HUNTER model. This one is marked on the top strap I.J. TARGET Model , Model 1900 Fitchburg, Mass U.S.A. It looks the same in every way except the walnut grips are just a little different. This one is also a 7 shot .22 rimfire. This one works fine in the double action mode but does not hold back in the single action mode. There is some original color here and there on this one , thinning but perhaps 20% or more. The markings on top of the cylinder strap are TARGET MODEL- MODEL 1900 FITCHBURG, MASS. A nice revolver and with a marking that I do not see often. $325.00 Modern Guns 38
Modern Guns 131
CONSIGNMENT
Here we have a beautiful little Winchester Model 94 Saddle Ring Carbine in .30-30 or what was known then as .30 WCF. This firearm has a lot of original bluing on the barrel and full extended magazine tube. The receiver had thinned to silver and has been polished some since then. The markings are sharp and clear and it's a beautiful little piece. The rifling is very nice still as well. The action works flawlessly. The wood is very nice as well with just the usual dings from used. Heck, this Winchester was made in 1925 so it should have a few dings. Nothing serious however. Take a look at the pics. They tell you more than I can. Nice! $1,150.00
CONSIGNMENT
Modern Guns 143
SOLD!!!
Colt Single Action Army in .45 caliber! Made in 1899!!
The Colt Single Action Army which is also known as the Single Action Army, SAA, Model P, Peacemaker, M1873, and Colt .45 is a single-action revolver with a revolving cylinder holding six metallic cartridges. It was designed for the U.S. government service revolver trials of 1872 by Colt's Patent Firearms Manufacturing Company – today's Colt's Manufacturing Company – and was adopted as the standard military service revolver until 1892.
This revolver was made in 1899 according to the serial number of 1871XX. This revolver has seen good honest use and is in still good condition. All the stampings are nice and sharp and easily read. There is some very minor pitting here and there, as normal, and there is some frosting in the bore as well as some corrosion in the bore but not bad. This is still a shooter and fully functions as it should. The action is actually very tight. The only thing that needs fixed on this piece is the ejector tab on the spring loaded ejector rod. The revolver is a nice dark patina and you can see that the screw heads have not been messed with. Those screws still show color on the heads and there is original color on the trigger guard and on the butt. There is a M scratched on the butt and the owner believes it is the last name ititial of his father who owned this weapon. The last name will be released to the purchaser. The loading gate has 198 on it so I don't know if it's a replacement or not but the patina matches the rest of the gun.This is still a very nice revolver! $3495.00 Has to be transfered by a FFL holder or can go to a C & R licensee. Take a look at the pics!!
Consignment
Modern Guns 142
Here's a Winchester Model 92 (1892) in 25-20 W.C.F. that is in very good condition! This one has the serial number dating it to 1924 of 9359XX. The rifle is in overall very nice condition for a 91 year old rifle! This is a solid frame sporting rifle with a 24 inch round barrel and a full length magazine. This rifle has the plain straight grip walnut stock with capped forearm. This forestock has chips missing on both sides of the cap that I've seen on several of these models so that must be a weakness with them. The action works great being nice and tight with a nice shiny sharp bore in the barrel. The walnut stock is in very nice condition with the usual dings with the exception of the aforementioned forestock, otherwise no cracks or breaks. You can see that damage in the pics. This rifle was used but definitely not abused. All of the markings are sharp and clear. The receiver is a dark plum brown patina while the barrel and mag tube retain most of the original color. There are a few dings in the metal as well but not bad. There is also a little corrosion on the end of the barrel that you can see in the pics. I'm being over critical because this is a beautiful Winchester! This piece is nice!!! $1200.00
Consignment
Modern Guns 141
Winchester Model 92 in 25-20 W.C.F.!!
consignment
Consignment
Modern Guns 140
SOLD!!!
Winchester Modle 1892 Saddle Ring Carbine .25-20 made in 1909!!!
Here's a very nice Model 1892 SRC in .25-20! The wood is in good condition but it appears to have been cleaned at some point. I don't believe it has been sanded as it still fits tightly against the metal parts. The color on the receiver is a kind of medium dark silver patina while the barrel and ammo tube retain a lot of color yet. All of the markings are sharp and deep on this carbine. The action works well and is tight. There is good shiny, sharp rifling in the barrel . The model 1892 was built between 1892 and 1932 with slightly more than 1 million sold. The Model 1892 Carbine continued to be sold until 1941. Serial number on this one is 5114XX. This carbine has a 20 inch round barrel, full magazine with plain walnut straight grip stock with one barrel band forearm. Take a look at the pics! $1750.00
Winchester Model 53 in 25-20 caliber!
CONSIGNMENT
Modern Guns 139
This 1926 made Winchester 53 is in 25-20 caliber as indicated by the 4 digit serial number and is in very nice condition. It has a 22 inch round barrel. In 1924, Winchester introduced the Model 53 lever-action rifle as a more modern version of the 1892 Winchester. The Model 53 was available in 44-40, 32-20, and 25-20 calibers. This rifle could be ordered only with a round 22 inch barrel, the forearm smooth, half-magazine, a plain or pistol grip walnut straight-grip stock, and shotgun butt. The frame and barrel were blued and had either a solid or takedown feature. This rifle has the solid feature.
The Model 53 was manufactured through 1932 with approximately 25,000 guns produced during the 8-year production period. The Model 53 was discontinued along with several other Winchester models because it could just not compete in sales with the 1894 and the impact of the Great Depression on Winchester Arms.
This lever action firearm is in very nice condition with the usual dings from use. Heck, it's 89 years old so it should have some dings on it! The receiver has a nice dark brown patinas as does the lever. The barrel is mostly original color with wear on the edges of the end of the barrel. All of the markings are sharp and clear. The action works flawlessly and the action is tight. The rifling down the barrel is very sharp and shiny. The walnut stocks are in very nice condition as well and are dark from age. The edges of the stock are sharp and fit well indicating that this stock was never sanded or refinished. This is an excellent Winchester Rifle!!! $1 750.00
Consignment
Modern Guns 138
U.S. Military Tactical Grouping including 9MM Beretta. The Beretta M9, officially the Pistol, Semiautomatic, 9mm, M9, is a 9×19mm Parabellum pistol adopted by the United States Armed Forces in 1985. It is essentially a military specification Beretta 92FS.
This is a very nice example of the Beretta pistol made in 1998 that has replaced grips, barrel and slide assembly, some internal springs, and some of the parts that had finish wear. It had a 92FS slide on it that had finish wear, so it was replaced with an M9 slide (the same part – different markings). The slide is military (see the PM marking). The military M9s will have U.S. marked on the frame. The slide is marked with the PM and military part number. The civilian M9 slide doesn't have the PM marking. Check out the following websites: http://www.inetres.com/gp/military/infantry/pistol/M9.html http://www.gunauction.com/buy/8721355 http://militaryarms.blogspot.ca/2012/05/civilian-m9-pistol.html The slide is marked U.S. 9mm M9-P. BERETTA-65490 with a PB in a circle on one side and ASSY9346442-65490 on the other side with a newer stamped PM which is inspectors initials. This PM stamp was stamped on the slide after the firearm was finished as there is no finish inside the stamp which indicates The trigger guard is stamped with a large P in a shield.
This is a very nice example of the Beretta M9 at any rate. The slide is marked U.S. 9mm M9-P. BERETTA-65490 with a PB in a circle on one side and ASSY9346442-65490 on the other side with a newer stamped PM which is the military inspectors initials. This PM stamp was stamped on the slide after the firearm was finished as there is no finish inside the stamp. The trigger guard is stamped with a large P in a shield.
This particular weapon is in excellent condition with just slight finish wear here and there as shown in the photos. The action works great and all the markings are clear and sharp. The bore is excellent as well. The grouping includes 3 - 15 round magazines , the military laynard ring, the tactical magazine pouches and the tactical leg holster. This is a nice outfit with everything for one money! Take a look at the pics! $545.00
Consignment
Modern Guns 137
SOLD!!!
Here we have an outstanding example of a Harrington & Richardson top break "22 SPECIAL" .22 WRF caliber revolver. This pistol is a 6 inch barrel, 7 shot pistol with one piece walnut grips. Here is some info found online: 22 SPECIAL LARGE FRAME TOP BREAK----------------------1925-1941 6 inch barrel only, 22 Rimfire 9 shot & 22 WRF Caliber 7 shot, blue finish only, 2 piece walnut grips (after 1932 I piece grips) First Variation, 7 shot 22 rimfire only, over sized 2 piece saw handle shaped walnut grips (serial number range above 490000*)-----1926-1928 Second Variation 9 shot 22 rimfire and 7 shot 22WRF (serial number range 497000-559100*)---------1928-1930 Third Variation new rounded 2 piece grip (saw handle shape eliminated) (serial number range unknown)-----1931-1932 Fourth Variation safety cylinder and new grip frame (RICE FRAME) (serial number range 559100-590000*)-----1933-1938 Fifth Variation automatic cylinder stop (serial number range above 590000*)-------1939-1942 . According to the serial number on this piece this is the 5th variation as it has a serial number slightly above the 590000 starting number. This revolver has a great original finish being approximately 94 to 97% remaining. There are a few minor scratches to the cylinder from turning and a small amount of loss on the barrel from being in a holster I believe. The action works fine and the rifling in the barrel is very, very nice and sharp. There are a couple of minor nicks in the grip bottom but no cracks or breaks otherwise. All the markings are sharp and deep. The barrel is marked H & R "22 SPECIAL". There is no wobble to the hinge and everything locks up tight! This is one nice piece!!! $495.00
Modern Guns 135
SOLD!!!
Here we have a Winchester Model 190 is very nice condition. Early on it came in .22 S, L, or LR cal., semi-auto, 15 shot LR tube mag., alloy receiver, uncheckered walnut finished hardwood stock, 24 (Rifle Model) in. barrel, approx. 2,150,000 (including the Model 290 listed also) during 1967-1980. Up until the 1970's the 190 came in short as well but later dropped and was made in Long and Long Rifle. This particular rifle is the later made one. This rifle is in very good condition only having a couple of minor scratches on the receiver. The bluing is excellent, the wood is excellent and so is the bore. This piece functions very well and obviously was not used much. For this one $165.00
Consignment
Item Modern Guns 134
SOLD!!!
Here we have a very nice Model 1907 Sweidish Husqvarna Pistol in .380 caliber with a nice original holster and 3 magazines total. This pistol is a copy of the FN Browning Model 1903 made for the Swedish army beginning in 1907. This pistol remained in service until 1940. Many were converted to .380 and imported in to the US. This pistol is one of those converted. This pistol is in very nice condition with a very nice bore as well. The original finish is present with wear to the high lines on this piece from going in and out of the holster and general use. Overall It's in very nice condition with just a little chip out of the top of one of the grip panels. All the markings are very clear and sharp. This is a nice piece! Check out the pics. Comes with the original pebble grained leather holster and 3 magazines all being in very nice condition. For the lot $595.00
CONSIGNMENT
Modern Guns 150
Here we have a real nice Winchester Model 1894 special order Sporting rifle. The serial number 123754 on this rifle puts it as being made in 1898. This .30 W.C.F. (30-30) caliber model has the 22 inch round barrel instead of the 26 inch barrel and has the walnut pistol-grip walnut stock that is not chekered. This rifle also has the half tube magazine. This particular rifle also has the straight steel shotgun butt plate. The bore is real nice on this rifle and the action works perfect. The walnut stock is in good untouched condition with a couple of small scratches/ gouches but no cracks or breaks. The barrel exhibits quite a bit of the original color but it is fading. The rear buckhorn sight is still present as well as the front LYMON blade sight. All of the markings are quite clear and legible. The receiver is turning a silvery brown color and all screw heads are in quite good shape. The loading gate exhibits most of it's original blue. The pistol grip terminates with the original hard rubber Winchester oval logo with original decorative screw. There is an 'X' stamp on the receiver forward of the trigger. All in all this is a beautiful Sporting Winchester! For this piece $2,750.00
Consignment
Modern Guns 147
10. Here we have a Model 1890 Winchester slide action rifle serial number 2305XX being made in 1904 but fitted with a later Model 1906 replacement barrel and stock. There is not much color left on it but it is complete and in good operable condition. This model has the round barrel and ringed forearm. The markings are nice and deep on this piece and very easily read. The winchester proof marks are on the 20 inch barrel and it has a goodly amount of rifling. Actually the rifling looks nice and sharp. This is a tubular feed rifle. The walnut stock has a little nick by the rear tang but otherwise just the usual dings from use. There are no cracks or breaks in this little rifle. One receiver screw head is buggered up pretty good and the others are as normal. The hard rubber buttplate is in good condition being original with the Winchester logo normal for this model. All in it this is a good example of a composite 1890-1906 Winchester slide action rifle in .22 short, long and long rifle that you can tell has been together for a long time . This little rifle functions as it should. For this example $495.00
Consignment
Modern Guns 146
SOLD!!!
12. Here we have a Marlin 39A lever action rifle. The Marlin 39A represents the oldest and longest continuously produced shoulder firearm in the world. The Golden Model 39A started life as the Marlin Model 1891, the first lever action rifle ever chambered in .22 long rifle and the magazine was loaded through a conventional side gate in the receiver. The tubular magazine was changed to front-loading with the Model 1892, due to the difficulties of the receiver feeding the small rimfire round. The 1892 gave way to the takedown Model 1897, which became the Model 39 in 1921 and Model 39-A in 1937. This particular rifle has the serial number of C122XX making this the 3rd model variation. According to the Marlin Collectors website when a serial number starts with C then this rifle was made in 1946. This particular rifle has seen use but is still solid as a rock and preforms flawlessly. There are a few dings and scratches to the urethane finish but no cracks or breaks in the Walnut stocks. Most of the bluing is present on this pice but right over the Marlin info on the barrel this rifle was drilled and tapped for a scope as you can see in the pics partially obscuring the Marlin name. The finish on the receiver and lever are very nice. The hammer has the wide WILLIAMS thumb rest on it because the scope is right above it. The scope is a very nice Carl Zeiss 4 X 32 scope from Germany. Really nice optics! The rifling is also very nice. This rifle comes with a very nice "Boyt" strap. For this piece $395.00
Modern Guns 152
SOLD!!!
Here we have a fairly scarce Smith and Wesson model 12 (.38 Militiary and Police Airweight) with 2 inch barrel. The Model 12 was introduced in 1952, starting serial number was C223999 (this one is C2326XX) and is merely a Model 10 with a lightweight alloy frame and cylinder. In 1954 the alloy cylinder was replaced with one of steel that added an additional 4 ounces of weight. This model is the same model as the USAF M-13 (Aircrewman) revolver but that one starts at the serial number range of C247000 so this one is made just prior to that model and before 1954. This revolver is in generally good condition overall and appears to have not been used much. The grips have been replace with pearl like plastic? grips but they look nice. The action works well in both double and single action and the revolver seems to be in time. The barrel is the 2 inch short barrel as it should be and the rifling is good with spots. This is a 6 shot revolver. All of the markings are very legible . You can see a bit of corrosion in the finish near the obverse grip near the smith and wesson logo. You definitely don't see this model often. This is a collector's item and I don't know if I would shoot it or not since it is entirely lightweight alloy. According to STANDARD CATALOG OF SMITH & WESSON by Jim Supica & Richard Nahas there is a " slight premium for it being nickel and the Early production with alloy cylinder worth premium but should not be fired. " Actually on page 178 of that book it says "up to double value for alloy cylinder (do not shoot)". Most were returned for a steel cylinder but this one was not. For this scarce model with the original alloy cylinder $575.00
CONSIGNMENT
Modern Guns 158
SOLD!!!
Here's a very nice vintage Armalite AR-180 Howa Manufactured weapon! The AR-18 is a gas operated, selective fire assault rifle chambered for 5.56x45mm ammunition. The AR-18 was designed at ArmaLite in California by Arthur Miller, George Sullivan, and Charles Dorchester in 1963 as an improved alternative to the AR-15 design, which had just been selected by the U.S. military as the M16. While the AR-18 was never adopted as the standard service rifle of any nation, its production licence was sold to companies in Japan and England, and it is said to have influenced many later weapons such as the British SA80, the Singaporean SAR-80 and SR-88, the Austrian Steyr AUG, and the Heckler and Koch G36. It gained some notoriety through its use by the Provisional IRA, which allegedly christened it the "Widowmaker"
This is the Howa Manufactured weapon (Nagoya, Japan which also made the WW2 Japanese Arisaka rifles) which was made from 1972-73 making it the most desireable of the 3 manufacturers. This particular weapon is in very good condition and is missing nothing and needs nothing. This weapon will not be shipped to California. The rifle has the original sling and one 30 round magazine. It also is a folding stock. This is nice!!! $1,950.00
CONSIGNMENT
Here we have an old Stevens Boy's Rifle. This one is part of the 'Favorites' series. This series of Rifles are chambered for the .22, .25 and .32 rimfire. It has a 22" part octagonal barrel and was blued with a case colored frame now a very dark patina. It has a takedown-type action with an interchanable barrel feature. It has no rear sight and never had one and just a simple bead front sight. There were approximately 1,000,000 manufactured between 1893 and 1939 of the various types. I believe this is a no. 20 version that is chambered for the .22 rimfire shot cartridges and has a smoothbore barrel hence no rear sight. This old girl needs some wood work, especially with the rear buttstock. The buttstock is loose from side to side due to an old lateral crack that someone tried to fill in with plastic wood. It's restorable!!! The buttstock still has the old rubber STEVENS FAVORITE buttplate present. I had an old Remington Rolling Block .22 when I was a kid but I would have loved to also had a Stevens Favorite!!! WAS $350.00 NOW $315.00 Modern Guns 41
CONSIGNMENT
Modern Guns 156
SOLD!!!
Here we have an old model 1890 .22 Caliber Winchester "Gallery Gun". The Model 1890 was the first slide-action rifle ever produced by Winchester. This one is chambered for the .22 short only. This gun is the Second Model (blued frame variation) and the serial number is 190XXX range. It has a 24 inch octagonal barrel. The markings are still real clear. The action works well and there is just a trace of rifling in the barrel. The rear sight has been replaced as well as the front sight with modern pieces. The front slide forarm is the original but the pin has been replaced and plastic wood has been placed around the pin. The buttstock has suffered more serious trauma with a large crack running back from the tang. This appears to have happened some time ago and thre has been some attempt at repairing it. There is quite a bit of plastic wood applied to the buttstock that you can see in the pics. Still worthy of restoration and quite desireable as a collectors piece. These Model 1890's were favorites at the Fairs and Carnivals to be used as Shooting Gallery Guns. The Model 1890 was produced form 1890 to 1932 with approximately 775,000 guns being sold. $430.00
Modern Guns 155
CONSIGNMENT
SOLD!!!
Here we have an ASTRA CONSTABLE .380 double action pistol. The Astra is marked ASTRA UNCETA CIA-GUERNICA (SPAIN) MOD. CONSTABLE and is imported by INTERARMS of Alexandria, VA. The Constable A-60 is a .380 caliber double-action semi-automatic pistol with a 3.5" barrel, adjustable sights and 13-shot magazine. It is blued with plastic grips. It was introduced in 1986. This particular pistol is in excellent used condition complete with original magazine. The action works well and the bore is excellent. It has a couple of spots of rust on the slide that I have shown in the photos, otherwise excellent. This pistol retails for over $400 NIB but our price on this excellent pistol is $275.00
Modern Guns 154
SOLD!!!
CONSIGNMENT
Here we have a pretty nice BERSA Model 97 semi auto pistol in .380 caliber. The BERSA pistols were made in Ramos Mejia, Argentina and imported into the United States by INTERARMS of Alexandria, VA. This model is a blowback pocket pistol chambered for the 9mm short which is the .380 caliber. The trigger system is single action. This pistol is in overall very good used condition having nearly 98% of the original finish remaining. The pistol functions well but the hammer is stiff and needs fired to loosen it up a bit. The bore is excellent and it appears that this piece hasn't been fired much. The plastic grips are in very nice condition with no cracks or breaks. There are some dings here and there from use but not too bad. The original magazine is still with the pistol. These retail for about $325.00 and we are asking $250.00 for this one. Check out the pics!
SHOW AND TELL - NOT FOR SALE! Here's something that I just got from a friend. He found this when cleaning out an old house years ago. This is actually an invitation to the 3rd Annual 72nd Indiana Wilder's Brigade Re-Union in Lafayette, Indiana on Sept. 21, 22 & 23rd 1881 but folded out and laying flat it looks like a nice broadside! Unfolded it's just about 8 X 10 inches in size and has been printed in 3 colors. I can't tell you how rare it is to have this piece as most did not survive! There are some spots and one little corner is lacking but overall very good and colorful!! Check out the pics! Outstanding !!! Catalog 1-46
Here is an unusual item that was given to me and is in no way for sale. This is a recycled headstone for Nelson H. Lindsey Co. B, 17th Indiana Mounted Infantry- Wilder's Brigade! This headstone was dug up at a home between the sidewalk and the curb. The headstone had the wrong death date on it so it was probably discarded due to the wrong date on it. The headstone has a depression carved into the limestone with a groove carved into it leading to a hole and was used for a primitive splash block for a gutter! Nelson died on February 15th, 1864 but this headstone was marked as him having died on February 22nd. The top of the stone was sawed off and not broken off. He probably died in Nashville, TN as they had just left Charleston in January. There are some unusual things that you run into out there! This is not or will never be for sale. I just wanted to share it with you all! Catalog 1-125

I collect 10th Indiana Infantry items, especially Company A, and here's something that I don't see every day. These are two relic sword belts that were in the possession of Capt. Thomas A. Cobb of the 10th Indiana. I don't know where he collected them from but they were with other items that he had in his possession. If you have anything from the 10th Indiana to sell let me know. Thanks! Catalog 1-19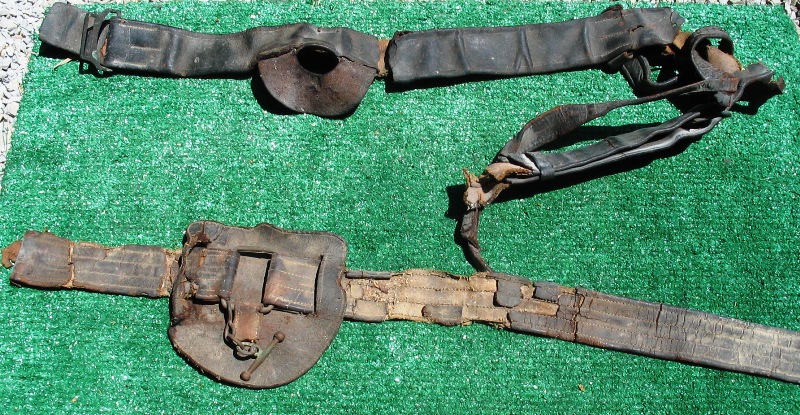 Consignment item: SOLD!!! SOLD!!! SOLD!!!
Here is a 1/6th plate ambrotype in full case with preserver that shows a waist up image in possibly NY short jacket of a young Sgt. He has epaulets on his jacket and the image looks to have been hand tinted. Under the photograph in the case is a soldiers stencil that says J.W. Young. Now there are a 1000 men with that name so it's going to be hard to totally identify him. The image comes in a full case with repaired spline but both halves of the case match. This is still a nice image! No cracks or breaks. $250.00 item photography 43
Consignment
SOLD!!! SOLD!!! SOLD!!! Here's an unmounted 1/4 plate tintype of 2 soldiers siting side by side. They are in uniforms and you can see their mounted NCO sword belt lates and belts. These are 2 grizzled cavalrymen. The contemporary note in the reverse says 'tintype of two cavalrymen from the Civil War. The one of the left is a corporal and both have the correct sword belts as the sword straps can be seen on their right side (left-remember the image is reversed) appears to be mid to late war time period. they are dressed for combat.' The image is dark and there is a bend across the middle. Still easily seen however and perhaps you can identify where the image was taken by the backdrop. $175.00 item photography 44
Consignment
SOLD!!! SOLD!!! SOLD!!! Here's a half plate image that's actually a later copy of the original and is on think type paper. I really think that this is a late 1800's or early 1900's copy of the original. I believe this to be a gelatin silver print as there is a silver sheen to the image when viewed. The gelatin silver process is the photographic process used with currently available black-and-white films and printing papers. A suspension of silver salts in gelatin is coated onto a support such as glass, flexible plastic or film, baryta paper, or resin-coated paper. These light-sensitive materials are stable under normal keeping conditions and are able to be exposed and processed even many years after their manufacture. This is in contrast to the collodion wet-plate process dominant from the 1850s–1880s, which had to be exposed and developed immediately after coating. The gelatin silver process was introduced by Richard Leach Maddox in 1871 with subsequent considerable improvements in sensitivity obtained by Charles Harper Bennet in 1878. Research over the last 125 years has led to current materials that exhibit low grain and high sensitivity to light. Still a very nice subject and not a process that was done yesterday. $35.00 No backmarks or any other markings that I can see. item photography 45
SOLD! Here is the 3rd image from that grouping and it's an album page mounted full standing tintype, being approximately 1/6th plate, of a soldier holding his musket with bayonet affixed. He's also wearing his small black hat and clearly shows his accroutrement plates. His US belt plate shows backwards which is normal for a tintype. This image is outstanding against the photographers backdrop. The reverse has the 2 cent Andrew Jackson 'Black Jack' stamp that has been cancelled. The 2 cent stamp was issued in 1863. This is definitely a field taken photograph and should be able to be traced by the backdrop. The stamp was issued to fulfill a need for a reduced rate, 2-Cent denomination for newspaper, magazine, and local deliveries; and was often used to "make up" higher rates, or split in half to make up lower ones (a 1-Cent stamp) due to shortages at the local post office. The Confederates also used this stamp but it was printed in red. They didn't like the North using a likeness of one of their Heros! This stamp has value on it's own. But back to the photograph. This photograph shows this soldier wearing a longer frock coat that was replaced in 1863 by the shorter shell jackets. I believe Wilder's Brigade received new Spencer Rifles in 1863 so this image was taken before they got their new Spencer Rifles and the shorter jackets. This is one outstanding photograph of, what I believe, to be of a 17th Indiana Soldier. For this fine piece. $375.00 or I can make a better deal on all three as a grouping. item photography 36
The CDV below is sold!!
CDV of a young gentleman in a waist up pose being a profile. Appears to be in his early 20's and has a fine mustouche and sideburns. Backmarked BRADLEY & RULOFSON PHOTOGRAPHERS SAN FRANCISCO. This CDV has the 2 cent revenue stamp with the more rare machine stamp cancel markings. Fine condition. $10.00 item photography 30

THE PHOTOGRAPH BELOW IS SOLD !!!
Here is a Civil War mourning tintype in 1/9th plate. The case is the thermoplastic case with the patent markings of the Union Cases present. The photo is of an antebellum lady with her earrings, necklace and ring gold enhanced. She is wearing a black mourning dress. Inside her case is a black jet piece of jewelry mounted on the velvet liner with lace. Perhaps, since she is alone, she has lost her husband in battle. Many thousands of widows were made during the Civil War. Outstanding quality! $95.00 item photography 12
CONSIGNMENT:
THE ARTWORK BELOW IS NO LONGER AVAILABLE !!!
Here are two outstanding prints that the owner wants to sell in one grouping. They both have been done professionally and have never been mounted on the wall. The first one is entitled "The Last Meeting' and pictures Lee and Jackson on horseback. This print is a pretty famous print. This one measures about 30 inches by 25 inches. The other pirnt measures about 30 X 19 inches and pictures again Lee and Jackson seperated by Confederate flags wi th facimile signatures beneath them. These prints are outstanding quality and would look great in a den or office! The owners wife wouldn't let him hang them in the house. WAS $230.00 for the pair plus shipping NOW $200 FOR THE PAIR PLUS SHIPPING. There is some reflections on these prints that don't exist. It's hard for me to take pics through glass. item photography 9
>
THIS TINTYPE IS SOLD! Here's an original Civil War Era Tintype Photo of Policemen in Winter Clothing. This tintype was found in Saratoga Springs, NY and measures 2 3/8" x 3 5/8". It was found loose, not in a case but we'll place it in an album mounting. Very good, clean condition. This is an original photo of the period and hard to find subject matter!! $145.00

item photography 6
THE CDV OF THE GOOD GENERAL IS SOLD !!!
CDV of General Grant in Uniform circa 1864 but printed on the bottom 'President U.S.Grant'. Ulysses S. Grant (born Hiram Ulysses Grant; April 27, 1822 - July 23, 1885) was the 18th president of the United States (1869-1877) following his success as military commander in the Civil War. So this was either a surplus CDV of the period or was reprinted after U.S. Grant became president which is probably the case. There is no backmark and there is some staining to the upper left corner of the CDV. The image is clear and it is an actual photograph and not a photoengraveur. $65.00 photography 07
>
THE CDV's BELOW ARE ON HOLD !!!
Here are 2 CDV's of southern Gentlemen. The first one shows 2 men sitting on a couple of chairs looking at one's watch. The other man smokes a pipe. This one has a backmark of J.M.Tomlinson of La Grange, Georgia. The other CDV shows just one man sitting with his right leg crossed over his left. According to the former owner his right leg is a prosthesis. She has another cdv that clearly shows him showing it off but I don't have that one. According to the lady these two men were brothers with the last name of Chisholm. La Grange , Georgia is in Troup County, GA and we have located two men with that last name in that county that were in the Civil War for the Confederacy. They are:
Albert F. Chisholm Residence Troup County GA; Enlisted on 4/26/1861 as a Private. On 4/26/1861 he mustered into "D" Co. GA 4th Infantry He was discharged for , furnished substitute on 8/12/1862 (Furnished William K. McGee.) Promotions: * 3rd Sergt 4/28/1862 Intra Regimental Company Transfers: * 8/12/1862 from company D to company C
and
Charles C. Chisholm Residence Troup County GA; Enlisted on 3/4/1862 as a Private. On 3/4/1862 he mustered into "E" Co. GA 41st Infantry He was Killed on 6/27/1864 at Kenesaw Mountain, GA He was listed as: * POW 7/4/1863 Vicksburg, MS * Paroled 7/6/1863 Vicksburg, MS
I have the lady's name and address so you can further research these two men if you would like to. Something interesting may be here! For the pair $125.00 photography 10
Here are an early pair of 40 & 8 Medals in a riker case.
The Forty and Eight is an organization of veterans of the United States armed forces. Its official name is "La Société des Quarante Hommes et Huit Chevaux," which is French, and translates as "The Society of Forty Men and Eight Horses."
The organization (also known as "La Société") can trace its roots back to 1920, when Joseph W. Breen and 15 other members of the American Legion, who were veterans of World War I, came together and founded it as an honor society for certain Legion members. The title "40&8" comes from the box cars that were used to transport troops to the front in France. Each car had the emblem 40/8 stenciled on the sides, which meant that it could carry 40 men or 8 horses. These cars were known as forty-and-eights. They were seen by the troops as a miserable way to travel, and the new organization was thus called the 40&8 in an attempt to make some light of the common misery they had all shared. In 1929 it was described as "the fun-making organization of the American Legion." In 1959 the 40&8 became independent of the American Legion, although still required membership in the American Legion. In 2008 the 40&8 dropped the membership requirement in the American Legion. Take a look at the medals and you can see the boxcars with a horse and a soldier in it with a French Soldier standing guard. These medals are the old ones from the 1920's and probably owned by a WW1 veteran. Sorry I don't have the veterans info. For the pair in the case $65.00
The lighter below is SOLD!!! Here is some WW2 trench art making a cigarette lighter out of a .50 caliber machine gun shell. The base ashtray is stamped metal being about 4 1/4 square. The entire affair stands about 7 inches tall. Nice piece and well done! $25.00
SOLD!!! Here we have a WW2 Arisaka bayonet that was made at the Mukden Arsenal "Manchuria". The blade has been sharpened somewhat but a lot of color remains which is a good thing. The hilt and grips are in good condition as is the bayonet. The serial number of 09842 is stamped on the pommel cap. Hard to find bayonet. $150.00
Item No. 104
CONSIGHMENT
SOLD!!! This is a WWII Japanese Navy association Member's Badge . The front is decorated with the rising sun and an anchor. I have been told that the words, Naval Association, is on the back of this badge in Japanese characters. I believe that the pin is enameled on the front and the colors are still strong. For this one $20.00
CONSIGNMENT
Item No. 42
SOLD!!! Here we have a WWII GERMAN EASTERN FRONT MEDAL THAT IS DATED ON THE BACK 1941-42
The Eastern Front of World War II (der Rußlandfeldzug 1941–1945 (Russian campaign) or der Ostfeldzug 1941-1945 (Eastern Campaign)) was a theatre of war between the European Axis powers, Germany, Italy, Hungary, Romania, Slovakia, Croatia and Finland (not an Axis member), and the Soviet Union which encompassed central and eastern Europe from 22 June 1941 to 9 May 1945. Nazi propaganda dubbed the conflict Battle for Survival against Bolshevism or a Crusade against Bolshevism. Operation Barbarossa was the code name for Germany's invasion of the Soviet Union during World War II that began on 22 June 1941. Hitler wanted to recognize soldiers who fought in this campaign. He authorized the use of a medal. Also known as the "frozen meat" medal, the medal for the winter campaign on Russia . This medal was instituted in May 26th, 1942. While most of them that I saw for sale has a ribbon this one has a stud and a clutchback on it. For this piece $5.00
CONSIGNMENT
Item No. 35
SOLD!!! Here we have a scabbard for the USN Mark 2 knife used during WW2. This is the U.S.N. Mk/2 scabbard and is in pretty good ocondition for it's age. If you have one of these knives and need a scabbard then here it is. For this piece $40.00
The Pinfire pistol below is Sold!!!
ONLY ONE SET LEFT !!!!
These next four Knives I just couldn't turn down. They are all Case Limited Edition Knifes in great original unmessed with condition and all are made in the Good Old USA!!
1.
SOLD! This first knife is the 'ARAPAHO' CASE XX knife in original leather sheath. Nice original condition knife that has not been sharpened or messed with in any way! $55.00 Item Weapons- 114
THE CASE xx BELOW IS SOLD !!!
2. This knife is the CASE XX 'BOOT HUNTER' knive in original box and sleeve. This one has the original paperwork in it on knife care and is dated 9/81. This set consists of the small boot knife, leather sheath and the original Garter that came in the set. It set is to commemorate the Dance Hall Girls! This is quality! $110.00
Item Weapons- 115
3.
SOLD! This next knife is just outstanding and comes in it's original box. This is a CASE XX DESERT PRINCE KNIFE/SHEATH (398) in new condition. Very Nice! $85.00 Item Weapons- 116
CONSIGNMENT:
THE horn below is SOLD !!!
Here's an old medium size powder horn being over 12 inches long along the outside of the horn. This one has been shellacked or something. It does have initials of NNK scratched into it on it's side. The plug is the domed type probably from the late 1700's to the early 1800's or so. This is an old horn! Nice with no cracks or breaks. WAS $140.00 NOW $125.00 !!! Item Weapons- 100
THE SHOTGUN BELOW IS SOLD !!!
A GOOD PIEPER DOUBLE-BARRELED SHOTGUN MADE BEFORE 1898!
Here is a good Pieper Belgium made Double-barrel shotgun in 12 guage that was made before 1898. The barrel hinge is very tight with only a small notice of a wobble to it. The barrels are laminated steel barrels so I wouldn't fire it unless you have it checked out by a competent gunsmith. The entire shotgun is 43 inches long with a 26 5/8 inch barrel. This one could have easily been a stagecoach gun at this length. The walnut stock is very good with a ding here and there but no breaks and the wrist is checkered. The metal parts are dark patina. The locks work well and are marked PIEPER ARMS Co BELGIUM. One hammer screw has been replaced with a smaller screw so most likely the original screw head was broken off so the broken screw in the tumbler was drilled out for a smaller screw. Hammers and lockplates match. Still works however and a competent gunsmith can back out the old screw and put in a proper one if you desire. Take a look at the pics. $250.00 Item weapons 013
THE SAW IS SOLD !!!
Here we have an amputation saw made by Sklar and it's also marked 64. Sklar came into business around 1891 and are still in business today. I believe this old amputation saw to have been made from the 1890's until 1920 or so. This one is quite typical of amputation saws having a plated brass frame and polished blade. This blade has old rusting on the polished blade and some would try to tell you that blood did this to the blade but how would one know that for sure. Surely they cleaned up these saws before putting them away. I'm sure it was just in a wet or moist enviornment. The brass frame has the old nickel plating on it and not the good electroplating of today. I worked in a plating show for 3 years as a foreman many years ago. This is the same type of old nickel plating on the old 1880's revolvers or saturday night specials of the day. This would still look good in a display and does fit in the late Indian Wars, Span Am War or WW1 display display. For this piece $120.00 Item Weapons 92
RARE WURLITZER MARKED FIFE!
This is a rare one for me. I ususally get lots of fifes that come into the shop. Some are unmarked and most are marked CROSBY. This is the first one that I have had marked WURLITZER in over 20 years in the business and over 30 years in the hobby! They may be more common in other parts of the country but they are not here. This fife is over 14 1/2 inches long, being made of hardwood. There is no signs of damage however I believe there was a cheater on this piece as one time due to the shadows around the mouth hole. The ends are capped with 1 inch decorative brass ferrels. Wirlitzer fifes were made from 1820 to 1860 so this one could have seen action in the Mexican American War in 1848 or the Civil War. No one knows and I certainly don't. Woodwind instruments have been made by the Wurlitzer family since Johann Friedrich Wurlitzer (1801-1878) began making fifes in Wernitzgriin in 1820. For a complete history of the company see Enrico Weller's excellent three-part series, 'Die Wurlitzers,'in the German woodwind magaznne, 'rohrblatt (March 1995, June 1995 and September 1995).
This fife is a dandy! For this one $225.00 More Stuff 63
We have several unfinished or nearly finished Corps badges that was definitely leftover stock from a metal smiths shop and are the stamped variety. Have definite age to them. All are brass. a. SOLD! Catalog 1-118
b. 2 larger 8th Army Corps badges of the type that were nailed to wagons or tent poles to signify the corps it belonged to. These measure 4 inches across the furthest point. Have a little circle on the end to put a nail through. Each $65.00 Catalog 1-119

SOLD! c. This is a 9th Army Corps badge that was stamped too close to where something else was stamped out. Probably discarded because of this. $12.00 Catalog 1-120

ONLY ONE LEFT! d. 2 larger 9th Army Corps badges that are in real good shape but definitely not finished. Measures over 2 inches across. Each $55.00 Catalog 1-121

SOLD! e. 19th Army Corps badge that is not finished. Has a small piece at the top that was probably made to put a hole in so that this piece could be sewn to the uniform or to the kepi. About 1 1/4 inches across. $65.00 Catalog 1-122

SOLD! f. This is 20th corps badge or maybe the 12th corps badge. Measures about 2 1/2 inches across. This one has a dark patina just like the others. $45.00 Catalog 1-123

g. Don't rightly know what this is but it was with all the others. This is a shield shaped piece measuring about 1 3/4 inches across. Great shape! $25.00 Catalog 1-124

Original CSA marked coat button that I believe was used post war for reunions since it's backmarked by Waterbury. I sure Waterbury marked buttons weren't sold to the South during the war. That would have been treason! Anyway it's a nice aged button and cheaper than the period CSA marked button that the Confederacy would have used. Check out the pics! $65.00 Catalog 1-114

>
THE Fife Below is SOLD! 5. This last wooden fife is real nice being smaller at 14 1/2 inches long with 7/8 inch brass end caps. There are no markings on this piece but the finish is very nice. The piece is slightly warped but there are no cracks and it should play very nicely! $145.00 Catalog 1-72
THE Fife Below is SOLD! 6. This last fife is an all metal fife that was used before the Civil War and after as well. This one was most likely used after the war into the 1870's 1880's and 1890's as it is nickel plated. There is no country of origin on it so I believe it was made before 1890. This piece is 15 1/4 inches long and the plating has been worn through to the brass at the finger holes and where the thumb would have rested. There has been a modern 'cheater' added to the piece as some point. Still a nice piece! $95.00 Catalog 1-73
THE Fife Below is SOLD! 1. the first one is a very nice single keyed fife with an original pewter 'cheater' at the blowhole. This piece has no cracks present being a 2 piece model with no makers marks noticeable. It needs a new pad in the single key. Still makes some sweet music! 11 1/2 inches long. $295.00 Catalog 1-68
>
THE FLAGS ARE SOLD !!!
I just ran across a very small cache of 'Stars and Bar's CS Lapel type silk flags. The edges are not bound on these flags that measure about 2 inches long by 1 1/2 inches wide. They are affixed to a small wooden shaft with a 'Golden' ball type finial on top. I have 12 of them with 10 of them being entirely flat and 2 that are in a book to try to flatten out. They are all in pretty goood condition. I can just see them sticking out of an old Confederate's lapel button hole at a reunion! Each only $15.00 Catalog 1-49
Here's a Civil War Era Bass Drum that I picked up from a gentleman from Indianapolis. This is a 14 3/4 inch by 24 inch drum that seems to have a walnut shell and perhaps the rims are maple. This is a rope drum and does not have the metal hooks that sometimes go over the rims. The rope tension snare drums were made of the skin of an animal's head stretched over the open end of a cylinder-shaped wooden shell. The edge of the skin was soaked and then lapped (tucked) around circular flesh hoops. The flesh hoops were held in place by wooden counter hoops, and the tension of the wooden counter-hoops controlled the tension on the heads. They used leather braces, known as "ears," to adjust the tension. The shell of the rope tension drum was made of several different types of plywood. Ash, rosewood, white holly, and maple are a few examples of the different types. This example has the tension rope broken in one spot leaving a hole with no rope in it. Also, the leather ears are kind of hard with 3 of them broken. Also, there is no makers lable on the inside. The heads are in good condition showing water spots but no tears or breaks. There is a hook in the shell for attaching the drum strap. These drums were popular with the military as well as the various militia groups and bands of the era. There is no writing or other indication of who used this nice rope tension drum. A nice Display Piece !!! Catalog 1-56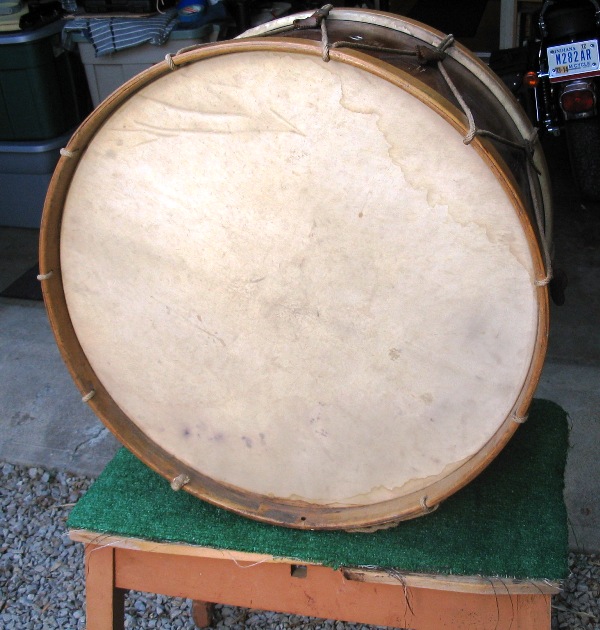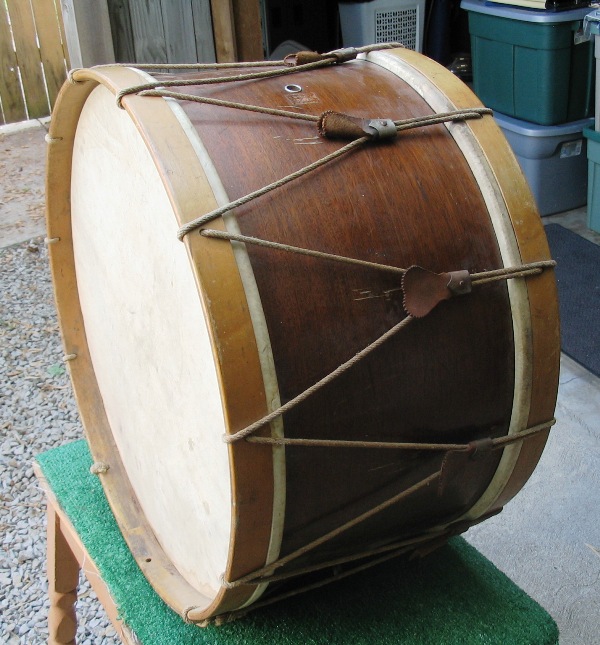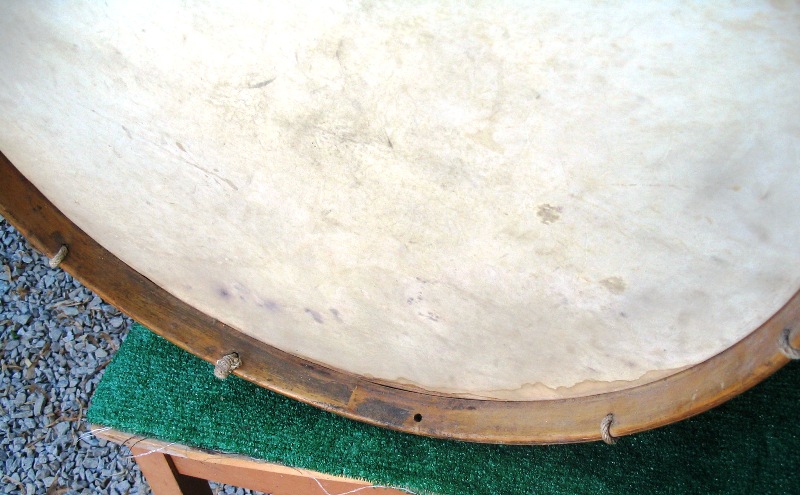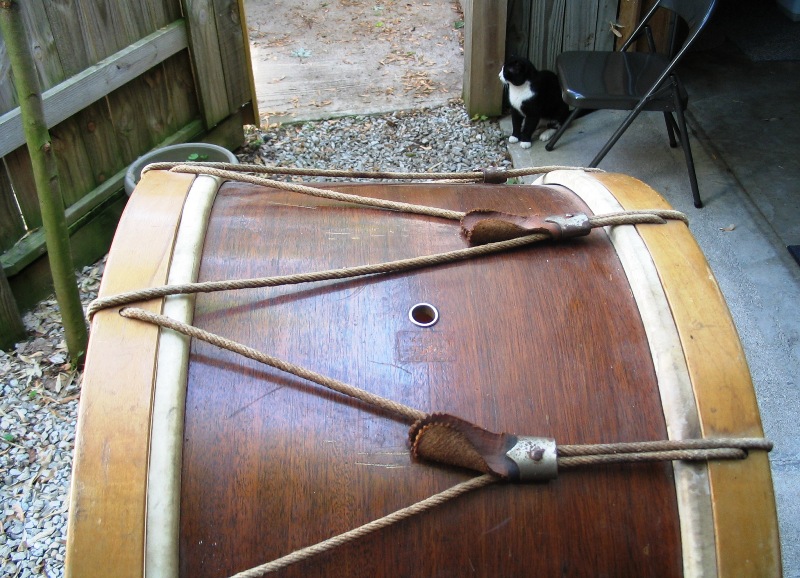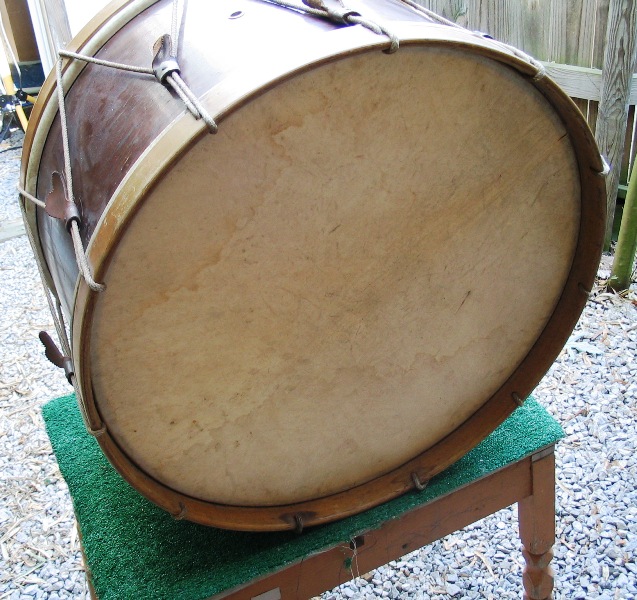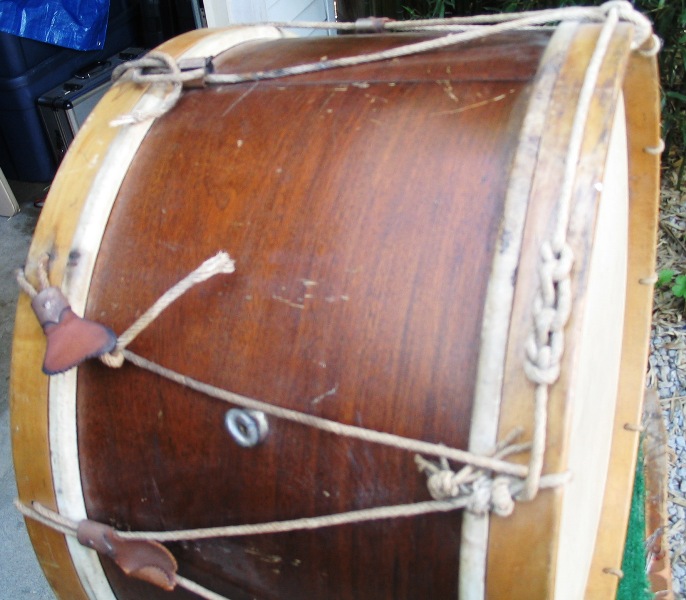 CONSIGNMENT:
THE BOOTS ARE SOLD !!!
Here is a pair of very nice Civil War / Indian War era high top boots. These are very well made and in very nice shape. Perhaps a size 10? The soles are sewn on instead of being held with wooden pegs but it was done both ways during the Civil War while mostly sewn on during the Indian Wars period. Nice!!! WAS $325.00 NOW $295.00 !! Catalog 1-44
CONSIGNMENT:
SOLD! I'm doing some research on this next item. This item is a Civil War Flag Staff topper or finial. There was one sold by Roger Steffen Militaria in Newport, Kentucky listed as a Civil War Captured Confederate Flag Staff and Finial and was id'd. I would appreciate any information anyone has concerning this flag top. If anyone knows the manufacturer just let me know. This piece is so unique that it could have just been build by one manufacturer so I'd like to find out. This piece is really hefty 3 lbs 10.2 ozs. It's also 13 1/2 inches tall and nearly 4 1/2 inches across the bit. The flagstaff socket is about 2 5/8 inches long and fits a 1 inch staff. The round disk above the staff socket has 2 holes in it which may have held a halyard. If you are familiar with this piece I would really appreciate hearing from you. Thanks for your help!!! Catalog 1-41
TWO CANNON PROJECTILES JUST PICKED UP FROM A COLLECTION!
THE GRAPESHOT SOLD! The first one is a small grapeshot that measures about 2 inches across and weighs about 1 pound. The piece has a nice patina to it. It's in excellent condition and came with the Revolutionary War 4 Inch 9 pound solid shot below. $15.00 Catalog 1-05a
THE REV WAR CANNONBALL BELOW IS SOLD! The next one is a bit different from the one above. This one is a Revolutionary War era 4 inch 9 pound solid shot. This one came from Indiana as the one above did with no history. This one is solid iron and someone has crudely engraved the initials in it of DET and this was done after the cannon ball had pitted so I'm sure it's the initials of the person who recovered it. A great variety of different size solid shot and cannonballs were used by the Americans. They ranged in diameter from 7" to 2" and reflect the supply problem. This one shows an excellent uncleaned dark patina and pitting. The pitting is what you would expect to see from a piece that was excavated and is not that severe. Nice early piece!!! $295.00 Catalog 1-05b
THE CRUTCHES BELOW ARE SOLD !!!
CIVIL WAR ERA MEDICAL CRUTCHES!
Here we have a pair of hardwood crutches that are typical of what was used by thousands of soldiers during the Civil War. This pair had padding on the underarm supports now lacking at one time. They measure about 48 inches long overall and are in excellent original condition! $165.00 Catalog 1-06
Catalog 1-28
CONSIGNMENT
This GAR Eagle Top is SOLD!!!
THE ITEM BELOW HAS BEEN SOLD!!!
Very Nice WW1 US Compass
THE ITEM BELOW HAS BEEN SOLD!!!
Excellent Horstmann made WW1 Brass Trench Whistle with chain!
CONSIGNMENT
SOLD!!!! 1800's Muscian Hat Insignia
THE ITEM BELOW HAS BEEN SOLD!!!
CONSIGNMENT
UBERTI 1871 HUNTER CARBINE IN .22 MAGNUM!
SOLD!! Here is a brand new in the box Uberti 1871 Hunter Carbine in .22 Magnum. The rolling block design is one of the strongest actions ever produced. Using modern metals and more precise manufacturing methods, Uberti is able to produce a rifle that's one-third of the original gun's size and weight, yet retains all the strength for use with today's modern ammo. This rifle is in excellent brand new condition with a 22" round blue barrel and a Case-Hardened Frame, Brass Trigger Guard and great looking walnut stock. Outstanding quality!!! $550.00 Modern guns 13
REAL NICE WINCHESTER MODEL 72-A !!!
The Winchester Model 72 A is no longer available! SOLD!!! Here is a dandy Winchester Model 72-a . This model is a bolt action rifle with tubular magazine and is chambered for the .22 short, long and long rifle. This model was not serial numbered and was built between 1938 and 1959 with about 161,000 rifles sold. This particular rifle is in about 75 to 85% or more condition which is hard to come by. The action works fine and the bore is also fine. All the markings are sharp. There is a ding here and there and some very minor scratches. Most of the original blue is remaining with just a spot into the finish here and there. The receiver is grooved for a scope. This is the sporting rifle with a 25 inch barrel. The stock is nice and dark one piece walnut with a small 1 to 1 1/4 crack running forward of the bolt. This is a dandy piece! $425.00 Modern guns 27
CONSIGNMENT
THE LITTLE ACE .22 IS SOLD!!! LITTLE ACE .22 SINGLE SHOT PISTOL!
When I first saw this little pistol I thought it was an antique from the 1800's but it's not. This little piece was made by R.L. SVENDSEN F.A. MFG CO. in Itasca, Illinois during the 1960's. This diminutive derringer consists of a brass frame and was originally blued but now showing age with black wooden birdshead type grips. It measures approximately 3-3/4 inches overall length, with a 2 inch round to octagonal barrel. It takes a .22 short and the barrel pivots sideways for loading. The action works fine. This is a modern firearm so it will have to be transfered like any other modern weapon. $195.00 Modern guns 23
Rare WINCHESTER NUBLACK loaded Black Powder Shells empty Box. This box held 25 paper shotshells in 12 guage. Load no. 205, 3 drams, 1 ounces shot no. 5. The box is a little dirty but the graphics are very nice indeed! Look at the photo! $125.00
Modern Guns 75
CONSIGNMENT
Here is a very nice Browning HI-Power Semi-Auto pistol in 9MM. (has to be transfered and no sales to California). The slide is marked BROWNING ARMS COMPANY MORGAN, UTAH & MONTREAL P.C. MADE IN BELGUIM. This piece has been used very little and looks brand new! The grips are etched on one side with am Eagle but are not ivory. Adjustable rear sight. $1,100.00 Modern Guns 96
Surplus #: FN HI-POWER
Here we have a single magazine for a Browning Hi-Power in 9 MM. It is in good used surplus condition. $25,00
CONSIGNMENT
NICE C. SHARPS 4 BARREL .22 CALIBER PEPPERBOX PISTOL!
This is the Model 1A and is serial numbered 37774. These little pistols were made from 1859 to 1874 with quantities made in the many thousands. The markings are sharp and the firing pin rotates as it should. When the barrel release is pushed it releases as it should and slides completely forward and off . The barrels are 2 1/2 inches long as they should be for a .22 caliber. The barrels were original blue now lacking but have been replace by a dark plum color. The hammer still has blue on it. The brass frame is in good condition but now lacking any silver plating. The grips are the original walnut grips and are in fine condition. This is a nice little pepperbox pistol! $750.00 Item weapons 029
THIS ONE IS SOLD! Here's a little pistol of about .30 caliber percussion that was found in Ohio. This piece has a repair to the inside that consists of brazing and you can still see some brazing and old flux remaining. The piece was either dropped or perhaps thrown away when it ceased to function. There is still one walnut grip left but is missing the lock and hammer and all inside mechanisms. 6 1/45 inches long overall. Still a nice displayable piece! $125.00 Item Weapons- 133
THE SWORD PARTS ARE SOLD! Here's something you don't find every day. If you're looking to restore a model 1840 heavy cavalry sword then you might need these parts. This is a brass hand guard, pommel cap and grip for the 1840 heavy cav sword. I believe they are for the European import as I cannot find any US inspector markings on them. There is 8M 476 stamped on the handguard but that's all. The branches have been removed on the handguard for some reason and there is some damage on the pommel cap that you can see in the pics but the grip is still in pretty good shape and you'll never find another one on the loose again. This one still has the original leather grip covering on it. I can't tell if it has the cord under the leather or the grooved wooden grip but I won't damage it to find out so I'll just assume that it's the European one with the cord. At any rate it's rare to find! $125.00 Another customer pointed out that they may be 1860 Cutlass parts. Item Weapons- 134
THIS ONE SOLD! Here is a very well aged leather shot pouch that has a Union Shield on the front. This leather shot pouch is well used with repairs to the seams and a piece of wire holding the spout to the leather body. This is a fine example of what the soldier armed with a shotgun had to carry for ammo that he used. Of course, civilians carried shot pouches as well but I believe it's a bit unusual to have the patriotic shield on the front for a sportsman. This old pouch still has some shot in it. The leather is still supple. This would display well with a military used shotgun! $65.00 Item Weapons- 13
THE DUG KNIFE BELOW IS SOLD! Here is a large dug Confederate Bowie Knife from the Pierre Cayla Collection. A 7 inch ruler was placed alongside it for comparison. This large, 15 1/2 inch long knive with 12 inch hand forged blade, was found in a field outside of Dalton, Georgia. The Dalton Battle was fought February 22nd through 27th, 1864. The Rebs won this one!! The knife has been stablized and has a somewhat of an elipitical blade with a clip point. The grip was rivited on. The oval handguard is brass and about 3 inches long and almost 1 inch wide. No doubt on this one!!! $425.00 Item Weapons -159
Consignment
DUG FLINTLOCK LOCK!!
THIS ONE IS SOLD! Here is a dug flintlock lock that I believe is marked J. JONES WARRENTED. I believe it may be an English lock and it's definitely off a hunting rifle. This piece was found in Central Indiana. This would look great in an Early display! The lock measures about 4 1/4 inches long. $95.00 Item weapons 170
CONSIGNMENT
SOLD!!!
Here we have a J.E.B. Stuart Saber Attachment for the sword belt. Designed by the later-famous Confederate cavalry leader J.E.B. Stuart immediately prior to the Civil War. This unique saber attachment was patented by the Stuart in October 1859. Previously recommended for Army adoption by a board of cavalry officers. The War Department purchased the rights to produced this hanger with its spring-loaded catch for easy detachment of the saber and hanger from the saber belt. The Saber attachment is NOT the spring-loaded type, but is a simplified hook form only, and is known as the model 1881/1885, and was used through out the Indian Wars, The Spanish American War, and the Philippine Insurrection. The M81/85 was also used with the M1906 Cavalry saber. The importance of this quickly detachable saber attachment is often over looked by those unfamiliar with cavalry tactics. Until the motorization of the cavalry, the primary mode of fighting was dismounted and the saber was of almost no value and a great handicap to movement. The short and long straps were attached to the carrying rings of the model 1860 light model cavalry saber, and the brass hook attached to a brass ring held on the lower edge of the Mills woven cartridge belt. On the early hangers the leather was died black, those used in The Spanish American wars were died brown. Leather is pretty nice with no breaks, tears or repairs. The numbers '35' are stamped into the short strap. Brass has a nice mellow patina. A super display item for your Civil War Cavalry saber. For this piece $85.00 New Arrivals 268
CONSIGNMENT
SOLD!!!
Here we have a holster for what I believe to be a Model 1851 Navy Colt on a Model 1872 Hagner leather belt. This belt is the type to take a US Hagner plate and still has the keeper present. The belt and holster is black and has leather finish loss. The belt has a nick out of it that you can see in one of the pics. The holster is generally relic condition. The holster has the initials cared into the reverse look of BS. No history on this piece. Definitely used hard and put away ! $195.00 New Arrivals 265
CONSIGNMENT
THE WODGON FLINTLOCK PISTOLS BELOW ARE SOLD! This is a wonderful cased reproduction set of the .54 Caliber Wodgon Flintlock dueling pistols used by Alexander Hamilton and Aaron Burr in their historic and tragic duel in 1804. This set is one of the limited number of suthentic sets commissioned by the U.S. Bicentennial Commission in 1976. These pistols were copied from the originals by famed Italian Gunsmith Walter Agnoletto. These pistols are like new in unfired condition. The erial numbers on the guns are 307A and 307B. These guns were found at an estate and since the relatives couldn't find a key they had to break open the chest. I believe the case can be easily repair and a new lock put in. I've found this set being offered on the market for many thousands of dollars but since the case is damaged and missing a couple of pieces you can have this set for $1,450.00. Original sets of these pistols are worth over $20,000!! These are bound to go up in value.
Item Weapons- 91
Here we have a 3/4 view image in CDV format of Lieut General U.S. Grant with his name and rank printed on the card below the image. There is nothing on the reverse. This is a fine actual photograph of General "Unconditional Surrender" Grant. Nothing on the reverse. $125.00
CONSIGNMENT
WINCHESTER 32 WCF RELOADING TOOL!
THE TOOL BELOW IS SOLD !!!
This antique Winchester "Lever Tool" is for the 32 WCF (32-20 Winchester Center Fire) cartridge, and it is in very good condition--considering that it is over 100 years old. This fine old tool retains alot of its original blued finish but does have rust on it. . It appears to be fully functional. One side is stamped "32 W.C.F." and "PAT.OCT.20.1874.NOV.7.82". The other side is stamped "MANUFACTURED BY THE WINCHESTER REP. ARMS CO. NEW HAVEN.CONN.U.S.A." This tool was used to load cartridges for vintage black powder lever action rifles and Colt single action revolvers of 32 WCF caliber. This is a nice old tool in a scarce and historic caliber of the early American West. It should clean up well. $50.00 Item weapons 023
CONSIGNMENT
IDEAL RELOADING TOOL!!
THE TOOL BELOW IS SOLD !!!
SOLD---NO. 4 RECAPPER ON HANDLE 1889 - 1940
This is the Ideal Reloading tool No. 4 recapper on handle made from 1889 to 1940 for the 38-40 cartridge. This piece is generally good condition with rust and some pitting on the handles. As you can see in the pic one of the handles is bent. The markings are still visible on this piece and it should clean up a little and you will still be able to retain the nice dark patina. The two small accessories are missing. $45.00 Item weapons 022
CONSIGNMENT:
THE BAYONET BELOW IS SOLD !!!
This is an Austrian Lorenz socket bayonet for the .54 caliber model 1853. This bayonet looks like it was nickel plated sometime. The GAR liked to do that unfortunately for display or parade use. The locking ring is still but functions. May or may not fit your weapon as they were kind of unique to the gun they were issued with. WAS $130.00 NOW $115.00 !! Item Weapons- 105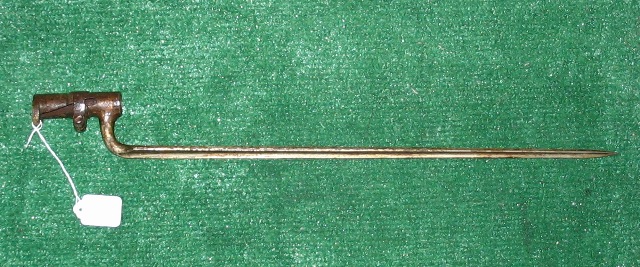 CONSIGNMENT:
THE BAYONET BELOW IS SOLD !!!
Here is an 1873 Cadet Bayonet. This bayonet is not as wide as the regular Trapdoor bayonet. This bayonet has fine pitting overall. The locking ring works ok and the US is deeply stamped in the blade. 16 1/2 inch blade with 3 inch socket. WAS $120.00 NOW $105.00!! Item Weapons- 107
CONSIGNMENT:
THE BAYONET BELOW IS SOLD !!!
1855 socket bayonet with scabbard. The scabbard is very dry with a seam split near the bottom. The socket is a dark patina and there is some corrosion where the blade has rested under the leather of the scabbard hanger. The US is deep and the rest of the blade just has staining. This bayonet was found in an old house in Lafayette, IN where members of the 10th Indiana were mustered in. WAS $185.00 NOW $165.00 !!! Item Weapons- 108
CONSIGNMENT:
THE AUSTRIAN BAYONET BELOW IS SOLD !!!
We thought this was an Austrian Lorenz socket bayonet in it's original scabbard. I have tried this bayonet on an Austrian Musket and could not get it to fit and after further research with a fellow collector it was discovered that there were 3 different bridge types for this musket according to the sight on the front of the barrel. I would have to find the right Lorenz musket to fit this bayonet. This is a nice piece with age and comes with the European-type scabbard described in the book as well. There is a 7 stamped on the blade while there is also a V and a swage mark stamped on the shank of a raised 6 point star or swage in an oval. Other than that there are no markings to tell about. WAS $425.00 NOW $390.00 !!! Item Weapons- 118
CONSIGNMENT:
THE BAYONET BELOW IS SOLD !!!
This one is a Tower Enfield Model 1853 socket bayonet marked with a G over 515 on the socket. It's in nice condition! WAS $140.00 NOW $125.00 !! Item Weapons- 119
CIVIL WAR BATTLEFIELD RECOVERD CARBINES !!
THE SMITH IS SOLD !!!
The display mounting shown above is for display only and not for sale.
Here we have two supposively battlefield recovered carbines that were discovered in a private home residing on his wall. These are obvious recoveries however the history of where they were recovered has been lost. They are what they are!!!
The Smith is on SOLD! The first one is a Smith Carbine serial number 2874 making it an early one. You can still see the manufacturers markings on the side plate as well. This carbine is complete except for the hammer and the rear sight leafs. Being early is also evidenced by the sling swivels on the barrel band and the butt, later replaced with the standard sling ring mounting. This piece has obviously been laying out for some time before being picked up. Nice early relic Smith!!!
THE SMITH CARBINE IS SOLD! $850.00 Item WEapons 165
THIS IS A REPRODUCTION Aluinum Nazi Railroad Eagle Plaque. It has been painted black and has had the swastika removed for some reason.
Item No. 81
CONSIGHMENT
Here we have a Luftwaffe breast Eagle that has suffered damage on the Swastika. This more than likely occurred when the soldier pulled it from the German's tunic. $15.00
Item No. 88
CONSIGHMENT
Here we have a near relic Deutscher Wehrmacht Volkssturm Armband . The Volkssturm was a German national militia of the last months of World War II. It was founded on Adolf Hitler's orders on October 18, 1944 and conscripted males between the ages of 16 to 60 years who were not already serving in some military unit as part of a German Home Guard. This one has seen better days but it is what it is. Liberated by an American GI. For this piece $45.00
Item No. 90
CONSIGHMENT
Here is a stickpin that's in near relic condition. The pin measures about 1 1/4 x 1 3/4 and has a cloth insert of a swastika in a maltese cross surrounded by laurel I think. The image is cark and so is the actual cloth in the pin being a dark red color. The frame is a rope metal frame with a metal back that is rusty. The stick pin is entact and is knurled to keep it from slipping out of the fabric that it's attached to. $10.00
CONSIGHMENT
Here is a pretty nice .45 holster that is Vietnam era. It has been used some but still in pretty good condition. This U.S. m-1916 holster was made by Nordac. For this one $25.00
(CONSIGNMENT)
WW2 IMPERIAL JAPANESE BUGLE WITH CHARACTER MARKINGS!
Here is a nice WW2 Imperial Japanese Army Bugle with Japanese Character Markings. The bugle is 11 1/2 inches long from the mouthpiece to the outer bell. The bell is reinforced with a brass collar and one can see the manufacture seam about 3 inches back of the bell. There are wrinkles to the bell and a few samll dents but what the heck this thing was used! The Japanese characters are stamped on the mouthpiece. Still plays! $295.00 item wwX 41
Here we have a nice well used U.S. Model 1841 .69 caliber musket and bayonet. This is a smoothbore and was never rifled hence no rear sight. This one was made at Harpers Ferry Armory and is a single shot muzzleloader with a 42" round barrel secured by three barrel bands. You can see that the bayonet has been on this piece forever as there is hardly any patina under where the bayonet fits on the end of the barrel. The bayonet and the rest of the firearm has a matching dark pleasant patina. This musket has iron mountings with a trumpet shaped head on the original steel ramrod. The bayonet lug is on the bottom of the barrel at the muzzle. This piece has a nice but dinged up walnut stock with comb. This piece has obviously been used and you can see the dings and wood loss in the photos. The lockplate is marked with an American Eagle motif above US forward of the hammer and HARPERS FERRY 1846 at the tail of the lockplate. 1849 is the date on the barrel as well as the eagle head and proved markings. I do not see any cartouches on the stock. The reverse buttstock has an 'A' carved into it and near the back of the lock has a '2' stamped in it. The action works as it should and is crisp and the nipple is in good condition as well. This is a very nice example of the musket used early during the Civil War. For this piece with bayonet $1750.00
Here we have a Civil War Spencer Carbine serial number 205XX. This serial number in the Springfield Research Book shows that serial number 20592 and 20601 were issued to the 12th Illinois Cavalry so there is good reason to believe that this one also could have gone to them. These carbines were made c. 1862 to 1865 being a 52 caliber rimfire with a 22 inch barrel that had six groove rifling. The rifling is still present but the bore is somewhat dark with some corrosion. There is a sling swivel at the butt and a sling ring bar with ring on the left side; short forend fastened by single barrel band. There were approximately 50,000 manufactured with serial numbers from 11000 to 61000. This particular firearm is in good condition and has definitely saw action. The metal surfaces all exhibit a dark patina and so does the wood. The buttstock does have some shrinkage cracks in it due to the cartridge tube running through the buttstock. The action works fine. The markings are mostly clean. The rear sight has been changed probably because the original was knocked loose during use. The forearm is in good condition and fastened by the bottom screw and secured by a single barrel band. The front block/blade sight is present and original. If you want one that was there and done that then this is for you. For this good ol' Civil War Union carbine $2500.00
SOLD!!!
Here we have a 12 gauge double barrel shotgun marked American Gun Company . It is a double barrel 12 gage with exposed side hammers. It was sold by H&D Folsom Sporting Goods of New York from 1893 to 1930 and manufactured by Cresent Firearms Norwich, CT. This old gun is in pretty good condition with no breaks in the wood, just a couple of small age cracks and the usual dings from use. The barrels are damascus and are 30 inches long. The locks and hammers match but AMERICAN GUN CO. NEW YORK is only stamped on one lockplate. This piece is fairly tight and functions as it should. Take a look at the pics! It's a dandy! $325.00
I'm always looking out for items belonging to the 10th Indiana Infantry, especially Co. A articles belonging to the 3 Cobb brothers who are from my hometown. They are Captain Thomas A. Cobb, Jacob S.Cobb, principal Muscian & William F. Cobb who also was a principal Muscian for Company A. Below is a Gold Topped cane belonging to Captain Cobb. If you have items let me know!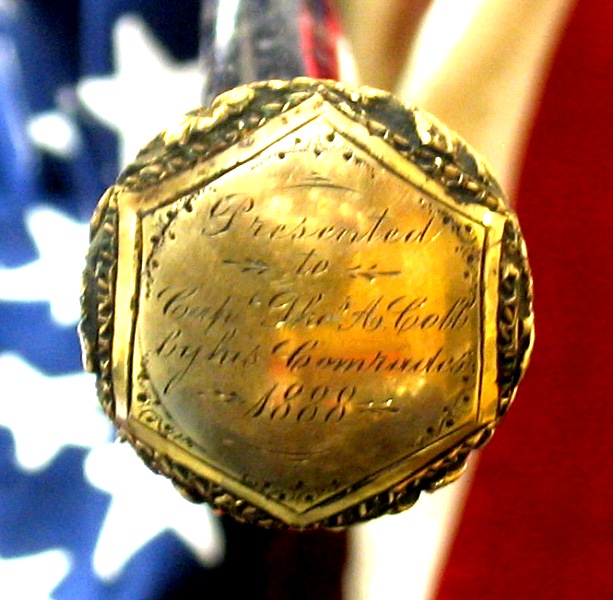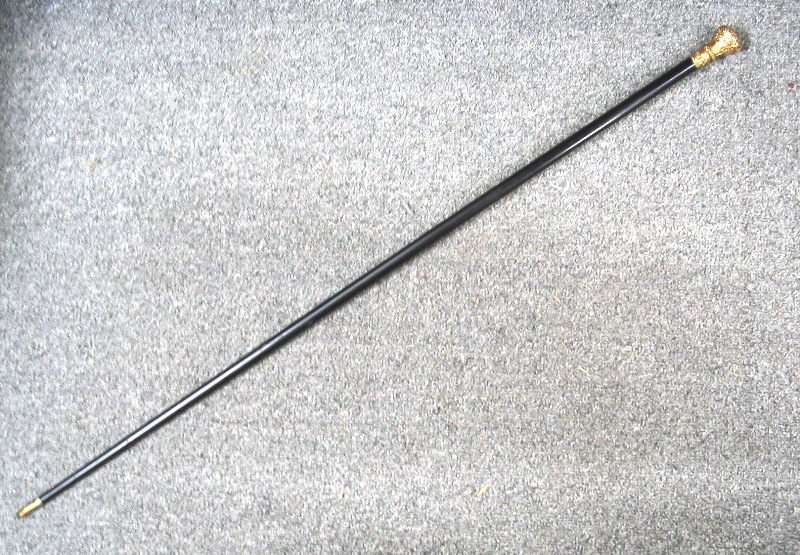 Consignment
New Arrivals 225
This sword is an unmarked Confederate saber that has a flat blade. The entire piece is about 39 inches long with a 33 + inch long slightly curved blade. The blade is 1/4 inch thick at the hilt. The blade is in generally good shape with some very minor pitting near the tip and ricasso and a couple of edge nicks. The edge has not been sharpened and is rather blunt. It has an edge on it but it is blunt. The handguard and pommel cap are sand cast and rather rough although it was cleaned somewhat a few years ago. It looks like the pommel cap has never been messed with but a piece of copper was driven in on one side to tighten it up. It must have wobbled a bit. The original leather grip is present and mostly there with a few worn through spots and a double twist brass wire wrap on it. Take a look at the pics. This piece is unique! NOTE!!! I just heard from long time friend and colleage Rafael Eledge and he advised me that what we have is a flat blade Boyle & Gamble of Richmond, Virginia saber. Rafael is a noted appraiser for the Antiques Roadshow and has his own website with tons of items for sale at http://www.shilohrelics.com Be sure to check it out!
Back to this saber.
Manufactured by Boyle & Gamble for the Confederacy. This Sword was Originally sheathed in it's "Extremely Rare" Leather Scabbard. Very few "Flat Blade" models of this pattern, exist today.Boyle & Gamble of Richmond Virginia, formed a Partnership in 1861, Manufacturing Arms for the Confederacy. An Extremely Scarce pattern of a Boyle & Gamble Manufactured Cavalry Saber and can be yours for $2495.00! Check out the pics.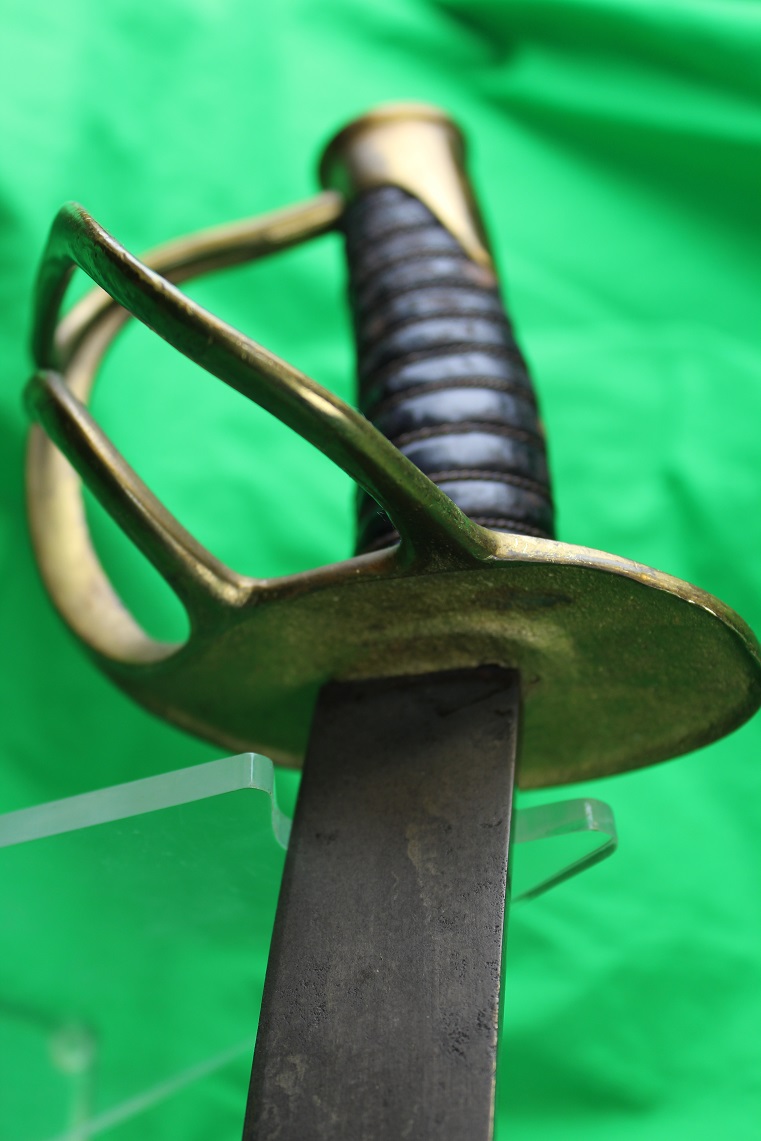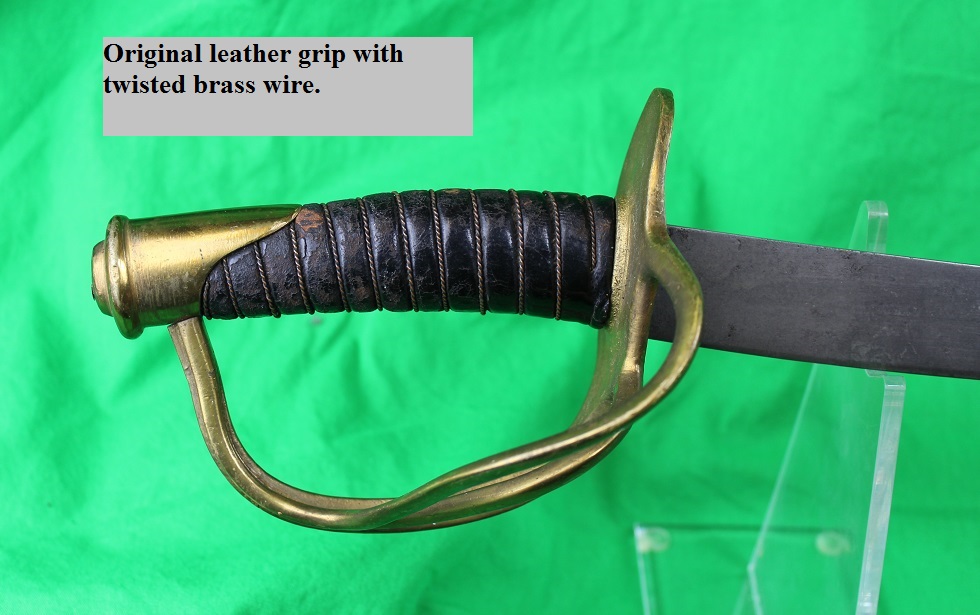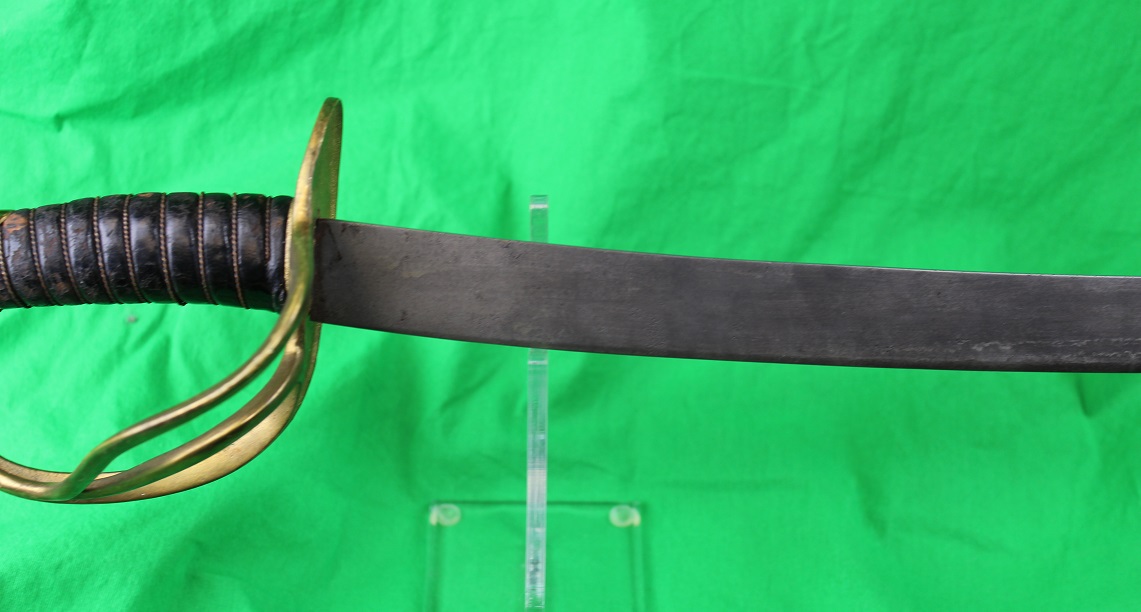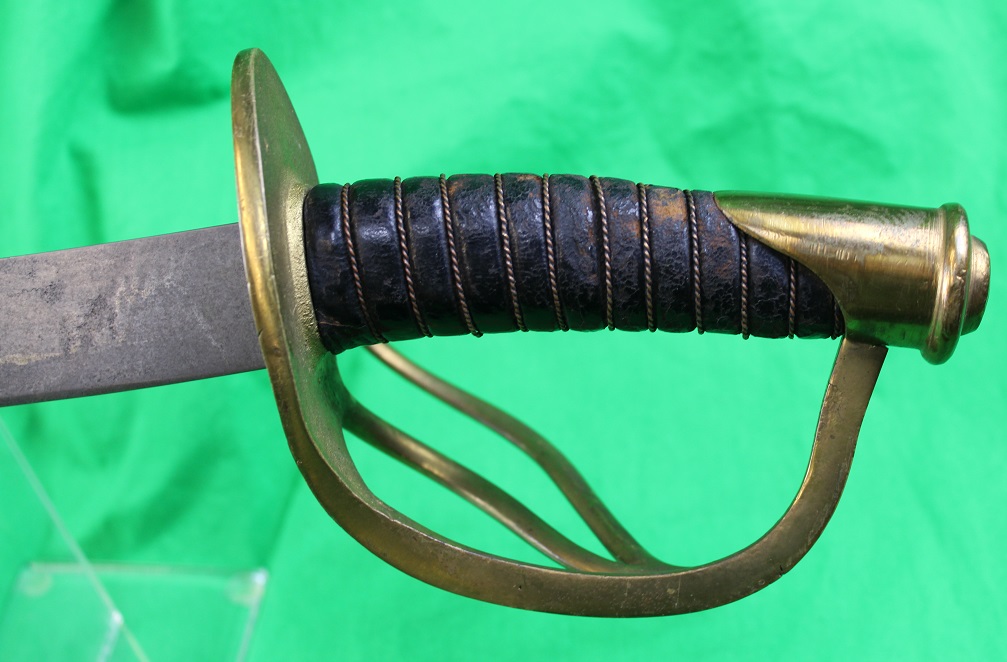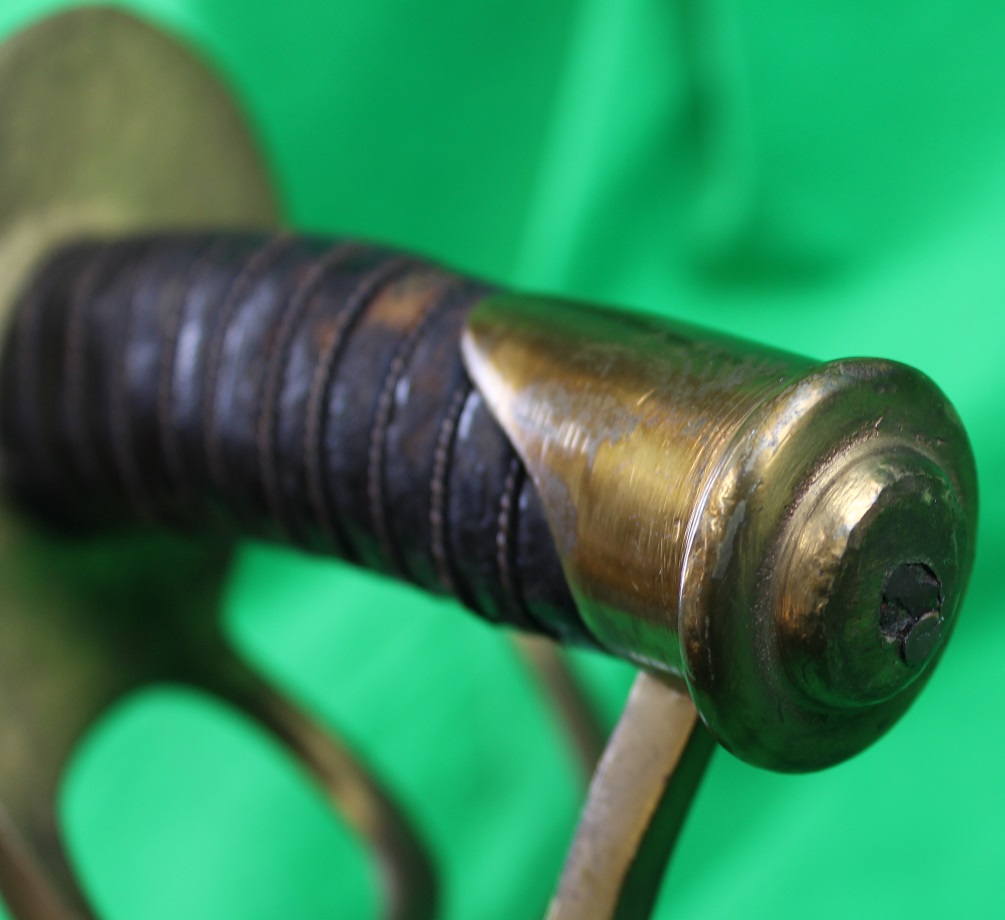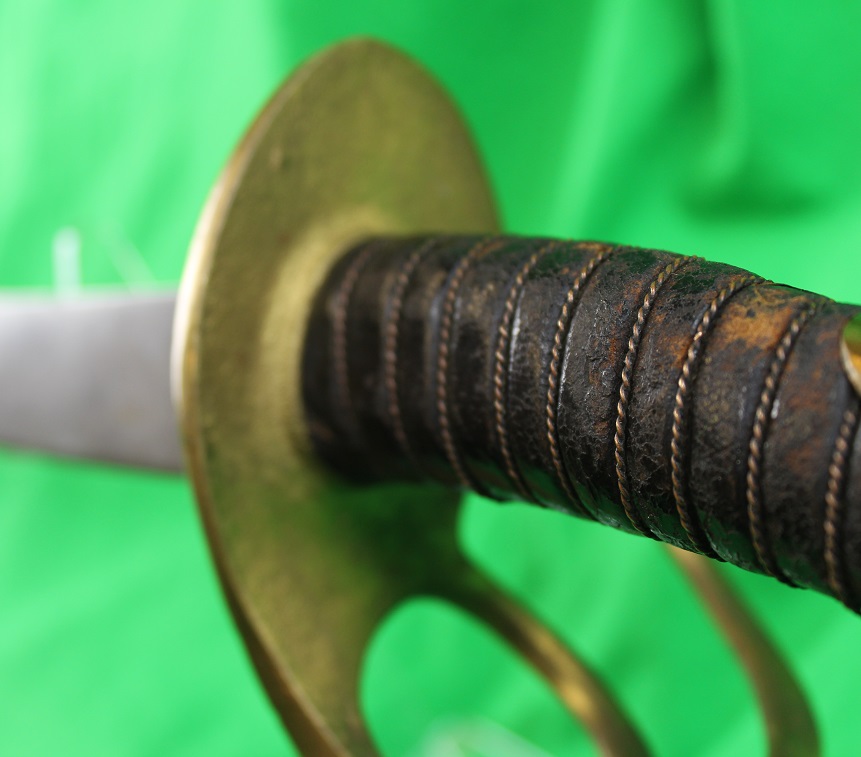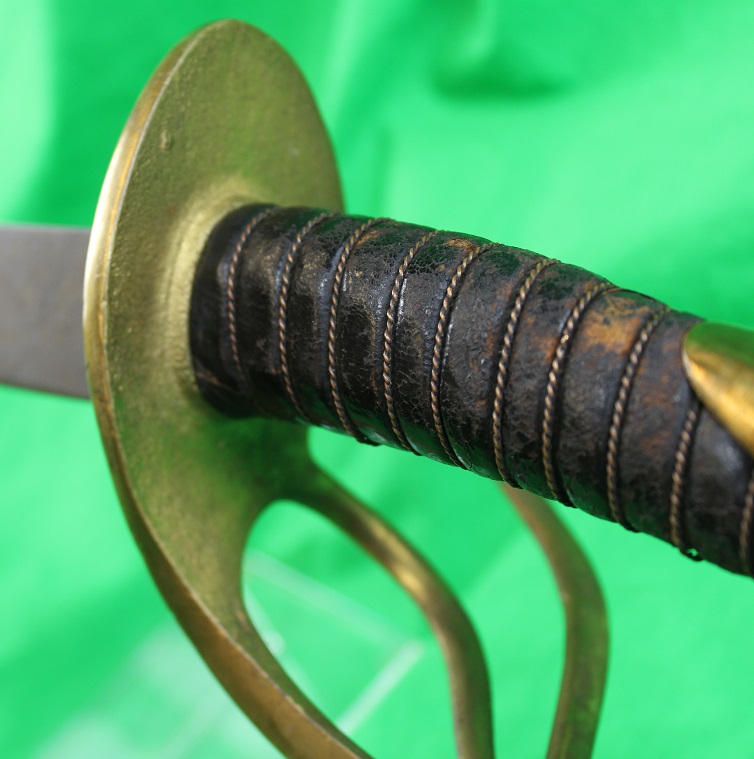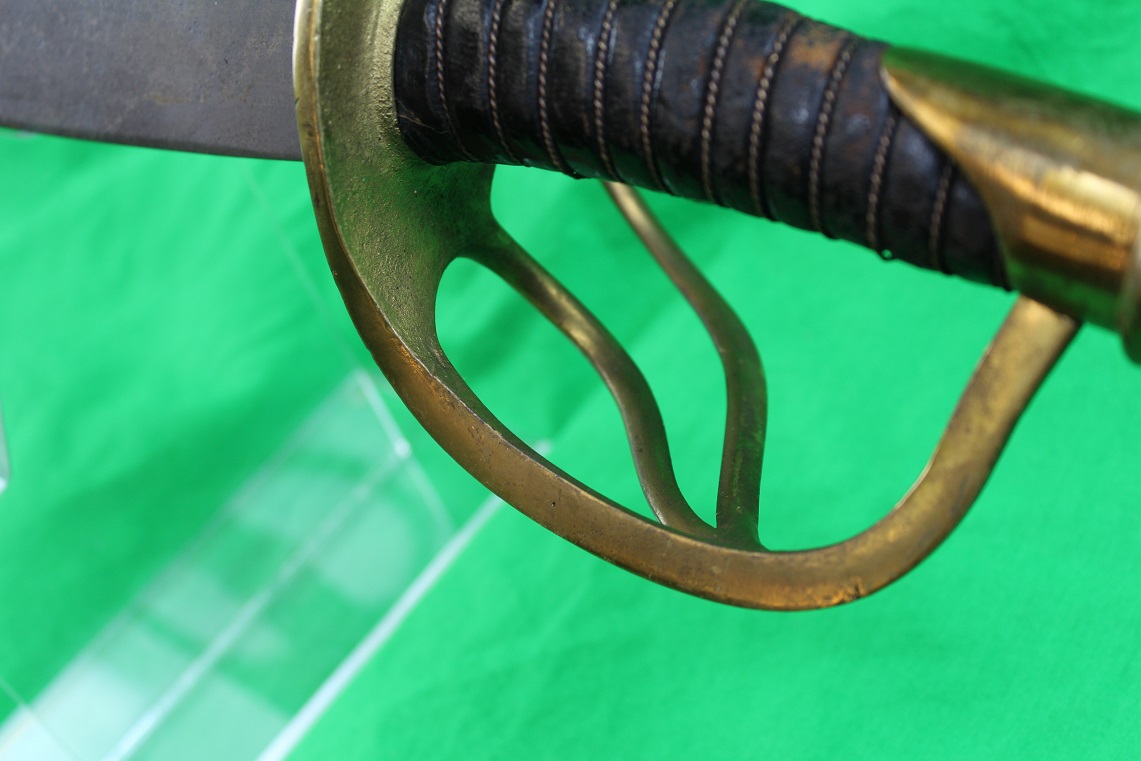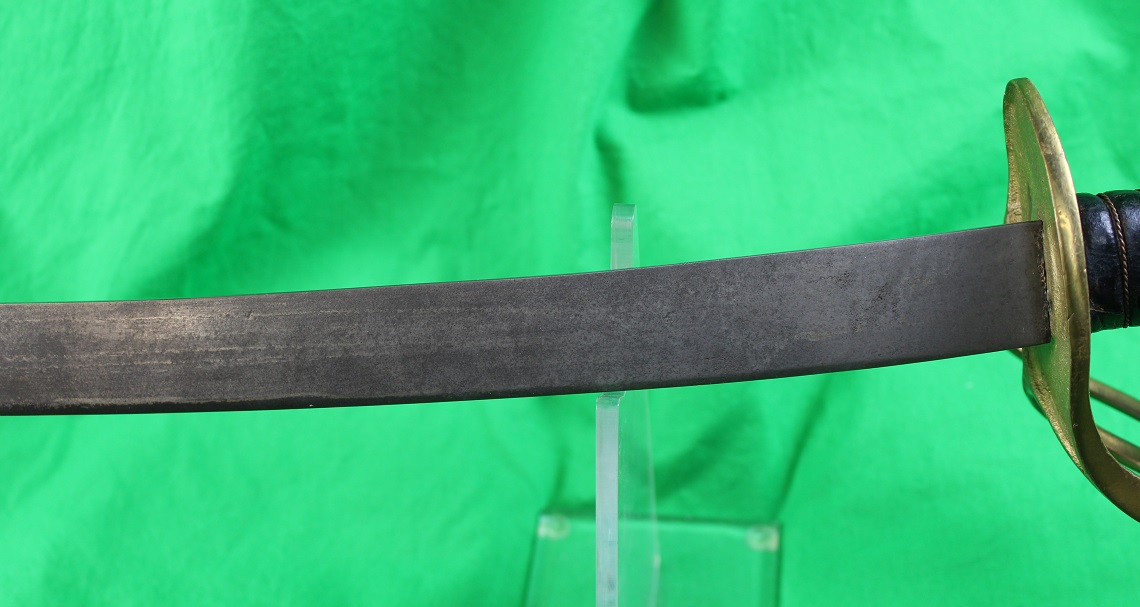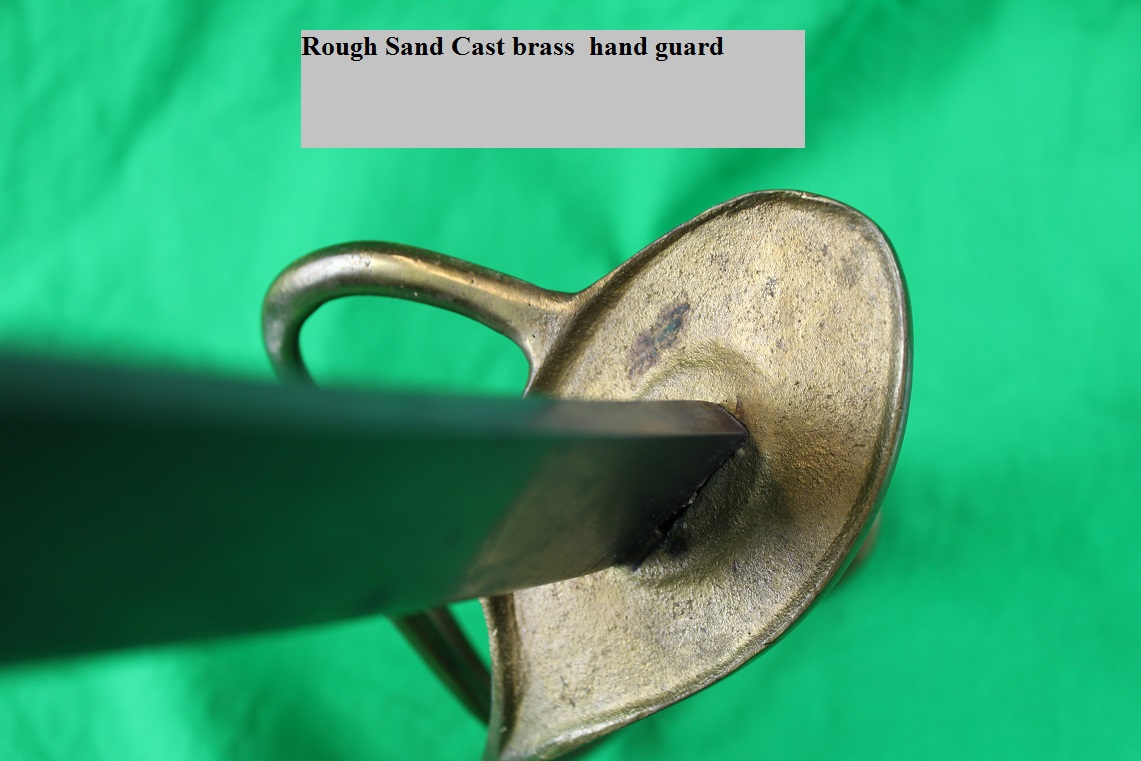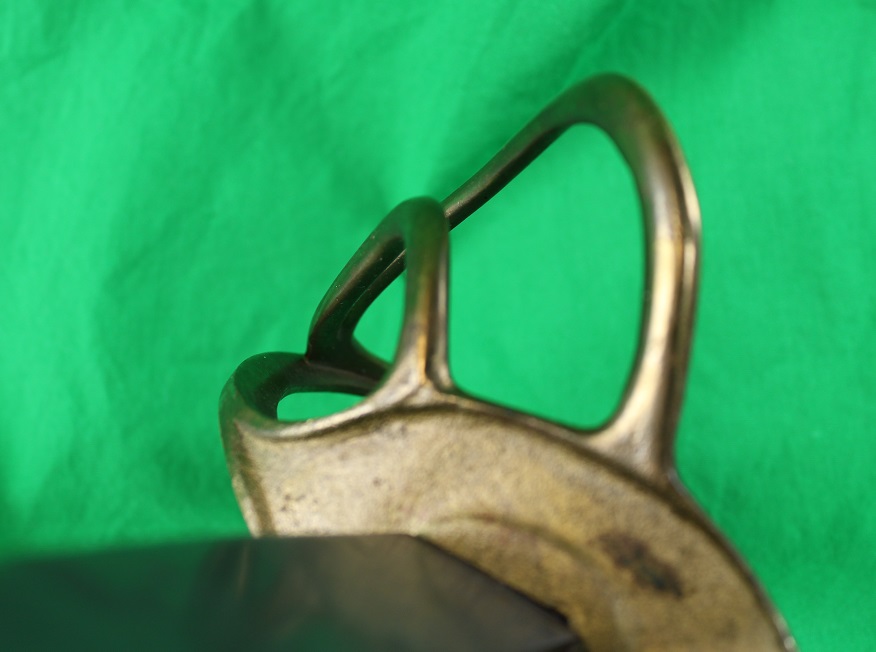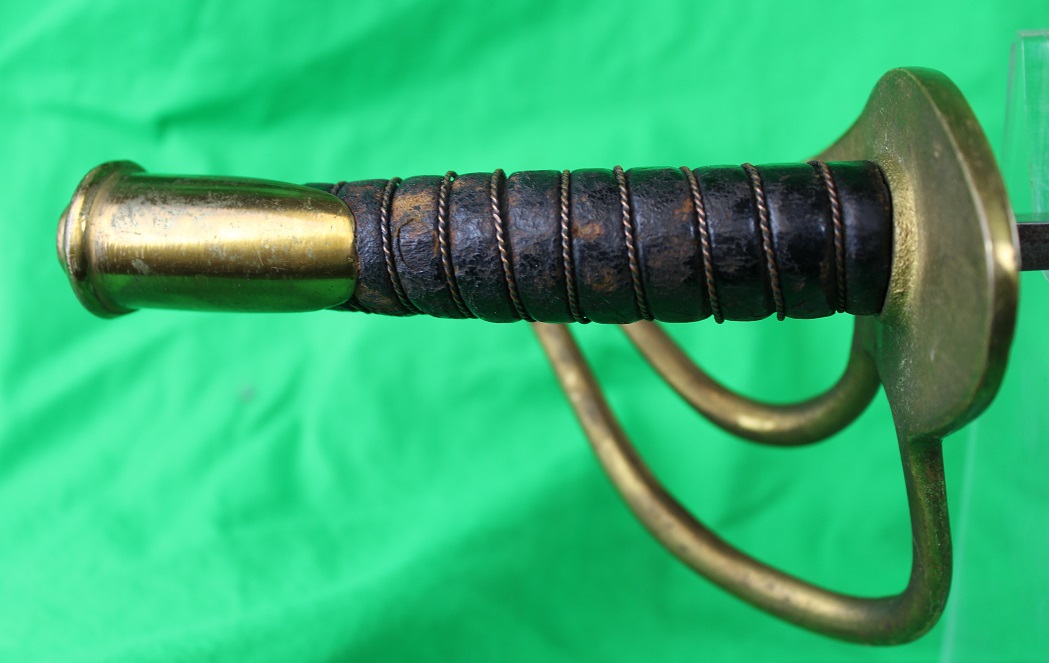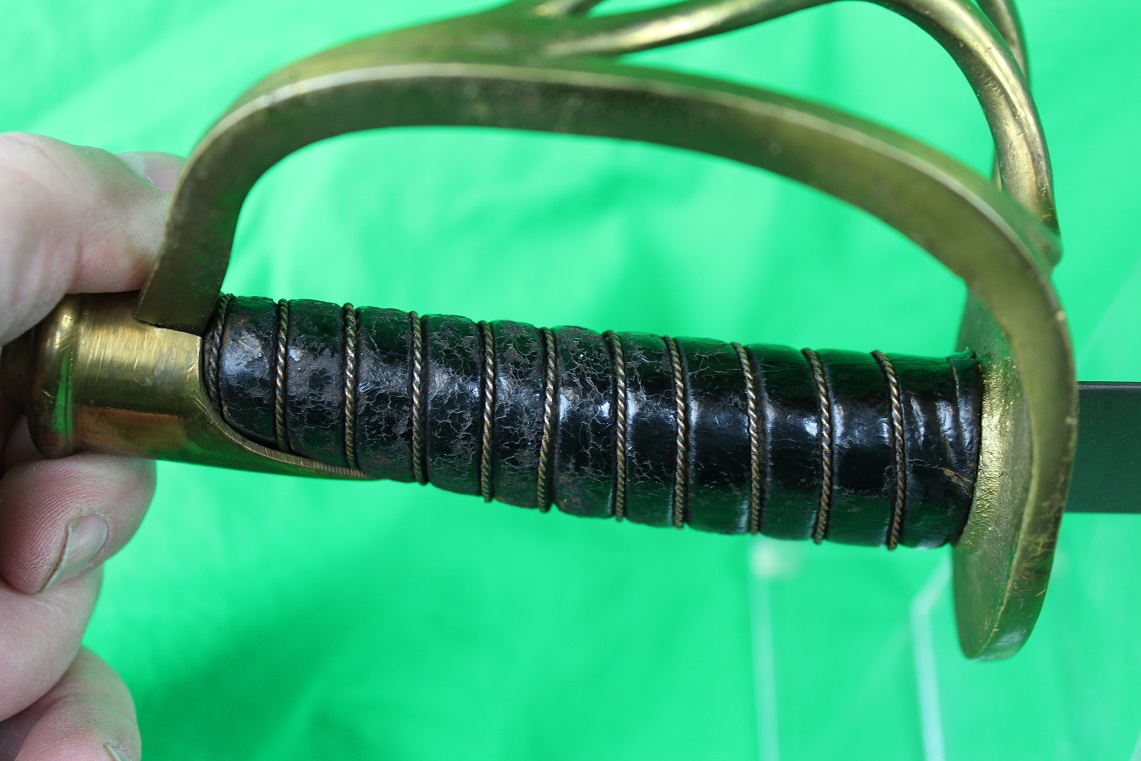 New Arrivals 243
This FINE CUSTOM FLINTLOCK RIFLE is SOLD!!! Here is something you just don't see everyday. This is a full stock Flintlock rifle made by my Friend and Gunsmith, Notra Trulock Jr. many years ago for his son Jimmy. Note passed away 10 years ago and his son Jimmy passed away in 2015. Jimmy leaves no immediate heirs so I have been commissioned to sell this fine rifle. I believe this flintlock rifle was done in the Pennsylvania pattern with a tiger stripped stock. This beautifil rifle is about 58 inches long, being fullstock with 3 brass ramrod thimbles. This is a .50 caliber barrel being strongly rifled. The barrel is about 41 3/4 inches long and is browned with a dovetailed rear sight and a blade front sight. The name JIM TRULOCK is stamped on the top of the barrel. This rifle has brass furniture which consists of an embellished brass butt plate and engraved patch box. The triggerguard is also engraved. The rear thimble is embellished and the ramrod guides are embellished as well. On the reverse this rifle has a raised cheek rest and a spread winged eagle and shield silver plate. This is absolutely a beautiful rifle in beautiful condition! $2,500.00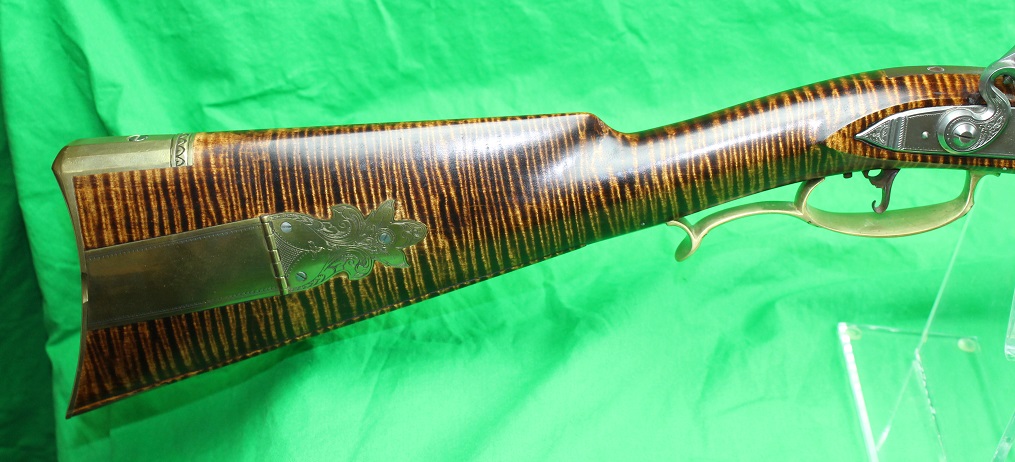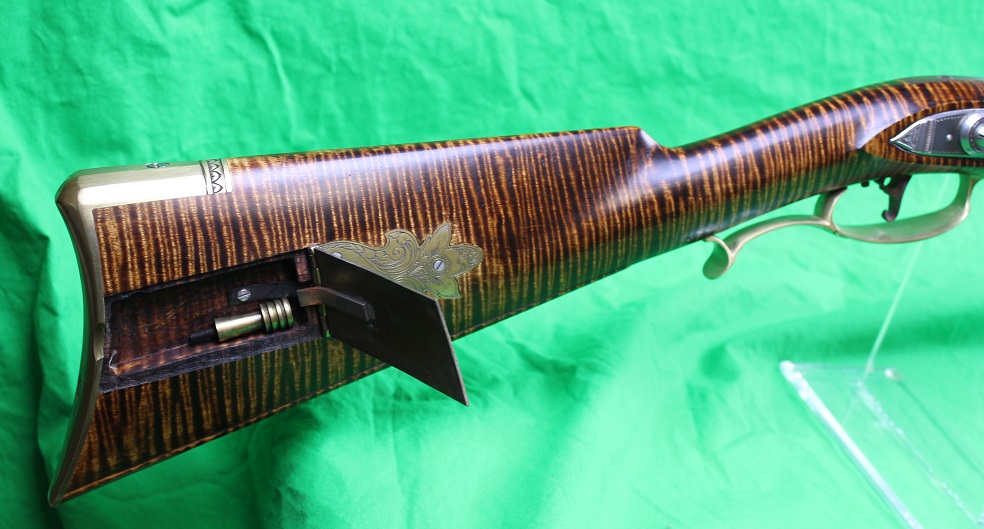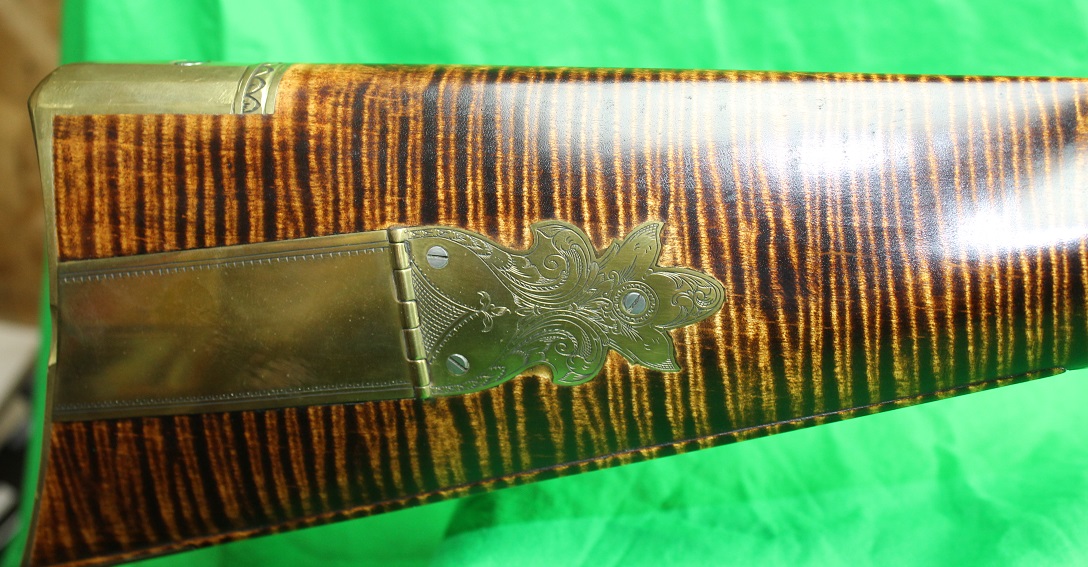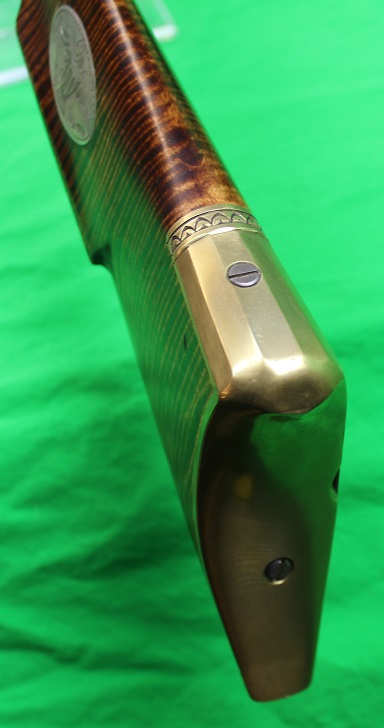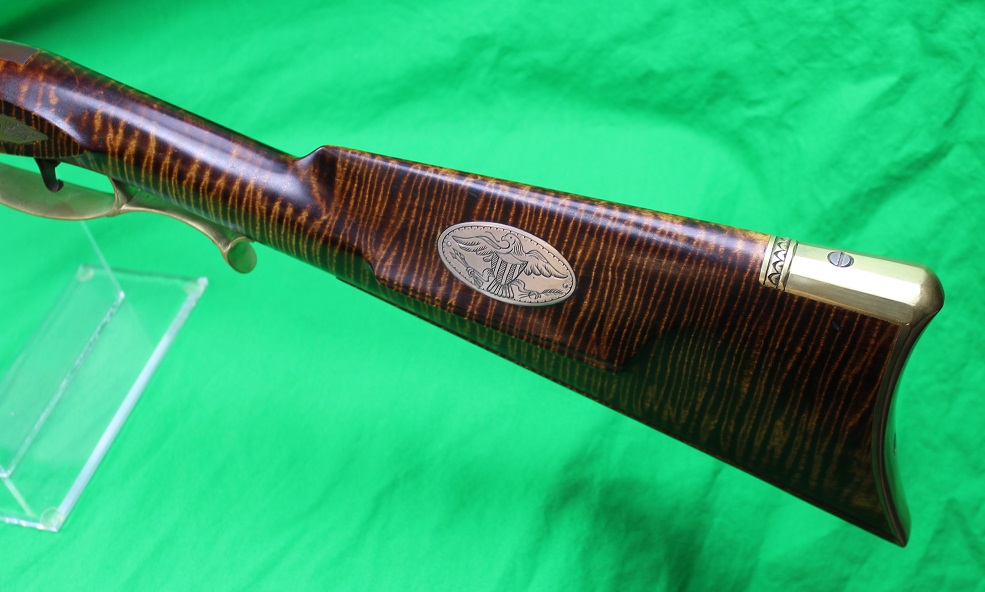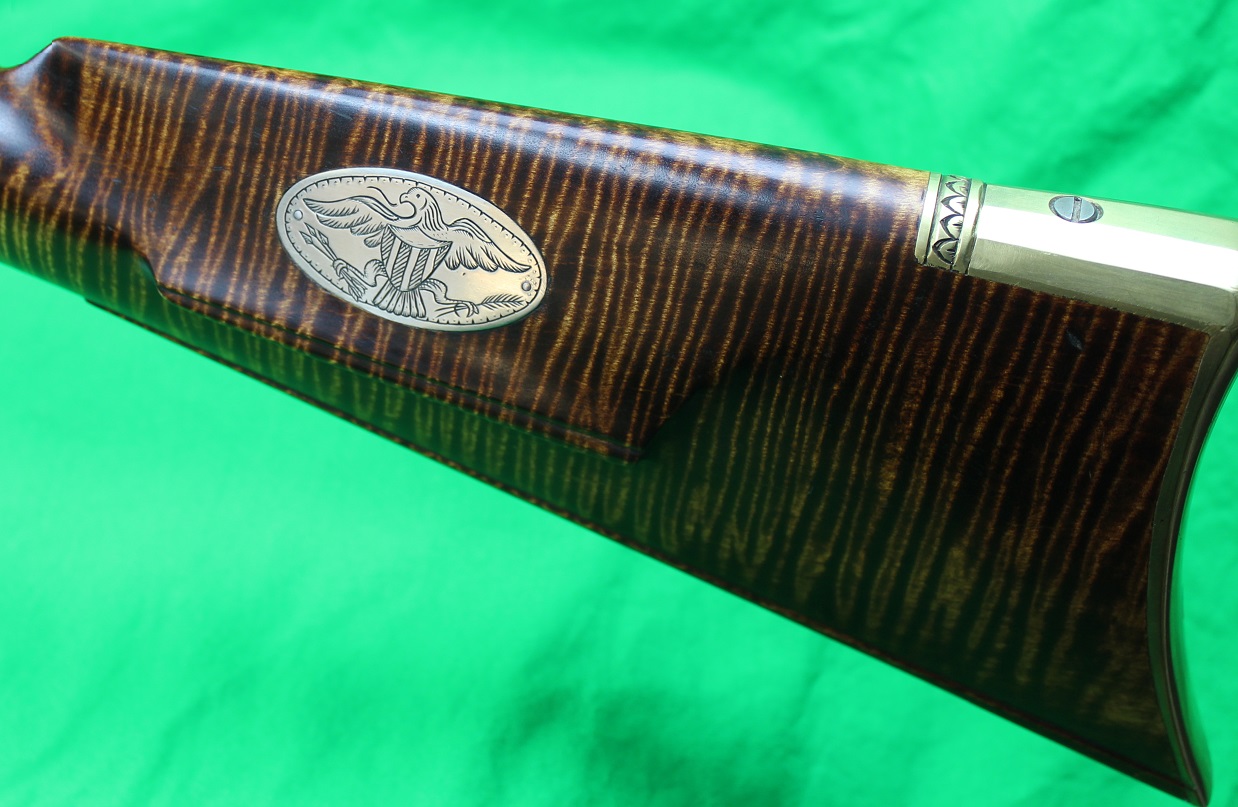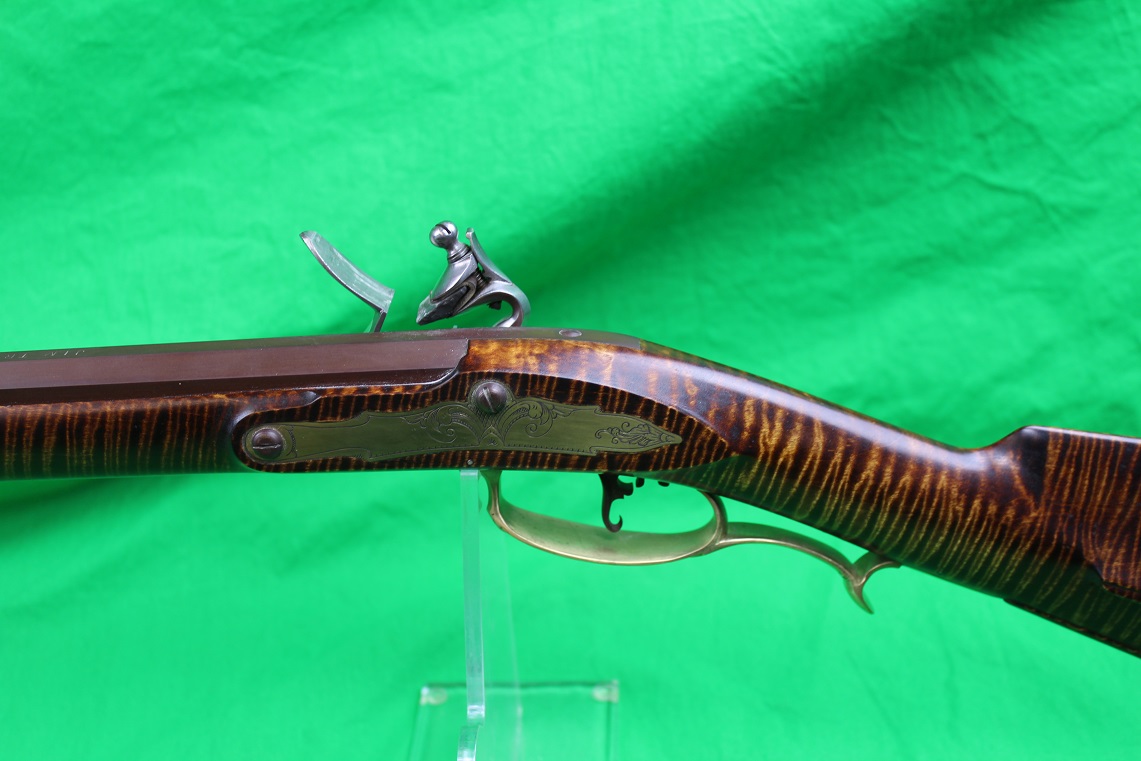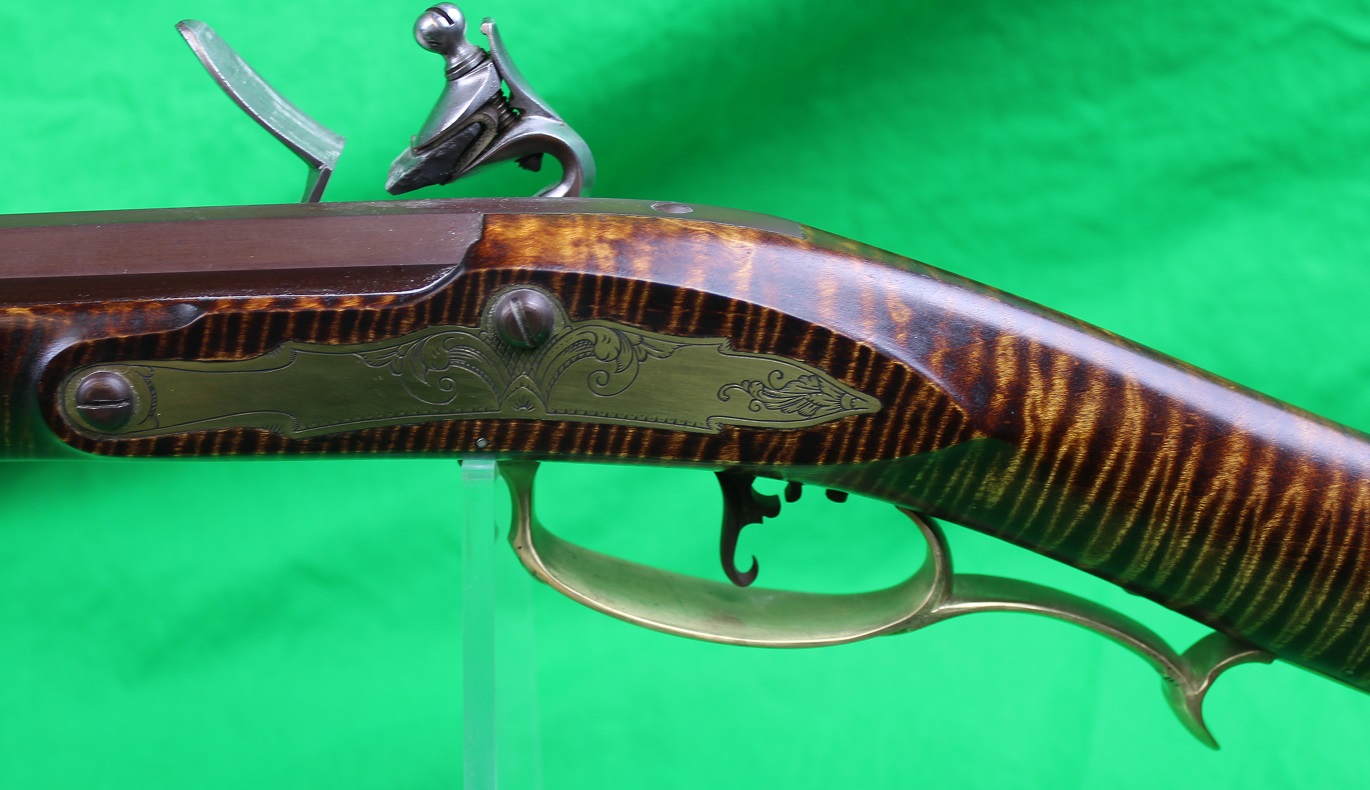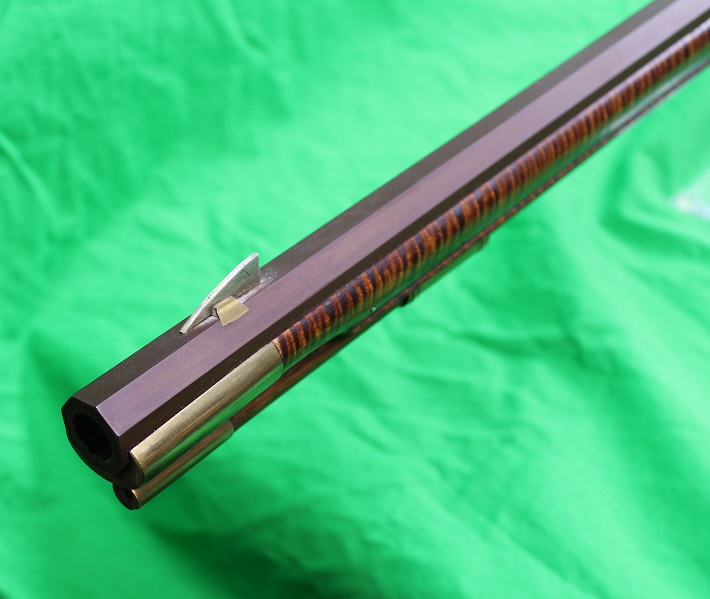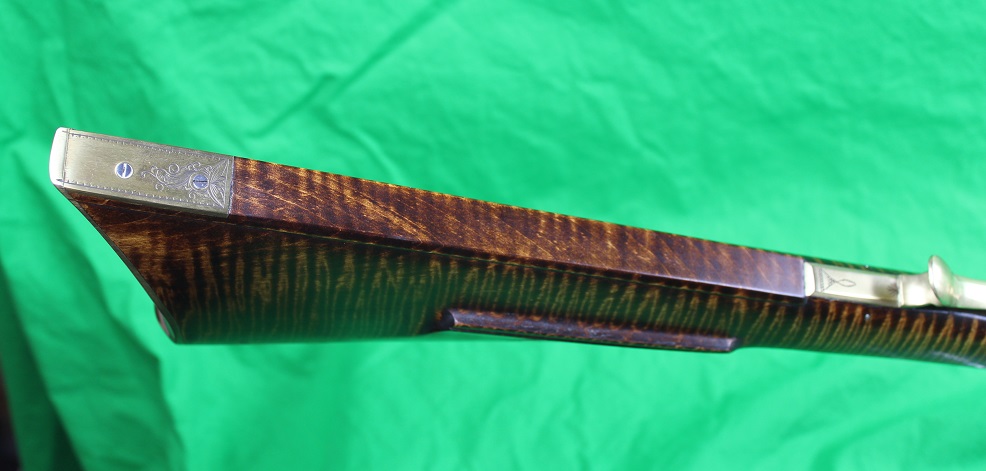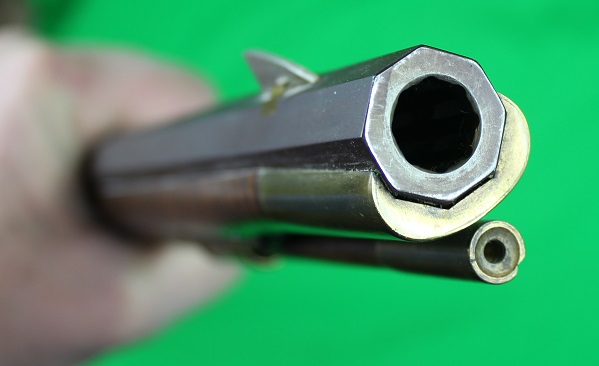 Thank you and please stop again--Ted & Sallie
This site is maintained by Derek Caldwell