Consignment 015
Here's a nice booklet entitled A HISTORY OF BROWNING GUNS FROM 1831, by Browning Arms in 1942. This fine booklet consists of 60 pages of photographs and illustrations! Quite nice!!! $30.00
Consignment 014
Here we have a mostly unused MACHING GUN SERVICE LOG. This booklet consists of 52 pages of text and places to make notations. There looks like Russian here in a couple of places that is printed when the booklet was made. Says date of manufacture 1981. $15.00
Consignment 013
Here's a booklet written in 1939 entitled HANDBOOK ON SHOTGUN SHOOTING prepared by the Sporting Arms and Ammunition Manufacturer's Institute of New York. This book consists of 100 pages of illustrations, photos and charts. $10.00
Consignment 012
Here's an Operation and Maintenance Booklet for the historic vintage ARMALITE'S AR-180 rifle. Much info and schematics in here! If you have one of these older historic rifles then this manual is invaluable! 23 pages. $30.00
Consignment 011
Here's a handy old booklet entitled IDEAL HAND BOOK NO. 30 Reloading Ammunition1931 by the Lyman sight Company. The first few pages and the outer cover has had wads cut out of it but by the time you get to part 1 it pretty much stops. 160 pages of text and illustrations! For this handy old booklet $30.00
Consignment 010
Here's a great booklet consisting of 64 pages of text and illustrations entitled RIFLE AND PISTOL AMMUNITION HAND BOOK published by Western Cartridge Company, East Alton, ILL 1929. The booklet is soiled but all there and otherwise in good condition. $15.00
Consignment 09
SOLD!!!
Here is a booklet entitled A CENTURY OF ACHIEVEMENT 1836-1936 just loaded with pics of old Colts up to that point. 96 pages and tons of info! Great shape! $45.00
ammo page 08
We just received a very large amount of vintage ammo in boxes and a little bit of loose ammo. Take a look at the pics and tell me if there is anything you are interested in. I will shoot you a quote. Thanks! Ted
ammo page 07
SOLD!!!
Original Peters 410 GA. HIGH VELOCITY Rustless Shotgun Shell Box! This is an empty box but we do have available to us some full boxes if you are interested. This box is in excellent condition with just minor wear and a little dirt to it and the colors are still bright! Check out the pics! $50.00
ammo page 06
Here we have a full box of Winchester 10 GA NEW RIVAL Black Powder Shells. The graphics are pretty nice. The box has wear and age to it. These shells with the blue paper were made from 1920-1929. The shells are all in fine condition for their age! For this full box $350.00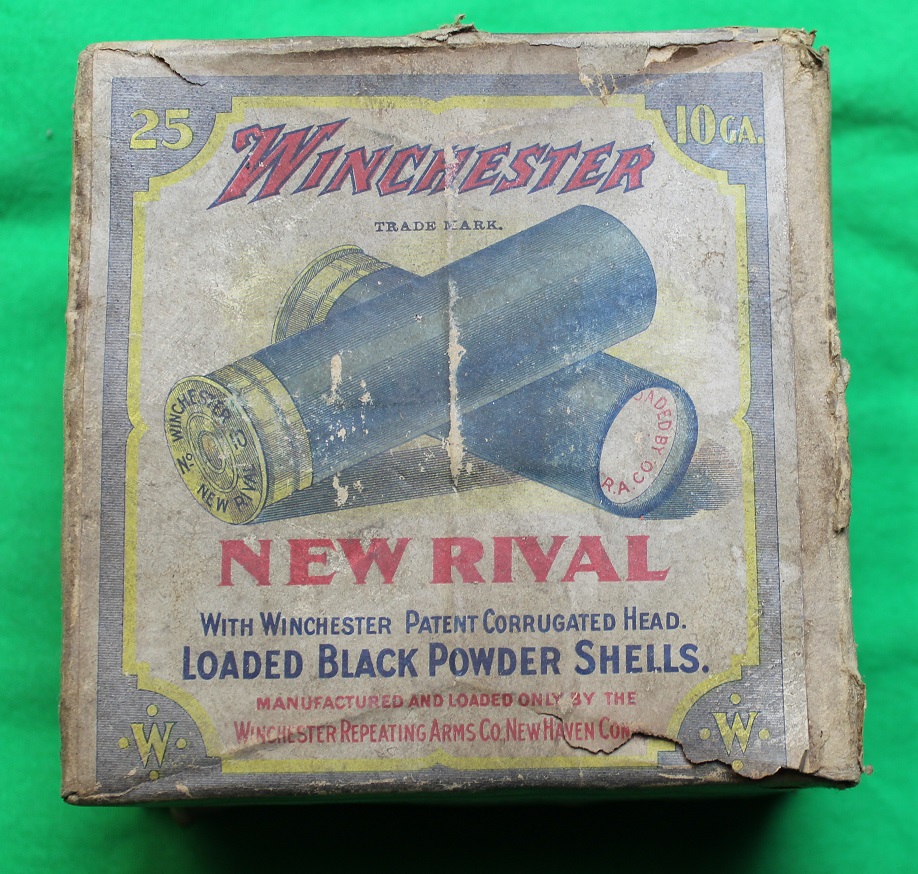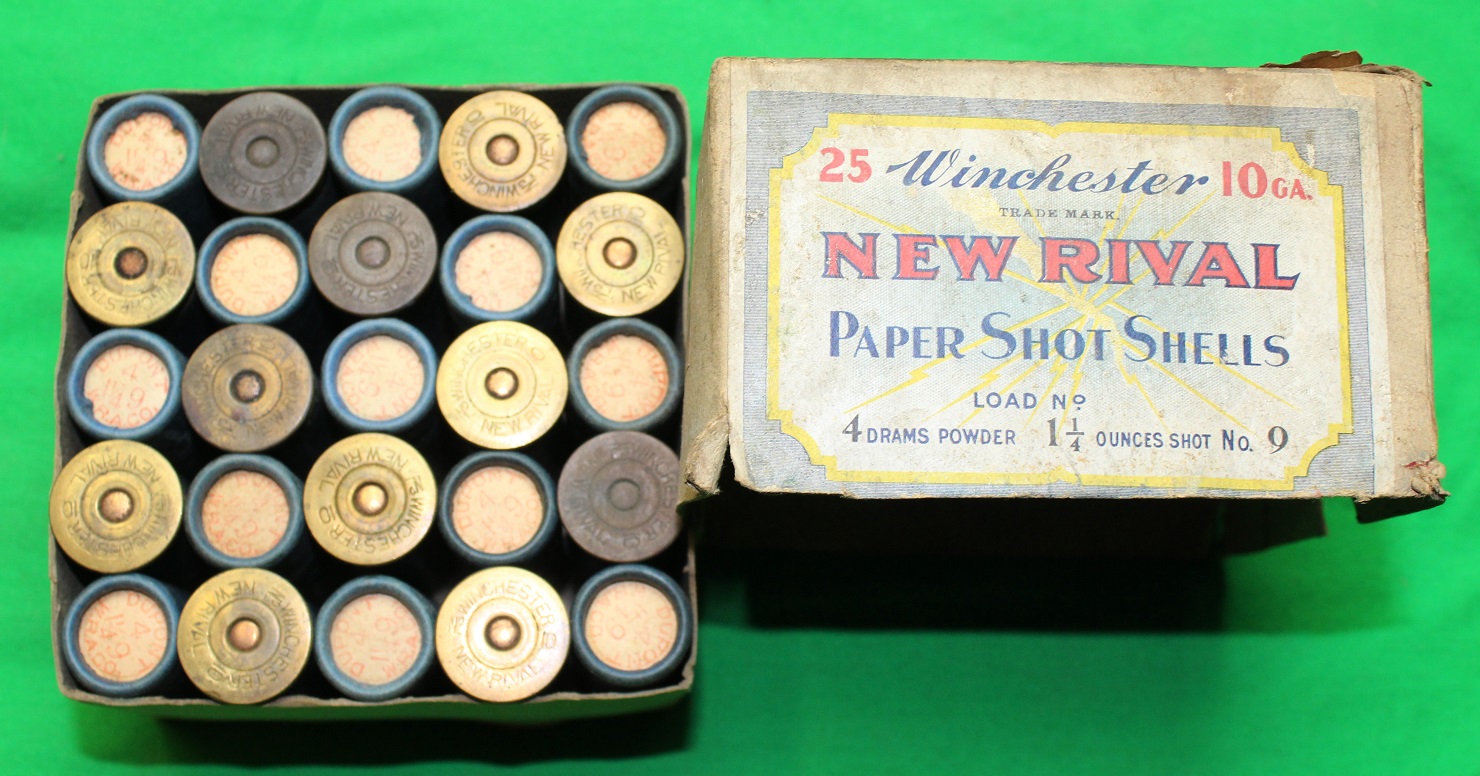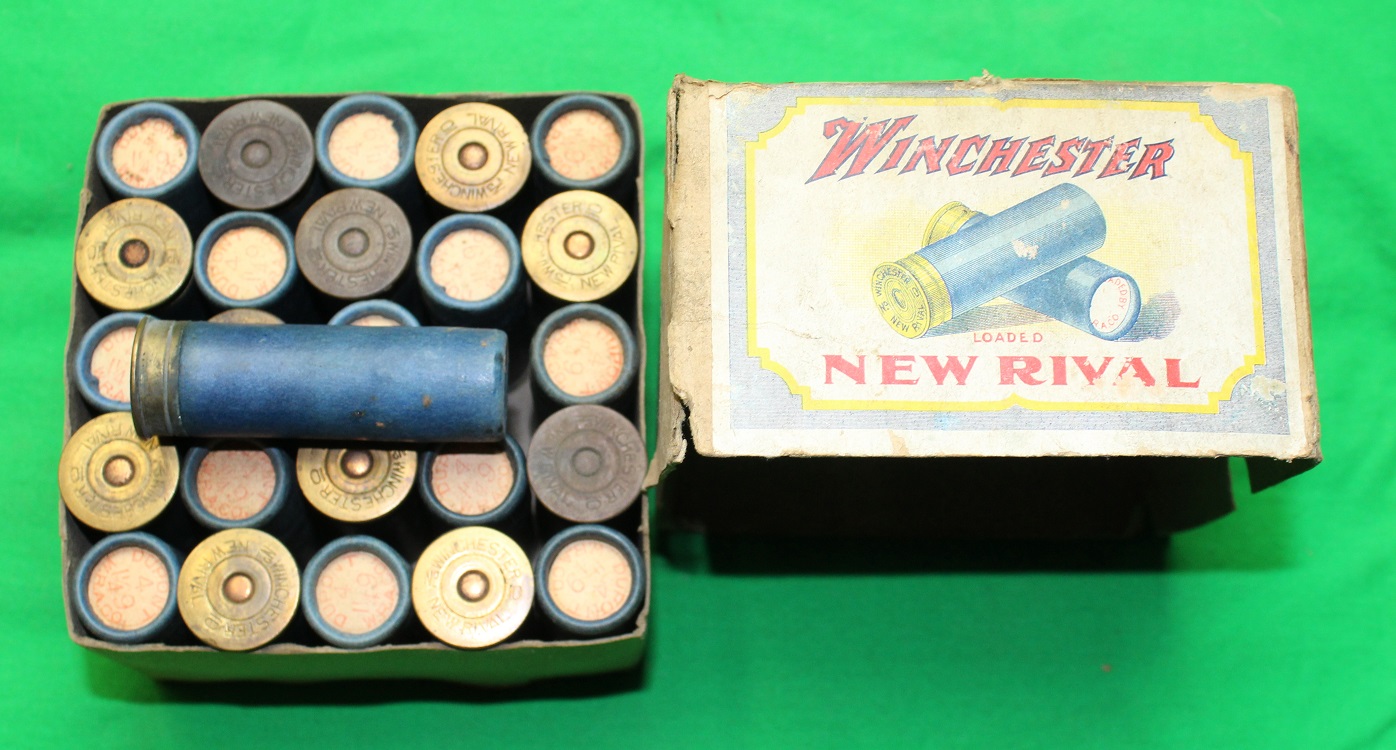 ammo page 05
Here we have a lot of 6 tins of Primer Cap 209 . These were made in Illinois and are made as primers for percussion firearms. This was a full sleeve that has been broken open but no primers have been opened. Each tin has 250 primers in them. $75 for the lot.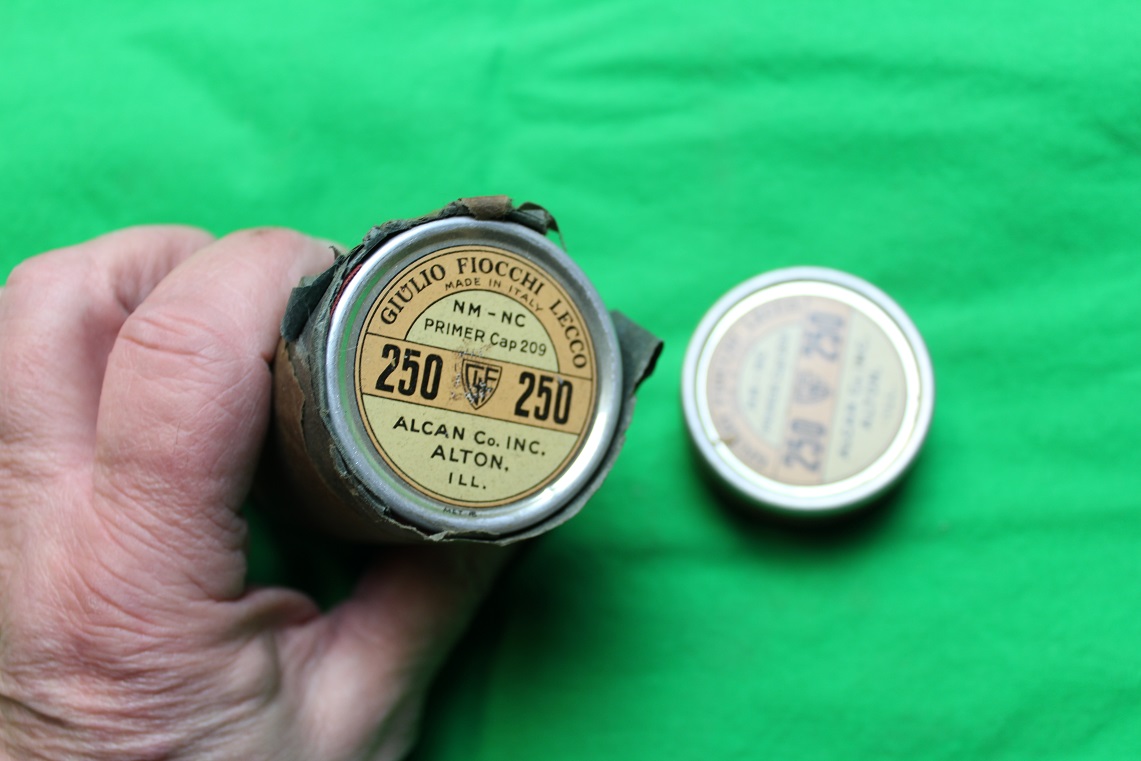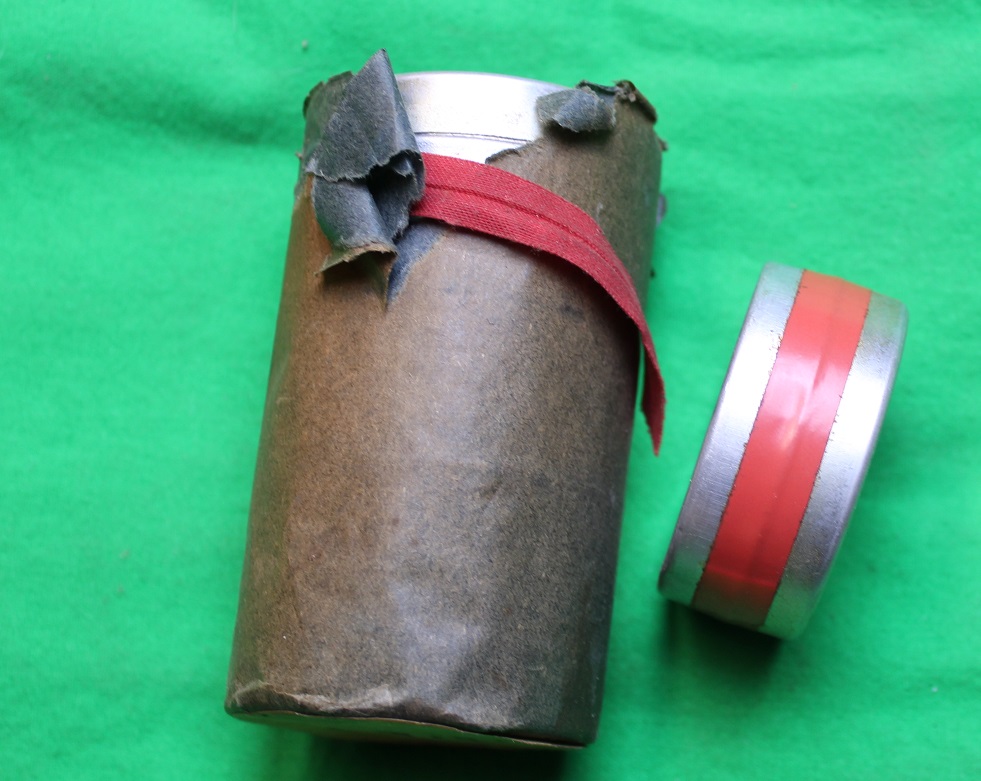 ammo page 04
Here we have an old vintage box of 23 STEVENS .25 RF PRIMED SHELLS without the powder or projectiles loaded in them. This box is supposed to house 50 of them but 27 are missing. The box is in good soiled condition with an nice label. For this piece $125.00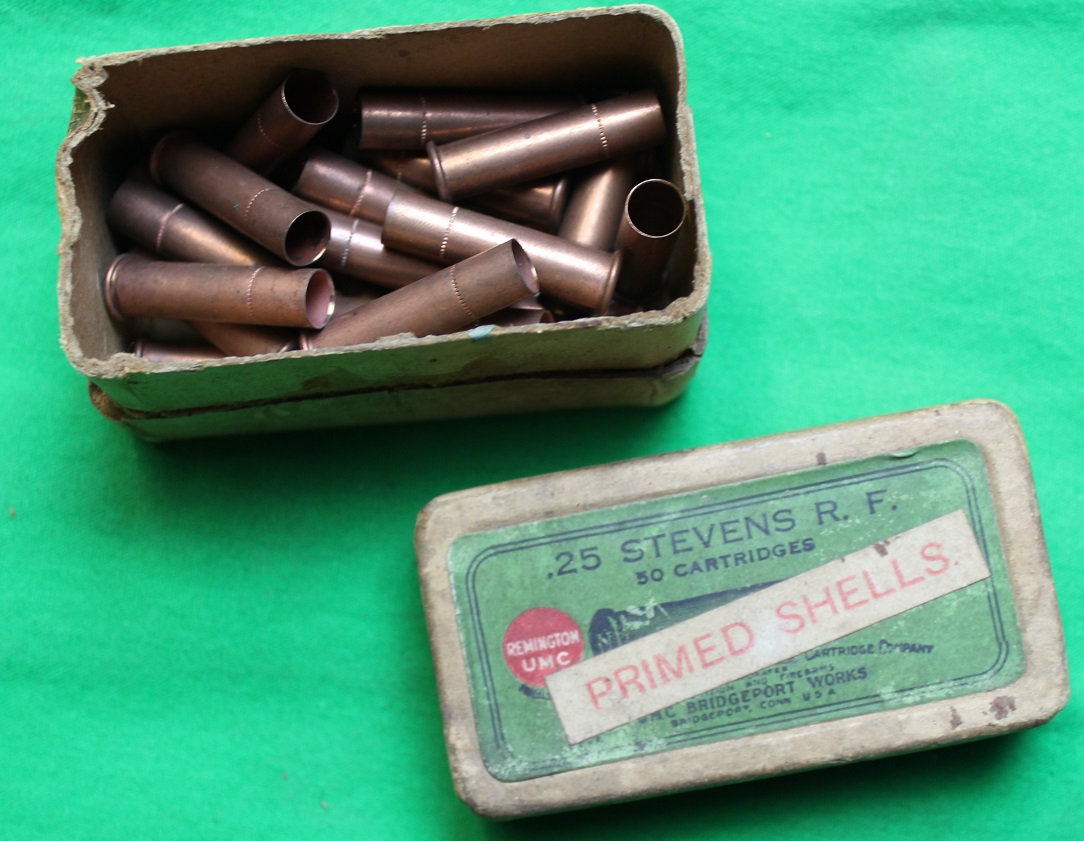 ammo page 03
Here we have 3 new old stock full boxes of FIOCCHI Ammo for the .30 caliber Luger / 7.65 Para. The 7.65×21mm Parabellum (designated as the 7,65 Parabellum by the C.I.P. and also known as .30 Luger and 7.65mm Luger) is a pistol cartridge that was introduced in 1898 by German arms manufacturer Deutsche Waffen und Munitionsfabriken (DWM) for their new Pistol Parabellum. The primary designers were firearms designers Georg Luger and Hugo Borchardt, who developed the round from the earlier 7.65×25mm Borchardt while working at DWM. Luger developed the 7.65×21mm Parabellum cartridge from the 7.65×25mm Borchardt by shortening the cartridge case. Rounds are mainly found with a 93 grain bullet and are available in both FMJ and SP. Fiocchi is one of the leading manufacturers of the 30 Luger/7.65 Parabellum to date. These boxes of 50 cartridges usually sell for around $22.00 a box but we can sell these for $18 a box. Can be shipped directly to your home but must go UPS. Actual UPS charges will apply.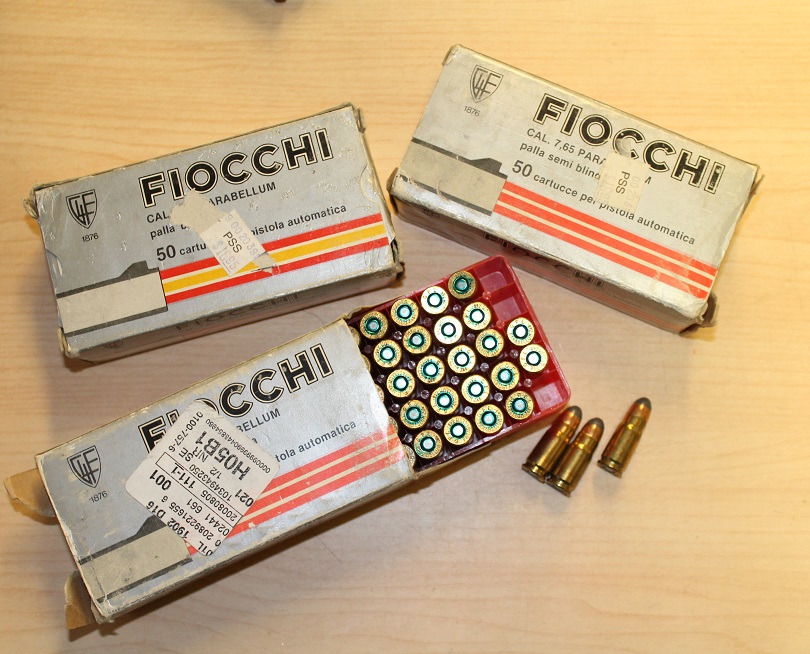 ammo page 02
Here we have an our of print book entitled THE FAMOUS AUTOMATIC PISTOLS OF EUROPE – A Fully illustraed guide to thirty-three models VOL 1. 272 pages of text, drawings and photographs with tear down schematics. Worn over but still intact and very usable. $25.00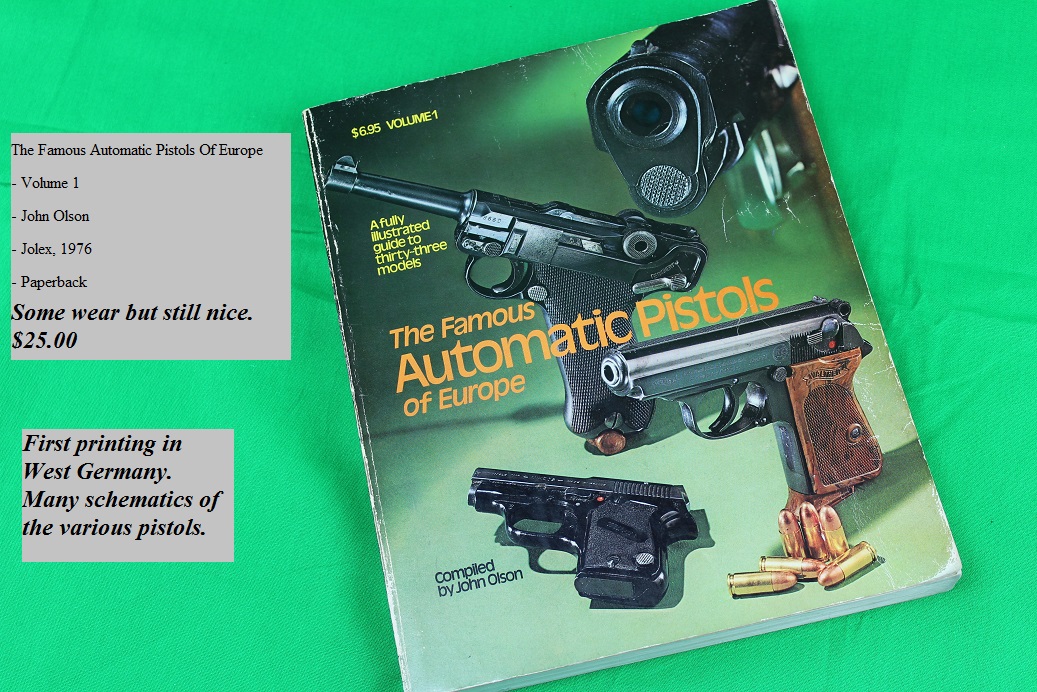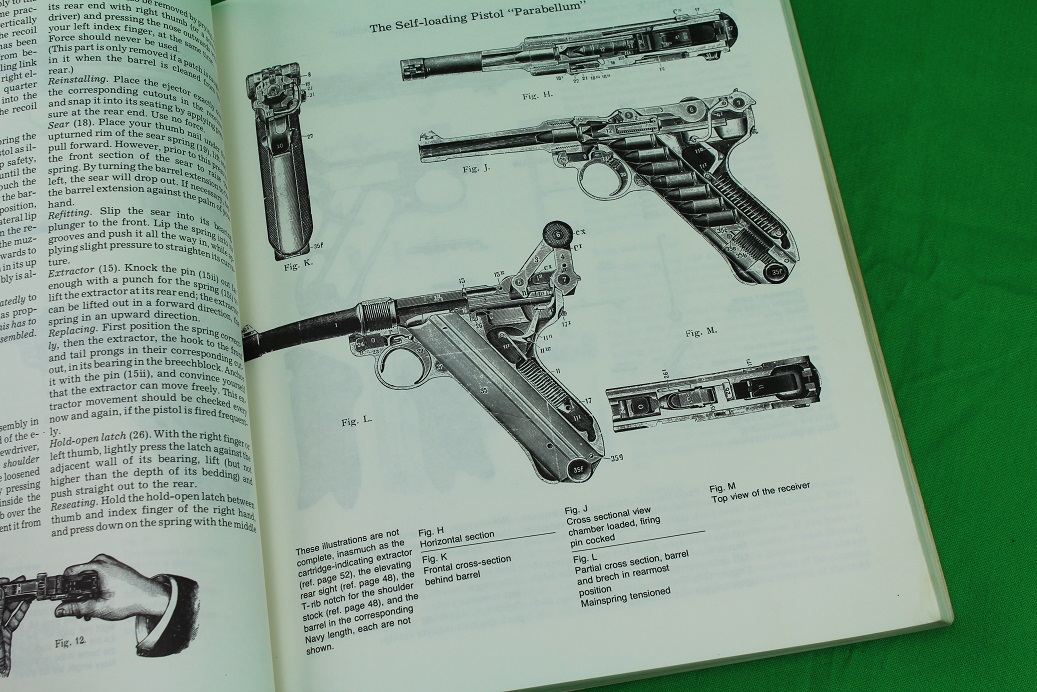 ammo page 01
We have several boxes of Shotgun and pistol primers below. All are vintage and would look great in a display! Take a look!!!
More!!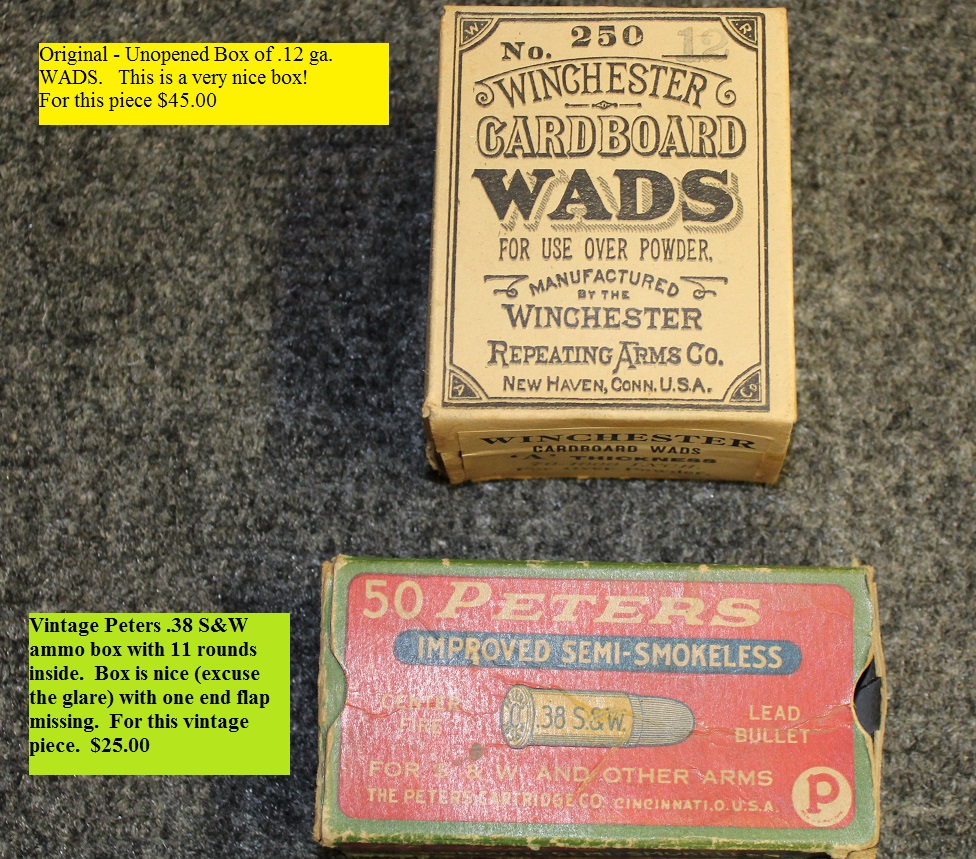 CONSIGNMENT
ammo page 1
Here is a box of WINCHESTER SUPER SPEED Loaded with LONG RANGE RIFLE SLUGS Progressive Burning Smokeless Powder 12 Ga. Shells. Description: This full 5 round box contains high brass super speed shells with red paper hulls loaded with slugs that show a five pointed star at tip. The box is soiled but still nice. Take a look at the pic. $25.00
CONSIGNMENT
ammo page 2
Here we have a full box of 20 WINCHESTER MODEL 1886 AND SINGLE SHOT RIFLES .40-65 CALIBER SOFT POINT CARTRIDGES for sale. All the unfired cartridges are present. The box has been opened. The box is worn but the graphics are good. $225.00
CONSIGNMENT
ammo page 2
Here's another box of the .40-65 CALIBER SOFT POINT CARTRIDGES for the WINCHESTER MODEL 1886 AND SINGLE SHOT RIFLES. The box is in lesser condition on this one and part of the graphics are torn off. All of the cartridges are there but there is damage to the bottom of the box. $185.00
CONSIGNMENT
ammo page 3
Here's another box of the .40-65 CALIBER, SOFT POINT, MODEL 1886 WINCHESTER CARTRIDGES . This is a full box as well and while this box has a little upper lid end crumbly damage on one end the graphics are really nice on the box and on the lid. For this one $225.00
CONSIGNMENT
ammo page 4
Here we have a vintage box of .45 ammo. This is '20 CARBINE BALL CARTRIDGES, RELOADING CALIBER .45, THE UNION METALLIC CARTRIDGE CO.' The box has been open but all 20 unfire cartridges are there. This is in nice condition! $250.00
CONSIGNMENT
ammo page 5
Here is an old vintage box of WINCHESTER .25-20 SOLF POINT STAYNLESS CARTRIDGES. The box is for 40 shells but there is only 4 live shells in this box and 38 empties. The 2 piece box is stained but still has great graphics! $75.00
CONSIGNMENT
ammo page 6
Here is an old vintage EMPTY box of 38 S. & W. 50 Central Fire Cartridges by The Reminton Arms Union Metallic Cartridge Company. The box is in very nice condition! $55.00
CONSIGNMENT
ammo page 7
WOOD-CASED SHOT CARTRIDGE - A cartridge which has a hollow wooden shot-filled projectile. Usually found in calibers not ordinarily associated with shot cartridges. That's the description of what we have here! This is quite rare to find nowadays. This is a box that has 15 of the Wood-cased shot cartridges in them for the .50 Caliber Navy Pistol Model 1870. Take a look at the pic. The lid says U.M.C. 25 .50 Cal, Pistol. Central FIre Cartridges by the Union Metalic Cartridge Company of Bidgeport, Conn. The box has wear to it as you can see but you can still read it ok for the most part. The cartridges are in good condition with a few intact with no splits on the head and several showing splits in which you can see the shot on the inside of them. Acted like a heavy caliber shotgun! For this rare offering $325.00
CONSIGNMENT
ammo page 8
Here we have a box listing .45-70 WINCHESTER HIGH VELOCITY smokeless cartridges with soft point bullets for the Winchester Model 1886 Repeating Rifles. There are 7 spent shells and 13 live bullets. Only 6 of the live bullets are Winchester, the rest are Peters and the spent ones are Western (6) and REM-UMC (1). The box is in pretty nice worn condition. Look at the pic. For this box $85.00
CONSIGNMENT
ammo page 9
Here we have box of 44 WINCHESTER .32-20 CENTER FIRE SMOKELESS FULL PATCH NON-MERCURIC STAYNLESS CARTRIDGES. There is supposed to be 50 here so it's missing just a few. The box looks pretty good and all it is missing is one end flap. Nice item! $95.00
CONSIGNMENT
ammo page 10
SOLD!!!
Here is a box containing 34 Winchester 9mm long shot cartridges for the Model 36 Shot gun. The box says 50 WINCHESTER 9MM LONG SHOT CARTRIDGES ADAPTED TO MODEL 36 SHOT GUN, CAL. 9MM -RIM FIRE- SMOKELESS POWDER. This is still a pretty nice box. Someone took notes on it with a pin now worn. Look at the pic. $95.00
CONSIGNMENT
ammo page 11
Here we have a 2 piece box for .32 S. & W. 50 CENTRAL FIRE CARTRIDGES made by THE REMINGTON ARMS UNION METALLIC CARTRIDGE COMPANY. This box contains 10 original cartridges. This is a nice looking box overall with just minor damage to it. This is a great display item! $45.00
CONSIGNMENT
ammo page 12
This old box has 33 original rounds in it. This is a box of .38 COLT SPECIAL cartridges by REMINGTON ARMS COMPANY. The box is complete and although not perfect by any means, it's in nice shape. The colors are nice. For this box $55.00
CONSIGNMENT
ammo page 13
Here we have 5- .22 caliber ammo boxes.
1. Peters Cartridge Co., Cincinnati, Ohio; Two Piece Box, .22 Short R.F. Rifle Cartridges. Semi-Smokeless Powder. Green, red and yellow label pictures cartridge. . Empty, very good condition. $65.00
2. Winchester box 0f 50 .22 cal SMOKELESS RIFLE CARTRIDGES in good condition. 2 piece box. Empty. $65.00
3. UNION METALLIC CARTRIDGE CO. box of 100 .22 cal. B.B. caps Swaged Ball. 4 .22 B.B. CAPS SMOKELESS SWAGED BALL Bulk packed box of 100 rounds. Two piece half-split box with white (now yellow) side sealing band. (a) Side reads UMC 100 B.B. Caps Smokeless Swaged Ball. (Side C) (b) Side reads 100 Smokeless Swaged Ball B.B. CAPS. (Side D) (c) Side reads UMC 100 UMC Smokeless Swaged Ball B. B. CAPS. (Side E). This is a nice box with some wear. $35.00
4. WINCHESTER .22 SHORT 50 RIM FIRE STETSON'S PATENT OCT 1871, LESMOK RIFLE CARTRIDGES. This is for the 2 piece box only. It's a nice vintage box! $52.00
5. This is a RARE Box! This is a box for 50 .22 STEVENS-POPE ARMORY RIM FIRE CARTRIDGES by THE PETERS CARTRIDGE CO. This is a two piece box and in pretty good shape. It still has 16 of the original cartridges in it. Peters box made for ammunition intended for use in the very accurate rifles made by Stevens in cooperation with famed barrel maker Harry M. Pope. Peters was one if several makers later absorbed by Remington. For this rarity $250.00
ammo page 14
12 Guage STEEL shot!
ammo page 15
7mm Magnum Ammo!
CONSIGNMENT
ammo page 16
Peters Dewar Match 22 LR Ammo • Price: $60.00 Each box. Description: This is the gold/green box. Boxes have bright colors and is about as mint as one should expect to find. Boxes are full of lead round nose bullets in brass cases with a large P on the case end. The box have on each end enclosure RANGE-ONE-MILE BE CAREFUL. This is excellent quality! Check out the pic. •
CONSIGNMENT
Here are 3 vintage boxes of Shotgun shells.
The first one to the left is a full box of PETERS VICTOR 12 GA. SHOTGUN SHELLS 'KLEANBORE' PRIMING. These are plastic shells in an excellent box. $65.00
The box to the right is a full box of 25 PETERS 12 GA HIGH VELOCITY RUSTLESS LONG RANGE-HARD HITTING SMOKELESS SHOTGUN SHELLS- NEW PETERS CRIMP. The box is worn but still real nice! $65.00
Here is a full box of REMINGTON KLEANBORE NITRO EXPRESS .410 SHOT SHELLS EXTRA LONG RANGE WETPROOF. The box and shells are in excellent condition! The colors are bright! $65.00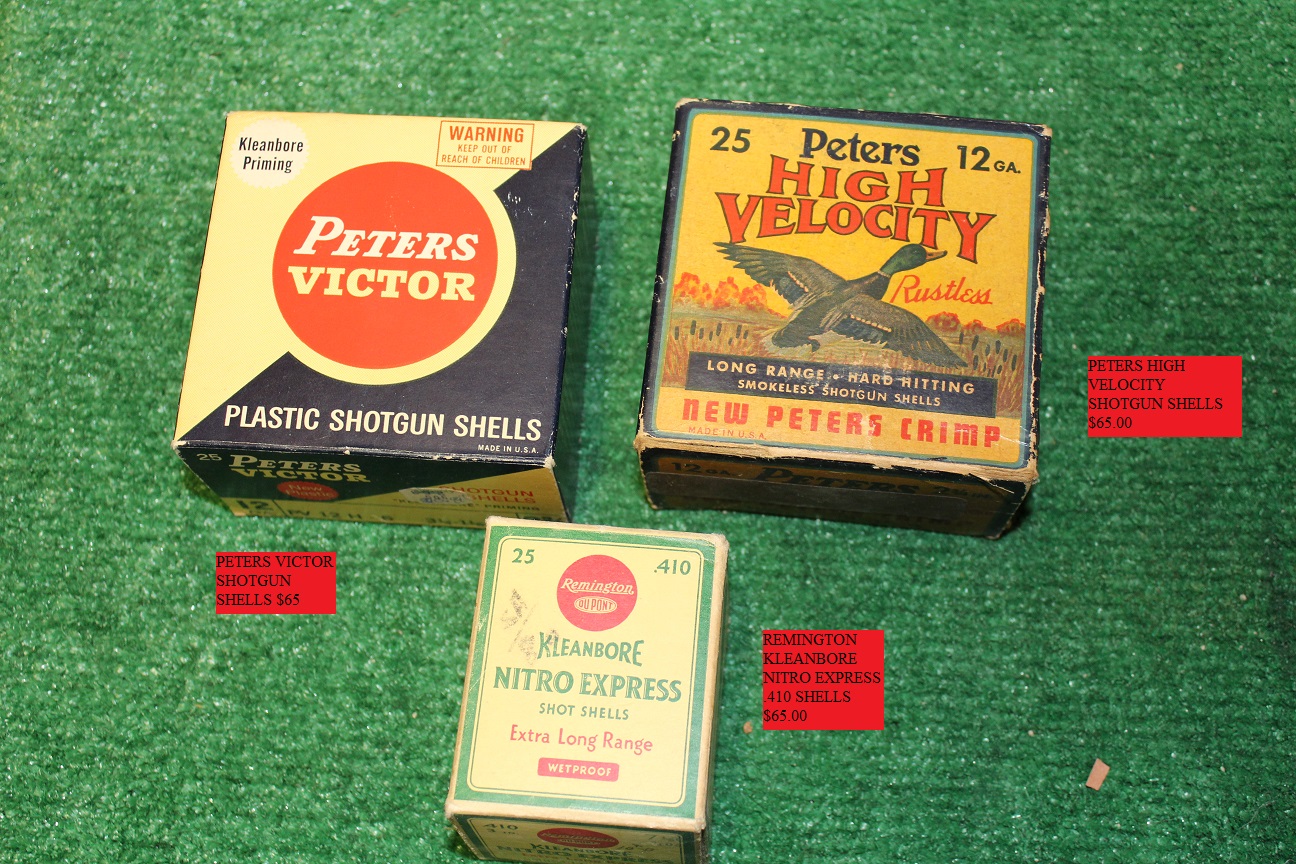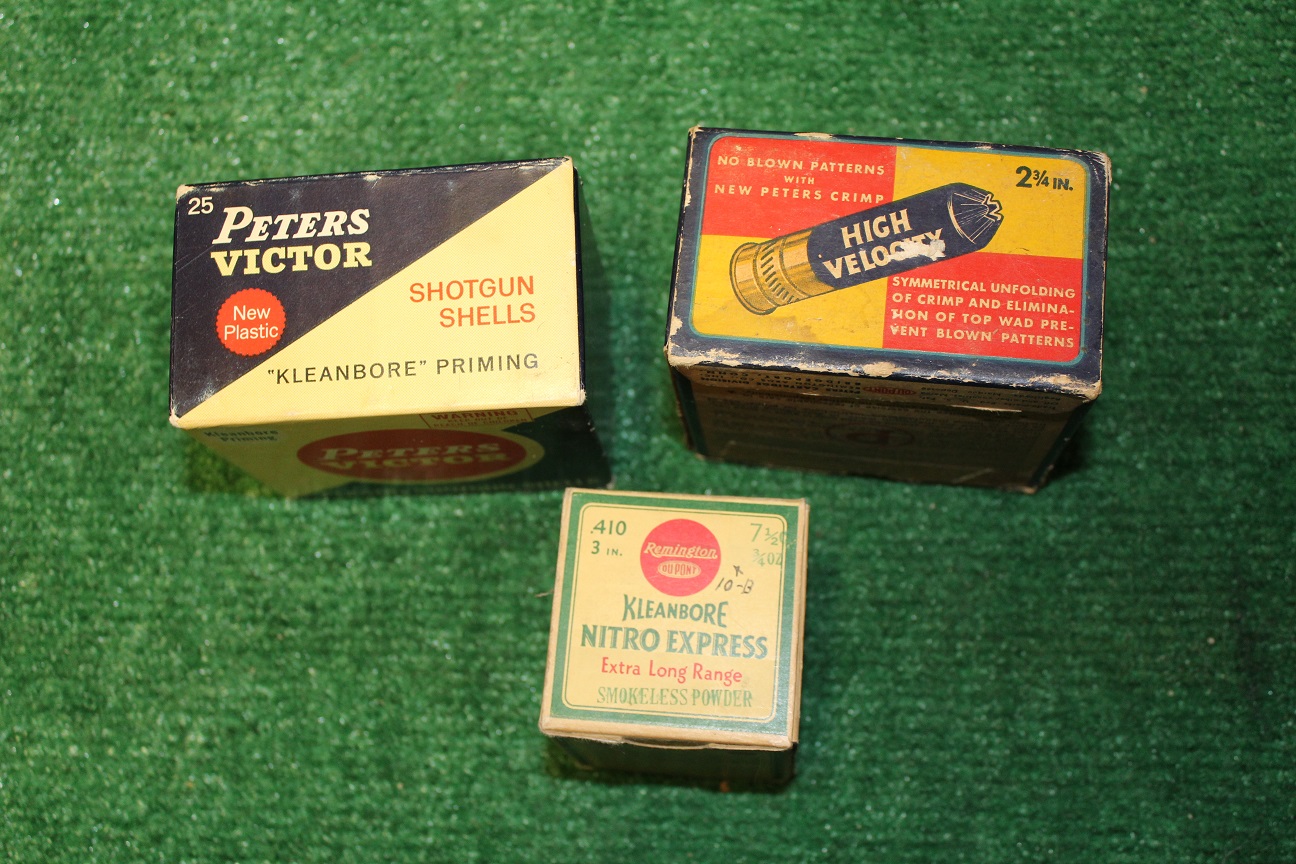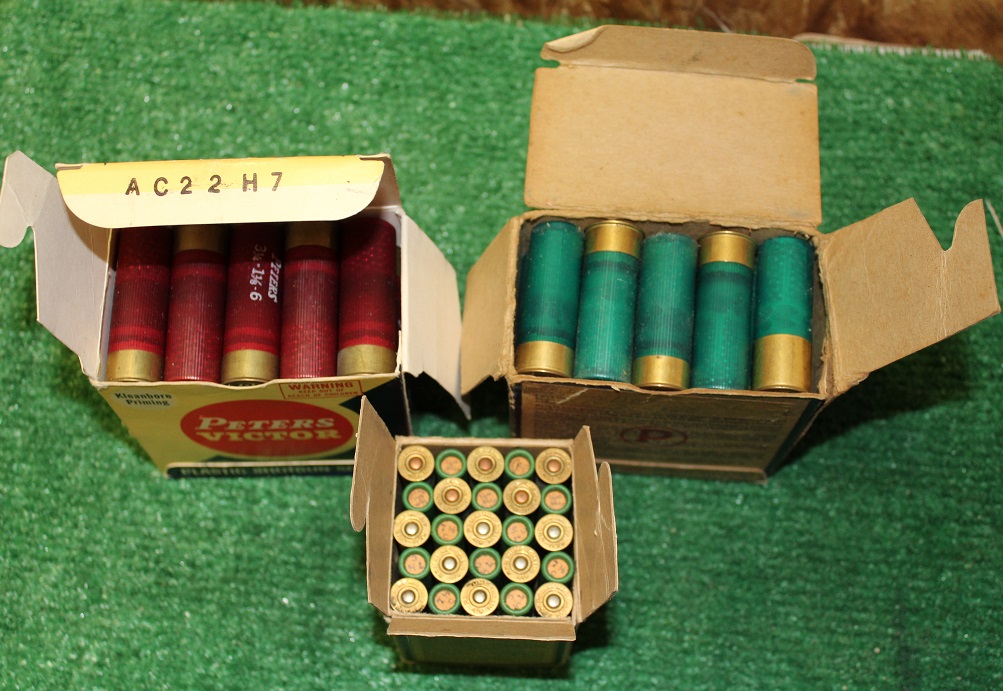 Here we have 4 vintage boxes of Shotgun shells. Two of them are still wrapped in cellophane. They are the PETERS VICTOR RUSTLESS SMOKELESS SHOTGUN SHELLS- 25- 12 GA. The box has age and stains but it's still survives! $65.00
The other one wrapped in cellophane is the 25-12 GA HI-POWER SHOT SHELLS with the Mallard on the front. The box looks great! $65.00
The top box on the left is the WINCHESTER RANGER LOADED SHOT SHELLS SMOKELESS-STAYNLESS 12 ga. paper shells. The graphics are great and it has a Pointer on the front! The box is in very nice condition. Full!
SOLD!!!!
The top box on the right is the 25-12 ga PETERS HIGH VELOCITY 'NEW PLASTIC' "KLEANBORE" PRIMING EXTRA POWER Shotgun shells. The box is full but one of the shells is a Remington shell. This box has a mallard flying on the front and back. This is a nice one! $65.00
I just got in a group of obsolete Ammo and related materials. Please look at the pic below. I will add them as I do the research. Thanks!
ammo page 19
Here is a box of UMC .22 SHORT RF SMOKELESS 50 CARTRIDGES, but it has only 15 cartridges left. The real jewel is the box! It's still nice and solid with great graphics. The box also has on it Xpecially adapted for fine Gallery and Target Shooting also for sporting purposes. Nice display item with a Model 1890 Winchester Slide action rifle!!! $45.00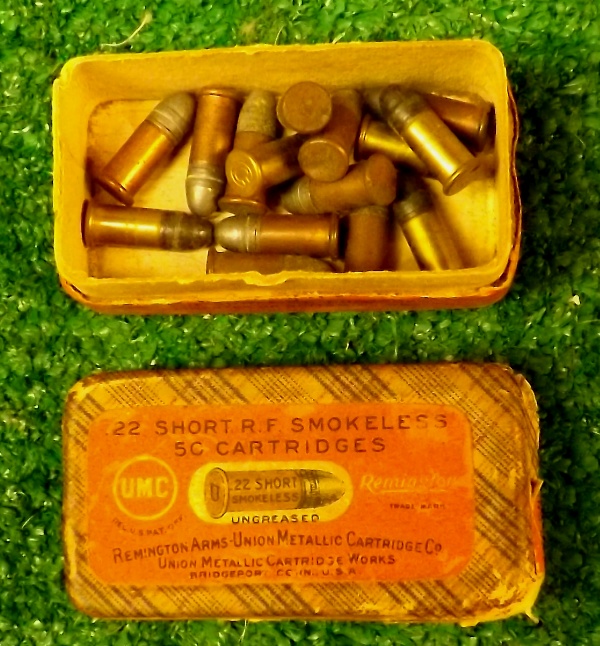 ammo page 20
Here is a box of 37 .22 CAL. HORNET shells in box. The bos says EMPTY PRIMED SHELLS so these shells must have had the powder and projectile loaded then put back in the box. The box was held shut by tape and has on the side of it 55 grain bullet?. Take a look at the pic. $125.00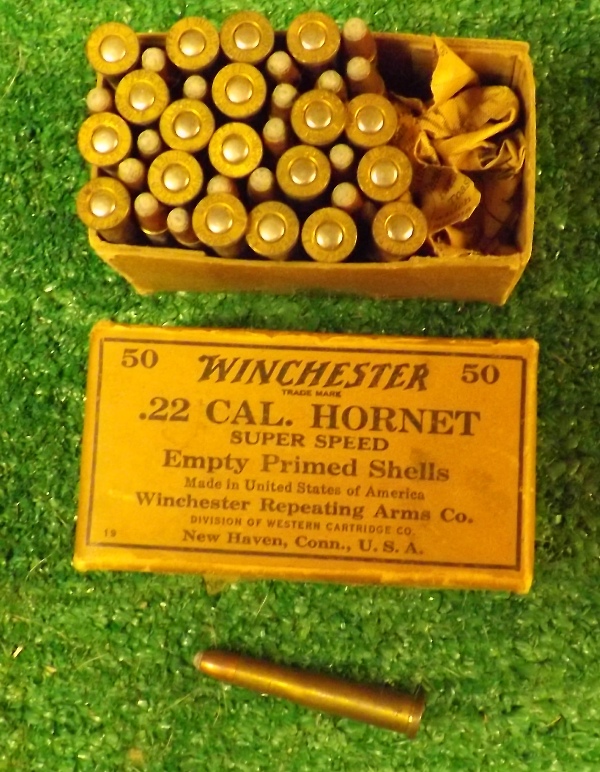 ammo page 21
Vintage box of 1000 WINCHESTER Non-Mercuric Staynless Primers Center Fire No. 120. There are 10 Boxes of 100 inside the master box. Nice!!! $120.00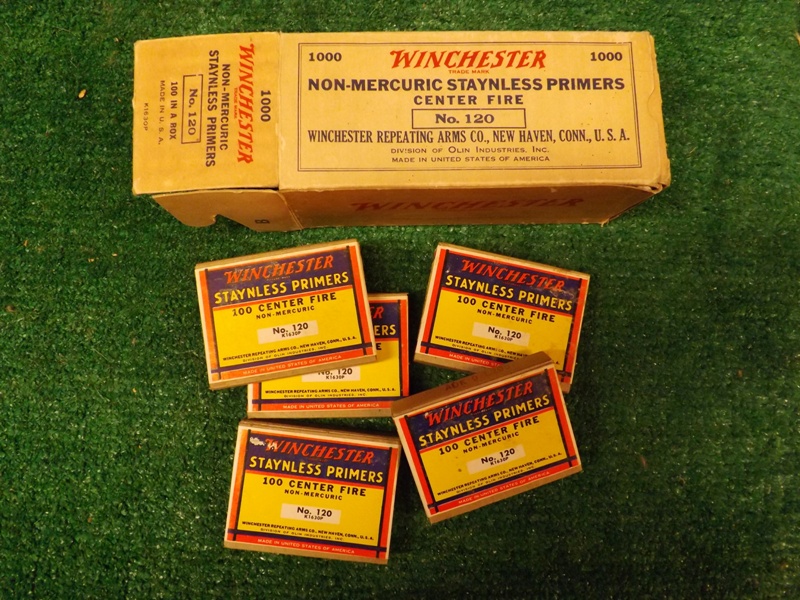 ammo page 22
Here's another vintage box of Winchester primers but they are older than the box above. This one is for Winchester Leader, Metal Lined and Pigeon paper shot shells using Nitro Powders. The box is unopened and in great condition for it's age. Nice! $30.00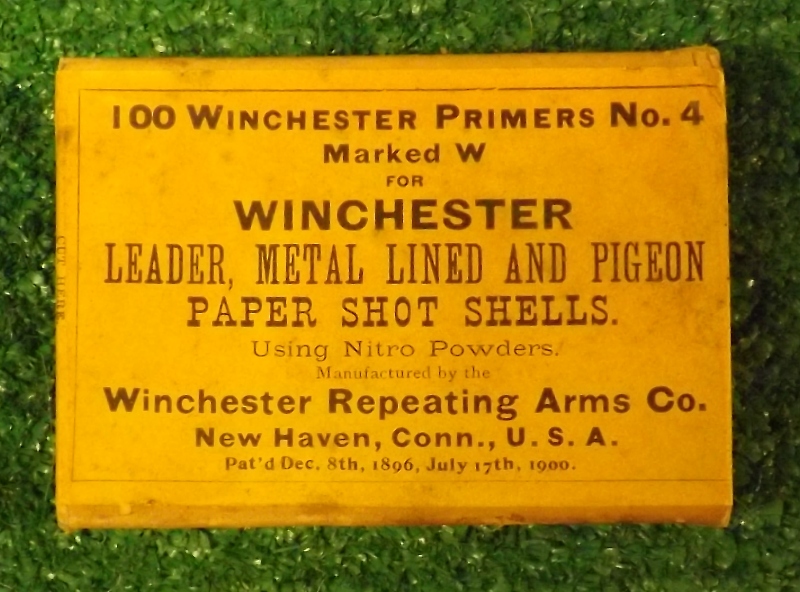 ammo page 23
Here's an old box of 35 Parabellum 9mm pistol shells made in Czechoslovakia. The box full would be for 50 shells so there's 15 missing. For this box $15.00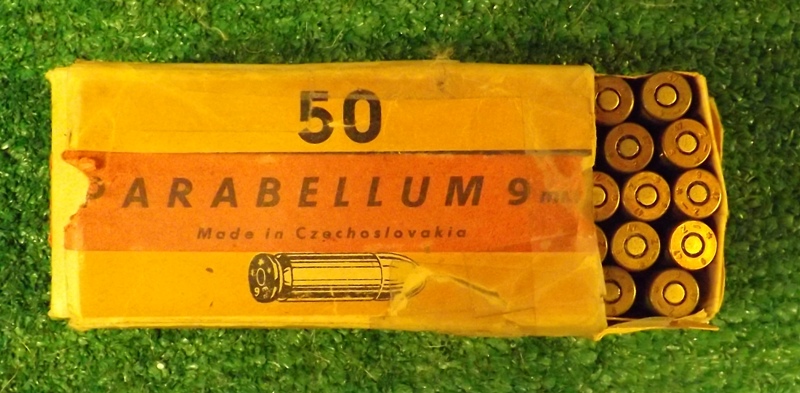 Consignment
ammo page 25
Here is a hard to find commerative book being 1 of 1000 and is entitled THE WINCHESTER HANDBOOK by George Madis. This is the 1 of 1000 edition being bound in brown leather boards and is signed by the Author. This is the 1st Edition Copy of this book. The book measures 8 3/4 X 5 3/4 and consist of 287 pages with photographs and charts. Quite a desireable book for the Winchester Collector!! $395.00
ammo page 37
Here's a book that I don't believe you can get anymore as I believe it's out of print. This is a book entitled U.S.MILITARY KNIVES -BAYONETS & MACHETES - BOOK III - M.H.COLE, 4th printing 1987 along with the 1994 pricing supplement UNITED STATES MILITARY KNIVES by Silvey, Boyd and Price. This reference book is a must if you collect US Military knives!!! 220 pages of text, line drawings and photographs! It's a 8 3/4 X 11 14 inch hardbound book in DJ. Everything is in real nice condition but the dust jacket does show some wear. The previous owners name is written in ink inside. Great book!!! $125.00
ammo page 38
Here's an excellent book signed by the author and entitled ELMER KEITH - HIS LIFE STORY - "HELL, I WAS THERE". Petersen Publishing, 1979. Hardcover. Book Condition: Very Good. Dust Jacket Condition: Very Good. 1st Edition. Elmer Keith: Hell I Was There: His Life Story. Adventures of a Montana Cowboy who gained world fame as a Big game Hunter and expert in Guns & Ammo. This is a large format (10.5"x8.5") volume, one of the AUTHOR'S LIMITED EDITION OF 500 COPIES SIGNED by Elmer Keith on the front free end page. Profusely illustrated with photographs including a nice section on his African hunting with Truman Fowler. A very nice copy of the Author's limited edition Scarce. This one is rare to find and in such good condition!!! $495.00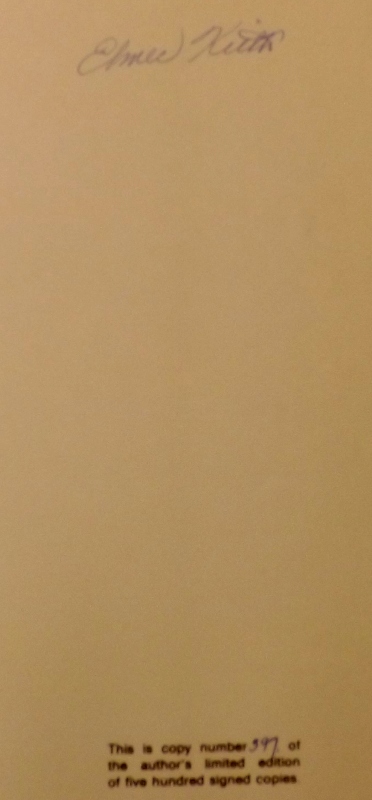 ammo page 39
Here's an original hardbound book in fair dustjacket entitled THE MUZZLE-LOADING CAP LOCK RIFLE by Ned H. Roberts, 1958. This book explores the history, construction, and care of one of America"s finest firearms. It features hundreds of photographs that show muzzle-loading cap lock rifles, ammunition, cap magazines, powder flasks, bullet moulds, and more. It also describes and recreates traditional shooting matches in fascinating detail. $25.00
ammo page 40
Here is a fantastic condition hardbound book in dj entitled THE KENTUCKY RIFLE HUNTING POUCH by Madison Grant, 1977 and signed by the author in a presentation to the previous owner. 207 pages including bibliography; book is well-illustrated with 134 duo-toned (sepia and white) photographs with additional line drawings. "An overview of the history, style and function of the hunting pouch as an indispensable associate of the muzzle loading rifle or musket.More than two hundred examples of pouches and other items needed to service the distinctly American gun known as the long rifle. Accompanying the pouches are descriptions of purpose and examples of the sometimes folk art appearance of numerous accoutrements: This is one great book and it's signed by the author! $100.00
ammo page 41
Here's a good hardbound copy in plastic stick on dj entitled THE KENTUCKY RIFLE by Dillin, 1959. 201 pages, plus publisher's ads. 126 photographic plates showing hundreds of rifles. Frontis photo of famed rifle maker John Shell. Aside from the plastic stick on dustjacket this is one fine book! Has the original owners name inside. $30.00
ammo page 42
This is a good copy of THE GUN DIGEST 2ND ANNUAL EDITION . Publisher: Paul, Richmond & Company, Chicago, 1946 The covers are still attached to the book with dings on the corners. Minor wear to edges, a bit water staining inside but still not bad. The text is unmarked except for the original price of $1.25 in pencil. Staples well intact to interior pages. Many excellently clear photographs and illustrations. 163 pp. "Authentic guide to American & foreign rifles, shotguns, handguns and accessories." Revised since the end of WWII. This is still a real nice book! $30.00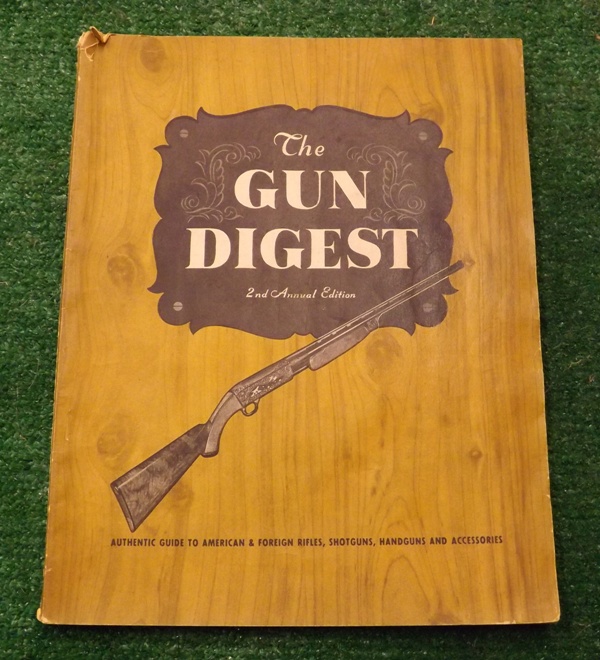 ammo page 43
Here is a real good copy of COLT CARTRIDGE PISTOLS - A DETAILED STUDY OF COLT HAND ARMS--FROM 1868 CONVERTED CAPLOCKS THROUGH AUTOMATICS. Santa Ana CA Published by author 1952 First Edition Softcover Very Good+ Printed by the Foundation Press. Quarto sized staple-bound softcover, about 11 inches tall, in beige wraps. 126 pages plus 2 pages of ads. Illustrated by drawings and photographs. A company history displaying dozens of variations and conversions with detailed specifications. This is a nice one and shows little wear.$40.00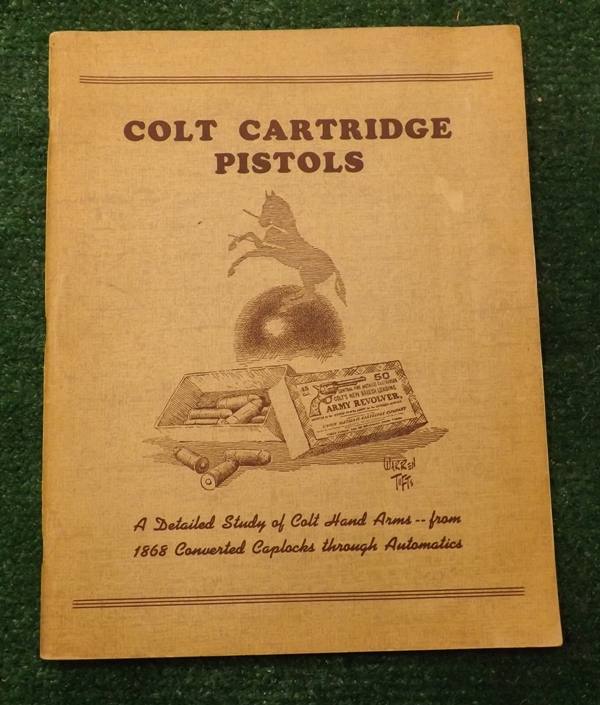 ammo page 44
Here is an original STEVENS FIREARMS - GENERAL CATALOG NO. 54 - J. STEVENS ARMS & TOOL COMPANY CHICOPEE FALLS, MASS. U.S.A. (1914) ! This thing is really nice! The catalog is still together and not falling apart at all. There are 88 pages of the products, including firearms, that Stevens offered in 1914. The pages and images are very nice and the binding is tight. Softcover. $125.00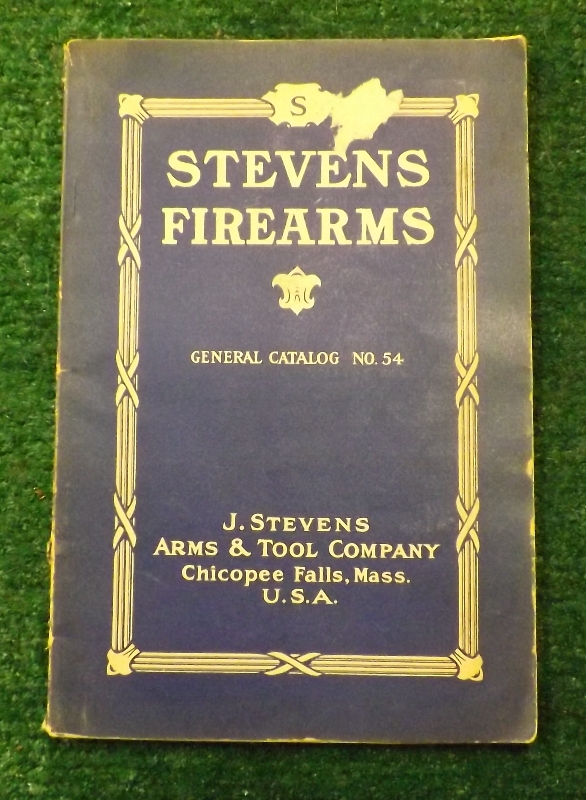 ammo page 45
Here's an original catalog entitled REMINGTON UMC - MODERN FIREARMS AND AMMUNITION 1918-19. THE REMINGTON ARMS UNION METALLIC CARTRIDGE CO., Inc. This fine catalog has some small amount of staining to the front lower cover and the inside pages have yellowed but they are still in very nice condition!!! 208 pages of excellent text and illustrations including firearms, ammo, ect. This is a very nice reference catalog! $95.00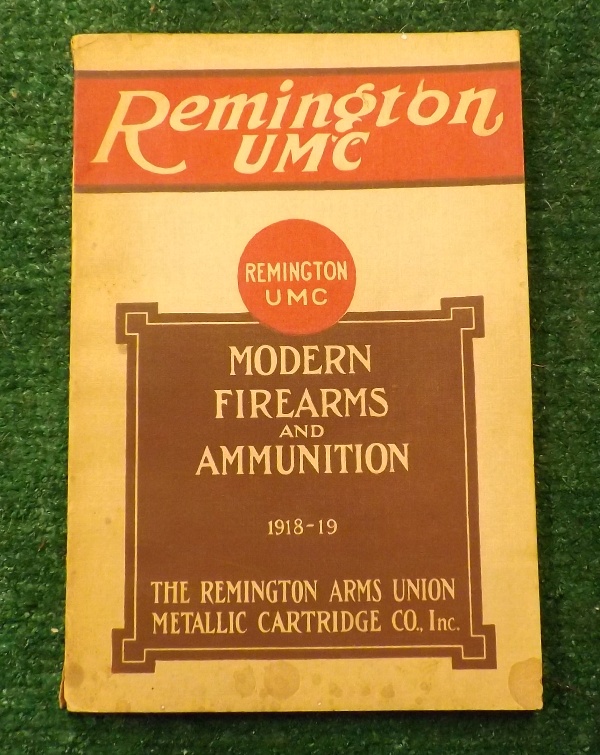 ammo page 46
This is an original WINCHESTER CATALOGUE NO. 81 -1918 catalogue! There are a couple of minor spots on the brown covers and gorgeous text and illustrations on this catalogues 213 pages. The pages are bright and the binding is tight. This is a nice piece!!! This catalog is for firearms, parts, ammo and etc. The catalog has some nice exploded views which makes it invaluable as a reference piece!!! $95.00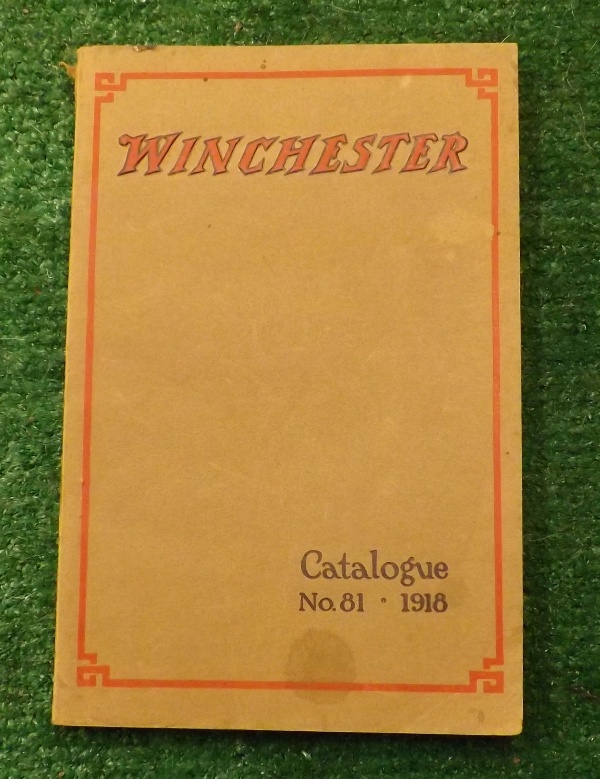 ammo page 47
Here's another nice reprint entitled L.C.SMITH. GUNS...and...HUNTER ONE-TRIGGERS NEVER SHOOT LOOSE THE GUN THAT SPEAKS FOR ITSELF MADE BY HUNTER ARMS COMPANY, INC. FULTON, NEW YORK. This small but important reprint has 27 pages and really is a sales brochure that is very informative for the L.C.SMITH owner. Near perfect condition $6
ammo page 48
Here is a reprint of a July 1907 CATALOGUE OF MILITARY GOODS FOR SALE BY FRANCIS BANNERMAN, 501 BROADWAY, NEW YORK. Francis Bannerman was the man in Military goods from 1865 until he went out of business, I think in the 1960's. He was located on Bannerman Island New York and his business was in a Castle. The old Castle burned down and I never got to go visit there myself-darn!!! His company sold everthing under the sun!! Muskets, rifles, swords, spears, uniforms, carbines and on and on and on!!! This catalog is a fine reprint of an original and has 259 completely filled pages of items!!! This reprint is in good condition being tight and solid! $15.00 on this one.
ammo page 49
Here's an old book that's seen better days! This one has been used hard! This is a 1928 first edition MODERN GUNSMITHING by Clyde Baker. This one is hard bound with loose boards but there are still attached. There is the prevous owners name in side and the notation that it was a Christmas Gift in 1929. There are photographs and great text in the 530 pages of this great old book! Gunsmiths can still use this old book today! $30.00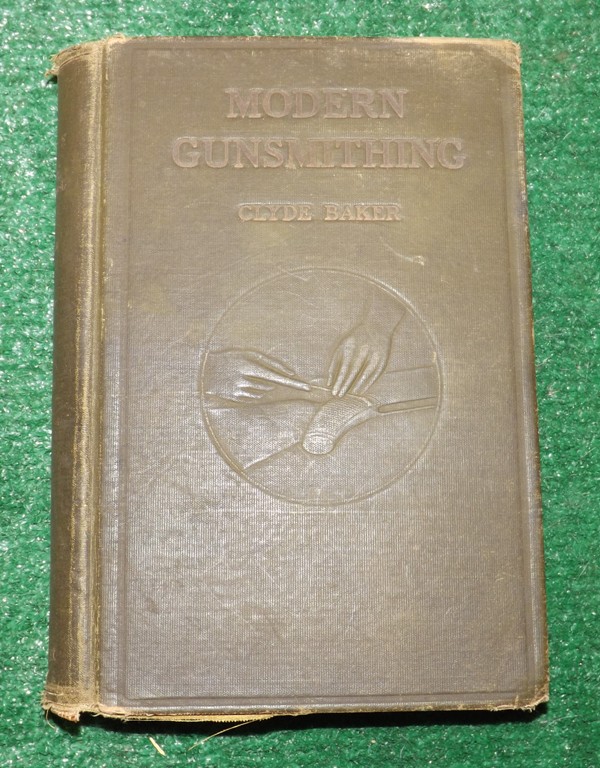 ammo page 50
This is a great reprint of a very good WINCHESTER 1926-27 PRODUCT CATALOG. I never knew Winchester made and offered some much varied amount of different goods! There are 292 pages of text and images so interesting that you won't be able to put it down and will study it for years to come! Purchased new for $16.95 but this one is $10.00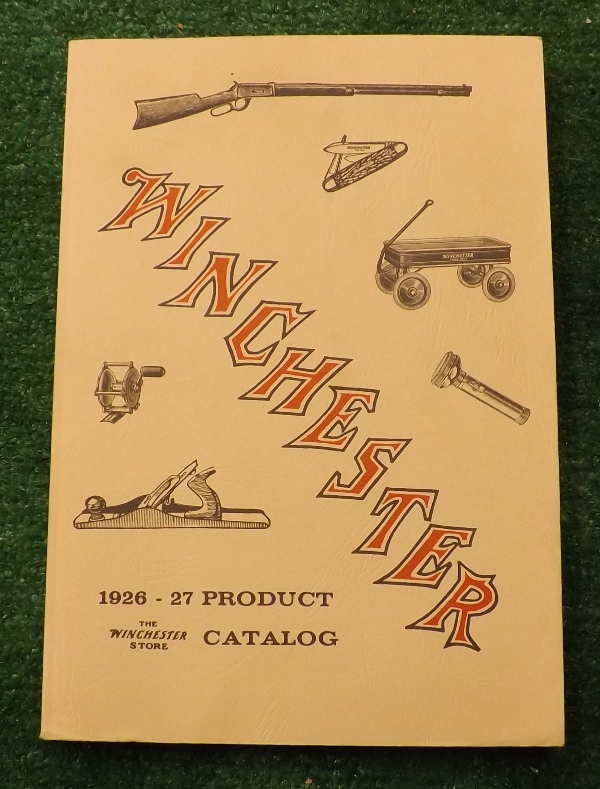 ammo page 51
Here's a softcover publication entitled MAUSER RIFLES - AN AMERICAN RIFLEMAN REPRINT 1991. This publication only has 32 pages but it's chocked full of information and photographs pertaining to this most important firearm. $10.00 8
ammo page 52
Here's another Knife guide that's entitled SARGENT'S AMERICAN PREMIUM GUIDE TO POCKET KNIVES AND RAZORS - IDENTIFICATION AND VALUES - 2ND EDITION 1989. Again the prices are not current but the information is outstanding!!! 482 pages of outstanding photos and informative text! $10.00
ammo page 53
Here's an old reference softcover book entitled ANTIQUE GUNS by Hank Wieand Bowman. There are 144 pages of photos and text concerning antique guns of all kinds. The book is still in very good condition. $8.00
ammo page 54
Here's a softcover reference book by Anthony Darling entitled RED COAT AND BROWN BESS. This one was done by Museum Restoration Service out of Canada in 1970 and is the first edition. The previous owners name is written inside the front cover. There are 63 pages in this informative little book. There are photographs as well. Good condition. $10.00
CONSIGNMENT
Here we have a unique collection of old gun grips. I don't know what all they fit so perhaps you can tell me. We also don't know what to ask for them so feel free to make an offer. We will describe them starting from left to right on the top row and go down. 1. These are revolver grips that are custom made. They look like ivory but I believe they are plastic. 2. These are original Type 14 Japanese Nambu Grips. 3. These are for an original S&W semi auto pistol. 4. This is an original 1 piece grip for a Civil War Colt Army or Navy. Some damage repaired. Second Row 1. I believe these to be original Colt Sibley Grips. 2. These are WW2 Colt Grips for the 1911 A1 pistol. One grip has been used and one has not. 3. I believe these are for the Iver Johnson or some other like pistol. Bakelite? Eagle. 4. Original grips for a Colt Semi auto pistol. Third Row 1. Custom grips for some semi auto pistol. 2. These 3 silver grips are all different and mexican for the 1911 Pistol? 3. Replacement Colt SAA grips. 4. Replacement Colt SAA grips with screw.
Take a look at the pics and tell me what you think.
Thanks! Ted
ammo page 61
ammo page 62
CONSIGNMENT
Anything you like? E-mail me here