Here's an item that used to be common place but not they're hard to find in my next of the woods. This is a Revolutionary War era hand sythe or sickle that was used to keep the grounds clear around camp or the house. This type has the long sweep associated with the early types. The later types had wider blades and shorter sweeps are are quite common. You can see a like example on page 269 of COLLECTOR'S ILLUSTRATED ENCYCLOPEDIA OF THE AMERICAN REVOLUTION by George C. Neumann and Frank J. Kravic. Their note under the illustration states 'The long sweep of this sickle is a typical 18th century pattern; it was employed to keep camp areas neat and defensive areas cleared.' This one is nice with some worm holes in the handle. The tine is peaned over to hold the handle on. Nice early piece! $65.00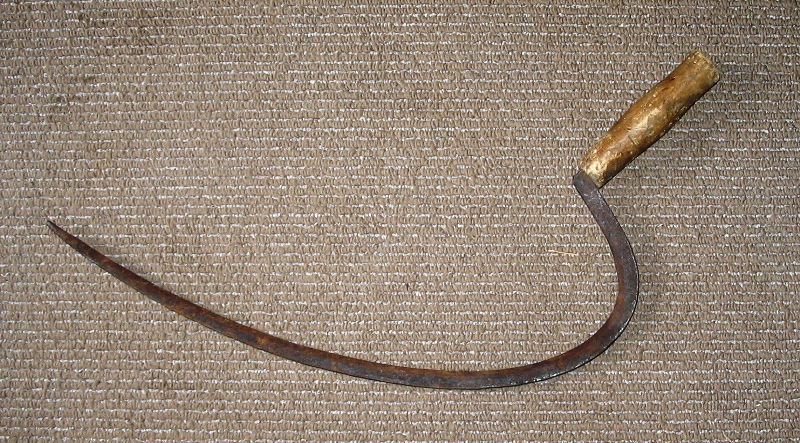 Here's another old Revolutionary War era Sythe with long curved blade. The blade measures about 27 inches long along the outside curve and is definitely hand forged. This blade is only 1/2 inch wide at it's widest point and only 3/16 of an inch thick. The old grip has cracks and worm holes in it. The tang is peaned with a wedge in it. I believe there is one spot where a makers name was at one time. This hand sythe was made to be used in the left hand while holding on to grain shaft bundles with the right hand. This is a nice early piece and makes a great decorator. $65.00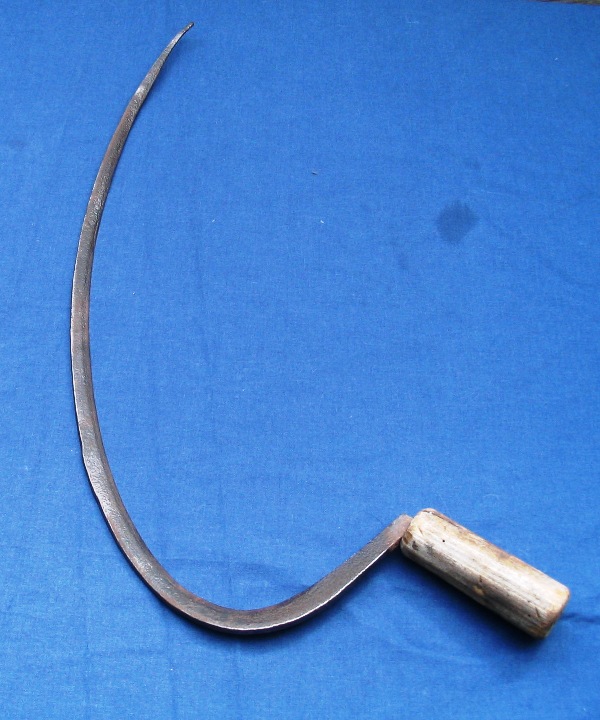 Here are two Revolutionary War and later Grappling Hooks. One is 4 tine and one is 3 tine. I think the 3 tine grappling hook is earlier than the other one. Both are blacksmith forged and for heavy large rope use. Grappling hooks were made to throw over walls or fortifications and then climb up over them. They were also used to hook items to pull down or towards the user but mostly for climbing. These are in nice solid condition! The 3 tined model is not quite as primitive as the 4 tine but both have loads of character! Each $45.00
Here's an excellent blowing horn that is circa Revolutionary War use and later. These were used for alarms and communications between soldiers and hunters. Many items were made from horn during this time in our history. This fine horn measures about 17 inches long along the outside curveature of the horn. The mouth piece is a brass mouthpiece. The horn has a nice mellow color and it's quite thin as evidenced when you hold it up to the sun to look through it. There are several scratches on it but I can't make out any pics or words in the scratches. I fininally figured out how to use it and can make a quite loud noise with it. The suspension strap is missing but you can see how it was attached. There is a small hole right by the mouth of the horn and the other end would have fixed around the brass mouth piece. This is a nice piece and would look great in a Rev War display!! There is one tiny matchhead worm damage area that does not penetrate the horn. Nice!! $375.00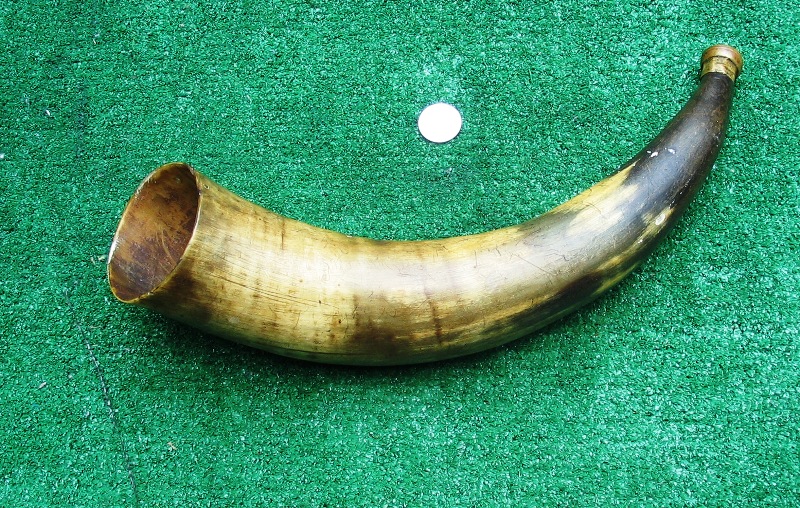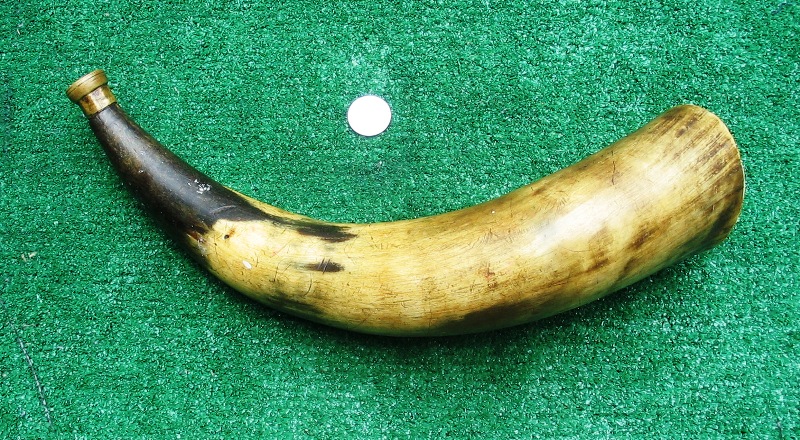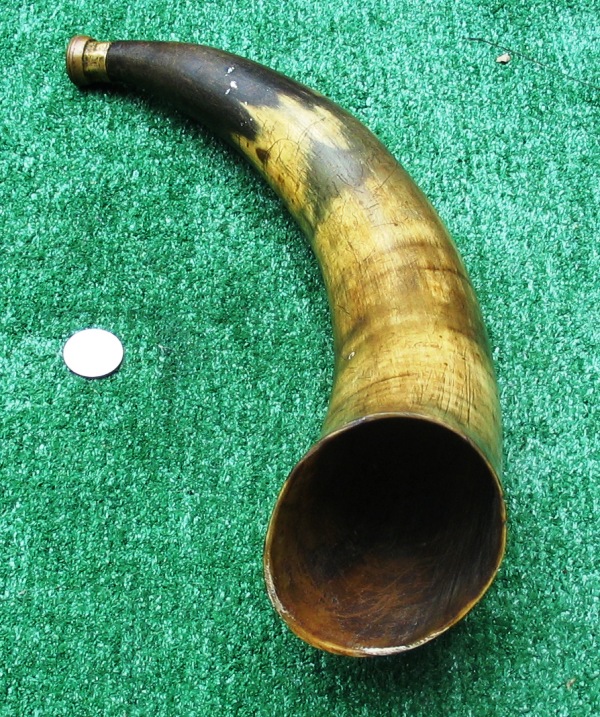 SORRY ! THE OLD SAW IS NOT AVAILABLE!
Here is a nice early buck type saw that smacks of Rev War vintage. This is a wonderful piece with a French made blade. This piece is in excellent condition and displays very well! Measures about 26 inches long by 14 inches tall. The blade is held in tension by the cord at the top. The pieces at the bottom just hold the blade in the guides. I believe it is made of pine but I'm not sure. Take a look at the pics. This piece has a dark patina. $125.00
This next piece is a Revolutionary War era log hewing ax with replaced handle found in Lafayette, IN site of Fort Quiatenon.. This is a dug piece. Heavily pitted but solid as a rock! The beveled edge is on one side as usual for this type of ax. The blade measures 6 1/2 inches across. Who knows- it may have been used to help build Fort Quiatenon! $65.00
Here's 5 clay marbles of the Revolutionary War period thru the Civil War period. Like examples are found in reference books that cover both wars. Good condition! Non dug. $20.00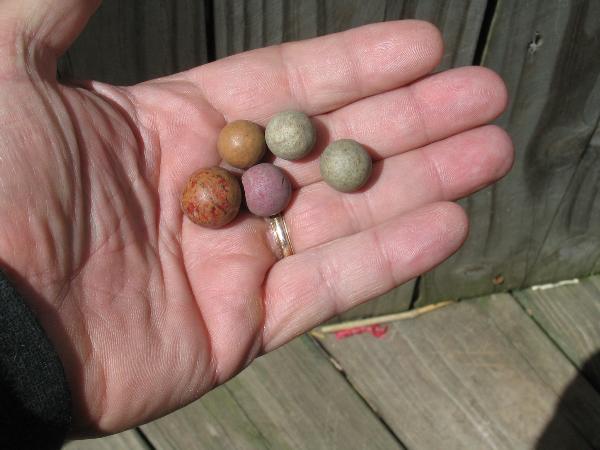 Here is an Antique Flask that has the likenesses of President George Washington on one side and General Taylor on the other side. This is a fantastic early 19th century aqua colored hand blown flask with a pontil on bottom verifies this is an original mold blown piece, not a modern reproduction!!
Dimensions:
Measures Approx. 7" tall Great shape for its age. One spot on the side that has some issues - still smooth to the touch from the outside, so all damages on are in the inside. Has bubbles in the glass and imprefections as it should have. Guaranteed original! $125.00
This is quite a find! Here we have 4 cannonballs that were found at a Morton Street Address in Lafayette, Indiana. It is believed that these were part of the inventory of a prewar Militia Artillery group that Colonel Eli Lilly belonged to prior to the Civil War and his forming of the 18th Indiana Light Artillery Unit. This Militia Artillery Unit was the only prior military experience that Eli Lilly had and he was considered by several of his artillerymen to be too young and intemperate to command! What did they know! Despite his initial inexperience, he became a competent artillery officer and his battery was instrumental in several very important battles. These cannonballs were found together as a hoard and appear to be unfired however if they did not strike any hard surface after being fired they would probably look the same as they do now. Three of the cannonballs are 12 pounders being 4.5 inches in circumference and one is a pre-war 5.12 inch ball weighing about 16 pounds. The 12 pounders are $175 each and the pre-war ball is $195. Shipping is extra and exact. Check out the pic! Nice Shape! Only 1 12 pounder Left Now!
Revolutional War Paper Machee type Oval snuff boxes with hinged lid that is in very good condition. I have 2 of them with one being a little larger than the other. $95 and $125 The larger one has sold

This is a repro print in an older type frame showing the blowing up of the Fire Ship Intrepid commanded by Capt. Somers in the Harbor of Tripoli on the night of Sept. 4, 1804. Pretty colorful print! Measures about 13 1/2 X 16 1/2 overall. $25.00

This is a nice Rev War type hand made Corkscrew with turned maple grip. Nice little piece measuring about 5 inches long with the handle being about 3 1/4 inches across. $45.00