Note: The Firearm below is a gift from a great friend and is in our private collection and NOT for sale. This Colt Single Action Army was tuned by the late, Great Bob Munden and is in wonderful condition! It's a joy to own such a historic firearm timed and tuned by the Fastest Gun Alive! Check out Bob's YouTube videos! He's outstanding!!! Thanks!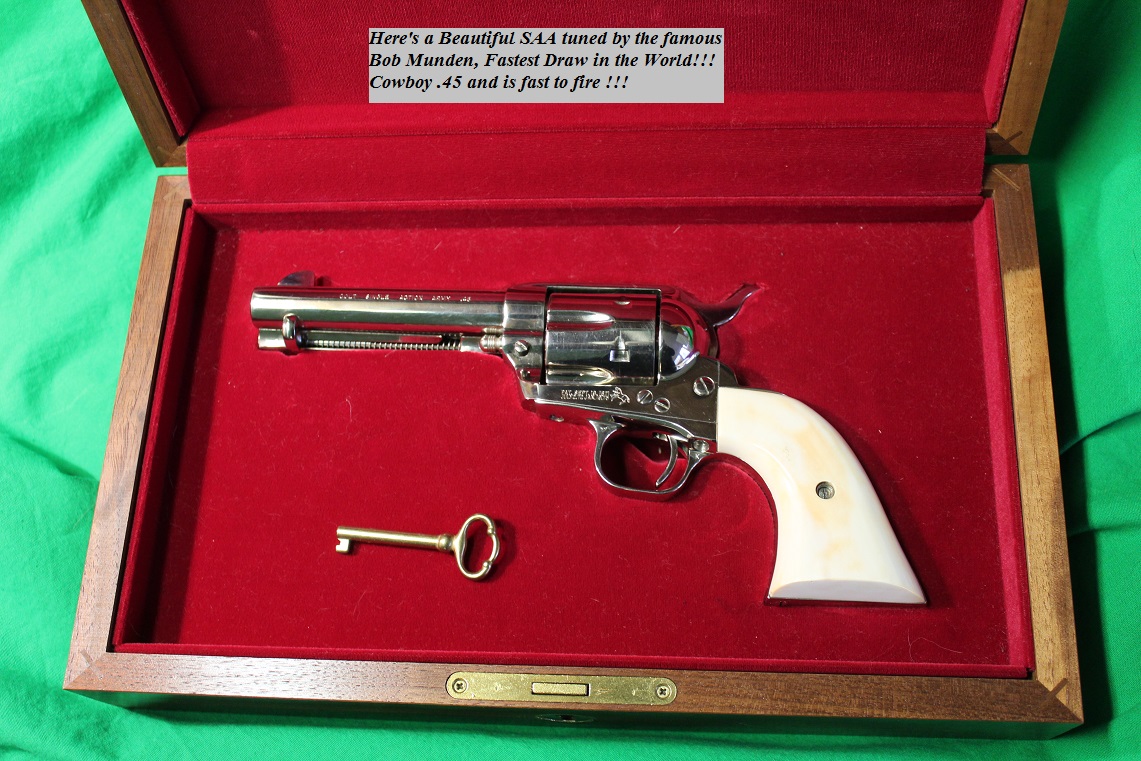 Here we have a WW2 Turkish Mauser in 8mm and so marked on the front of the barrel lightly along with the importers stamp of M 1938 GERMAN 8MM CAI (Centry Arms International) ST ALB VT. The markings are easily readable but not stamped near as deeply as the Blue Sky Imports are. This one is serial number 102984 and was made in 1942 where the serial number went from 66952 to 113321 making 53,000 rifles that year. The Model of 1938 isn't really a single model, but rather a common set of features. This designation isn't even one that the Turks used, rather it is a designation that U.S. importers have made up. There is the assumption that the Turks took whatever rifles they had and did their best to convert them to the Model of 1938 design. Most common among the rifles called Model 1938 are the K.Kale marked rifles (as this one is) and the Gew.98 conversions. Sometimes the importers even marked converted 1893 and 1903 rifles on the barrels with Model of 1938. K. Kale stands for Kirikkale Tufek Fabrikast. This was a state run rifle factor east of Ankara. Approximately 250,000 K'Kale marked rifles were produced from 1940 to 1946, if one includes the 1944-46 run of K'Kale marked short rifles in the total. I have seen an example of a K'Kale marked rifle that was clearly dated 1939 and had a serial number with 4 digits. I'm not sure if these 1939 rifles are random serial numbers on recycled recievers or a valid range of serial numbers that was reset in 1940. The Turks, although neutral, were courted by both the Axis and the Allies. Turkey staunchly maintained her neutrality to the end of the war, giving haven to Germans escaping the Soviet juggernaut in Bulgaria and Romania in 1944, and from the Allies in Greece in 1944-45. Of course, any surrendered Kar. 98K's and other equipment were immediately absorbed by the Turkish Army. This particular rifle still has gobbs of cosmoline on and in it and has not been fired. It's in real good condition for it's age and any defect can be seen in the pics. The action works fine. The rear sight and the receiver have the same serial number. The bolt is a different number but entirely correct for this rifle. The wood stock has no breaks or cracks in it but does have the use ding here and there and a larger spot on top of the buttstock that seems to be burned. The sling swivels are still present. The barrel patina matches the rest of the firearm and has decent rifling in it but certainly needs that cosmoline scrubbed out of it before firing. All in all a very good example of a Turkish Mauser Model 1938!! Check out the pics! $395.00
Here we have a .22 training rifle. This is a Cugir single shot .22 LR firearm. The Cugir model was a military trainer that was made for the Romanian Army. This particular rifle is in good condition with just an age crack in the Beech stock along with several dings from use. The barrel is heavy being 27 ½ inches long with a heavy block sight at the rear blade sight at the front. The receiver is marked with the Crest and the UMC CUGIR. The S/N is 1956-12469 and I believe it was made in 1956. This rifle is all original and has not been messed with! I see no import marks on it. It's heavy for a .22 weighing a whopping 8 pounds!!! Check out the pics!!! For this piece of History $325.00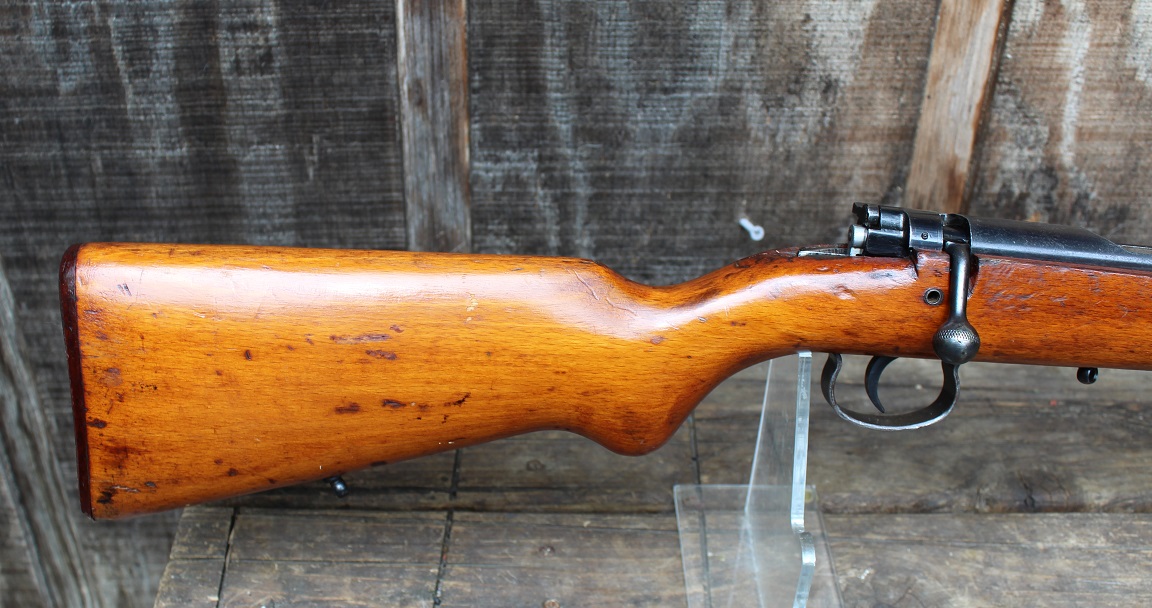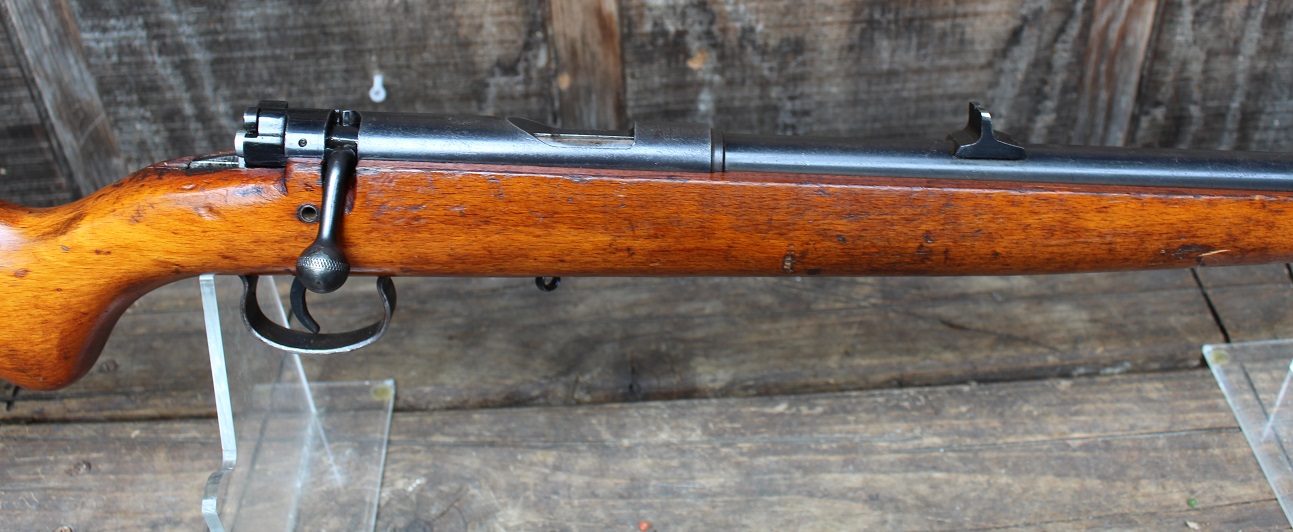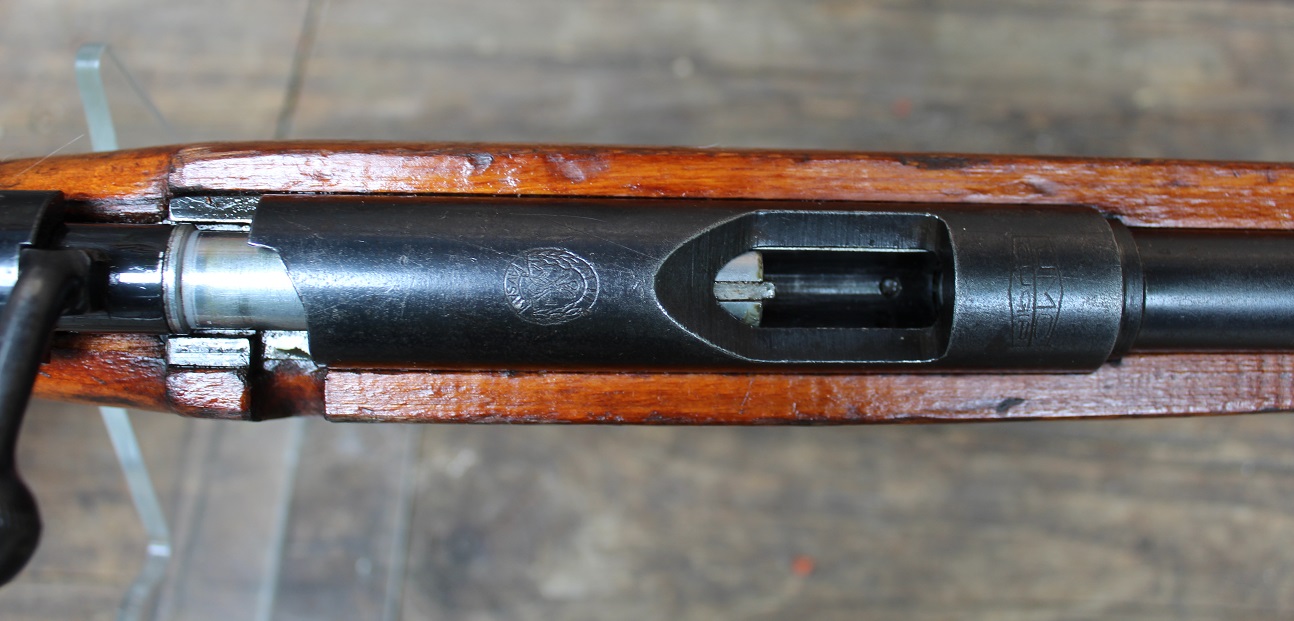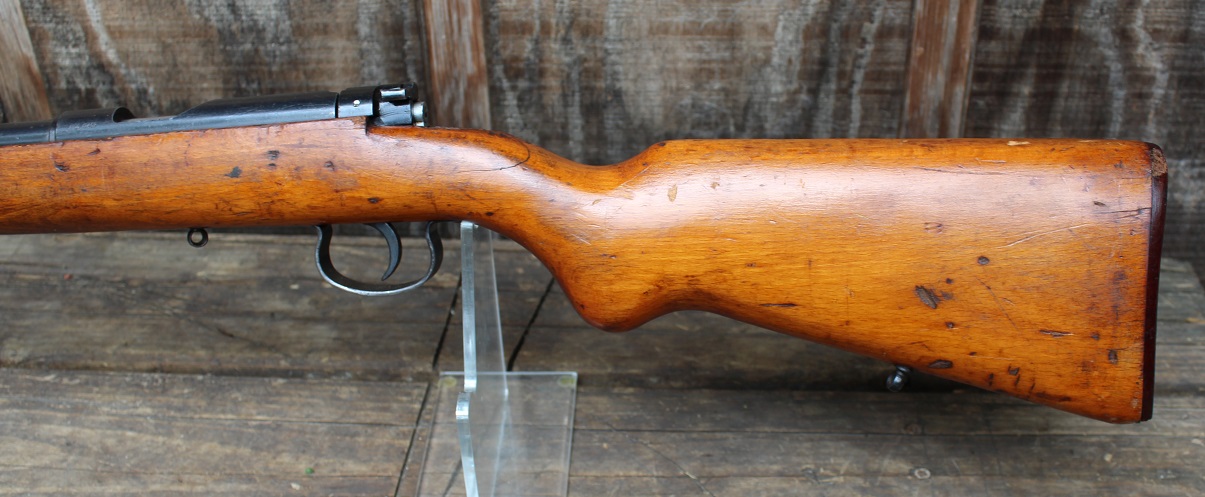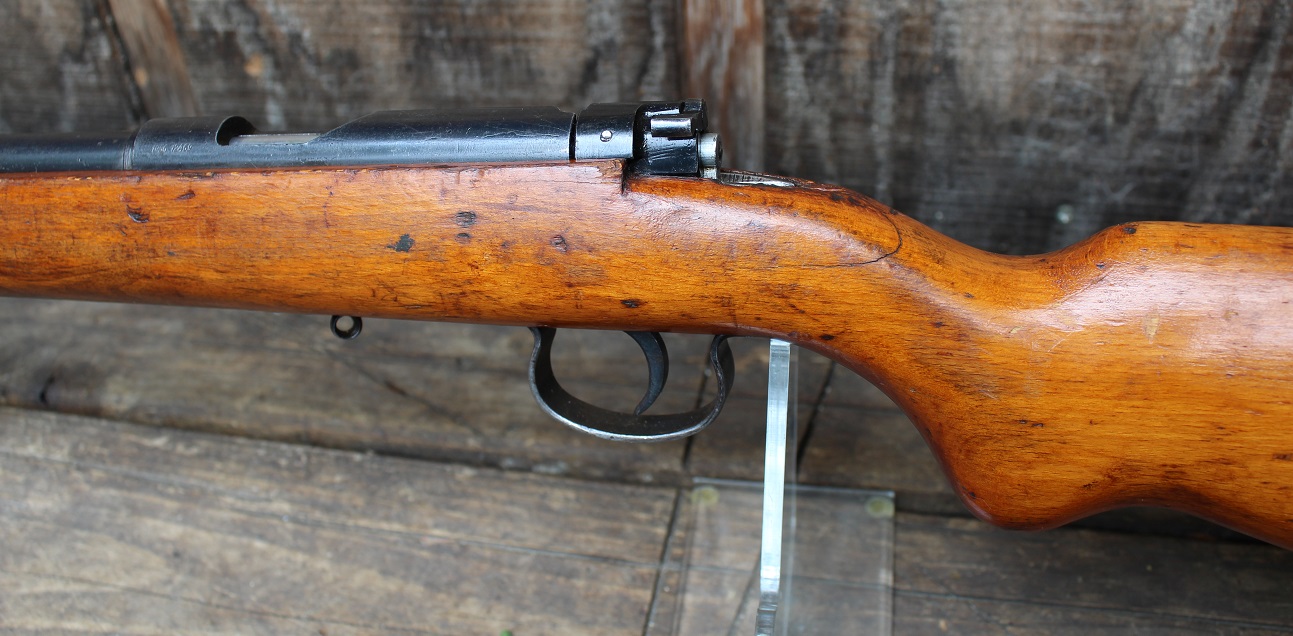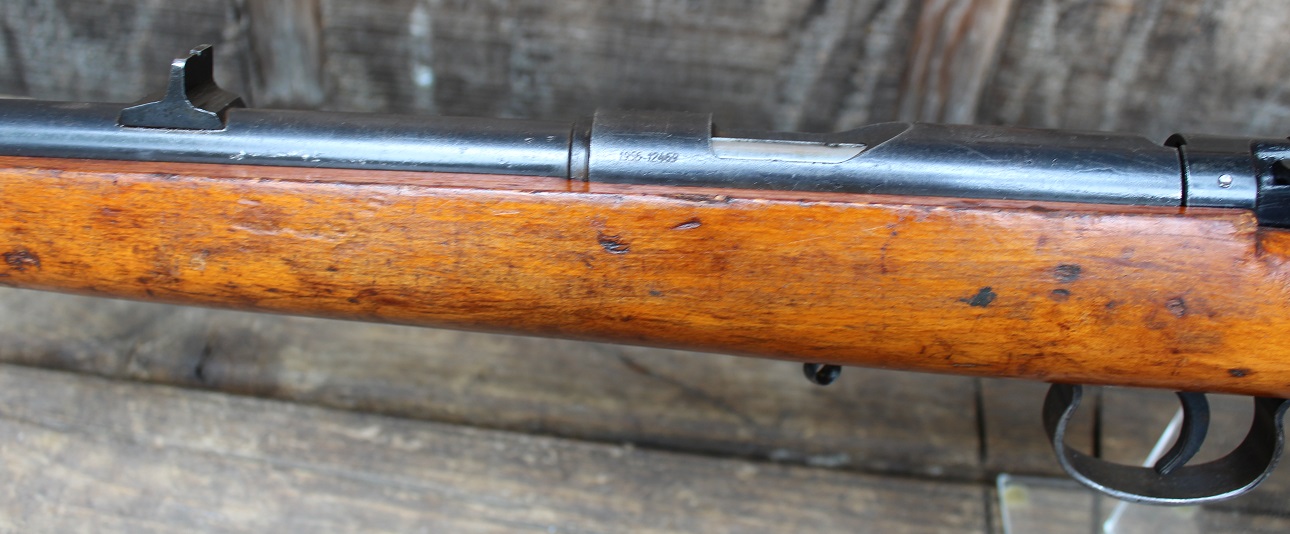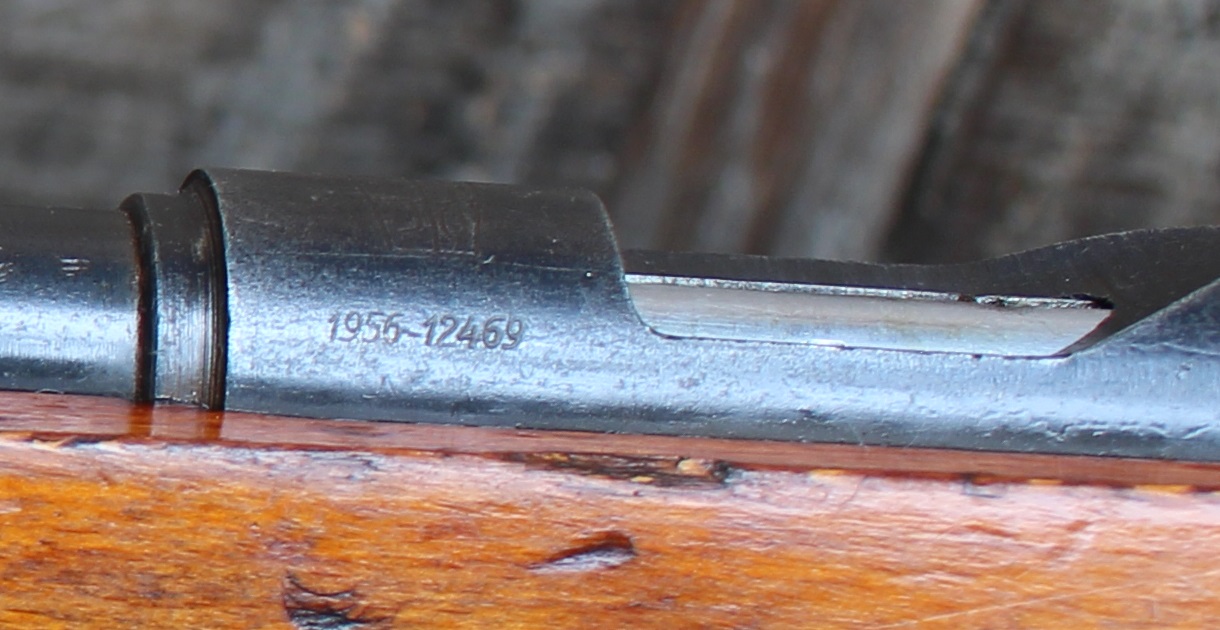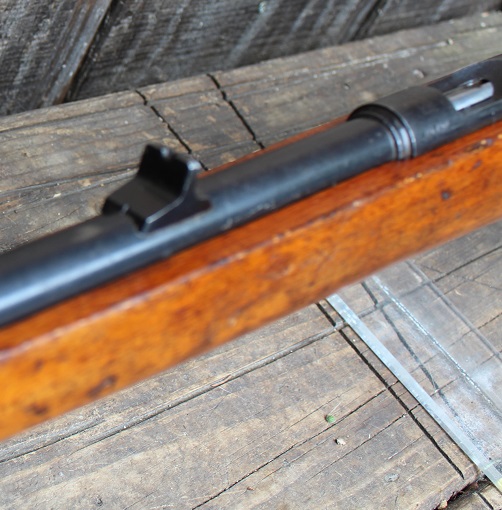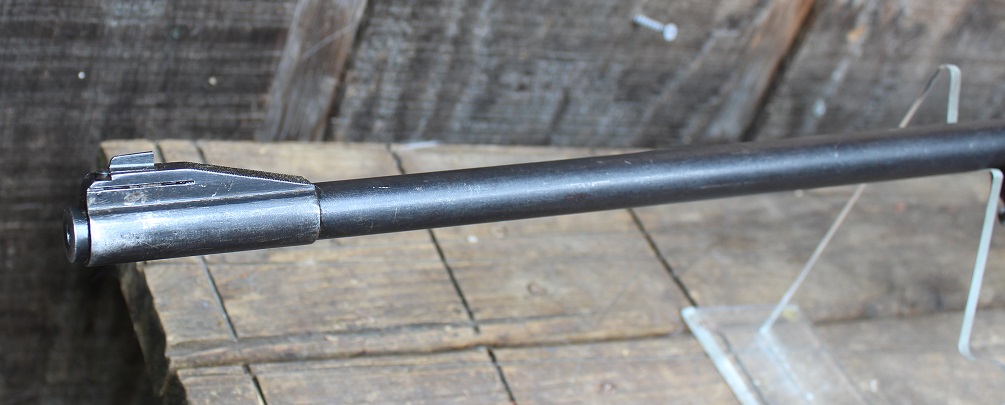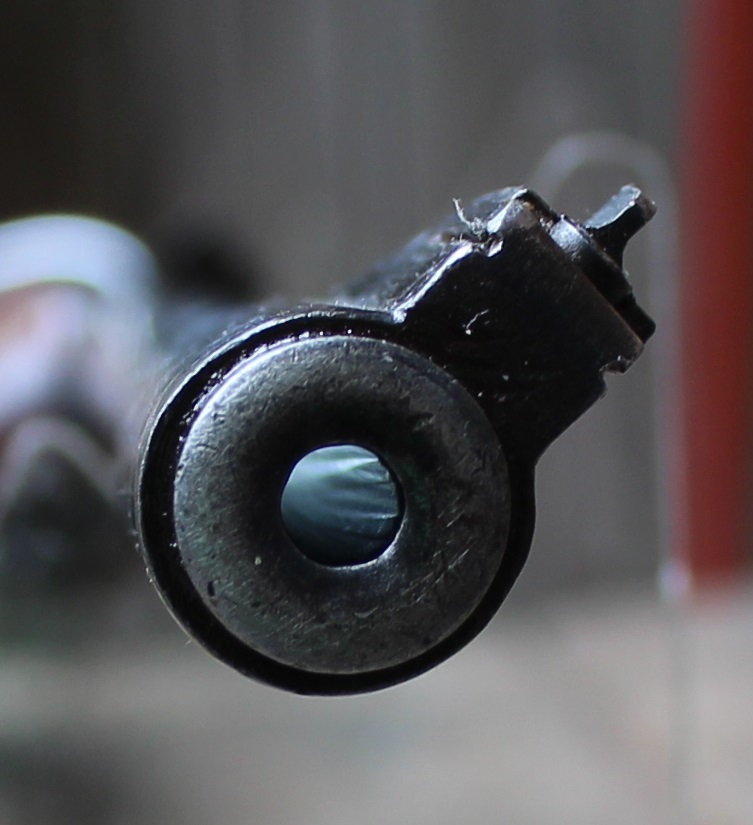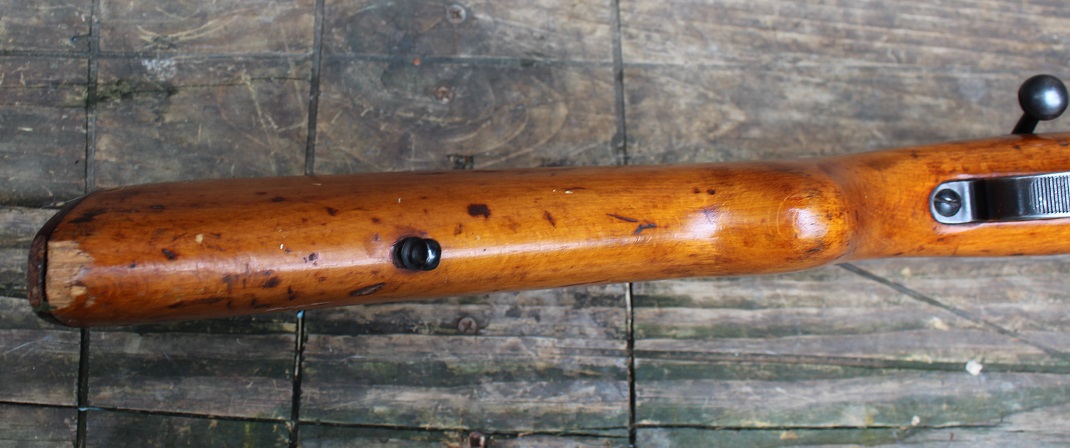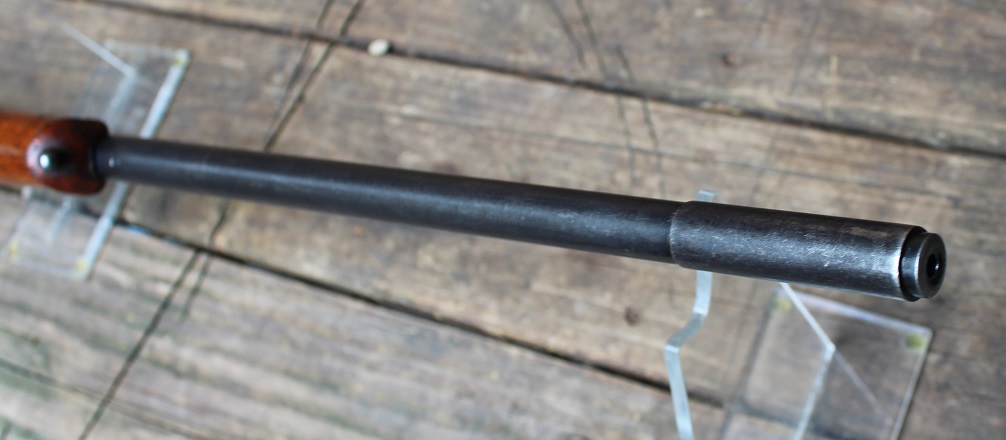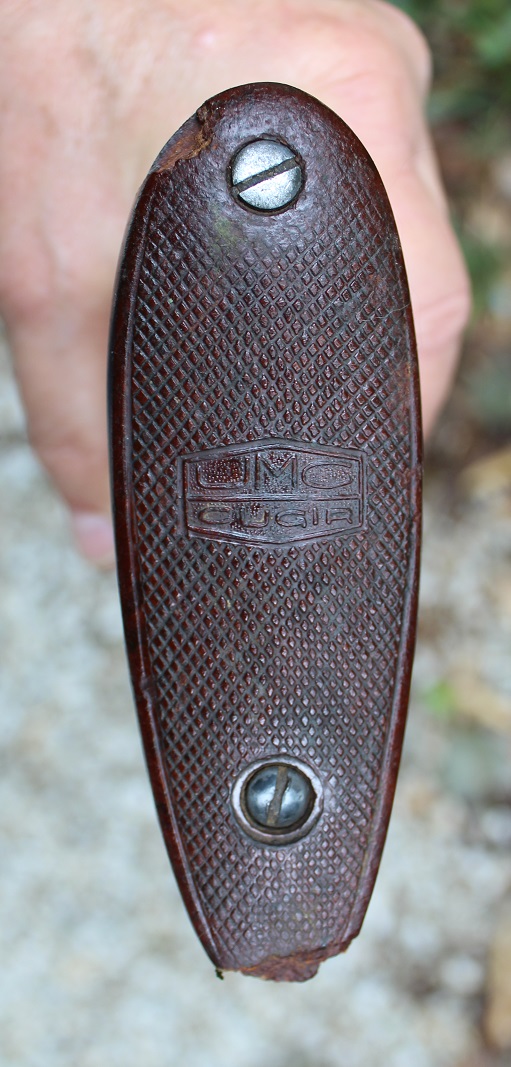 Here we have a nice Post WW2 ERMA, Made in Germany, Luger type pistol in .22 LR Caliber. Here is some info on the company:
ERMA WERKE WAFFENFABRIK Locations: Erfurt, Germany Post-war Dachau, Germany Known primarily as a manufacturer of sub-machine guns, they are also in the handgun and rifle business. In 1933, they answered the German army's need for an inexpensive practice weapon by producing a .22 rimfire conversion unit for the Luger pistol. This was marketed commercially and available for many years. Success of this unit led the company to produce other inexpensive target and plinking pistols. After the war, they were re-organized in the western sector and resumed sub-machine gun production. In 1964, they returned to the sporting firearms business, with the introduction of their .22 rimfire Luger-lookalike pistol. Since then, they have produced many like-quality firearms. They were imported by Excam of Hialeah, Florida. This association is now terminated and they are currently imported by Beeman Precision in Santa Rosa, California and Mandell Shooting Supplies in Scottsdale, Arizona.
Some more info we gleaned from the web:
In 1954 Geipel was arrested and imprisoned by the Allied occupation forces in Germany due to his involvement with the Nazi party. He was eventually freed and underwent denazification, after which he worked for Vollmer GmbH as Assistant Director to Heinrich Vollmer. Following the end of the war, the Thuringen region found itself in the Soviet occupation zone. Marshal Zhukov of the Soviet occupation forces ordered what was left of ERMA Werke to be liquidated on 31 August 1948. Geipel re-established Erma Werke in Bavaria in 1949 and in 1952 the company moved to Dachau, near Munich. Geipel's son Rudolf became the Chief Engineer of the new company and for the first few years production was devoted to household appliances. Around 1952 ERMA was awarded a contract by the government of West Germany to service and produce parts for the various Allied forces weapons that had been supplied to the German police. Following the foundation of the Federal Republic of Germany in May 1955, the Federal government gave ERMA permission to research and develop a new submachine gun, as West Germany's police and army wished to replace the weapons given to them by the Allied forces. ERMA's design was, however, outbid and out-performed by a submission by Walther, the MP (MPK / MPL). The financial resources expended in developing the submachine gun had been quite substantial, and as a consequence ERMA was taken over in 1961 by Fiberglide, a division of Lear-Siegler, which traded under the Erma Werke name.
This pistol's stats:
Make: Erma Werke
Model: EP-22 (Luger)
Serial Number: 71716. Since this pistol is marked simply MADE IN GERMANY we believe it was made after 1990 when East and West Germany became just Germany again.
Caliber: .22 Long Rifle
Action Type: Single Action, Toggle Breech, Removable Magazine Fed Rimfire Pistol
Markings: The left side of the frame is marked with three proofs followed by the serial number "71716" and "ERMA EP- 22". The left side of the receiver by the safety is marked "GESICHERT". The right side of the frame is marked "MADE IN GERMANY" and "cal. 22L.R.". the top of the toggle is marked with the Erma Werke logo.
Barrel Length: 4.5"
Sights / Optics: The front sight is a high profile triangular blade with a rounded front, integral to a serrated ramp base. The rear sight is a fixed square notch.
Stock Configuration & Condition: The stocks are wood. The grips are in nice shape and are free from cracks and damages in Extra Fine condition.
Type of Finish: The surfaces are matte black alloy, the barrel has a in the white steel liner. The front toggle's "E" monogram appears to have had no gold-colored filling.
Finish Originality: Factory Original
Bore Condition: The bore is bright and the rifling is sharp. There is no erosion in the bore.
Overall Condition: This handgun retains about 85% of its metal finish. Please see our pictures. The screw heads are sharp. The markings are clear. Overall, this handgun rates in about Fine condition. We took this piece out and shot it. It likes .22 LR with the solid, lubricated bullet. It does not like hollow points! This pistol has been described as a dead ringer for the classic German military sidearm with the heft and feel of the real thing. Because of the mechanical differences between this model and the Luger P.o8, some refer to the Erma .22 Lugers as imitations, rather than clones. Erma had been making firearms in Germany from prior to WWII and up tp its bankruptcy in 1997. $375.00
Consignment<0>Here is a Model 1855 Colt Root Side Hammer Revolver in ..31 Caliber. A total of approximately fourteen thousand were manufactured in .31 caliber from serial number 1 through to approximately 14,000. They were manufactured from circa 1860 through to 1870. This is a Model 6A: .31 caliber which was made in serial range #8001 to #11074; COL. COLT NEW-YORK barrel address, round barrel 4 ½ inch long and cylinder with stagecoach holdup scene. Nipples removable. This one is s/n 10457 which, according to the Colt serial number website was made in 1856. It's in pretty rough shape and doesn't function any longer. The main spring seems to either be missing or broker. The metal has been cleaned at some time but the markings are still mostly legible. The cylinder scene can still be easily seen. There are several screws missing that you can see in the pics and the front sight is missing as well. I don't know if this old revolver can be restored but it's still a great displayable piece at a very reasonable price! The old walnut grips are originals. Take a cook at the pics! $395.00
TC
Here we have a worn torn extensively carried Model 1849 Colt Pocket Revolver in .31 caliber! This piece has been there and done that! The revolver doesn't function now but I'm sure if you want to fix it you can. The hand and spring needs replaced as the cylinder won't index and that part is readily available should you wish. The hammer also will not hold at full cock. All these numbers match (except the wedge which has no number so it is a replacement as well as the wedge screw) making this old revolver being made in 1871! That's 5 years before The Battle of the Little Bighorn! The 5 shot cylinder has several dings on it but you can still see the serial number and partial roll engraving scenes. The loading lever works under the 4 inch octagonal barrel. The bore is dark. The markings are all still pretty good on this piece-check out the pics. The grips are the original grips and one has a long crack in it but has been repaired at some point in time and is not a problem. The person who used this revolver probably used it as a tack hammer and broke that grip that way. Take a look! It's a beater but it's there and the price is right at $395.00 !!
TC
Here we have an excellent 19th century flap over holster that is very supple. It has the makers name on it twice but for the life of me I cannot make it out. A model 1849 Colt with 6 inch barrel fits in it nicely as does a later cartridge conversion and even a Colt Thunderer or Lightning with a 6 inch barrel. Complete that look for $125.00! Check out the pics!
Consignment
Here we have a wonderful in good shape 1st Edition of Claud R. Fuller's Book SPRINGFIELD SHOULDER ARMS 1795-1865! This fine book had the date of 1930 on the descriptive page under Francis Bannerman Sons and on the next page is the actual print date of 1931 and the info Copyrighted February, 1931, FRANCIS BANNERMAN SONS New York, N.Y. and consists of 176 pages of fact filled text and actual photographs! Francis Bannerman is the famous early antique Militaria Store that basically started it all!! Here is some info on the book. Olive-green cloth hardcover with gilt lettering on front; no jacket; 176 pages; b&w illustrations; 1930 on title page and 1931 on copyright page. Very good minus condition: 2" tear to cloth in middle of front outer hinge but the hinge is strong; very slight spotting to binding; otherwise excellent. Size: 4to - over 9¾ - 12" tall. Francis Bannerman Sons, 1930. Hardcover. Condition: Very Good-. No Jacket. Book. For this copy $65.00
Consignment
Here we have a model 1858 .58 caliber Civil War Cartridge box with tins and sling. The box is complete but has been hanging in the attic of a home in Central Indiana and some of the leather is stiff, expecially the front flap. The box otherwise is in fair condition with one seam showing the threat rotten and separation. The box plate and the sling breast plate is missing and I can see no makers markings on the box anywhere. Take a look at the pics to get a better idea. This piece could definitely use some leather treatment or neetsfoot oil. Been hanging on a nail for 100 years! $495.00
Consignment
Here's a dandy Colt 1911 .45 Pistol! I was really excited at first because the slide is marked Colt in the pre ww1 way and the serial number is a 3 digit number which would have had it being made in the first year of production! It should have been marked U.S.Navy but instead it was marked U.S. Army and I noticed that there was a '0' starting the serial number which I thought was odd and then I thought that the font of the serial number numbers were all wrong so I did some more checking and to my utter surprise I found a manufacturers marking above that serial number! It is so small I almost couldn't see it without a magnifier! The real manufacture of this Colt 1911 is AR SALES CO from So. Elmonte, Ca! There were in business from 1968 to 1977 and not only put 1911's together from parts but mfg. aluminum frames. This one has the aluminum frame with original Colt parts and it looks just like it ought to look which is kind of scarey! It functions very well and looks great! Bore is great! Look at the pics.. Instead of purchasing the first year of production Colt for $8,000.00 you can have this great look alike with original Colt parts for $925.00 !!
Here we have a black dyed leather US 1911 Holster marked US and made by Boyt. Boyt holsters are usually dated but I cannot find a date on this one. This holster was found hanging in the attic so consequently is kind of hard and needs some leather preservative put on it. Even a little neetsfoot oil should soften it up a bit. The shoulder holster rig seems complete and was a favority amongst Tanker crews I was told. You can have this original rig for $150.00
Consignment
Here we have an original set of Civil War Cavalry saddle bags! Original Issue Civil War Cavalry Saddle Bags for the M1859 McClellan Saddle – This set of Civil War saddlebags are in overall very good condition but they have been in an attic so a little leather preservener would help One outside flap has some surface loss while the other is very nice. . These bags were used by Union cavalry troops to carry horseshoes, nails, curry comb, extra ammunition, and personal effects. These saddlebags, the pattern developed expressly for the Model 1859 McClellan enlisted man's Cavalry saddle, have become rather difficult to find now. The connecting strap or yoke remains solid and has the single, central hole for the saddle bag stud, at the rear of the saddle, a highly desirable aspect, as this yoke is often torn or broken in half from careless handling. . The black finish on the bags is in overall decent shape, with some minor age crackling and crazing and loss of finish on the one flap as previously mentioned. Both bags, as is the yoke, remain fairly flexible, with solid seams and one small tear. The fastening straps are present, although one strap is missing just below the first adjustment hole but I have the fractured piece.. Both horizontal fastening straps, above each bag, designed to course through staples on the saddle protruding through slots in the yoke, remain with one missing a small piece of it. Both lower tie down straps, designed to pass through loops on the saddle skirts, are present; one of the pair of straps is complete, the other is missing the remains of the strap, just below the japanned buckle. This is a great set of hard to obtain M1859 saddlebags in fair to good condition. Anyone with a M1859 McClellan Saddle absolutely needs a set like these to accompany their saddle. Due to being over 150 years old these are becoming increasingly scarce! These bags can go for over $1000.00 in excellent condition but these are $650.00 ! Look at the pics!!!
Consignment
Here we have a beautiful Late Postwar Bolo Model Model 1896 "Broomhandle Mauser Pistol". These type of pistols were manufactured from 1896 to 1939. This model has the walnut grips with 22 grooves and looks like the early model 1930 model except that model has 12 grooves in the grips. This one has the usual Mauser markings that you can see in the pics and two Chinese characters which is not uncommon. This firearm comes with an original wooden holster/stock and the pistol fits nicely inside. The slot on the pistol is a little shorter than the piece that fits in it on the holster so this holster may be for another gun. The holster has a turn wheel to tighten it up on the grip and that does work but not the greatest in the world. There are no markings on the wooden holster stock. This is one beautiful outfit !!! For this set $1950.00
Consignment
Here we have a 1st Generation Model 1873 Colt Single Action Army Revolver! That's the good news but now for the bad news! Some enterprising gunsmith has converted it to a .22 caliber revolver. Ouch! It has not been finished so here's your chance to have something really different for a much less cost than the Colt it was made from. I do not know what caliber it was to begin with but now it has been sleeved down the barrel with a .22 conversion sleeve that has been rifled and each of the cylinder cartridge chambers have been sleeved as well. This model has the 7 inch barrel with a rib applied on the top. The serial number on this piece dates it to 1920. The Colt appears to be complete with the exception of the hand and spring for rotating the cylinder, the main spring and the spur in the hammer to strike the rounds. Since this was a center fire revolver some smart thinking would have to be done to convert it to a rim fire hammer. The wood grips are very nice. Well, that's about it! Wanna take on a project! Check out the pics!
Here we have an antique Hopkins & Allen T & R CZAR 7 shot .22 revolver! This T&R Czar .22 Revolver has Fixed iron sights, 3 1/2" octagonal barrel, seven shot cylinder, hard rubber grips (very nice!), and Nickel plated. Minor rust spots on finish, dark bore with lands and grooves visible; but still in fairly decent condition. This revolver is chambered in .22. - Over all length is 7", weight empty: 8 oz. MFG 1879 and has low serial number of 430! The barrel is marked PAT. MCH 28. 71 MAY 27. 79. - Revolvers using the Czar name were made by both Hopkins & Allen, and the Hood Firearms Co. both located in Norwich Connecticut. This particular one was made by Hopkins & Allen. This single action firearm rotates when cocked but doesn't lock up as the bottom lockup doesn't have the spring tension to move it into place. You can hold it in place by hand and it locks up but not automatically when the hammer is pulled back onto position. The finish is nickel and is lacking here and there as normal for this old of a revolver. Nice engraving!!! Take a look at the pics!!! $295.00
Consignment
Here we have a wonderful early antique revolver! This is an early pocket model .28 caliber MassachusettsArms Co pistol! This one has the maynard tape primer, mid frame action lock/hammer, single action, mechanically revolver cylinder. This mode was made from1851 to 1860 with about 2,500 to 3,000 total of them made. The cylinder has etched floral designs being 6 shot with a blued finish. The grips are walnut and in good condition. This revolvers frame is larger than the earlier manual revolving type. The barrel on this one is 3 inches long and is rifled. This one is marked MASS. ARMS CO./CICOPEE FALLS and on the primer door MAYNARD'S PATENT 1845. This larger frame size was probably limited to approximately 1500 to 2000 of three distinctive variations. This one also has backstrap markings of PATENT/JAN. 2. 1855 and the serial number is a very low 148!!! Outstanding little revolver!!! For this piece $1600.00 Take a look at the pics!!
Consignment
Here we have an old history Colt. This is a Colt Model 1877 "Thunderer" in .41 Caliber. This is a double action revolver and works very well as it should. It's a 6 shot revolver and shows much wear from carrying and possible use. The original Colt grips are present and in good worn condition. The serial number on this piece dates it to 1899 so it will have to be either transfered or go to a C&R license holder. The backstrap on this revolver is professionally engraved to ' R.E.SHARKEY'! We have not been able to turn up anything but this piece came from central Indiana so surely if one researches enough something will turn up. The notorious killer John Wesley Hardin carried one of these Thunderer Revolvers!!! There is a story here! I'll be a lot of fun discovering what it is! For this piece $1,250.00
Consignment
Here is, what I believe to be, an unmarked Italian Import copy of an 1848 Baby Dragoon Type V revolver! This one has been defarbed probably for some reenactor. It is a .31 caliber 5 shot revolver and looks to have not been used much at all. The originals had a Stagecoach Hold-up scene and this one has a Native American Fighting scene on it. The octagonal barrel is 5 3/4 inches long and has decent rifling. The action works as it should and the walnut grips are fine. THe seial number on this piece is 7151 and no attempt was made to make it look like an authentic Colt serial number as the font is wrong. It still a decent little early model revolver and if you can't purchase the real thing then this may be for you! $295.00
Consignment
We just received in another great bunch of Actual/Athentic Native American Artifacts from being found in Central Indiana fields and creeks. Some of these have been in collections a very long time and all are guaranteed old and original! Take a look!
Consignment
More great Native American Axe heads from Indiana! Take a look at the pics!
Consignment ON LAYAWAY!!!
Here we have a reproduction Model 1847 Walker Colt 6 shot Revolver in .44 caliber that was produced in 1979 but has not seen much use during it's life. It's in great condition for it's age but does have a spot or two of rust to clean. The revolver functions as it should and has a great look to it! This beast weights a whopping 4.6 pounds unloaded !!! This was the revolver of choice during the Mexican/American War of 1848. Most cavalrymen of the time were small and it's just hard to picture a 130 pound cavalryman wielding this heavy revolver!!! Bluing is nice, case colors are present and all numbers match. Can't afford an original! This one is $325.00 Take a look at the pics!!!
Consignment
Here we have several turn of the century postcards that have a native american theme. Most of them have written on the back From Grandpa Kennedy and the Name on the other side is Mary Regina Vickery, 500 Helena St. but no state is mentioned. There is one showing Yellow Thunder, Late Chief of the Winnebagoes, Holy Eagle (Copyright 1901, Chief Black Hawk, Eagle Feather and Papoose, Colorize brave, Chief Sitting Bull of the Sioux, Sioux Indian Wonder Horse, Wahauku-Napu-Comes out HOly, An Apache Maid, young maiden, a Navajo Indian Squaw, colorized squaw with papoose, Rain in the Face Sioux, Leon White Bird and Blackfoot Chief, Luke Big Turnips. The dates on the cards are 1901, 1904 and 1905. Wonderful content and images! The ones that appear dull are actually gloss and that is glare. Those postcards are really very very nice! For each $10.00
Consignment
Here we have several stereo cards from 1899. They are all in great condition and do not look to have ever been used per the condition! These stereo cards are copyrighted by T. W. Ingersoll, who was famous for images during this time. Truman Ward Ingersoll (February 19, 1862 – June 9, 1922) was a photographer in the United States. He is known for the stereoviews he published in the U.S. and other areas. His work included many images of sights in Yellowstone National Park as well as hunting scenes and architectural features. In the early 20th century he also produced half-tone lithoviews. His company was named Ingersoll View Company. The Met has one of his building photographs in their collection and the Getty Museum has a collection of his work. Ingersoll was born to Daniel Wesley and Marion Ward Ingersoll in St. Paul, Minnesota. The Library of Congress also has a collection of his work. Ingersoll is buried at Oakland Cemetery in St. Paul.[ There are native american ones including members of the Souix, Crow, Chippewa and Blackfoot tribes. For each of these $25.00 For the one of a Bunch of Buffalo on the plains $15.00. Other Stereo Cards from this series includes Hunters showing ducks, deer, bison and quail hunting in the automobile. For each of these cards $25.00. We also have one stereo card that shows a Hanging and is entitled A NECKTIE PARTY GIVEY BY THE VIGLIANTS. Copyrighted, 1898, by T. W. Engersoll. This one is $30.00. Take a look at the pics. All backs are plain with no writing on them.
Consignment
Here we have an original "Colorized" cdv of President George Washington! These photoengraveurs were hand colored by ladies during the period! The back mark is 'Published by the New York Photographic Co. No. 453 Broadway, New York! Famous during the period! The CDV is in outstanding condition for the time frame and actually looks better than my pics show. For this most unusal CDV $150.00
Here we have an original GUNMAKERS OF INDIANA softcover 1st edition signed book. This book measures approximately 11 X 8 ½ inches and has 284 pages of text, illustrations and photographs. This book is even signed by Albert Lindert, the author. The book is softcover with Brown covers and blacking lettering on the front and the spine. The Spine is worn along both egtes with some edge wear and a limited edition and if I am not mistaken a first edition of this great book done in 1964!!! Take a look at the pics! $175.00
Here we have come across a series of 8 photographs and copies of photographs from the Noah Hamilton Rose Collection! Noah Hamilton Rose (April 9, 1874 – January 25, 1952) was a painter and photographer. He developed an impressive collection of photographs of the old West that included images of many notable individuals from the era. Here is some info on him: Noah Hamilton Rose (April 9, 1874 – January 25, 1952), printer, photographer, and collector of photographs of the frontier West, was born seventy-five miles northwest of San Antonio in Kendall County on April 9, 1874, the son of Newton C. and Loutilda (White) Rose. In 1884, his father, a carpenter, moved his family to Menardville (now Menard). Rose was educated in rural schools and in 1888 at the age of 14 began working as an apprentice in the office of the Menardville Monitor. His family subsequently moved to Ballinger, where Rose worked on the local paper. In 1891, he returned to work on the Menardville Record. During this period he taught himself to take and develop photographs with a small box camera and printing supplies that he had received as a premium for selling subscriptions to the Youth's Companion, a popular family weekly. In 1892, he left Menardville to work at the Mason Herald. He spent the next thirty years working as an itinerant printer and photographer in Sonora, Menardville, Eagle Pass, Del Rio, and numerous small towns in West, Central, and North Texas. In addition to standard portrait work, he documented events such as the flood at Menardville in June 1899 and the 1902 land rush in Junction. While working in the Eagle Pass-Del Rio area in 1901 Rose began taking pictures of news events and developing them into lantern slides ready for projection the same day. He focused on such violent events as hangings and shoot-outs and interesting frontier figures-gunmen, sheriffs, politicians, judges. Rose began seeking out old photographs and corresponded with Emmett Dalton and other noted personalities to obtain pictures. From 1904 to 1919 he operated a photography studio in Del Rio and continued to build his collection of frontier photographs. He subsequently worked in central west Texas before settling in San Antonio in 1921. Rose's early years there were inauspicious: he endured a long illness and thereafter suffered a fractured skull when he was hit by a car. Faced by a large debt for medical bills upon his recovery, he decided to focus his business exclusively on photographs of the old West. He made up a list of negatives that he had collected, printed a catalogue, and soon developed a booming mail-order business selling photographs to magazines, collectors, and writers. According to Rose, pictures of such outlaws as Jesse and Frank James, Billy the Kid, Belle Starr, Jim and Bob Younger, and the Dalton gang were most in demand, followed in popularity by pictures of peace officers, Indians, Texas Rangers, and pioneers. He supplemented his stock by buying the rights to photographs owned by A. A. Brack, owner of Brack's Studio of San Antonio, and eventually collected over 2,000 images. With his childhood friend John Marvin Hunter, Rose published an Album of Gunfighters in 1951. His collection of photographs was sold and is now in the collection of the University of Oklahoma in Norman. Sources • J. Marvin Hunter, "Noah Rose, A Frontier Photographer", Frontier Times, November 1935. • J. Marvin Hunter, "The Passing of a Life-Long Friend", Frontier Times, February 1952. • Oran Warder Nolen, "Noah H. Rose, Frontier Cameraman," Old West, Spring 1968. • Noah Hamilton Rose, A Catalog of the World Famous N. H. Rose Collection of Old Time Photographs of the Frontier (Houston: Frontier Pix, 1952). Most of these photos are from the old west but a couple are not. I have uncovered a couple because the mats need re glued and they are marked with Rose's name and are marked San Antonio. Most have writing on the back while one is unmarked and one has newpaper clippings pasted on the back. These photographs are glossy so there is some glare from my camera. Frank James, Robert Ford, Henry Starr, Will James with Emmett Dalton and George Cole, Charles William Quantrill, Charles Ford and a group of Indiana folks including a policeman standing by the bodies of 2 slain Indiana Deputy Sheriffs killed by escaping inmates!!! Check 'em all out! Outstanding! $250 a photo or make an offer on the entire collection!
Here we have several Native American Artifacts that came in to the shop. They have all been looked at by an expert and are all deemed to be totally authentic and pre historic. All are from Central Indiana and Field finds. Here they are:
Consignment New Arrivals
Here we have a rather large and heavy stone axe being the full grooved type that measures about 8 inches long by 6 inches wide and has a flat poll. This axe weighs about a whooping 7.2 pounds! The bit edge has been reworked but what a nice field find! Has a coule of disc marks on it but not bad. $450.00
Consignment New Arrivals
Here is a medium hardstone full goove axe that measures about 6 12 inches X 5 ¼ inches and weighs about 4.2 pounds. The poll is rounded and the cutting bit looks to have had some rework to it. It's a nice field find with no disk or plow marks that I could find. For this one $125.00
Consignment New Arrivals
Here we have a smaller full grooved raised poll stone axe. This one measures 5 inches by over 4 inches with a round poll and a very nice bit that exhibits nearly no damage. There are a few disc marks on this one from working the field it was found in. Weighs 2.2 pounds. For this nice axe $85.00
Here are some very nice blades!
Here are some scapers with one being a large point reworked into a scraper!
Here are some small points in various conditions. I have some $5 points and some $10 points:
More!
Even More!!!
Consignment New Arrivals 234
Here we have a good condition Model 1858 Springfield Bayonet for the .58 caliber rifle of Civil War fame. This bayonet is an original regulation issue Union Army .58 caiber US socket bayonet for the Springfield musts of the Civil War. It measures 21 inches long overall with a plum colored socket and a mostly bright blade with a prominent US stamped at the socket end as normal. The socket is nice and round with the locking ring and screw present. This pattern was designed to fit the US military rifles of the 1855, 1861 and 1863 Springfield and contractor rifles of the Civil War. Still nice! No scabbard. $125.00
Consignment New Arrivals 232
This is a good example of an original WWII Luftschutz gladiator helmet. These helmets were worn by air raid wardens and by teams faced with extinguishing fires and rescuing survivors after air raids. The exterior of the helmet retains 98 percent of the original smooth, semi-gloss finish dark black paint which may have been dark blue at one time but now aged with time. The "Luftschutz" winged swastika decal on the front is pretty well preserved and mostly intact, with some age toning. The interior of this Luftschutz gladiator helmet is also in good condition. The five pad liner shows only minor wear. The original, integral black leather toungue buckle type chin strap is complete and intact. The outer rim of the helmet shows typical edge wear to the paint. The rear inner skirt is stamped 2-8/31 and marked with the makers marks of Vertrieb Genehmigt Gemass 8 Luftschutzgesetz Kopfweite. This is the 3 piece helmet and is marked with the previous German owners last name of METZNER. We have no idea who that is. Vet Bringback! Getting harder to find these in nice condition. For this nice helmet $325.00
CONSIGNMENT
New Arrivals 231
Here's a very unusual target pistol/rifle with removable buttstock. There is a very similar rifle on page 54 of Flayderman's Antique Firearms book 9th Edition. This one in the book is labled ALLEN THURBER & CO. TARGET PISTOL. It says that they were made in the early 1850's in limited quanity. This particular firearm is not stamped Allen Thurber & Co , in fact, there are no stampings at all. This firearm has a .38 caliber rifled barrel that is 14 3/4 inches long with 4 3/4 inches being octagon and the rest round of the false muzzle type. There is a large dovetailed rear sight and another dovetail mortise in front of it for some reason. At the rear of the piece behind the hammer is a post that I believe was a tang sight at some time but now lacking. There are iron ramrod thimbles under the barrel but the ramrod is lacking. The two piece walnut grips are in good shape with a couple of small burns on them. This gun was in a fire while on display in a hotel and does have some stock damage but it's such a rare gun. This was the number one piece in a gentleman's collection and has a tack with the number one embedded on the buttstock. This gun was also stolen a couple of times and a piece of gold enlay on the reverse was stolen. This piece has an inscription on it but that information has been lost. There is a solid gold stip there now that was replaced but there is no inscription. All of this took place in Michigan. The hammer, frame, backstrap and triggerguard have been nickel plated. The buttstock is a wonderful piece even though it has had substantial fire damage to it. This piece is german silver mounted (could be solid silver but not sure) with the bust of a man on it. We believe this bust to be of President Grover Cleveland. If it's not it sure looks like him! All of the silver has great floral work on it. On the bottom of the buttstock engraved into the silver are the words 'CHARTER OAK' . The Charter Oak was an unusually large white oak tree growing, from around the 12th or 13th century until it fell during a storm in 1856, on what the English colonists named Wyllys Hyll, in Hartford, Connecticut, in the United States. According to tradition, Connecticut's Royal Charter of 1662 was hidden within the hollow of the tree to thwart its confiscation by the English governor-general. The oak became a symbol of American independence and is commemorated on the Connecticut State Quarter. One of the reasons we believe the bust to be President Cleveland is because the President's father was born in Connecticut where the Charter Oak was. It looks like there was a patch box door on the obverse buttstock but is now lacking. Above that void is a folding guard spearpoint dirk that looks great! The maker on this dirk is E. C. C. Kellogg. I found where Kellogg had a patent for an invention in 1865 for I believe, something to do with knives. I do not believe that Kellogg Knives are prolific in any way. An internet search didn't turn up much on him. Take a look at the pics as this is a unique knife in it's own right. The action works fine on the firearm and I believe it's definitely one of a kind. For this one of a kind piece $9500.00
New Arrivals to the shop Consignment 230-
Here is a Great sword that recently came in. The sword is a Japanese WW2 mounted sword that were captured/obtained by an Army Cook in New Guinea. The New Guinea campaign was one of the hardest-fought of World War II. ... And it lasted a long time: From March 8, 1942, when Japanese forces first landed on the island, to the end of World War II in the summer of 1945, fighting took place across the island of New Guinea and in its nearby island chains. These two swords were purchased from the Daughter of the Soldier. She lives near Lake George, IN but lived in Dayton, Ohio during WW2. Now on to the swords:
! Check out the evaluation sheets on this one lower down in the pics. This one probably had a leather covering over the wooden scabbard but now lacking. This one is probably quite old from the early Edo period being made from 1603 to 1868. Nothing needs repaired here-just the blade needs polishing by someone who knows how. Take a look at the pics! Nice!! $2750.00
Consignment New Arrivals 328
Here are some new arrivals to the shop. We have some native american artifacts that came from Central Indiana and all have been looked at an expert in the field and are deemed authentic of the period. They are: A. 4 different points:
NOTE: 8 AND 12 HAVE BEEN SOLD! Thanks!
B. Here is a large bannerstone that was found in a central Indiana field showing plow and probably disc marks. The bore hole does not go all the way through. 7 inches X 4 inches and apprears to be slate. Take a look at the pics! $375.00
C. Here is a pretty nice substantial pendant. Bell pendant made from what appears to be red slate with a chip on one side. The pendant is 3 ¾ inches long by 1 ¾ inches wide. All the edges are squared. For this nice piece $375.00
Consignment New Arrivals to the shop 327
Here we have a very unique mid sized unmarked Derringer of the 19th century. This one has a 4 ¼ inch octagon rifled bore in a whopping .45 caliber! This pistol is about 8 inches long overall . The action works but will not quite hold in full cock position. The hardwood grip has a couple of major 'age' cracks in them but the pistol is still solid. I can see how it could crack shooting a .45 caliber ball out of it! A little wooden ramrod accompanies the pistol. This pistol has a very unusal notch made into the bottom of the back action lock and the lock is engraved with flora and birds. The pistol is complete but totally unmarked. Take a look at the pics! For this piece. $750.00
In better conditon these sell for $1250 and up to over $4000.00
Consignment New Arrivals to the shop 326
Here we have a very unique Underhammer .31 Caliber Percussion pistol that is unmarked but believed attributed to D. Brown out of Southbridge, Mass circa 1850's. Although the D.BROWN/ SOUTHBRIDGE, MASS markings are not on the barrel the CAST STEEL markings are and this is a quite rare pistol. If you look at the Flayderman's Antique Arms guide on page 425 you will see an almost exact example listed on that page. This pistol is about 12 inches long with a 7 6/8ths inch long barrel with the barrel being part octagon and part round. The barrel is rifled as well. The hardwood bag grip is fine and there are silver enlays on this piece in the form of the trigger strap, back strap and the strap around the butt which are all german silver I believe. The top strap is engraved with a hunting scene of a man on horseback with a couple of hounds chasing a fox! Very nice! $1450.00
Consignment New Arrivals to the shop 324
Here we have an antique Underhammer percussion pistol in about 36 caliber with an ovre 11 inch barrel. The entire firearm is approximately a little over 16 inches long. They must have loaded it quite heavy as the grip has been reinforced on both sides to take the strain of firing! The back plate on the handle under the rear peep sight has stamped in it S. E. BLAKE & JOH? I think they ran out of room to put all of it on there and since the barrel retention screw was placed in the center of S.E. Blake's stamp they restamped his name below that screw. I could not find this maker in the American Gunsmith's Book. There were several Blakes listed by no S.E. Blake. This firearm was found in central Indiana and there was a Thomas Blake from Lebanon, Indiana that made firearms in 1850 but no S.E. Blake. We do believe this firearm to be from the 1850's The firearm is quite heavy and the mechanics work just fine. The barrel, as you can see, is part octagonal and part round. I believe this piece dates from the 1850's. Take a look at the pics! For this old piece $475.00
Consignment New Arrivals to the shop 323
Here we have a very nice complete double barrel Pinfire Pistol in nice conditon! The pistol is a nice patina in gray and functions as it should. Overall length of this pistol is about 8 ½ inches with the barrels being about 3 ¾ inches long. The pinfire cartridge was invented in 1828 and found widespread use until around the late 1870's early 1880's or so. They had an inherent problem in that if you dropped the firearm it may discharge because the pin stuck out the top of the barrel or cylinder if it was a revolver. The later models has a shield over them to prevent accidental discharge. This pistol is an early one being probably 1850's 1860's. The walnut grip is just really nice with a ding here and there from use. This pistol was produced in Belgium and is so marked with they proof marks that you can see in the pics. The pistol has light engraving on it which is still really nice for it's age. I have shown a pinfire cartridge in the photos to show you what one looks like but is not included with this pistol. The cartridge in the photo is an 8mm cartridge and I think that this pistol takes a 10mm cartridge. The Union imported LeFaucheux Revolvers in 12 mm to the states for use during the Civil War and countless other pinfires made it into the fray as soldiers brought firearms from home in some cases. All in all this is a very nice example of a pinfire pistol! For this example $450.00
Consignment New Arrival to the shop 321
Here is an example of a GI altered Nazi Holster for, what I think, would be a P-38 9mm caliber pistol. The leather is nice and supple and you can see the markings plainly on the back which is bla 1944 , The waffen Mark of the cross winged eagle over the swastika, and WaA159. This particular holster may have been altered to fit another type pistol as well. For this altered example $95.00
Consignment and shop owned 320
Here we have a small limited quantity of ammo cans in 3 sizes. Don't buy plastic cans which offer no security or protection. Take a look at the pic!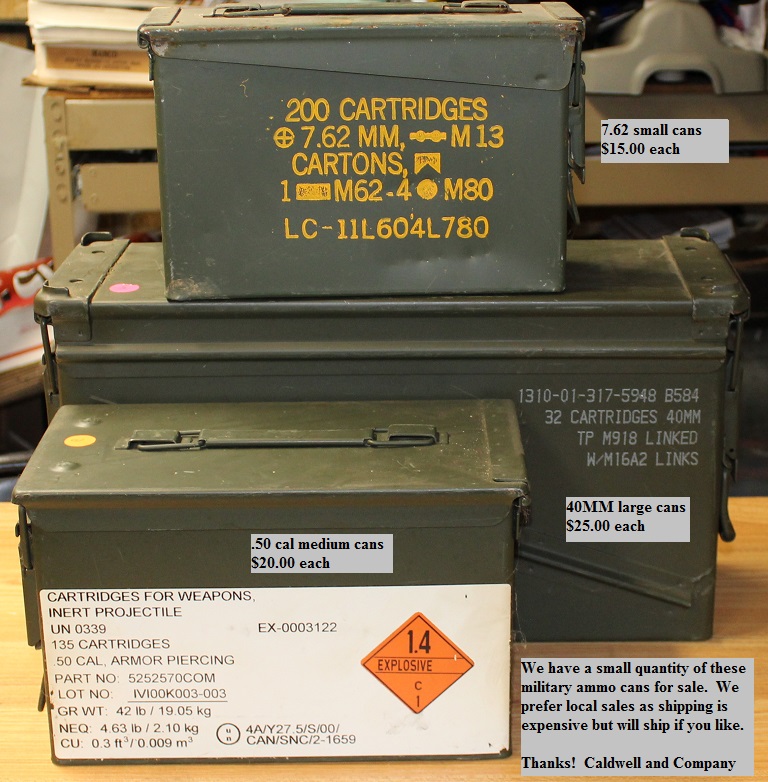 Consignment New Arrival to the shop 319
Here we have a pretty good commando stock for the M1 Carbine. These stocks were made back in the 1980's for the Ier Johnson Commando Model M1 Carbine. There is a small chip that I can see at the back where the barrel fits in and a couple of minor scraps and scuffs other wise fine. Take a look at the pics! $150.00
New Arrival to the shop consignment 318
Here we have a most beautiful little .28 caliber 6 shot revolver made by James Warner! This is the 2nd Model because it has a round barrel instead of an octagonal one and is serial numbered 903! The revolver is marked "JAMES WARNER SPRINGFIELD, MASS. U.S.A.". This revolver has an iron frame and the cylinder rear has safety notches. The revolver has a 3 inch round barrel with excellent bore. This type revolver was mfg from 1857 to late 1860's. I believe this one to be rather early. Lots of bluing left on this piece and it has outstanding grips. Functions just as it should! Hard to find better! For this piece $1750.00 Check out the pics!!!
New Arrivals to the shop Consignment 316
Here we have a nice Identifled Indian Wars used Model 1858 Remington .44 caliber revolver with leather grouping that consists of a holster, belt and Model 1874 Hagner US Belt plate. The revolver is identified by writting on the grip on one side which is Paul Fuller , Kokomo, IND and is dated 8-21-34 (1934). The other grip has P.F. scratched deeply on the inside of the grip. We do not have any idea as to who this is as we were pleasantly surprised when we removed the grips and found this. We have no idea who this is. The revolver was made post war by the serial number of 111478. Approximately 135,000 of these revolvers were made from 1863 to 1888 with s/n's from 12,000 to 148,000 so the serial number places this piece being used during the Indian Wars period. As to the date on the grips anything we come up with is pure speculation. Research may turn up something very interesting! This revolver is very pleasing to the eye and functions as it should except that the cylinder doesn't lock up after rotating to the next cylinder. This piece has seen moderately hard use as witnessed by the grips I don't see a cartouche on the grips but they are worn so perhaps it wore off. There are various other military inspectors markings on the revolver. The serial number matches on the frame and the barrel but numbers are different on the cylinder but that is not unusual as it was more efficient to change out the cylinder when firing rather than reloading under fire. The markings are all clear on the piece and easily read. I have several pics of various aspects of the revolver so check it out! Now on to the leather part of this grouping. The Holster looks like the Colt Model 1860 Holster and is complete except for the plug at the bottom of it. The finish has worn and has flaking which is normal for this old of a piece of leather. The stitching is all tight and the leather is flexible. The closure tab is fractured but mostly there. I see no makers marks or inspectors markings visible. The belt is in similar condition as the holster and matches it in appearance so I have no doubt that this set has been together since it's inception. The belt is complete with no breaks or tears and is finished off by a Model 1874 Hagner 'US' belt plate and keeper. You can also tell that the belt plate and keeper are a matched pair. The belt and plate have no markings that I can see. This is a nice outfit and a great collectible of a violent part of our US History! Take a look at all the pics! Very nice!!! $2750.00
New Arrival to the shop 315
Here we have a nice pair of 1942 Westinghouse H. M. R. M3 6×30 binoculars. This pair of black binoculars is marked "Binoculars, M3, 6×30, Westinhouse, 1942 H. M. R." and includes an attached leather strap. The binoculars include a hard leather case marked with embossed lettering at its top "Case, Carrying, M17". The top strap has a broken guide and the strap for the case is missing otherwise very nice. The binoculars are in very good condition with great optics. Inside the left optic is a range graph that looks very nice as well. The M3, M13 and M13A1 binoculars were issued to all branches of the U.S. military during WW2. The M3 was the first model, which was acceptable, but was superseded by the M13 and M13A1, which resolved issues with the M3, particularly with regard to water proofing. The later models also introduced coated optics to reduce glare.A total of 43,378 were made at an original price of $72/ea., however the majority were the later versions, and many M3s were removed from service once damaged by water. For this reason the M3s are harder to find on the market. Other sites have them as high as $395 if you can find them but ours is $250.00 Take a look at the pics!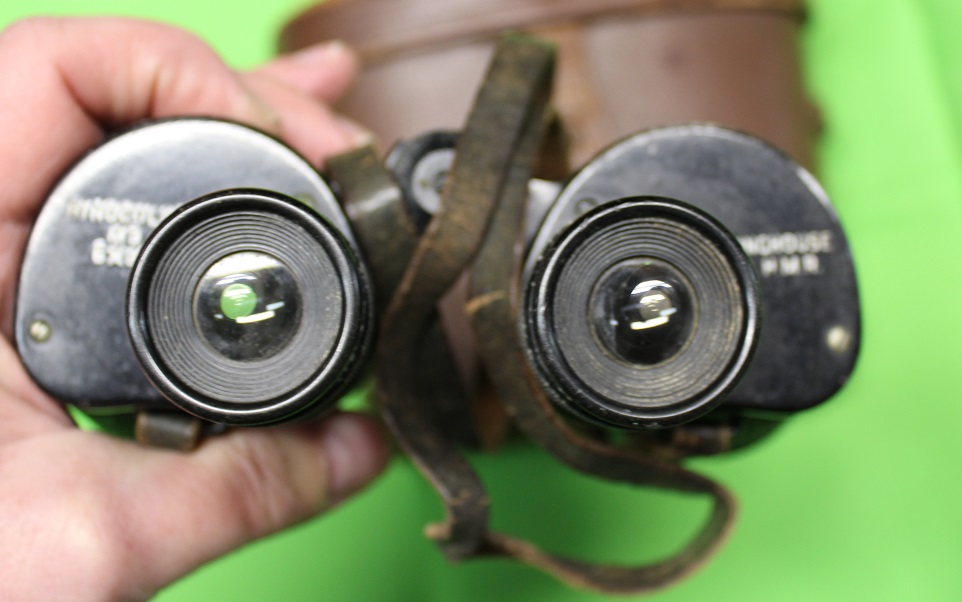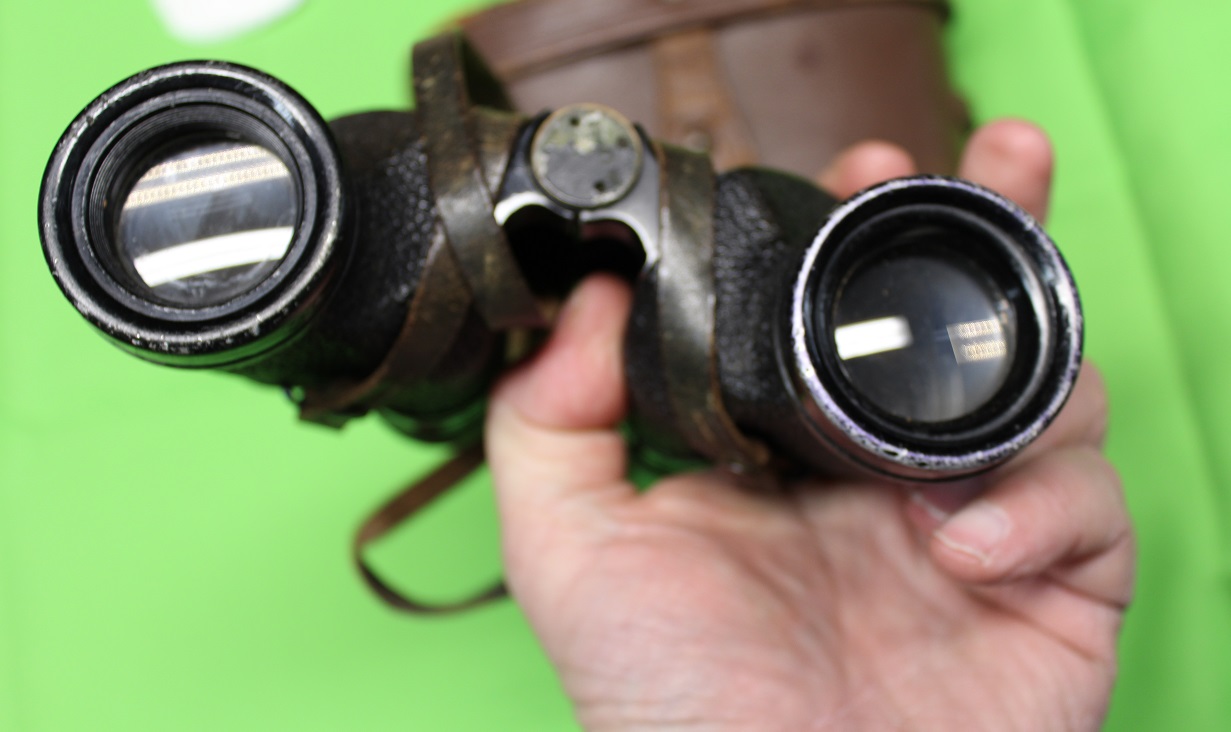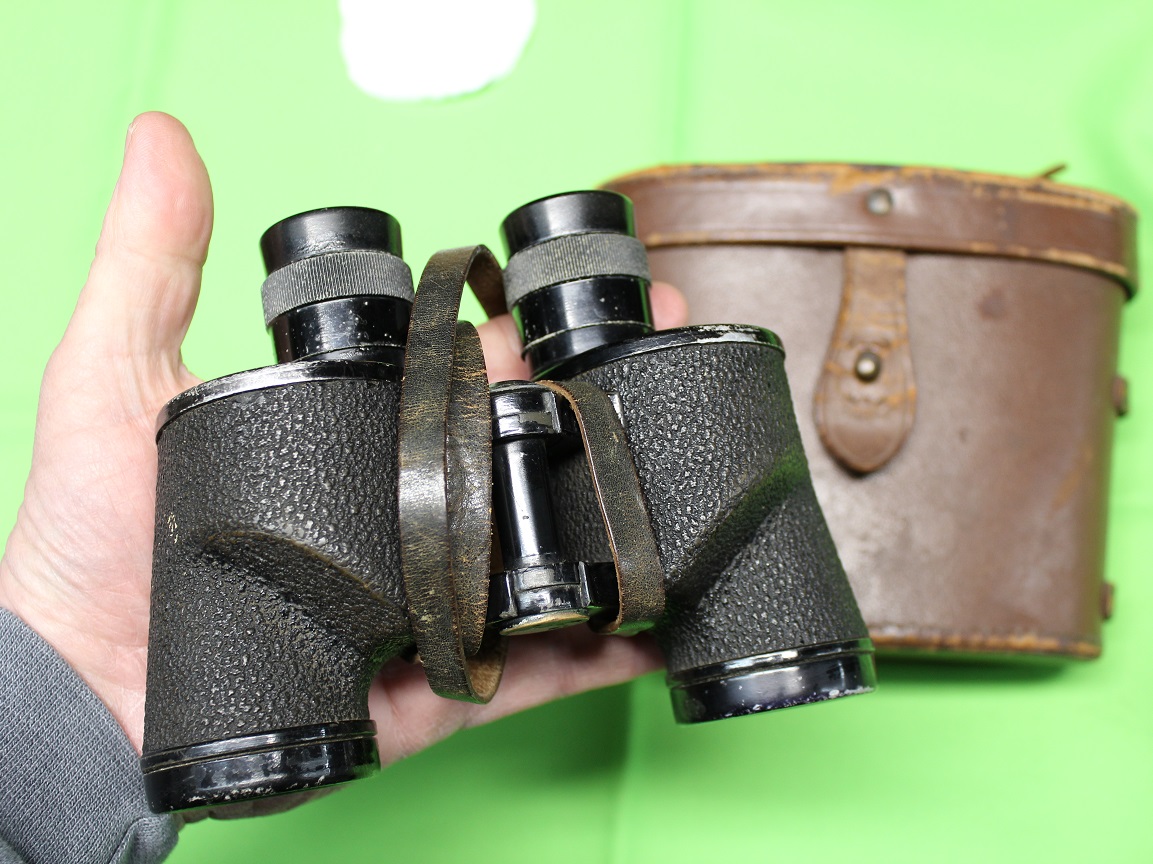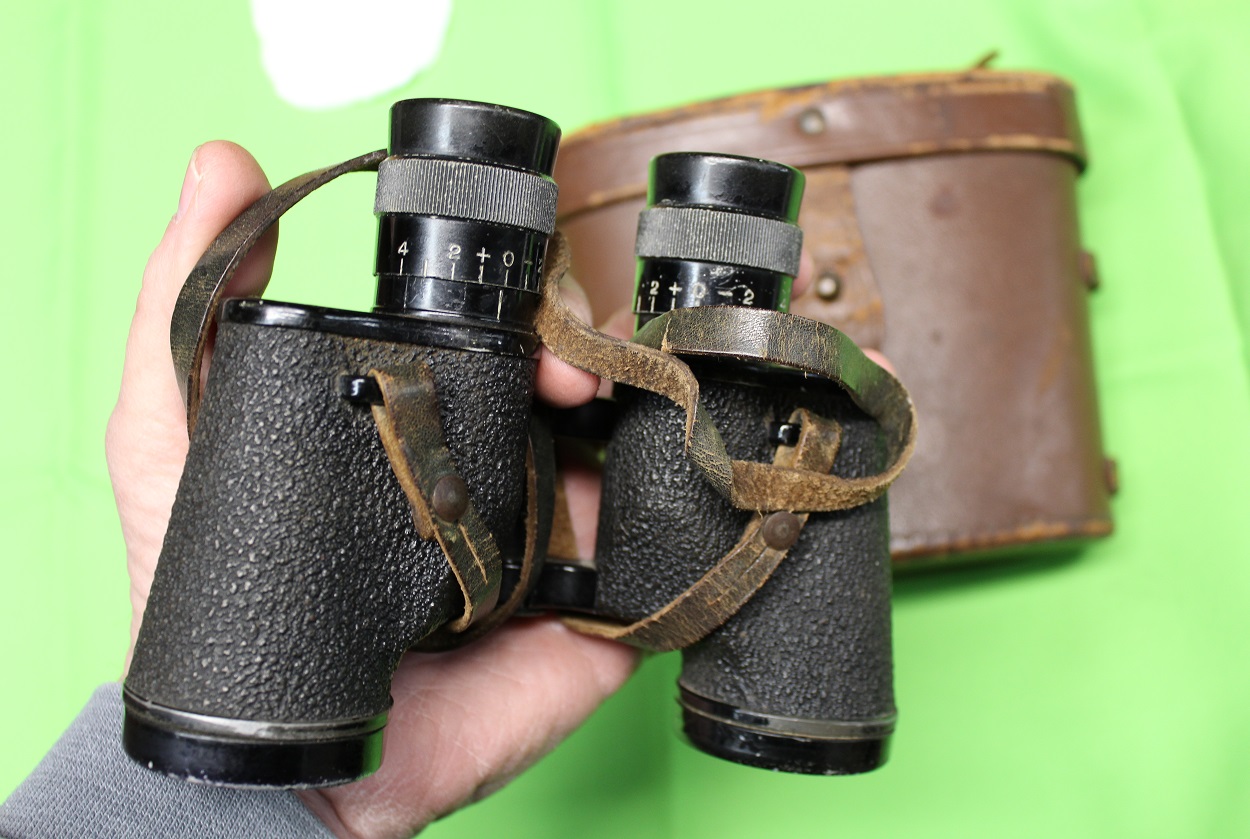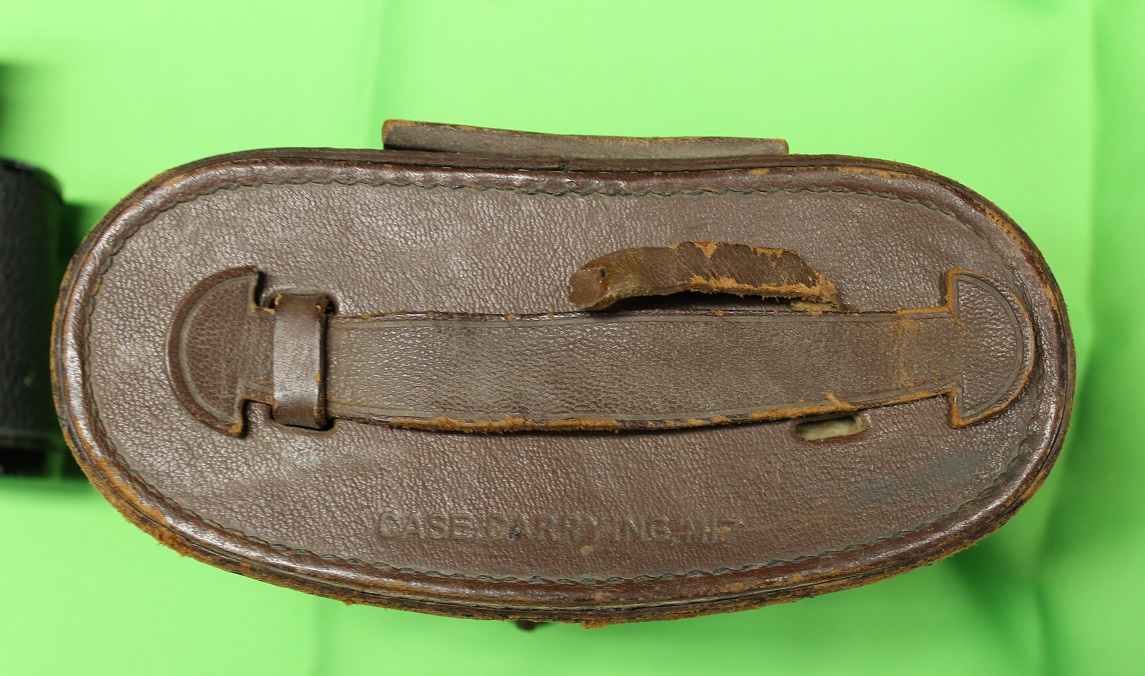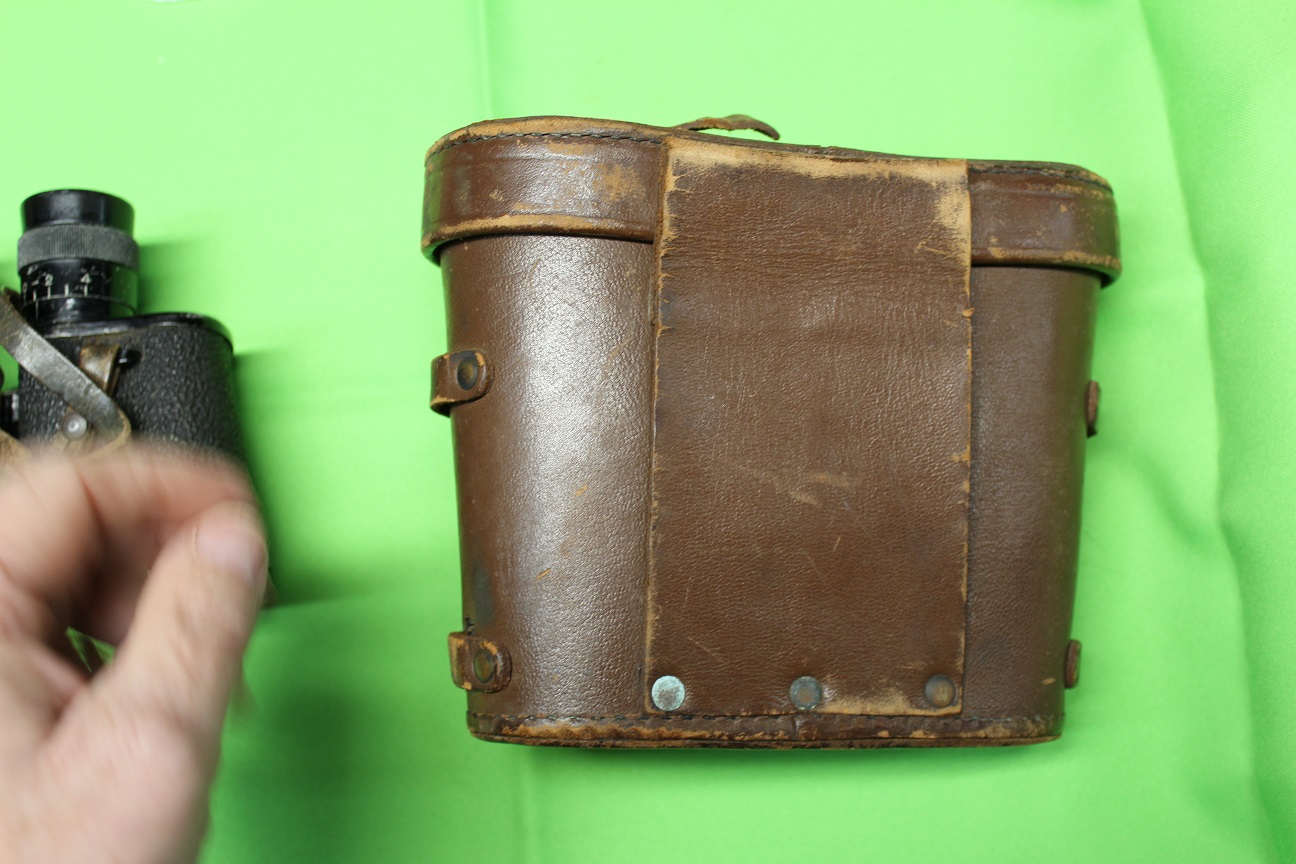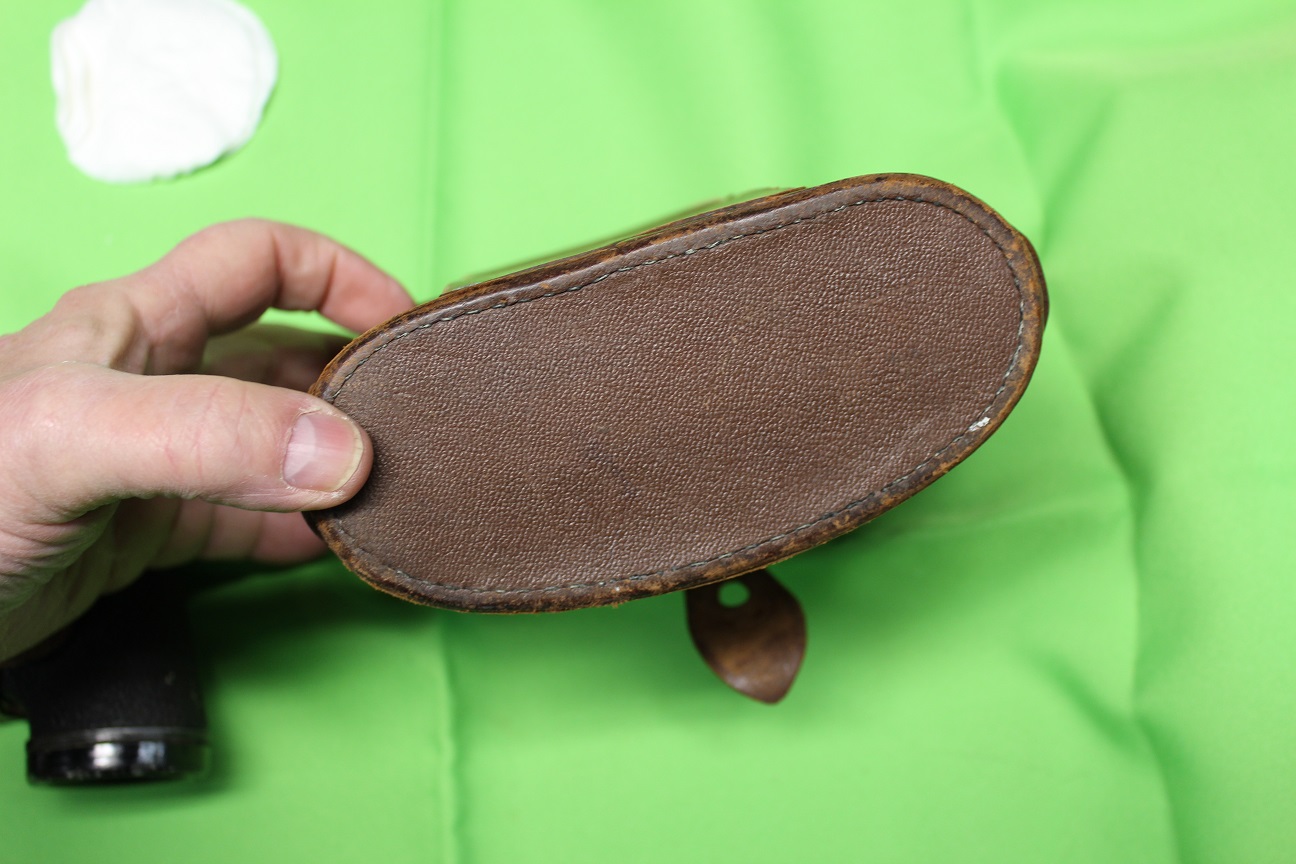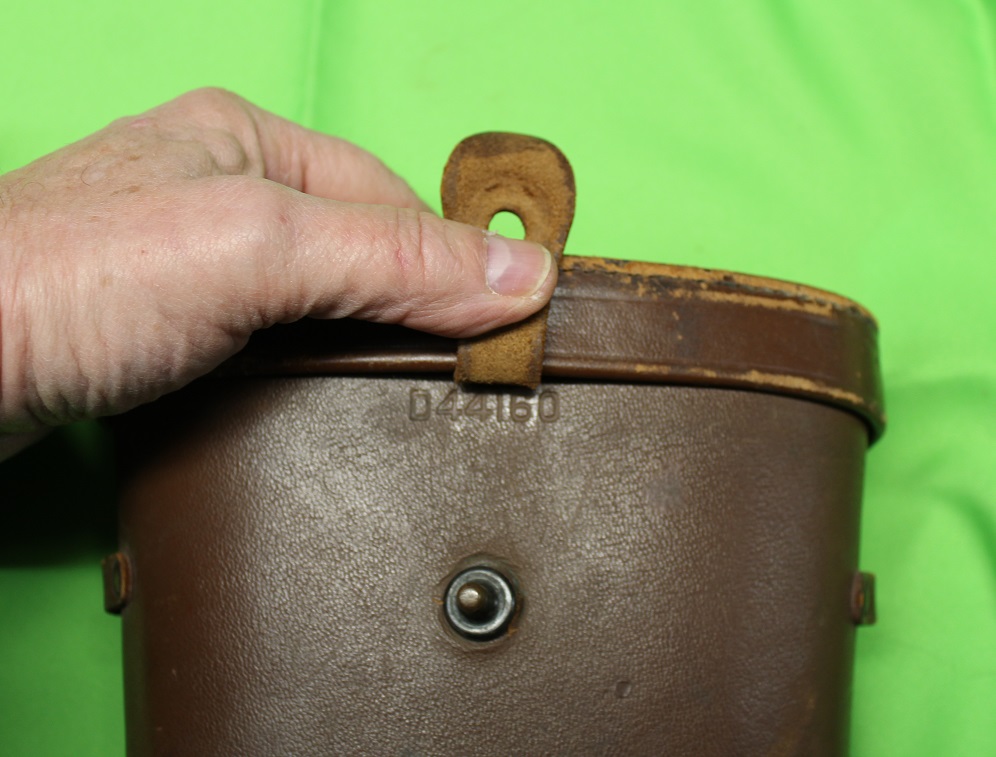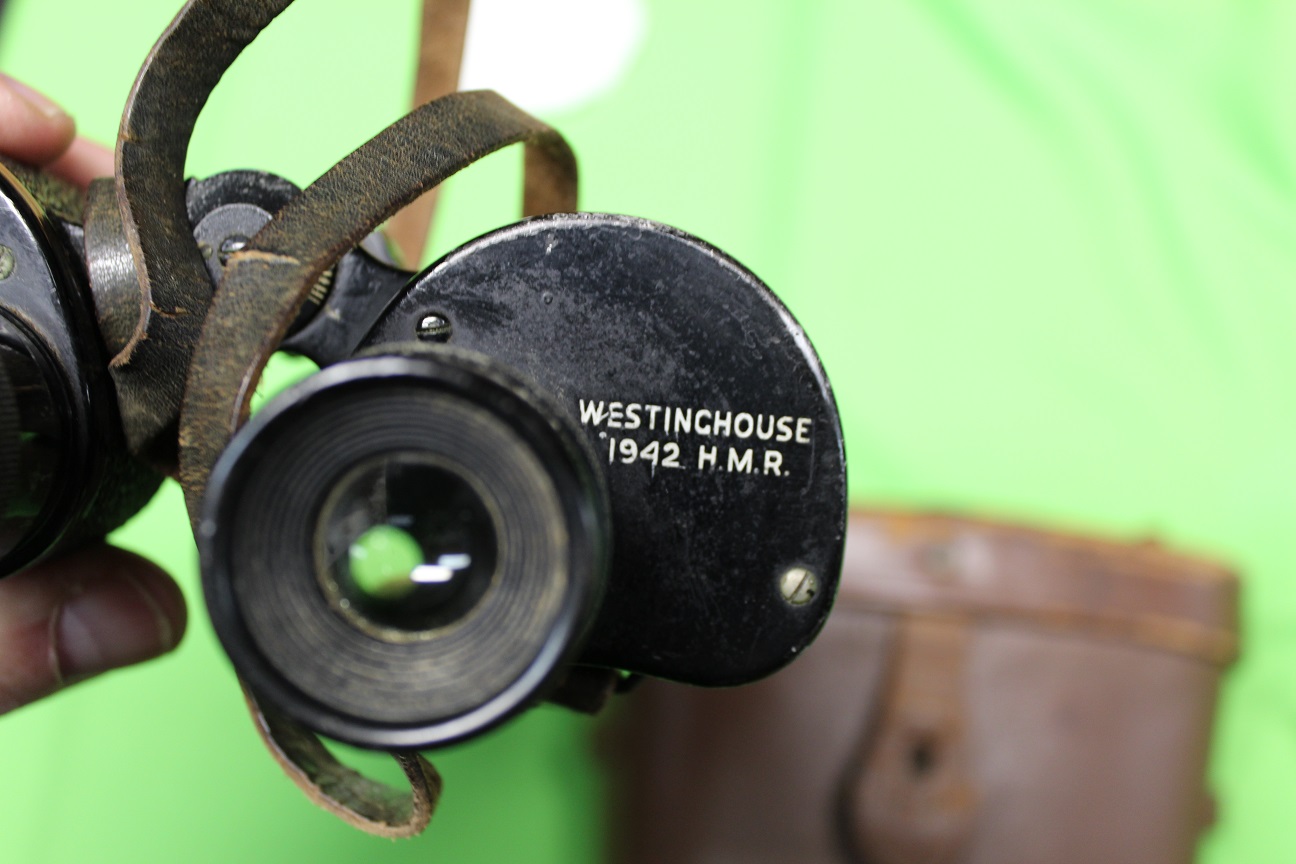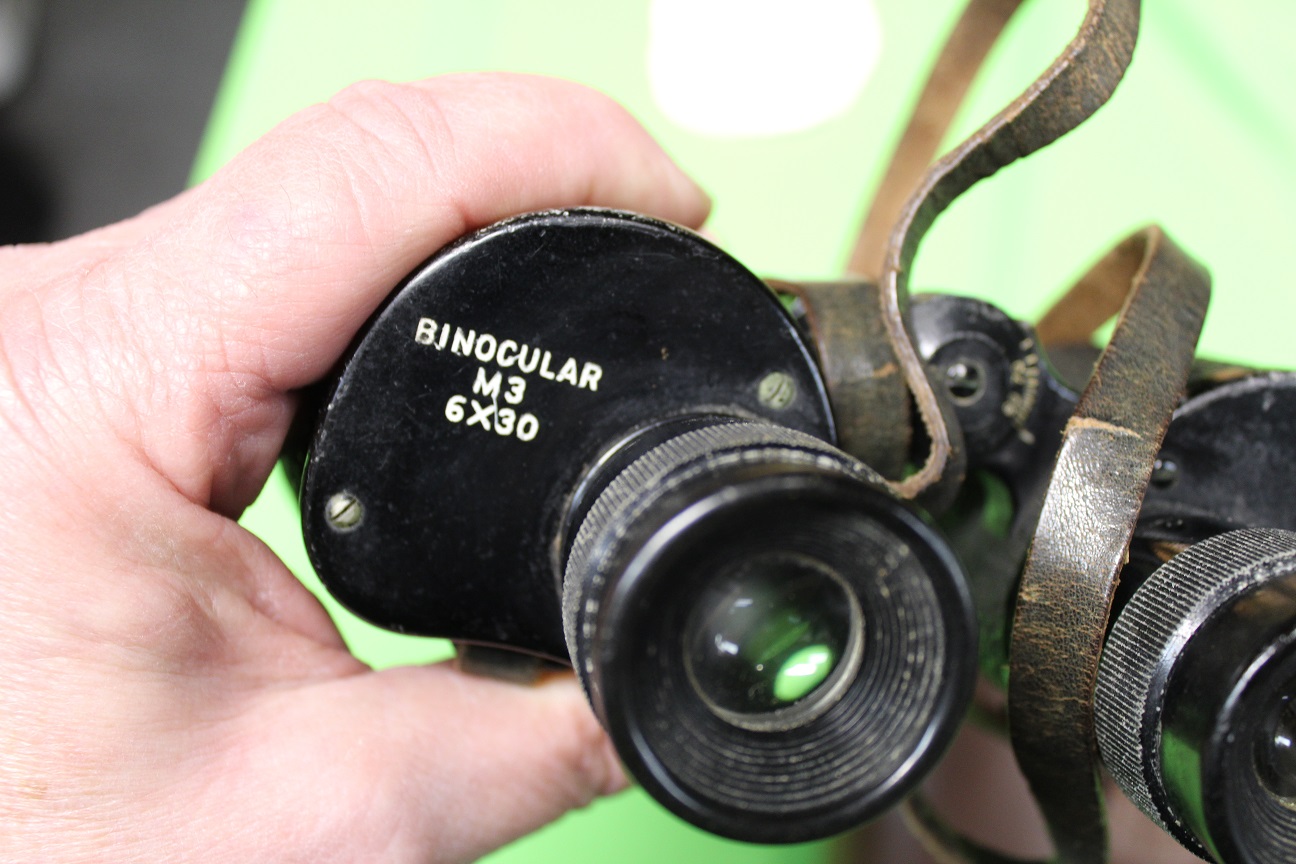 Consignment New Arrival to the shop 314
Here we have a pair of small, swivel to the side to load, .22 caliber single shot pistols from the 1870's thru 1890's. Neither pistol is marked. This first one has a nice little holster but I don't think it is nearly as old as the pistol. The pistol is single action with the frame and barrel being nickel plated with much wore off. The little wooden grips are very nice and the action works ok. There is a serial number stamped on the inside of the frame where it is exposed when the barrel is swiveled out and the number 4 on the bottom of the barrel but no maker's name at all. Many manufacturers made this exact kind of pistol. Nice little old west pistol! $325.00
Consignment New Arrival to the shop 313
Here This next pistol is like the one above but with no holster and a different caliber being in nearly relic condition but still kind of works crudely. This one is quite unusual in that it has scratched on it's brass frame 'S.H.Payne 1860'. Don't know the significance of the date of 1860 as this pistol was made from 1870's through 1890's so it just may be his birthdate-I just don't know. At any rate the pistol has seen hard use and has some very bad pitting on the barrel. The frame is brass and the little grips are walnut. There is a crack or two in the grips but in no danger of failing. This one kind of operates but is stiff and sticky. I see no markings whatsoever on this one except for the serial number on the butt of the grip frame. Prehaps under more intense magnification one might find something somewhere else, -I just don't know. On this one you have to push a little button on the bottom to swivel the barrel outwards for loading. This one is a .32 caliber single shot pistol. For this piece of old West Memorabilia $295.00
Consignment New Arrival to the Shop 312
Here we have a Civil War .36 Caliber double action Cooper Revolver with a low serial number of 633 !! With this low of a serial number then this one was definitely made in 1864. These revolvers were manufactured after James Maslin Cooper moved from Pittsburgh to Philadelphia in 1864 until around 1869. It has a low brass post front sight, "COOPER FIRE ARMS MFG. CO. FRANKFORD PHILA. PA./PAT. JAN. 7, 1851 APR 25, 1854 SEP. 4, 1860 The wedge is of a high number and there is no s/n on the frame as it was 'customized' with added parts. What is left of the original Cooper is all original and not altered so if you have the parts it should be an easy restoration. You will need a backstrap with bottom strap and a new set of grips. The firearm is functional but needs a trigger return spring as it will not return on it's own. The cylinder turns as the hand and spring are in good conditon. I don't know why anyone would want to alter this but it's a strange world we live in!! At least they didn't mess up the original parts that are left! The bore is not that bad and the markings are all legible! For this restoration project $395.00 Check out the pics!
Consignment New Arrival to the Shop 311 a
Here we have a nice little .28 Caliber Colt Root 5 shot revolver! Colt Model 1855 Sidehammer, also known as the Colt Root Revolver after engineer Elisha K. Root (1808–1865), percussion single-action pocket revolver used during the American Civil War and made by the Colt's Patent Fire Arms Manufacturing Company in two calibers: .28 and .31. I believe that this one is .28 caliber if my gauge is correct. The production of the revolver started in 1855 and lasted until 1870. ] In spite of the complexity and ambition of its patented design, the Sidehammer revolver never reached the status of a popular gun but it is highly sought after now. The serial number on this revolver is 15172 and was produced in 1857Model 7: .31 caliber in serial range #11075 to #14000; COL. COLT NEW-YORK barrel address, round barrel 3 ½ inch long and screw-in cylinder (which retains the cylinder pin) with stagecoach holdup scene. A few British proofed revolvers have the rare 'ADDRESS COL. COLT / LONDON' address. Nipples removable.. octagon barrel 3 ½ inch long and fluted cylinder. Nipples integral with the cylinder. The barrel, cylinder and buttstrap all have matching serial numbers. There is some color left on this piece in the protected areas. All the markings are sharp and clear. The grips are really nice on this piece. The cylinder doesn't rotate or lock up when pulling the hammer back indicating that this piece needs the hand and spring replace so it will function properly. You can still see some of the cylinder scene but it is faint. There were only 30,000 of the .28 caliber made and about 14,000 of the .31 caliber made so how many survived. We just don't know the answer to that question. Take a look at the pics! For this little scarce revolver $1100.00
Consignment New Arrival to the shop 309
Here is a mid 19th century single shot .36 caliber percussion pistol made by Stocking & Co of Worchester, Mass. This particular style pistol was made by Stocking from 1849 to 1852 and a N followed by a 5 which we believe to be a serial number is stamped on the bottom of the barrel and on the grip frame. The grips are matching and marked '30'. This pistol functions well but has had a couple of alterations. The side plate is a modern replacement aged to fit in with the rest of the firearm (I don't know who made the side plate but it does match the patina nicely.) and the hammer has been altered with a brass piece on the very end where it strikes the percussion cap. I don't know how that was affixed but it is tight and works well. The grips are originals and in only fair condition. The markings are very plain to see. Nice old pistol that you don't see often! For this old girl $450.00
New Arrival to the shop 308
Here we have a vintage WW2 Australian used flare Gun! This Signal Device is Very Nice, Numbers Matching, Australian 43 (1943) MK. III CSR (Central Sugar Refinery) Sydney Flare Gun / Signal Pistol of the Webley Pattern. Here are some of the details:
Dated 43 (1943) and bears crisp, legible, military acceptance marks on all parts of the gun. Flared Barrel Length is 6" and bore is in excellent, moderately clean condition (I haven't cleaned it so what you see is what you get). Walnut Grips are in good Condition with Minor Scratches with one chip out of the reverse grip. The grips seem to be slightly different but by the impressions on the underside of the grips they have been on this particular flare gun a long, long time. All parts of the gun are tight and work fine and includes the lanyard ring. . Brass has not been cleaned and has a very nice old patina. It looks great! For this piece of History $350.00 Take a look at the pics!!!
.
New Arrivals -Weapons 164
Consignment
Here we have a Model 1879 Springfield Trapdoor Carbine that was made in 1880. Thanks to Guns and Ammo for the following info: In 1873, a new model of Springfield Trapdoor carbine (so named because of the appearance of the breechblock) was introduced. Unlike its predecessors, it was not made from altered muskets but was fabricated completely from new. Also unlike the earlier guns, it was not finished bright but had blued metal parts with a case-hardened tang and breech and black oil-quenched breechblock. Many of the parts were the same as those of the 1870 models, so Springfield was able to use some of the tooling for components on the older guns. The gun was offered in rifle, cadet rifle and carbine versions. In 1879, the guns were again given a makeover from the 1877 altered model. The carbine stacking swivel that was on the model 1873/1877 was eliminated (However this particular carbine has one), the receiver made thicker, and depending upon when the gun was made (180,000 were turned out between 1879 and 1885), they were fitted with ribbed triggers (this one has the smooth trigger). Though considerably different from the earlier versions, these were still considered Model 1873s by the government and are so marked. The Trapdoor rifles, carbines and other variants continued to be issued and carried right up to the turn of the century, and modifications, such as different sights, ramrod bayonets, etc., popped up from time to time. The Trapdoor's last moment of glory was during the Spanish-American War when, in the hands of volunteers, it fought side by side with the modern smokeless-powder Krag-Jorgensen repeating bolt action. Now on to this carbine. This carbine is in overall very good condition. It is original and marked with the 'C' on the rear sight indicating carbine use. Low arch breechlock. The rear sight and front sight has most of the original color on them. The trapdoor, lock and hammer still have the original color on it as well as the trigger bow, barrel band and spring and butt plate. The sling attachment has most of the color on it and the ring has about 50% color on it. The barrel and breech have turned to a mottled brown color and the bore, although somewhat pitted, still rates good with deep rifling and shiny bore. The markings on the barrel are nice with the VP Eaglehead and P. The hardwood stock is in generally very good condition with the usual dings from use and one noticeable gouge behind the lock plate. I cannot make out any cartouche. The lockplate has a deep Spread Winged Eagle and US SPRINGFIELD that is very nice. The trap door has US MODEL 1873 stamped deeply in it and the serial number is also totally legible being 1277XX having been made in 1880. The action works very nicely. The buttplate has the US stamped deeply into it and exhibits most of the original color. The cleaning rod is missing. There is a swivel attachment on the rear bottom stock. All in all a wonderful carbine! Many rifles are altered to fool the buyer into thinking that they are carbines. This one is an original carbine and fully guaranteed to be just that! Take a look at the pics!!! For this fine old firearm $2495.00
New Arrivals -Weapons 161
Here we have a wonderful complete Civil War 1864 U.S. Robinson New York lock plate and so marked. There is just some surface rust to the face of the plate and it operates flawlessly. The front sideplate screw was broken off but easily removed with an ez out-otherwise fantastic!!! Take a look at the pics! $395.00
New Arrivals -Weapons 160
This one is a full stock with the unusual 'MULE EAR' hammer on the lock. It's a percussion lock. The rifle is about 49 inches long with a 33 3/8ths inches long barrel with the name W. GARDNER-GENEVA stamped on it. In AMERICAN GUNSMITHS by Sellers there is a H. Gardner of Geneva New York that made a Pill Lock full stock and this is what they call this lock type. I call it Mule Eared like the Civil War Carbines . There was also a G Gardner that made the same kind of rifle with the same kind of lock from Geneva. The lock is marked W. GARDNER PATENT GENEVA so there must have been an entire family of gunmakers there. This barrel is heavy being octagonal with rifling being about 45 to 50 caliber. The ramrod is held in by 3 brass thimbles. The stock is walnut and has a few repairs around the lock and looks like the last 10 inches has been replace but they did a good job and it's definitely period. Hey, someone LOVED this rifle and kept it going! The cresent shaped butt plate is brass and so is the trigger guard. This is a single trigger set up. The lock and hammer is very nice with florals on it. There is a silver escutcheon on the top of the stock behind the barrel and there is a hole in the stock there as well so they may have used a tang sight at some point. There is a crack in the stock in front of the lock that terminates at about 2 inches out. You can see the repairs in the photos. There is a raised relief cheek rest on the reverse stock. This rifle weighs 12 #. It's a beauty even with the repairs! For this one $1,450.00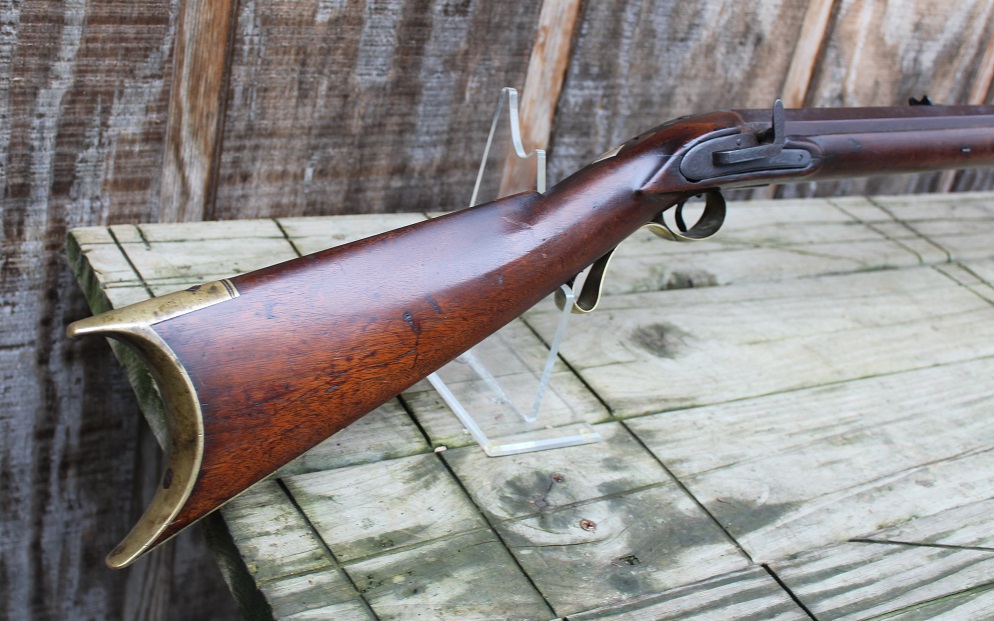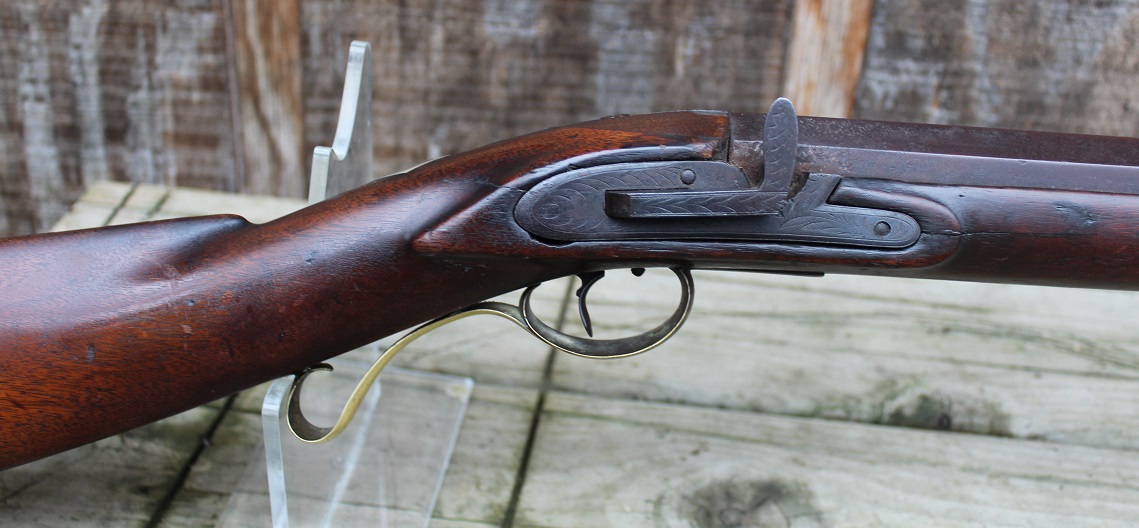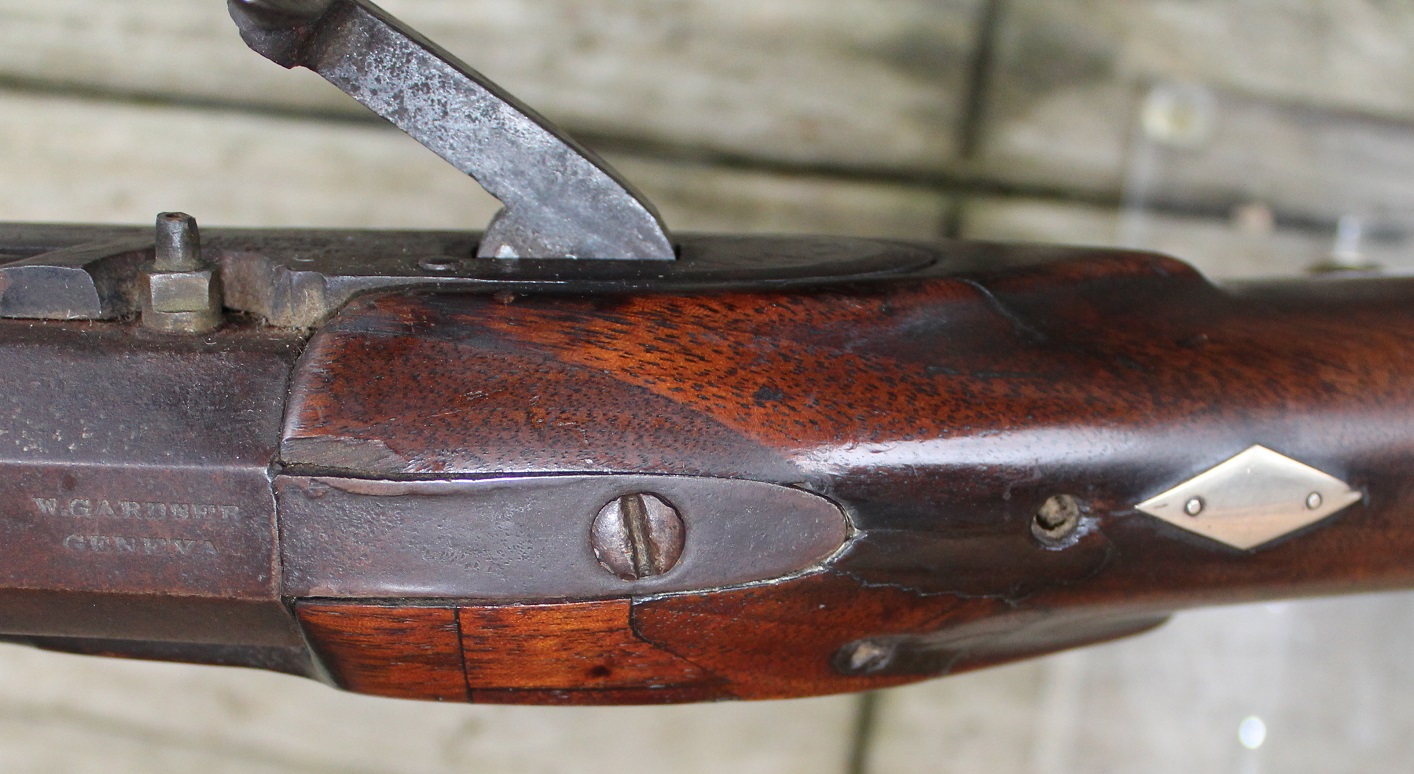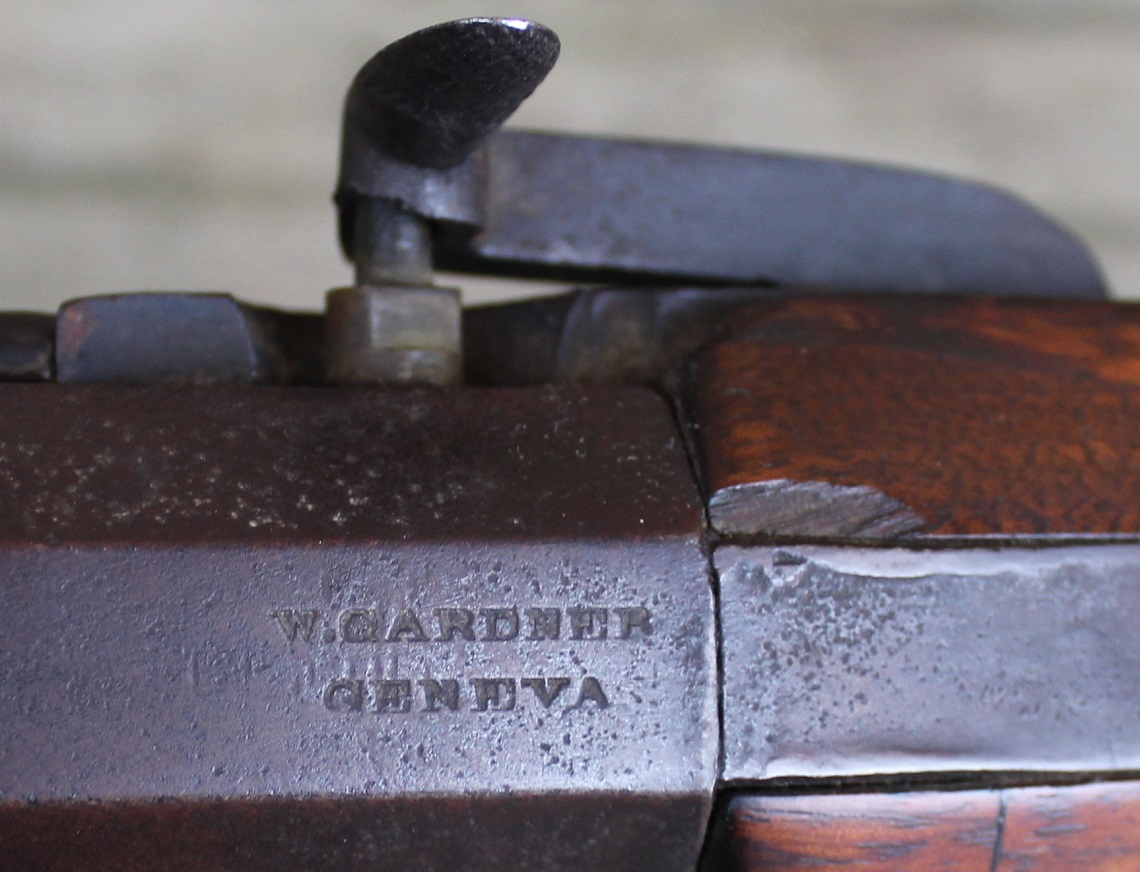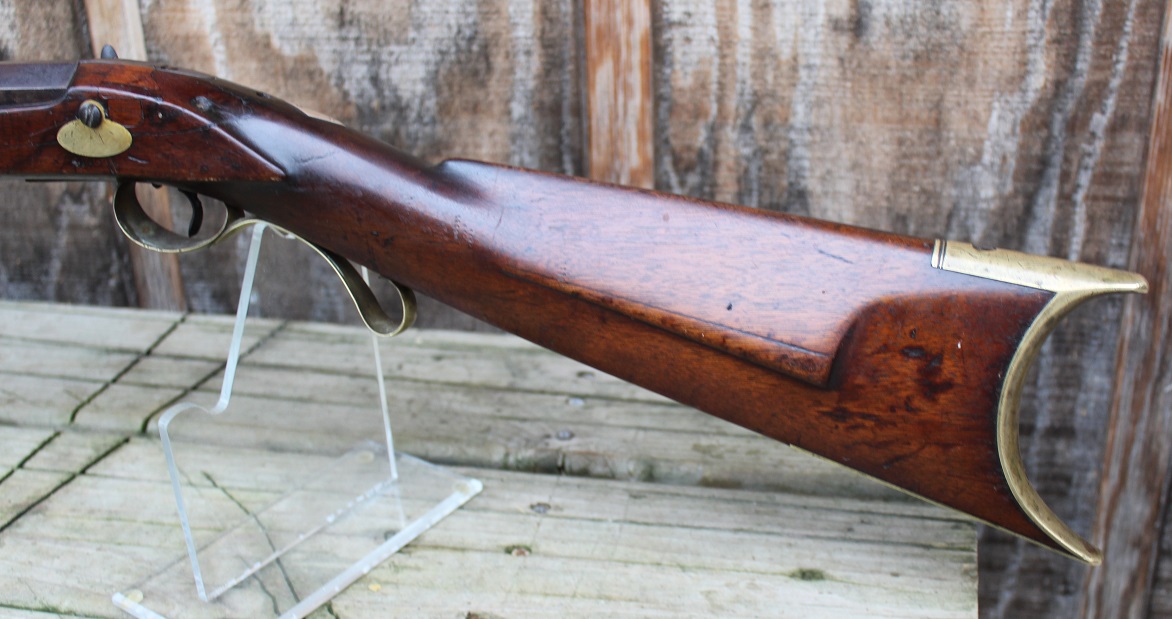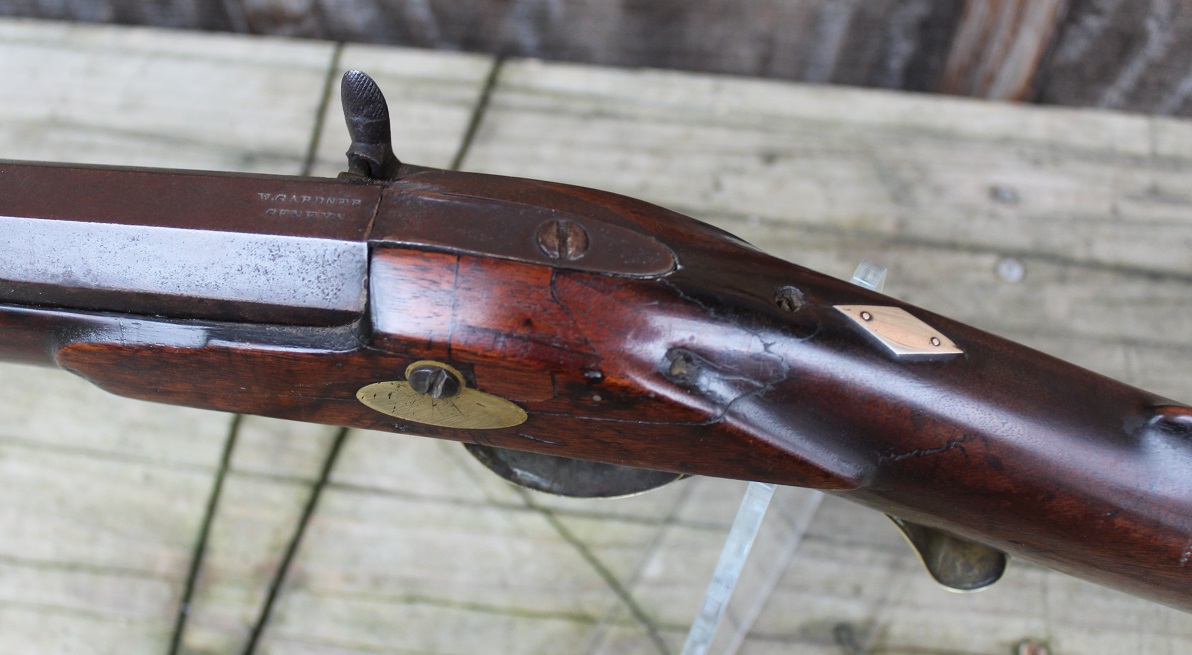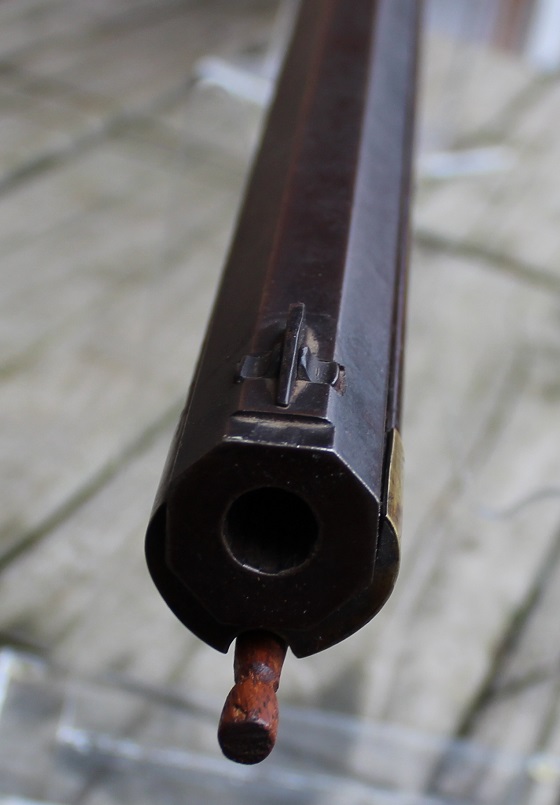 New Arrivals -Weapons 159
Here we have a beautiful full stock rifle being about 50 caliber with a octagonal rifled barrel. This piece measures about 54 inches long with a 37 3/4 inch long barrel. The top of the barrel is marked S. BUCHANAN. I found a Samuel Buchanan who made guns from 1814 in Dauphin Co., Pennsylvania. This is a single trigger system and works very well being nice crisp and strong! The smaller walnut butt stock has raised relief carving on both sides and looks great! The stock terminates at the end in a brass nosecap. There is some wood burned behind the nipple as is normal. The nipple is still serviceable. It looks like there may be some age cracks to the stock but surface only and no breaks. There is a simple dovetailed "V" sight at rear and a simple dovetailed blade sight up front. This is really a very nice full stock rifle! Take a look at the pics! For this one $1,250.00
New Arrivals -Weapons 157-A
Consignment
Here we have a matched pair of ORIGINAL Model 1873 Colt Single Action Army checkered "Rampant Colt" hard rubber grips. It's has been said that the hard rubber grips were introduced in 1881-1882 and now they use the shiny hard plastic grips. This is a pair of the originals and each one has the same matching number scratched in them which was probably the serial number of the Colt Single Action Revolver that they were removed from. Also the words COLT'S HTFD, CONN. were molded into these grips on each bottom inside. The grips are in great condition with no cracks and no breaks. The screw may an original screw but the head is burgered up. For this fine set- $350.00

New Arrivals -Items weapons 90
Here we have a single shot percussion shotgun in about 14 gauge. This shotgun is pretty long with the length being 53 inches overall and the part octagonal / part round barrel being 37 inches all by itself. The front sight is a simple blade type sight while there is and never was a rear sight. The iron trappings such as the lock plate, hammer and butt plate are simple floral type engraved. The front barrel band is quite unique being approximately 50 to 75 strands of thin steel wire wrapped around the barrel and soldered together in key spots. There is one ramrod pipe missing in the middle of the barrel but it's not really needed. Where the ramrod enters the stock is an iron ferrel and beyond that there is a shrinkage crack in the stock. The action works fine. The wood stock is in otherwise good condition and does have a cheek pad carved into it on the reverse butt stock. The stock has a raised grain so it is rough to the touch. All in all a very good example of an 1840's - 1860's shotgun that would look good over the fireplace! $295.00
New Arrivals Consignment 303
Here we have a nice old 1800's 3 blade Fleam for bloodletting. One of the blades is marked C. Gregory. It's said that bloodletting used on President Washington is actually what killed him! Quackary!!! The fleam has nice bone handles with no cracks or breaks. The center 'rib' is made of brass while the rest is made of steel. There is a small amount of rust present but should clean up well should you choose to do that. The fleam measures over 5 1/2 inches fully opened and 3 inches closed. These pieces were used by Doctors on humans and animals alike! Ghastly!!!
New Arrivals Consignment 302
Here we have several antique and vintage tins for percussion caps, primers and .22 or 6mm Flobert shells. Check 'em out!
New Arrivals 301
Here's a very unusual handgun. This one is from the late early to mid 1800's and is a back lock percussion handgun. This pistol is about 70 to 72 caliber smoothbore and has an octagonal barrel. The entire piece looks to have been blacksmith or custom made and has no markings on it anywhere that I can see as to who made it or country of origin. I even took the barrel off and found no stampings. This pistol measures about 15 inches long with a nearly 9 inch barrel. The barrel is held on by a single ornate brass barrel band and two tang screws at the distal end. There is engraving on the brass triggerguard. The pistol butt plate is also brass and has a laynard ring. The walnut stock is in great condition with nice hand engraving on the grip and up the back and alongside the 4 inch long tang. It's just beautiful , interesting and quite rare! The back action lock plate also has some simple engraving on it. Now to explain the lock. This is a unique lock which, I believe, has no internal workings except for a tremendously strong spring. The trigger is pushed forward then the pistol is turned flat on the lock side and two 'stops' fall out so that the hammer can either be placed in a safety position or a fire position. When the trigger is pulled the two stops travel inward and the hammer falls. Quite unusual!!! The previous owner states that this pistol belonged to his father and he thought it came from Pennsylvania or closer to the coast and could have been used by Naval or sea faring personnel. I don't think this was a production weapon even though it was done quite well. The ramrod is definitely made for this pistol and although it looks short in the pic it travels well back of the end of the barrel in the stock and is the correct length. The little stops need some lubrication to come out more easily and the trigger guard has a crack in the long tail that extends down to the butt plate at the final screw. You may never see another pistol like this one! Take a look at the pics! NOTE: a knowledgeable visitor to the site provided me this information! "that is a Spanish pistol. It has a version of the miquelet type sear. The stops are supposed to be spring loaded to pop out on their own. This type was a little easier to make than a conventional lock. Not too many of those around." $695.00
Here are a couple of dredged up cannons that a lady would like to sell. They are at her home and she wants $7000 or best offer for the pair. Her name is Genelle and her phone number is 678-231-5225. Give her a call if you are interested and she will fill you in on details. Thanks!
New Arrivals 300 ON HOLD!!!
All from the same place. We would like to sell them as a lot for $650 but will sell them separately as priced. !!
< p>This is a small collection of Civil War dug artifacts from the Civil War. The US Puppy Paw plate has on the back of it marked 'UNION CAMP - STAFFORD COUNTY, VA. These items were collected by the grandfather of a friend of mine but were not family related and we do not know the history other than what is written on the plate.
The lot consists of:
•
•
1. US Officers Model 1851 Belt plate with integral cast wreath. It comes also with the keeper but we believe the patina on this keeper is not consistent with the belt plate so it is from another plate. The plate and keeper are not numbered. Conditition is excellent plus for a dug piece! If purchased separately $295.00
2. This piece is a waist belt plate, regulation 1839 pattern, Infantry Enlisted, circa 1861-1863 stamped on the back W. H. SMITH/BROOKLYN. The markings are a little obscure but still there. The piece had been in the ground a long time and shows a triffle bit of damage to the lead fill but not bad at all and, what the heck!, it's a Puppy Paw Plate! This piece has not been overcleaned in any way. Nice!!! If purchased separately $295.00
3. Here we have a cleaned and coated 3 inch Federal Hotchkiss shell. This late war Hotchkiss Projectile has the flame grooves which allowed the flame of the cannon ignition to make its way around the projectile and ignite the paper time fuse. This improvement over the earlier Hotchkiss shells was patented by Benjamin Berkeley Hotchkiss on June 7, 1864, patent #43,027. The Lead sabot is completely intact as well as the cup. This is a timed fuse shell with flames grooves on the exterior and filled with case shot. The shell was never fired and has been rendered safe to display. The shell is in fantastic condition! No patent info on the base cup. Check out the pics!!! If purchased separately $250.00
4. Here we have many different dug bullets including a Spencer Round, a Burnside Round, perhaps a carbine pistol round, 1 cs 2 banded gardner, several .58 caliber 3 banded mini balls, a 69 caliber mini ball and other examples- 13 examples in all! Check out the pics! If purchased separately $75.00
•
•
IF PURCHASED SEPARATELY THE GROUPING WOULD COST $915 BUT YOU CAN HAVE THE ENTIRE LOT OF ITEMS FOR $650.00 IF PURCHASED TOGETHER!
New Arrivals to the shop tc td rifle
Here is a good example of a Model 1884 Springfield Trapdoor Rifle in 45-70 caliber. This one has seen use with several dings in the stock but no breaks or cracks. There seems to be some old shellac applied to the stock and slopped over some on the metal parts. There is some ramrod channel damage to the edges and the ramrod is missing. This one has the breech marked Model 1873 and the serial number of 404008. The action works very well and the bore in the 32.75 inch barrel is somewhat dark but very serviceable. All the markings are very clear on the rifle but I see no cartouches on the stock. No doubt, however, that it is the original stock. The rifle is complete with all swivels but the stacking swivel is bent needing straightening. The butt plate is marked with the usual U.S. The lock plate has U. S. SPRINGFIELD and the Spread Winged Eagle & Shield. One of the great things about this rifle is that it has a rare experimental rear sight! I reached out to a Trapdoor Expert and he said that this rear sight is heavy duty Barringer sight produced in Europe as witnessed by the Crown on the top right of the sight. The other top side has the numbers 27 stamped in them. It is estimated that no more than 50 or so Trapdoor rifles were so equipped as part of a rear sight development trial and today only a handful are known to exist. These experimental sights were also applied to a handful of Krag rifles for similar tests. I have seen those Barringer sights and they are slightly different than this one. I have not seen another like this one. This is an extremely scarce Trapdoor variant for the advanced Trapdoor collector. For this rifle $1250.00 Check out the pics!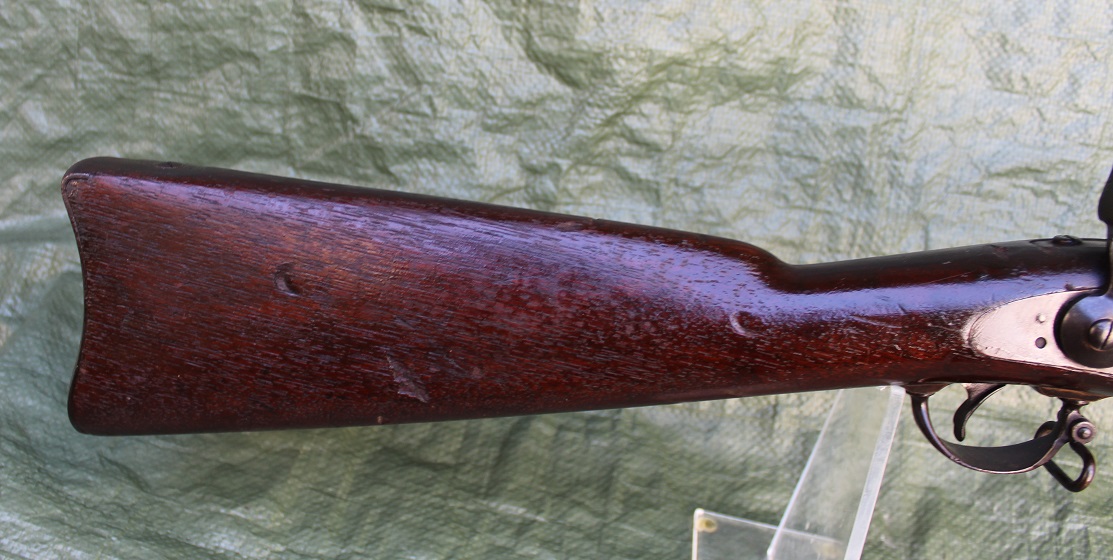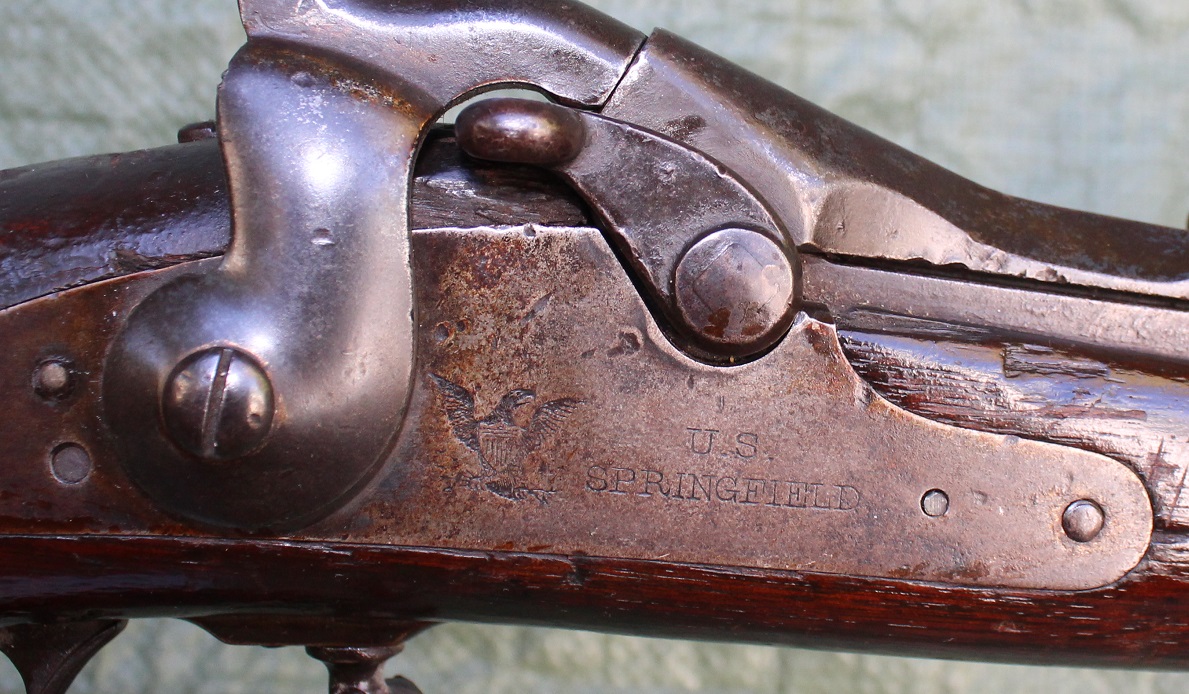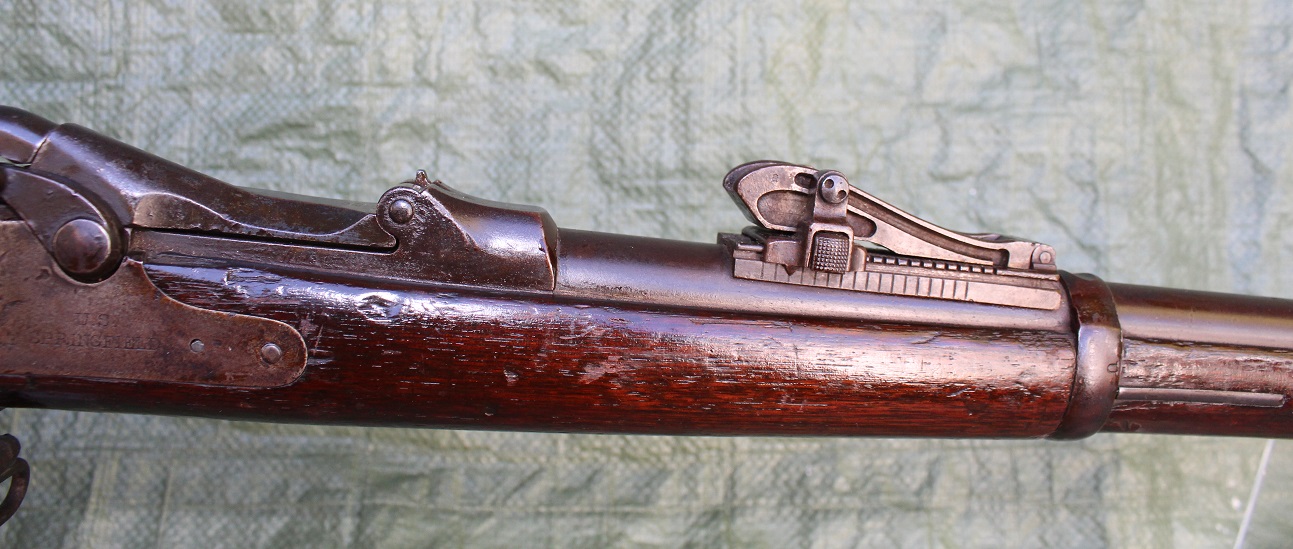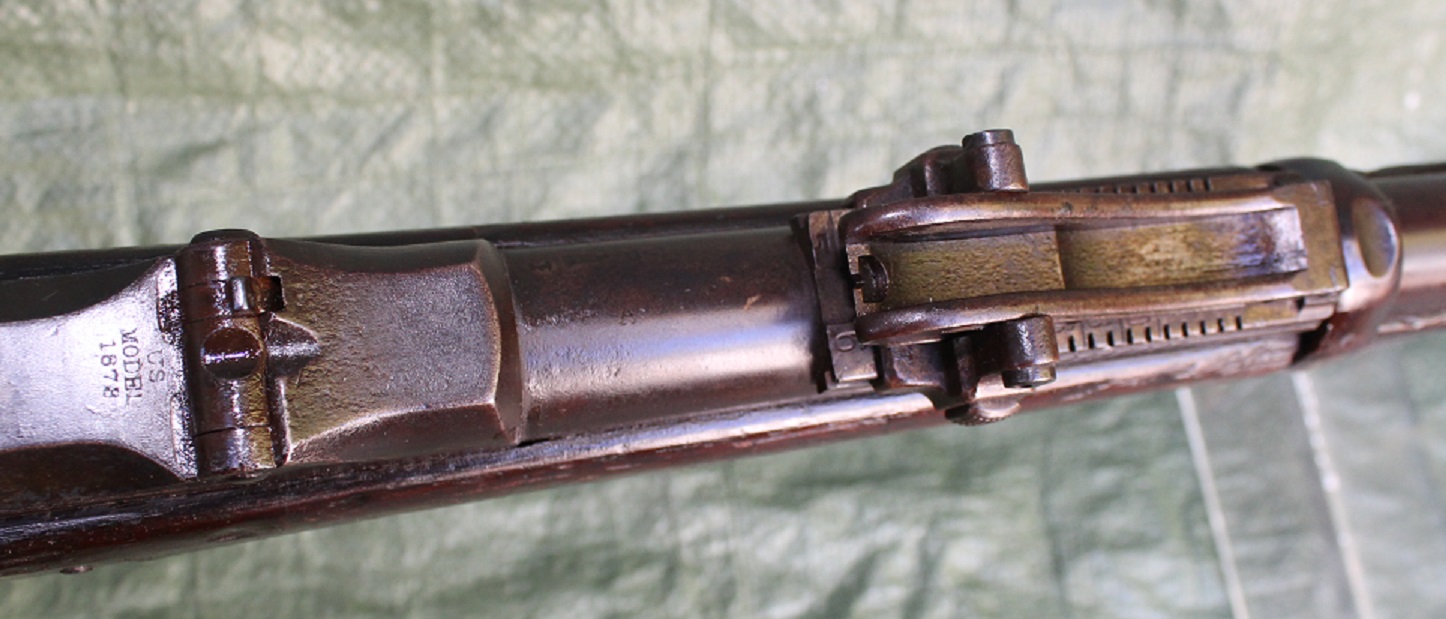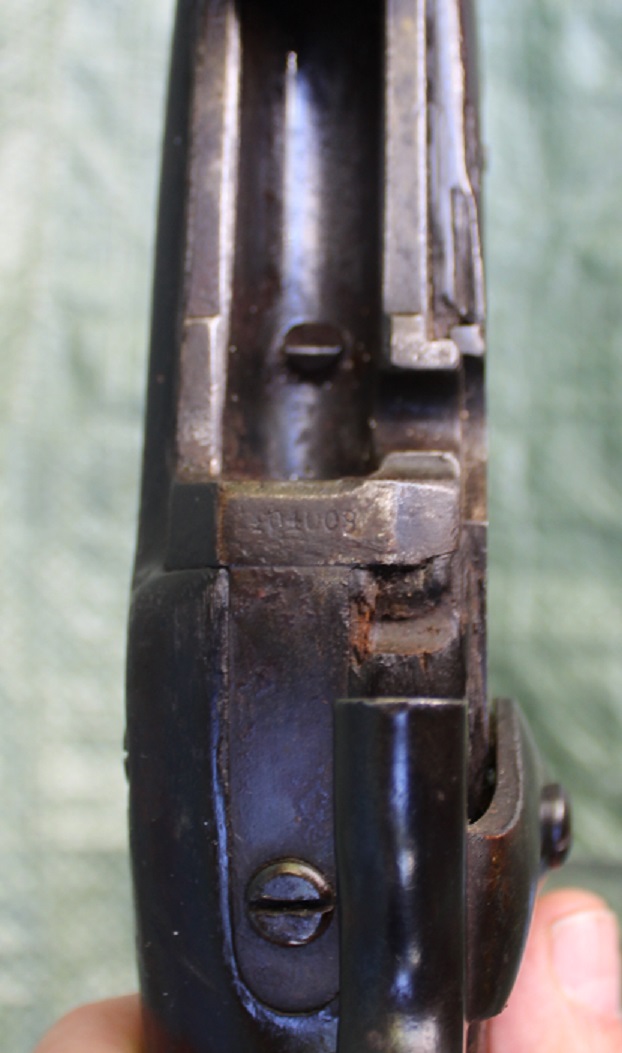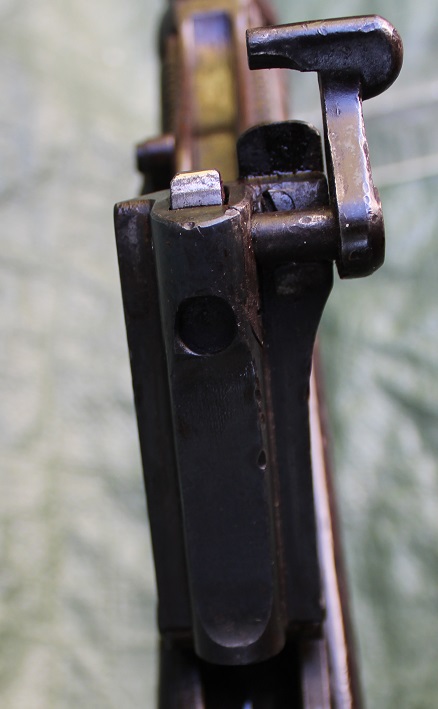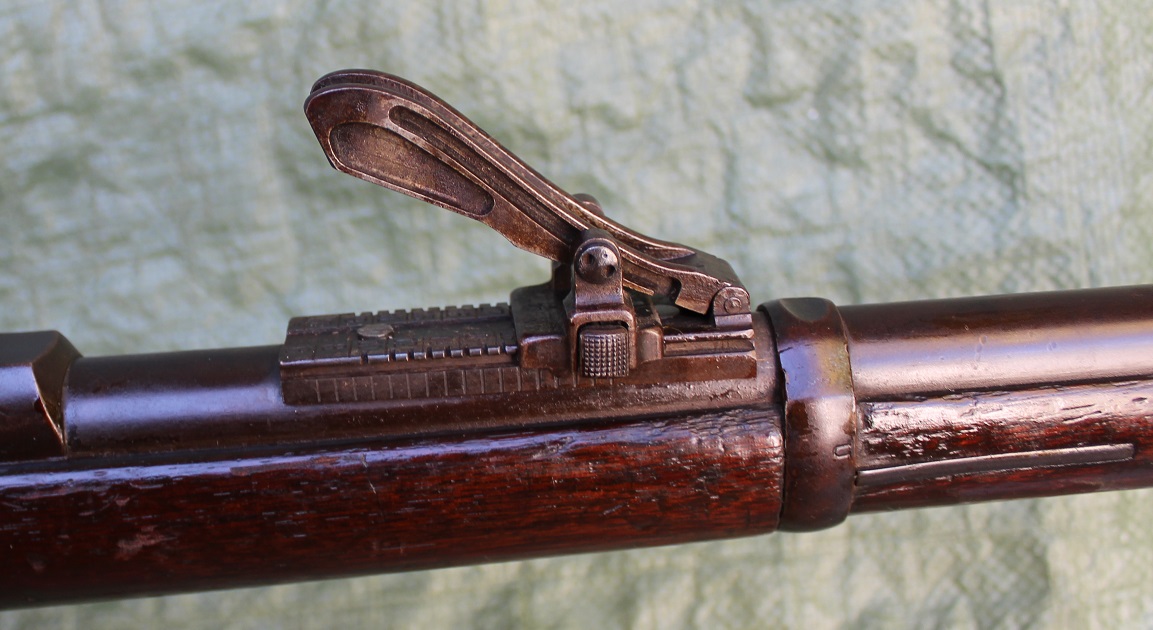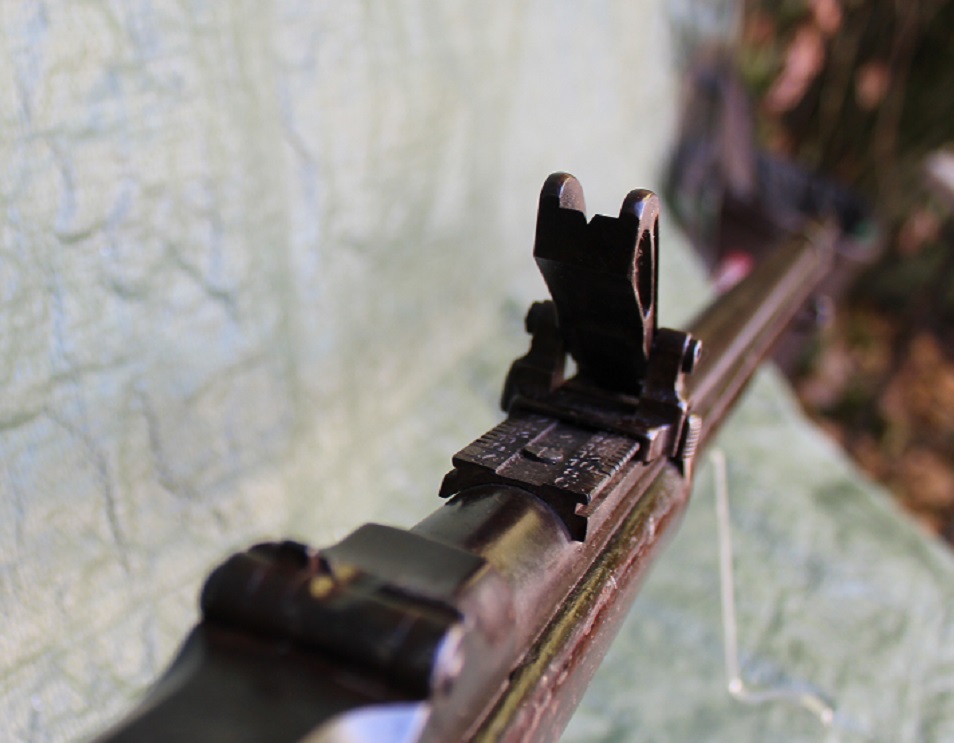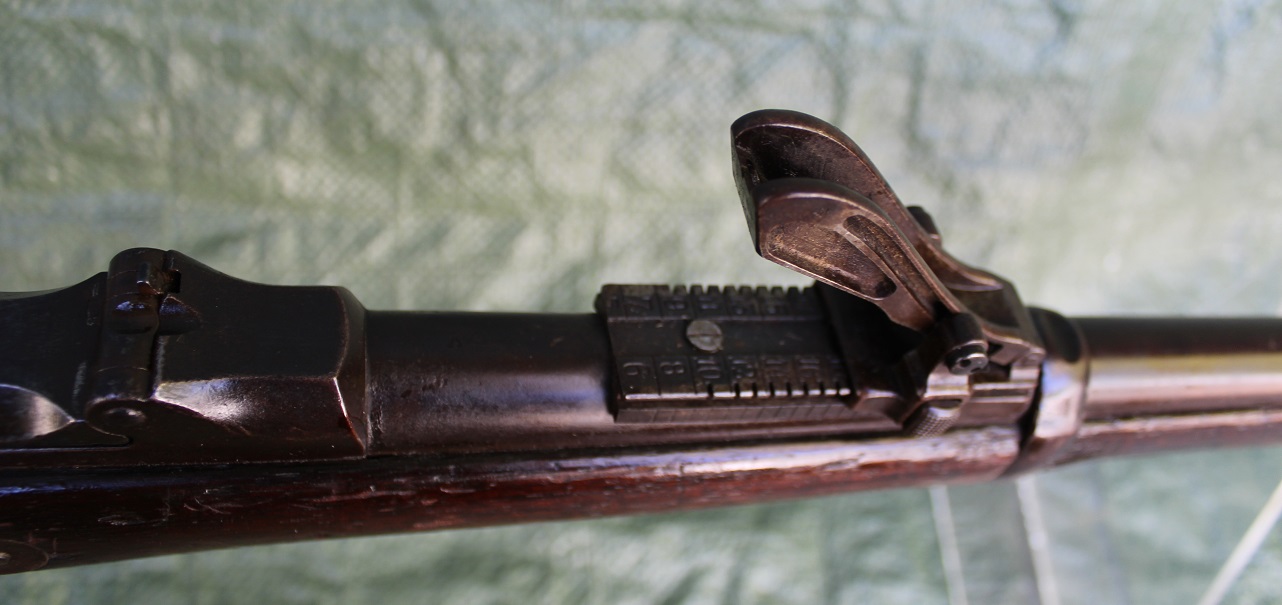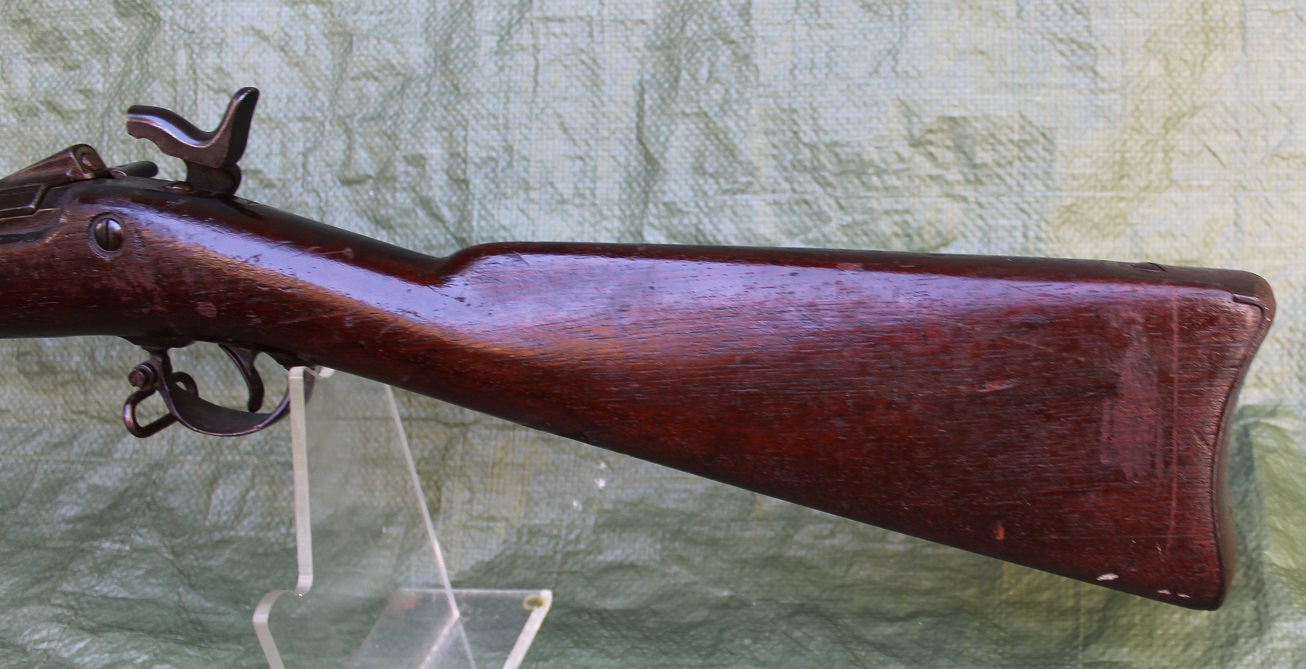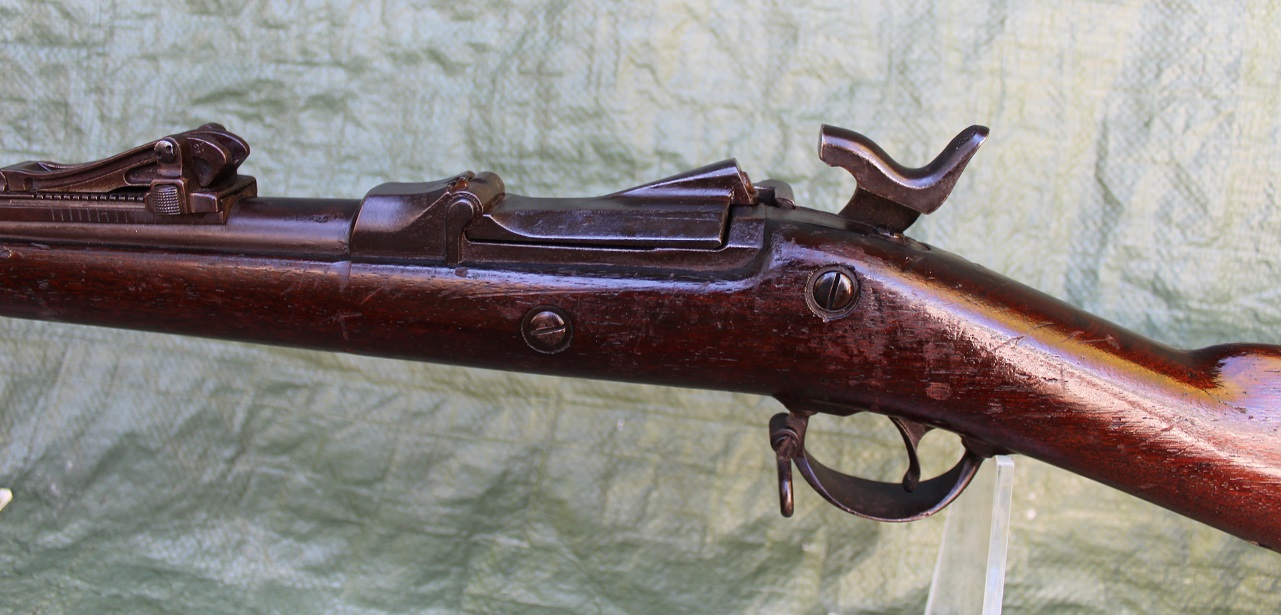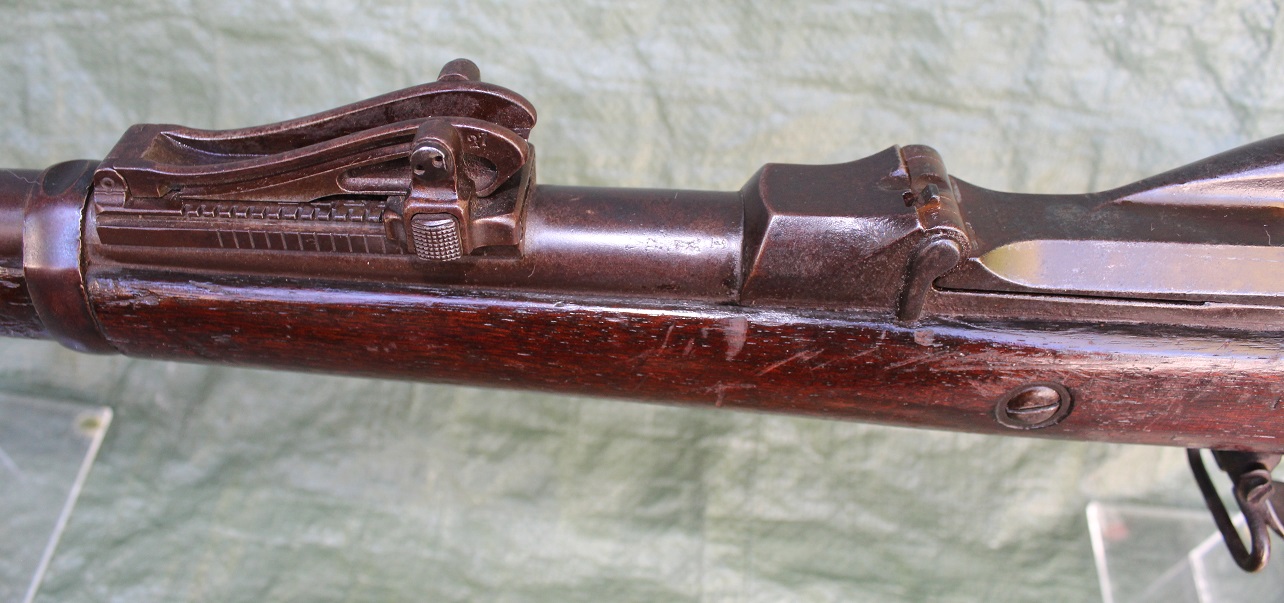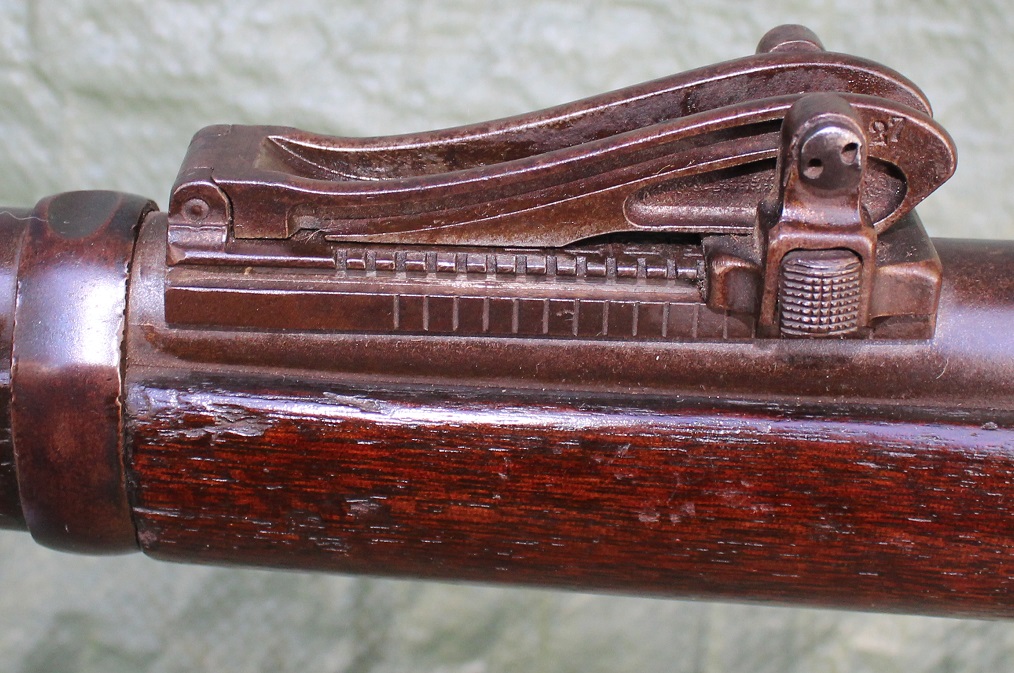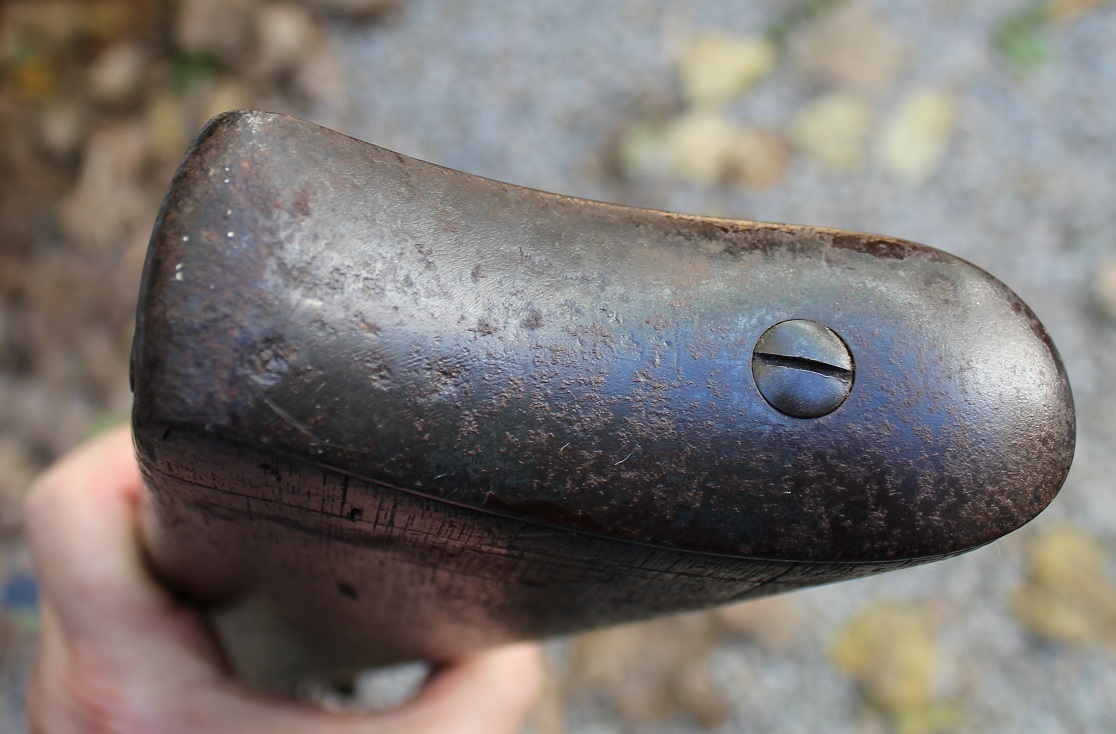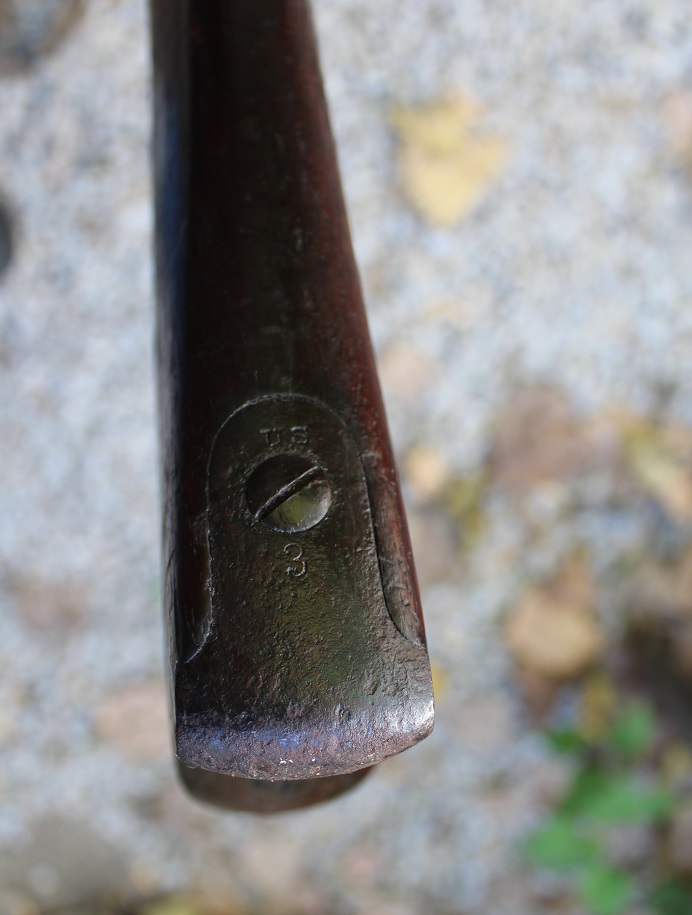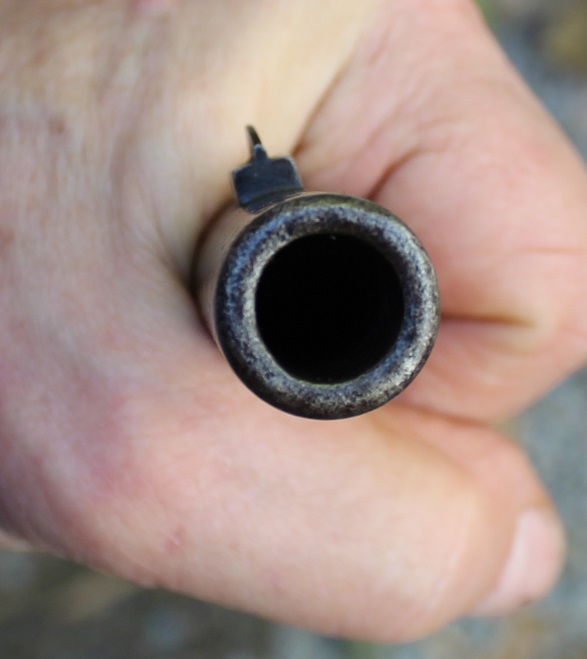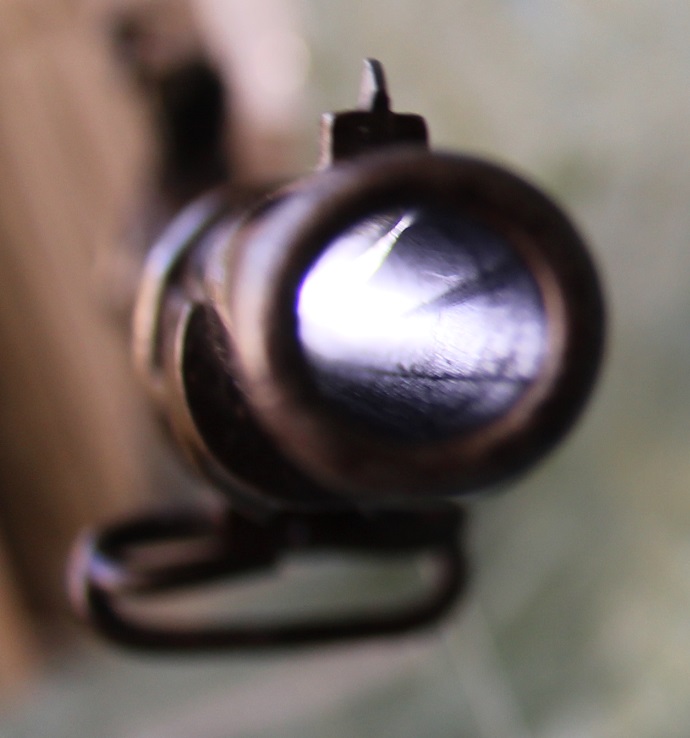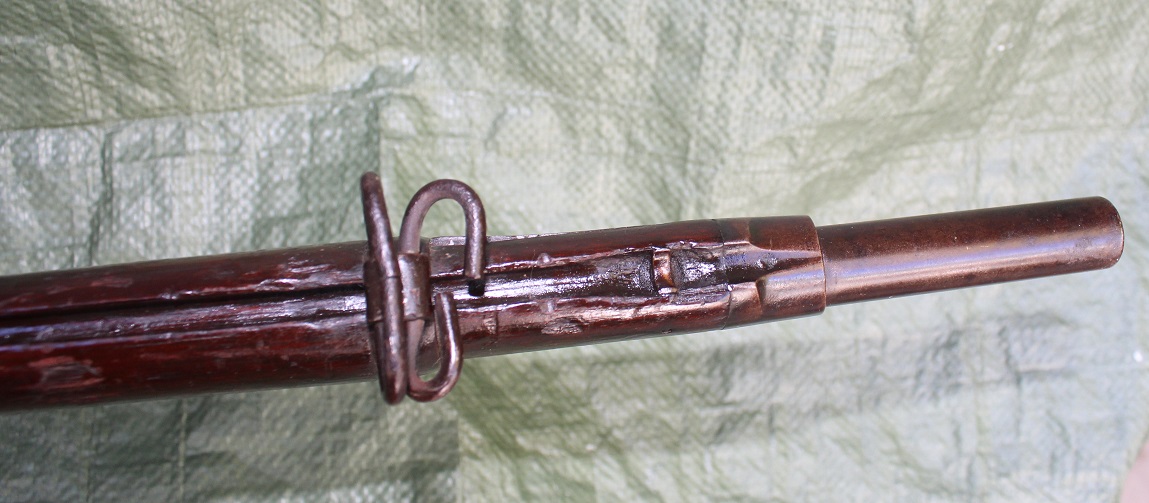 New Arrivals to the shop cs altered rifle/musket
Here's an example of making due with what you have! I believe this is a CS arsenal refurbish using a Type III Springfield Rifle Musket, modifying it to take a LA Co. (London Armory Company) Lock dated 1862, installing a block rear sight and enhancing the front sight with a center blade of tin. This Stock is full length and marked US on the butt plate. The .58 caliber barrel is 40 inches long and has been long shot out but still solid. The eagle on the bolster looks to me to have been obliterated on purpose but I suppose it could just be rusting.. Look at the phot of that part and judge for yourself. There is some markings on the barrel just ahead of the word STEEL that at first I thought was NC but after further magnification and clarification I think it is J.L.C. but I am not sure. There is also the letters PM stamped on the bottom of the barrel under the stock. I took the piece apart as the lock was not working and found the mainspring broken. You can still get them if you want to fix it. The lock is clearly marked LA Co. 1862 with a Crown over VR on the tail of the lock. There is only one barrel band remaining but again you can get these parts if you want to fix it back up. I usually leave them as I find them. I got this from a gentleman who inherited it from his uncle so no story remains. The stock is in generally good condition with the modifications and a crack behind the lock on top that you can see in the pics. There are several dings on this piece so it was obviously used very much. It must have been in a damp corner for many years as the butt plate has quite a bit of corrosion on it but you can still see the US on it. All in all it's a nice example of rehabbing a weapon for further use. Take a look at the pics! For this unique rifle $1250.00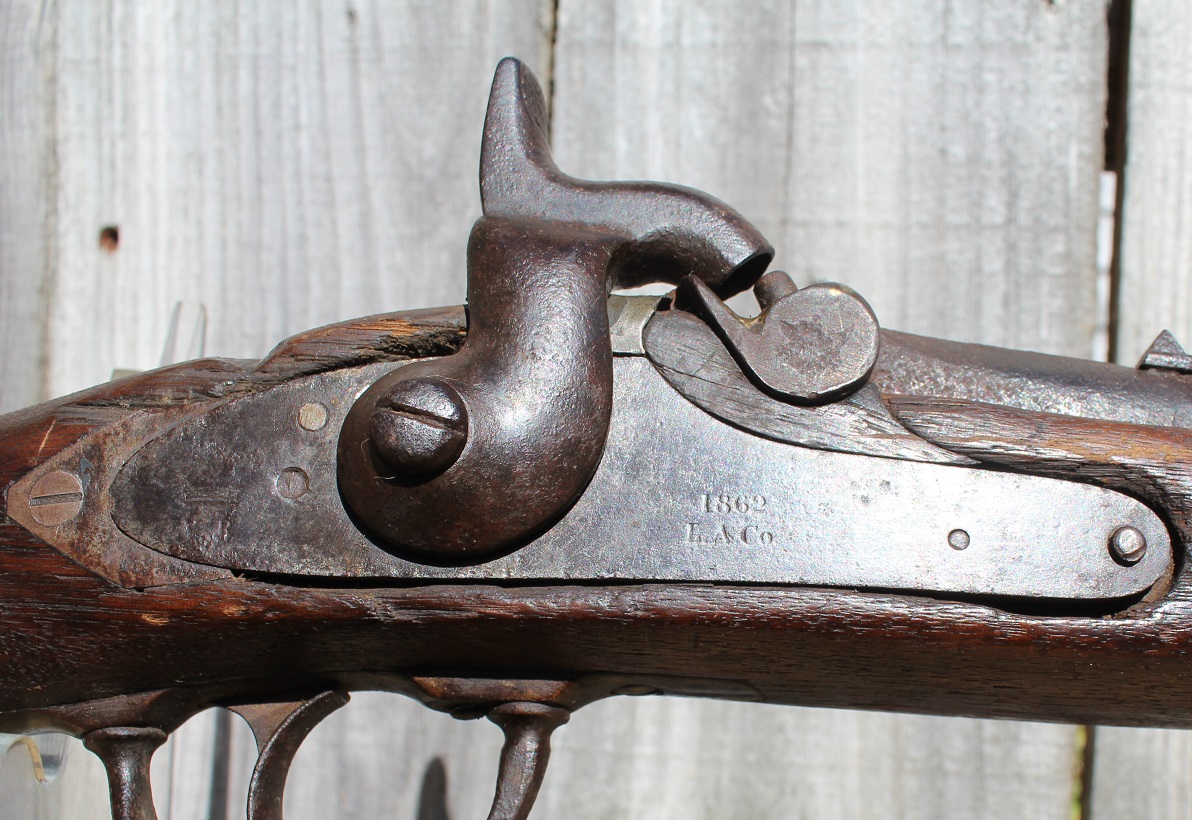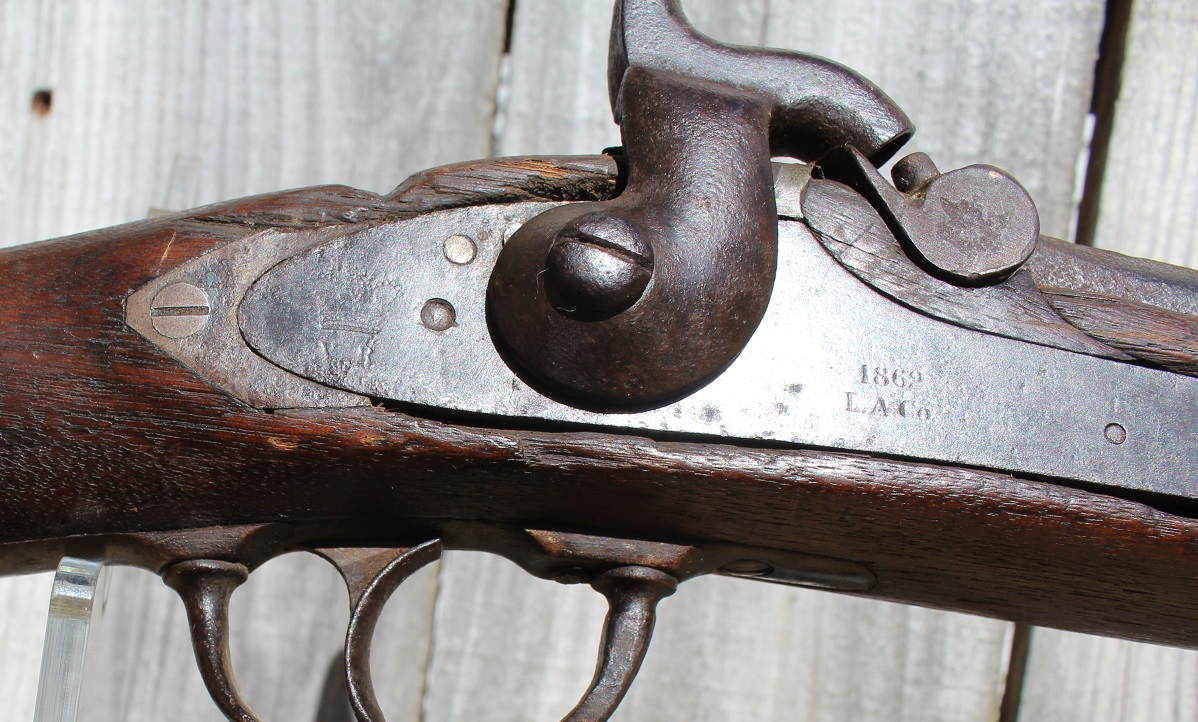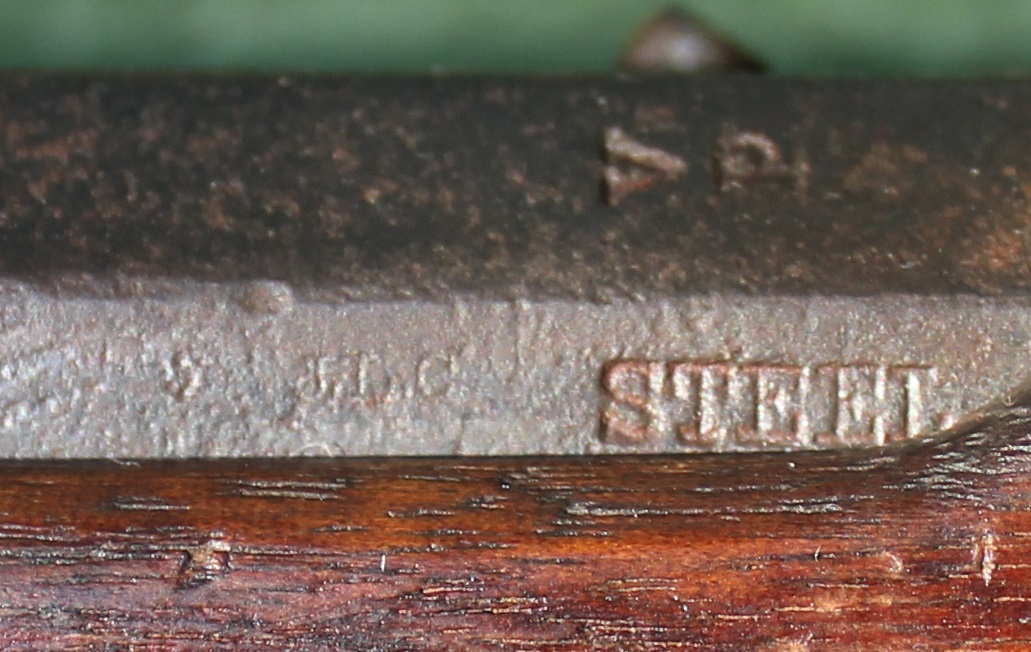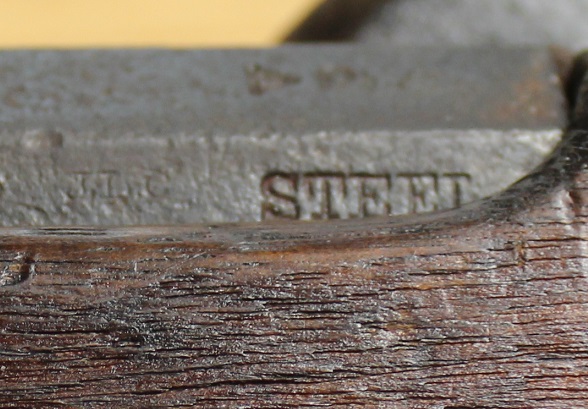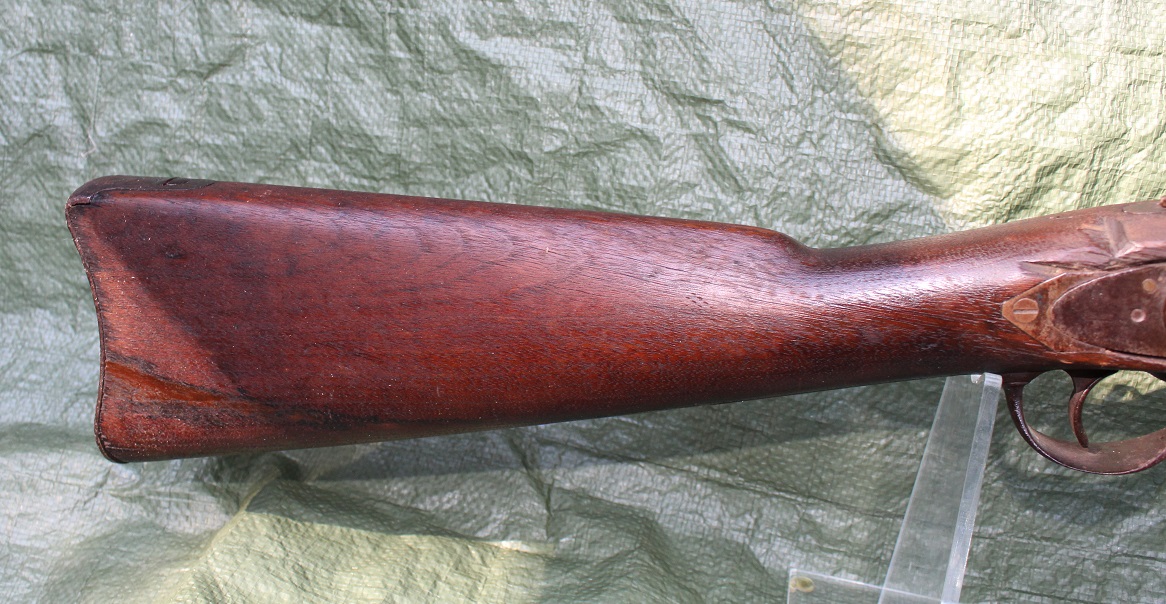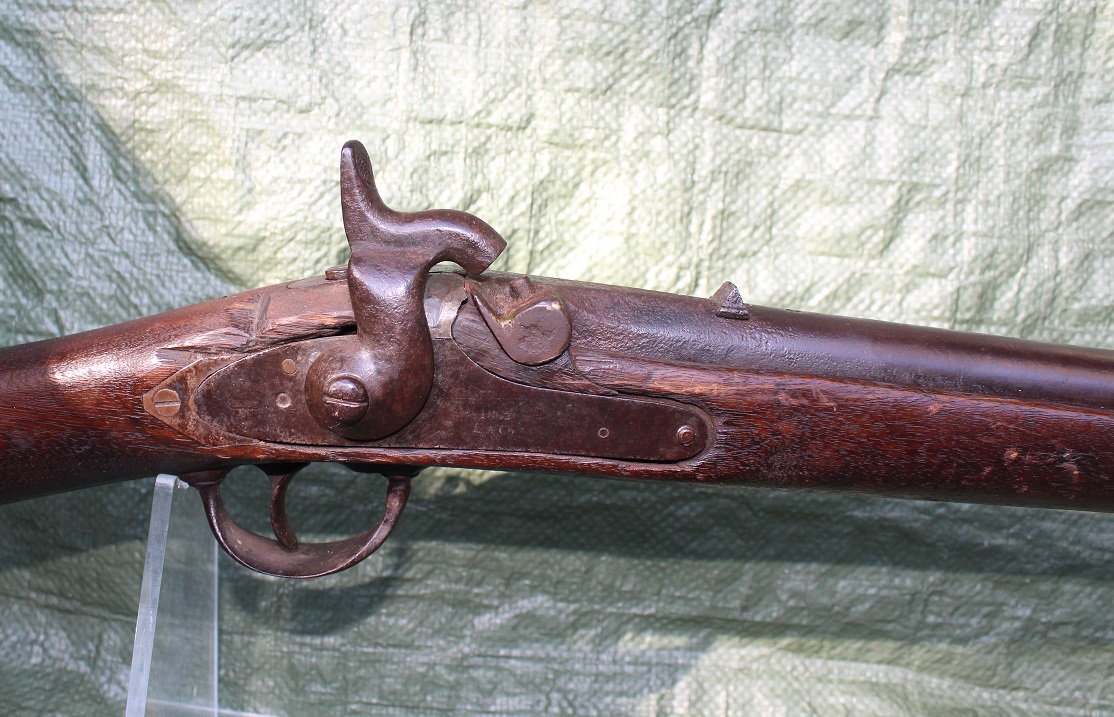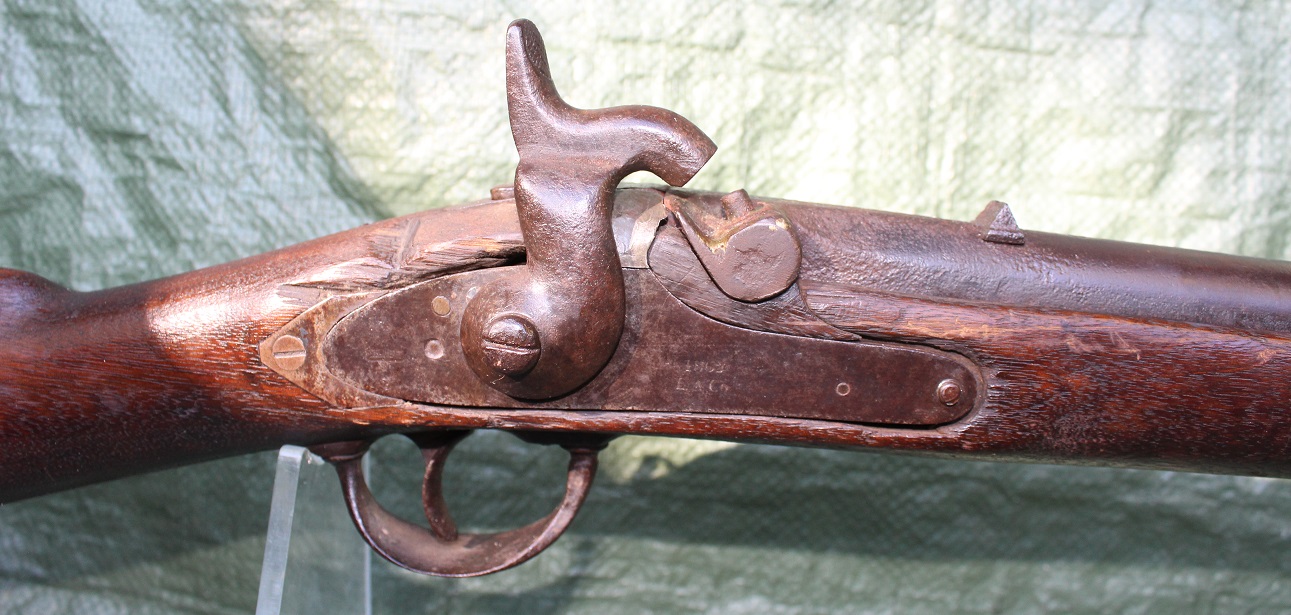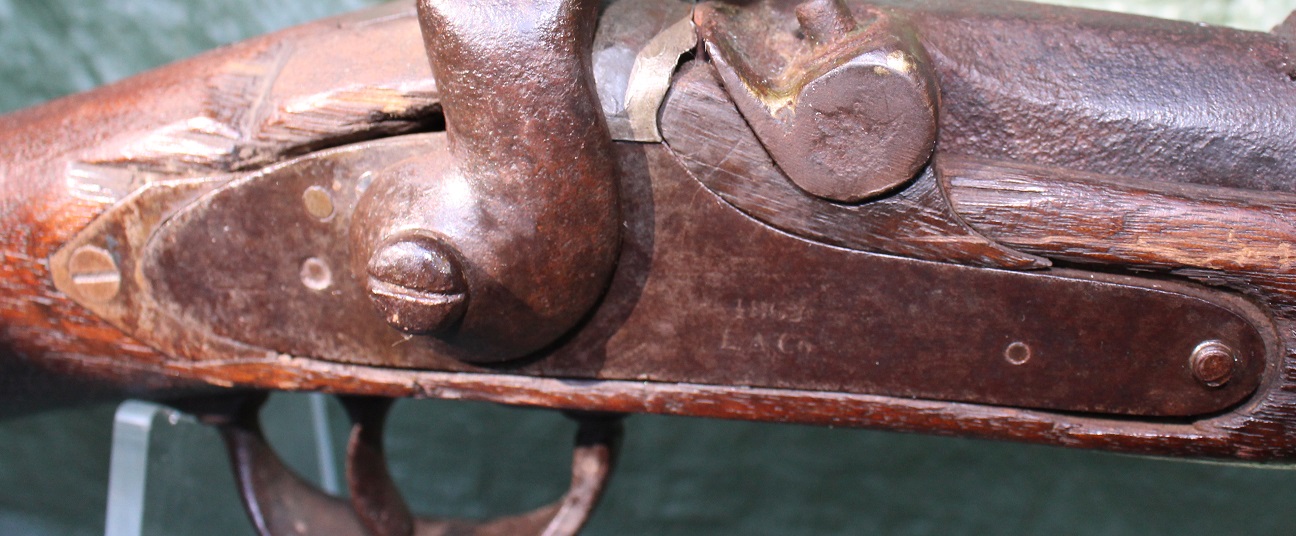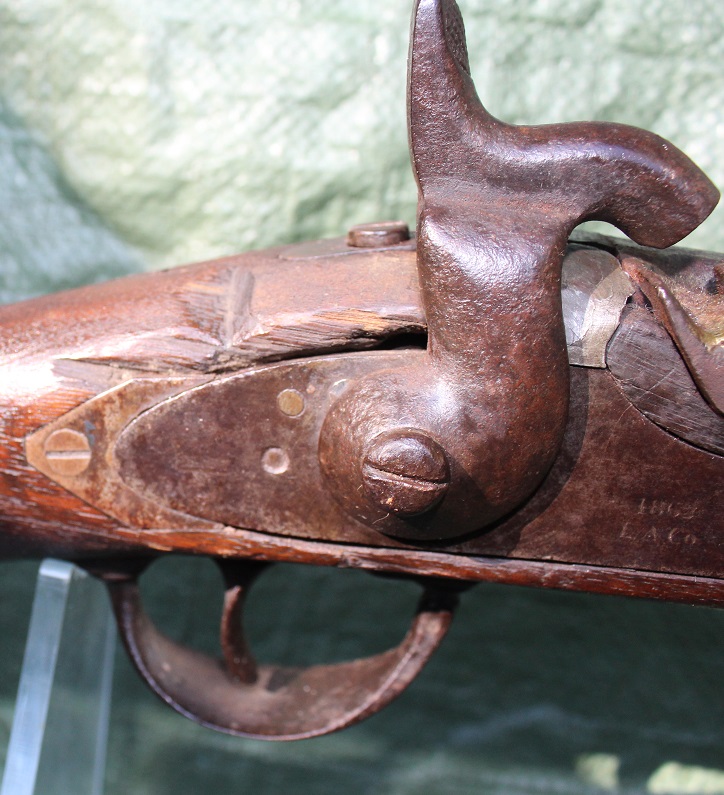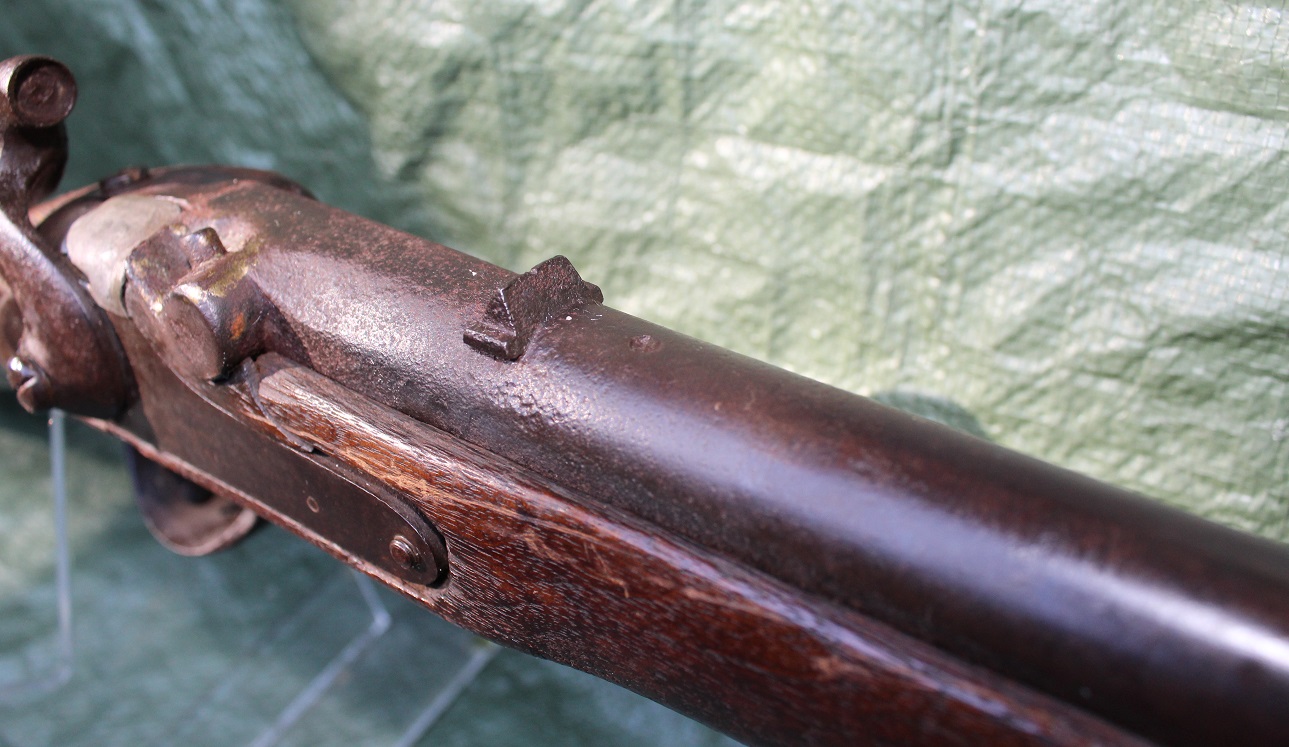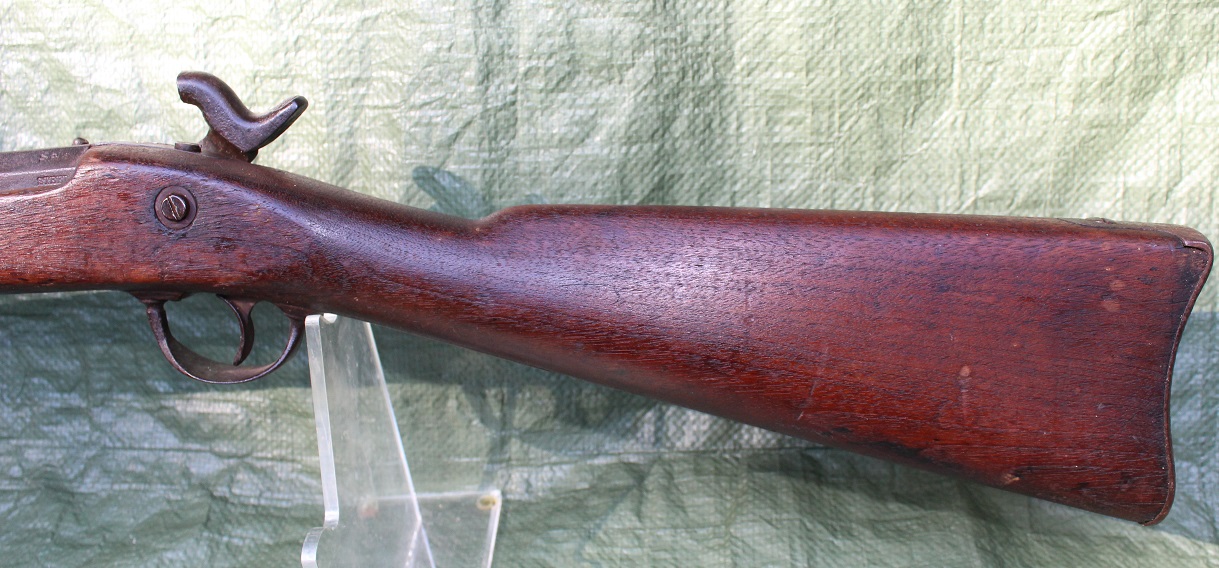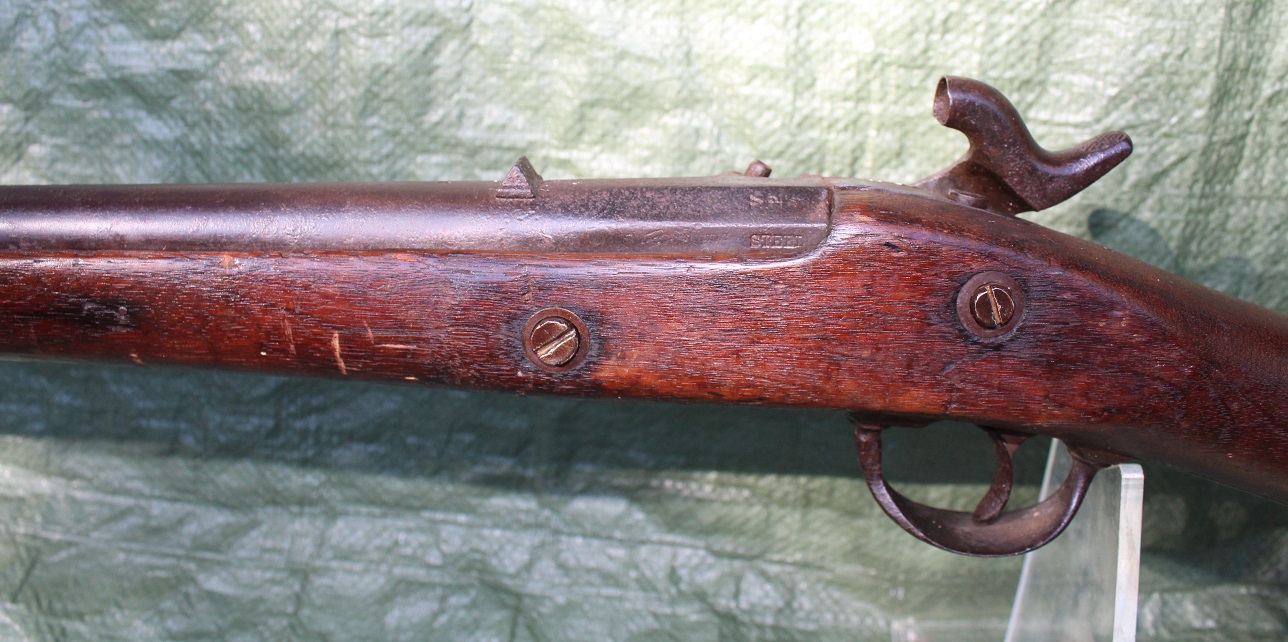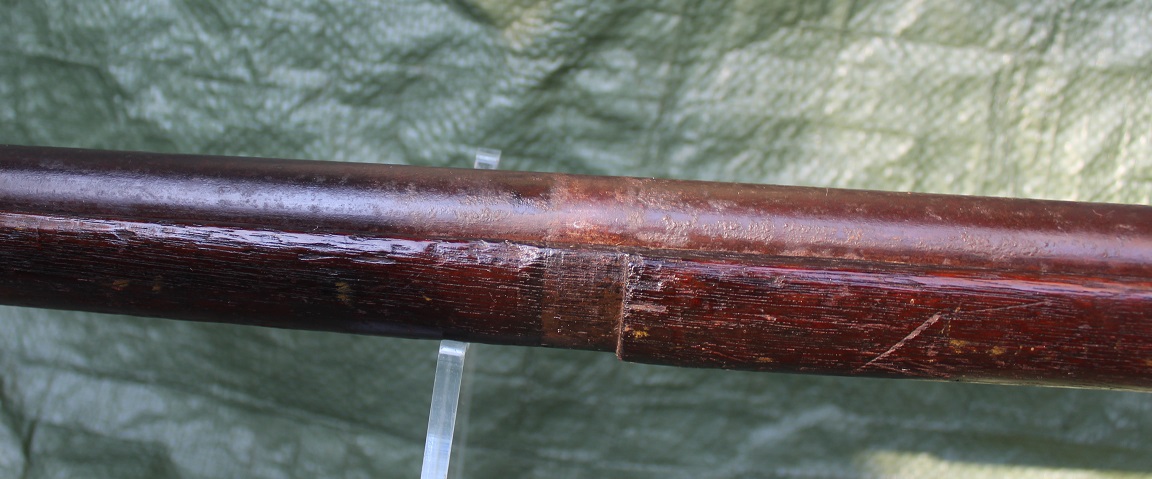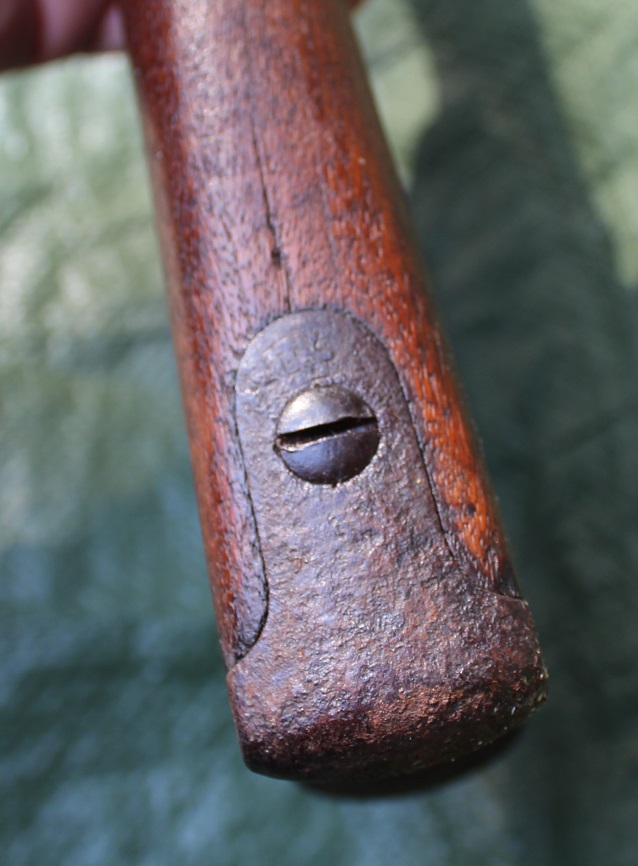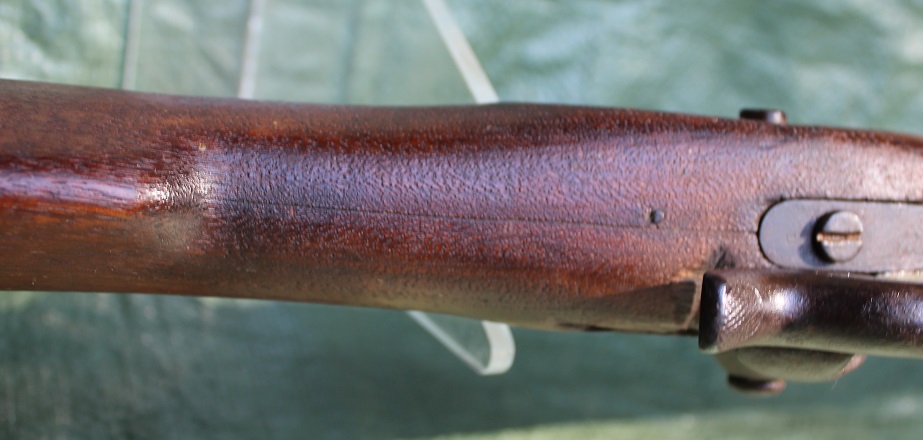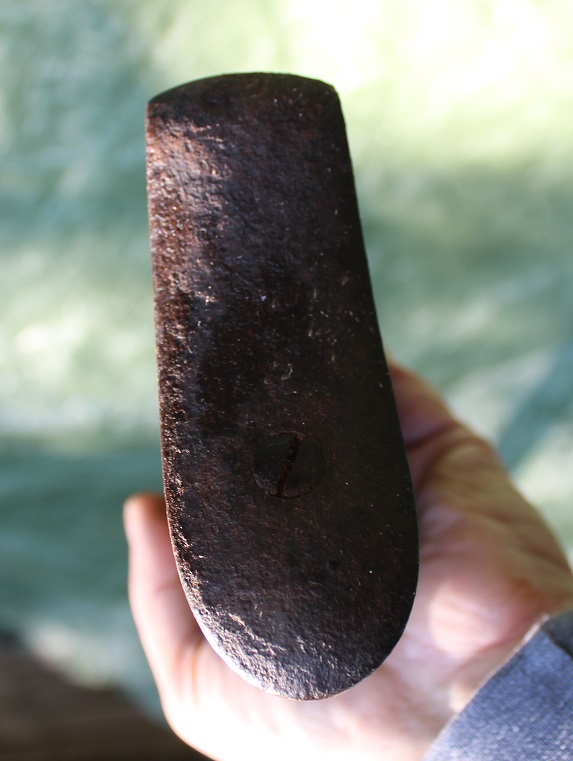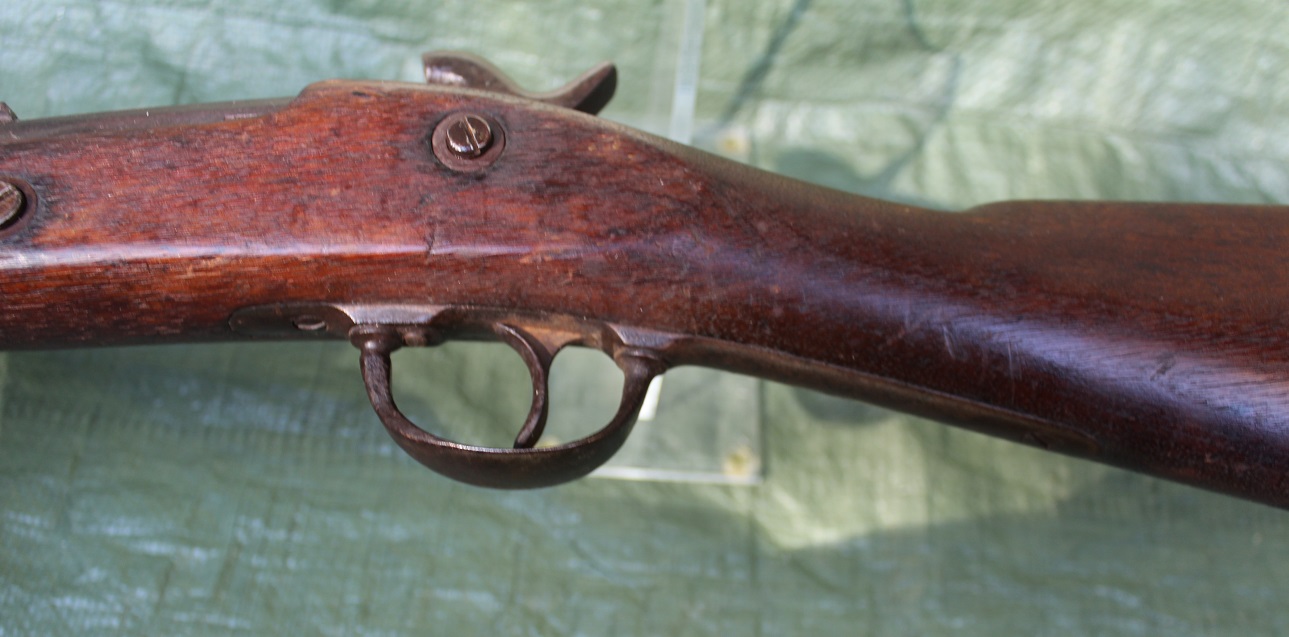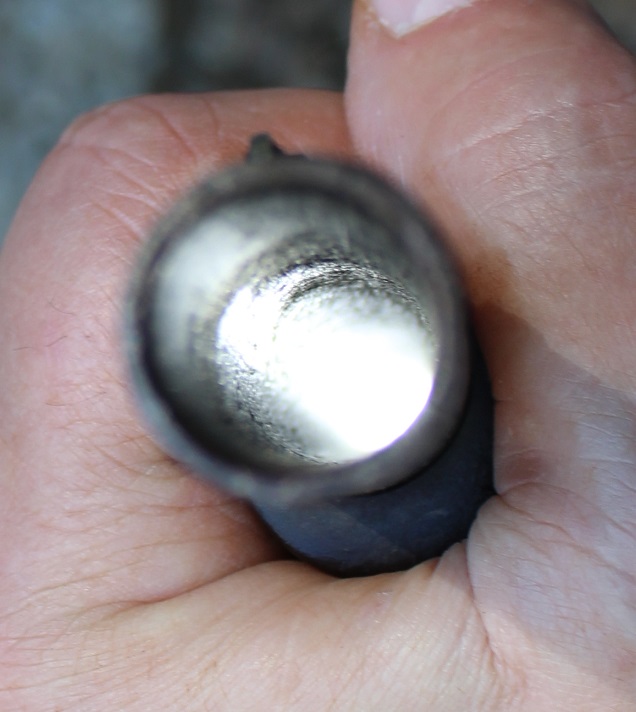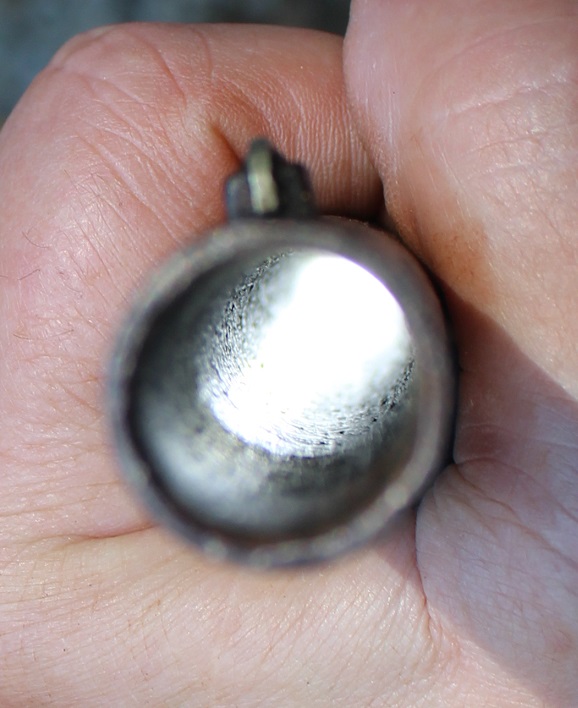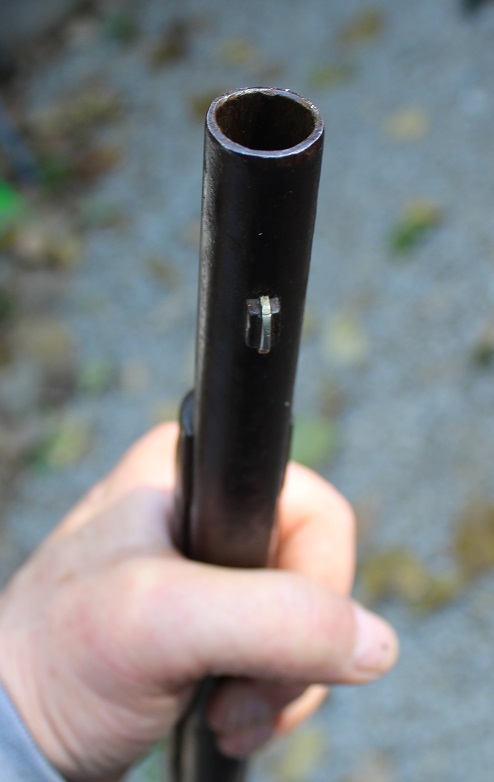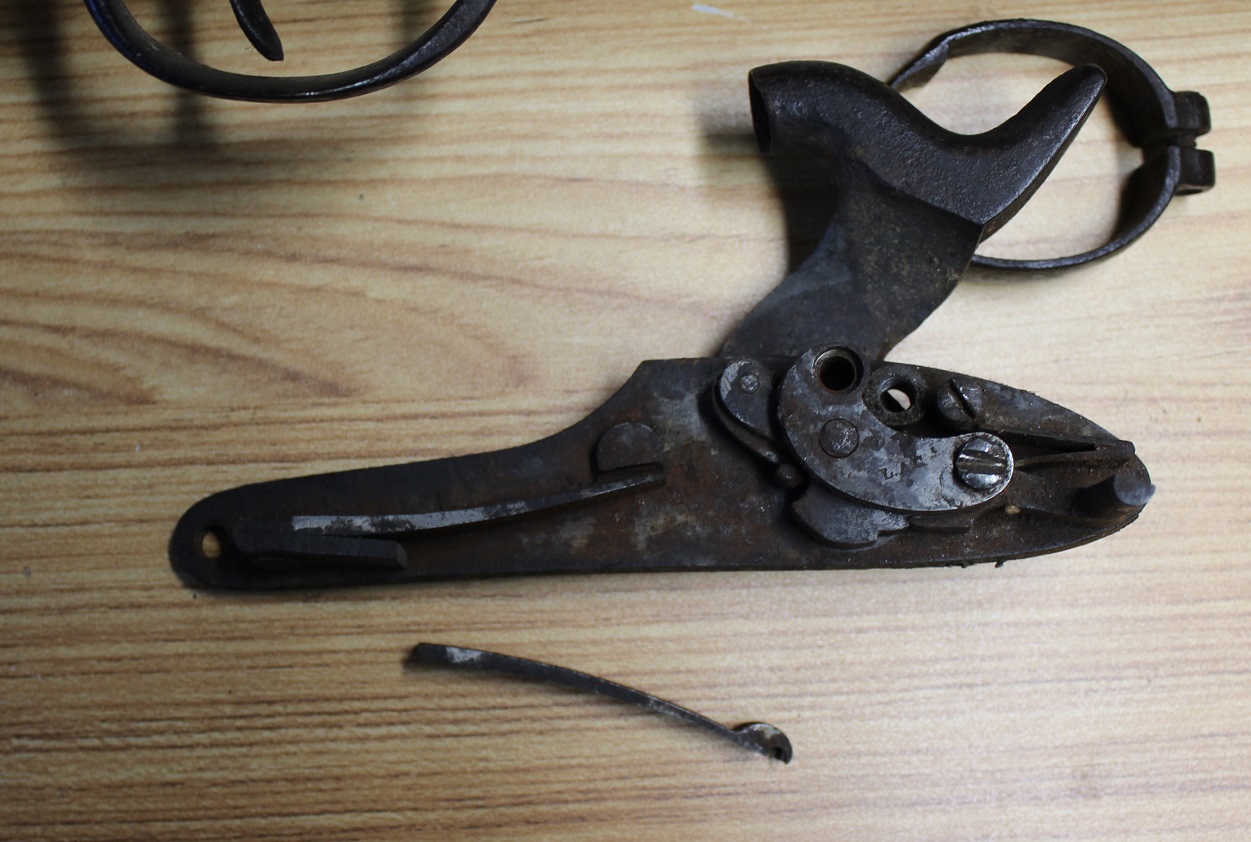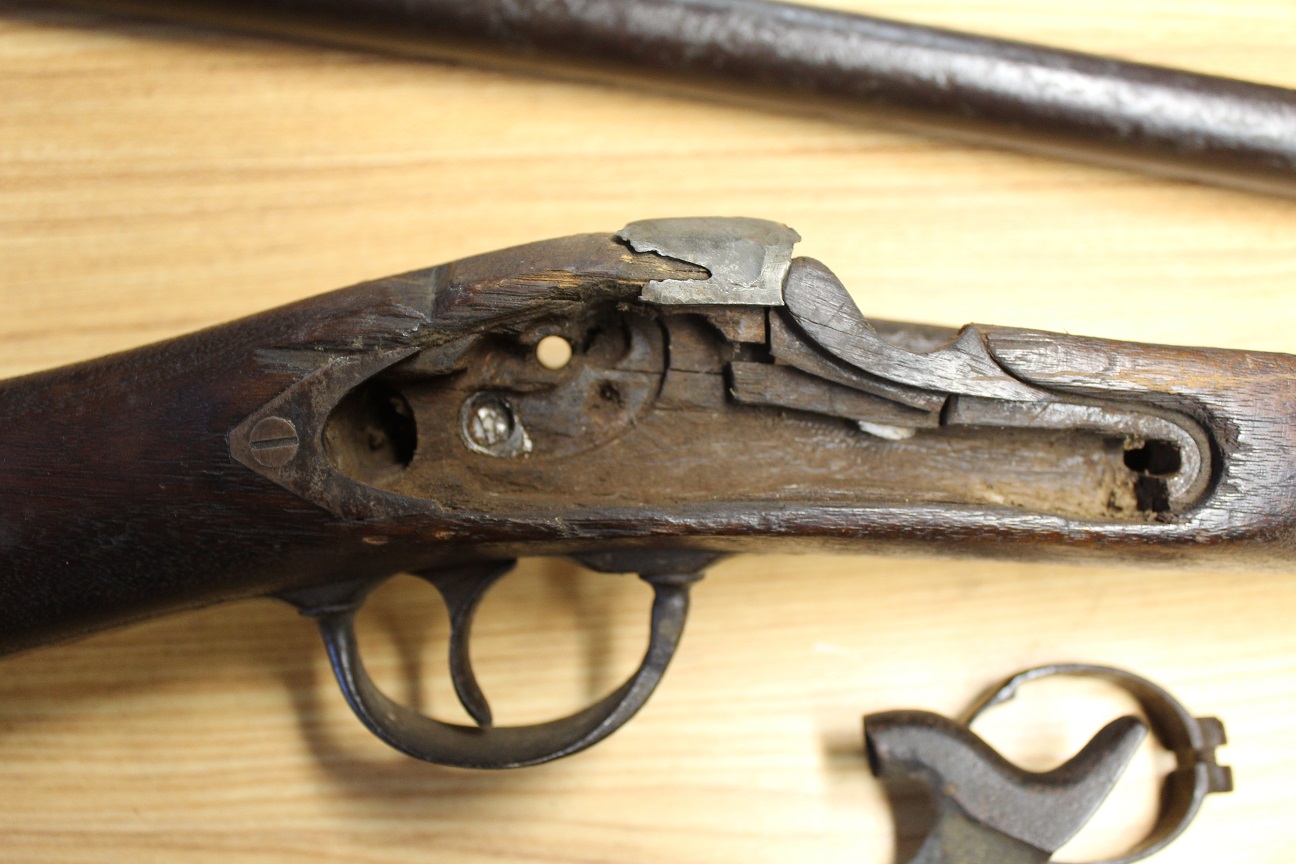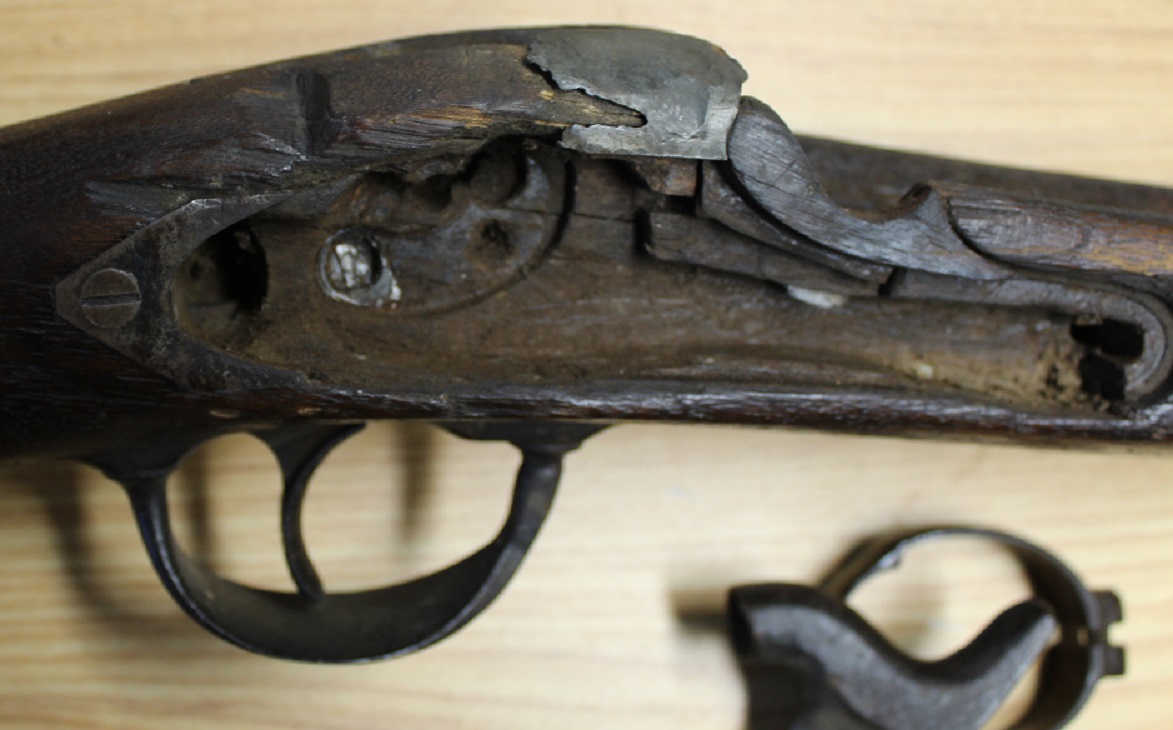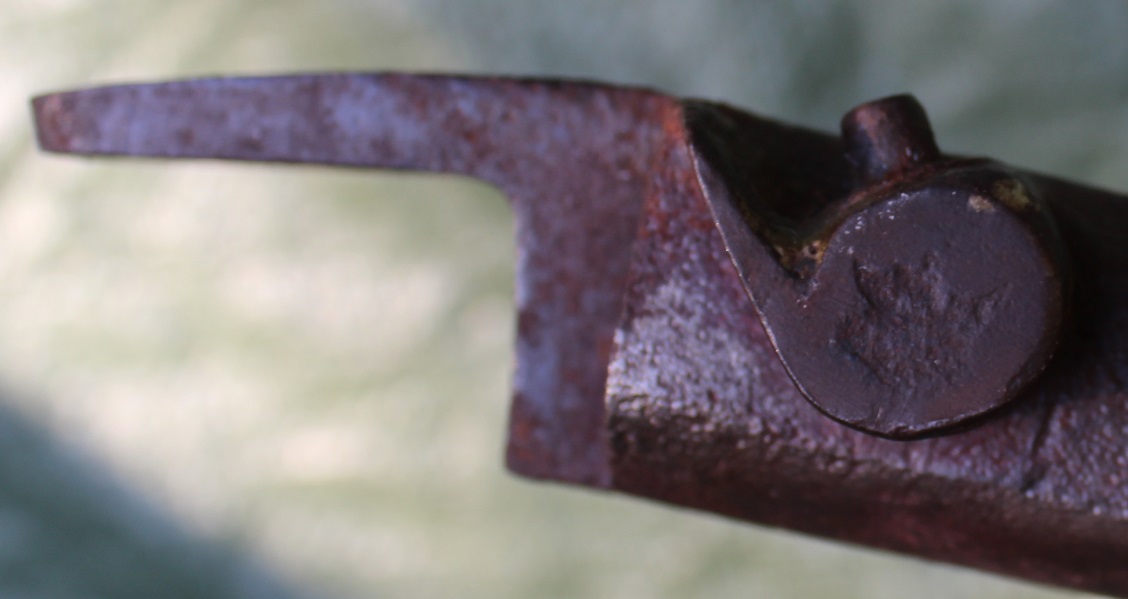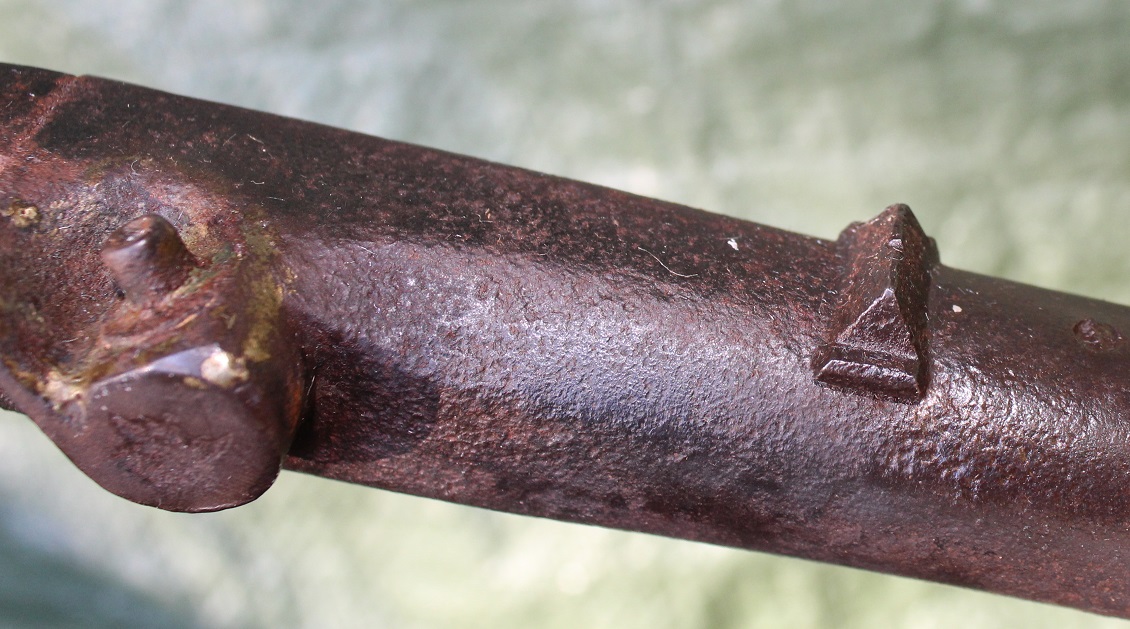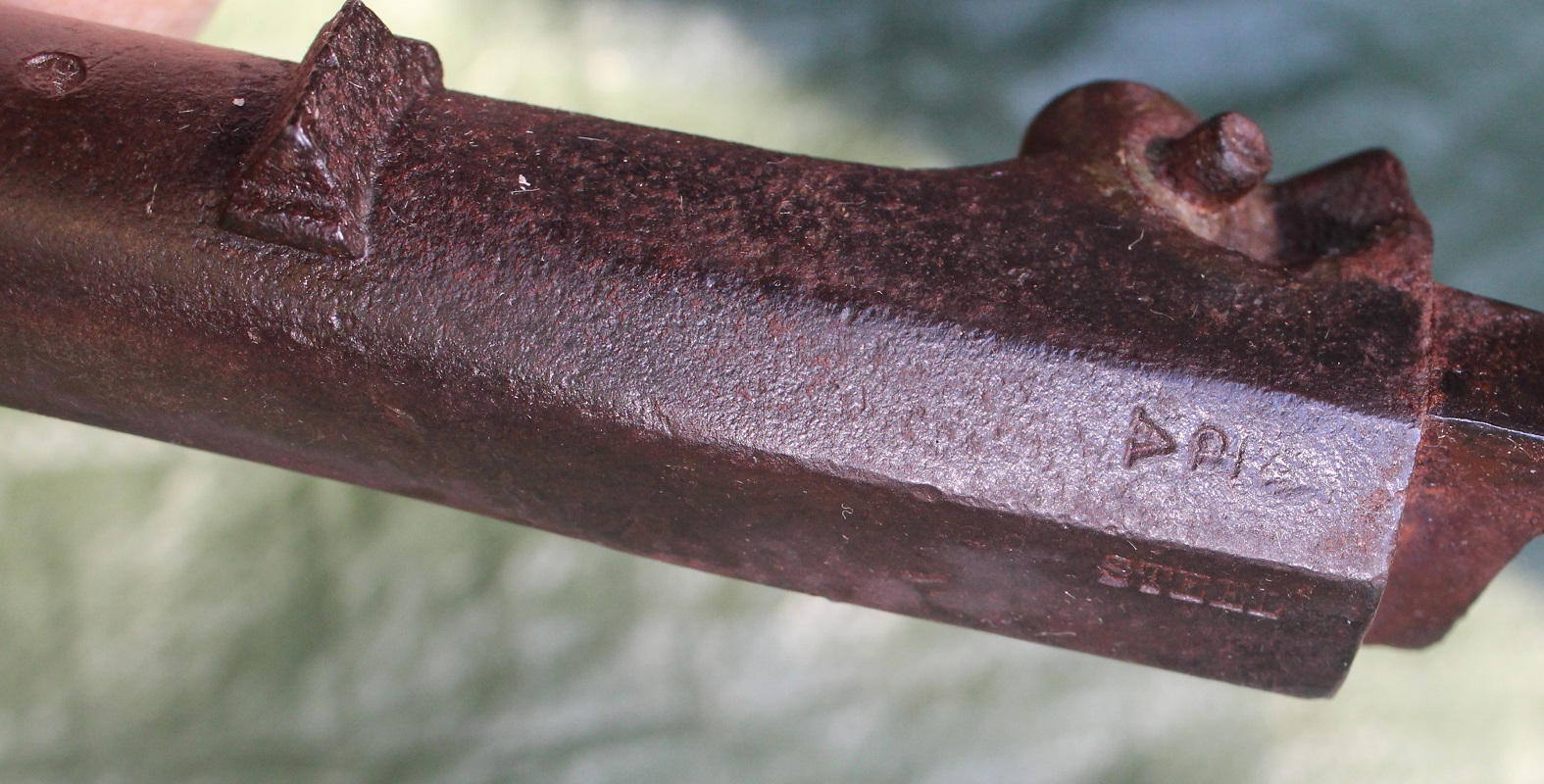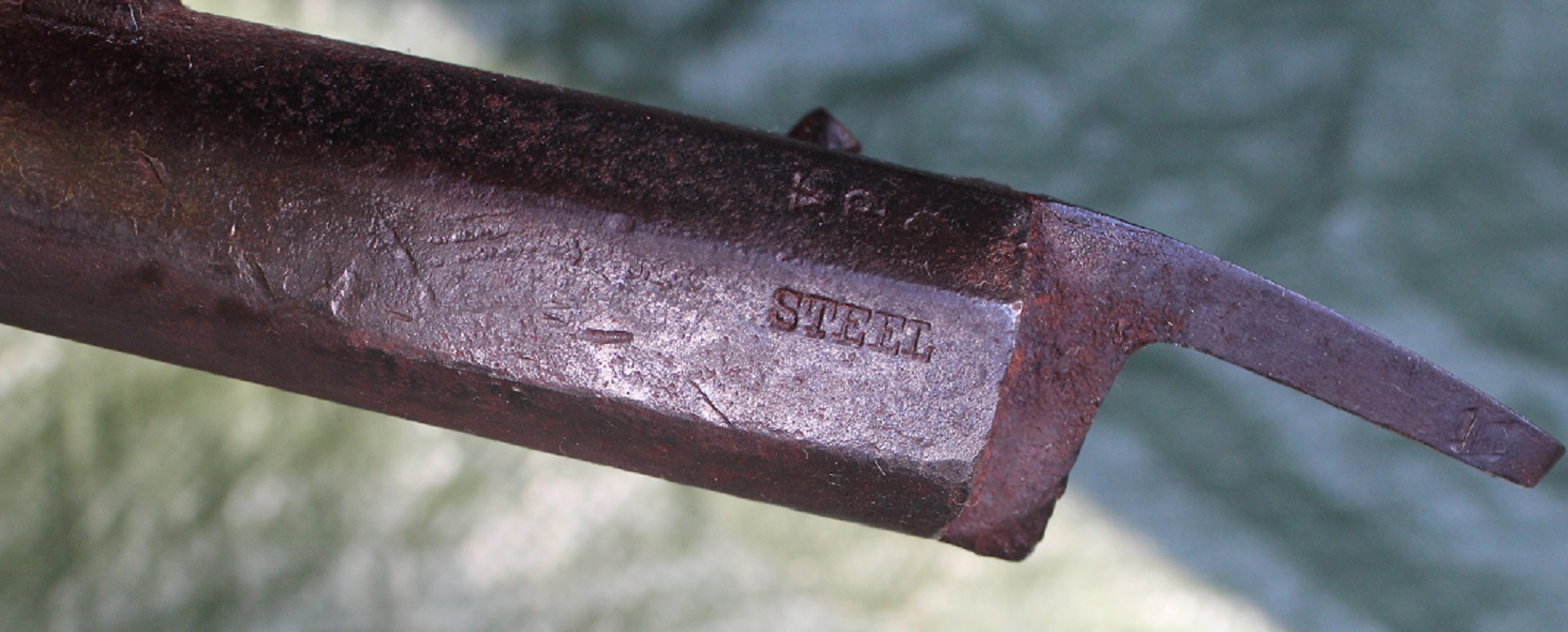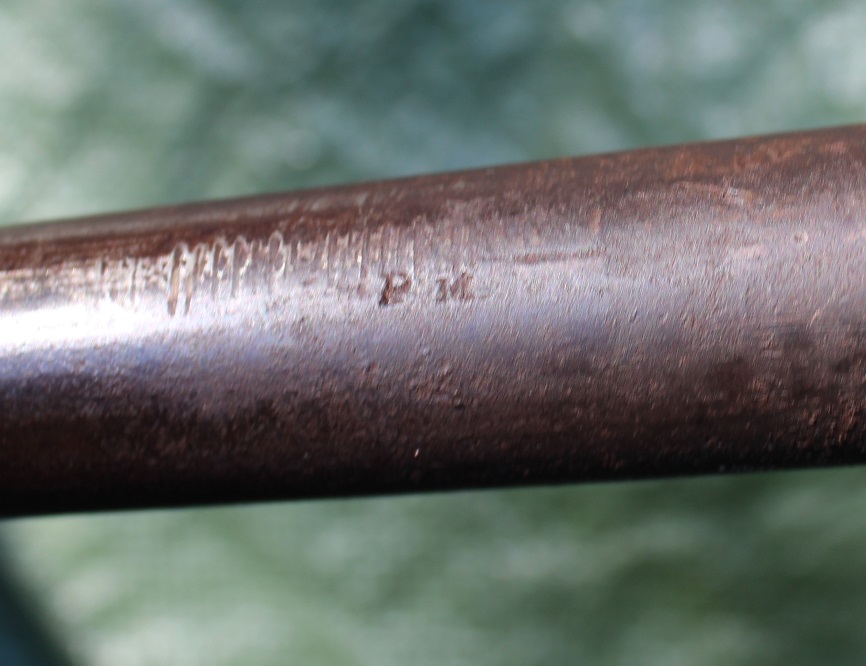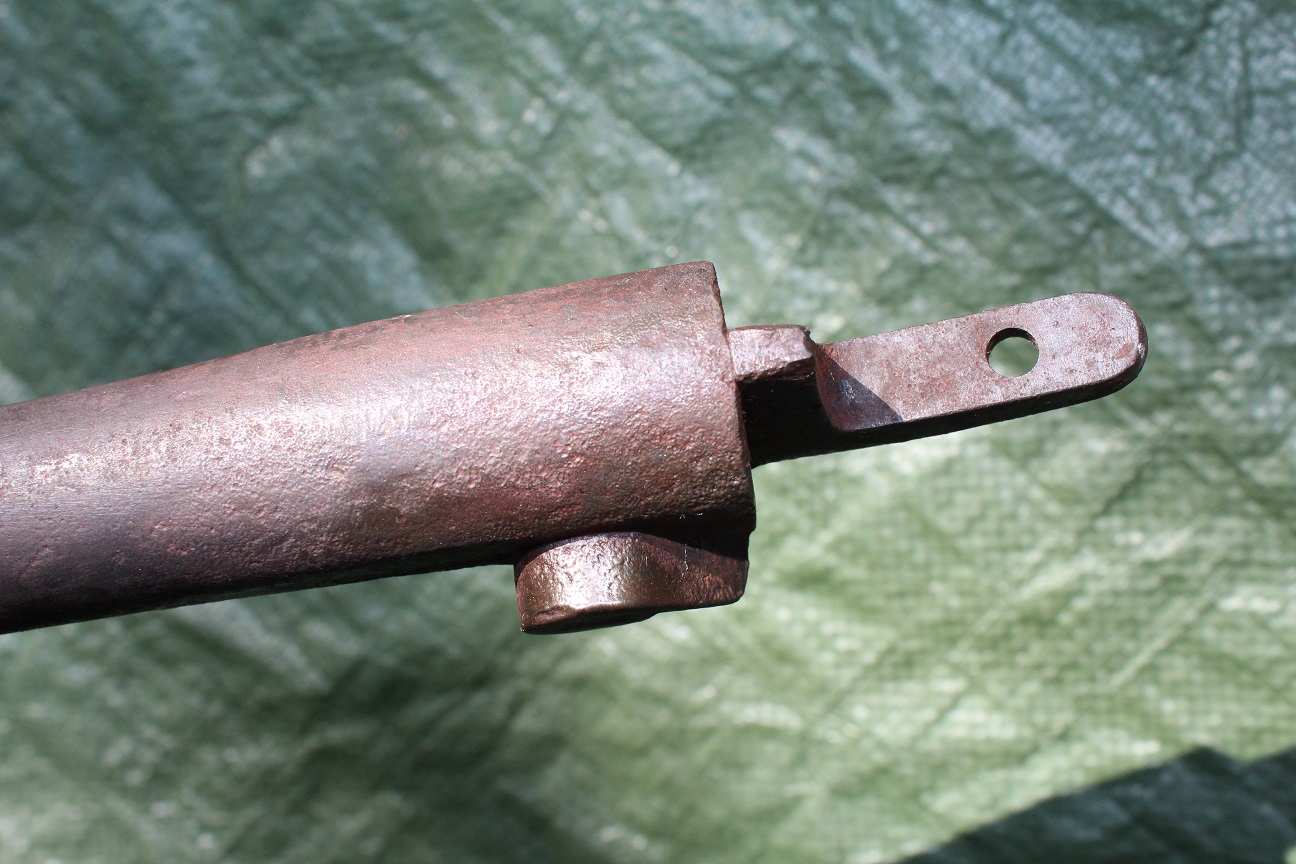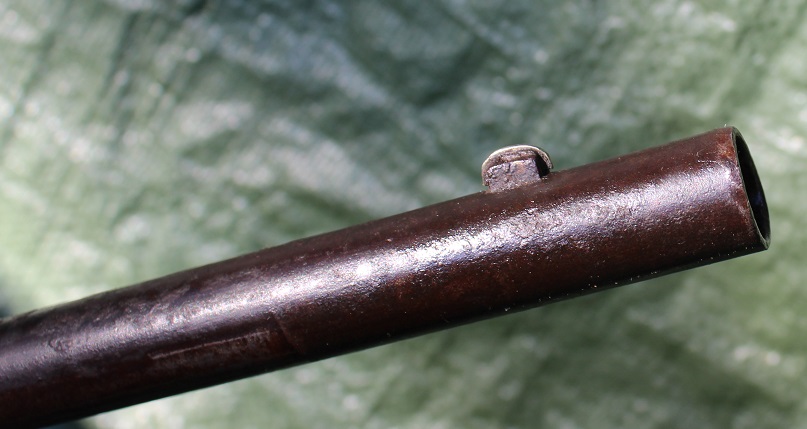 New Arrivals to the shop jmf big red one
Here we have a hand made throw measuring about 16 ½ X 15 inches showing the Big Red One in the center surrounded by Montabaun (France . Big battle there in 1916) 1918-1919 and 1st Div under the big red one! Formed in 1917, when the United States entered World War I, the 1st Infantry Division is the oldest continuously serving division in the US Army. In World War II, the "Big Red One" took part in the Allied invasion of North Africa in November 1942, driving Axis forces from the continent in 1943. Organized on June 8, 1917, for duty on the Western Front in World War I, this first permanent division in the regular US Army has seen action in all American wars since 1917, except the Korean, and has performed magnificently in all of its service. Often the first unit of the U.S. Army to deploy and engage the enemy, the division has been characterized by an ability to learn systematically from experience and to distill this learning into techniques and methods to improve battlefield performance. Central to this learning has been the training of soldiers and the development of competent leaders at all levels. In the process the "Big Red One" (so called for the red numeral that has adorned its shoulder patch since 1918) has also been characterized by a remarkable esprit that has remained with the veterans long after their active service has ended. That human experience is an important part of the American national experience. The 1st Infantry Division's contributions to this nation's defense offer insights into the history of the Army and the United States.
This throw or pillow cover is in excellent condition and commerates an outstaing US Division!!! For this historic piece $175.00
New Arrivals to the shop jmf land grants
Here we have 10 different old land grants from the early days of the USA! These are all secretary signed. We have 1 from James Buchanan, 4 from Martin Van Buren and 5 from Andrew Jackson! Here is a listing:
1. James Buchanan 1858 at Springfield MO for a War of 1812 Veteran Michael Williams
2. Martin Van Buren 1838 Crawfordsville IN for James Timmons
3. Martin Van Buren 1837 Crawfordsville, IN for James Chisum of Ohio
4. Martin Van Buren 1837 sale at Cincinatti but lying in Indiana for James Blacklidge
5. Martin Van Buren 1838 Crawfordsville, IN for Ezekiel Timmons of Clinton County, Indiana
6. Andrew Jackson 1832 Crawfordsville, IN for John Anderson of Clinton County Indiana
7. Andrew Jackson 1834 Crawfordsville, IN for Andrew Conarroe of Butler County Ohio
8. Andrew Jackson 1831 Crawfordsville, IN for John Anderson of Clinton County, Indiana
9. Andrew Jackson 1832 at the Land office at Crawfordsville, IN for John Miller of Clinton County Indiana
10. Andrew Jackson 1834 at the Land Office at Crawfordsville, IN for Thomas Buck of Tippecanoe County, Indiana.
All have folds, some have writing on the back, all have seals or imprints of seals. These will look absolutely beautiful framed! For each historic document $125.00
New Arrivals to the shop jmf 14 IJ
Here we have a pretty nice Iver Johnson's Arms and Cycle works Revolver in an old original revolver box! This is a Safety Automatic Dougle action revolver in .32 being a center fire cartridge. This one has the 3 inch barrel with fair bore. The action works great in both single and double action. The original finish is thinning but still looks good. All the markings are nice and the hard rubber Owl Head grips are in excellent condition. This old revolver model was made from 1893 to 1950. This particular revolve has an 1896 date on the butt but with the low serial number of 4140 it may have been made before 1898. Probably an antique but C&R eligible at the most. This one came in an old pasteboard bos that says X.L. Double action 3 inch 32 caliber central fire but I really don't think it's for this particular revolver but it is an old box and looks great! For this duo $250.00 Check out the pics!!!
New Arrivals to the shop jmf H&R11
Here's an old Harrington and Richardson .32 caliber top break revolver. The original H&R firm was in business for over a century from 1871 to 1986. Frank Wesson, brother of Daniel B. Wesson who co-founded Smith & Wesson, started a firearms manufacturing firm in 1859, sharing an early patent with Nathan Harrington. Wesson produced two trigger rifles and spur trigger pistols and pocket rifles/shotguns popular for short length holster models such as the discontinued topper compact pocket shotguns. He started a brief partnership in 1871 with his nephew Gilbert Henderson Harrington, as Wesson & Harrington, until Harrington bought him out in 1874. In 1875 Harrington and another former Wesson employee, William Augustus Richardson, formed the new Harrington & Richardson Company. In 1888 the firm was incorporated as The Harrington & Richardson Arms Company. Their original capital investment was $75,000. Harrington was president, Richardson was treasurer, and George F. Brooks was secretary. After the deaths of Harrington and Richardson in 1897, Brooks became the manager and the company was held by heirs Edwin C. Harrington (Gilbert Harrington's son) and Mary A. Richardson (William Richardson's wife). In 1894 the company opened a new facility on Park Avenue in Worcester, Massachusetts. The factory was expanded again after a few years. The firearms produced during this period are great values to collectors, selling at low to moderate prices. Original rifles and shotguns from these dates are scarce because of their limited production and discontinued parts. This particular revolver is a model 2 top break revolver in .32 caliber that was made from 1889 to 1940 with an estimated quantity st 1,300,000 total units during that period of 51 years! It was a popular revolver!!! This one is a double action revolver and works very well in single or double action. It's an auto ejecting model being a six shot .32 centerfire with a 3 inch barrel and good bore. The markings are all plain and easily seen. The finish is thinning but some original bluing is left as well. One of the grips has a chip out of the bottom that you can see in the pics. Nice old revolver!!! Check out the pics! $165.00
New Arrivals to the shop jmf hr 13

Here's another of H&R similar to the one above in .32 caliber but this one is full nickel plated with some loss here and there. The action works however it is weak and needs a new trigger return spring and I believe this one is double action only. This one is also a five shot instead of a six shot with a 4 inch barrel and a good bore. The grips are in nice shape on this one with no breaks or chips. The barrel has a 1895 patent date on it while the box has a May 14th 1889 Patent date on it so this may not be the correct box but it is an old box at any rate and may have been for the model just prior to this one. That's about the long and short of it! For this duo $195.00
Recent arrival to the shop jmf whitneyville 5 ON HOLD

Here we have a good Whitneyville No. 2 Revolver. This revolver is a .32 rimfire being a 5 shot mode with a 3 1/4 inch barrel. The revolver was made from 1871 to 1879 during the height of the old West! It's a single action revolver and works but it needs a new hand and spring because it only rotates the cylinder when you hold the barrel pointed toward the ground-then it works every time. The barrel is marked as shown in the photographs. The gun you see is the gun you get. We do not use stock photos. The markings are somewhat worn but easily read. The revolver has a brass frame with most of the nickel lacking-just traces left. The hardwood grips are in very good condition. For this antique with the early serial number of 406B . This revolver looks pretty good! Historic! Look at the pics! $300.00
New Arrivals jmf bb w s

Here we have an unusual set. This set consists of an original Belgium Browning Hi-Power and two different stocks that fit on this firearm! This pistol and the stocks came together out of a central Indiana attic where they have been together for no one knows how long and no one has any history on them. The stocks are in better condition that the firearm but are still in great condition with no breaks or cracks and no markings whatsoever that I could find. Even the metal hardware has no markings on them and they both fit the firearm like a glove! The one stock is made to use as a holster as well as a shoulder stock (lots of oxidation down in this one) and the other one is just a flat board shoulder stock. They are nice! The pistol as previously mentioned is a Belgium Hi-Power 9mm Pistol. Here is some info on the Hi-power:

The Browning Hi-Power is a single-action, semi-automatic handgun available in the 9mm and .40 S&W calibers. It was based on a design by American firearms inventor John Browning, and completed by Dieudonné Saive at Fabrique Nationale (FN) of Herstal, Belgium. Browning died in 1926, several years before the design was finalized. The Hi-Power is one of the most widely used military pistols in history, having been used by the armed forces of over 50 countries. After 82 years of continuous production, the Hi-Power was discontinued in 2017 by Browning Arms, but it remained in production in some countries, under license. The Hi Power name alludes to the 13-round magazine capacity, almost twice that of contemporary designs such as the Luger or Colt M1911. The pistol is often referred to as an HP (for "Hi-Power" or "High-Power") GP (for the French term, "Grande Puissance"), BAP (Browning Automatic Pistol), or BHP (Browning High-Power). The terms P-35 and HP-35 are also used, based on the introduction of the pistol in 1935. Several sources indicate that the official name was initially "High Power", while it was manufactured in Belgium by Fabrique Nationale prior to the German occupation in World War II. Production of the weapon then moved to a John Inglis and Company plant in Canada; at some date afterwards, the name was changed to "Hi Power". (Some sources indicate that the name change was not until the 1950s.) Production returned to Belgium after the war, in 1944 or 1945. Nonetheless, the term Hi Power has been the most commonly used in articles over the past decades, regardless of the year of manufacture. Versions of the handgun continued to be made at the FN factory in Belgium under Wehrmacht control, with the designation "9mm Pistole 640(b)". In February 2018, FN Herstal announced that the Hi-Power will end production.

This particular pistol was made prior to German occupation and carries the earlier markings. The finish is thin as you can see in the pics. The action works very well and the rifing in the barrel is somewhat dark with visibile lands and grooves but still very servicable. This pistol comes with one magazine. The grips are in good condition as well with no cracks or breaks. The reverse grip is cutout for a laynard ring but none exists due to the groove for attaching the stocks. This is a nice outfit and you never find them with 2 different stocks! For the set $2500.00 Check out the pics!!!
New Arrivals Consignment gj

Here is a large folding knife that we think is from the Civil War era through the Victorian era. This knife is over 23 inches long open and over 12 inches long closed! The grips seem to be decorated horn and the iron finial is like a rattlesnake's rattle. The bolster is also steel or iron. The knife locks into place when opened but when closed it is not locked. The blade has lost the last 1/8 inch and has pitting on both sides down it's length. It's still solid however. Rare to find a knife this large! $525.00
New Arrivals Consignment 343

Here we have an old warhorse that looks to be entirely hand made! The stock is huge and crude! The metal finishes are crude. There are a couple of circular lines on the barrel that just makes me believe that this old .75 caliber musket is mid eastern. The lock is froze and I see no markings anywhere on this firearm. The stock is crude and has been repaired a couple of times. The butt plate is missing and has been for a very long time but you can see that at one time it had one. The barrel bands are very crude and obviously handmade. This musket is 44 inches long with a 29 ¼ inches long barrel. The barrel is firmly affixed even though the tang screw is missing. This stock looks like it could be a military stock but has been altered many times. I also believe that it has been shortened. Kind of neat! Would look great hanging over the fireplace! For this old musket $175.00
New Arrivals Consignment 342

Here we have an old 1800's percussion musket with a box lock. The lock is froze up and needs lubrication to move. There is a mark on the lock that appears to me to be middle eastern in nature. This old musket looks to be around 70 caliber. It is 42 inches long with a 28 inch barrel. The butt plate is just a piece of copper and part of the stock in that area is chipped off. The stock almost looks to be hand made as it is crude. Missing the triggerguard. The ramrod is present but somewhat stuck in the channel. You can get it out but it's hard to do. Nice old 1800's musket for over the fireplace that won't break the bank. There is a few repairs and alterations but hey! It's still here! $150.00
New Arrivals Consignment 341

Here we have an old 1800's percussion fowler in 12 gauge. This piece is long being 52 inches long with a 36 inch barrel. The back action lock is marked MEYER and works as it should. The ramrod thimbles are missing from the bottom of the barrel as is the ramrod. This piece looks like it sat in the barn for a while due to the rust that's present. Should clean up pretty good if you so desire and would look great over the fireplace with a powder horn hanging off of it. Take a look at the pics! $175.00
New Arrivals Consignment 340

Here we have an old African "ZULU" 12 ga shotgun! These weapons were converted from Percussion Muskets of the 19th century to give to African Natives to hunt with. This one is typical of the transformation to a shotgun. It's over 51 inches long with a 34 inch barrel. Check out the pics to see how it operates. I believe the stock was damaged when they did the conversion by looking how it is done and the patina on the broken wood. This one used the brass 12 gauge shells and one is included with the firearm. The action works as it should. I see no markings on this piece. This one dates to around the American Civil War of 1860. The British Colonists did not want to arm the Africans with too good of a weapon as they may turn it on them. For this piece of Zulu history $250.00
New Arrivals Consignment 339

Here we have some very interesting Native American made items that came from the Fort Hall Indian Reservation. The Fort Hall Reservation is a Native American reservation of the federally recognized Shoshone-Bannock Tribes in the U.S. state of Idaho. This is one of five federally recognized tribes in the state. The reservation is located in southeastern Idaho on the Snake River Plain about 20 miles (32 km) north and west of Pocatello. It comprises 814.874 sq mi (2,110.51 km2) of land area in four counties: Bingham, Power, Bannock, and Caribou. To the east is the 60-mile-long (97 km) Portneuf Range; both Mount Putnam and South Putnam Mountain are located on the Fort Hall Reservation. Founded under an 1868 treaty, the reservation is named for Fort Hall, a trading post in the Portneuf Valley that was established by European Americans. It was an important stop along the Oregon and California trails in the middle 19th century. A monument on the reservation marks the former site of the fort. Interstate 15 serves the community of Fort Hall, the largest population center on the reservation. The total population of the reservation was 5,762 at the 2000 census. The Shoshone-Bannock Tribes has more than 5,300 enrolled members, and more than half reside on the Fort Hall Reservation. Others have moved to urban areas for work. The tribes are governed by a seven-member elected council and maintain their own governmental services, including law enforcement, courts, social and health services, and education. Here are the items made there that we have for sale:

1. Nice hand hammered silver belt buckle with turquoise and red stones set around what we think is a bear claw. 4 inches by 2 ¾ inches. Very nice! Look at the pics! $500.00
2. Here we have a beaded medallion with 25 inch beaded necklace. The beaded medallion measures 3 ¼ inches across and is full beaded. The back is nice soft leather! For this piece $299.00
3. This next piece is unusual with turquois and bores teeth with a red stone. This necklace has a hook to fasten it. The necklace is 22 inches long itself with the medal medallion being 2 ½ inches long by 2 ¾ inches wide. The medal on this one is not marked sterling. Price to come for this piece so in the meantime check out the pics! $295.00
4. This piece is very nice and quite unusual! The necklace measures 24 inches long with a 3 ½ inch long boars tooth handing off of it. At least I think it's a boars tooth. The nexclace has blade and white beads, turquois and red stones hanging on it. There are even a couple of metal fleathers on it. This necklace is quite beautiful!!! Check out the pics! $295.00
5. This is a unique necklace with beads and bone with turquoise and elks teeth. The long ones are teeth as well but not quite sure what kind of teeth. The necklace measures about 22 inches long. Slips over the head. This piece is quite nice! Price to come.
6. Here we have a Native American flute from the same reservation. This flute is 23 inches long and is 3 ¾ inches in circumference. There is a 3 inch fully beaded portion around the middle of the flute. I do not know what the wood is but it's very nice! Has a nice sound! I do not know the key or maker. For this piece $65.00
7. This Peace pipe also came from the Fort Hall Reservation. This pipe is 22 inches long and features a hard wood Native American Head Profile! The detail is very nice in the carving and there are glued white stones for eyes. The shaft is covered mostly in white rabbit fur with a ½ inch fully beaded portion with beads dangling. This is finished by wrapped rawhide and a bone tip to draw the smoke through. The 28 inch sheath is red dyed leather with fringe and different Native American Symbols glued onto the face of it. Also there is a Buffalo Nickel affixted to the top of the sheath. For this piece $250.00
New Arrivals Consignment 338

The predecessor to the .45-70 was the .50-70-450 cartridge, adopted in 1866 and used until 1873 in a variety of rifles, many of them percussion rifled muskets converted to trapdoor action breechloaders. The conversion consisted of milling out the rear of the barrel for the tilting breechblock, and placing a .50 caliber "liner" barrel inside the .58 caliber barrel. The .50-70 was popular among hunters, as the bullet was larger than the .44 caliber and also hit harder but the military decided as early as 1866 that a .45 caliber bullet would provide increased range, penetration and accuracy. The .50-70 was nevertheless adopted as a temporary solution until a significantly improved rifle and cartridge could be developed. The result of the quest for a more accurate, flatter shooting .45 caliber cartridge and firearm was the Springfield Trapdoor rifle. Like the .50-70, the .45-70 used a copper center-fire case design. A reduced power loading was also adopted for use in the Trapdoor carbine. This had a 55 grain (3.6 g) powder charge. Also issued was the .45-70 "Forager" round, which contained a thin wooden bullet filled with birdshot, intended for hunting small game to supplement the soldiers' rations. This round in effect made the .45-70 rifle into a 49 gauge shotgun.

Now to this round. This is an original .45-70 Forager round and is complete and in good aged condition with a dark patina to the brass. The headstamp is "W.R.A. Co. (WInchester Repeating Arms Company) and 45-70. You just don't see these round often. For this round $45.00
New Arrivals Consignment337…

Here we have a 50 caliber machine gun belt with 61 blank round in it. These rounds are marked L C 8 5 on the heads meaning that they were made at the Lake City Ammunition Plant, Lake City, MO for the government. The rounds are all connected through a belt for a belt fed machine gun. These are greasy! Clean them up and they'll make a great display! For the entire lot $125.00
New Arrivals 335

Here we have a wonderful early Ames U. S. Officers Militia Sword and brass scabbard. This sword has the Brass Roman Helmet Pommel and the blade is marked N P AMES CUTLERS SPRINGFIELD. This Springfield, Mass site was used from 1829 to 1848 when the company moved to Chicopee, Mass. This is a high grade sword having brass hilt featuring helmet pommel, bone grip and a cast ferrule and chain guard. The quillon with scrolled finials is integral to downturned cast clamshell guard with high-relief spread-wing eagle. The blade displays good color and remains in good condition and is etched with clusters of acorns and oak leaves, eagle, and scrolling. The etching is a little light be still easily seen. The gilt brass scabbard retains a top ring and a middle carrying ring with frog stud and its cast/ gilt mountings including pillow type drag. The sword and scabbard have been restored by Mink Creek Factory of Adell, Wisconsin ran by Jim Brown, who is a renown expert in the sword field. The scabbard is all brass and has the usual dents and dings but solid as a rock! Take a look at the pics! For this fine old sword $1195.00
New Arrivals Consignment 329

Here we have a brand new in the box Civil War Chess Set that was given to Lifetime members of the History Channel. Up until the time we opened it to take pics it was never opened! History Channel Civil War Set---The chest measures 15.25 x 5" Reversable Board and the Games offered are CHESS - BACKGAMMON - CHECKERS - CRIBBAGE – and DOMINOS. Figures measure 2.5 x 3.5". Civil War Chess Set / Backgammon Game SET. All parts and Figures are still in bubble wrap! CIVIL WAR~ 5 GAMES IN SOLID WOOD CHEST!!! (Instruction Manual Included) CHESS - BACKGAMMON - CHECKERS - CRIBBAGE - DOMINOS . The chest measures 15.25 x 5" Chest top board is reversible for chess and checkers on one side and backgammon on the other side. There are cherry wood backgammon shaker cups. The civil war figures are beautifully detailed. Figures measure 2.5 x 3.5" There are 15 American flag checker pcs and 15 confederate flag checker pcs. Chess pieces are stored on top in individual compartments. All other game pieces are stored in a side drawer of the chest. HEAVY WEIGHTED! CHESS PIECES NEVER USED! Set is new!!! Check out the pics!!! For this unused set $95.00
New Arrivals 322

Here we have an unissued PRISONER OF WAR Medal given by the USA to the POW's. The Prisoner of War Medal is a military award of the United States Armed Forces which was authorized by Congress and signed into law by President Ronald Reagan on 8 November 1985. The United States Code citation for the POW Medal statute is 10 U.S.C. § 1128. The Prisoner of War Medal may be awarded to any person who was a prisoner of war after April 5, 1917 (the date of the United States' entry into World War I was April 6). It is awarded to any person who was taken prisoner or held captive while engaged in an action against an enemy of the United States; while engaged in military operations involving conflict with an opposing Armed Force; or while serving with friendly forces engaged in armed conflict against an opposing Armed Force in which the United States is not a belligerent party. As of an amendment to Title 10 of the United States Code in 2013, the medal is also awarded for captivity under circumstances "which the Secretary concerned finds were comparable to those circumstances under which persons have generally been held captive by enemy armed forces during periods of armed conflict." The person's conduct, while in captivity, must have been honorable. This medal may be awarded posthumously to the surviving next of kin of the recipient. No more than one Prisoner of War Medal may be awarded. For any subsequent award of the medal, service stars will be awarded and worn on the suspension and service ribbon of the medal. The medal was designed by Jay C. Morris of the United States Army Institute of Heraldry. As perviously stated this medal is new and unissued in the box. For this nice piece $20.00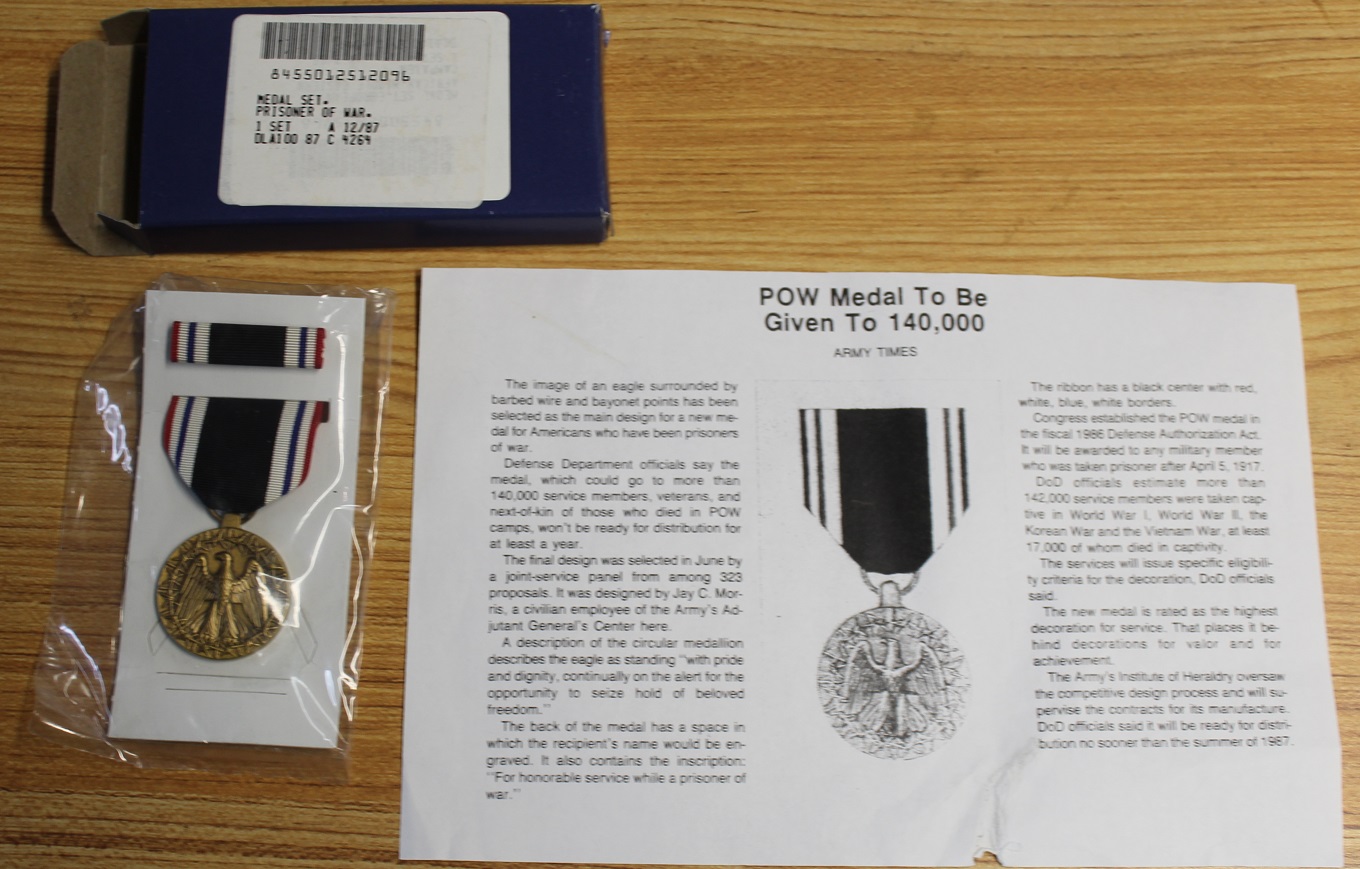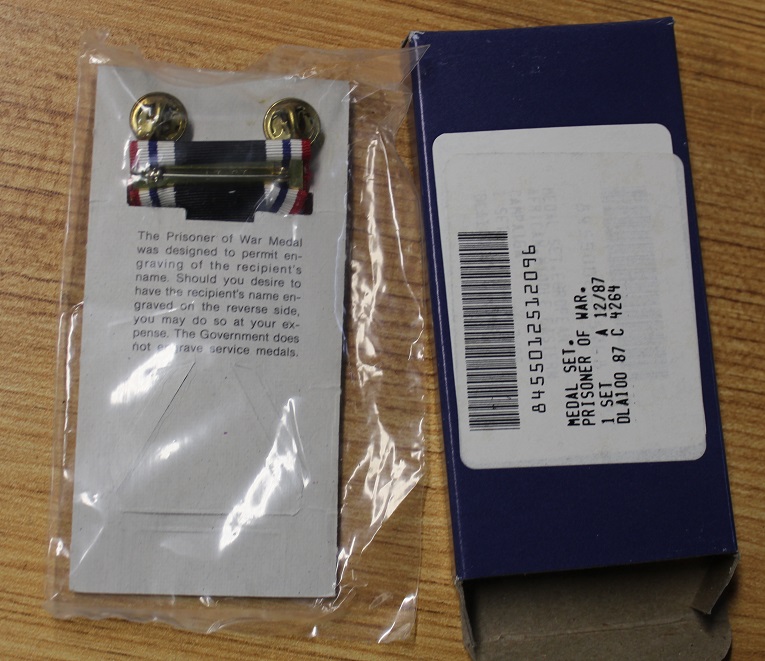 New Arrivals 321

Here we have a Soviet Medal. The Medal "Veteran of Labour" was a civilian labour award of the Soviet Union established on January 18, 1974 by Decree of the Presidium of the Supreme Soviet of the USSR[1] to honor workers for many years of hard work in the national economy, sciences, culture, education, healthcare, government agencies and public organizations. Although it only had a relatively short eighteen years of existence, it was awarded nearly forty million times. Its regulations were detailed and approved by decree number 5999-VIII of May 20, 1974. Its statute was amended by multiple successive decrees of the Presidium of the Supreme Soviet of the USSR, first on June 8, 1977 then on August 12, 1983 and lastly on December 28, 1987. The medal ceased to be awarded following the December 1991 dissolution of the Soviet Union. The Medal "Veteran of Labour" was designed by artist SA Pomansky. It was a 34 mm in diameter circular medal struck from tombac and then silver-plated and oxidised. The obverse of the medal bears the relief image of the hammer and sickle over the inscription "USSR" . with diverging rays, a laurel branch spans the width of the obverse from right to left passing under the sickle's handle in an upward curve, along the lower and right circumference, a ribbon bearing the relief inscription "VETERAN OF LABOUR" . The otherwise plain reverse bears the inscription on four lines "FOR LONG DILIGENT WORK" . The Medal "Veteran of Labour" was secured by a ring through the medal suspension loop to a standard Soviet pentagonal mount covered by a 24mm wide overlapping silk moiré ribbon with 1 mm wide white edge stripes and coloured from left to right by a 7 mm wide dark grey stripe, an 8 mm wide light grey stripe, and three 2 mm wide red stripes separated by two 0.5 mm wide white stripes. Apparently, there is a variation of the medal, being stuck in silver as opposed to tombac, but this has not yet been verified.

Take a look at the pics. For this medal $10.00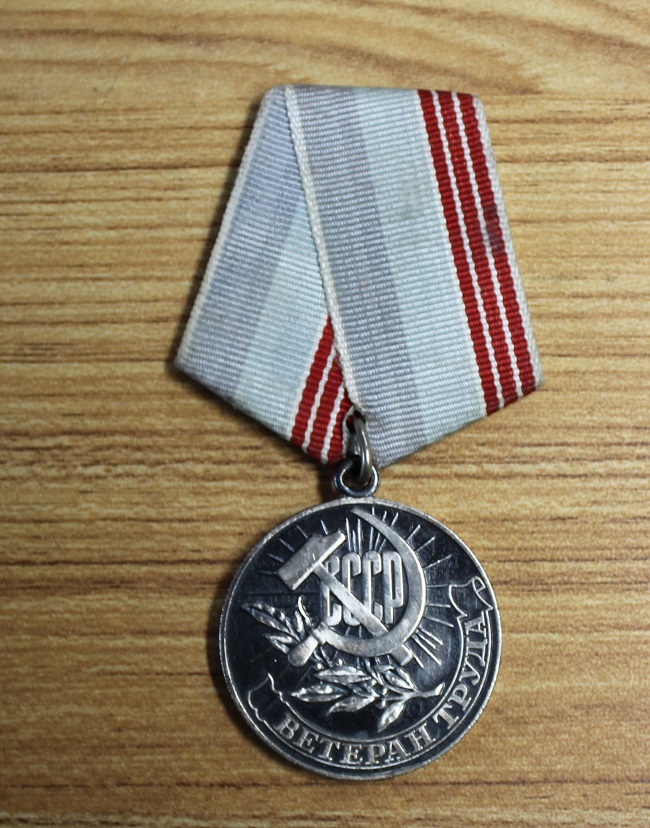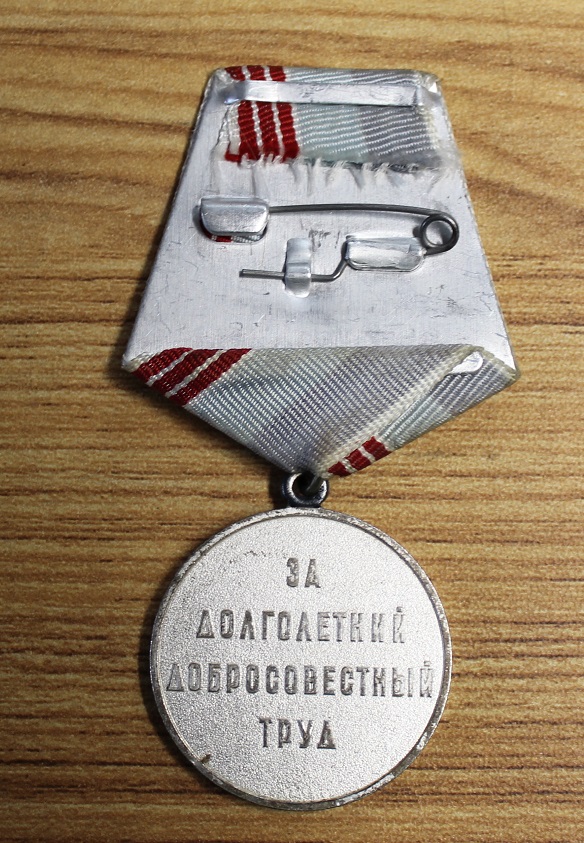 New Arrivals 320

Here we have some WW2 Japanese Civilian patches or Roundels that was worn on the workers uniform. Listed as WW2 Imperial Japanese Army Civilian sleeve wood roundels. A 5.5cm or 2 inch diameter olive drab wool patch with an alloy backing, upon which is sewn a red or orange felt five-pointed star. We have red stars and orange stars. They also came with white stars. If you know why the different colors let us know. Each $20.00 Check out the pics!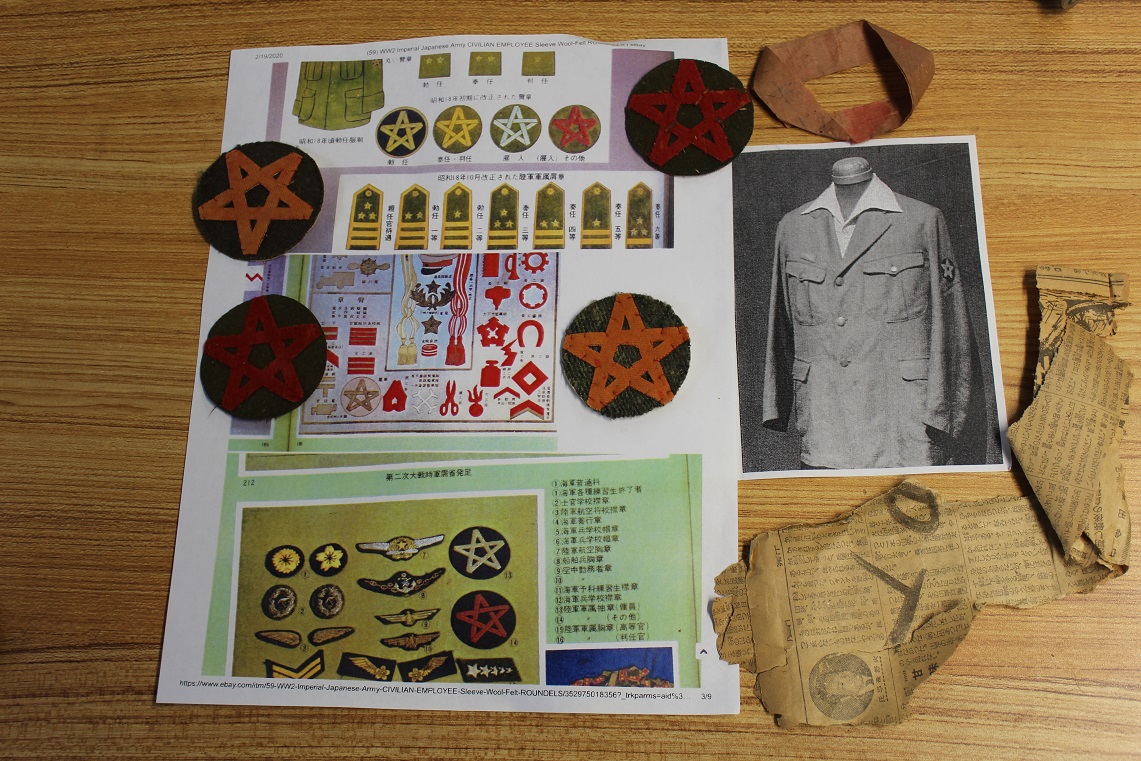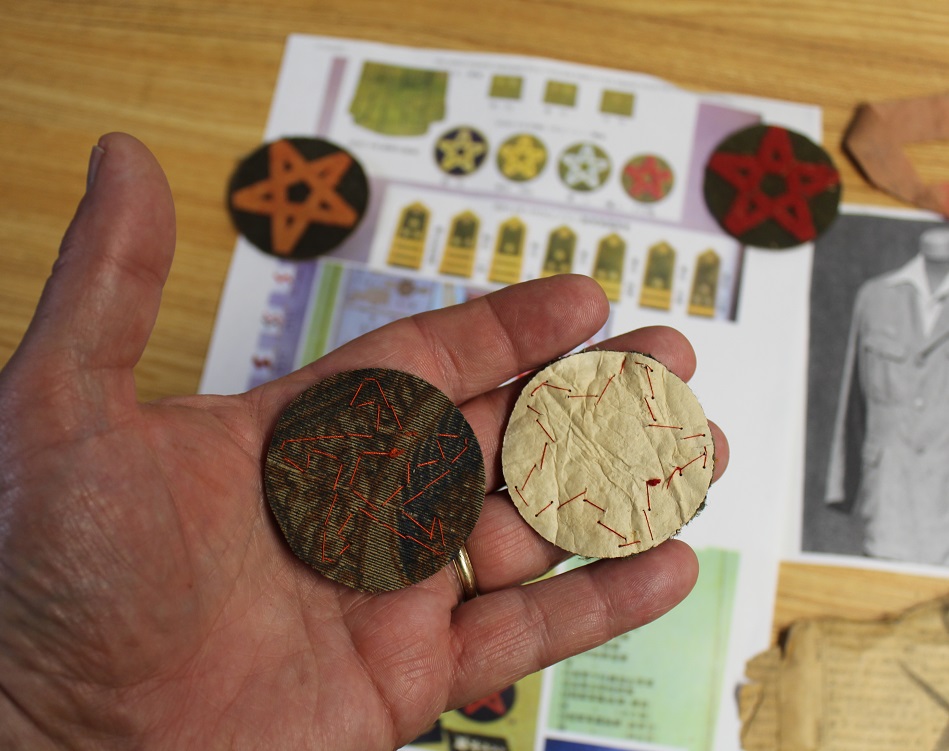 New Arrivals 319

Here we have a Grand Army of the Republic Ribbon from 1931. I don't believe it was ever used. Usually a straight pin was used to pin it to a lapel. For this nice 6 inch long ribbon $15.00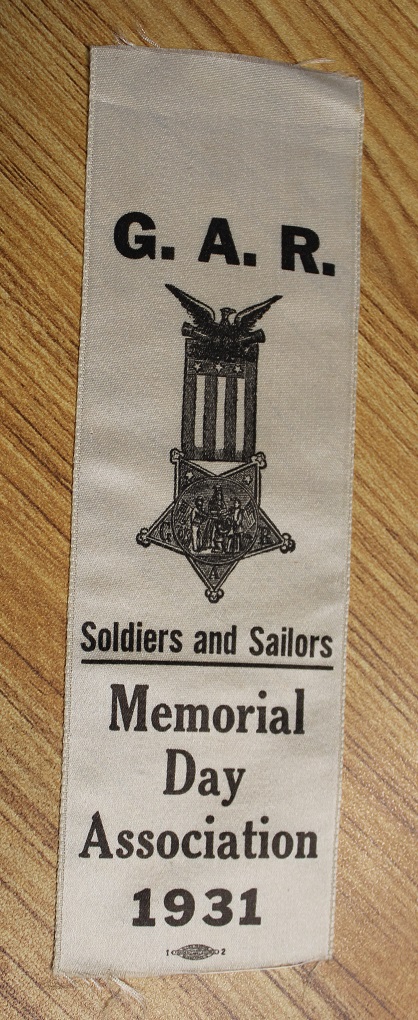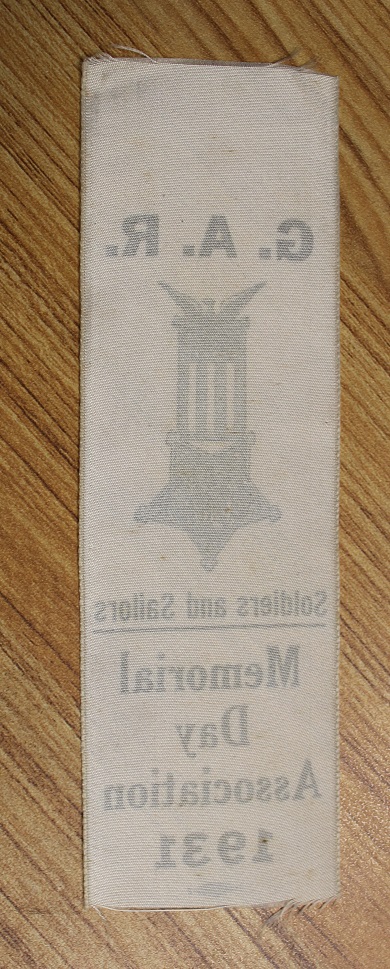 New Arrivals 318

Here we have a good Model 1818 U.S. contract, Militia Cavalry Saber by Nathan Starr. Nathan Starr was the first U.S. Contract maker for the U.S. Government. They also made muskets. Before the end of the first quarter of the 19th Century, America had established itself as a nation. It had fought in two wars, engaged in treaties, engaged in international business and expanded its territory.

Nathan Starr, Sr., manufactured arms for the fledging United States military was early as 1798 out of his shop in Middleton, Connecticut. His company produced swords until 1837 under various names all in the same New England town.

This particular sword is the pattern 1818 and is in good condition. The grip has been repaired and wrapped with what looks like a fabric or oil cloth. The handguard has been cleaned some as has the blade. The blade is in great shape except for where it looks like someone used a dremel tool to remove rust or something. Most of those marks could be taken out with a little effort. The dremel too cleaning is only around the markings. The markings are mostly clear with one of the r's in Starr lacking. Other markings include what you can see in the pics. The scabbard is really nice and has been painted black at some point but it wasn't recently for sure. The rings are present on the scabbard. All in all this is a historic sword and has been in my collection for awhile. $650.00
New Arrivals 317

Here we have a complete (less trousers and shoes) Knights Templar Uniform and sword in case! The uniform belonged to John C. Armington of Anderson, Indiana. John was a Doctor in Anderson Indiana. He was born on June 15,1877 and died on November 26th, 1957 and is buried in Maplewood Cemetery in Anderson, Indiana. John served in the Spanish American War and then in WW1 as a Lt. in France. I have done some ancestry.com research and that research is included which shows his photograph as well as the photograph of the U.S.S. Chester, the ship that brought him back to the USA from France at the War's end. There is more research to be done and I'm sure you'll have many happy hours ahead doing that! The uniform is made by M.C.Lilley of Columbus, Ohio. Mitchell C. Lilley (1819-1882) was born in Columbus, Ohio. He was a bookbinder and publisher and published Masonic and Odd Fellows books. In 1865, he founded M. C. Lilley & Co, which produced regalia and swords. The company expanded into a complete line of military and fraternal swords, uniforms, accessories, and equipment. Following several mergers, the company changed its name to the Lilley Co. and The Lilley-Ames Co. In 1951, the company was sold to the C.E. Ward Company of New London, Ohio. It operated until 1953. M.C. Lilley & Company was another Columbus business that would benefit greatly as a manufacturer of ready-made uniforms after the war. By 1870, the company already occupied an entire four-story building on S. High Street, with a glass-fronted showroom and retail store on the first floor. This size of an operation positioned the company for tremendous growth and success in the coming "Golden Age of Fraternalism." During this period, from 1870-1910, over 20 percent of men in the United States belonged to a fraternal organization, which served various purposes such as mutual aid and insurance, political interests, social functions, and the comfort of stability and belonging in a dynamic post-war society that was rapidly industrializing. Clothing played a very important role in the ritual ceremonies for these societies, and M.C. Lilley & Co. capitalized on this influx of demand by manufacturing ritual costumes and attire. The most demanded and most comercially profitable form of military regalia, however, was the military-style uniform, which the company also produced for state militias, telegraph operators, and railway workers. In addition to the clothing for fraternal societies, the company also produced metal decorations and fasteners to embellish the garments, such as buttons, buckles, studs, and grommets, along with custom-designed suitcases to hold and store elaborate and odd-shaped artifacts, like feathered hats, shoulder epaulets, capes, and gauntlets.

I believe John purchased this uniform after the Spanish American War and before WW1. His influence before WW1 probably guaranteed him a spot as a Lieutenant in WW1.

The uniform is in good condition with just a couple of slight tears in one elbow that I have taken a pic of. The uniform consists of the Hat with rain cover, the frock coat, the jacket, vest, sash, sword belt, sword and sword case. His name is printed on the sword case, hat interior, sword and sword belt. All was found together. This is a wonderful old vintage set! For the complete outfit of this fine man from the Knights Templar of the Masons $650.00. Check out the pics!!!
New Arrival 316 SOLD

Here we have an original Model 1837 French Naval sword with leather scabbard. This has a 28 ½" plated blade with spear point tip and large and small fuller. Engraved on the spine "Coulaux a Klingenthal France" and with no hallmarks on the ricasso but the original red felt blade washer is intact. The sword has an intricate brass guard, back strap and pommel. A fouled anchor is amid vine and leaf patterns in the guard. A dolphin's head quillion stands out from the top of the guard. Ebony horn grip is complete and in excellent condition.

The black leather scabbard is complete with nice brass mounts. The scabbard has been broken in two pieces but was afixed back together and is quite strong since the leather is over a wooden insert which makes it quite sound. The throat features a fouled anchor on one side being undecorated on the reverse and a sea shell "button" for a frog. The throat and middle mount have brass rings. The drag also features sea shells and exhibits damage from a door ding. The set is in very nice condition, the blade with most of its original plated finish and all brass components showing nice dark patina which match. The leather is very good and the stitching is tight and the repair is solid. No attempt was made to hid the repair. A very attractive sword based on the French 1837 pattern for a naval officer. For this set $450.00

Check out the pics!
New Arrival 315

Here we have a very nice highly sought after Swiss M1914 Bayonet and scabbard! The M1914 bayonet is for the 1894/14 Carbine and the odd design is due the fact that the original 1894 Carbine had no provision for a bayonet. The unusual extended pommel mortise is the result of introducing a bayonet retrospectively to the carbine! The long bladed 1914 carbine bayonet was securely retained in the scabbard by a press catch located just above the crossguard on the left side of the hilt. The mortise slot is raised above the pommel in a somewhat unusual placement as this one is. This bayonet has the Swiss markings on the ricasso and the blade has been slightly sharpened indicating use instead of being surplus. The blade is full length as it should be. The wood grips are in great shape and the locking mortise works just fine. The bayonet lock to the scabbard works just fine as well. The scabbard is the correct one and is painted gray with red tape on the end for some reason that I do not know. The frog stud is still present also. All in all a very nice fairly rare example of this type 1914 bayonet! For this piece $250.00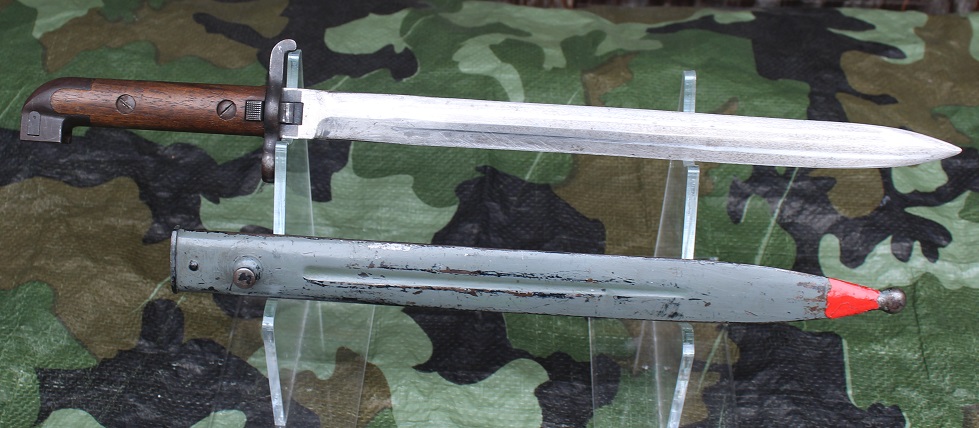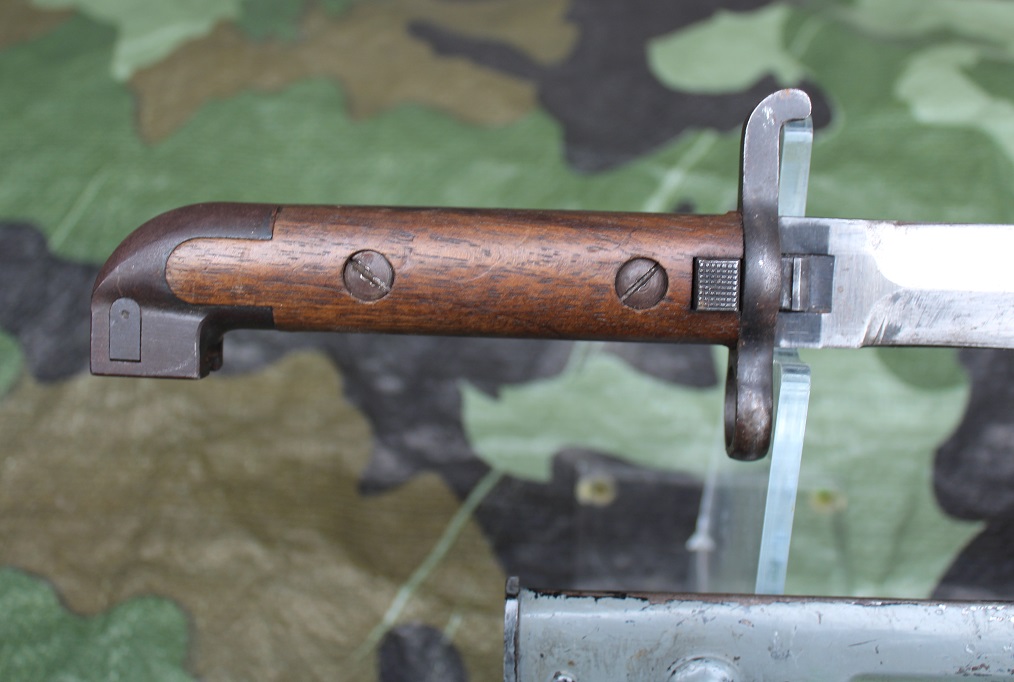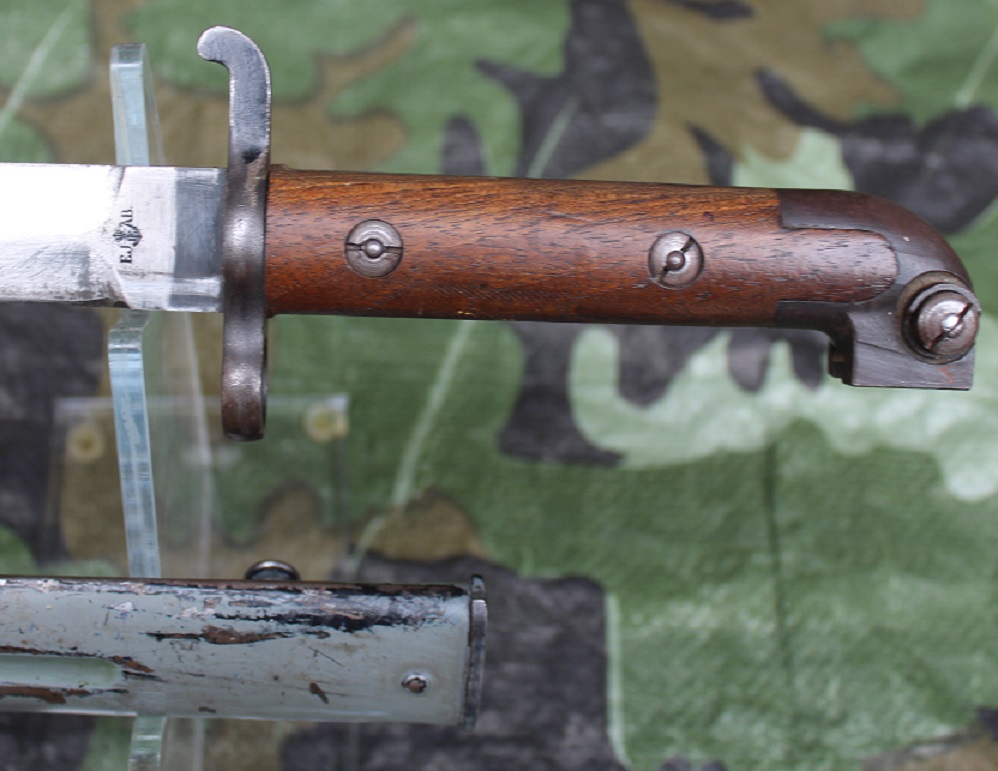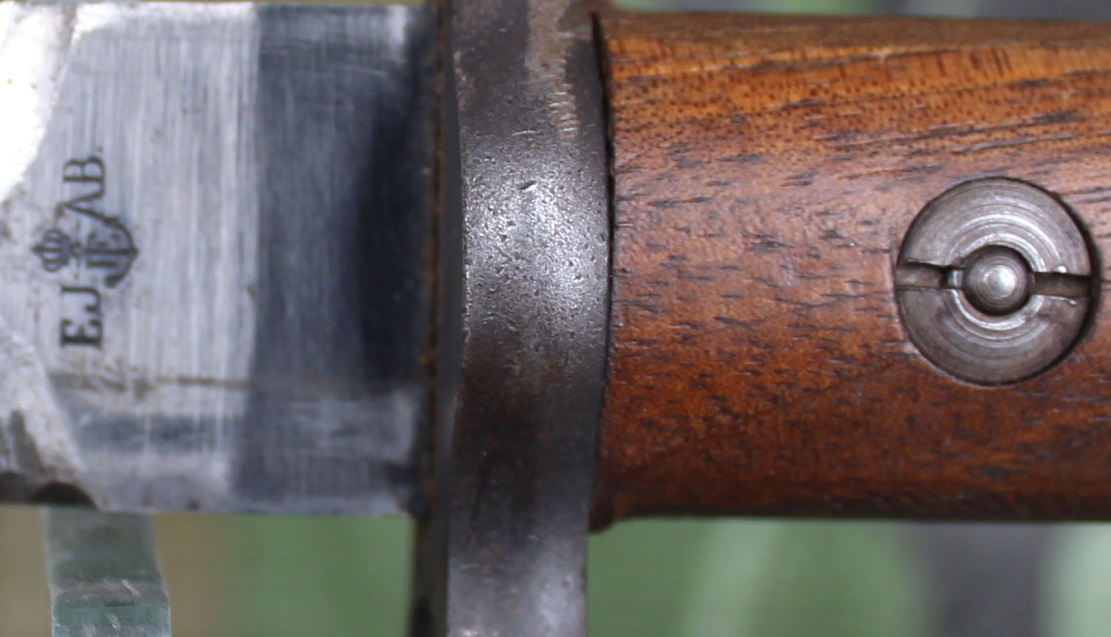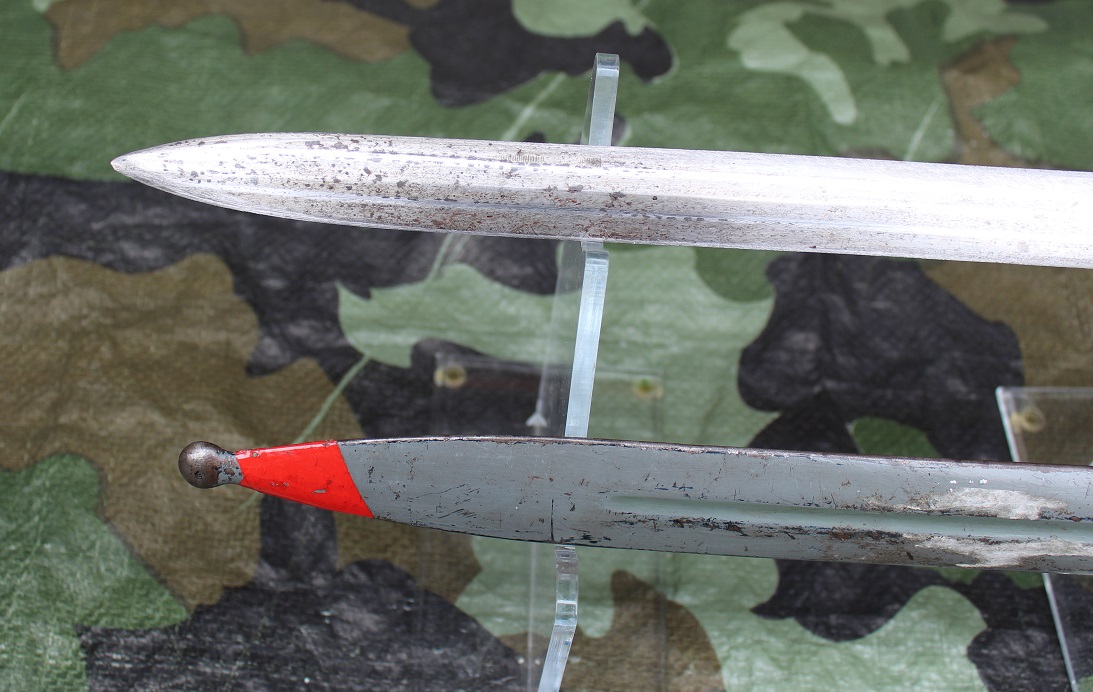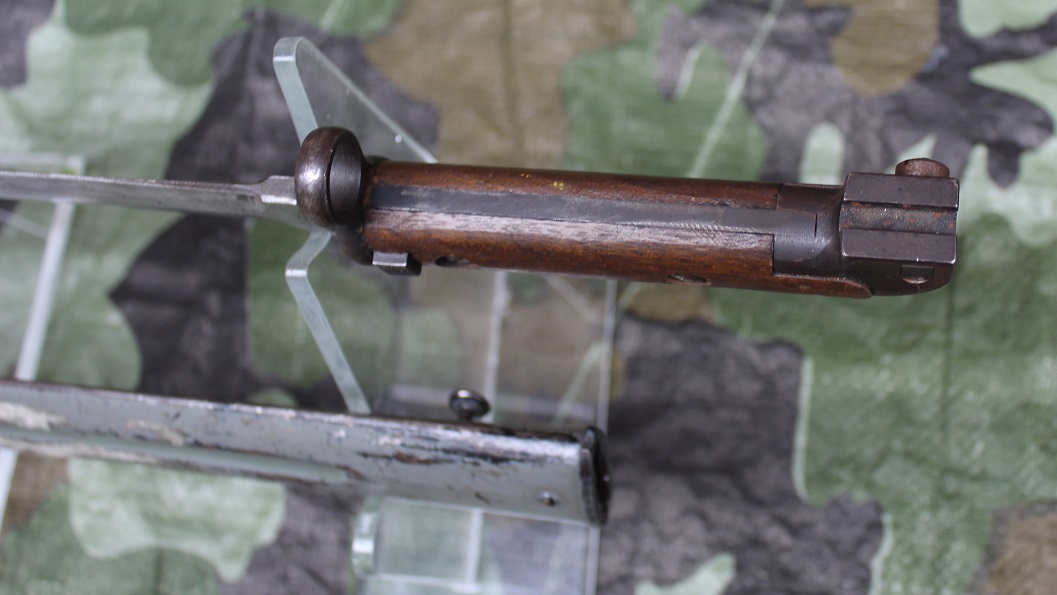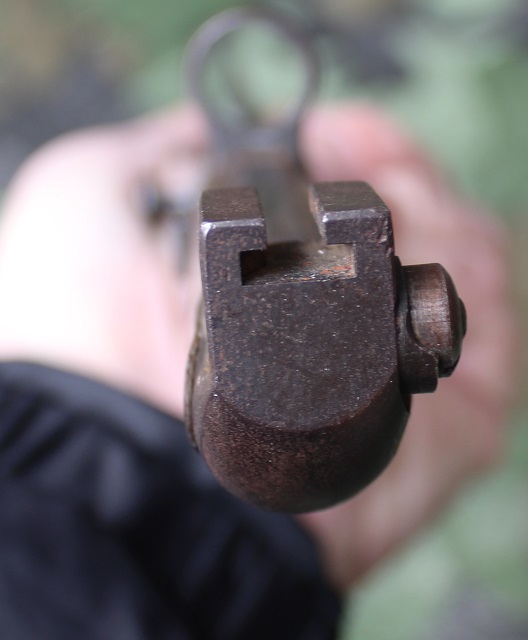 New Arrival 314

Here we have a small grouping of items that we picked up from a Gentleman who lives in New Hampshire. Here is the grouping:

•
•
War of 1861 Spread winged Eagle with United States underneath the Eagle. On the reverse is E. SMITH CO B 14TH REG. 14TH NHV N. CHARLESTON. Guaranteed Original and it is fantastic! This id is for Erastus Smith and here is his stats:

Residence Charlestown NH; 30 years old. Enlisted on 8/30/1862 as a Private. On 9/22/1862 he mustered into "B" Co. NH 14th Infantry He was Mustered Out on 7/8/1865 at Savannah, GA He was listed as: * Wounded 9/19/1864 Opequan, VA Other Information: born in New Hampshire After the War he lived in Keene, NH Sources used by Historical Data Systems, Inc.: - Register of Soldiers and Sailors of New Hampshire 1861-65 (c) Historical Data Systems, Inc. @ www.civilwardata.com

Here is his regimental history by a member of the 14th NHV:

By FRANCIS H. BUFFUM, late Sergeant Company F, Fourteenth Regiment New Hampshire Volunteer Infantry, and Historian of the Regiment. THE Fourteenth was the last long term regiment furnished by New Hampshire. It was recruited mostly from the central and southwestern sections, Cheshire county raising five companies. The chief recruiting officers were: Company A--F. T. Barker; B-J. G. Johnson, A. M. Adams; D-C. W. Hodgdon, J. N. Brown; I-S. Clogston, D.F. Pike; C-A. D. Coombs; F-G. W. Pierce, J. H. Goodwin, E. Brown; H-W. E. Buntin, A. H. Sawyer, W. H. Sargent, M. M. Holmes; K-O. H. Marston, J. N. Snell; E-E. Brown, D. Sessions, William Cobleigh; G--C. F. Webster, S. A. Carter, Rev. S. L. Gerould. The towns with the largest quotas in the different companies were: Company A-Hinsdale, Westmoreland, Dublin; B--Walpole, Charlestown, Marlow; D--Weare, Seabrook, Deering; I -- Cornish, Newport, Grantham, Claremont; C - Keene, Swanzey, Marlborough, Fitzwilliam; F-Winchester, Chesterfield, Richmond, Milan; H--Chichester, Dunbarton, Concord, Bow; K -- Sandwich, Pembroke; E -- Lancaster, Dummer, Northumberland; G-Jaffrey, Keene, Dublin, Stoddard. Company E-I was peculiar in being drawn from twenty towns, and in containing twelve pairs of brothers. The men were enlisted mostly in the month of August, many of them expecting to enter earlier regiments. They rendezvoused in "Camp Cheshire,'' Concord, September 19. The muster into United States service was completed September 24, but the Government recognition on dates from October 16. On entering the service the colonel was 51 years old, the lieutenant-colonel 55, the major 26, surgeon 40, chaplain 48, adjutant 30. The oldest captain was 41, the youngest 20, and the average age 27. The youngest member of the regiment was 15, and the eldest 63, both in Company F. The initial and inharmonious combination in field and staff was a misfortune which disturbed the unity and lowered the morale of the regiment through half of its existence, and only by exceptional excellence in the line and the ranks was the ultimate high standard of discipline and efficiency attained. The Fourteenth, nine hundred and sixty-seven officers and men, under Col. Robert Wilson, left the State October 18, reached Washington the 20th, and camped in shelter-tents on East Capitol hill. An immediate assignment to Grover's Independent Brigade sent the regiment into the arduous service of defending the Potomac, above Washington, against guerrilla incursions. The brigade included the Thirty-ninth Massachusetts, Tenth Vermont, Twenty- third Maine, " Scott's 900,'' cavalry, and the Tenth Massachusetts Light Battery. At the outset the men were armed with old 54 calibre, smooth-bore, flint-lock, altered to percussion, muskets; ammunition, " buck-and-ball." These were replaced, May 3, 1863, by Springfield rifles. The picket duty of the first winter was severe enough to well season the men, and marked improvement was shown in drill. The nine months in Washington, beginning April 21, 1863, with its multifarious duties, arduous and exacting, proved to be an experience of incalculable benefit in developing this command to its noted condition of discipline and varied serviceableness. This attainment was conspicuous enough to win the personal and emphatic commendation of President Lincoln. The service in Washington was peculiarly burdensome, and the regiment was more than decimated by disease; yet, as a whole, in detachments, in details. heavy and light provost, Patrol, and guard duty, special details, staff, headquarters, and secret service, the Fourteenth had a range of experience, a "school of the soldier," such as few organizations in that war enjoyed. Early in February, 1864, the regiment was hurried to the Upper Potomac to repel guerrilla invasion. Returning to Harper's Ferry, a camp on Bolivar Heights, in shelter-tents, the ground covered with snow, and zero weather, was an experience of hardship almost unendurable. However, a transition, as startling as it was gratifying, relieved the stress of this short but sharp campaign; for the Fourteenth was ordered " home to vote," and with transportation all rail, via Washington, Concord was reached February 28, and the men got a fortnight's furlough. Many a town meeting was enlivened by the aggressive patriotism of the voters in blue. March 16 New Hampshire was again left behind, New York city being the rendezvous; thence off, in the "Daniel Webster," on a long ocean voyage, with a hurricane off Hatteras, and forebodings of foundering so realistic as to stir feelings of horror in the writer thirty years after. The battered, crowded transport crawled into Hilton Head, and the Fourteenth camped in deep sand and shelter-tents, under glorious palm trees and pitiless rain clouds. Letters home were headed "Department of the Gulf, New Orleans, April 12," and then Camp Parapet; the northern defense of the Crescent city, was held for nearly two months, with Colonel Wilson as Post commander. Steaming up the Mississippi to Morganzia, the regiment became a part of the Nineteenth Army Corps, June 8, and so continued to the end. Extreme heat and a strange climate proved sadly fatal during the stay in Louisiana. The new comprehensive strategy of Grant demanded a transfer of troops, and early in July the regiment returned to New Orleans and sailed-the right wing, under Colonel Wilson, in the "Continental," left wing, under Major Gardiner, in the " General Lyon ''- July 13, with sealed orders. The re doubtable Jubal A. Early largely shaped the subsequent career of this organization, for he was menacing Washington just as the left wing reached Fortress Monroe. The right wing, arriving previously, had been ordered to the Army of the James, where it saw fighting. The left wing was hurried up the Potomac, posted in the defenses of the Capitol, and then went to the Valley, the Nineteenth Army Corps becoming a part of Sheridan's famous Army of the Shenandoah. The two wings were re-united, near Winchester, August 18, and entered upon their sanguinary campaign solidified and disciplined to high efficiency. Severely tried, these men never faltered nor failed. Throughout the Valley campaign the regiment had but one field officer, Colonel Wilson resigning, Major Gardiner succeeded to the colonelcy early in September. The charge of the Fourteenth-holding the right of the line- at the battle of the Opequan was a remarkable performance from any standpoint of criticism. Losing one third of its number in thirty minutes, the regiment advanced persistently until all semblance of formation was destroyed ; and the scattered remnants retreated only on repeated orders. At Fisher's Hill the advance was over the most perilous ground traversed by the Nineteenth Corps, and the steadiness of the Granite State boys was highly commended. At Cedar Creek, with the enemy on three sides, in the midst of indescribable confusion, the regiment fought on both sides of its breastworks, changed fronts while almost surrounded, and formed new lines at every command. Its signal steadfastness caused the brigadier to rally his shattered brigade on the colors of the Fourteenth New Hampshire. At Deep Bottom, Winchester, Halltown, Berryville, Lock's Ford, Tom's Brook, and Strasburg, the regiment confronted the enemy, and always realized the demand of the situation. In this campaign the Fourteenth was brigaded with the Twenty-sixth Massachusetts, Ninth Connecticut, Fourteenth Maine, Twelfth Maine, Seventy-fifth New York. Colonel Gardiner was mortally wounded September 19, and was succeeded by Adjt. C. D. Wright, who was promoted to the colonelcy December 6 ; but he retained command only a short time, and was succeeded by Capt.F. L. Tolman, promoted to be major the same month. Major Tolman remained in command until Capt. O. H. Marston was commissioned lieutenant-colonel, March 24, 1865 ; and who took the regiment home. Remaining in the Valley until the end of 1864, the Second Division of the Nineteenth Corps was ordered to Savannah, via Baltimore. For some time the Fourteenth furnished the martial municipal administration of Savannah, after Sherman marched northward. During the spring months this service was the most agreeable of the war. In May the brigade marched to Augusta-the first Yankee soldiers ever seen there. This was a romantic campaign, with its thousands of rebel soldiers roaming homeward, and the "kingdom coming" to the exultant darkies. The return march was disastrous to health, and in the rice swamps of Georgia a large proportion of the men got the seeds of permanent disability. The last dress parade of the Fourteenth was made June 18; and the final review, by General Birge, occurred July 3. The discipline and morale of the command were maintained fully to the end On the 7th of July the regiment left Savannah, was mustered out at Hilton Head, and sailed in the "Constitution," July 11, for Boston,where a banquet was served in Faneuil Hall. Then to the Granite Hills and the vocations of peace. The Fourteenth had three colonels,-- Robert Wilson, Alexander Gardiner, Carroll D. Wright ; two lieutenant- colonels,--Tileston A. Barker, Oliver H. Marston ; three majors,-Samuel A. Duncan, Alexander Gardiner, Flavel L. Tolman; three adjutants, --Alexander Gardiner, Carroll D. Wright, L. Warren Wright. Several members of the regiment acquired distinction outside of the organization. Capt. S. A. Carter served honorably on the staff of Gen. E. W. Hincks; Adjt. C. D. Wright was acting assistant adjutant-general on General Birge's staff; Lieut Stark Fellows became the brilliant colonel of the Second United States Colored Troops; Maj. S. A. Duncan passed "No. 1 in class 1," and got a colonelcy in the United States Colored Troops, coming out of the war brevet major-general of volunteers. This regiment was peculiarly fortunate in its recruits, many of them proving equal to the best of the original material. While in Augusta the Fourteenth had in custody, for one day, Jeff Davis, just captured by Wilson's cavalry. The colors of the Fourteenth were waved over Sumter by the writer of this sketch when Anderson raised again the flag he hauled down four years before. The regiment made four sea voyages, traveled fifteen thousand miles, and served in seven states of the Confederacy. Attached to Grover's Independent Brigade, Corps of Observation on the Upper Potomac, Defenses of Washington, October 21, 1862; Twenty-second Army Corps, Military District of Washington, April 22, 1863; Third Brigade, Third Division, Sixth Army Corps, February 9, 1864; at Washington, D. C., February 25 to March 1,1864; en route to New Orleans, La., March I to April 12, 1864; at Camp Parapet, District of Carrollton, Department of the Gulf, April 13 to June 7, 1864; attached to Second Brigade, Second Division, Nineteenth Army Corps, June 7, 1864; First Brigade, Second Division, Nineteenth Army Corps, June 26, 1864;in District of Savannah, Department of the South, January 17 to July 8,1865. E N G A G E M E N T S . Deep Bottom, Va. (Right Wing, Cos. A, B, C, D, H I) ..............................................July 27, 28,1864 Winchester, Va. (Left Wing, Cos. E, F, G, K) .................................................Aug. 17, 1864 Halltown, Va. .................................................Aug. 26, 1864 Berryville, Va. .................................................Sept. 3, 1864 Lock's Ford, Va. ................................................Sept. 13, 1864 Opequan (or Winchester), Va. ................................................Sept. 19, 1864 Fisher's Hill, Va. ...............................................Sept. 22., 1864 Tom's Brook, Va. ..................................................Oct. 9, 1864 Reconnoissance to Strasburg, Va. .................................................Oct. 13, 1864 Cedar Creek, Va. .................................................Oct. 19, 1864 Source: New Hampshire Soldiers & Sailors War of the Rebellion, Ayling

Qumg src="http://caldwellandcompany.net/tc nh belt 3.jpg"> 2. Here we have a belt with puppy paw US belt plate and cap box. The leather is still soft overall but could use some leather preservative as it is dry in spots. The puppy paw plate has a leather piece glued to the back of it with the name BOYD & SONS BOSTON stamped in it. Some of the letters are worn but you can see BOYD & SO- and BO----. You can see a like example on page 303 Plate 485 of AMERICAN MILITARY BELT PLATES by O'Donnell and Campbell. This belt plate was produced ca. 1855-1861. The belt has a single hole for the tongue to pass through and you can see indentations in the leather where the puppy paws were against the belt. The cap box is complete however the closure is torn through on one side but not the other. The box exhibits full wool and still has the nipple pick! The belt also still has the leather keeper for the tail end of the belt. Nice!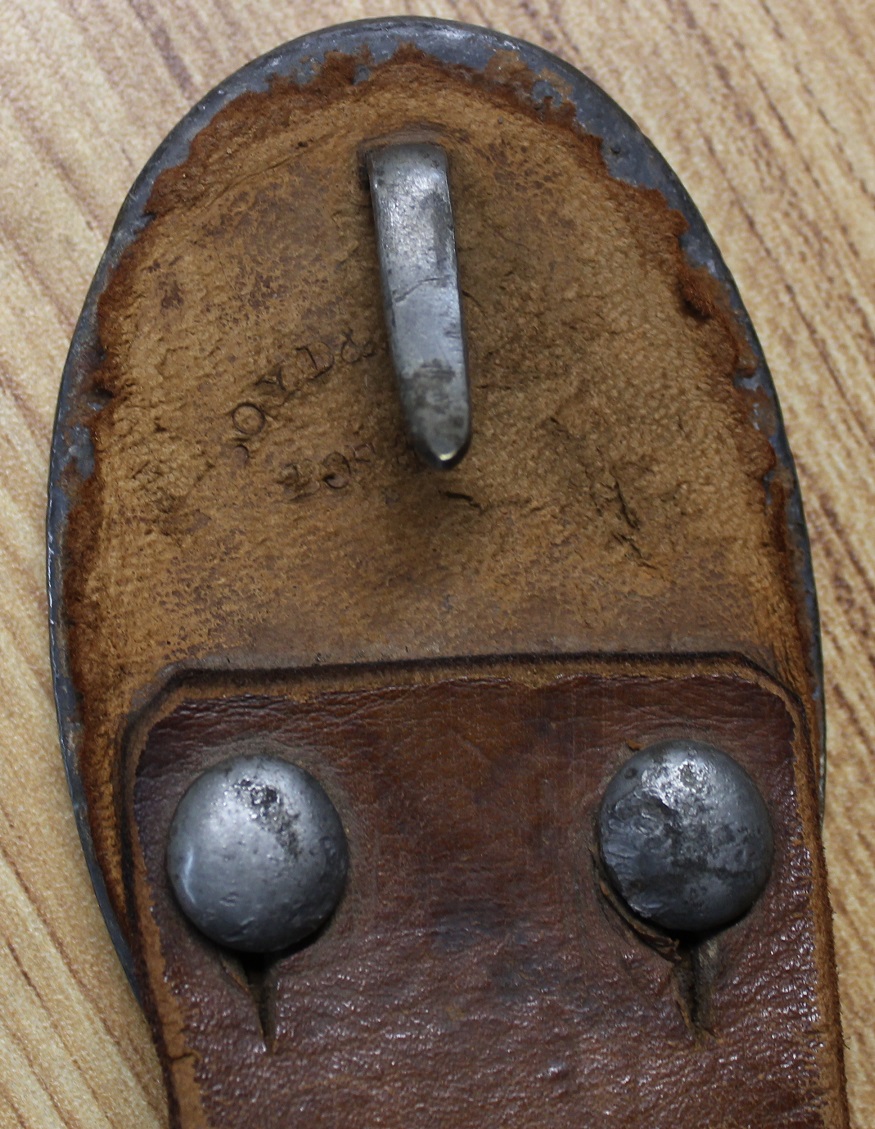 3. The final piece is a small 1865 dated Song Book that has several patriotic songs in it. I believe the leather cover has been replaced at some time. This book was carried for awhile! 69 pages of song after song!!! This little book is about 2 by little over 3 inches in size.
Nice grouping!!! $1150.00 for all.

New Arrivals 313

Here we have a small metal canteen with an original Civil War canteen stopper/cork in it. This little canteen came from another NH Gentleman and cannot be attributed to the previous items. This canteen is most likely a GAR or UCV reunion canteen and measures about 3 ½ inches across from side to side being painted green which is now quite dull. Take a look at the pics!!! $45.00 •
•
•

New Arrivals 312

Here's a very unique item that we just picked up. This item came from Arkansas but unfortunately no history accompanies it. This is the type of Civil War Veterans Amputee crutch/prosthesis that were worn by many, many veterans after the Civil War. The wounds were horrific and the easiest way to take care of them was just to amputate the limb. This particular crutch was made for an amputation just above the knee. This piece is made of walnut, I believe, and shows a bit of use. Where it is black is the original old patina and where it is wood grain is where the old vet would handle it. If this piece is commercially made I can find no makers marks. The pics can describe it much better than my poor attempts to do so. There are two brass strips on either side of the yoke for strength. The peg leg end is held together from splitting with an iron ring about 2 inches long tipped with an old formula of red rubber which exhibits much use. There is a piece of padded leather in the yoke on which to rest the stump. This entire piece is about 40 inches long and over 6 inches wide. This piece was made for a right leg amputation as there is wehre the notches for the straps flare out so that this individual could tighten the straps by himself. There are a few age cracks but surface only . A very unique piece and probably one of a kind! I have included a couple of pics showing a similiar crutch used in the Civil War by a soldier wounded at Hatcher's Run. This information is from page 249 of Warman's Civil War Collectibles Identification and Price Guide by John F. Graf. This particuliar guide was printed in 2006. Check out the pics!!! $650.00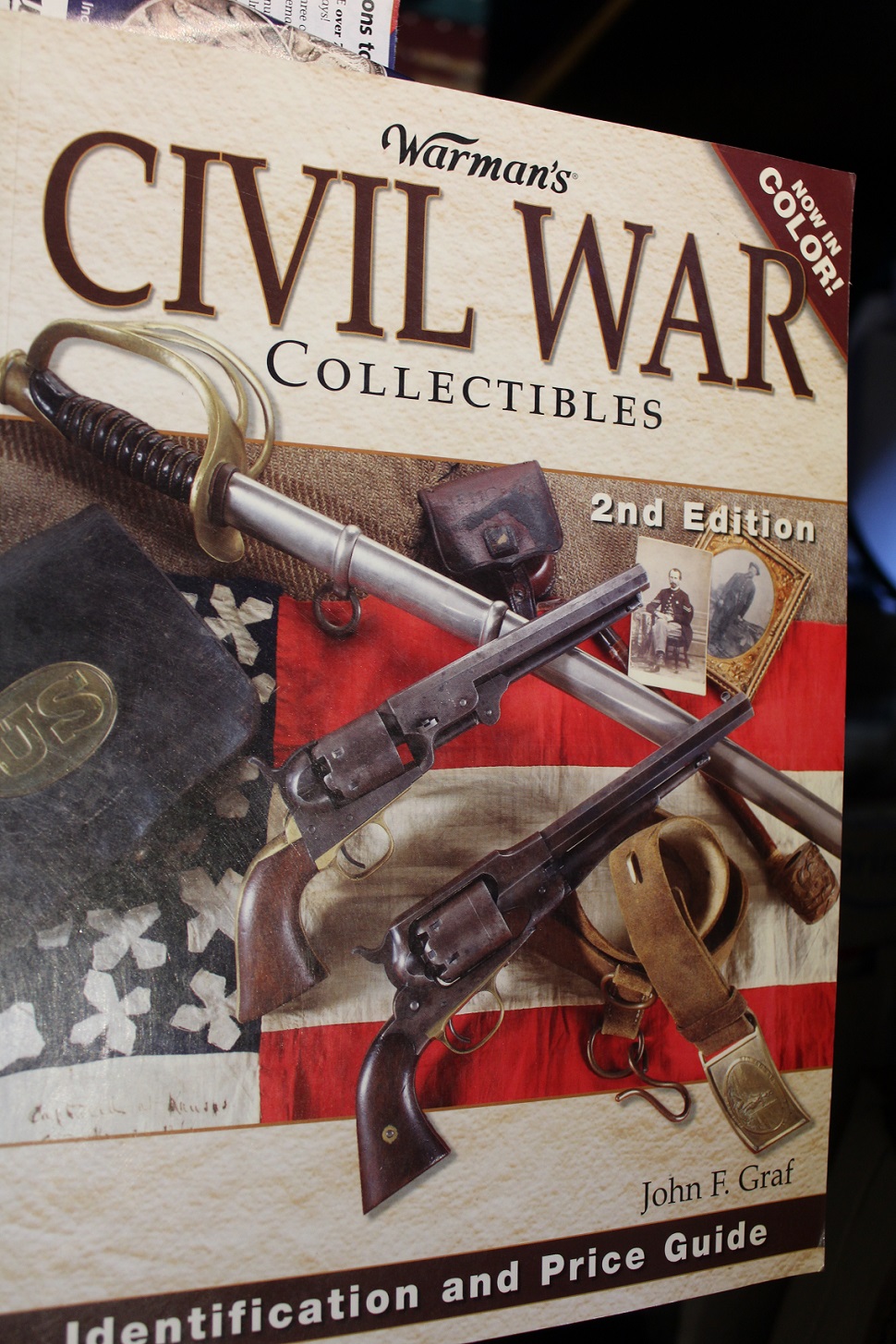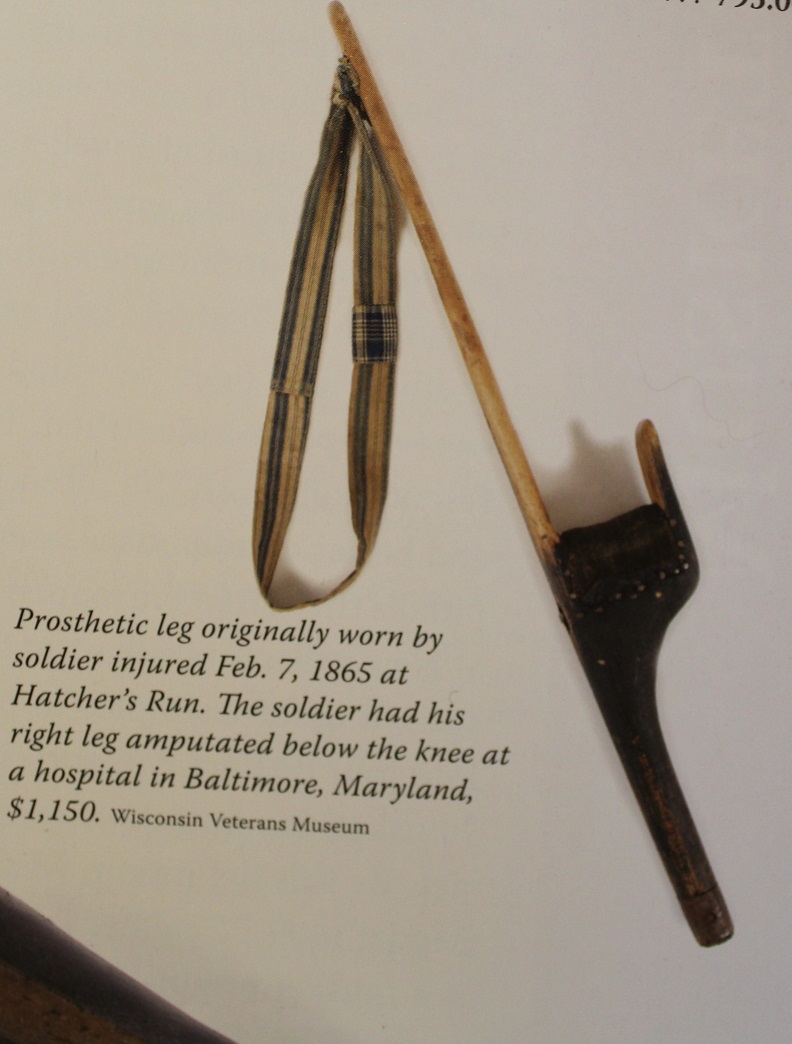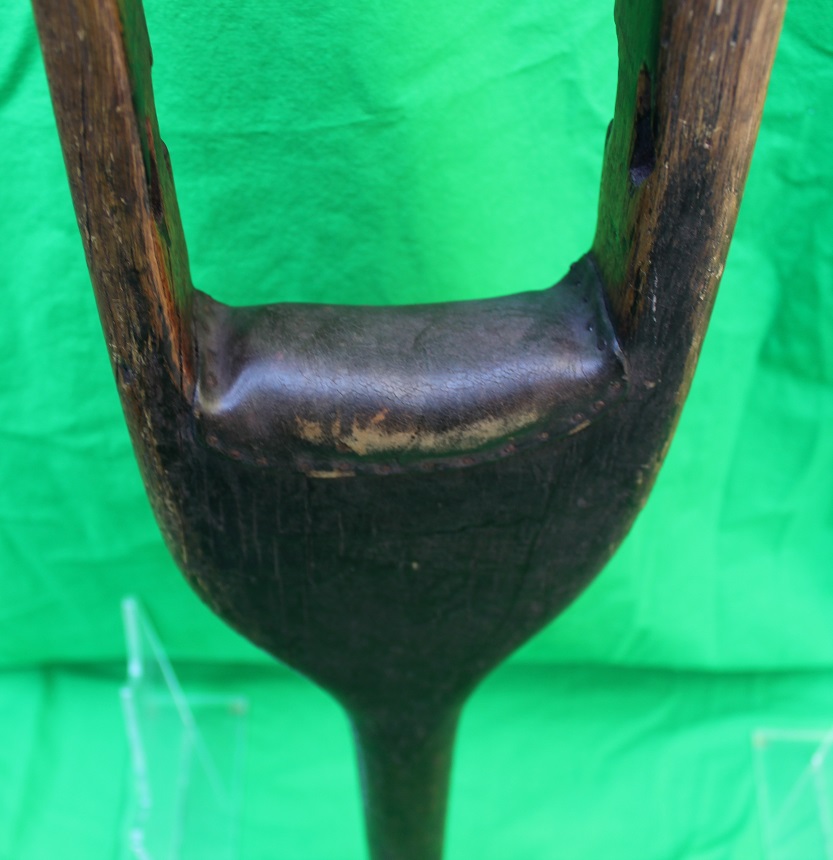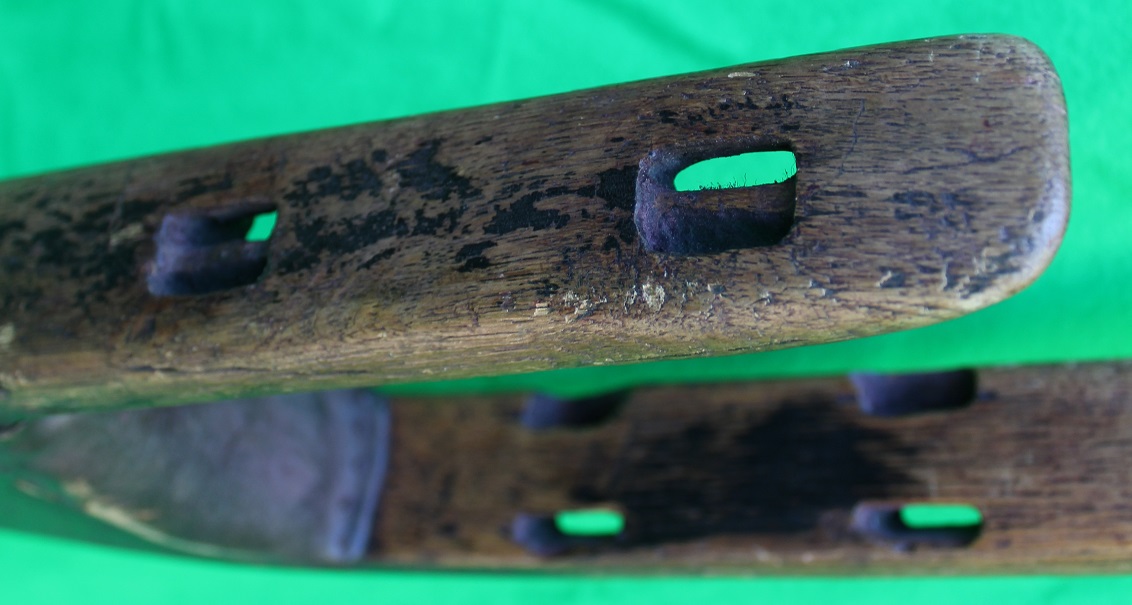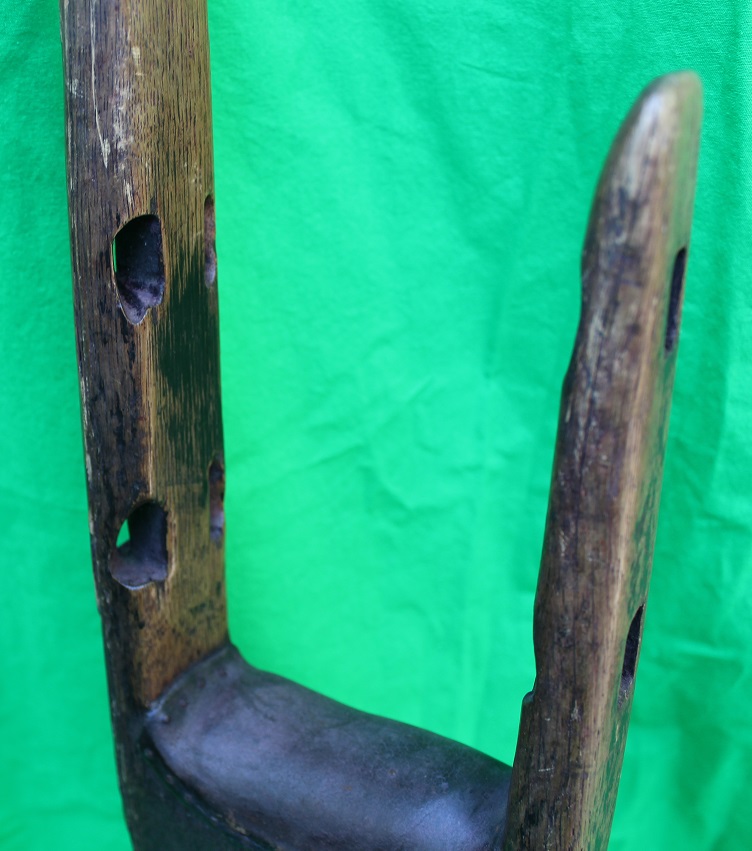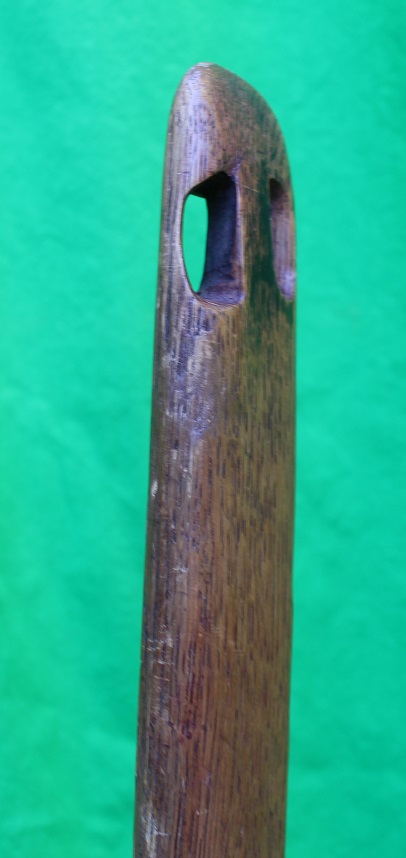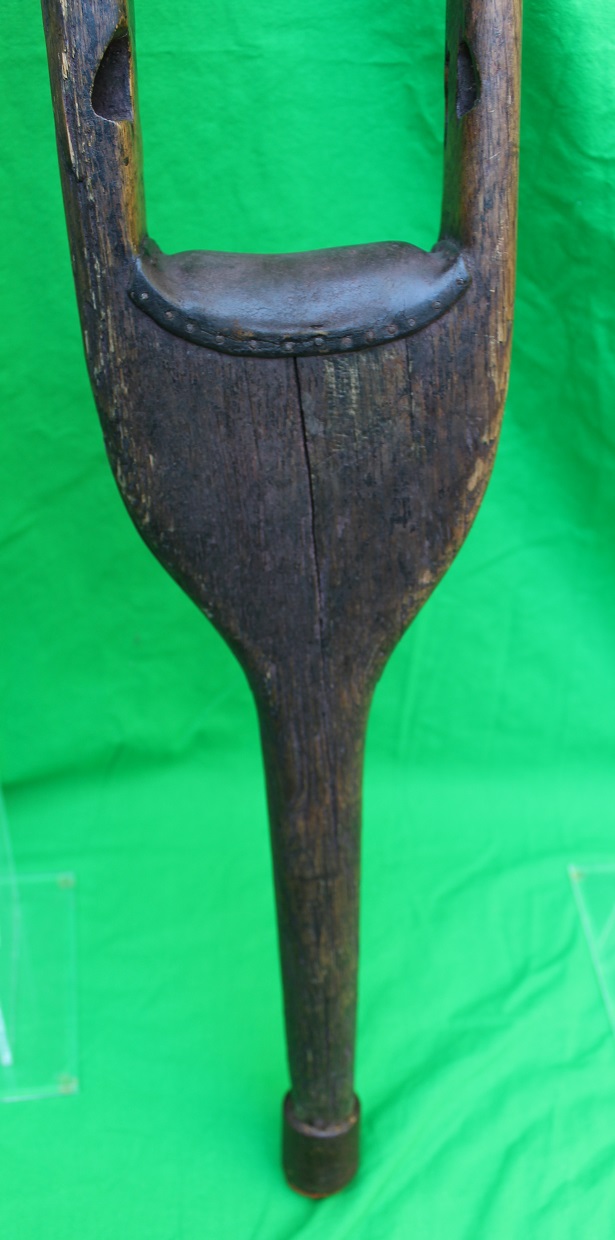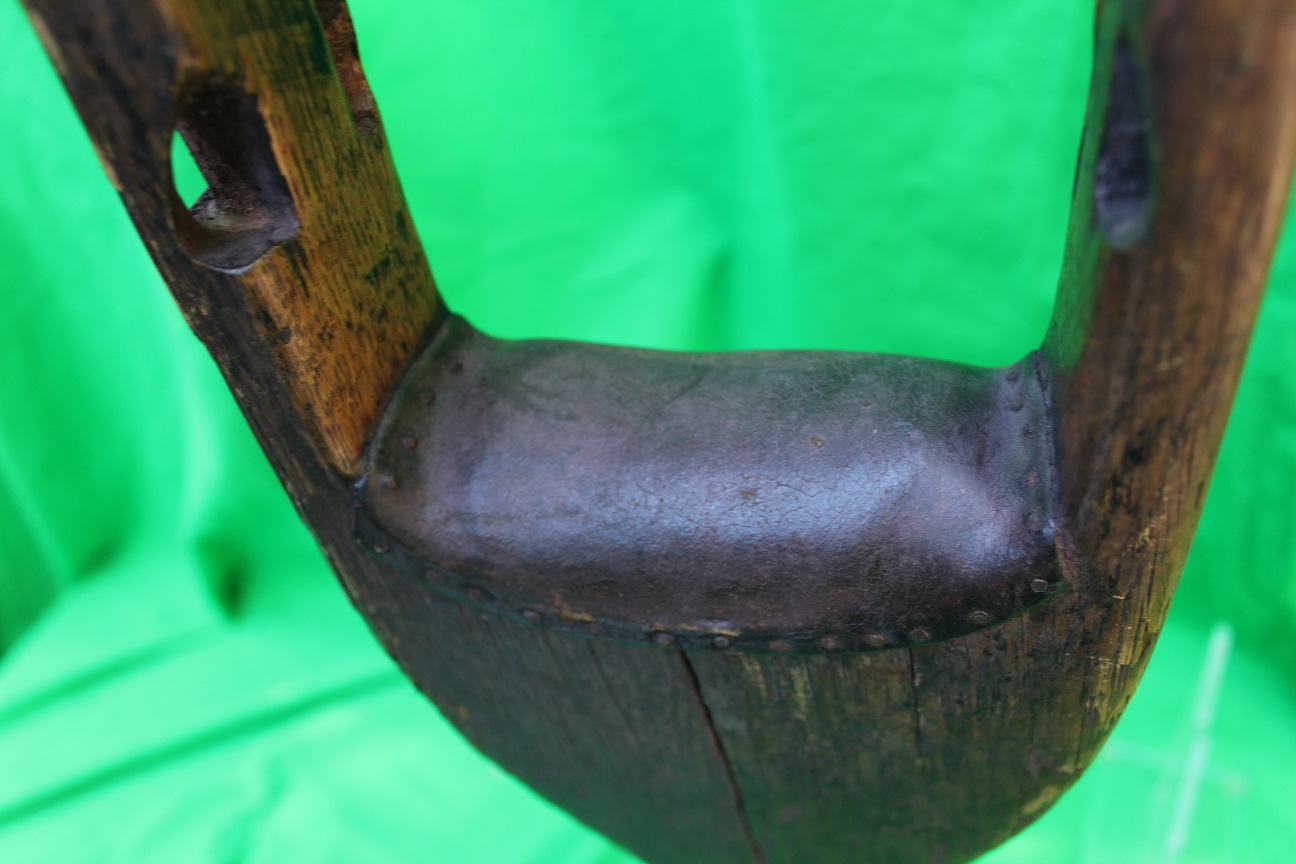 New Arrivals 311

We have came onto several brass shotgun shells. Most are old/antique and would look good on display with those old rabbit eared Cowboy shotguns from the late 1800's!!.

This first pair is marked CBC S.Paulo which is Companhia Brasileira de Cartuchos (CBC) is a company in Sao Paulo, Brazil that manufacturers and distributes Magtech, Sellier & Bellot and MEN ammunition. Since 1926, CBC has manufactured its own components, bringing their customers full quality control over every stage of the manufacturing process as well as the final product. Their goal is to market the best ammunition in the industry. These are new unused fully loaded 12 ga shotgun shells. For the pair $5.00
This next bunch is empty with mixed makers including Winchester and Remington UMC. In 1912, Remington and Union Metallic Cartridge Company were combined into a single entity, called Remington UMC. In the early 21st century, Remington still produces U.M.C. brand ammunition. In 1915, the plant at Ilion was expanded, and with this expansion became basically the same plant as today. I believe these shotgun cartridges to be fairly early. Most of the shells are 12 ga but I just saw a 16 ga Winchester, a 10 ga UMC (not Remington made) 10 ga WRA RIVAL, two plated shells and one I cleaned so you could see how nice they look cleaned. $5 each on these.
Here's another bunch of empty brass shells and all are marked and uncleaned or lightly cleaned. These are all USC. CO. No 12 CLIMAX brass shot shells! They are all 12 ga and all in pretty good condition just needing a good cleaning or leave them like this for display. Each $5.00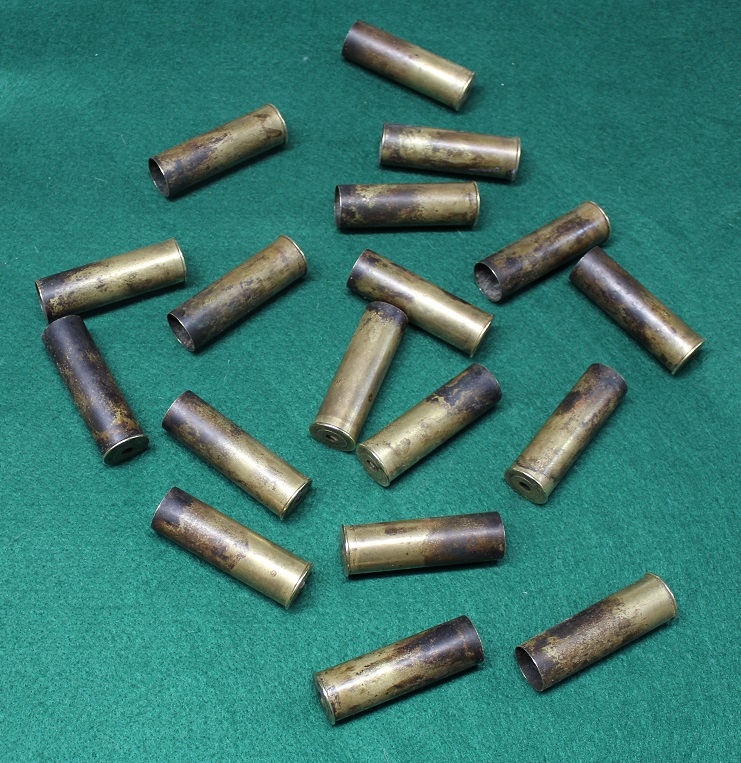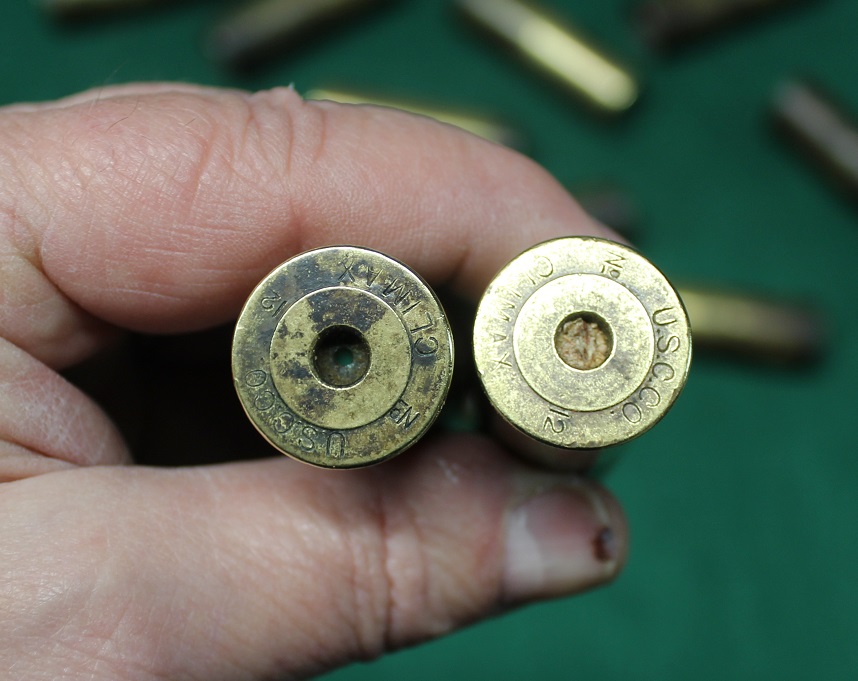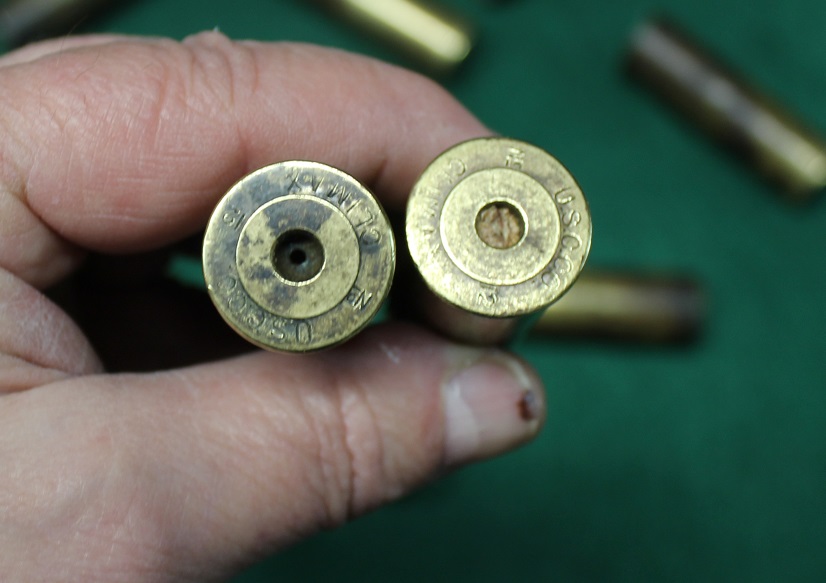 This last bunch of shells are all loaded and uncleaned. We have a Winchester No. 20 & 16, Rem UMC No. 16's and Winchester No. 12's plated. Some are full with plug and some are partially loaded with plug. Each $10.00
Consignment New Arrivals 310

Here we have an old set of 1870-1880 Medical Saddle bags in relic condition. They were found in a barn and this is what's left. There are 3 bottles left in the divider on one side with an open bag on the other side. These are constructed exactly like the Civil War medical bags but with split rivits instead of solid rivits and burrs of the Civil War. Take a look. What you see is what you get! No markings that I see on these old saddlebags. As is $65.00
Consignment New Arrivals 309

Need your help on this one! This is a military holster by design but I cannot find another one like it for comparison. The holster is a short flap over holster measuring about 6 ¾ inches long by nearly 6 inches across at the top. There is a pouch inside for an extra magazine of the single stack variety. The back has a single belt loop and double rings for an over the shoulder strap. This holster is in great condition and the leather is still quite pliable. There are no markings on this holster. The flap button closure is missing. Let me know what it is if you know and I'll get a price. Check out the pics!
Consignment New Arrivals 308

Here's another that we need your help on! This is a leather double magazine pouch for long sten type magazines. This one has been in storage for awhile as the leather is stiff. The pouch measures about 9 inches long by 4 ½ inches wide. One of the closures is missing the brass stud. The leather has been painted olive green and I believe that paint to be original. I believe that the leather belt loop is a replacement as you can see where other attachment points were at one time. No marks on this one either. Check out the pics. If you know what it is I will list it. Thanks!
Consignment New Arrivals 307

Here is a large handmade holster that fits a Single Action Army with 6 inch barrel or other large frame revolver. It's seen better days but that it is still here is a miracle in itself! The leather is extremely pliable and the closer is the snap type so I think that it's at least turn of the 20th century or newer. The belt loop on the back is broken but still there. It's a great companion piece in a display! $45.00
Consignment New Arrivals 305

Here is a item that I usually don't put in this space however this is a Historic Study that I feel belongs here.

This is a book entitled A HISTORY OF FREEMASONRY AMONG NEGROES IN AMERICA by Harry E. Davis, 1946, FIRST EDITION. United Supreme Council, Ancient & Accepted Scottish Rite of Freemasonry [1946], 1946. First edition. Hardcover. Good. 334 pages no illustrations. Brown cloth with lettering in gold on the front board and spine. Lacks the dust jacket. A study of freemasony among Americans of African descent beginning with Prince Hall in the 18th century and continuing through the 19th century. Good with mild bumps and some discoloration to the covers. Binding is tight. No torn pages. Nice! $165.00
Items 242 and 243 New Arrivals

Here we have an old leather shot pouch and an antler power flash pan measurer. The old leather pouch is for a shotgun as it has lead shot in it. Take a look at the pics. The leather is in great condition and the flask has a wooden stopper. I believe this piece to be handmade and very old. The pouch measures 6 ½ inches long to the stopper and 2 ¾ inches wide. For this old handmade pouch $45.00

The antler powder measure is over 3 inches long with a little string attached to it. This little pan measure was probably tied to a possibles bag or powder horn. This would have been used with a flintlock musket or shotgun more than likely. $25.00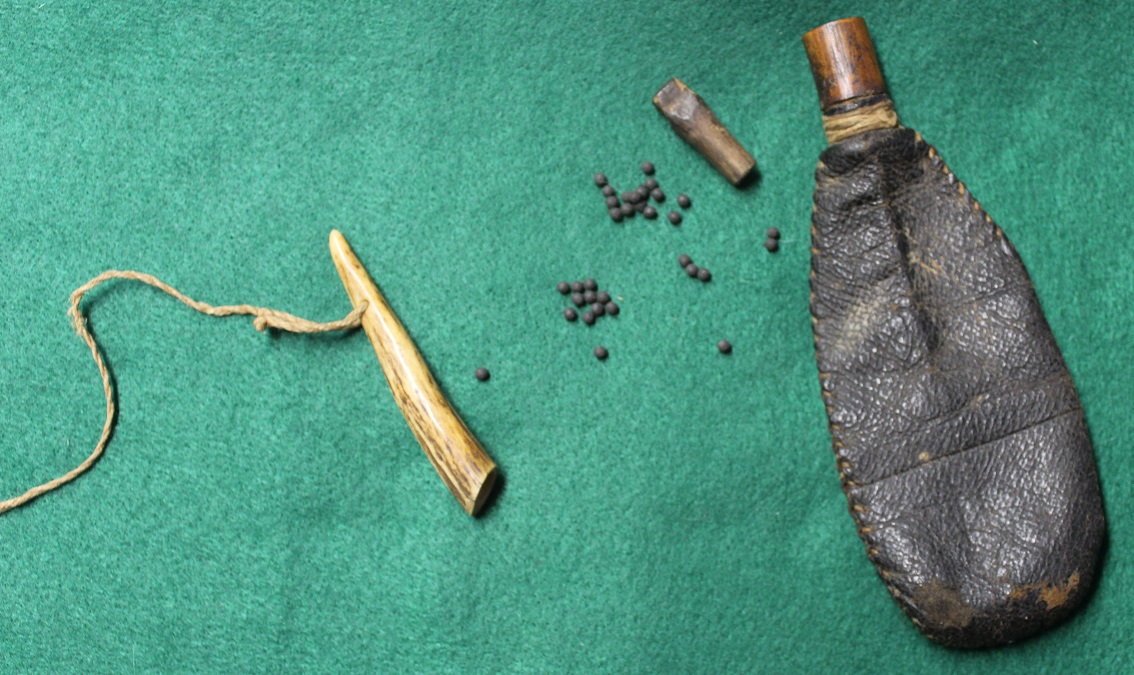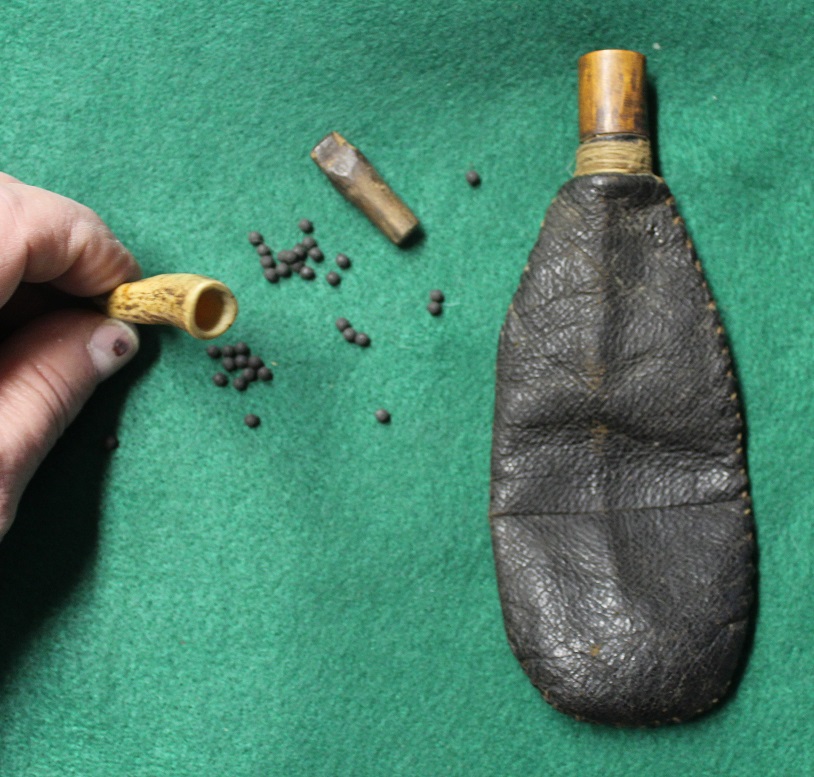 tem 241 New Arrivals

Here we have some old hand loader tools! These tools are for removing (wooden handle tool) and loading (iron handle tool) the center caps into the shotgun shells and for loading powder and shot in them as well. The old shot and powder measure may belong to this set as well. When we got this set there were several old brass shells in the box. Take a look at the pics! $55.00
tem 240 New Arrivals

Here is an old tin of center fire shotgun caps. The label has on it 100 FOIL LINED NO. 11 CENTER FIRE. Also it is marked Winchester Repeating Arms! I don't know if there is 100 in here but there is plenty! For the tin $15.00
Item 239 New Arrivals

Here we have an old shot and powder measure! The bottom is marked BGI Co Pat. Nov 23, 86 (1886) It is in very nice condition for the age and still adjusts to whatever you need. Has a nice little hardwood handle as well! $25.00
Item 237 and 238 New Arrivals

Here we have two hand held round bullet molds. They both appear to be .28 caliber and both are iron. On the left is a single cavity scissors mold and has a sprue cutter between the handles. Also the marking 180 is there. Don't know what that is suppose to indicate. The mold operates freely and has a great old attic patina to it! $30.00

This other mold is a little heavier but has no sprue cutter. It also is iron and operates freely. No markings on this one. $30.00 Check out the pics!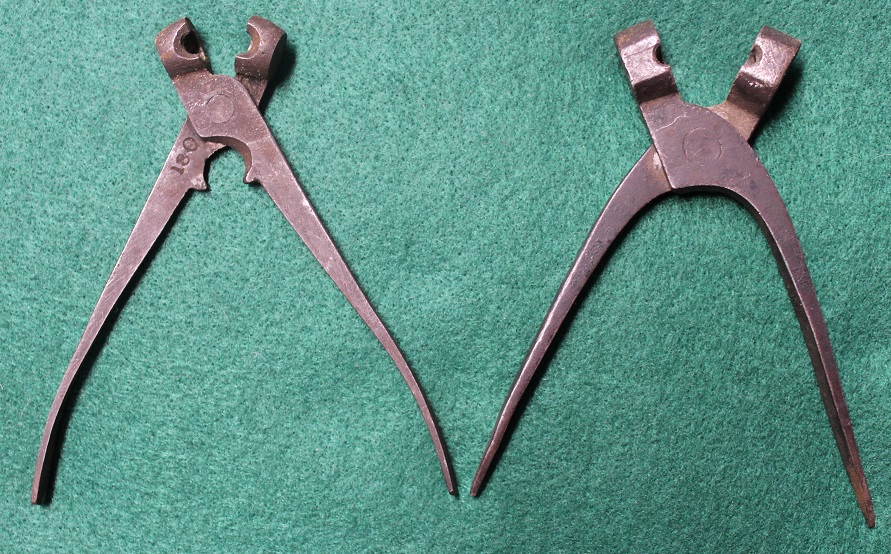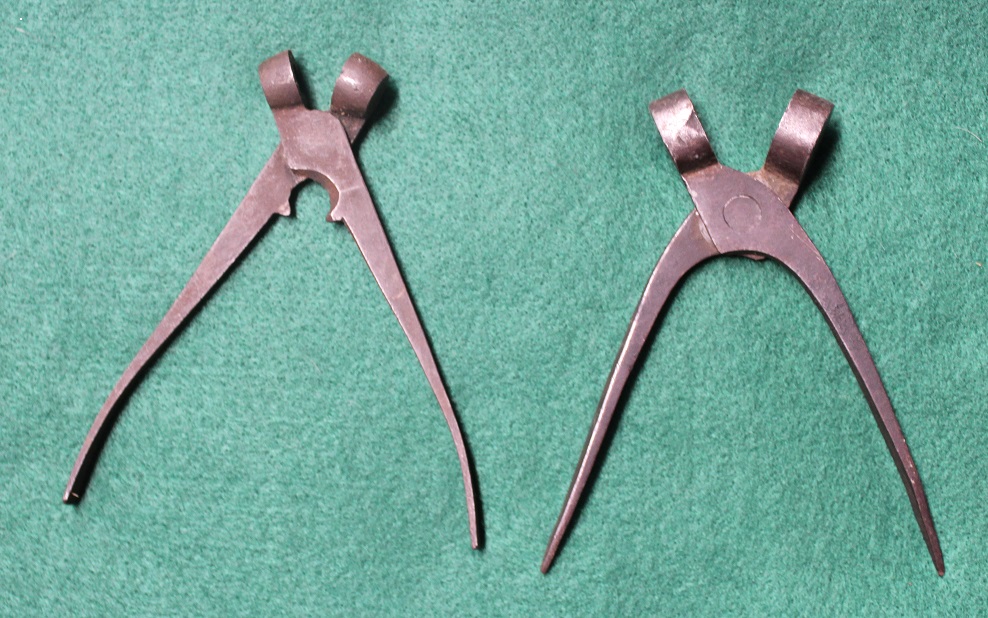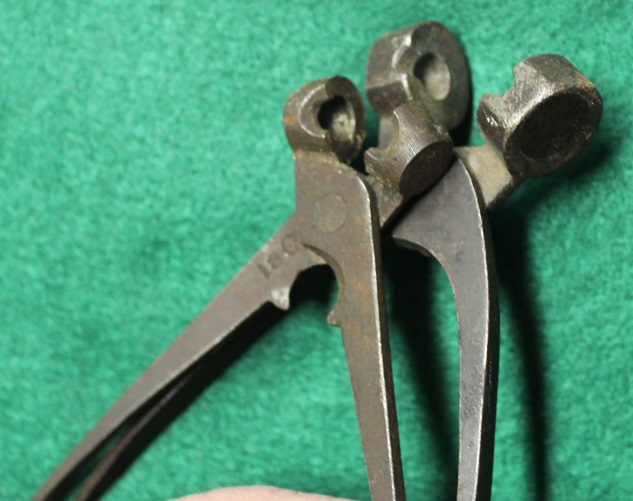 Consignment 236

Here we have a Civil War era WADE & BUTCHER – SHEFFIELD straight razor and case. This is the CELEBRATED HOLLOW GROUND RAZOR and comes in the original leather covered pasteboard container. The grips on this old razor are horn and there are no breaks or cracks. Nice! Good for a Civil War Display! $65.00
Consignment 235

Here's an old floral holster that we believe is for the 1849 Colt Pocket .31 caliber model Revolver. This thing is really ornate! I don't believe I would try to force a revolver in it but it would look great in a display! The flap has been reinforced and resewn on the back but its there and pretty solid. There was a piece of leather, now lacking, that went horizontally across the front for the flap tab to slip down into. This holster even has the plug still in it at the bottom. I believe it accommodated a 6 inch barrel. Probably fit other single action small revolvers of the time as well. For this piece $165.00
Consignment…232

Here we have a small spike ax. I wasn't sure about this one but I showed it to a dealer who has had this type of small spike ax before and he believes that it is correct due to it's construction and patina. It's over 8 ¼ inches long with the spike being half the length of the piece. This spike is hand forged into the ax head and not welded. Forging hammer marks abound on this piece and the spike is the same patina as the ax. There is a small piece of wood handle remaining. The Ax is 2 ½ inches wide at the widest point which is the bit or blade. There are a couple of chips out of the blade. This ax came in with the one below. For ths piece $275.00
Consignment 231

Here we have a small polled ax. This small hand ax is about 5 ½ inches long and 1 ¾ inches wide at the widest point which is the bit or blade. There is a substantial chip out of the blade and the poll is beat down some but what a nice 1800's ax. It may be around the 1860's and was probably a pioneer small hand ax but could have been used by a native american. We don't have any history on this piece. Take a look at the pics! Nice!!! $325.00
New Arrivals Consignment 229

Here we have two GREAT Knives! These were personally given to my consignor by Col. Rex Applegate! Following info courtest of wikipedia.

Rex Applegate (June 21, 1914 – July 14, 1998) was an American military officer who worked for the Office of Strategic Services, where he trained Allied special forces personnel in close-quarters combat during World War II. He held the rank of colonel. Applegate was born on June 21, 1914, in Oregon. He was a descendant of Charles Applegate, who blazed the Oregon Trail in 1843 with his brothers Jesse and Lindsay and established the Applegate Trail. Applegate began hunting and shooting at a young age and learned marksmanship from his uncle Gus Peret who was a famed exhibition shooter and professional hunter at the time. Applegate graduated from the University of Oregon with a Business Degree in 1940 and went on to take a commission in the US Army as a Second Lieutenant. His first billet was with the 209th Military Police Company as a lung ailment kept him from holding a combat position. In 1941 Applegate was developing armed and unarmed close quarter combat courses for the US Army when he was recruited by Wild Bill Donovan for the OSS, specifically to build and run what was called "The School for Spies and Assassins", the location of which is now Camp David. Donovan had Applegate learn all that he could about armed and unarmed fighting from William E. Fairbairn to form a brutal and effective system. He was the close-combat coordinator for all clandestine missions and this role brought him into contact with other fighters and martial artists of the time period such as a Finnish soldier who killed 21 Russians with a knife and the founder of the British SAS: David Stirling. At one point during the war, he served as the personal bodyguard to President Franklin D Roosevelt. After the close of World War II, Applegate spent the next 15 years as an advisor to the government of Mexico who made him an "Honorary General". Applegate was friends with actor John Wayne and in addition to teaching Wayne how to shoot, Applegate served as a technical advisor on the set of The Alamo. Applegate was said to be the source and inspiration for several of Ian Fleming's characters in the James Bond novels. When not traveling to promote his pistol-shooting methods, Applegate spent his last years at the Applegate House in Yoncalla, Oregon and at his home in Scottsburg, Oregon. Rex Applegate's daughter, historian Shannon Applegate, who writes and lectures on Oregon and the Applegate family history, lives in the adjacent homestead. Granddaughter, Jessica Applegate Brown, owns and manages Applegate House Vineyards, an organic vineyard on the historic Applegate House property.

In 1943 he wrote Kill or Get Killed, which is still considered a classic manual of Western-style hand-to-hand combat. The updated 1976 edition of Kill or Get Killed was published by the US Marine Corps as Fleet Marine Force Reference Publication 12-80. From the foreword: Fleet Marine Force Reference Publication (FMFRP) 12-80, Kill or Get Killed, is published to ensure the retention and dissemination of useful information which is not intended to become doctrine or to be published in Fleet Marine Force manuals.

This reference publication was written in 1976 by Lieutenant Colonel Rex Applegate, USA (Ret), with the help of the Combat Section, Military Intelligence Training Center, Camp Ritchie, Maryland. At last there is one volume which speaks to the subjects of unarmed combat (offensive and defensive), combat use of weapons, disarming the enemy, handling of prisoners, the handle of mob/crowd disobedience, the use of chemicals in such situations, and how to establish a professional riot control unit.

Applegate developed the techniques outlined in the book during his work with William E. Fairbairn, who had previously developed his own techniques while working for the Shanghai Municipal Police from 1907 to 1940. Fairbairn drew heavily on Chinese martial arts, which he simplified and tailored to the needs of police training in one of the world's most crime-ridden cities, due to its history of crime related to the opium trade, the rebellion, and the activities of Triad gangsters. His result was the development of Defendu, widely considered the first of what became known as modern combatives.[5] Applegate's techniques are heavily based on Fairbairn's Defendu, enhanced with feedback from the OSS operatives who put his techniques into action during World War II.

Applegate was a proponent of the combat pistol shooting system outlined in Kill or Get Killed, which is based on point shooting with a strong emphasis on training for close-range, fast-response shooting. This system is somewhat at odds with another prominent system (developed and promoted by Jeff Cooper) called the modern technique. Both systems have many supporters, with variants of Cooper's system being more commonly used. Supporters of Cooper's methods point to the near-universal use of his system in the International Practical Shooting Confederation and other forms of action shooting, while Applegate's supporters point to police incidents where officers trained in Cooper's methods discharge many rounds at close range (most measured in tens of feet (3 m) or less) with few (if any) disabling hits. The last years of Applegate's life were spent promoting his combat-pistol-shooting methods to police agencies. Applegate co-wrote The Close-Combat Files of Colonel Rex Applegate (with Chuck Melson), and was a founding member of the International Close Combat Instructors Association. In the early 1980s, Applegate released a design called the Applegate-Fairbairn fighting knife (a modified version of the World War II Fairbairn-Sykes knife). The new knife's design was a collaborative effort by Applegate and Fairbairn during World War II, eliminating the major weaknesses of the F-S knife (among them a weak blade point and the impossibility of determining the blade's orientation by grip alone). Boker Knives offers several versions of the A-F knife. Gerber Legendary Blades produced a line of folding knives by Applegate and Bill Harsey, Jr. based on the Applegate-Fairbairn fighting knife.

In the late 1980s Applegate released a modified version of Fairbairn's Smatchet, which had been used by the SAS and OSS during World War II. The development of this weapon began as a collaborative effort between Applegate and Fairbairn during the war. Applegate named his 10-inch (25 cm) double-edged knife the "Applegate-Fairbairn Combat Smatchet"; it was initially offered as a handmade knife by Bill Harsey, Jr., and later by Wells Creek Gun and Knife Works, and after that by Al Mar Knives. Following Mar's death, Boker Knives was licensed to produce it. Applegate later had Harsey design a "Mini-Smatchet" (with a 4.75-inch (12.1 cm) blade) which was produced by Boker.

Applegate was inducted into the Blade Magazine Cutlery Hall of Fame at the 1994 Blade Show in Atlanta, Georgia in recognition of the impact his designs have made upon the cutlery industry and for his writings on knife fighting.

Now on to the knives! This first one is the Smatchet and is in unusued , unsharpened condition! This is number 4 or 10 made for SOLDIER OF FORTUNE 15'TH ANNIVERSARY which was in made in 1990 as Soldier of Fortune Magazine started printing in 1975 and finished with their last issue in April of 2016. Take a look at the pics. This is the Wells Creek Model made in Scottsburg, Oregon. Rex Applegate and W.E.Fairbairn are engraved on the overserse of the blade ricasso. This is one fantastic knife! Again, this piece was personally handed to my consignor by Col. Applegate!! For this great knife $950.00 and I bet you cannot find another of the 10 made for SOLDIER OF FORTUNE anywhere on the web for sale! Take a look at these pics!
This next knife is the Applegate-Fairbairn fighting knife previously mentioned and this great unusued, unsharped knife was made by William Harsey Jr. and so etched into the blade! This knife is one of the original 150 made and is serial numbered 1116 and since the serial numbers started at 1000 then this one is number 116! This knife is in excellent condition and only has wear from pulling in and out of the sheath. This knife has never been sharpened!! This knifes are reproduced but this one is one of the ORIGINAL 150 !!! You may never find another for sale. This knife was also personally given to my consignor who was a long time friend of Col. Applegate and traded guns and knifes with him regularily! For this wonderful original fighting knife $600.00 !! Look at the pics!!!
NEW AND HOT OFF THE PRESSES !!!!

Here we have the 2nd Edition of CIVIL WAR HARD IMAGES Volume 2- UNION by Ben L. Pauley and Christopher Anderson with Foreword by Ted Caldwell (yours truly!) I was thrilled to be asked to write the foreword for this truly fascinating research book by these two fine young men! This book is an extensive study of the photographs within. All are hard images and teaches us how to grade them with each image study getting an Image score. The vast array of different images is outstanding showing different types of Union uniforms, accoutrements and weapons! The authors went to painstaking efforts to identify the many different weapons shown in these images. The book is in large format being hardbound with dust jacket and utilizing 215 glossy pages with color photographs! The many photographs are enlarged to show details. This is the companion book to their first edition entitled CIVIL WAR HARD IMAGES Volume 1-CONFEDERATE. These Volumes are truly outstanding and definitely belong in every Civil War Collectors or Student's Library! $65.00 each volume!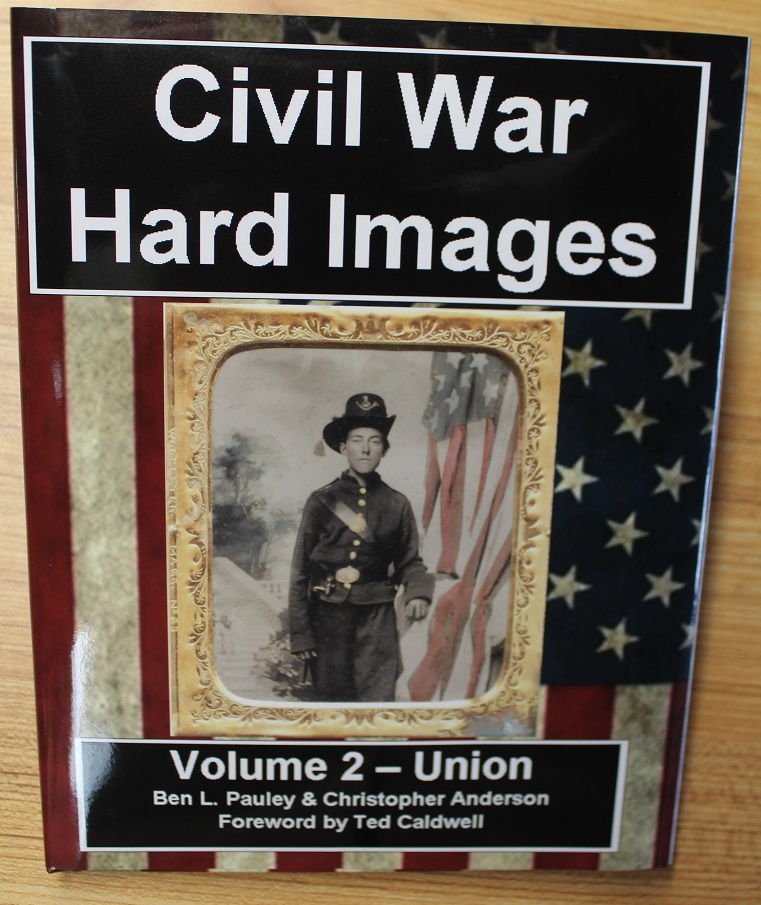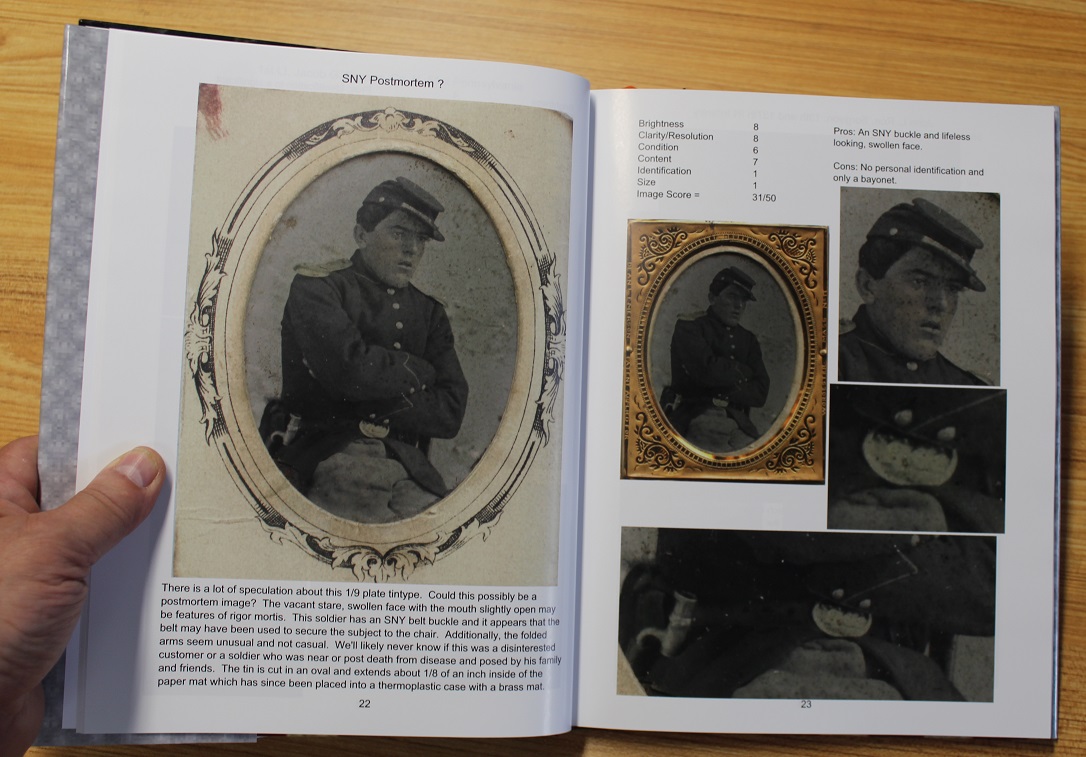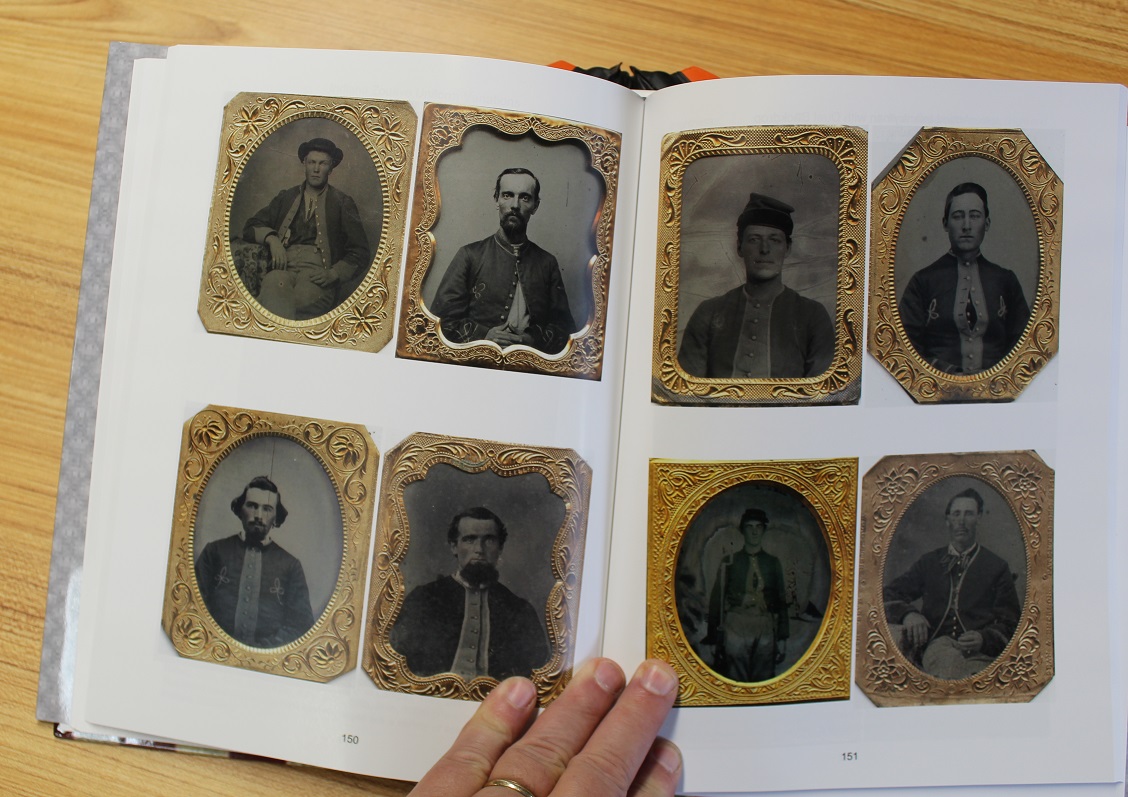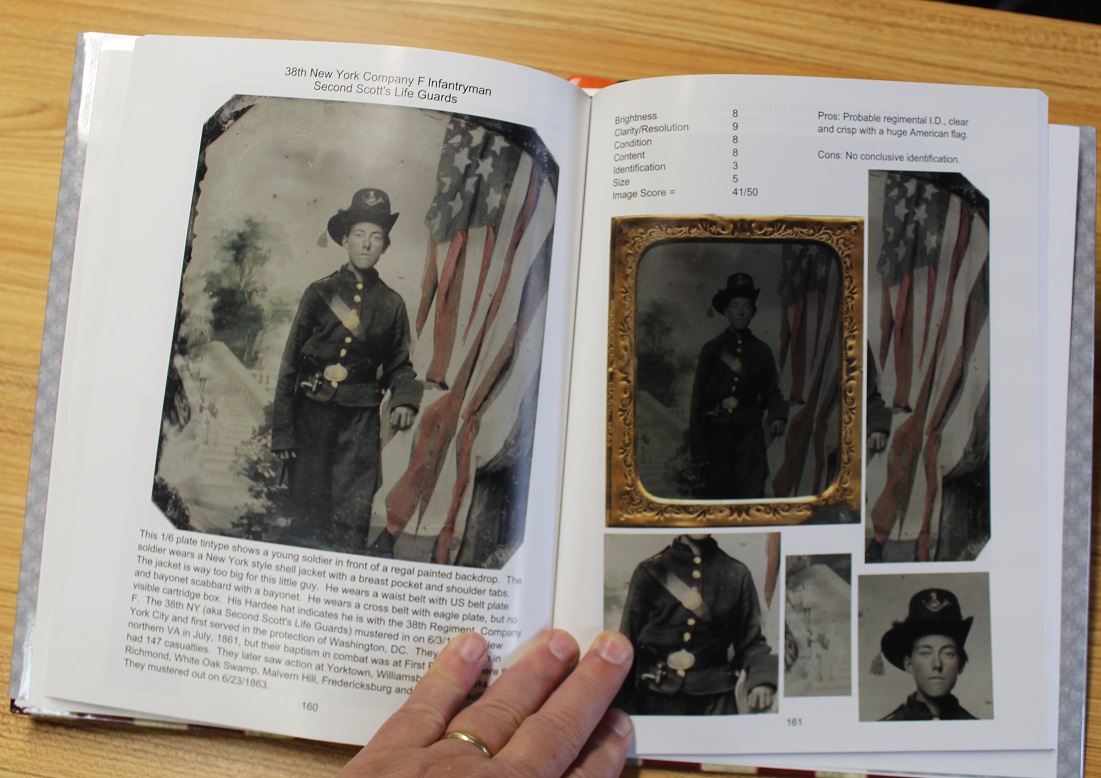 Consignment New Arrivals…228

Here we have a large 45 Star Flag! This flag measures about 9' 3 " X 5' so it would cover about one entire wall ! This large flag was made in the period between 1896 and 1907. The State of Utah became the 45th state in 1896. It had been attempting to gain statehood for many years, but remained a territory, primarily due to the fact that the Mormon Church and Utah authorities continued to be openly tolerant of polygamy. In 1890, Mormon Church President Wilford Woodruff published a manifesto that denounced the contract of "any marriages forbidden by the law of the land". This gave way to Utah's 1896 acceptance. Although it remained official until July 3rd, 1908, the 45 star flag generally fell out of use in 1907, when Oklahoma joined the Union. Due to the Spanish-American War (1898) and Teddy Roosevelt's famous world tour of the "White Fleet" (launched in 1907), this was an extremely patriotic era. The canton and stripes of the flag are made of wool bunting that has been pieced by machine. The stars are made of cotton and are double-appliquéd (sewn to both sides) with a zigzag machine stitch. These are configured in staggered rows of 8-7-8-7-8-7, which is typical of the 45-star count. There is a canvas binding along the hoist, with two brass grommets. There are several smaller moth holes in the wool but nothing major as to affect the strength of the flag. I could find no printing or writing on the flag anywhere so no history accompanies it other than it came from Indiana. For this old piece of history $495.00

Check out the pics!!!
Consignment

New Arrivals 218

Here we have a 19th/20th century English Court or Diplomat sword in partial sheath. Brian Garvin shared this info about these type swords.

"An International Diplomat is someone who has been appointed to represent a particular government and who has relations with people from other governments, sort of like a Liaison. Diplomats that reside and represent nations all over the world have used the Sword as part of their formal attire. Swords that were used by Military Troops have always been regulated, this you'd only see them using a particular type of Sword. However Ambassadors have a lot of latitude regarding the type of sword they carry, so you could end up seeing them one of many variations of this Battle Weapon. American Diplomats started using Swords around the 1800's. These were generally Short in length and the blade was typically anywhere from 36-38 inches. Around the 1850's the American Diplomats used to carry a Sword with a straight blade that was tapered on each side and had a fine point on the end of it.".

This particular sword is in the English pattern and is quite lovely. It has a gold gilt grip and knuckbow/guard and even the 6 sided blade has gold gilt on it and a blued panel on either side typical of what the Americans carried. I can see no makers marks on it anywhere and it did come out of Central Indiana as most of my offerings do so it could well be American as the Americans copied patterns of other countries. The blade is 30 ½ inches long and is quite slender. There is staining on the last 9 inches or so of the blade but stable at this time. There is a gap between the blade and the hilt and the original red felt washer is still present. There is a sword knot that hangs from the knucklebow. The entire piece is over 37 inches long. The sword does have a scabbard but it's not in very good condition. The top mount is present and that's pretty good but the leather body has been broken in two and the bottom drag is missing. All in all it's still a very pretty sword! $595.00

•
•
•
•
•
•
•
•
•
•
•

Consignment

New Arrivals 216

This sword was made by Luckhaus & Gunther of Remscheid, Germany, and was purchased by the Spanish Army and believed to be a Spanish American War Souvenir from 1898. We do not know who brought it back but it did come out of Central Indiana and Indiana did have soldiers who served in the Spanish American War. This is the Eaglehead type of this sword with checkered wooden grip and brass eaglehead pommel and crossguard with 'traces' of silver wash on them. 33 inches long in the sheath and out of the sheath it has a 27 inch blade with a few nicks on the edge and most of the markings can be made out on the blade. There is a leather sword knot present on this piece. The sheath is in generally good condition and has the original frog still attached and because it is still there most of the silver wash still appears on the top mount. The bottom mount/drag has no such silver wash present instead being a nice dark patina. I do not know if this drag is original to this piece but has certainly been on the sheath for a very long time! Take a look at the pics! $325.00

•
•
•
•
•
•
•
Consignment

New Arrivals 215

Here we have an Odd Fellows display belonging to Col. Wiliam H. Jacks. The display was found in Kokomo, Indiana. The display consists of his sword, 3 medals and his photograph at the bottom which states Col. William H. Jacks, R. Deceased. There are water stains on the mat but the photo is completely untouched. The sword and medals are all in great shape! They are all housed in an old wooden case with glass front that we have not taken apart. I believe this probably hung in the old Odd Fellows Lodge . According to our research William H. Jacks was originally from Logansport, IN so we don't know how it got to Kokomo. William H. Jacks served from 8/16/1862 to 7/1/1865 in the 73rd Indiana Infantry which had a great regimental history! For this great piece of Odd Fellows memorbillia $395.00

•
•
•
•
•
Consignment

New Arrivals 213

Here we have an excellent late 1800's Spanish American War Mills type Belt and 1886 type 'H' plate for the 30-40 Krag rifle. This belt is in excellent condition with no fraying. The 'H' US buckle is not marked and neither is the belt itself. Room for 45 cartridges and has grommets. Excellent Condition! You won't find better! For this fine piece $275.00

•
•
•
•

Consignment

New Arrivals 212

Here we have a WW1 identified mess kit with the three utensils marked 1917 ! The top of the aluminum mess kit is marked 1959408 EPH. H. NEWKIRK M.S.T.308 MCH. UNIT NO. 1 CO. B. AEF (American Expeditionary Forces) 1917-18-19. Ephraim was born in Indiana but lived in Ohio when he enlisted. After the war he was married in Indiana and this mess kit was found in Central Indiana. Nice ID'd piece !! $75.00

•
•
•
Consignment

New Arrivals 211

Here we have a pretty nice used clamshell holster for the M1905 Steyr Mannlicher and if you have one of these odd pistols then you know how hard it is to find an original holster for it! Well, here's your chance !!! Generally good shape with minor wear and tear and pliable !! $95.00

•
•
•
Consignment

New Arrivals 210 SOLD

Here we have a U.S. Model 1917 WW1 Bolo that has seen hard use! The knife is in generally good shape but the top of the crossguard has been bend down for some reason. The blade has been sharpened a few times however all markings are quite present and clear. The canvas cover sheath is in good condition and has nice markings on the leather tip. Take a look at the pics! $95.00

•
•
•
•
•
•
•
Consignment

New Arrivals 209

Here we have a pair of large Civil War Soldier tintypes in oval frames. There is some damage to the frames here and there but overall just fantastic! The cardboard backs have been replaced by acid free cardboard. Unfortunately I have no id on these pieces but they did come from the same home in Central Indiana, so possible Indiana soldiers. Both frames are the same being 10" wide by 12" tall. The tintypes are about 5 X 7 inches. These tintypes are double matted and show water stains. One of the tintypes has the original glass while the other tintype has had the glass replaced. This first one shows a soldier with the look as if he had seen the 'Elephant'! He has that haunted look about his. There is some hand tinting on this one. Nice image!

•
•
•
•

• This second tintype shows a much more subdued soldier that does not look like he has seen the terrible death and carnage that the other one may have seen. Hand tinting to this one as well. Nice pair! We would like to keep them together since they came from the same place.

•
•
•
• • For the pair $395.00

Consignment

New Arrivals 208

Here we have an item that I have not seen in my 35 years of collecting! This is a colorized document entitled UNTIED STATES ARMY DIPLOMA for Joab P. Murphy in a frame measuring 15 1/2 X 11 1/2. Here is Joab's stats:

Joab P. Murphy Residence North Vernon IN; Enlisted on 1/7/1864 as a Private. On 10/25/1862 he mustered into "B" Co. IN 6th Infantry He was transferred out on 9/22/1864 On 9/22/1864 he transferred into IN 68th Infantry (date and method of discharge not given) Sources used by Historical Data Systems, Inc.: - Report of the Adjutant General of the State of Indiana (c) Historical Data Systems, Inc. @ www.civilwardata.com

Here's a history of the 6th Indiana Infantry:

Sixth Infantry (Reorganized). Cols., Thomas T. Crittenden, Philemon P. Baldwin Hagerman Tripp; Lieut.-Cols., Hiram Prather, Hagerman Tripp, Calvin D. Campbell; Majs., Augustus H. Abbett, Calvin D. Campbell, Samuel F. McKeehan, Delaney Kavanaugh. This regiment was mustered in at Madison, Sept. 20, 1861, for three years, and left the state the same day. At this time it numbered about 500, being un-uniformed and hastily provided with arms. The rumors of Morgan's invasion of the state, through Kentucky, led Col. Crittenden to request that it be sent to Louisville to aid in repelling such an advance, and it was the first northern troop to enter Kentucky. It went to Louisville, thence to Muldraugh's Hill, near Elizabethtown, and later was transferred to Nolin creek. On Oct. 9, it was joined by 300 recruits from Madison, bringing its strength to about 800, and was assigned to Rousseau's brigade of McCook's division. It moved to Bowling Green, where it remained until March, 1862; was then ordered to Nashville, and thence to Savannah, Tenn., where a steamer was taken for Pittsburg landing. It was engaged during the second day's fight at Shiloh, saving a battery from capture at a critical moment and making a charge that aided very materially in turning the tide of battle for a Union victory. It lost in this engagement 43 in killed and wounded. It camped on the field until the beginning of the march for and siege of Corinth, in which it participated. Just before the fall of Corinth Col. Crittenden was appointed brigadier-general, Lieut-Col. Prather resigned, Capt. Baldwin was elected colonel, and Capt. Tripp, lieutenant- colonel. It proceeded to Nashville with Buell's army and thence to Louisville, Ky., which was reached Oct. 2, 1862. It participated in Rosecrans' march upon Murfreesboro, being in an all day's skirmish on Dec. 25, and took part in the battle of Stone's River, where 3 of its color-bearers were shot and the regiment fell back with its brigade to escape annihilation, but reformed and aided in driving the enemy back some hours later. It was engaged in campaigning between Murfreesboro and Chattanooga during the spring and summer of 1863, being in a sharp engagement at Liberty gap during the movement towards Tullahoma in June. In the battle of Chickamauga it was thrown into the breach at noon of the first day's fighting, participated in two successful charges during the afternoon, in the grand charge the same night when Col. Baldwin was killed and Lieut.-Col. Tripp severely wounded and held its ground under a heavy fire all of the second day. It was in the skirmish at Brown's ferry, and took part in the engagement at Missionary Ridge, after which it moved to the relief of Gen. Burnside in eastern Tennessee and remained there until spring. It joined Sherman's movement towards Atlanta, in 1864, being in the battles of Tunnel Hill, Buzzard Roost, Rocky Face ridge, Resaca, New Hope Church, Allatoona Ridge, Dallas, Kennesaw mountain, Marietta and before Atlanta. Its term of service expired in August and the reenlisted veterans and recruits whose term of service had not expired, were transferred to the 68th Ind. infantry. The regiment was mustered out Sept. as, 1864. On the final muster-out of the 68th, 19 men of the 6th were found to be still in service and were transferred to the 44th Ind., being mustered out with that regiment Sept. 14, 1865. The original strength of the three years regiment was 996. It gained by recruits 113, and by unassigned recruits 9; total 1,118. Loss by death 253; by desertion 48; unaccounted for, 10. Source: The Union Army, vol. 3

This Diploma was given while 'ON TO ATLANTA'! He must have folded up this document and carried it with him on his way to Atlanta. Still in great shape in the original 15 1/2 X 11 1/2 frame they put it in when he returned home. Feels and looks like velum to me. Signed by Capt. S. McKeehan of Company B. Who was killed at Dallas, GA in May of 1864. Rare to find! $395.00

•
•
•
Consingment

New Arrivals 207

Here is a framed 13 1/2 X 11 1/2 discharge for Andrew Isgrigg when he was in the 3 month 10th Indiana Infantry and it was signed by Col. Mahlon D. Manson. Here are his stats and bio:

Mahlon Dickerson Manson Residence Crawfordsville IN; 41 years old. Enlisted on 4/17/1861 as a Captain. On 4/25/1861 he was commissioned into "G" Co. IN 10th Infantry He was Mustered Out on 8/6/1861 at Indianapolis, IN On 9/18/1861 he was commissioned into Field & Staff IN 10th Infantry He was discharged for promotion on 3/24/1862 On 3/24/1862 he was commissioned into US Volunteers General Staff He Resigned on 12/21/1864 Promotions: * Major 4/27/1861 * Colonel 5/10/1861 * Brig-General 3/24/1862 (As of US Vols) Intra Regimental Company Transfers: * 4/27/1861 from company G to Field & Staff Other Information: born 2/20/1820 in Piqua, OH died 2/4/1895 in Crawfordsville, IN Sources used by Historical Data Systems, Inc.: - Report of the Adjutant General of the State of Indiana - Dyer: A Compendium of the War of the Rebellion - Heitman: Register of United States Army 1789-1903 - Generals in Blue, Lives of the Union Commanders - Photo courtesy of Massachusetts Commandery of MOLLUS (c) Historical Data Systems, Inc. @ www.civilwardata.com MAHLON DICKERSON MANSON Manson, Mahlon D., brigadier-general, was born at Piqua, Ohio, Feb. 20, 1820. He removed to Indiana in early life, served in the Mexican war as captain in the 5th Ind. infantry, and was a representative in the Indiana state legislature in At the beginning of the Civil war he became captain in the 1Oth Ind. volunteers, soon afterwards major and colonel, and he commanded his regiment at Rich mountain, Va., July 11,1861. He was in command of the 2nd brigade of the army of Gen. George H. Thomas at the battle of Mill springs, Ky., Jan. 19, 1862, and on March 24 he was commissioned brigadier-general of volunteers. In April and May 1862, he engaged in the skirmishes in front of Corinth, Miss., and at the disastrous battle of Richmond, Ky., he commanded the national forces before the arrival of Gen. Nelson, being wounded and taken prisoner. He was exchanged in Dec., 1862, in the following March commanded the national forces in a skirmish with Pegram, and in July, 1863 was in command during the Morgan raid in Indiana and Ohio. He served with Burnside in east Tennessee, was placed at the head of the 23d army corps in Sept., 1863, and took part in the siege of Knoxville, Tenn., and in various engagements in that state. He was severely wounded at the battle of Resaca, and resigned on account of his wounds, Dec. 21, 1864 Gen. Manson was the unsuccessful Democratic candidate for governor of Indiana in 1864, and subsequently for secretary of state, but he was elected to the 42nd Congress, and in 1872 was elected auditor of the state of Indiana. He died in Crawfordsville, Ind., Feb. 4, 1895. Source: The Union Army, vol. 8

The document is also signed by A.O.Miller who was the Captain and later became Brig. General. He was later with the 72nd Indiana which was part of Wilder's Brigade! Here are his stats:

Abram O. Miller Residence Jefferson IN; 34 years old. Enlisted on 9/18/1861 as a Captain. On 9/18/1861 he was commissioned into "C" Co. IN 10th Infantry He was discharged for promotion on 8/23/1862 On 8/24/1862 he was commissioned into Field & Staff IN 72nd Infantry He was Mustered Out on 7/24/1865 at Nashville, TN He was listed as: * Wounded 4/2/1865 Selma, AL Promotions: * Major 9/21/1861 (As of 10th Inf) * Lt Colonel 4/5/1862 (As of 10th Inf) * Colonel 8/13/1862 (As of 72nd Inf) * Brig-General 3/13/1865 by Brevet Intra Regimental Company Transfers: * 9/21/1861 from company C to Field & Staff (As of 10th Inf) Other Information: born 10/2/1827 in Madison County, OH died 4/25/1901 in Lebanon, IN Buried: Oak Hill Cemetery, Lebanon, IN Sources used by Historical Data Systems, Inc.: - Report of the Adjutant General of the State of Indiana - Adjutant General's Office General Order #133, August 22, 1865 - Dyer: A Compendium of the War of the Rebellion - Heitman: Register of United States Army 1789-1903 - Brevet Brigadier Generals in Blue - Photo courtesy of Massachusetts Commandery of MOLLUS - Research by Mark Davis (c) Historical Data Systems, Inc. @ www.civilwardata.com

Here is Andrew Isgrigg's bio and stats:

Andrew Isgrigg Residence Clinton County IN; Enlisted on 4/25/1861 as a Private. On 4/25/1861 he mustered into "C" Co. IN 10th Infantry He was Mustered Out on 8/6/1861 at Indianapolis, IN Sources used by Historical Data Systems, Inc.: - Report of the Adjutant General of the State of Indiana (c) Historical Data Systems, Inc. @ www.civilwardata.com

Lots of info here but this is a historic piece with those two General's Signatures on there before they were Generals. Here's the 10th Indiana's Regimental History for the 3 month Unit:

Tenth Infantry. Cols. Joseph J. Reynolds, Mahlon D. Manson, William C. Kise, William B. Carroll, Marsh B. Taylor, Lieut.- Cols., James R. M. Bryant, William C. Kise, Abram 0. Miller, William B. Carroll, Marsh B. Taylor Job H. Van Natta; Majs., Mahlon D. Manson, William C. Wilson, Abram 0. Miller, Benjamin M. Gregory, Marsh B. Taylor, Job H. Van Natta William B. Carroll. This regiment was organized at Indianapolis in April 1861 for the three months' service, and was mustered in April 25. Col. Reynolds was commissioned brigadier-general of volunteers June 10 Maj. Manson was promoted colonel, and Capt. William C. Wilson, of Co. D was made major. The regiment left the state June 19, and proceeded to Parkersburg, W. Va., thence to Buckhannon. It reached Rich Mountain July 10, and the next day charged the enemy's works, routing him and capturing his guns. It then moved to Beverly, where it remained in camp until July 24, and it was mustered out at Indianapolis, Aug. 2, 1861. Its original strength was 789; recruits, 1 total, 790. Loss by death, 6; desertion, 6.

For this rare discharge $165.00

•
•
•
Consignment

New Arrivals 206

Here we have a fantastic Dog River Confederate Cavalry Saber! Guaranteed !!! This is a rare authentic antique American Civil War Confederate cavalry saber in the classic unmarked version that has been nicknamed by collectors as the "Dog River" Confederate cavalry saber that is patterned after the U.S. model 1840 cavalry known as the "wristbreaker" heavy Cavalry Saber. . They get this nickname because some of the unmarked cavalry sabers were made by the factory on the Dog River in Georgia. The fact is that most of the swords that are unmarked with this nickname were made throughout the south at arsenals and retailers both large and small. This one has miraculously not been cleaned and the grip has not been replaced! The piece is about 39 inches long with about 1/8th inch of the tip lacking. The blade is the typical unstopped fuller made with the wide spline of a 1840 Heavy Cavalry saber and totally unmarked. The blade has some roughness to it from being in the attic but fortunately the old veteran didn't give it to the kids and there is virtually no or little damage to the edge. The blade itself is about 33 ½ inches long. The tang passes through a brass guard and the passageway is quite large, perhaps way too large for this tang and the guard is very loose on the blade but obviously original to this piece. Most of the brass on the handguard is a very dark patina with red brass showing through. The guard has casting flaws in it that you can see in the pics. The pommel cap also has casting mistakes on it as well. The grip is wooden with spirals cut into the wood and utilizes a different kind of wire in it. If you look at the pics of the close up of the wire I believe that this too is original to this particular saber. The wooden grip has a fantastic dark patina that initially looks like leather but I believe the leather is lacking. The original grip may have been wrapped in oil cloth as well. By looking at the tang it appears that this sword has never been apart. Unfortunately, we do not have the scabbard. For this fine old piece $2595.00

• •
•
•
•
•
•
•
•
•
•
•
•
•
•
•
•
•
•
•
•
•
•
•

Consignment

New Arrivals 205

Nice Civil War Infantry Officers General Staff Sword and scabbard !!! Falling under the general heading of the "Peterson-75," from Harold Peterson's The American Sword, these swords were made for export to the U.S. in Germany, but were based on the British 1827 Rifle officer's sword and the 1822/45 infantry officer's sword. They were liked by US officers for field wear because of their robust iron or brass hilts and iron scabbards, however this is a grade above that with a silver washed brass scabbard, mounts and rings! This one also has a high-quality open-work brass hilt with an unusual American eagle on the front of the guard, US in the open brass work on the bottom of the guard and vivid blade etching to match with the Eagle with E. Pluribus Unum on one side and US on the other side. This has a brass hilt that has an undisturbed, uniform, mellow patina on the pommel, backstrap and open-work guard and has not been cleaned. . The guard shows a finely detailed eagle in perching, carrying a long ribbon in its beak reading "E Pluribus Unum." In contrast to many guards of this type, the details of the eagle's feathers and the floral elements are deeply chased and detailed. The use of the US in the guard classifies it as a staff and field sword, but photographic evidence shows it in use by officers of different ranks and posting. The grip is deep leather grip, completely intact with a few minor rubs, and the three-strand brass wire binding is present but a little disarayed. The brass mounted brass scabbard is in good condition with a 'door' dent here and there. . The brass throat, carrying rings and drag are all there and match the patina of the hilt. There is only traces of the original silver wash but it definitely was silver plated at one time. The spearpoint blade is near excellent, showing some gray staining here and there along the blade, but showing bright overall with vivid etching. The ricasso on the reverse shows the Clauberg, Solingen, maker's stamp surrounding their trademark knight. A central panel on the blade with decorative ends surrounds floral scrolls bordering a large "US" entwined with vines and scrolls, and showing some original frosting and some staining. . The obverse of the blade has a central etched panel with the same decorative points and floral scrolls, but surrounding a bright etched American eagle, matching that on the guard, that perches clutching olive branch and arrows in its talons with an E Pluribus Unum ribbon in its beak, surrounded with sunburst rays. The hilt is very tight to the blade with no wobble at all! This is a most unusal sword of this type and this is a very good looking, high-quality officer's sword. Sorry but no history accompanies it other than it was found in Central Indiana. This sword is totally unmessed with and uncleaned! Hard to find in original condition! For this unique piece $1650.00

•
•
•
•
•
•
•
•
•
•
•
•
•
•
•
•

Consignment

New Arrivals 203

Here we have a very nice little .41 caliber Colt single shot 3rd model deringer. 2 ½ inch barrel pivoting to the right for loading. The serial number on this piece is "74". Here is some info from proof house:

3rd Model (Thuer) Deringer

• Chambered in .41 caliber.

• Manufactured circa 1875-1912.

• Serial number range 1-45000.

• Yearly production numbers are not known.

• By the low serial number on this little pistol we know that it was definitely made in 1875 so no FFL is required. The pistol itself is in pretty good condition with graces of original plating on the brass frame and nearly all the plating present on the backstrap. The top of the barrel is marked –COLT- as it should be and the caliber designation is marked on the brass frame on the reverse side near the spur trigger. The varnished walnut grips are very pleasing to the eye. One of the grips has a crack in it but is not broken through. The action works fine and you can still see traces of rifling in the dark barrel. We have shown a cartridge in the pics that this piece would have taken. The cartridge is for display purposes only and not included with the pistol. For this Historic low serial number Colt $1950.00 •

•
•
•
•
•
•
•
•
•
•
•
•
•
•

Consignment

New Arrivals 202

Here we have two shadow box frames with English and Canadian hat badges in them. There are 7 each in the two frames and all are different. I see a Tank Corps with a WW1 tank on it, the word Egypt and Nederland, ASSAYE, LABOR OMNIA VINCIT, ROYAL ENGINEERS, ROCKY MOUNTAIN RANGERS-CANADA, ROYAL CORPS OF SIGNALS, ect. Each frame measures almost 12 X 14 inches. Nice! Ready to hang! $225.00
Consignment

New Arrivals 201

Here we have a theatre made US fighting knife made from an existing knife. Perhaps the best way to describe it is as 'Customized'! The knife is over 11 ½ inches long out of the sheath with a 6 ½ inch long blade with a blood groove on either side. This knife has some funny kind of rust staining on either side of the blade like blood was left on it. The grip has been replaced with plastic washers and the aluminum pommel cap has been pinned to keep it on the tang of the blade. The sheath fits the blade but the shape of the sheath and the shape of the blade are different but, hey!, it works!!! The maker may have taken out a few stitches at the bottom so this blade wouldn't cut them. Take a look at the pics! $95.00
Consignment

New Arrivals 200

Here we have a more modern Post WW2 issue U.S.M.C issued parkerized knife with USMC marked sheath. The excellent unsharpened knife is marked U.S.M.C. on one side of the ricasso and CAMILLUS, N.Y. on the other side. This knife appears to have never been used although it does show some age. For this excellent example $110.00
Consignment

New Arrivals 199

Here we have a U.S.M.C. marked KABAR in a customized sheath. We believe the knife to be WW2. The knife is typical lacking most finish, being marked well with only the top of the cross guard bent for some reason. The knife has been sharpened some. The sheath has the added feature of having a leather thong wrapped entirely around the length to complete cover it. It's pretty neat!!! Take a look at the pics!!! For this one $120.00
Consignment

New Arrivals 198

Here we have 1942 marked USMC Marine Medical Corpsman Knife and sheath by Village Blacksmith. The knife is in good used condition with several marks cut into the grip on both top sides. Perhaps it helped with grip. I don't know. Any any rate the knife is in good condition but needs cleaned. The wooden grips are in good shape as well. The leather scabbard is conplete with some cracking to the front surface but not the rear surface. The sheath is marked on the back 'US''BOYT''42' (1942). I wish it could talk!!! For this piece $150.00
Consignment

New Arrivals 197

Here we have an 18th century "Child's Sword"! This one seems to be German in nature although it came with the Tintype of the Civil War soldier below. The sword is about 25 inches long with a over 20 ½ inch long steel blade. The blade is curved like a Cavalry Saber with a blood fuller in both sides. The blade has no edge and no tip as it was made for children to play with. The hilt is all brass with a crown over an anchor on the handguard and a lion head pommel. The back strap is there but the front end is floating. The wooden grip is in nice original condition with wire but is missing the leather wrap and has a crack in it. Hey! This thing was played with! There is no sheath. For this old unique kids sword $225.00
New Arivals 192 A SOLD & B STILL AVAILABLE

Just picked up these two old revolvers from a very nice gentleman. The first one is a Belgium made British Bulldog THIS ONE SOLD!!!! 6 shot revolver in what I believe to be .28 caliber or 7mm. The revolver is double action only and although it works the trigger spring is not functioning as you have to physically return the trigger to the original position. It's a nickel plated specimen and typical of these revolvers from the late 19th early 20th century with areas where the finish is lacking. There are Belgium proof marks on this piece. These were such good revolvers that many countries copied the pattern to offer them to their customers as well. It's still a nice example and has great wooden grips with no breaks or cracks. This one has the loading gate on the back of the cylinder. Check out the pics! Since we are not sure when it was produced it will have to be transferred through a FFL. $95.00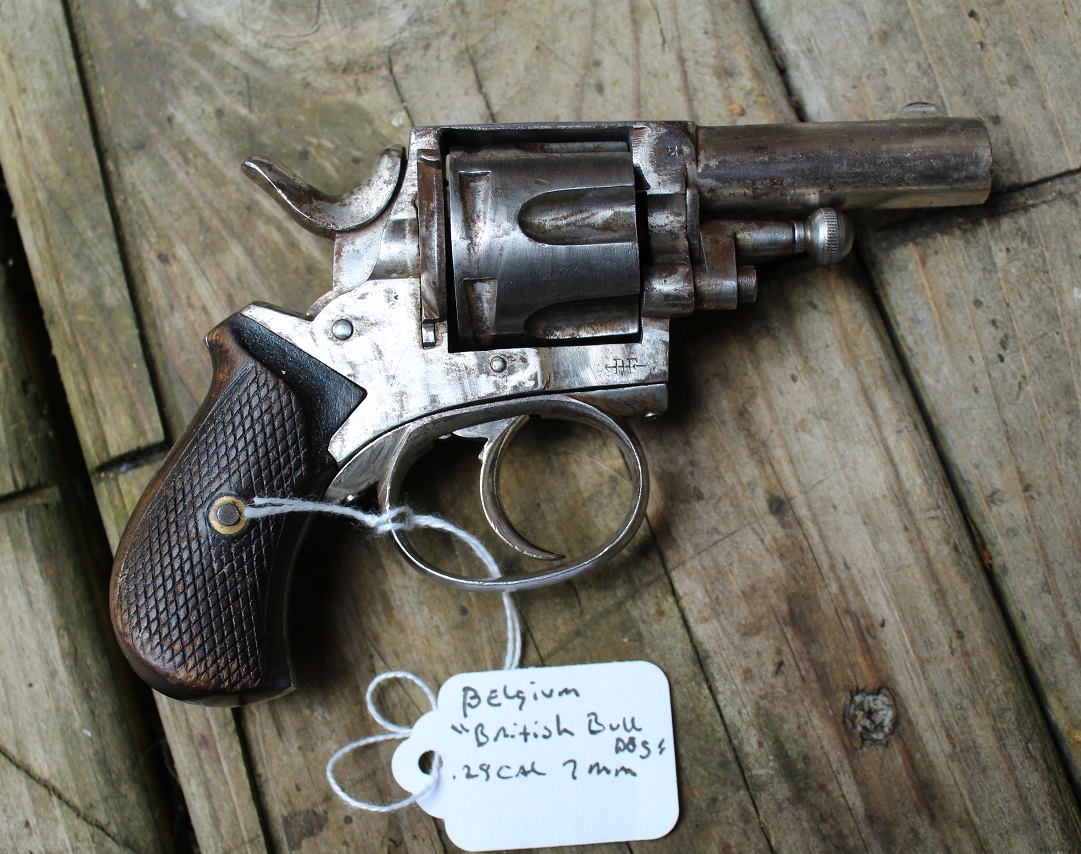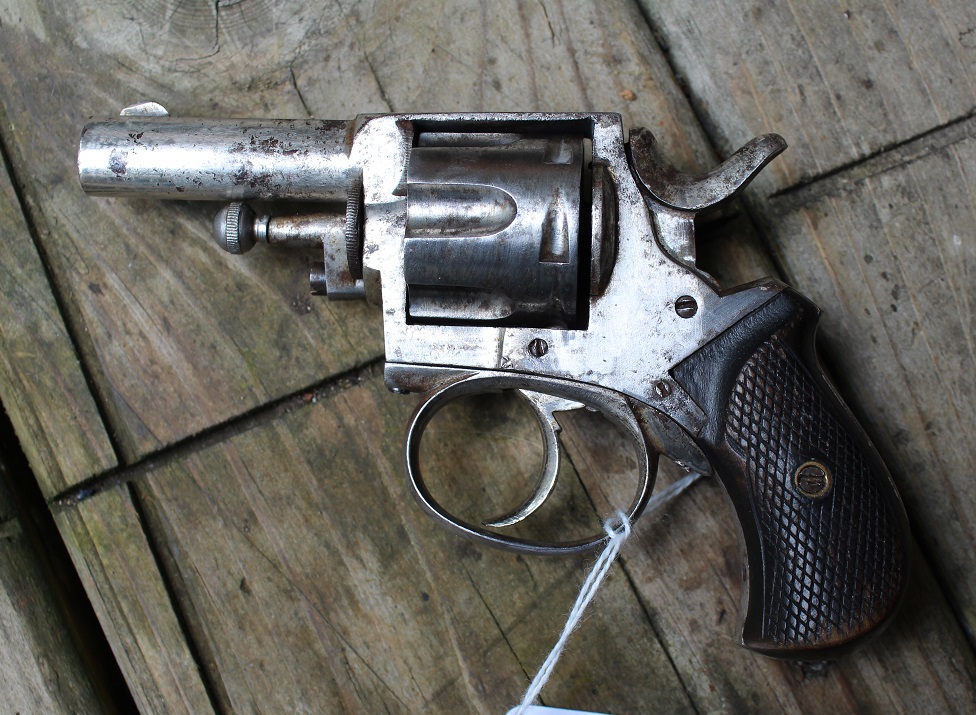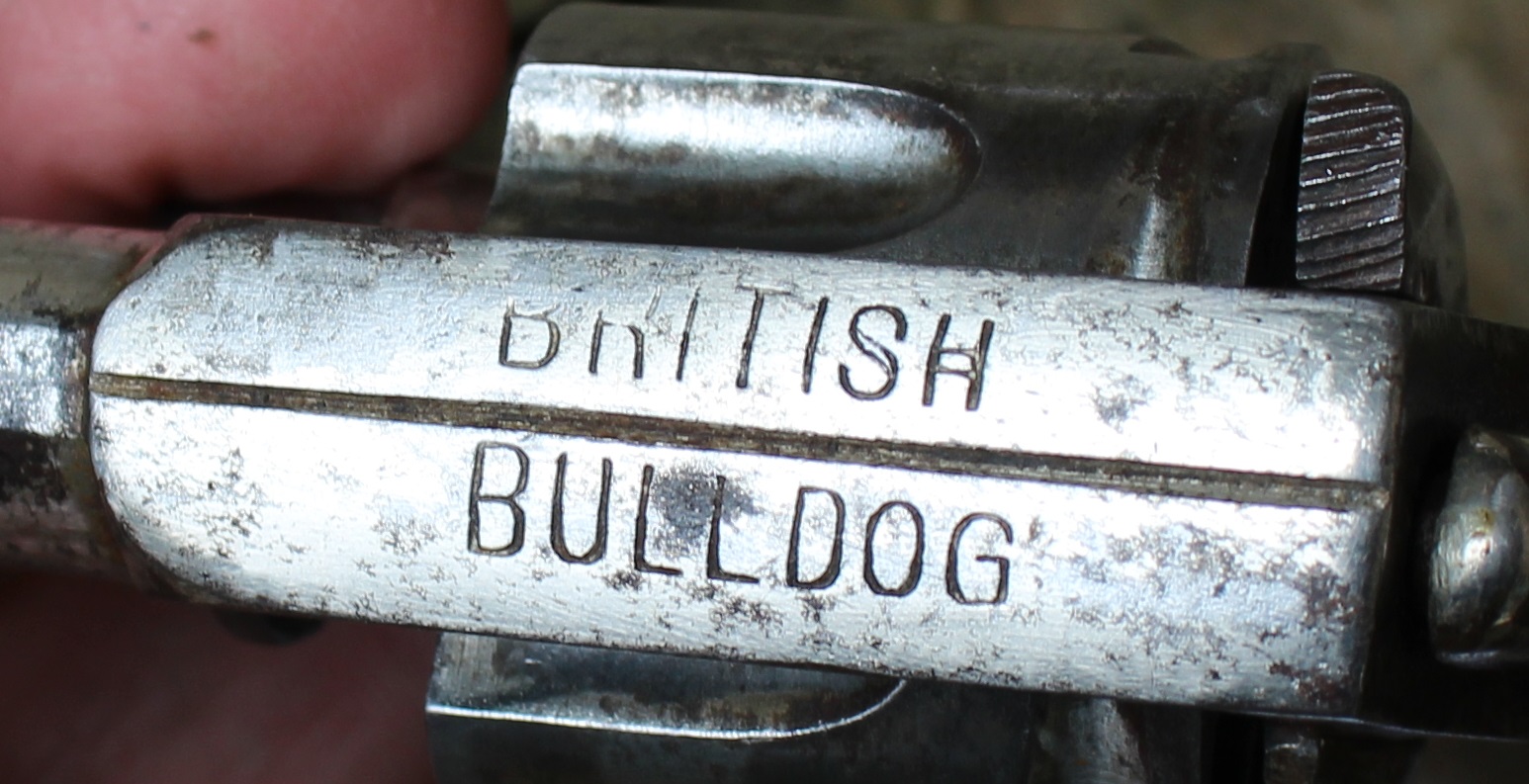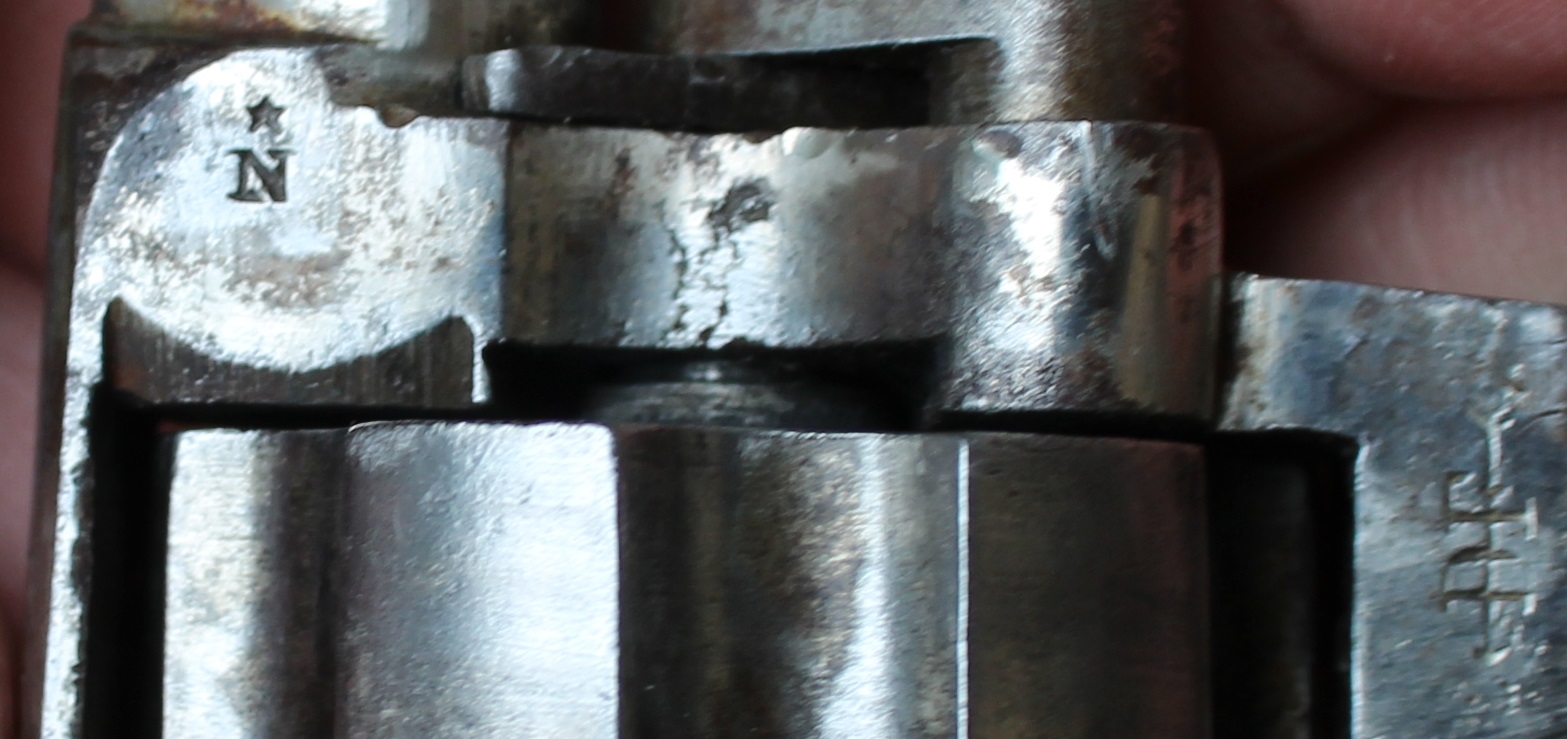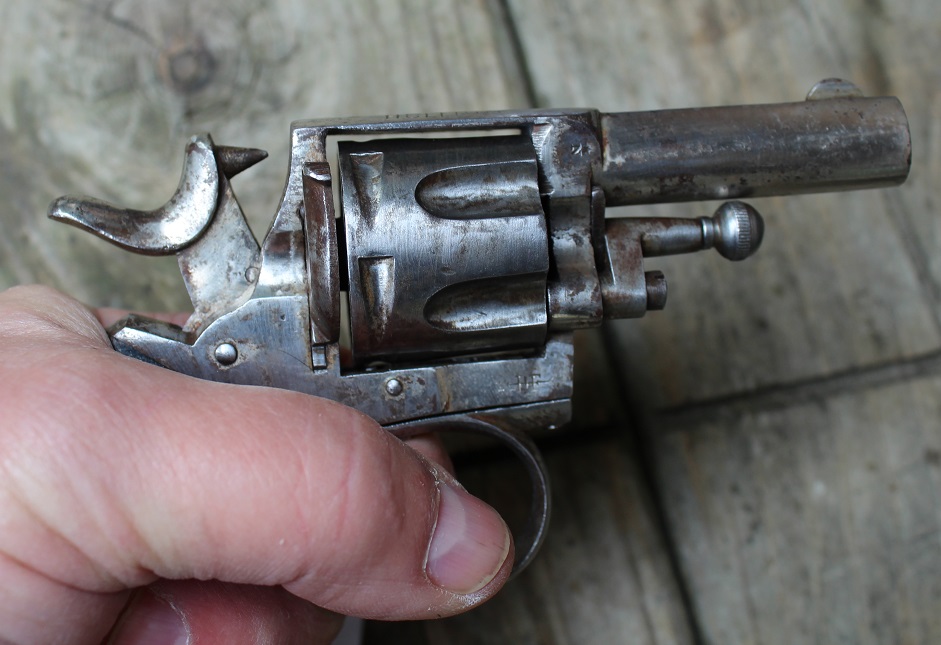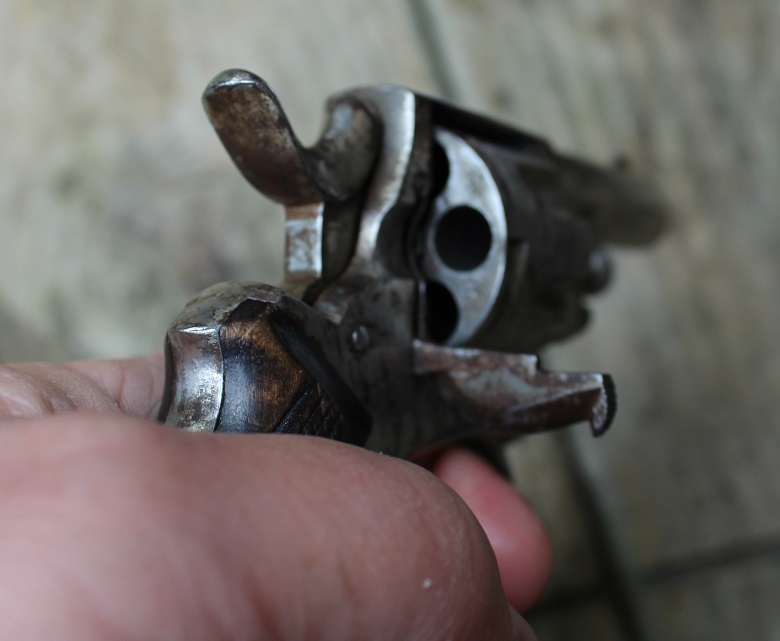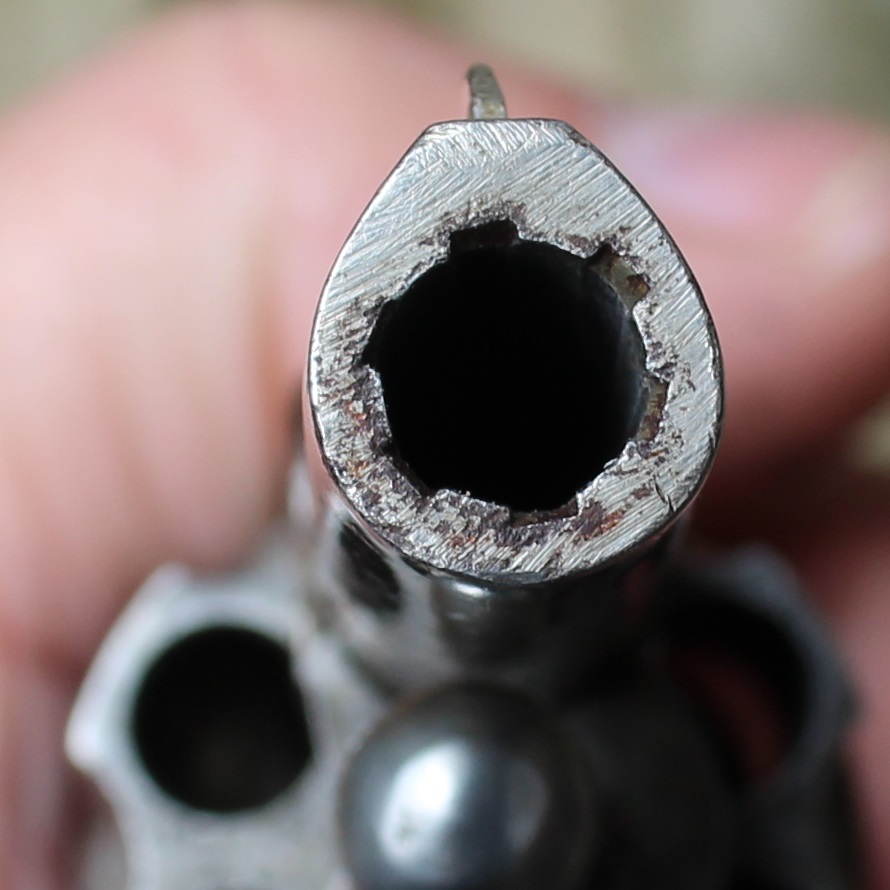 This next revolver is a very nice Harrington & Richardson YOUNG AMERICA DOUBLE ACTION revolver and so marked on the top of the firearm. The H&R info is on the barrel as well as the caliber which is .32 caliber. This firearm has most of it's original nickel with virtually no flaking just some thinning. The markings are very good and the revolver works fine. It is double action only so you can't cock it to fire it, you just have to pull the trigger. There was no loading gate on this revolver as the cylinder is timed to be just a little off set when cartridges are in the cylinder so they don't fall out. Also the cylinder is free moving until the trigger is pulled. Also this piece has excellent hard rubber grips on it which are correct in every way. These little revolvers were made from 1884 to 1941 with over 1,500,000 of them produced but you rarely see one in this condition. From what research that I can find this is a 1st model 3rd variation and should have been made before 1898 so it qualifies as an antique. There are a couple of spots of rust on it but still you never see them in this condition. For this old girl $195.00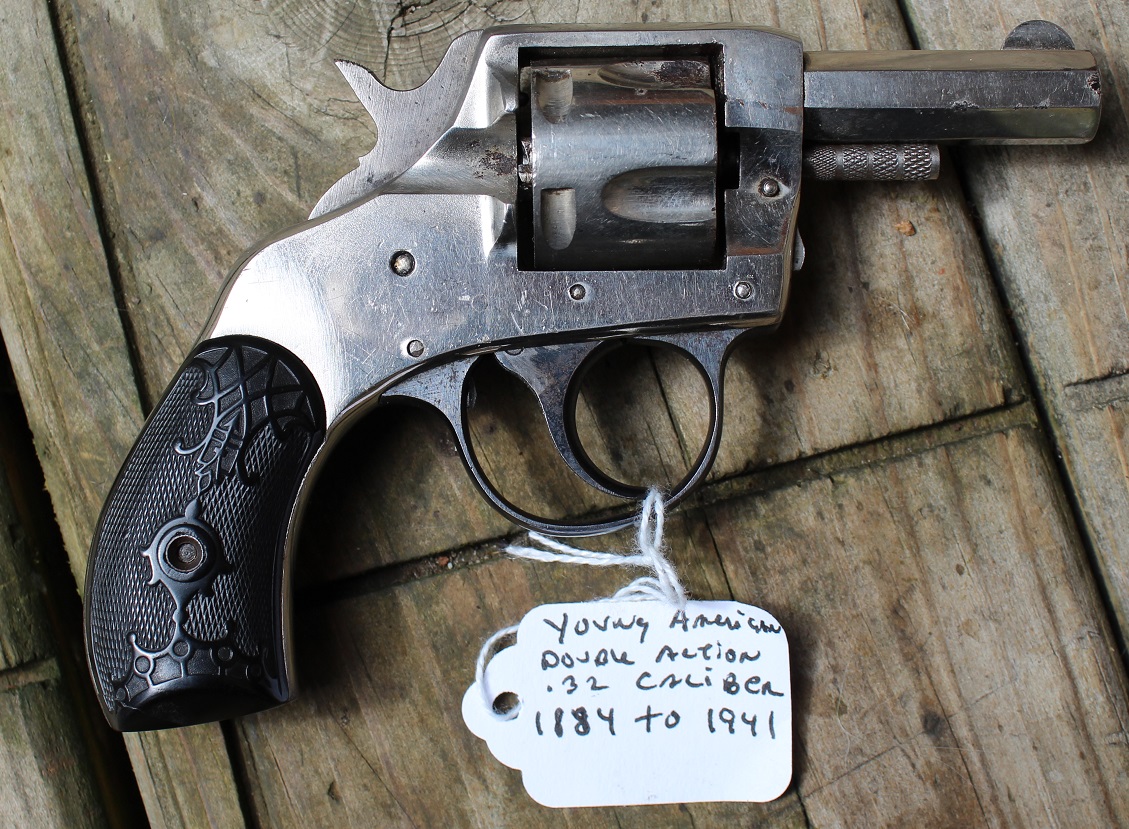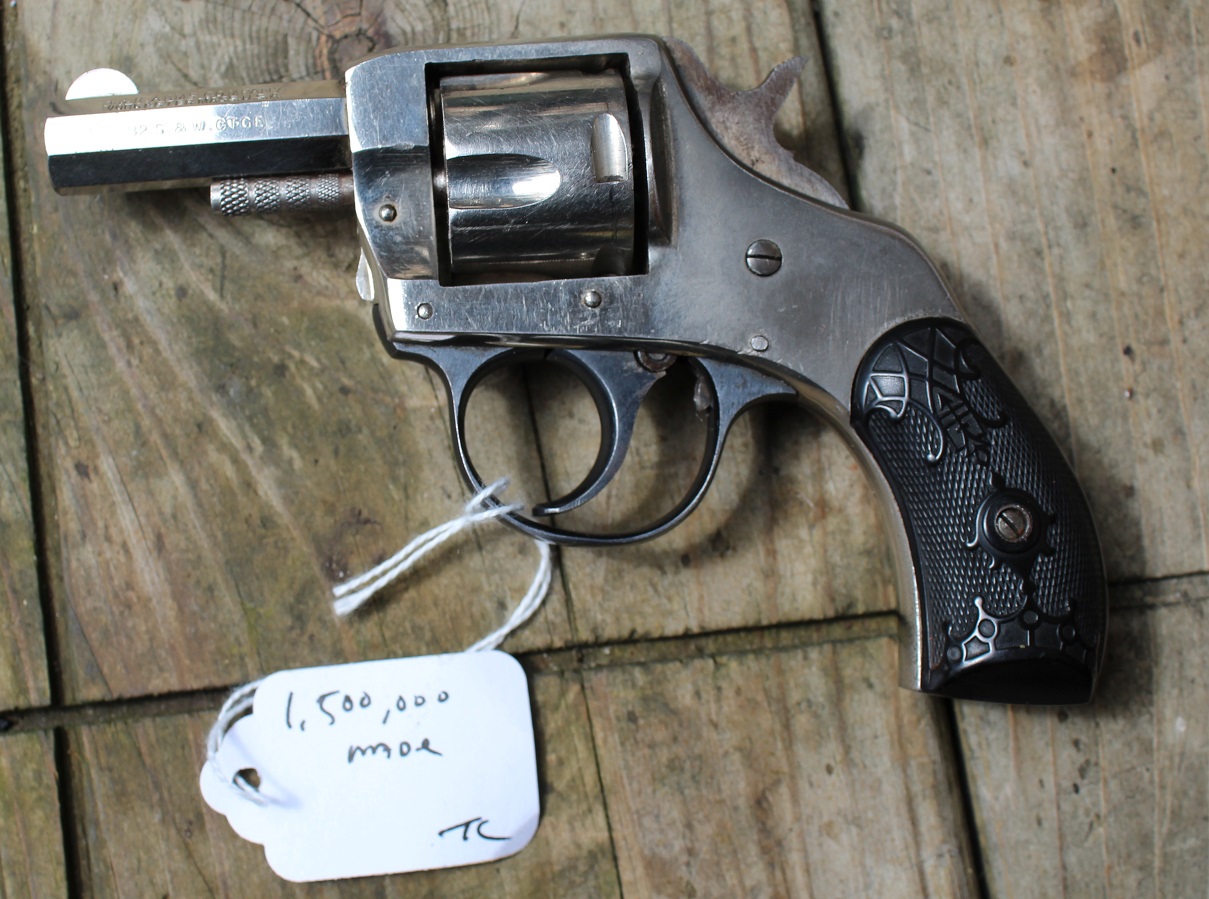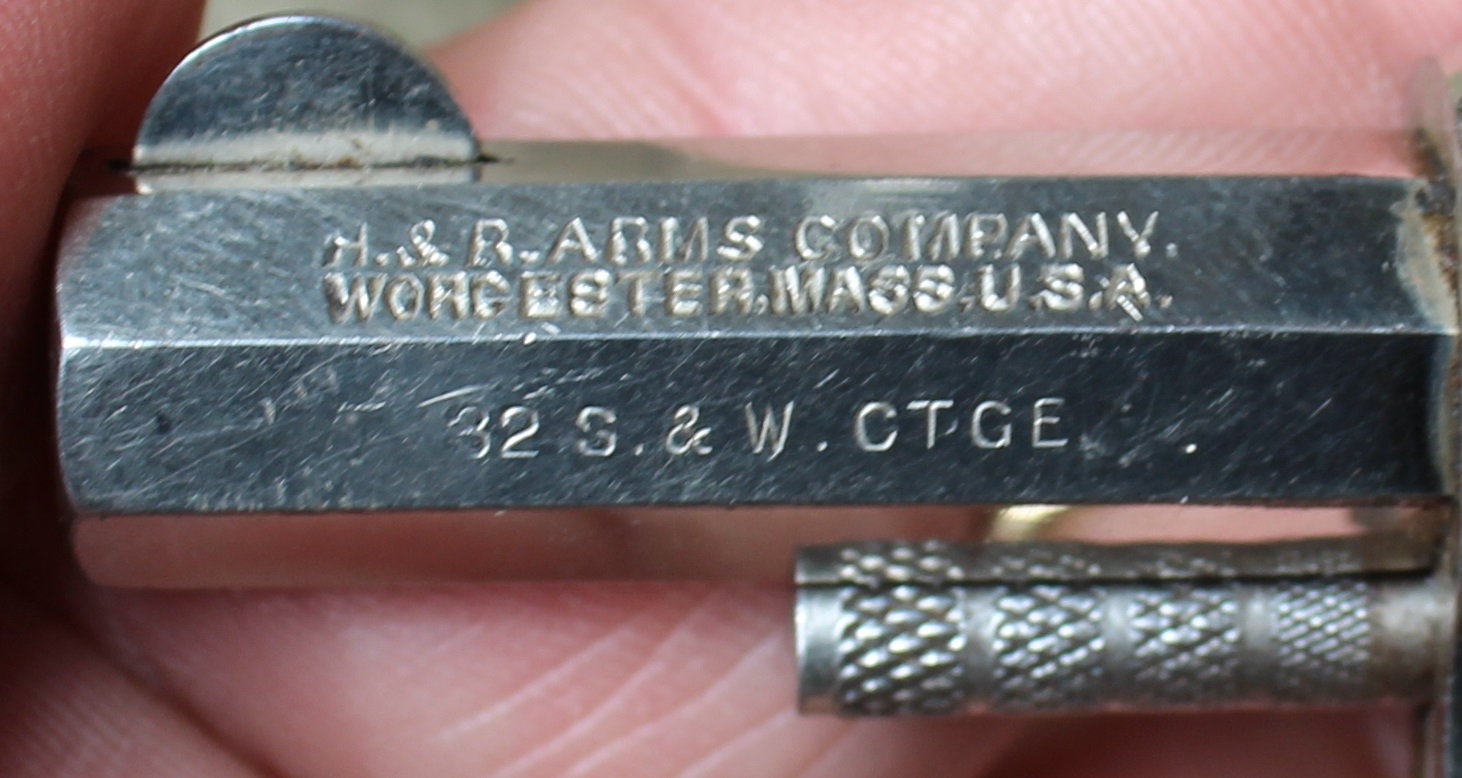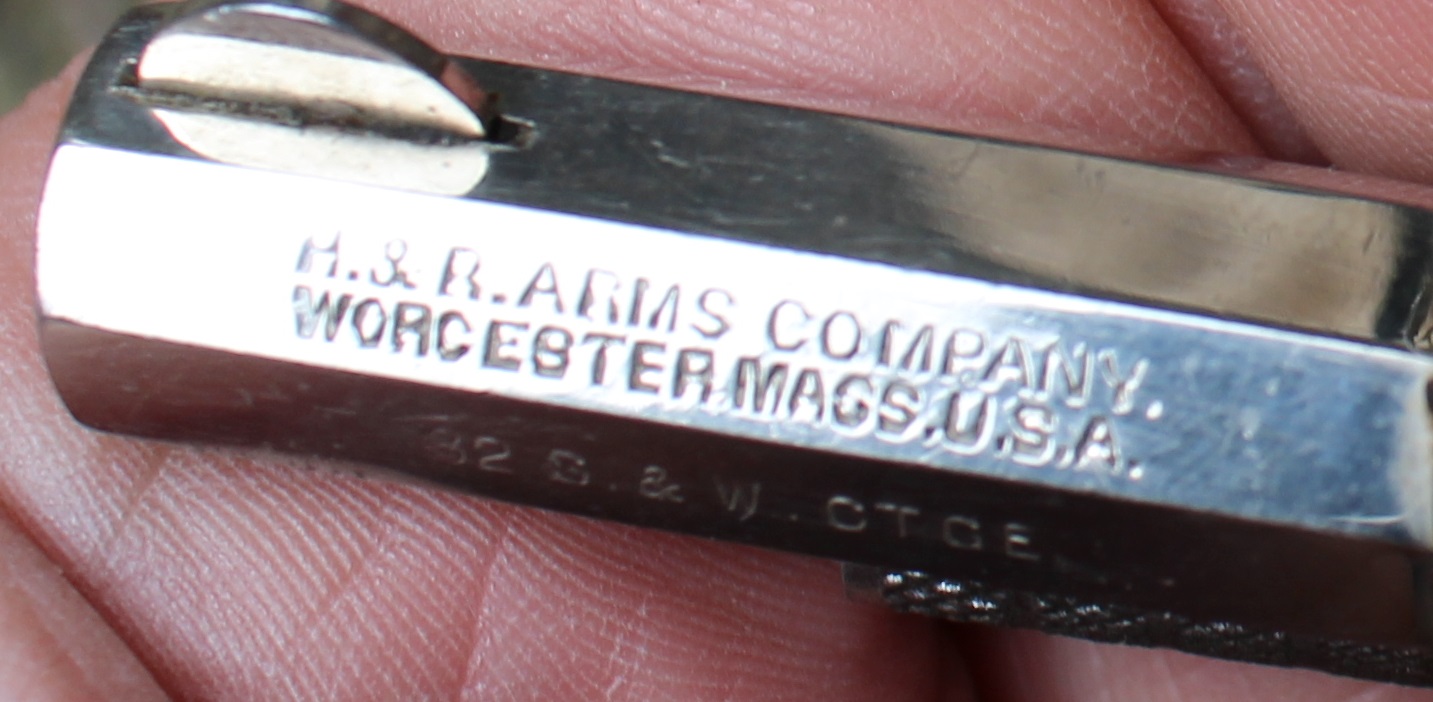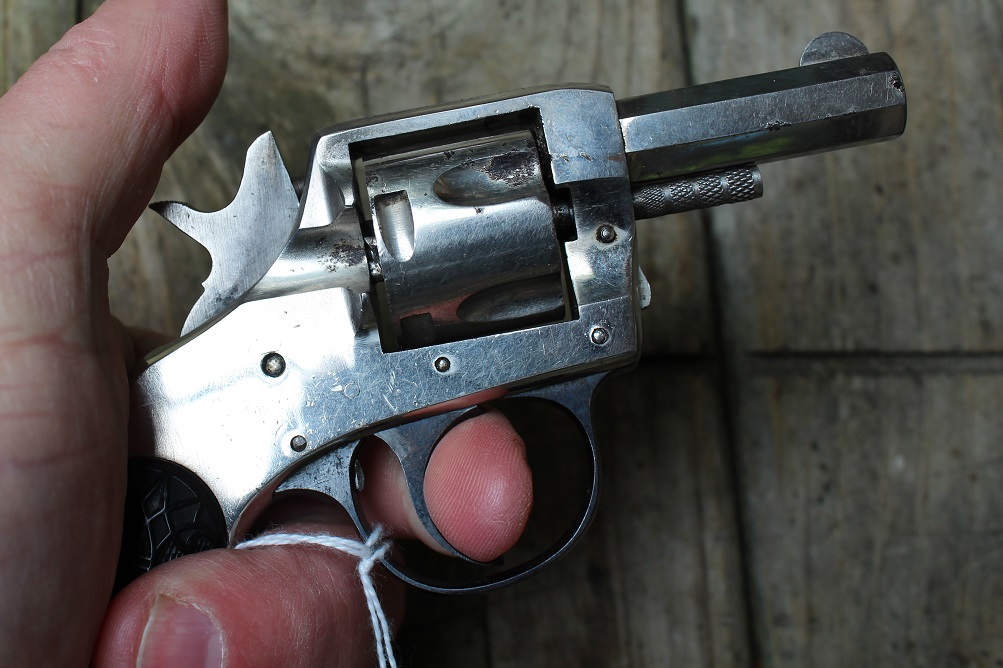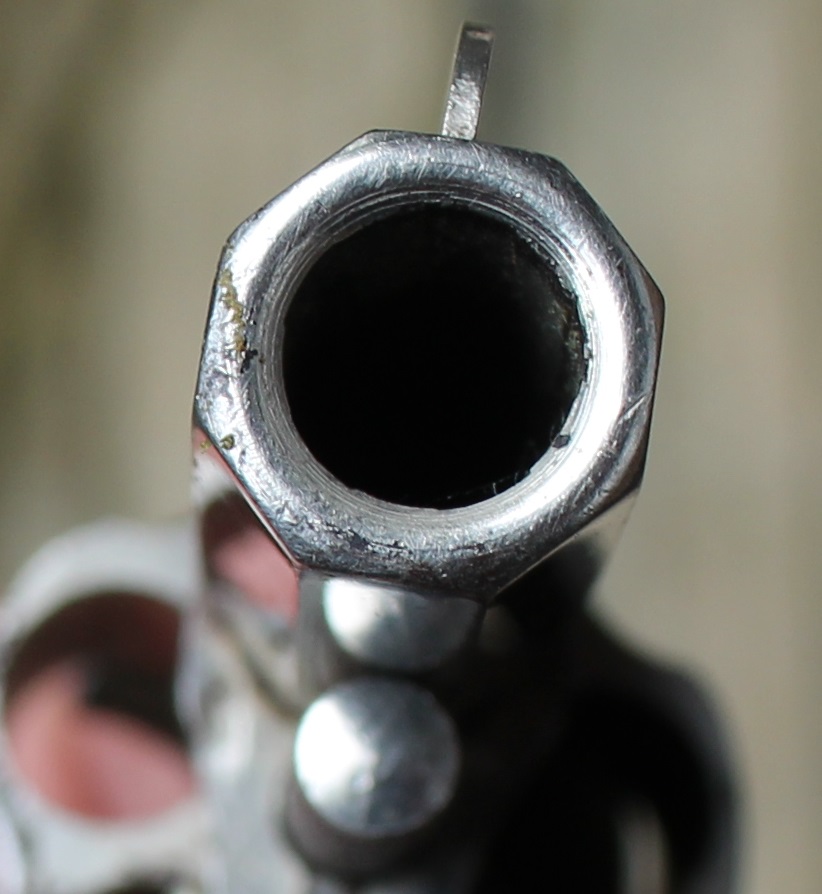 Consignment New Arrivals 191

This is an old back action lock Double Barrel shotgun that is from the 19th century and will not need to be transferred. The locks read PARKHURST and the top of the barrel reads LAMINATED STEEL BELGIUM. The locks work fine, the wood is fairly good but the forearm has been broken through and repaired. The bores should clean up good. There is a little slop in the barrels and the lock but not bad. Not warranted to shoot! For this old war horse $195.00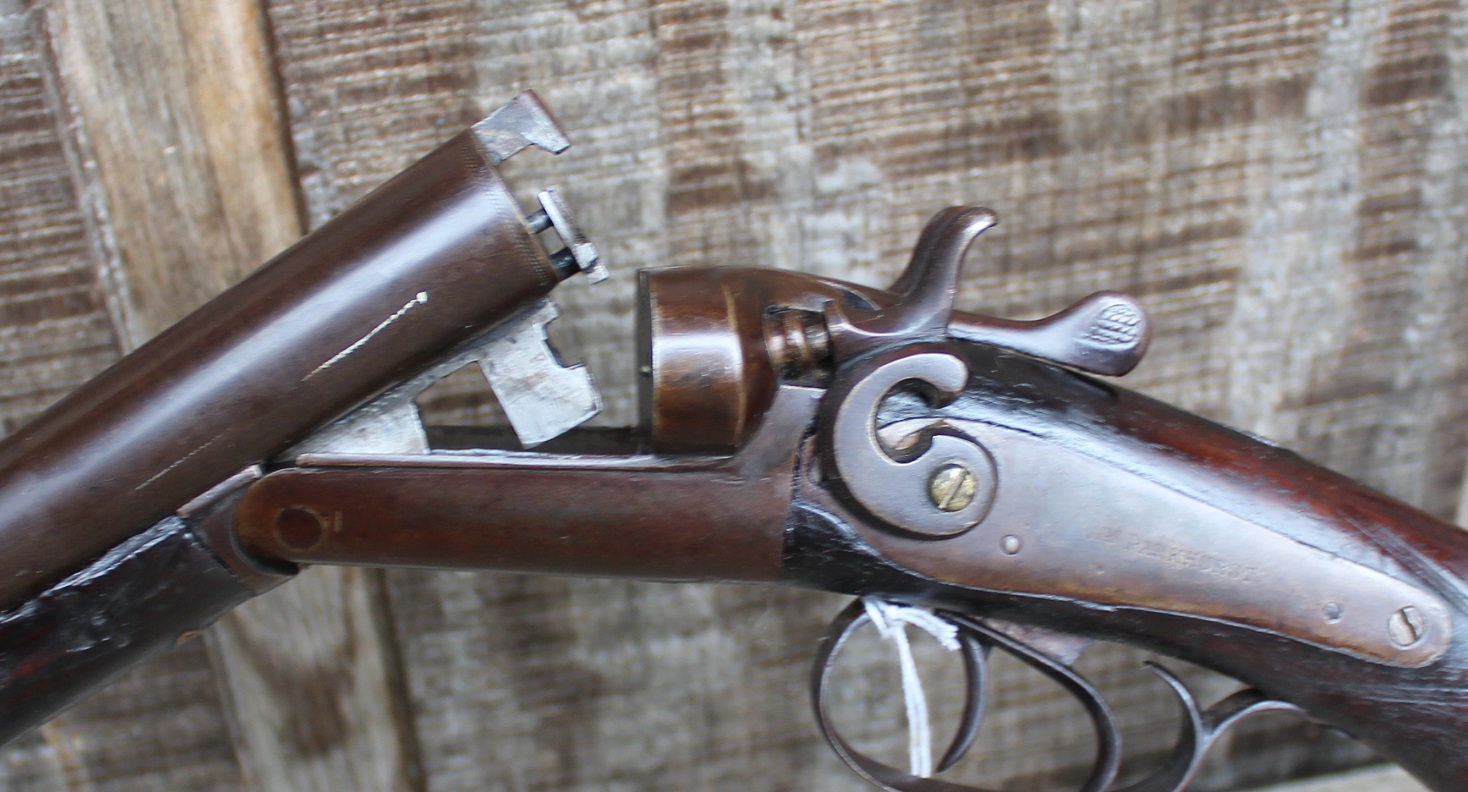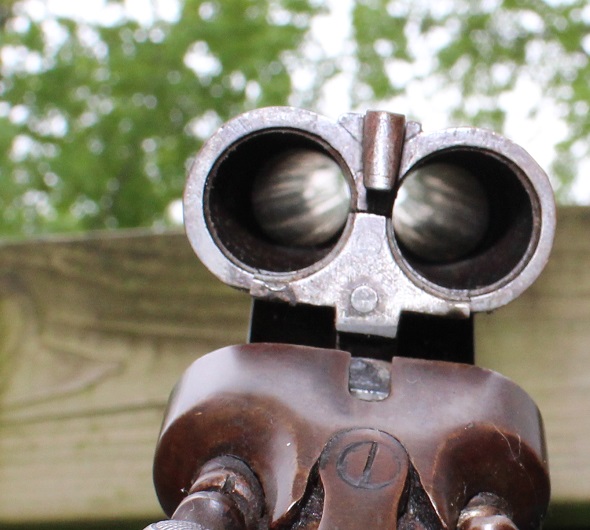 Consignment New Arrivals 189

Here we have a modern made Percussion single shot rifle that is better than the usual one that we see. This one is rather delux with the stamped engraving on it. It is a .45 caliber single shot pistol with 10 inch octagonal rifled barrel with loads of decoration on it. The lock works fine and this piece could easily be shot with no problem. It's fully funcitonal and although not new it's probably no older that 30 years or so. No markings are present anywhere on this piece that I can see. The hardwood stock is beautiful with no problems. It's a nice piece and entirely affordable at $125.00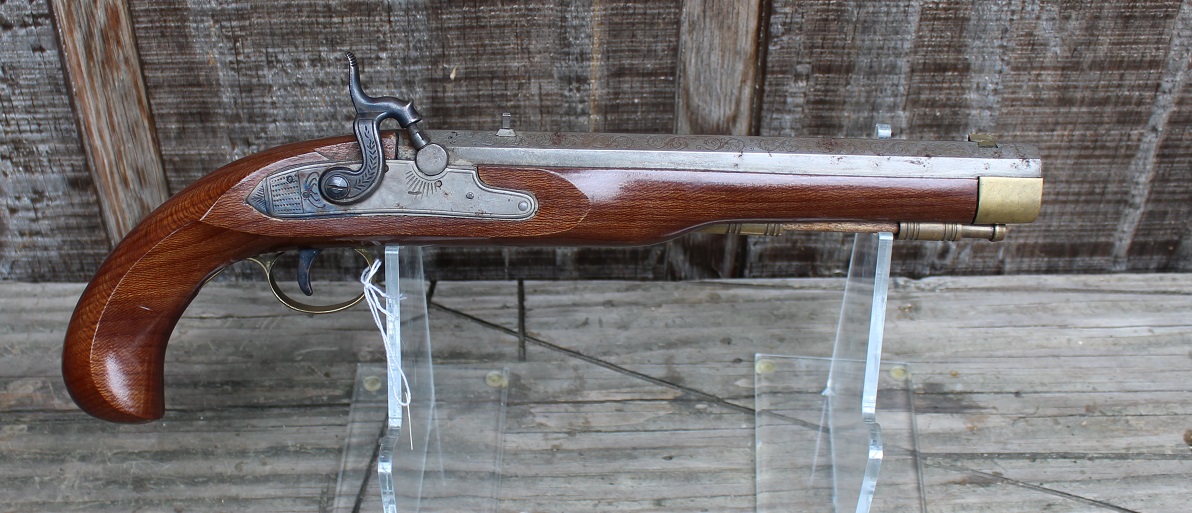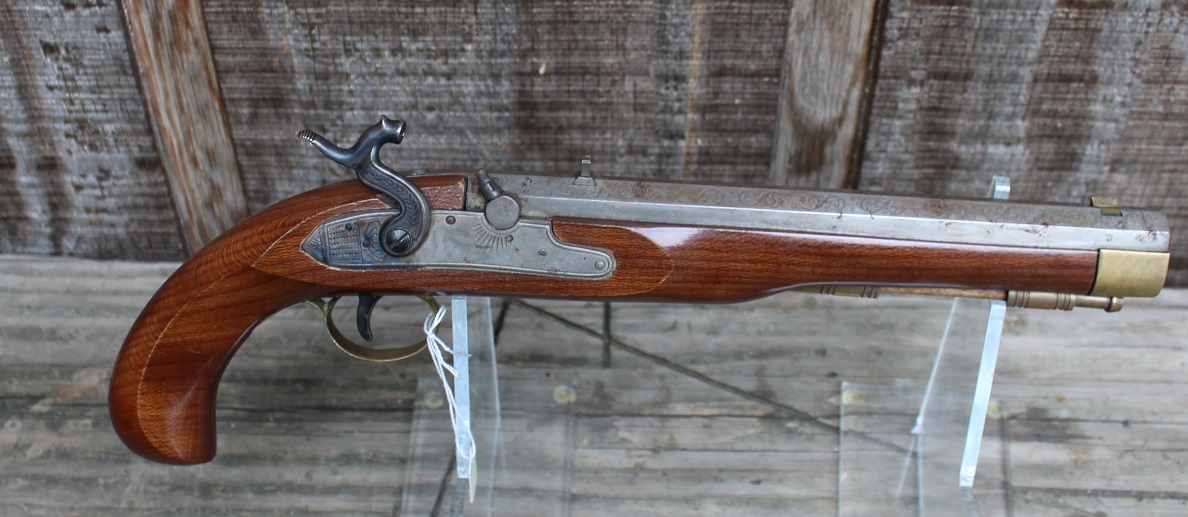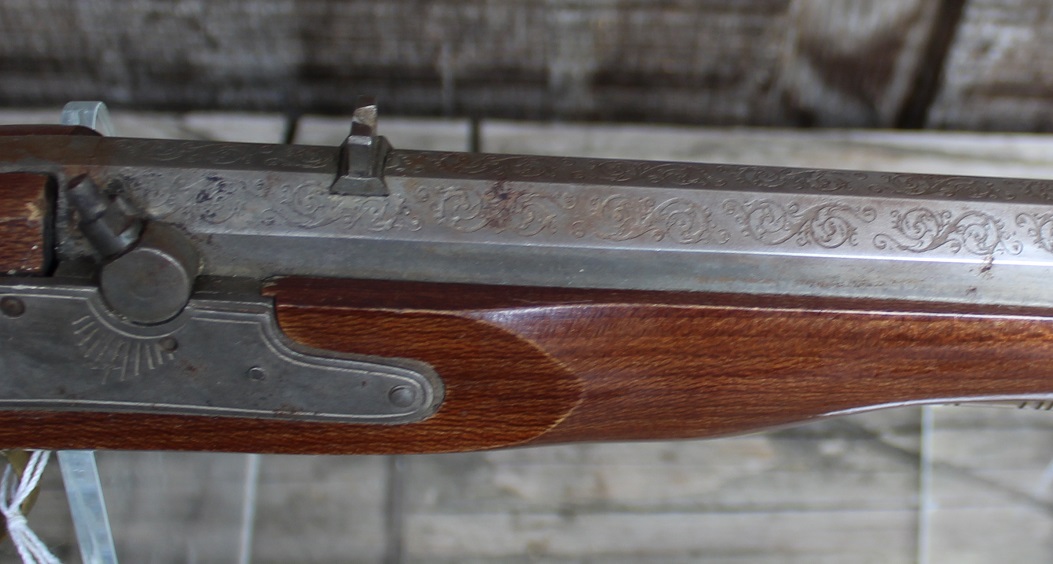 New Arrivals 187

Here we have a Civil War cutdown rifle made into a shotgun, probably after the war that came out of an attic from Central Indiana. Whether or not the man who owned this piece was a soldier we may never know but it's a good possibility that this Civil War rifle belonged to him. This is a 1863 Springfield musket that works just fine to this day. The nipple is intact but probably blocked with rust from time. The way you see this rifle/shotgun is exactly how it came out of the attic. I have not cleaned it in any way. It's about 48 inches long now with a 32 inch barrel. The barrels are normally 40 inches long. The stock has been shortened just ahead of the last barrel band. There are no perceivable markings on the barrel. The ramrod was shorted accordingly and matches the patina of the rest of the gun perfectly. If you want a Civil War Rifle to hang on the wall that doesn't cost you a small fortune then this is for you. $395.00
Consignment 186

Here we have some 18th century flatware of various makers and some is monogramed. Take a look at the pics. I believe it all to be coin silver. For each piece $20.00 or $200 for the set!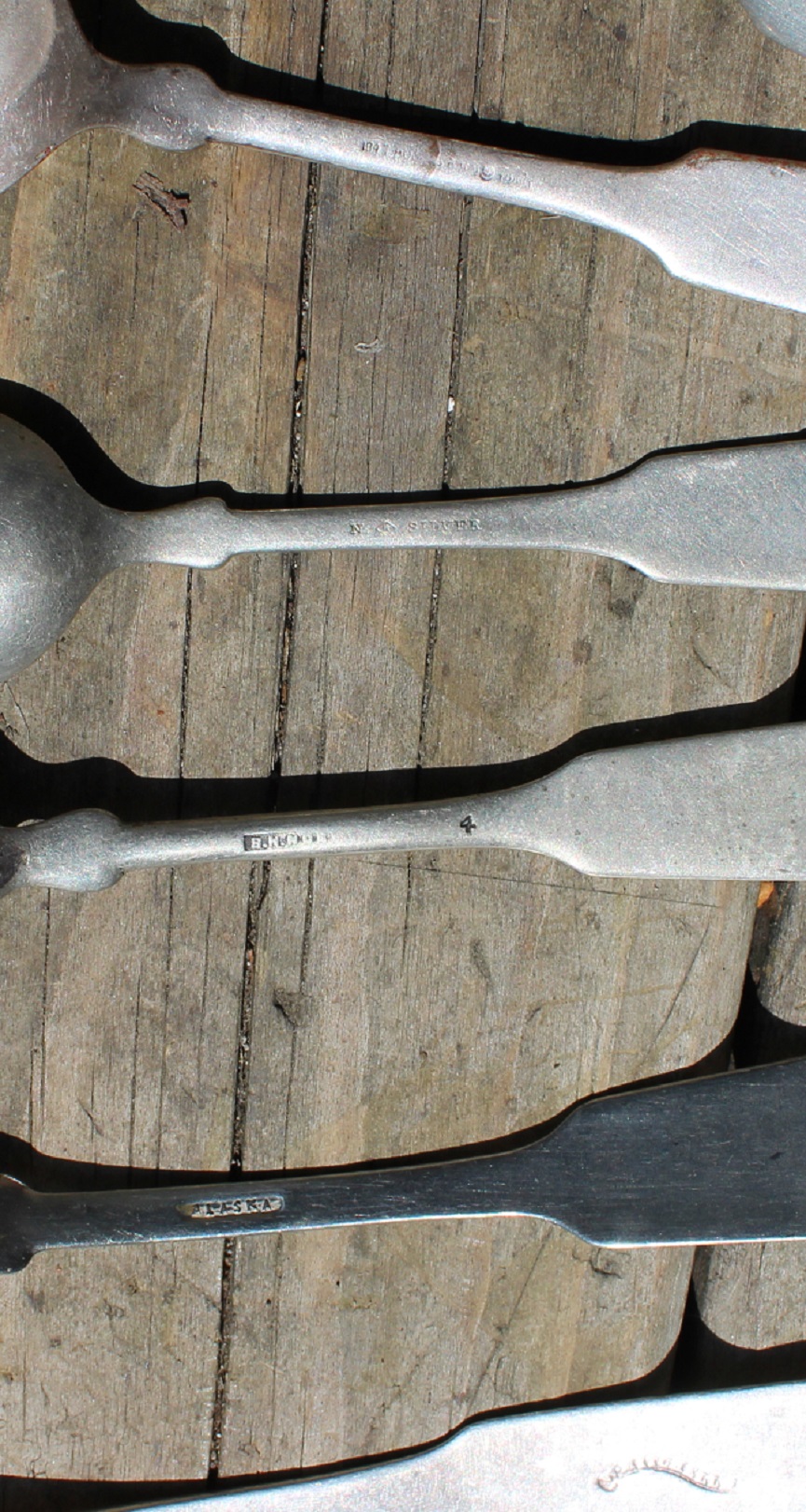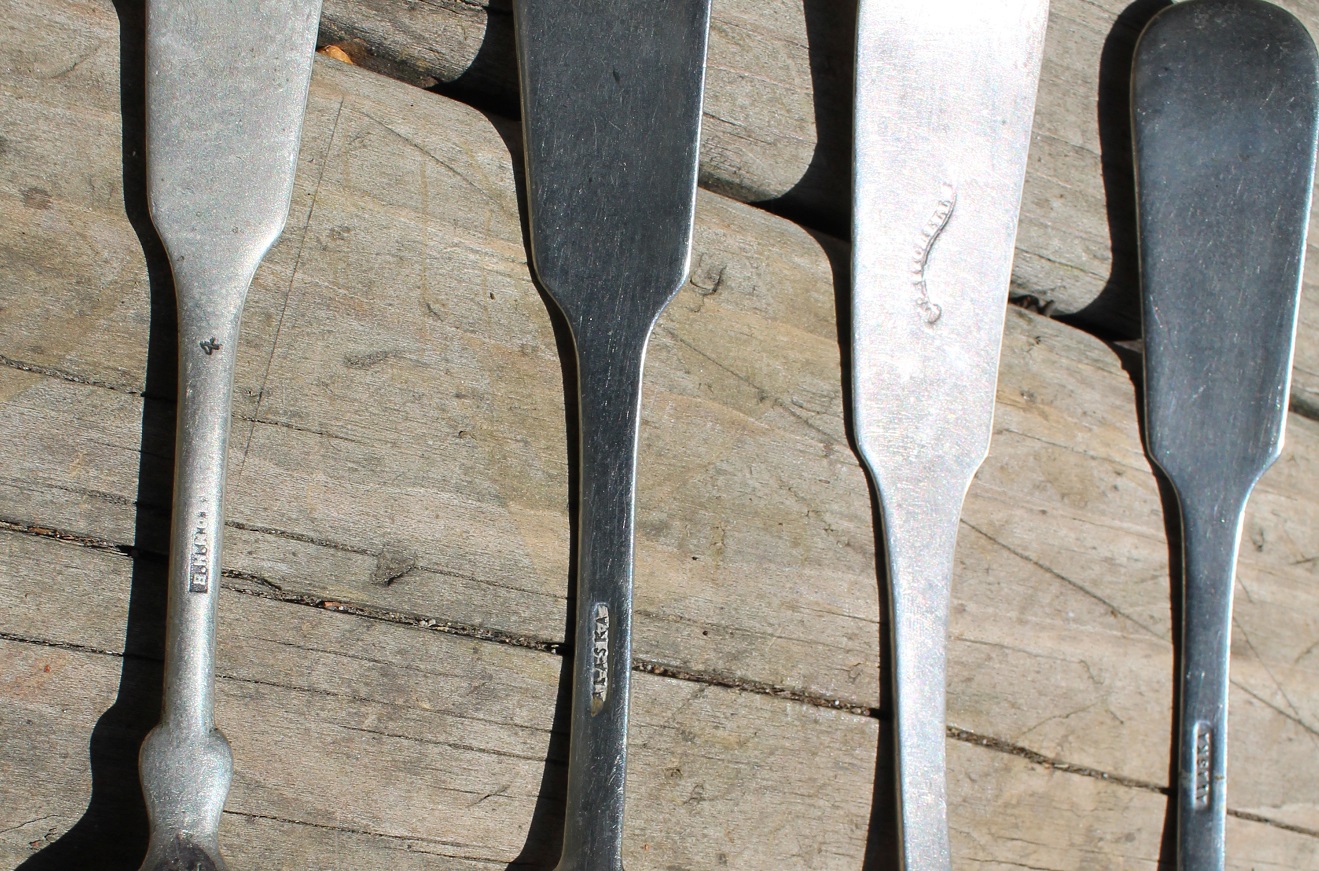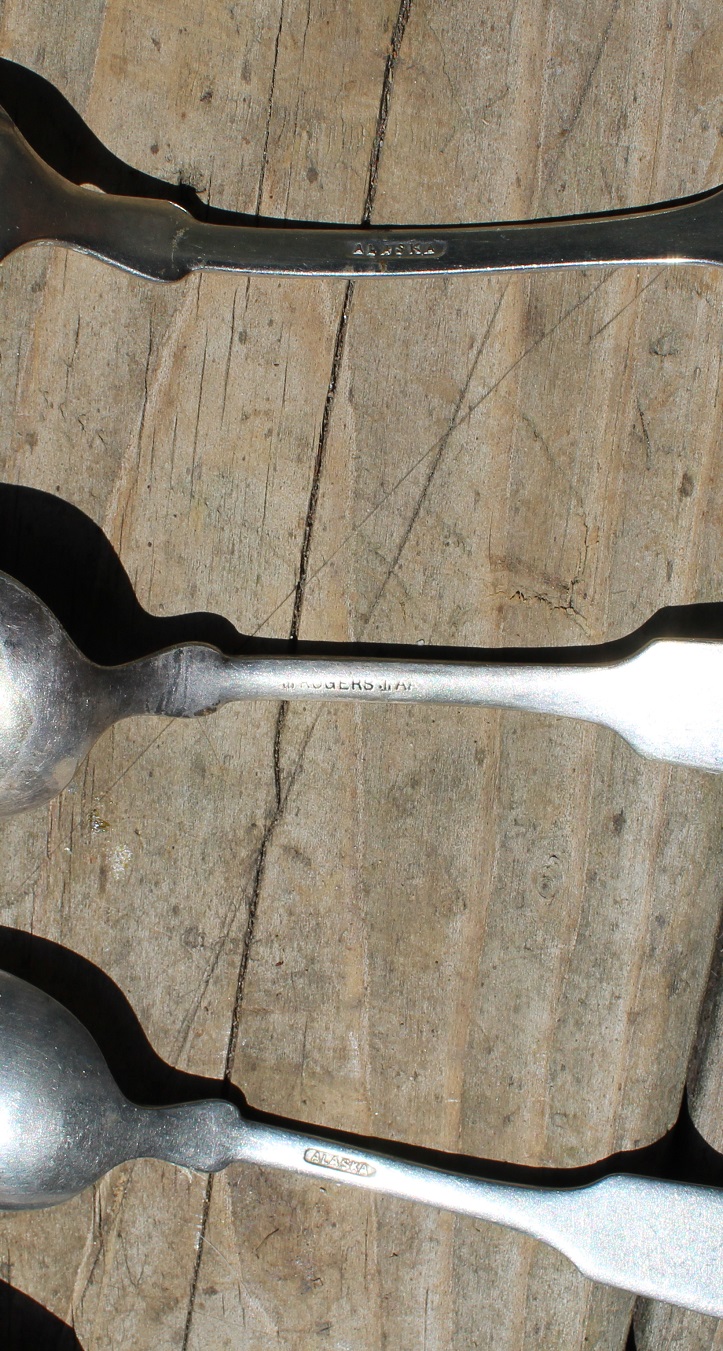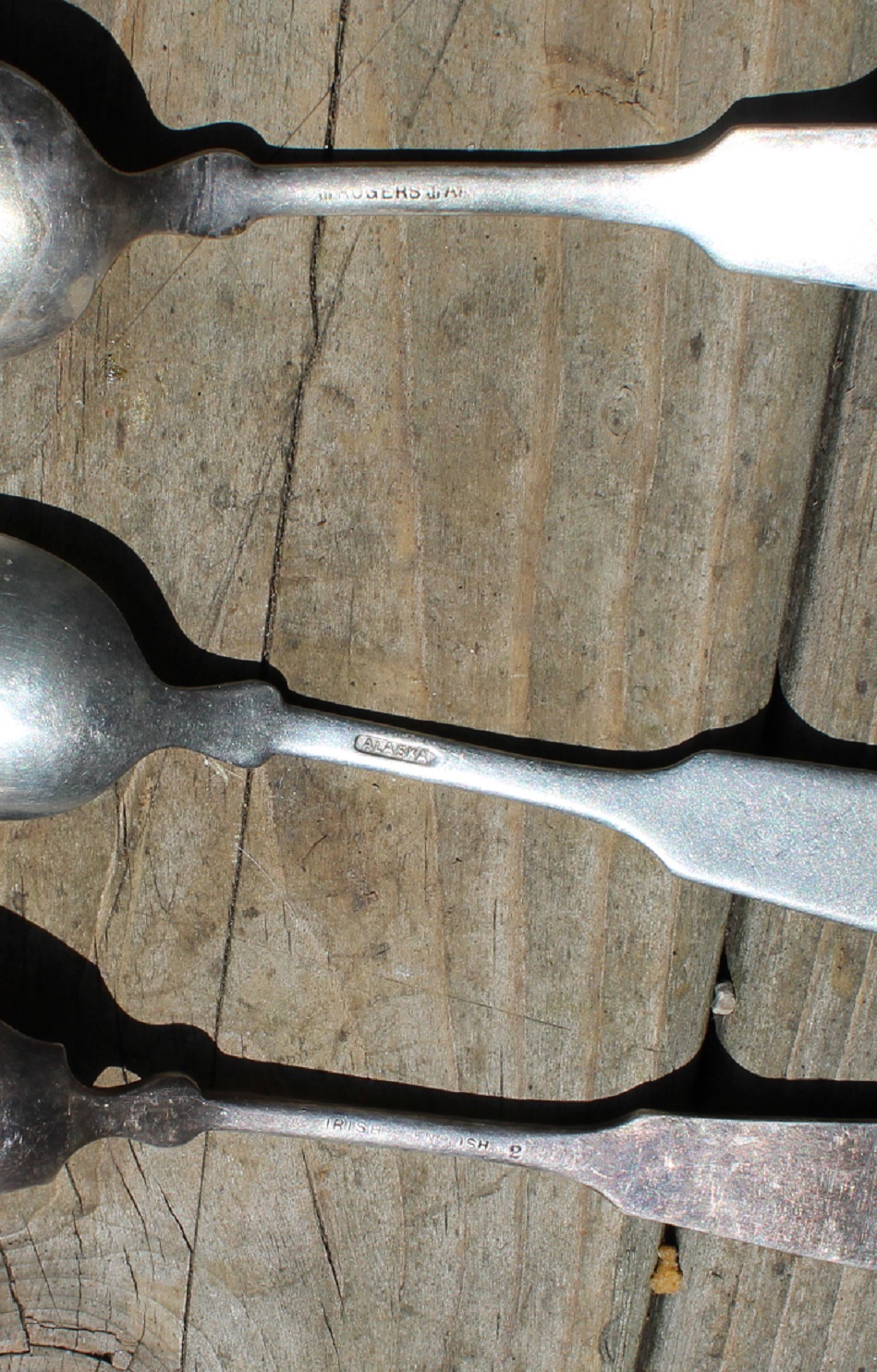 New arrivals page 181

Now we have the blacksmith made knife that accompanied the other two pieces. This is a spearpoint knife being 12 inches long with a 7 1/2 inch long blade. The blade is hand wrought with roughness and pitting here and there. It has a large clipped corner rectangular hand guard being made from a single piece of sheet iron. The round wooden grip has a round ferrel on it next to the guard and is a compression fit on the tang. The 7 3/4 inch brown leather scabbard started out life on a nicer knife as it was well made with a design around the edge on both sides and excellent stitching. You can see where a belt loop was originall sewn onto this piece but now lacking as I don't believe it would have worked with this particular knife. More than likely this knife in scabbard was shoved into a belt of trousers. For this piece $275.00
New Arrivals Consignment 177

Here are some parts! Let me know what interests you and I'll shoot you a price! Thanks!
New Arrivals Consignment 174

Here's a curio that's sure to grace your desk as a wonderful paperweight! This is a cast steel 1873 model Colt Single Action Army unfinished frame! Don't know who made it but like to think it's Colt. If it isn't made by Colt they sure did a great job in casting this piece! Take a look at the pics!!! $45.00
New Arrivals Consignment 168 sold

Here is a frame for a Harrington & Richardson Trapper Model .22 caliber revolver. This one has the 4 ¾ inch long octagonal barrel. It is rusty but mostly surface rust and will clean accordingly. The bore is dark but I can see rifling. It's a pretty nice frame so I don't know why anyone stripped it but if you need one then here it is. $25.00
New Arrivals Consignment 167

Here we have a nice long target scope! I see no makers markings on it but perhaps one of you know who the maker is and if you let me know I'll post it. This scope is 19 inches long with a single mount. The optics are good and there is a nice cross hair to view. Optics need cleaning but they are intact. For this fine old piece $225.00
New Arrivals Consignment 164

Here we have an original full stock percussion rifle that is pretty ornate. It's showing it's age but it works properly and has a nice rifled barrel! The wood is ornate and so is the furniture. There is a chip here and there in the wood and a repair that can be seen near the lock but hey, this rifle has been there and done that! Obviously well loved and cherished as it still exists!!! The rifle is about 48 inches long with a stripped pattern to the wood, especially the buttstock. It has a raised cheek piece and hand carving on the stock. There is hand checkering back of the lock on the stock and on the forearm. The lock is a single trigger lock and works well. The barrel is heavily rifled and appears to be 56-58 to 60 caliber. The barrel is part octagonal and part round being 34 ¼ inches long. IT has peep type brass sights on it with a peep hole in the back sight and a cross hairs type sight up front. The brass furniture is very nicely patinated and looks great. Take a look at the pics! Great!!! $725.00
Consignment New Arrivals 162 SOLD

Here we have a frame for a Smith & Wesson 1st Model Russian Revolver in .44 caliber. Something to work with or just display! $25.00
Consignment New Arrivals 161

Here we have a recovered bayonet which is a type 30 Variation G & H bayonet. It looks like it may have laid in the surf for awhile as one side of the slab grips looks like driftwood! The bayonet is somewhat rusty but full length and still shows the markings on the blade. The markings on the blade are Matsushita Kinzoku KK Arsenal or commonly known as "National Denki". The bayonet catch still works as well. The blade as been sharpened as well at some point and the very tip of the blade looks to be lacking. Interesting! $65.00
Consignment New Arrivals 160

Here we have a WW1 German Canteen complete with cloth cover. It's kind of rough but it was rough on the Rhine and these things got used and abused Complete with leather strap around the spout and pewter button which has came loose but in the canteen. This is a enameled blue canteen with corduroy type cloth cover which is well worn and stained as well and has something stamped on the back but I can't quite make it out. I can feel a dent under the cloth but not bad. For this good example $75.00
Consignment New Arrivals 159

Here we have an empty Winchester 12 Ga. Repeater Paper Shot Shell's loaded with Smokeless Powder box for sale. The colors are still nice on this totally 2 piece original box. The owners name which is Chas. ???? is written on the top but hard to see. This makes a nice display box with an old shotgun! I have been told that this box is from 1903 !! Measures about 4 ¼ X 4 ¼ inches and is 2 ½ iches tall. $45.00
New Arrivals Consignment 146

Here we have an India Ax of the type used in Indian during the 17th and 18th centuries. This particular one is , what we believe to be, a Victorian Copy for decoration in a well to do household of the time. Egyptian and other exotic weapons and objects decorated the affluent Victorian Homes of the 1880's-1890's and so on. This particular ax is pretty substantial and could actually be used as a weapon. The piece measures about 33 inches long with a hand hewed hardwood shaft wrapped in copper wire on the upper end. There is a brass decorative finial at the bottom. The head/bit looks to be forged and done quite well. The bit is over 11 inches long by over 2 inches wide . The head measures 5 ½ inches to the back of the shaft. The wood shaft terminates into a point but I believe that there was a spear point on that end at one point in time, now lacking. All in all a nice piece that shows some nice wear. For this India Ax $210.00
Consignment New Arrivals 139

Here we have a 19th Century European Cavalry Saber. It kind of leans toward French but it could also be Russian. Still researching. At any rate it's a solid piece without scabbard. The blade is 34 inches long with just a trace of a ricasson on each side. The blade resembles the Boyle and Gamble flat blades of the Confederacy but I assure you it is not. There is some words stamped into the right flat blade but I just cannot make them out. The holt has the 3 brass branches and knuckguard as well as a brass pommel cap which extends the entire way up to the grip ferule. The grip is a grooved hardwood grip which is lacking leather and wire. There is a crown and BV that is stamped on the backside of the handguard. For this piece $295.00
Consignment New Arrivals 136

Here we have a small German Hunting Sword. A thorough investivation shows no markers markings on it that I can see. The sword is 24 ½ inches long with a brass cross guard and clamshell guard. The pommel cap is also brass and it's all held together by peening the tang over at the pommel cap. The guard is staghorn and in nice condition. The blade is 19inches long and has tons of light etching on each side of the blade. It's kind of hard to photograph it as there was a lot of shine. There are some areas of pitting on the blade but not severe. The pitting is stabilized so no more should occur if correct conditions are maintained. The original red washer is still present as well. Overall a very nice example of a 1800's early 1900's hunting sword. The scabbard measures about 19 inches long being leather with brass mountings. There is a small hole in the 'drag' where the blade penetrated it at some point. I have no doubt that this is the original scabbard for this sword but it is about the same length of the sword with probably only the washer keeping it from bottoming out. All in all a nice example!!! Check out the pics! $350.00
Consignment New Arrivals 135

Here we have a Masonic Lodge sword that belonged to a John A. Rice and is marked both on sword blade and metal gold washed scabbard. This is a beautiful sword but I have no history on John. The sword is very ornate as you can see in the pics and so is the scabbard. Take a look at the pics. The maker is M.C.Lilley out of Columbus, Ohio. Mitchell C. Lilley (1819-1882) was born in Columbus, Ohio. He was a bookbinder and publisher and published Masonic and Odd Fellows books. In 1865, he founded M. C. Lilley & Co, which produced regalia and swords. The company expanded into a complete line of military and fraternal swords, uniforms, accessories, and equipment. Following several mergers, the company changed its name to the Lilley Co. and The Lilley-Ames Co. In 1951, the company was sold to the C.E. Ward Company of New London, Ohio. It operated until 1953. So you see this sword was made prior to 1951. It's a beautiful piece! For this sword $275.00
Consignment New Arrivals 133

Here we have 4 different lots of eating utensils from the Civil War or before till at least the Korean war. Here they are:

Lot 1

This lost consists of 3 different lots of 1 knife and 1 four tine fork each but being sold as a unit. The fork and knife at the top have ornate handles being a rather small size with the fork being 6 ¾ inches long and the knife being 8 ¼ inches long. The handles are bone and on one side they have a Pheasant engraved on it. W S & Co are stamped into the shank of the fork and the blade of the knife. Don't know who that is but probably English.

The second set is probably the oldest most likely from before the Civil War and English but I am no expert. The 3 tined form is small like the one above being the same length and the knife is 8 inches long. Both are marked in the metal with a V Crown R for Victoria Regina, Barton Brothers & Company over Clossop and looks like Road but that part is worn. The form has no markings but they are very similar in design so I thought that they belonged together. Barton Brothers Firm appeared in 1849 and 1852 Sheffield directories as "Merchants and Manufacturers" at 231 Glossop Road. . The set has bone handles.

This 3rd set is Civil War era or so being marked Lamson Goodnow & Co, S. Fallworks. This company dates back to 1842. The knife is bone handled and is 8 ¼ inches long with the fork being 7 3/4 inches long. The 3 tined fork is not marked as the knife but they look very similar. The fork is also bone handled with pewter end caps. Nice.

For all of these piece $45.00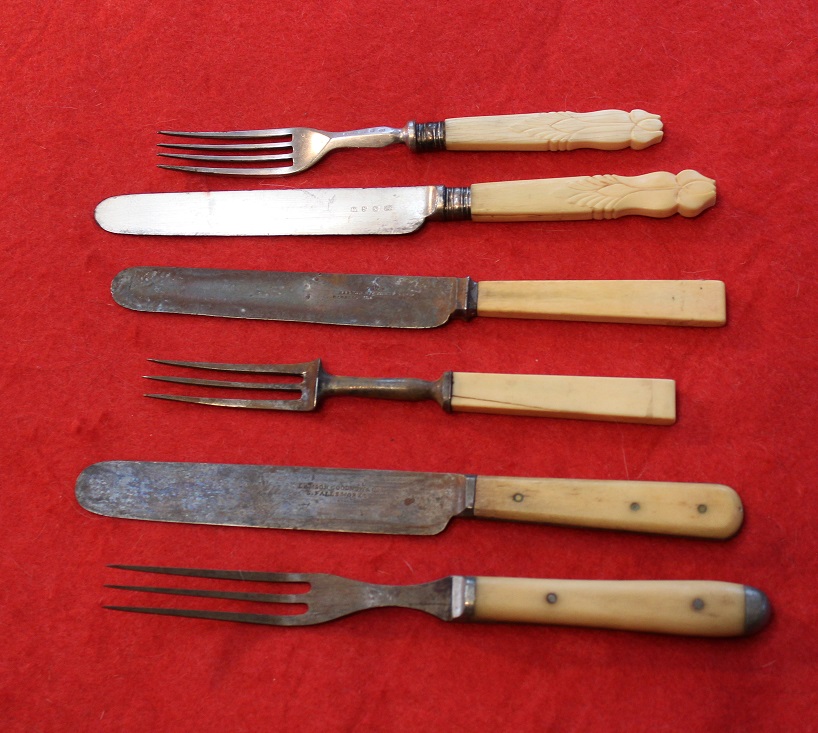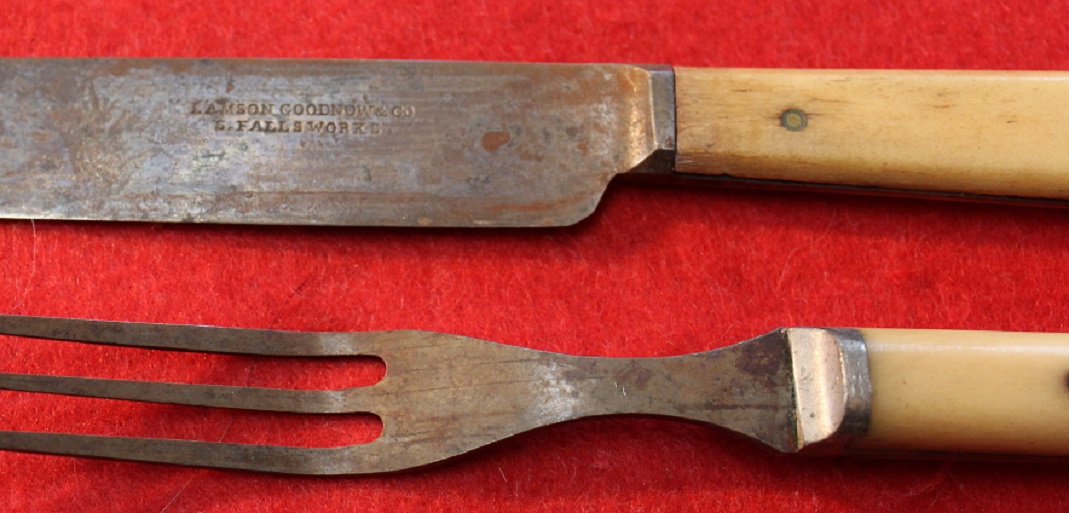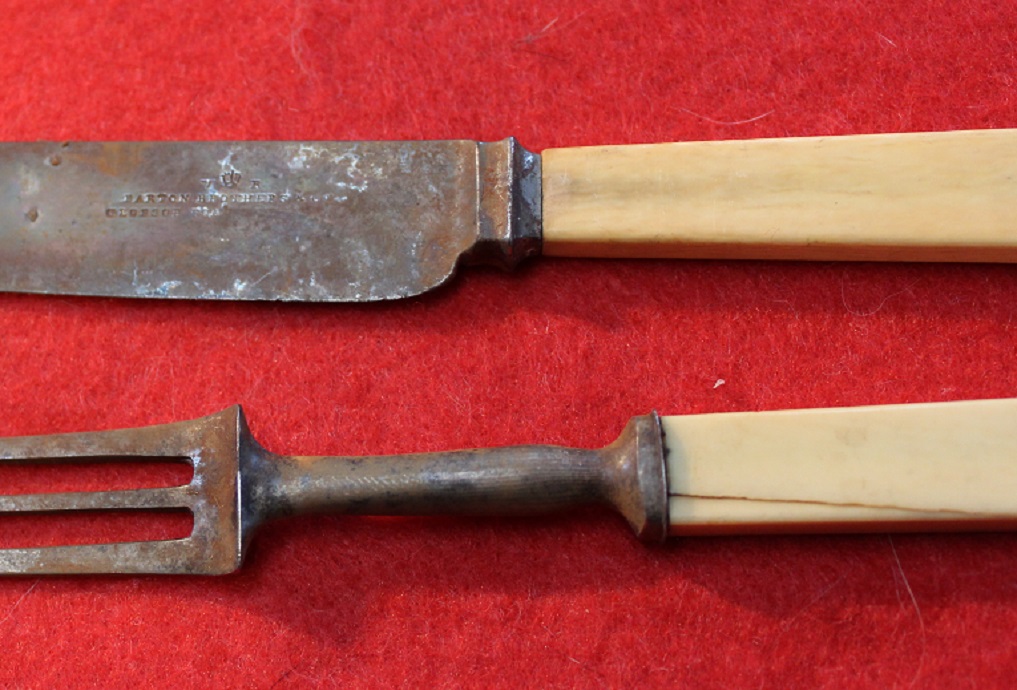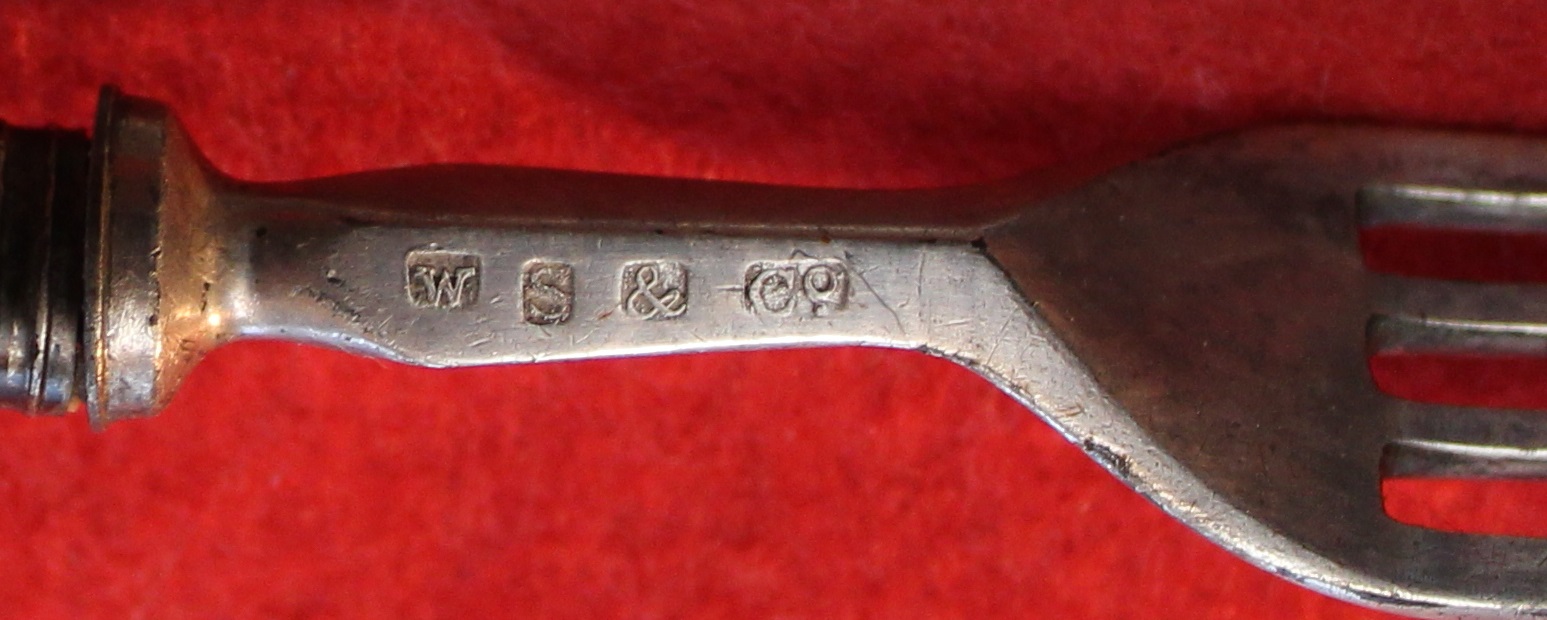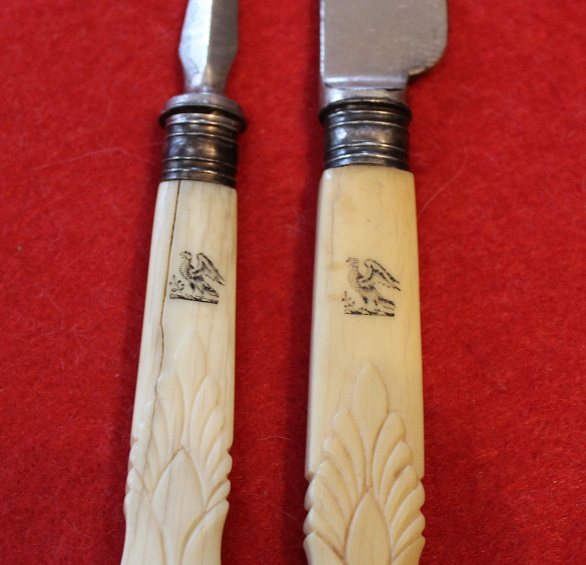 Set # 2 consists of 4 knifes and 4 forks all matching and made by Hibbard, Spencer & Bartlett Co that formed into a business in 1865. An interesting note is that in 1932 this company founded True Value Hardware. The forks and knifes are all bone handled with pewter end caps between the handle and the utensil end. Forks are 7 ½ inches long and the knives are 9 ¼ inches long. All of the knives are marked with the makers name but the forks are now, however, obviously they are all from the same manufacturer and still in pretty nice condition. For this set $45.00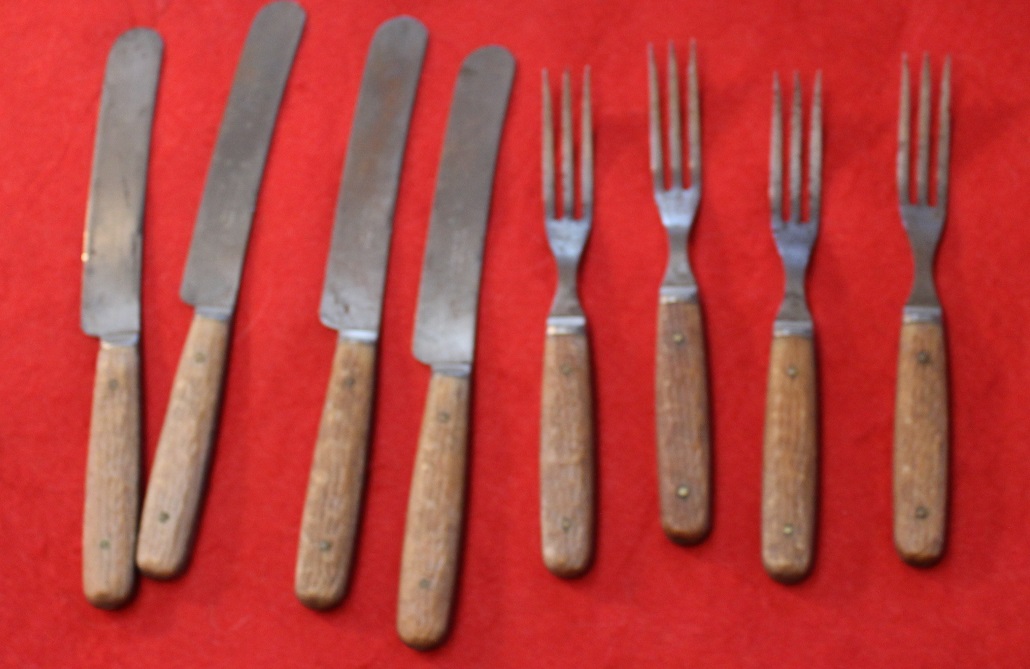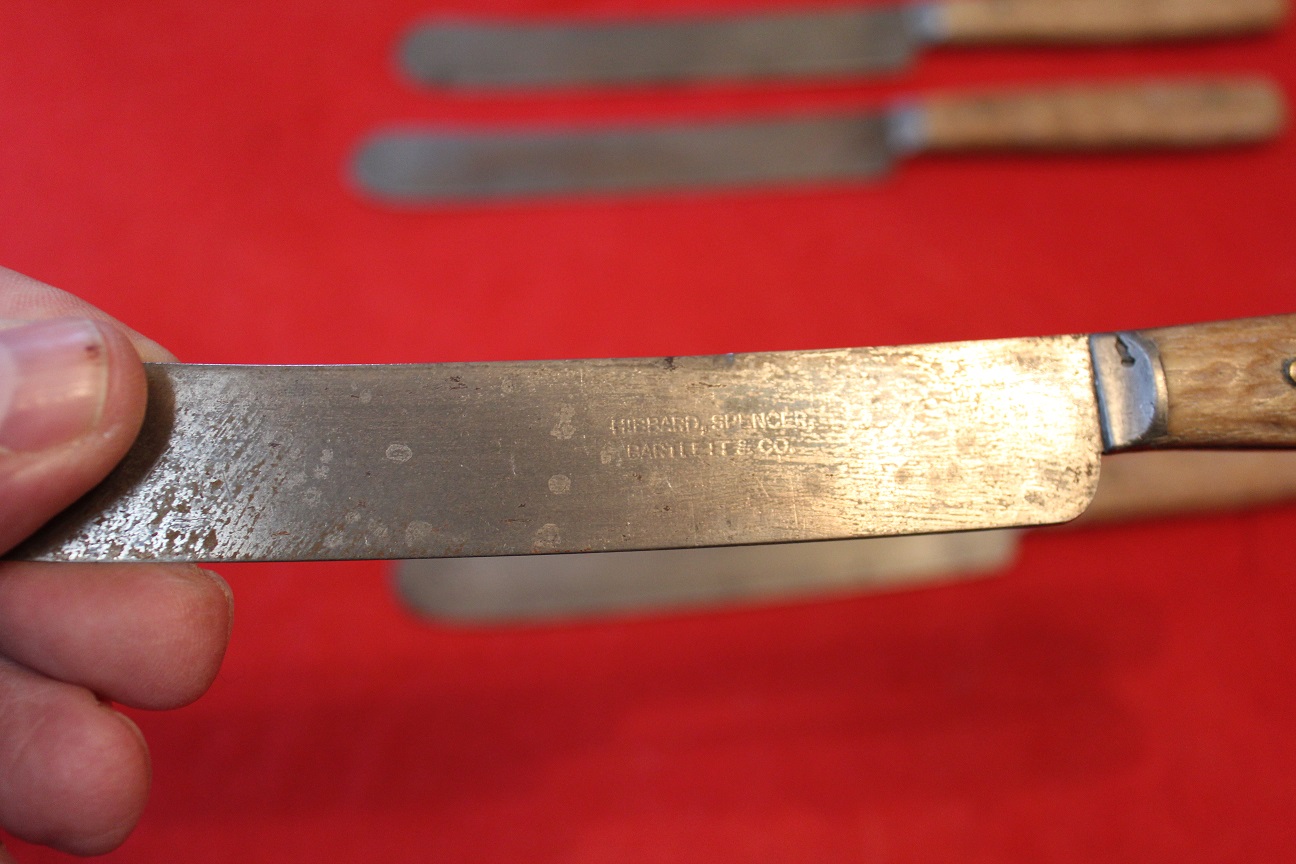 Set #3 consists of all metal black painted grips/handles. Most of them have the paint worn off. There are 3 three tined forks, 1 four tine fork and 6 knives that slightly vary in blade conformation. There are no names on these pieces but this type was popular at the end of the 19th century into the early 20th century through WW1. The forks are 7 ½ inches long and the knives are 9 inches long. All 10 pieces for the price of $35.00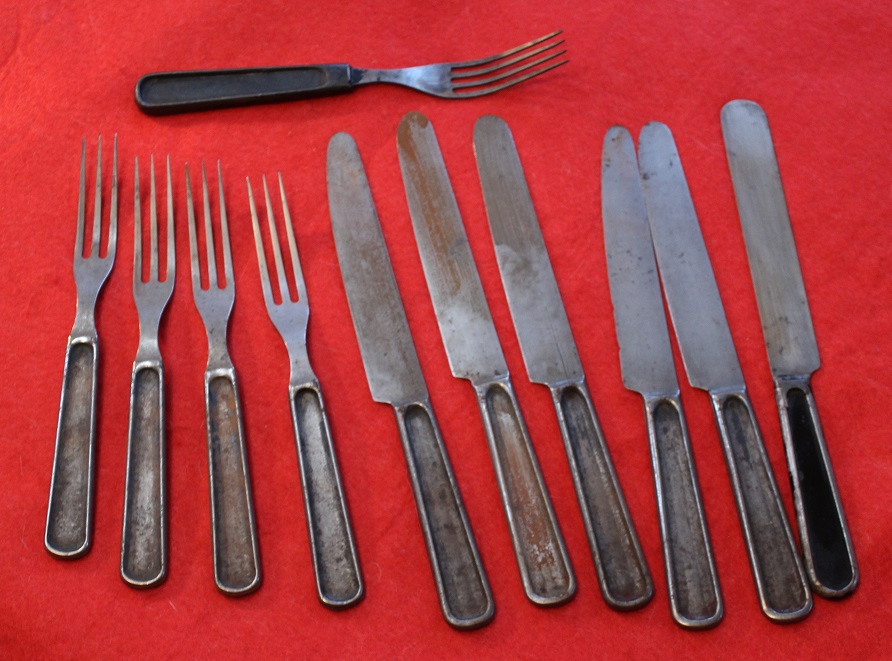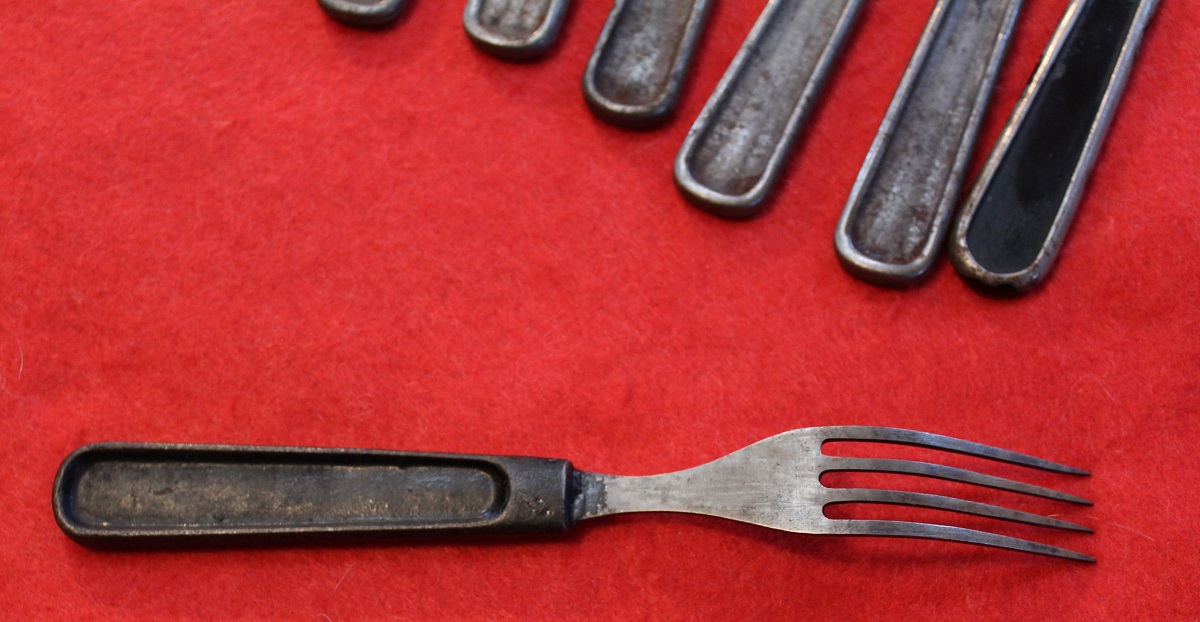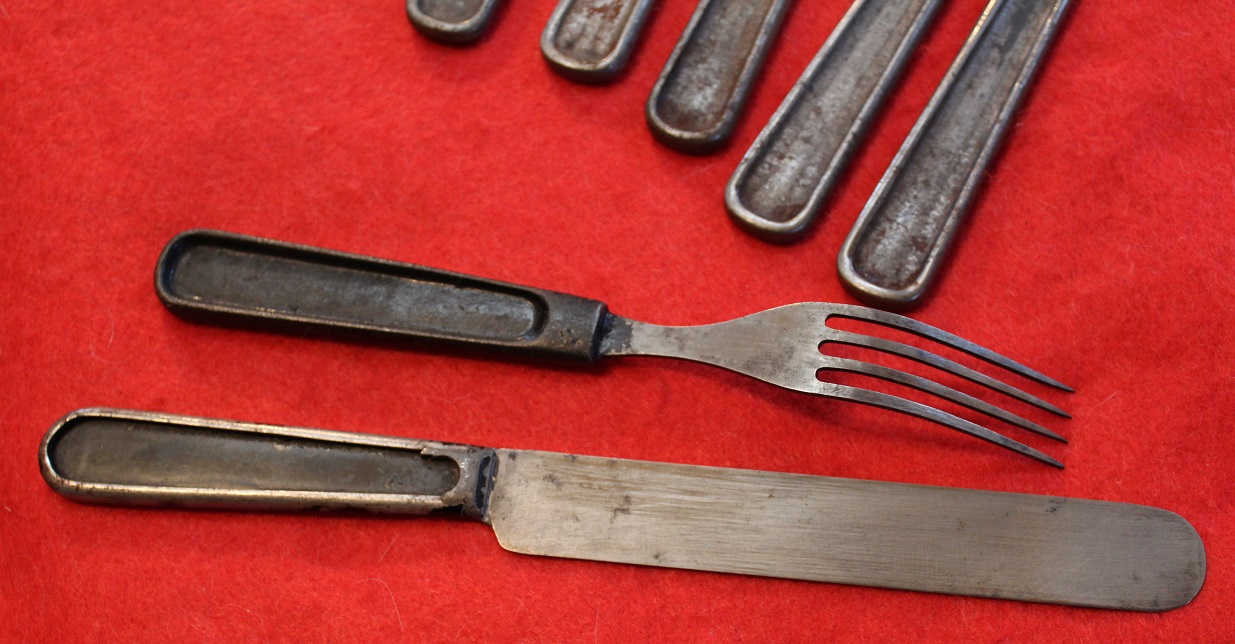 Set # 4 consists of all US marked military utensils. There are 3 knives, 3 forks and 3 large spoons. The knives about 7 ½ inches long with stainless steel blades and aluminum handles, all marked U.S. There is a hallmark on the back of one of the knives handles that I don't know. The other two knives have O.L.1952 on them so I assume these were made during the Korean War. The forks are all stamped stainless steel being 7 ½ inches long and marked with the large U.S. on the handle. There is nothing else stamped on them. The spoons are all like table spoon size and measure about 7 3/8ths inches long. The look to be all marked with a W in a circle on the back. These handles are all marked with a large U.S. as well, as normal. For this nice set $45.00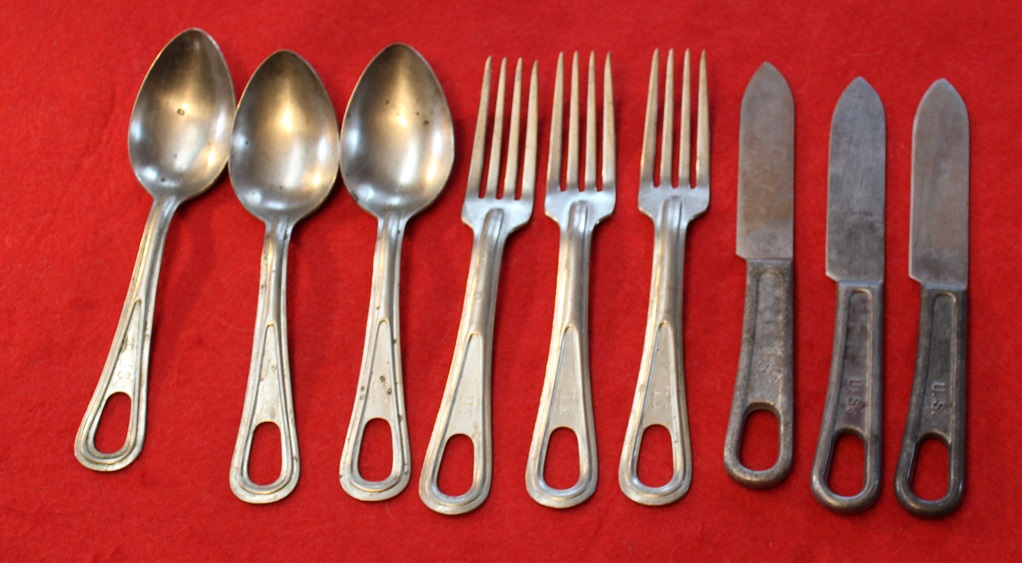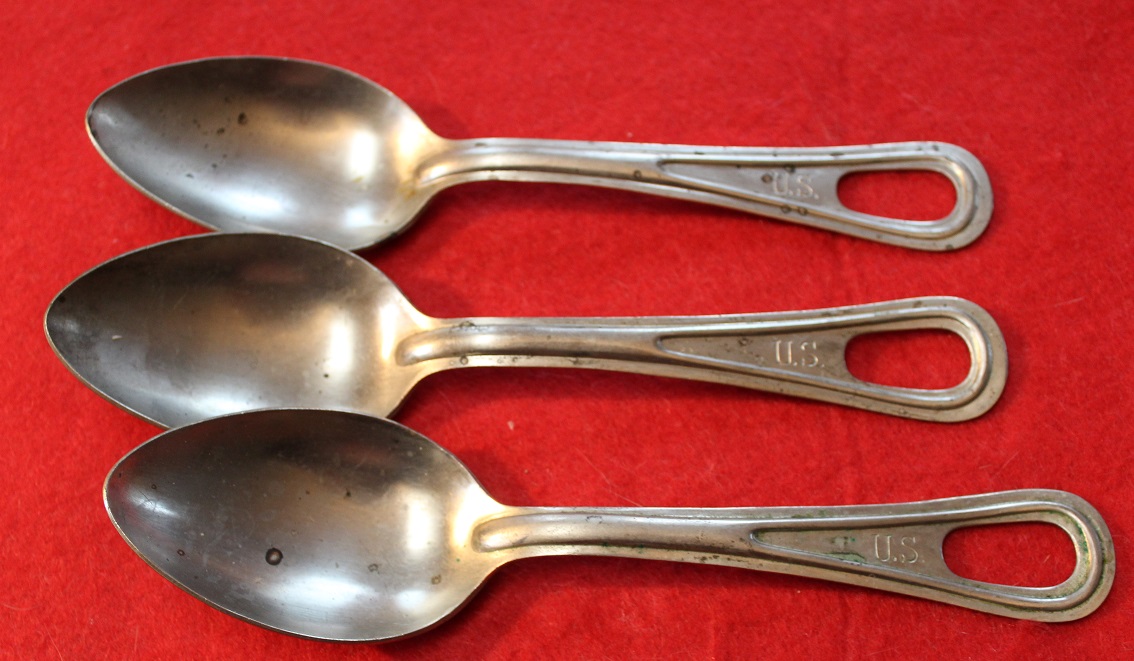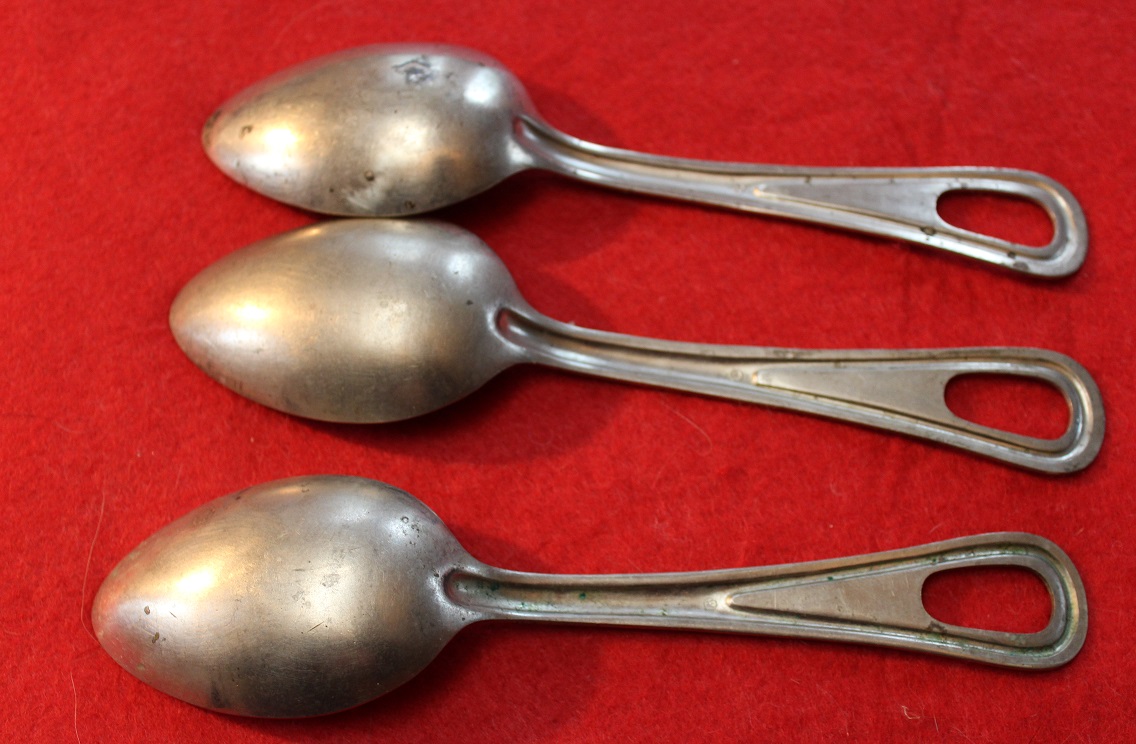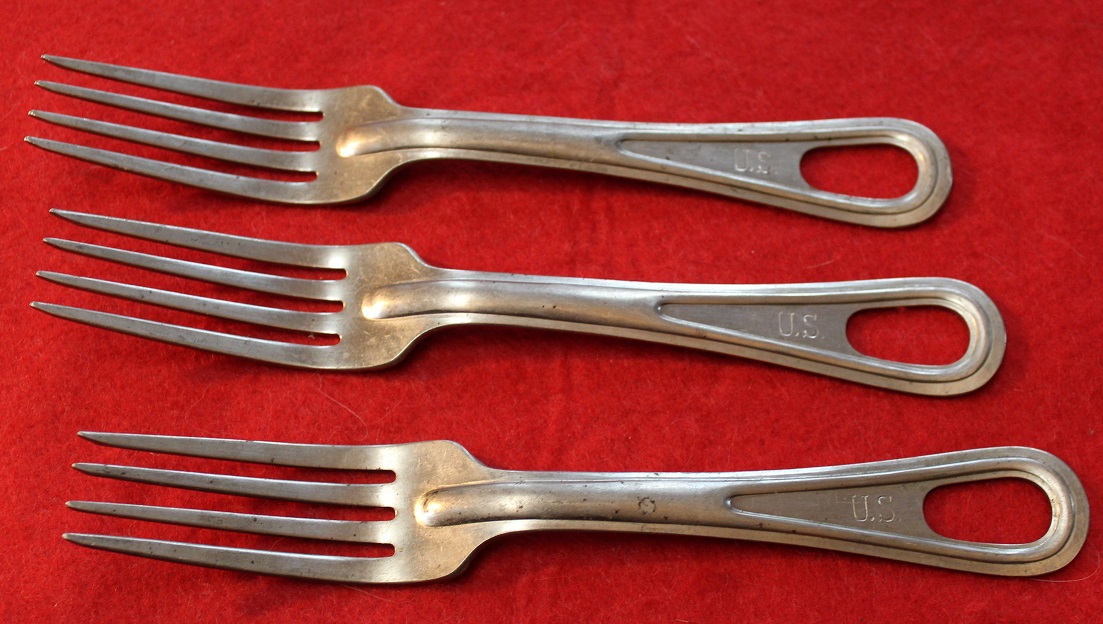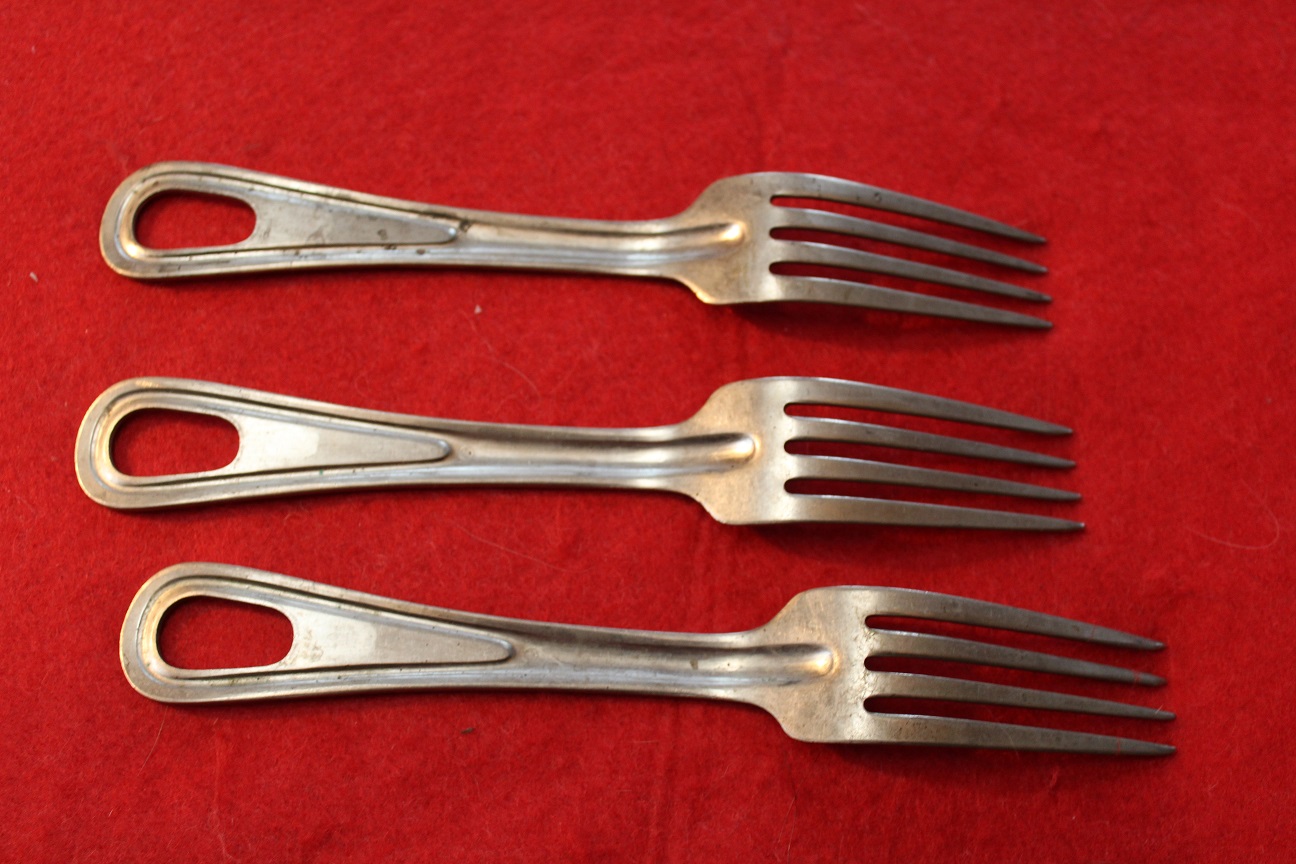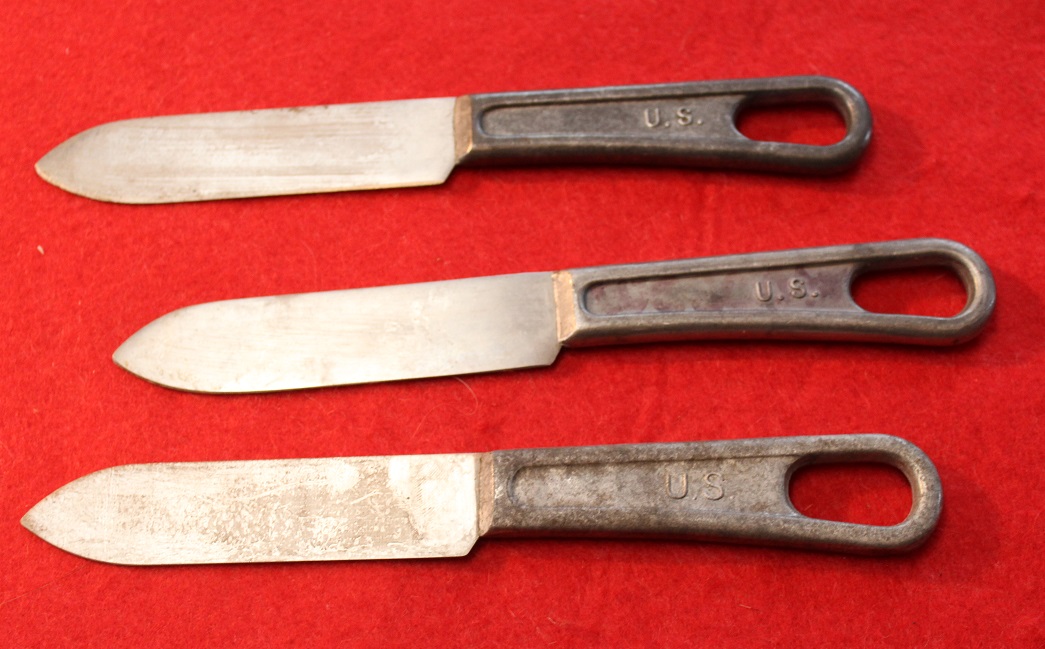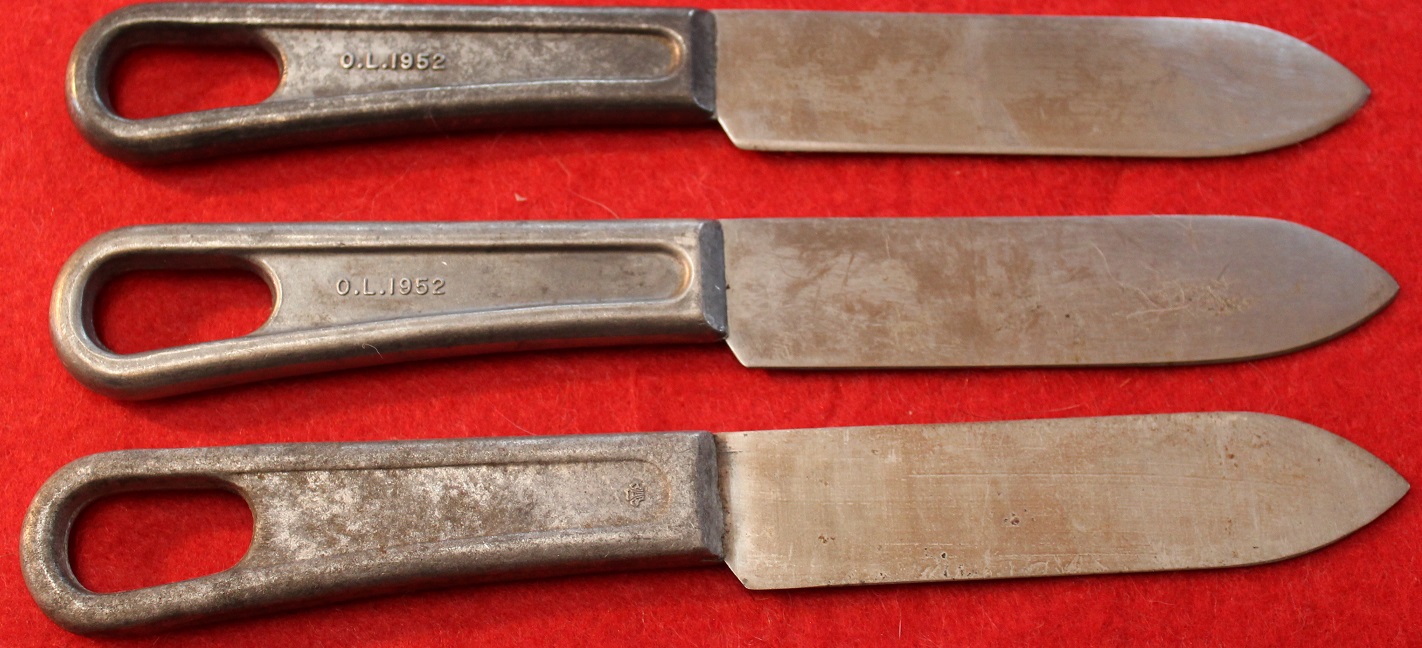 NOTE!!! We just got in several 'HANDYMAN SPECIALS' or parts guns. Take a look!!

Consignment New Arrivals 132

Lets start with the roughest one of the lot! This is a.52 caliber poor boy half stock rifle that has seen better days and needs a good craftsman to bring her back to life!!! The octagonal barrel measures 40 inches long and has utilized the drum and nipple method on the side of the barrel. There are 3 exposed dovetails on the bottom of the barrel which were probably made for ramrod thimbles which are now missing. The stock is wired to the barrel to keep it in place. The front and rear sights are present and this file has a double screw tang arrangement. This is a single trigger type rifle and the trigger guard is lacking. There is no butt plate and never was one. The stock has seen lots of bumps and bruises and has several cracks in it, it's not broken but has several cracks. The lockplate is missing Look at the pics. You get what you see. For this piece $195.00
Consignment New Arrivals 131

Here we have a 14 gauge fowler with a 39 inch barrel. The entire piece measures 53 ¾ inches long. The piece is missing the butt plate, trigger guard and hammer. The stock is still in generally good condition with the usual burn out behind the nipple. ?There is even some checkering done on the stock. The back action lock has some engraving on it but no name and I found no name on the barrel as well. I have not taken the barrel off the stock so there may be something under there. The front of the barrel is holding the under barrel rib on with wire. There is some simple engraving on the barrel tang and some rings to the front of the octagonal part of the barrel. The majority of the barrel is round. The wonderful thing about this piece is that it has the original ramrod! These are missing more than 90% of the time so this is a plus! For this piece needing restoration $250.00 Look at the pics!
Consignment New Arrivals 130

Here we have a full stock rifle that's virtually complete except for a working lock and a trigger guard. The 38 caliber barrel is 44 inches long with the entire piece being about 60 inches long. I can't tell for sure if this barrel is rifled or not as it needs a good scrubbing. The hardwood stock is in good condition overall with some burn loss behind the nipple which is still present. R.W. Booth, Cincinnati is on the lock plate while W. Rennara is stamped on the underside of the barrel. The brass nose cap is present as well as the two brass ramrod thimbles and the third thimble that enters into the stock. The trigger guard is missing (probably brass) but the butt plate is present. There is a hole recessed into the obverse butt stock that may have been for a cap box but it looks unfinished. Perhaps a small tin box fit in that recess. The small brass sideplate is present but the lock screw is missing. Take a look at the pics. I believe a good craftsman could fix this up fine. There is plenty to work with here and it's a fullstock! $295.00
Consignment New Arrivals 129

Here we have a large 60 caliber half stock with no lock. This is a nipple side lug percussion that looks to be a somewhat crude 'Poor Boy' which were made without butt plates most of the time. The stock is quite large and the hardware seems to have had the stock someone crudely or hand cutout to fit the iron parts. The from barrel pin is missing that's why you see a rubber band holding on the barrel in the front. This heavy octagonal barrel is 40 inches long no rifling that I can see. Both ramrod thimbles are present front and rear sight. The percussion side drum is present but missing the nipple. I can see no makers names on this piece anywhere. The stock is in generally good condition with the exception of a piece lacking opposite the lock and cracking where the butt was on a damp floor probably most of it's life as well as a chip out of the butt. This rifle has a single trigger and an iron triggerguard. Worthy of restoration! For this piece $195.00
New Arrivals 125 & 126 consignment

Here we have 2 project guns! ONE SOLD !!! These are both old percussion with one being a rifle and the other being a double barrel shotgun! Here there are:

2. This second firearm is a put together from two guns 12 gauge double barrel percussion shotgun! It's in bad condition but it's very unusual as well! This firearm is a whooping 60 inches long with 45 3/8ths inch barrels that obviously came from two different guns. The conversion was the drum and nipple method. Necessity is the mother of invention and we believe this hunter needed a goose gun that could fire more that one shell before reloading so hence this piece was born!!! The stock is massive as well being quite wide at 3 inches at the widest point. The stock itself is nearly 31 inches long. No makers name is on the one lockplate remaining so we don't know who made it or at the very least the locks. The triggers are missing and some wood is lacking but it is what it is! Take a look at the pics so you can see what I mean! Unique and would look great on the wall when you put it back together! For this piece $195.00
Consignment New Arrivals 122

MODEL 1873 COLT SINGLE ACTION ARMY REVOLVER!

Here is a Model 1873 Colt Single Action Army First Generation Revolver in the scarce .44-40 Caliber round! The caliber is not marked on the firearm but I am confident that it's a .44-40 caliber Here is some history of the 1873 Colt SAA Revolver!

The Single Action Army became available in standard barrel lengths of 4 3/4 inch, 5 1/2 inch, as well as the Cavalry standard, original 7 1/2 inch. The shorter barrelled revolvers are sometimes called the "Civilian" or "Gunfighter" model (4 3/4 inch) and the Artillery Model (5 1/2 inch). There was also a variant with a sub-4-inch barrel, without an ejector rod, unofficially called the "Sheriff's Model", "Banker's Special", or "Storekeeper".. From 1875 until 1880 Colt marketed a single-action revolver in .44 rimfire Henry caliber in a separate number range from no. 1 to 1,863. A "Flattop Target Model" was listed in Colt's catalogs from 1890 to 1898. Colt manufactured 914 of these revolvers with a frame that was flat on top and fitted with an adjustable leaf rear sight. The front sight consisted of a base with an interchangeable blade. In 1896, at serial number 164,100, a spring-loaded base pin latch replaced the cylinder pin retaining screw and by 1900, at serial number 192,000, the Colt Single Action was certified for use with smokeless powder. In 1920, larger, highly visible sights replaced the original thin blade and notch. The revolvers remained essentially unchanged from that point until cessation of manufacture at the beginning of World War II. From 1873 through 1940 (with small numbers assembled during and after World War II, the so-called "Pre-War, Post-War" model), production of the Colt Single Action Army reached 357,859. This is identified as the "Pre War" or "First Generation" of the model. Calibers, at least thirty in all, ranged from .22 rimfire through .476 Eley, with approximately half, or 158,884 (including Bisley and Flat Top Target variations), chambered for .45 Colt. The next most prevalent were the .44-40 Winchester Center fire (WCF) at 71,392; 38-40 (38 WCF) at 50,520; 32-20 Winchester (32 WCF) at 43,284 and, the 41 Colt at 19,676.[

Now on to this old Colt :

This old colt is in excellent condition with most of the original blue on it with some of it thinning out some and fading some. I have seen several with the frame blued, presumably over the case hardening, but most with just the case hardened frame. This one has the blued flame and it matches the rest of the weapon so I think it is quite old if it was reblued. This particular Colt was made in 1913 and is in excellent working order! You can hear the distinctive 4 clicks when you cock it and the cylinder locks up tight. The original grips are complete with no cracks or breaks. The 7 ½ inch barrel has excellent markings and an excellent bore. This is one beautiful revolver! Check out the many pics!! $3850.00 REDUCED TO $3350.00 !!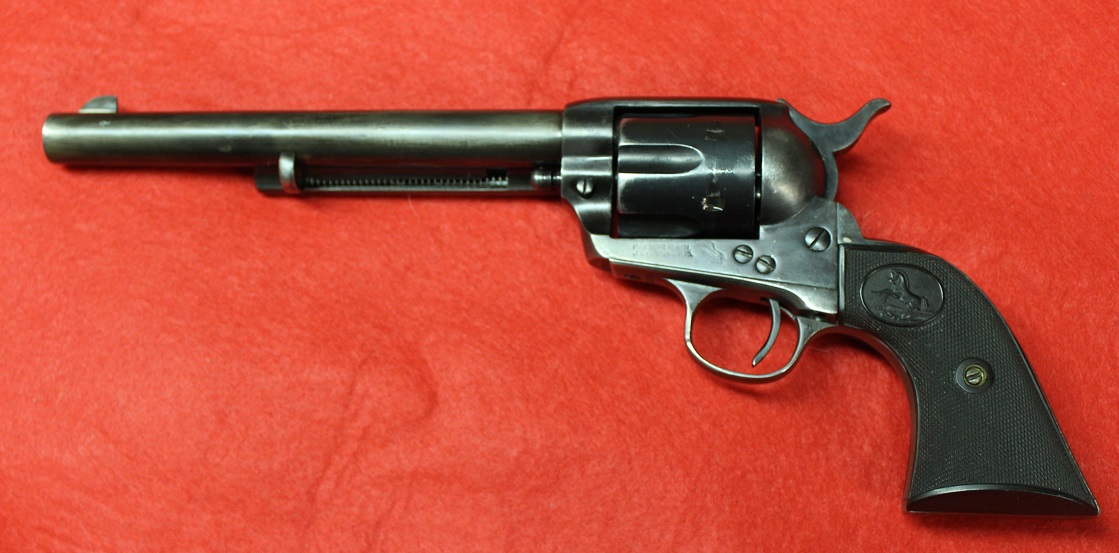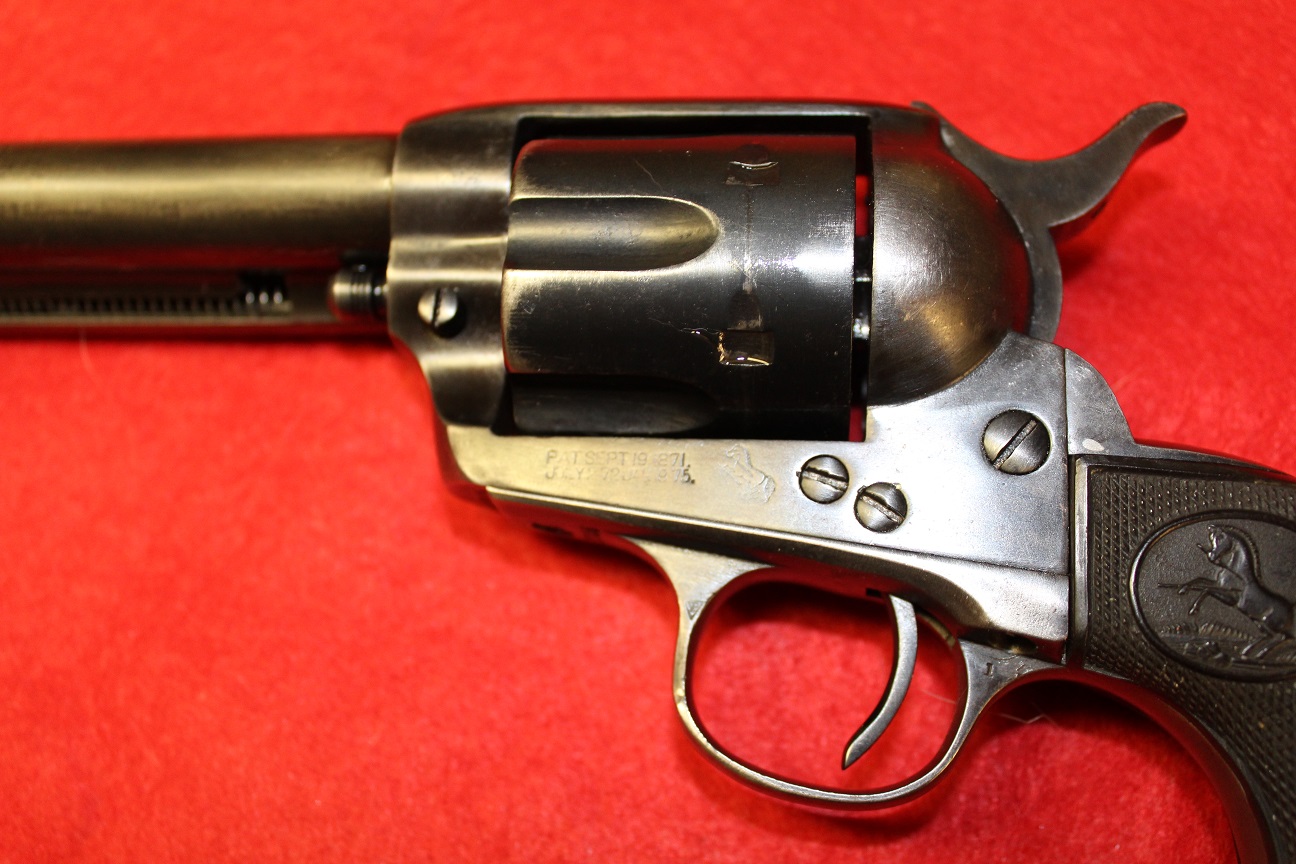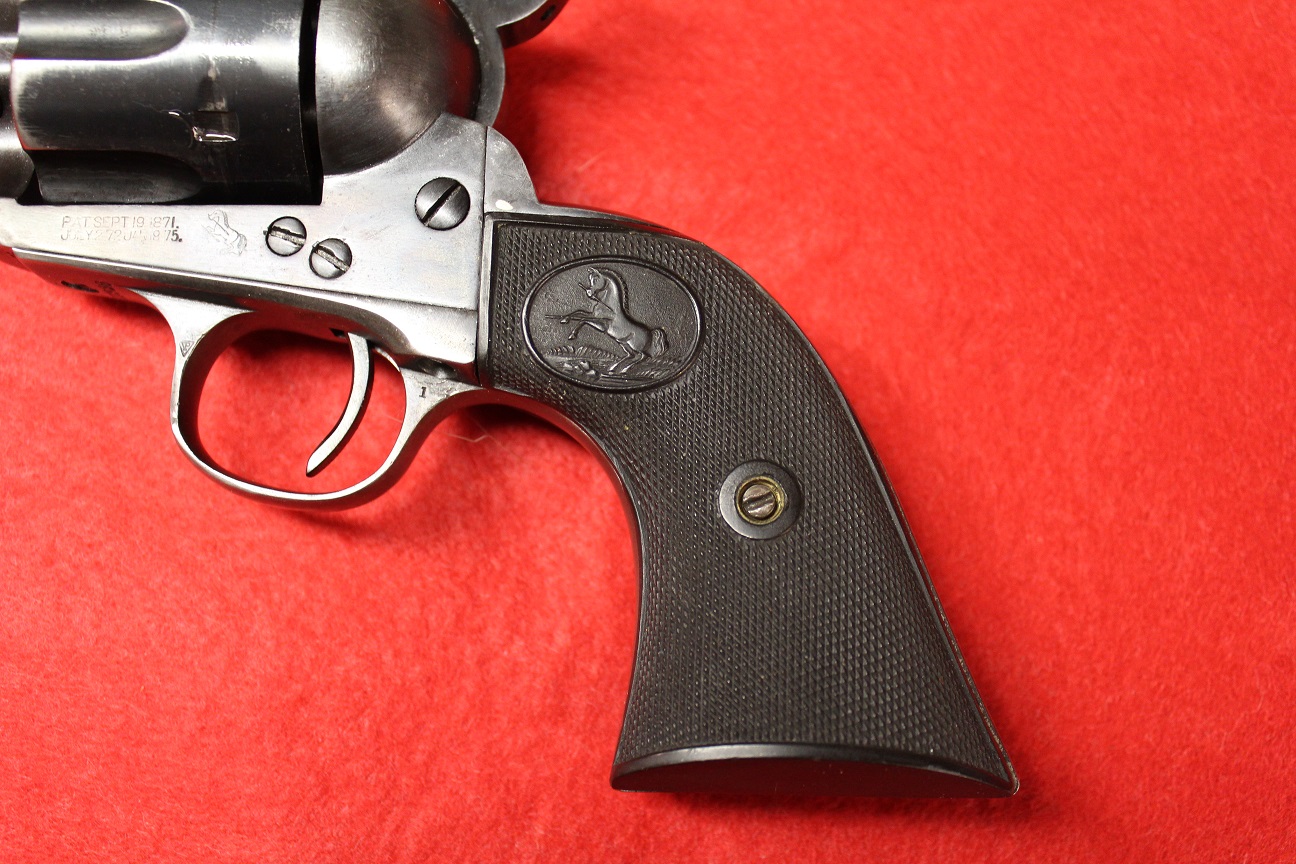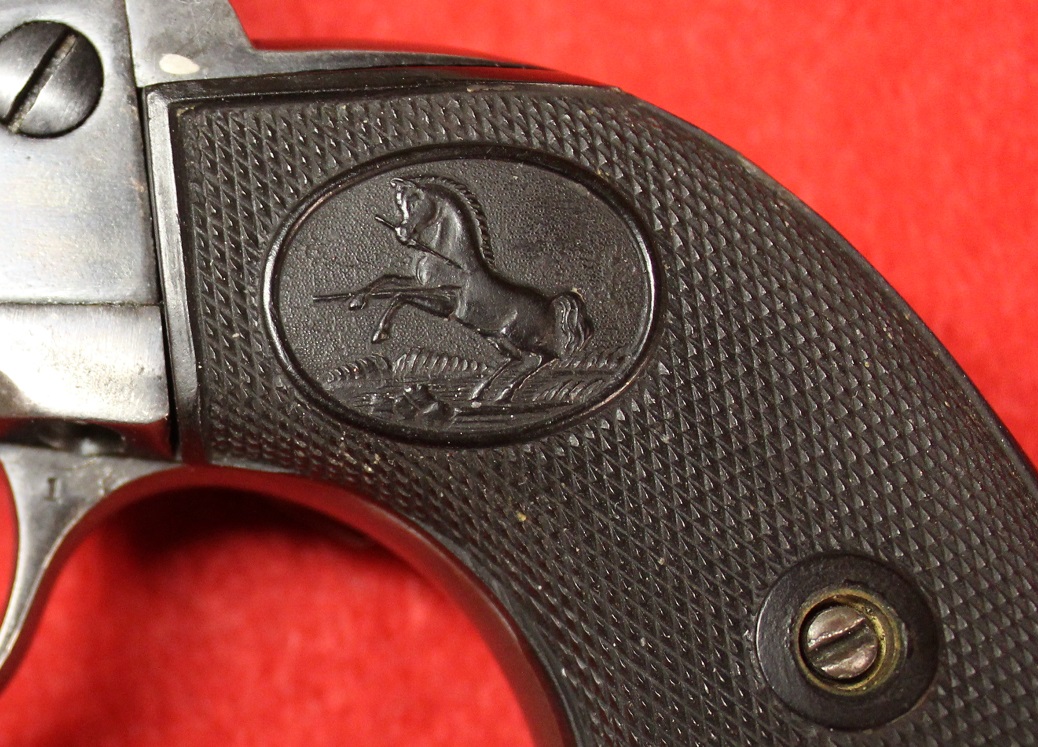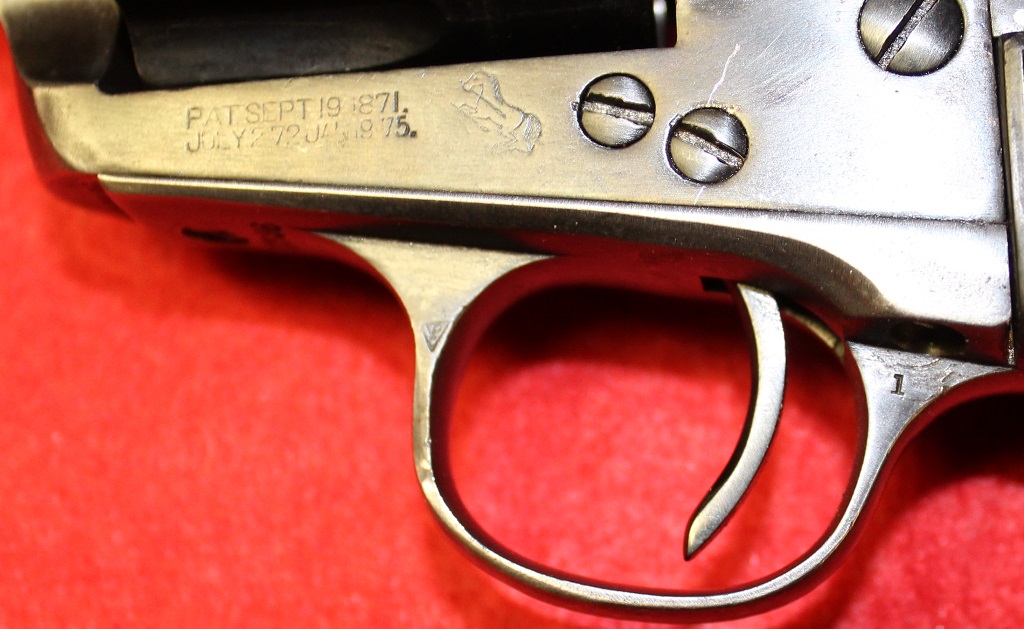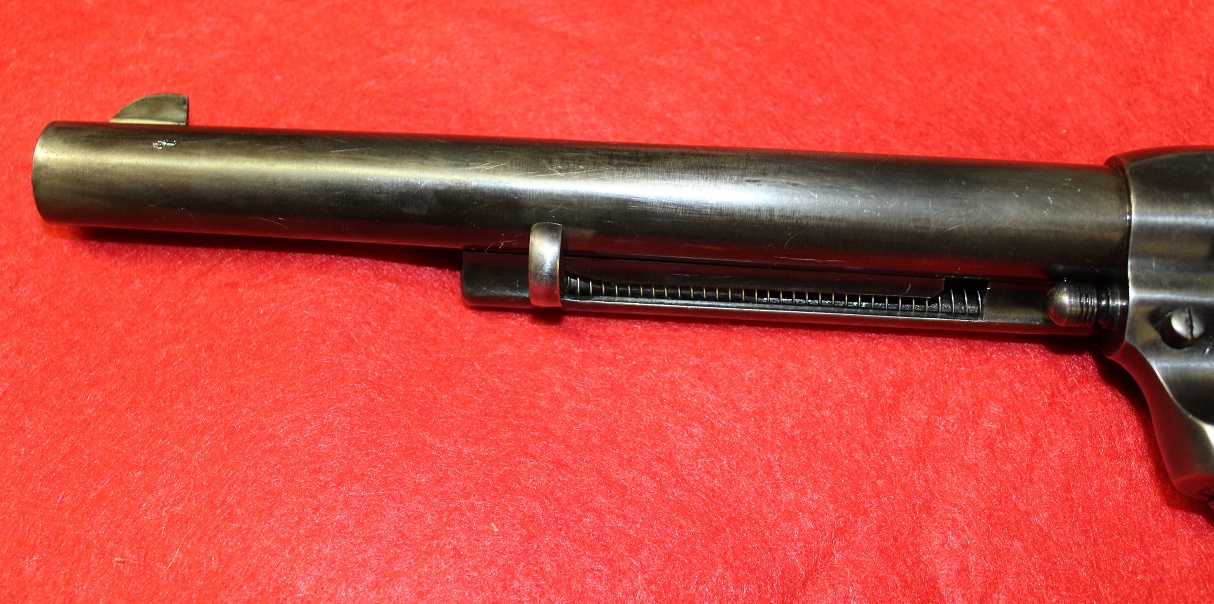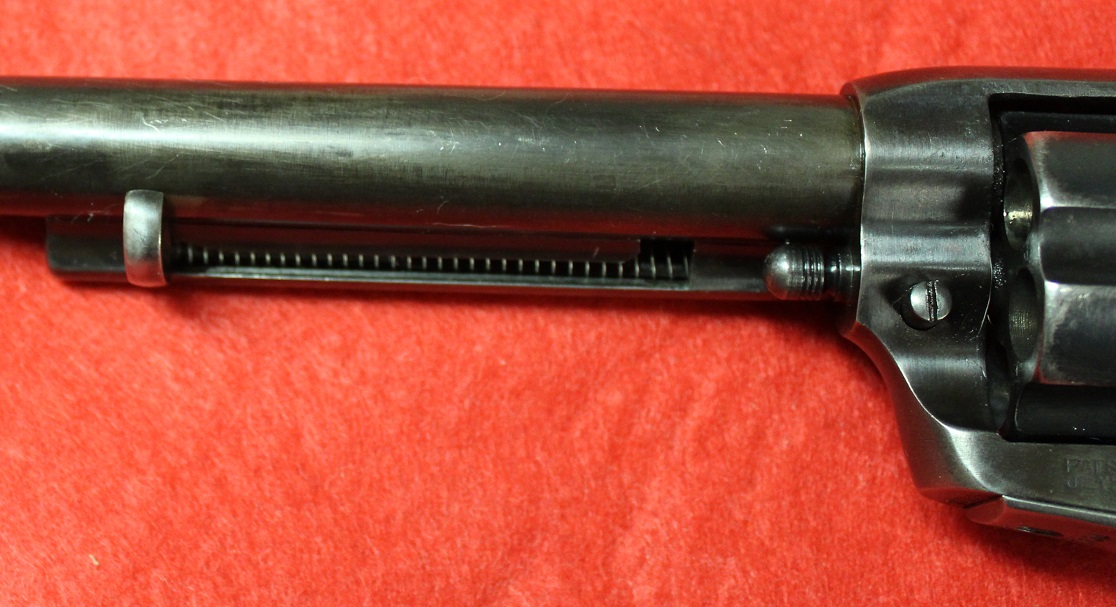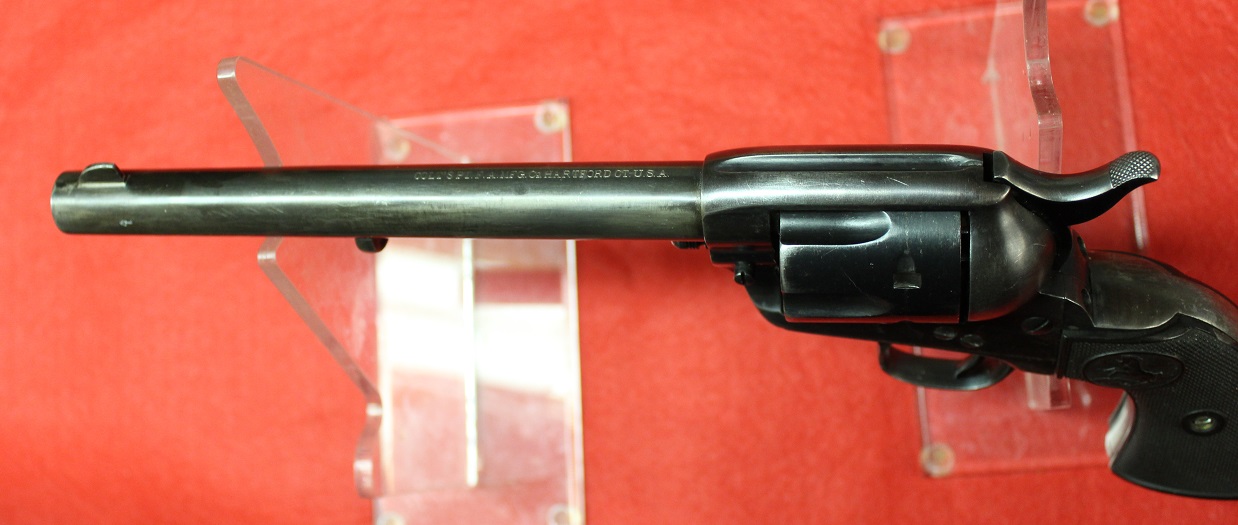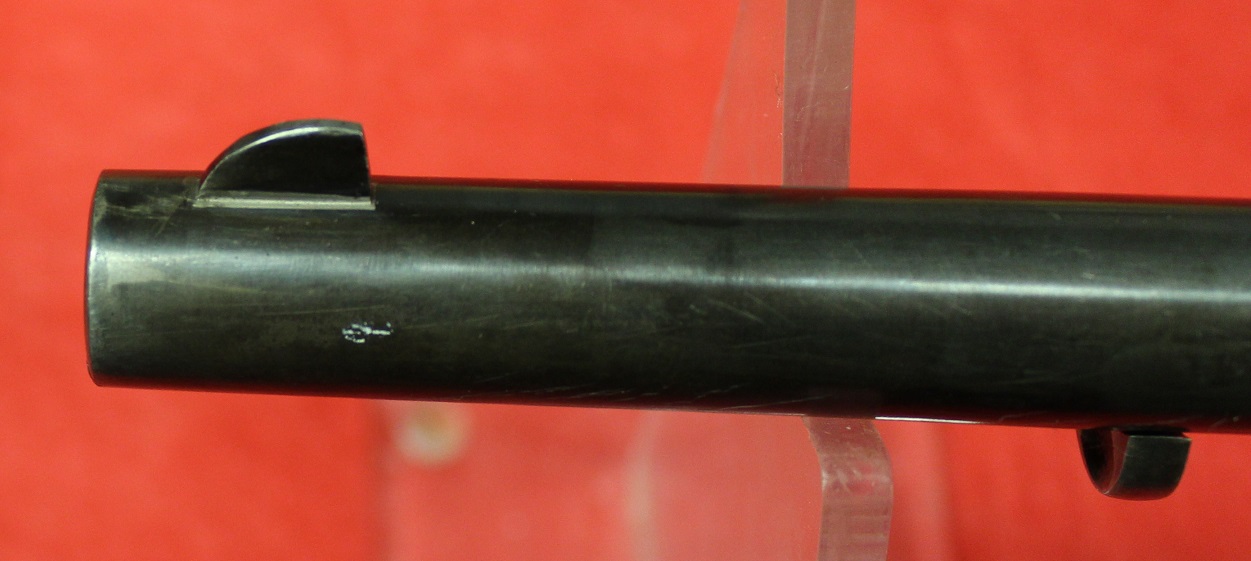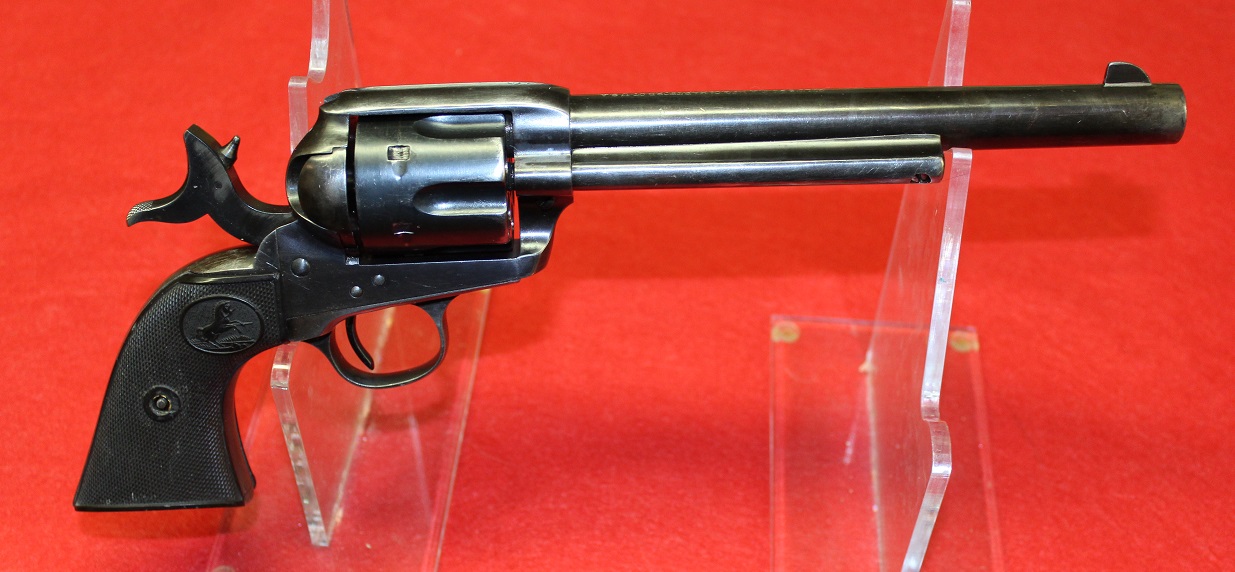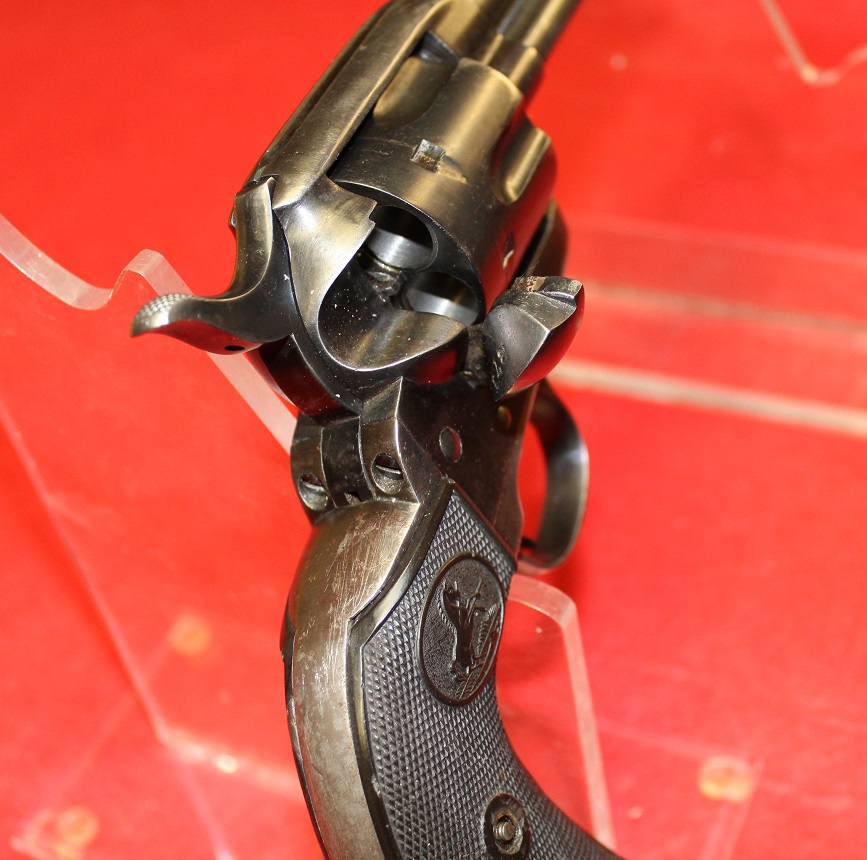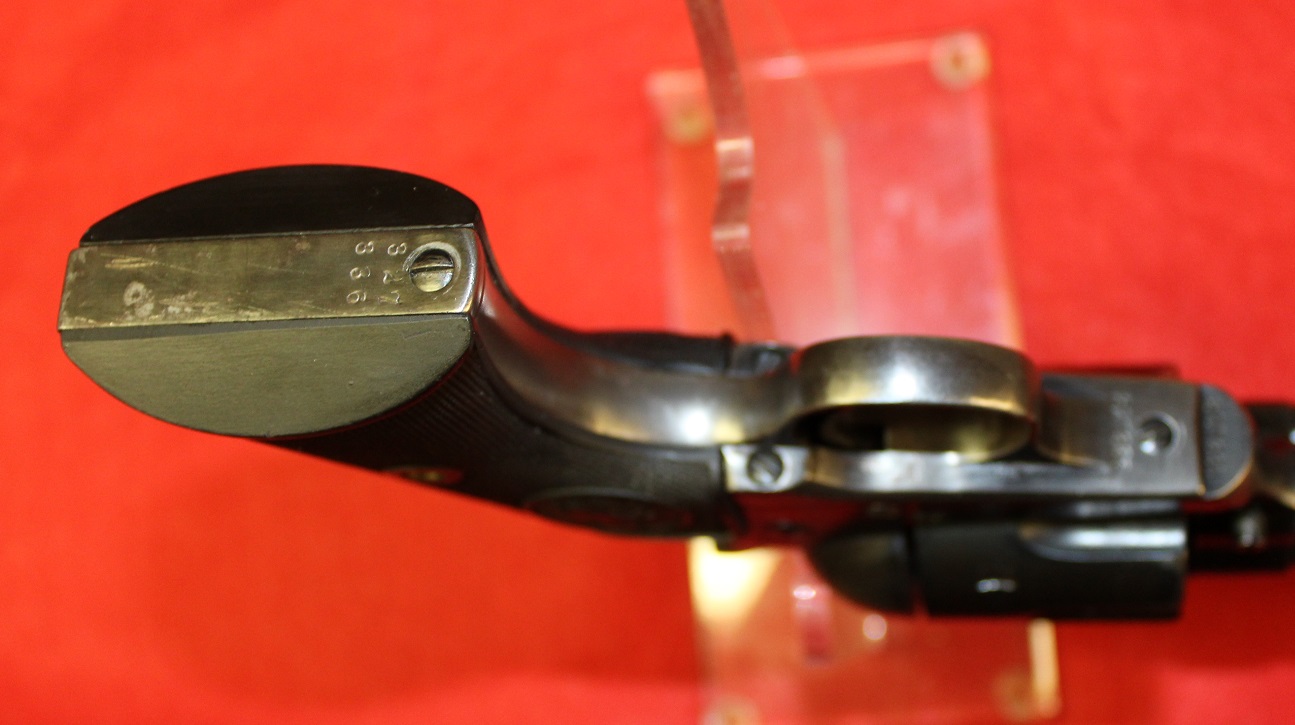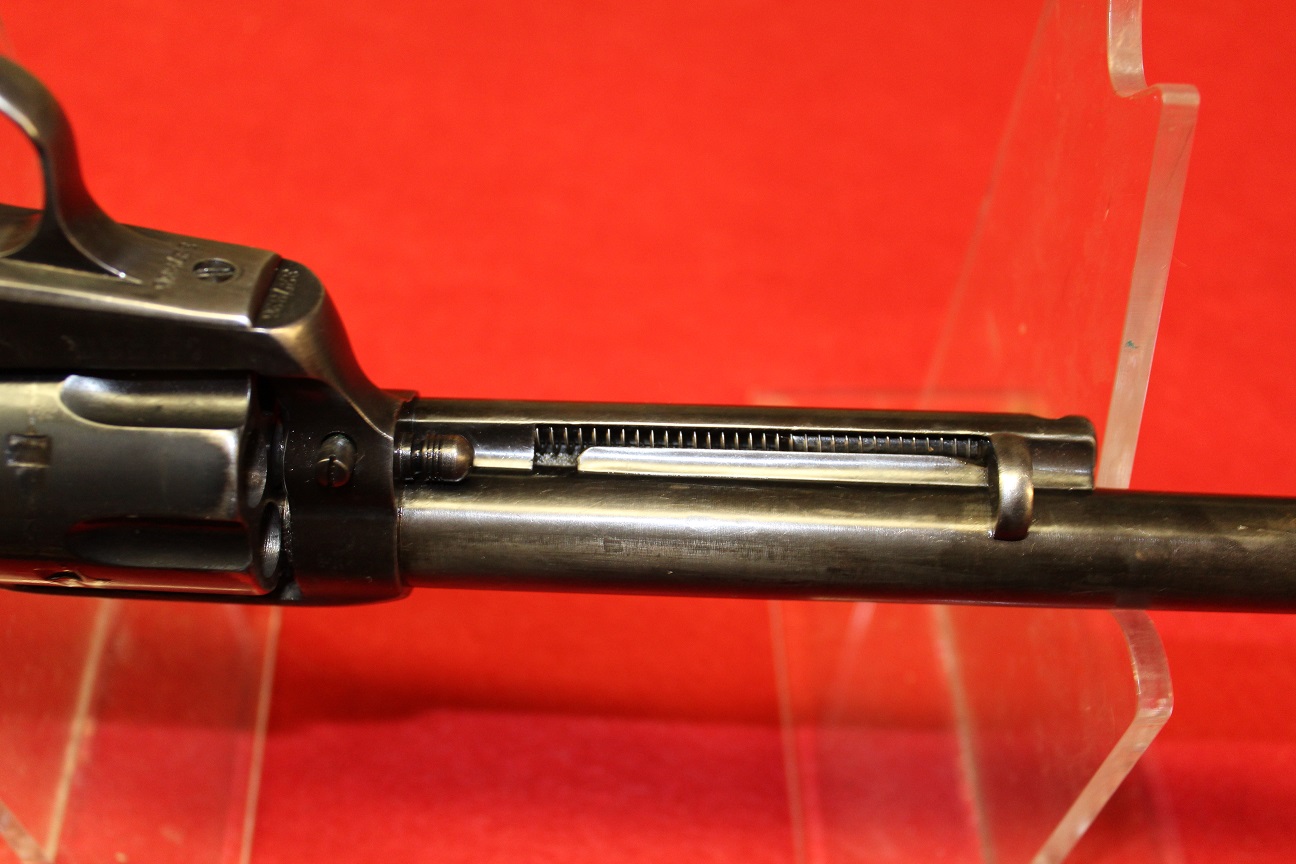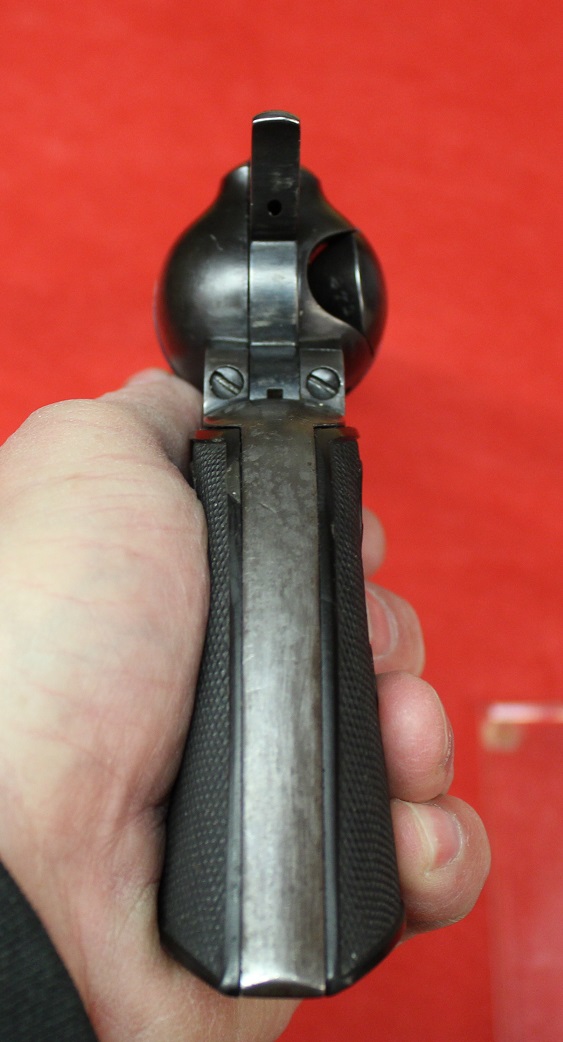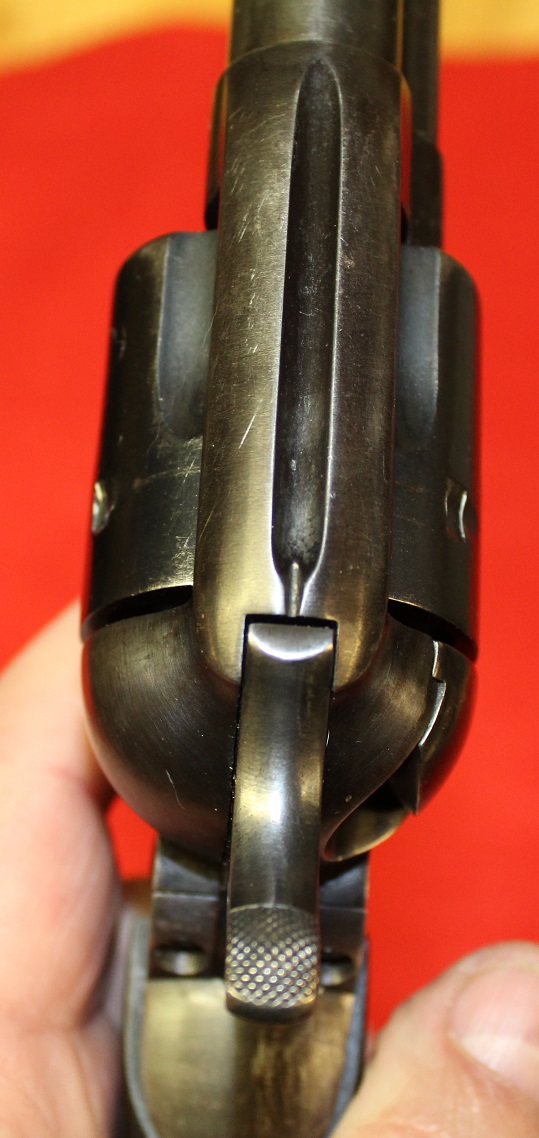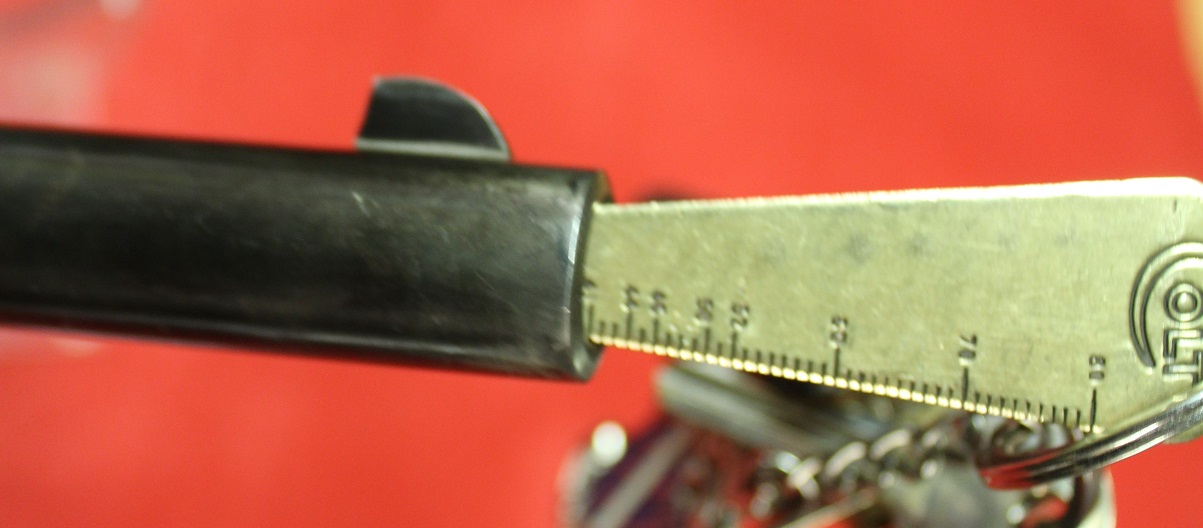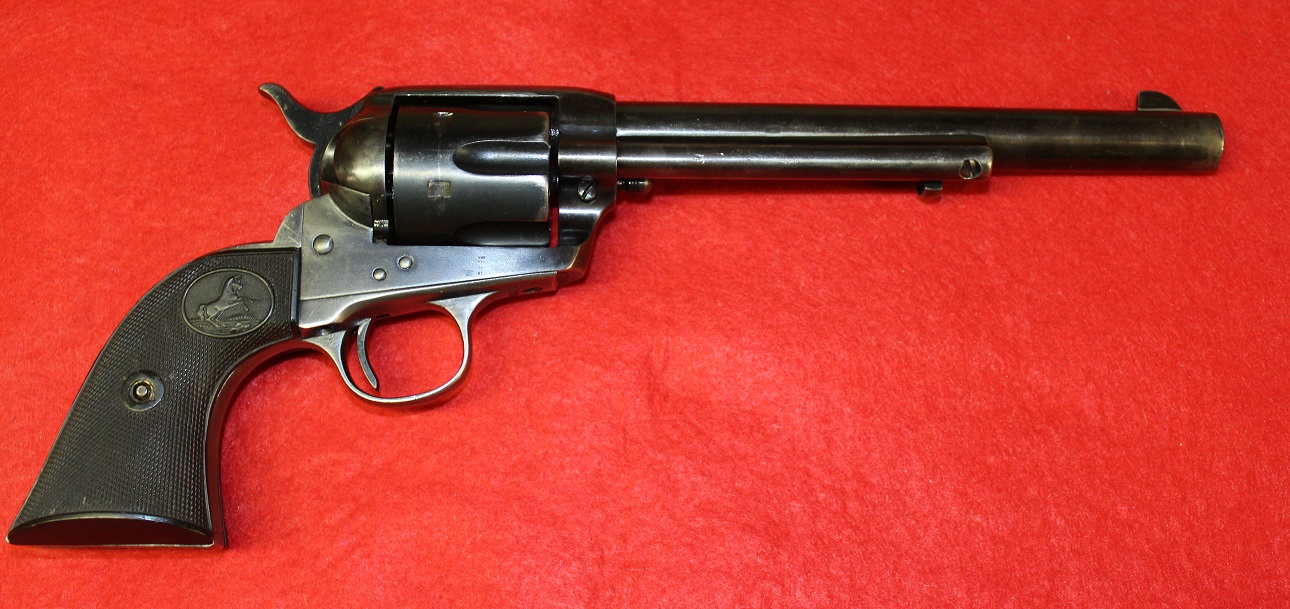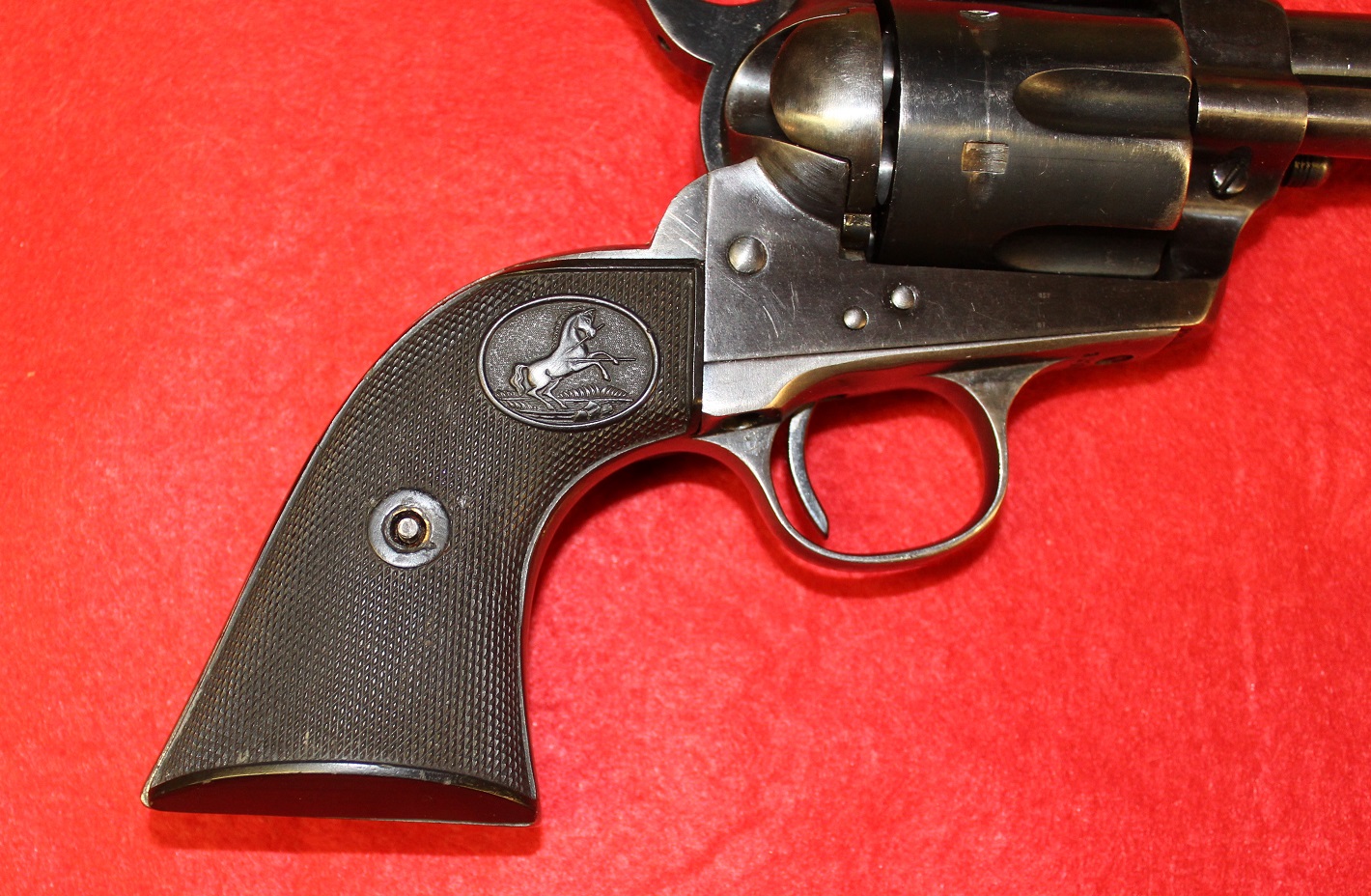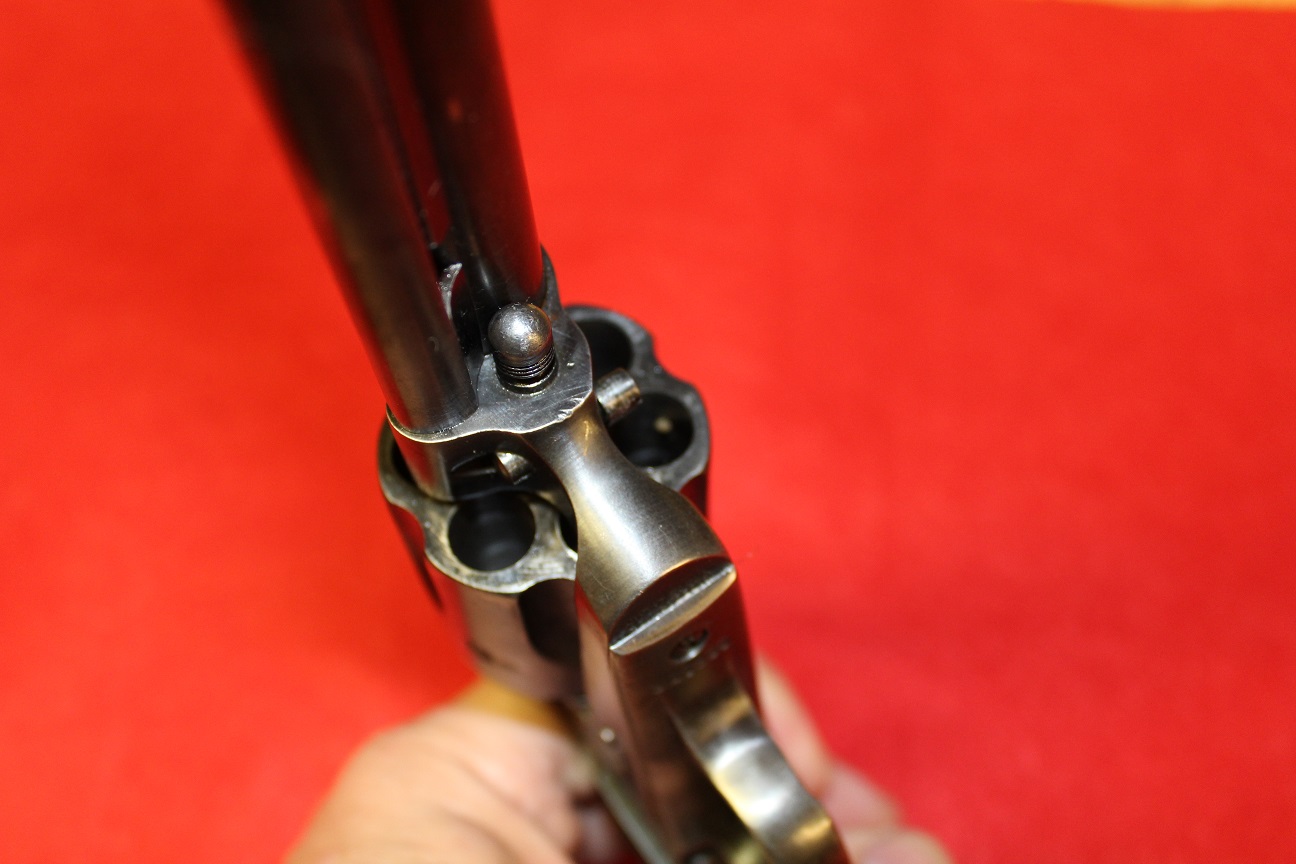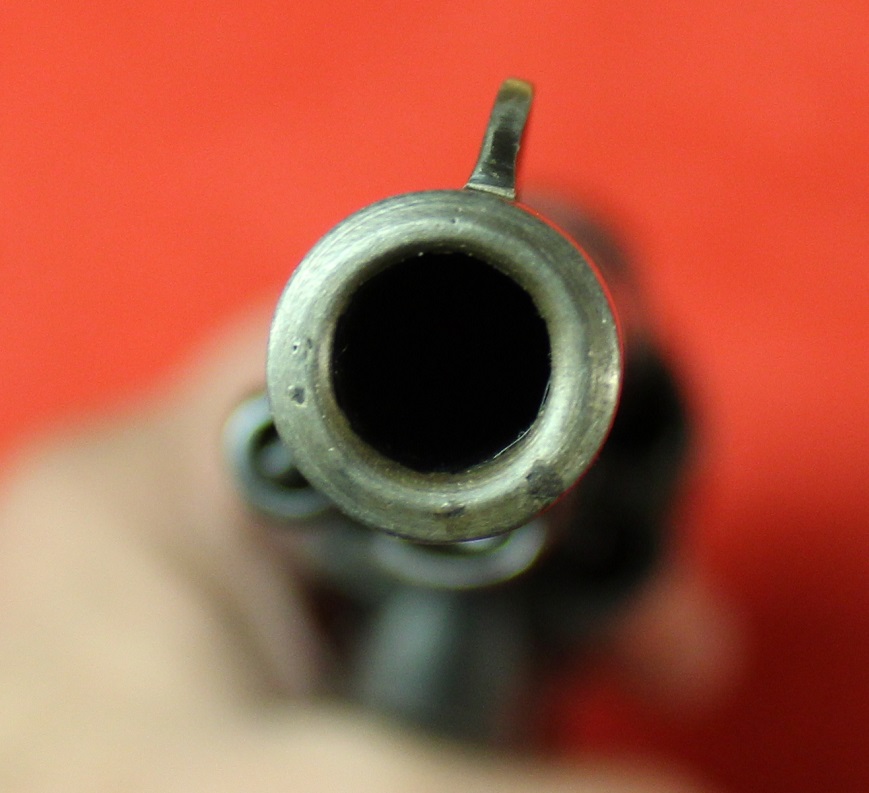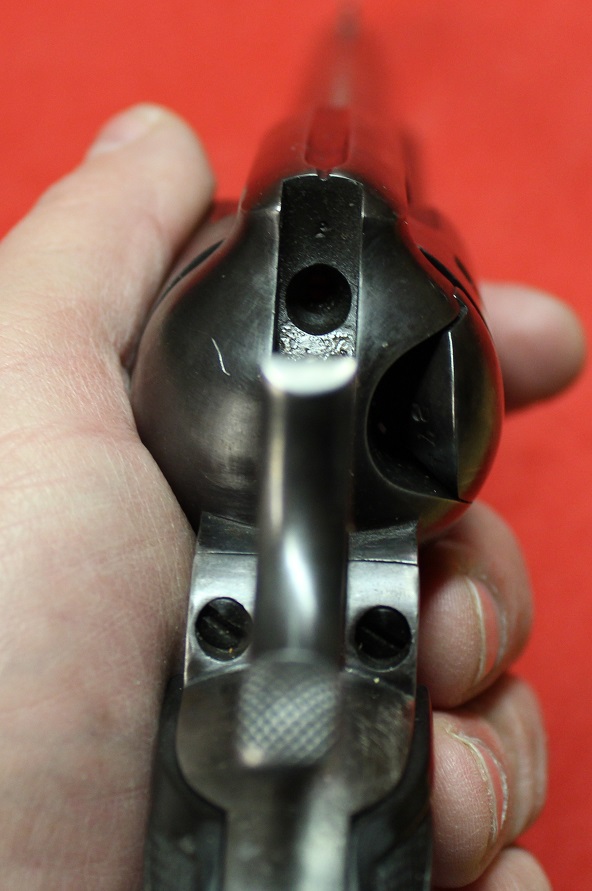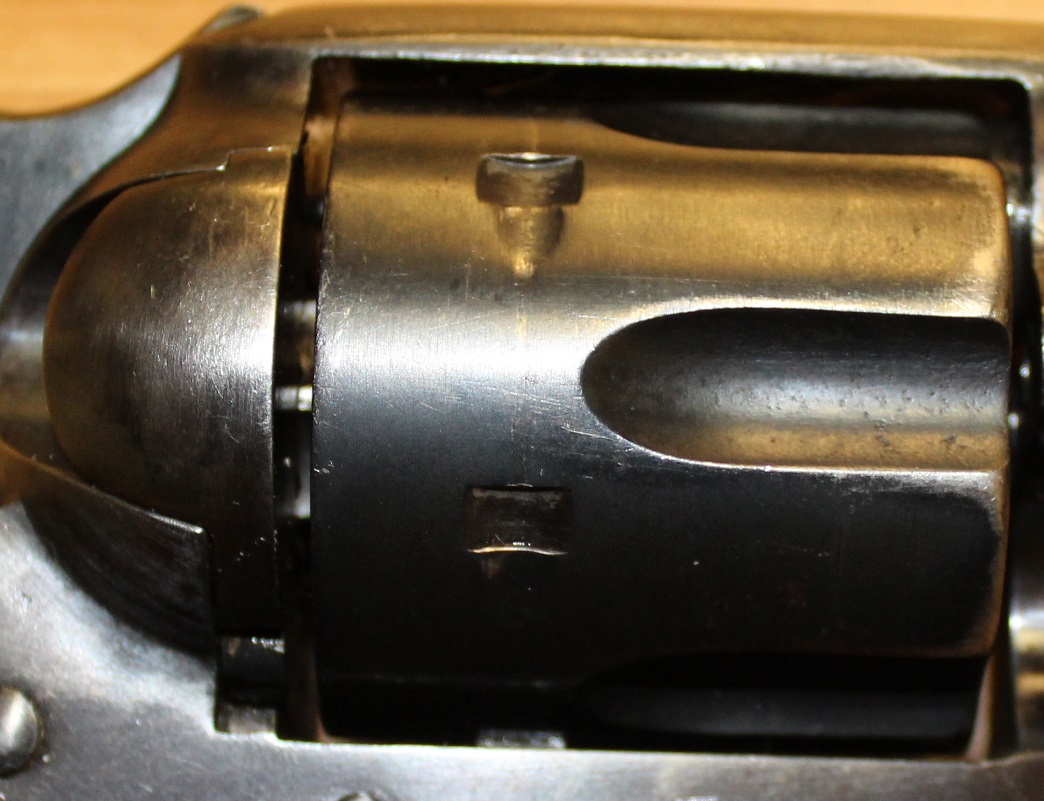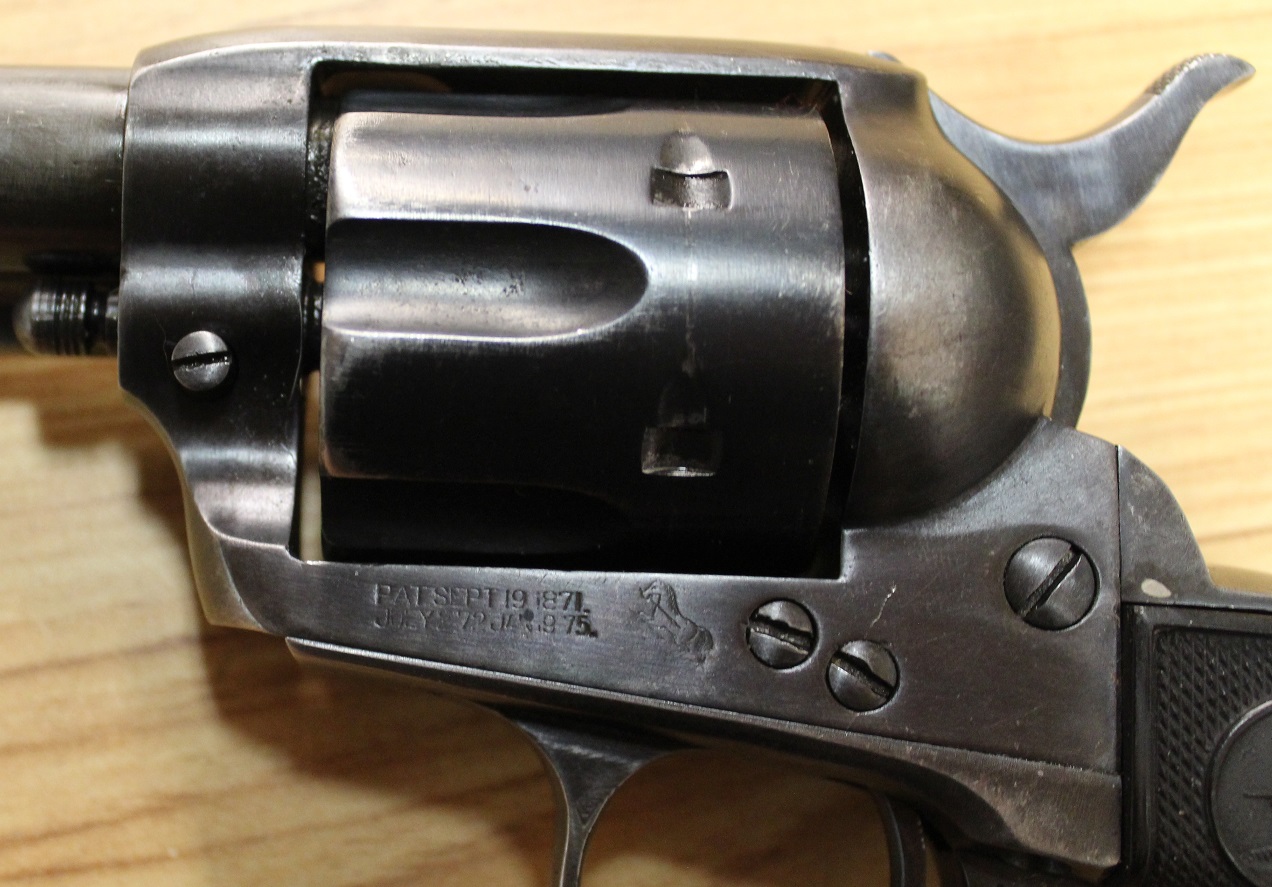 WE'RE ALWAYS LOOKING FOR PIECES LIKE THIS!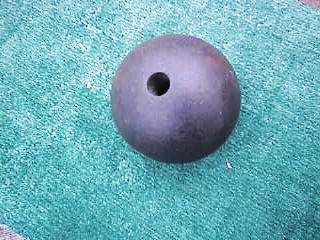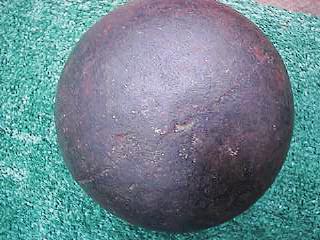 and This !!!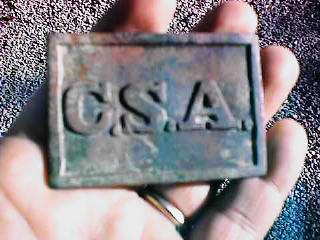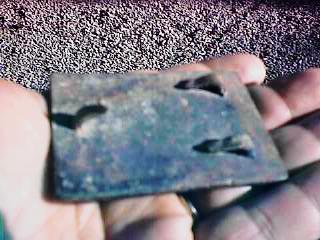 2h parlor gun 9.jpg">

WE'RE ALWAYS LOOKING FOR PIECES LIKE THIS!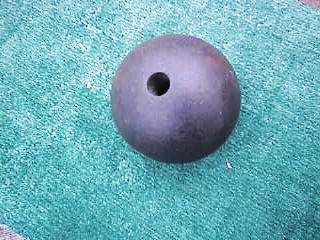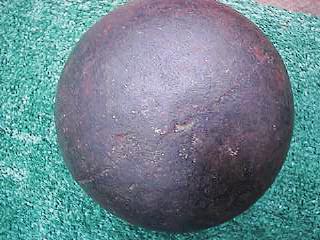 and This !!!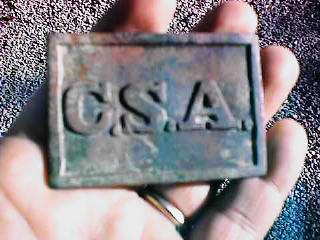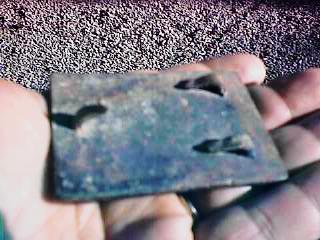 2