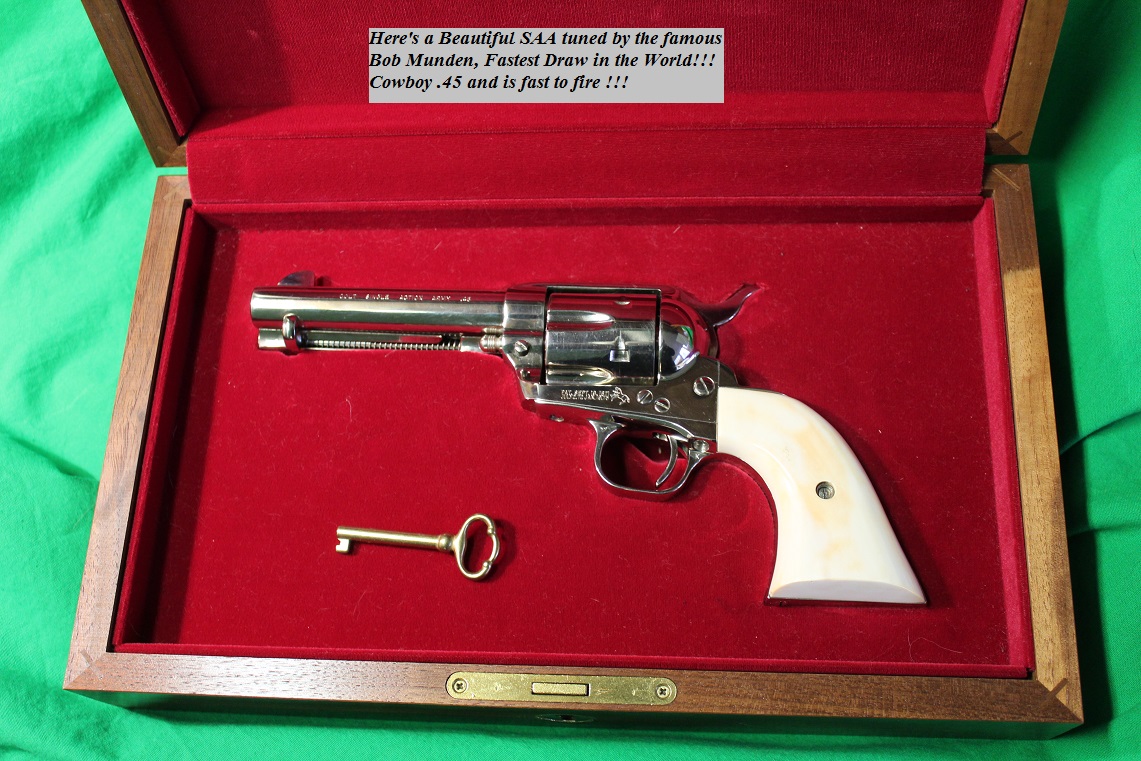 THANKS FOR LOOKING !!! TED & SALLIE
NOTICE!
I AM HELPING A LONG TIME FRIEND LIQUIDATE A LONG TIME COLLECTION! CHECK OUT THE SPECIAL OFFERINGS LIST LINK


CLICK HERE!! SPECIAL OFFERINGS FOR A FRIEND !! CIVIL WAR THROUGH WW2 !!!
!!!
Also we have a VERY SPECIAL OFFERING of vintage near Mint or Mint in some cases of Harrington and Richardson Revolvers!!!
CLICK HERE!! SPECIAL OFFERINGS FROM A GOOD FRIEND !! HARRINGTON & RICHARDSON VINTAGE REVOLVERS !!!
!!!
New Arrivals 547
Here we have a new condition Hi-Point extended 9mm magazine. This is an After market fifteen (15) round magazine for the Hi-Point 9mm carbine. For this piece $24.00
New Arrivals 546
We just got in a small quantity of AR-15 Magazines in 30 round capacity. We have Magpul 30 AR/M4 GEN M2 rifle magazines in 5.56X45 NATO/ .223 REMINGTON . These magazines are compatible with AR15, M16 and M4. Polymer made in the USA. These mags are new in the bags and are $14 each. Also we have all metal 30 round magazines in Aluminum made by D&H Tactical out of Wisconsin. Each $11.00
Buy American!!!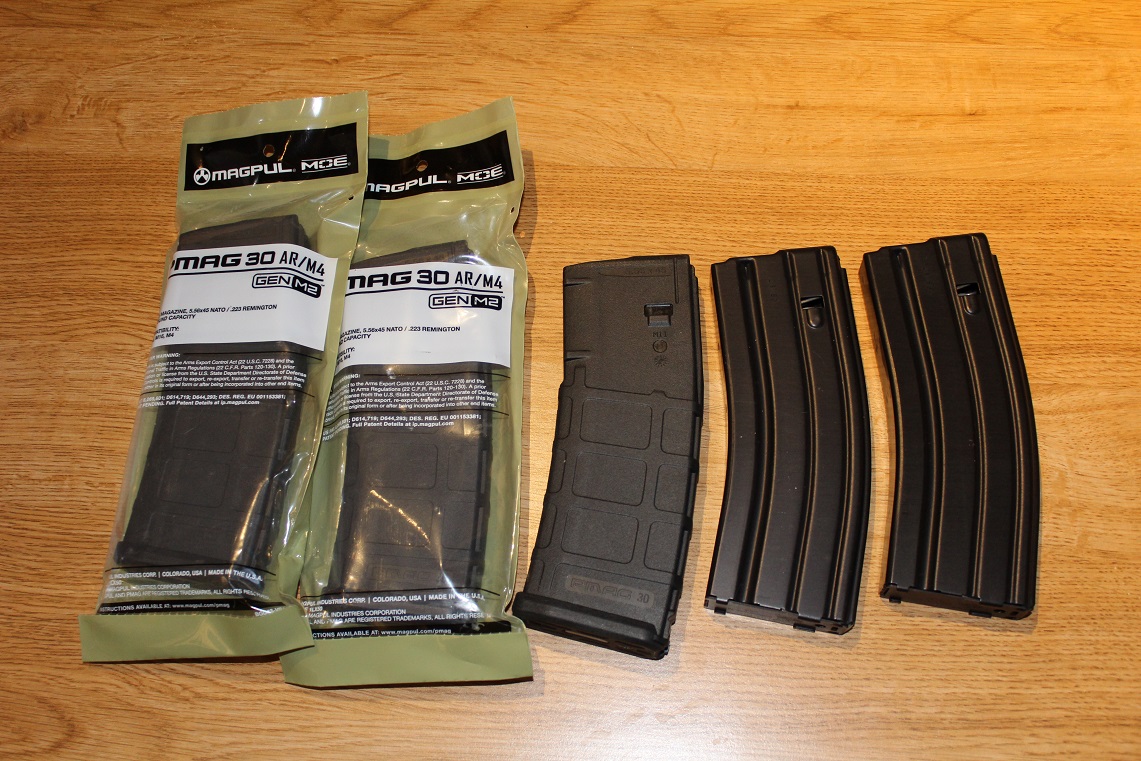 New Arrivals! Consignment 545
Middle Eastern Arab Flintlock Pistol! This old war horse is about 60 caliber smoothbore. The barrel is 10 3/8 inches long with various designs and proof marks on it. The entire piece is about 17 inches long and has brass, highly engraved, furniture that has been cleaned at some point. The wood is some kind of hardwood that also has carvings/designs embossed/carved into it. The ramrod is a faux ramrod, just carved into it to give it the appearance of a ramrod along with brass ferrels. The hardwood stock is in generally good condition for an 18th century piece but is missing a sliver of wood on the fore stock to about 4 inches back that you can see in the pics. There is also a sliver of wood missing at the bottom of the lock plate. With that sliver missing you can view inside the lock plate cavity. The lock doesn't work so I'm sure the mainspring is missing and when I look inside the cavity I can see the tumbler but nothing else. The outside of the lock is complete and the frizzen works fine with a strong spring. With the exception of the two places mentioned as to damage on that stock that's it except for the usual minor dings but no cracks or breaks. A great display piece at a reasonable price of $395.00 Take a look at the pics!!!
Consignment New Arrivals 544
Here we have a brand new in the box, Smith & Wesson M&P 45 Shield!
Smith & Wesson M&P .45 ACP Shield. 3.3" BBL No Thumb Safety
Smith & Wesson's new M&P SHIELD™ is a slim, concealable, lightweight, striker-fired polymer pistol. The new M&P SHIELD features a slim design combined with the proven and trusted features found in the M&P Pistol Series. From the pistol's easily concealed one-inch profile to its optimized 18-degree grip angle, the M&P SHIELD offers professional-grade features that provide consumers with simple operation and reliable performance.
Smith & Wesson is going to make a lot of people happy with the announcement of new M&P Shield concealed carry pistols without manual safeties. The original Shield pistols have thumb safeties on the side. A small but welcome change, as many people who choose to carry a concealed handgun believe that there shouldn't be extra steps between drawing and shooting a gun. Manual safeties add a layer of security but also add an extra step when seconds matter most. Smith & Wesson heeded the call and is now delivering a "No Safety" version of the Shield. These polymer-framed striker-fired single-stack subcompacts have quickly become some of America's favorite concealed-carry pistols with their solid capacity, low recoil and compact package. Everything else remains the same, so people will be able to use the same magazines, night sights and aftermarket accessories like holsters and laser sights. The "No Safety" Shields have the same 18-degree grip angle, the same oversized trigger guard for use with gloves, the same low-profile takedown lever and low-profile slide stop. The only change is that these new Shields don't have thumb safeties.
The reality of protection is that you never know when you'll need it. We took the power and features of our full sized M&P pistols and put them into a slim, lightweight pistol the size of your hand. The M&P Shield is an easy to conceal pistol that offers professional grade features with simple operation and reliable performance day or night. One million Shield owners can't be wrong.
Features • New aggressive grip texture for M&P®45 SHIELD™ • Front cocking serrations • Incorporates the design features of the M&P Shield line of firearms • Extremely thin and lightweight - can be comfortably carried all day • 18 degree grip angle for natural point of aim • Striker-fired for short consistent trigger pull, every time • Backed by Smith & Wesson's Lifetime Service Policy • Armornite® Durable Corrosion Resistant Finish
Comes with two 6 +1 magazines and a finger extension on one of them for those 'bigger' hands!
This is a brand new, never fired handgun in the original box. This handgun retails for $479.00 but our price of $405.00 makes it great quality at an affordable price!!! Check out the pics!
New Arrivals 543 Consignment SOLD!!!
Here we have a vintage STERLING Model 302 semi auto pistol in .22 LR caliber.Made by Sterling Arms of Lockport,NY Comes with a Blue finish, 2-1/4" barrel and 6 round magazine. Bore is excellent.95% + overall condition. Almost looks new! Made from 1967 to 1984. Sterling appears to have been created just before the Gun Control Act of 1968 devastated two aspects of the firearms industry: importation of firearms and purchasing firearms through mail order. The market for US-made inexpensive handguns was wide open. The company started in 1967 in Buffalo, but some time around 1968 moved to nearby Lockport, NY. The first Sterling pistol that we know of is the Model 285, a High Standard knockoff. There were alot of these made but you don't find too many in this condition! Operates flawlessly!!! For this piece $165.00
New Arrivals 542
Here we have a new in the box SnapSafe Modular Vault for storing handguns and other valuables. This box is easy to operate key lock and has a 1500 lb test steel security cable to secure the box to a stationary item. This box is great for providing secure storage at home, on a nightstand, in the car or when traveling. 9 1/2 x 6 1/2 x 1 3/4. Inexpensive basic security for $22.00 Keeps your handguns away from the kids!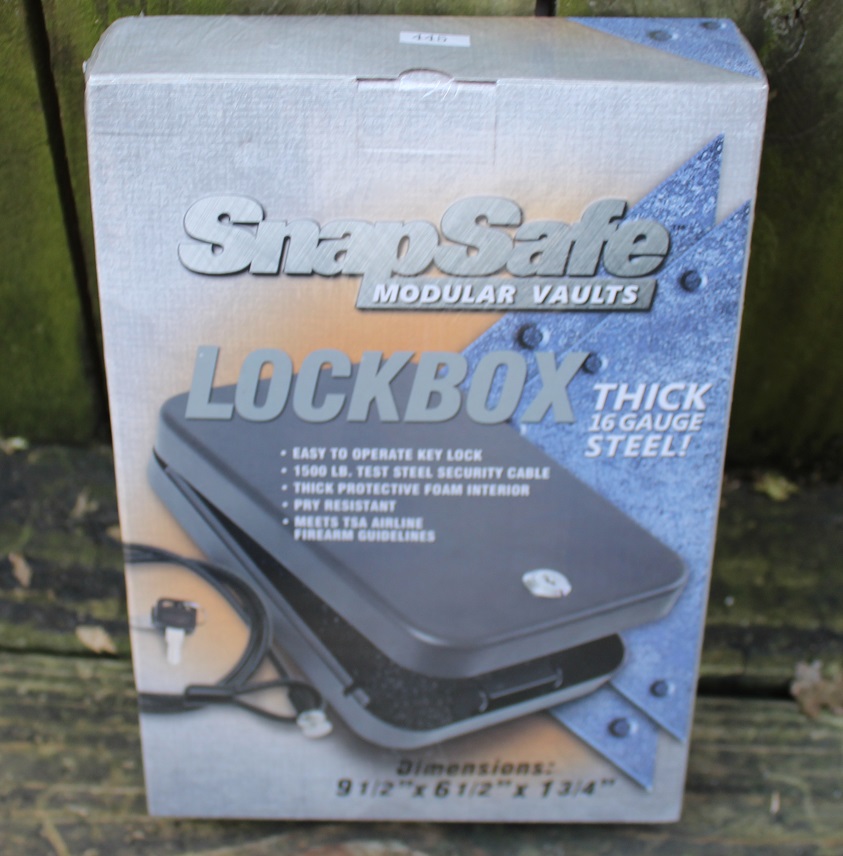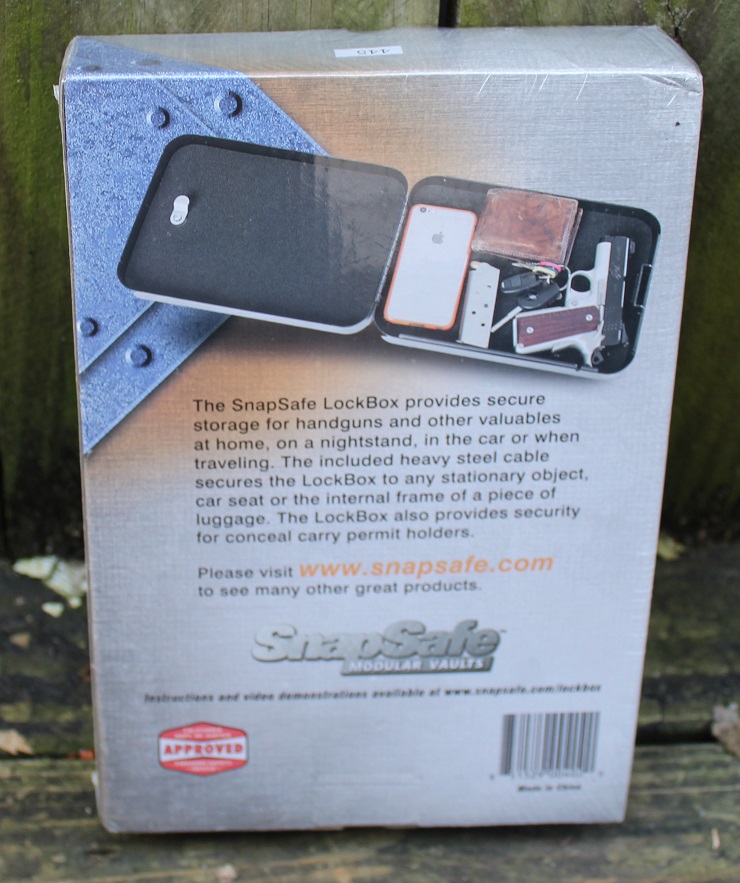 New Arrivals 541
SOLD!!!
Here we have, in a hard case, a brand new Dickinson Security Shotgun! This is the COMMANDO by Dickinson Model XX3B, 12 gauge , Pump Shotgun
Dickinson builds Guns of Distinction in their state of the art Turkish Factory where they blend old world craftsmanship with advanced technology. CNC machines are used to manufacture the precision parts which skilled craftsmen fit and finish producing a true work of art! A Dickinson is a durable, reliable, heirloom quality shotgun that you will enjoy shooting at the range and in the field for years to come! The Commando XX3B pump shotgun is built with a lightweight design that provides strength and simplicity of operation. The barrel, fore-end and bolt are easily removed as a unit to facilitate cleaning. You will immediately notice the smoothness of function and form whether you're firing light 2-3/4" shells or heavy 3" shells. This XX3B features an 18.5" tactical home defense barrel with a fixed cylinder bore and a rifle style front sight for rapid target acquisition. Manufactured using only the finest materials available, this shotgun will provide years of trouble free operation enjoyment. With a Dickinson XX3B Commando you will experience a deluxe quality shotgun at a price you can afford! Specifications and Features: Dickinson Commando XX3B XX3B-2 Pump Action Shotgun 12 Gauge 18.5" Barrel with Rifle Front Sight Fixed Cylinder Bore 3" Chamber 4 Rounds Polymer Synthetic Stock Blued Finish Weight 6 Pounds
When a home intruder hears the sound of you loading one in the chamber he will just right out of the window!!! That is a frightening sound! Great home defense Shotgun at a reasonable price! $199.00 Check out the pics below!
New Arrivals 539/540
Here we have a couple of new North American Arms small single action revolvers. Here is some history on the company:
North American Arms History North American Arms is a United States firearms manufacturing company that specializes in pocket pistols and mini revolvers. Sandy Chisholm bought North American Arms in 1991 and has driven the company to become more successful since then. The small semi-automatic pistols and mini revolvers made by North American Arms are easy-to-carry, which is one of the reasons why these guns are perfect for everyday self-defense, concealed carry, and undercover law enforcement work. Besides the obvious practicality of North American Arms' petite guns, many buyers and collectors enjoy the novelty of the more vintage-looking designs complete with bluing or gold plating and mother of pearl handles. Some North American Arms mini revolvers are even able to fold into their own grips, making them safe to carry on a belt clip or in a gun holster. North American Arms' mini revolvers are made in .22 Short, .22 Long Rifle and .22 Winchester Magnum Rimfire caliber as well as in .22 Black powder cap and ball. Semi-automatic pistols made by North American Arms are chambered for .25 NAA, .32 ACP, .32 NAA and .380 ACP. Together this range of guns offers buyers the perfect size, weight, and firepower for them.
1. This first North American Arms mini revolver is the sidewinder. It's cylinder swings out for loading making it easier to load and unload. This particular little revolver is in .22 Magnum. The grips are perfect as is the entire stainless steel revolver. Comes in it's own little case with padlock. For tis piece $350.00
2. Here's the 2nd North American Arms mini revolver. It's also in new condition and comes in it's own metal lock box. This little six shot is single action and fires .22 shorts. It's a well made little stainless revolver with hardwood grips and is extremely easy to conceal. This is not a sidewinder so the cylinder has to come out to load but it's easy to do. Nice!!! $285.00
New Arrivals 538 SOLD!!!
Here we have a vintage Smith & Wesson Model 10-5 in box that is like new! It' has only been fired 6 times and has just the faintest of turning marks on the cylinder! The Model 10-5 began production in 1962. This is a tapered barrel model. The serial number on this one is C8688XX. The barrel length is 5 inches and the 6 shot revolver uses the .38 S&W Special 100% of the bluing is present and all the case color on the hammer and trigger. The markings have absolutely no wear. The spots you may see in the pics are dust in the protective oil on the piece. The walnut grips are in excellent plus condition! This revolver comes in the original box with the price tag on it of $72.50! Ha Ha Ha! It can't be bought for that today!!! If you want a quality investment then this is it! You may be able to find a model 10 cheaper but you won't find one better! I never find this quality any longer! $675.00
New Arrivals 537
Here we have a very nice quite exceptional display piece in custom box. This is a Model 1855 U.S. Springfield pistol/carbine.1855. The Model 1855 Pistol-Carbine was the last single-shot pistol produced as an issue arm for U.S. troops. Slightly more than 4,000 were manufactured at the U.S. Armory in Springfield, Massachusetts. They employed the same Maynard primer system and .58 caliber ammunition as that used in the U.S. Model 1855 Rifle-Musket. These convertible arms were intended for use as a pistol by cavalrymen, and when fitted with the detachable shoulder stock, they could be used as a carbine by dismounted troops.
The U.S. Model 1855 Pistol-carbine was the smallest in the new cal. .58 muzzle-loading service pieces adopted by the Army in 1855. These arms were designed to fire the newly-perfected (hollow-base) Minie bullet. The pistol-carbine had a 12" barrel and weighed 3 ? lbs., or five lbs. when fitted with its detachable buttstock. The lock assembly was about 9/10 the size of that used on Model 1855 long arms, and was designed to accept a 25-pellet Maynard tape primer roll, half the length of the primer tape used on the other Model 1855 arms. The Maynard tape priming lock was standard on the 4,021 Model 1855 pistol-carbines manufactured by Springfield Armory, the principal maker
The pistol in this display is all original and in pretty good condition. The wood has no cracks or breaks that I can see but does have one 'punch' mark in it behind the lock that you can see in the pics. Also there are indents from the shoulder stock on the butt. The pistol looks to have had been lightly cleaned at some point. The maynard tape primer door does not stay shut as it should. The inside tape primer does still seem to work. The lock has the Spread Winged Eagle on the maynard tape primer door with U.S.SPRINGFIELD ahead of the door and the date 1855 behind the hammer. The date 1855 is also on the barrel as well as the Eagle head and VP. There is a two leaf rear sight behind the date and a simple sight up front. The action works find and the nipple is not too battered. The brass furniture has a nice patina and the captured ramrod is in place. The butt stock is a reproduction while the pistol is total original. The little knob on the bottom of the spring loaded bolt to remove the buttstock is from another firearm and does not belong to this one. The leather strap is also a reproduction. All in all this is a fine display item! Inside the hardwood case which measures about 33" X 11" X 4 3/8" is a pretty nice original 1837 'Peace Flask'. The piece is not marked on the top as I would have expected but it does have the W.S. beside the Eagle on one side which is the inspector William Smith which would be on the 1837-1838 flasks by Ames. It's also marked on the spout in drams. The spring is broken on the lever and a couple of seams are slightly open but all in all a nice flask with a nice mellow patina. The bullet mold is the wrong size diameter and also a repro. The round balls and the minie balls are reproductions as well. The cap tin is dated 1855 and 1858 by J. Goldmark's Percussion Caps but was produced by Winchester Repeating Arms which did not start business until 1866 so they are here just for display. Also the caps are for a pistol and this firearm takes caps more like musket caps. This is a nice outfit and for the lot $3,750.00
Take a look at the pics!!!
New Arrivals 536 consignment
SOLD
Here we have a very nice COLT GOLD GUP NATIONAL MATCH MARK IV/SERIES '70 .45 caliber pistol in box. The National Match M1911 Pistols are hand fitted and tuned for the National Match competitions which began at Caldwell, NJ and became the Camp Perry match. Among their numbers are some of the most beautiful and accurate pistols ever built. There are two kinds: the "National Match" pistols which were built by government armorers for the Army Marksmanship Unit for the Camp Perry competition, and the Colt National Match pistols which were produced by Colt for the retail market. In 1957 Colt began to produce "Gold Cup National Match" pistols which they produced until 1970. There was then a "Series 70 Gold Cup National Match, produced between 1970 and 1983. This particular pistol is one that was produced during that time. The Hartford, Connecticut-based works of Mr. Samuel Colt is synonymous with some of the best, not to mention the most classic, of all 1911 model pistols. Perhaps the pinnacles of their efforts were the Gold Cup National Match MKIV 70 series of handguns.
The Gold Cup
When introduced in 1970 (hence the term '70-series), the National Match MKIV Gold Cup pistol was the ultimate in .45ACP target pistols. After much feedback from the shooting community, Colt constructed this gun to be as complete as possible right out of the box. Remember, back then, there wasn't fifty companies making IDPA/IPSC race guns made to order. Competitive shooting itself with large caliber military-grade pistols was in its infancy compared to what we know today. The gun had many features unheard of in a factory pistol. This included an adjustable trigger stop that limited finger movement so that the aim wasn't skewed, grooves on the front of the receiver grip and wide super smooth, tuned trigger, and a special barrel and bushing (more on that later). The slide had a flared ejection port and a flat grooved top rib as well as angled (not strait as in GI 1911) rear serrations. The bluing on these guns is very deep and reflective, which was very different from military Parkerization. The thin beavertail on these guns is very different from comp 1911s today but was still handy and workable. Colt shipped these with an Accurizer barrel and bushing. This is what set the whole series apart from what came before it. Series 70 guns are a unique evolutionary development in the saga of the 1911. They are different from every Colt .45 that came before it. While looking at it, everything looks the same on the outside; the insides are a little different. These guns had an altered barrel bushing that had a 'collet' bushing with a series of rings to keep contact with the barrel. This made the gun more accurate and alleviated the change to the gun's firing pin safety block (or lack thereof). Some of the best production guns on the market and could be considered one of the first practical/tactical pistols that came direct from the factory.
This particular pistol is in very good condition rating about 85% as it was used but not alot and the bore is excellent! There are a couple of minor spots from being left in the styrofoam insert in the box but not too bad at all. The action works well and it feels good in the hand. The pistol has the original wooden grips with it but has the after market Bianchi grips on it now. Also comes with the Owners manual and the two tools and the original box that is serial numbered to the pistol. A wonderful .45 Caliber Pistol!!! This is a very nice piece! Check out the pics!!! $1195.00
New Arrivals 535 SOLD!!!
Here we have a vintage Smith & Wesson topbreak revolver in .38 caliber . This is the double action 4th Model and approximately 326,300 were manufactured between1895-1909 with the serial number range being between 322,701 through 539,000. The serial number on this one is 3405xx indicating that this one was made before 1898 so thusly, is an antique except in California where the rules are crazy. This one works perfectly and still has a lot of original blue to it, probably 50% or so and the rest is a nice dark patinal. The markings are all clear and crisp and the original hard rubber grips are in excellent unbroken or uncracked condition with the S&W monogram on them. The S&W monogram is also stamped into the frame as it should be. The 3 1/4 inch barrel has an excellent bore! All in all for this year this is a very good plus condition example of an early Smith and Wesson topbreak. For this piece $395.00
New Arrivals 534 SOLD!!!
Here we have a nice Savage Model 1917 Pistol! This is essentially a Savage Model 1907 which is a semi-automatic pocket pistol produced by the Savage Arms Company of Utica, New York. This pistol is in .32 ACP. Although smaller in size, it is derived from the .45 semi-automatic pistol Savage submitted to the 1906-1911 US Army trials to choose a new semi-automatic sidearm. After several years of testing the Savage pistol was one of two finalists but ultimately lost to the Colt entry, which became famous as the Colt Model 1911. 181 of these .45 ACP pistols were returned to Savage after the testing and sold on the civilian market. The Model 1907 is often erroneously called a Model 1905 because of the date Nov. 21, 1905 date stamped into the top of the slide on all Savage semi-automatic pistols. This is the date Elbert Searle was awarded one of his firearm patents, which were the design basis for all the Savage semi-automatic pistols. Advertised with the slogan "Ten shots quick!", the Model 1907 was very popular because, despite its small size, it had a 10-round double-stack magazine. The advertising included a number of early celebrity endorsers, including William "Buffalo Bill" Cody, Bat Masterson, and the Pinkerton Agency. Teddy Roosevelt was even presented with a Model 1907. Much of the advertising in the popular press played on the ability of an otherwise defenseless woman to use the Savage to subdue burglars and "tramps." A safety lever is located on the left side of the pistol, at the upper rear of the grip. Though it appears to have an external hammer, it is actually a striker-fired gun; the "hammer" is actually a cocking lever. Model 1907s made from 1913 until 1917 had a collared barrel and a loaded chamber indicator, allowing the shooter to tell by touching the shell ejection port whether a cartridge was chambered. The Model 1907 uses no screws (even the grips snap into place) and is simple to strip. The grips were made from gutta-percha, though some early production examples had metal grips. In 1912 the Model 1907 underwent a major design revision modifying almost every major component. As with most semi-automatics, the pistol is readied for firing by pulling back and releasing the slide, which inserts a cartridge into the chamber and cocks the pistol. The recoil from firing a cartridge automatically extracts and ejects the empty shell, cocks the firing pin and loads another cartridge into the chamber, ready for firing. The Model 1917 is mechanically the same as and shares almost all of its parts with the final version of the Model 1907 (including a smaller, thinner cocking lever "hammer"), but with a significantly larger handle. Because this required larger grips, the Model 1917 uses one screw through each grip to hold them to the pistol frame as does this pistol. These grips are also hard rubber and one has a small chip on the bottom that is shown in one of the pics. This paricular fiream was manufactured from 1917 to 1928. This pistol is in very nice condition overall probably being polished out at one time as the finish is better than the worn rubber grips. I do not believe that this is a refinish. The action works well and everything appears to be as it should be. Overall I would rate it as very good. For this piece $375.00
New Arrivals 553 Consignment
Here we have 4 magazines for pistols. They are:
1. 8 round .25 caliber Beretta Magazine for $20.00
2. FN 6 round .25 caliber Auto Factory original Magazine for a Baby Browning pistol for $50.00
3. Walther PPK .380 7 round magazine for $35.00
4. Walther PPK .380 7 round magazine for $35.00
NOTE! THE BELOW FIREARMS HAS BEEN REDUCED DRASTICALLY BY THE WIFE OF THE OLD COWBOY WHO OWNED THESE. THE GENTLEMAN RECENTLY PASSED SO THE WIFE WANTS TO MOVE THESE PIECES. SHE IS NOT WILLING TO GIVE THEM AWAY BUT WILL ENTERTAIN OFFERS ON SOME OF THEM LESS THAN WHAT IS THE LISTING PRICE . HERE IS WHAT THE ORIGINAL LISTING TEXT SAID:
THESE NEXT SEVERAL FIREARMS WERE ACQUIRED FROM THE NOW DE-AQUISITIONED BOVIE MUSEUM THAT WAS IN VIRGINIA CITY, MONTANA . THESE FIREARMS WERE PURCHASED BY AN OLD TIME RODEO BRONK BUSTIN' COWBOY AND HIS WIFE ALONG WITH EVERYTHING ELSE IN THE MUSEUM IN 1969. THIS GENTLEMAN HAS BEEN A FANTASTIC ARTIST FOR MANY YEARS HAVING DONE ART WORK FOR JOHN WAYNE, RED SKELTON AND THE GOVERNOR OF MONTANA , AMONG OTHERS. THEY HAVE COMMISSIONED ME TO SELL THESE FIREARMS FOR THEM. THERE'S SOME GREAT FIREARMS HERE! TAKE A LOOK!
New Arrivals!
408
SOLD!!!
Here is a real nice IMPORT Mauser Model 1914. The Model 1914 is a very similar to the Model 1910 but the caliber is 7.65 caliber (.32 ACP). Also, the overall size of the gun is slightly larger than the small .25 cal 1910, mostly to accommodate it's larger caliber. The grips are not as straight backed as the 1910, they have a slight curvature to them. (not as much curvature as the model 1934). Grips can be black plastic ("Franzite"), hard rubber or checkered wood wrap around grip. This one has the checkered wood wrap around grip. It has a 3 inch barrel with excellent bore and an 8 round magazine and was made from 1914-1934.
This particular weapon was produced between the wars as it is marked GERMANY. The German guns were not marked GERMANY unless they were be sold commercially outside of the country. After WW1 ended and before WW2 started Mauser sold these pistols commercially around the world to keep the factory working as their economy was in shambles! Serial numbers from 40,000 to 180,00 will be seen with German military acceptance stamps. This one is well higher than that at 3405XX Nice pistol! $550.00 REDUCED BY THE OWNER TO $400.00 !!
New Arrivals! 407
REDUCED
Here is a WW2 Smith and Wesson 38/200 British Service Revolver (S&W Caliber) - There were over 571,629 of these models produced between October 1941 and May 1945 for the British Common wealth countries. These countries include the Union of South Africa (21,347), Canada (45,328), and Australia (8,000). The remaining 384,100 shipped between 1941 and the end of World War II were supplied by the U.S. Army Ordnance through the lend lease program to Britain for distribution. This revolver is one made before making the Victory Models with the prefix 'V' before the serial number. The 'V' Prefix was used early in 1942 starting with V-1 and ending in August 1945 with VX811119. This revolver had a new cylinder that was rechambered after WW1 from 5 rounds originally to 6 rounds. Also, this revolver has the checkered walnut grips with the silver S&W medallion that was used until January 1942 after which only smooth walnut grips were made. This revolver is marked Smith and Wesson on the reverse side of the barrel and 38 S&W CTG on the obverse side of the barrel. The frame is marked MADE IN U.S.A. and the side cover has the Smith and Wesson logo on it. That side cover is a dull finish while the rest of the revolver is a higher gloss black finish. I don't believe that this revolver was used much as the bore is in excellent condition and most of the original finish is on this piece. The action works fine and there's a lot of case color on the trigger and the hammer. The original lanyard ring is present as well. There are proof marks on this revolver but the most interesting is where the original English markings of the Crown and Broad Arrow have been overstamped the Austrian Police designation. This .38/200 British Service Model Revolver "Lend Lease" pistol remained in service after the end of the war and was issued by the Allied Occupation Forces (USFA) to the Austrian Police. Interesting history! This is a fine condition pistol of mixed heritage! For this piece $850.00 REDUCED BY THE OWNER TO $650.00
NEW ARRIVALS! We just got in 2 Winchester Carbines that were made in the first half of the 20th century.
First one!
405
REDUCED!!! This Winchester 94 is also in 30 W.C.F. (30-30) and is in pretty nice condition! This carbine was made sometime from 1943 to 1948 because no records exist from that time! This one has had a rubber pad put on the butt stock and has had a leather sling added. This one retains most of the original bluing and the wood is in good condition as well. Action is great and the bore is great as well! This is a really pretty one. It's not perfect but it's pretty! All original except the butt pad and you can tell that it's been there for ever! $750.00 REDUCED BY THE OWNER TO $625.00 !!!
Second one!
404
REDUCED!!! Here is the second '94 Winchester and it's in pretty good condition as well. There are a couple of spots of corrosion on the receiver that probably happened while being used outside and getting a couple of spots of rust. Heck, cowboys carried these in the rain, dust storms, drought and whatever so it's not unusual to have some finish problems, otherwise most bluing is still here. This carbine is in 32 W.S and the bore is also sweet on this one. This carbine functions as it should and will be a great shooter for you. The markings are clear and sharp and 'PROOF STEEL' is also on the barrel of this one. This carbine was made in 1949. The stocks are in great condition with a ding here and there but no breaks or cracks that I can see. This one has had a nylon strap and plastic swivels put on it at some point but I believe this to have been put on after 1969 as I don't think that this kind of nylon strap or plastic swivels were available then. We're not really sure when that happened. Also there is a rubber butt pad on this one as well. For this nice carbine $795.00 REDUCED BY THE OWNER TO $625.00 !!!
New Arrivals Consignment 401
REDUCED !!!
Here we have a very unusual Shotgun dated 1861 from Spain! This Shotgun was a de acquisition from a Montana Museum. This Shotgun was a gift to the museum in 1937 from the W.A.Clarke Collection who was associated with Butte, Montana at one time. The collection was donated to the museum by his family. William A. Clark was a 'Copper King' who was worth, reputedly, some $50 Million dollars with a mining empire that stretched from Montana to Nevade and Arizona. Clark was notorious not only for his dominance in the mining field but also for purchasing a U.S. Senate seat. William Andrews Clark was born in poverty in Pennsylvania in 1839 to Scotch-Irish parents. When he was just 17, the family traveled to Iowa as homesteaders. Clark made up his mind early in life that he disliked poverty. By 1895, when he moved to New York, he had amassed one of the largest fortunes in the country, controlling silver and copper mines, operating railroads, and being elected to the Montana Senate. His reputation, however, was one of deceit, unscrupulous dealings, bribery and cut-throat schemes. Mark Twain wrote of him, "He is as rotten a human being as can be found anywhere under the flag; he is a shame to the American nation, and no one has helped to send him to the Senate who did not know that his proper place was the penitentiary, with a ball and chain on his legs. To my mind he is the most disgusting creature that the republic has produced since Tweed's time." Quite a Character! At the age of 86 William A. Clark died in his bedroom on March 25, 1925, one of the 50 richest men in America.
Now to this fine shotgun! This is a 12 gauge percussion shotgun being custom made by De-Cindas of Madrid Spain. The barrel is silver enlayed with EIBAR 1861 and PEDRO MARIA AQIIRRE E. HYO. This firearm was a wedding gift to the groom who enjoyed duck hunting! The action works well and the custom stock is without damage. The metal parts are all fantastic with a great deal of hand engraving. The barrel band is silver and shows a hunting dog on one side and a hunting dog chasing a boar on the other side. This firearm is definitely one of a kind! The gun is 50 inches long overall with an approximately 35 ˝ inch long barrel. The stock is dark with quite a unique shape to it. The barrel has engravings and inlays in depth on it. The end of the barrel is decorated with what looks like gold wash or inlay. The ramrod mount is silver. The ramrod is original and a dark hardwood. A few minor pieces of silver inlay has popped out but it's still a gorgeous gun! $4995.00 Check out the pics!!! REDUCED BY THE OWNER TO $4050.00 !!!
New Arrivals Consignment 400
REDUCED!!!
Here we have a beautiful target/parlor rifle in the tradition of the Scheutzen Rifle! This type of rifle is called "ZIMMERSTUTZEN" which Refers to a single shot target rifle in rimfire caliber usually used indoors on a 50 foot range. Most Zimmerstutzens were either manufactured in Germany or Austria pre-WWII. The Zimmerstutzen was the ancestor of the ten meter target rifle, and its German history dates back to at least 1840. The rough English translation of the word is "Parlor Rifle." The most common Zimmerstutzen caliber is 4mm, but there have been over 25 calibers noted that range from 4mm to 5.55mm. (this rifle is 5.55mm, or .22 caliber). Both fixed (standard rimfire cartridge as this one is) and separate (percussion cap and separate lead ball) ammunition have been used during the course of its manufacture. This Zimmerstutzen was built to fire a fixed round that looks like a tiny BB cap, kind of like an American CB .22 cap. The fixed round -- where both case and ball are one piece -- is considered ammunition by BATF; and the guns that use it are, therefore, considered to be firearms in the US.
This particular rifle is in excellent condition and looks absolutely beautiful! It's a very heavy piece and very ornate. The buttplate is in the tradition of the Schutzen rifle as well as the buttstock with it's cheek rests and thumb rest. Beautiful checkering remains on the buttstock. There is a ding here and there from use but not bad at all. The action is a drop block where the block drops straight down when the loading lever is pushed downward. The bore of the cartridge that this rifle uses extends as a sleeve up the barrel for about 10 inches or so and is rifled in excellent mirror finish. The rest of the hex barrel is not used for the firing of this firearm. This target rifle has a set trigger and when it's set the main trigger is a hair trigger. Case colors still are present on the receiver and on the hammer block. The rear sight is a very nice large dish peep sight and there is only a simple small post sight up front between slanted uprights. The barrel is in the brown as it should be and is marked GEORG PFLAUMER (Maker, as we have seen other firearms with this name on it) on one side and NEUSTADT A/AISCH (Town in Germany) on the other side. Very nice piece! Look at the pics! $2495.00 REDUCED BY THE OWNER TO $1850.00 !!!
New Arrivals Consignment 399
REDUCED !!!
Here we have an excellent Model 1866 Allin No. 2 Conversion of a Civil War .58 Caliber rifle dated 1864. Thanks to Wikipedia I have the following information:
The Springfield Model 1866 was the second iteration of the Allin-designed trapdoor breech-loading mechanism. Originally developed as a means of converting rifled muskets to breechloaders, the Allin modification ultimately became the basis for the definitive Model 1873, the first breech-loading rifle adopted by the United States War Department for manufacture and widespread issue to U.S. troops. The Model 1866 corrected problems encountered with the prototypical Model 1865, in particular a simplified and improved extractor and a superior .50 caliber centerfire cartridge (the Model 1865 used a .58 caliber rimfire cartridge with mediocre ballistics), among many other less significant changes. It employed a robust version of the "trapdoor" breechblock design originated by Erskine S. Allin, Master Armorer of the Springfield Armory. Approximately 25,000 .58 caliber Springfield Model 1863 rifled muskets were converted by Springfield Armory for use by U.S. troops, the barrels being relined and rifled to .50 caliber and the trapdoor breech system affixed. The rifle was chambered for the powerful centerfire .50-70 Government cartridge (.50 caliber 450-grain (29 g) bullet; 70 grains (4.5 g) of black powder). Though a significant improvement over the extractor of the Model 1865 Springfield Rifle, the Model 1866 extractor was still excessively complicated and the extractor spring somewhat prone to breakage. However, it is a misconception that a broken extractor disabled the weapon. In the official 1867 government user booklet "Description and Rules for the Management of the Springfield Breech-Loading Rifle Musket, Model 1866", the following is stated regarding a broken extractor and/or ejector: "It should be understood that the ejector and friction springs are convenient rather than necessary, and that the piece is not necessarily disabled if one or both of them should break, for the shell can be easily removed by the fingers after being loosened by the extractor hook." Furthermore, the "ramrod" of the rifle can be used quite effectively to remove a stuck case in an emergency. Thus it is clear that this weapon is not as easily disabled as is sometimes believed. The Model 1866 was issued to U.S. troops in 1867, and was a major factor in the Wagon Box Fight and the Hayfield Fight, along the Bozeman Trail in 1867. The rapid rate of fire which could be achieved disrupted the tactics of attacking Sioux and Cheyenne forces, who had faced muzzle-loading rifles during the Fetterman massacre only a few months before. The new rifles contributed decisively to the survival and success of severely outnumbered U.S. troops in these engagements.
This particular rifle is in unissued condition. I was told by the owner that the information received when he purchased it was that there was a wood chip missing from the buttstock at the buttplate and because of that this weapon was rejected by the military for use. The color of the chip damage and the color of the rest of the stock matches perfectly indication that this piece was lost a long time ago and is not a recent break. The wood stock has a minor bruise here and there and a couple of minor scratches from storage but the wood has no wear at all and the cartouche also is very sharp with no wear at all as well. The barrel, bands , slings, buttplate and triggerguard are in the white. The original case hardening on the lock is weak and the original black quenching on the trapdoor is also somewhat weak from age. Inside the trapdoor you can see alot of original black. The action works excellent and the bore is excellent as well. The original ramrod is present and still has the threads. This is an outstanding example of a short lived conversion rifle! $3795.00 REDUCED BY THE OWNER TO $3150.00 !!!
New Arrivals Consignment 394
REDUCED !!!
SOLD!!!
Here we have a Sharps New Model 1863 Civil War Carbine!
The most famous, single-shot, percussion firearm used during the Civil War was the Sharps carbine, a .52 caliber, breechloading firearm invented and patented by Hartford, Connecticut native Christian Sharps. Presented here is a very good specimen of the New Model 1863 Sharp's carbine that features serial # 49799. I did not find this particular serial number listed on line but I did find one with the serial number of # 49797 that was issued to Company H of the 1st NY Cavalry. This Carbine has a 21˝" long round barrel and a 'straight-breech' type lockplate fitted to its walnut stock and forend. Barrel address is worn but still readable with"SHARPS RIFLE / MANUFG CO. / HARTFORD, CONN" in front of rear sight. "NEW MODEL 1863" stamped to rear of sight. Stock and forend appear never to have been cleaned but may have been lightly coated. I cannot see the inspector cartouches at the sling bar area so probably worn off . The stock has dings and gouges from use and a crack or two but no breaks. The reverse lock has the patent date on it but partially worn. The obverse lock markings of "C SHARPS PAT OCT. 5TH, 1852" is strong. Lock screws are original and in good condition. Metal surface of the carbine appear a mottled gray as does the butt plate with some darker patina, especially on the buttplate which has been cut for the patchbox which is normal but there was no patchbox on this carbine which also was normal. No trace of original colors present. Maker markings and patent designations are mostly clear. Serial number sharp and strongly stamped unto the upper plate tang. Breechblock operating lever mechanics are crisp. Iron bar tight and has its iron ring. Bore with its six-groove rifling is somewhat bright with moderate pitting. There is the initials WT carved into the stock and more research is taking place. There are 8 possibilities for these initials if this carbine belonged to a member of the 1st New York Cavalry. I have the list thanks go a good friend of mine Take a look at the pics! $2750.00 REDUCED BY THE OWNER TO $2250.00 !!!
Another Firearm from the above consignor!
Consignment
391
REDUCED !!!
This is a Russian Nagant Revolver with Holster. The Nagant model 1895 revolver is a seven shot, gas-seal revolver designed by Leon Nagant for the Russian Tsar. It's chambered in 7.62x38R. Russian and Soviet troops used the pistol during both world wars. Despite being out of production since 1950, security personnel around the world still use the Nagant m1895 revolver. This one is dated 1945 and is in excellent unusued condition! It comes complete with an original holster that was made in the 1950's.
Specifications caliber – 7.62x38R length – 10.5_ weight -28.8 oz. magazine capacity – 7 rounds
This revolver was imported into the United States by Inter Ordnance of Monroe, North Carolina. IO Inc. was founded in 1995. This revolver comes with a spare 7 shot cylinder. $550.00 THIS REVOLVER HAS BEEN REDUCED BY THE OWNER TO $400.00!!!
END OF THE REDUCED PRICED WEAPONS
Consignment New Arrivals 538
SOLD!!!
Here we have a canteen cup that has a presentation on it. The presentation is for a Marine, showing the marine insignia, along with the words "LCPL K.M.ARMSTRONG NOV 1986-MAR 1987 GODSPEED – EM PLAT. I don't know what this is all about but it's pretty neat! Something was kept in it so it's got a little surface rust in the bottom. Where you gonna find another one! $35.00
New Arrivals Consignment 508
Here we have a beautiful Colt Single Action Army Revolver made in 1902. This one is in .32/20 caliber with a 5 1/2 inch barrel. The finish is blue and just excellent with just a few minor flaws. The owner believes that this is one of the revolvers that was blued in the Philippines. I am still researching this info as I have found nothing on the subject. It's a mirror finish blue and just gorgeous! We have the original Colt Archive Letter with seal and it states that the type of stocks (grips) was not listed. I do not know for sure what these grips are made of but they are a beautiful orange/apricot color and finger molded to fit a right handed shooter. There are some gaps at the front of the grips so I don't know if they shrank over time or just were ill fitting from the start. It looks like the cylinder was never turned as there are no cylinder turning marks. It has a zip tie on it and we'll just leave it there and not turn it ourselves. None of the screws have been tampered with and they are all just beautiful! The Colt markings on top of the barrel appear to have Gold fill in some of them. The frame shows original case colors and it is just beautiful as well! This revolver came from a defunct Montana Museum in 1969 and has been with the current owner ever since. According to the Colt Archive records this revolver was shipped on November 26, 1902, along with 18 other guns, to Simmons Hardware Company in St. Louis, Missouri. It would be hard to find another revolver like this one. Comes in a display case. For this fine piece the consignor wants $15,000.00
New Arrivals 493 Consignment
Here is something that I am still doing researching on. This is a coach gun 12 gauge double barrel shotgun that was marked on one lock plate AMERICAN GUN CO. NEW YORK. The name is listed in the Standard Catalog of Firearms as a Crescent Firearms Co. shotgun. American Gun Co. was a trade name used of shoguns wholesaled by H&D Folsom, a very large sporting goods supplier from the late 1800's until the 1930's. We are not questioned the authenticity of the shotgun but the stock is marked W F & CO (Wells Fargo & Company) and between the barrels with the fore stock off it's marked W.F. & CO. as well as on the inside of the receiver. We are actively looking for an expert to authenticate the markings. It has been written that 95% of Wells Fargo marked items are considered bogus so we want to make sure. The shotgun itself is in excellent cleaned condition with a tight barrel to receiver condition and the hammers work flawlessly. The bores are very good just needing a scrubbing. The top of the barrels are marked 'Genuine Armory Steel' and "Genuine Armory Steel" was a trade slogan stamped on shotgun barrels by Crescent Fire Arms Company during the period from 1893 to 1932 per my research. The shotgun has a large ring on the butt stock for wearing a sling that goes over the shoulder. The sling is marked J.A. BISHOP MAKER, EL PASO, TX . I did find several items made by J.A.Bishop online and they were movie props for MGM Studios. The shotgun also comes with a pine wooden case that has had a nice lining and top added to it. The owners said that this shotgun was carried in this box when on the stagecoach. They stated that this gun was not carried on top but was an extra carried in the coach itself. This shotgun and the box along with the strap and the Wells Fargo card were on display in an old Museum that went out of business in 1969. The owners of this piece bought the entire contents of the museum at that time. The Museum was the DE-AQUISITIONED BOVIE MUSEUM THAT WAS IN VIRGINIA CITY, MONTANA . Interesting enough Jack Slade, Pony Express co-founder and gunfighter, was lynched here. Also with the shotgun is a card about the size of a playing card and you can see what it on it in the pics. Also there is a long piece of paper with the writting on it "Property of Wells Fargo Stage Line. Salt Lake City, Utah U.S." As soon as well get it authenicated we will post a price. Any comments are appreciated just e-mail us at tc1861@yahoo.com . Thanks and take a look at the pics! It is a beautiful shotgun!!!
We have determined that this is an original firearm and since every Wells Fargo Agency pruchased their own firearms and stamps to mark them it would be impossible to say that this is not correct. The stamps do not look modern and there are no phoney brass plates on it. Rock Island Armory sold nearly this exact shotgun with the same maker but with different stampings and no provision for a shoulder strap. Take a look at the pics and judge for yourself. Buy as is for $4800.00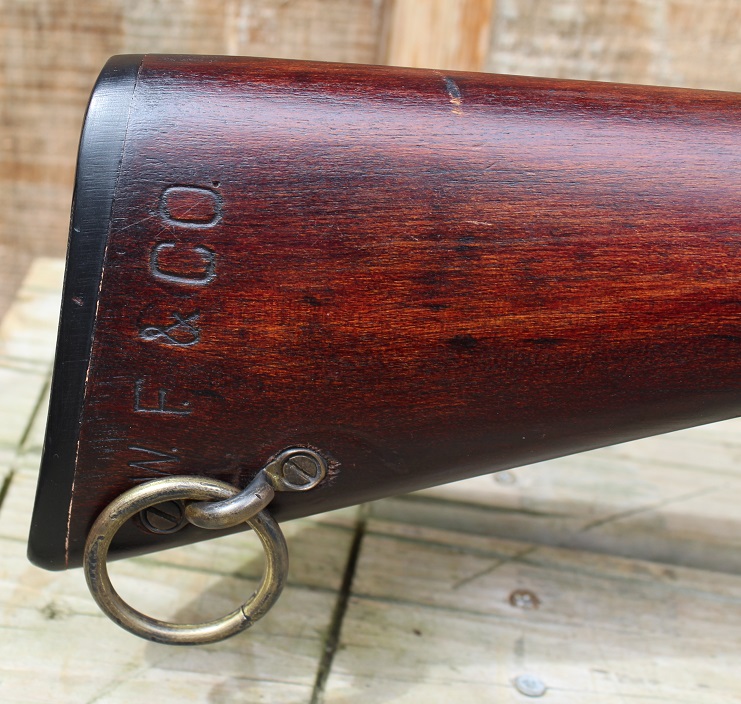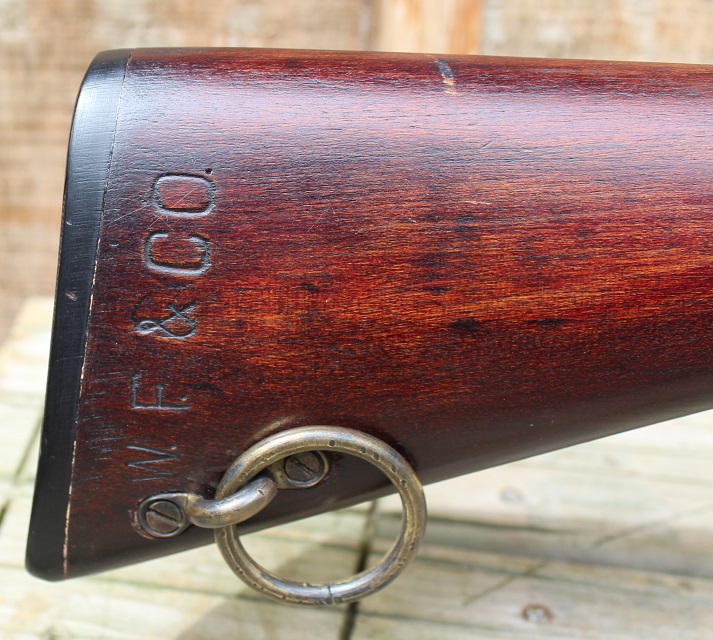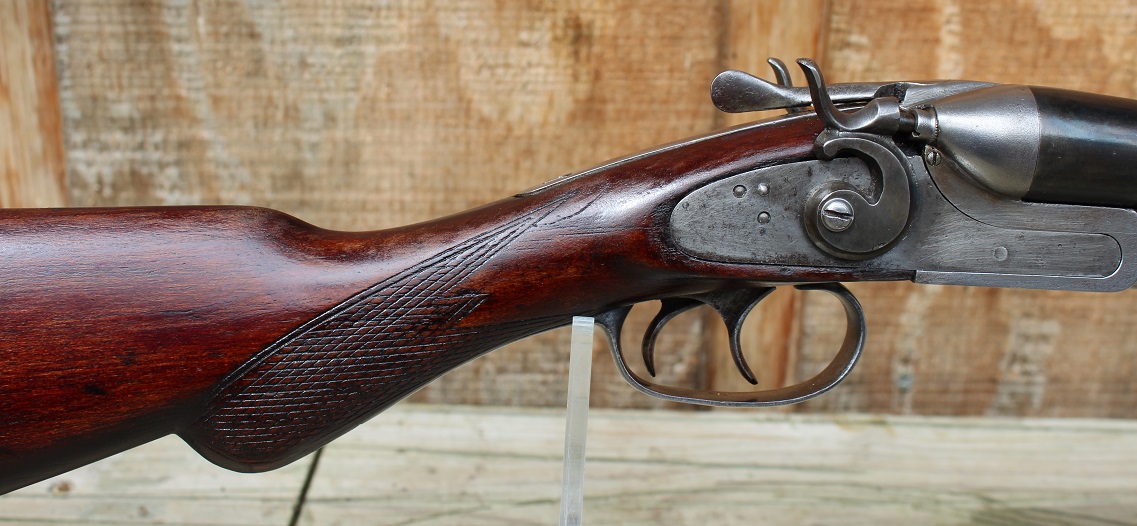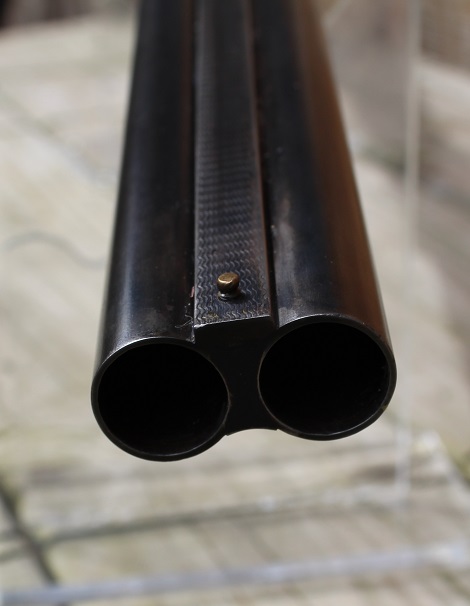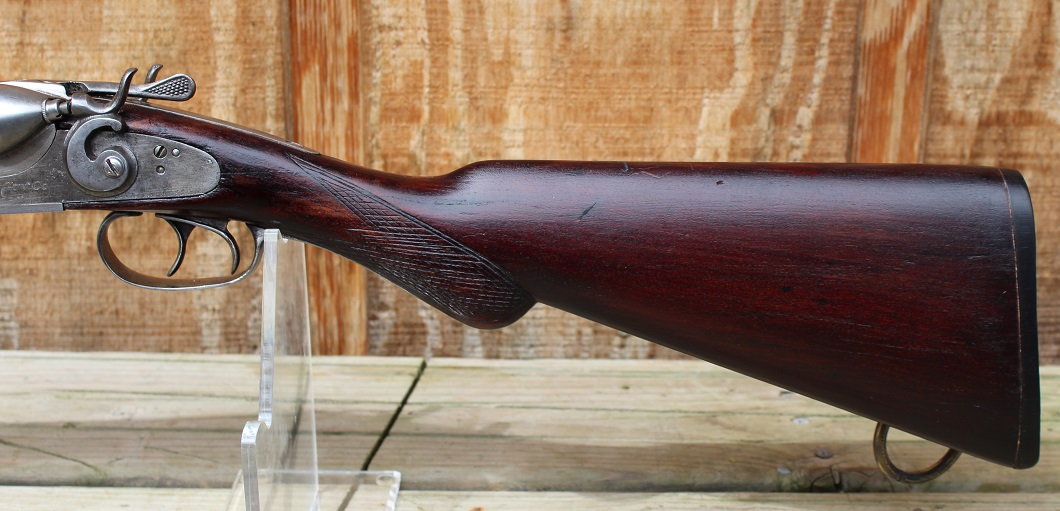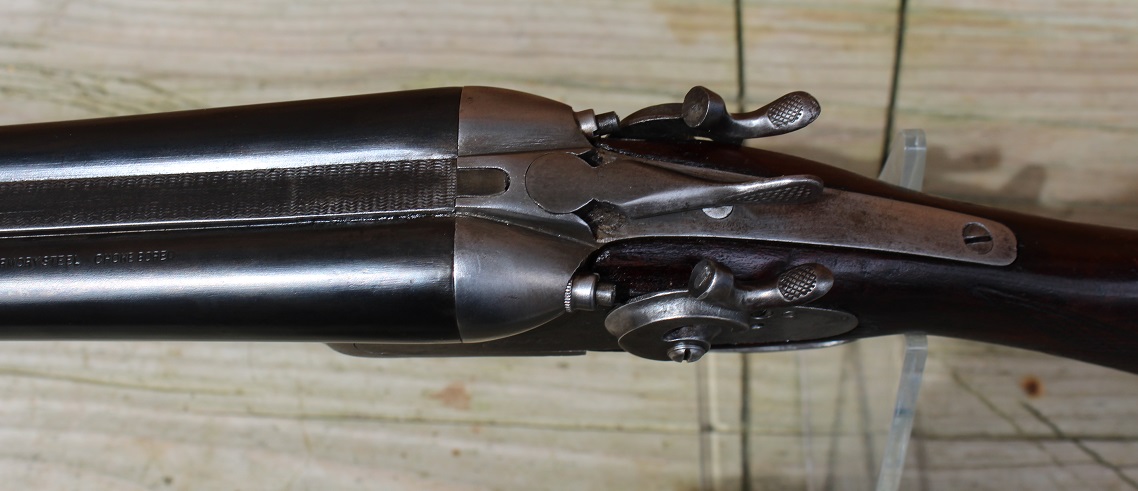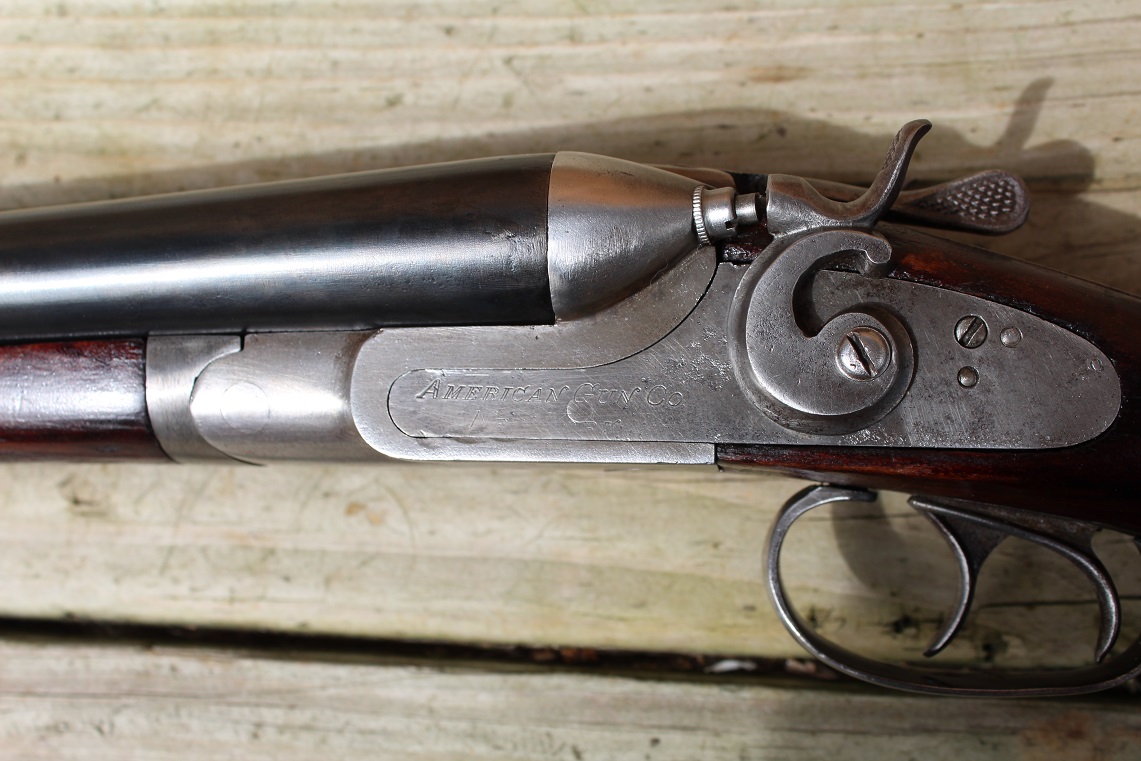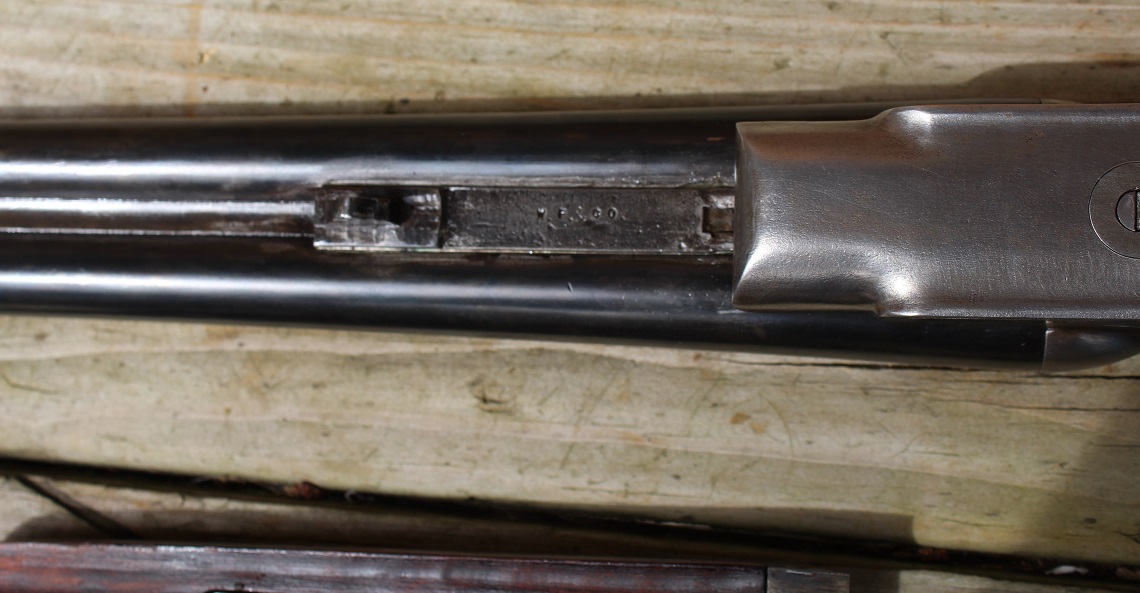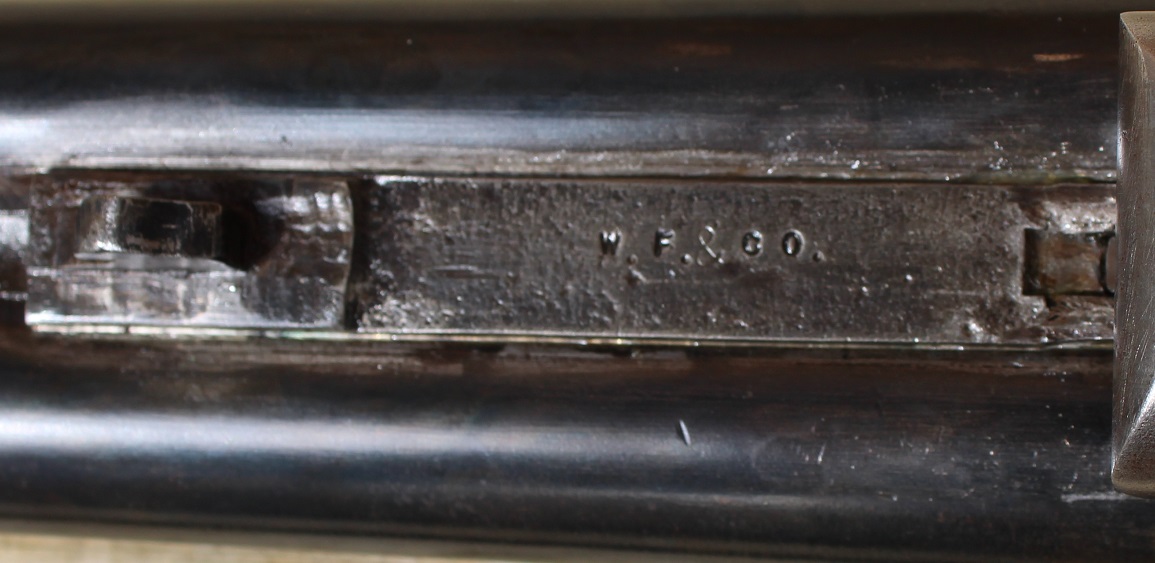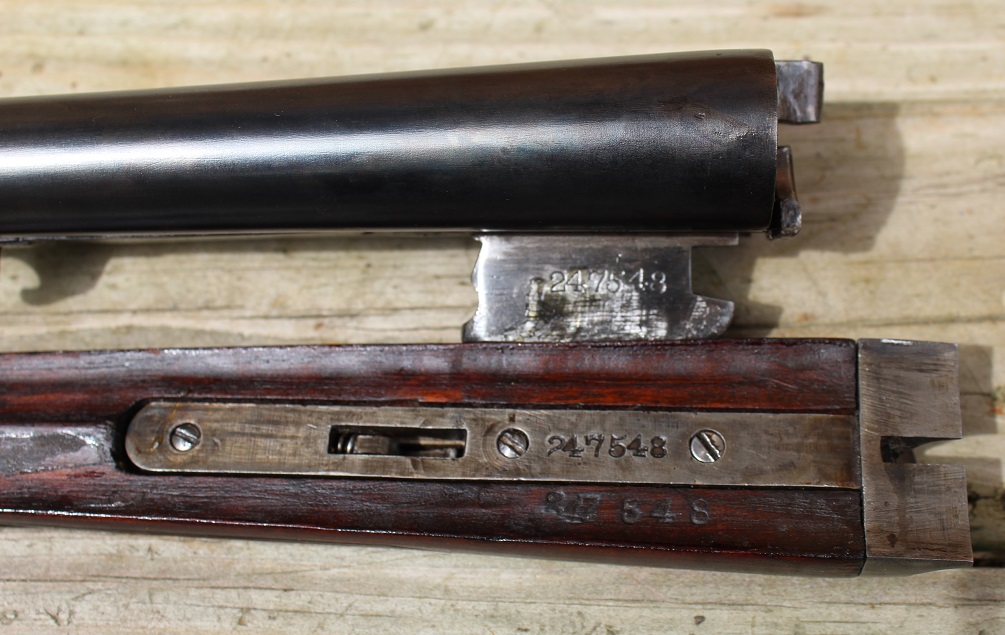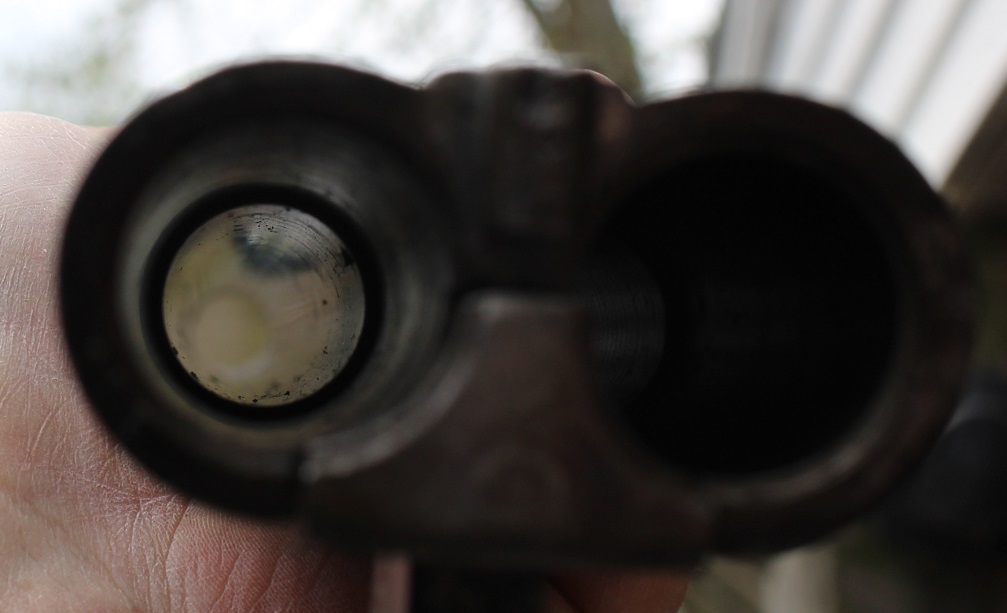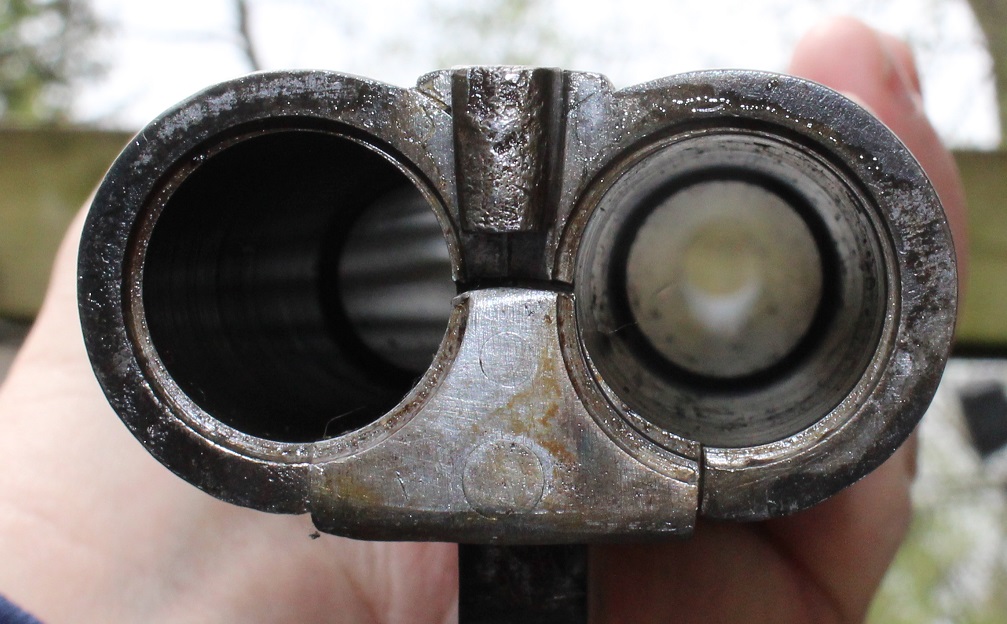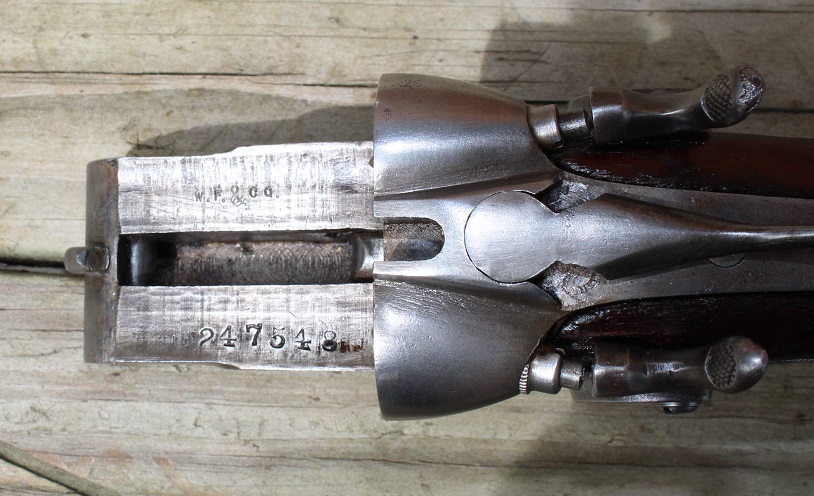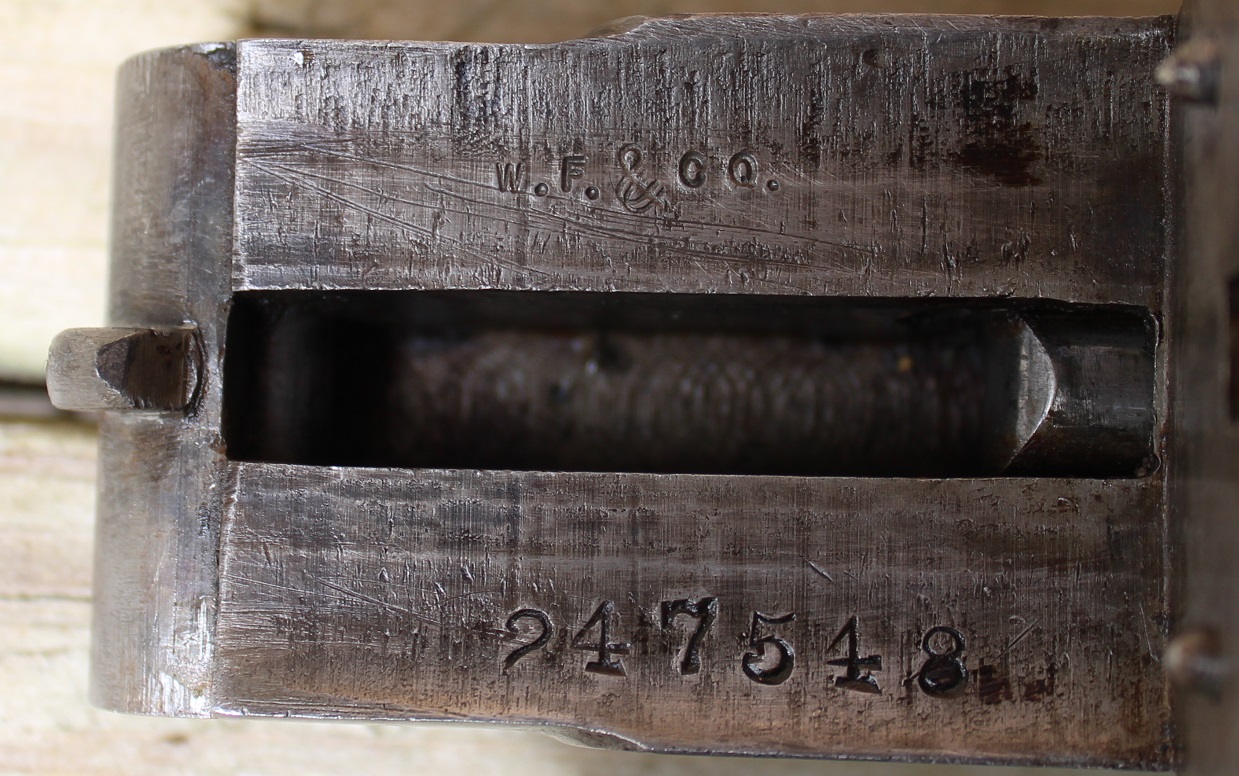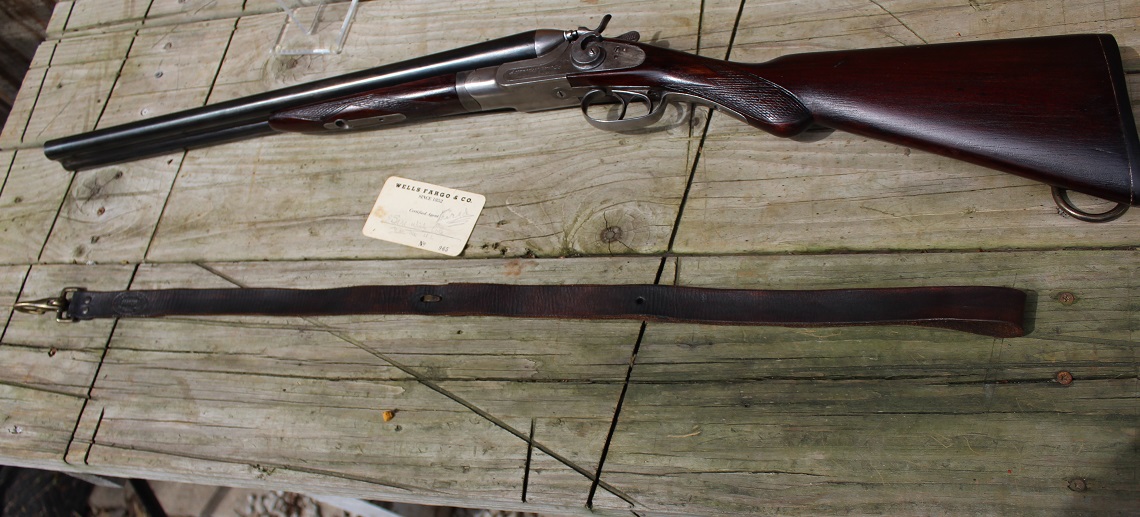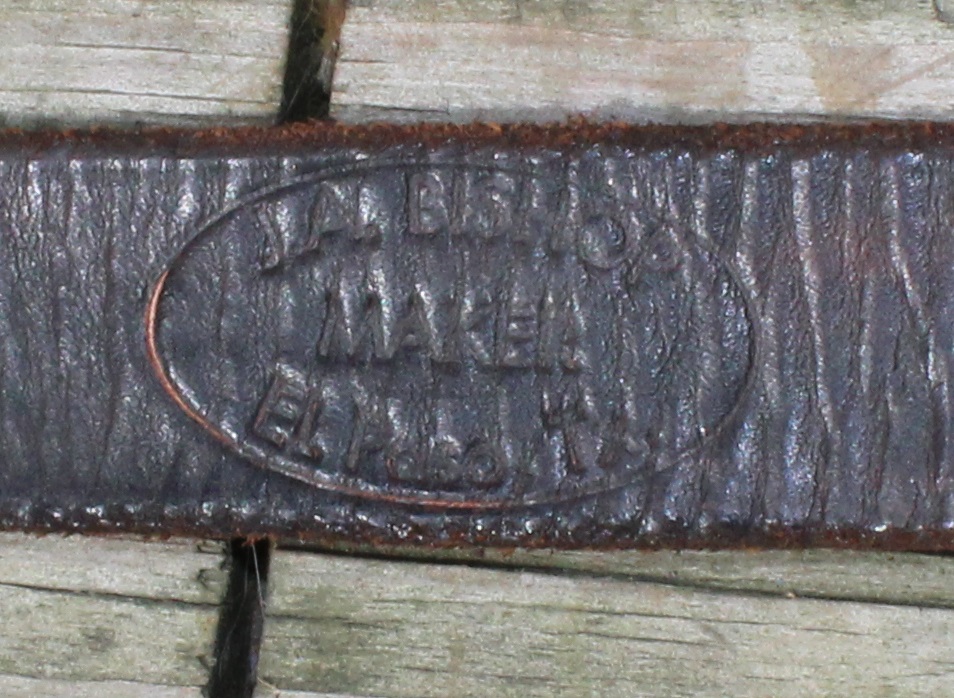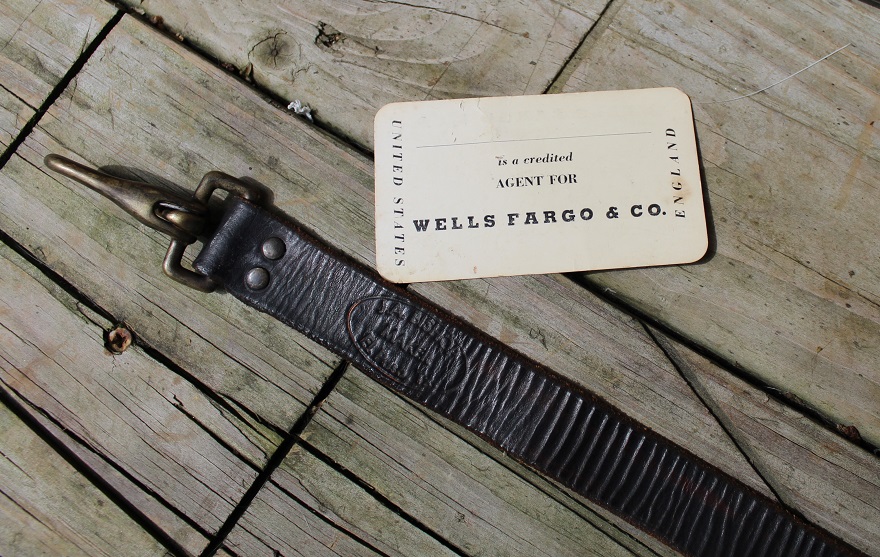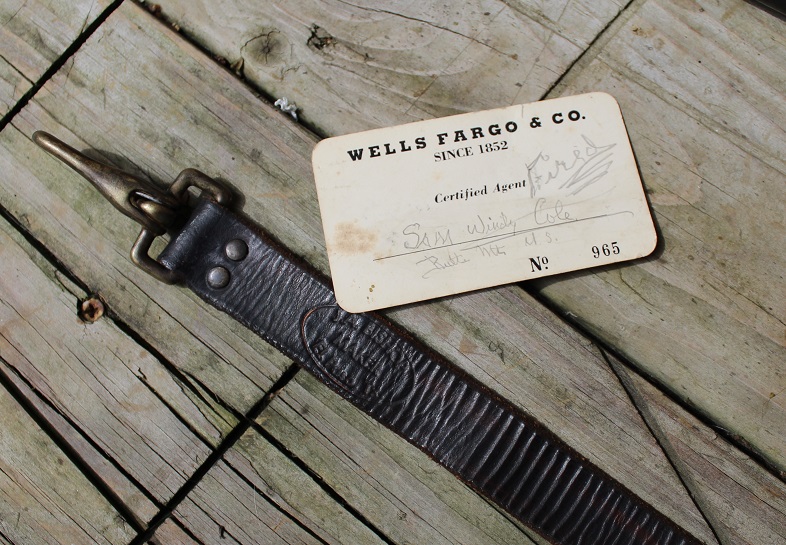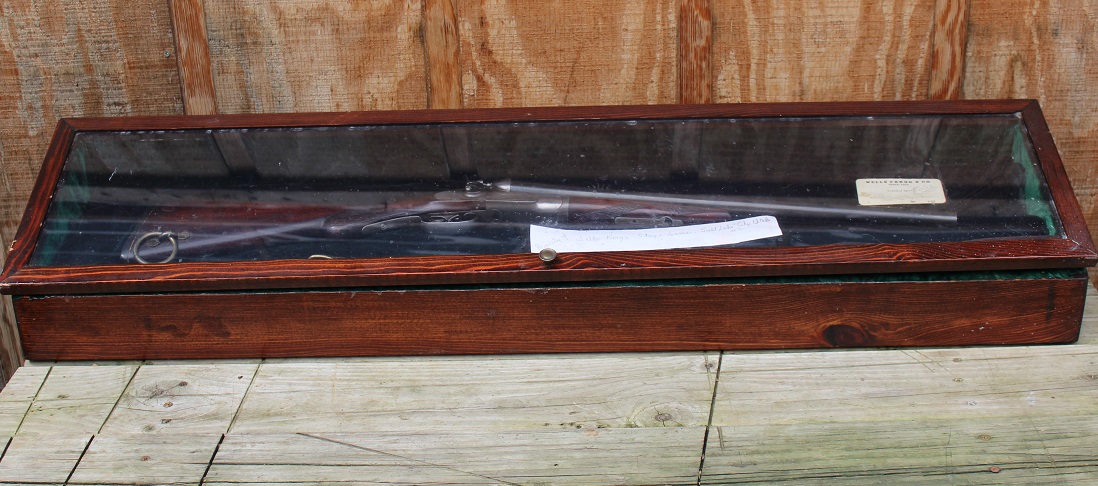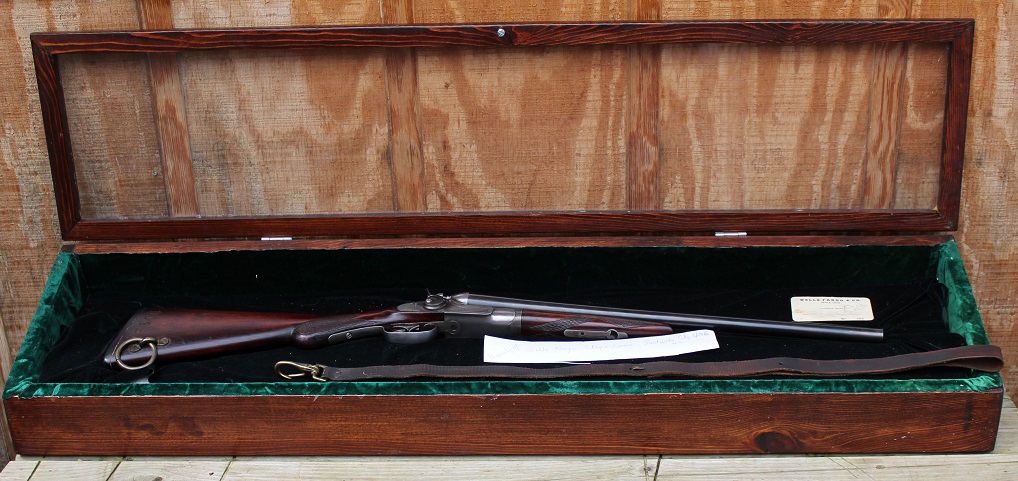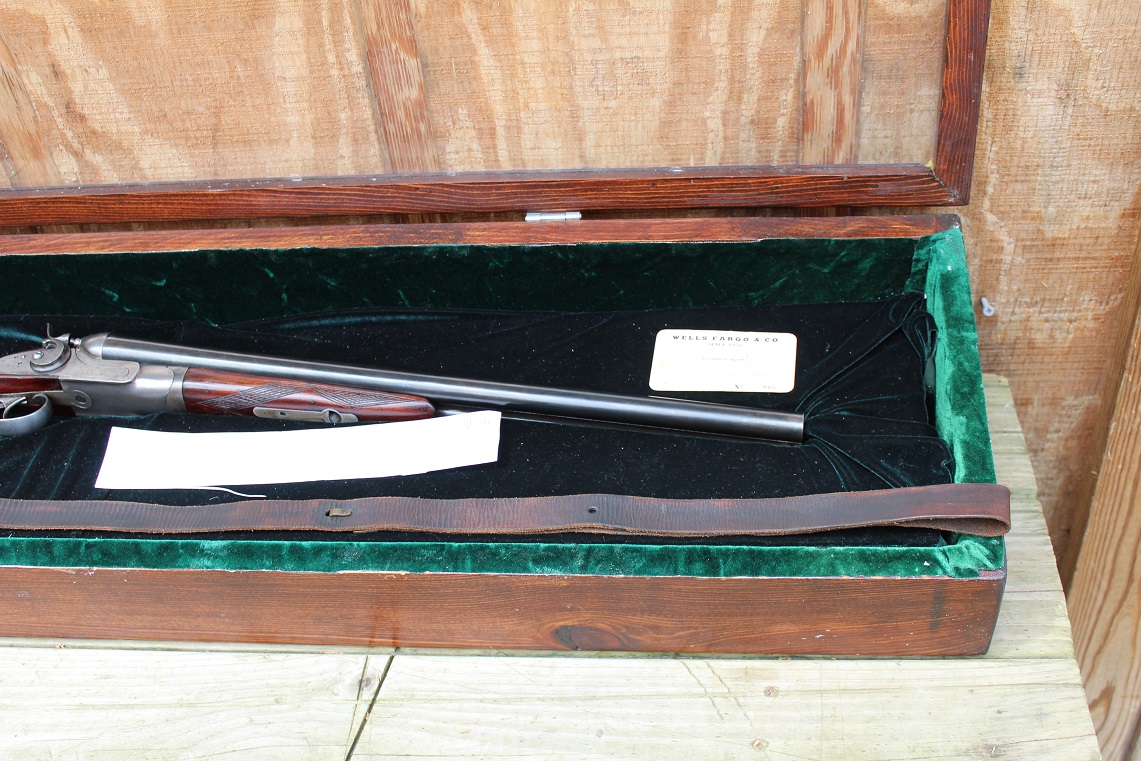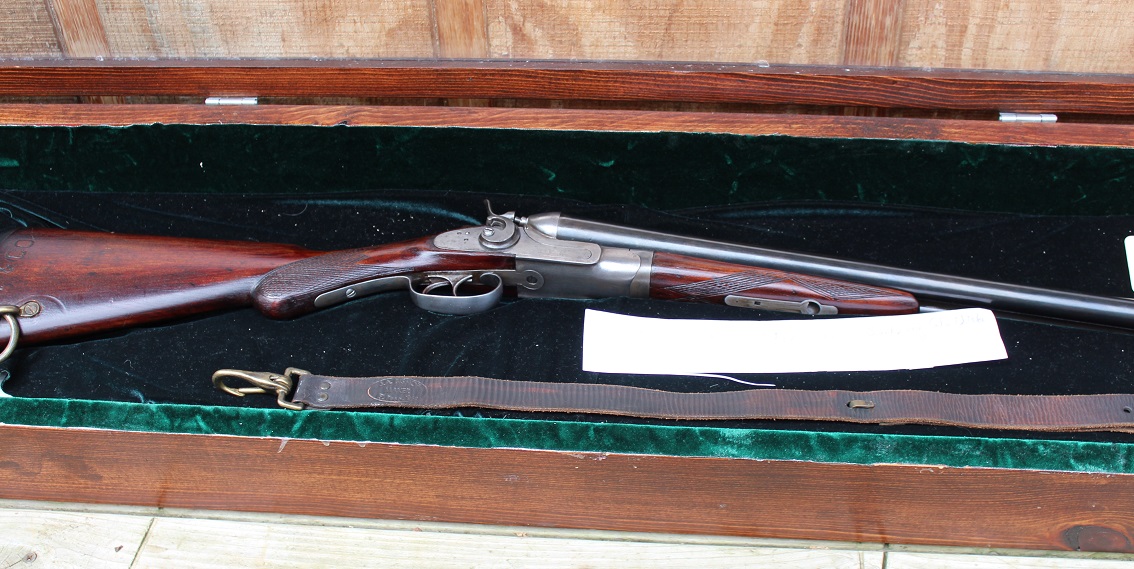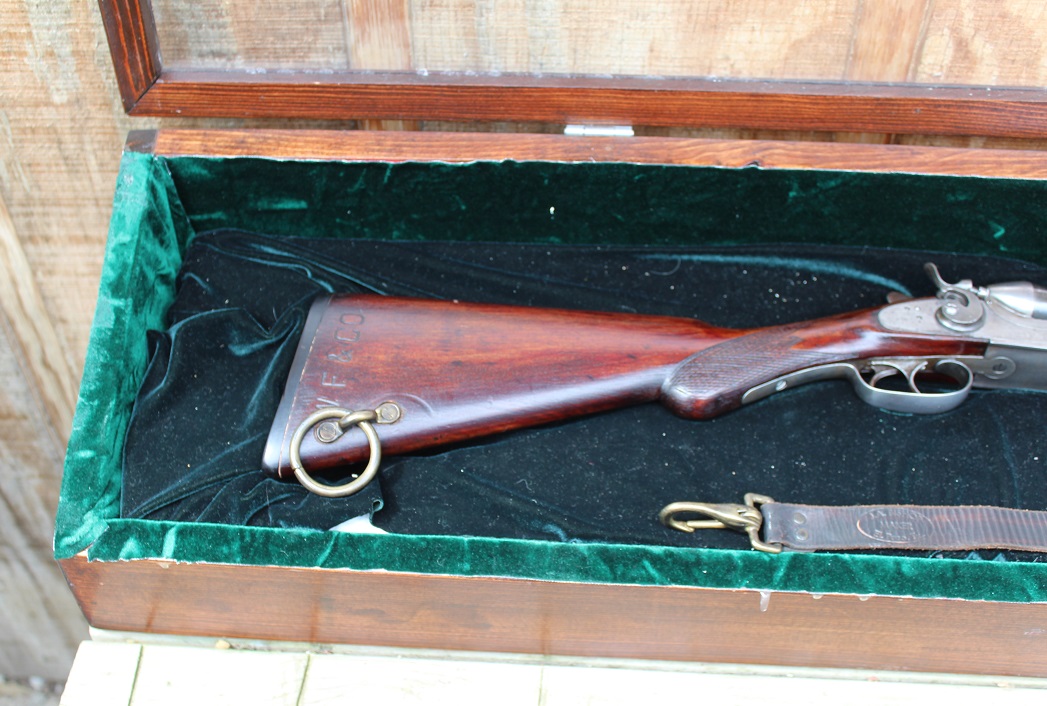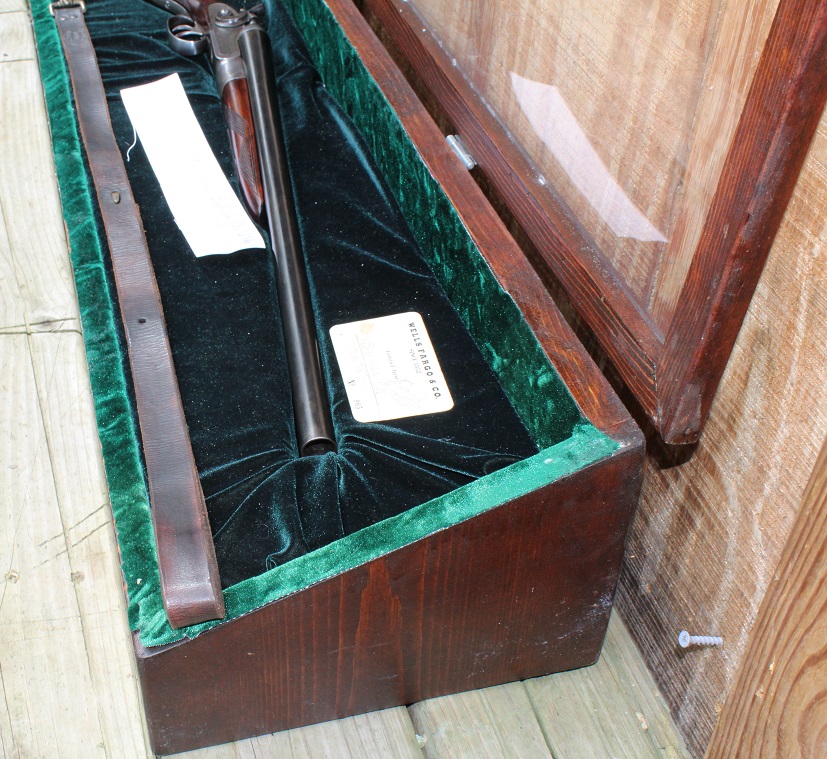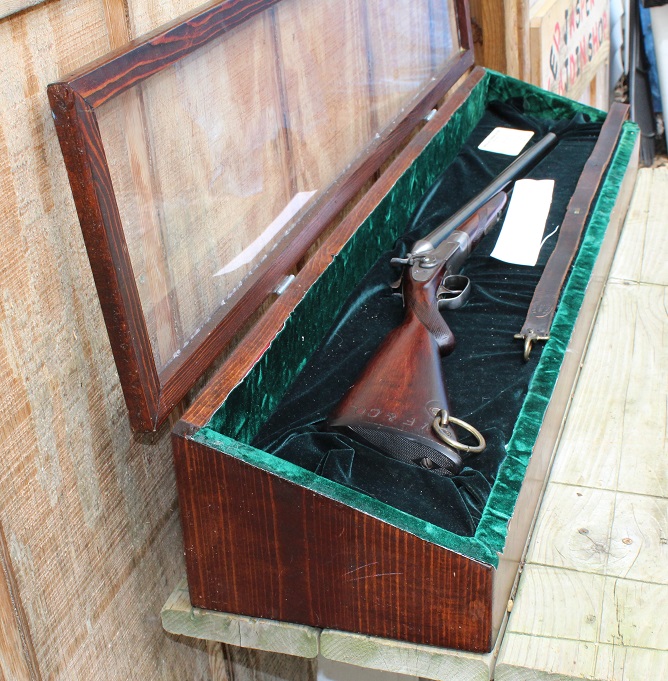 New Arrivals! 420
Consignment
REDUCED !!!
Here we have a georgous Colt Single Action Army that has been engraved. This one is known as the The 'Colt Frontier Six Shooter' and that is roll stamped on the barrel. The Colt Frontier or Frontier Six-Shooter was a Colt's 1873 "Model P" type revolver, manufactured in .44-40 Winchester caliber instead of .45 Colt (in which configuration it was called the Single Action Army), so as to be compatible with Winchester Model 73 ammunition. Production began in 1877. Colt Frontier Six-Shooter was the actual name of the Colt pistol model, and this was acid-etched on the left side of the barrel. After 1889, the legend was roll-stamped until 1919, when the caliber designation ".44-40" was added. Later Colt 1878 Double Action Army Models also wore this designation on the barrel when chambered in 44 WCF/44-40 Winchester. The Bisley 1895 Model was the final Colt to wear the Frontier Six Shooter designation.
We have a Colt Letter for this one. The serial number is 1497XX and according to the Colt Archives Letter this revolver was produced in 1893 having been shipped to Simmons Hardware Company in St. Louis, Missouri on September 29th, 1893. Simmons Hardware is famous itself. It was in caliber .44-40 with a barrel length of 4 3/4 inches and the finish was blue. This particular revolver has been customized and is quite different now.
This particular Colt has been nickel plated, after being blued, with professional engraving done on it. The engraver is listed as Robert Burr but I haven't been able to turn up anything on Mr. Burr on an internet search. Also we thought that the engravers tool that is included with the firearm as well as the sharpening guide belonged to Mr. Burr but under magnification the initials on the tool are CCH.
I do believe that the engraving was done some time ago as the cylinder is a trifle frosty from age now. Also, the serial numbers are a tiny bit light on the butt from buffing the original bluing off and nickel plating it. The barrel length was originally listed as 4 3/4 inches but the barrel now is 7 1/2 inches indicating that it has been changed out. Also, now this fine revolver has beautiful checkered custom walnut stocks which are in fantastic condition! This SAA functions flawlessly and looks just great!
The revolver is housed in a custom box that fits it perfectly and I have no doubt that it was made for this particular revolver. The lid had been changed probably due to breaking off at some point. All in all this revolver is just gorgeous!!! One of a kind! $26,500.00 OWNER HAS REDUCED THE PRICE TO $20,000 !!
WE'RE ALWAYS LOOKING FOR PIECES LIKE THIS!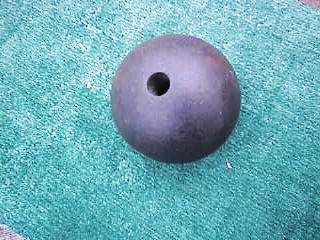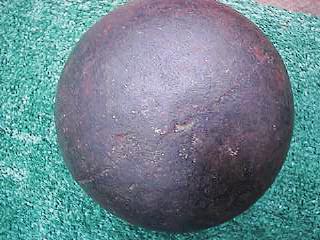 and This !!!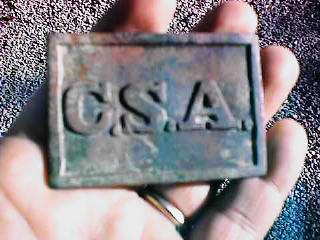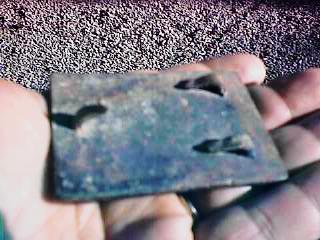 2