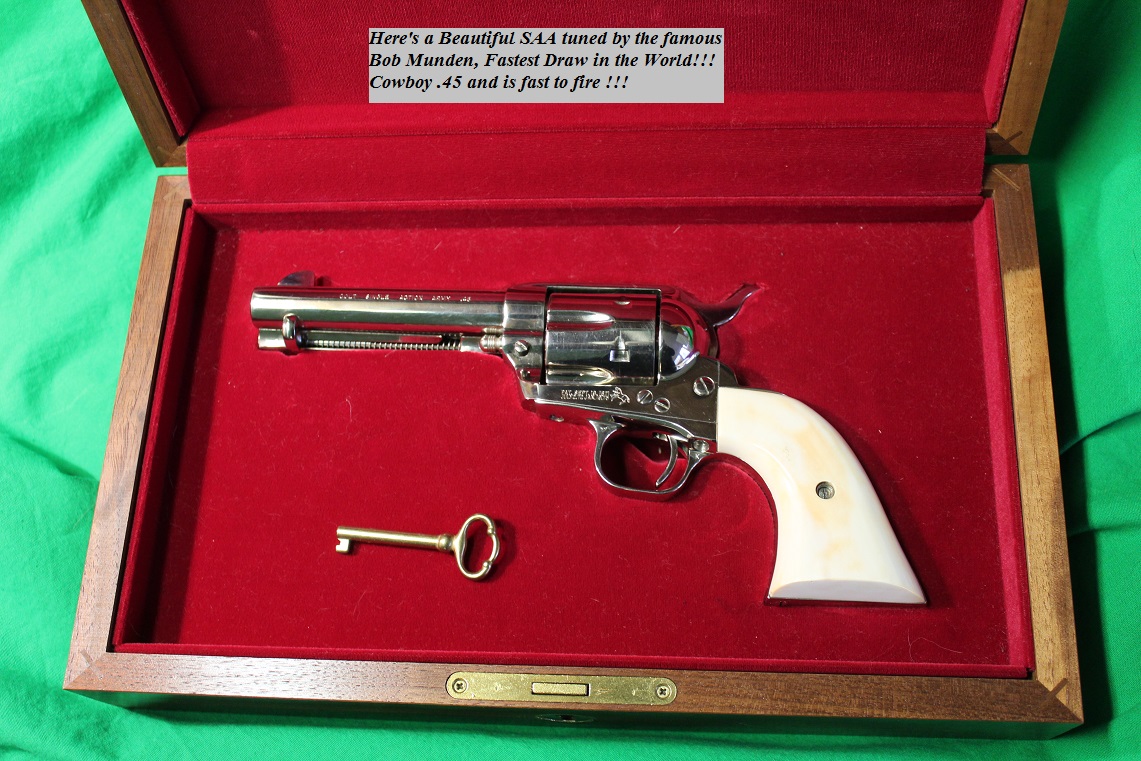 Note: The Firearm Above is a gift from a great friend and is in our private collection and NOT for sale. Thanks!
THANKS FOR LOOKING !!! TED & SALLIE
TAKE A LOOK AT THESE ENGLISH MFG CONFEDERATE USED NAVAL CANNONS !!!!
145
Here is a pair of Civil War English Naval Cannons that belong to a new friend of mine from Georgia. These cannons are thought to be Confedrate used Naval Civil War cannons with sequential numbers on the copper oval plates that are mounted n each one. These are thought to be ordered from a foundry in England around 1861. There were 4 cannon tubes recovered from the Chattahoochee River many years ago. The gentleman who had them sold 2 of them to the present owner and she displayed them at her home on brick mounts for many, many years. The owner has moved them from their mounts and placed them in storage. When the wrecker was moving one of the 2000 pound tubes a 3 inch diameter cannon ball rolled out! I have included a pic of the cannon ball as well. Each tube is 7 1/2 feet long. If you have any interest please e-mail me your contact information and I'll make sure that the owner receives that info so she can get back to you. Also if you have any i nfo on this type of cannon we would appreciate hearing from you. Please e-mail either tc1861@yahoo.com or ted.caldwell@comcast.net Take a look at the pics!!! Thanks!!!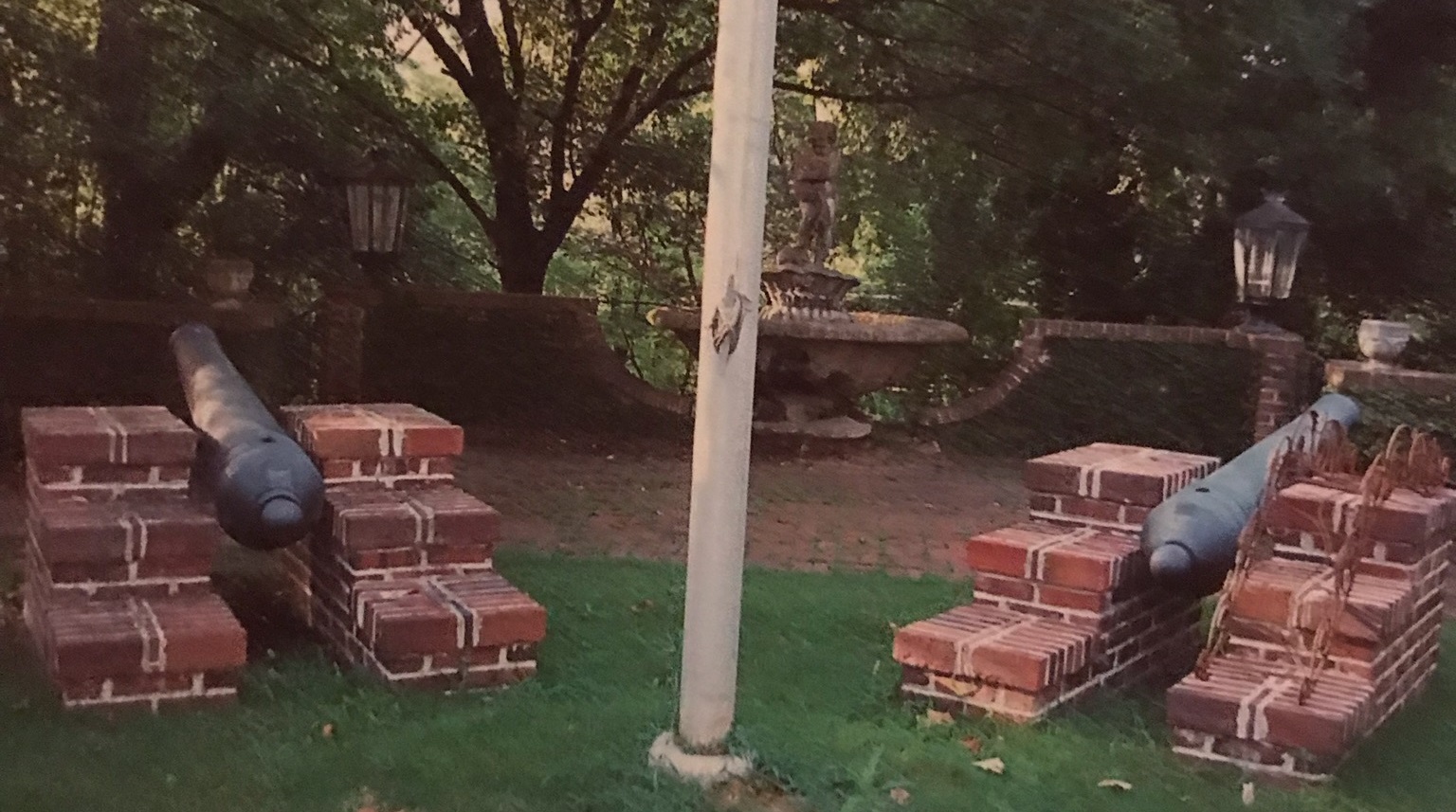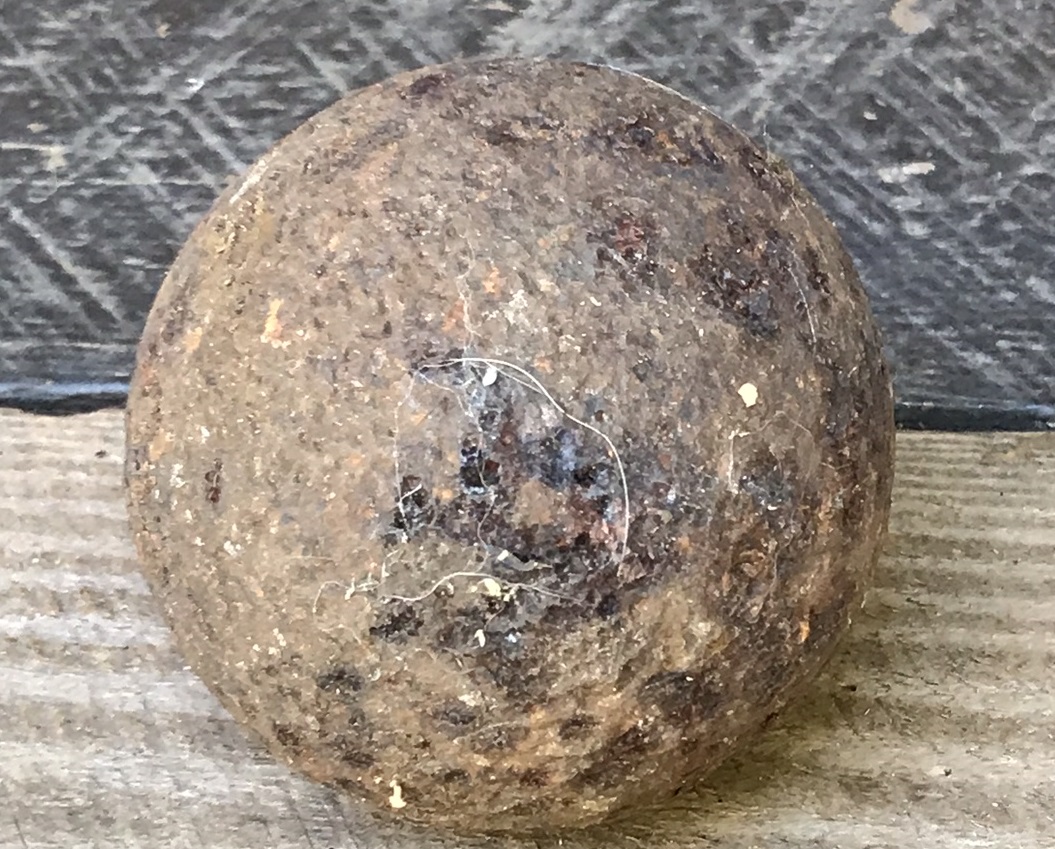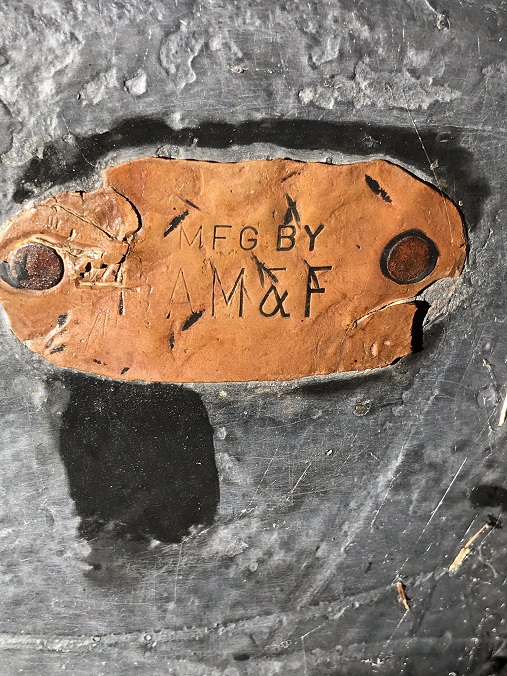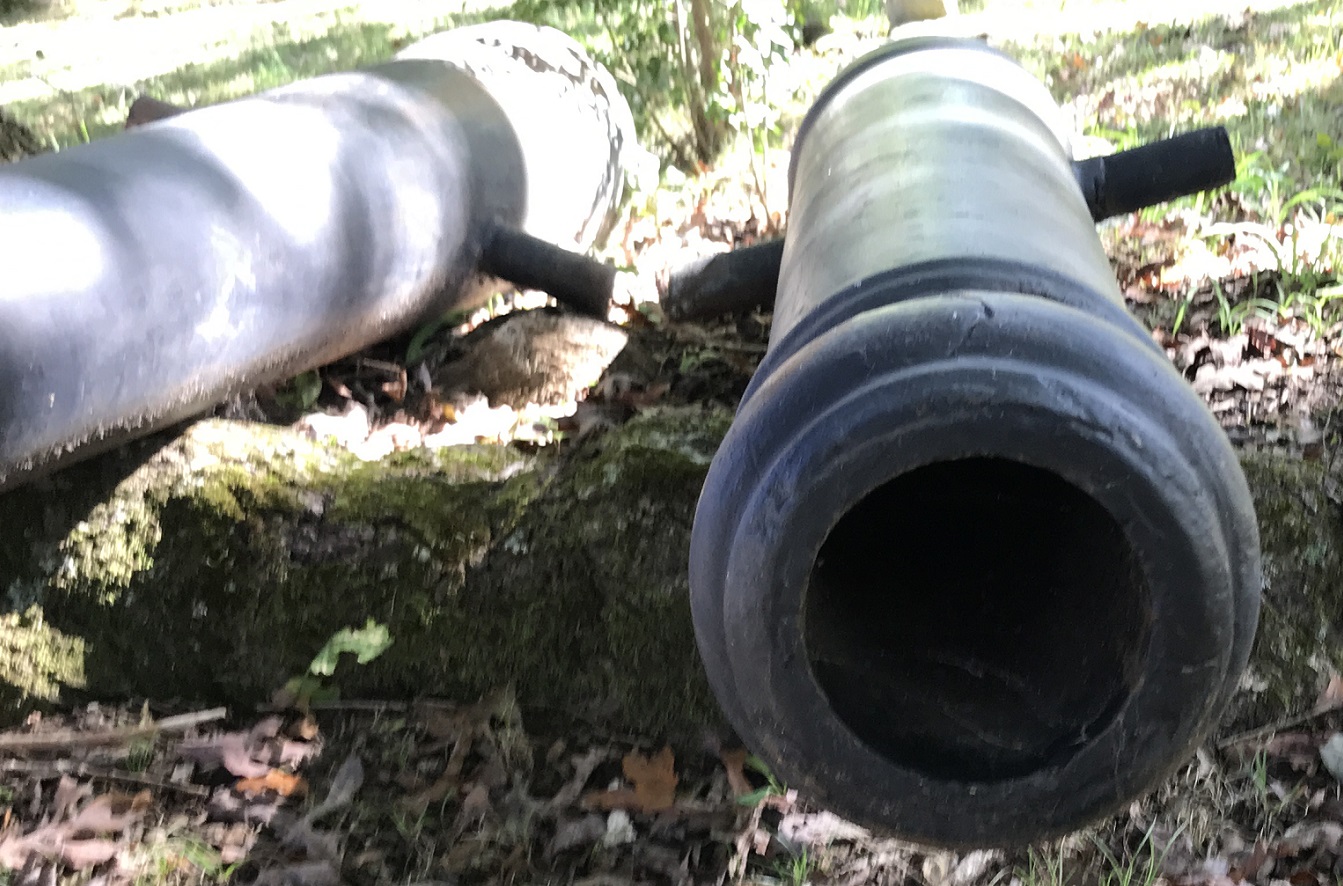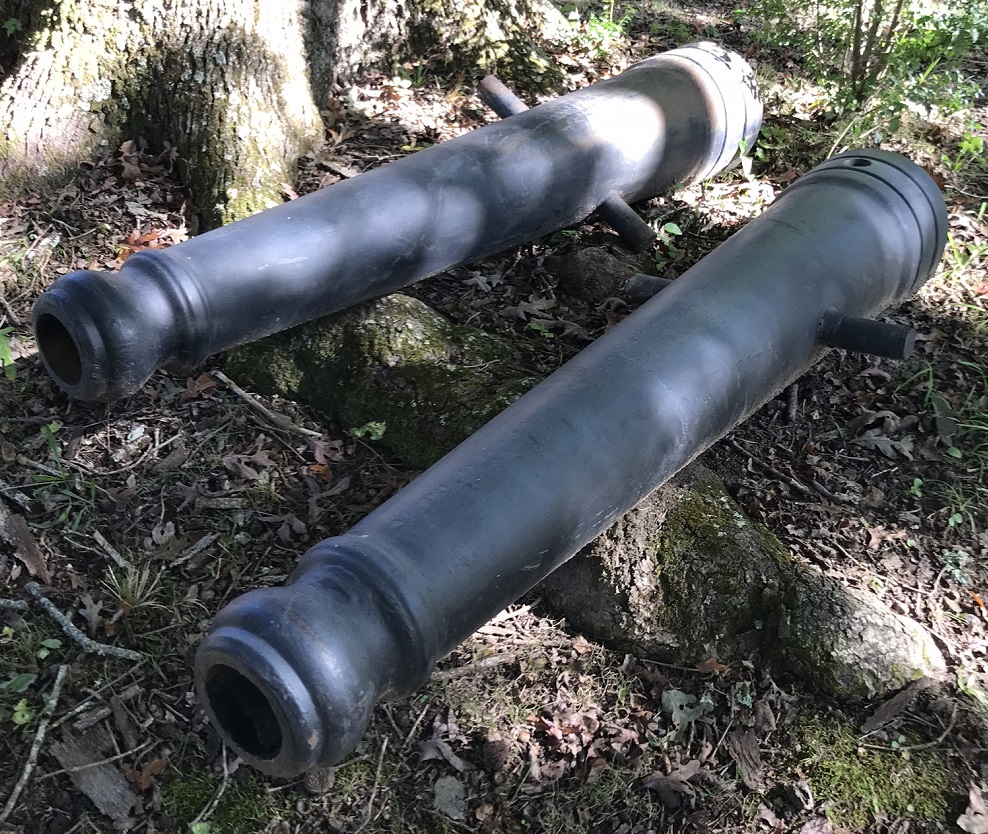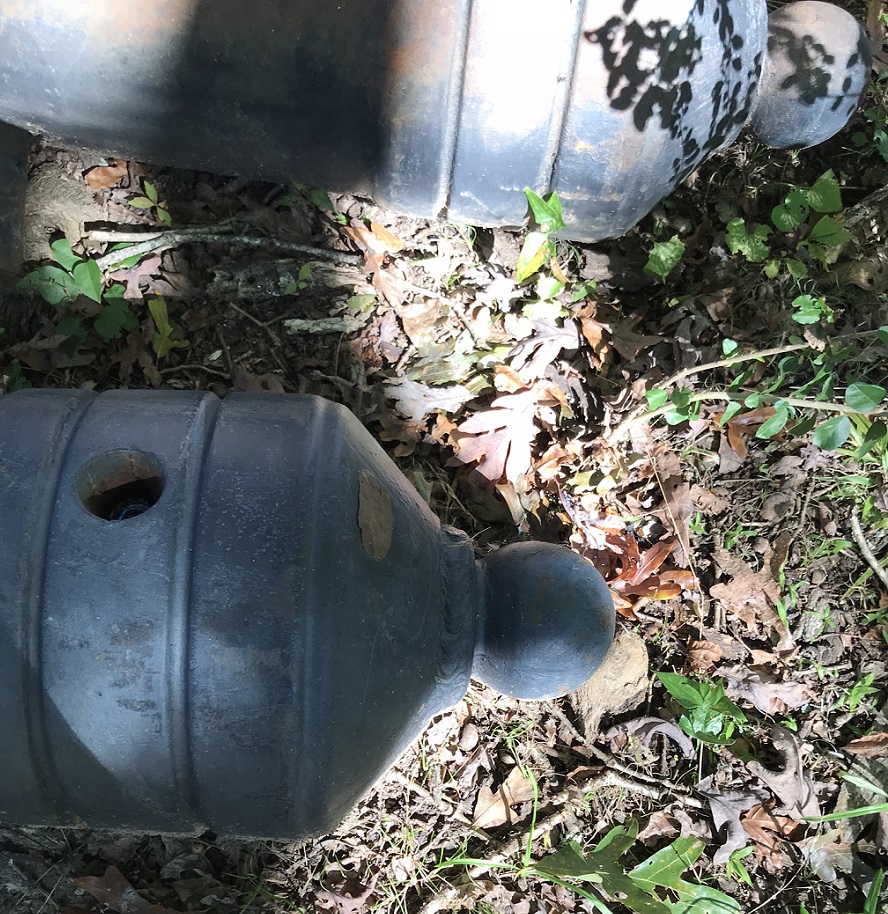 New Arrivals Consignment 145
. HERE WE HAVE AN OUTSTANING MODEL 1842 AUSTRIAN CAVALRY CARBINE. EXCELLENT EXAMPLE!!! -EXAMPLES OF THESE CIVIL WAR CARBINES WERE USED BY BOTH UNION AND CONFEDERATE TROOPS WHICH IS WELL DOCUMENTED!
Here is a Model 1842 Austrial Cavalry Carbine with carbine snap hook attached. This is a Carbine that was used by both Union and Confederate troops during the Civil War. One of the more interesting European carbines imported at the start of the American Civil War, the Model 1842 Austrian Cavalry Carbine featured one of the shortest barrels at only 14 1/2" long, while having one of the largest rifled bores of any regulation small arm of the War at .71 caliber with 12 rifling grooves and the bore is nice!!! A notched tang on the rear of the barrel serves as a rear sight and a blade sight is used up front. All the furniture on this piece ie: triggerguard, barrel band, butt plate plus sling and rings are all iron. The original ramrod is also present. The entire carbine is only 30 inches long! Here is some info I discovered from a Civil War colleague.
At the beginning of the American Civil War, the need for serviceable firearms drove both the Federal and Confederate armies to seek out and purchase available stands of arms from many of the European armories in order to equip their soldiers, so were good and practible and some were, in fact, not. The Austrian Empire was one of the world's major centers of small arms manufacturing - in fact, so much so that between mid-1861 and mid-1862 the purchases of foreign arms made by the Union Army included 10,000 "Bohemian Carbines". Bohemia, a region of Central Europe which generally represents the western 2/3 of the historic Czech lands, was an Austrian protectorate at the time of the Civil War. These Bohemian carbines were later described on the Ordnance Department records as ".71 caliber Rifled carbines, Austrian". While these carbines were originally manufactured, and used, in Austrian service with a "tube lock" firing mechanism, the US Army had them converted to the standard percussion system by civilian contractors. Records show that 10,000 of these carbines were purchased by Union Purchasing Agent George "Schuyler in 1861 and arriving in 1862. Upon arrival they were immediately issued to Fremont's Western Command and used until better arms became available.
The historic record of the use of these unique carbines during the Civil War is well documented. In April of 1862 General Denver, then stationed at Ft. Leavenworth, Kansas, reported that "some of the mounted regiments in this district are armed with the Austrian carbine…". One of the units specifically mentioned in reports as being armed with the Austrian Carbine was the 2ND Kansas Cavalry. These carbines also found their way into Confederate service, perhaps as Federal stockpiles were seized during the process of secession of the various states or later captured from Federal troops. One well documented example of an Austrian Carbine used by a Confederate soldier resides in the Kansas State Historical Society Collection – taken from Larkin Skaggs, one of Quantrill's Guerrillas who was captured during the raid on Lawrence, Kansas in 1863. Surviving the War, these carbines like so many of the surplus, and by then obsolete, firearms in government inventory were sold at auction to various civilian dealers who in turn, sold them wherever there was a market. I know from a Civil War colleague of one of these Austrian Carbines that was recovered in near relic condition from an undercut sandbar along a creek in Nebraska. The butt stock was cut off just behind the rear trigger guard tang, evidence that the carbine was shortened to be used as a "blanket gun", likely by a member of one of the Plains tribes that frequented that area. These carbines survived in such numbers as to be offered in the famous Bannerman catalogs in the early 1900's, at testament to their durability. This carbine shows some evidence of use, with dings and dents from use but still in remarkably good condition. The number '30' is stamped on different parts of the carbine indicating that it is in it's original condition and has not been messed with. There are roman numberals cut into the underside of the barrel which has been seen on many Confederate Arsenal reworks. The number is '19' and you can see it in the pics that I have provided. Also, one cqn see vise marks on the side of the barrel indicating work done to it at some point. These vice marks may have been put on the barrel when the old tubelock was converted to percussion. This percussion method used the drum method with the touch hole being bored out and threaded for the drum. This drum may have been soldered in as well. This carbine has been converted to percussion and works very well with the nipple still being in good condition and practically no to little burn behind the nipple and drum. The hardwood stock, probably beech, is in remarkable condition with a very small minor crack near the tang and a small chip forward of the lock plate and also under the single barrel band. The lockplate appears to have absolutely no markings on it at all and does exhibit some minor pitting but not bad at all. The barrel is marked on top but I can't quite make it out. Perhaps you can make it out or perhaps you have seen this mark before which is one of my pics. If you know what it says please let me know and I'll post it. This carbine is complete and untouched since the Civil War. Take a look at the pics of this outstanding carbine! Price is $1,250.00
Consignment New Arrivals 144
Here we have a cast iron set of knuckles or knuck dusters as they are sometimes know. This is a 19th century set I believe. There is a great book out there that is now out of print named History Of Knuckle Dusters: The Ultimate Close-Quarters Weapon by David Grant 2007. Here's what David has to say while describing the contents of his book.
For more than a century, knuckle dusters and brass knuckles have rested in the pockets of those who need a small, handy impact weapon that is easily concealed and inexpensive to produce. History of Knuckle Dusters shows the actual knuckles through their history, including wartime knuckles, modern customs and mass-produced examples. An amazing array of designs and materials has gone into knuckle dusters, and their popularity is even greater today among collectors and those who use them for protection. Often demonized and vilified by the press and law enforcement, the knuckle duster has a colorful and interesting history and deserves to take its rightful place among the great close-quarter combat weapons of the world.
This set is in nice condition with a nice dark patina. No cracks or breaks! I was raised as a farm boy and have fairly large hands with 'fat' fingers and this set fits. Not too many sets of knuckes that I find will fit me as most are too small. For this nice set of knucks $145.00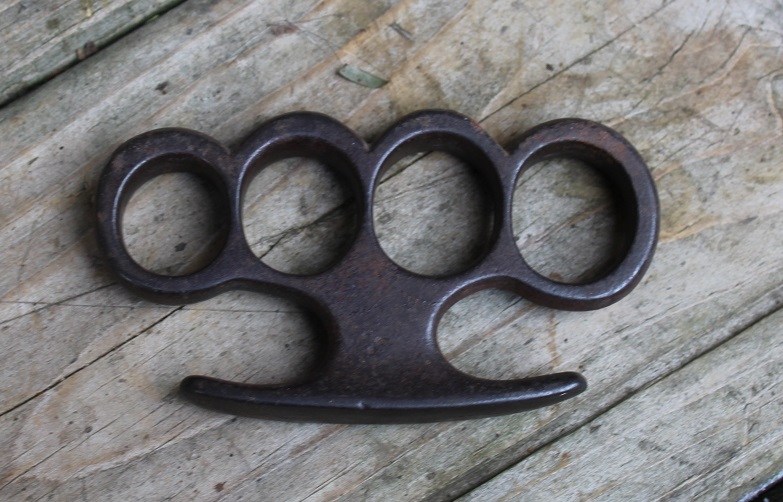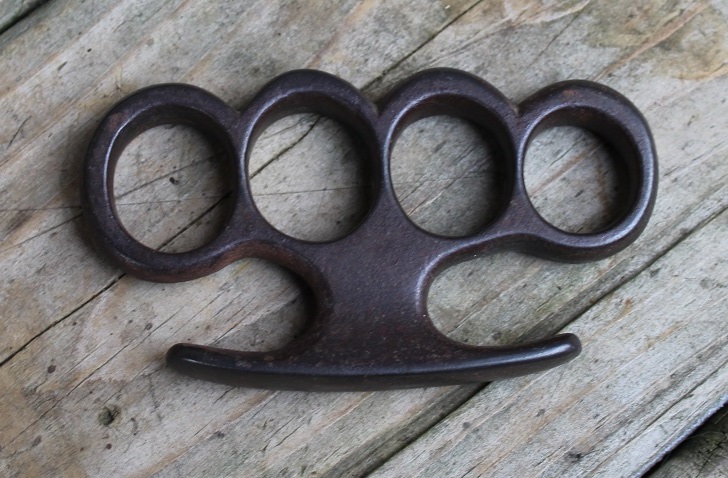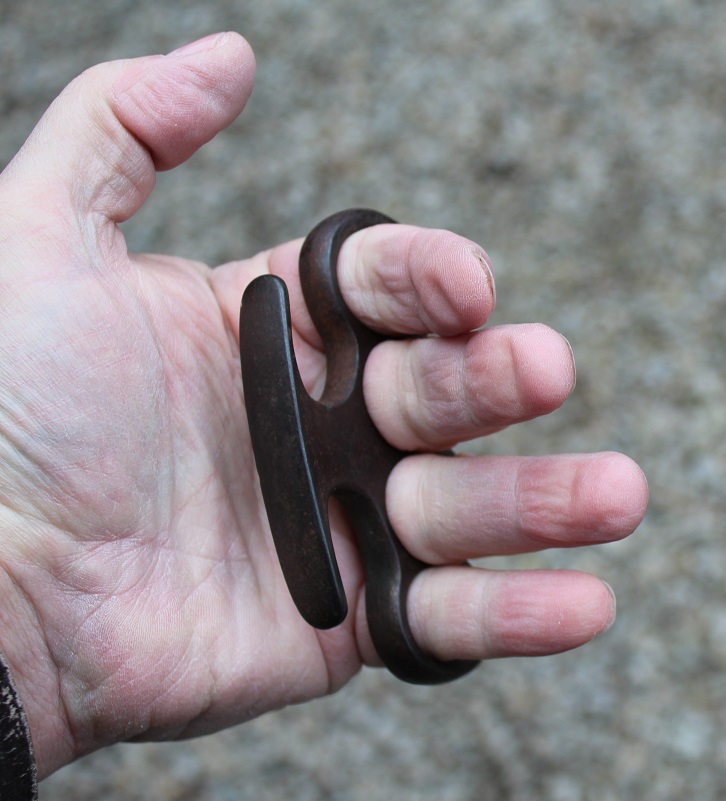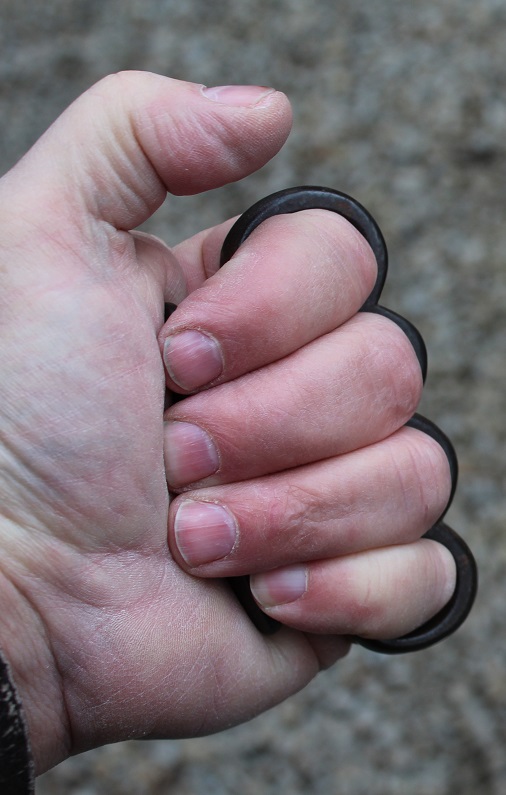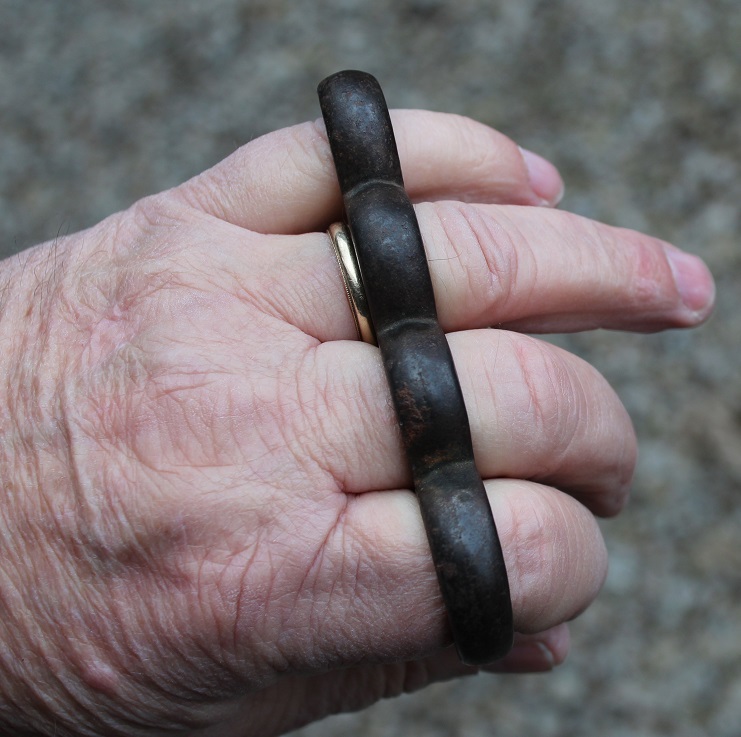 New Arrivals 143
BRITISH PATTERN 1856 ENFIELD SWORD BAYONET LIKELY CONFEDERATE PURCHASE
This is the standard bayonet for the Pattern 1856 Enfield Short Rifle. With the increasing demand for British guns by both sides at the outbreak of the war, many British gun manufactures contracted firms in Belgium and Germany to manufacture bayonets. This particular bayonet is marked on the ricasso with PDL in an oval which stands for Paul D Luneschloss of Solingen, Germany, who were a famous sword making company that produced large quantities of swords and edged weapons during the 19th Century and were a prominent supplier during the American Civil War to both sides The only marking to the blade is the PDL in oval telling us that this sword bayonet was made for export. Also engraved on the pommel is the number 451 and the matching rifle probably had the same number stamped on it as the bayonets were hand fitted to the rifle. The condition of the bayonet is excellent with the leather impressed grip being near mint and it includes a leather scabbard which has a tape repair to the far end near the tip and has the typical seam separation. Also there looks to be some tape residue on the front of the scabbard about an inch below the top mount. The patina on all the metal exposed parts are the same so I have no doubt this is a complete unit. The blade is mostly bright with some staining and the tip is intact. All in all this is an outstanding example of a likely Confederate used Model 1856 Bayonet for the Enfield Short Rifle. $495.00
Here we have several edged weapons for sale from the same consignor who is a long time collector here in Central Indiana. He has varied tastes and you will see that in this offering. Here they are:
WW2 Military Knifes
Consignment New Arrivals 142
1. U.S.N. Mark 2 knife with leather sheath marked Roberson Suredge on the ricasso. The knife is in great condition with parkerized blade and looks to have not been used and never sharpened. The knife is also marked U.S.N. on the ricasso. The sheath is bron leather complete with snap strap and is also marked U.S.N. For this fine WW2 Navy Fighting Knife $250.00
2. This is a U.S.N. Mark 1 Knfe lacking sheath. This one is marked U.S.N. on one side of the ricasso and Camillus, NY on the othe side of the ricasso. The entire piece is over 9 inches long and the black blade has been sharpened. The markings and grip are excellent. No scabbard. $110.00
3. Here we have another U.S.N. Mark 1 knife with brown leather sheath. The sheath is not marked but the knife is excellently marked U.S.N. on one side of the ricasso and Camillus, NY on the other side of the ricasso. This 9 inch long knife looks to have never been used and was never sharpened. Excellent condition with a good sheath. $150.00
4. Here we have a good Cattaraugus 225Q Commando Knife. It has the heavy 6 inch bright blade which has been sharpened and the leather washer handle. The butt is made of 3 heavy steel washers. The knife is very good and would be excellent except for the sharpening marks. The sheather is also very nice indeed. For this fine WW2 fighting knife $250.00
5. Here we have another fair to good Cattaraugus 225Q Commando Knife. It's like the one above except that the blade markings are nearly worn off from use and the blade is mottled instead of bright. The blade has been lightly sharpened. The leather sheath is in fair to good condition. For this one $195.00
6. Here we have a WW2 fighting knife that is a PAL RH-36 with sheath. This knife has a bright steel blade with sharpening marks. The entire piece is 11 inches long with a 6 1/4 inch blade. The leather washer grip is real nice and is topped off by an aluminum butt. In the early 1940's the PAL BLADE CO bought out Remington Cutlery and began producing knives similer to the Remington patterns. This knife comes complete with the original leather sheath in good condition with the initials EWW cut into it. For this knife and sheath $110.00
7. Here we have another fair to good Cattaraugus 225Q Commando knife in sheath. The knife is good condition except the markings are worn and it's missing 2 of the 3 large washers that hold the handle to the blade. The third washer is there so either more can be obtained or 2 can be made. It comes with a fair leather sheath that has seen honest use. The leather tie back for the grip has lost both sides of the snaps. for this piece. $95.00
8. Here we have another Pal RH-36 in leather sheath. This one has good markings on a sharpened bright blade. The grip is fine and tight. The leather sheath is complete but shows great wear from use as far as scuffs. It's still a nice WW2 Knife! $110.00
9. Here we have what looks like a Custom WW2 Knife less scabbard. This knife is similar to the WW2 fighting knives of the day and was probably done by a Soldier during the period. This knife is 11 1/2 inches long with a 7 inch blade. The grip is leather washers and wire spacers. The pommel cap is bright aluminum. There are no marks on the blade. It's nice! $110.00
10. Here we have a Pal RH-26 in custom leather sheath! This one is realy nice and obviously well used. The markings on the blade are somewhat worn but otherwise this knife is in really nice shape. The sheath has a custom floral design on the front and is complete. There was a hole cut at the bottom of the sheath for a leather leg thong. Nice! $125.00
11. Here is what we think is a No. 13 IMPERIAL Mark 1 knive but he 5 inch blade is not parkerized but bright. Of course the parkerizing could have been polished off but it certainly looks like the no. 13 as pictured on page 79 of U.S.MILITARY KNIFES by M.H.Cole. This knife also has the brownplastic spacers at the guard and butt as mentioned in the book. It's a nce piece and comes with an original leather sheath in good condition. Take a look at the pics! Nice! $110.00
12. Here is a custom made knife with the name HOLLINGER stamped on the ricasso. Ther seems to be no other markings present. The knive is 9 1/2 inches long with a narly 5 1/2 inch long blade. This knife takes on some of the features of the Mark 1 knives by looking at it. I has a leather washer handle with plastic and metal inserts and finger grooves cut out on it. The pommel cap is aluminum and has a spanner nut attachment to hold everything toether. The sheath is leather with some big brass buttons on it and lether thong along with embossing on the front of the scabbard. Believed to be a theatre produced knife using what was available in the field. Unusual! $110.00
13. Here we have another Pal RH-36 without sheath. The knife is in overall good condition with Nice markings on the ricasso. The blade has been sharpened and the leather washer grip seems to have has something shiny put over it. The pommel cap is made of aluminum as normal. Still a good knife! $65.00
14. Here is yet another Pal RH-36 with out sheath. This knife is like the one above except that the leather washer handle is all original with nothing put on it. Markings are sharp and clear. Been sharpened. A well used WW2 fighting knife !! $75.00
15. Here we have a Vintage WWII era 'I CUT MY WAY' British/US army or airborne paratrooper commando knife dagger in good condition. It was a very popular type of fighting knife the British and American servicemen purchased privately while stationed in the UK during WWII. This is the British made stiletto by the famous firm of William Rogers of Sheffield England. 5 1/2 inch steel blade with a brass guard, intricate grip made of stacked ringed leather with brass and plastic spacers. Plain black pommel. Normal age and wear. The overall length of the knife is approx. 9 7/8ths inches. $110.00
16. Here we have a British 3rd pattern Commando Dagger (British made) The British Commando dagger was issued to WW2 British Army Airborne soldiers, Royal Marine commandos and army commandos during World War Two. Stamped on the cross guard on this knife is: England (this knife is stamped Engl---) . England has the 'and' worn off. This is the 3rd pattern model issued from 1942 to the 1980's and has: leather scabbard with blackened brass metal tip guard Blackened steel blade (color is worn on this blade and blade has been sharpened) Ribbed handle (all brass) round pommel nut with number 2 cast into the pommel steel crossguard Blade length 6 1/2 inches Overall length 11 3/8ths inches. The only Commando dagger still made in England by an original contractor.
The leather sheath is 13 3/4ths inches long and exhibts age. It comes with the original blackened brass metal tip at the bottom. The Knife is held into place by an elastic band at the top. The name Earl Ogle and the initials EO are stamped on the scabbard and on the knife in several places! This owner loved his knife!!! The leather straps on the back that extent out from the sheath both have been cut off. Take a look at the pics! For this one $850.00
17. Here we have the Cattaraugus U.S. folding machette-Army Air Force-Survival Knife that was adopted in Oct. 1942 for the B-4 Emergency Bail out kit usually attached to the parachute harness. This machette has black plastic handles with a metal hand guard and was 11 1/2 inch long when folded and 15 1/2 inchs long when extended . This one is in very good condition minus the black metal guard that went on the exposed blade when folded. The markings are sharp and clear and the blade has no nicks in it. For this nice piece $110.00
18. Here's our last knife in ths group. This is another Cattaraugus Commando Knife no. 225Q. This one is in fair to good condition with a fair amount of sharpening to the blade. The leather washer grip is a bit uneven showing that it was used and handled alot during it's service time. Still a commanding knife. For this WW2 knife $65.00
Consignment New Arrivals 141
Here we have an Original WWII Japanese Type 95 NCO Kantana Samurai Sword with mis-matched numbers between sword and scabbard. This sword is like the officers Kantana/Samurai sword but with an aluminum grip and not cord wrapped wood. The sword exhibits some of the original brown paint on the grip and a great deal of the original paint on the scabbard. The Arsenal markings are present and the serial numbers are quite readable. The tsuba hand guard is the original black one. The blade needs polished and there is some roughness on the edge of the blade. The center of the blade edge has hit something fairly hard in the past but could mostly be polished out. This sword has not been altered or messed with in any fashion. For this piece $850.00
Consignment New Arrivals 140
Here's an example of a German Import Civil War Cavalry saber that was brought back after the war and given to the kids to play with. Yep, that occurred in startling frequency!!! This is an Model 1840 Import sword from W. Walscheid of Solingen that was imported to both sides during the Civil War. This is either a bring back piece or a Union hand me down. The blade is over 34 inches long with a rounded tip so that the kiddies wouldn't stab each other! Also evidenced is the numerous, and I mean numberous, dings down the blade from trying to chop down the old fence wire! The markings on the ricasso are still good and the hand grip is still there. The brass hand guard is in good condition with a crack on the knuckbow at the bottom and a couple more smaller cracks at the top. The number 44 is stamped below the blade on the handguard. The pommel cap is obviously matching and has the number 11 stamped on the top of it. The grip has most of the leather and some of the wire still on it. This is obviously the german grip with cord wrapped on wood with leather over that and then the wire applied within the grooves. Kind of a sad end to an old War Horse but that's what happened at that time. Heck, I played with the stuff my Dad brought home after WW2. Who knew it would be worth anything some day! Here it is for $295.00
Consignment New Arrivals 139
Here we have a 19th Century European Cavalry Saber. It kind of leans toward French but it could also be Russian. Still researching. At any rate it's a solid piece without scabbard. The blade is 34 inches long with just a trace of a ricasson on each side. The blade resembles the Boyle and Gamble flat blades of the Confederacy but I assure you it is not. There is some words stamped into the right flat blade but I just cannot make them out. The holt has the 3 brass branches and knuckguard as well as a brass pommel cap which extends the entire way up to the grip ferule. The grip is a grooved hardwood grip which is lacking leather and wire. There is a crown and BV that is stamped on the backside of the handguard. For this piece $295.00
Consignment New Arrivals 138
Here we have a Russian Cossack Shaqua/Shashka. The shashka is a special kind of saber being a very sharp, single edged, single handed, and guardless sword. This one was used during the Soviet Union time as witnessed by the C.C.C.P. on the pommel cap and seen in my pics. This sword is dated 1930 on the blade and also on the brass grip piece just distal the blade so after WW1 and before WW2. This sword also exhibits the Hammer and Sickle on the pommel cap. The entire piece is 37 ½ inches long with a 32 inch blade. The blade is very tall being about 1 ½ iches at the ricasso and has a few minor nicks on the edge. There are various markings on the sword that you can see in the pics. The grip is massive being twisted grooved wood but brass front and back. I believe that the blade has been sharpened sometime in it's life. The scabbard is massive being wood covered by very thick leather. Some leather has cracked off and is not missing. I believe that this piece was stored in a very hot area at one time, perhaps in the attic due to the leather shrinkage and cracking. It's mostly there but somewhat brittle. There is one suspension ring on it as well as the throat piece and drag. There are lots of reproductions on the marked but I assure you 100% that this is an original piece!!! For this piece $1200.00
Consignment New Arrivals 137
Here we have fairly current issue USN Naval Sword and scabbard. This one is in real nice but aged condition with some oxidation and thinning of the Gold wash. It has the simulated sharkskin/ray skin grip with full wire and the USN in the handguard. The scabbard is leather with brass mountings. The blade is fantastically beautiful with an unused id panel. It's hard to take good pics of such a shiny blade! The makers marks say GLADIATOR STAINLESS SPAIN on the ricasso. The etching is just beautiful and the leaving etching even goes down the top edge of the blade. Nice condition overall !! The scabbard needs some cleaning. This sword and scabbard new from Legendary Arms, Inc. costs $479.00 but our price is $349.00
Consignment New Arrivals 136
Here we have a small German Hunting Sword. A thorough investivation shows no markers markings on it that I can see. The sword is 24 ½ inches long with a brass cross guard and clamshell guard. The pommel cap is also brass and it's all held together by peening the tang over at the pommel cap. The guard is staghorn and in nice condition. The blade is 19inches long and has tons of light etching on each side of the blade. It's kind of hard to photograph it as there was a lot of shine. There are some areas of pitting on the blade but not severe. The pitting is stabilized so no more should occur if correct conditions are maintained. The original red washer is still present as well. Overall a very nice example of a 1800's early 1900's hunting sword. The scabbard measures about 19 inches long being leather with brass mountings. There is a small hole in the 'drag' where the blade penetrated it at some point. I have no doubt that this is the original scabbard for this sword but it is about the same length of the sword with probably only the washer keeping it from bottoming out. All in all a nice example!!! Check out the pics! $350.00
Consignment New Arrivals 135
Here we have a Masonic Lodge sword that belonged to a John A. Rice and is marked both on sword blade and metal gold washed scabbard. This is a beautiful sword but I have no history on John. The sword is very ornate as you can see in the pics and so is the scabbard. Take a look at the pics. The maker is M.C.Lilley out of Columbus, Ohio. Mitchell C. Lilley (1819-1882) was born in Columbus, Ohio. He was a bookbinder and publisher and published Masonic and Odd Fellows books. In 1865, he founded M. C. Lilley & Co, which produced regalia and swords. The company expanded into a complete line of military and fraternal swords, uniforms, accessories, and equipment. Following several mergers, the company changed its name to the Lilley Co. and The Lilley-Ames Co. In 1951, the company was sold to the C.E. Ward Company of New London, Ohio. It operated until 1953. So you see this sword was made prior to 1951. It's a beautiful piece! For this sword $275.00
Consignment New Arrivals 134
Here we have another United States Navy Sword complete with belt and hangers! I believe this to be an earlier version of the one posted above. This example is excellent showing a nicely etched blade which is real hard to take pics of it due to the glare that comes off the blade. I tried to dull it up a little with polish so I could take pics but it wasn't too successful! LOL!! The blade is spectacular! The etching is quite nice! Also on the blade is the PROVED in a circle and the 'MADE IN THE USA' that we like to see on lots of things! I believe there is some age here but I also believe probably post WW2. The handguard and grip is excellent as well as the grip and wire wrap. USN is on the handguard as it should be. There is a slight dip to the front of the blade near the tip but I can see no sharpening marks so I believe it was made that way. The black leather scabbard is brass mounted and also in excellent condition. The sword belt has the one piece USN belt plate and keeper. This belt was made for a young Ensign with a small waist! No Makers marks anywhere on the belt that I can see. For this set up $425.00
Consignment New Arrivals 133
Here we have 4 different lots of eating utensils from the Civil War or before till at least the Korean war. Here they are:
Lot 1
This lost consists of 3 different lots of 1 knife and 1 four tine fork each but being sold as a unit. The fork and knife at the top have ornate handles being a rather small size with the fork being 6 ¾ inches long and the knife being 8 ¼ inches long. The handles are bone and on one side they have a Pheasant engraved on it. W S & Co are stamped into the shank of the fork and the blade of the knife. Don't know who that is but probably English.
The second set is probably the oldest most likely from before the Civil War and English but I am no expert. The 3 tined form is small like the one above being the same length and the knife is 8 inches long. Both are marked in the metal with a V Crown R for Victoria Regina, Barton Brothers & Company over Clossop and looks like Road but that part is worn. The form has no markings but they are very similar in design so I thought that they belonged together. Barton Brothers Firm appeared in 1849 and 1852 Sheffield directories as "Merchants and Manufacturers" at 231 Glossop Road. . The set has bone handles.
This 3rd set is Civil War era or so being marked Lamson Goodnow & Co, S. Fallworks. This company dates back to 1842. The knife is bone handled and is 8 ¼ inches long with the fork being 7 3/4 inches long. The 3 tined fork is not marked as the knife but they look very similar. The fork is also bone handled with pewter end caps. Nice.
For all of these piece $45.00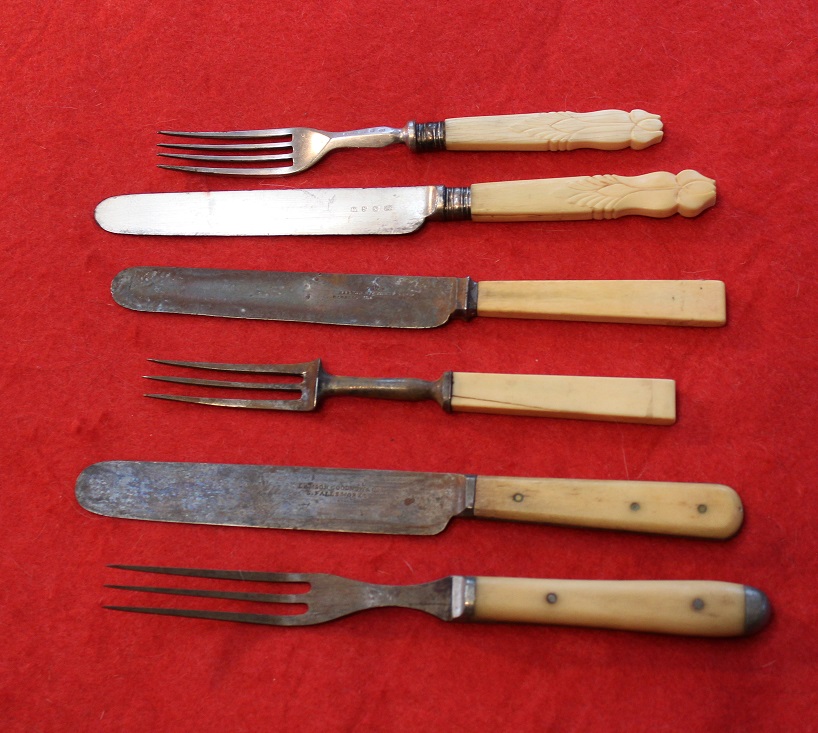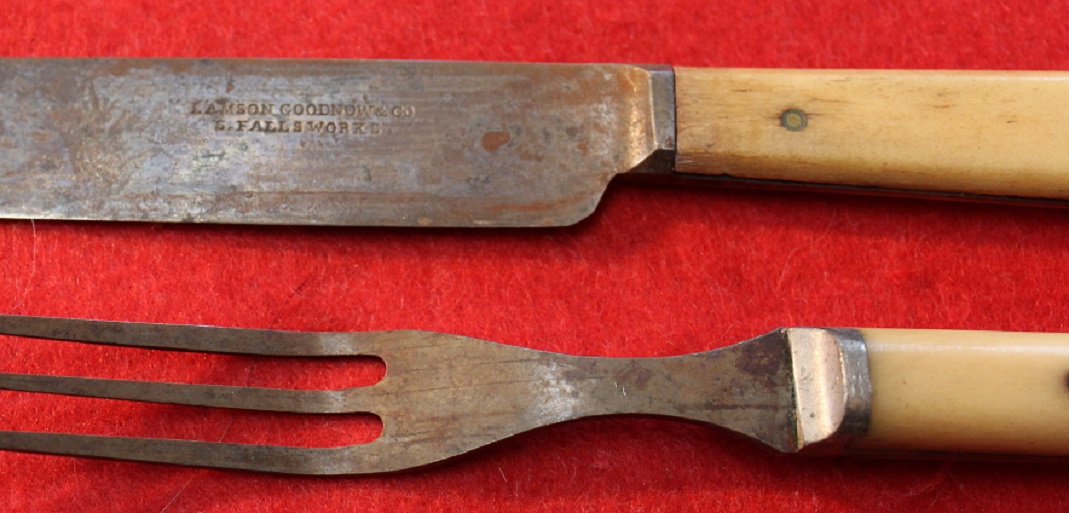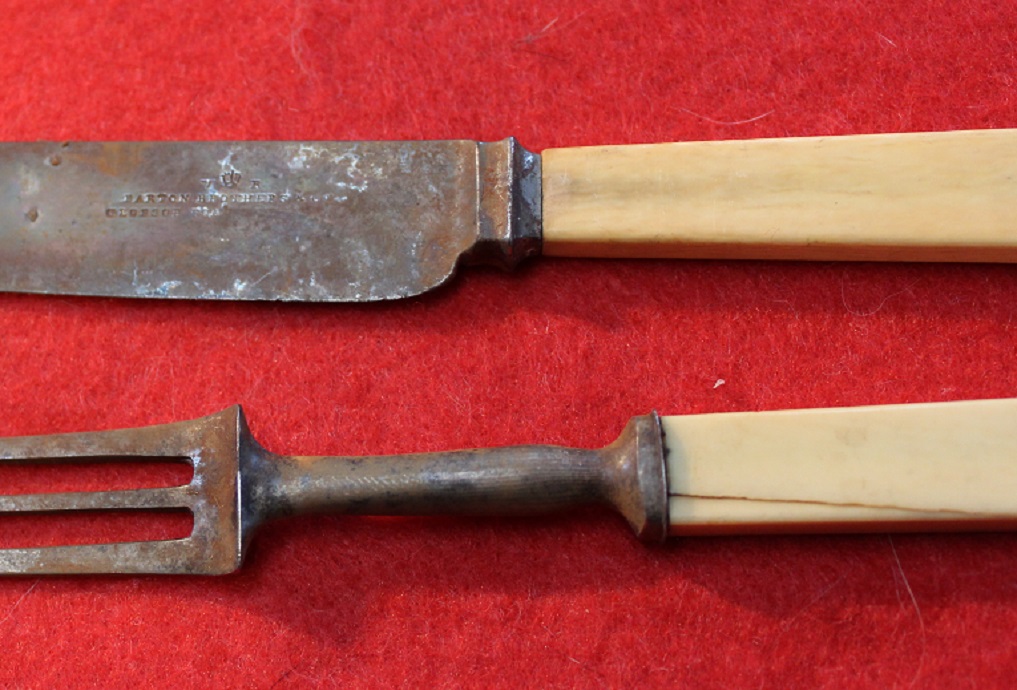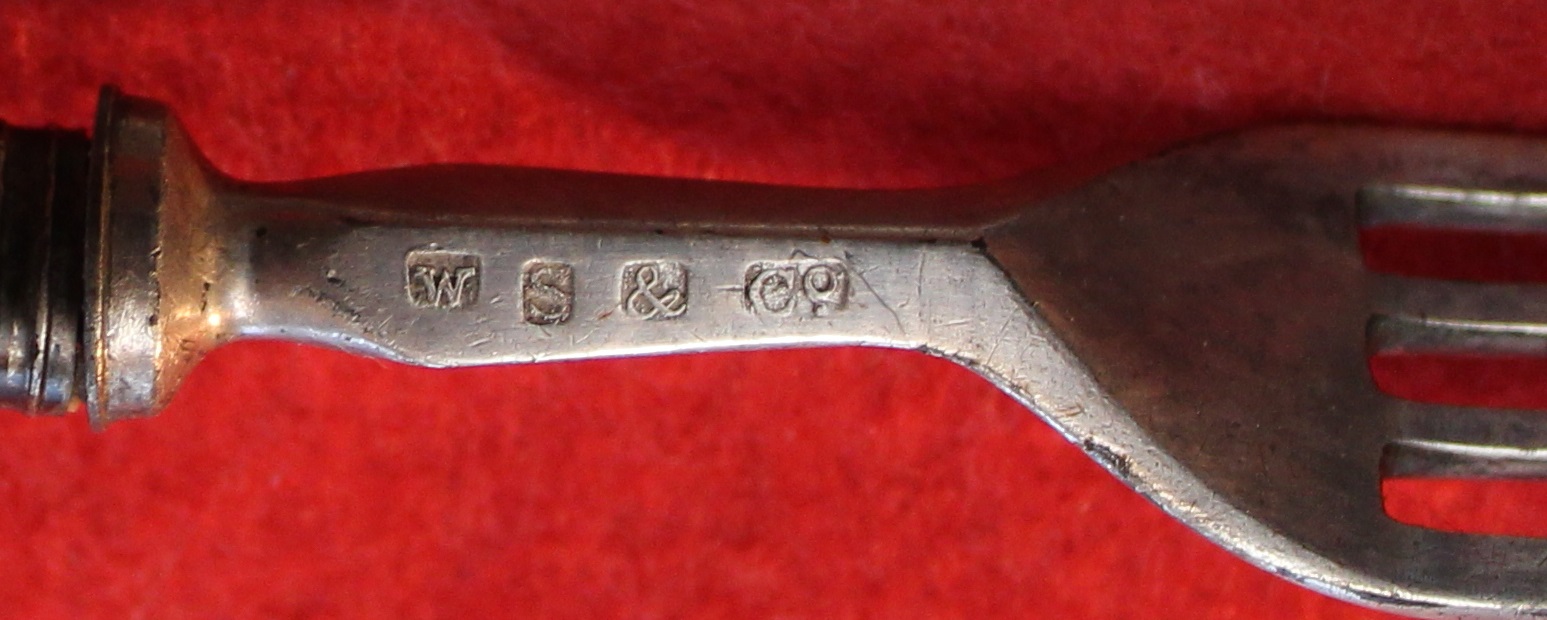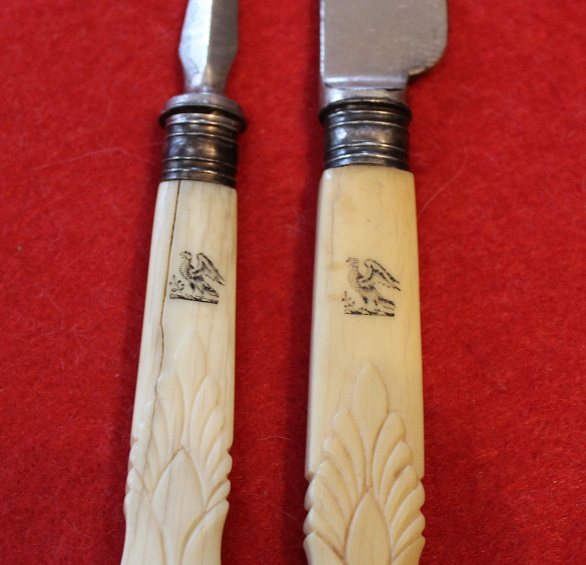 Set # 2 consists of 4 knifes and 4 forks all matching and made by Hibbard, Spencer & Bartlett Co that formed into a business in 1865. An interesting note is that in 1932 this company founded True Value Hardware. The forks and knifes are all bone handled with pewter end caps between the handle and the utensil end. Forks are 7 ½ inches long and the knives are 9 ¼ inches long. All of the knives are marked with the makers name but the forks are now, however, obviously they are all from the same manufacturer and still in pretty nice condition. For this set $45.00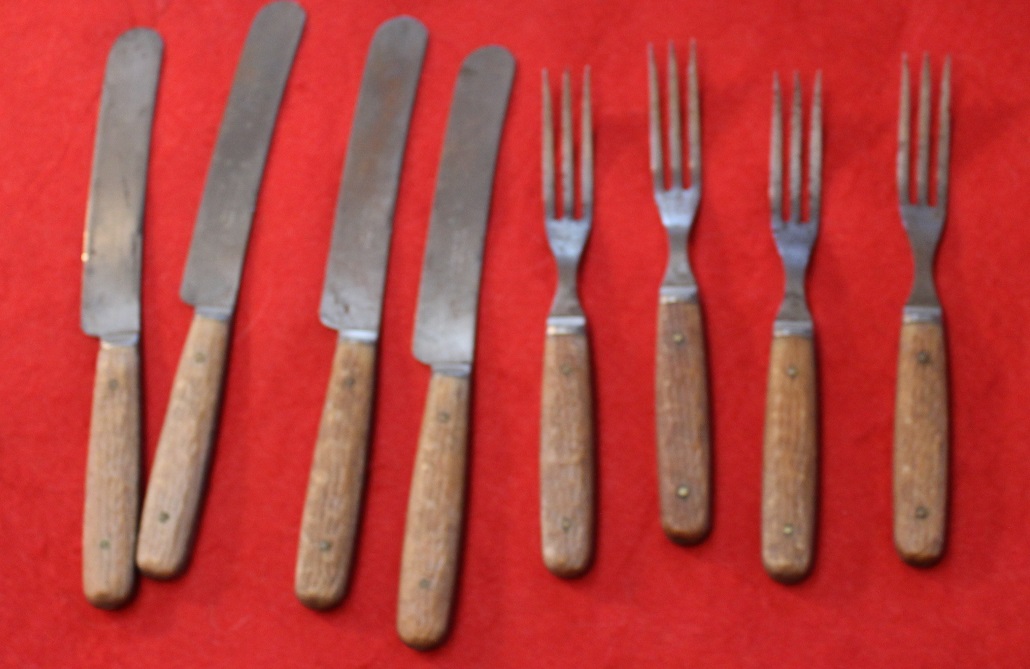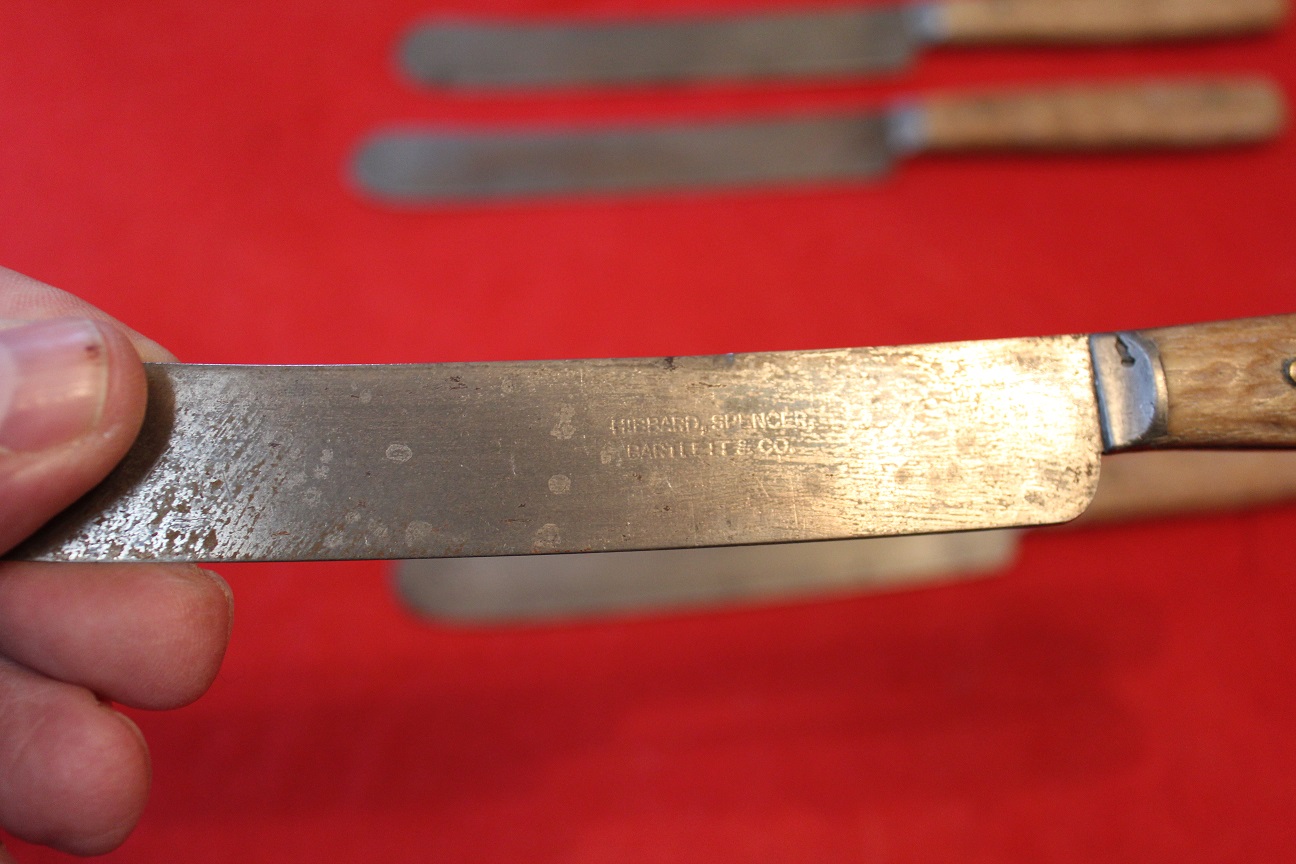 Set #3 consists of all metal black painted grips/handles. Most of them have the paint worn off. There are 3 three tined forks, 1 four tine fork and 6 knives that slightly vary in blade conformation. There are no names on these pieces but this type was popular at the end of the 19th century into the early 20th century through WW1. The forks are 7 ½ inches long and the knives are 9 inches long. All 10 pieces for the price of $35.00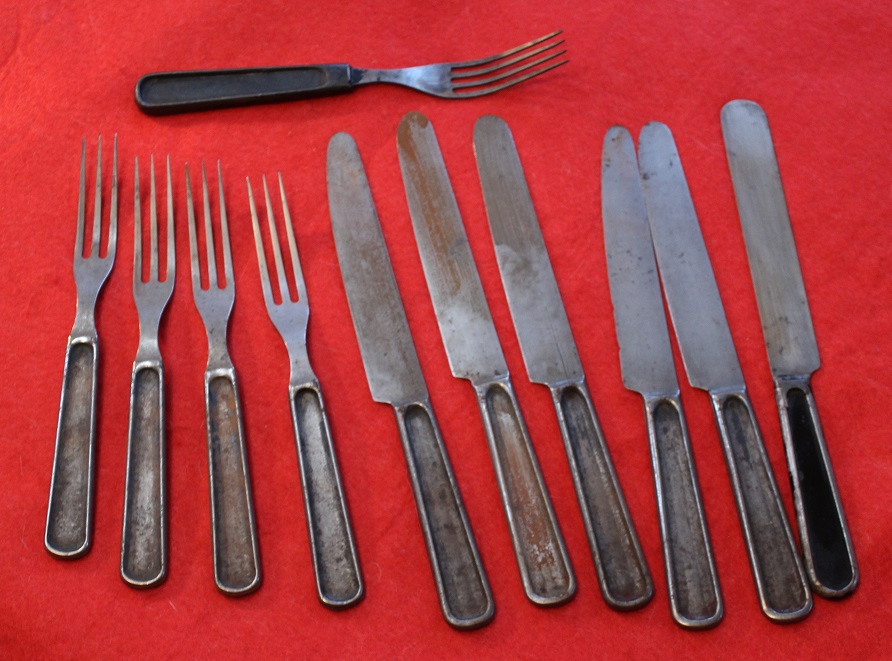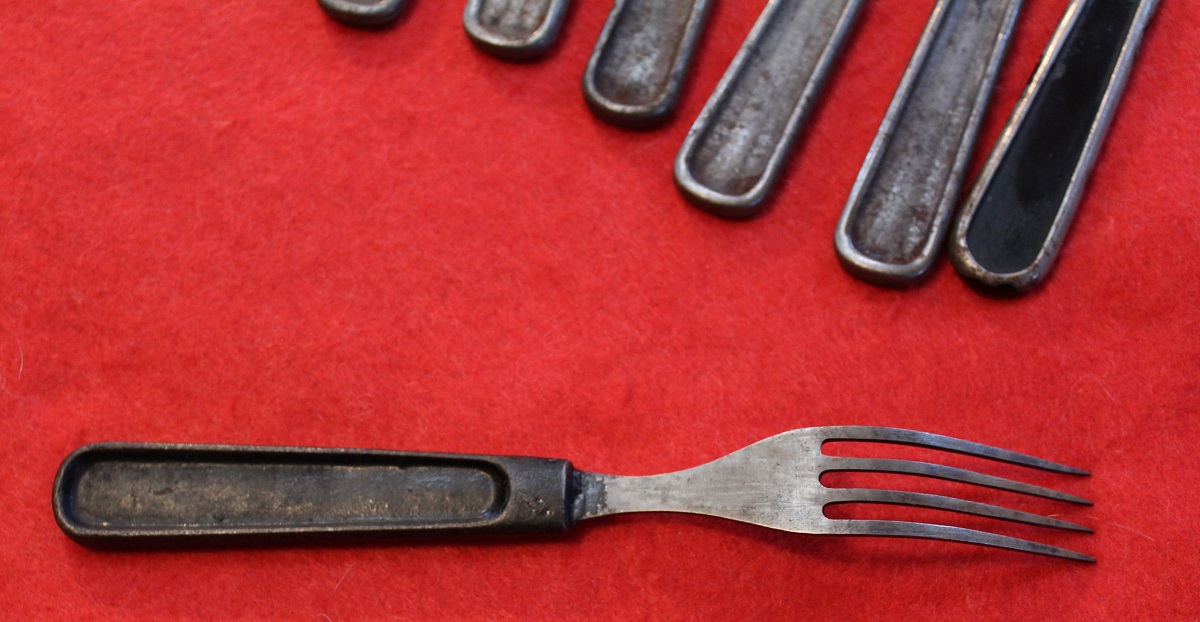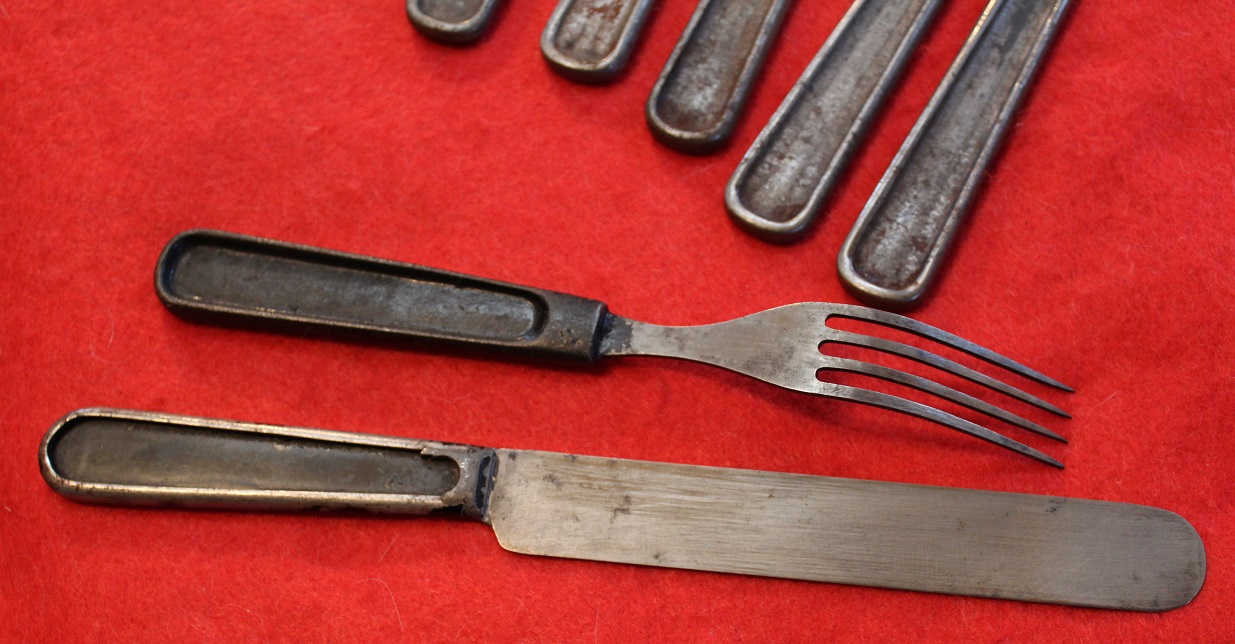 Set # 4 consists of all US marked military utensils. There are 3 knives, 3 forks and 3 large spoons. The knives about 7 ½ inches long with stainless steel blades and aluminum handles, all marked U.S. There is a hallmark on the back of one of the knives handles that I don't know. The other two knives have O.L.1952 on them so I assume these were made during the Korean War. The forks are all stamped stainless steel being 7 ½ inches long and marked with the large U.S. on the handle. There is nothing else stamped on them. The spoons are all like table spoon size and measure about 7 3/8ths inches long. The look to be all marked with a W in a circle on the back. These handles are all marked with a large U.S. as well, as normal. For this nice set $45.00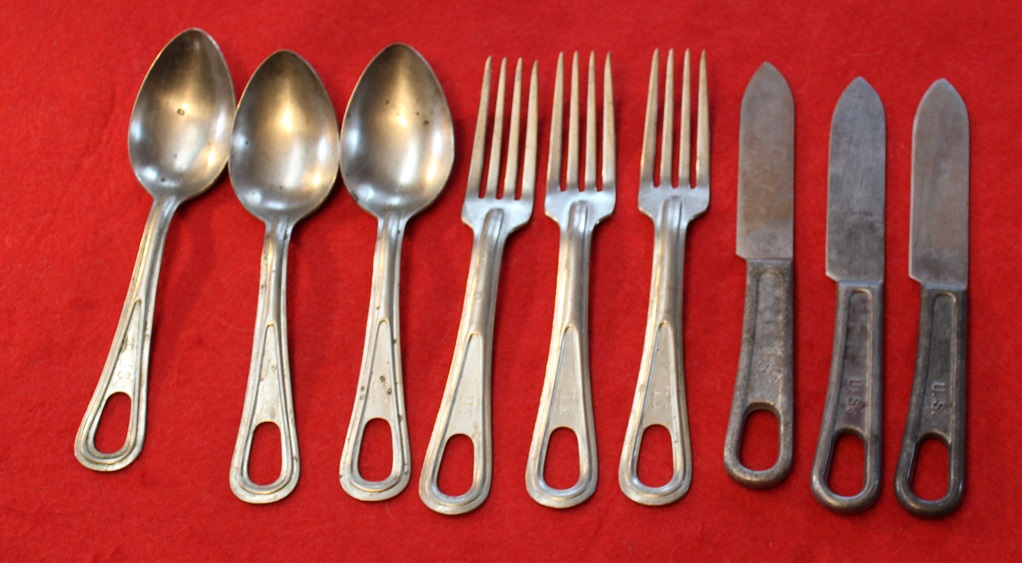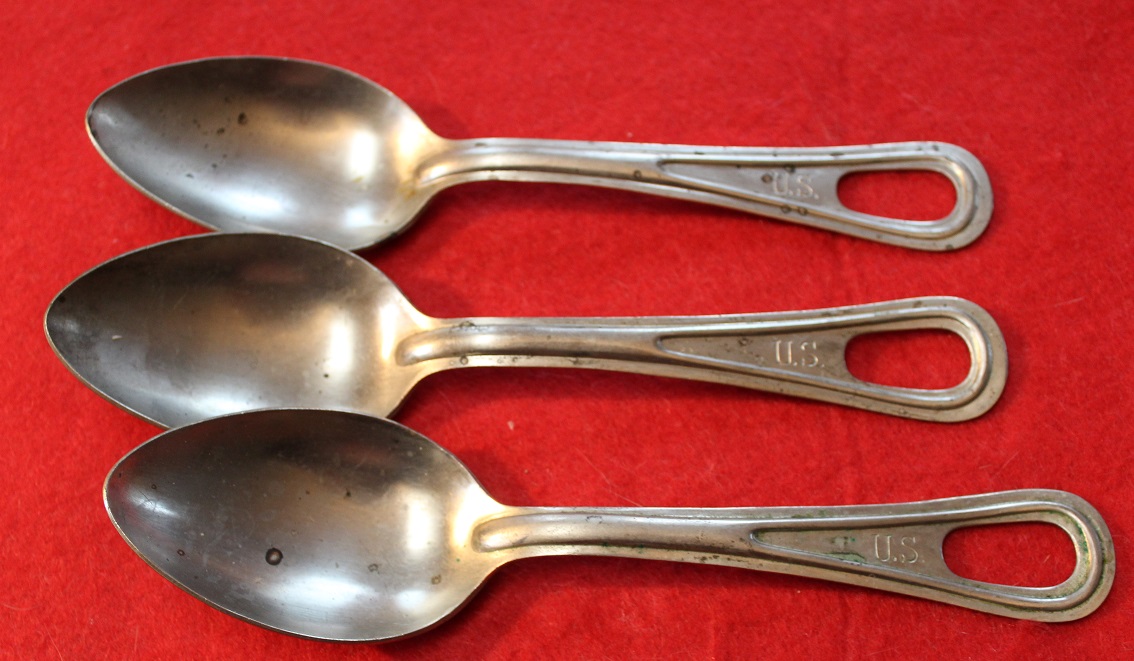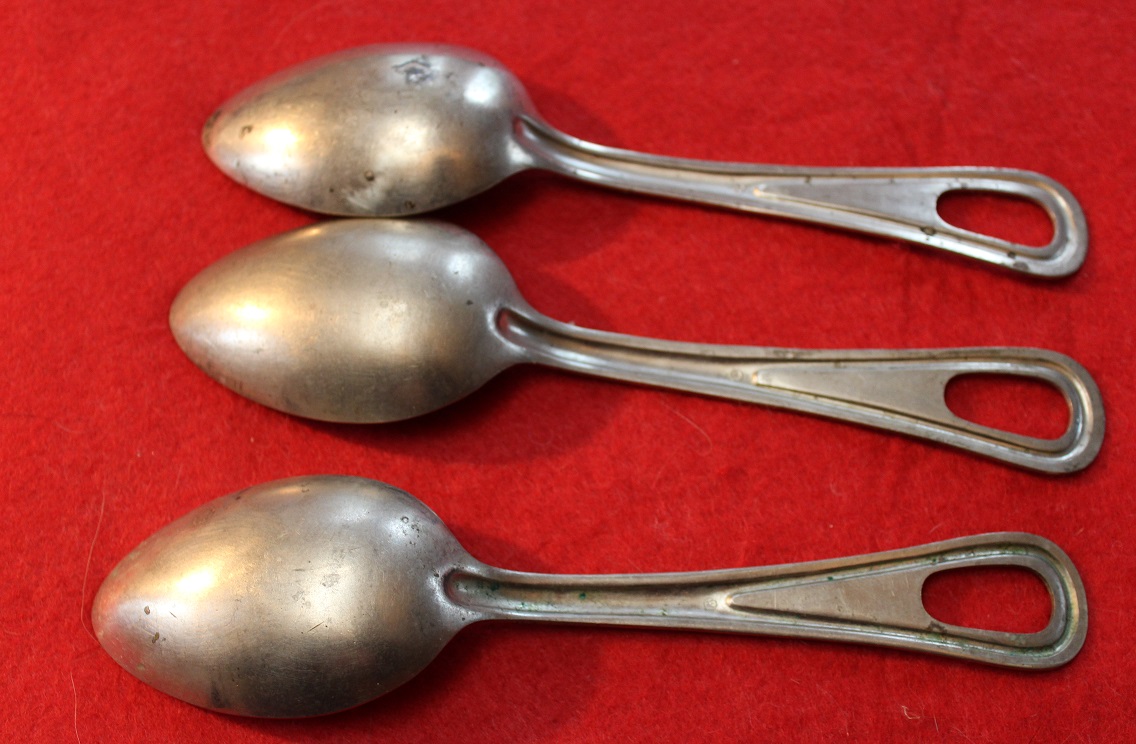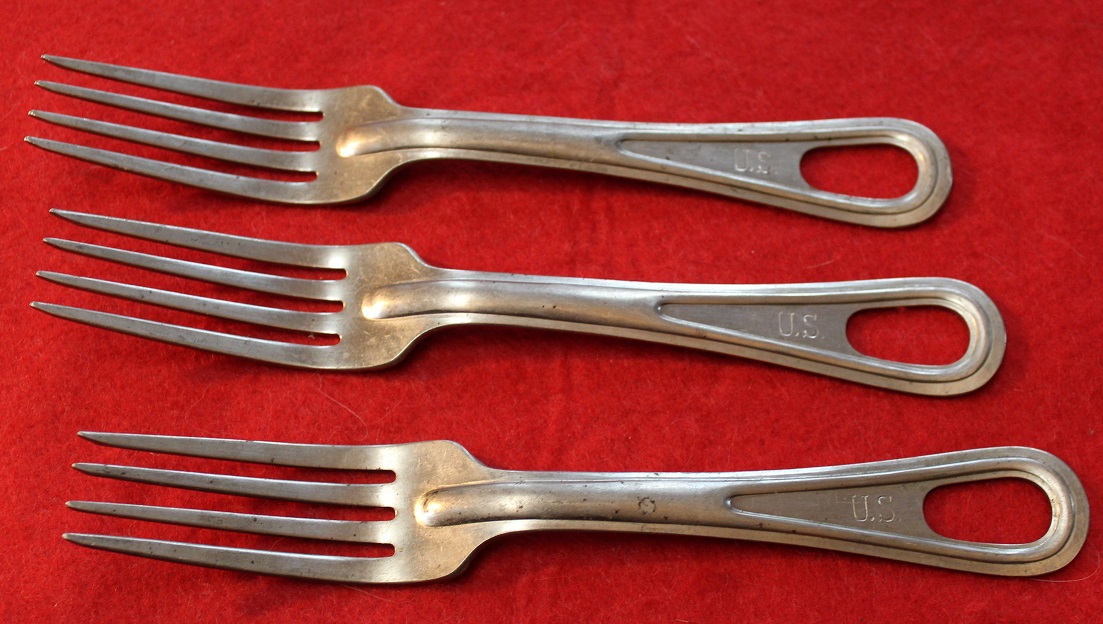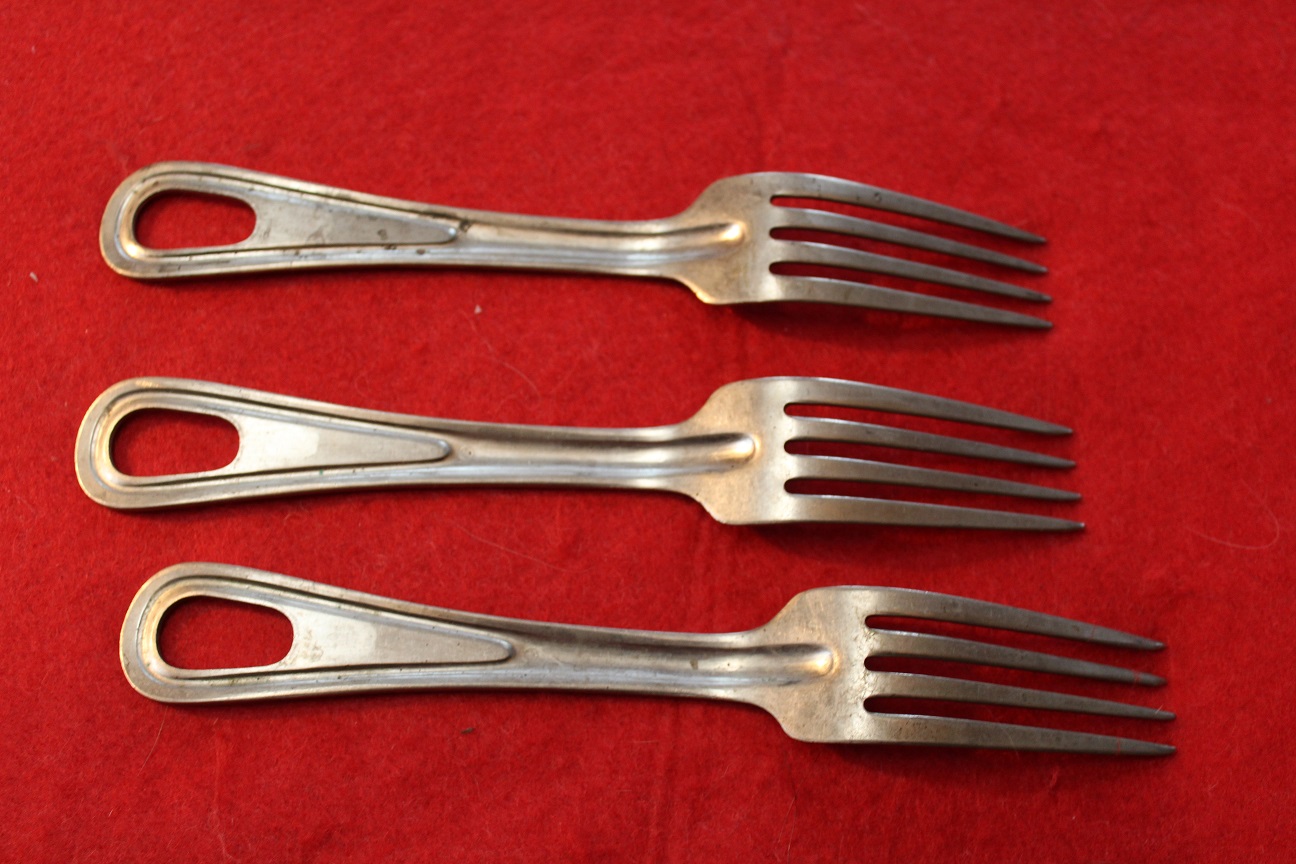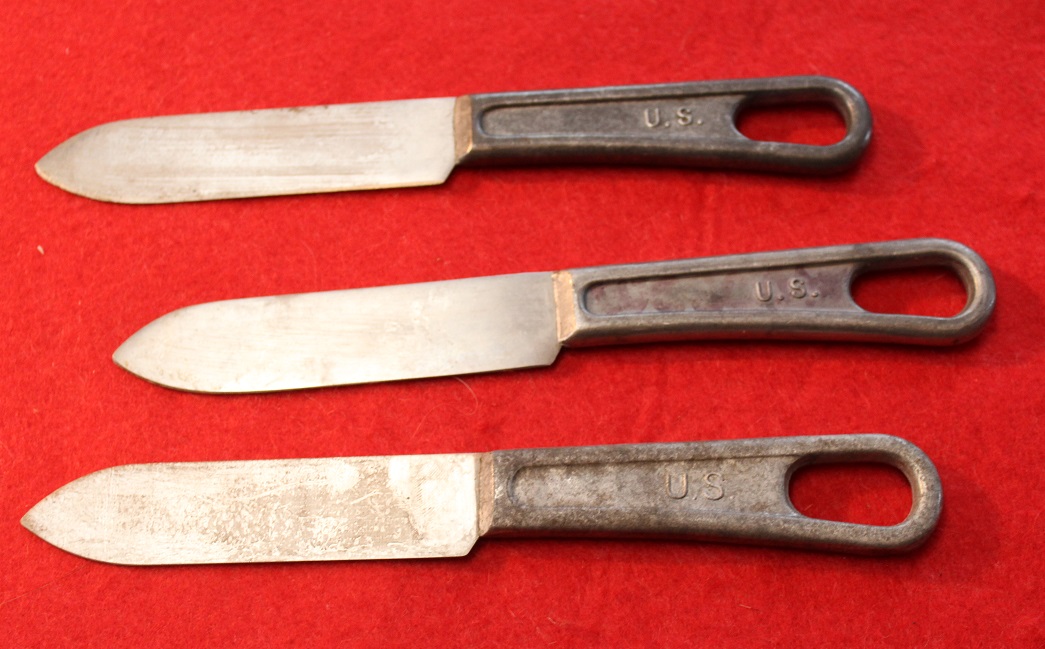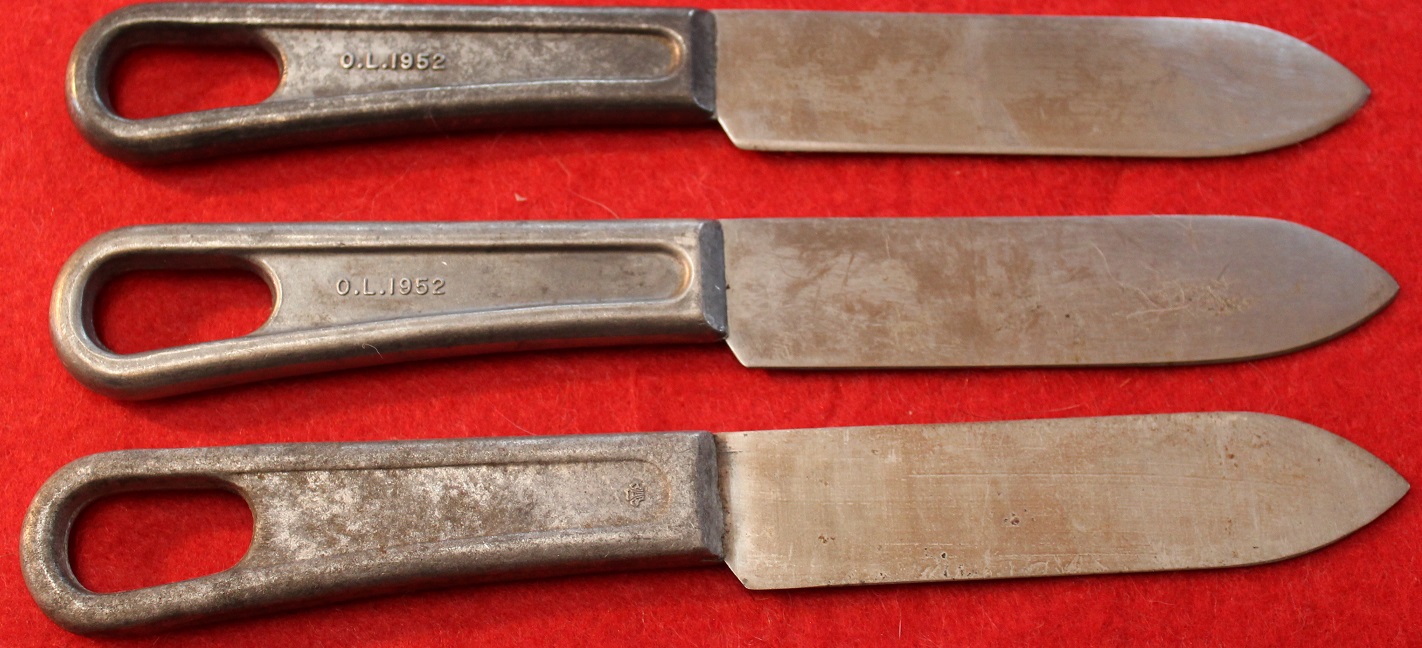 NOTE!!! We just got in several 'HANDYMAN SPECIALS' or parts guns. Take a look!!
Consignment New Arrivals 132
Lets start with the roughest one of the lot! This is a.52 caliber poor boy half stock rifle that has seen better days and needs a good craftsman to bring her back to life!!! The octagonal barrel measures 40 inches long and has utilized the drum and nipple method on the side of the barrel. There are 3 exposed dovetails on the bottom of the barrel which were probably made for ramrod thimbles which are now missing. The stock is wired to the barrel to keep it in place. The front and rear sights are present and this file has a double screw tang arrangement. This is a single trigger type rifle and the trigger guard is lacking. There is no butt plate and never was one. The stock has seen lots of bumps and bruises and has several cracks in it, it's not broken but has several cracks. The lockplate is missing Look at the pics. You get what you see. For this piece $195.00
Consignment New Arrivals 131
Here we have a 14 gauge fowler with a 39 inch barrel. The entire piece measures 53 ¾ inches long. The piece is missing the butt plate, trigger guard and hammer. The stock is still in generally good condition with the usual burn out behind the nipple. ?There is even some checkering done on the stock. The back action lock has some engraving on it but no name and I found no name on the barrel as well. I have not taken the barrel off the stock so there may be something under there. The front of the barrel is holding the under barrel rib on with wire. There is some simple engraving on the barrel tang and some rings to the front of the octagonal part of the barrel. The majority of the barrel is round. The wonderful thing about this piece is that it has the original ramrod! These are missing more than 90% of the time so this is a plus! For this piece needing restoration $250.00 Look at the pics!
Consignment New Arrivals 130
Here we have a full stock rifle that's virtually complete except for a working lock and a trigger guard. The 38 caliber barrel is 44 inches long with the entire piece being about 60 inches long. I can't tell for sure if this barrel is rifled or not as it needs a good scrubbing. The hardwood stock is in good condition overall with some burn loss behind the nipple which is still present. R.W. Booth, Cincinnati is on the lock plate while W. Rennara is stamped on the underside of the barrel. The brass nose cap is present as well as the two brass ramrod thimbles and the third thimble that enters into the stock. The trigger guard is missing (probably brass) but the butt plate is present. There is a hole recessed into the obverse butt stock that may have been for a cap box but it looks unfinished. Perhaps a small tin box fit in that recess. The small brass sideplate is present but the lock screw is missing. Take a look at the pics. I believe a good craftsman could fix this up fine. There is plenty to work with here and it's a fullstock! $295.00
Consignment New Arrivals 129
Here we have a large 60 caliber half stock with no lock. This is a nipple side lug percussion that looks to be a somewhat crude 'Poor Boy' which were made without butt plates most of the time. The stock is quite large and the hardware seems to have had the stock someone crudely or hand cutout to fit the iron parts. The from barrel pin is missing that's why you see a rubber band holding on the barrel in the front. This heavy octagonal barrel is 40 inches long no rifling that I can see. Both ramrod thimbles are present front and rear sight. The percussion side drum is present but missing the nipple. I can see no makers names on this piece anywhere. The stock is in generally good condition with the exception of a piece lacking opposite the lock and cracking where the butt was on a damp floor probably most of it's life as well as a chip out of the butt. This rifle has a single trigger and an iron triggerguard. Worthy of restoration! For this piece $195.00
Consignment New Arrivals 128
Here is a paid of Civil War Boots that showed up for sale in Lebanon, Boone County, Central Indiana. Unfortunately no history accompanies them and they are just as found. These are about a size 9 to 9 ½. The boot pull loops were reinforced at some time with some copper rivets that are not period to the piece but at least the original leather boot pulls remain. These are the typical shorter Cavalry type and are 3 piece construction not counting the sole and heel. The boots are a little stiff but not really that bad and look great in a display. The pulls are stiffer than the boots but there is leather treatment available should you decide you want to soften them up. The boots are about 16 inches tall in the front at the crown and about 11 inches long from heel to toe. There is a small 1 inch hole on the front of one boot, probably done by a mouse. The soles are both in great shape with a double row of wooden pegs that reach up to the toe area then scaled down to a single row of nails around the toe area. The heels are leather as well with many iron nails in them. One heel has a steel heel protector on it but on the other boot shows the nail hole but the protector is lacking. Square toes. No markings are present anywhere on these boots. Overall a nice used pair of original boots of the Civil War period !!! Guaranteed Original! These boots can sell for over $2000 but this pair is a bargain at $450.00
New Arrivals 127
Here we have an old sword bayonet that has been converted to a long knife or short sword. Due to the crudeness of this piece it is likely a Confederate repurposed weapon. If the original brass grip was intact it would have been used as is so probably the grip was damaged or missing so a crude conversion was done to make it a useful weapon. The unstopped fullered blade on this piece is 19 7/8ths inches long with an unsharpened edge exhibiting absolutely no edge nicks, just edge roughness. The oval handguard is 2/1/4 X 1 1/2 inches and is sheet iron. The wooden grip is 4 inches long and fits my hand just fine. The grip is made up of 3 pieces of wood with one cracked the entire length and has incised carved lines in it to assist with gripping. The wood parts are all loose now from shrinkage. This grip is held together by iron ferels on either end and a larger washer on the very end in which the tang passed through and was peened over to keep the entire affair together. The patina matches on all iron/steel parts so I have no doubt that this piece has been together a very long time. Overall it's 24 inches long and just screams Dixie!!! The Confederates were great for making due with what they had. For this nice old piece. $450.00
New Arrivals 125 & 126 consignment
Here we have 2 project guns! ONE SOLD !!! These are both old percussion with one being a rifle and the other being a double barrel shotgun! Here there are:
1. SOLD!!! This second firearm is a put together from two guns 12 gauge double barrel percussion shotgun! It's in bad condition but it's very unusual as well! This firearm is a whooping 60 inches long with 45 3/8ths inch barrels that obviously came from two different guns. The conversion was the drum and nipple method. Necessity is the mother of invention and we believe this hunter needed a goose gun that could fire more that one shell before reloading so hence this piece was born!!! The stock is massive as well being quite wide at 3 inches at the widest point. The stock itself is nearly 31 inches long. No makers name is on the one lockplate remaining so we don't know who made it or at the very least the locks. The triggers are missing and some wood is lacking but it is what it is! Take a look at the pics so you can see what I mean! Unique and would look great on the wall when you put it back together! For this piece $195.00
New Arrivals! 124
Hard to find book by Captain E. J. Sherlock entitled 'MEMORABILIA OF THE MARCHES AND BATTLES IN WHICH THE ONE HUNDREDTH REGIMENTH OF INDIANA INFANTRY VOLUNTEERS TOO AN ACTION PART. WAR OF THE REBELLION 1861-5.' This book of 431 pages measures 8 X 6 inches Kansas City, MO being the first edition printed in 1896. The cover is the worst thing about this great book with wear and dirt but the inside is excellent with little of no foxing and being bright. There is a very nice presentation on the frontis page from Colonel John Headington of the 100th Indiana to his brother, Nim Headington in the Colonel's handwriting. Look at the pics. I think that Nim Headington was actually Nimrod Headington, who was in the 34th Indiana. There was only 2 Headingtons in the Union Army from Indiana so I think I am right. Here is Nimrod Headingtons stats:
Nimrod Headington Residence Jay County IN; Enlisted on 9/16/1861 as a 1st Lieutenant. On 9/30/1861 he mustered into "B" Co. IN 34th Infantry (date and method of discharge not given) Promotions: * Capt 1/4/1863 (As of Co. K) * Major 4/19/1864 * Lt Colonel 3/21/1865 (Not Mustered) Intra Regimental Company Transfers: * 4/19/1864 from company K to Field & Staff Sources used by Historical Data Systems, Inc.:
Also in the front on a blank page is fingerprints of perhaps the Colonel or his brother! Who knows for sure but they are there. There are many many photographs and engravings in this book. Here is a bio of the 100th Indiana as well as the Colonel:
John W. Headington Residence Portland IN; Enlisted on 9/11/1862 as a Captain. On 9/23/1862 he was commissioned into "H" Co. IN 100th Infantry He was Mustered Out on 6/8/1865 at Washington, DC Promotions: * Major 6/1/1864 * Lt Colonel 5/21/1865 (Not Mustered) Intra Regimental Company Transfers: * 5/15/1865 from company H to Field & Staff Sources used by Historical Data Systems, Inc.: - Report of the Adjutant General of the State of Indiana - Union Blue: History of MOLLUS (c) Historical Data Systems, Inc. @ www.civilwardata.com
As a point of interest the 100th Indiana wore Zouave type uniforms and were known as the - 100th IN Inf. - Persimmon Regiment (Wore Zouave-inspired veteran jackets) . Also the 34th Indiana that his brother was in was known as the Morton Rifles (Wore Zouave-inspired veteran jackets).
One Hundredth Infantry INDIANA (3-YEARS) One Hundredth Infantry. -- Cols., Charles Case, Sanford I. Stoughton Albert Heath, Ruel M. Johnson, Lieut.-Cols., Albert Heath, Ruel M. Johnson, John W. Headington; Majs., Robt. Parrott, Ruel M. Johnson, John W. Headington William H. Vernamon. This regiment was organized at Ft. Wayne in Aug. 1862, two companies, organized for the 88th regiment being assigned to it to complete its organization, and it was mustered in Sept. 10. It left the state Nov. 1, for Memphis where it was assigned to the 2nd brigade, 1st division, Army of the Tennessee. It moved in the first expedition against Vicksburg, but was forced to turn back by the enemy's capture of Holly Springs, and was assigned to garrison and railroad guard duty at Collierville. In June, 1863, it joined the army at Vicksburg, took part in the siege and then moved against Jackson, where it was constantly engaged until the evacuation. It was then in camp at the Big Black River until Sept. 28, when it sailed to Memphis with the 4th division, 15th army corps, thence moved to Stevenson and Bridgeport, Ala., and Trenton, Ga. It was in the movement in which the left flank of Bragg's army was turned and the enemy driven from his position on Lookout Mountain. The regiment then marched to Chattanooga in time to participate in the storming of Missionary Ridge, its division gaining the crest of the hill and holding the position against repeated assaults. The loss of the regiment was 132 in killed and wounded. After pursuing the enemy as far as Graysville, it was ordered to Knoxville for Burnside's relief and thence proceeded to Scottsboro, Ala., which place was reached Dec. 26. On May 1, 1864, it joined in the Atlanta campaign and was engaged at Dalton, Snake Creek Gap, Resaca, Dallas, New Hope Church, Big Shanty, Kennesaw Mountain, Nickajack Creek, Cedar Bluffs, Chattahoochee River, Decatur, Jonesboro and Lovejoy's Station. After Atlanta's evacuation it was encamped at East Point until it went in pursuit of Hood in October, moving as far as the Tennessee River and then returning to Atlanta. As part of the 2nd brigade, 1st division, 15th corps, it moved upon Savannah and was engaged in a desperate fight at Griswoldville, where repeated assaults by the enemy were repelled. From Savannah it moved by steamer to Beaufort, S. C., thence through the Carolinas, assisting in the capture of Branchville, Columbia, Georgetown and Cheraw, S. C., and fought at Bentonville, N. C. It was at Goldsboro from March 26 until April 10, then moved successively to Raleigh, Richmond and Washington, D. C., where it was mustered out June 9, 1865, and the recruits were transferred to the 48th Ind. The original strength of the regiment was 968; gain by recruits, 86; total 1,054. Loss by death 237; desertion, 31; unaccounted for, 11. Source: Union Army, vol. 3, p. 172
This is a wonderful book and NOT a reprint but the original. For this wonderful Unit history of the 100th Indiana Infantry by one who was there $295.00
Consignment New Arrivals 122
MODEL 1873 COLT SINGLE ACTION ARMY REVOLVER!
Here is a Model 1873 Colt Single Action Army First Generation Revolver in the scarce .41 Caliber round! There were only 19,676 of this model made in this caliber! The caliber is not marked on the firearm but I gauged it with my Colt Caliber Gauge and compared it to .41 Colt Thunderer and it's the same caliber. Here is some history of the 1873 Colt SAA Revolver!
The Single Action Army became available in standard barrel lengths of 4 3/4 inch, 5 1/2 inch, as well as the Cavalry standard, original 7 1/2 inch. The shorter barrelled revolvers are sometimes called the "Civilian" or "Gunfighter" model (4 3/4 inch) and the Artillery Model (5 1/2 inch). There was also a variant with a sub-4-inch barrel, without an ejector rod, unofficially called the "Sheriff's Model", "Banker's Special", or "Storekeeper".. From 1875 until 1880 Colt marketed a single-action revolver in .44 rimfire Henry caliber in a separate number range from no. 1 to 1,863. A "Flattop Target Model" was listed in Colt's catalogs from 1890 to 1898. Colt manufactured 914 of these revolvers with a frame that was flat on top and fitted with an adjustable leaf rear sight. The front sight consisted of a base with an interchangeable blade. In 1896, at serial number 164,100, a spring-loaded base pin latch replaced the cylinder pin retaining screw and by 1900, at serial number 192,000, the Colt Single Action was certified for use with smokeless powder. In 1920, larger, highly visible sights replaced the original thin blade and notch. The revolvers remained essentially unchanged from that point until cessation of manufacture at the beginning of World War II. From 1873 through 1940 (with small numbers assembled during and after World War II, the so-called "Pre-War, Post-War" model), production of the Colt Single Action Army reached 357,859. This is identified as the "Pre War" or "First Generation" of the model. Calibers, at least thirty in all, ranged from .22 rimfire through .476 Eley, with approximately half, or 158,884 (including Bisley and Flat Top Target variations), chambered for .45 Colt. The next most prevalent were the .44-40 Winchester Center fire (WCF) at 71,392; 38-40 (38 WCF) at 50,520; 32-20 Winchester (32 WCF) at 43,284 and, the 41 Colt at 19,676.[
Now on to this old Colt :
This old colt is in excellent condition with most of the original blue on it with some of it thinning out some and fading some. This particular Colt was made in 1913 and is in excellent working order! You can hear the distinctive 4 clicks when you cock it and the cylinder locks up tight. The original grips are complete with no cracks or breaks. The 7 ½ inch barrel has excellent markings and an excellent bore. This is one beautiful revolver! Check out the many pics!! $3850.00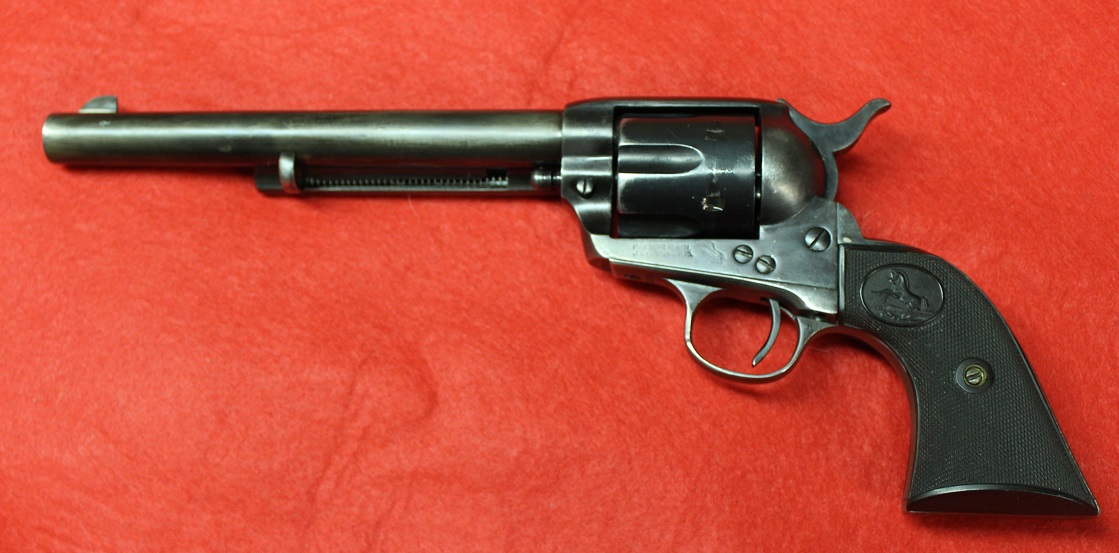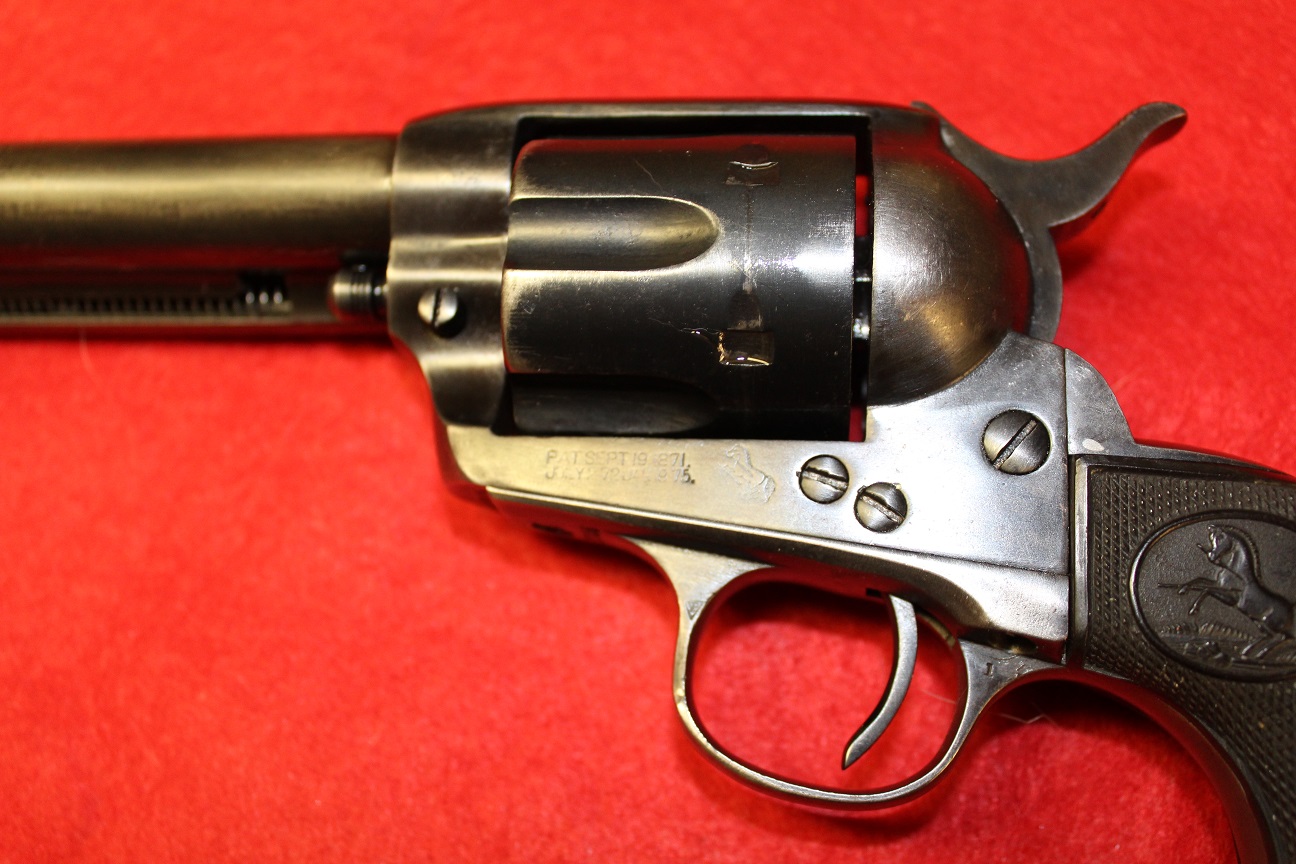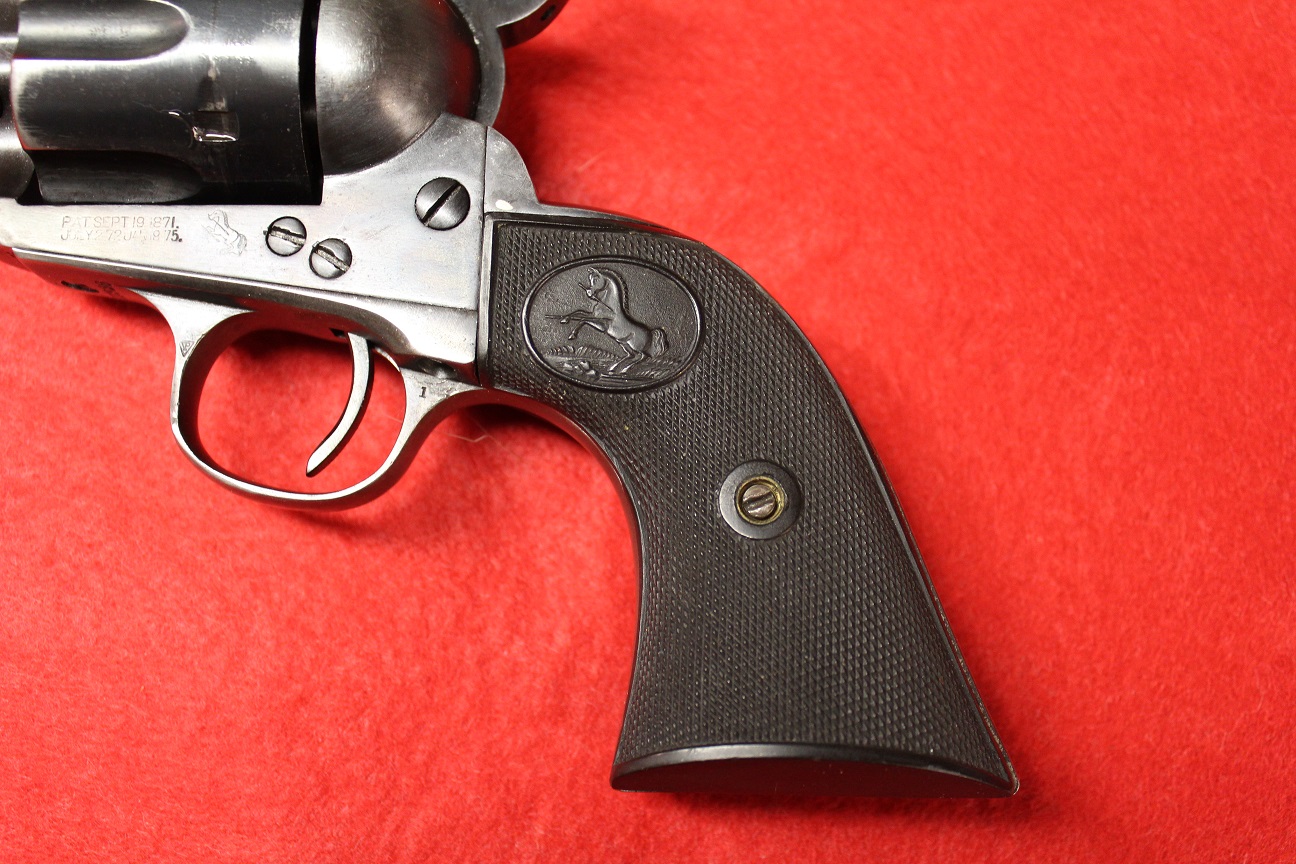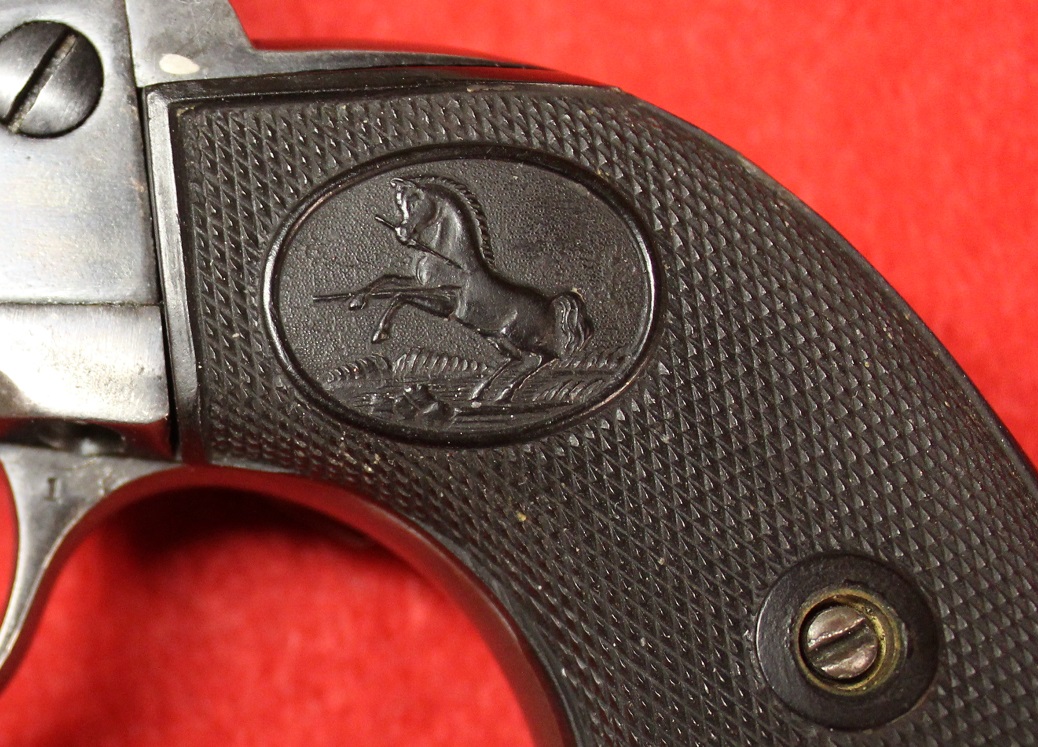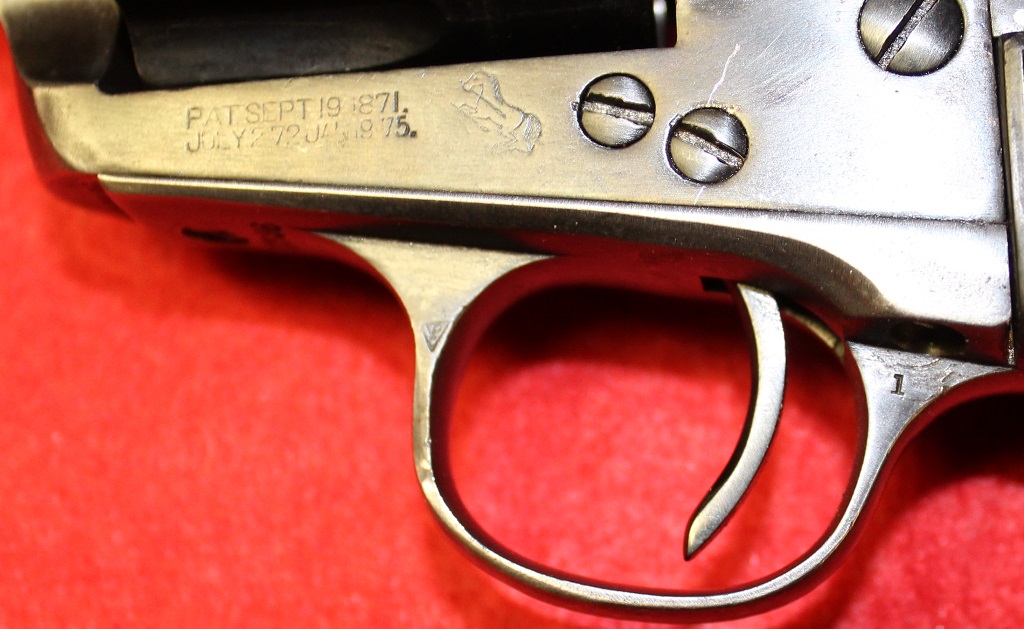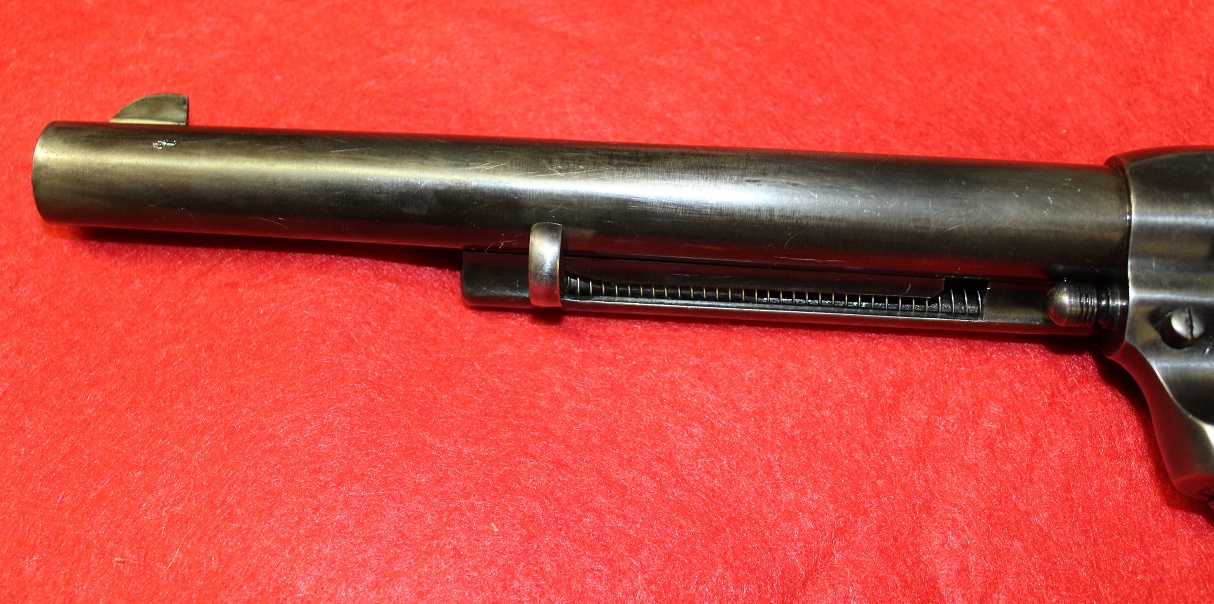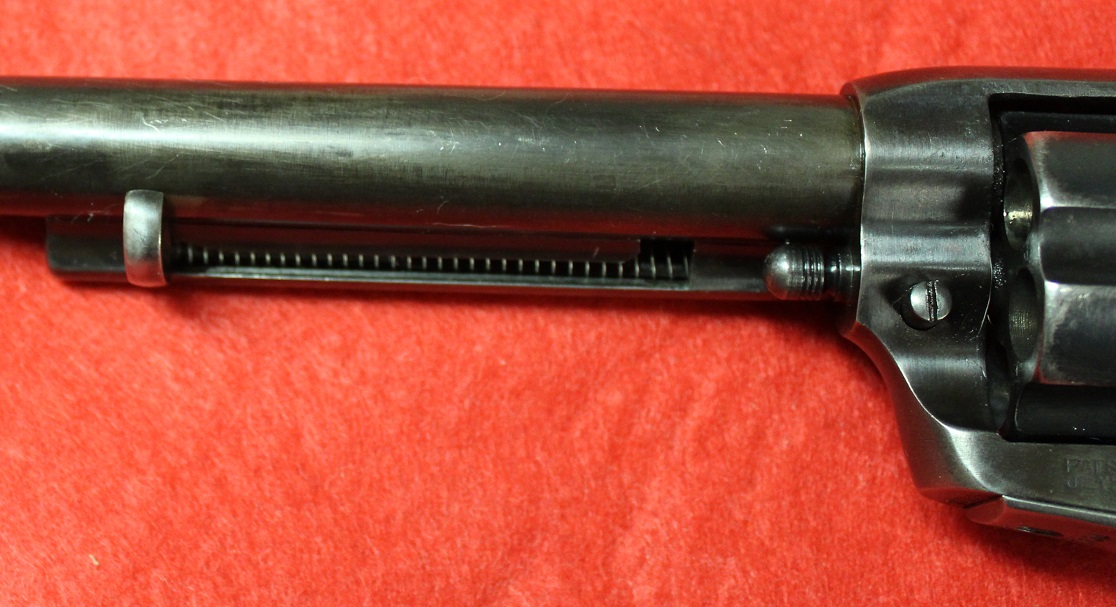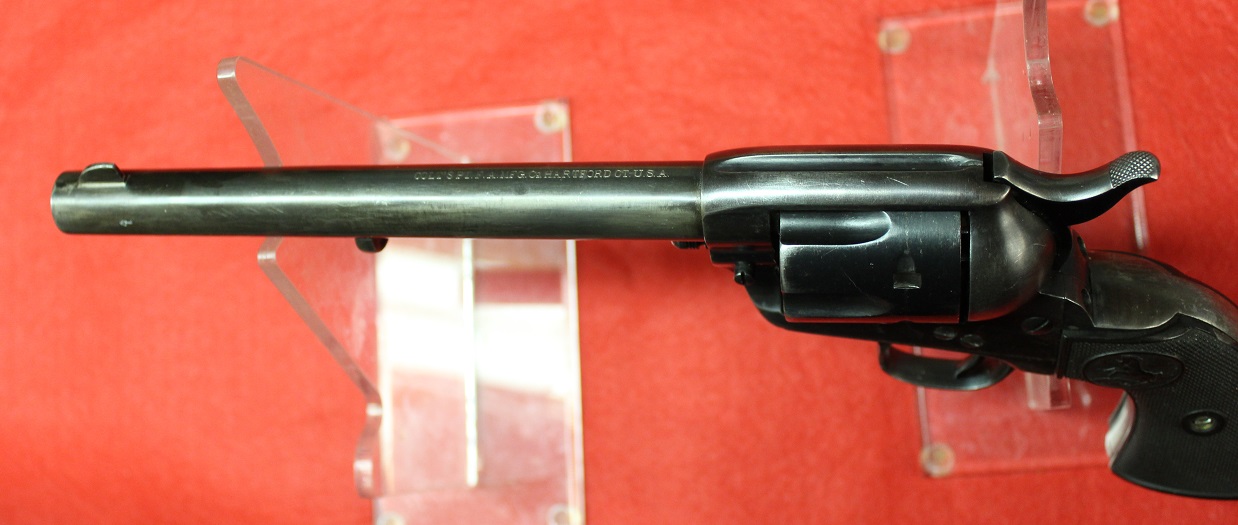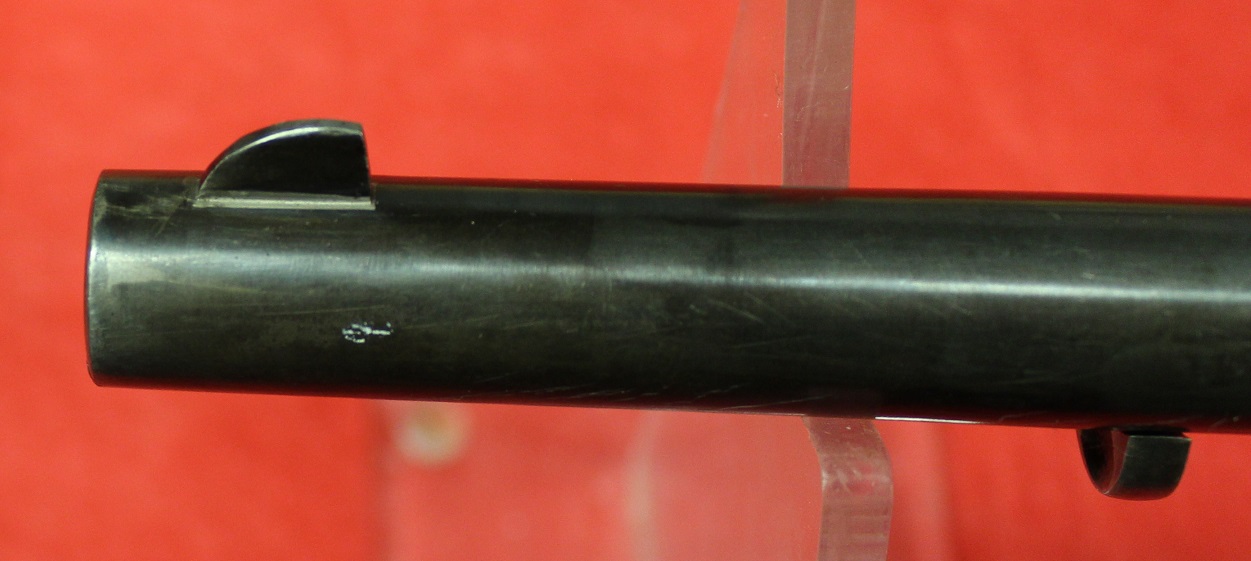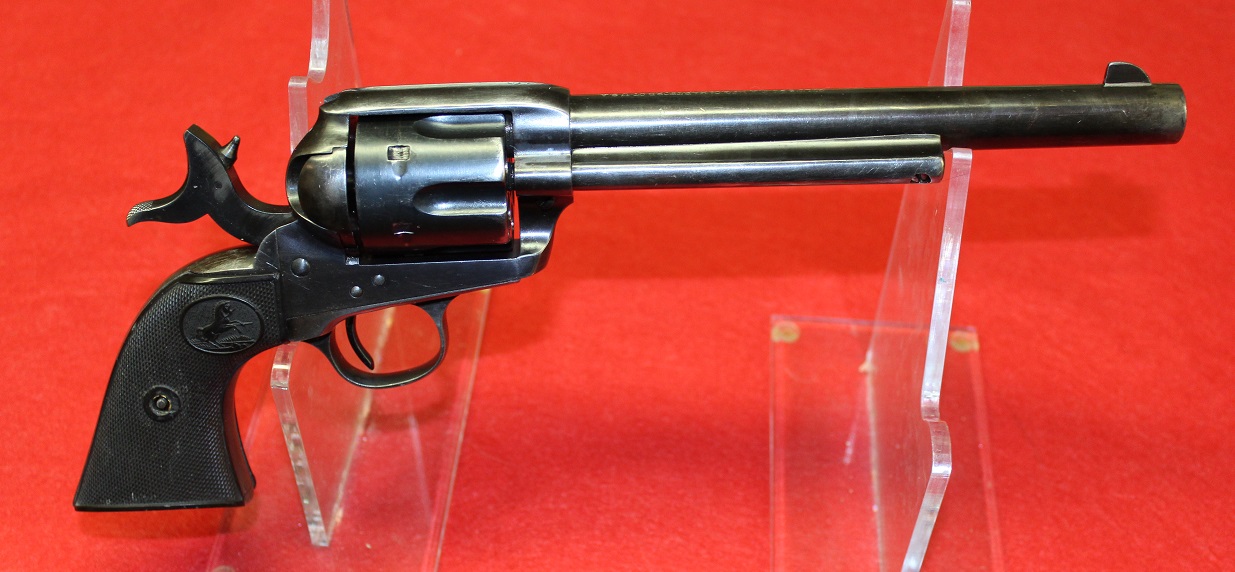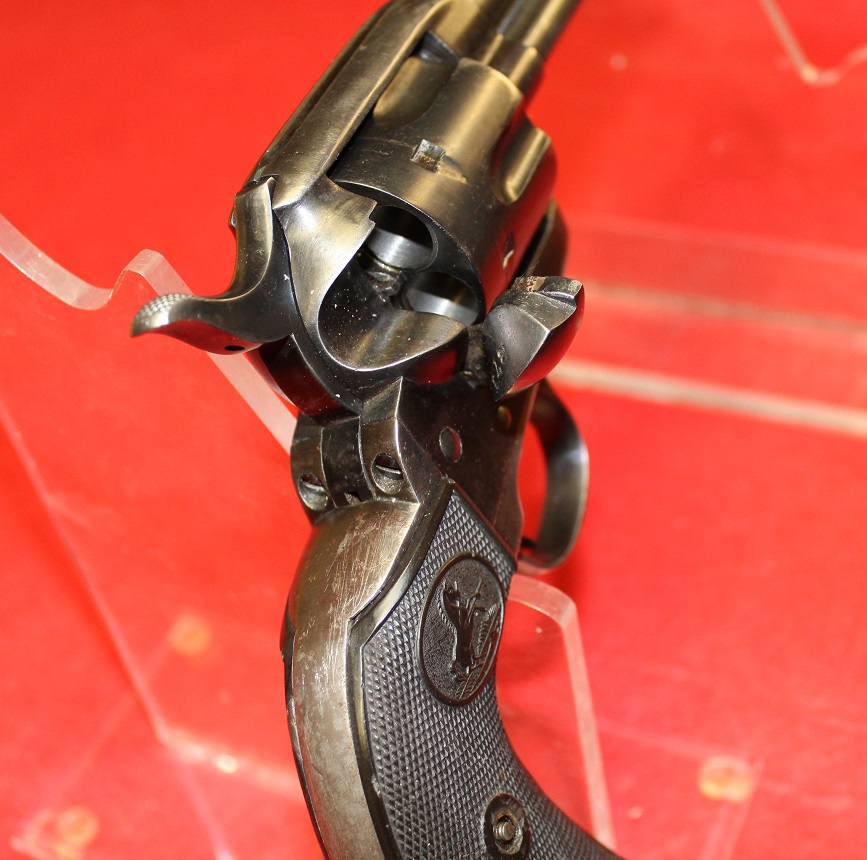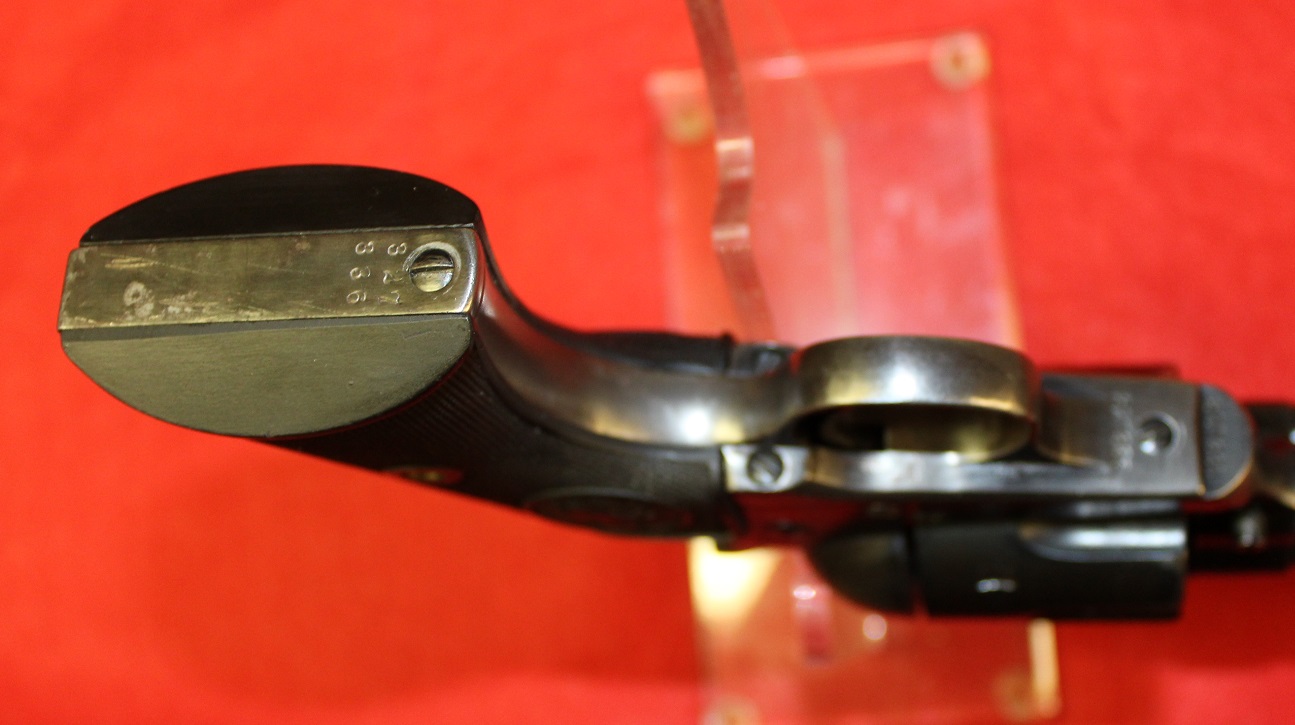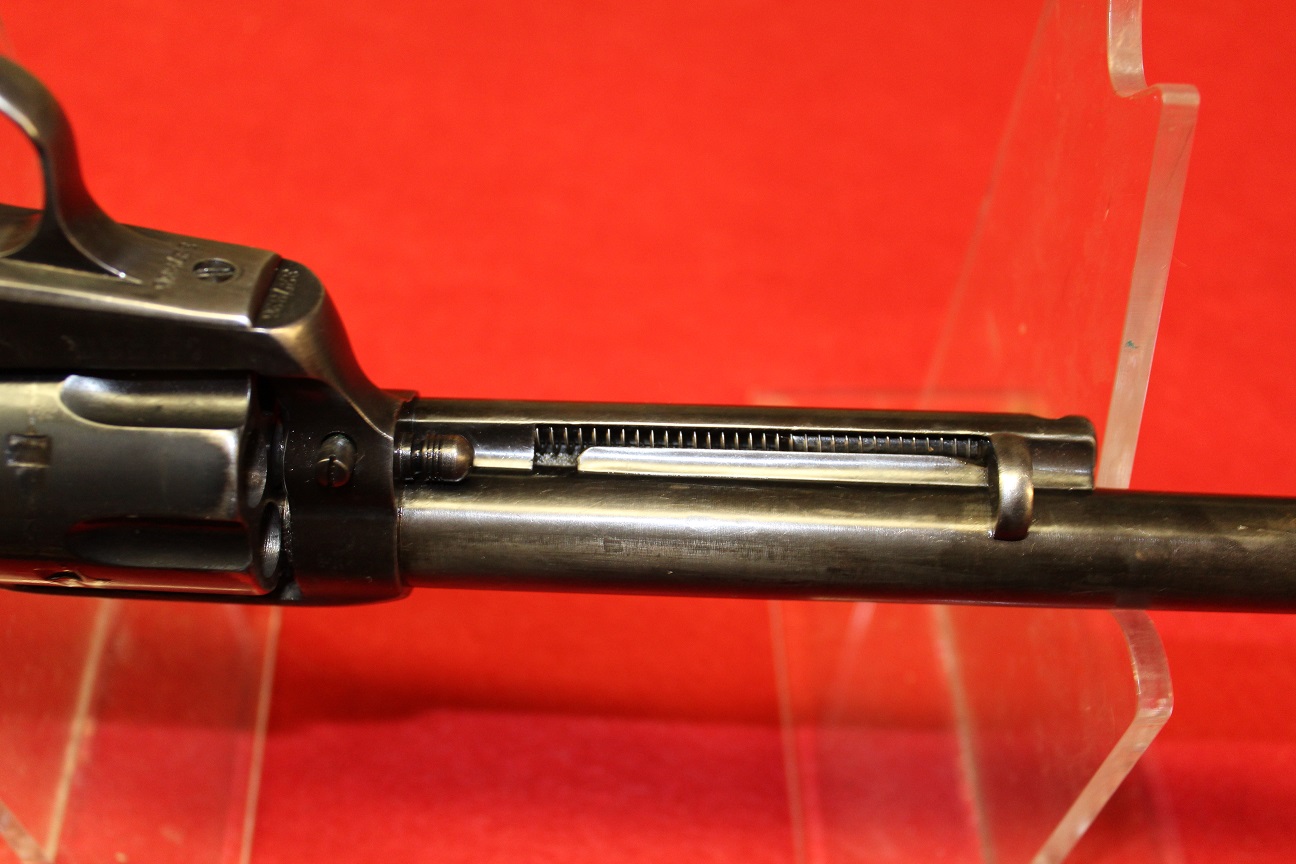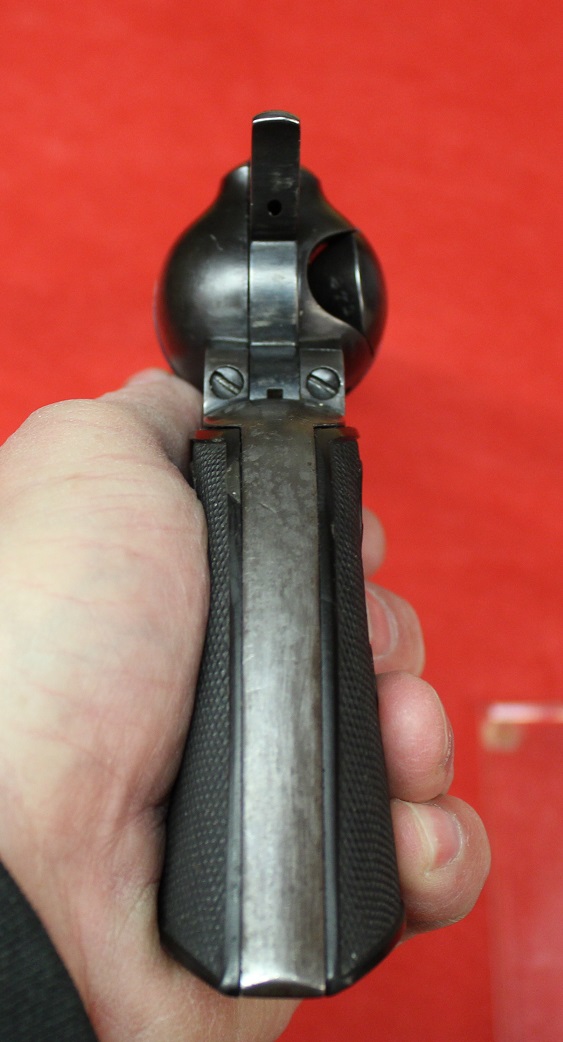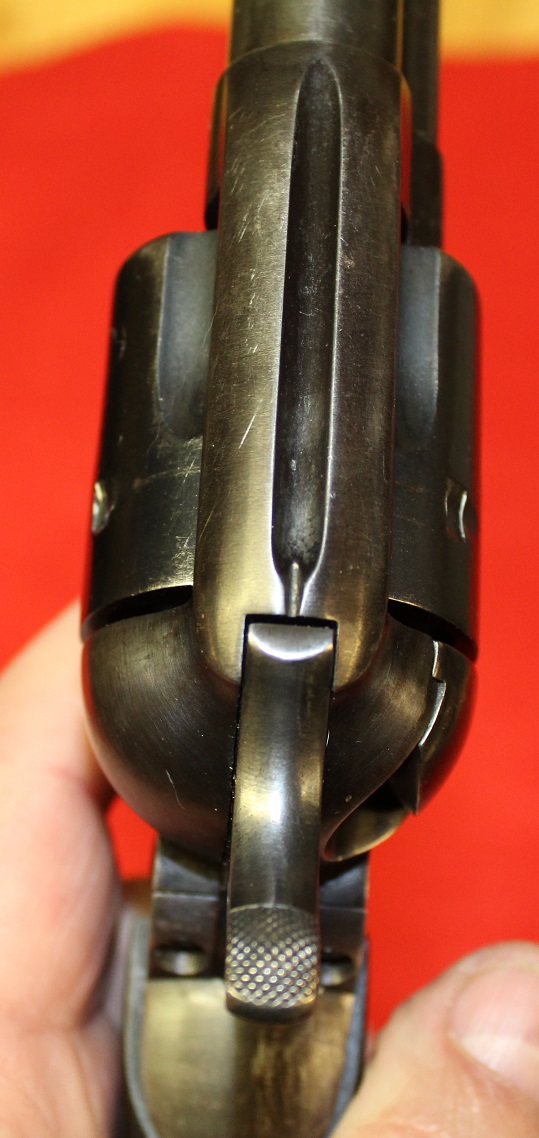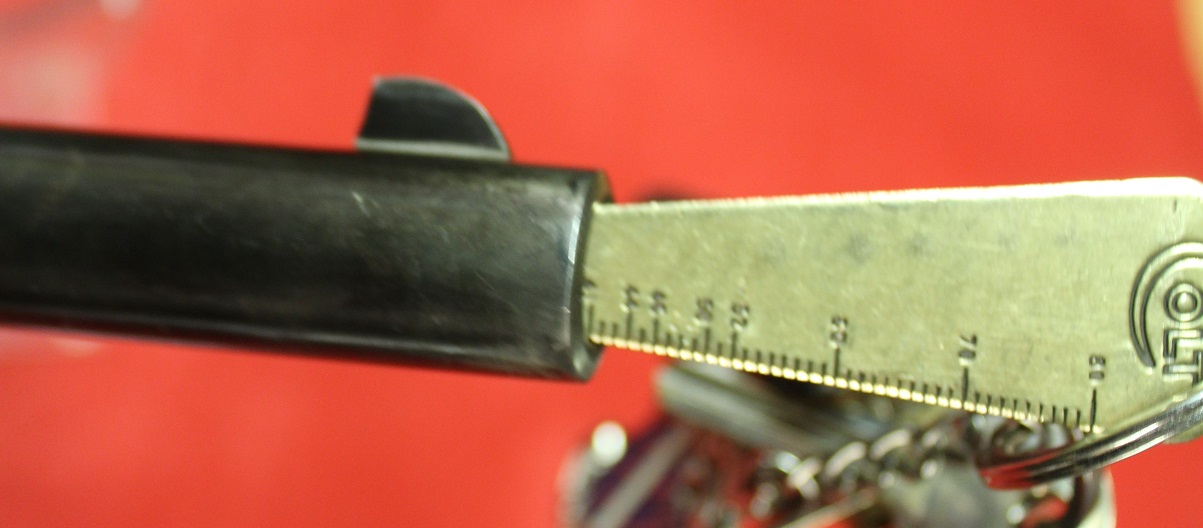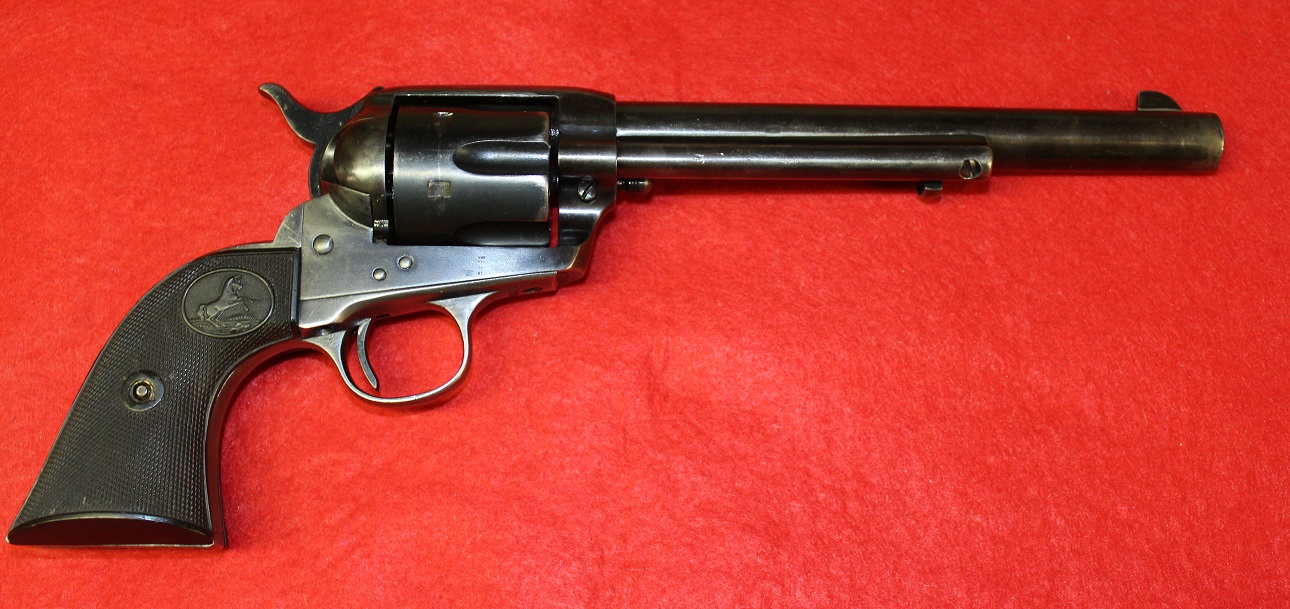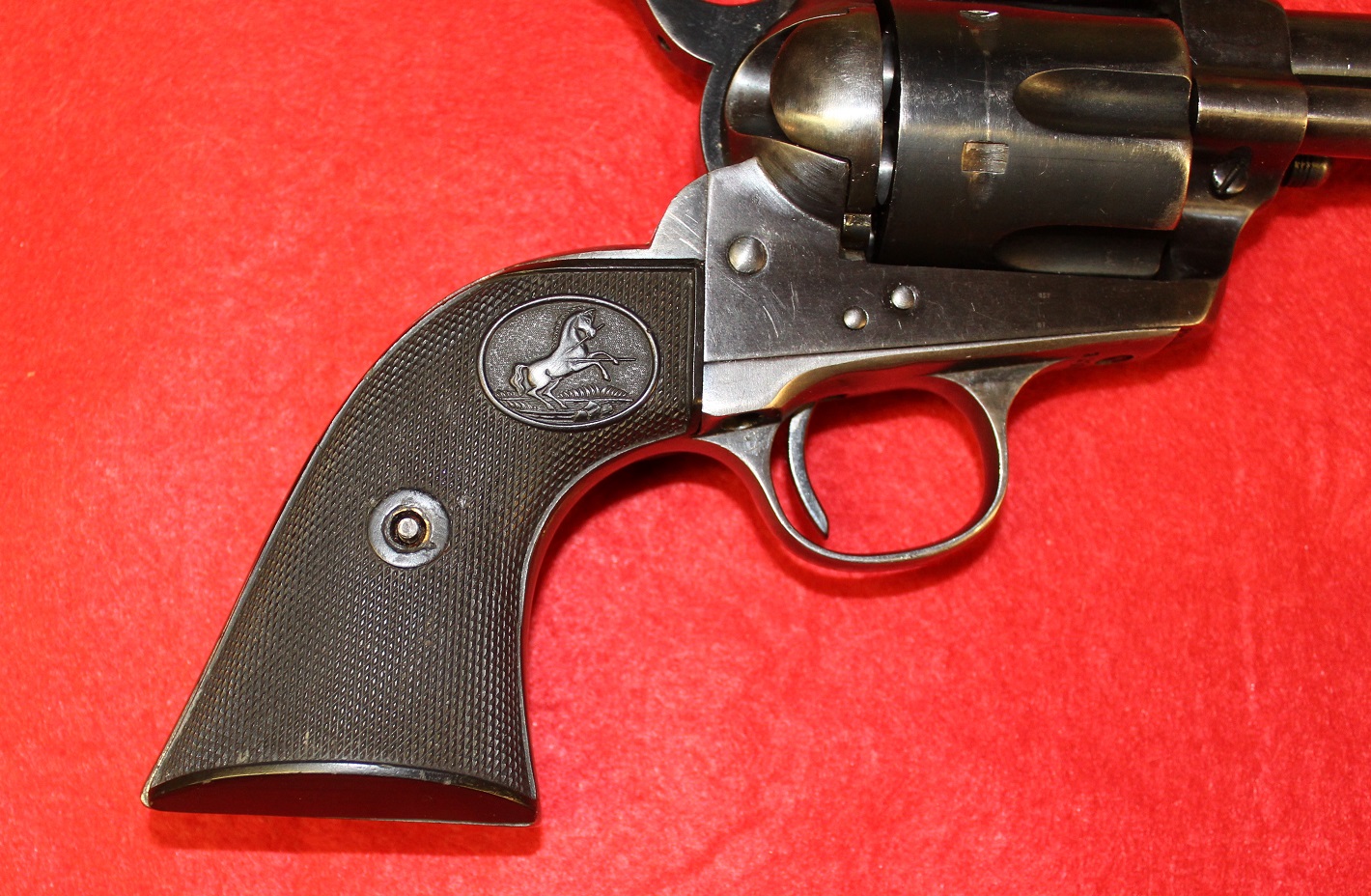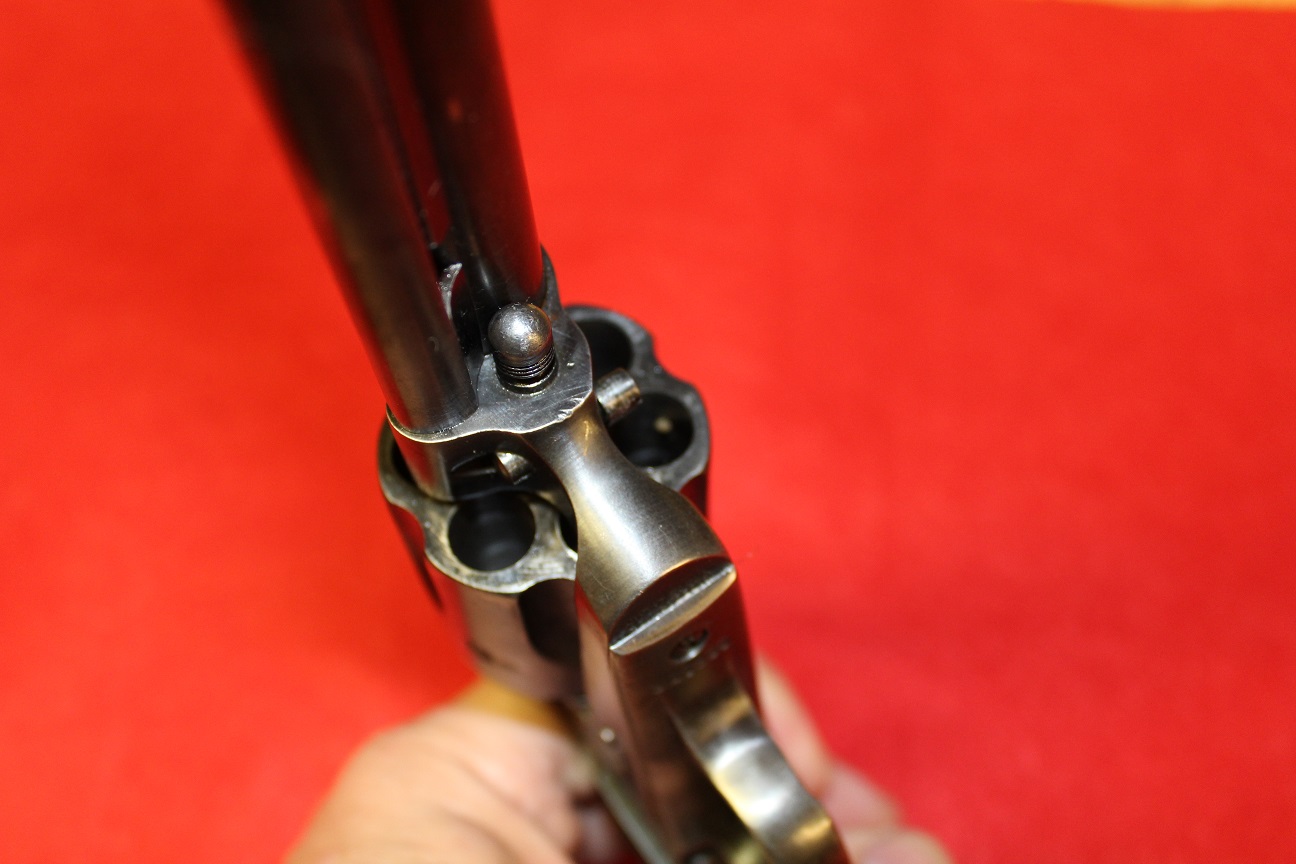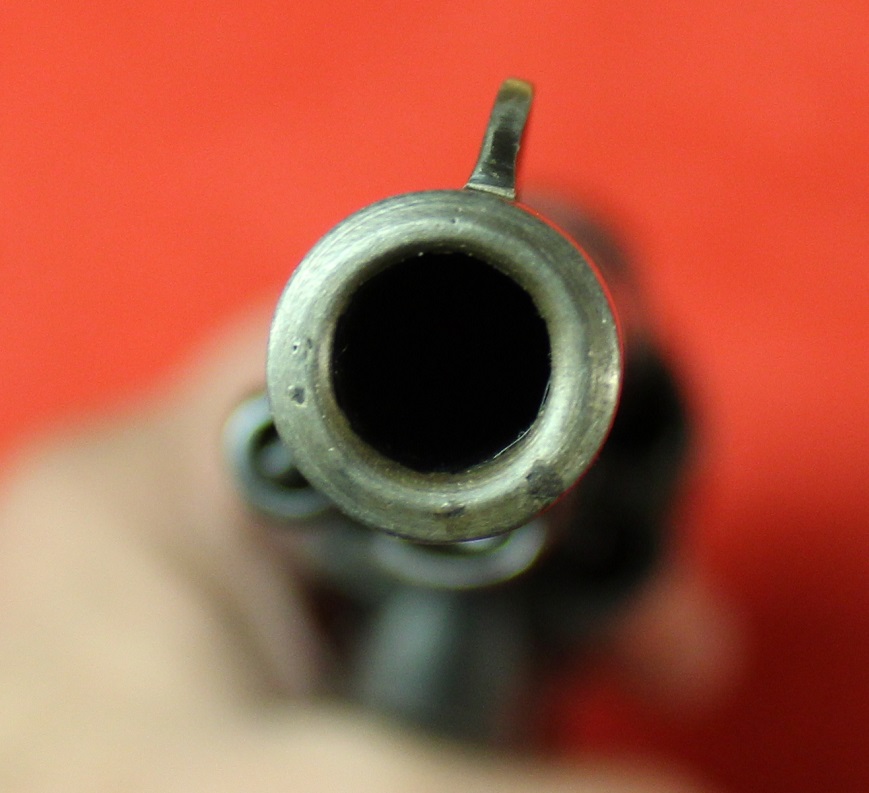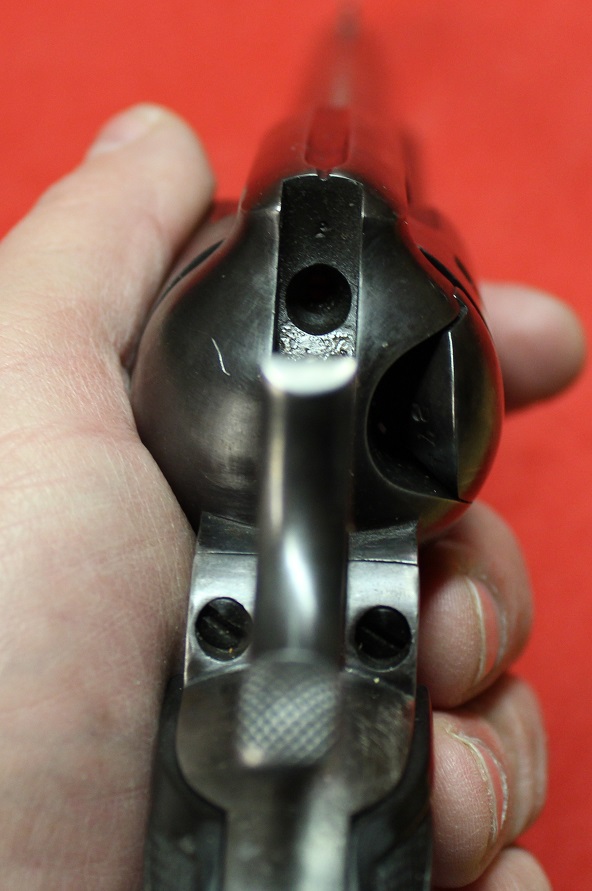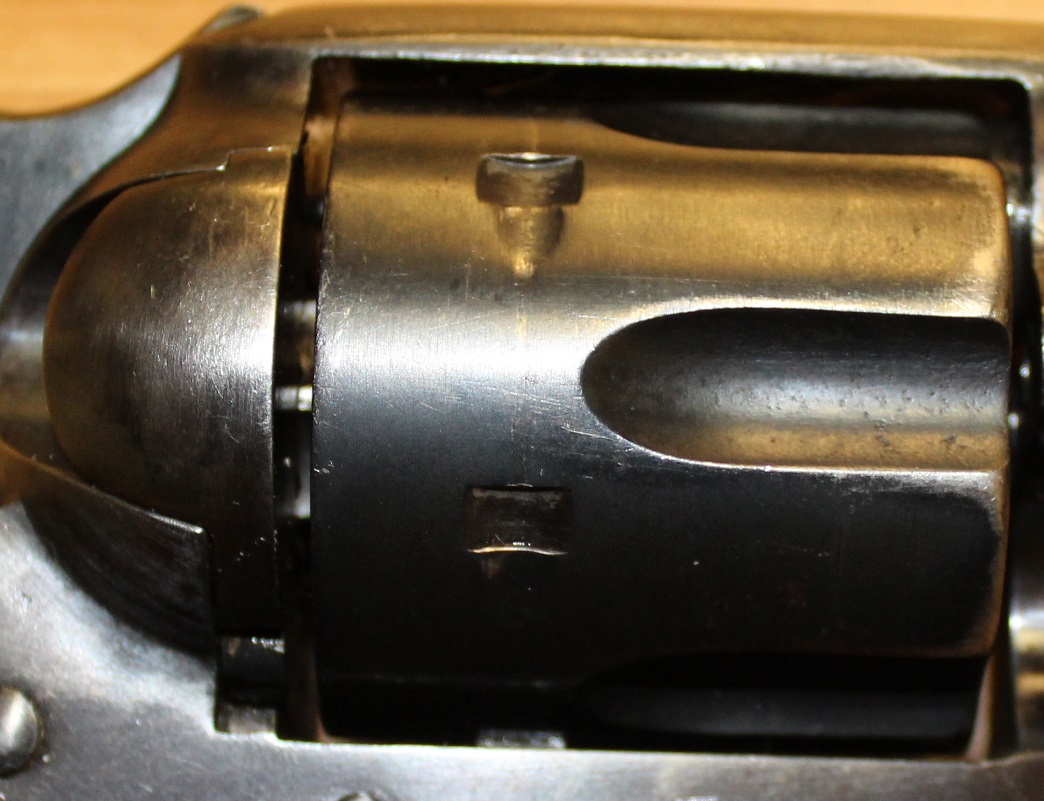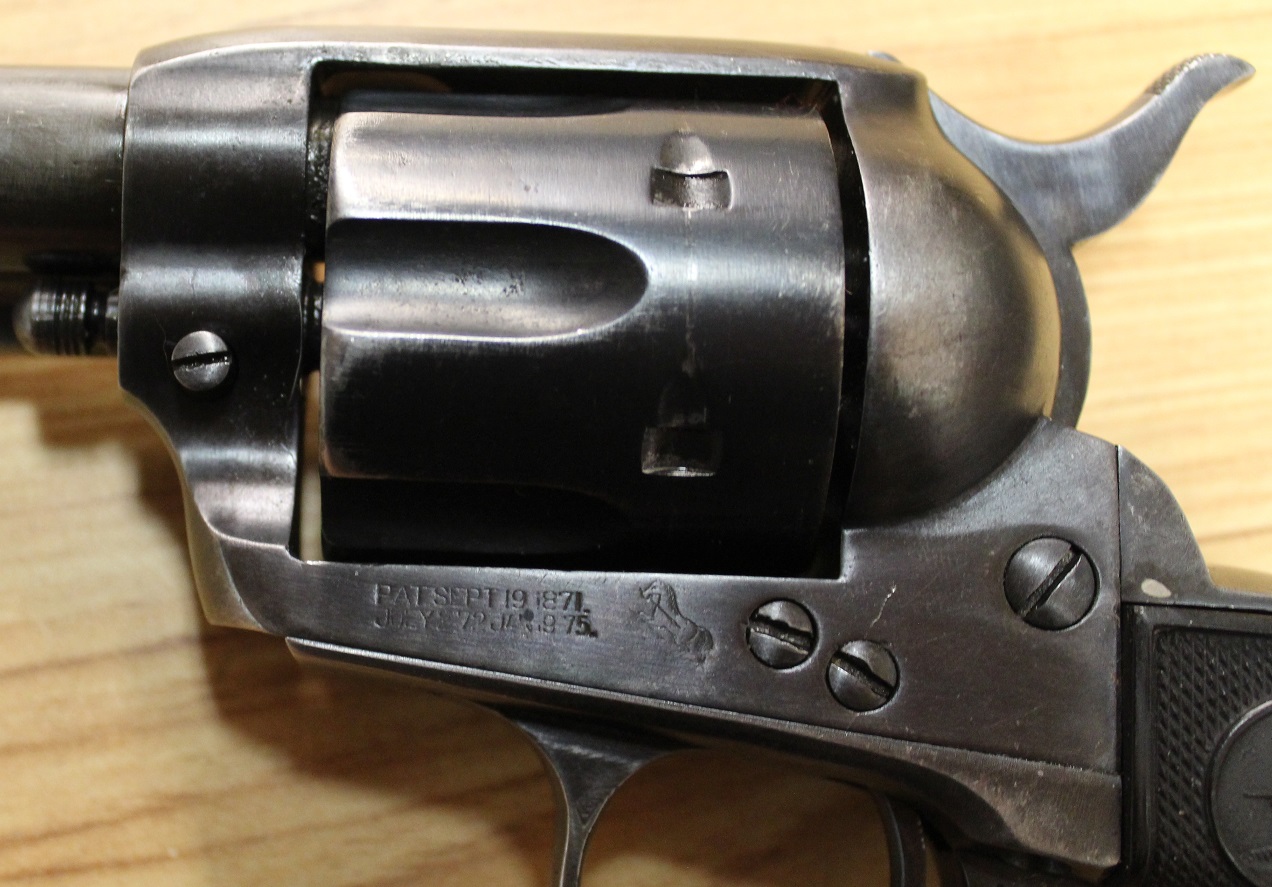 New Arrivals Consignment 121
Here we have recently acquired a shotshell hand reloader. The owner of this machine states that it is complete and ready to use. This is a 20 gauge reloader. Along with the 20 ga reloader is many empty shells and about 500 20 gauge wads! For this reloader with componets $175.00
Consignment New Arrivals 120 1. 2. 3. 4.
These next 4 musket/rifles belong to a friend of mine who is getting up there in age and wants to thin down his collection some. He personally made all four of these firearms over the years with a couple made in the last few years. Check them out!!! All would look good over the fireplace and all four function and fire!
1. This is a Flintlock done in the 18th Century English style. It's a .65 caliber smoothbore with a 42 inch long barrel. The hardwood stock goes to within ¼ inch of the end of the barrel. The stock is decorated with brass tacks and has 2 brass ramrod thimbles for the ramrod. The ramrod is brass tipped as well. The buttplate is also brass while the trigger guard is iron. The flash protector is grass and marked with the Shield and GR. The lockplate is unmarked. The reverse stock opposite the lock plate has a sea serpent decoration applied there. This musket comes with a heavy lather sling that has a couple of decorations on it as well. Also there is a little flint pouch that hangs from the triggerguard. It's a nicely done musket that looks beautiful on the wall and is fully functional!! Take a look at the pics!! For this piece $775.00
2. Here's another nice full stock flintlock rifle with a HATFIELD LOCK and flint hammer assist. The lock works perfect with the set trigger. This is a full stock rifle being 56 1.2 inches long overall with a over 40 ½ inch long octagonal .40 caliber rifled barrel. The stock is hardwood being a nice darker brown with tiger striping down it's 58 1/2 inch length. The two ramrod thimbles and the ramrod channel into the stock are all nice brass as well as the buttplate and straps. The patch box is also brass. The triggerguard is iron with engraving. The lock is prominently marked HATFIELD with Warranted under that. The reverse stock has a brass sea serpent attached to it as well as a Buffalo nickle and the name Bob and the date 2017. The rear sight is iron leaf and the front sight is more modern. The ramrod is brass tipped and the nose cap is also brass. There is some hand engraved line drawings on the stock. There is a vent pic mounted under the name BOB. A nice piece with an original HATFIELD LOCK!! For this rifle $800.00
3. Here we have another nice flintlock rifle being over 60 inches long with a 44 inch octagonal rifle .36 caliber barrel. The hardwood stock is fully tiger striped down it's entire length and has a cheek rest on the reverse side. The set trigger lock works very well and is totally unmarked. The 3 ramrod thimbles and the stock ramrod channel are all brass as well as the patch box , buttstock and buttstock strap. The reverse plate is engraved brass as well. The triggerguard is iron and the nose cap is a special type of metal material. The ramrod has a brass tip as well. The rear sight is a buckhorn sight and the front sight is a dovetailed large blade sight. There is a touch hole pick mounted on the bottom of the cheek piece buttstock. Pretty nice! $775.00
4. This last rifle has a rather slender stock measuring 56 ½ inches long overall with a 41 inch long octagonal .45 caliber smooth bore barrel. This hardwood stock is in good condition with incise line carvings and light tiger striping. The flintlock has no markings on it whatsoever and is set up with a set trigger system. The bottom of the buttstock is marked RSW 2015 who is the maker of the musket and when. This musket has brass furniture except for the triggerguard and nose cap. The stock has a cheek rest on the reverse and a mounted vent pick. This musket has seen little use and would look great over the fireplace or take it out and shoot it! Take a look at the pics! For this musket $775.00
Consignment New Arrivals 119
Here we have a US MODEL 1878 TRAPDOOR RIFLE in .45-70 with bayonet and sling. You could collect nothing but the trapdoor series and have a ton of different rifles with different dates and markings. The book goes from showing info on a Model 1877 trapdoor to a Model 1879 Trapdoor rifle and this one is clearly marked on the breechblock Model 1878. The serial number is 102887 which falls into the Model 1877 numbers. This is a nice looking trapdoor rifle that was cleaned many years ago. The original blue is found in some areas but not much is remaining. The stock is a nice blonde/brown color and complete with the cartouche and the military mark in circle on the gottom of the stock near the triggerguard. The lock is marked with a spread winged Eagle and U.S. SPRINGFIELD. The barrel is marked with the Eaglehead and large V and P as well as smaller initials R and P in separate areas. The cartouche on the stock in a rectangle is marked with inspectors initials and 1889. . The continuous curved base rear sight is marked with the 'R' for rifle. The barrel is correct length of 32 5/8ths inches long with nice rifling present secured by two barrel bands and having a stacking band at the top as well. The ramrod fits/snaps into the channel and has the button tip with cleaning slot and is threaded for tools.. There is no cleaning compartment door in the buttplate. This piece functions very well. This rifle comes with a sling attached which has two different sets of markings in the leather . One is A.D. LAIDLEY U.S. ORD. DEPT. who was a US SUB INSPECTOR and the other is the maker R. NECE Philad. For Philadelphia. This sling may be a lot older than this rifle. This rifle also comes with a real nice Trapdoor bayonet. The bayonet fits too tightly so it will need a little work to fit correctly indicating that it is not original to the rifle. Take a look a the pics!! $995.00
Consignment New Arrival 118
Here we have a set of old Confederate Saddlebags. These saddlebags were original purchased in 1993 at the Lexington, KY Civil War Show. These bags are the large style and in fair to good condition with a somewhat faint CSA in 3/8ths large letters stamped in the leather on which would have been the right hand side of the flap just above the finial fastening hole. Both finials are now missing and there's a seam open here and there showing some crude repairs. The CSA has been there for a long long time with the leather crazing going through the letters. This has not been added after the crazing started. These letters were added before the crazing occurred. The bags themselves measure about 10 deep by 14 inches wide and the leather is still supple although the finish is crazed. Great display item! Take a look at the pics!!! $895.00
consignment New Arrival 117
Here we have a medium sized brown tooled in flower motif holster with belt. The belt has cartridge loops on it and look to be .38 caliber. The entire holster is 9 ¾ inches long and 5 inches wide at the widest point. The belt itself is about 35 inches long not counting the buckle. The back of the holster has that it's for a Colt Model 18??and belonged to Wm R. Wrasse of Findlay, Oh. I believe this piece to be from the late 1800's to early 1900's. Some finish loss to the belt but still supple overall. I put my Colt 1849 pocket model with 6 inch barrel in it and it was a little big for it. Seams are still solid. Check out the pics!!! For this piece $495.00
Consignment New Arrival 116
Here we have a large holster for a Colt Single Action Army which has many decorations on the front of it including a cowboy on a horse. The seams are all solid and the plug is in the bottom. I believe it would fit a 6 ½ inch barrel. It's the flap over type with finial. No makers name on it but it does have numbers on the back belt loop. I believe it dates to the mid to late 1800's and perhaps into the early 20th century. The leather is still supple with some loss here and there to the finish. Overall it's in very good condition! $495.00
Consignment New Arrival 115
Here we have a flap over basket weave holster from the late 1800's to early 1900's This one is marked on the flap 'ROYAL 4 ¾'. The holster has overall wear and the rear belt loop has the stitching gone from the top mount. The holster measurements on the front not including the flap are 8 ½ inch long by 5 inches across the top before the flap. The brass finial is still present and the leather is still in good condition just needing to be dyed if so desired (I would just clean it up a little and let it go) . For this old holster $250.00
Consignment New Arrival 114
Here's a 20th century knife sheath with '125' marked at the top between the belt slits. Made for about a 6 ½ inch long double edged bowie it is marked on the front of the sheath with decorations and the works 'DANGER KEEP OFF' 'J.J.SCOONMAKER', 'SELKIRK, NY'. Kind of unusual! No other markings. Check out the pics!!! $35.00
Consignment New Arrival 113
Here we have an old cowboy 12 guage shotgun belt with 30 loops. I believe this belt is for 12 gauge shells but it could fit 16 ga or 20 ga shells as well. The belt is 32 inches long not counting the 2 small buckles or the leather belt ends that go in the buckles. The belt is a little stiff in the center but some leather conditioner would help that. Excellent display piece for a cowboy display or even a Stagecoach display for the shotgunner! Take a look at the pics $395.00
Consignment New Arrival 112
Here we have an old 'Slim Jim' western holster You can still see the impression of the old revolver in it. Probably held a colt. The leather is pretty stiff in spots and you can see the old leather thong down where the seam is. I see no traces of thread or even traces of sewing down the seam. I see some extra holes so it may have had rivits of some kind in it at one time but now lacking. Definitely 1800's old west holster. Open ended with no plug. A geat display piece! In fair condition overall. $395.00
Consignment New Arrival 111
Here's a dandy! This is an early Cowboy slim jim type Holster that is decorated with studs on the seams and on the cross over straps but most impressive is the studs that make up a star! We believe this holster to be a Texas Holster. It's still in supple condition with the seam being separated and became so while being used as evidenced by the extra studs and rivits to hold it together. This would fit an old Colt with at least a 6 inch barrel. Take a look at the pics and the construction. By the wear shown to the underside it was worn quite a bit. The holster has a couple of small holes in the distal inside bottom for a tie down loop. Some finish lacking but quite unique. For this one $695.00
Consignment New Arrival 110
Here we have US Cavalry Model 1904 Saddle bags that are very worn with open seams in places and some torn leather however it still displays well. These were rode hard and put away wet! Hey, they are what they are but will still fill a display. The US in the oval on each flap is still there but hard to see. Overall these are in poor to fair condition. For this set $125.00
Consignment New Arrival 109
Here we have a well worn / used WW1 US M1909 Holster with plug and tie down for the Colt / S&W 1917 Revolver. I don't see any Mfg's markings on it. The leather is still in pretty good condition but the finish has seen rough use . Some seam thread is gone and needs some attention. The US in oval is still visible but light. The finial is still present and tight. Overall this is a holster in fair to good condition and just needs cleaned up a bit. For this piece $110.00 Check out the pics!!!
Consignment New Arrival 108
Here's a nice Manhattan Series III .36 caliber 5 shotrevolver with a 4 inch octagonal barrel with a fairly dark bore but rifling easily seen. The markings on the barrel are in one line. There is a good amount of original blue left on the barrel. The cylinder scene is very nice as is the patent stamping on the cylinder. The grips are in nice condition with original finish on them. The serial numbers all match except for the wedge which starts 393XX while the rest of the revolver is 397XX. The frame of this piece exhibits a nice patina. The action works excellent. The brass triggerguard exhibits a lot of the original silver but the silver is fairly well worn off on the backstrap. This is a really nice revolver!!! Check out the pics! For this one $850.00
Consignment New Arrival 107
Here's a nice Manhattan .36 caliber Series III Revolver with a 5 inch octagonal barrel with nice rifling. The revolver exhibits a nice patina on the frame with a tremendous amount of the original bluing on the barrel The grips are in very nice condition with the original varnish present. The serial numbers all match on this piece and we believe it was made in April, 1863. The cylinder scene is real nice but for some reason there is some strange splotches in the finish. It's not corrosion just discoloration. The action works perfectly. The brass triggerguard exhibits a very goodly amount of silver over its entirety. A tremendous bargain at this price! $850.00
Consignment New Arrival 106
This is a Rare Remington Model 1867 Rolling Block Pistol. This pistol employs the same action as the Remington Rolling Block rifle and is a single shot firearm. . The Model 1867 Navy pistol uses a .50 cal. center fire cartridge and has an ordinary trigger with guard. It could be said that there was in reality no 1867 Model since the 1867 pistols were contract alterations of the Model 1865. The Model 1865 Navy was provided in .50 cal. rimfire with a sheathed trigger. This particular pistol is in very good condition with a good bore. The barrel is marked on top with a "I" , "J.M.B.C." and anchor. The right side of the receiver is marked with a 'P' and inspectors initials 'F.C.W.' The left side of the frame is marked with the Remington information and patent dates. The stocks are in very good condition with the usual dings from use. This is a very nice pistol! The price on this one is $1,950.00
Consignment New Arrival 105
Here we have a Whitney 5 shot .31 caliber revolver with holster!! This is the second model 3rd type with the loading lever latch changed from ball type to the Colt or wedge type. This revolver exhibits a nice patina but there is no original finish left. There are no broken or cracked nipples. The cylinder pin is secured by a wingnut but on this particular piece the wing part of the nut has been broken off. The barrel markings are E WHITNEY NEW HAVEN and the serial number is 158XX. No cylinder scene except possibly remnants. This piece comes with an original leather holster in fair to good condition. Missing the rear belt attachment and some finish lacking but the original iron flap stud is present as well as the original stitching. Still a nice holster overall and rare to find with the revolver. A nice buy at $900.00 ! Check out the pics!!!
Consignment New Arrivial! 104
This is a fine example of a Civil War Production Allen & Wheelock Center Hammer Army revolver that was manufactured by the Worchester, Massachusetts company in 1861-62. Allen & Wheelock manufactured approximately 700 Center Hammer Army revolvers; the Ordnance Department purchased 536 of these revolvers in 1861. Surviving examples are rare. The single action revolver has a six-shot cylinder solid frame and unique rack and pinion loading lever in which the forward portion of the trigger guard serves as the operating lever. The revolver has a high polish blue finish on the barrel, frame and cylinder totaling about 45% left. The finish has flaked but look how much is left! . The hammer, trigger and trigger guard/loading lever are color casehardened and you can still see it. The two-piece walnut grips have a high polish varnish finish. The left side of the part/round, part/octagon barrel is stamped with the legend "ALLEN & WHEELOCK. WORCHESTER. MASS. U.S./ALLEN'S PT'S. JAN.13.DEC.15.1857.SEPT.7." Should also have been stamped 1858 but they ran out of room on the barrel. The serial number "51" is stamped on the rear face of the cylinder and "51" is also stampled on the inside trigger guard. The revolver has no Ordnance inspection or U.S. property marks which indicates that it is one of the approximately 160 Center Hammer Army revolvers manufactured for commercial sale according to research. There is no pitting around the nipples so if it was used it was used little. For this exceptional rarely encountered example with an extremely low serial number $7,500.00 Look at the pics!!!
Consignment New Arrivals 103
Here we have a nice Model 1862 Colt Police 5 shot Revolver in .36 caliber. About 28,000 were produced but, because they shared serial numbering with the 1862 Pocket Navy, specimens will be found with serial numbers through about 47000. This particular Colt was produced in 1863 according to my research. As previously stated, this is a .36 caliber, 5 shot rebated and half fluted cylinder revolver with a 5 ½ inch barrel. The rifling is nice and deep. It has one piece walnut grips with nearly all of the original varnish on them. The revolver has a casehardned frame and hammer and you can still see case colors present. The cylinder and barrel are blued with traces of blue in protected areas. The action works fine and all the nipples are in good condition. The brass frame and trigger guard has just traces of the original silver on it but is a nice patina and has not been cleaned. All markings are nice and clear including the 36 cal making on the back of the left hand triggerguard. All serial numbers match. The last two numbers of the serial number on the triggerguard and butt guard are a little weak but remember they were hand stamped. This is a nice piece!!! $1,750.00
<
Consignment New Arrivals 102
Here we have a Harrington & Richardson Saw-Handled frame spur trigger revolver made from 1878 to 1883. Thi sis .32 caliber single action model with 5 shot capacity. This revolver is the Model 1 ½ rimfire revolver with a 2 ½ inch octagonal barrel. This is a nickel plated model with about 90% of the nickel remaining. The barrel markings are quite nics as well as the serial number of 3596. There were about 10,000 of this model made. The actions works very well on this revolver. The checkered hard rubber grips are in excellent condition as well. All in all it's a well above condition example of this firearm. For this nice revolver $250.00 ANTIQUE SO NO FFL NEEDED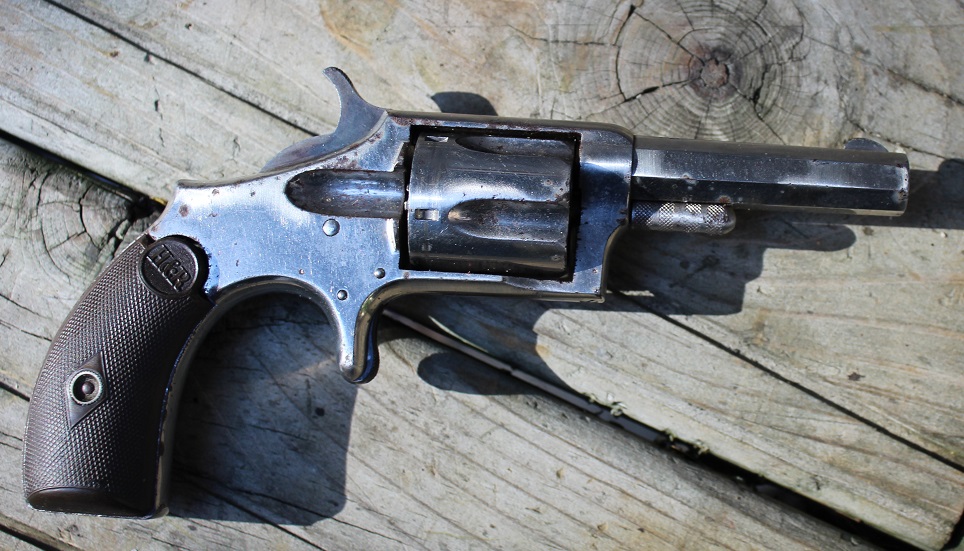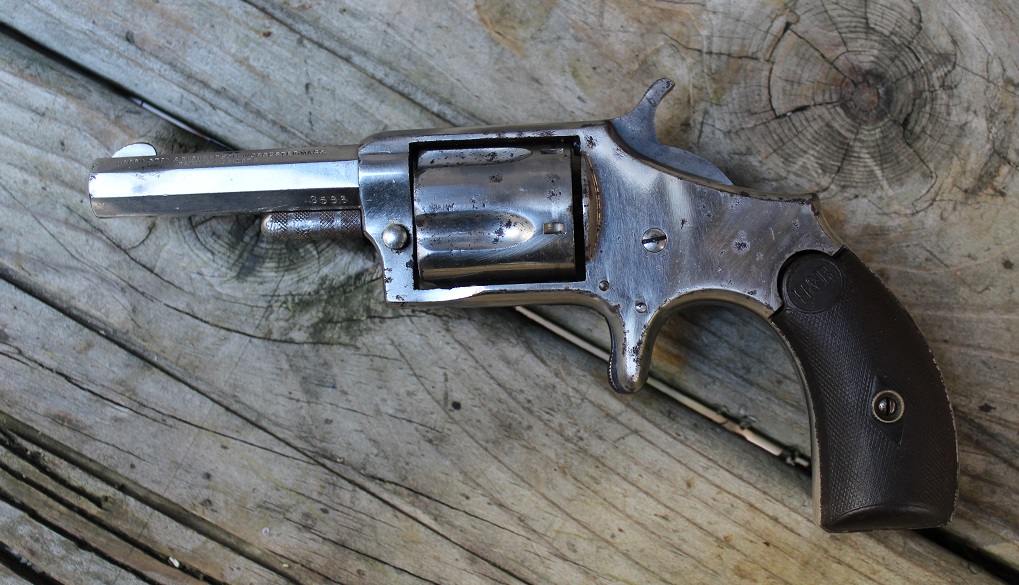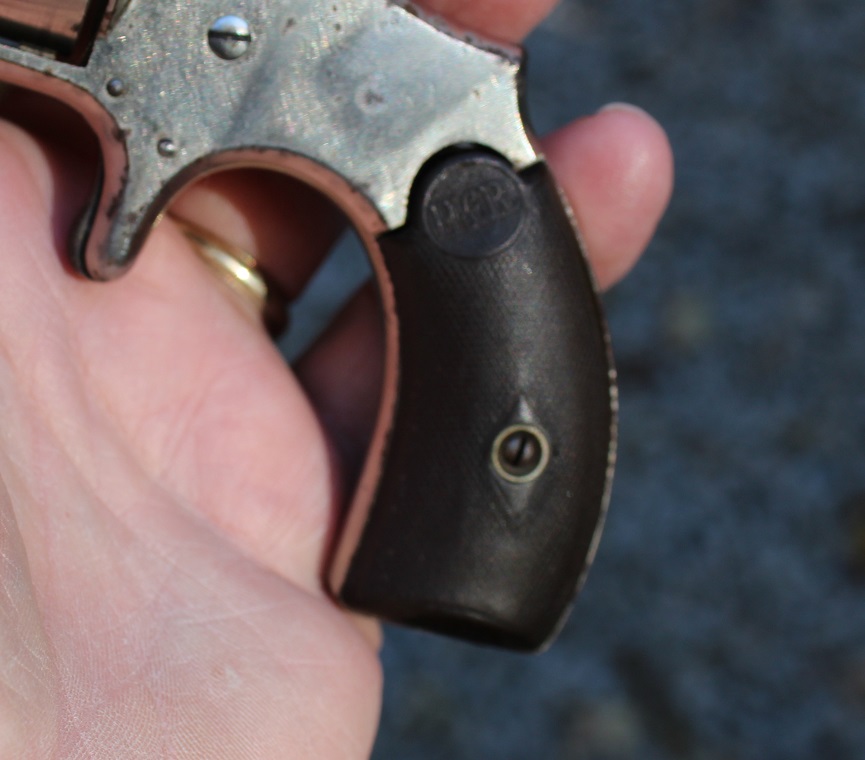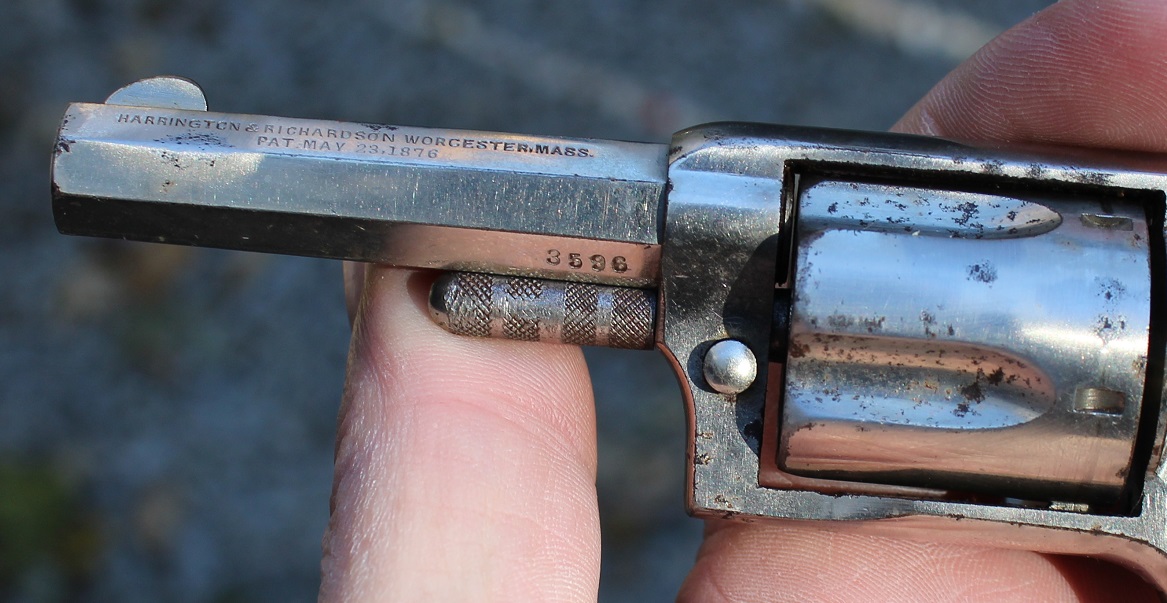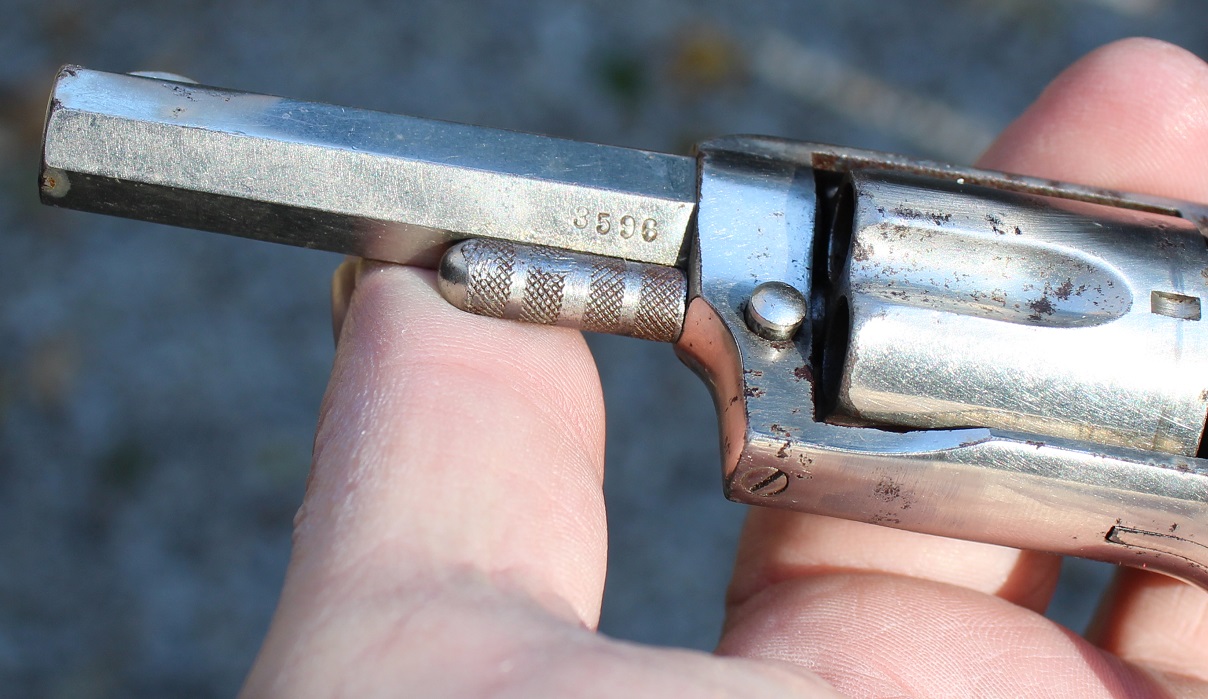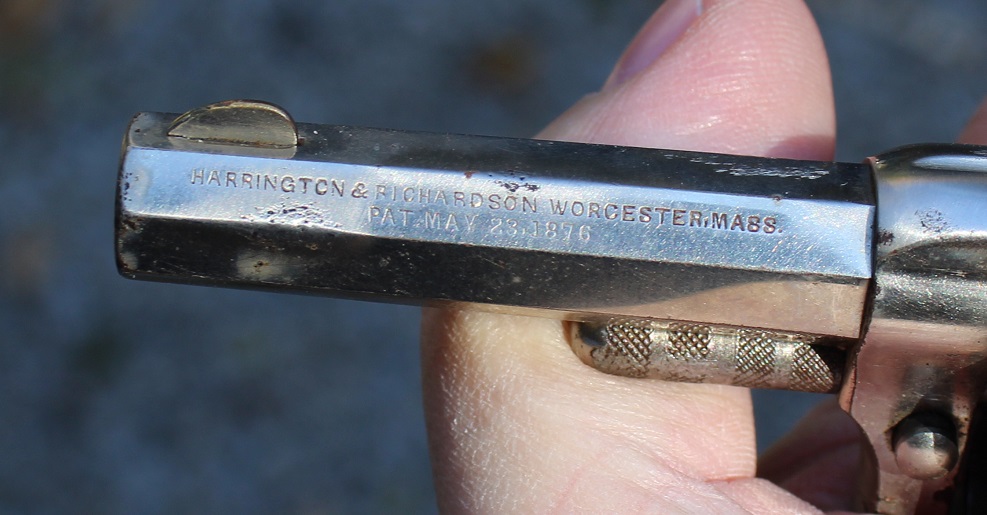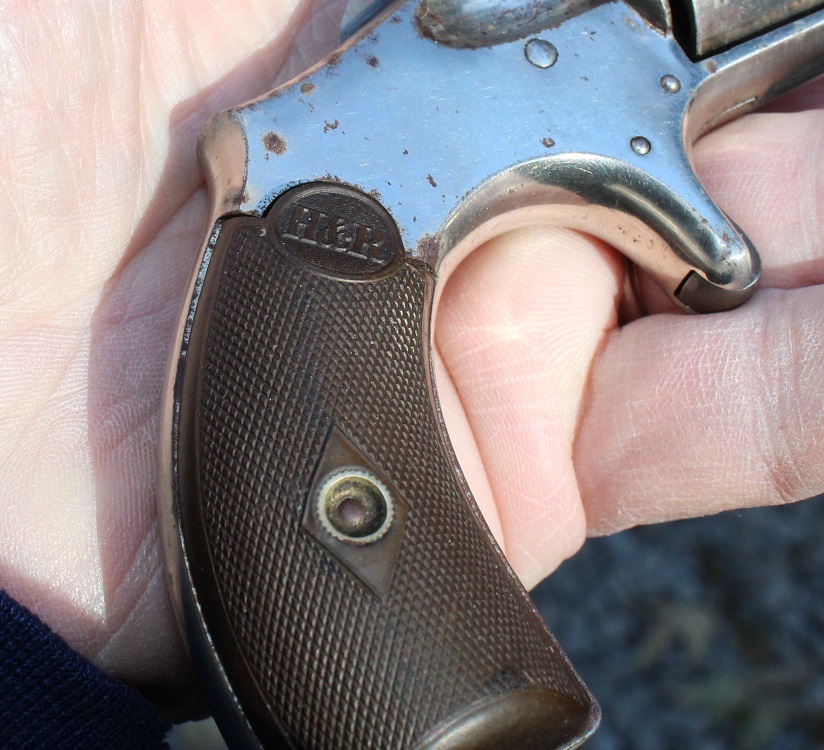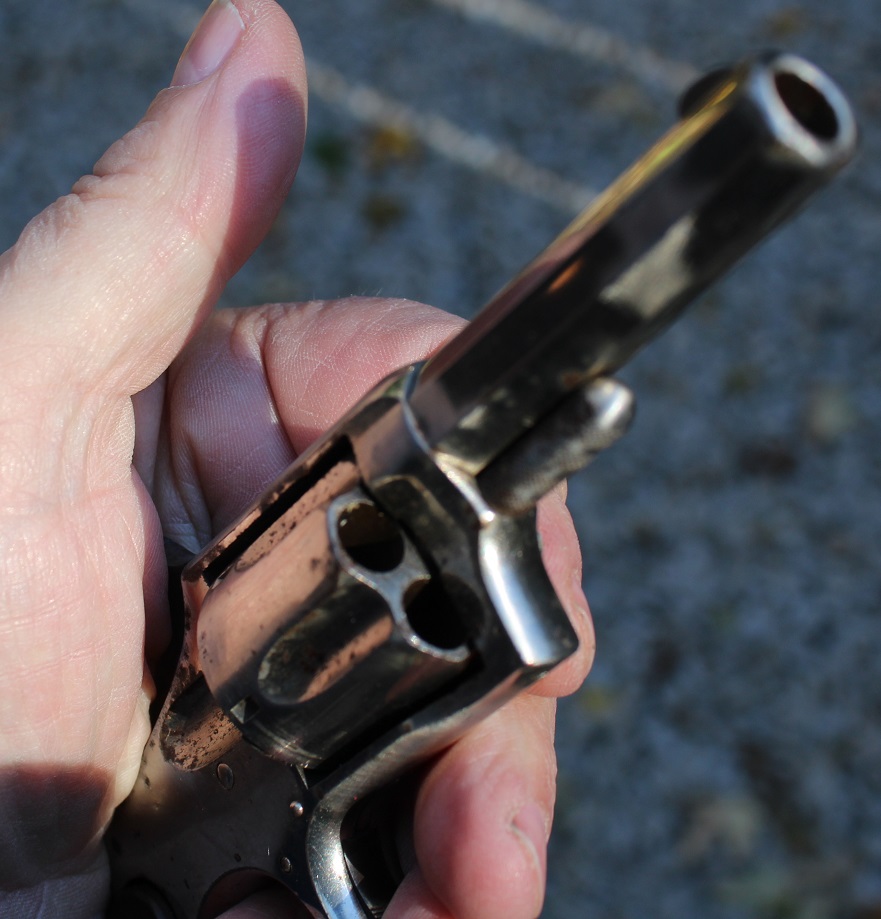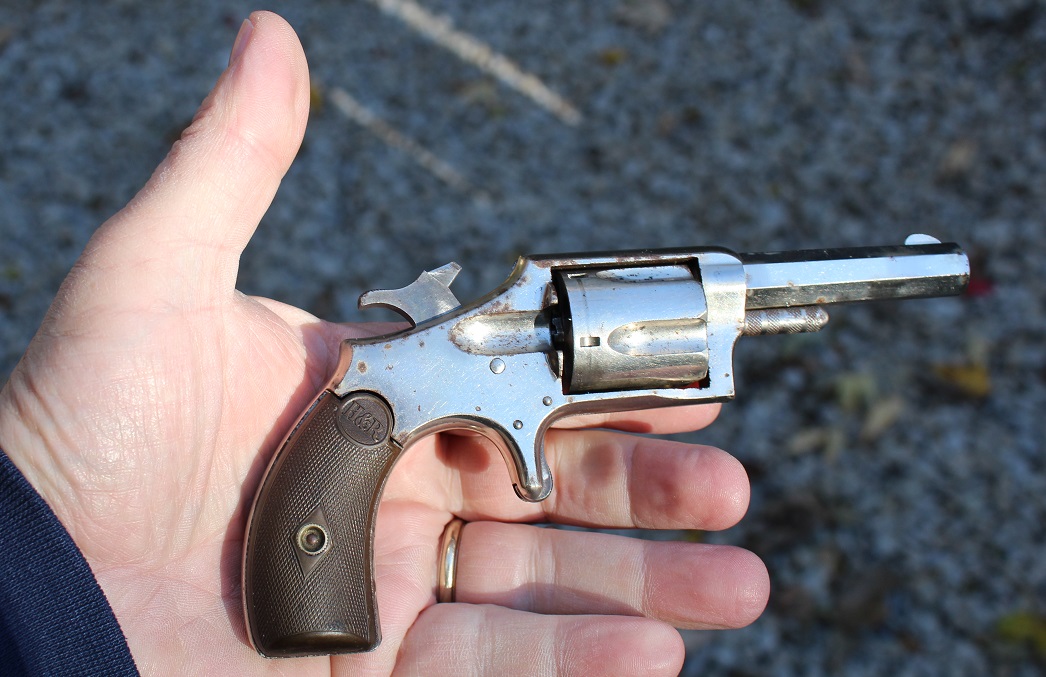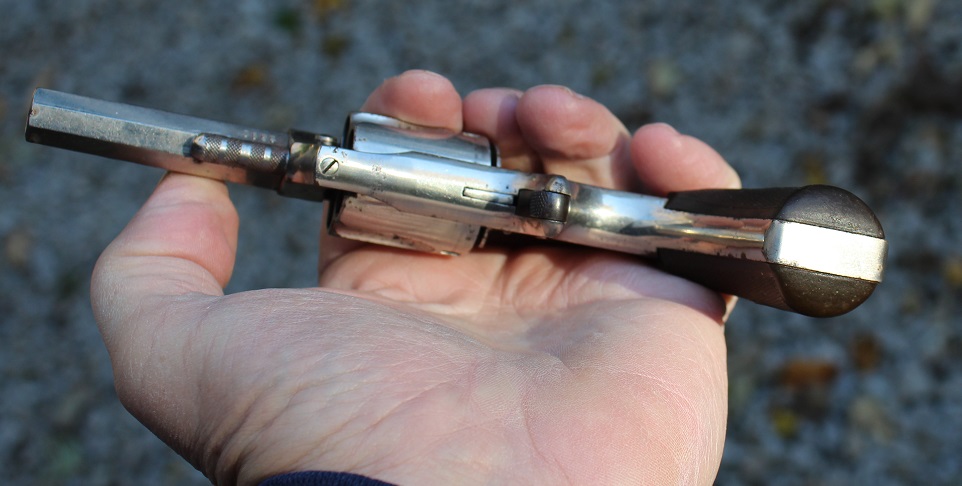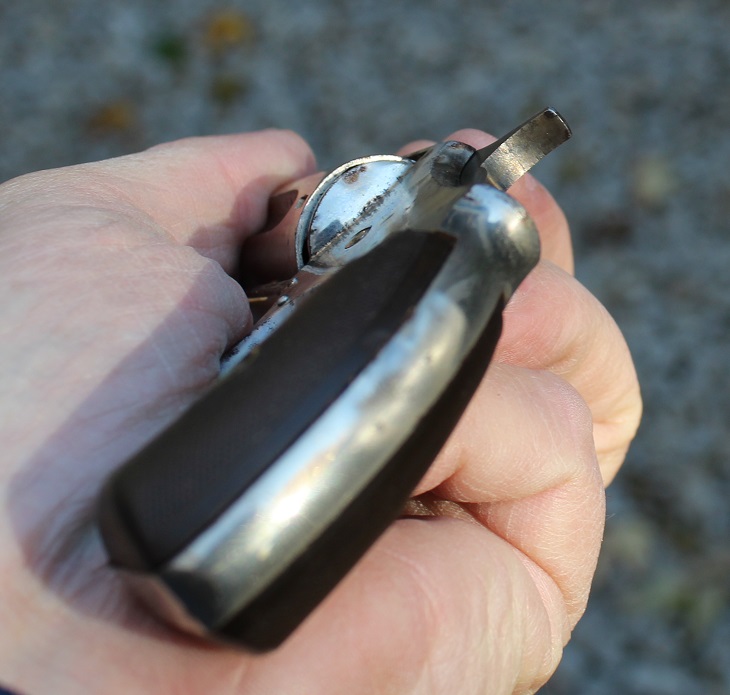 Consignment New Arrivals 101
Here we have a Whitney birdshead .32 caliber single action 5 shot revolver in nickel. This is a brass framed model. The barrel is a rare 2 ½ inch long octagonal barrel with the makers markings on the top. This is the original barrel and not a cutdown so it's RARE! The Whitneyville markings are weak and some letters impossible to see but the PAT MAY 23, 1871 are clear and quite sharp. The nickel is about 85% left and bright. The serial number on this piece is 687 B. These little revolvers were made from 1871-1879 with a total of all models being approximately 30,000. The action works perfectly in this little revolver and the birdshead grips, which are wood, are in great condition. This is listed at a Model No. 1 ½ and being Whitneyville marked. There were 5 different models made. For this one $375.00 ANTIQUE SO NO FFL NEEDED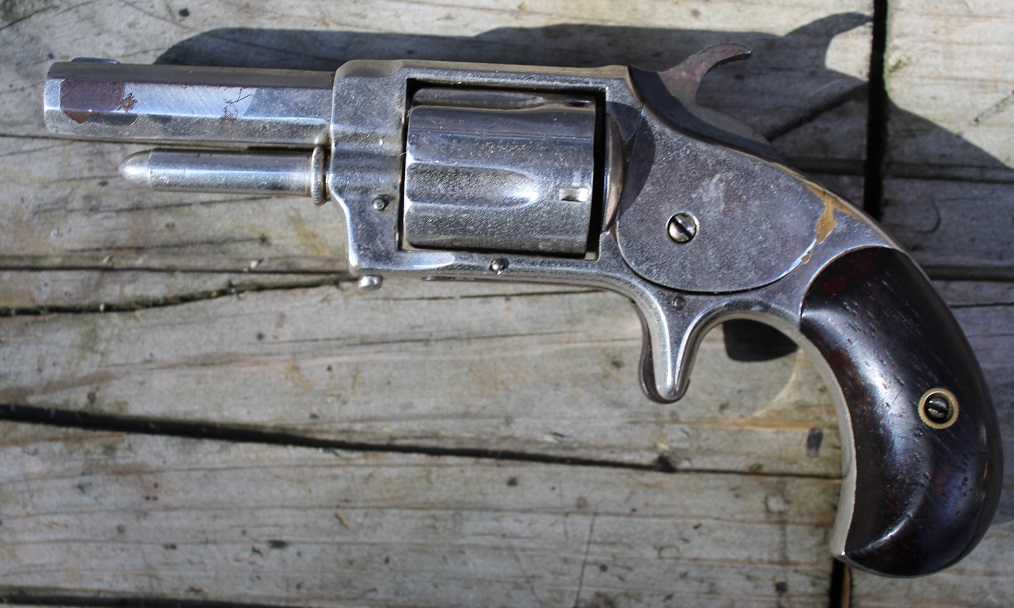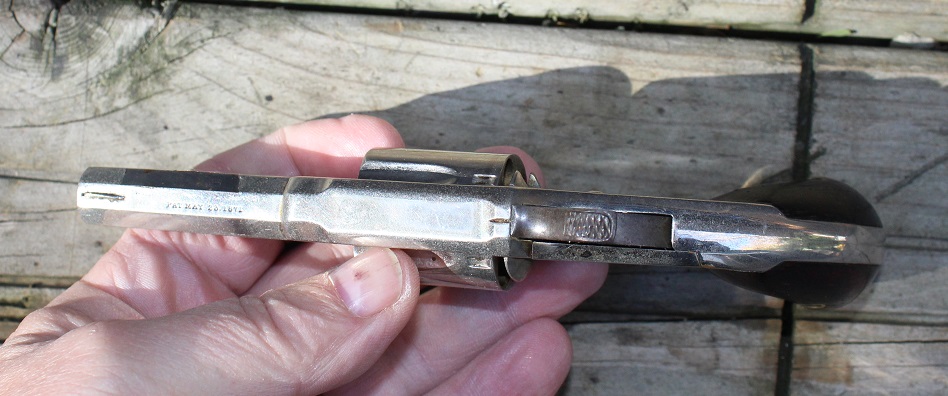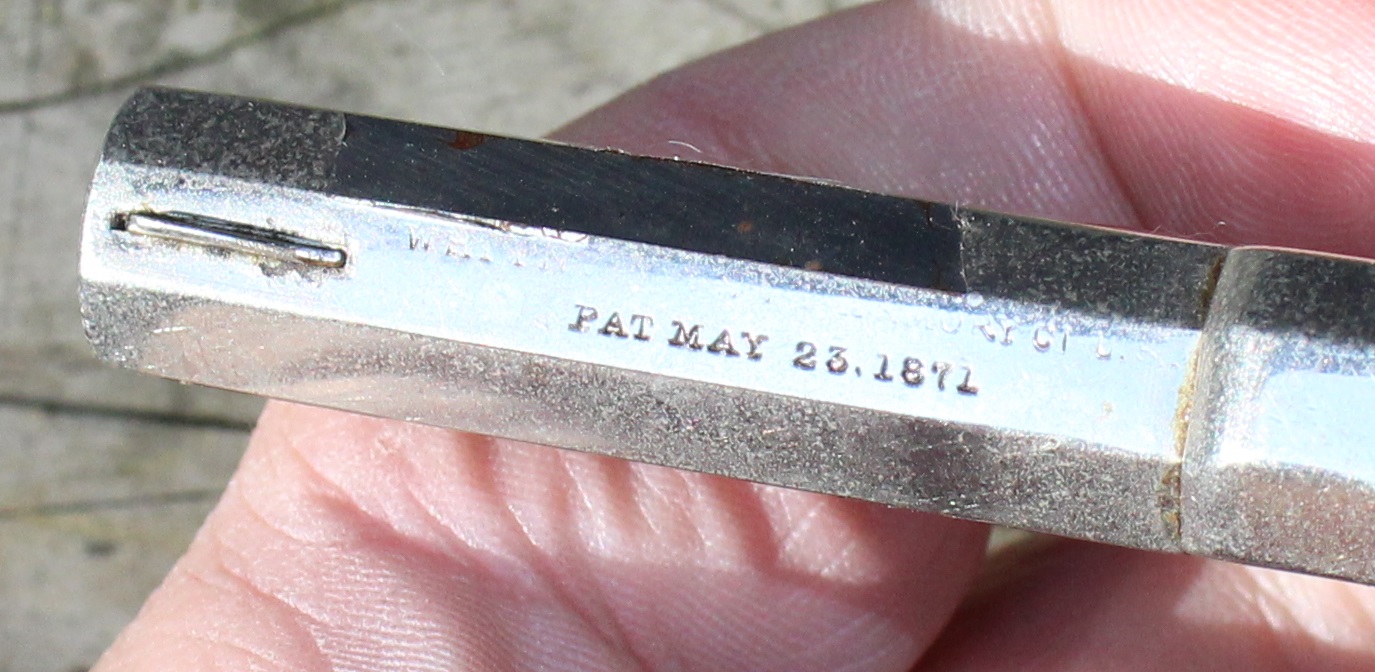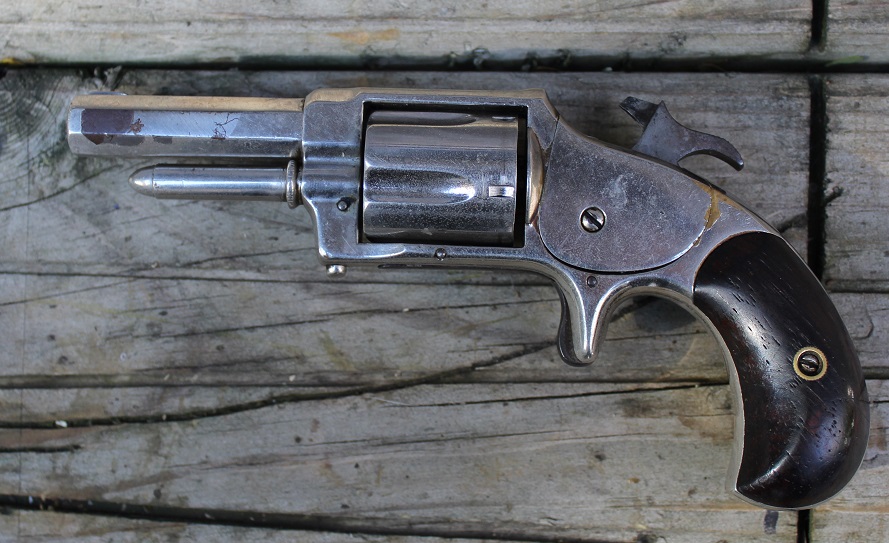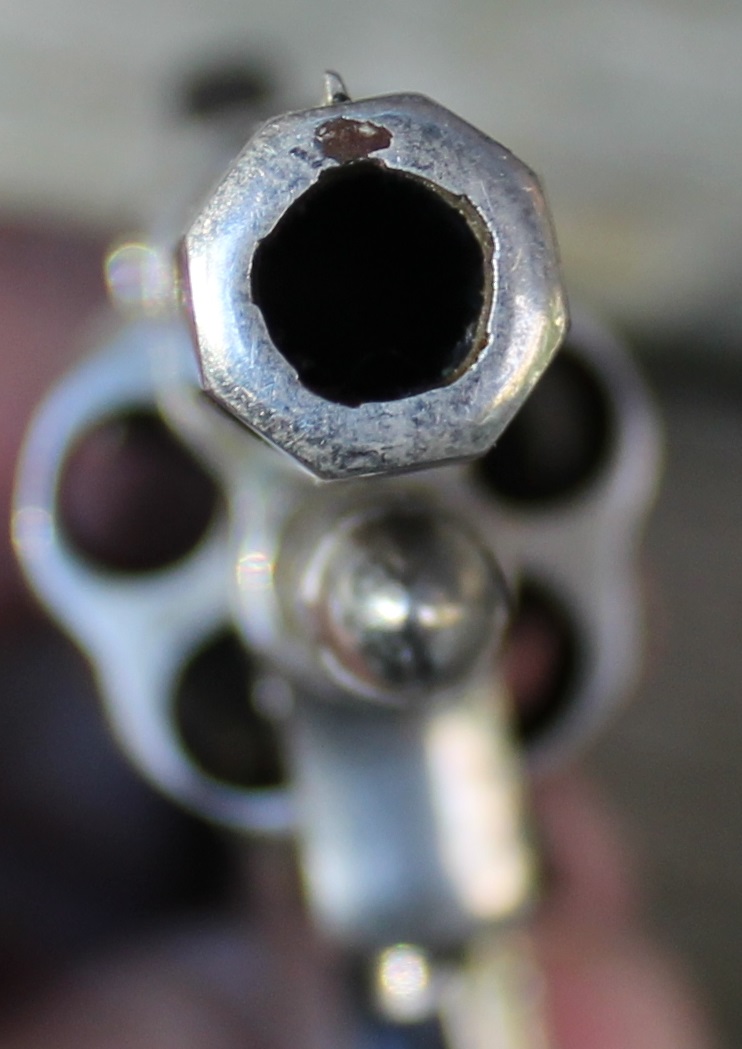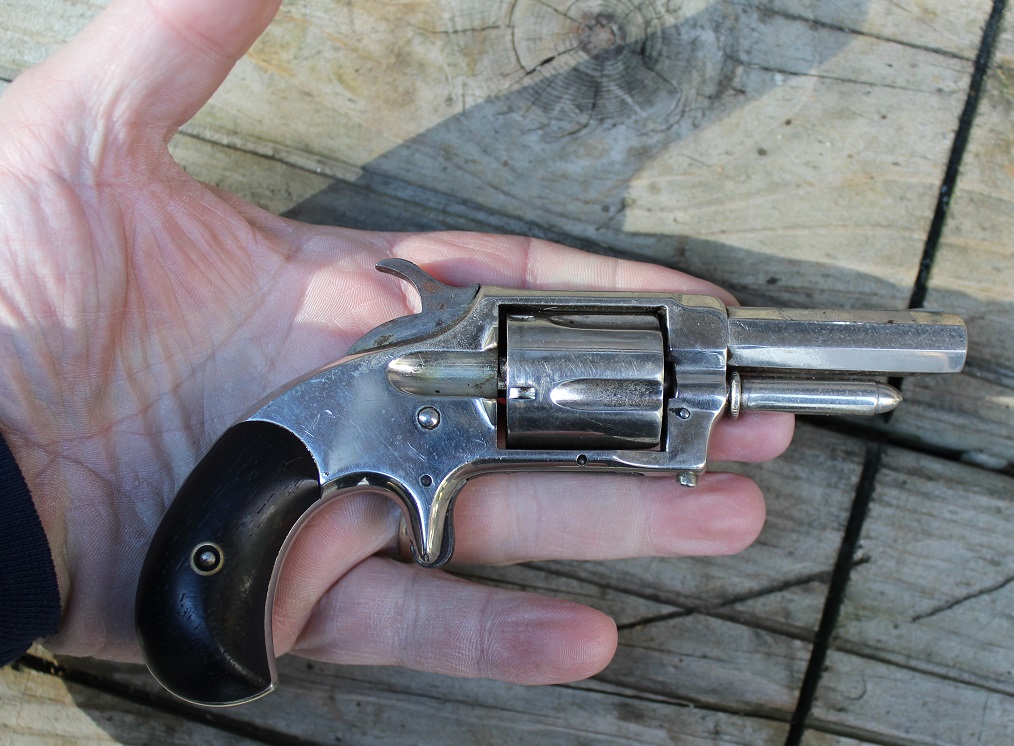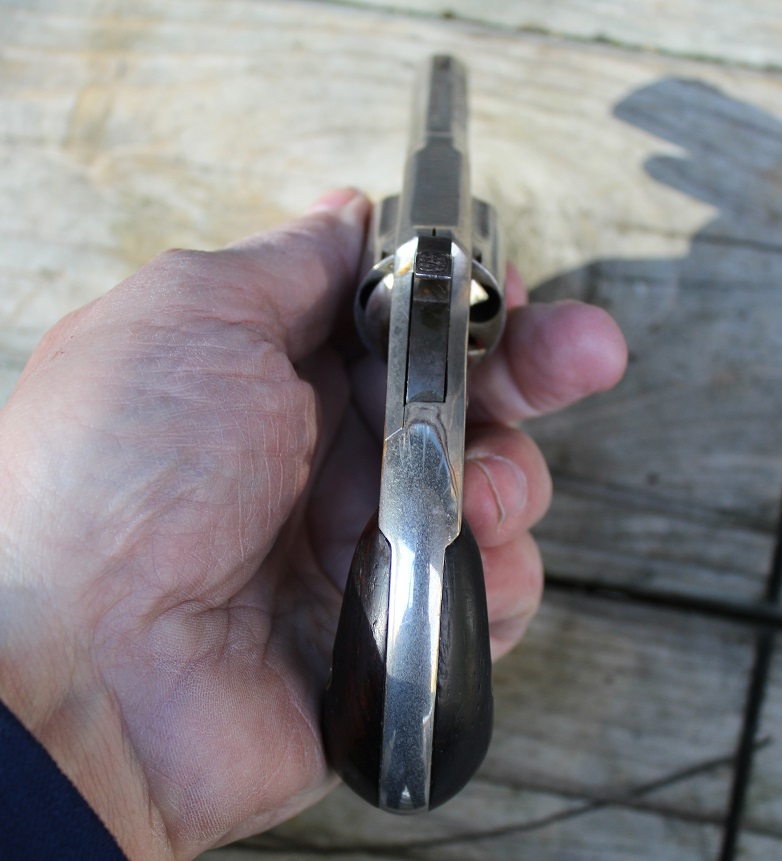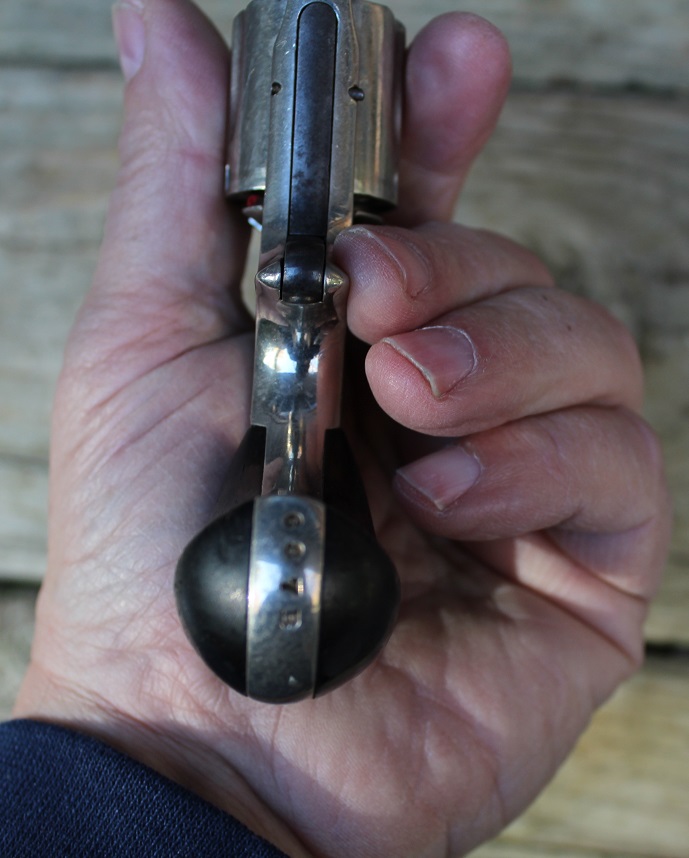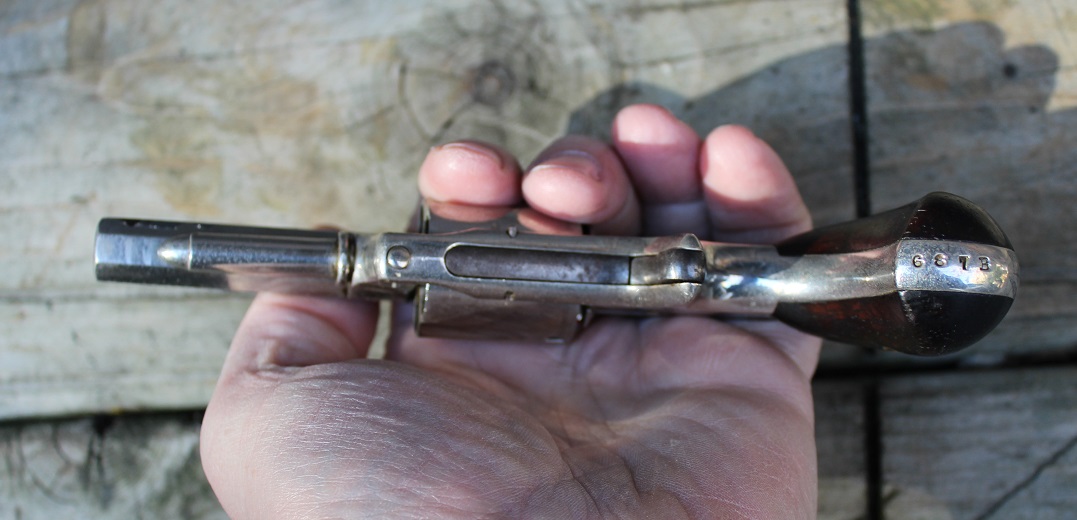 New Arrivals 100 Consignment
3. Small all brass Colt style pistol flasks.
The first one on the left is a embossed on one sided Colt Eagle Pistol Flask in working condition. The side with the eagle has a dent in it while there are a couple of holes in a dent on the other side. There is an odd design scratched into the brass near those holes on the back and I do not know the purpose of that. This small pistol flask is 4 1/2 inches long and exhibits a nice patina. No markings. For this piece $275.00
The second one from the left is a smaller flask being about 3 3/4 inches long and is in pretty good working condition with a couple of minor dents. I can see no markings on this one and it's missing one of the top mounting screws. The eagle design is on both sides of this small pistol flask. No Markings. Not marked Colt. $325.00
The third one from the left is the larger style pistol flask being about 4 1/2 inches long and showing the eagle motif on both sides. This one has seen lots of use! The top spring is missing as is all three top piece mounting screws. The flask has several small dents indicating that it was indeed used heavily! This one has lots of character!!! No Markings except for E PLURIBUS UNUM on the bottom ribbon. . Not marked Colt. $225.00
The forth one from the left is a smaller type being about 3 3/4 inches long and missing the top mechanism. This one has a small piece of copper wire in it so it was probably hung up for a display. The body of the flask is in nice condition with minor dents. There are no markings on this one as well. Not marked Colt. $225.00
New Arrivals 99 Consignment
4. Small thermoplastic Eagle Claw pipe. This is a small pipe from the Civil War era in excellent Plus condition . It may have been smoked in but not much. This piece is a diminutive 2 1/4 inches long! $145.00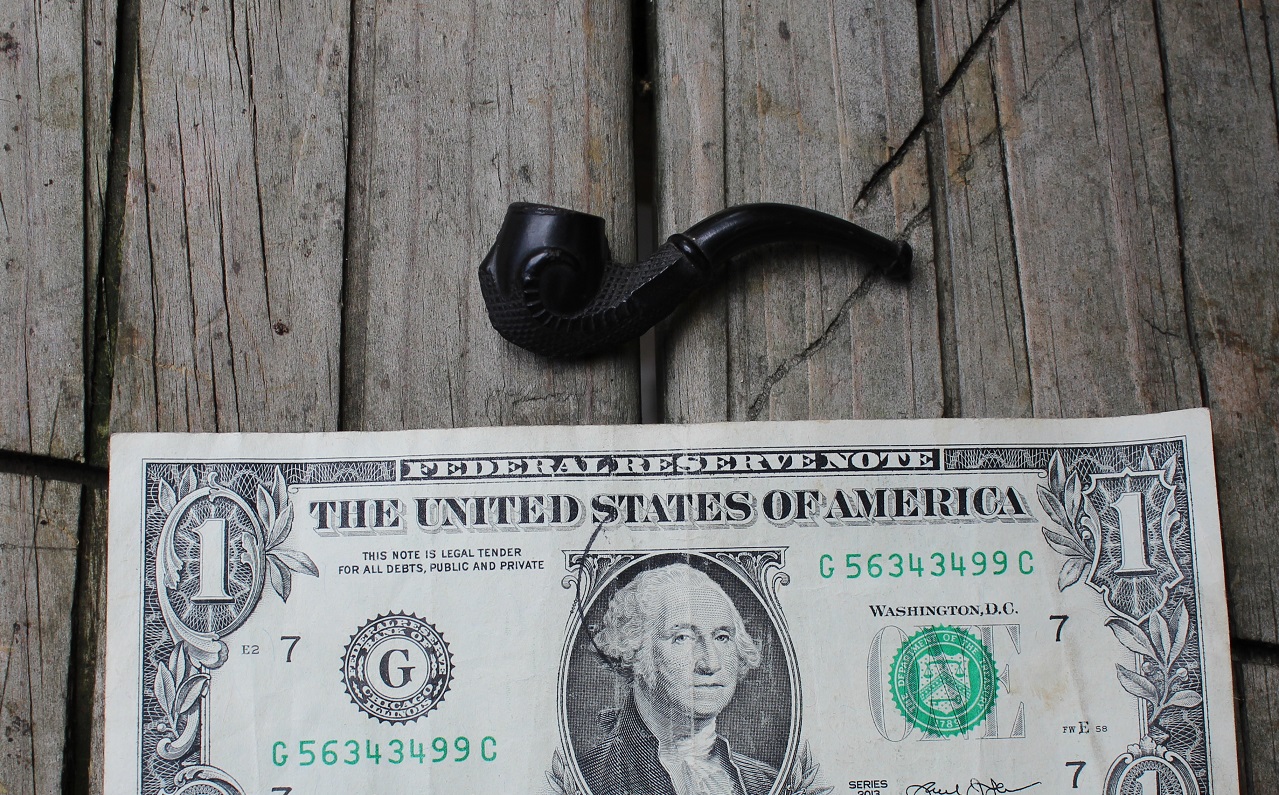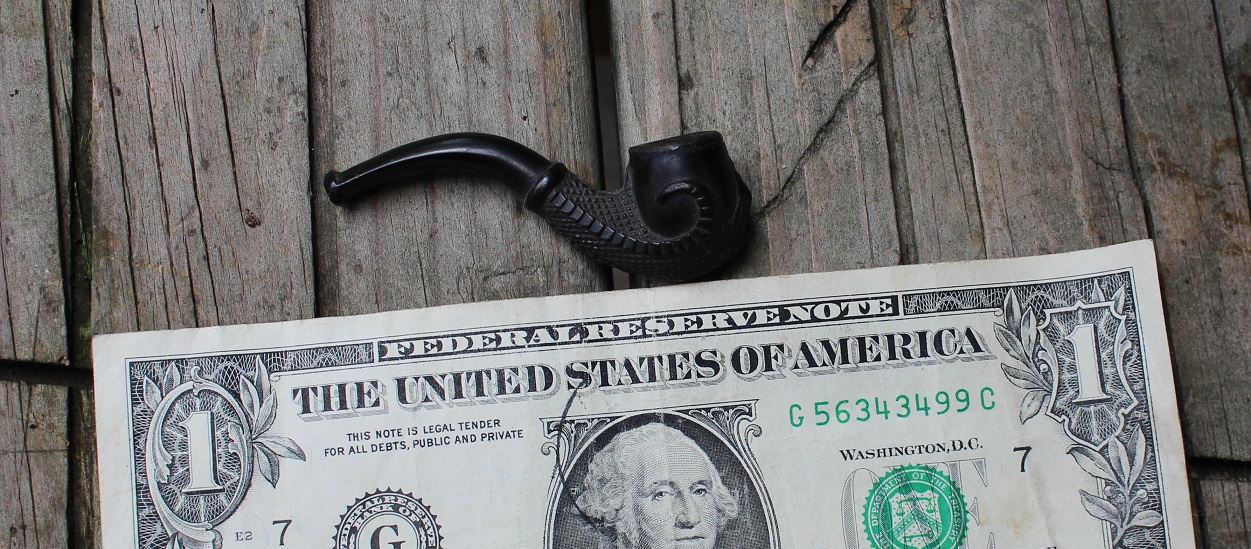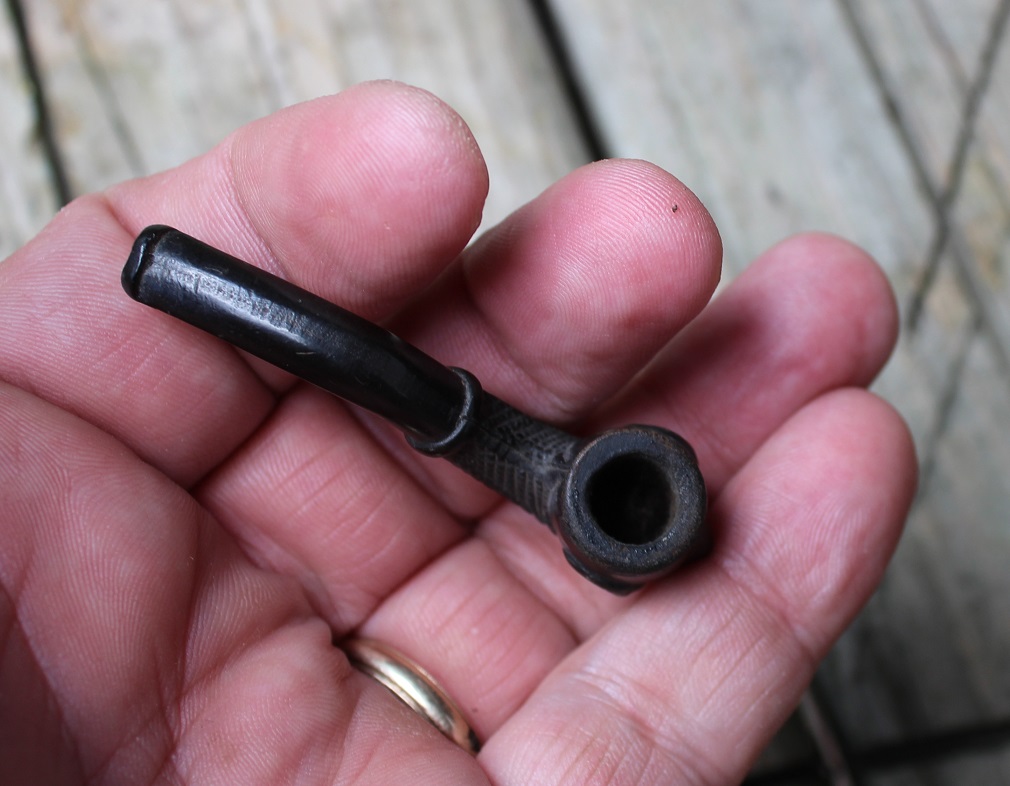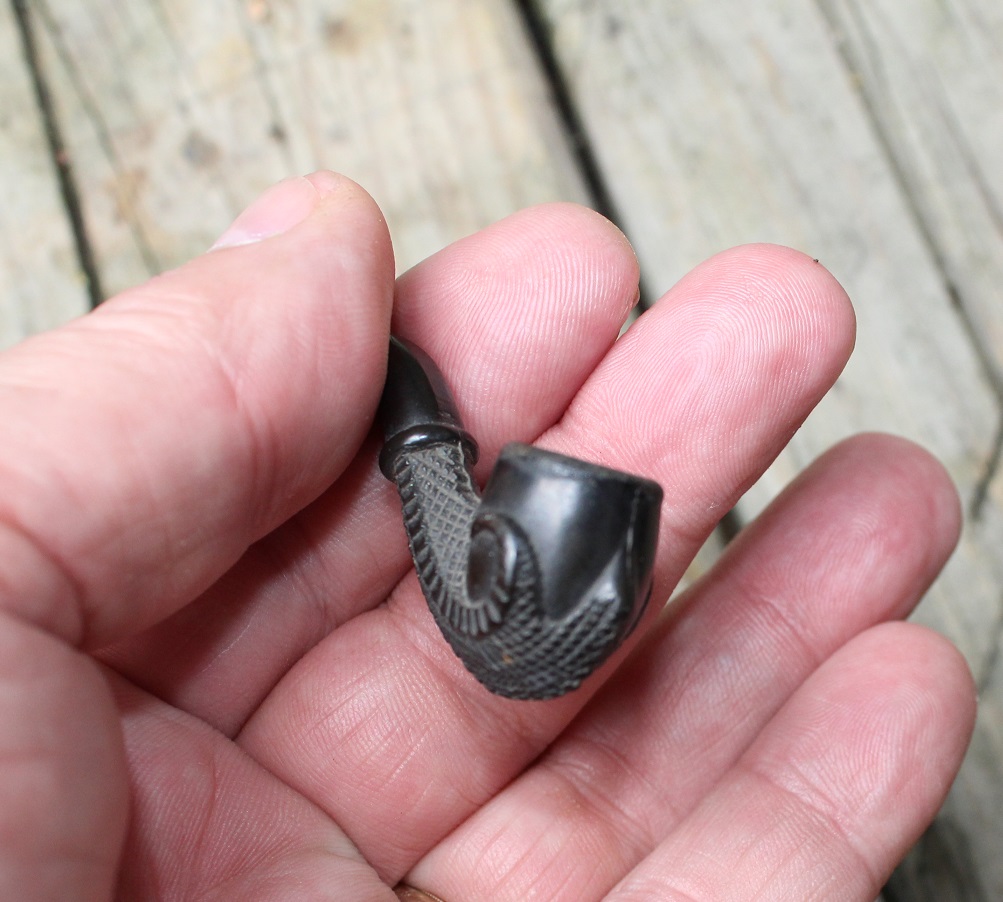 New Arrivals 98 Consignment
5. Soapstone bullet mold for round bullet. The people of Scandinavia began using soapstone during the Stone Age, and it helped them enter the Bronze Age when they discovered that it could be easily carved into molds for casting metal objects such as knife blades and spearheads. They were among the first to discover the ability of soapstone to absorb heat and radiate it slowly. That discovery inspired them to make soapstone cooking pots, bowls, cooking slabs, and hearth liners. Throughout the world, in locations where the soapstone is exposed at the surface, it was one of the first rocks to be quarried. Soapstone's special properties continue to make it the "material of choice" for a wide variety of uses.
This soapstone bullet mold looks to be for a .25 or .30 caliber round ball. This piece measures 3 inches by 2 inches x 1 3/8 inches and comes apart into two pieces. This piece is quite primitive and comes with one or the original hardwood pivot pins. There are some incised marks on one end but no other markings as well. The two halves of this mold would be placed together and secured with wooden sticks through the two holes. Then molten lead would be poured into the single bullet mold cavity. The mold would be opened after cooling, the lead sprue would be cut from the bullet, and the bullet surface would be filed smooth. Soapstone was used to make bullet molds because it was easily carved, heat resistant, and durable enough to be used hundreds of times.
This one we believe is from the Revolutionary War. We have seen these before in single and in gang molds of 6 bullets or so. The top photo is Soapstone inkwell from the 1700s with the initials "AL" carved on one side. Image from Guilford Courthouse National Military Park, National Park Service. This piece we have is definitely a bullet mold.
For this nice primitive mold $225.00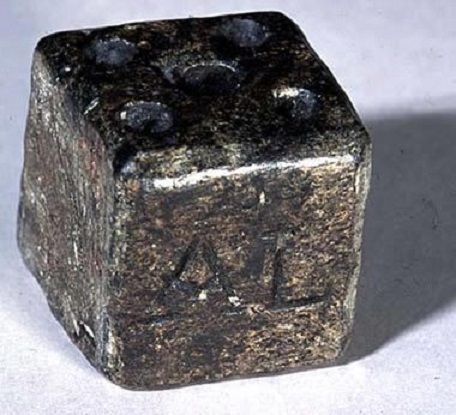 Consignment New Arrivals 97
Here is a nice little H & R YOUNG AMERICAN DOUBLE ACTION .22 being a 7 shot revolver. The revolver works just fine in single and double action. The only drawback is that the plastic grips have been broken, probably when dropped at some point. This one has the 2 inch octagonal barrel and is nickel plated. There were 1,500,000 of these little revolvers made from 1884 to 1941 and with this one having he serial number of 315060 it is possible that it was made after 1898 so will have to go to a C&R holder or a FFL. For this little revolver $125.00
Consignment New Arrivals 96
Hree we have an old Colt Police Positive in .22 calibler being a 6 shot with a 6 inch barrel with good bore. These were basically target revolvers. This one has a dark blued dull finish with brighter finish shown in guarded areas. All the stampings are nice and clear. The revolver is a single/double action revolver and works great. The cylinder rotates and indexes as it should. The serial number on this piece is 5915, The last patent date on the barrel is 1905 and according to research shows that these revolvers were mfg from 1905 to 1947. The original grips have been changed to a longer style walnut grip for a better grip due to bigger hands. The grips have been crudely hand checkered by the original owner. Luckily the orignal Colt Logo is entirely present on the frame! Check out the pics! $450.00
Consignment New Arrivals 95
Here we have a fullstock 36 caliber rifle made by J. B. Hixson of Antrim, Ohio circa 1859 as indicated by the lockplate markings which is a Capital H with an arrow through it. I found the following info online:
John Briggs Hixson 1822 -1899. He is listed as a gunsmith in Antrim, Guernsey County, Ohio circa 1850, and in the book "Longrifles of Ohio" listed in 1859. There is mention of a rifle by JB Hixson in Ohio Gunsmiths & Allied Tradesmen Vol. 1. He made fine full stock percussion longrifles with silver inlays and engraved his signature "JB Hixson" on the top of the barrel.
There is substantial old pitting on the barrel that is no longer active rusting and I cannot see the makers name on the barrel. I have not unbedded the barrel from the stock so there may be a surprise there. The stock is hardwood and has a finish a smooth as glass from the much handling it go through the years. It is obvious that this gun was much loved due to the repairs to it. I think that the stock is maple. Take a look a the pics! The furniture on this piece is brass as well as the patchbox. The lock will not hold in full cock though it tries to do do. The set trigger set up works. There is no nose cap (doesn't look like there ever was) and there is a small 7 inch sliver of wood missing on the reverse side from the front of the stock back. The rifled octagonal barrel is nearly 37 ½ inches long and the overall length of the piece is 53 inches. The ramrod is a modern dowel. This one has been there and done that!!! $750.00
Consignment New Arrivals 94
Here we have a halfstock percussion rifle in 36 caliber. This one has the set trigger and it works however kind of sluggishly. The unmarked rifle has a 40 inch octagonal barrel with simple sights. The lock is unmarked with some pitting on it and the patina matches perfectly with the barrel. All of the brass pieces ie: triggerguard, buttplate and ramrod thimbles also have a nice dark patina on them. The stock is in good condition and definitely has not been cleaned. It's a faux stripped maple pattern but probably walnut and has a bit of non displaced damage to the bottom of the hand guard area. There is a crack on the reverse side of the stock which extends about 2 inches from the lock plate mounting screw. The pewter nose cap is original to this piece but the ramrod is a modern dowel. This rifle is over 55 inches long and is quite heavy weighing about 8 ½ pounds. I haven't taken this piece apart so there may be a surprise under the barrel. I'll leave that to you. For this fine old piece $595.-00
Consignment New Arrivals 93
Here we have a single Civil War era Crutch. This particular crutch seems to be made of pine and is marked in many places with either the owners name of the manufacters name. It's in very good condition and would work for some one abut 5 feet 8 inches or so. Solid with only a age crack in the v between the uprights for the arm. Take a look at the pics! $95.00
New Arrivals 92 Consignment
Here we have a pretty nice M1 .30 Cal. Carbine complete with magazine and original sling/oiler. This one is an Inland Division Model 1945 carbine with a dated 9-44 barrel. This one seems to be all correct and operates flawlessly. There are no ordinance markings in the wood. The stock otherwise is very nice with no cracks or breaks but does have a few dings and scratches from wear. The rifling is very nice in the barrel. The barrel is marked INLAND MFG. DIV. GENERAL MOTORS 9-44 with some damage to the I in Inland and the G in General. There is some roughness in the barrel below those barrel markings. I had a gentleman look at it and he thought that perhaps it was a Blue Sky Import that had the markings obliterated. I do not see any remnants of a Blue Sky Marking but it's possible. You be the judge. I have included several pics of the barrel and the internals. I think that this piece is all INLAND but has been arsenal refinished. The receiver behind the rear sight is marked INLAND DIV 6230731. The receiver in front of the bolt is marked US CARBINE CAL. 30 M1. Take a look at he pics! This is a nice carbine! $1,100.00
New Arrivals 91 Consignment
Here we have a .38 caliber fully engraved Colt Revolver. This one most clearly resembles the Colt Round Barrel Pocket Navy with ejector on page 99 of Flayderman's Antique Arms guide. This particular revolver has the 4 1/2 inch barrel being a .38 caliber centerfire model. This is not a conversion from percussion to cartridge but a new revolver probably using some parts from the older revolvers. This barrel, which is obviously the original barrel with this piece, looks more like 5B-130 below the model referenced in the book. The serial number on this great looking look revolver is 38900 with the letters IE stamped below the s/n and all numbers match. There are no barrel markings on this piece nor any other Colt designation except on the cylinder which is COLT'S PATENT No. 870. The only other markings are '.38 cal' being stamped at the rear of the triggerguard. There is a ton of engraving on this piece so check out the pics! The triggerguard has traces of original silver on it. The action works perfect! The grips, I believe, are modern replacements and are not ivory but polymer. Take a look at the pics!!! $3,500.00
New Arrivals 90 Consignment
Here we have an excellent dug cannonball that was found with the 8 inch mortar shell below in central Indiana. This is the 9# solid shot that measures 4 inches across. This style of projectile is tough to find because the 9 pound version was seldom encountered. Most of them were used by the English navy but the Confederate Arsenal at Macon, Georgia produced at least one 9 pound smoothbore cannon for the Confederacy. This one is in very fine excavated condition. It will enhance any Civil War artillery artifact collection. For this fine old piece $175.00 Pics below
New Arrivals 89Consignment
Here we have a dug 8 inch mortar shell that weighs out to 41 pounds. This one has a pronounced mold seam as well as a fuze hole and two tong holes for lifting. The 8-inch and 10-inch siege mortars had maximum ranges of 2,225 and 2,064 yards, respectively, and the 13-inch seacoast mortar had a maximum range of 4,300 yards, but their effective ranges were much shorter. For the 8-inch siege mortar at a range of 800 yards, about 50% of the shells would fall within a 50-yard radius of the target. On this particular shell it has been in the dirt for awhile and has some moderate pitting to the surface area. Great piece of Civil War Heavy Artillery History!!! $375.00
New Arrivals 88 Consignment
Here we have a cabinet card from 1880's or so showing 3 men with their hunting dogs. One man is playing a guitar while one man is holding a rifle. The man in the middle may be holding onto a rifle barrel as well. This may be a logging camp as I see two large saws and an ax as well. There is a 'wrinkle' in the paper on the back of the card but the card is not broken at all. Nothing written on the back. Interesting photo!!! $45.00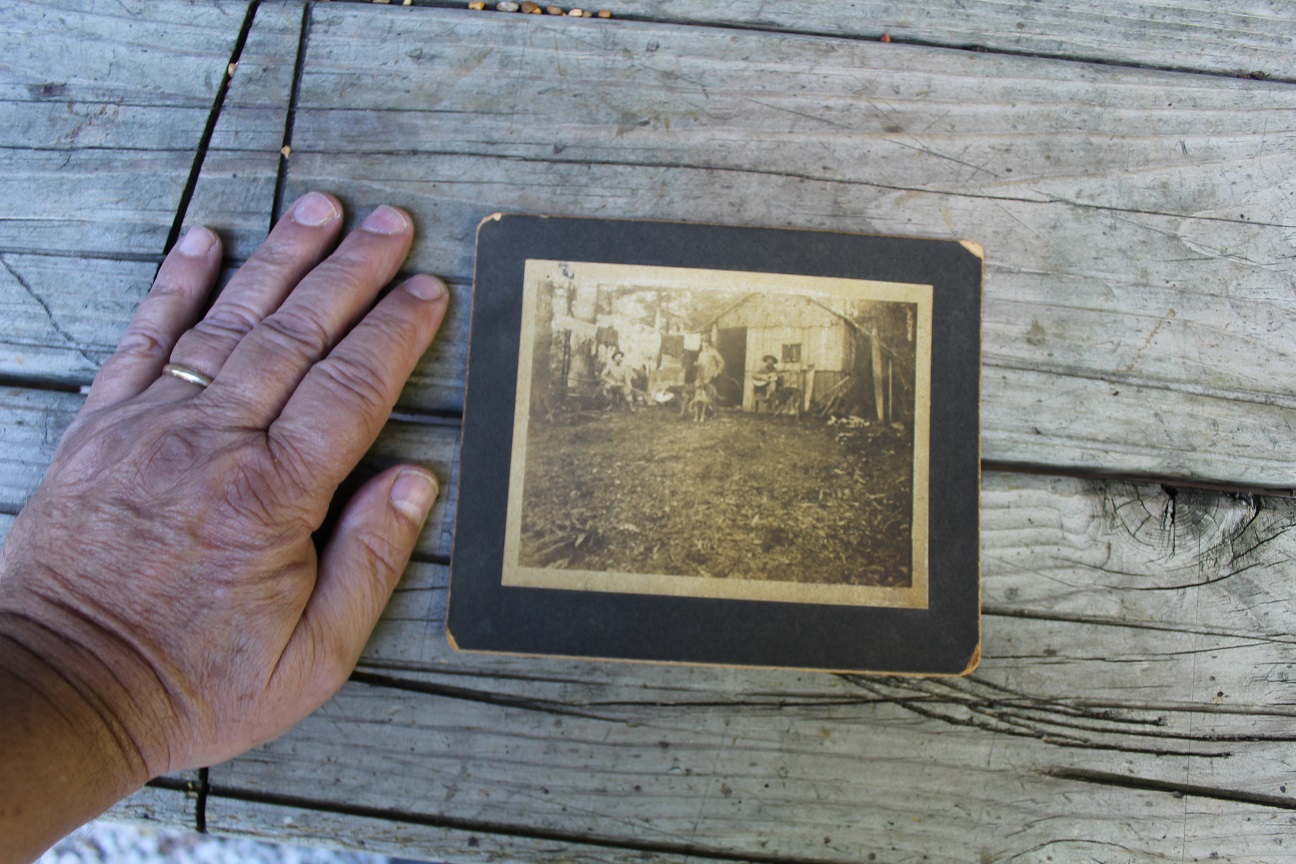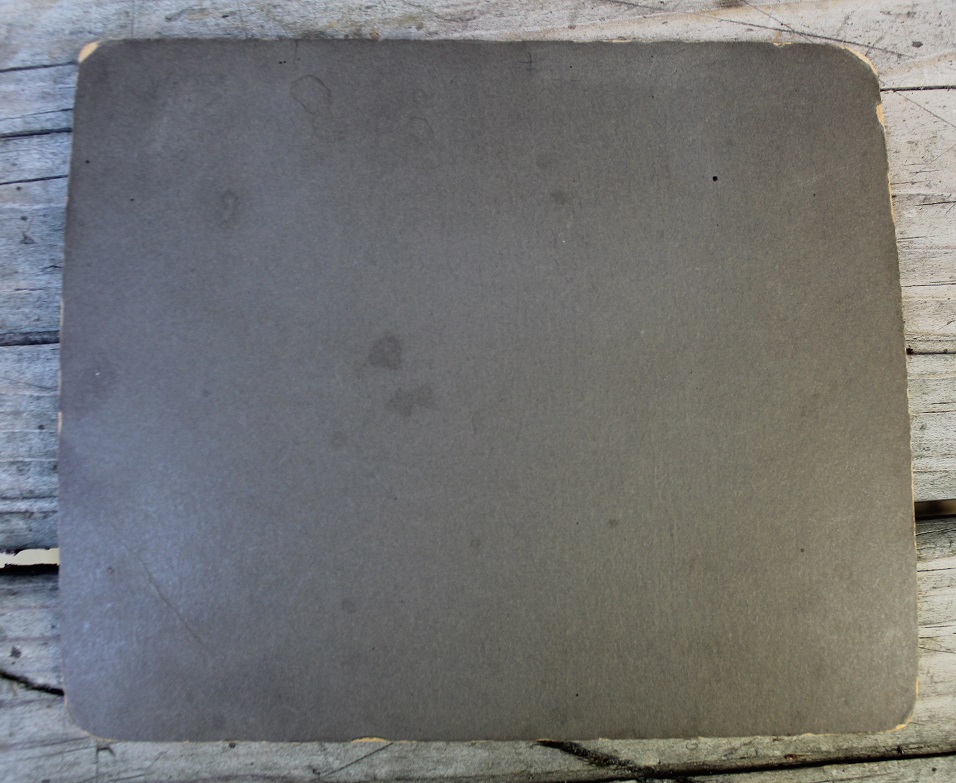 New Arrivals 87 Consignment
Here is a CDV in Sterling frame of a Civil War Officer. This young officer was a friend of Captain Henry Tutewiler of the 17th Indiana "Wilder's Brigade" fame! This is in a CDV format in this frame with no backmark. The frame just simple comes apart to expose the photograph. I would say he was a 2nd Lt. but he is carrying what looks like a staff and field sword instead of a foot officers sword. Also on the chair is a United States Flag. It's a very nice full standing image of a young officer! The frame has sterling marked on it at the bottom. Take a look at the pics! If anyone knows who he is just let me know! $275.00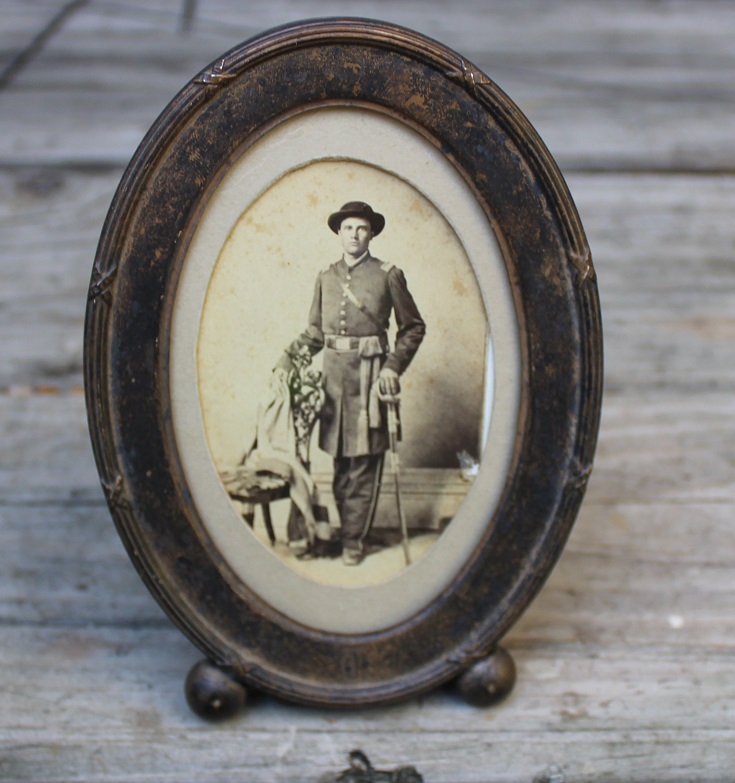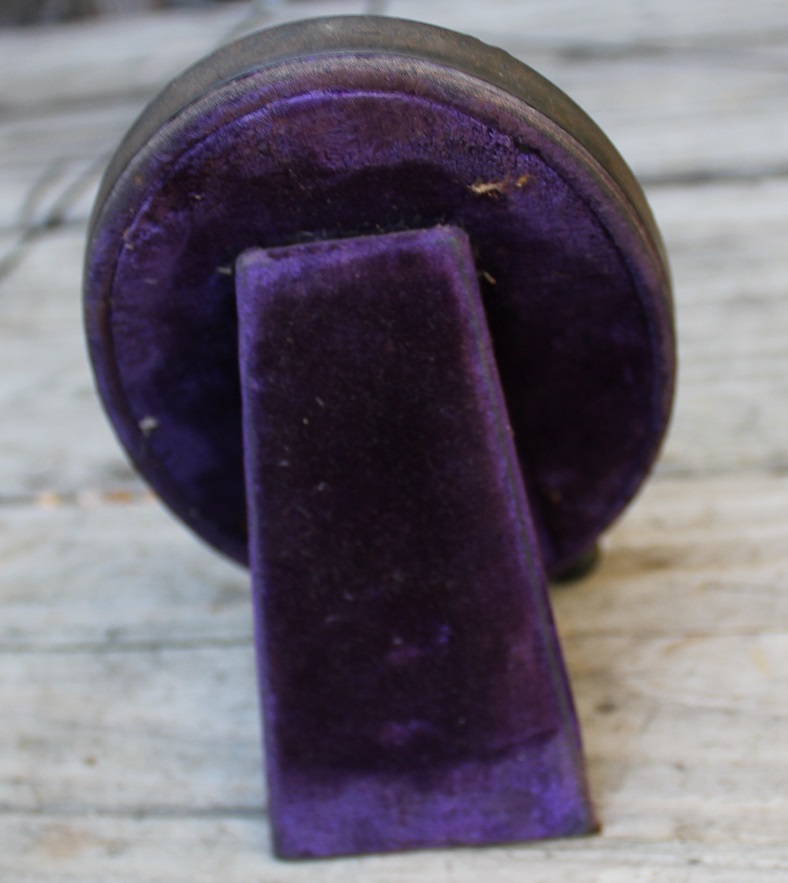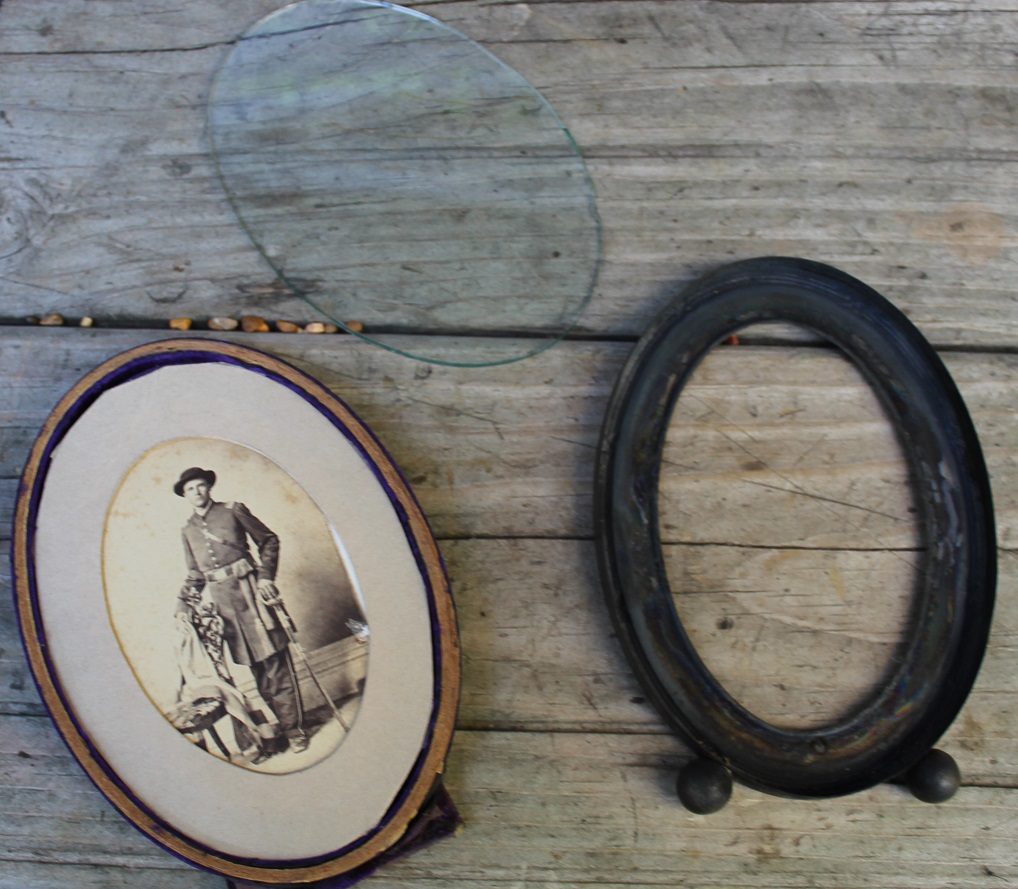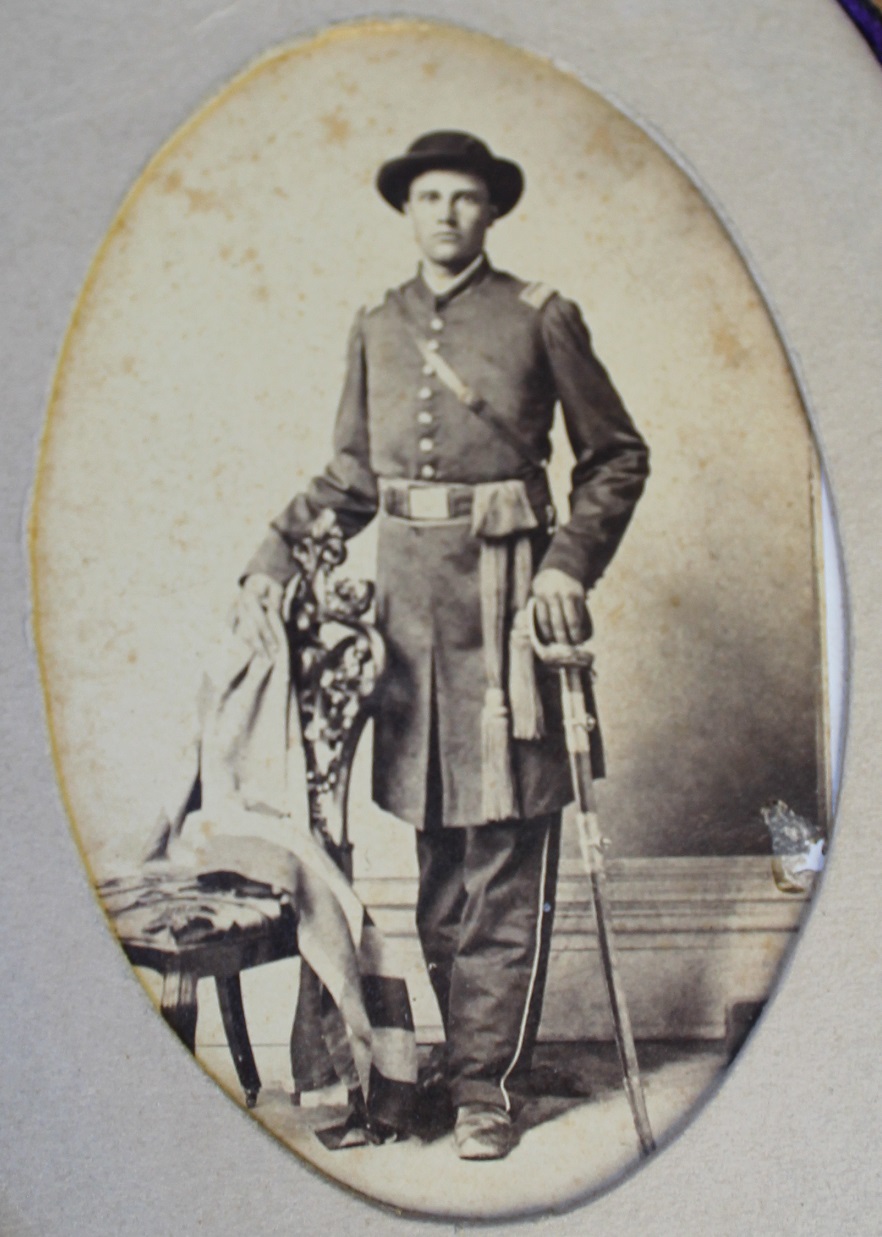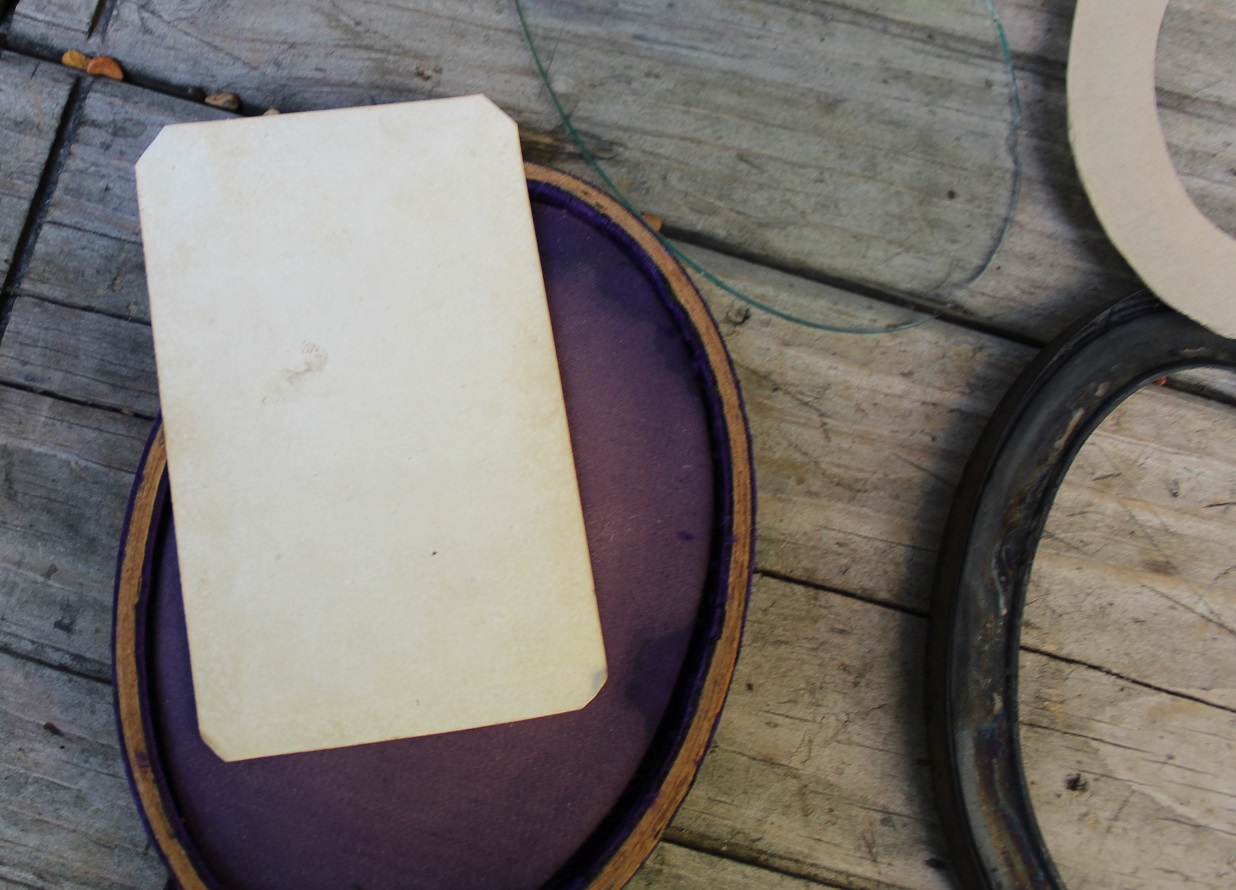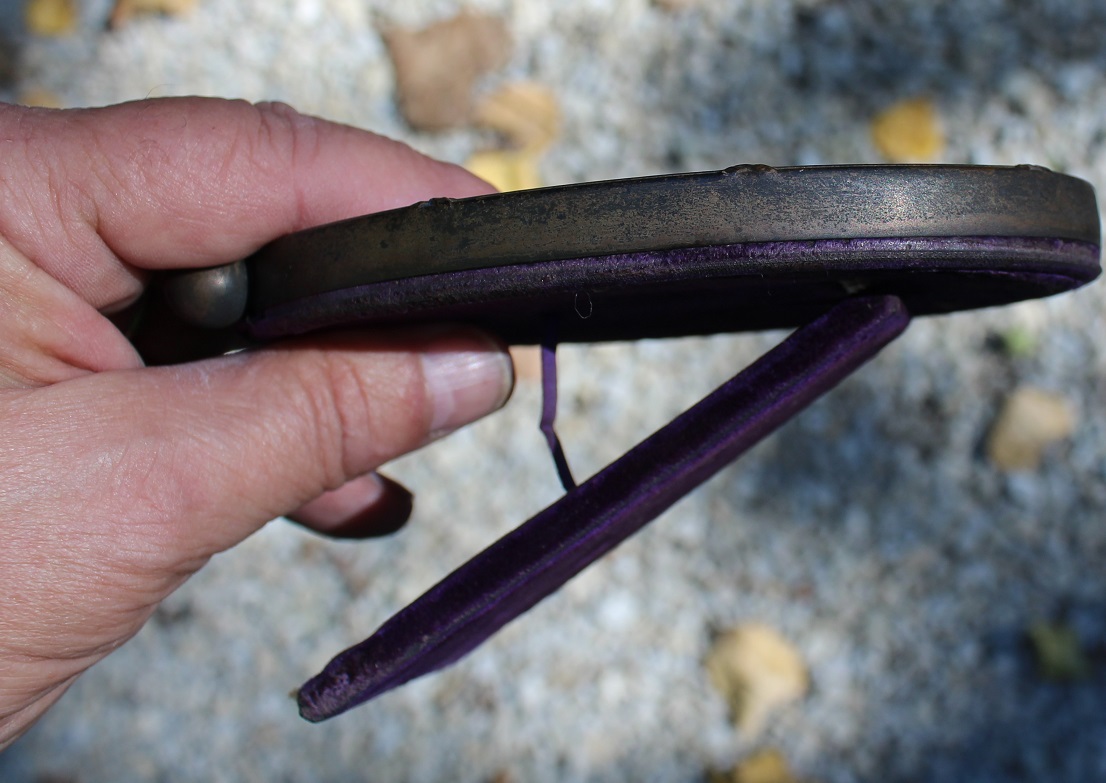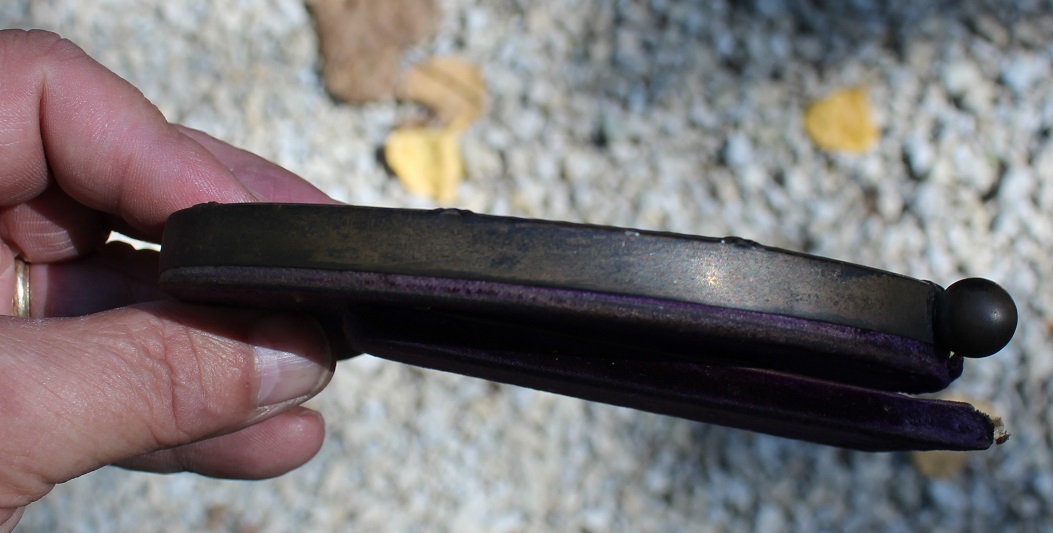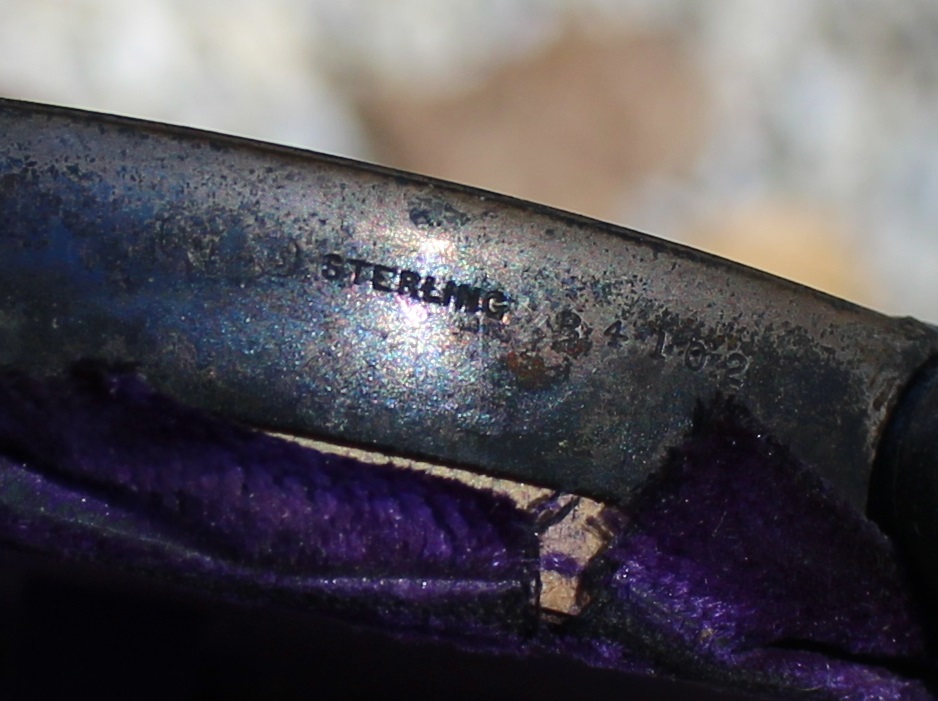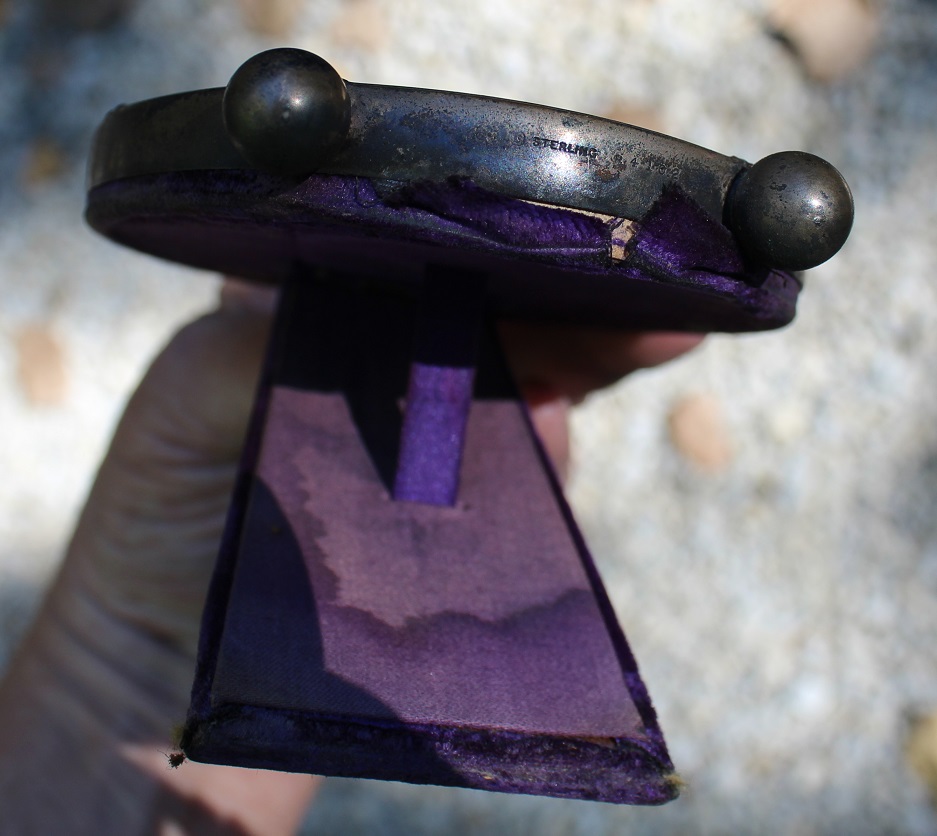 New Arrivals 86 Consignment
Here we have a Hopkins and Allen XL No. 4 and so marked. This is a .38 RF cartridge 5 shot revolver single action made starting in 1871. This revolver has a 2 1/2 inch octagonal barrel with a spur trigger and birds head grips which are in very nice condition . There is a lot of traces of nickel on this piece. The action works ok but the lock up is a little loose unless you push up on the cylinder stop on the bottom so I'm sure a spring is a little weak in there. The serial number is 914 and matches. It's a heavy little revolver. The markings are nice and deep on the top of the strap above the cylinder. The cylinder pin is a replacement of some sort but works fine. It still a nice piece. Take a look at the pics. Has not been cleaned! $450.00
New Arrivals 85
Here's a very unique item that we just picked up. This item came from Arkansas but unfortunately no history accompanies it. This is the type of Civil War Veterans Amputee crutch/prosthesis that were worn by many, many veterans after the Civil War. The wounds were horrific and the easiest way to take care of them was just to amputate the limb. This particular crutch was made for an amputation just above the knee. This piece is made of walnut, I believe, and shows a bit of use. Where it is black is the original old patina and where it is wood grain is where the old vet would handle it. If this piece is commercially made I can find no makers marks. The pics can describe it much better than my poor attempts to do so. There are two brass strips on either side of the yoke for strength. The peg leg end is held together from splitting with an iron ring about 2 inches long tipped with an old formula of red rubber which exhibits much use. There is a piece of padded leather in the yoke on which to rest the stump. This entire piece is about 40 inches long and over 6 inches wide. This piece was made for a right leg amputation as there is wehre the notches for the straps flare out so that this individual could tighten the straps by himself. There are a few age cracks but surface only . A very unique piece and probably one of a kind! I have included a couple of pics showing a similiar crutch used in the Civil War by a soldier wounded at Hatcher's Run. This information is from page 249 of Warman's Civil War Collectibles Identification and Price Guide by John F. Graf. This particuliar guide was printed in 2006. Check out the pics!!! $650.00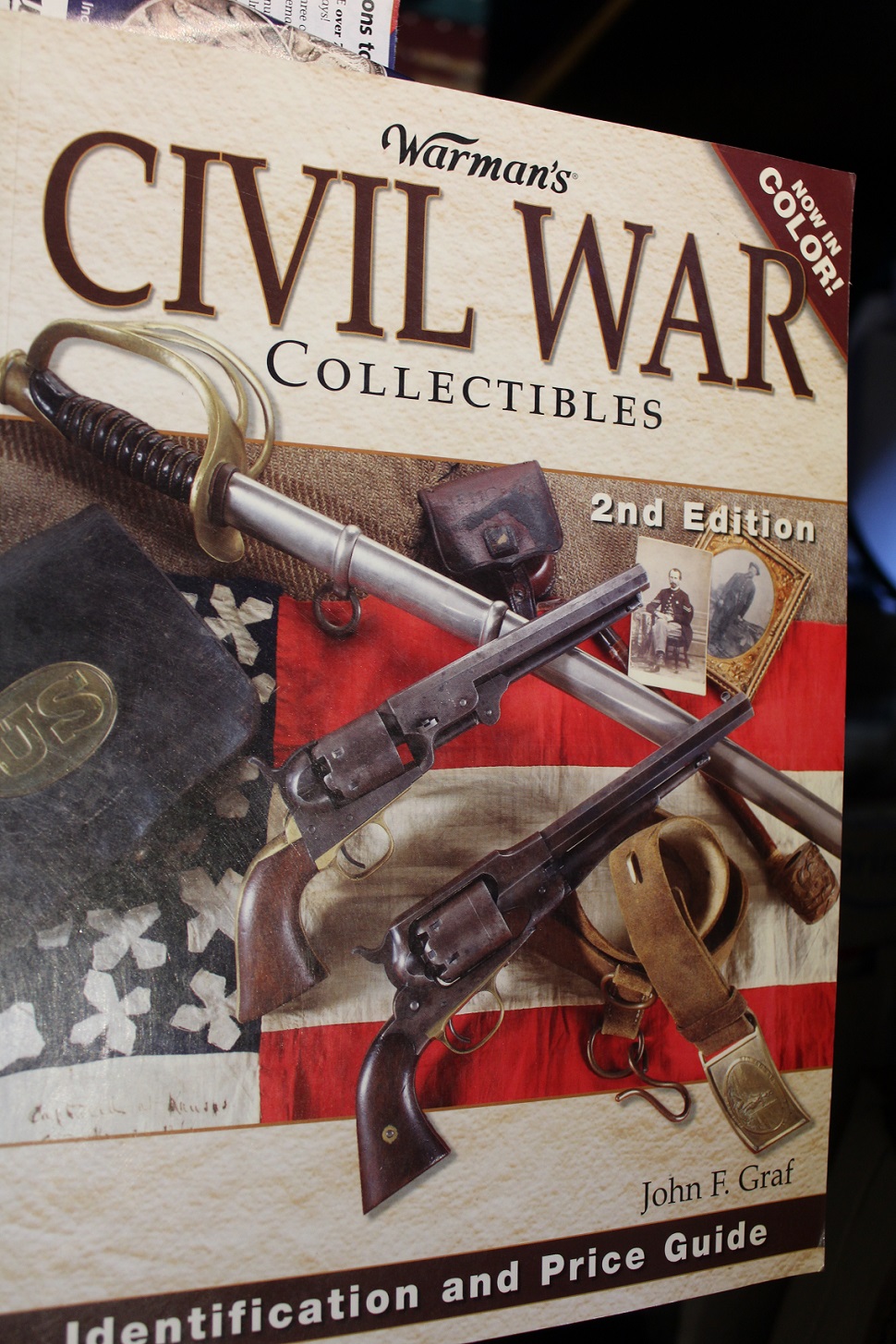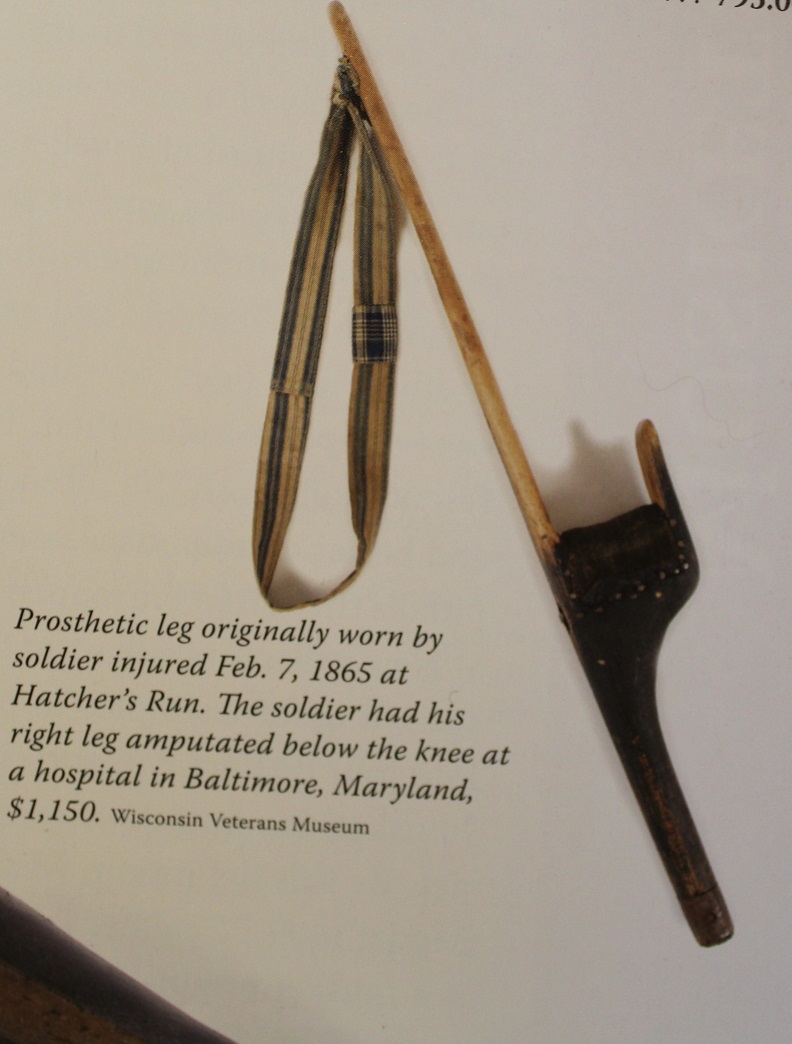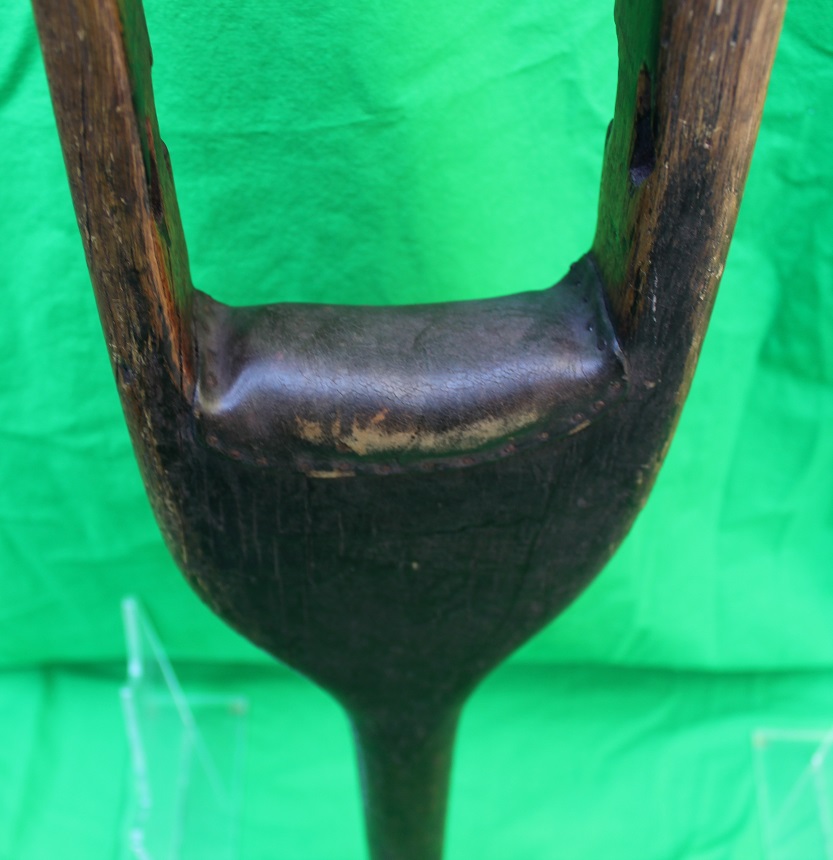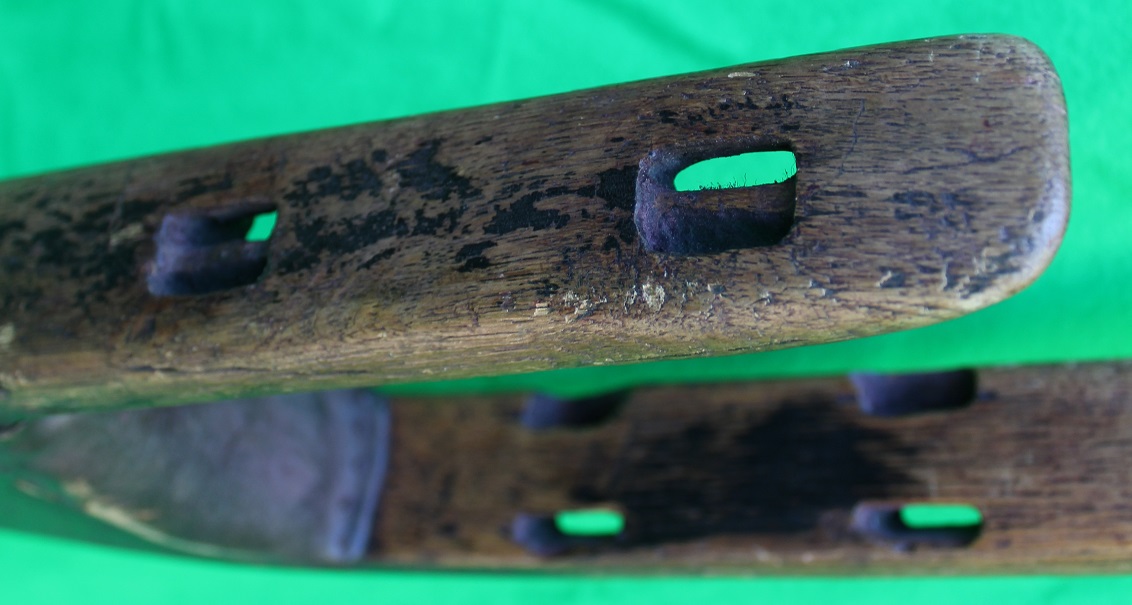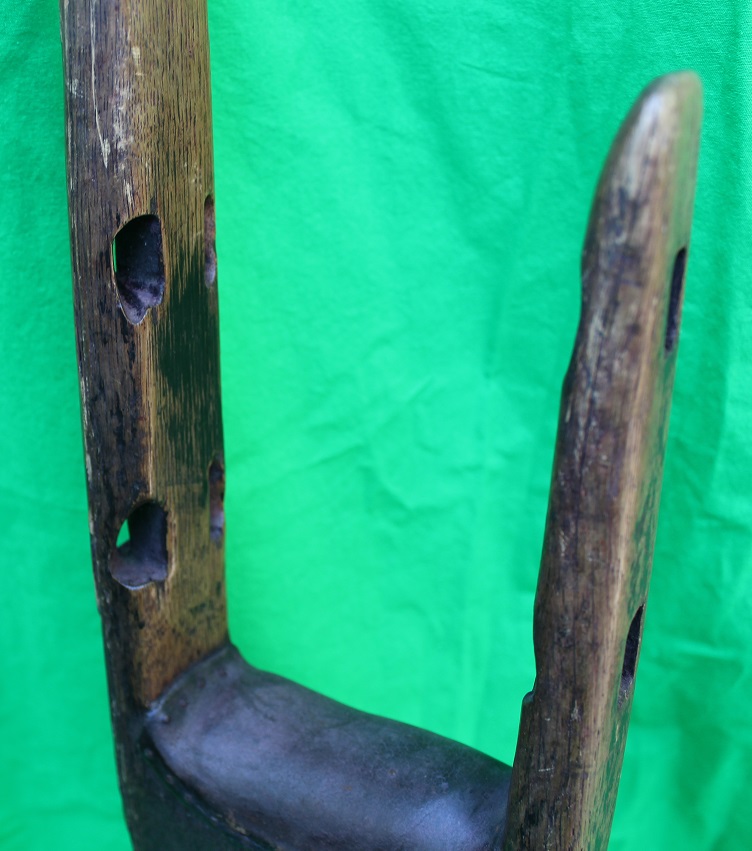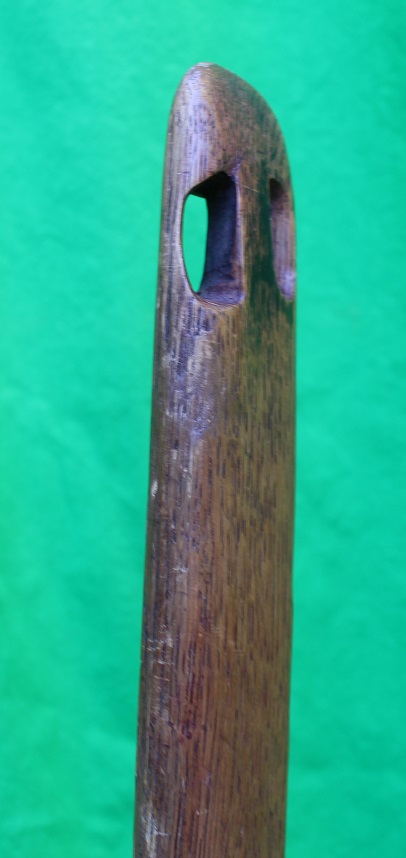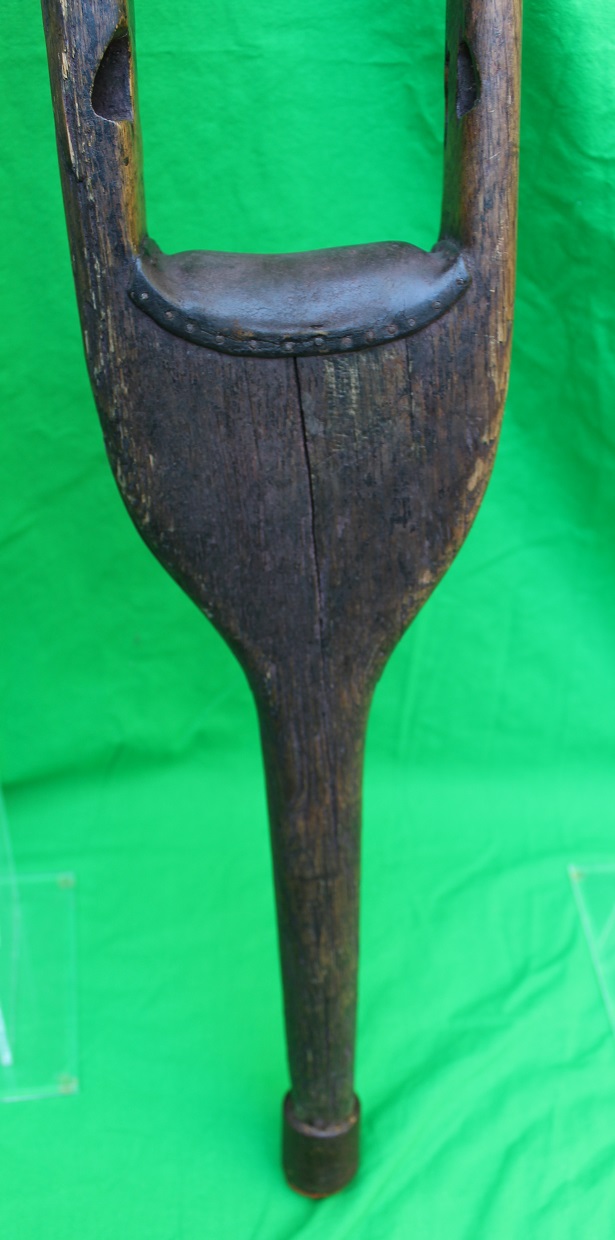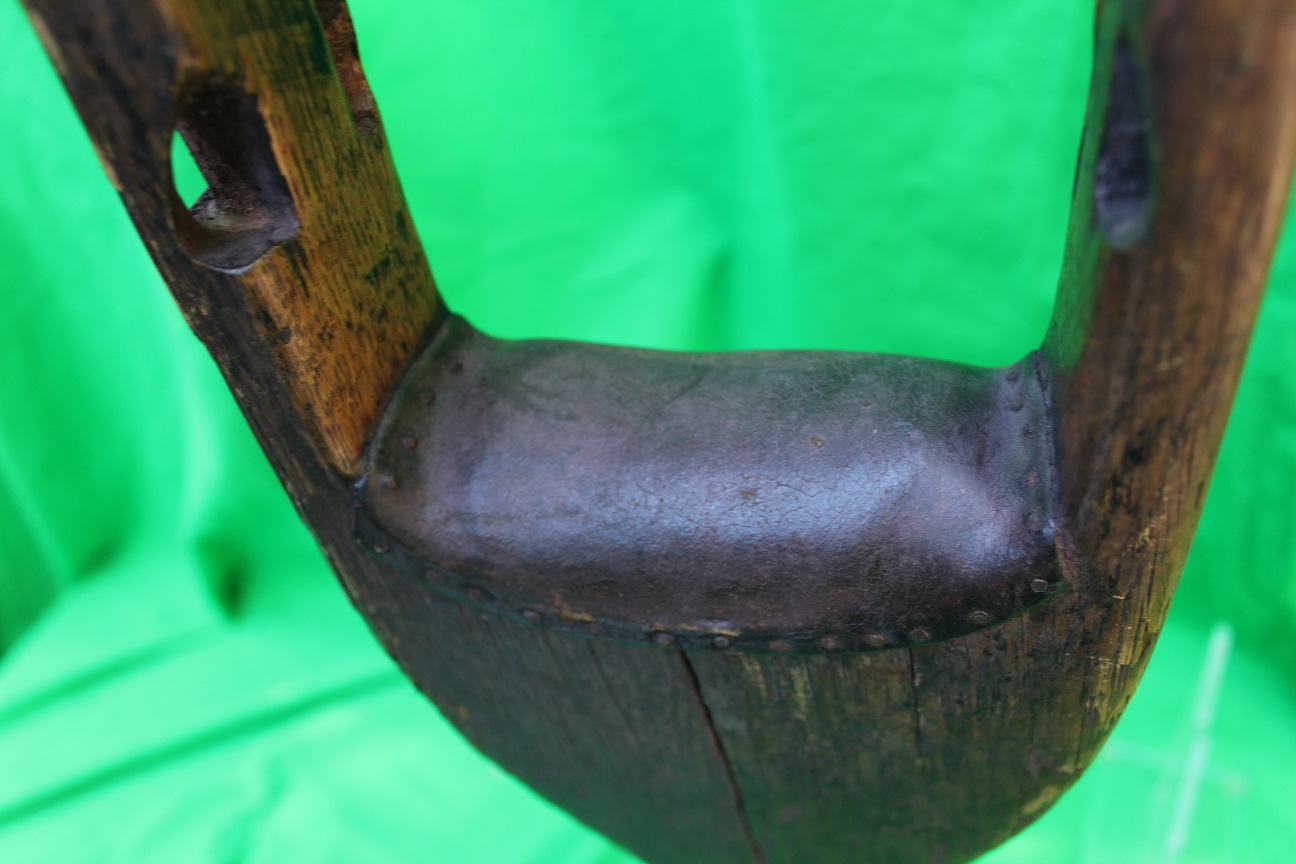 New Arrivals Consignment 84
POSTCARDS:
Postcard of Shortridge High School - Indianapolis, Ind 1908 . Filled out with Eagle and Shield on reverse and addressed to a lady in Cincinnatti, Ohio. $5
Unused Photo postcard of no. 103 Wilder Brigade Monument. We believe this one to be early! $10
Used Post card dated 1927 and having to do with and showing a nice litho of "the Circle" Indiana State Soldiers Home, LaFayette, Ind. $5
Unused Post card featuring the Lincoln Funeral Car Souvenir of the 42nd National Encampment G.A.R. $10
1905 used postcard showing Snodgrass House, Thomas's Headquarters at Chickamauga. $5

New Arrivals Consignment 83
1907 used postcard showing Fort Oglethorp U.S. Army Post near Chattanooga, Tenn $5
Early Unused postcard showing Viniard Field, Chickamauga Park, near Chattanooga $5
Early Unused postcard showing Dixie Sight Seeing Autos at Chickamauga Battlefields, Chattanooga, Tenn (Showing the Wilder Brigade Monument) $10
Used photo postcard of the Battle of Atlanta July 1864 1956 sent to Canada. $4
1909 Used postcard from 1909 Showing General Lew Wallace on front with the words 'THE CHARIOT RACE' which I assume is because he wrote 'BEN HUR'. $5

New Arrivals Consignment 82
LARGE bicycle and driving map of indianapolis 1899-1900. This would look great framed! Some tears at the folds but otherwise great with a chip out of the side that you can see in the pics. $125.00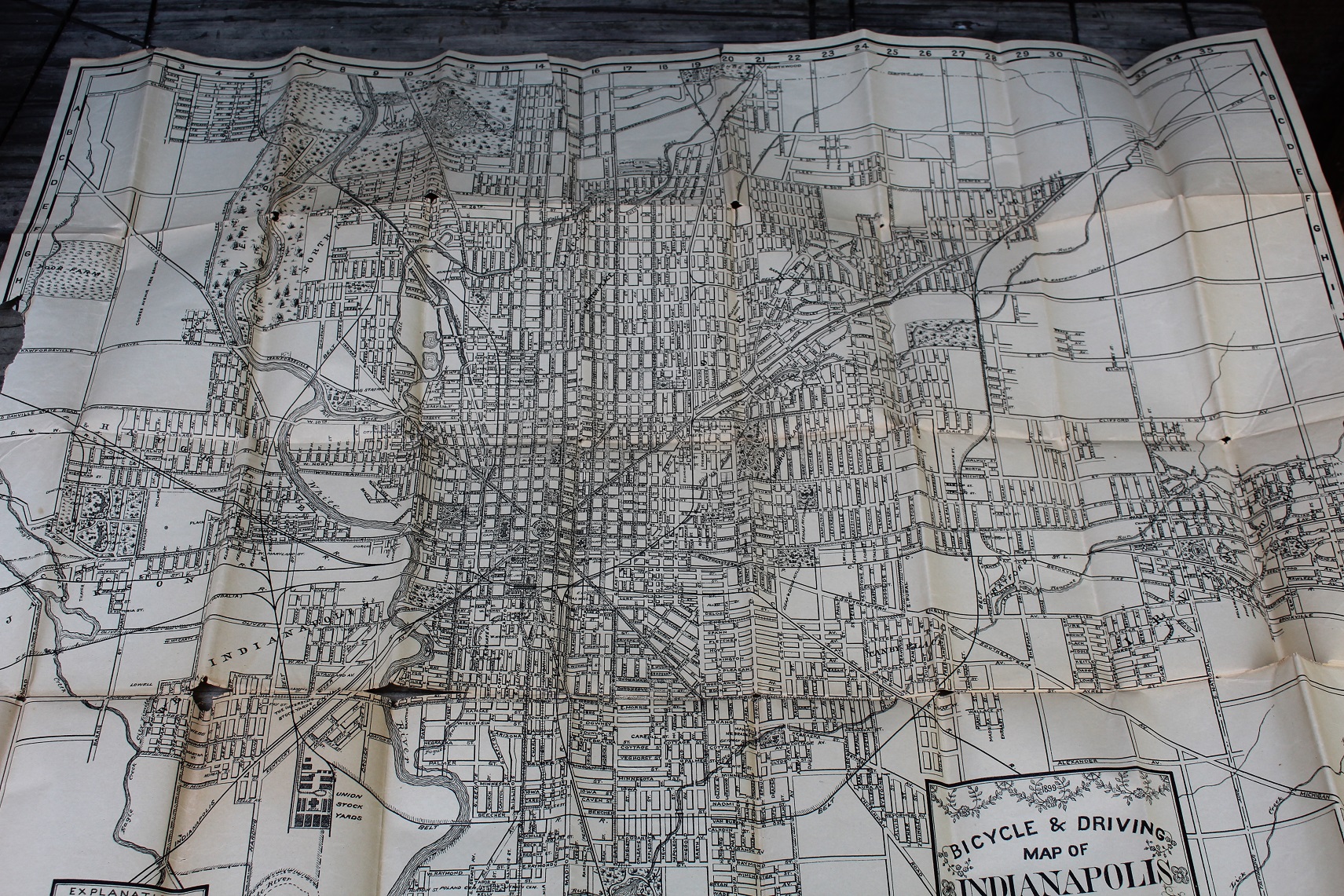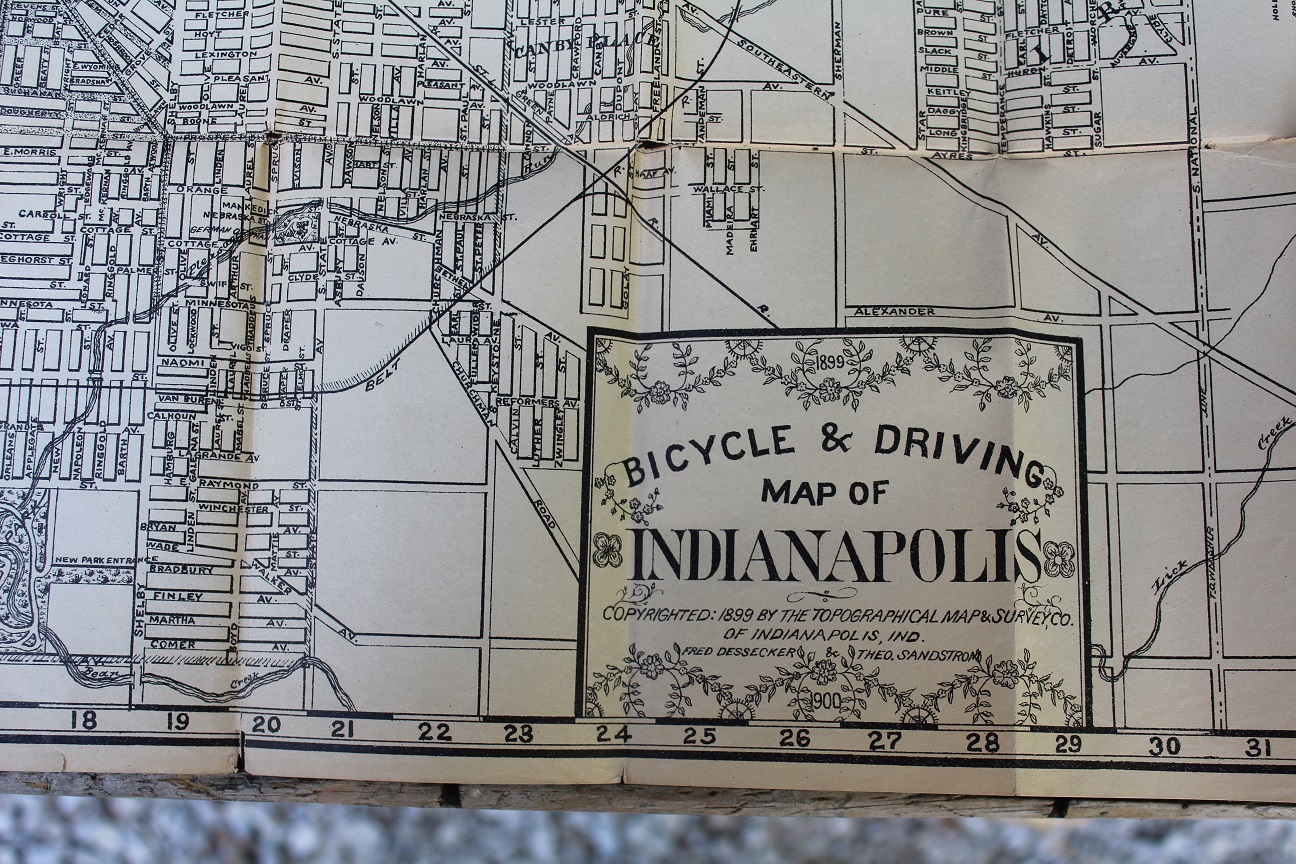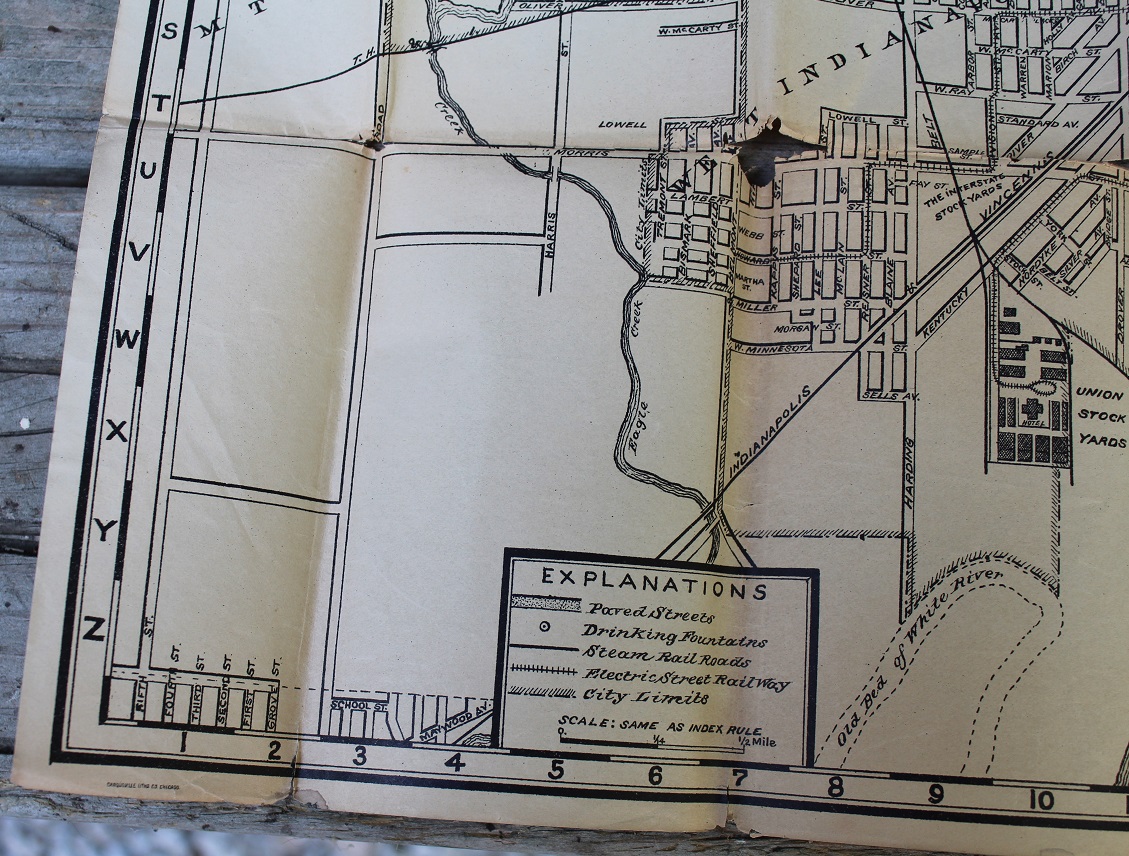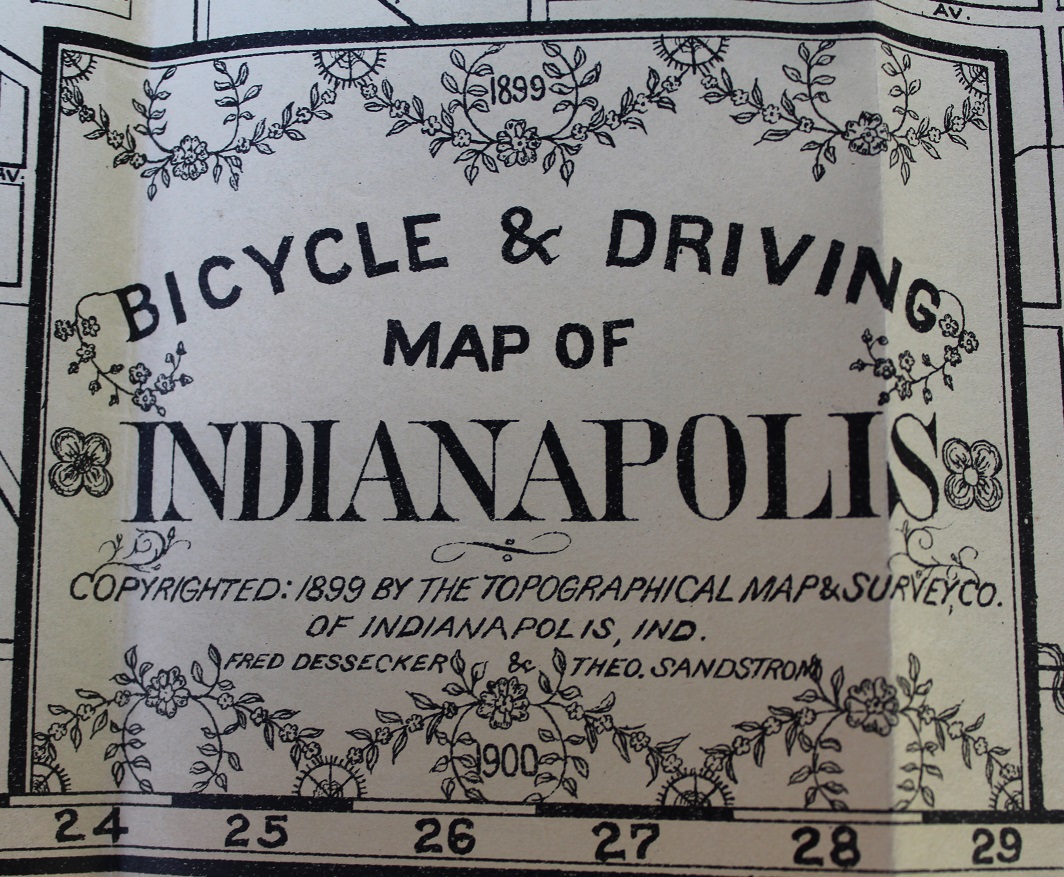 New Arrivals Consignment 81
Small original cw photo of the chickahominy River 3X3 with accompanying modern expanded view with it for clarity of the photograph. This is a nice one and original. For this unmounted print $225.00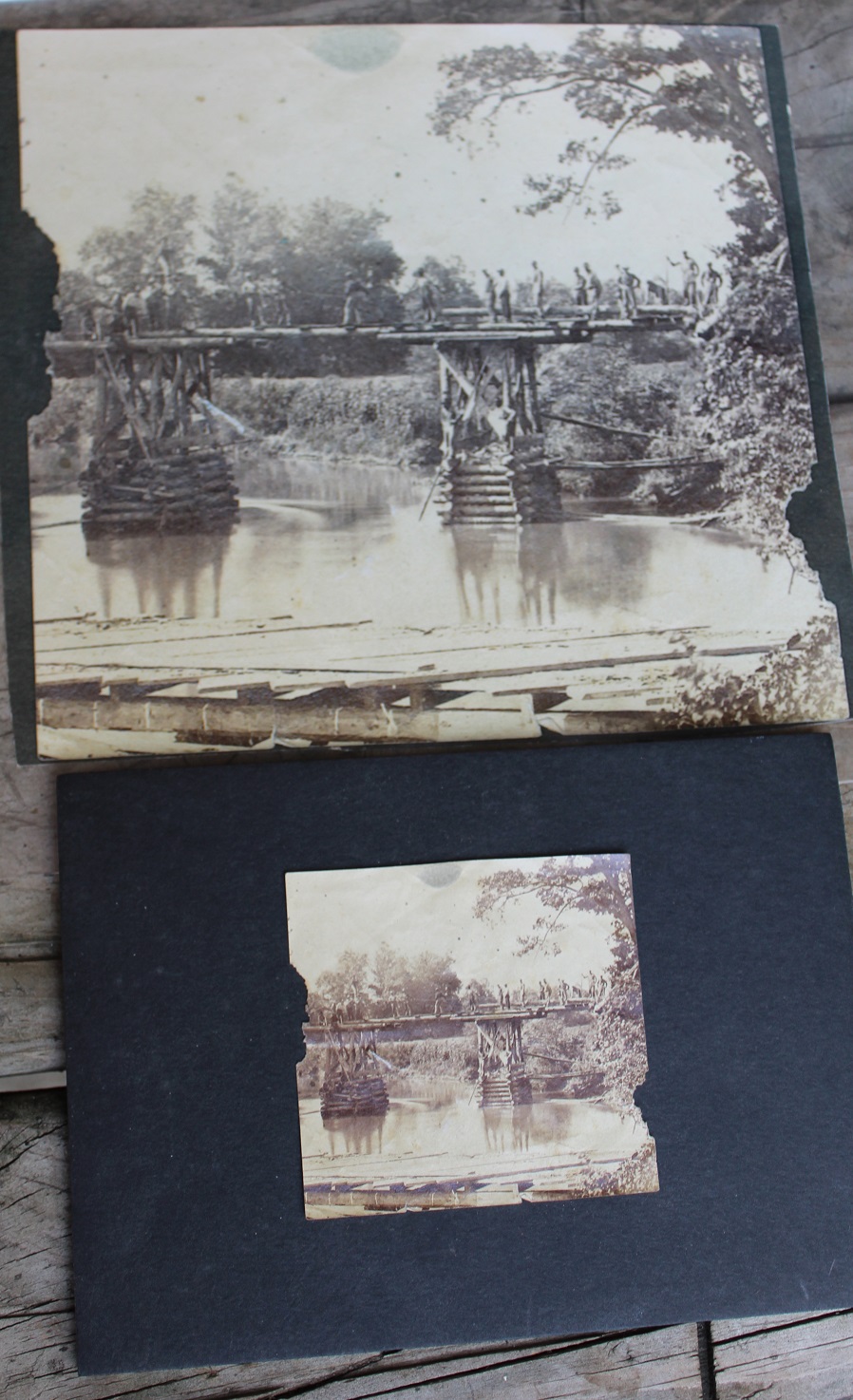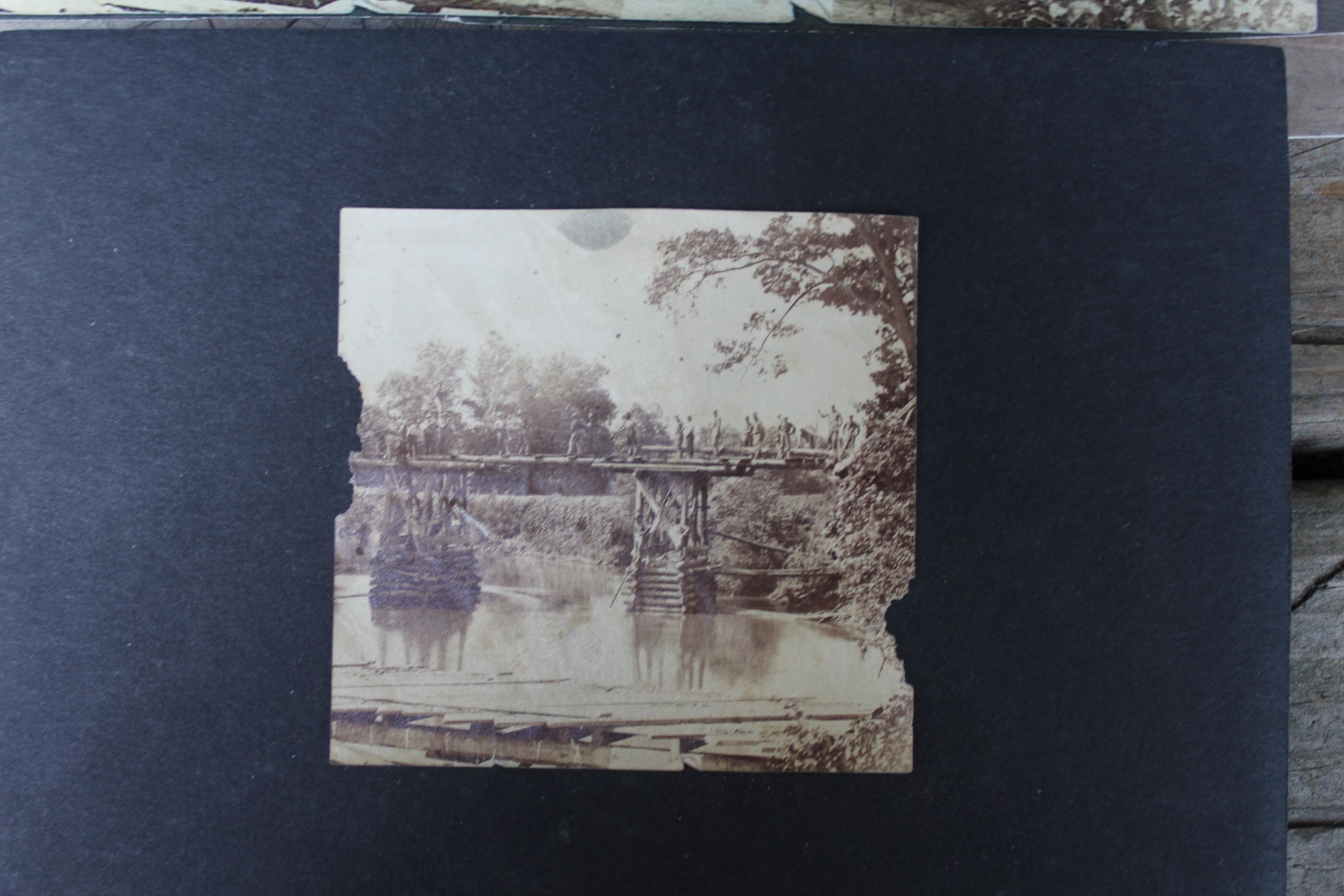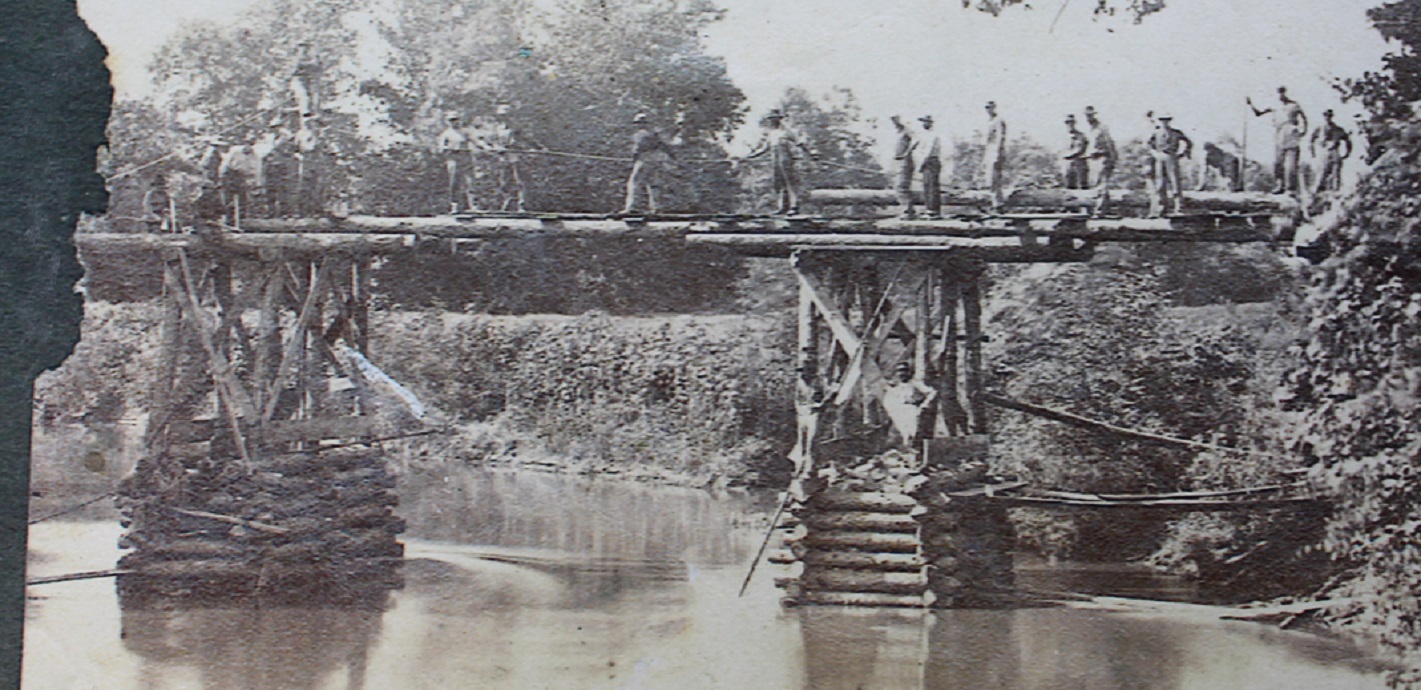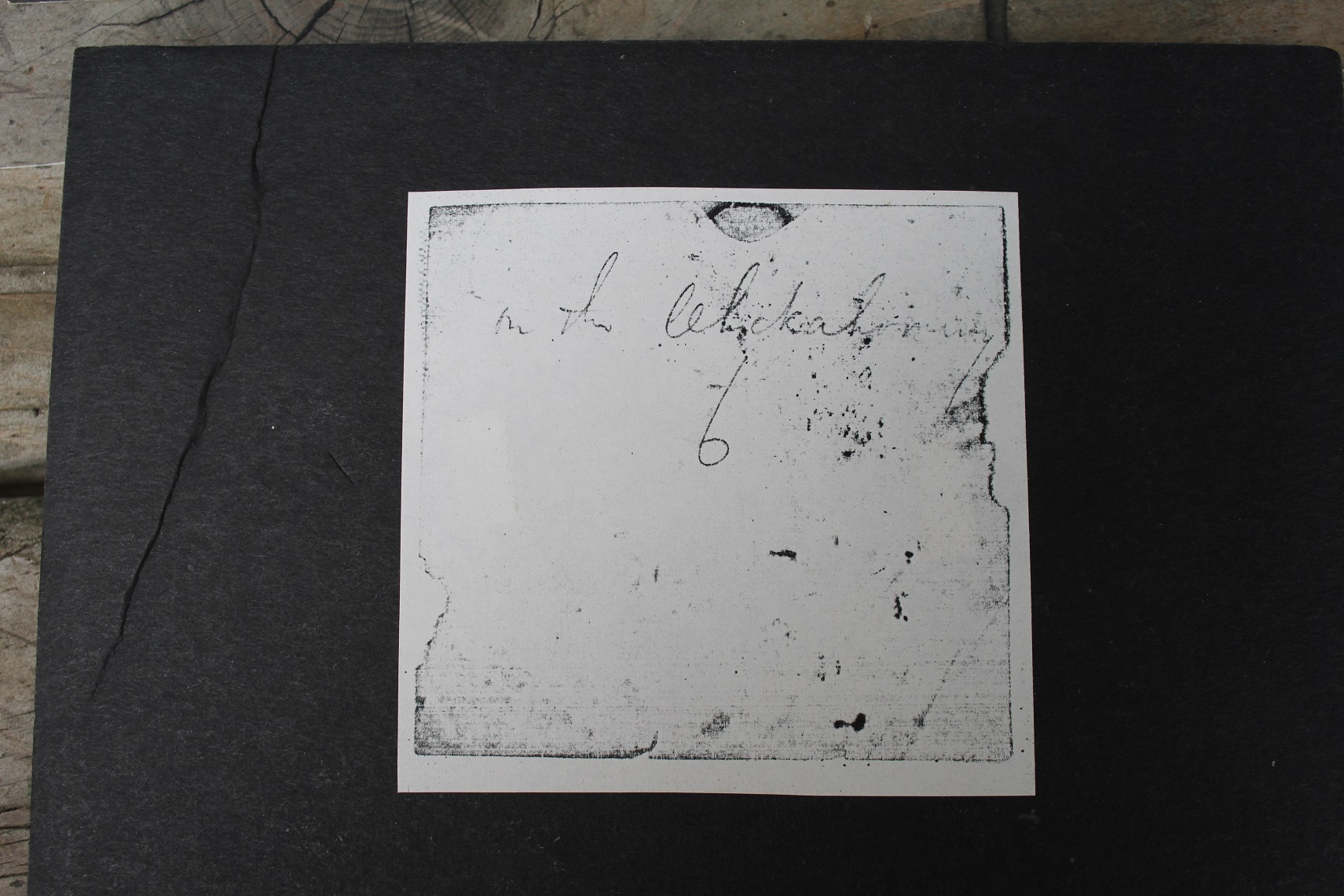 New Arrivals Consignment 80
Early 1900's photograph of the incline railway chattanooga, tn 5 1/4 X 8 1/2 with 1750 feet written on reverse and another 5 1/4 X 8 1/2 inch card with photograph on it of Lookout Mtn & Cameron Hill. Each $125.00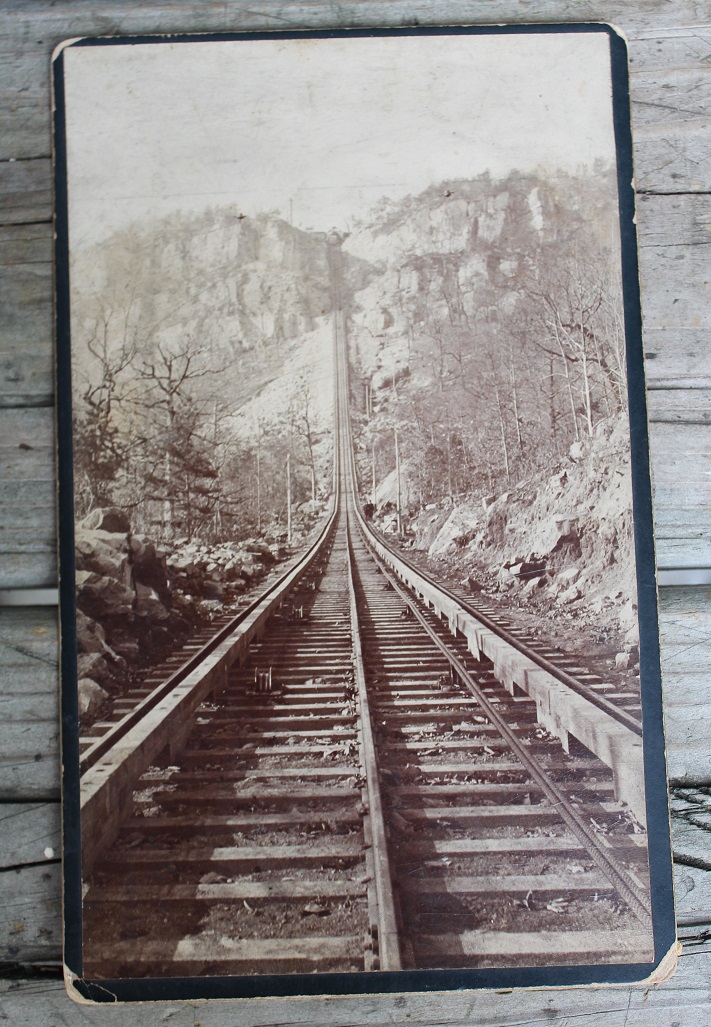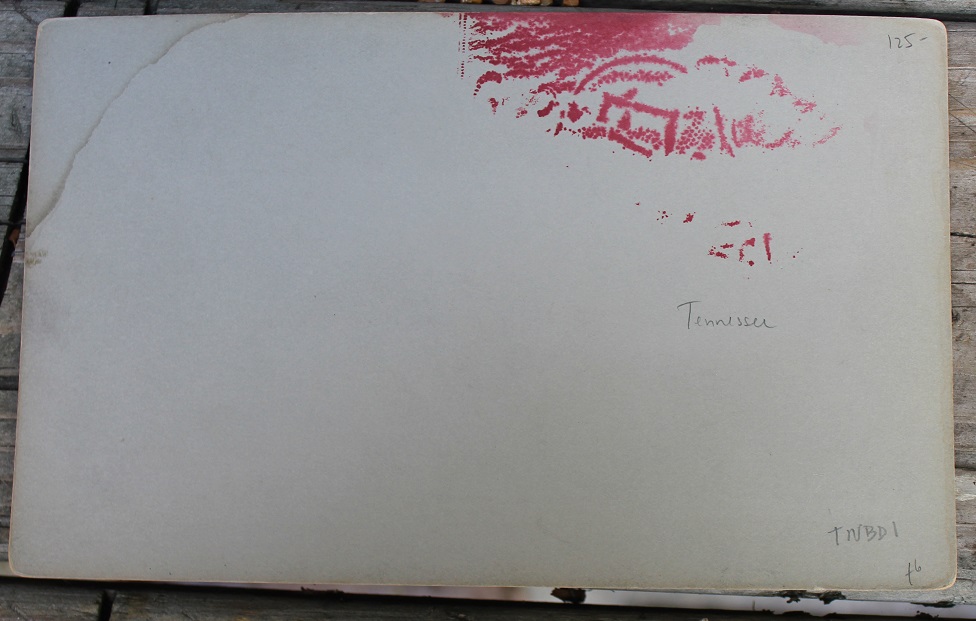 New Arrivals Consignment 79
1800's CDV in paper mount of a young man thought to be related to Lt. Tutewiler of the Wilder's Brigade. The inscription on the back says 'Remember A. T+++++ when this you see'. $10.00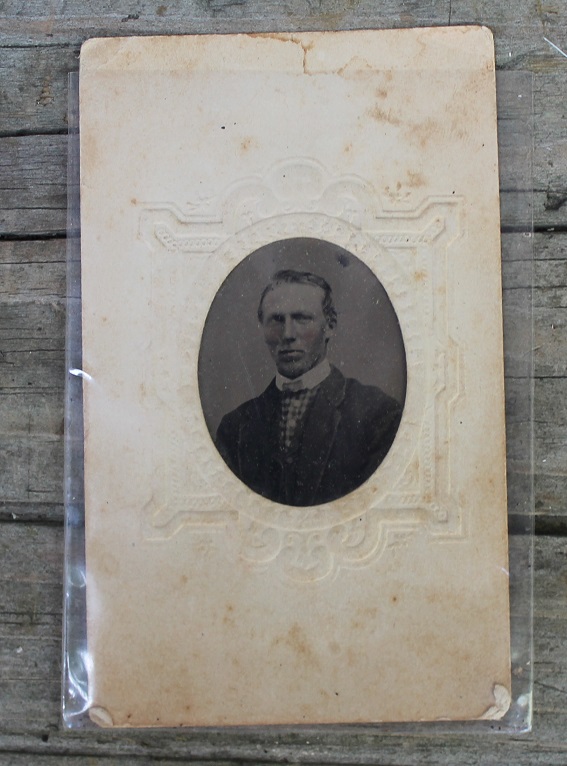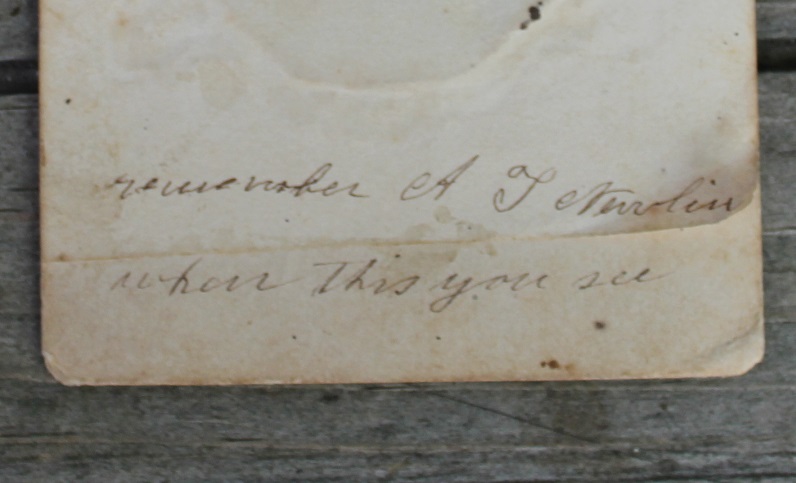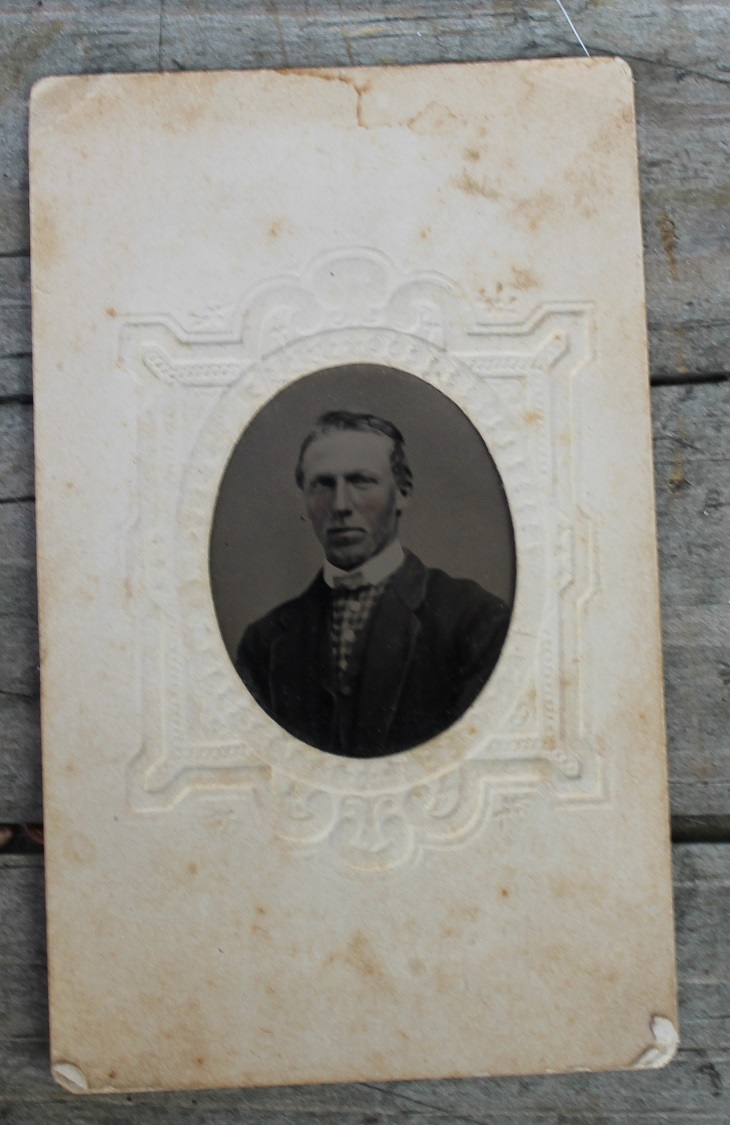 New Arrivals Consignment 78
CDV unmarked of a young full standing man in Fraternal garb. Nice!!! $25.00
New Arrivals Consignment 79
Certified Statement from the 72nd Indiana on June 22nd, 1865 regarding the disposition of horses and mules used by the regiment. 2 pages written on the front of both pages. $65.00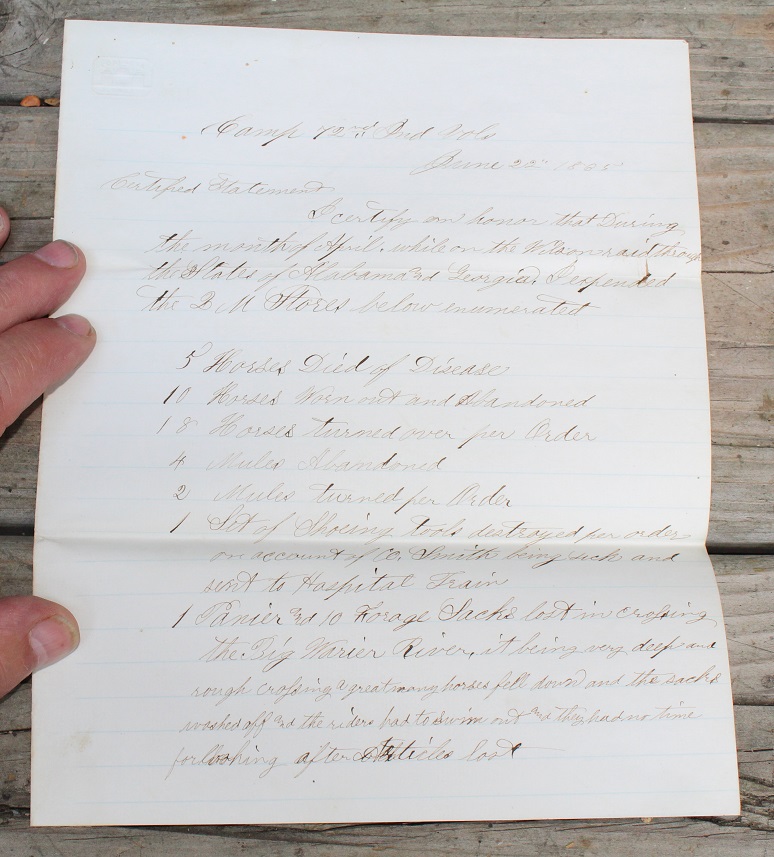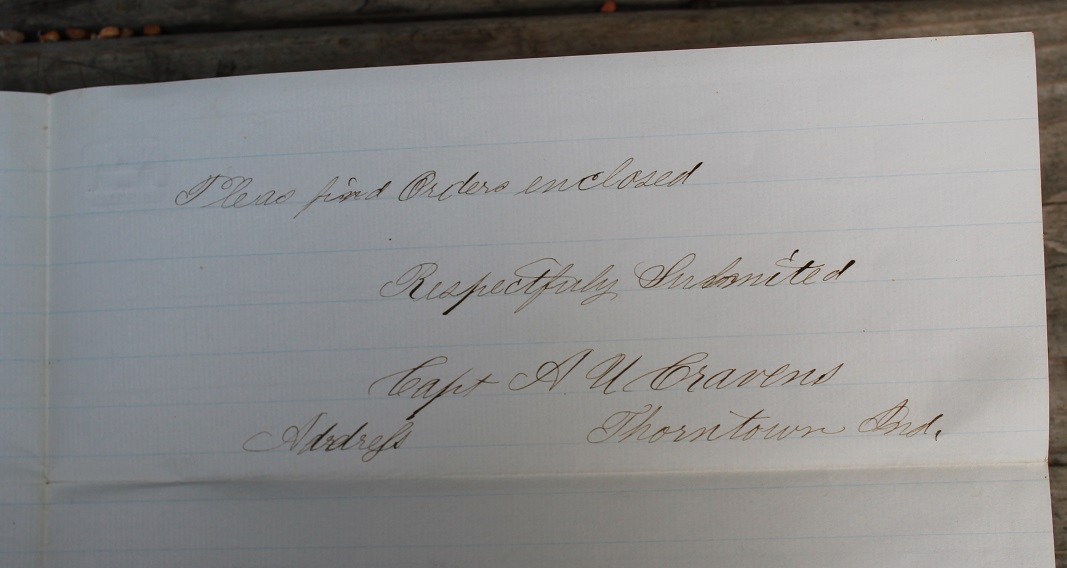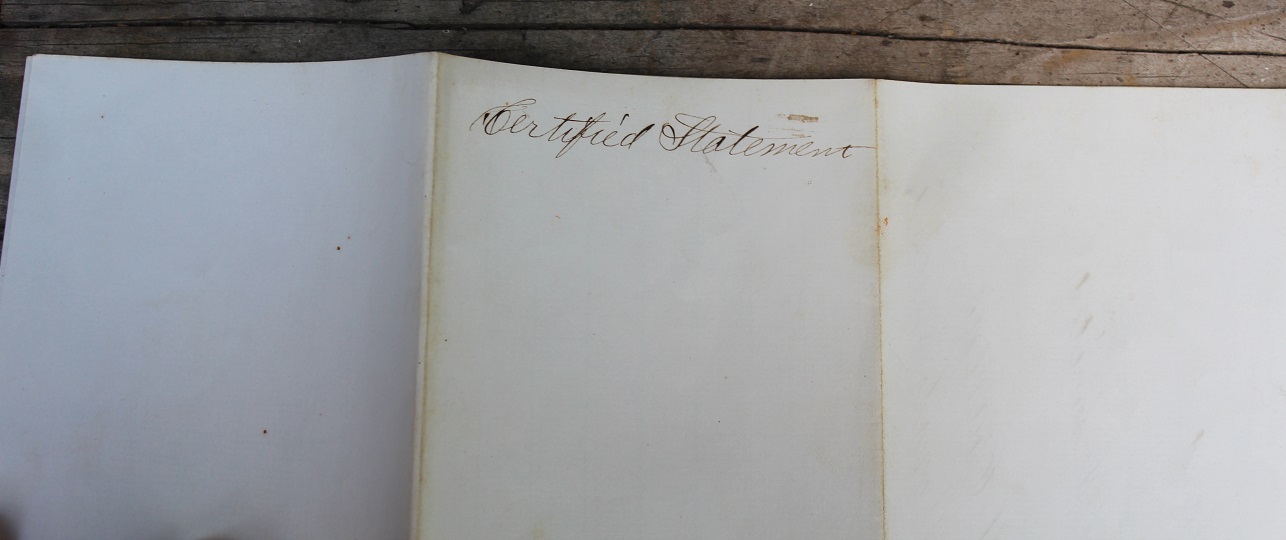 New Arrivals Consignment 78
Here is a strombecker civil war charge shiloh april 6, 1862 4 soldier metal kit with horse. The box shows 5 on the cover but the side says that the set includes one soldier less than illustrated in scene. This particular set was produced in 1966 I believe. One solder has part of the barrel of his rifle missing and the officer on the horse is missing the end of his sword.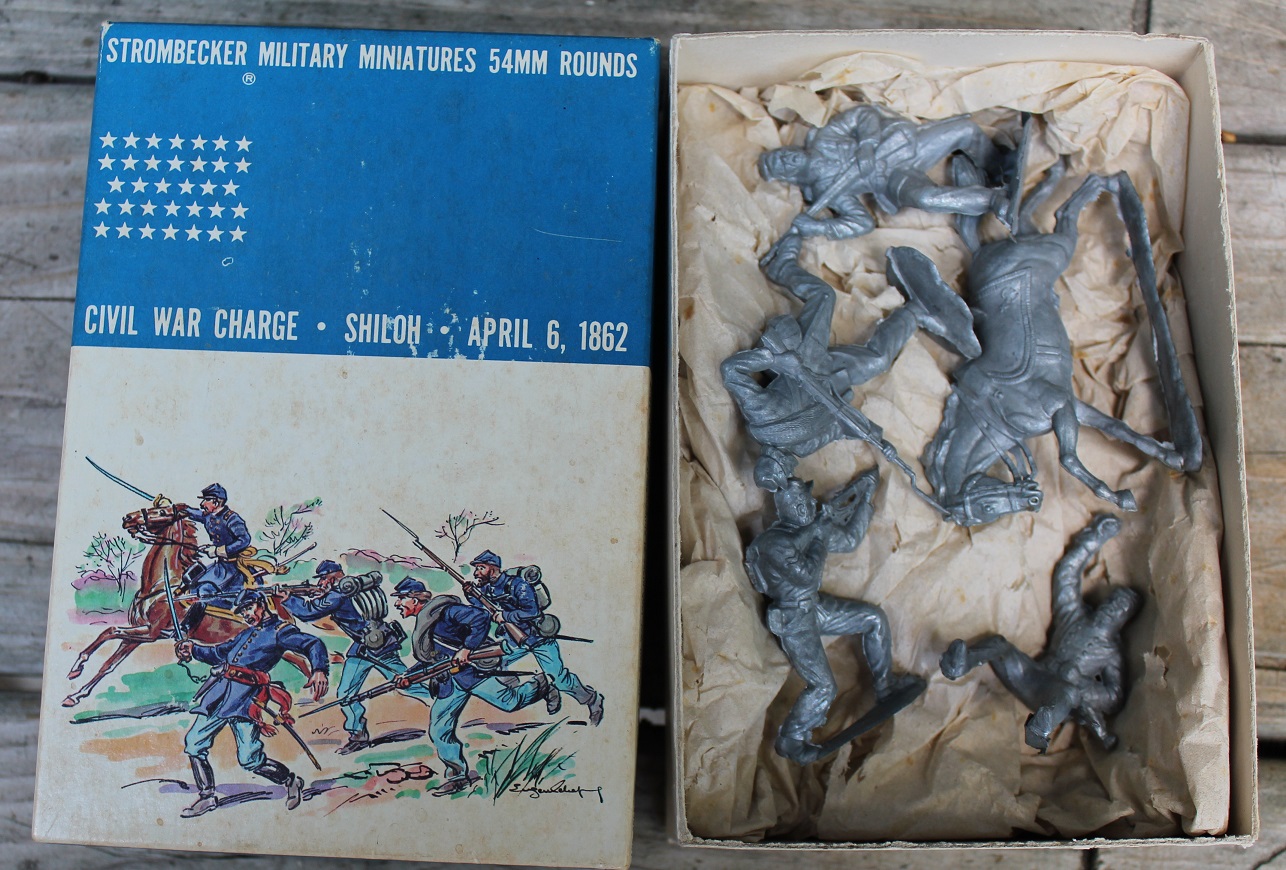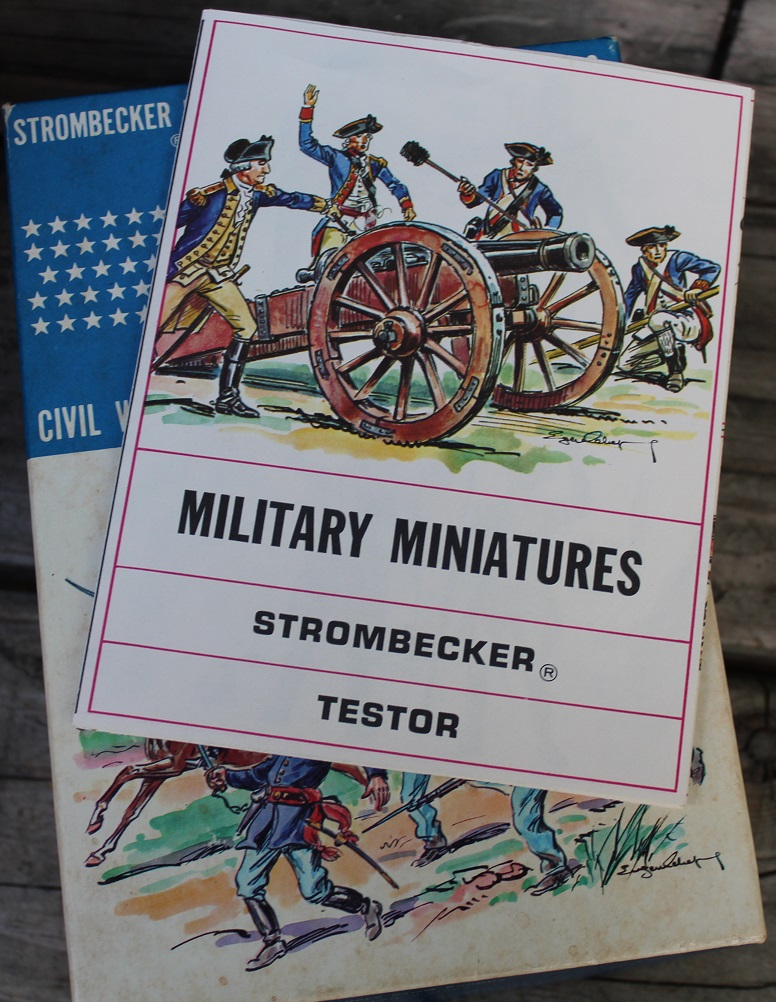 New Arrivals Consignment 77
Early photo on cardstock of 'Look out station foot of Look out Mountain'. The cardstock measures 4 1/4 X 5 1/8.
Early photoon cardstock of 'Chicamauga Station and part of Battlefield' showing civilians and soldiers in spike helmets indicating the middle to latter part of the 19th century. The cardstock measures 4 1/4 5 1/8.
For each photo $35.00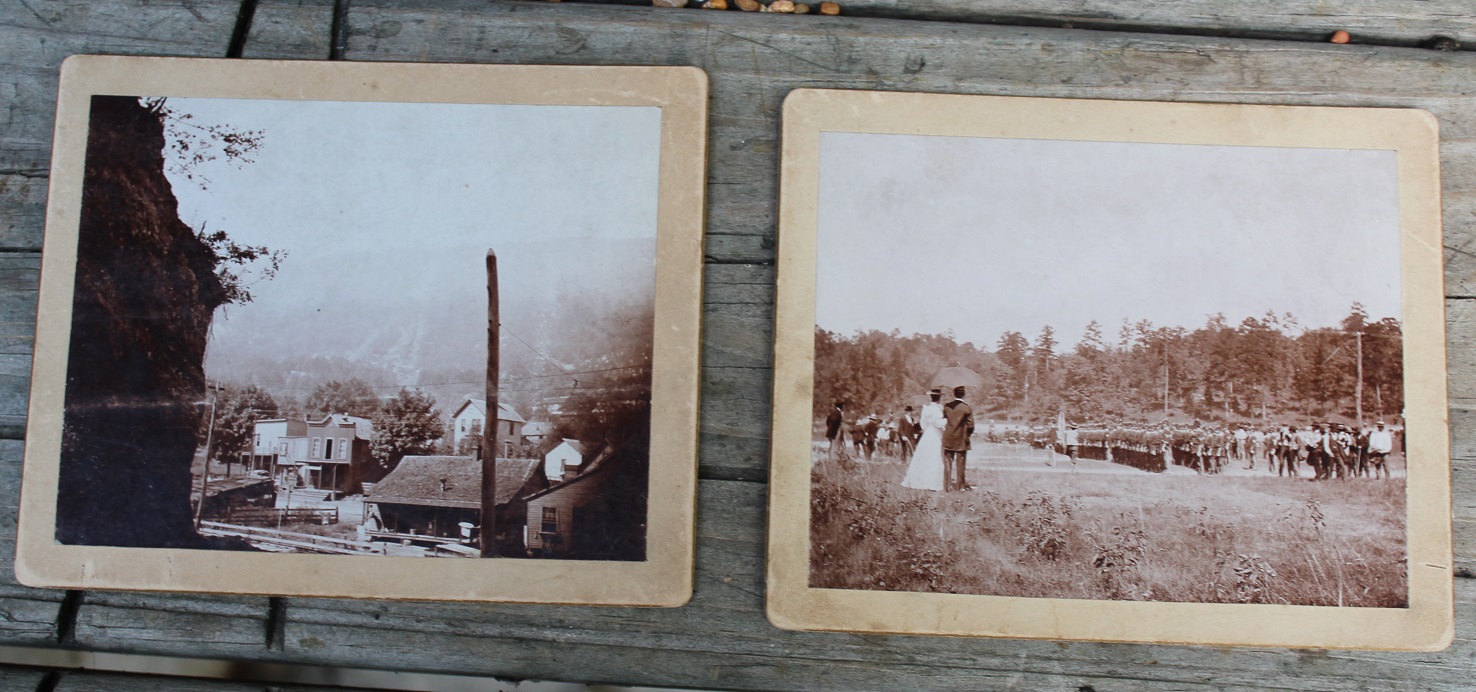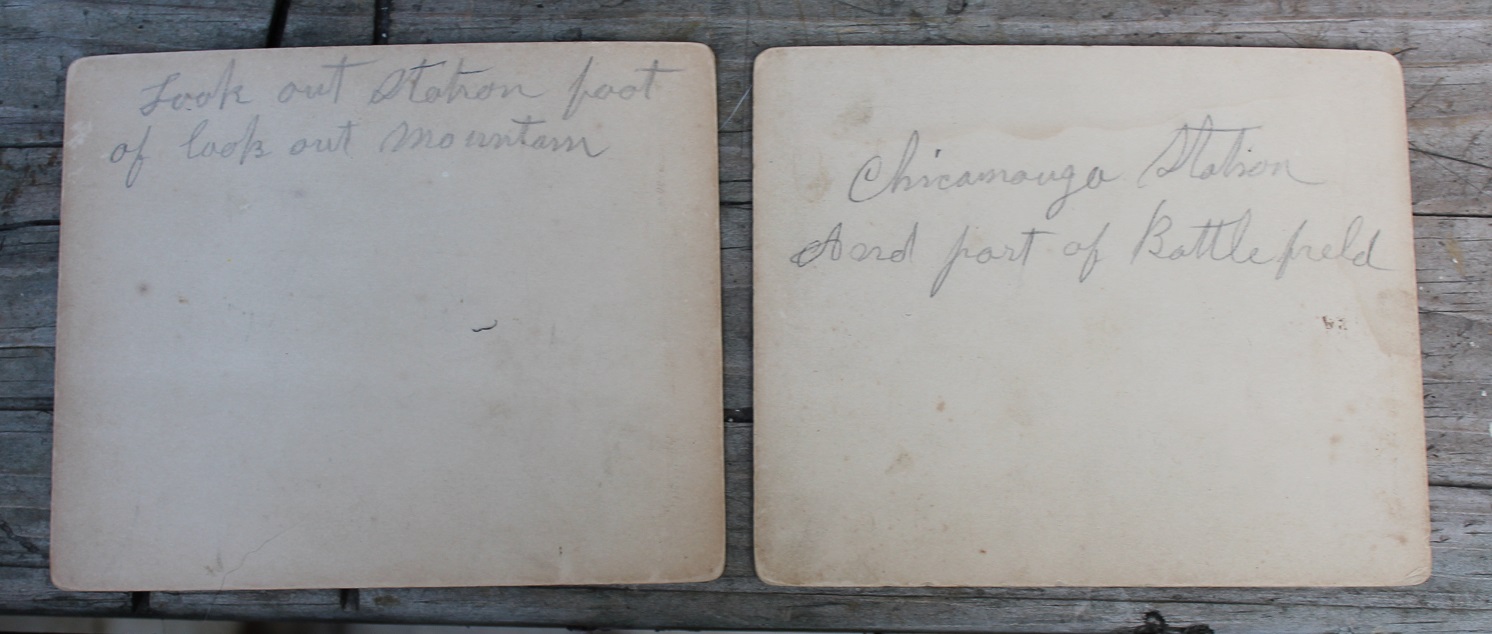 New Arrivals Consignment 76
Full set of REPORT OF W.H.H.TERRELL, ADJUTANT GENERAL INDIANA . Here we are showing volumn V11. This is the original Eight-Volume Report Prepared by W. H. H. Terrell and Published in 1869. All in excellent condition but have been rebound. Volume 7 alone has 781 pages in it. There is some slight foxing by definition. The inscription in this one says To Chancy Jones with respects of W.H.H.Terrell, Adjutant General, Indiana. I am afraid that I do not know who Chancy Jones is. These volumns have been rebound by Miriam Sharp, Head of Bookbinding at Purdue University. Price on the set to follow.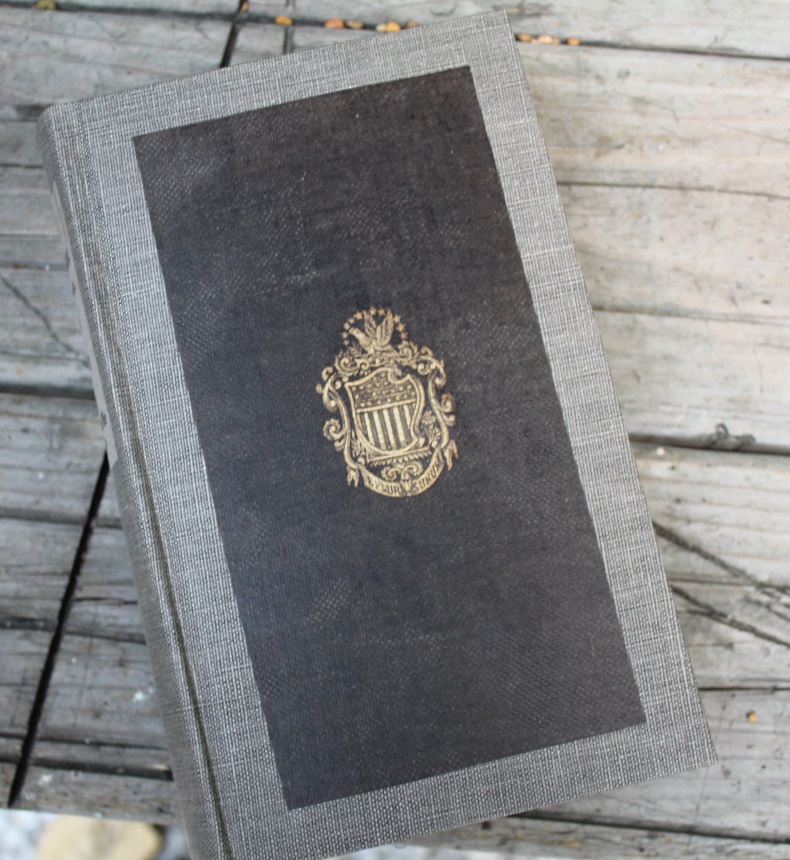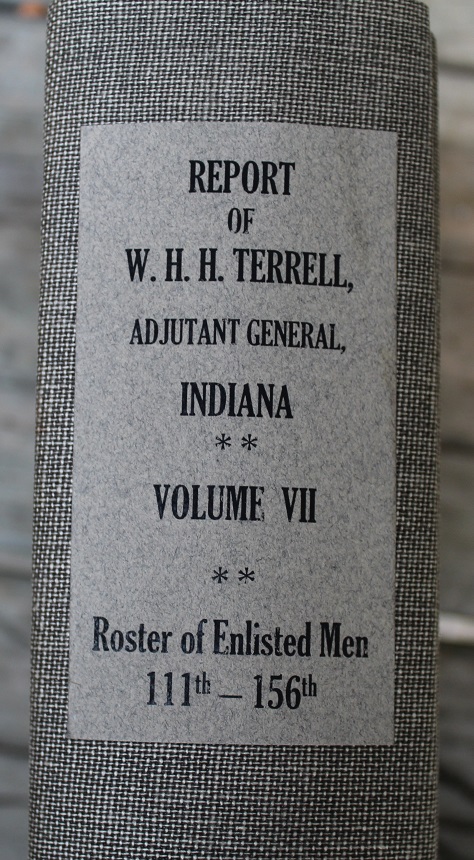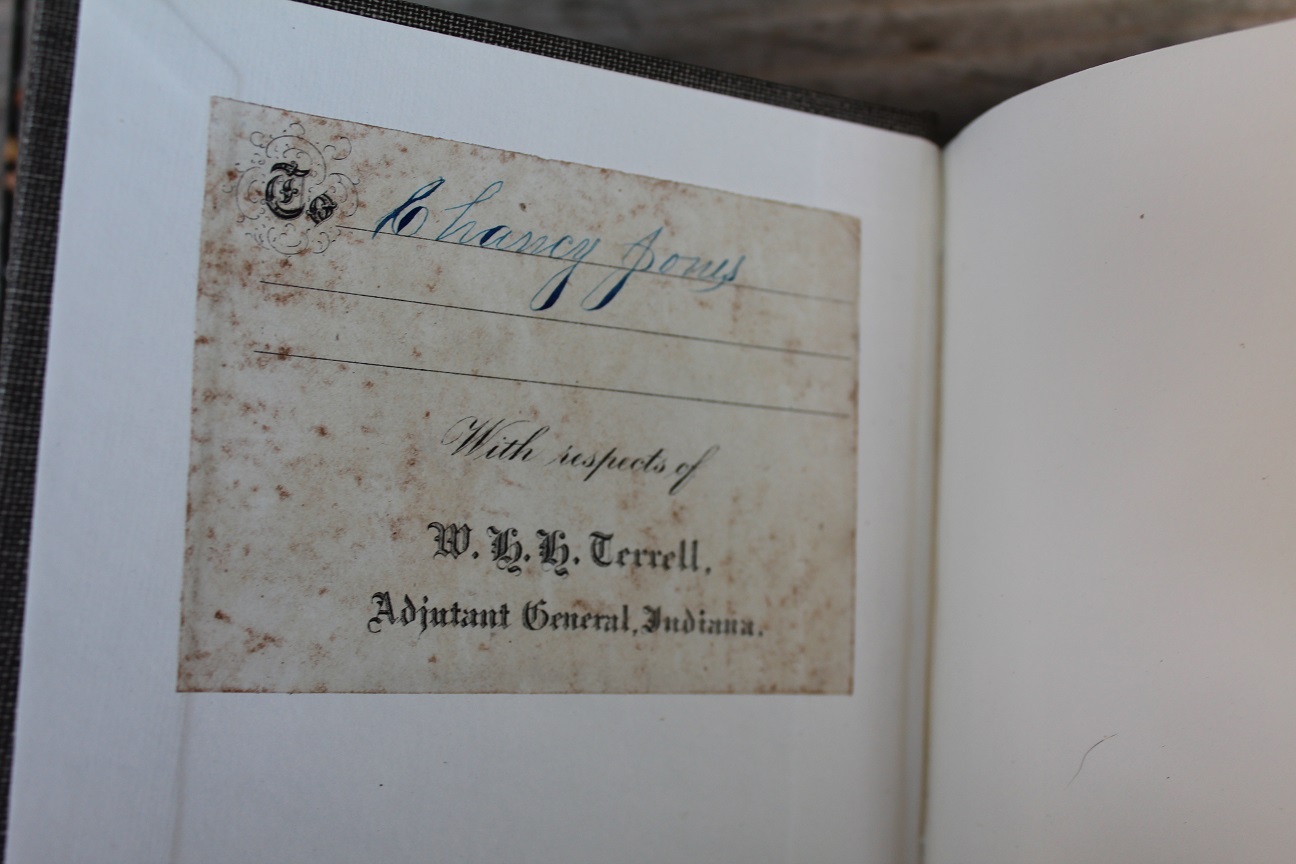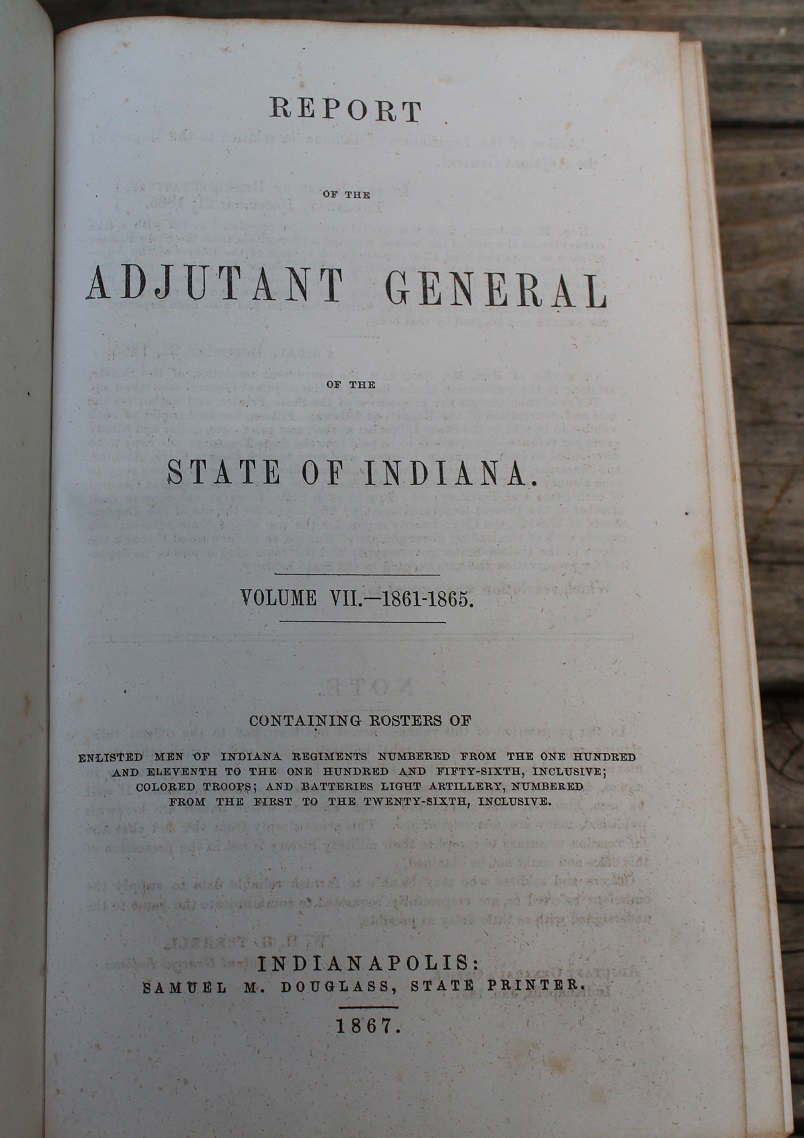 New Arrivals Consignment 75
Original CDV of General Sherman on Horseback taken in 1864 in Atlanta, Georgia. This one is mounted on a CDV sized clipped corner card with no backmark. This is an original CDV and not a cut apart stereoscoptic card mounted on a CDV cardstock. This CDV was purchased by the owner many years ago from well known Civil War Dealer Dave Taylor of Sylvania, Ohio and as everyone knows his reputation is spotless. The CDV is placed in an old album page but nothing is written on either the CDV or the album page. This image is of Sherman in Atlanta, September-November, 1864. After three and a half months of incessant maneuvering and much hard fighting, Sherman forced Hood to abandon the munitions center of the Confederacy. Sherman remained there, resting his war-worn men and accumulating supplies, for nearly two and a half months. During the occupation, George N. Barnard, official photographer of the Chief Engineer's Office, made the best documentary record of the war in the West; but much of what he photographed was destroyed in the fire that spread from the military facilities blown up at Sherman's departure on November 15. Check out the pics!!! $425.00
New Arrivals Consignment 74
OWNER IS MOTIVATED TO SELL--MAKE AN OFFER!!!
Here we have a very unusual Shotgun dated 1861 from Spain! This Shotgun was a de acquisition from a Montana Museum. This Shotgun was a gift to the museum in 1937 from the W.A.Clarke Collection who was associated with Butte, Montana at one time. The collection was donated to the museum by his family. William A. Clark was a 'Copper King' who was worth, reputedly, some $50 Million dollars with a mining empire that stretched from Montana to Nevade and Arizona. Clark was notorious not only for his dominance in the mining field but also for purchasing a U.S. Senate seat. William Andrews Clark was born in poverty in Pennsylvania in 1839 to Scotch-Irish parents. When he was just 17, the family traveled to Iowa as homesteaders. Clark made up his mind early in life that he disliked poverty. By 1895, when he moved to New York, he had amassed one of the largest fortunes in the country, controlling silver and copper mines, operating railroads, and being elected to the Montana Senate. His reputation, however, was one of deceit, unscrupulous dealings, bribery and cut-throat schemes. Mark Twain wrote of him, "He is as rotten a human being as can be found anywhere under the flag; he is a shame to the American nation, and no one has helped to send him to the Senate who did not know that his proper place was the penitentiary, with a ball and chain on his legs. To my mind he is the most disgusting creature that the republic has produced since Tweed's time." Quite a Character! At the age of 86 William A. Clark died in his bedroom on March 25, 1925, one of the 50 richest men in America.
Now to this fine shotgun! This is a 12 gauge percussion shotgun being custom made by De-Cindas of Madrid Spain. The barrel is silver enlayed with EIBAR 1861 and PEDRO MARIA AQIIRRE E. HYO. This firearm was a wedding gift to the groom who enjoyed duck hunting! The action works well and the custom stock is without damage. The metal parts are all fantastic with a great deal of hand engraving. The barrel band is silver and shows a hunting dog on one side and a hunting dog chasing a boar on the other side. This firearm is definitely one of a kind! The gun is 50 inches long overall with an approximately 35 ½ inch long barrel. The stock is dark with quite a unique shape to it. The barrel has engravings and inlays in depth on it. The end of the barrel is decorated with what looks like gold wash or inlay. The ramrod mount is silver. The ramrod is original and a dark hardwood. A few minor pieces of silver inlay has popped out but it's still a gorgeous gun! $4995.00 Check out the pics!!! REDUCED BY THE OWNER TO $3550.00 !!!
New Arrivals Consignment 73--OWNER IS MOTIVATED TO SELL!!! MAKE AN OFFER !!!!
Here we have an excellent Model 1866 Allin No. 2 Conversion of a Civil War .58 Caliber rifle dated 1864. Thanks to Wikipedia I have the following information:
The Springfield Model 1866 was the second iteration of the Allin-designed trapdoor breech-loading mechanism. Originally developed as a means of converting rifled muskets to breechloaders, the Allin modification ultimately became the basis for the definitive Model 1873, the first breech-loading rifle adopted by the United States War Department for manufacture and widespread issue to U.S. troops. The Model 1866 corrected problems encountered with the prototypical Model 1865, in particular a simplified and improved extractor and a superior .50 caliber centerfire cartridge (the Model 1865 used a .58 caliber rimfire cartridge with mediocre ballistics), among many other less significant changes. It employed a robust version of the "trapdoor" breechblock design originated by Erskine S. Allin, Master Armorer of the Springfield Armory. Approximately 25,000 .58 caliber Springfield Model 1863 rifled muskets were converted by Springfield Armory for use by U.S. troops, the barrels being relined and rifled to .50 caliber and the trapdoor breech system affixed. The rifle was chambered for the powerful centerfire .50-70 Government cartridge (.50 caliber 450-grain (29 g) bullet; 70 grains (4.5 g) of black powder). Though a significant improvement over the extractor of the Model 1865 Springfield Rifle, the Model 1866 extractor was still excessively complicated and the extractor spring somewhat prone to breakage. However, it is a misconception that a broken extractor disabled the weapon. In the official 1867 government user booklet "Description and Rules for the Management of the Springfield Breech-Loading Rifle Musket, Model 1866", the following is stated regarding a broken extractor and/or ejector: "It should be understood that the ejector and friction springs are convenient rather than necessary, and that the piece is not necessarily disabled if one or both of them should break, for the shell can be easily removed by the fingers after being loosened by the extractor hook." Furthermore, the "ramrod" of the rifle can be used quite effectively to remove a stuck case in an emergency. Thus it is clear that this weapon is not as easily disabled as is sometimes believed. The Model 1866 was issued to U.S. troops in 1867, and was a major factor in the Wagon Box Fight and the Hayfield Fight, along the Bozeman Trail in 1867. The rapid rate of fire which could be achieved disrupted the tactics of attacking Sioux and Cheyenne forces, who had faced muzzle-loading rifles during the Fetterman massacre only a few months before. The new rifles contributed decisively to the survival and success of severely outnumbered U.S. troops in these engagements.
This particular rifle is in unissued condition. I was told by the owner that the information received when he purchased it was that there was a wood chip missing from the buttstock at the buttplate and because of that this weapon was rejected by the military for use. The color of the chip damage and the color of the rest of the stock matches perfectly indication that this piece was lost a long time ago and is not a recent break. The wood stock has a minor bruise here and there and a couple of minor scratches from storage but the wood has no wear at all and the cartouche also is very sharp with no wear at all as well. The barrel, bands , slings, buttplate and triggerguard are in the white. The original case hardening on the lock is weak and the original black quenching on the trapdoor is also somewhat weak from age. Inside the trapdoor you can see alot of original black. The action works excellent and the bore is excellent as well. The original ramrod is present and still has the threads. This is an outstanding example of a short lived conversion rifle! $3795.00 REDUCED BY THE OWNER TO $2550.00 !!!
NEW arrivals 72 Consignment
OWNER IS MOTIVATED TO SELL! MAKE AN OFFER !!!
This is a coach gun 12 gauge double barrel shotgun that was marked on one lock plate AMERICAN GUN CO. NEW YORK. The name is listed in the Standard Catalog of Firearms as a Crescent Firearms Co. shotgun. American Gun Co. was a trade name used of shoguns wholesaled by H&D Folsom, a very large sporting goods supplier from the late 1800's until the 1930's. We are not questioned the authenticity of the shotgun but the stock is marked W F & CO (Wells Fargo & Company) and between the barrels with the fore stock off it's marked W.F. & CO. as well as on the inside of the receiver. We are actively looking for an expert to authenticate the markings. It has been written that 95% of Wells Fargo marked items are considered bogus so we want to make sure. The shotgun itself is in excellent cleaned condition with a tight barrel to receiver condition and the hammers work flawlessly. The bores are very good just needing a scrubbing. The top of the barrels are marked 'Genuine Armory Steel' and "Genuine Armory Steel" was a trade slogan stamped on shotgun barrels by Crescent Fire Arms Company during the period from 1893 to 1932 per my research. The shotgun has a large ring on the butt stock for wearing a sling that goes over the shoulder. The sling is marked J.A. BISHOP MAKER, EL PASO, TX . I did find several items made by J.A.Bishop online and they were movie props for MGM Studios. The shotgun also comes with a pine wooden case that has had a nice lining and top added to it. The owners said that this shotgun was carried in this box when on the stagecoach. They stated that this gun was not carried on top but was an extra carried in the coach itself. This shotgun and the box along with the strap and the Wells Fargo card were on display in an old Museum that went out of business in 1969. The owners of this piece bought the entire contents of the museum at that time. The Museum was the DE-AQUISITIONED BOVIE MUSEUM THAT WAS IN VIRGINIA CITY, MONTANA . Interesting enough Jack Slade, Pony Express co-founder and gunfighter, was lynched here. Also with the shotgun is a card about the size of a playing card and you can see what it on it in the pics. Also there is a long piece of paper with the writting on it "Property of Wells Fargo Stage Line. Salt Lake City, Utah U.S." As soon as well get it authenicated we will post a price. Any comments are appreciated just e-mail us at tc1861@yahoo.com . Thanks and take a look at the pics! It is a beautiful shotgun!!!
We have determined that this is an original firearm and since every Wells Fargo Agency pruchased their own firearms and stamps to mark them it would be impossible to say that this is not correct. The stamps do not look modern and there are no phoney brass plates on it. Rock Island Armory sold nearly this exact shotgun with the same maker but with different stampings and no provision for a shoulder strap. Take a look at the pics and judge for yourself. $3995.00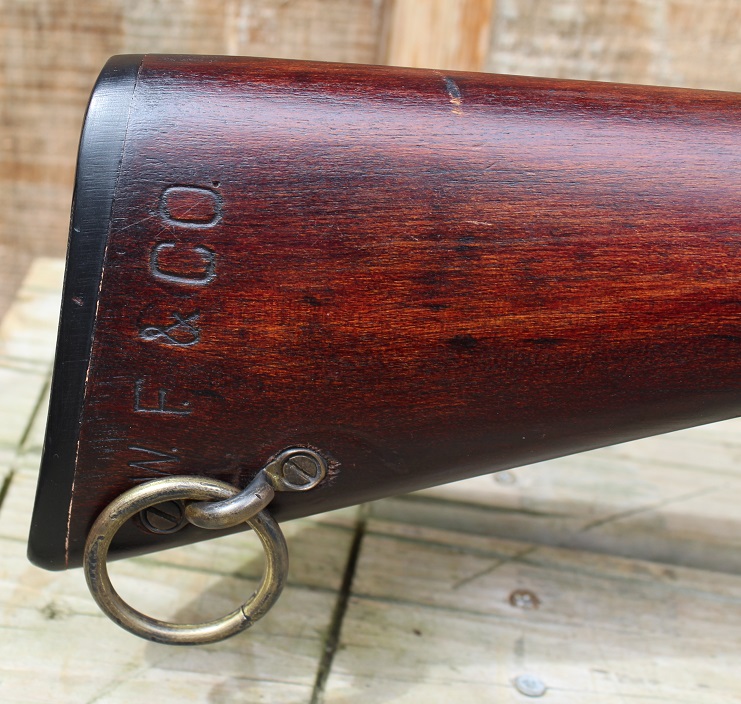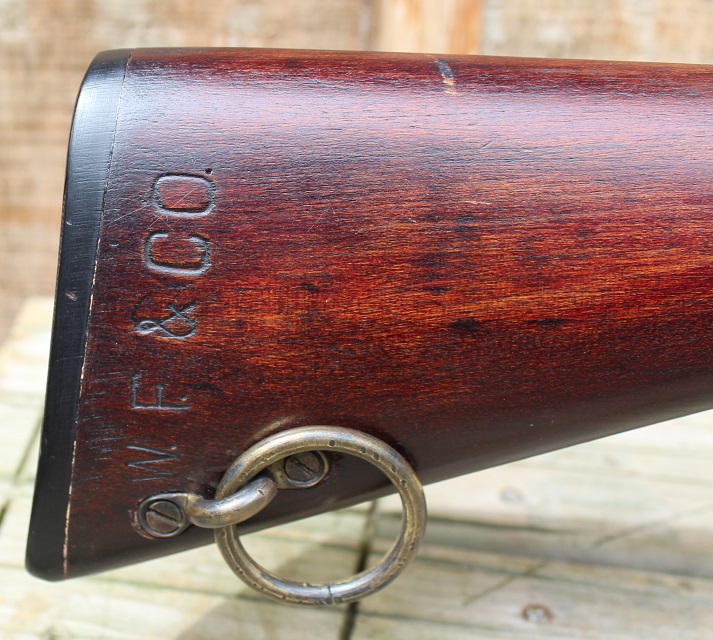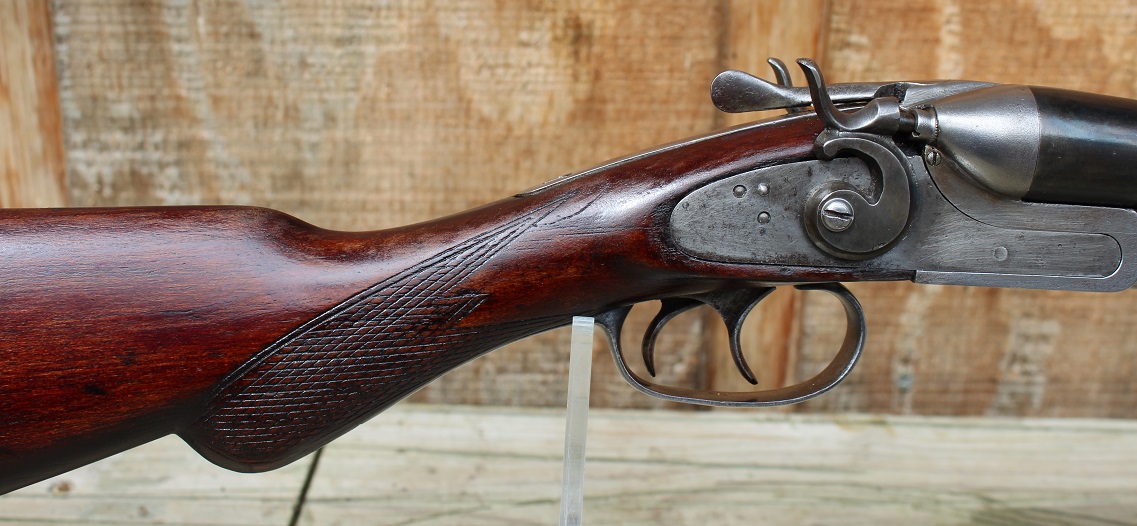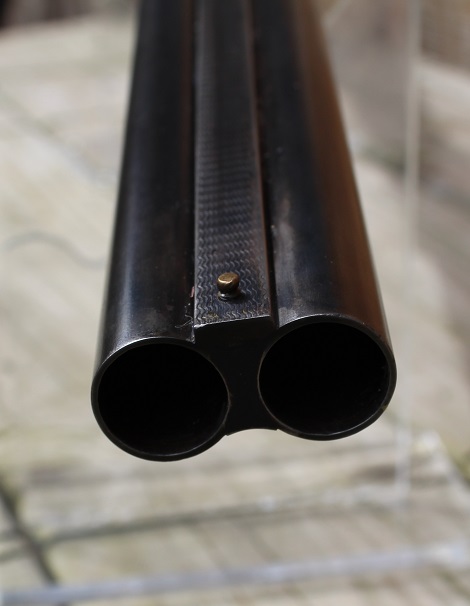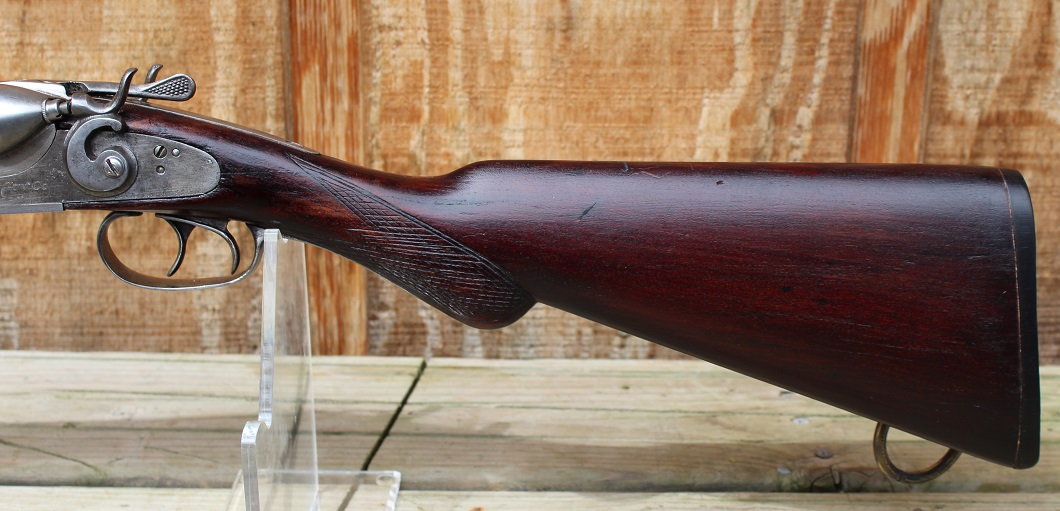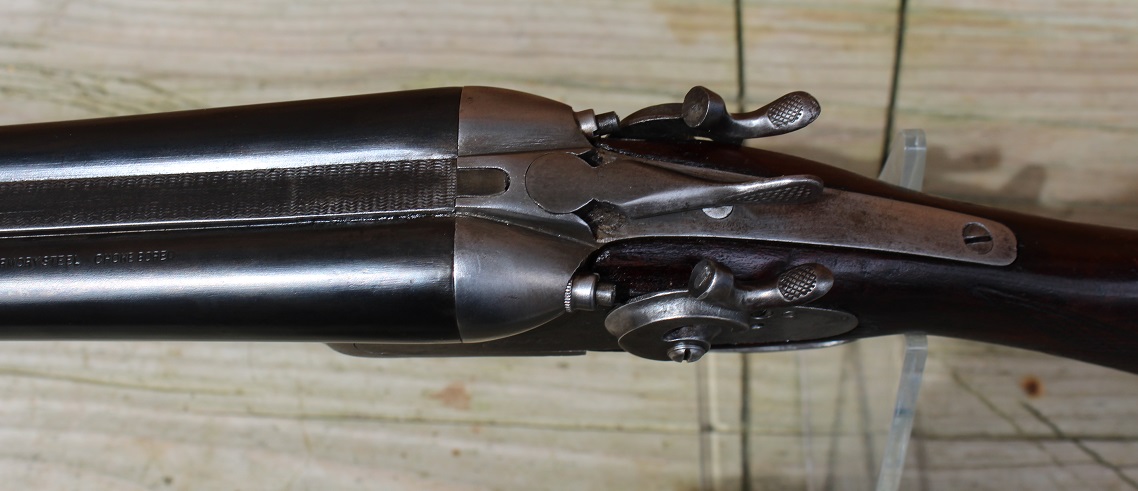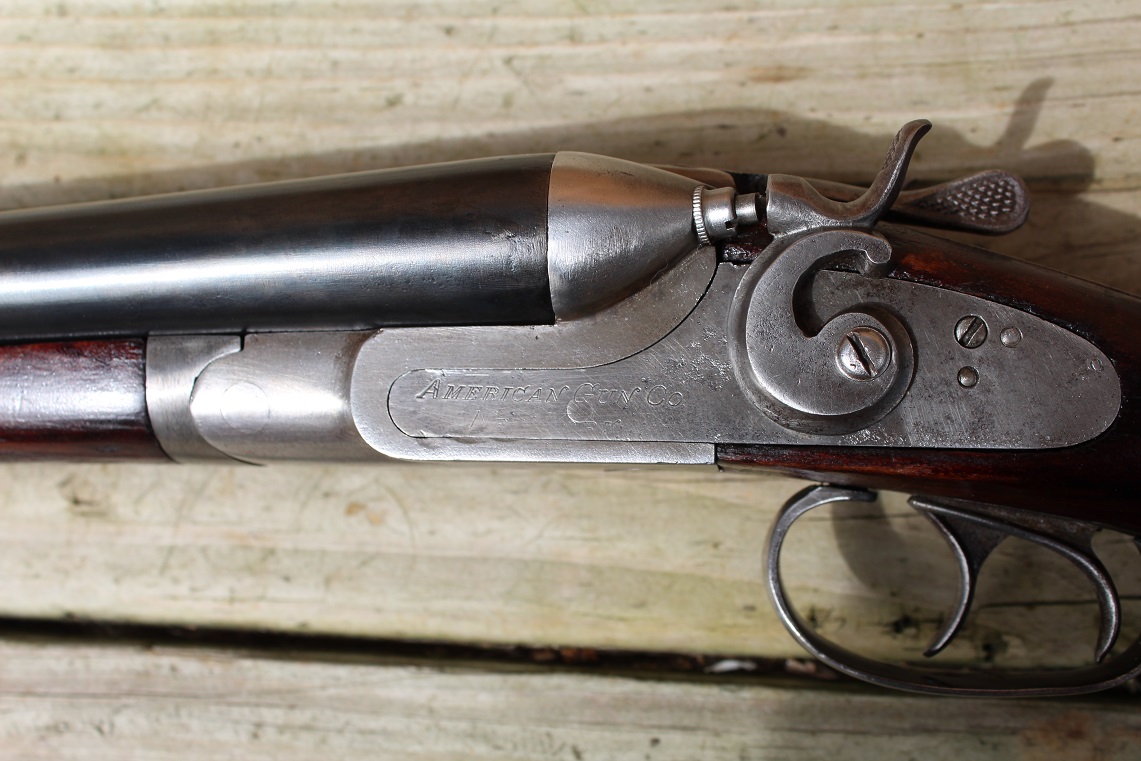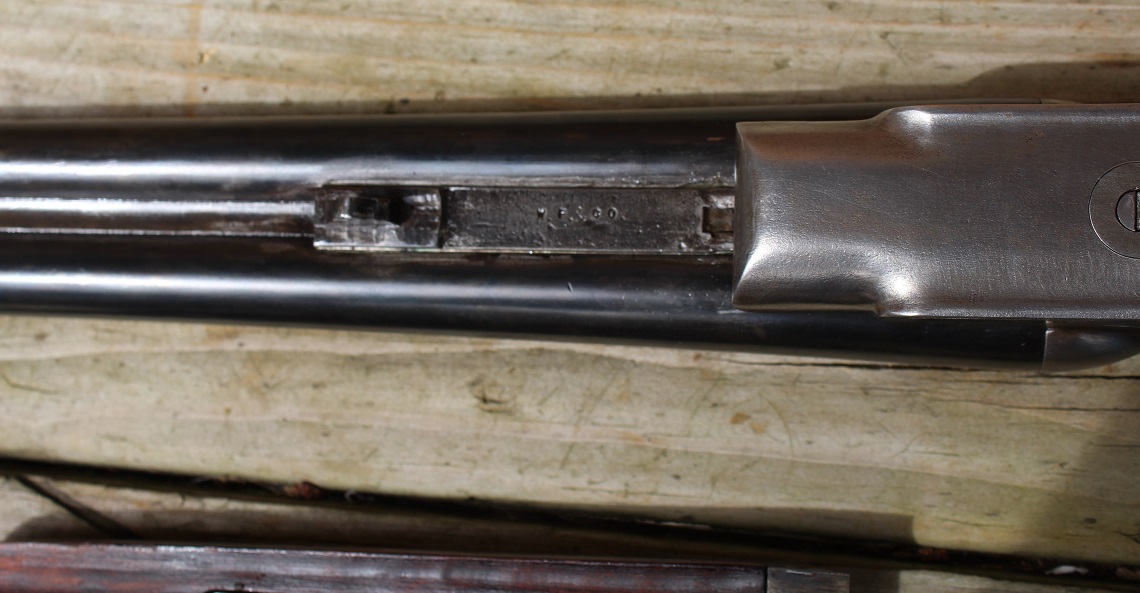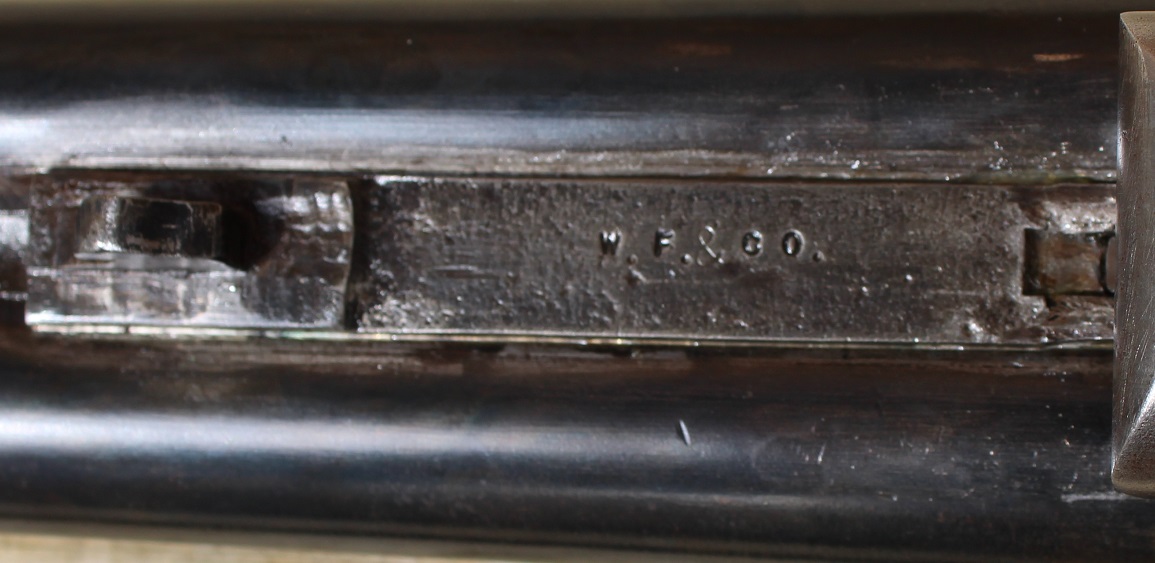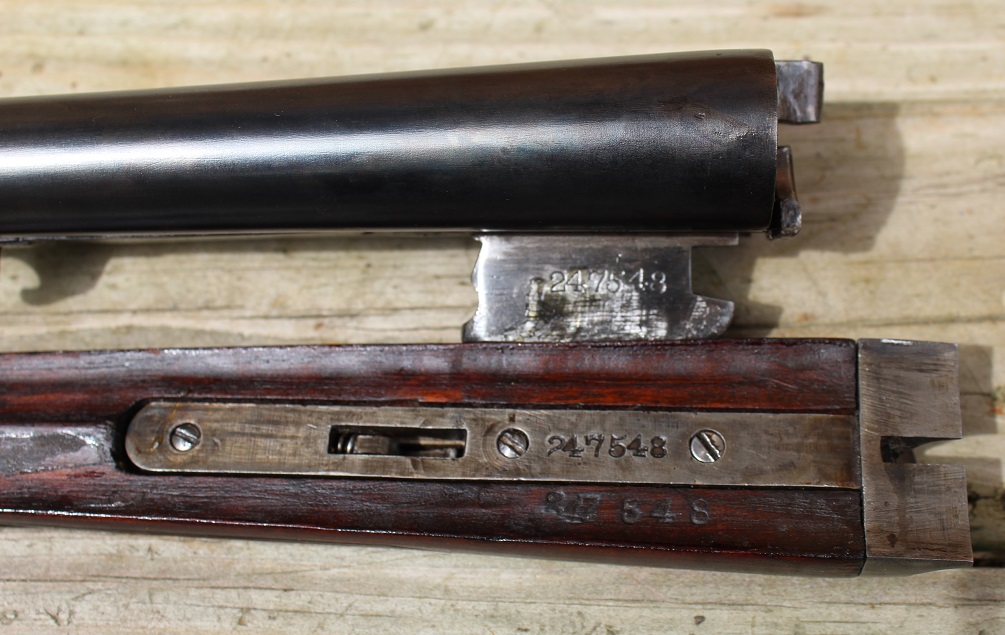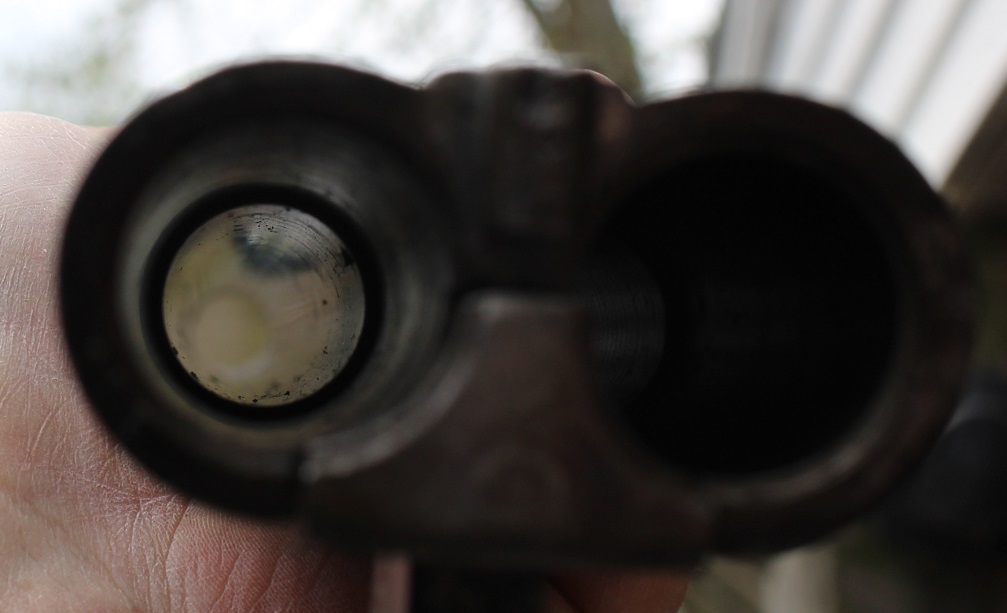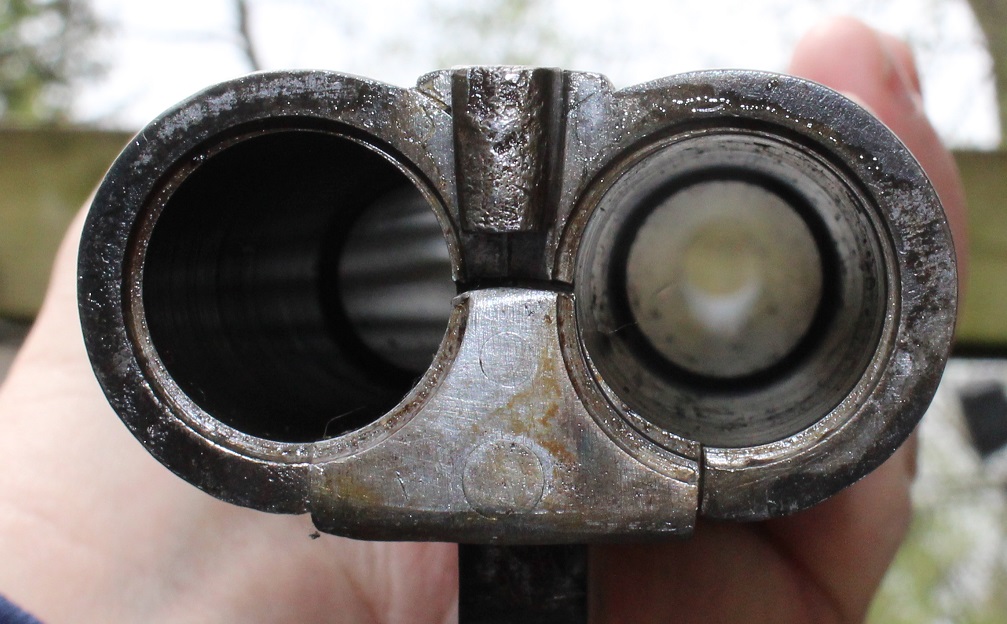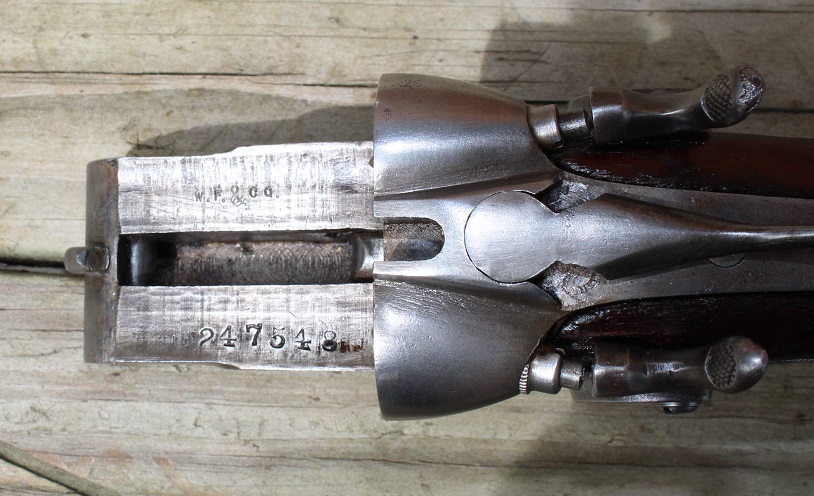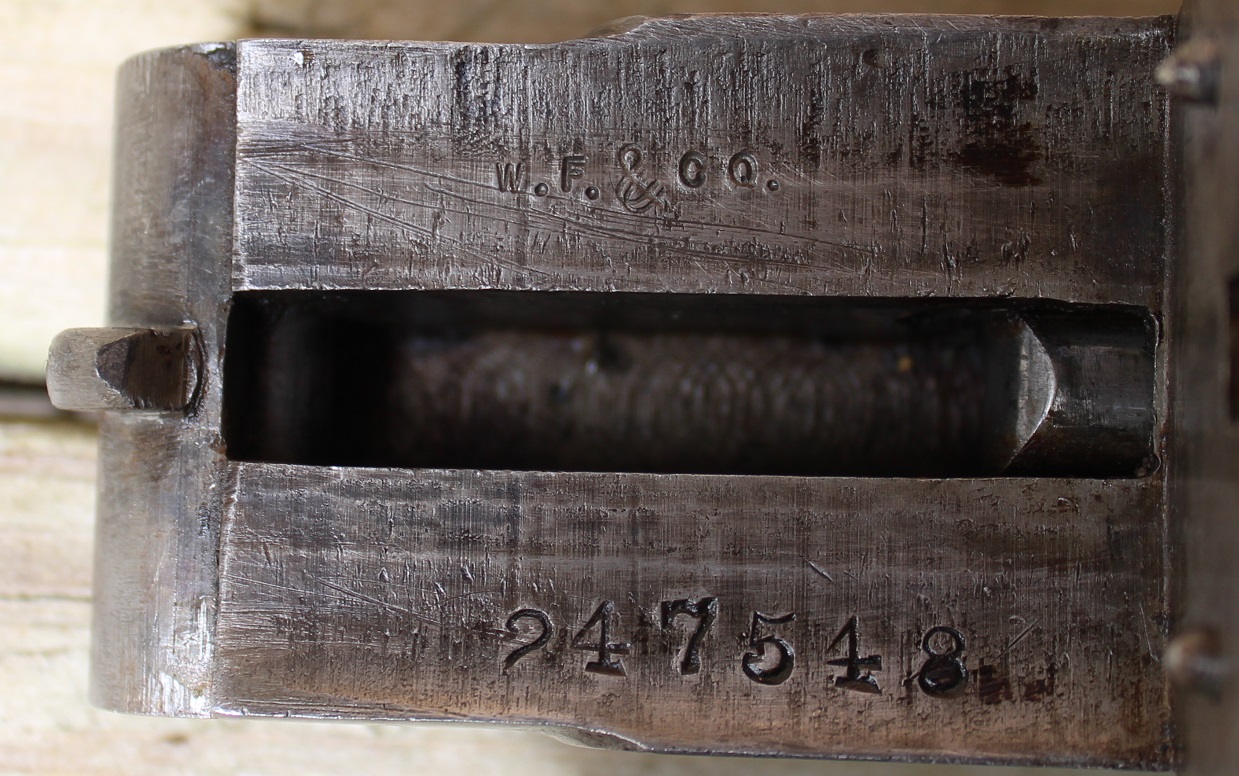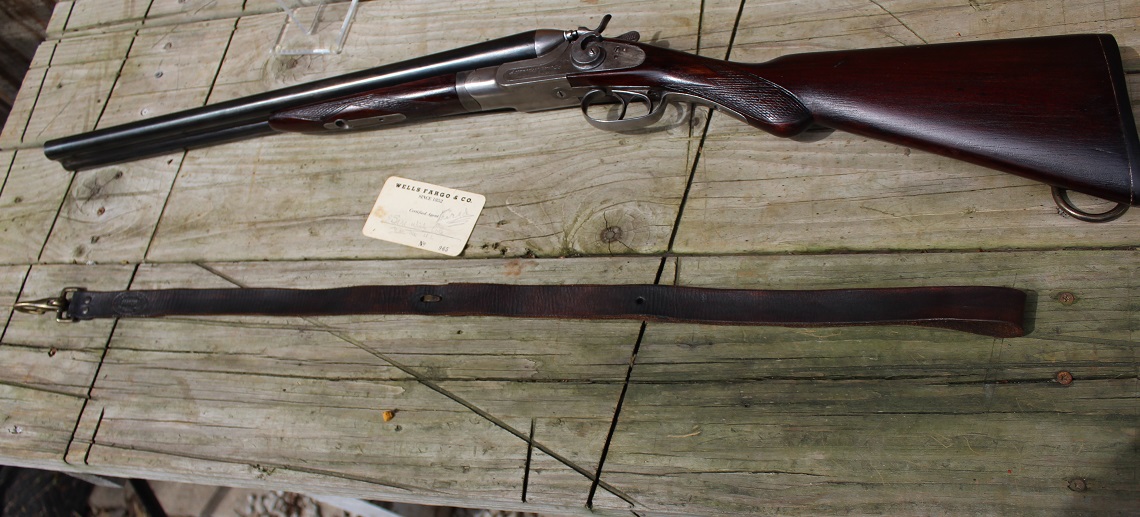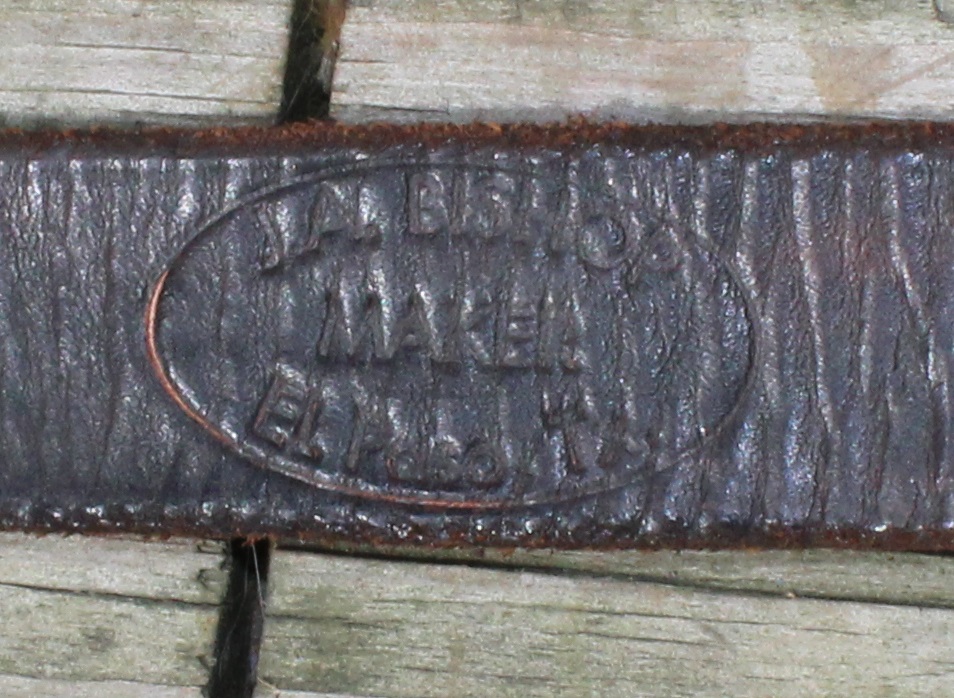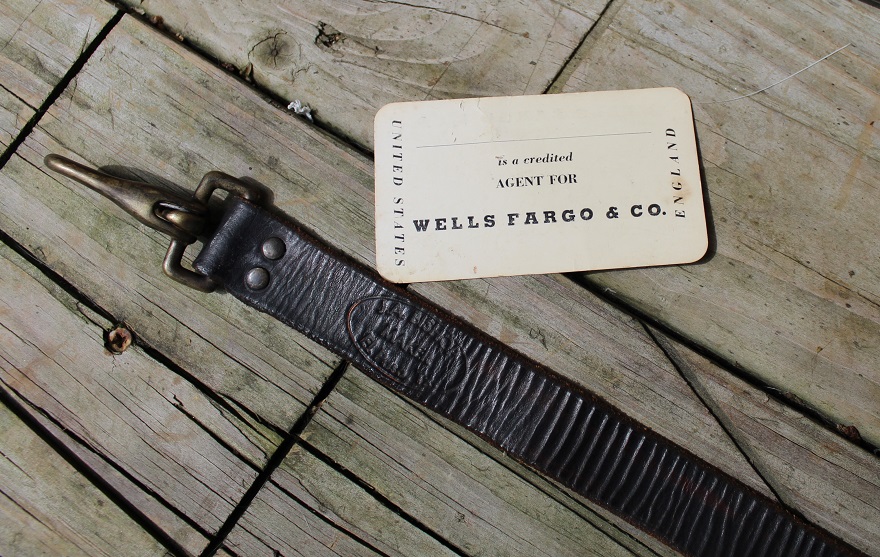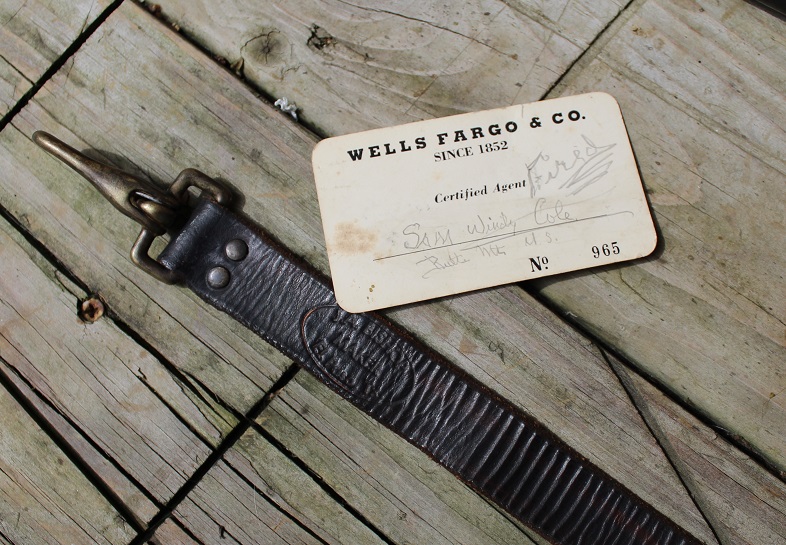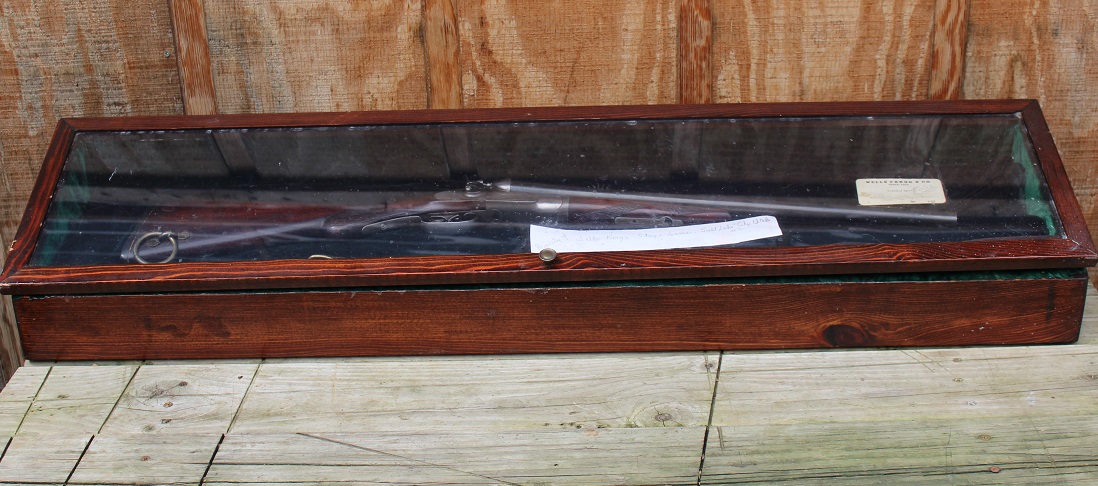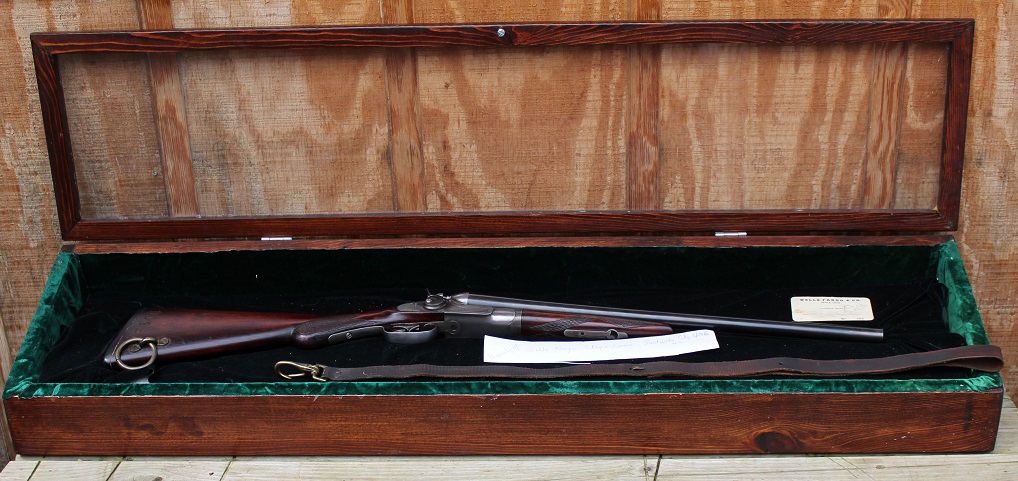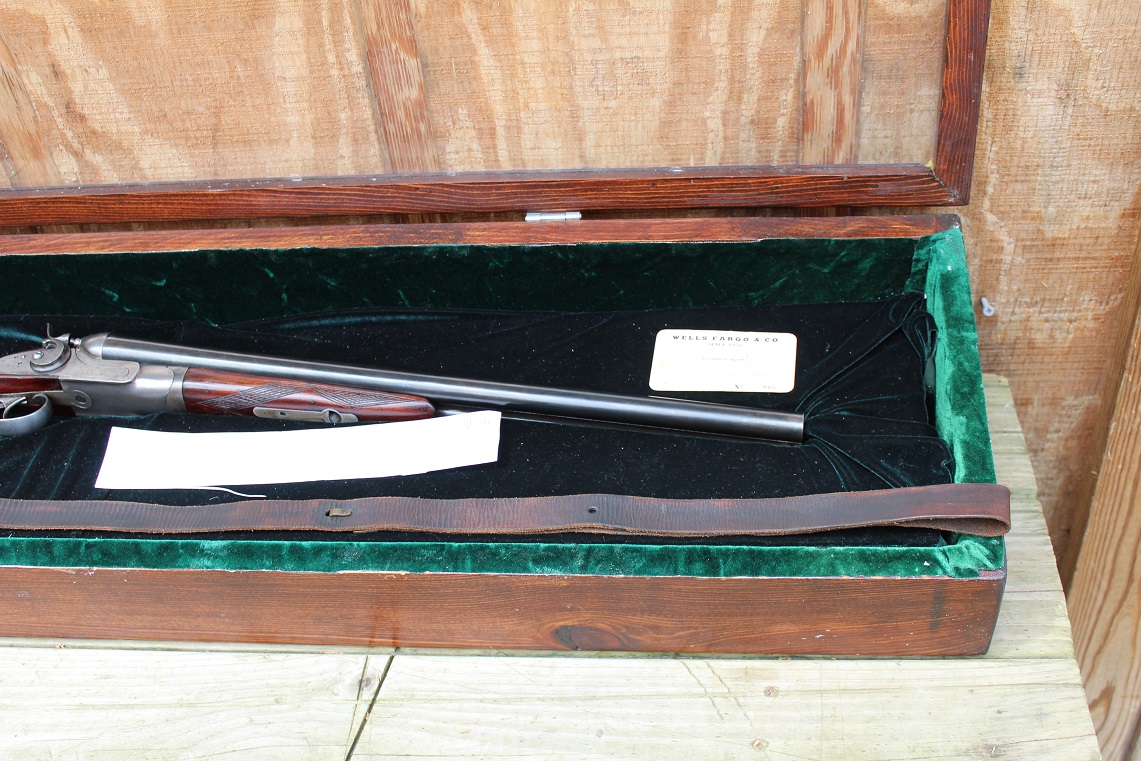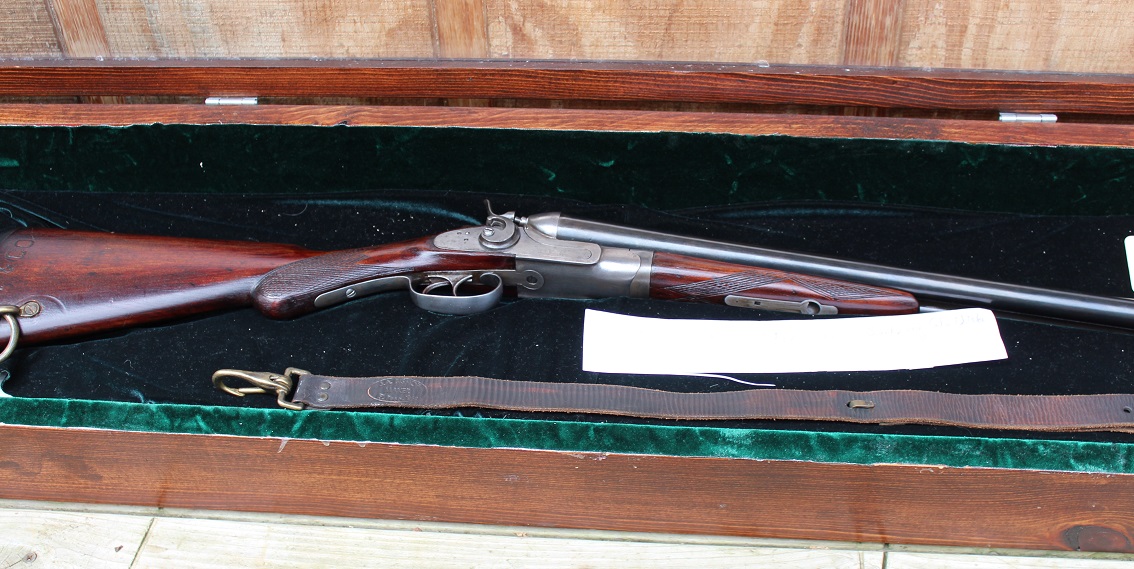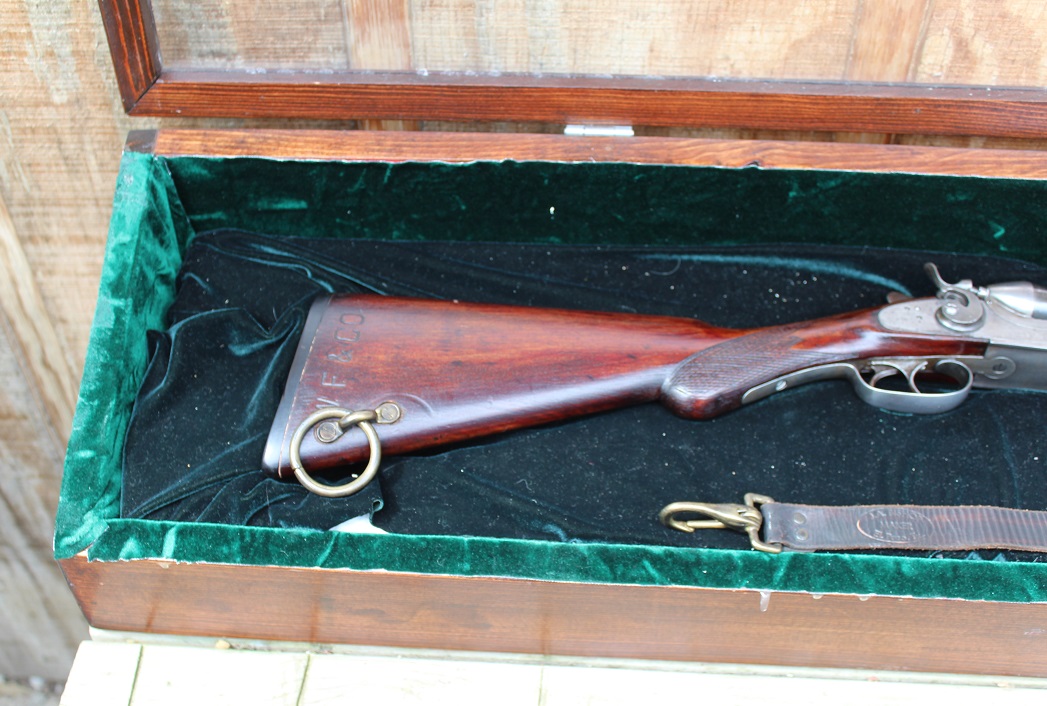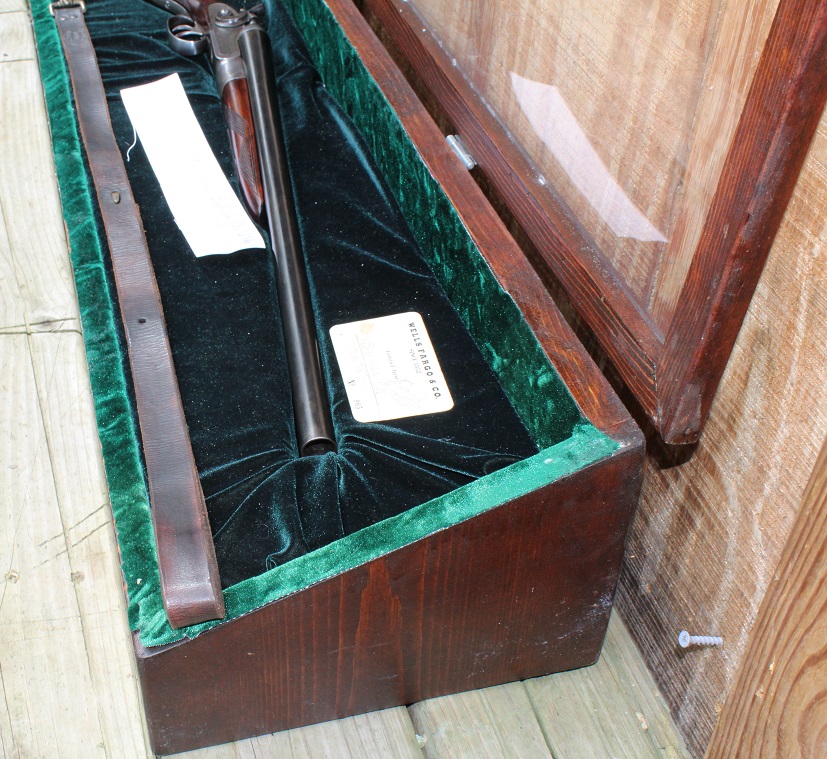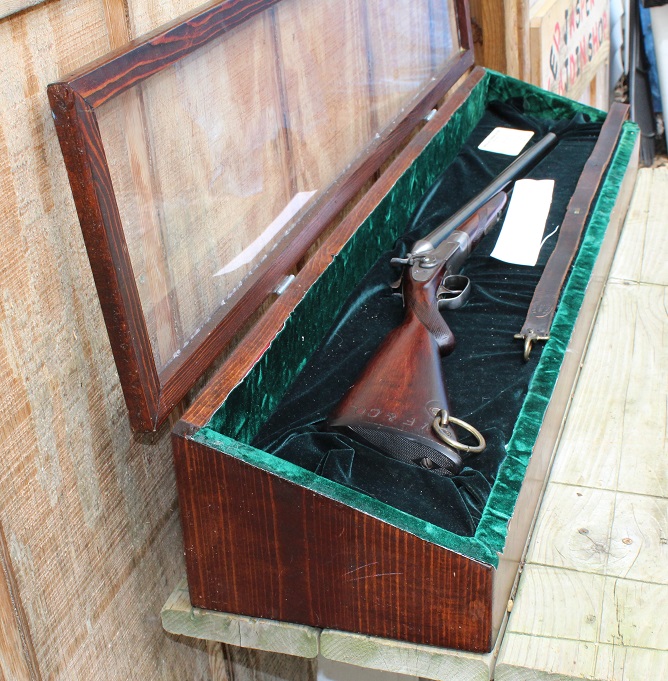 Consignment
New Arrivals 71
Here we have a WW2 canvas case for the M-1 Carbine. The gun transport case is marked with U.S. on the outside and the makers name and year on the inside of SHANE MFG CO . 1945. The case is in generally very good condition with no rips or tears and the zipper works just fine. The od color is as it should be. There are a couple of soiled areas on the case and a little rust staining that you can see in the pics with the larger one being about the size of a dime. All in all this is a desirable display item to go along with your M-1 Carbine of WW2 vintage ! For this piece $145.00
Consignment
New Arrivals 70
Here we have 2 pairs of 19th century glasses. They are:
19th century sun glasses in nice shape. Has thin spring steel curved ear pieces. Flat glass. $45.00
19th century perscription glasses in good condition with straight ear pieces with one marked SAPPHIRE. The side pieces curve back towards the head. The glass is flat. On a magnification scale these glasses are probably a 1. $45.00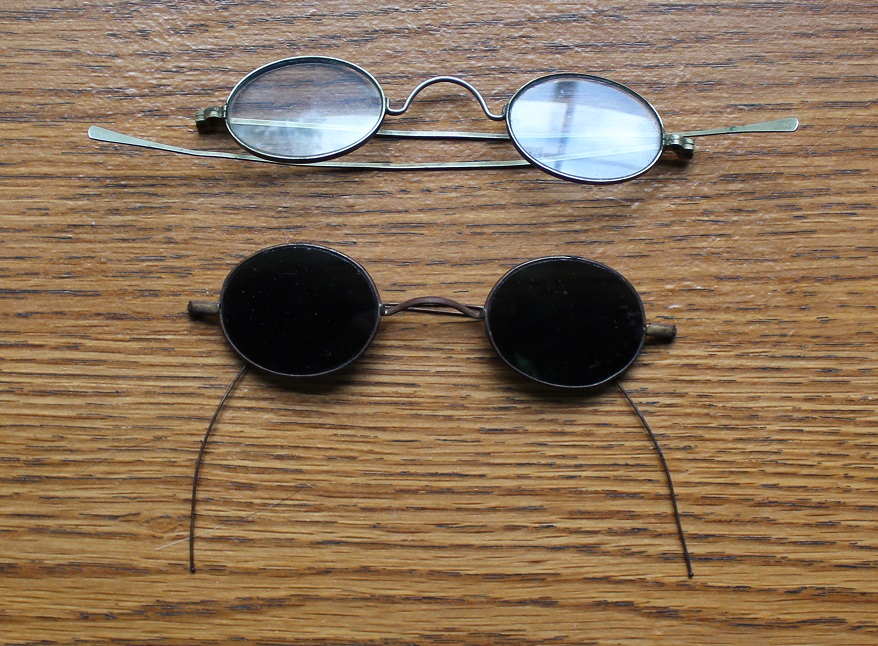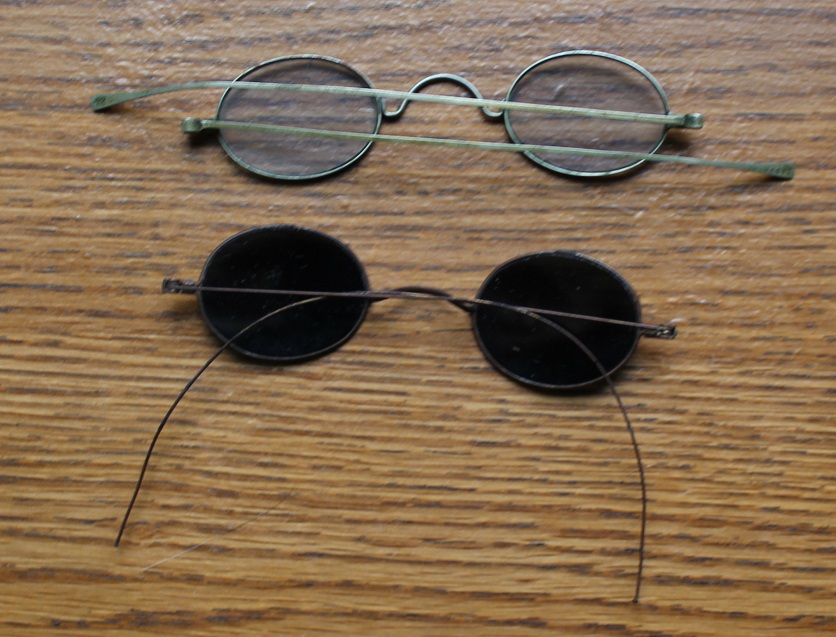 Consignment
New Arrivals 69
. Here is a lot of 4 identical US Flag paper shields attached to a nickeled safety pin for attachment to the jacket. Shields are 2 inches tall by 1 1/2 wide. Believed to be GAR. Excellent condition! For each $12 –For the lot $40.00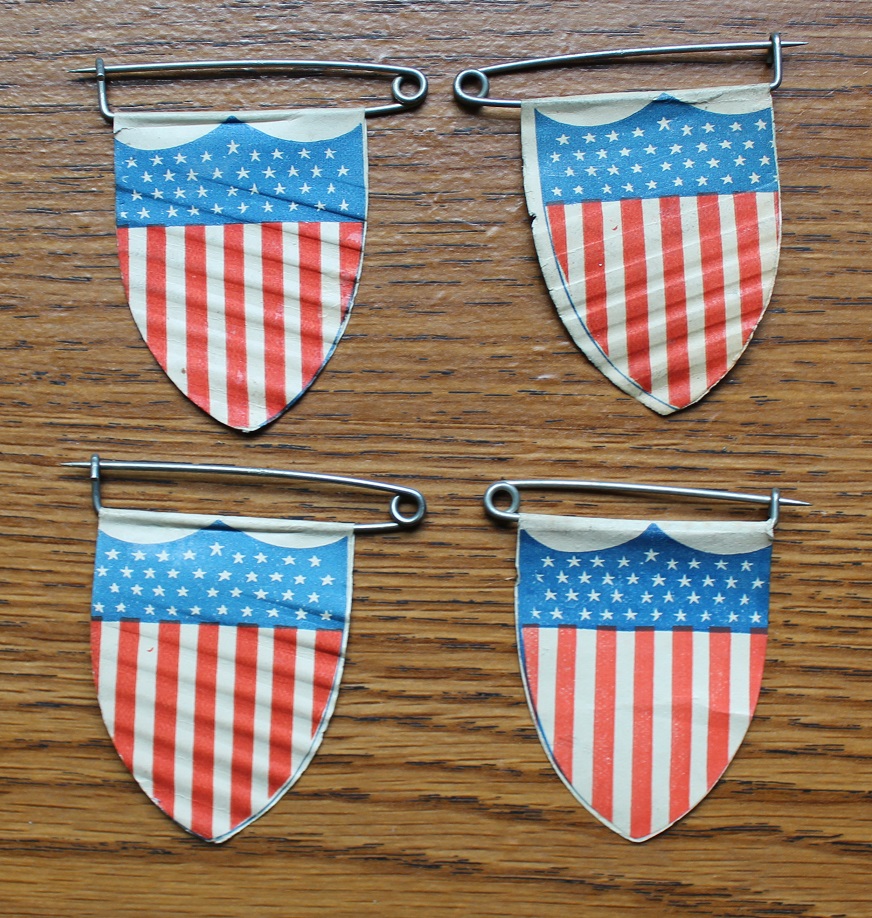 Consignment
New Arrivals 68
Negus Field Glasses with sun shades in very good condition with some small amount of leather replaced on the tube. These are very nicely marked on the eye pieces T.S. & J. D. NEGUS * NEW YORK. This pair has great optics!!! Check out the Company history below. I believe these to date fairly early, perhaps 1869, as they are the early type. Qualifies as Indian War Usuage! Complete set!! Thomas S. Negus was an immigrant from England who began making and selling chronometers in New York in 1848. The firm was trading as Thos. S. Negus & Co. in 1864 and T. S. & J. D. Negus in 1869, and was described as "probably the most prolific American chronometer manufacturer" up through the first quarter of the 20th century. Negus was still a going concern in 1961. In addition to chronometers, Negus offered a wide range of instruments for nautical use. $145.00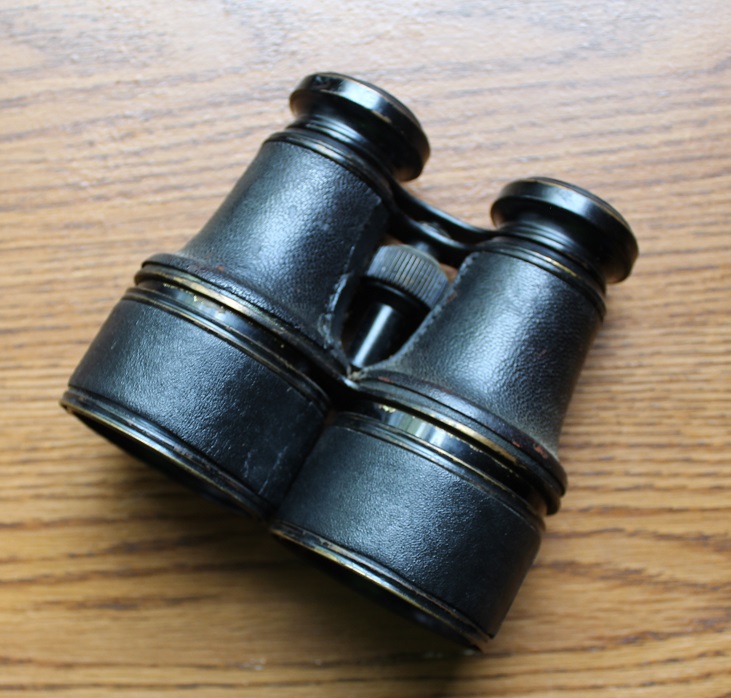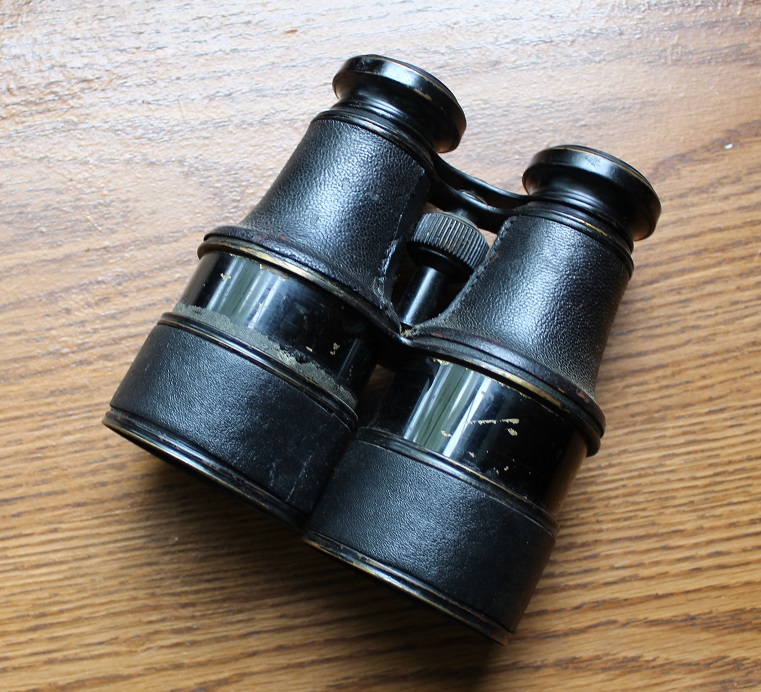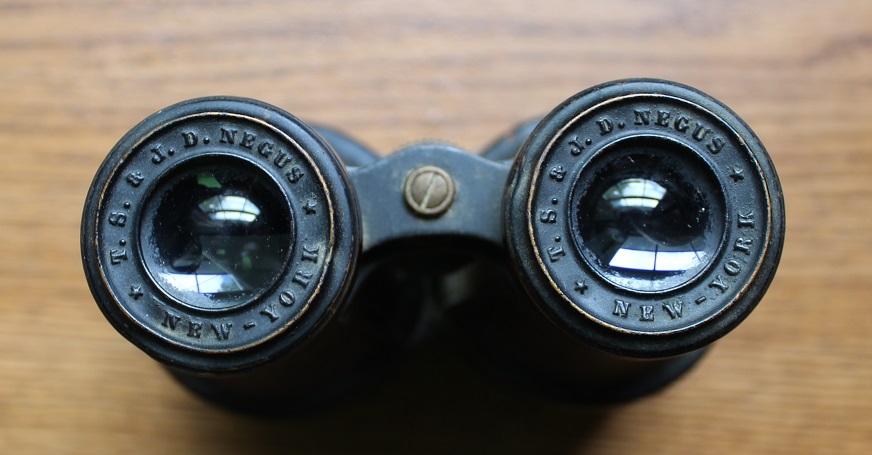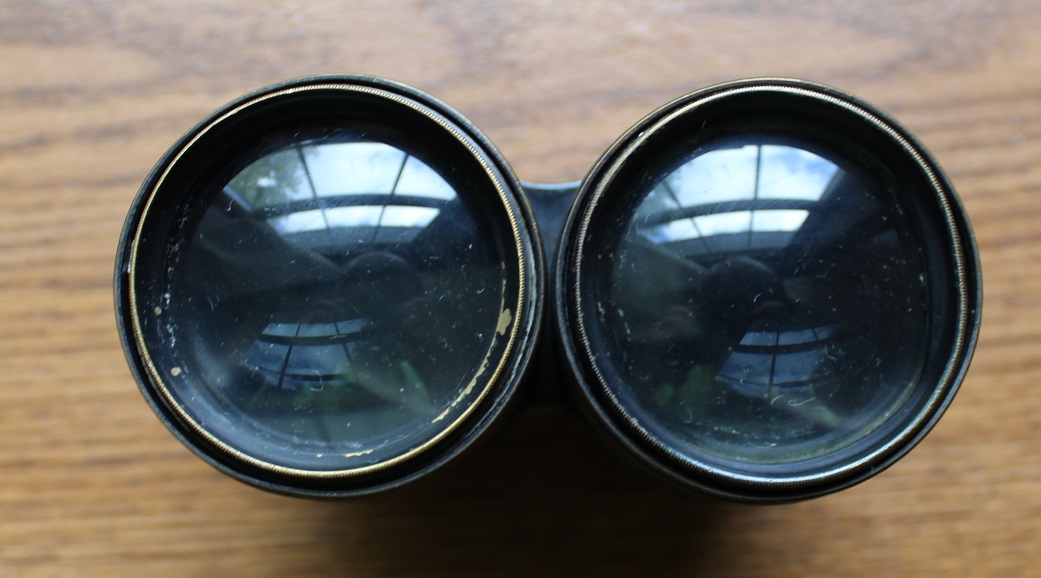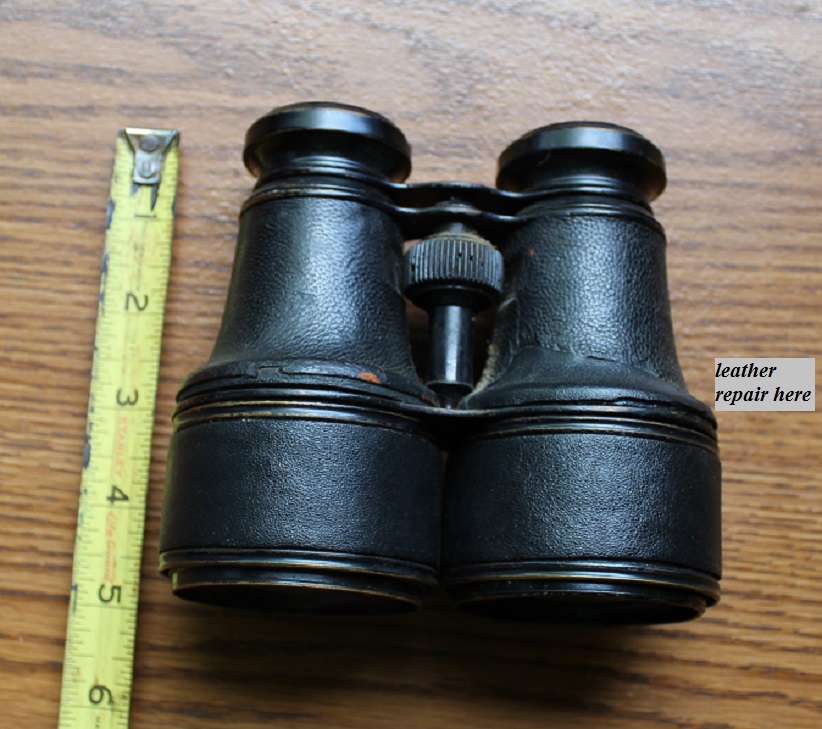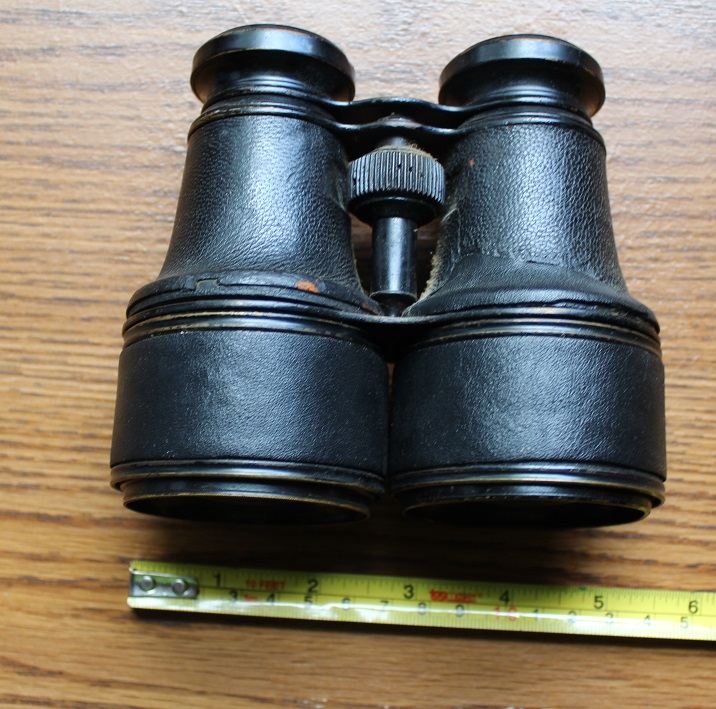 Consignment
New Arrivals 67
S&W No. 1 , Second Issue, .22 caliber revolver made from 1860-1868. This revolver features a blade front and notch rear sights, 7 round un-fluted cylinder, square flared butt, blue barrel and cylinder and silver plated brass frame. The top of the barrel is marked "SMITH & WESSON SPRINGFIELD, MASS" and the cylinder is marked with the patent dates. They made 117,000 of these serial numbered up to 128,000 as they began at 11,672 with this one being s/n 71846 which puts it probably 1864-65. This is the standard model with the 1855, 1859, and 1860 patent dates on the cylinder. Some wobble to the hinge. This one works well but needs a new trigger return spring as you have to push the trigger forward to engage the action. The barrel markings are nice and clear as is the cylinder markings. This model has very nice rosewood grips. The top spring is still present on this piece as well as the ejector rod. A good amount of the silver on the brass frame is remaining but is black now with age. This is a nice little Civil War Revolver! $525.00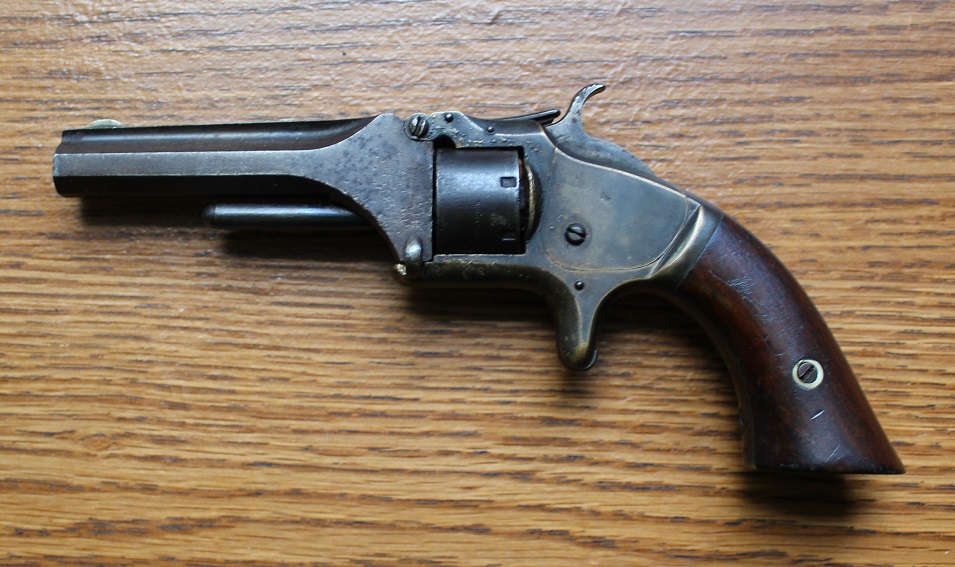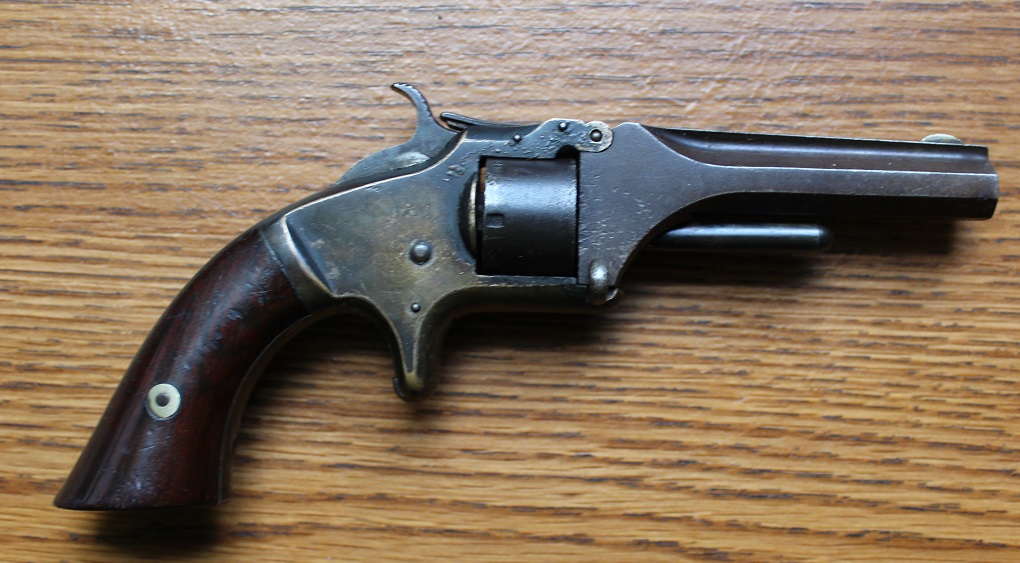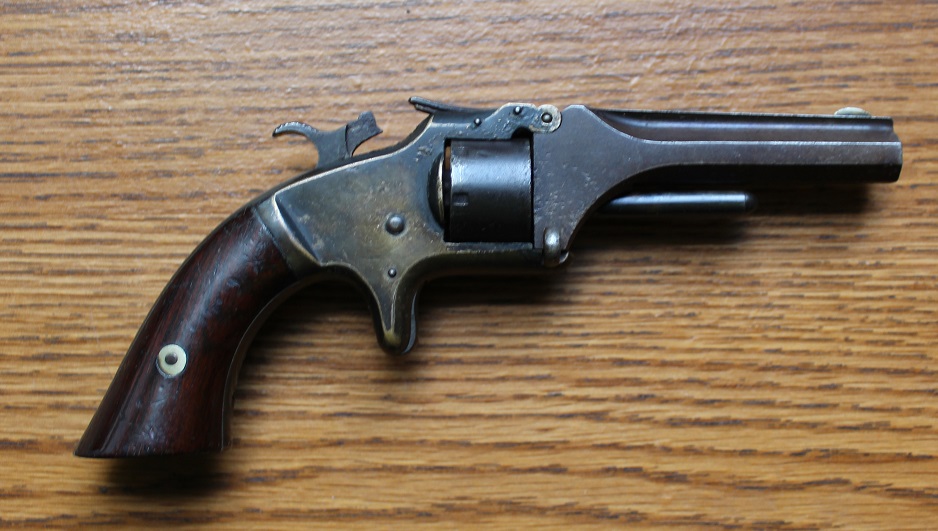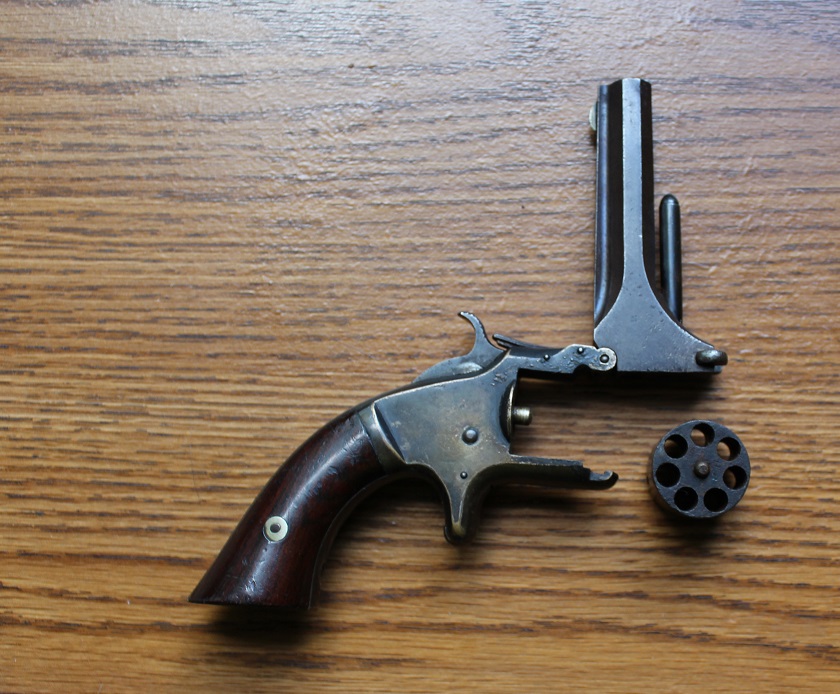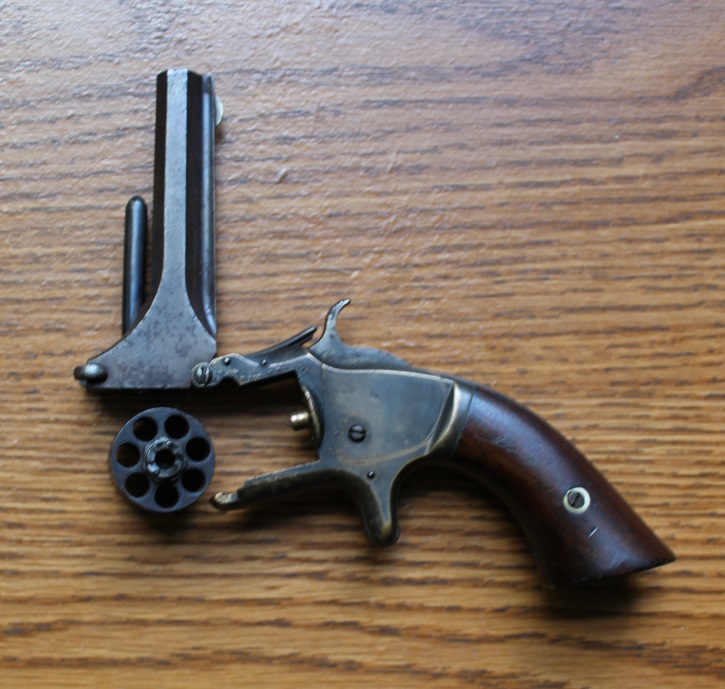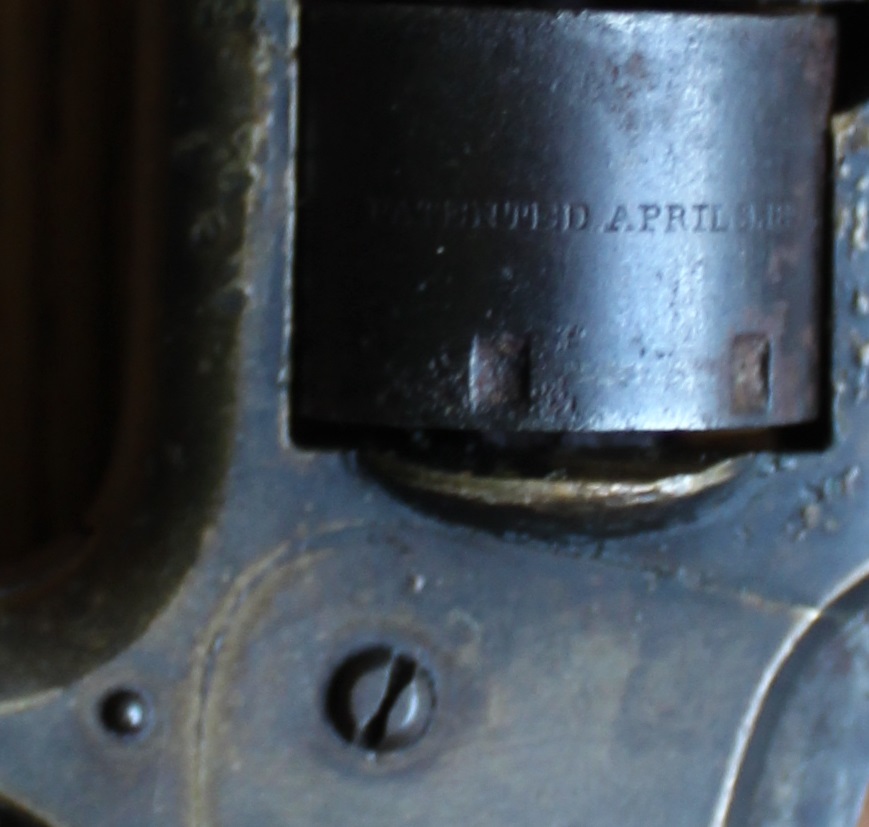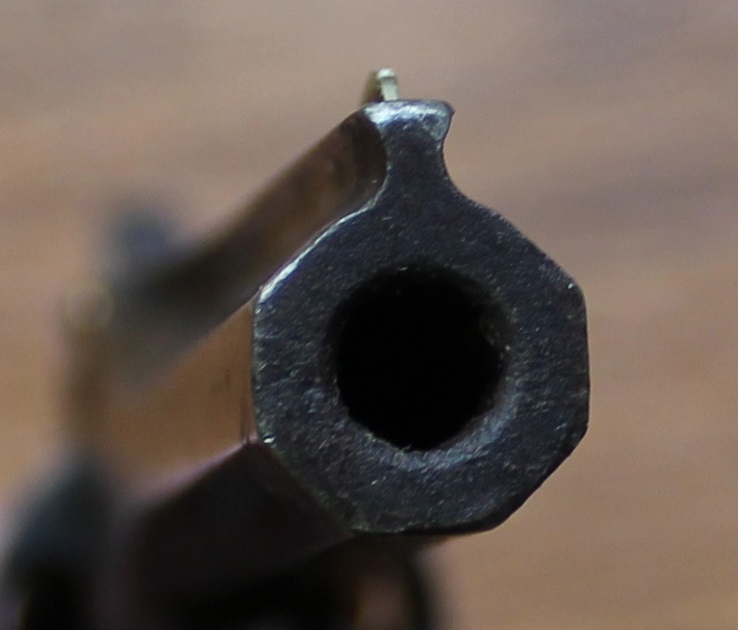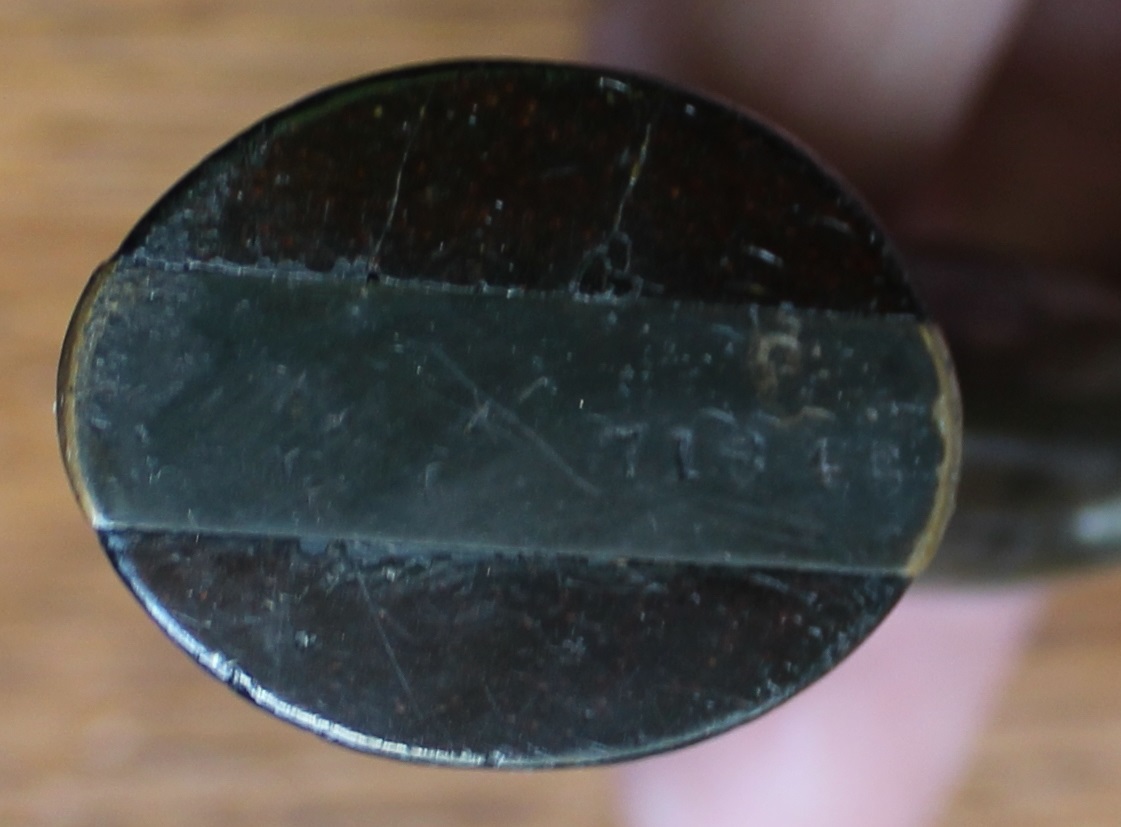 These next three rifles were built by a friend of mine with some of the work being custom and some parts being from CVA, a well known black powder company. He has reached a point in his life where he wants to let some things go. Here they are!
Consignment
New Arrivals 66
This first one is a flintlock rifle in about .50 caliber I believe with browned rifled barrel. The entire piece is 57 1/4 inches long not counting the ramrod that extends several inches past the end of the barrel. This is a set trigger model and the action works perfectly. This one was finished like one would have been finished on the frontier. Woodsmen would purchase parts like barrels, lock plates and such from a dealer and put them together themselves. There are some inletting gaps, screw offsets and the patch box is not inletted into the buttstock. The butt plate was too short on top and a piece of polished bone was placed there to for the most part, fill the gap. The thimbles, butt plate, patchbox and nose cap are brass while the trigger guard is steel with some engraving on it and is also not inletted into the stock. The sights are iron. There are no CVA or manufactures names or markings anywhere on this piece that I can see. The fullstock is walnut and in pretty good condition with a couple of minor dings. This is a pretty nice 'Frontier' style rifle and 'sparks' just fine when the trigger is pulled. This is a rifle that can be used and also look great above the fireplace!!! Take a look at the pics!!! For this piece $575.00
Consignment
New Arrivals 65
This last rifle is a small full stock rifle in approximately 30 caliber or so. This is percussion as well with the 2 trigger set trigger set up. The overall length is 43 inches with a 27 1/8 inch octagonal browned rifled barrel. There are no markings on the barrel and the top of the barrel looks to have been drilled and tapped for scope mounts. Otherwise there is a dovetailed rear iron sight with dovetailed blade sight up front. The brass sideplate is not inletted into the stock and neither is the brass trigger guard. There are a few inletting gaps from hand fitting into the stock. This stock has been damaged at some point and has a dowel through the wrist when repaired. It is solid as a rock at this point. The butt plate and ramrod thimbles are also brass. It's a nice looking little fullstock and the hand work is apparent. The owner wants $525 for this one. Take a look at the pics!!!
Consignment
New Arrivals 64
Here we have a reproduction modern percussion double barrel pistol I believe called 'SnakeEyes'! This one looks vintage by the patina. The lhammers snap back and it seems to function fine. The bulk of this piece is brass with a couple of inscriptions on it that you can see in the pics. The grips look like Ivory but they are plastic. Here are the stats:
Grips: 2 piece imitation ivory (white plastic). Brass frame integral w/ barrels
.36 caliber side by side with a 3 inch brass smoothbore .360 diameter.
Percussion with #11 size caps, two shot
Brass triggerguard with two hammers and a single trigger. 6 3/4inches long overall and weighs 1 ½ pounds.
10 gr. FFFg with .350 round ball and .010 patch. Works fine!!!
Believe made by Classis Arms / USA. For this piece $110.00
Consignment
New Arrivals 63
Here's a copy of one of the first Remington Hammerless shotguns model 1900 which was made to 1910. This is a 12 ga double hamerless with safety and two triggers. The entire piece is over 48 inches long with 32 inch damascus barrels with the Remington Info stamped into the rib on top. I would not say that these old damascus barreled shotguns are safe to shoot. The bores are not all shot out but could use a scrubbing. Both sides of the lock is marked REMINGTON ARMS CO. There is some pitting on the locks but not active and it could use a good scrubbing. The action seems to work ok. You can see in the pics where the forearm attachment was re-braised in on the barrel. The walnut stocks are in good condition with the usual dings from use. This old shotgun would look great with a duck decoy display! This shotgun is old but will still need a C&R or FFL to transfer. Take a look at the pics! $425.00
New Arrivals 62
Here we have a Civil War era Plant's Mfg. Co. Front 'Loading "Army" Revolver. This 6 shot revolver is a .42 Caliber Cupfire caliber. This is a third model, type 1, heavy frame, The gun was privately purchased and carried during the Civil War as a personal sidearm. No government contracts. This revolver was manufactured in the 1860's with a serial number of 1056. The barrel is 5 1/2" long and marked "Merwin & Bray" on left side of barrel flat. The barrel is octagonal and has riflling with some pitting. Merwin & Bray were agents of Plant. The Plant info is stamped into the top barrel flat. Action works stiff . Cylinder has the patent info stamped into it. Brass frame with mustard color patina has been cleaned slightly. Barrel exterior has light pitting. Cylinder has an area of deeper pitting. Grips are rosewood or walnut and show signs of cleaning as well as using the butt for a hammer! This was a common practice I'm afraid. This piece is lacking the ejection rod and someone has placed what looks to be one in there but it is not. As a matter of fact whatever is in there is glued with a soft type substance and could be easily removed. I have been told that loosing these were common and there are reproductions on the market but I have not had time to look. The serial number started at 700 and went to 8,000 so this is a fairly early third model. This one is kind of unique because it has a 5 1/2 inch barrel where most were 6 inch barrels. This barrel does not look to have been cut at any time and the patina matches perfectly. I would say the barrel is a completely original unaltered barrel and although Flayderman's Guide talks only about 6 inch barrels but I have found other 5 1/2 inch barreled revolvers for sale. For this one $650.00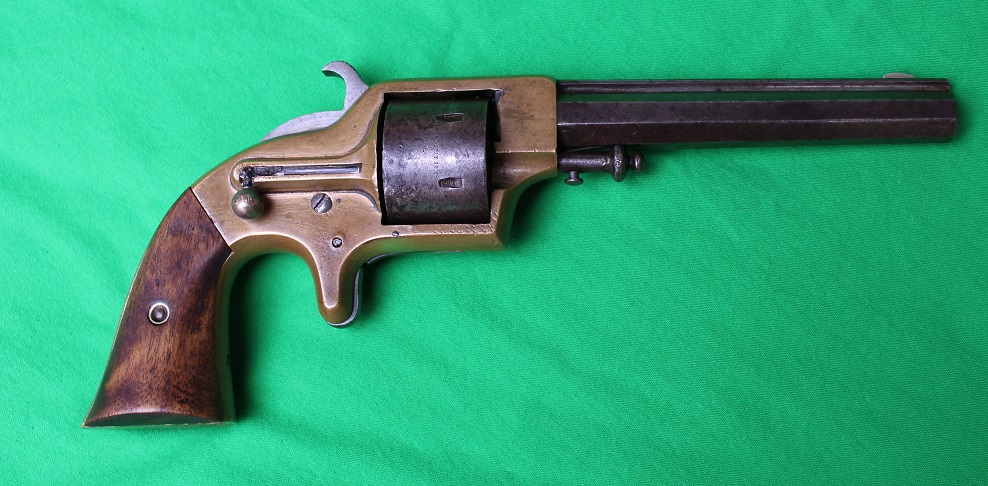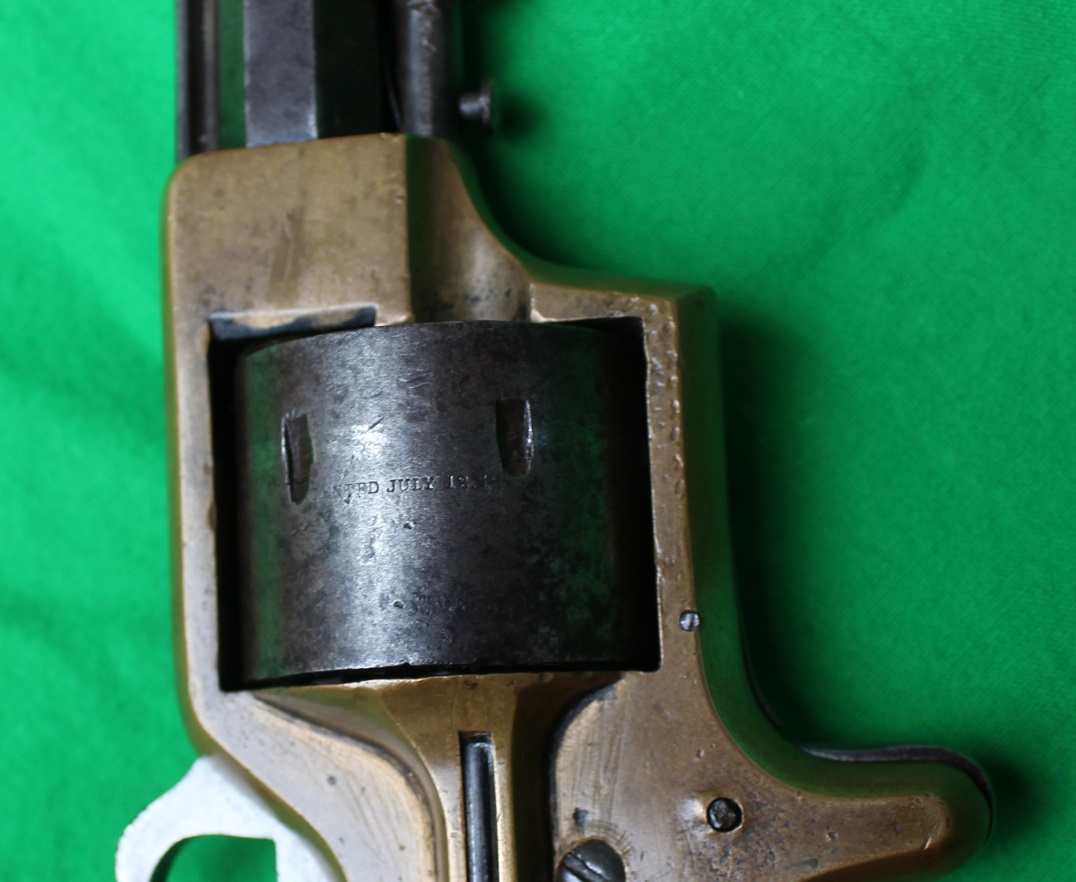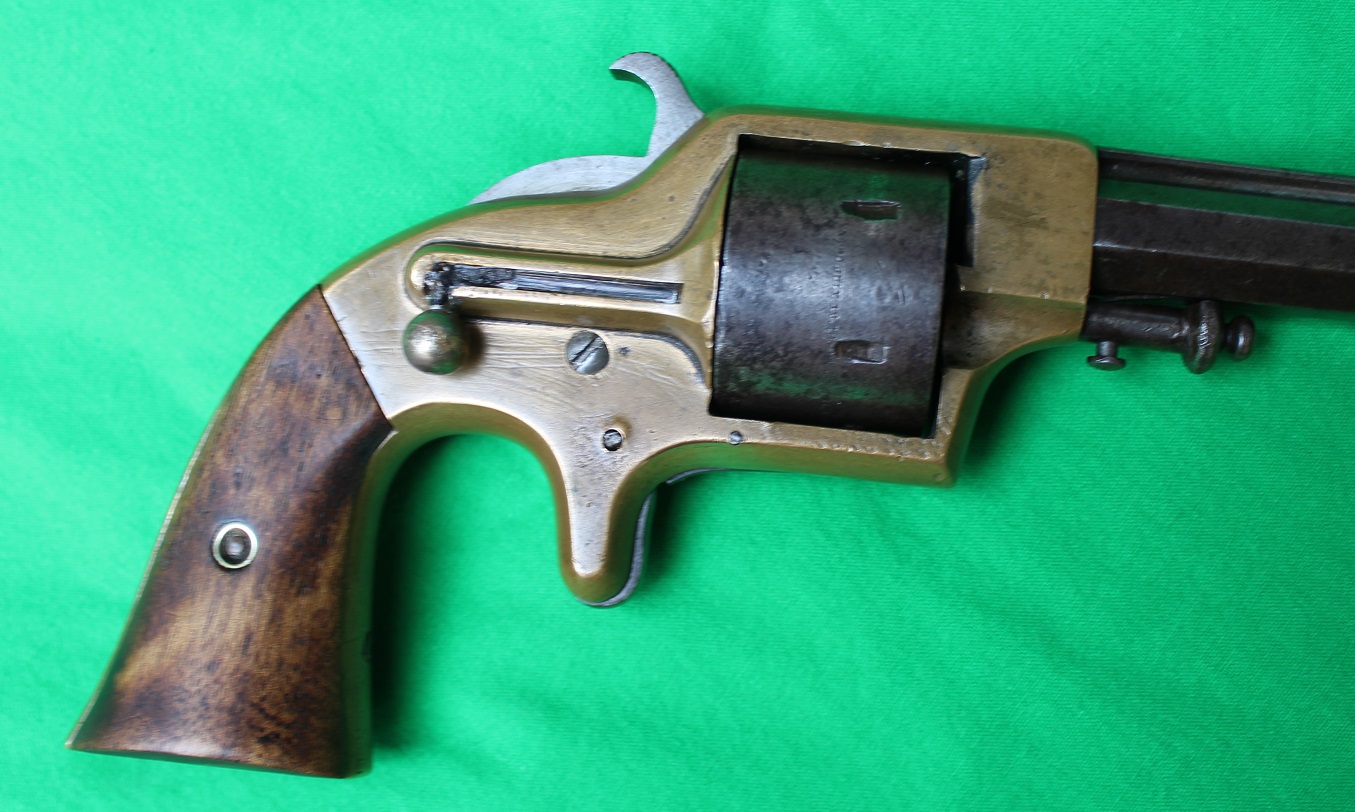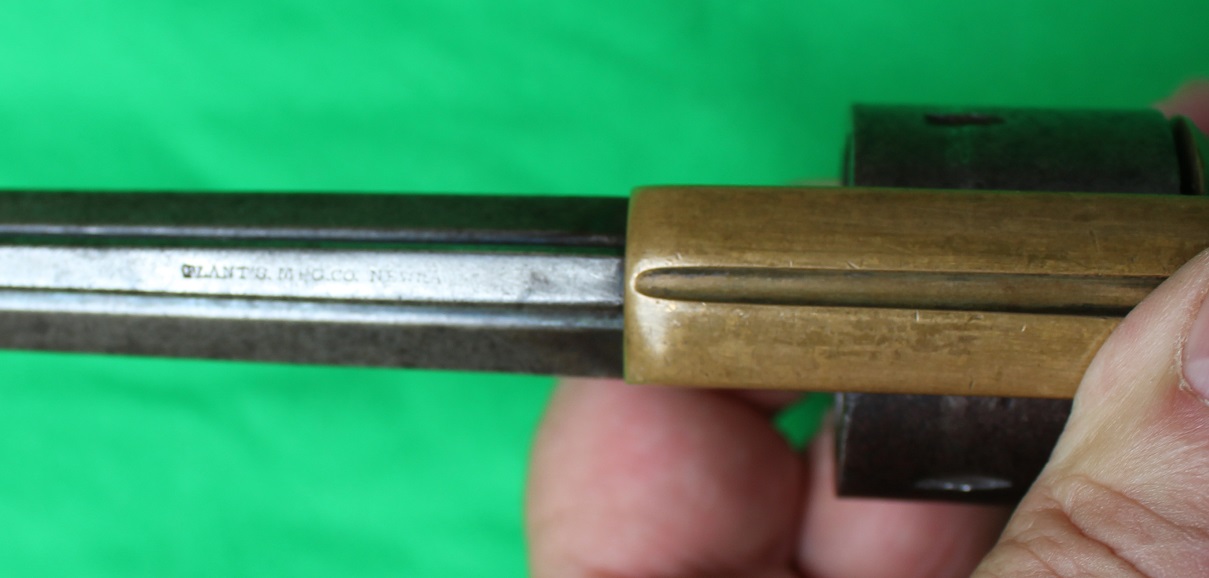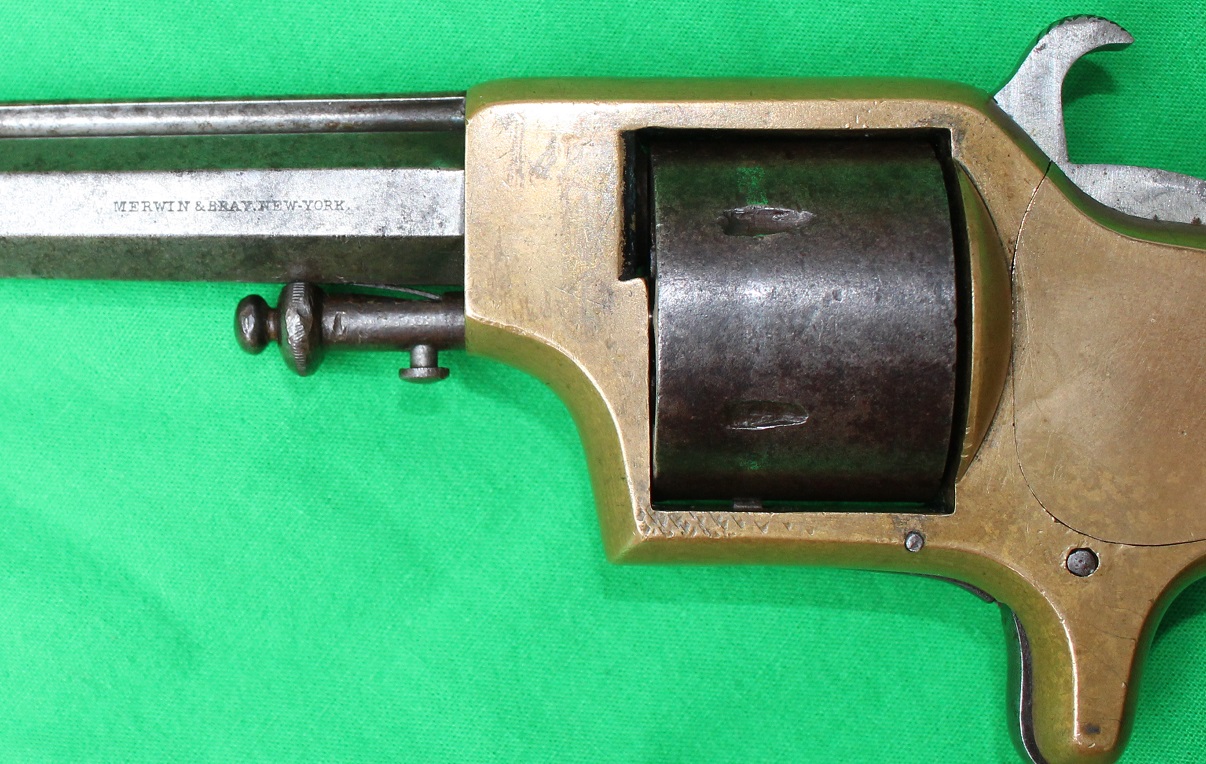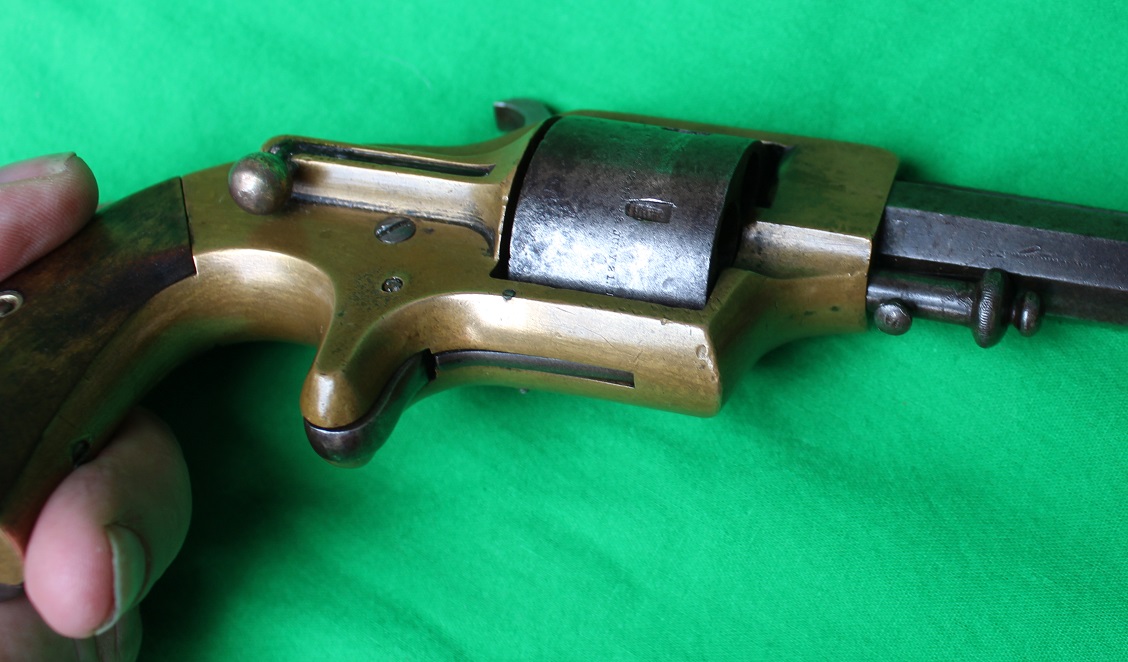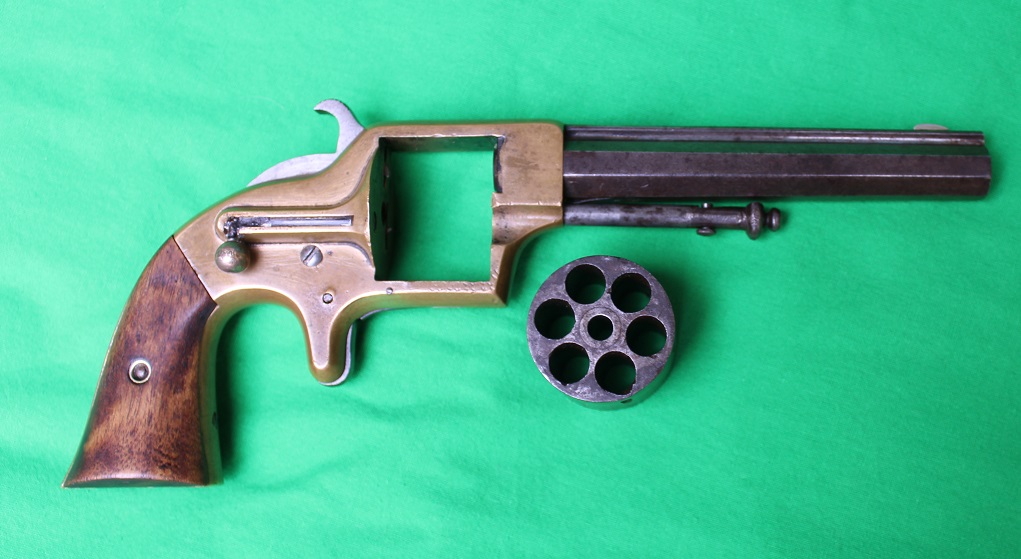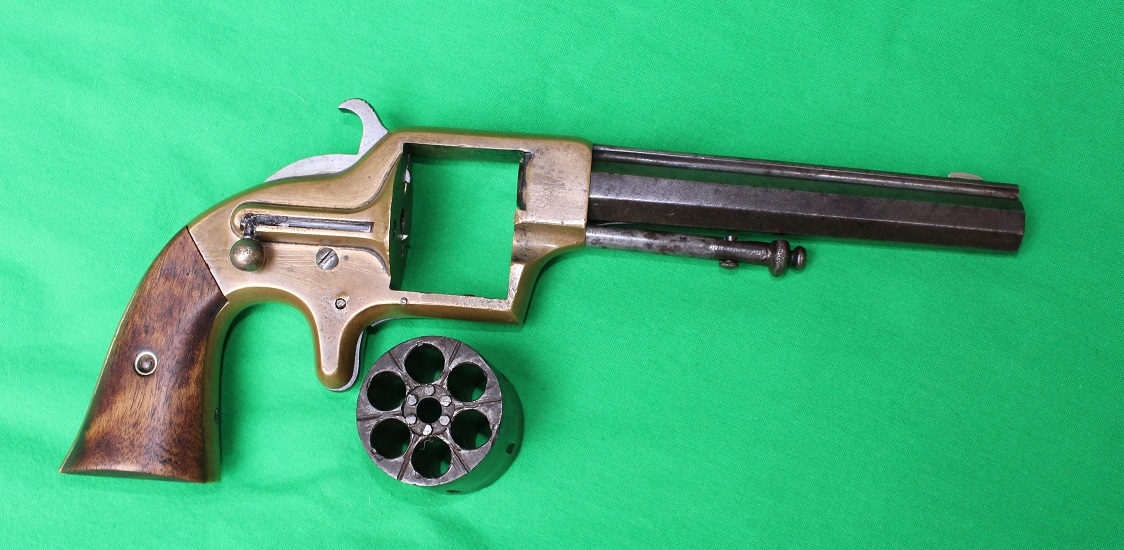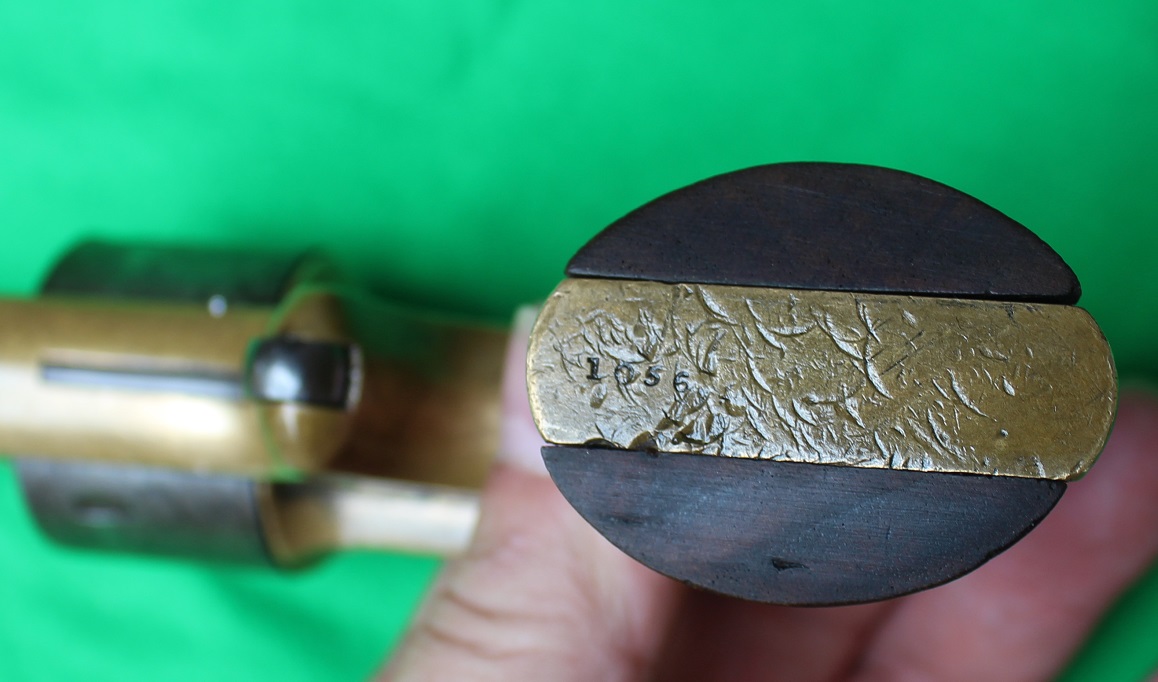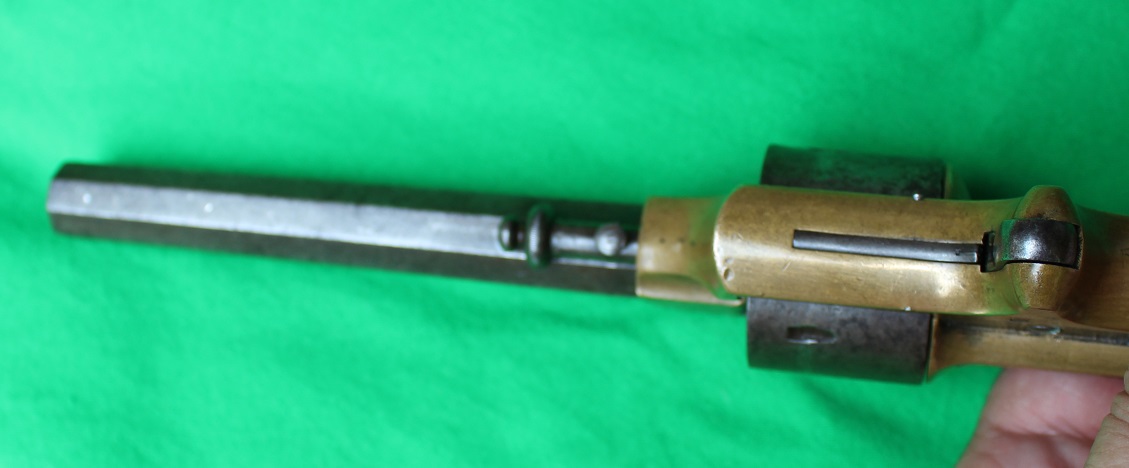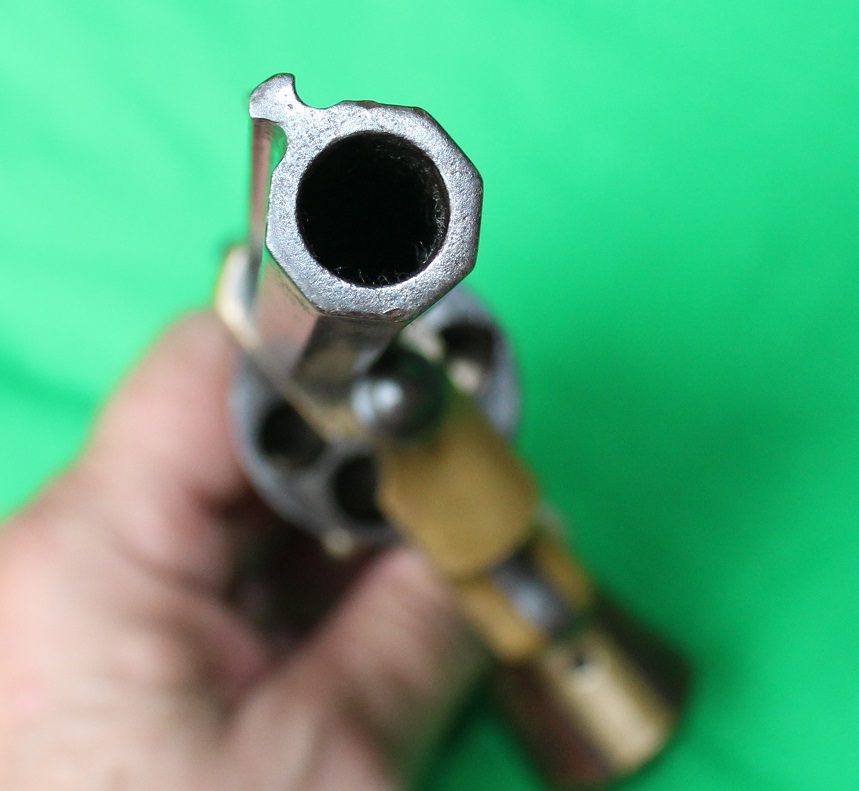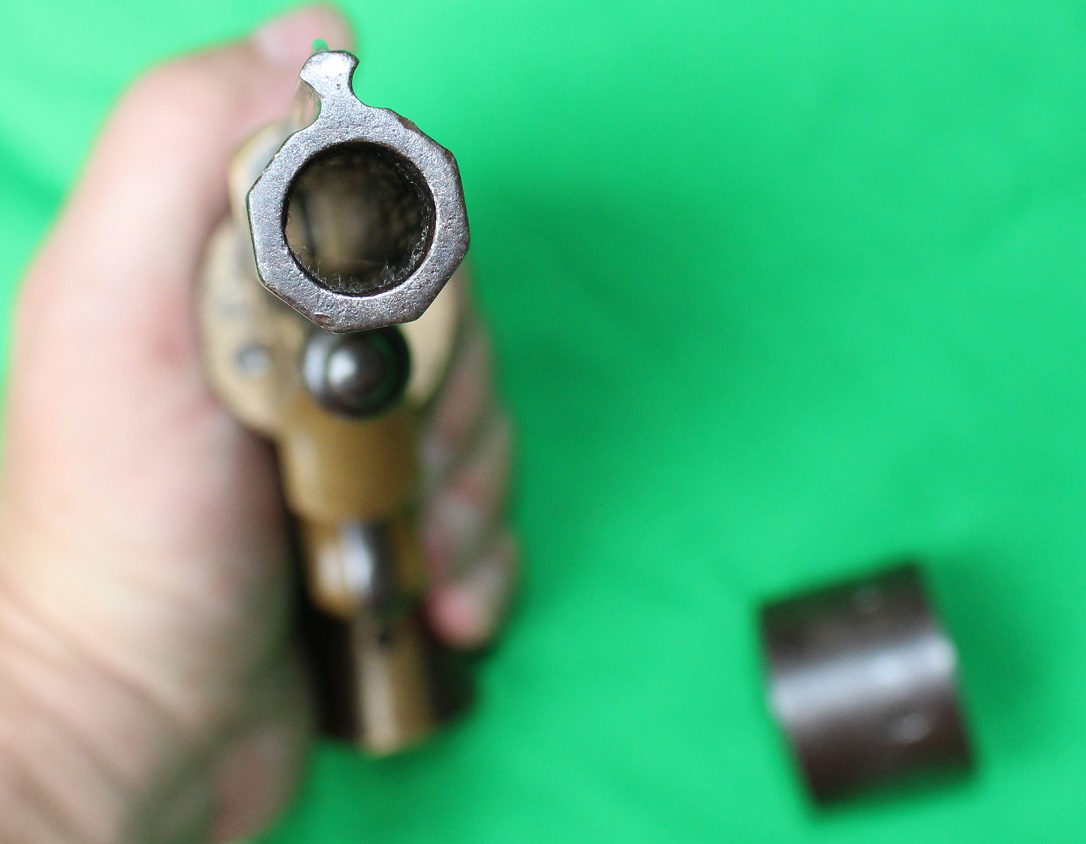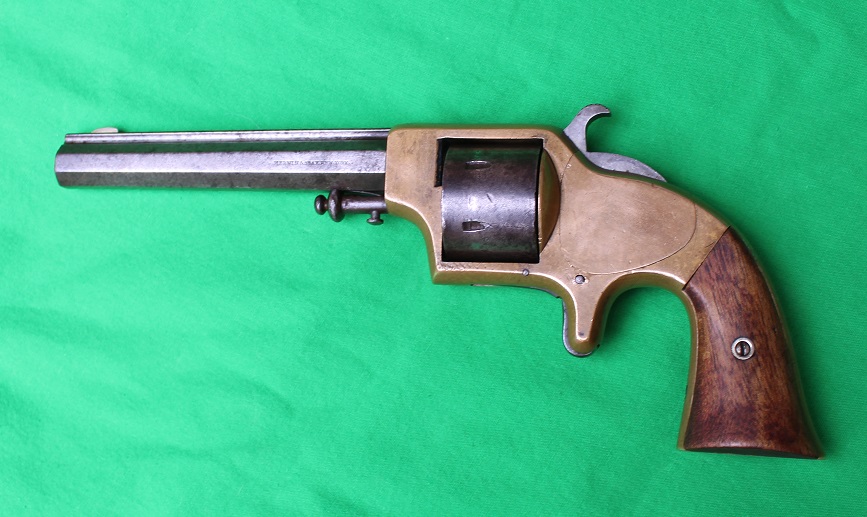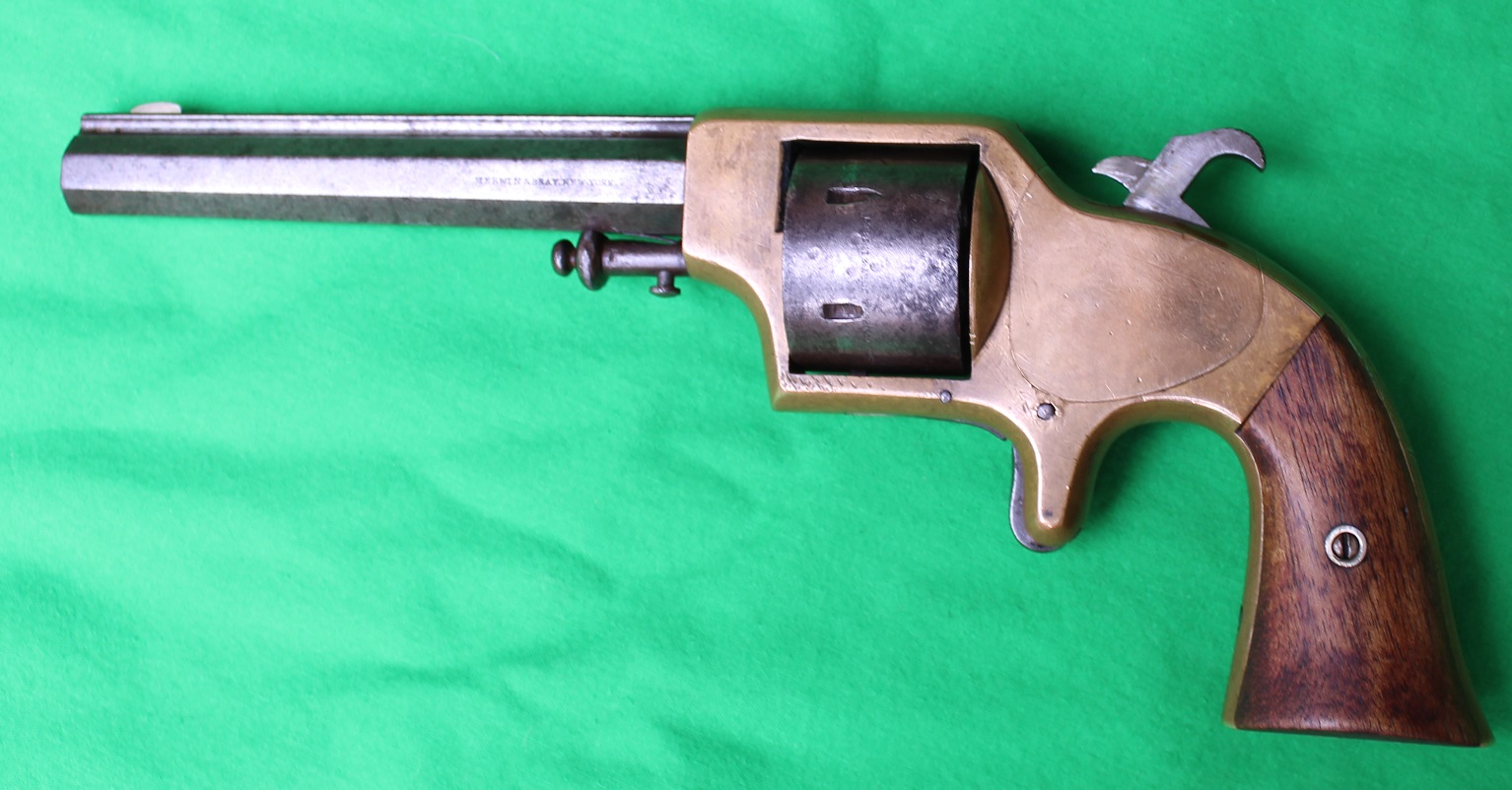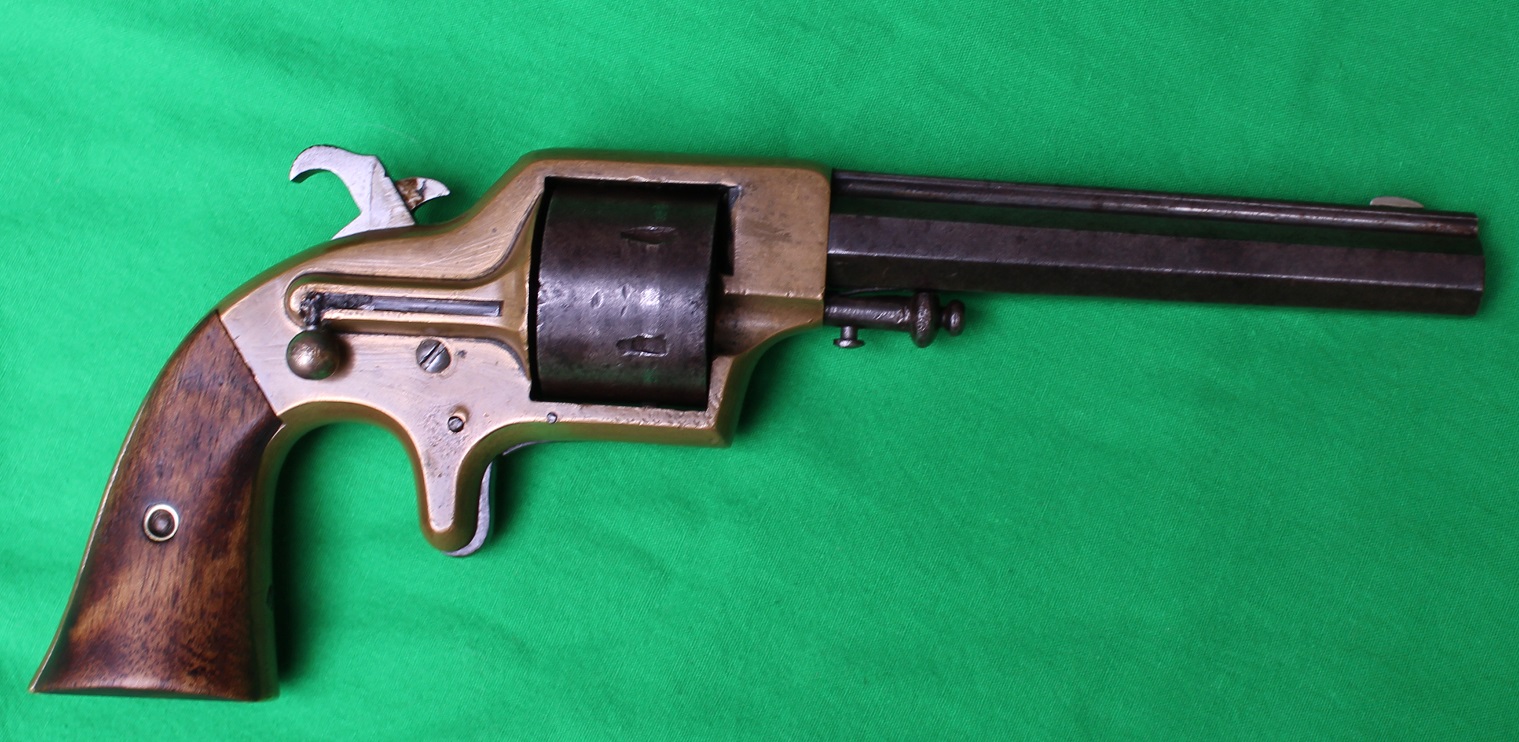 New Arrivals 61
Consignment
Here we have a Model 1879 Springfield Trapdoor Carbine that was made in 1880. Thanks to Guns and Ammo for the following info: In 1873, a new model of Springfield Trapdoor carbine (so named because of the appearance of the breechblock) was introduced. Unlike its predecessors, it was not made from altered muskets but was fabricated completely from new. Also unlike the earlier guns, it was not finished bright but had blued metal parts with a case-hardened tang and breech and black oil-quenched breechblock. Many of the parts were the same as those of the 1870 models, so Springfield was able to use some of the tooling for components on the older guns. The gun was offered in rifle, cadet rifle and carbine versions. In 1879, the guns were again given a makeover from the 1877 altered model. The carbine stacking swivel that was on the model 1873/1877 was eliminated (However this particular carbine has one), the receiver made thicker, and depending upon when the gun was made (180,000 were turned out between 1879 and 1885), they were fitted with ribbed triggers (this one has the smooth trigger). Though considerably different from the earlier versions, these were still considered Model 1873s by the government and are so marked. The Trapdoor rifles, carbines and other variants continued to be issued and carried right up to the turn of the century, and modifications, such as different sights, ramrod bayonets, etc., popped up from time to time. The Trapdoor's last moment of glory was during the Spanish-American War when, in the hands of volunteers, it fought side by side with the modern smokeless-powder Krag-Jorgensen repeating bolt action. Now on to this carbine. This carbine is in overall very good condition. It is original and marked with the 'C' on the rear sight indicating carbine use. Low arch breechlock. The rear sight and front sight has most of the original color on them. The trapdoor, lock and hammer still have the original color on it as well as the trigger bow, barrel band and spring and butt plate. The sling attachment has most of the color on it and the ring has about 50% color on it. The barrel and breech have turned to a mottled brown color and the bore, although somewhat pitted, still rates good with deep rifling and shiny bore. The markings on the barrel are nice with the VP Eaglehead and P. The hardwood stock is in generally very good condition with the usual dings from use and one noticeable gouge behind the lock plate. I cannot make out any cartouche. The lockplate has a deep Spread Winged Eagle and US SPRINGFIELD that is very nice. The trap door has US MODEL 1873 stamped deeply in it and the serial number is also totally legible being 1277XX having been made in 1880. The action works very nicely. The buttplate has the US stamped deeply into it and exhibits most of the original color. The cleaning rod is missing. There is a swivel attachment on the rear bottom stock. All in all a wonderful carbine! Many rifles are altered to fool the buyer into thinking that they are carbines. This one is an original carbine and fully guaranteed to be just that! Take a look at the pics!!! For this fine old firearm $2495.00
New Arrivals 60 Consignment
Here we have a one of a kind customized Model 1890 Winchester slide action rifle made in 1892. This rifle was customized years ago by a very good friend of mine named Notra Trulock II who passed away 12 years ago. Note was a machinist in WW2 working in the South Pacific in the Navy on ships damaged during war time. He returned to the states and worked at the Indianapolis Fire Department for many years before retiring and starting his own gun shop where he was a dealer and gunsmith. Note could make any part you needed if you couldn't find it. In the interim he built Custom Muzzleloaders ( Note and his Wife Jean were world champions at the Friendship, IN muzzleloading championship matches as well as their oldest son, Notra III) and built, or I should say rebuilt, modern firearms. This rifle was one of his creations. This one takes an original Winchester Model 1890 receiver and puts excellent custom hardwood walnut stocks and a custom octagon/round barrel with silver wire enlay on the end of the barrel on this rifle. This piece is outstanding! You cannot tell that it's a slide action by looking at it but indeed it is and it works flawlessly!!! It has the flip up r ear sight and globe front side. There are scope rings affixed to the barrel. The rifling is perfect in the 27 inch custom barrel. The original papers from Cody Firearms Museum regarding this Winchester are included with the rifle. If you are a discriminating collector and want something that no one else has then this is the rifle for you! Note only built one of these. Take a look at the pics!!! For this one of a kind rifle $10,000.00
New arrivals 59
Here we have items belonging to Private George N. Mount of the 86th Indiana Infantry. Here is a bio of the 86th: Eighty-sixth Infantry INDIANA (3-YEARS) Eighty-sixth Infantry. -- Cols., Orville S. Hamilton, George F. Dick Lieut.-Cols., Dixon Fleming, George F. Dick, Jasper M. Dresser, Jacob C. Dick; Majs., Jasper M. Dresser, Jacob C. Dick, Philip Gemmer. This regiment was organized at Lafayette, was mustered in Sept. 4, 1862, and was hurried to Covington to assist in repelling the threatened invasion of Kirby Smith's forces. It left for Louisville on the 20th, was assigned to the 14th brigade, 5th division, Army of the Ohio, and was in pursuit of Bragg for two months, reaching Nashville Nov. 26. When the Army of the Cumberland was formed the regiment was assigned to the 2nd brigade, 3rd division, 21st corps, and in the battle of Stone's River it was on the left wing. It was with the division that saved the right from rout, bringing victory out of defeat, and drove the enemy nearly a mile. It remained at Murfreesboro until the movement was made towards Chattanooga, was actively engaged at Chickamauga and after the battle was assigned to the 3rd brigade, 3rd division, 4th corps, with which it was in the storming column at Missionary Ridge the men sweeping up the cliff-like hill and into the works with irresistible force, capturing hundreds of prisoners and 11 pieces of artillery. The regiment passed the winter in east Tennessee on various expeditions and scouting trips, and rejoined its corps near Chattanooga in April, 1864. It moved in the Atlanta campaign and participated at Rocky Face Ridge, Resaca, Adairsville, Kingston, Pickett's Mills, Kennesaw Mountain, Chattahoochee River, Peachtree Creek, the siege of and battle at Atlanta, Jonesboro and Lovejoy's Station Sept. 2. It moved towards Chattanooga in pursuit of Hood as far as Gaylesville, when its corps was assigned to Gen. Thomas' command, and it was in the engagements at Franklin and Nashville. It joined in the pursuit as far as Huntsville, Ala., where it remained until Mar. 15, 1865, and then moved to East Tennessee, marching to New Market and Jonesboro, thence to Nashville, which place was reached April 27. It remained in camp at Nashville until June 6, when it was mustered out. The original strength was 958; gain by recruits, 41; total, 999. Loss by death, 241; desertion, 48; unaccounted for, 1. Source: Union Army, vol. 3, p. 165
George was from Lebanon, Indiana and enrolled on August 1st, 1862 being discharged on May 15th, 1865. George was in the Hospital since December 15, 1864 until his discharge on May 15th, 1865. I don't know if he was sick or was injured. We have George's Regimental History of the 86th Indiana Volunteer Infantry and the inside cover has a presentation in it and it says: Presented to Minnie Graham by George N. Mount. The names Graham and Mount are well known Lebanon, Indiana names. The regimental also comes with a 1 1/2 inch by 7 inch long tan ribbon that is dated 1862 1917 ANNUAL REUNION OF THE 86TH INDIANA VOLUNTEER INFANTRY (corps badge) Lebanon, Ind. September 5 and 6, 1917 which is in pretty nice shape. Also included is a Civil War era CDV of friend and fellow veteran Aaron B. Jack also of the 86th Indiana. This cdv shows a full standing view of a young man in civilian clothing. Aaron was from Attica, Indiana and the backmark on the CDV is from photographer J. W. Ennis of Attica, Ind. I also have some info from Ancestry.com that I looked up concerning George. He passed away December 22nd, 1925 in Lafayette, Indiana. It is believed that he died at the Veteran's Home in Lafayette. He was a farmer from Boone, County Indiana of which Lebanon is the County Seat. The regimental History book is in pretty good shape and consists of 613 pages. Measures 9 X 6 inches and is over 2 inches thick. The binding is still pretty good. This was a great unit with a great history!!! Nice small grouping! Shipping is free here in the lower 48 states!
NOTE* One of the nickel ones is on hold!!
New Arrivals 58
We have 3 (SOLD ONE) of the P-08 WW1 Luger Magazines for sale. There are 2 nickel plated ones and one blued one. The bottom plugs are wood and are numbered 260, 2717 and 6248 respectively. Good Condition! Each $145.00
New Arrivals 57
Here's a very unusual handgun. This one is from the late early to mid 1800's and is a back lock percussion handgun. This pistol is about 70 to 72 caliber smoothbore and has an octagonal barrel. The entire piece looks to have been blacksmith or custom made and has no markings on it anywhere that I can see as to who made it or country of origin. I even took the barrel off and found no stampings. This pistol measures about 15 inches long with a nearly 9 inch barrel. The barrel is held on by a single ornate brass barrel band and two tang screws at the distal end. There is engraving on the brass triggerguard. The pistol butt plate is also brass and has a laynard ring. The walnut stock is in great condition with nice hand engraving on the grip and up the back and alongside the 4 inch long tang. It's just beautiful , interesting and quite rare! The back action lock plate also has some simple engraving on it. Now to explain the lock. This is a unique lock which, I believe, has no internal workings except for a tremendously strong spring. The trigger is pushed forward then the pistol is turned flat on the lock side and two 'stops' fall out so that the hammer can either be placed in a safety position or a fire position. When the trigger is pulled the two stops travel inward and the hammer falls. Quite unusual!!! The previous owner states that this pistol belonged to his father and he thought it came from Pennsylvania or closer to the coast and could have been used by Naval or sea faring personnel. I don't think this was a production weapon even though it was done quite well. The ramrod is definitely made for this pistol and although it looks short in the pic it travels well back of the end of the barrel in the stock and is the correct length. The little stops need some lubrication to come out more easily and the trigger guard has a crack in the long tail that extends down to the butt plate at the final screw. You may never see another pistol like this one! Take a look at the pics! $695.00
New Arrivals 56
Here we have a wonderful complete Civil War 1864 U.S. Robinson New York lock plate and so marked. There is just some surface rust to the face of the plate and it operates flawlessly. The front sideplate screw was broken off but easily removed with an ez out-otherwise fantastic!!! Take a look at the pics! $395.00
New Arrivals 55
Local central Indiana found US Army Bolo Knife used during World War One . The handle is made of wood and has two rivets securing it. The pommel is in a dovehead shape and has surface rust on it that can be easily removed if you desire.. The crossguard is straight and of equal length on each side. The US M-1917 Bolo Knife with Scabbard was the same basic Bolo Knife used by the U.S. military from the turn of the century through WWII. Manufactured from 1897 to 1918, it went through a number of changes during its production life. First issued to medical personnel in the field it was later issued to fighting troops and used to clear brush, fields of fire and for any task requiring a heavy knife used as a chopping tool. The knife is 15 inches long with a 10 3/8th inch long blade that is sharpened on one edge only. The ricasso is marked US MOD 1917 CT. (wear to the markings) with the Reverse marked Plumb St Louis (no date that I can see here). Mostly blued blade with slightly rounded tip. Blade shows some minor sharpening. No nicks in the edge of the blade. The grips are two slabs rounded and screwed through the tang. The grips are in good condition with very little wobble. The Canvas scabbard is also in very good condition and has something stenciled on one side but I can't make it out. The canvas is complete with no rips or tears and no material lacking. The brown leather tip is stamped BAUER BROS 1918 on one side. There is some surface loss to the leather tip on one side but still looks good. Take a look at the pics! For this piece $275.00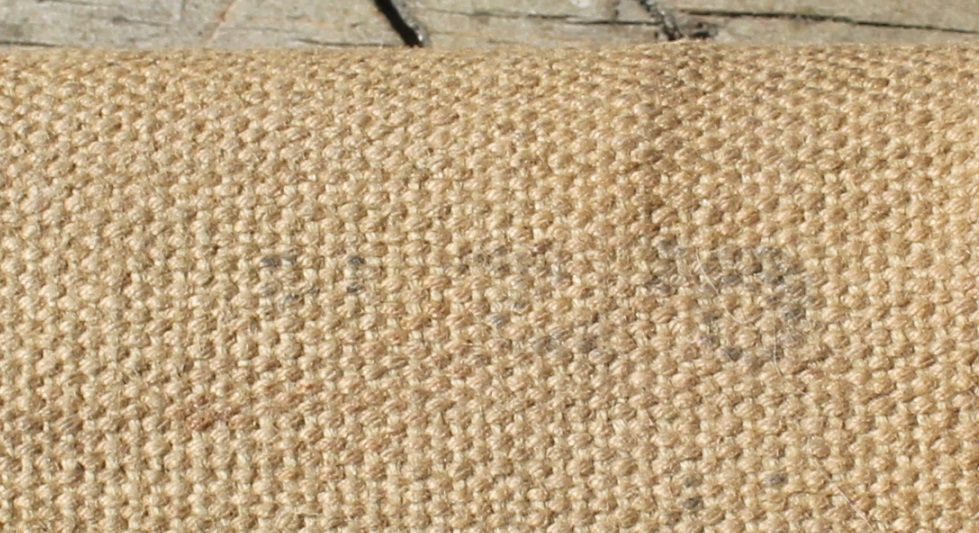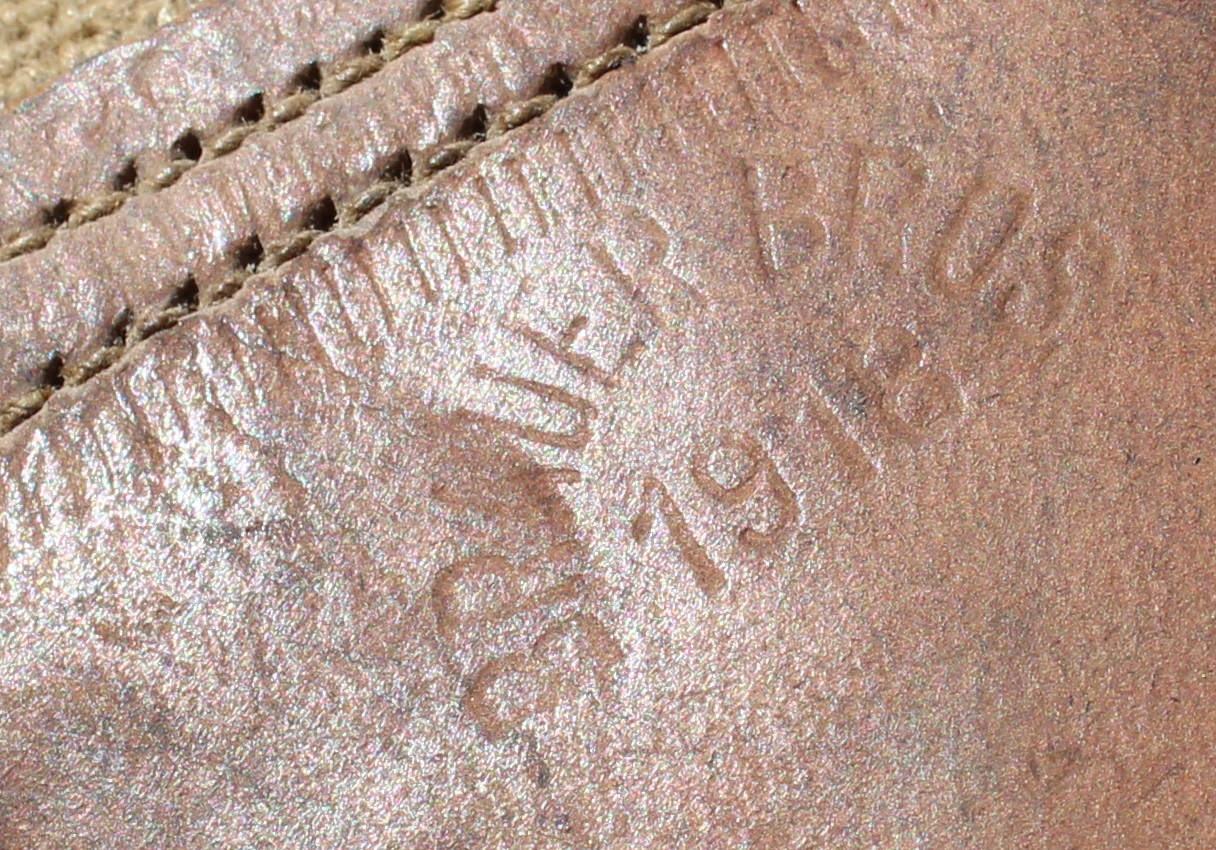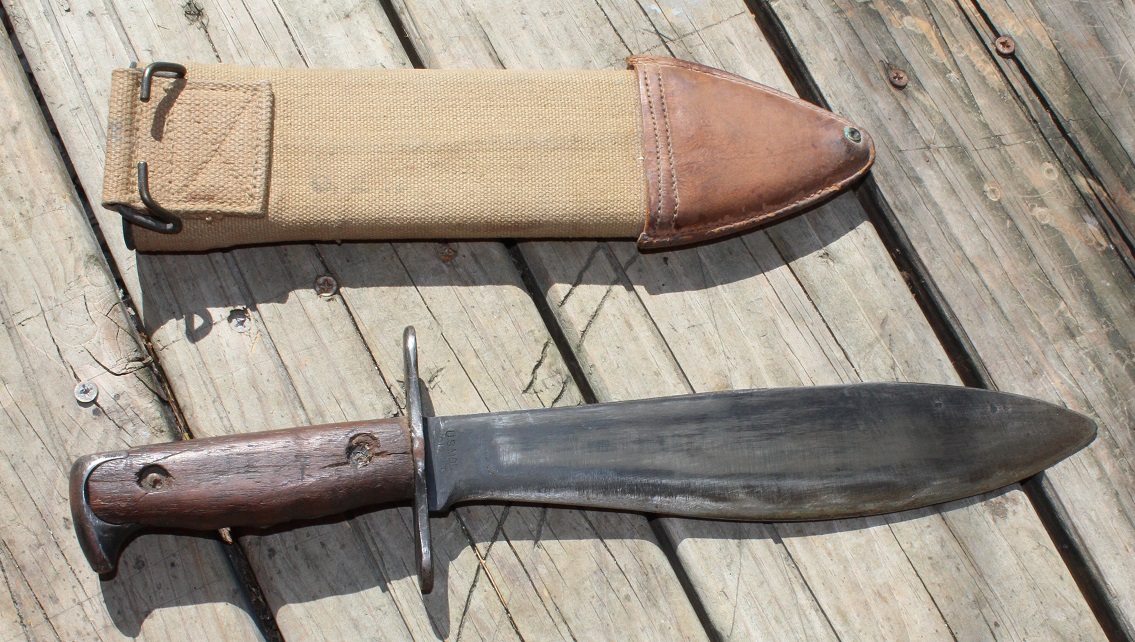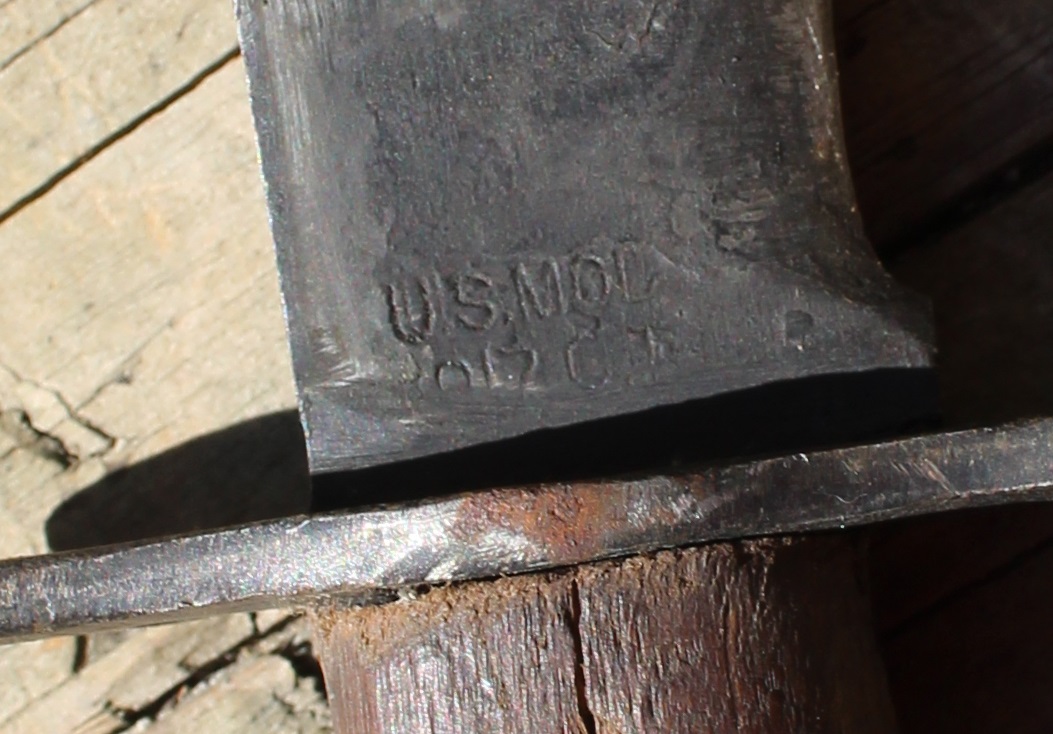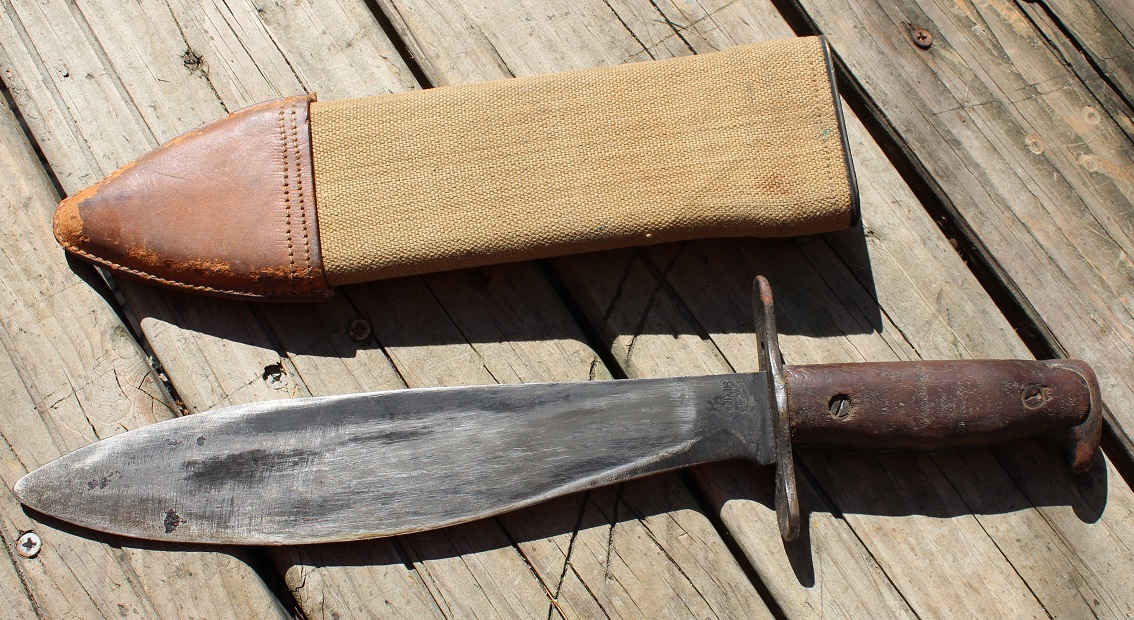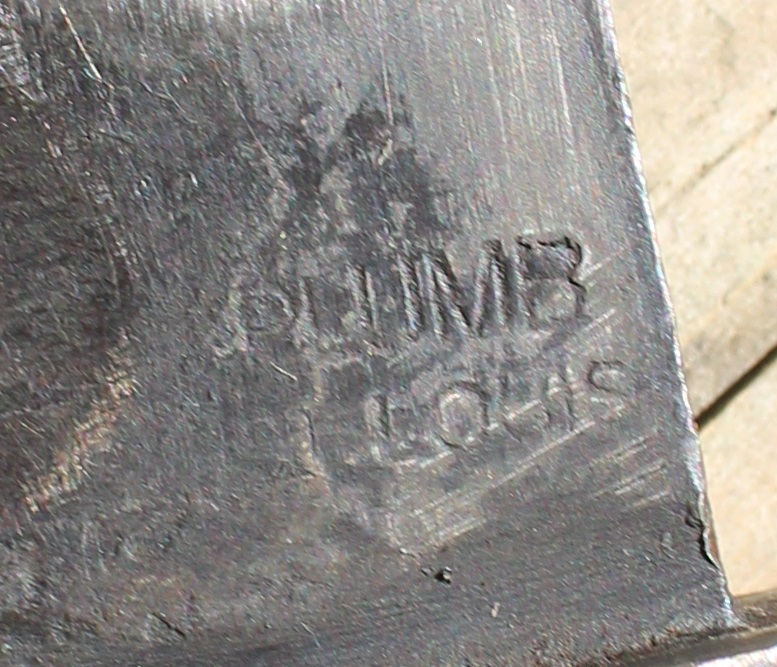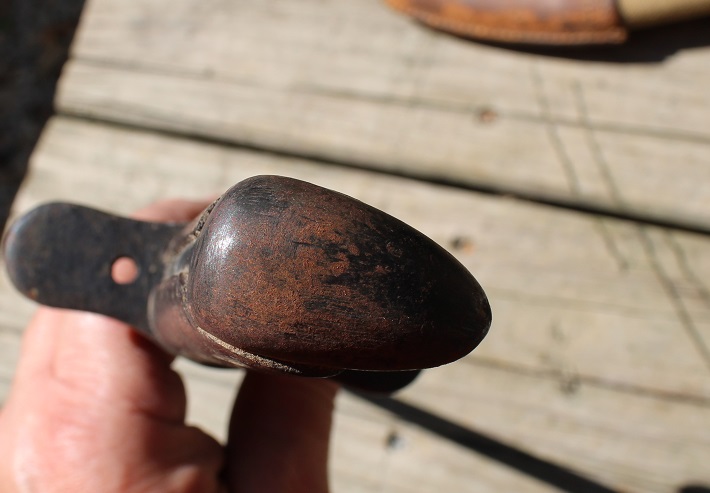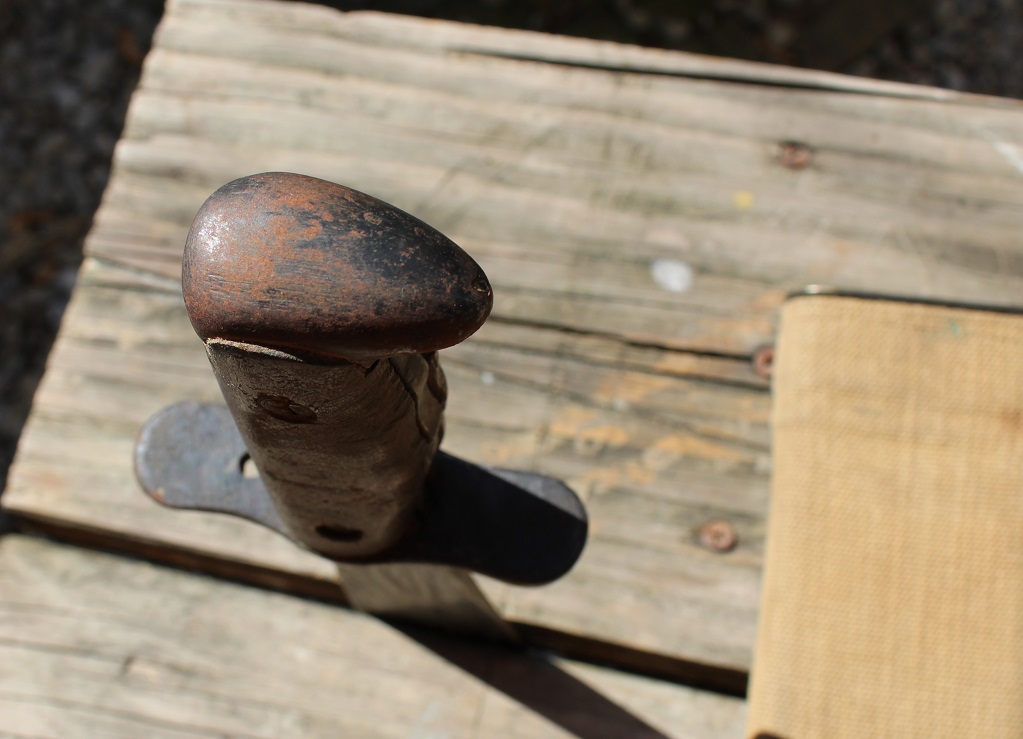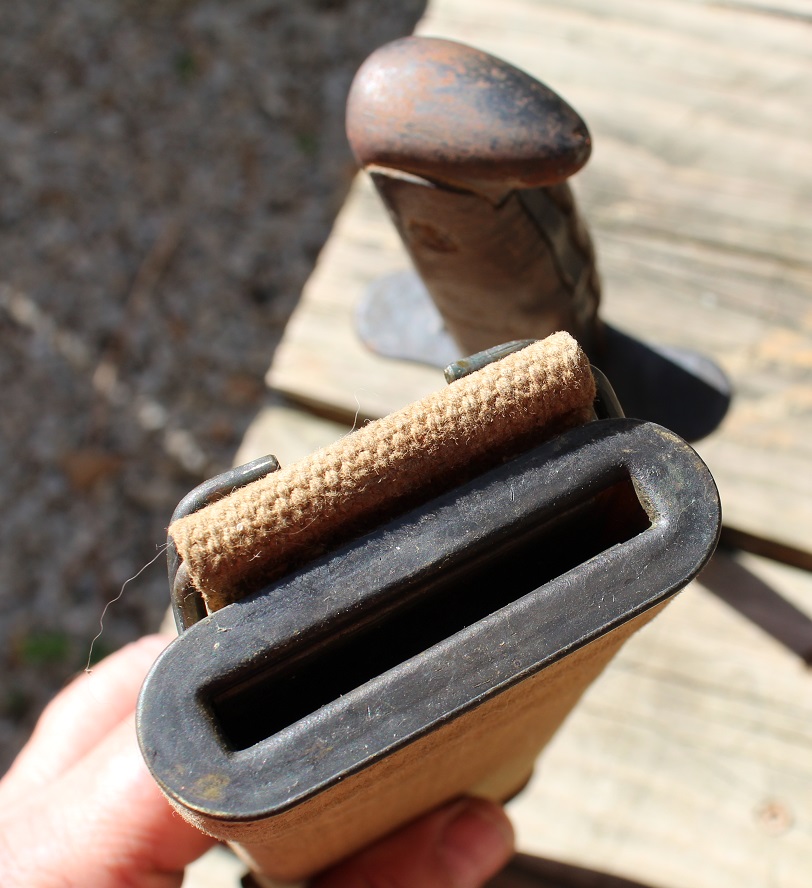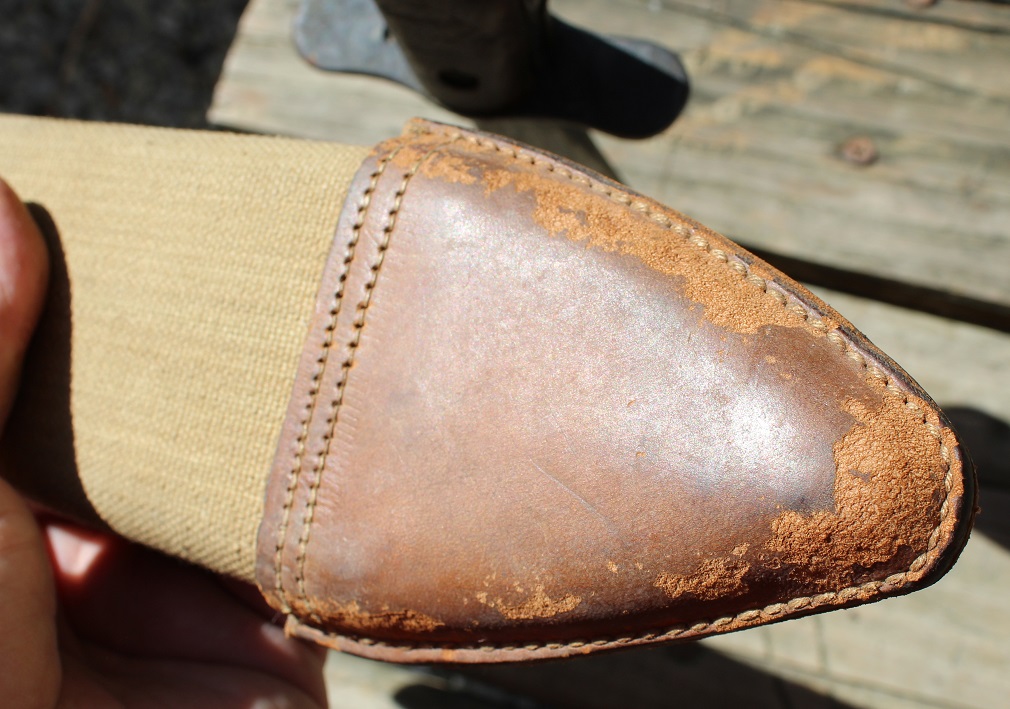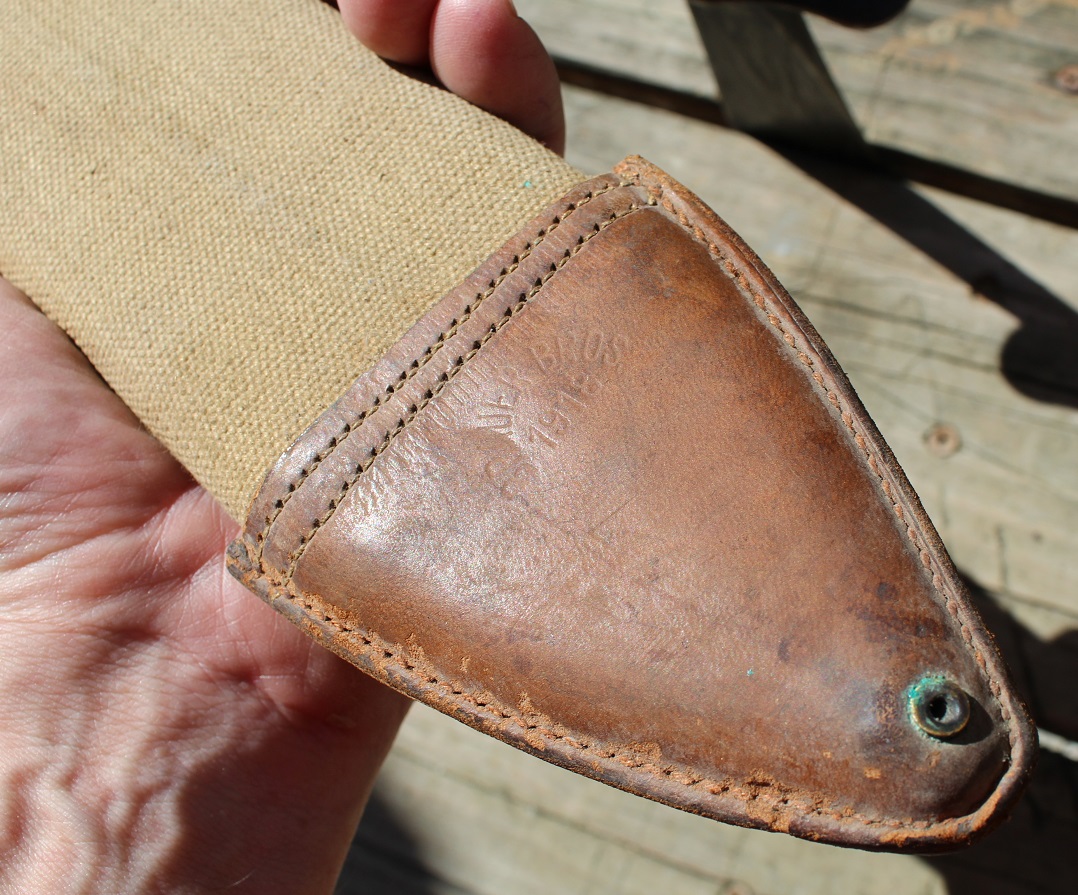 New Arrivals 54 Consignment
Here is a CDV engraving on thin cardstock of Maj. General Thomas, the Rock of Chickamauga! Thomas, George H., major-general, one of the ablest, purest and most successful of the military chieftains of the Civil war, was born in Southampton county, Va., July 31, 1816. His early opportunities of education were good and at the age of twenty he had just entered upon the study of law when his friends secured him an appointment as cadet at the military academy at West Point. He entered in 1836 and, after a thorough and solid rather than a brilliant course, he graduated in 1840, ranking twelfth in a class of 42 members among whom were Sherman, Ewell, Jordan, Getty, Herbert, Van Vliet and others who afterward attained celebrity. Assigned to duty on the day of graduation as second lieutenant in the 3d artillery, he served in the regular army for twenty years, during which time he rendered honorable and faithful service in the Florida war from 1840 to 1842; in command of various forts and barracks from 1842 to 1845; in the military occupation of Texas in 1845-46; in the Mexican war from 1846 to 1848 participating in nearly all its leading battles in the Seminole war in 1849-50; as instructor in artillery and cavalry at West Point from 1851 to 1854; on frontier duty at various posts in the interior of California and Texas, leading several expeditions against the Indians from 1855 to the autumn of 1860. During these twenty years he was repeatedly brevetted for gallant and meritorious services, rising through all the grades to a captain of artillery, and in 1855 was made a major of the 2nd cavalry, which regiment he commanded for three years. He was wounded in a skirmish with the Indians at the headwaters of the Brazos river in Aug., 1860, and the following November went east on a leave of absence. During the winter of 1860-61 he watched with the most painful anxiety the culmination of that conflict of opinion which preceded the war. Relinquishing his leave of absence he reported for duty at Carlisle barracks, Pa., April 14,- the day when the flag went down at Sumter-and less than 48 hours after the first shot was fired. On May 27 he led a brigade from Chambersburg across Maryland to Williamsport, rode across the Potomac in full uniform at the head of his brigade on June 16, to invade Virginia and fight his old commanders; a few days afterward he led the right wing of Gen. Patterson's army in the battle of Falling Waters and defeated the Confederates under Stonewall Jackson. After serving through the brief campaign of the Shenandoah Gen. Thomas entered upon that wider sphere of action in which he was destined to win an undying reputation. At Gen. Robert Anderson's request Sherman and Thomas were made brigadier-generals of volunteers and assigned to his command- the Department of the Cumberland. The first month's work that Thomas performed in the department was at Camp Dick Robinson, Ky. where he mustered into service eleven regiments and three batteries of Ohio, Indiana, Kentucky and Tennessee troops, which he organized into the first brigade, and which formed the nucleus of the division, then of the corps and finally of the great army which he afterward so long commanded. He was soon placed in command of the 1st division of the army and on Dec. 31 was ordered to move against Zollicoffer, who commanded a large force occupying the road leading from Cumberland gap to Lexington, Ky. In pursuance of this order Gen. Thomas fought and won the battle of Mill Springs, which was by far the most important military success that had yet been achieved west of Virginia, and with the exception of the defeat of Marshall near Prestonburg a few days before, it was the first victory in the department. In this battle Gen. Thomas laid the foundation of his fame in the Army of the Center. From Nov. 30, 1861, to Sept. 30, 1862, he commanded a division of Gen. Buell's army without intermission, except that during the months of May and June he commanded the right wing of the Army of the Tennessee and around Corinth. On Sept. 30, 1862, he was appointed second in command of the Army of the Ohio, having previously refused the chief command, and served in that capacity in the battle of Perryville and until Oct. 30, 1862, when the old name of Department the Cumberland was restored and Gen. Rosecrans assumed command. That officer reorganized the army into three distinct commands-right, left and center-and assigned Thomas to the center, which consisted of five divisions. He held this command in the battle of Stone's river and until Jan. 9, 1863, when the 14th army corps was created by order of the war department, and Thomas commanded it during the summer campaign in middle Tennessee and the Chickamauga campaign. On Sept. 27, 1864, after the capture of Atlanta, he was ordered by Gen. Sherman to return with a portion of his army into Tennessee and defend that state against Hood's invasion. Thus Thomas was confronted by that veteran army which had so ably resisted Sherman on his march to Atlanta, and had to meet it with an effective force of about 40,000 infantry and 7,000 cavalry, having to remount the latter, provide transportation, and almost to organize and supply a new army. Although severely checked by Schofield at Franklin, Tenn., Hood gathered head and threatened Nashville. Then the government and country waited impatiently for Thomas to attack, but be would not move until he was ready. He thought he "ought to be trusted to decide when the battle should be fought," and to know better than any one hundreds of miles away. Grant called him "slow," Sherman commented on his "provoking, obstinate delay," and Stanton, still actuated by the partisan bitterness that had caused him to secure the removal of two successful commanders, wrote to Grant: "This looks like the McClellan and Rosecrans strategy of do nothing and let the enemy raid the country." Urgent despatches and orders rained in upon him, but he said they might remove him if they liked and complained to one of his generals, "They are treating me like a boy." An order removing him was actually made on Dec. 9, but happily revoked. On Dec. 13 Gen. Logan was started for Nashville with orders to take the command on his arrival if Thomas had not moved, and two days later Grant himself set out thither. On the road both received the great news of the battle of Dec. 15. Thomas had at length attacked, driving the enemy eight miles, and Hood, "for the first and only time, beheld a Confederate army abandon the field in confusion." On the next day Thomas completely redeemed his promise to "ruin Hood," whose army was broken to pieces and chased out of Tennessee. But even here the victor was blamed as dilatory in the pursuit, although the reward of his splendid services could no longer be kept back. When he received his commission as major-general in the regular army his friend and medical director, seeing that he was deeply moved, said: "It is better late than never, Thomas." "It is too late to be appreciated," he replied; "I earned this at Chickamauga," and afterward, "I never received a promotion they dared to withhold." But the nation was by this time ready to recognize Gen. Thomas' merits and to understand that it was solely by his remarkable abilities, without the influence of powerful friends, that he had attained a position second to that of no officer of the army. Honors and rewards were pressed upon him, but with a simple dignity of character he declined them all, satisfied with having done his duty. After the war he was placed in command successively of the most important and difficult military departments, often under circumstances of great responsibility and delicacy, but his conduct gave general satisfaction. Gen. Thomas' death was the result of apoplexy and occurred in San Francisco, Cal., March 28, 1870. Source: The Union Army, vol. 8
In the beginning of the war or at the beginning of a Military Career in the Civil War residents were eager to see images of their heroes and some firms put things out quickly to capture their part of the market. I believe this is one of those. They didn't even bother to put a backmark on this one. For this piece of history representing a Civil War Larger than life figure $45.00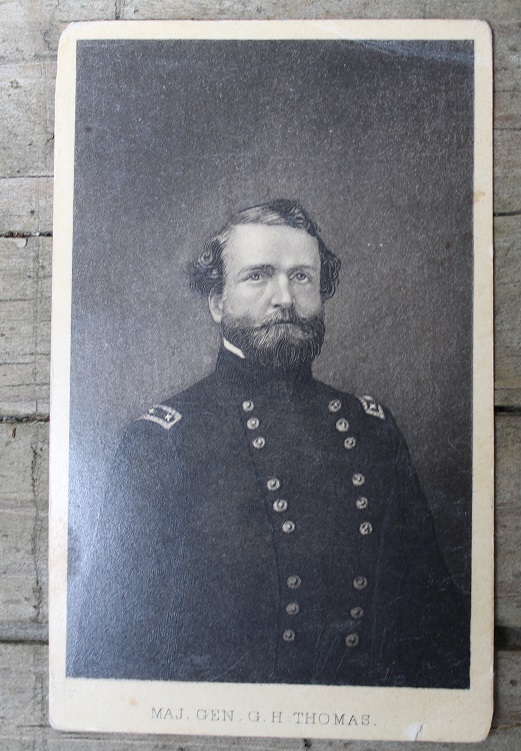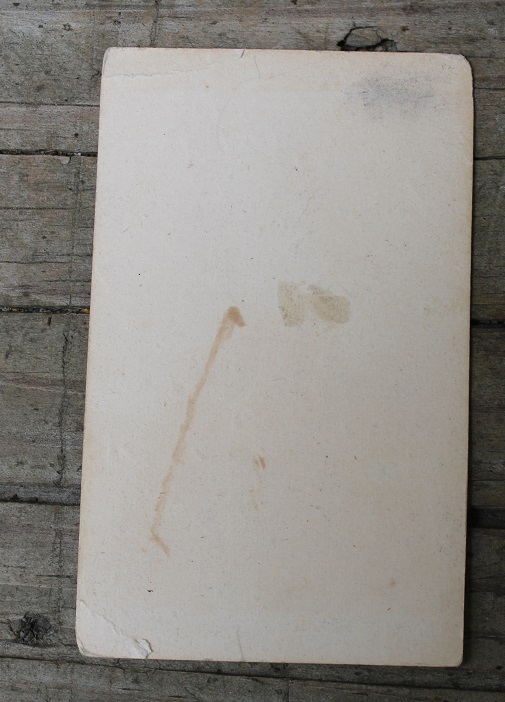 New Arrivals 53 Consignment
Removed
New Arrivals 52 Consignment
Here we have a CDV photoengraveur of General Rosecrans. Rosecrans, William S., major-general, was born at Kingston, Ohio, Sept. 6, 1819, and was graduated fifth in the class of 1842, at the West Point military academy. He entered the U. S. engineer corps, as second lieutenant by brevet, serving for a year in the construction of fortifications at Hampton Roads, Va. He was assistant professor of natural and experimental philosophy, and then of engineering, for four years, at the U. S. military academy. He was next the superintending engineer at Fort Adams, Newport, R. I., and of several surveys in eastern New England, and at the Washington navy yard, until April 1, 1854. Having attained the rank of first lieutenant, he resigned from the army and began business life at Cincinnati, Ohio, as civil engineer and architect. From 1855 to 1860 he was in charge of the Cannel coal company in western Virginia, and in 1856 became the president of the Coal river navigation company. In 1857 he organized the Preston coal oil company for the manufacture of kerosene. At the beginning of the Civil war he entered the service as colonel of the 23d regiment U. S. Ohio volunteer infantry. Within a month he was made brigadier-general in the U. S. regular army, and ordered to accompany Gen. George B. McClellan to West Virginia, where he commanded a provisional brigade of three-months' volunteers until July 23, 1861, when he succeeded Gen. McClellan in command of the Department of the Ohio. In September, when the Confederates, Floyd and Wise, sought to get possession of the Great Kanawha valley, Gen. Rosecrans marched 110 miles, defeated Floyd at Carnifix ferry and ultimately compelled their retreat through the mountains to Dublin, on the Southwestern Virginia & Tennessee railway. He received, shortly after, resolutions unanimously framed by the legislatures of West Virginia and Ohio, thanking him for his successful military operations and civil administration. In April, 1862, he received the command of Paine's and Stanley's divisions of the Mississippi army, and took part in the siege of Corinth. With two divisions of the Army of the Mississippi, on Sept. 19, he fought and won the battle of Iuka, against the forces of Gen. Price, and on Oct. 3 and 4, with the remnants of those two divisions, and McKean's and Davis's, he also routed the forces of Price and Van Dorn at the battle of Corinth, and pursued them until he was recalled by Gen. Grant. On Oct. 30 he assumed command of the Department of the Cumberland, and on Dec. 31, following, the sanguinary battle of Stone's river began. It was fought on that day and on Jan. 1 and 2, 1863, and it ended with the retreat of the Confederates along the line of Duck river. In view of this victory the U. S. congress unanimously passed a joint resolution of thanks, as did the legislatures of Ohio and Indiana. On June 23 Gen. Rosecrans began his next movement, drove the Confederates out of their camps at Shelbyville and Tullahoma, and in fifteen days forced them to retreat to the south side of the Tennessee river, with headquarters at Chattanooga. Demonstrations toward Decatur, Ala., deceived Bragg, and Rosecrans crossed the Tennessee, threatened Bragg's communication with Atlanta, and compelled him to withdraw from Chattanooga to Lafayette. Rosecrans then got between Bragg and Chattanooga, concentrated his forces on the roads leading to Chattanooga, and after the sanguinary battle of Chickamauga held possession of the roads, and on Sept. 21 took and held possession of Chattanooga. On Jan. 27, 1864, he was placed in command of the Department of the Missouri, and although previous commanders had encountered insuperable obstacles in administration, in the face of these difficulties he so managed and concluded a campaign against the Confederate Gen. Price, that his army was defeated and driven out of the state. On Dec. 1O, 1864, he was placed on waiting orders at Cincinnati, Ohio, and was mustered out of the U. S. volunteer service, Jan. 15, 1866. He resigned from the U. S. regular army, March 28, 1867, having been brevetted major-general, U. S. A., on March 13, 1865, for gallant and distinguished services at the battle of Stone's river, Tenn. In the year 1868 Gen. Rosecrans was appointed U. S. minister to Mexico, and reached that country in November. In 1880 he was elected to the U. S. house of representatives from the state of California, and served until March 4, 1885. In June, 1885, he was appointed register of the U. S. treasury, at Washington, D. C., which office he held until 1893. On Feb. 27, 1889, by act of Congress he was re-appointed brigadier- general, U. S. army, and was placed on the retired list on March 2, following. Gen. Rosecrans died on March 11, 1898. Source: The Union Army, vol. 8
This CDV is in nice condition with clipped corners. The backmark simply says MAJOR-GENERAL ROSECRANS. For this one $55.00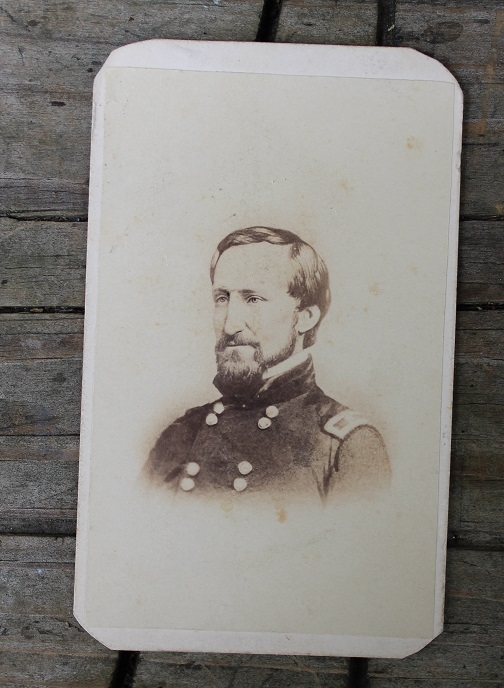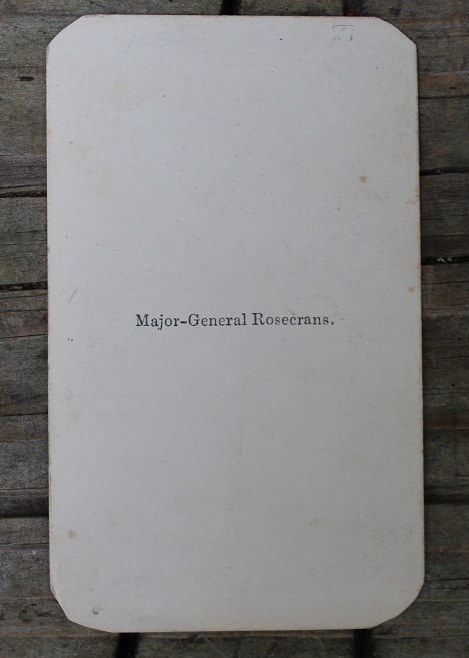 New Arrivals 51 Consignment
Here we have a very nice CDV of a Rhode Island Captain of the Civil War. We do not have any id on him but if you know let us know and we'll post it. The backmark is for S.A.Dexter of Providence, R.I. Very nice!!! $95.00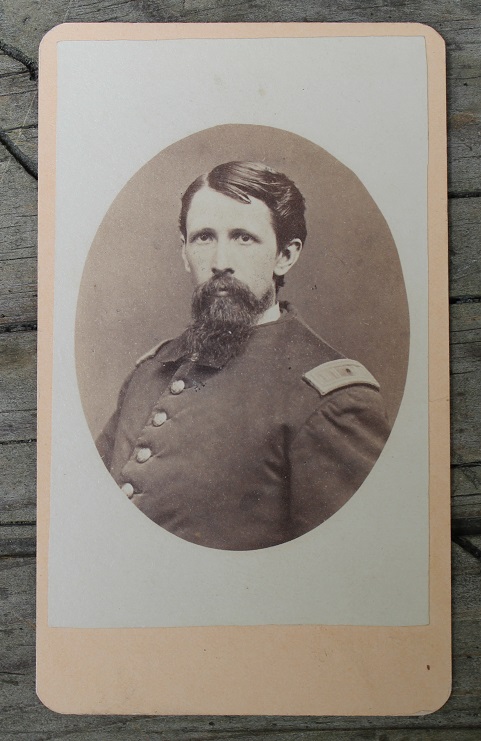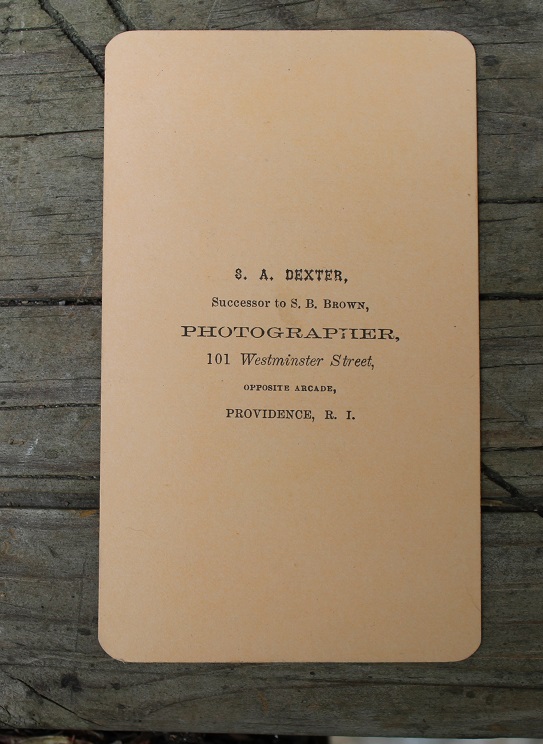 New Arrivals 50 Consignment
Here is a nice standing view of an 1870's-1880's Militia Drummer with his drum. The CDV has been trimmed to fit into an album eliminating the writting at the bottom. He is wearing a model 1851 Eagle Belt Plate of Civil War vintage but due to the construction of the drum we believe it is later. For this nice CDV $75.00
New Arrivals 49 Consignment
Here we have a CDV photoengraveur of General George Gordon Meade, the commander at Gettysburg! Meade, George G. major-general, was born at Cadiz, Spain, during the consulship of his father at that port, in 1815. At an early age he was sent to the boys' school in Washington, D. C., at that time kept by Salmon P. Chase, afterward chief- justice of the United States supreme court. Subsequently he attended the military academy near Philadelphia, and in 1831, entered the academy at West Point, whence he graduated in 1835, as brevet second lieutenant of the 3d artillery. The same year he was made second lieutenant, and served in Florida in the Seminole war. The state of his health induced him to resign his commission in 1836, and he became a civil engineer, but, in 1842, he again entered the army, as second lieutenant in the corps of topographical engineers, and in that capacity served in the Mexican war. During this campaign he was attached to the staff of Gen. Taylor, and afterward to that of Gen. Scott distinguishing himself at Palo Alto and Monterey, and receiving, as an acknowledgment of his gallantry, a brevet of first lieutenant, dated Sept 23, 1846, and also upon his return to Philadelphia, a splendid sword from his townsmen. During the interim between the Mexican war and the Civil war, having been promoted to a full first lieutenancy in Aug., 1851, and to a captaincy of engineers in May, 1855, he was engaged in the particular duties of his department, more especially in the survey of the northern lakes; but upon the call of the government for men in 1861, he was ordered to report at Washington, and upon the organization of the Pennsylvania reserve corps, was made a brigadier-general of volunteers and assigned the command of the 2nd brigade, his commission dating Aug. 31, 1861. During the Seven Days' battles Gen. Meade was severely wounded, but soon recovered and, in Sept., 1862, took command of a division in Reynolds' 1st army corps, which he conducted with great skill and bravery during the Maryland campaign. At Antietam, when Gen. Hooker was wounded, Gen. Meade was placed in command of the corps and fought bravely the remainder of the day, receiving a slight wound and having two horses killed under him. He received the appointment of major- general of volunteers on Nov. 29, and took part in the battle of Fredericksburg, displaying courage and coolness during the engagement. In June, 1863, when Lee was advancing up the Shenandoah valley to invade Maryland and Pennsylvania, Gen. Meade was suddenly and unexpectedly called to succeed Gen. Hooker in the command of the Army of the Potomac, and he displayed masterly ability throughout the three days' battle of Gettysburg. Following this engagement, about July 18, he moved his army across the Potomac into Virginia, where he had several skirmishes with the enemy in October and November, and he was in command of the Army of the Potomac during the operations against Richmond in 1864. On June 18, 1862, Gen. Meade was promoted to the rank of major of engineers in the regular army, and on July 3, 1863, was advanced by the several grades of lieutenant-colonel and colonel to the brigadier-generalship in the regular army. During the session of 1863-64 he received the thanks of Congress, and was on Feb. 1, 1865, promoted a major-general in the regular army, his commission dating from Aug. 18, 1864. In the reconstruction of the military divisions after the war, Gen. Meade was given the command of the division of the Atlantic, with headquarters at Philadelphia, where he resided in the house presented to his wife by his fellow- citizens, in grateful recognition of his eminent services. He died at this residence in Philadelphia, Nov. 6, 1872. Source: The Union Army, vol. 8 This is an excellent period CDV with Maj Gen G.G. Meade printed at the bottom. There is no backmark and the corners have not been clipped. $55.00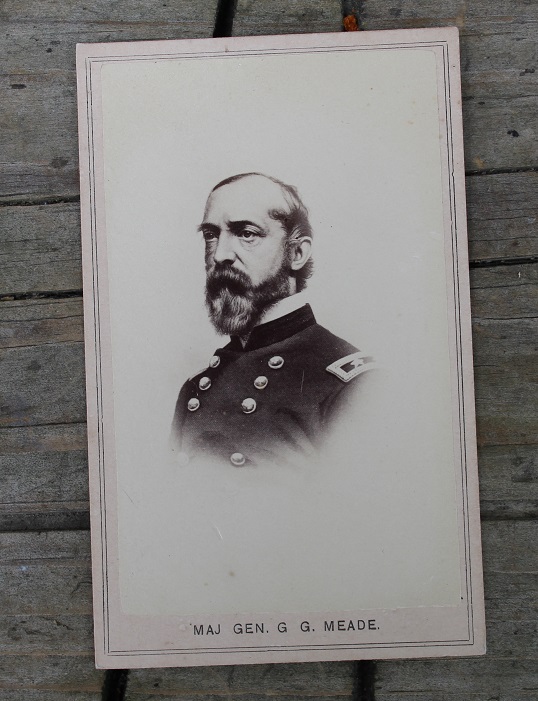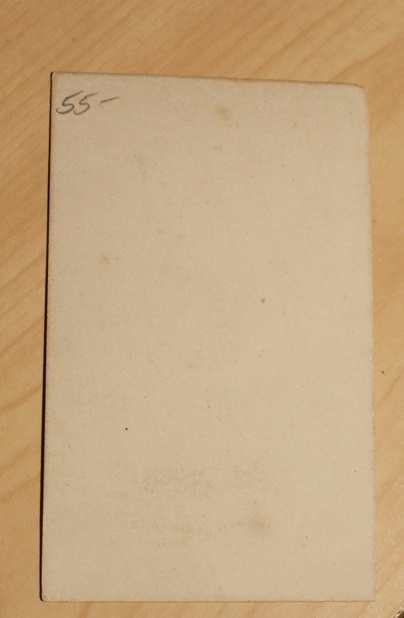 New Arrivals 48 Consignment
Here we have a bust view CDV of General McCook. McCook, Alexander McD., major-general, was born in Columbiana county, Ohio, April 22, 1831. He was graduated at the United States military academy in 1852, served for a time on garrison duty, was then engaged against the Apaches in New Mexico until 1857, and was subsequently assistant instructor in infantry tactics at West Point, becoming 1st lieutenant in At the beginning of the Civil war he was commissioned colonel of the 1st Ohio regiment, with which he engaged in the defenses of Washington, May-July, 1861. He was promoted captain in the 3d U. S. infantry, May 14, 1861; participated in the skirmish at Vienna, Va., June 17, and at the battle of Bull Run, where he commanded his regiment, he won the brevet of major for gallantry. He was appointed brigadier-general of volunteers Sept. 3, 1861, and commanded a brigade in the operations in Kentucky, from Oct. to Dec., 1861, and the 2nd division, Army of the Ohio, under Maj.-Gen. Buell in the Tennessee and Mississippi campaign, Feb.-June, 1862. He was brevetted lieutenant-colonel at the capture of Nashville, March 3, 1862, and colonel on April 7, for services at Shiloh. In the advance upon the siege of Corinth he commanded the reserve of the Army of the Ohio, his division engaging, however, at Bridge creek and at Serratt's hill, and he then served in northern Alabama and in east Tennessee, being commissioned major-general of volunteers July 17, 1862. He was then placed in command of the 20th army corps, with which he served in the campaigns of Perryville, Stone's river, Tullahoma and Chickamauga. He was relieved of his command, Oct. 6, 1863, shortly after the battle of Chickamauga, and asked for a court of inquiry which found him free from all blame. He was engaged in the defense of Washington on July 11 and 12, 1864, was assigned to duties in the middle division in Nov., 1864 and in Feb., 1865, was placed in command of the eastern district of Arkansas. He represented the war department in the investigation of Indian affairs May 6, 1865. On March 13, 1865, he was brevetted brigadier-general U. S. A. for gallant and meritorious services at Perryville, and major- general U. S. A., for services in the field during the war. Gen. McCook was mustered out of the volunteer service, Oct. 21, 1865; was appointed lieutenant-colonel of the 26th infantry, March 5, 1867; served subsequently on the staff of Gen. W. T. Sherman, and was promoted colonel of the 6th infantry, Dec. 16, 1880, commanding the infantry and cavalry school at Fort Leavenworth, Kan. He was appointed brigadier- general July 11, 1890; major-general Nov. 9, 1894, and retired by operation of law, April 22, 1895. He represented the United States at the coronation of the czar of Russia, at Moscow, May 24, 1896, and was a member of the commission appointed by President McKinley to investigate the war department during the war with Spain, Sept. 23, 1898, to Feb. 1O, 1899. Source: The Union Army, vol. 8
Overall a nice CDV with a E. & H.T. Anthony Backmark. $55.00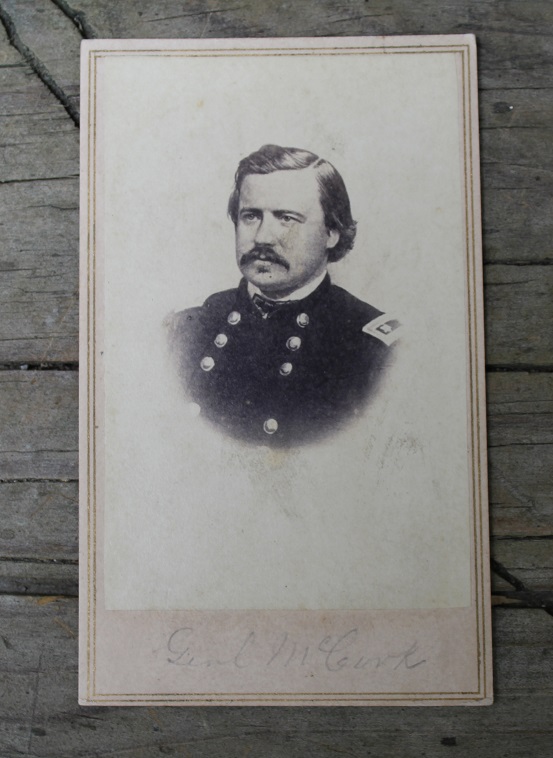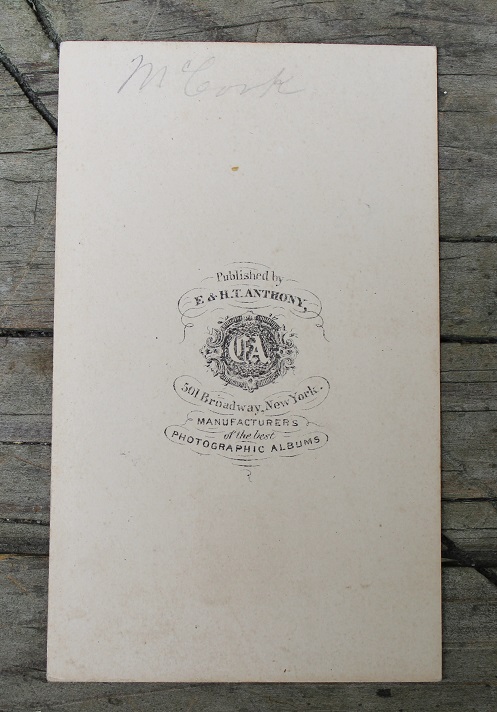 New Arrivals 47 Consignment
Here we have a CDV photoengraveur of General George McClellan. It is in nice condition with non clipped corners. The backmark is 'MAJOR-GENERAL G.B.McCLELLAN' CHARLES TABER & CO. MANUFACTURERS, NEW BEDFORD, MASS.' McClellan was a let down for President Lincoln but was loved by his men. He ran against President Lincoln for the Presidency in 1864 but was defeated. $55.00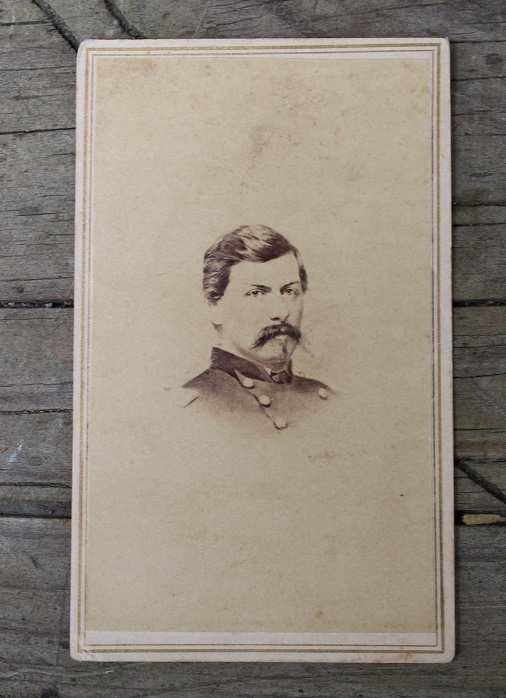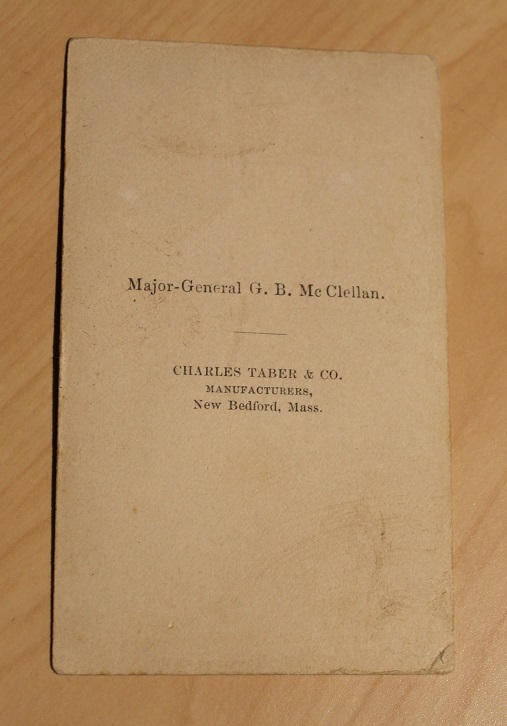 New Arrivals 46 Consignment
Here we have a standing CDV from life of a Maine Officer. He holds his Kepi in his arm and it looks to me like he has a 17 in the center of his infantry horn insignia. The backmark is S.W. Sawyer, Bangor (Maine). Itis in nice condition overall with a stain that is on the lower left corner not affecting the image. $95.00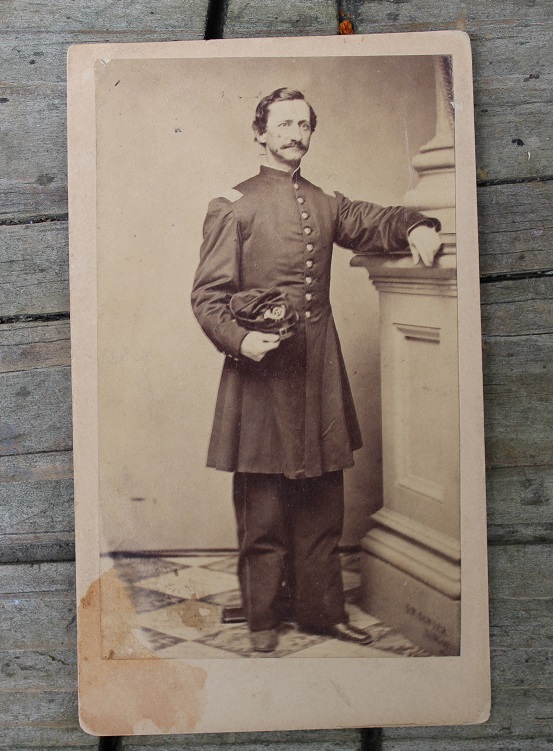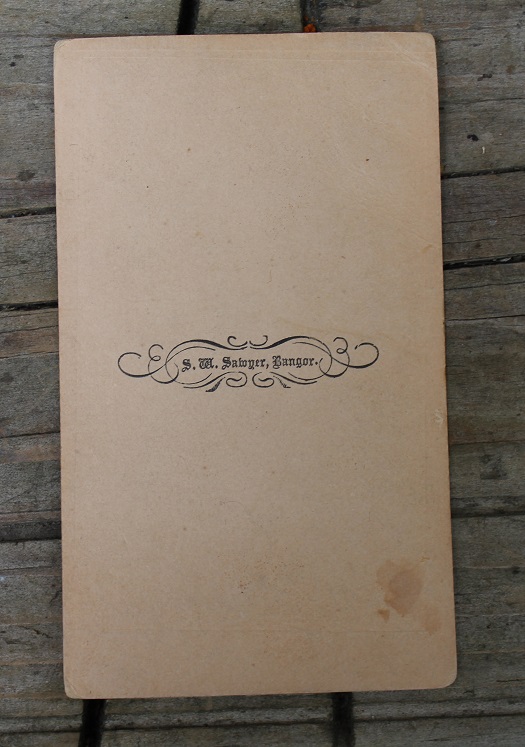 New Arrivals 45 Consignment
Here we have a CDV photoengraveur of General U..S. Grant. On the front it is marked 'BALDWIN' as well as 'Columbus, O'. Baldwin's backmark is also present on the reverse. What more can be said about General Grant. He was made for war but failed in everything else including his presidency. This is a very nice CDV! For this one $55.00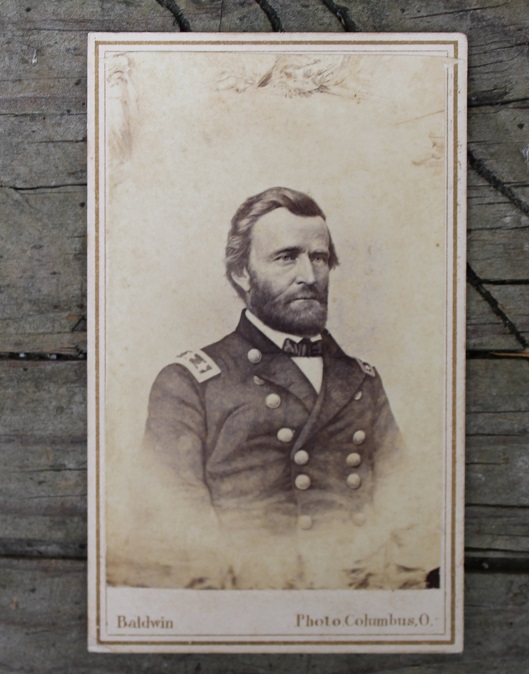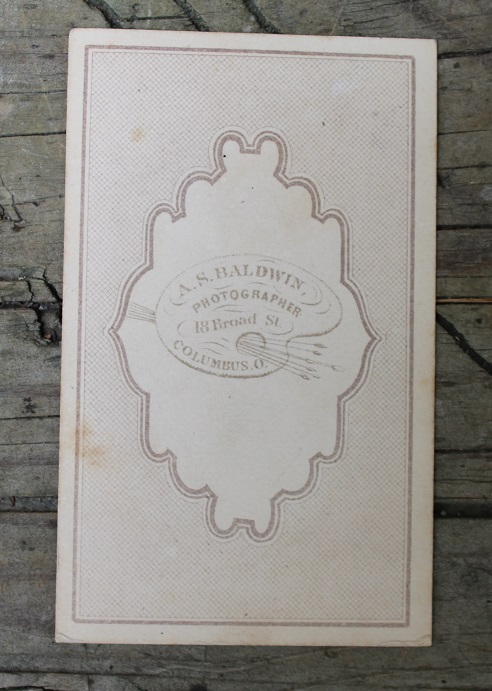 New Arrivals 44 Consignment
Here we have a nice CDV of Charles Dickens. Charles John Huffam Dickens ( 7 February 1812 – 9 June 1870) was an English writer and social critic. He created some of the world's best-known fictional characters and is regarded by many as the greatest novelist of the Victorian era. His works enjoyed unprecedented popularity during his lifetime, and by the 20th century critics and scholars had recognised him as a literary genius. His novels and short stories enjoy lasting popularity.
I believe this to be a photoengraveur. He is in a very though thinking pose. The reverse shows the pencil writing of 'FOR MOTHER' and was done by Joseph Ward of Washington and Boston. For this fine image $125.00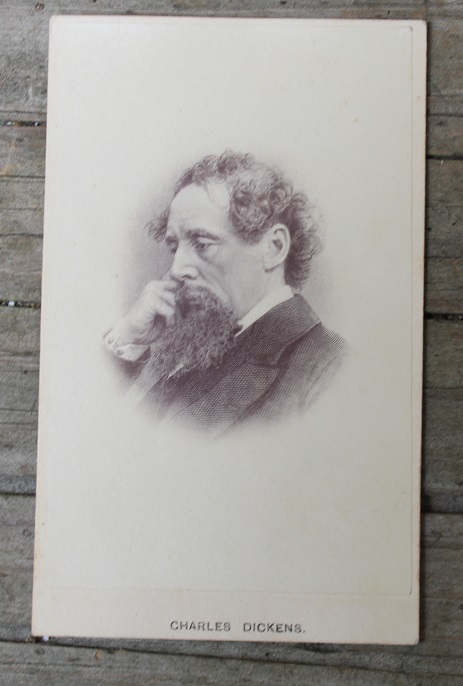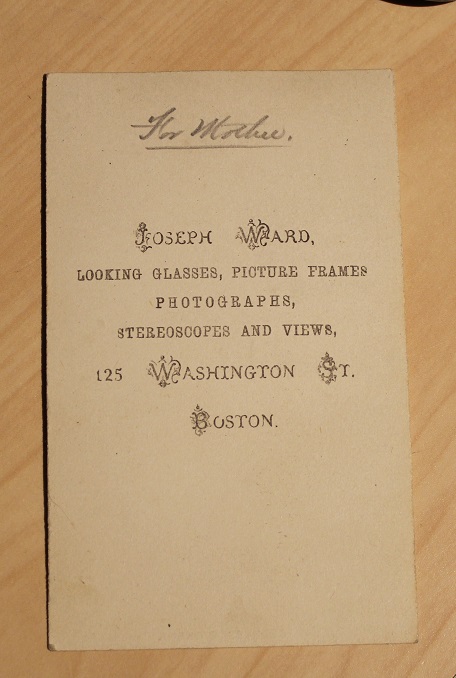 New Arrivals 43 Consignment
Here we have, from life, a great CDV of General Crittenden. He is shown sitting with his sword at his side. The CDV is in nice condition with slightly clipped corners. Here is the General's bio:
Crittenden, Thomas L., major-general, was born in Rus- sellville, Ky. May 15, 1819, studied law under his father, was admitted to the bar, and was elected commonwealth's attorney in Kentucky in 1842. 1n the Mexican war he served as lieutenant- colonel of Kentucky infantry, and was volunteer aide to Gen. Taylor in the battle of Buena Vista. He was from 1849 to 1853, under appointment from President Taylor, consul to Liverpool, then returned to the United States, resided for a time in Frankfort, and afterwards engaged in mercantile pursuits in Louisville, Ky. Espousing the Union cause at the beginning of the Civil war, he was commissioned brigadier-general, Oct. 27, At Shiloh he commanded a division and won by gallantry on that field promotion to major-general of volunteers, being assigned to command of a division in the Army of the Tennessee. He com- manded the 2nd corps, forming the left wing of Gen. Buell's Army of the Ohio, served afterwards under Gen. Rosecrans in the battle of Stone's river, and at Chickamauga commanded one of the two corps that were routed. He was afterwards given com- mand of a division of the 9th corps, Army of the Potomac, and operated with that corps in the campaign of 1864. He resigned, Dec. 13, 1864 but was afterwards commissioned by President Johnson colonel of the 32nd U. S. infantry, and in 1869 was transferred to the 17th infantry. He was retired by reason of his age, May, 1881. Gen Crittenden won by gallantry at Stone's river the brevet of brigadier-general in the regular army, which was conferred on him, March 2, 1867. He died at Annan- dale, Staten 1sland N. Y., Oct. 23, 1893. Source: The Union Army, vol. 8
No Backmark. For this nice CDV $195.00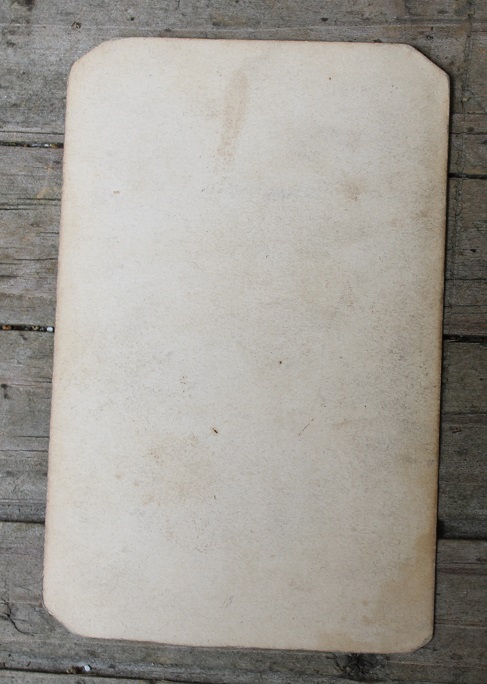 New Arrivals 42
Here we have a Model 1855 Civil War Springfield bayonet scabbard only. This piece has seen better days but is perfect for display! The piece is full length with brass deeply patinaed tip which has been glued back on. There is a weak spot in the middle of the scabbard so it's best to display with a bayonet inside for strength as these leather scabbards have no strength without the bayonet. The frog is mostly there but in rough shape. The leather is fractured and missing a chunk at the top but still exhibits all of it's brass rivits. The best thing about this piece is that there is no seam openings along it's length! For this displayable piece of Civil War memorabillia $75.00
New Arrivals 41
Here we have an exceptional CDV of what I believe is a Confederate Soldier in either a civilian Frock coat or a captured Union great coat. You can clearly see his gray shell Jacket that he is wearing and gray Kepi on his knee. He has a very troubled look on his face so he's already "seen the elephant" or he is a prisoner of war. There is no backmark on this early CDV. No History accompanies this piece but it was found in Indiana. From Camp Morton? Who knows. For this fine image $450.00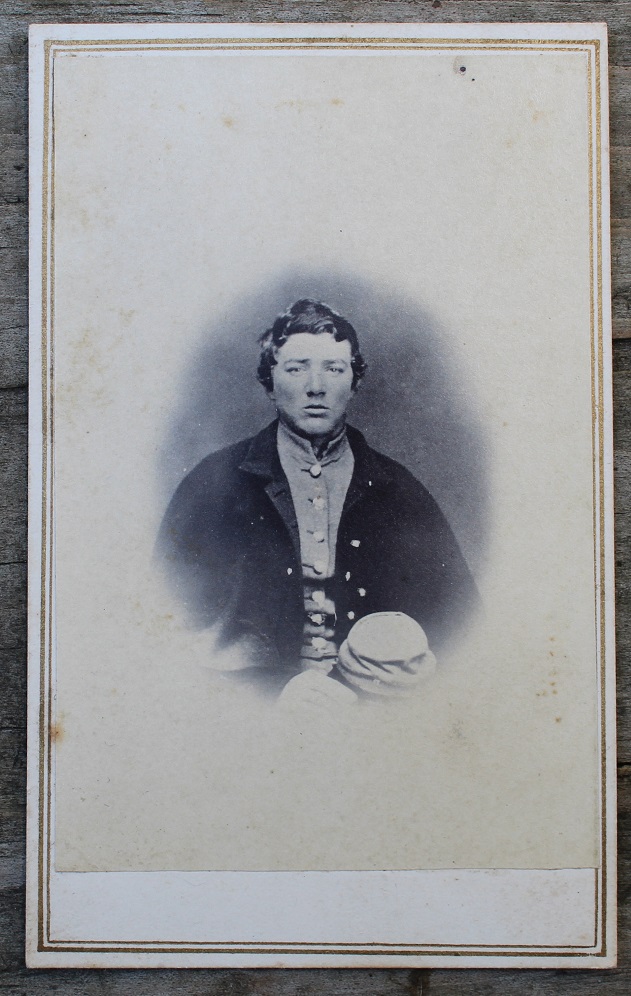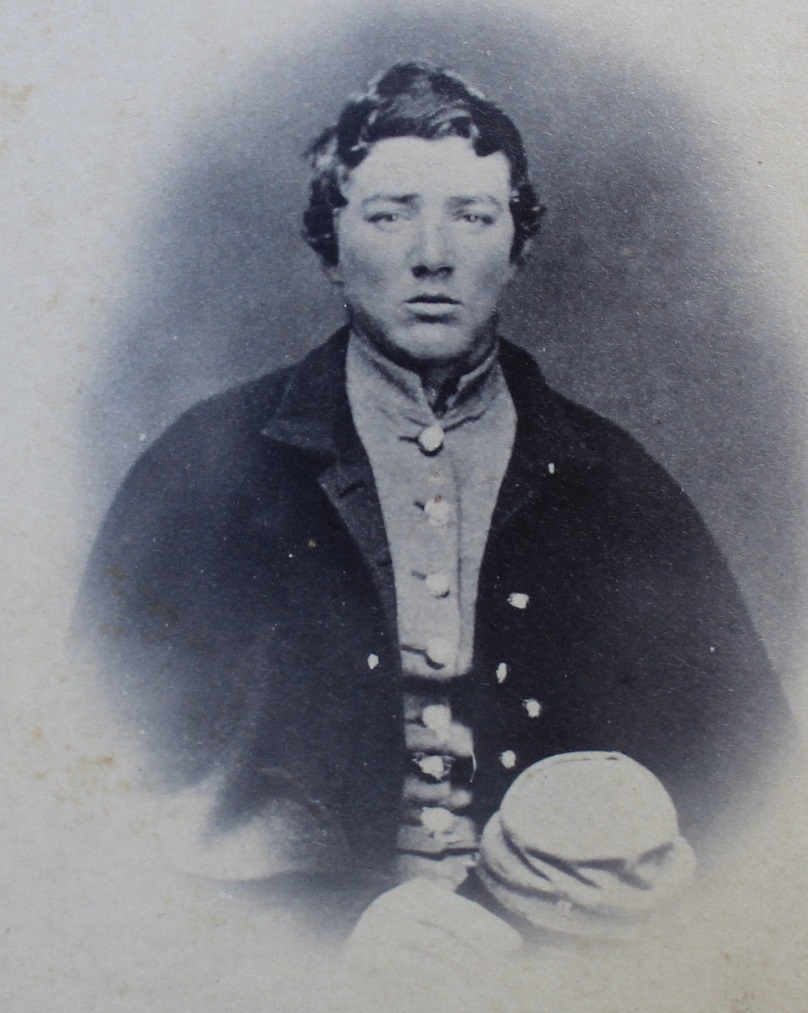 New Arrivals 40
Here we have CDV's of General Grant (Later President Grant) and his Vice President Schuyler Colfax Jr. We'll start with Vice President Colfax.
Here we have a CDV of Schuyler Colfax.
Schuyler Colfax Jr. ( March 23, 1823 – January 13, 1885) was an American journalist, businessman, and politician from Indiana. He served as a United States Representative (1855–69), Speaker of the House of Representatives (1863–69), and the 17th Vice President of the United States (1869–73). To date, he is one of only two Americans (John Nance Garner is the other) to have served as both House speaker and vice president. Colfax was known for his opposition to slavery while serving in Congress, and was a founder of the Republican Party. In January 1865, as Speaker of the House, Colfax made the unusual choice to cast a vote for passage of the Thirteenth Amendment. (Speakers can vote on House motions but, by convention, rarely do so.) After winning the presidential election of 1868, Ulysses S. Grant and Colfax, at ages 46 and 45, were the youngest Presidential ticket elected in the 19th Century. Believing Grant would only serve one term, in 1870 Colfax attempted unsuccessfully to garner support for the 1872 presidential nomination by telling friends and supporters he would not seek a second vice presidential term. Grant ran again, and Colfax reversed himself and attempted to win the vice presidential nomination, but was defeated by Henry Wilson. In January 1871, Colfax encouraged a unified Italy to adopt a republican government that protected religious freedom and civil rights of its citizens. An 1873 Congressional investigation into the Crédit Mobilier scandal named Colfax as one of the members of Congress (mostly Republicans) who in 1868 were offered (and possibly took) payments of cash and discounted stock from the Union Pacific Railroad in exchange for favorable action during the construction of the First Transcontinental Railroad. Colfax left the vice presidency at the end of his term in 1873 and never again ran for office. Afterwards he worked as a business executive and became a popular lecturer and speech maker. Colfax died in Mankato, Minnesota, on January 13, 1885, while changing trains as he was en route to Rock Rapids, Iowa, to give a speech
This CDV of Vice President Colfax is a tad light but easily seen with his iconic smile! The CDV is in great shape overall and is backmarked from Logansport, Indiana. Nice piece! $65.00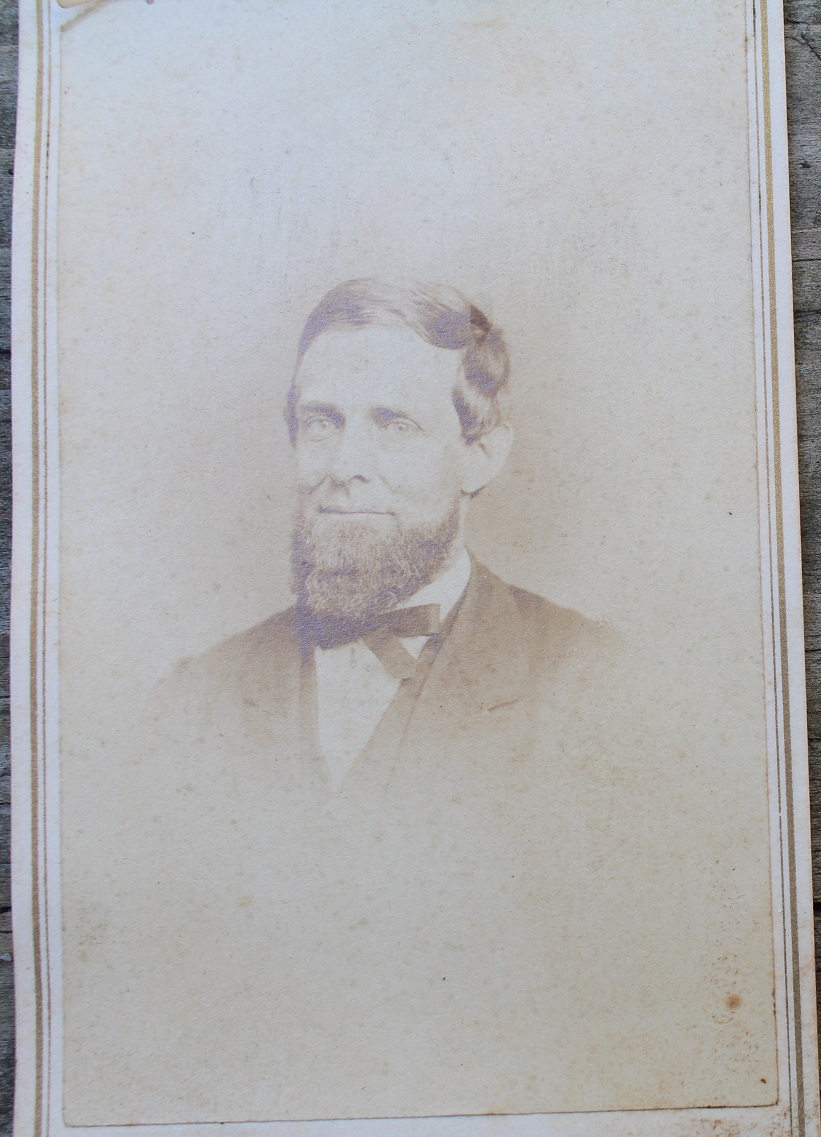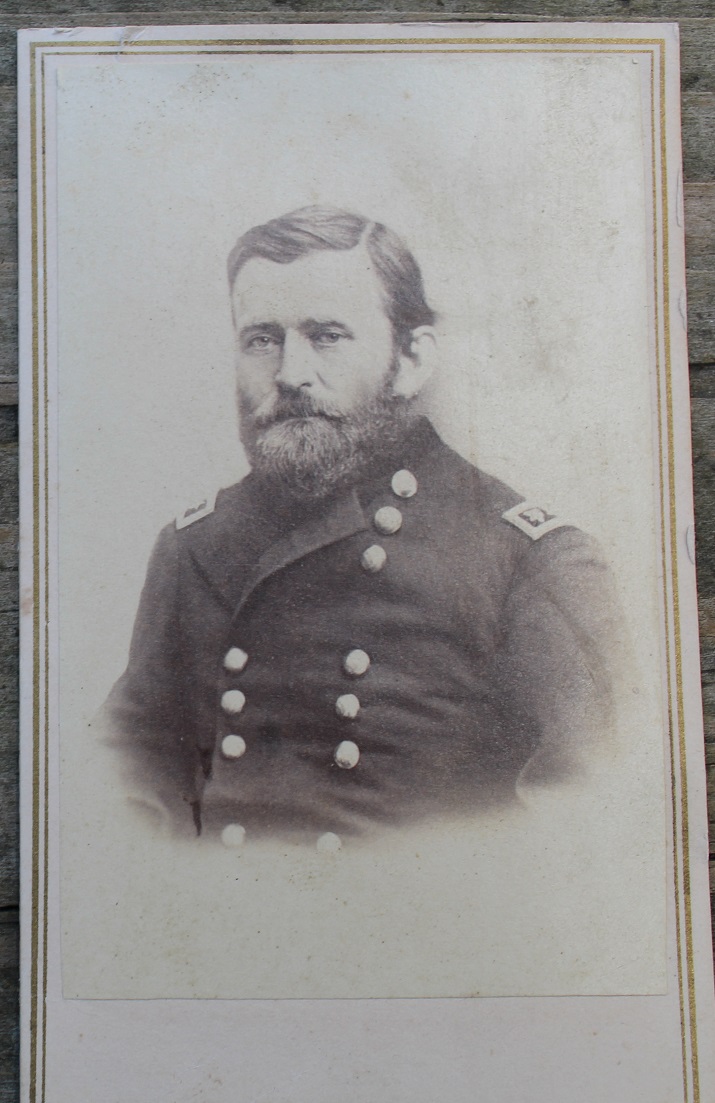 Here we have a CDV from life of General Ulysses S. Grant, later President Grant. This one is in very nice condition with the backmark of Anthony and Brady. Ulysses Simpson Grant (born Hiram Ulysses Grant;[a] April 27, 1822 – July 23, 1885) was an American soldier and statesman who served as Commanding General of the Army and President of the United States, the highest positions in the military and the government of the United States. A prominent United States Army general during the American Civil War, Grant led the Union Army to victory over the Confederacy with the supervision of Abraham Lincoln. As the 18th President of the United States (1869–77) Grant led the Republicans in their efforts to remove the vestiges of Confederate nationalism and slavery during Reconstruction. Grant was born and raised in Ohio by Methodist parents whose lineage in the new world went back several generations. As a youth he often worked in his father's tannery and showed an early talent for riding, taming and managing horses. After graduating from West Point in 1843 Grant served with distinction in the Mexican–American War. Upon his return he married Julia Dent, and together they had four children. Grant retired from the army in 1854 and struggled financially in civilian life. When the Civil War began in 1861 he rejoined the army and quickly rose through the ranks. As a general he took control of Kentucky, most of Tennessee, won major battles at Shiloh and seized Vicksburg, gaining control of the Mississippi River and dividing the Confederacy. These victories, combined with those in the Chattanooga Campaign, persuaded Abraham Lincoln that Grant was the general best suited to lead the combined Union armies. Grant was promoted to Lieutenant General, a rank previously reserved for George Washington, in March 1864. He confronted Robert E. Lee, trapping his army in their defense of Richmond, while coordinating a series of campaigns in other theaters. In April 1865 Lee surrendered to Grant at Appomattox, effectively ending the war. Historians have hailed Grant's military genius, and his strategies are featured in military history textbooks. After Lincoln's assassination, Grant became increasingly disillusioned by President Andrew Johnson's approach to Reconstruction, and drifted toward the "Radical" Republicans. Elected president in 1868, the youngest man in the office to that date, Grant stabilized the post-war national economy, created the Department of Justice, used the military to enforce laws in the former Confederacy and prosecuted the Ku Klux Klan. Grant strengthened the Republican Party in the South and signed three civil rights acts into law. In 1871 he created the first Civil Service Commission. The Democrats and Liberal Republicans united behind Grant's opponent in the presidential election of 1872, but Grant was re-elected by a large margin. Generally regarded as personally honest, he nonetheless faced accusations of corruption within his administration. Grant's Peace Policy with Native Americans was a bold departure for its time. In foreign policy, Grant sought to increase trade and influence while remaining at peace with the world. With Secretary of State Hamilton Fish, he successfully resolved the Alabama claims with Great Britain. Grant and Fish negotiated a peaceful resolution with Spain over the Virginius Affair. Congress rejected Grant's initiative to annex the Dominican Republic, creating a rift among Republicans. In national affairs, Grant's administration implemented a gold standard and sought to strengthen the dollar. Grant's immediate response to the Panic of 1873 failed to halt a severe industrial depression that produced high unemployment, deflation, and bankruptcies. When he left office in 1877, Grant embarked on a two-and-a-half-year world tour that captured favorable global attention for him and the United States. In 1880, Grant was unsuccessful in obtaining the Republican presidential nomination for a third term. Facing severe investment reversals and dying of throat cancer, he wrote his memoirs, which proved to be a major critical and financial success. His death in 1885 prompted an outpouring in support of national unity. Historical assessments of Grant's legacy have varied considerably over the years. Although Grant's presidency has popularly been criticized for its Gilded Age scandals, modern scholarship regards him as an embattled president who performed a difficult job during Reconstruction. Although early rankings of Presidents rated his administration among the worst, modern appreciation for Grant's accomplishments has greatly improved his historical reputation.
This CDV is in very nice condition with E&HT Anthony backmark from Photographic Negative in Brady's National Portrait Gallery. For this CDV $165.00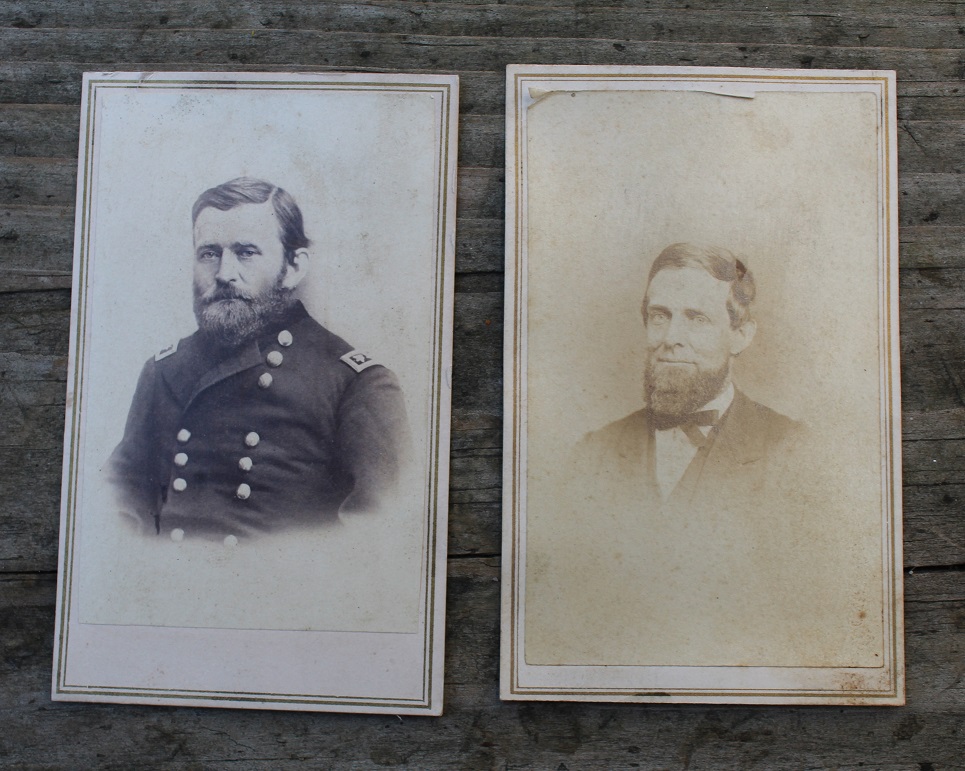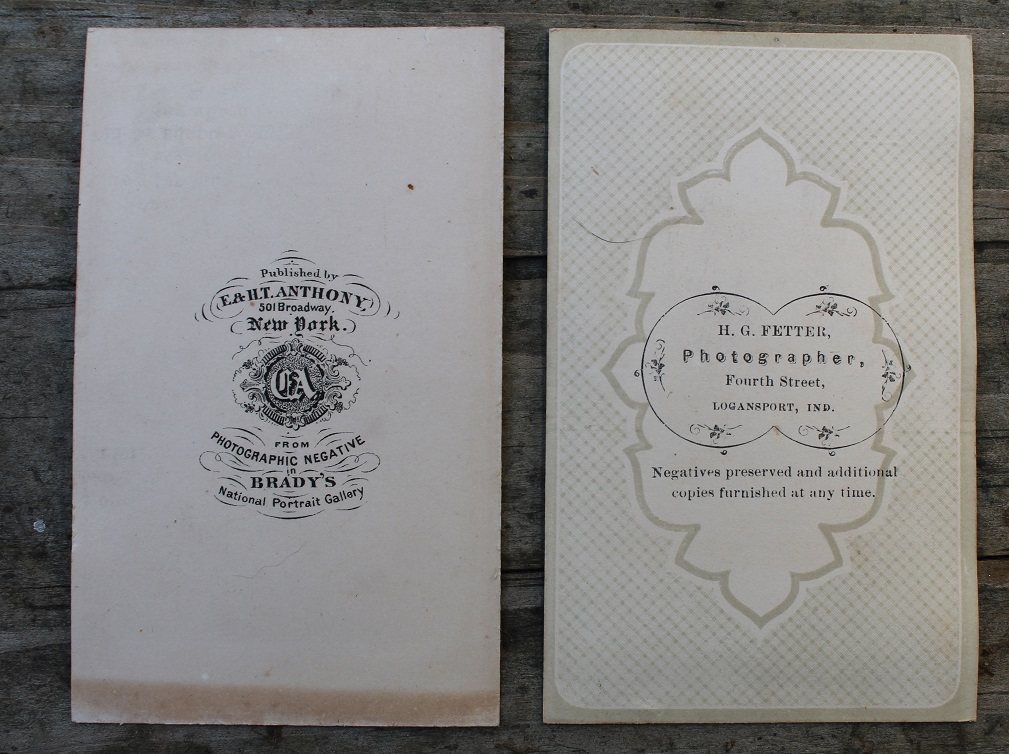 New Arrivals 39
Here we have a US bridle with iron bit. This bridle is complete with the bronze US Rosettes of the National Seal type. They are the thin bronze rosettes with the offset staple. The leather is all supple and only seems to have any weak spot where the reins are sewn together. I believe this to be the Model 1909. The bit is not the military bit of that time frame and may be earlier. This bit and the rosettes have been on this bridle for a very long time! For this historic piece of history $195.00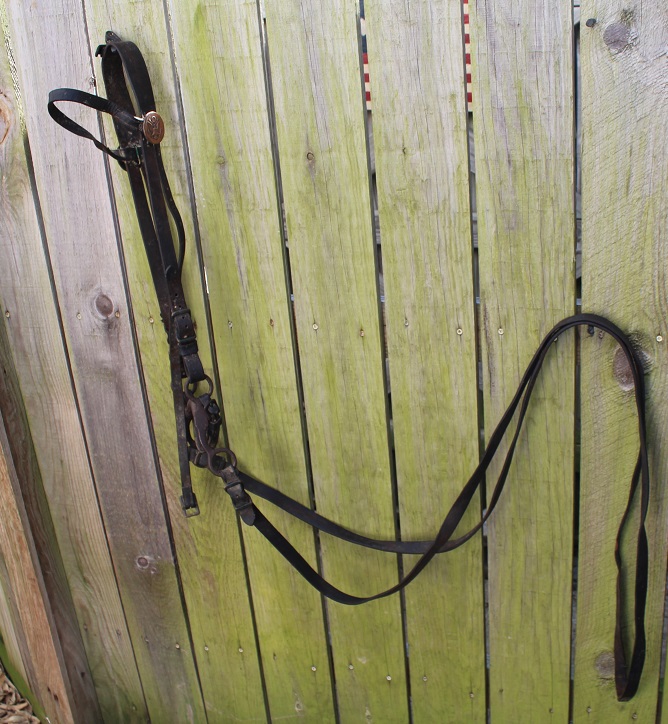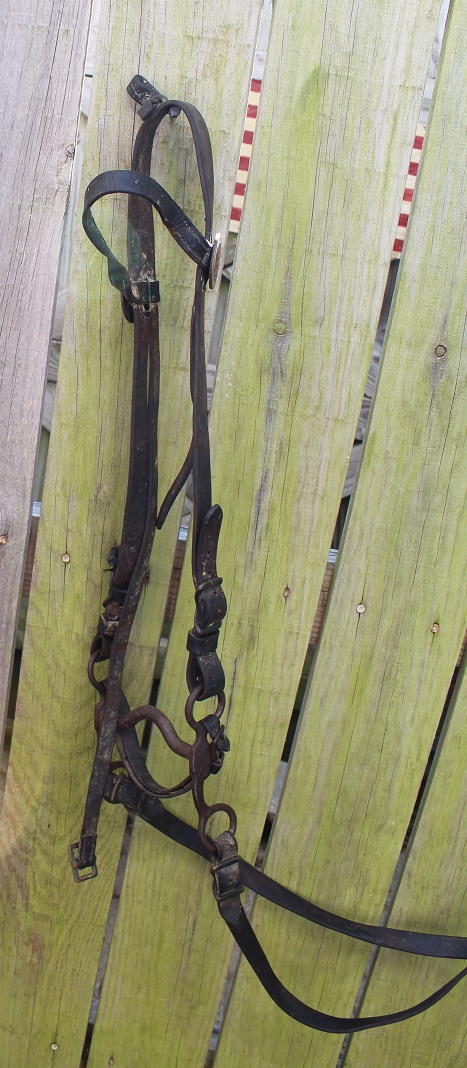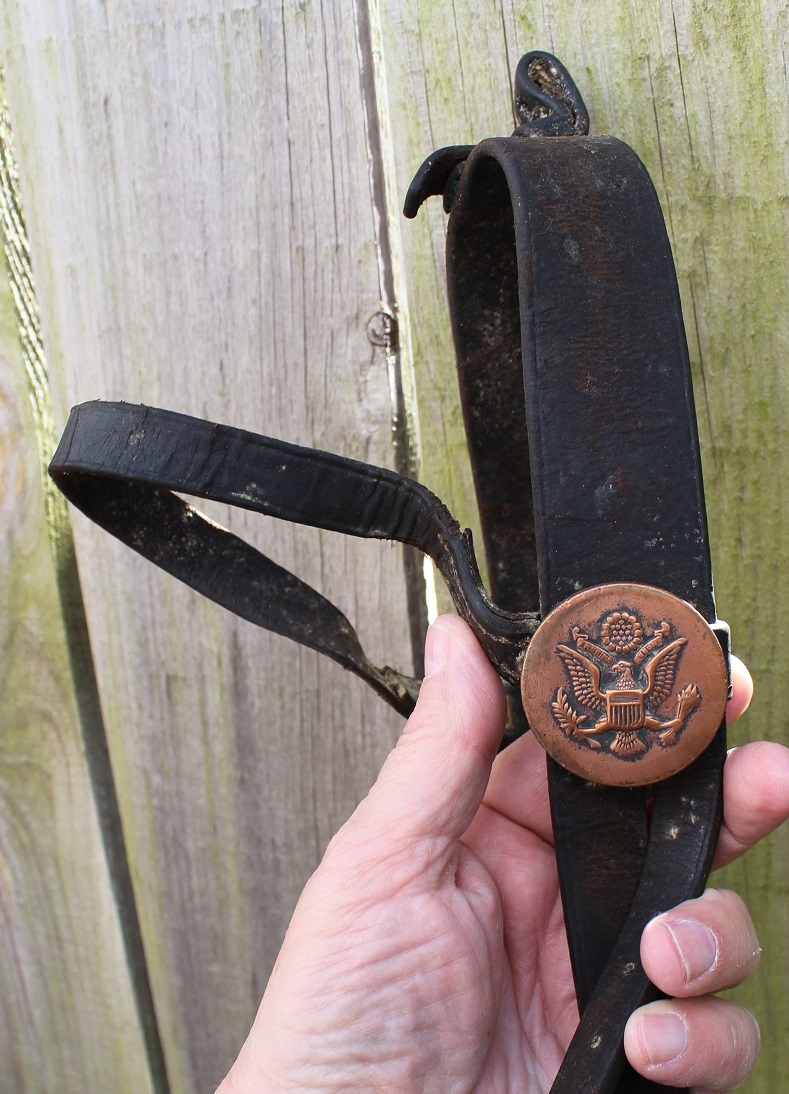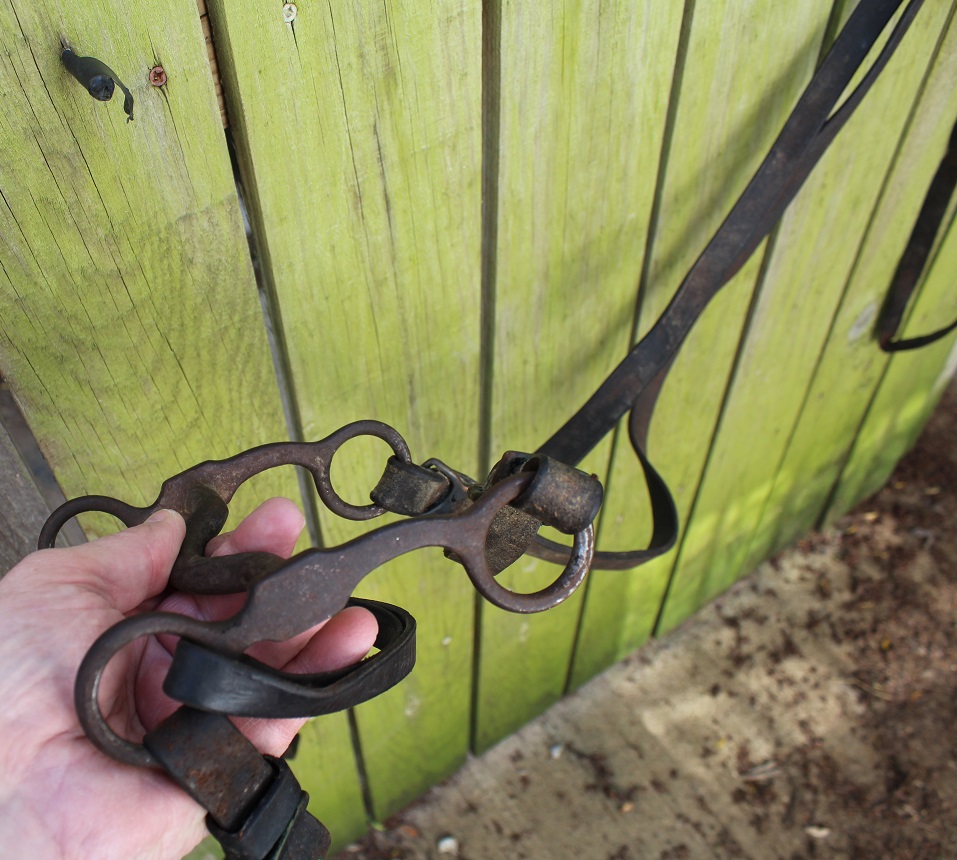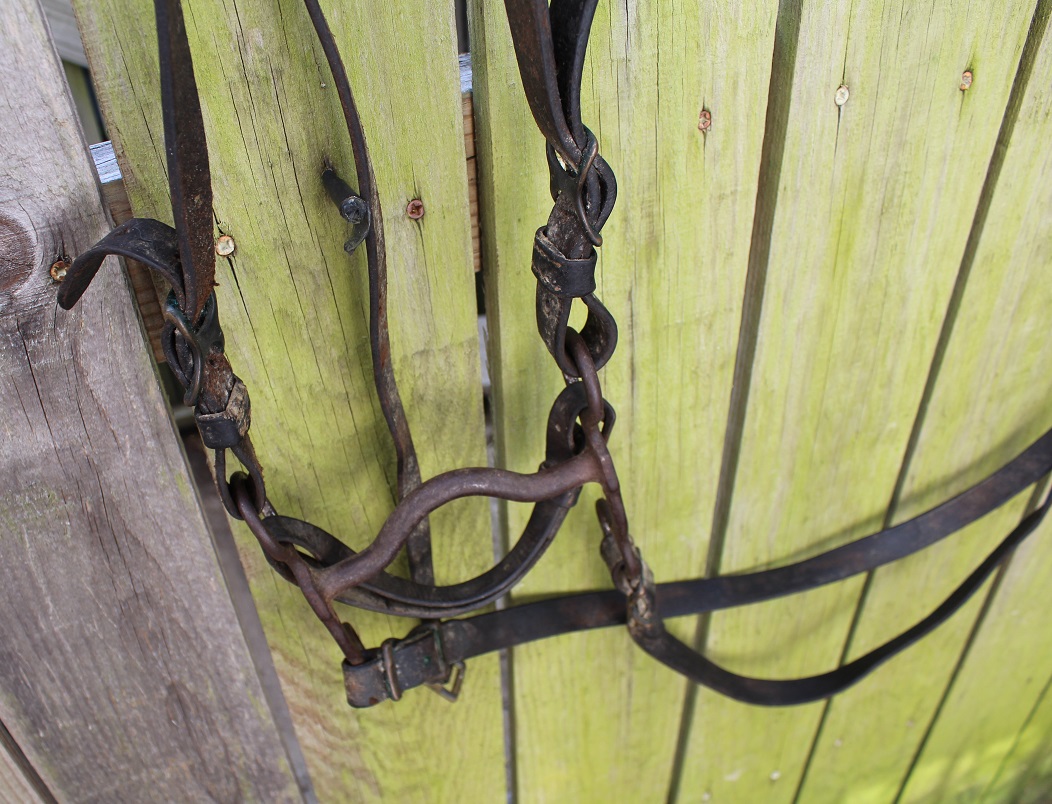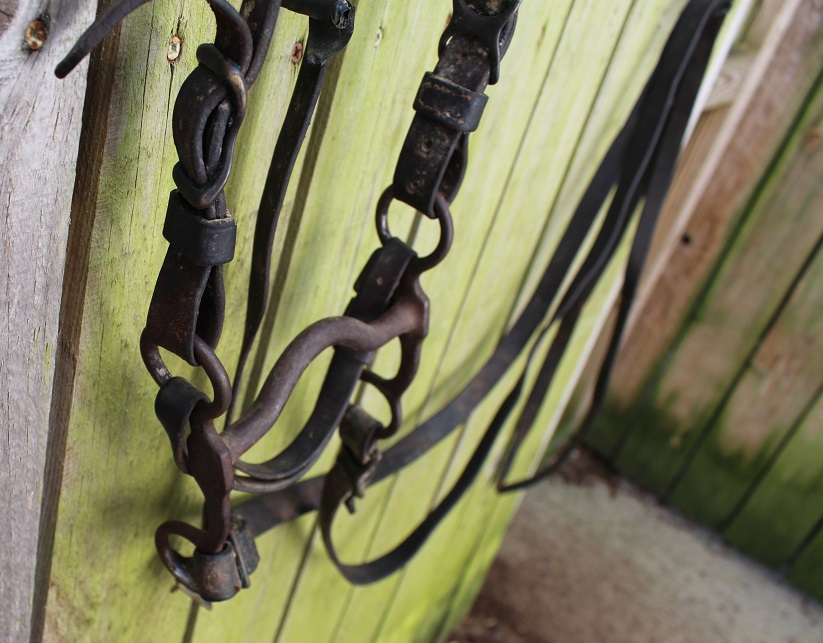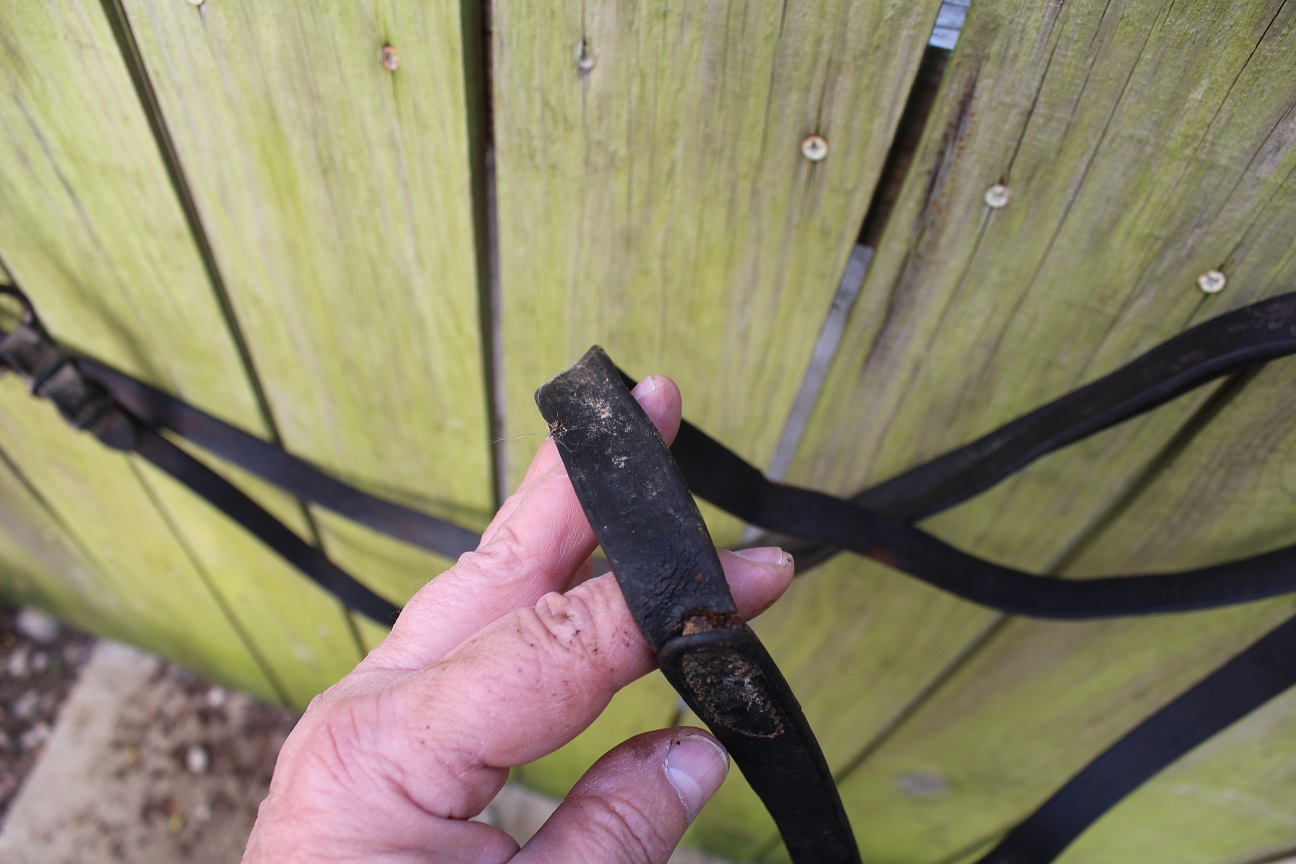 New Arrivals 38
Here's an exceptional 1/6th plate tintype in full case of a young Militia Soldier Circa 1860-1880. This image came from Lena, Wisconsin but unfortunately no history accompanies it. There is a 51 on his cross belt plate and a D on his belt plate. There is something on his shako hat badge but these old eyes just can't quite make it out. For this fine image $225.00
New Arrivals 37
Here is a 9th plate image of a Militia Soldier sitting wearing his shako with plume and a many buttoned jacket! The image is exceptionally clear. Comes in full case with repaired spline. I picked this up from a person in Camden, South Carolina. For this fine piece $145.00
New Arrivals 36
Here we have a 1/6th plate of a Civil War Era Militia Soldier . He appears to be wearing a gray uniform and sits holding a gray Kepi. Nice looking image in full case . Came from Martinsville, IN. Sorry, no id. For this fine piece $395.00 Check out the pics!!!
New Arrivals 35
Here we have a set of W. G. Phillips improved Police-Nippers. These were made to clasp a criminals wrist as they were drug off to jail! This one has traces of old plating with most lacking at this time. I show two pair in the photos but the darker of the pair is what I am talking about here. The nippers are stamped PAT'D AUG 10 '69 (1869). Both arms are marked 94 indicating that this is a matched set with no repairs and they work great! Kind of depends on dealing with a passive criminal I think!!! Copies of an original patent paper will be provided with this set of Nippers. $145.00
New Arrivals 34
Here we have a pair of old Civil War era wooden crutches with strips of old cloth used to soften the impace on the arm pits. These crutches were a bear to use long time and I think the addition of the cloth indicates prolonged use. Many thousands of these were produced during the Civil War as we had a bunch of soldiers with lower limb injuries and amputations that needed them unfortunately. Crutches were becoming more user friendly toward the end of the war with hand supports and better supports for under the arms but until then what a bear!!! For this pair $125.00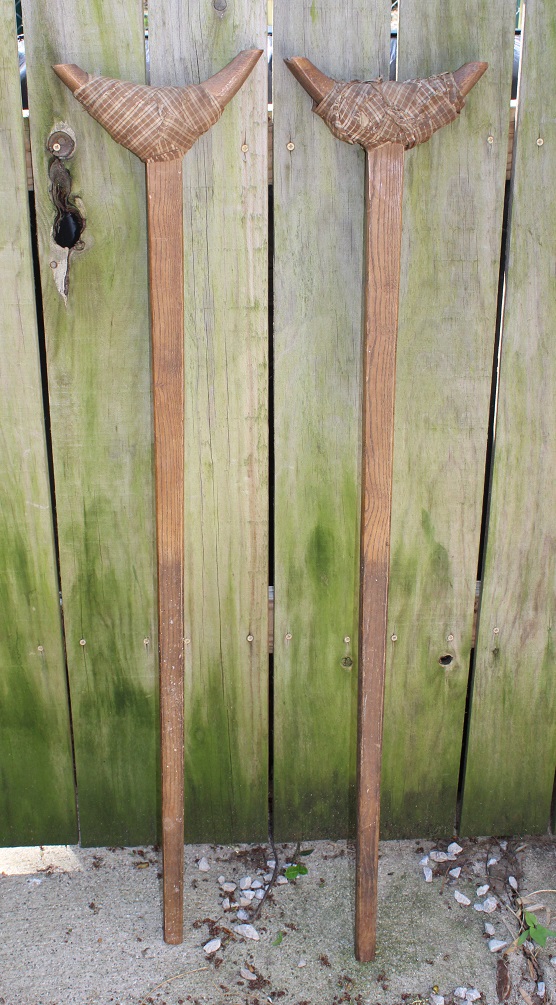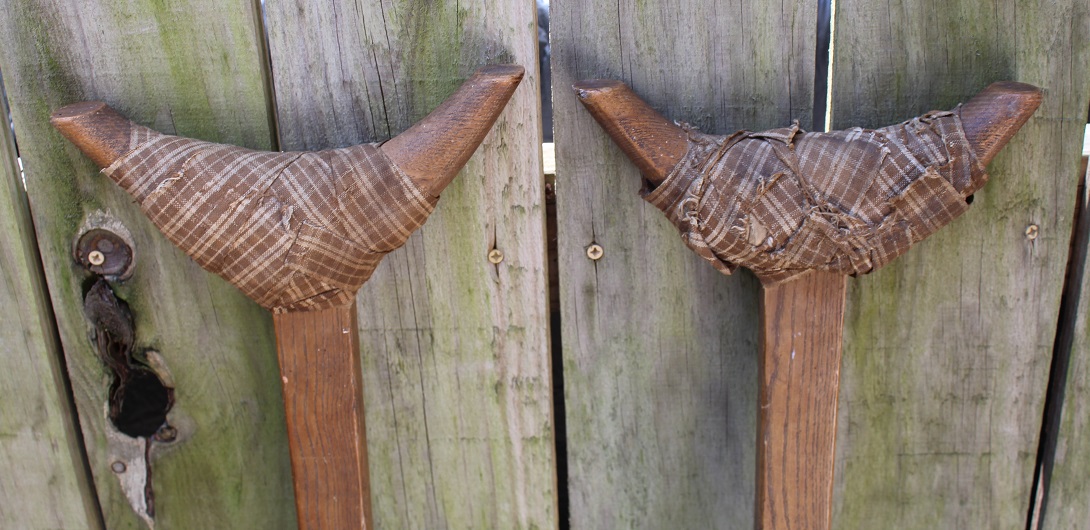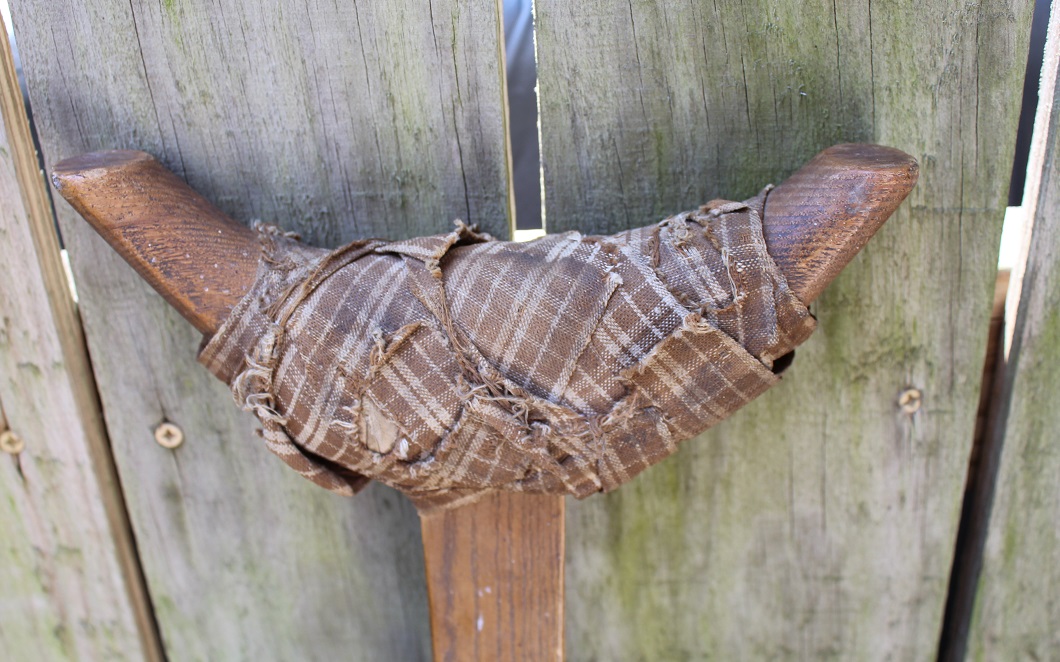 New Arrivals 33
Here we have a Civil War era saddlers tool. This tool was made to cut leather while making or repairing saddles. The tool measures 6 inches long overall and the cutting blade is 4 1/2 inches wide. The tool is marked on one side C.S.Osborn & Company , Newark, N.J. and on the other side Est'd 1825. Here is some history of C.S. Osborn as provided by the company that is still in business today. :
Since 1826, C.S. Osborne & Co. has been manufacturing the finest leatherworking tools at its New Jersey factories. The company has always been family-owned and operated beginning with Charles Samuel Osborne and to this day, the Osborne family continues to operate the business making it one of the oldest family-owned companies in the United States. C.S. Osborne & Co. began manufacturing tools for harness makers and saddlers in the early 1800's. As horses and carriages represented the primary means of transportation for the better part of the nineteenth century, tools used in horse–n-tack, harness and saddlery were in major demand, not just in the United States, but all over the world. Not to mention, Newark, NJ represented one of the largest concentration of tanneries on the east coast…so it made perfect sense that a tool manufacturer like C.S. Osborne & Co. would flourish at this time by making the highest quality leatherworking tools in the country. About 1900 the company would move just a couple of miles to its current location in Harrison, NJ where the company has now been manufcturing it's leatherworking tools for the last 100 years.
So you see that this tool was made before 1900 and I believe by the style of the font that it was made before or during the Civil War. Check out the pics! For this old saddle making tool $75.00
New Arrivals 32
Here we have a wonderful Black McClellan Saddle from the 1800's. This may be a civilian saddle although it follows the military style. I did find the same style stirrups in CONFEDERATE SADDLES & HORSE EQUIPMENT by Ken R. Knopp which is an excellent book and eveyone that is interested in these saddles should pick up a copy. The text describing these stirrups are listed for you to view. The saddle also has the squared off Sweat leathers or fenders and you can see that in a drawing of saddle parts on page 11 of the book. The saddle is a full size saddle and is complete just missing the Girth and/or Surcingle. The leather is in generally good condition with the usual cracks and is missing a few screws. Although the saddle follows the military pattern the strap mortise plate brass pieces on the saddle themselves are pretty thin and where the pommel ornament front plate was it is missing although the telltale signs of nails are left showing that it was there at one time. There also is no ring staples or foot staples present and looks to never have been. The underneath tree is leather covered as well and shows signs of use. The center of the saddle which is usally open is covered with a ventilated leather cover. A lot of the 19th centurn horses were thin and a full covered saddle would hurt the horses spine so the spline are was left open. This one is still open there just covered with a piece of ventilation type leather. The stirrup is covered with leather and NOT marked with the US that you see on Union Saddles. This saddle displays very well and although it could well be a Military Saddle used by Officers on either side it could very well be a civilian saddle from the period. Take a look at the pics! $695.00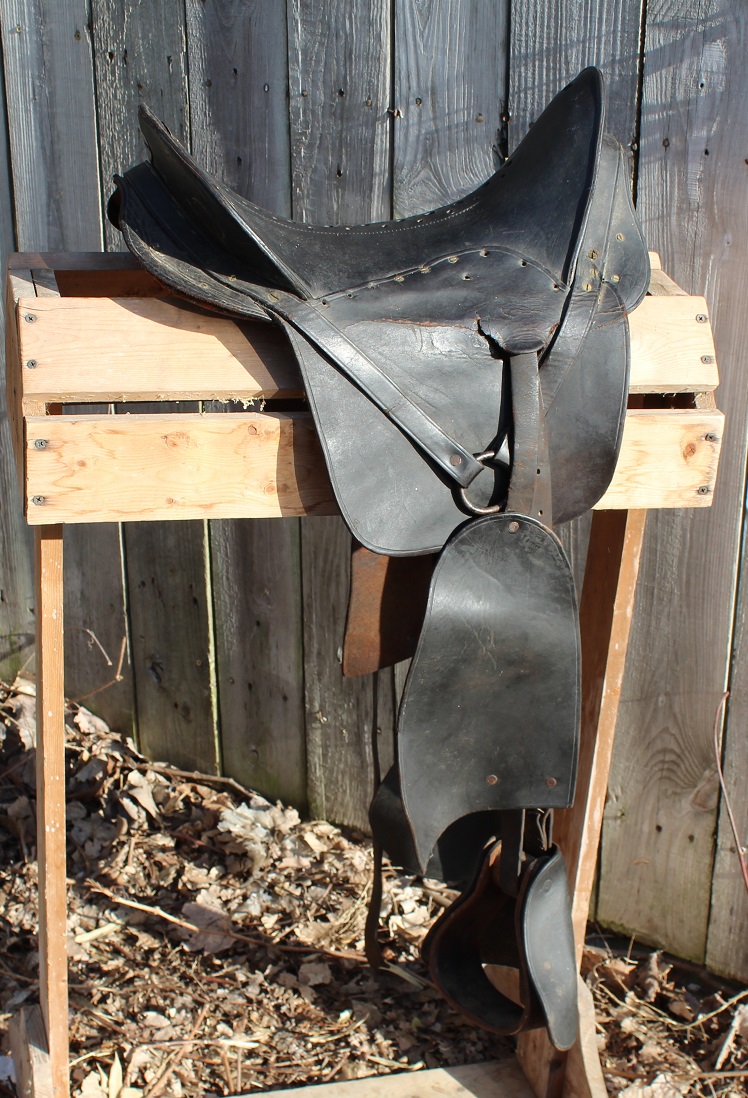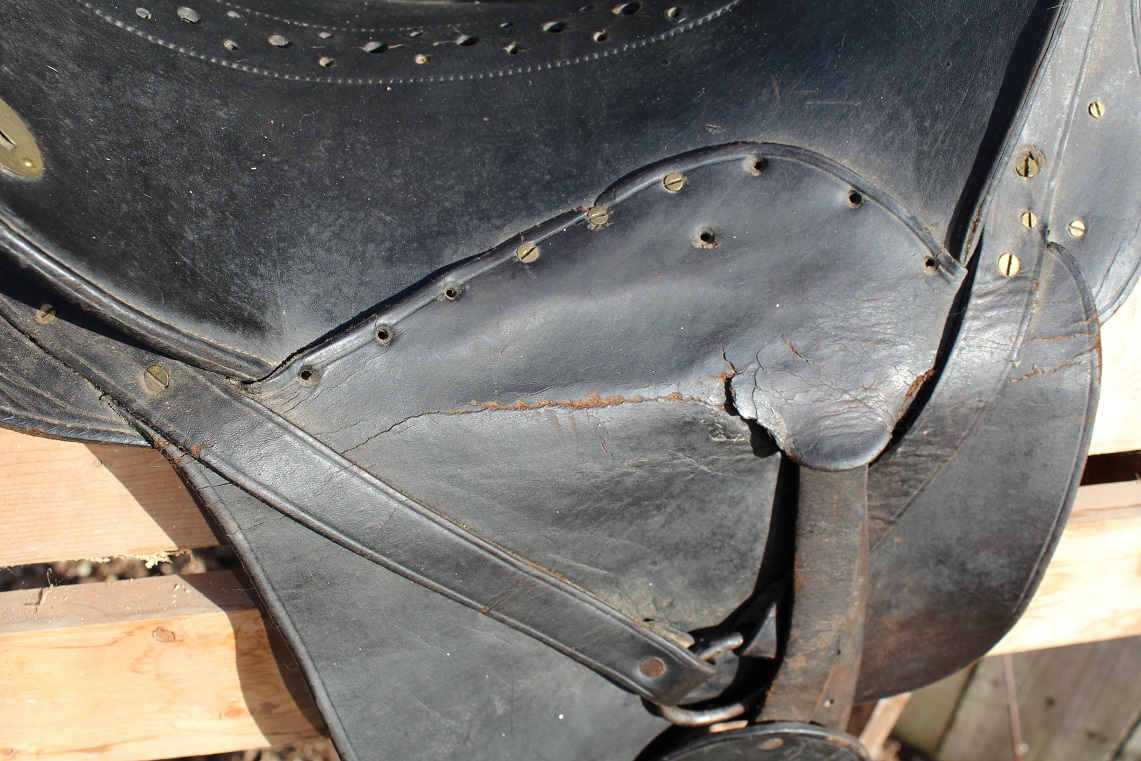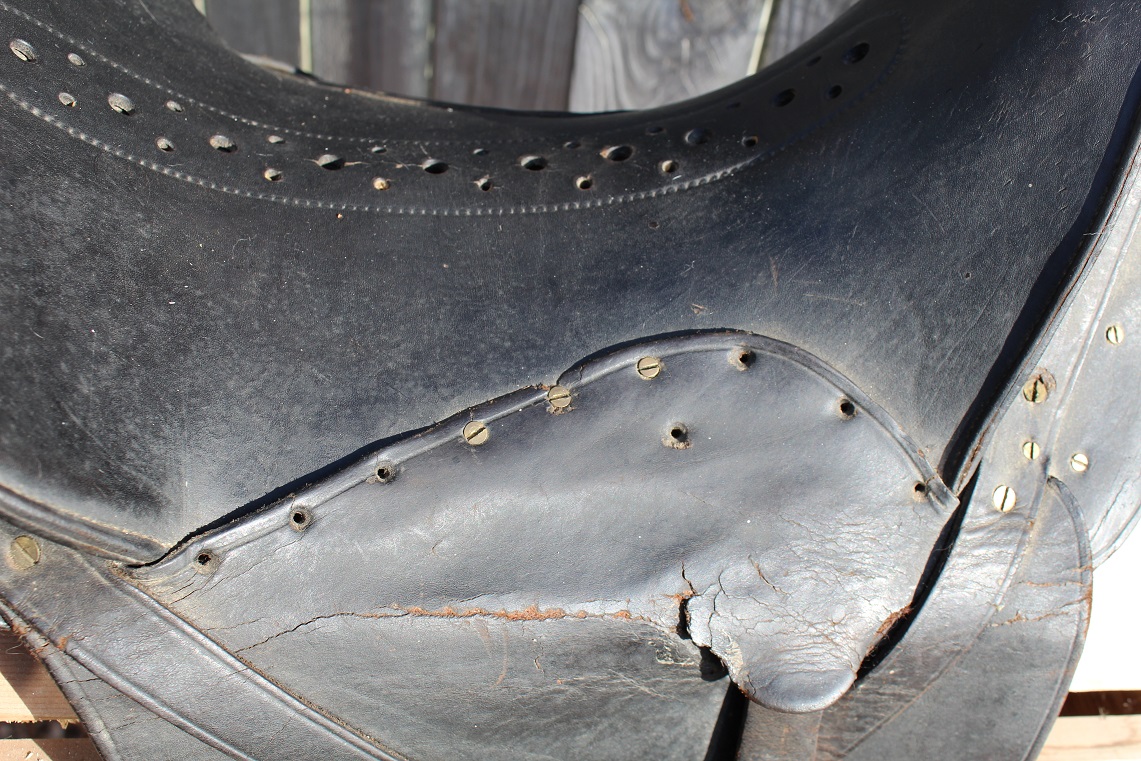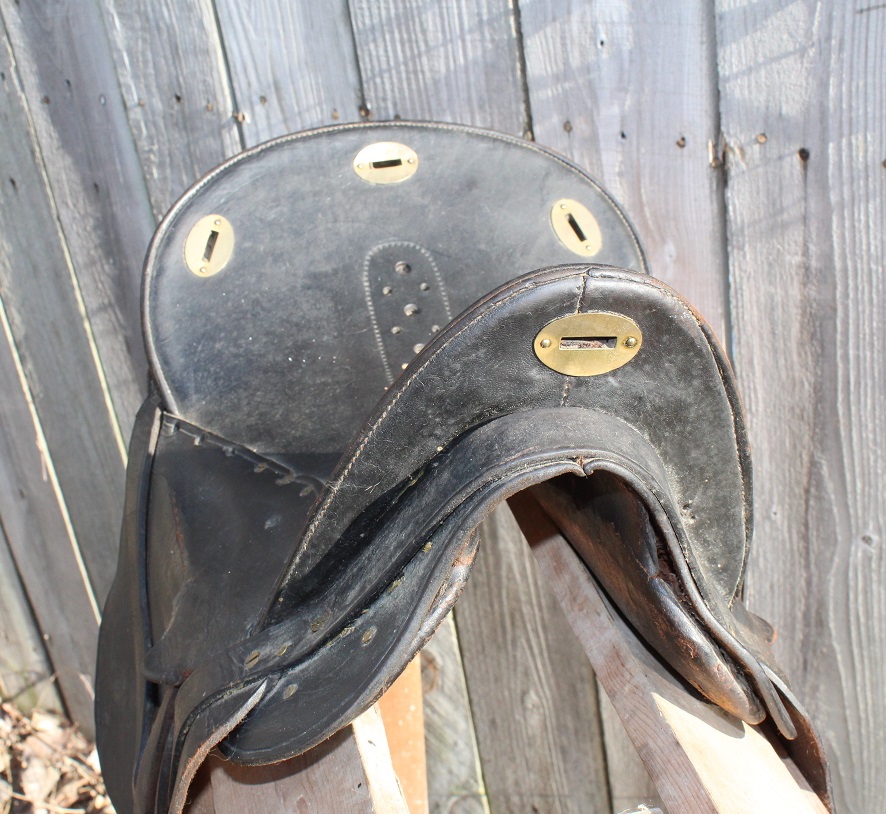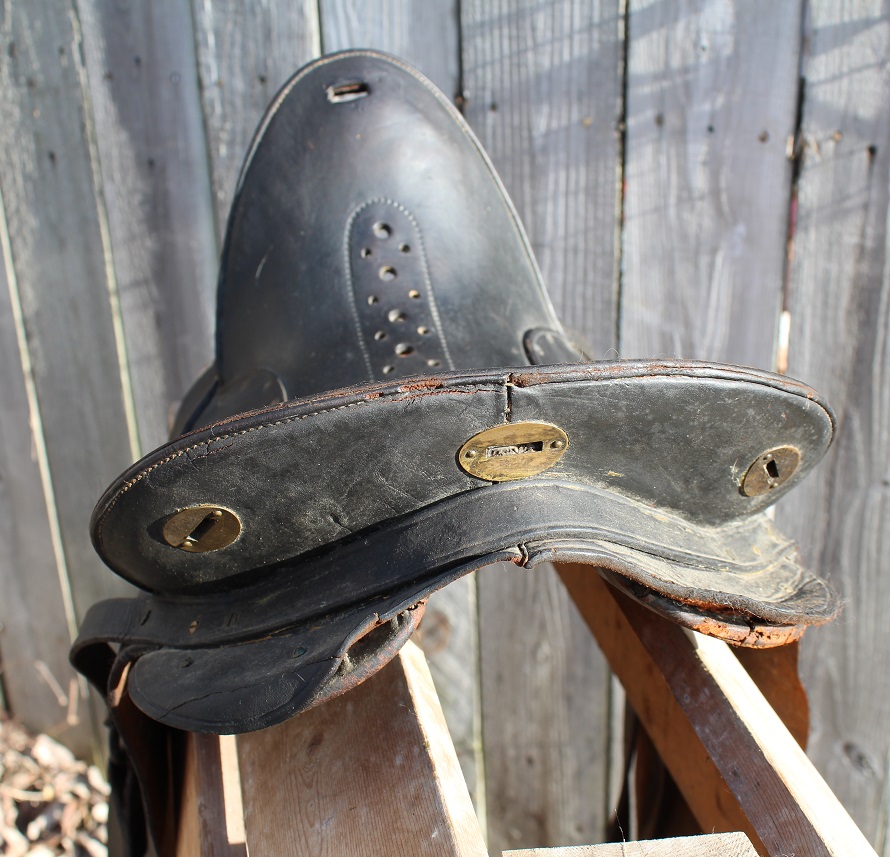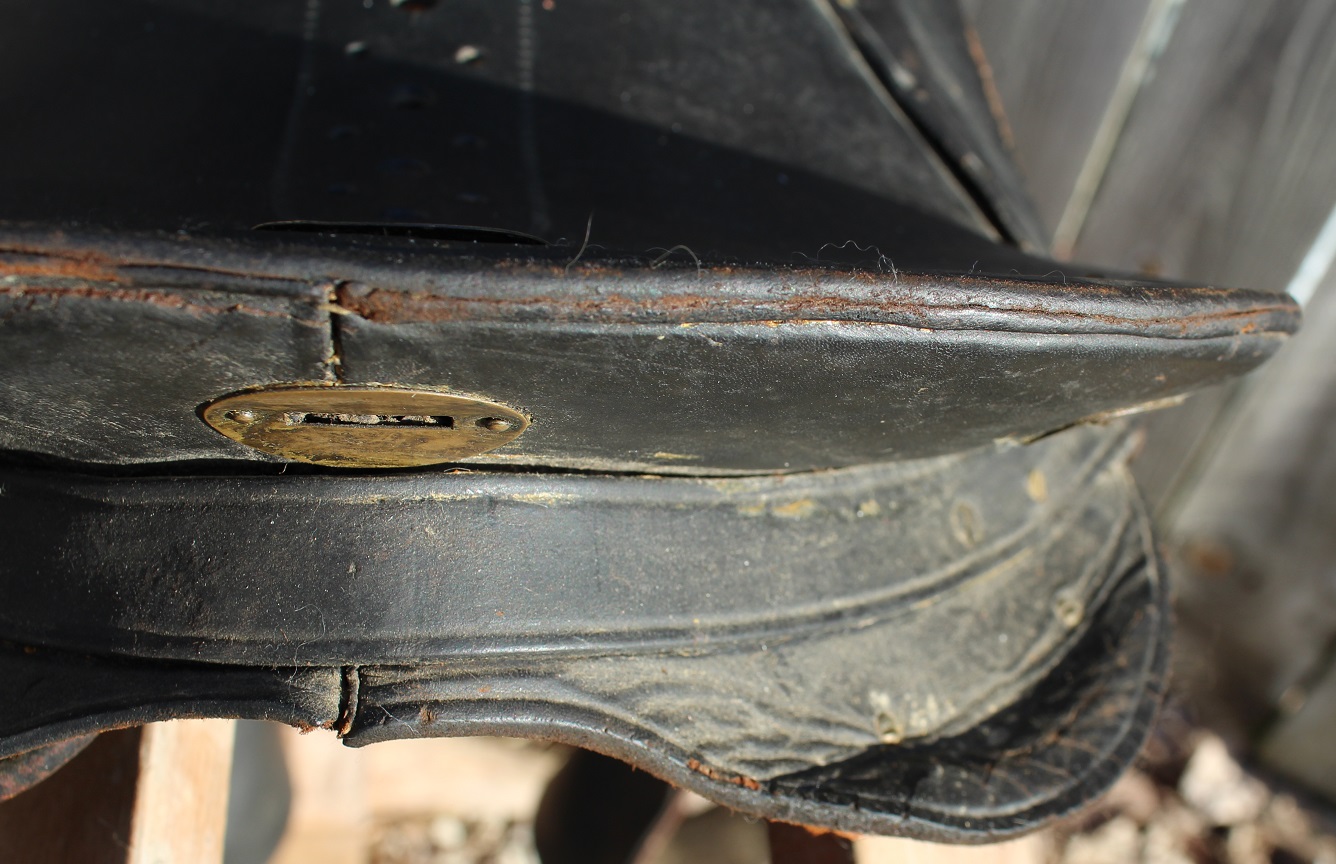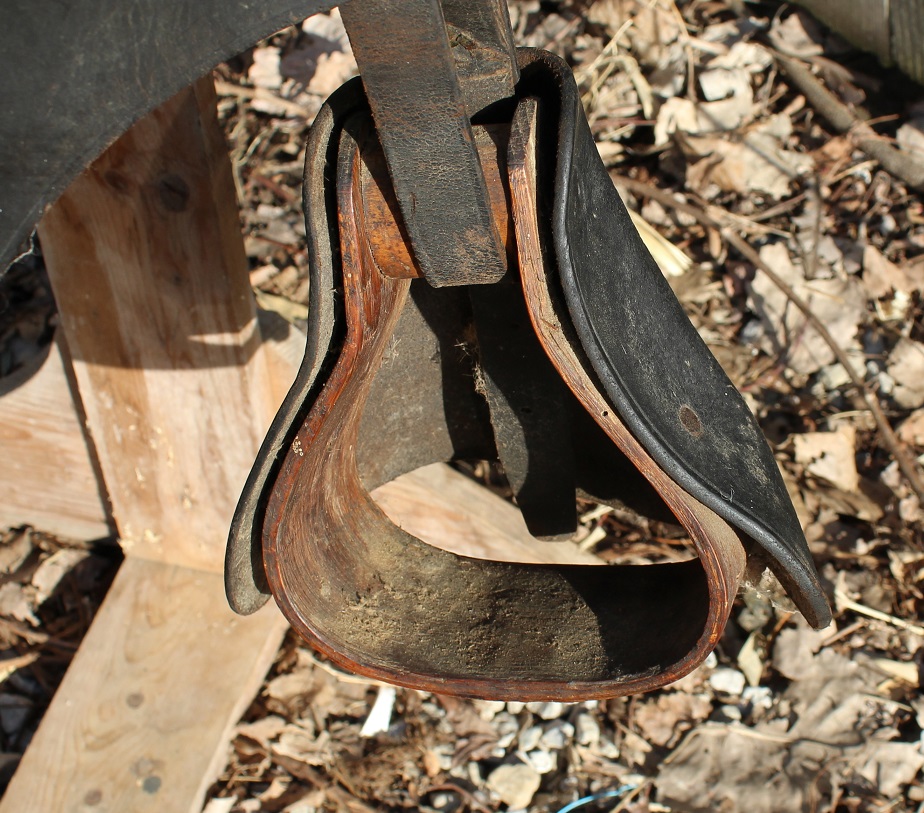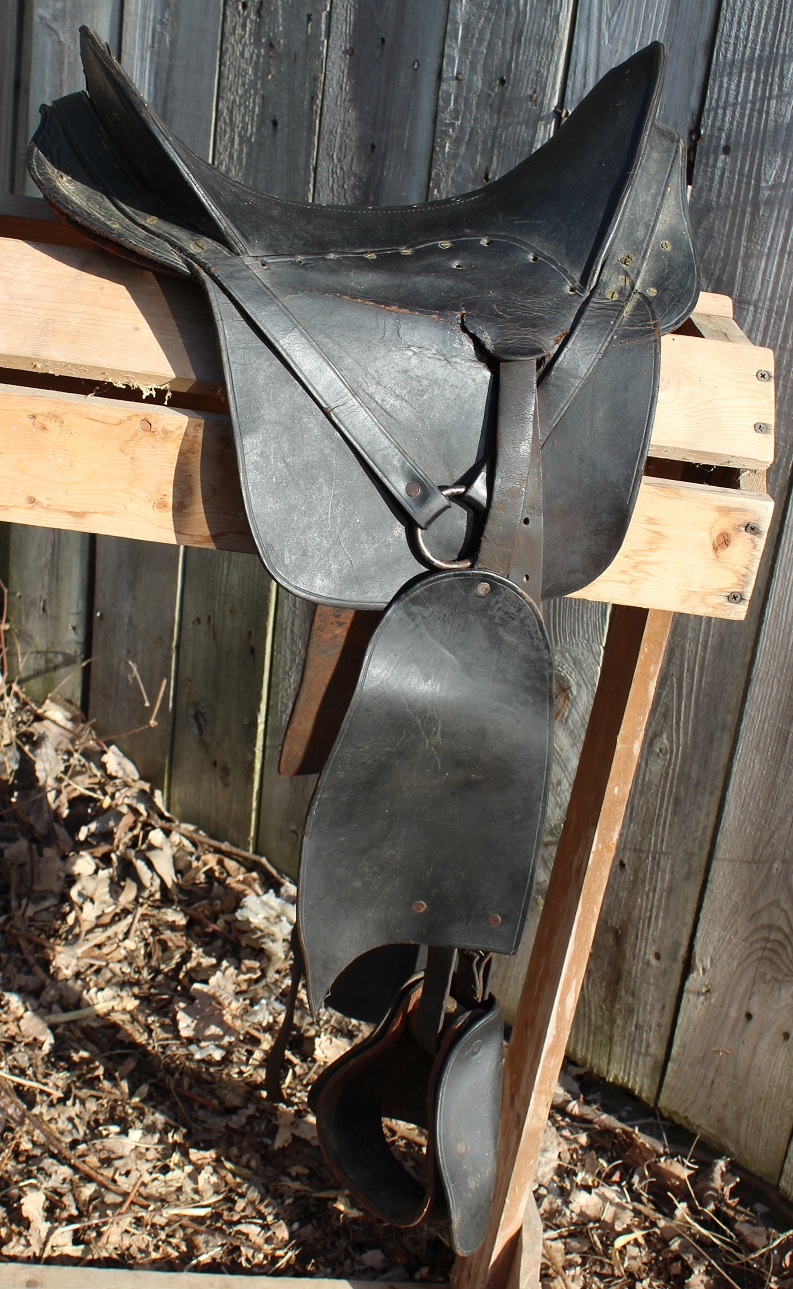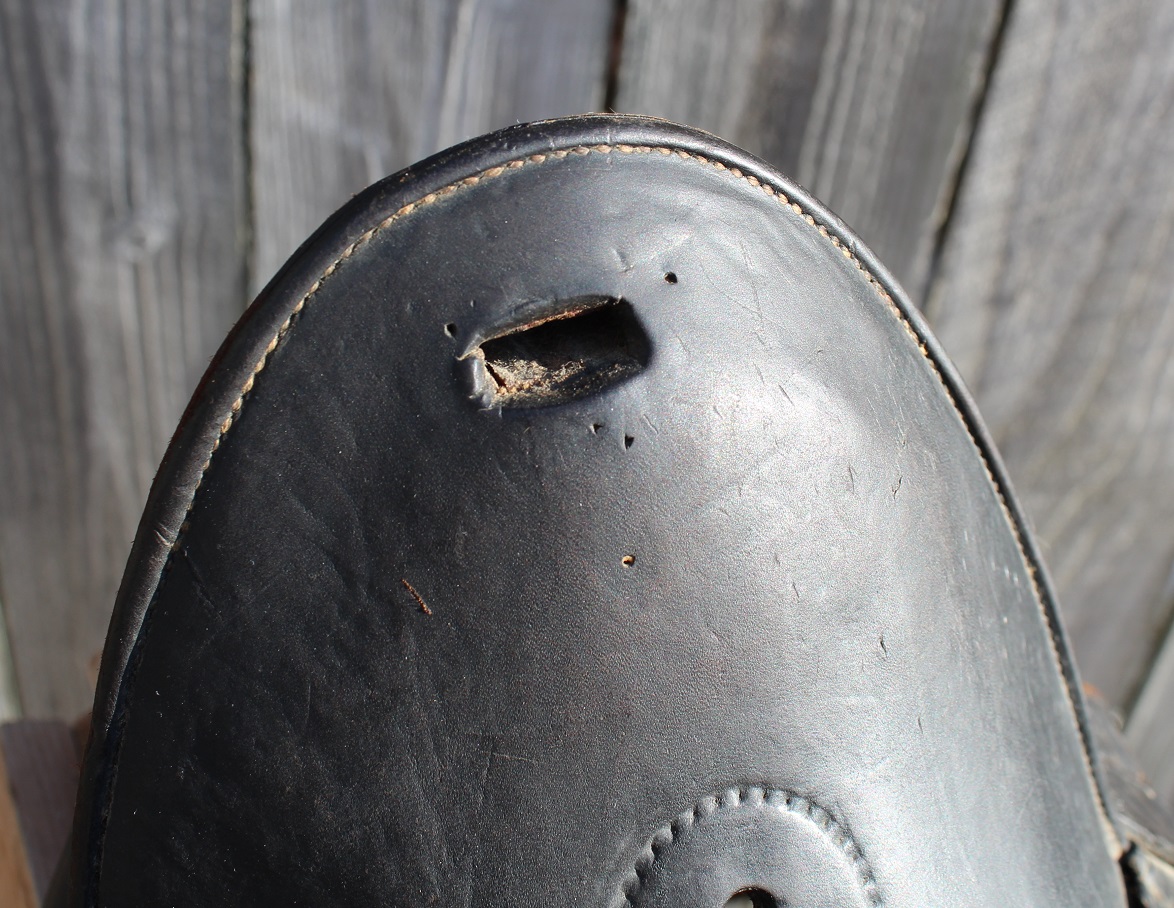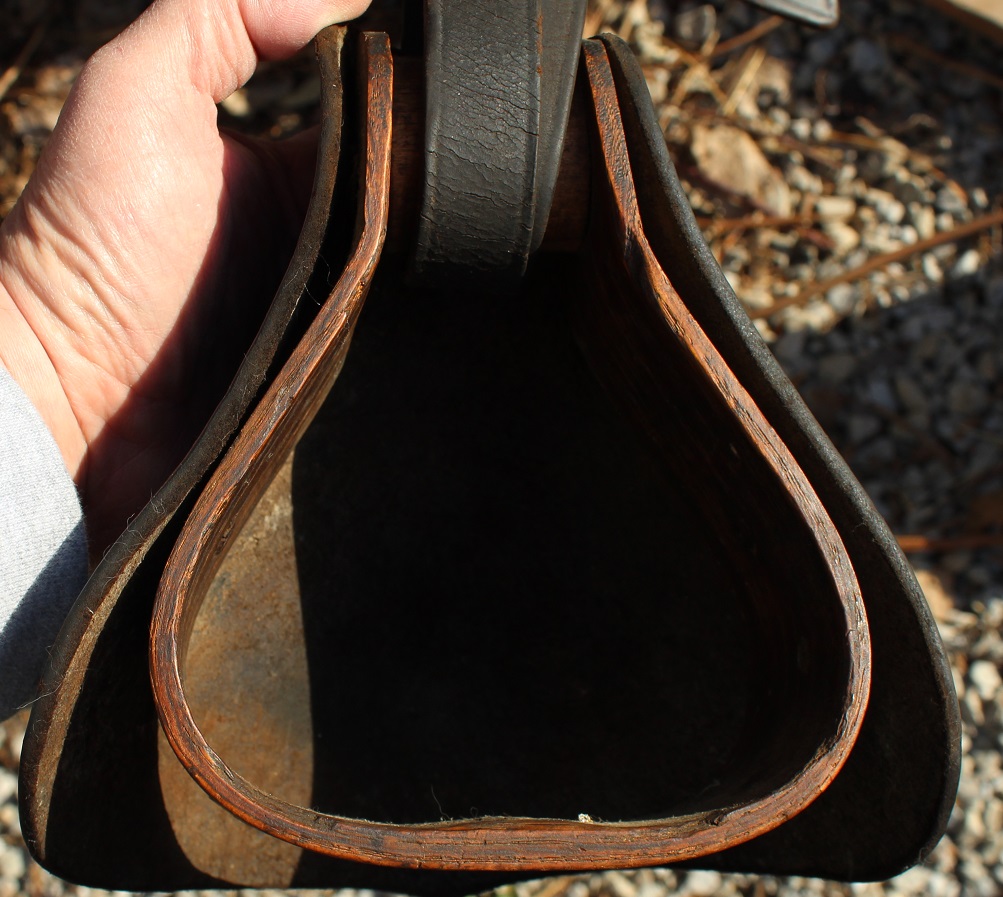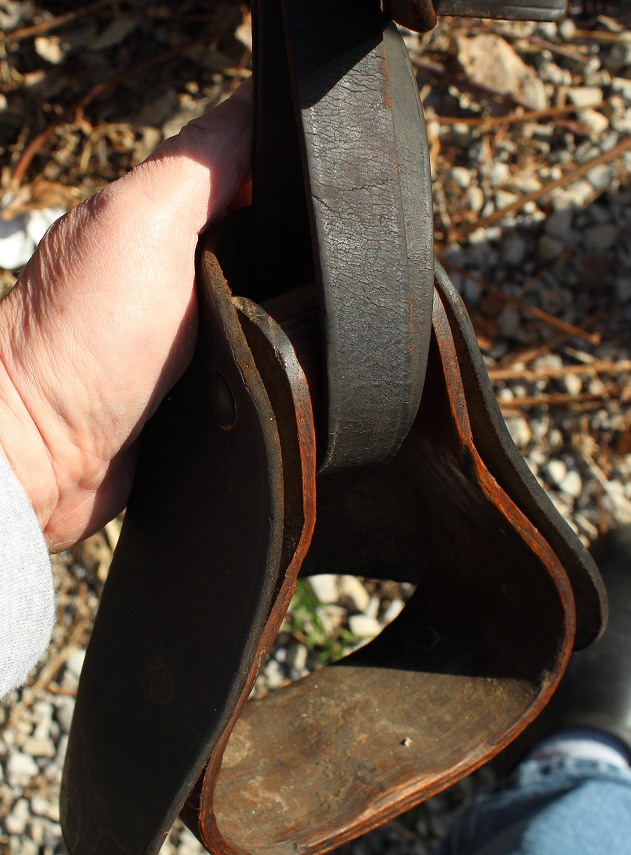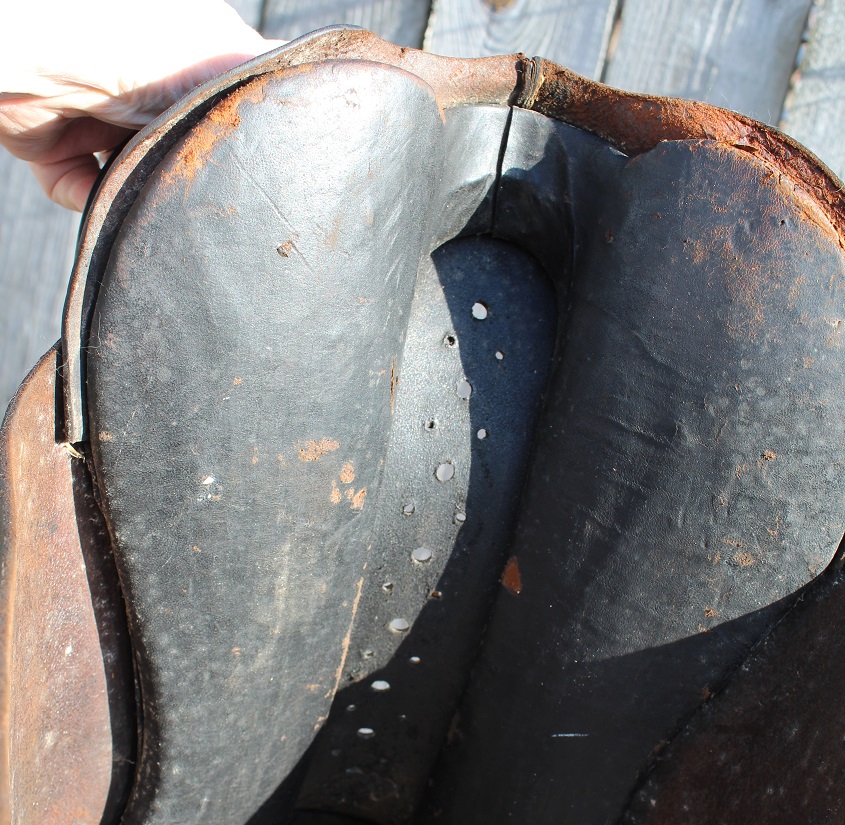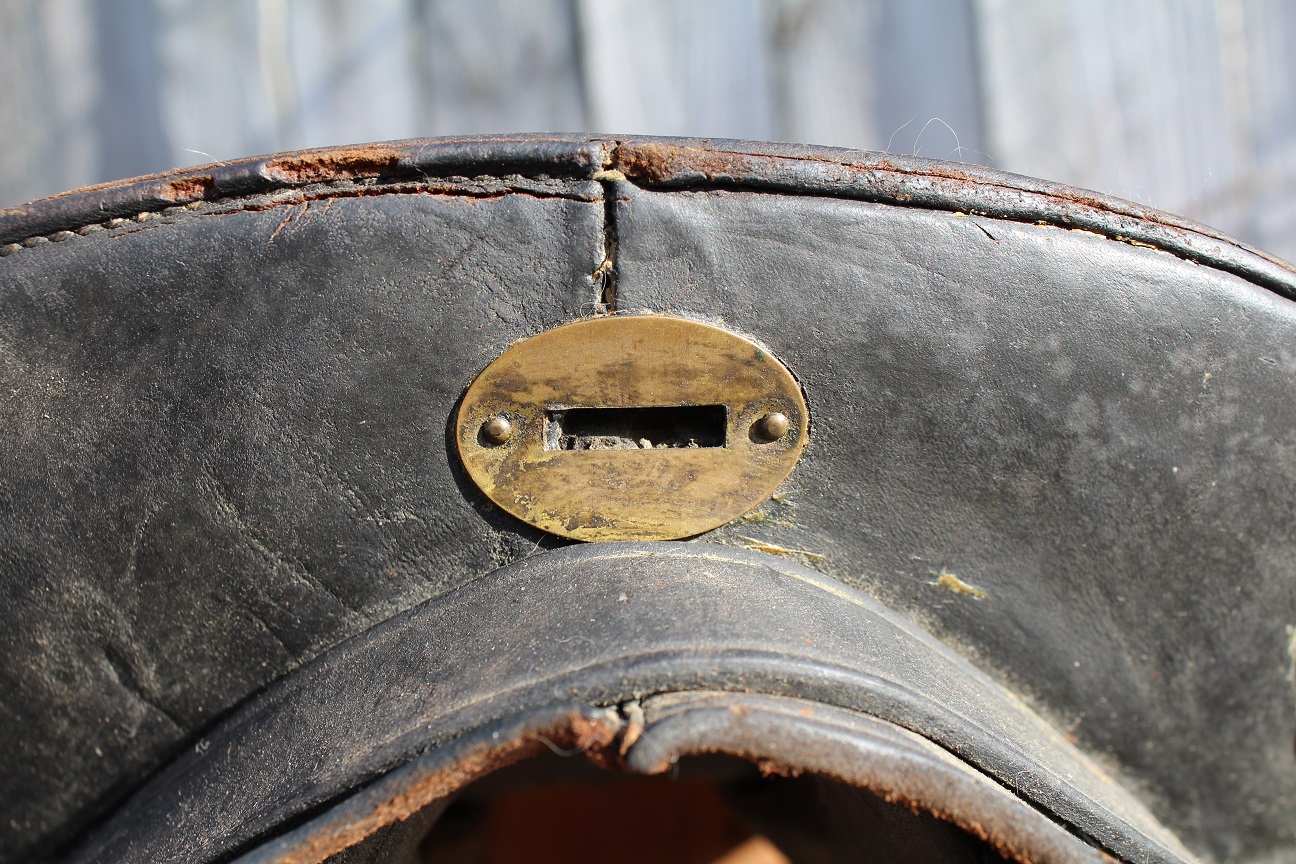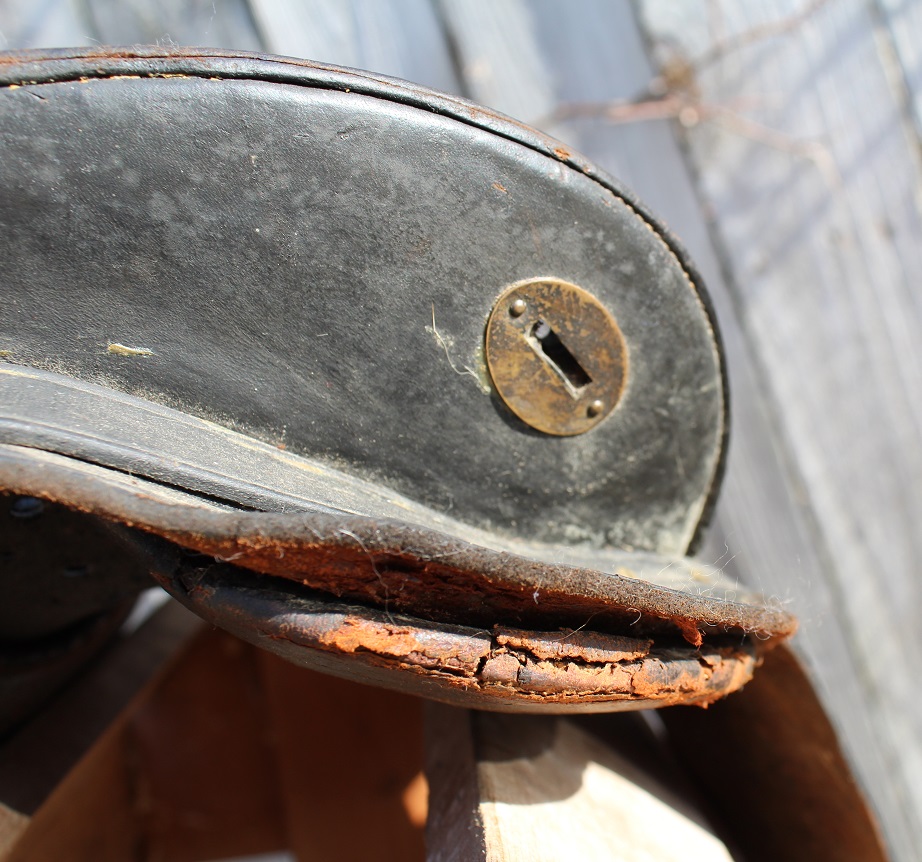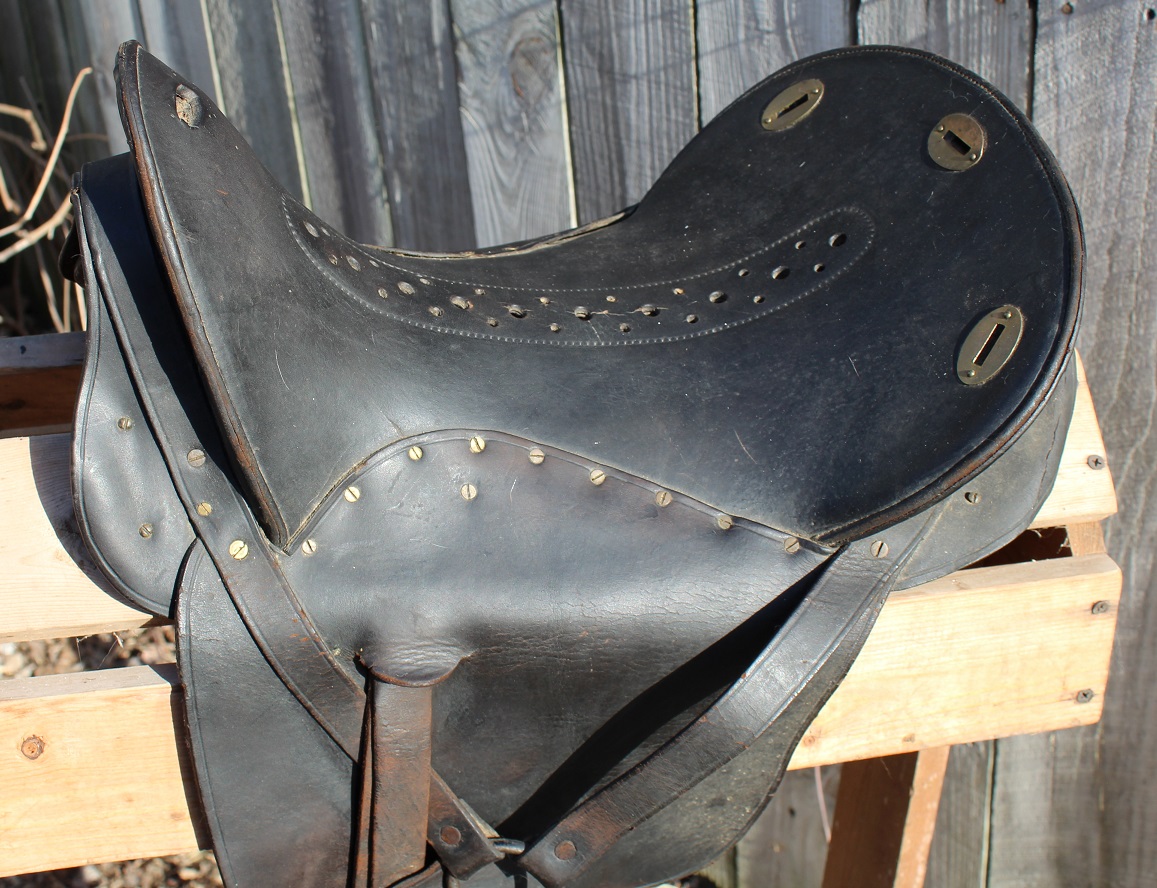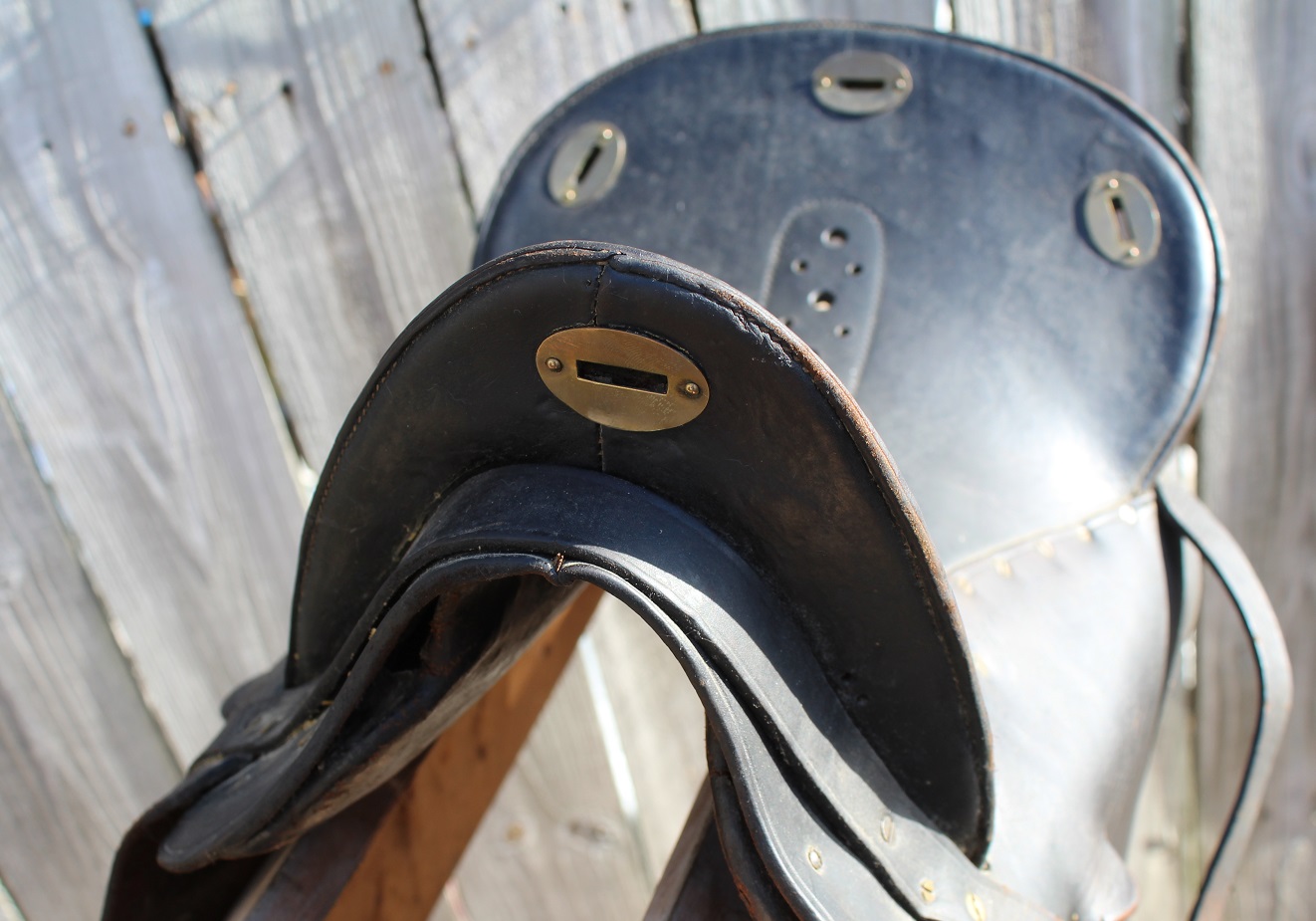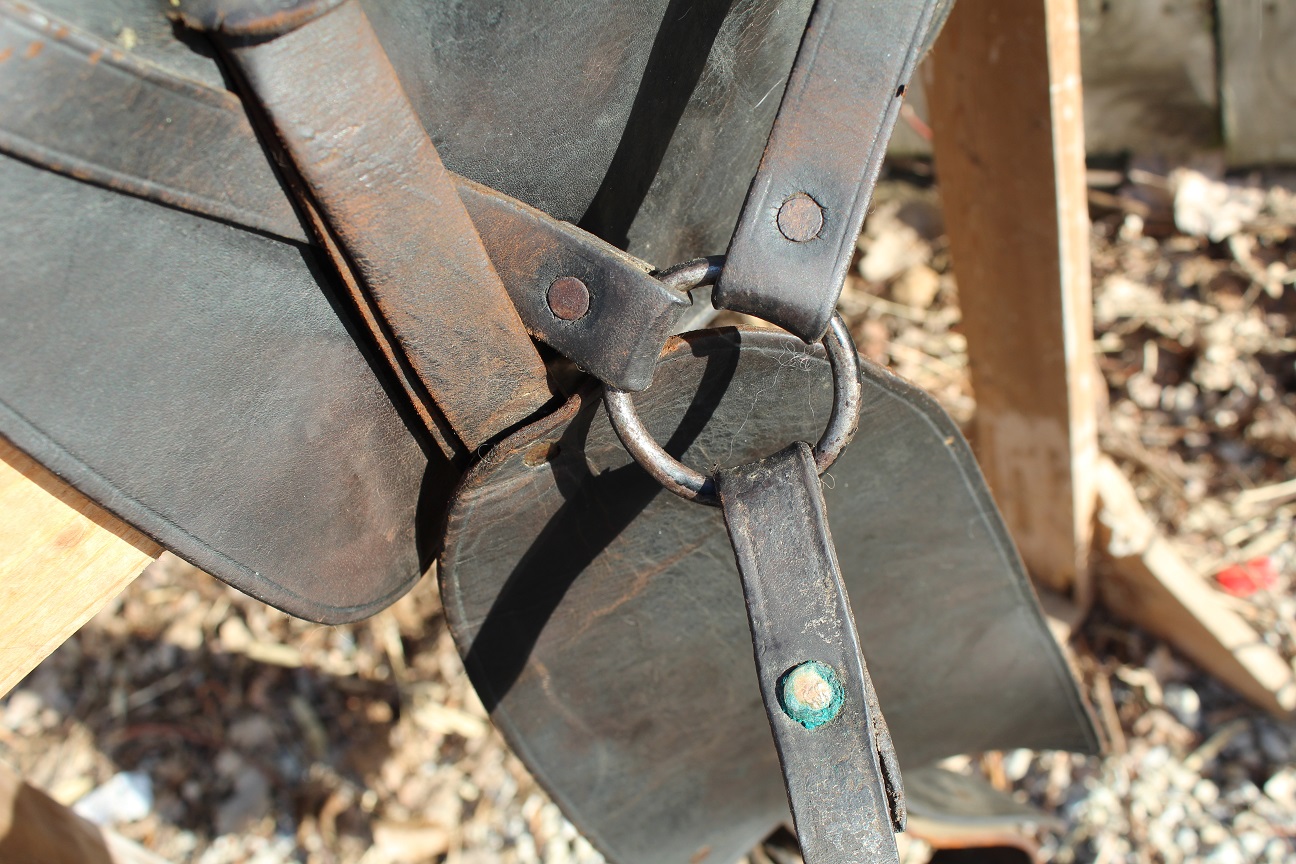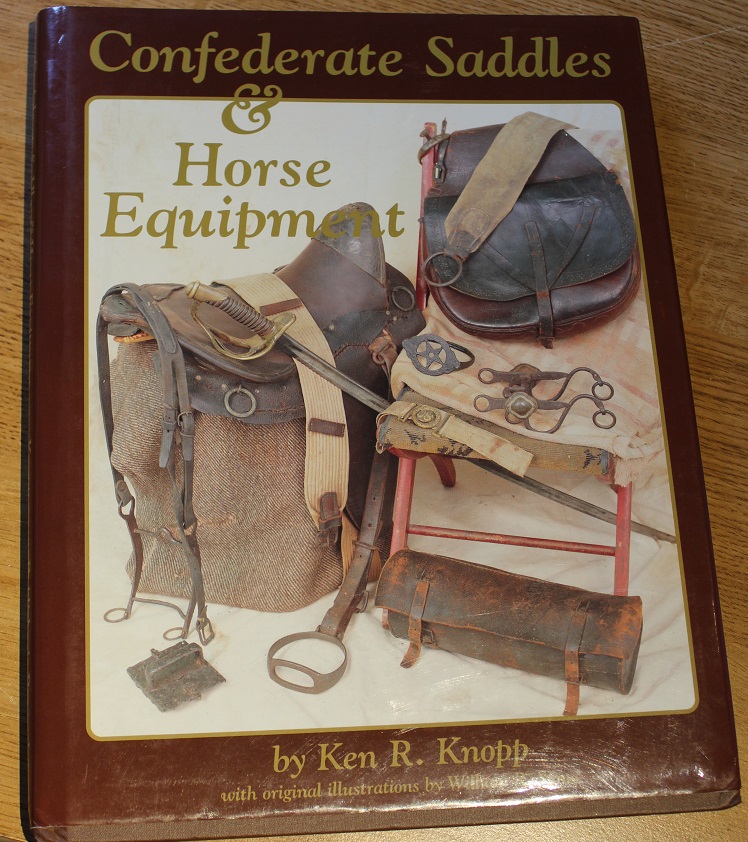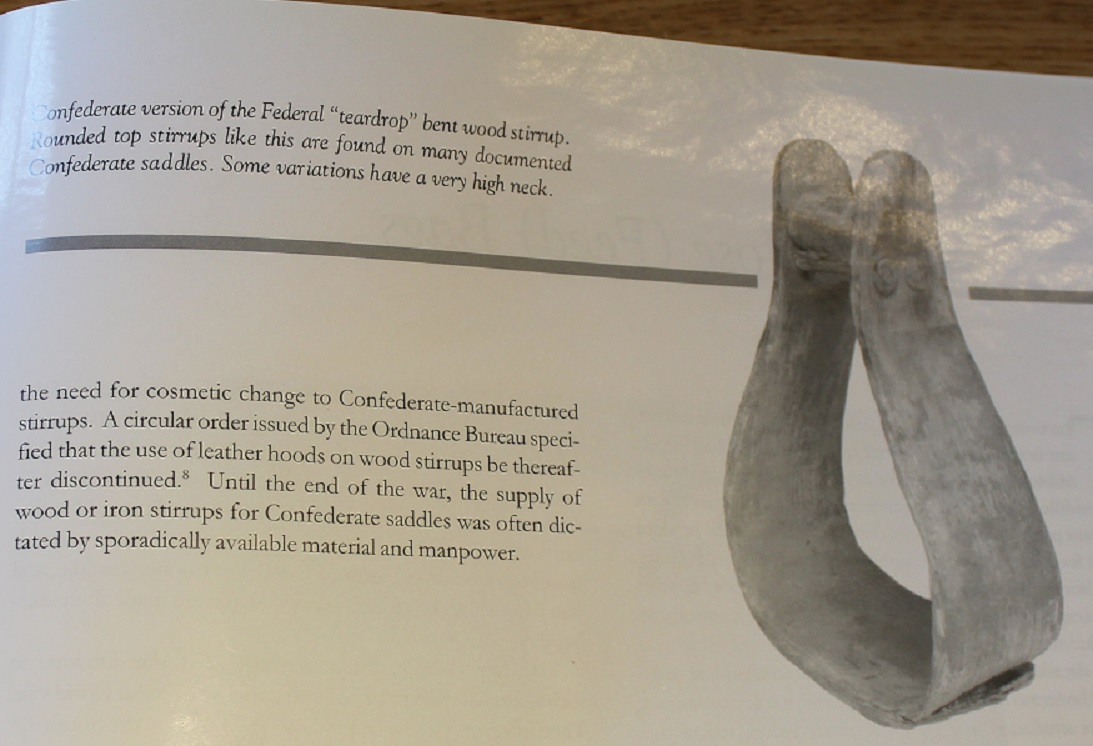 New Arrivals 31
Here we have a group of medals with most being GAR but some being Sons of Union Vets and some being Women's Relief Corp (GAR Auxillary) and at least 1 Daughters of Union Vets. Here they are from left to right starting at the top:
1. Washington 1892 w/ Bust of General Sheridan. Full ribbon no attachment $65.00
2. 1896 Washington and Alaska celluloid large button with Delegate attachment and red/ white and blue ribbon with 1896 imprinted on it. $65.00
3. Women's Relief Corp (GAR auxillary) three piece ribbon and medals being extra nice with a Buffalo hanging from the suspension ring. $25.00
4. Dept of West Virginia large 7 inch ribbon with flag ribbon attached to the top. This one is from 1899. There are tears to the middle of the ribbon but it's reinforced on the reverse. $40.00
5. 19th Annual Indiana GAR Encampment 3 piece ribbon with celluloid drop 1898 Columbus, IN. Still decent shape. $30.00
6. Delegate GAR medal with celluloid drop in metal ring. Shows the WRC medal in the Center so probably mostly Women's Relief Corps. Shows Normal School on Front. $30.00
7. SOLD!!! 1900 GAR West VA medal being 3 pieces with celluloid drop that shows the Marion County Court House, Fairmont on the front . State of West Virginia state Seal on the back in Color. Entitled SOCIETY OF THE ARMY OF WEST VIRGINA. $45.00
8. Medal and ribbon with drop showing spinning wheel entitled LADIES OF G.A.R. STATE G.A.R. ENCAMPMENT 1910 HOLLAND MICH. Nice! $25.00
9. Regular Daughters of Union Veterans 2 piece metal including the ribbon. $25.00
10. 3 piece Crawfordsville GAR medal missing ribbon for 1909 with Lew Wallace bust on the bottom and 3 Indiana Heros busts on the middle bar. For this piece $75.00
11. Here's an early Sons of Veterans two piece medal with ribbon. Nice patina! $35.00
12. Here's a medal that was used by both the Masons and Civil War Veterans to honor a fallen comrade. It has a black ribbon with the Maltese cross. $10.00
13. SOLD!!! 1897 West Virgina GAR medal. 3 Pieces with brass top bar, middle ribbon and bottom celluloid drop in metal ring showing the Commander Romeo Freer. Dated 1897 $45.00
14. 1897 NY GAR Souvenir 2 piece all brass medal. Nice! $20.00
15. 1898 GAR Cincinnati Medal with top attachment missing and frayed ribbon. The bottom drop is really nice however. $30.00
16. Here's another early type of Sons of Veterans Medal that shows the 3rd type of Eagle used on the Grand Army of the Republic Membership medals. This is a nice 2 piece medal with ribbon. $35.00
17. Here's an outstanding Denver 1905 National Encampment Medal. Cowboy riding Bronco!! $65.00
18. Des Moines, 1931 Celluloid GAR National Encampment button. Nice quality $12.00
19. 1899 GAR Cincinnatti 2 piece brass medal. Souvenir National Encampment Nice! $35.00
If you have any questions about any piece let me know! Thanks!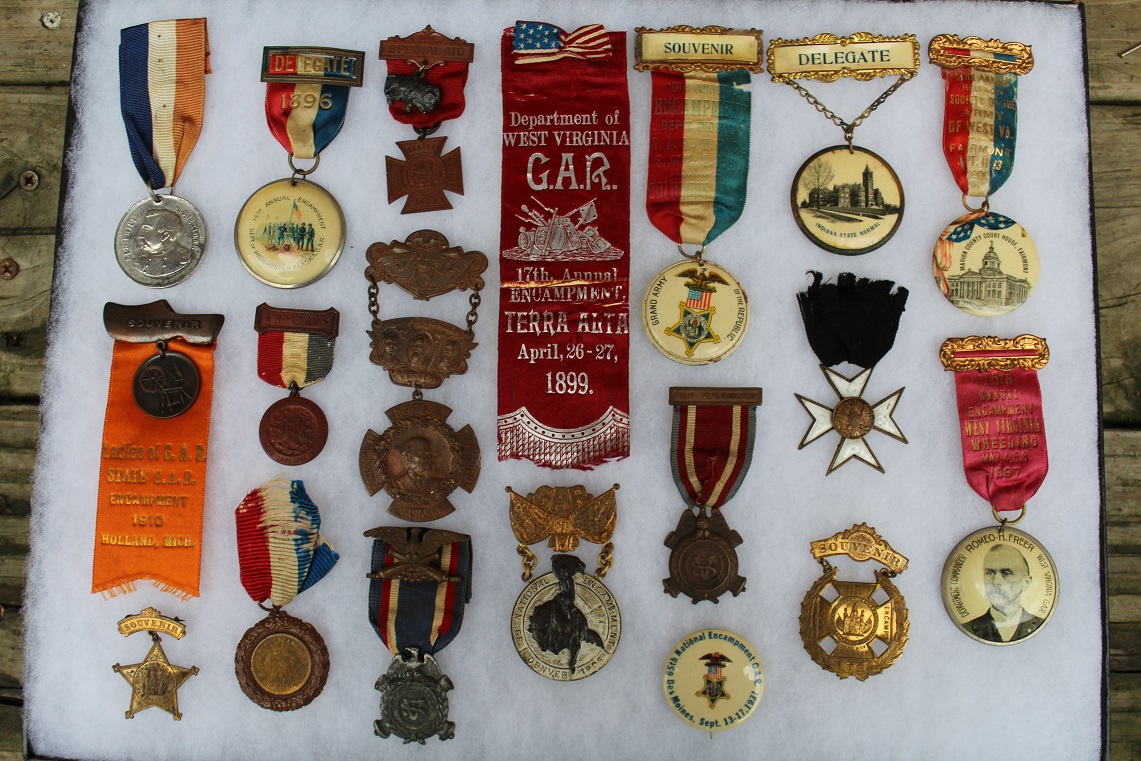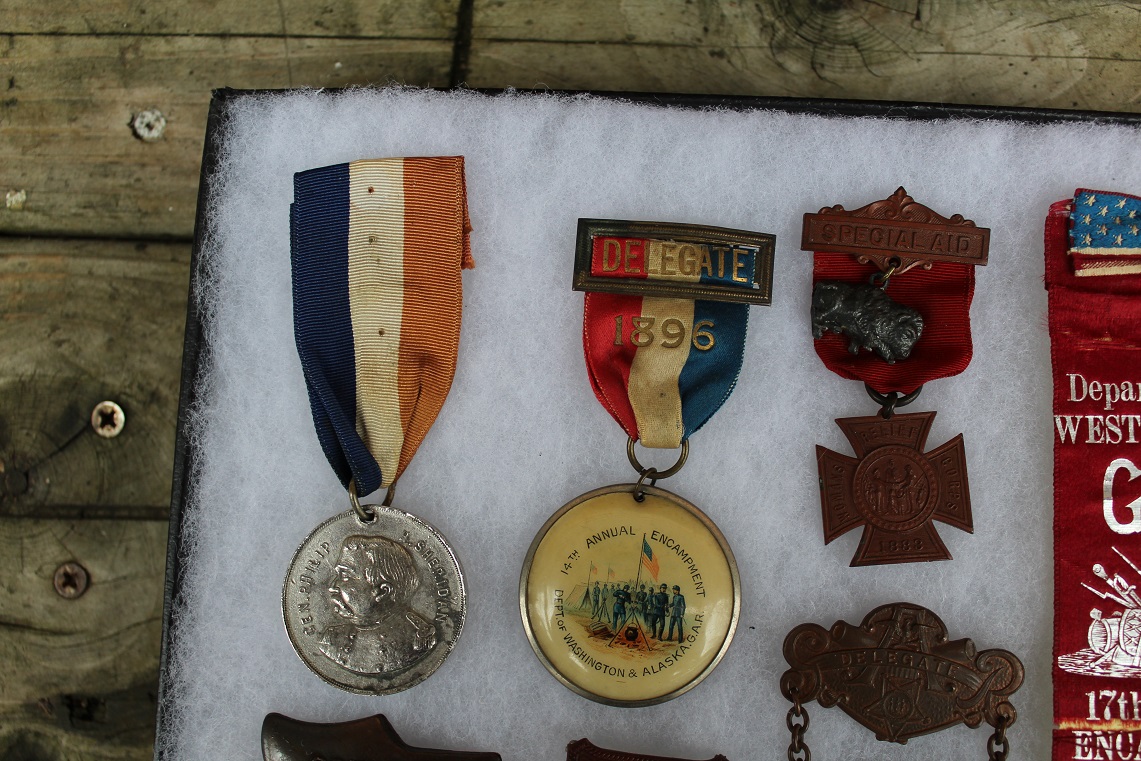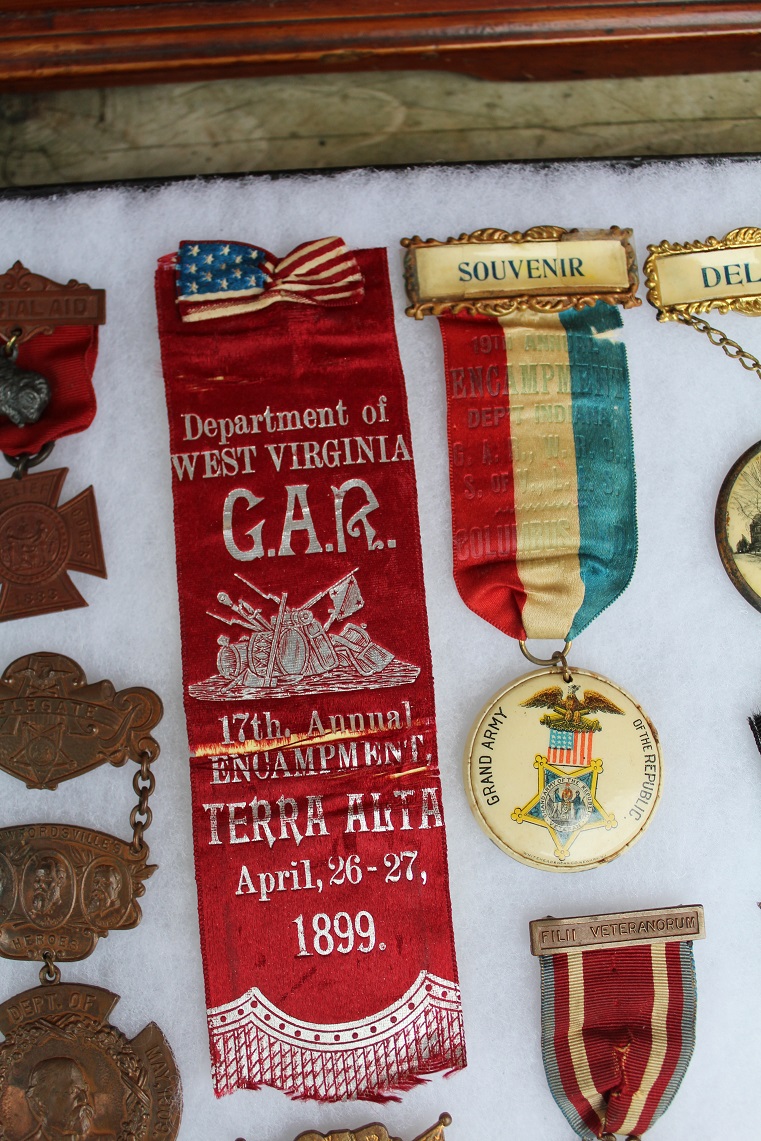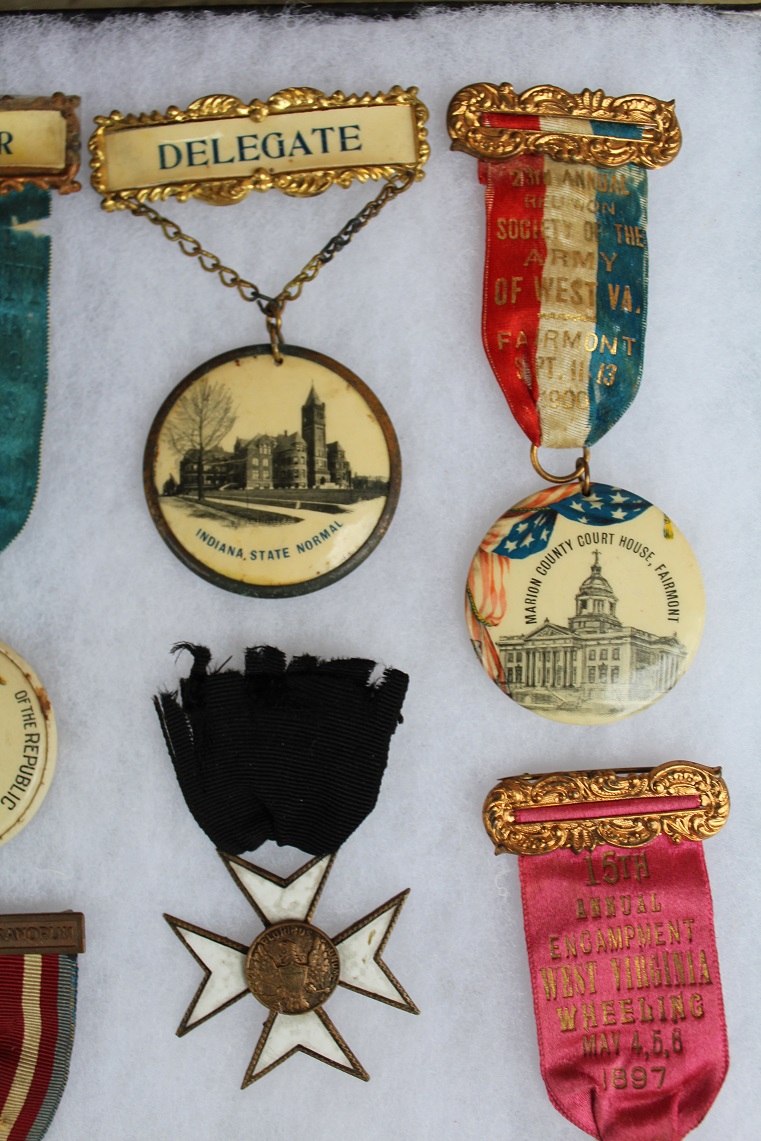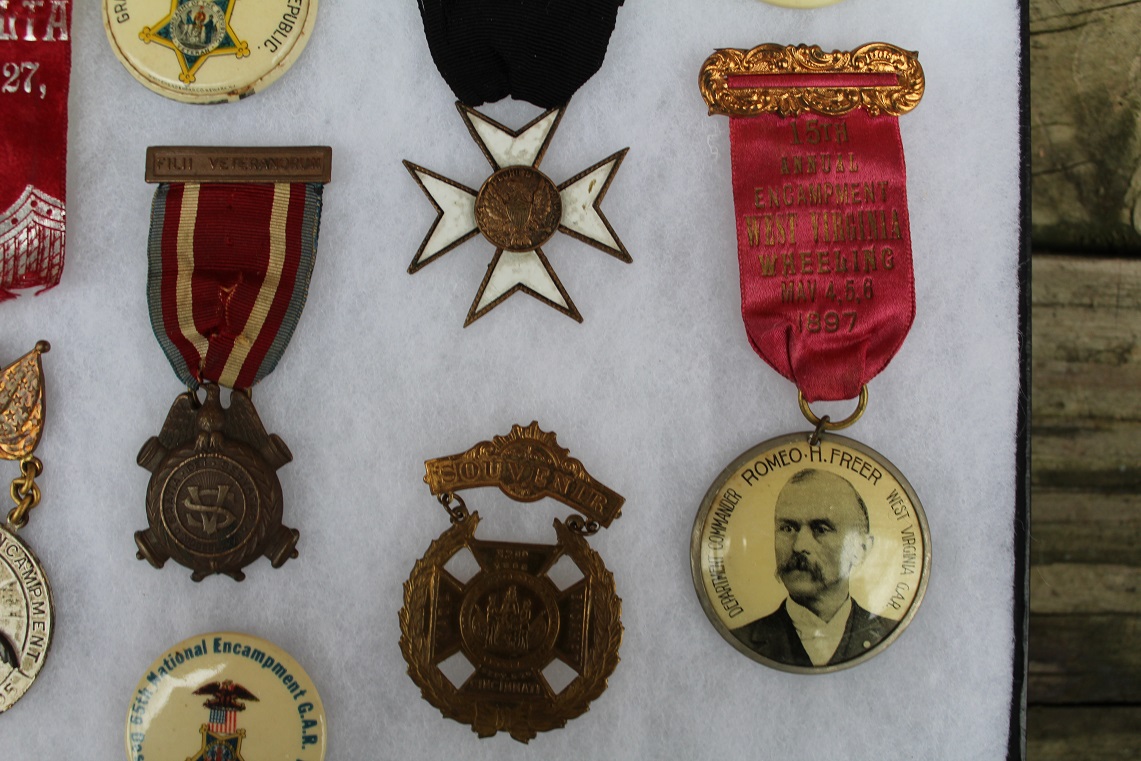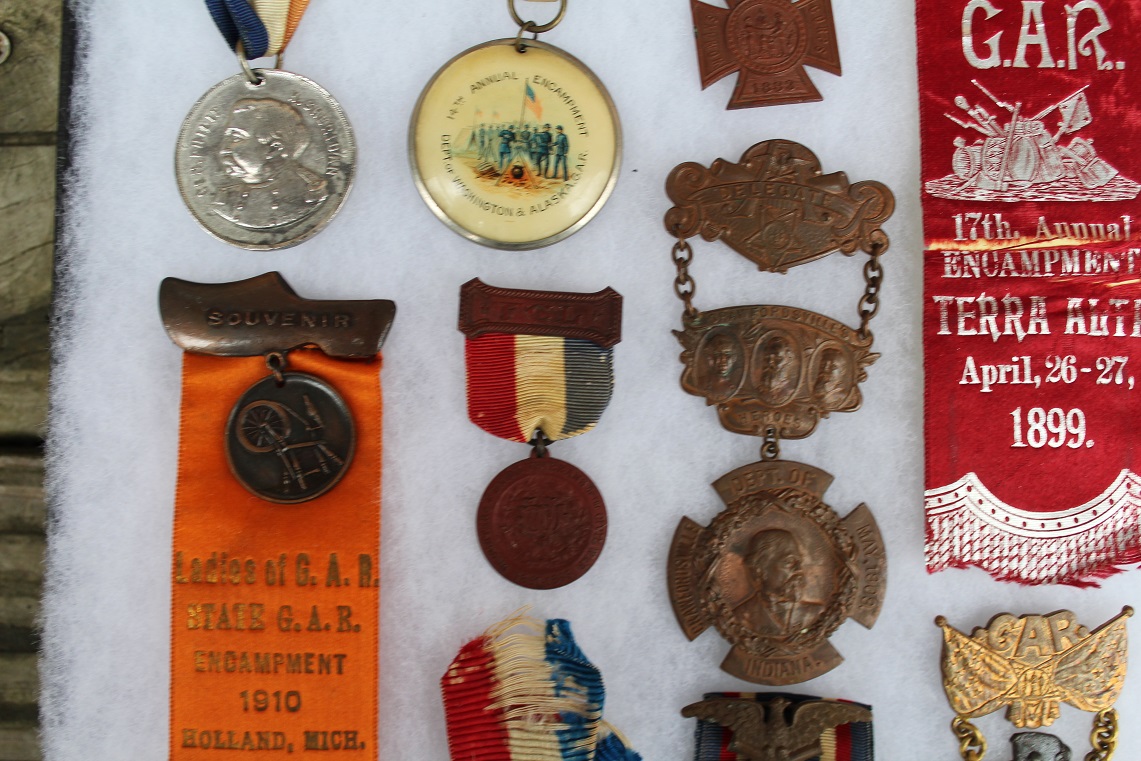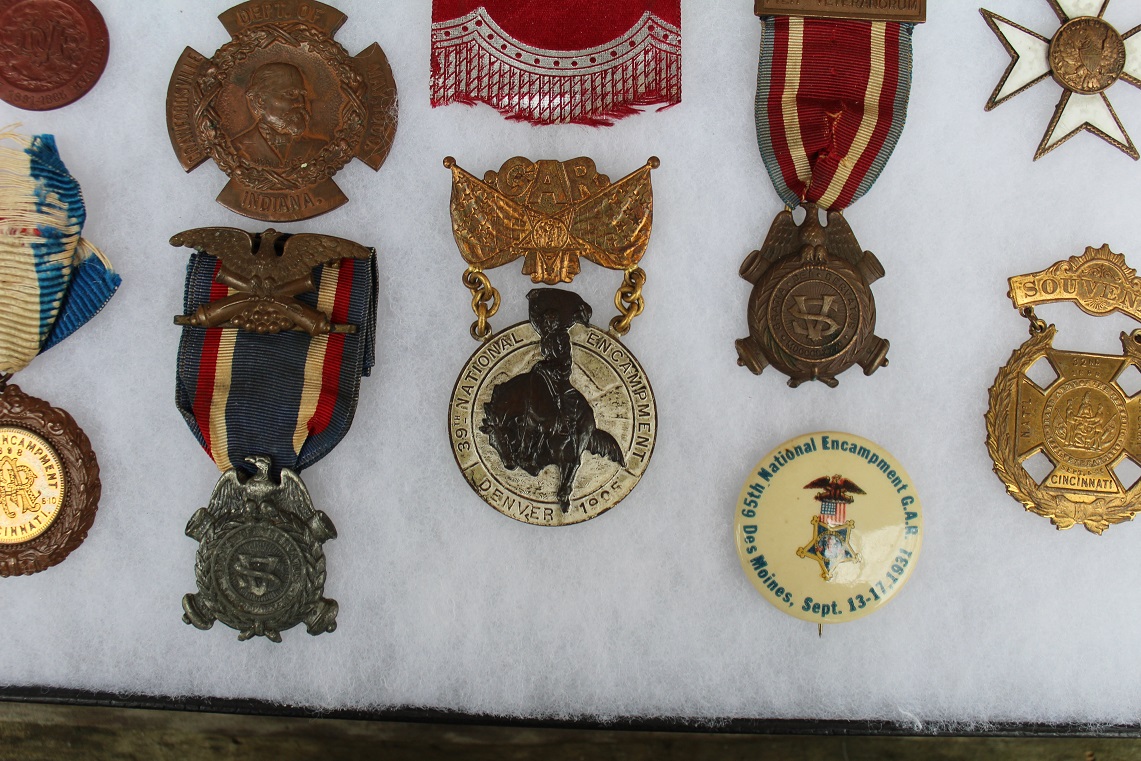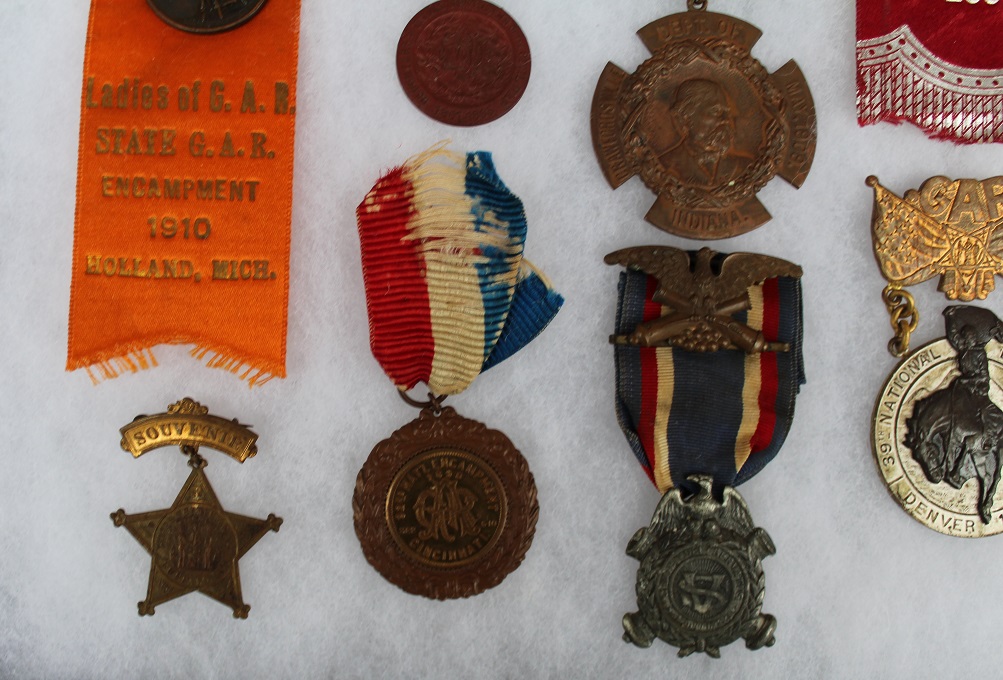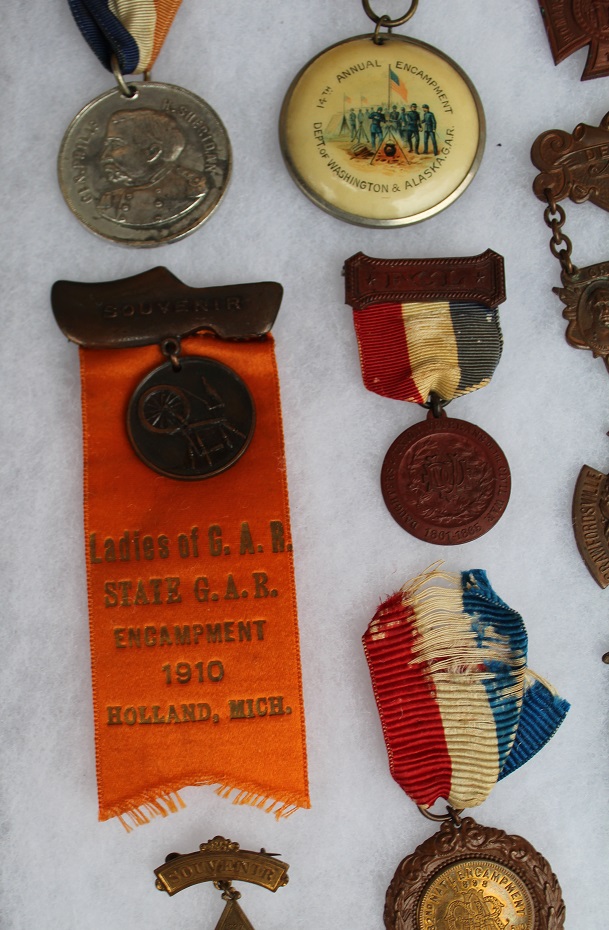 New Arrivals 30
Here we have three medals. They are:
1. Indian Wars-U.S. Army for Service. It looks good but may be a repro. Check out the pics and decide.
2. United States Marine Corps Good Conduct medal. Marine Corps Good Conduct Medal was Instituted in 1896 Criteria: Outstanding performance and conduct during 3 years of continuous active enlisted service in the U.S. Marine Corps. This style was the earlier version because afer WWII after the suspension bar "U.S. Marine Corps" was dropped. This one looks to have age to it.
3. This is the U.S. Navy medal for the NICARAGUAN CAMPAIGN OF 1912 for Service. The Nicaraguan Campaign Medal is a campaign medal of the United States Navy which was authorized by Presidential Order of Woodrow Wilson on September 22, 1913. A later medal, the Second Nicaraguan Campaign Medal was authorized by an act of the United States Congress on November 8, 1929. The two medals were considered two separate awards, with the original medal being commonly referred to as the First Nicaraguan Campaign Medal.
The attachments on the first two medals look period but the Indian Wars Medal looks like a more modern attachment. For the trio in Case $75.00
New Arrivals 29
Hee we have a nice letter from Richmond, VA on July 12, 1864 concerning Cotton purchases by See Company of Jonesville, VA and is written thusly:
Commercial Agency of Virginia
Richmond July 12, 1864
M D Richmond, Esq
Agt for See Co.
Jonesville, VA
Sir, In reply to your **** I would say that I hpe to be able to supply Lee County with the full amouth of your order-not all at once however. If you will forward funds a once you may get in-in time for next distribution which will be made as soon as the Danville road is completed in 10 or 15 days. I can let you have the cards now-Cotton $45-wool $43 per yard. You will get from this distribution 11000 yards cotton say at $3.72 ? per yard about 343 pads cotton yarns ? at $45 per pad. You will by calculation ascertain the amouth of money needed. The money can be sent by express and the goods will be forwarded by your direction. The cards are going off rapidly. Respy, T. Bassett French C.A. of VA.
Cotton was King!!! For this letter on Cotton $125.00 Nice dark ink and mostly legible. Check out the pics!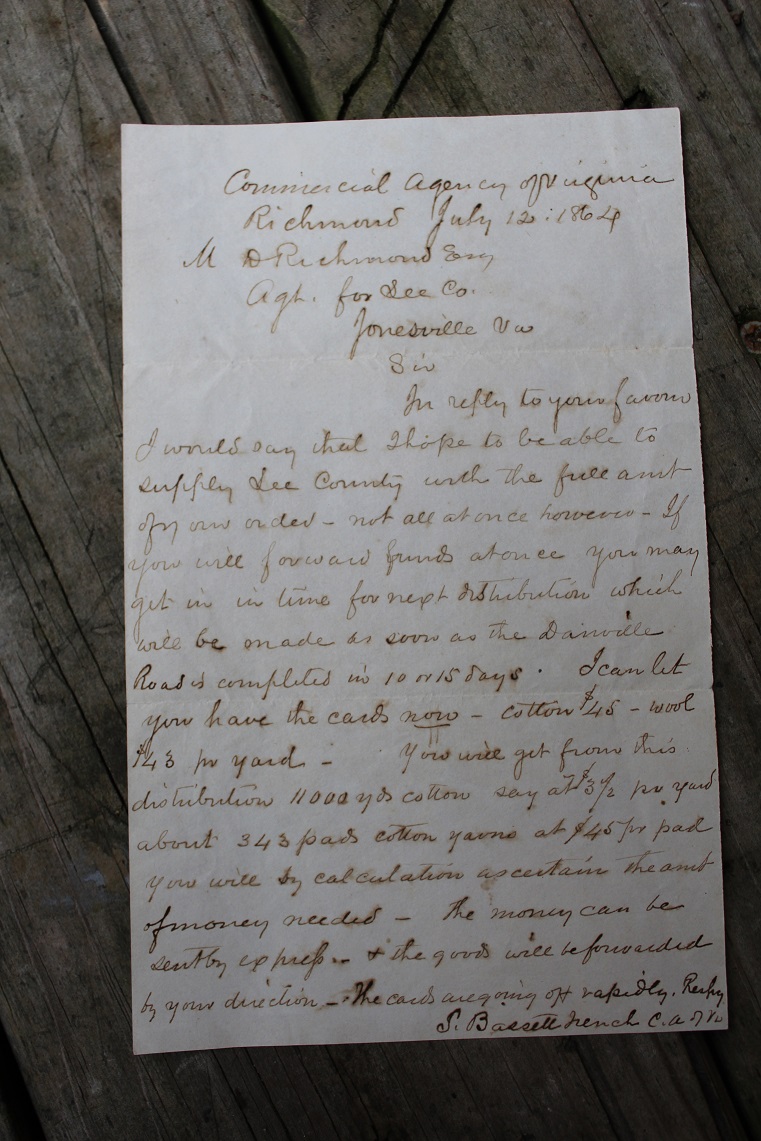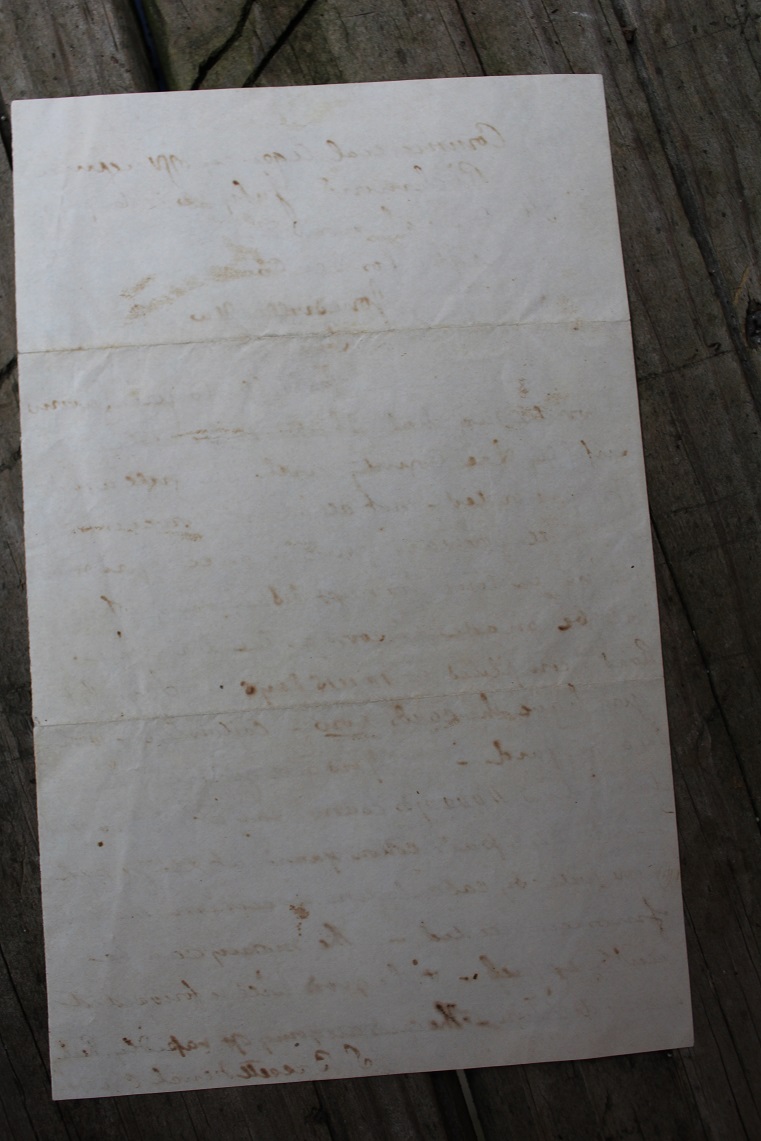 New Arrivals 28
Here is a very rate letter of Sue Betty Campbell-Wife of Colonel Given Campbell C.S.A. who was Jefferson Davis's Chief Escourt when captured at Irwinville, GA. I have been told that this letter has been published in THE LAST CONFEDERATE SCOUT! ( I have not been able to secure a copy) Here's what the letter written in pencil states:
Geneva May 24, 1866 My dear Mr. Campbell, I now sit down by my window to have my usual afternoon chat with you which I believe is the pleasantest part of the day to me. I did not get any letter from you last night which was a great disappointment although I know you worthe then and the letter will doubtless be here tonight. Cal Christy is very good about sending things out since Father is away. Annie Lou has left today wo we have had his company. I health is still improving, slowly however but of course I can not expect it to be otherwise and I am truly thankgul to God that I am as well as I am. I enclose you a picture for you to see how much you think I have improved. I do so earnestly hope it is not war in New Orleans. You must be careful darling to change your clothes with the weather and if you get the least bit sick chill give up your business and come right to me, to your own little wife and I will nurse you and cure you right away-after supper. I got your letter of te 19th this evening-a sweet precious letter. I am tired tonight but darling but I will wrie you a long letter tomorrow. I hope you won't send me the pine apples as I have never gotten the banannas. Good Night my own darling, Yours lovingly Bess.
What a sweet letter ! A GREAT PIECE OF HISTORY! For this published piece $125.00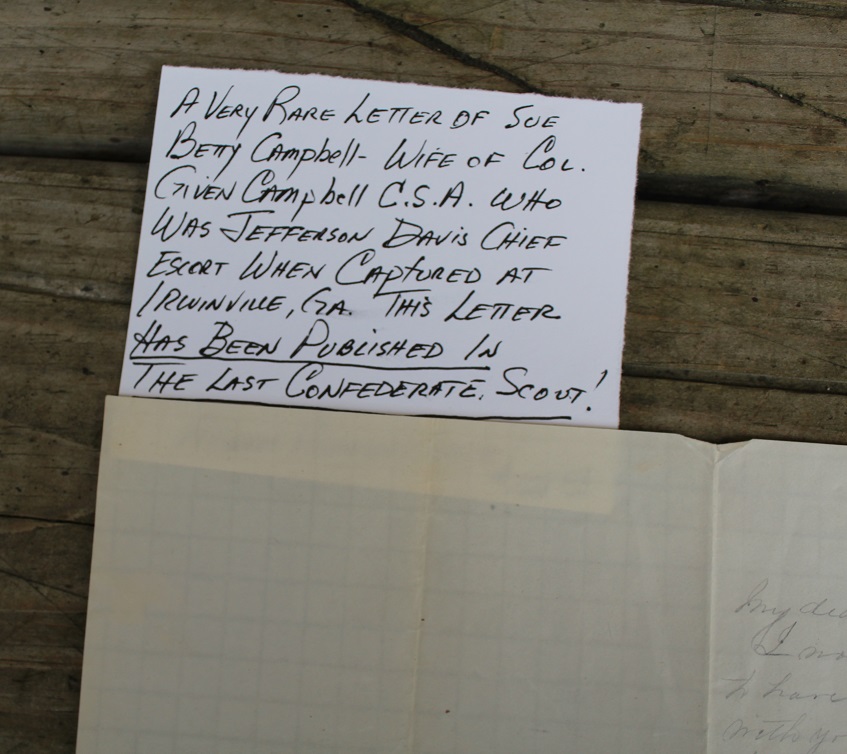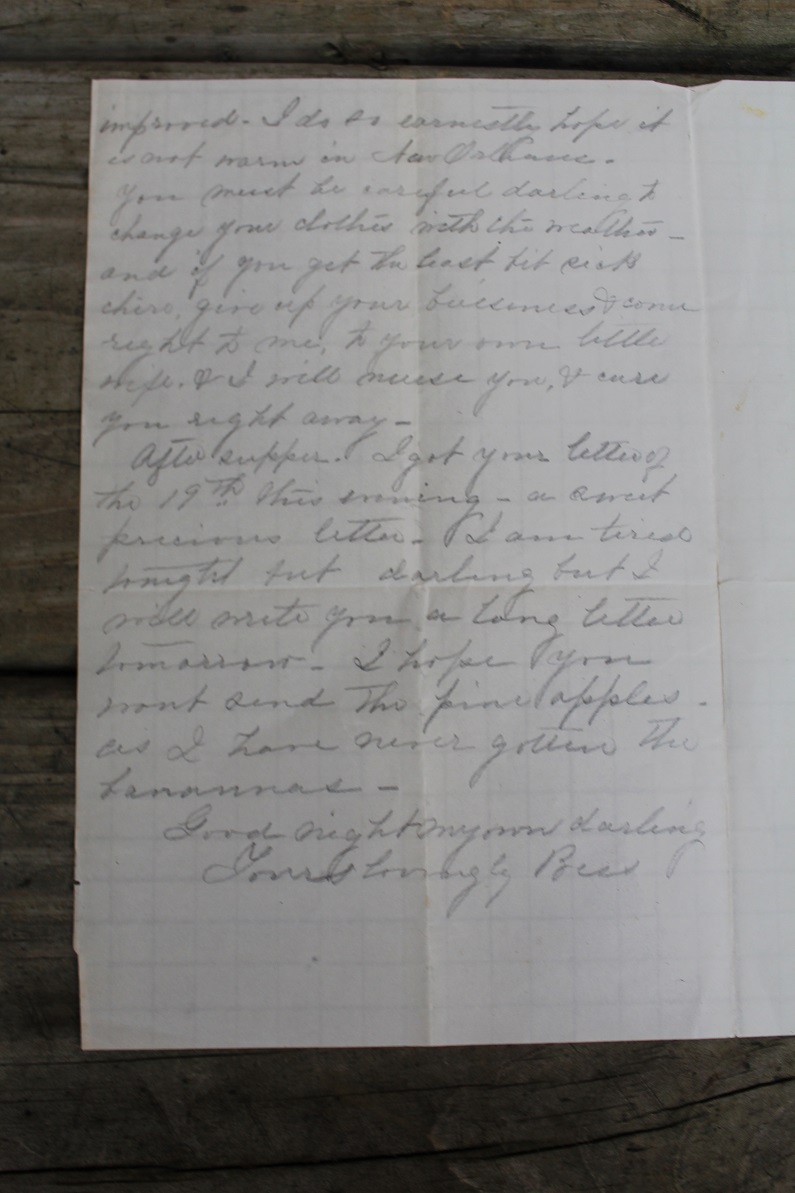 New Arrivals 27
Here we have a letter and cover from Vicksburg, Mississippi from a Mary (?) and she asks for correspondence to go back in care of Col. Sam Thomas at Davis Bend, Miss. In June 1863, Capt. Samuel Thomas was appointed Assistant Superintendent of contrabands, under Colonel Eaton, for the Department in the area of Helena. Eaton's position and title was eventually changed to General Superintendent of freedmen, and Thomas became the Assistant Superintendent of freedmen. When Colonel Thomas assumed supervisory responsibilities for the provost marshal in various districts and posts, his title was changed to provost marshal of freedmen. The positions of both Eaton and Thomas, coupled with the office of the medical director, inspector of freedmen, and several freedmen's hospitals and homes, constituted the Freedmen's Department of the Department of the Tennessee. In November 1864, the Freedmen's Department became part of the Department of the Mississippi. By summer 1865, the functions and activities of the Freedmen's Department were assumed by the recently formed Freedmen's Bureau, so that the Department was the precursor the Bureau's Office of the Assistant Commissioner for Mississippi.
The letter consists of this text:
Davis Bend, June 18th, 1864
My dear Maggie, Again I seat myself for the purpose of writing to you and to tell ou that at last wehave decided to remain here all summer. It will be quqite unsafe to go up the rifle for sime time yet and by the time the Blockade is removed it will be as late in the season it will be be worth while to go. The part of our corps that left two weeks ago arrived safely in Cairo but advised us to stay where we are. We feel a little disappointed but I hope we wil soon get over that. The rest ofour family have gone across the river today onan excursion but I prefered remaining at home. So here I am, with no company but the mosquitoes and a headache which I would be willing to dispense with if possible. Once in a while a contaband puts her head in at the door to see how I am getting along. They are verykind and are willing to do any thing they can for us. A bridal party has just arrived. They came in great state riding in a cart drawn by an old mule. The bride is dressed in white with a white veil overher face. The bridgroom has a blue coat with brass buttons and white trousers and while cotton gloves. I just wish you could see them, it would do you good to see some sights among the contrabands. I wish you could make me a visit one of these days. Has Lydia Worth given up here. I thing she has forgotten me altogether, she has not written to me for a long time. I received a letter from Aggie last week she said she had received your picture. Why don't you send me one, but I know you will pretty soon. Now Maggie I must close for my head aches to badly to wrie anymore. I will enclose two dollars to pay for those nets? and ****? and if not too much trouble I would like you to semd me about net just like the others. If you see any of Uncle Roberts thell them I am not going home now. Give my love to all yourself in particular. Yours most Affectionately, Mary ***** Davis Bend Via Box 2 Vicksburg Miss Care Col. Sam. Thomas.
This is an interesting letter and comes with the cover marked VICKSBURG and addressed to Miss Maggie R. Thompson, Oxford, Chester Co. Penna with a 3 cent Washington Stamp. Nice Quality! Good paper then! For this fine interesting letter and cover $125.00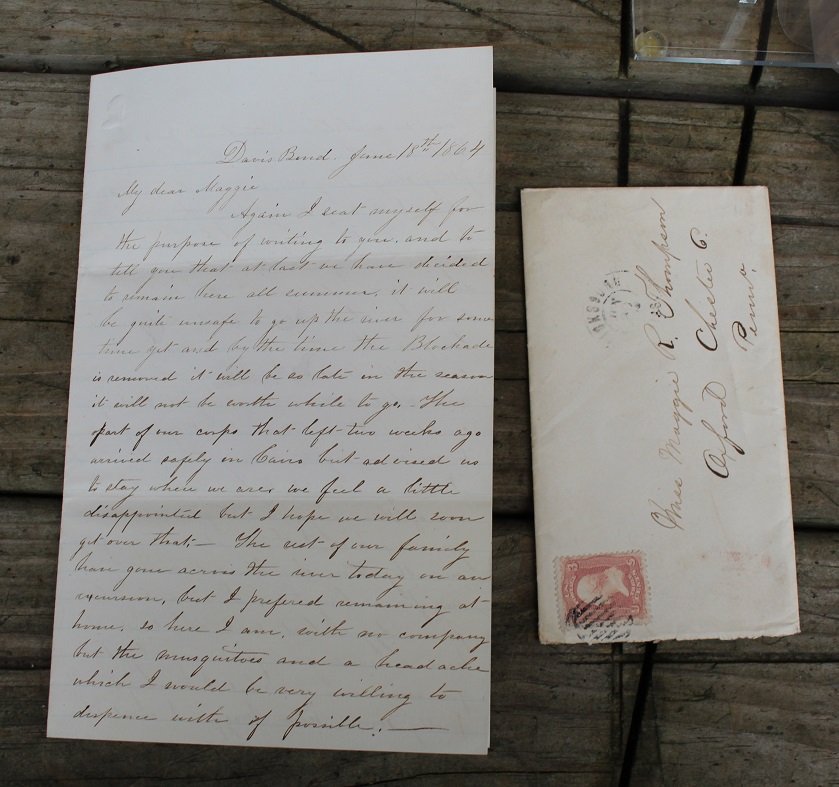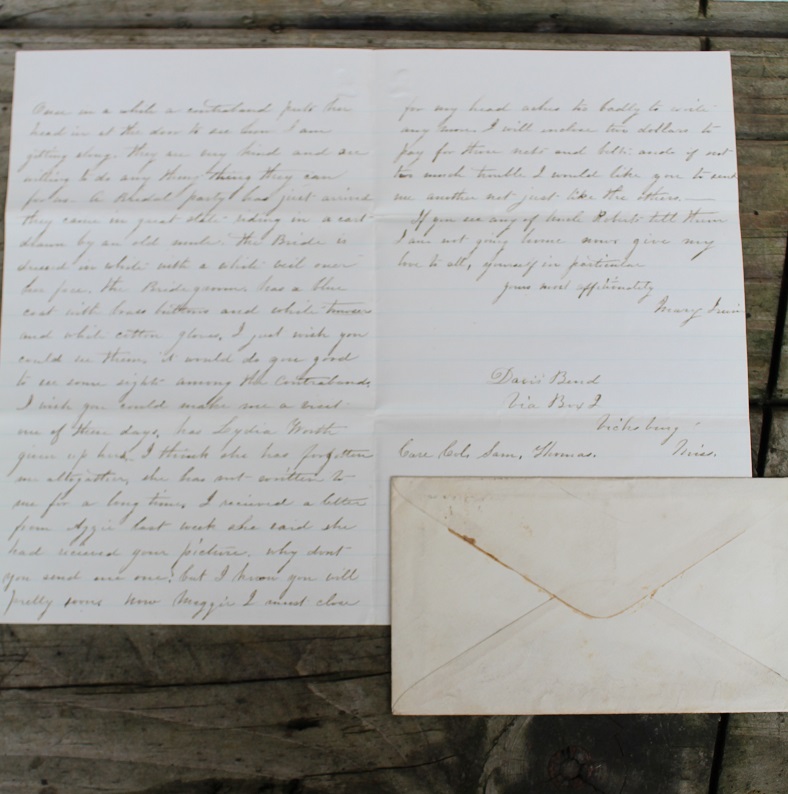 New Arrivals 26
Here we have something special. This is a razor hone with storage for the razor. Inside the slide out box is an old razor that is marked A.W. PITTMAN CO. D 2ND USSS. This was Berdan's Sharpshooters. The thermo plastic or gutta percha handle is broken on the attachment end and glued to the blade that is in it. I do not think that it is the correct blade as England is stamped into it. It is a George Westerholm blade. I have not found his name listed as of yet but I have not found a complete roster of personnel listed either. The leather covered hone case is 13 3/4 inches long including the wooden handle. The little tin pull out drawer is a little over 8 inches long with a little brass pull. The bottom of the drawer is felt lined and there is a little wood stop on the distal end. For this piece $275.00
New Arrivals 25
We just acquired this Civil War Officer's Shaving Box with folding mirror and it has several items in it. The box itself seems to be made of pine and has blackened brass hardware. The box measures 12 X 8 1/2 (base is 13 1/4 X 9 3/4) and it is 5 3/4 inches tall. When the lid is lifted the mirror is moved forward against the front. The mirror is in great condition with no cracks, breaks or loss of silver. Items inside the slide out drawer are :
Officer's glass whiskey flask with leather cover on the top and has slide off pewter cup that is marked JAMES DIXON & SONS who was a maker of fine brass powder flasks. The flask also has a pewter cap that still has the cork washer in place. This is nice!
Two piece slide apart knife and fork very popular with men and officers. It is 4 inches closed and about 7 inches open. The knife is marked J.C. Graves Sheffield (England) . The fork is the correct 3 tine type.
Wade and Butcher "for barbers only' Horn handled Civil War razor. This one has the big wide blade. Someone has crosshatched part of the grip. This is in excellent condition!!! It's very sharp and you could use it today! 6 1/2 inches closed.
Civil War Officers Field Glasses marked on the eye cups LEMAIRE FABt PARIS. The slide out sun shields are leather covered while the brass field glasses tubes are not. Eye cup optics are excellent while the large lenses are not for the most part and have crystals in them. The tubes extend out as they should and you can still see partially through them.
Field Officers Drafting kit in wooden box that measures 6 1/4 X 4 X 1 inch tall. Officers used these when looing at maps and drawing in things that they knew about. Take a look at the pics! One tool has an ivory handle to it. There seems to be 2 items missing. I see no makers markings on any of the tools or box. The box is in great condition with a little brass plaque in the center of the lid.
Finally, we have an Infantry insignia that is small for a kepi and is marked with a B for Company B and a 13 for the Regiment. This is a screw back with 2 prongs for anti slippage. I have always been told that these type of screw back insignia are post Civil War but everything else is Civil War period and the box even looks older than that. For the box and the entire contents $675.00
I sure wish I knew who had carried it!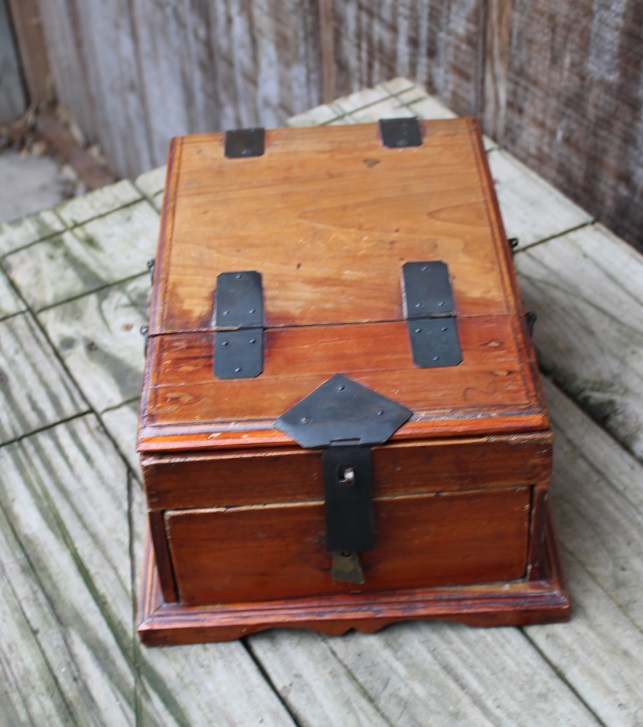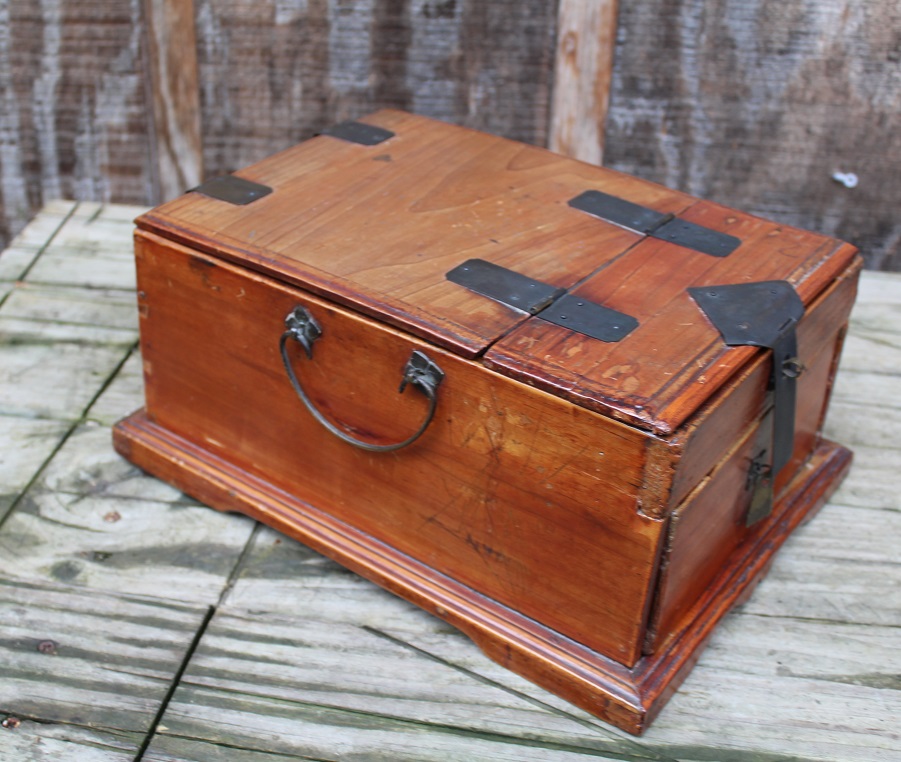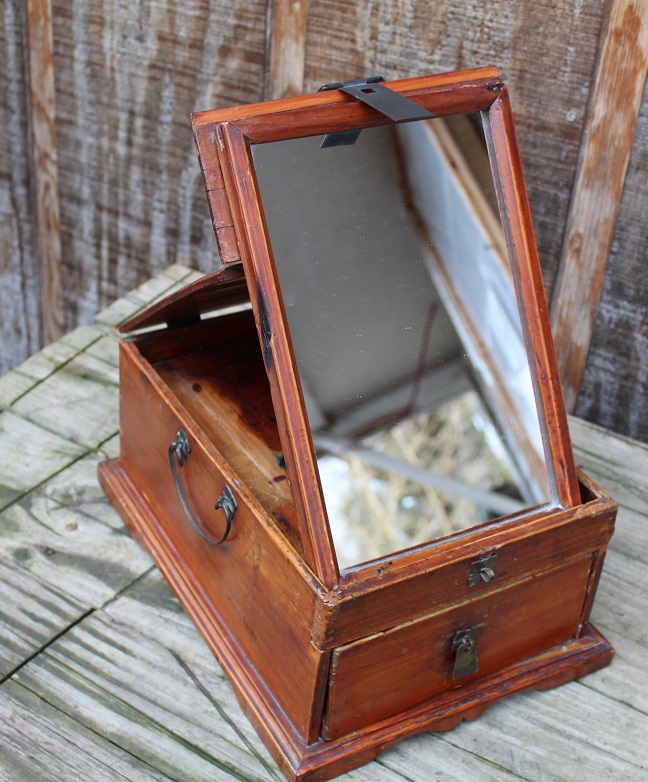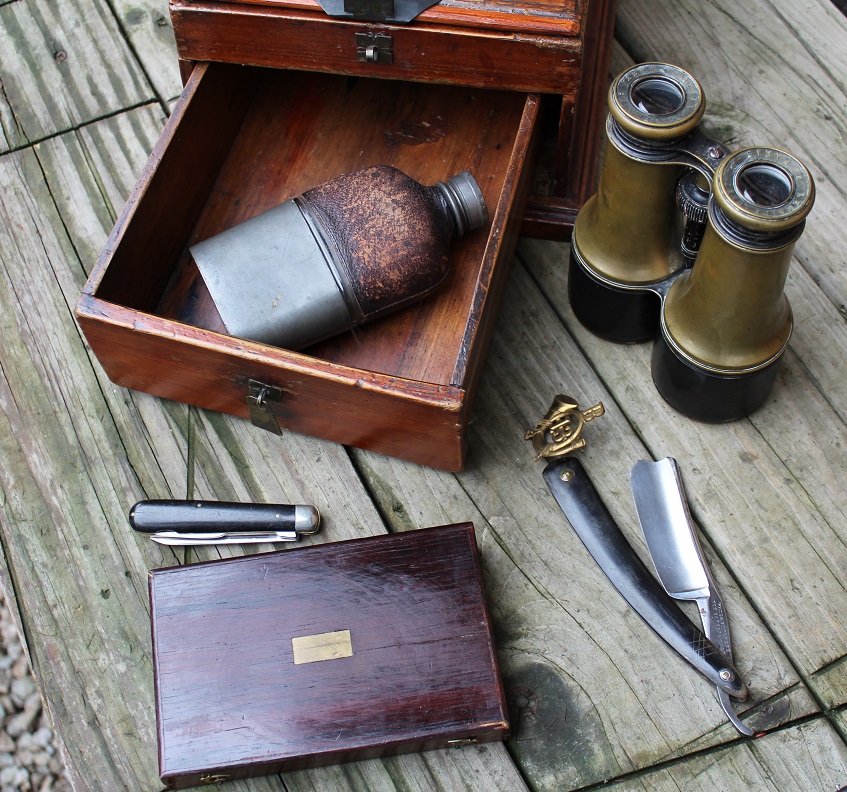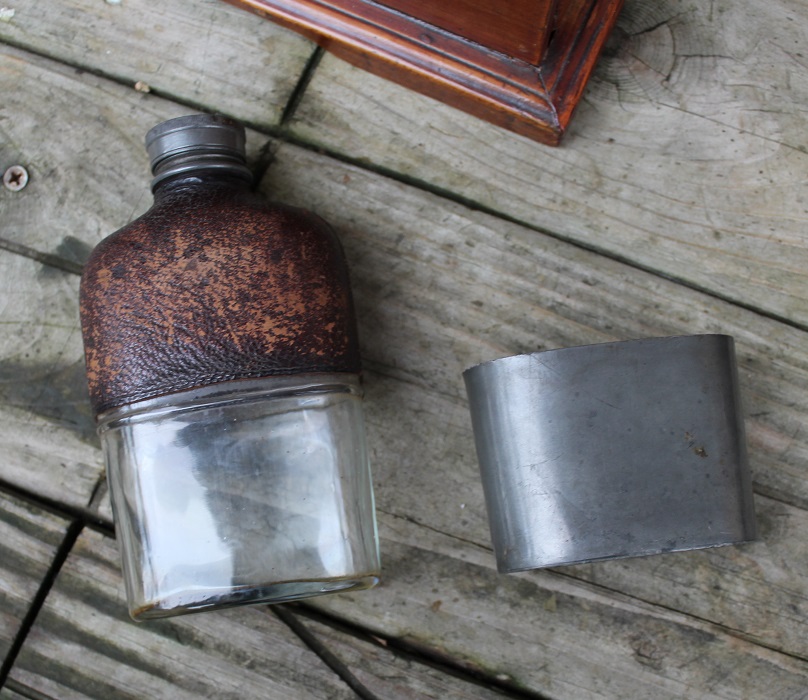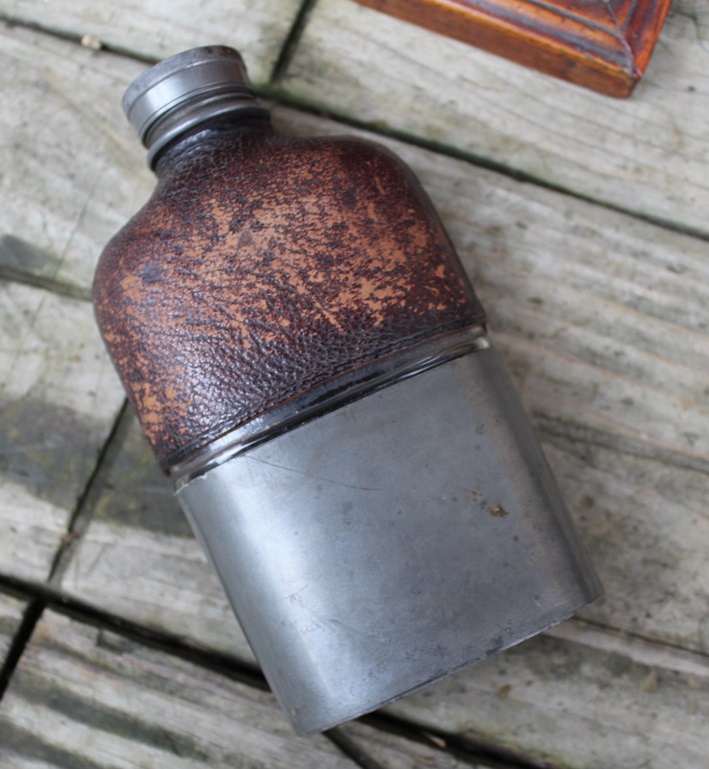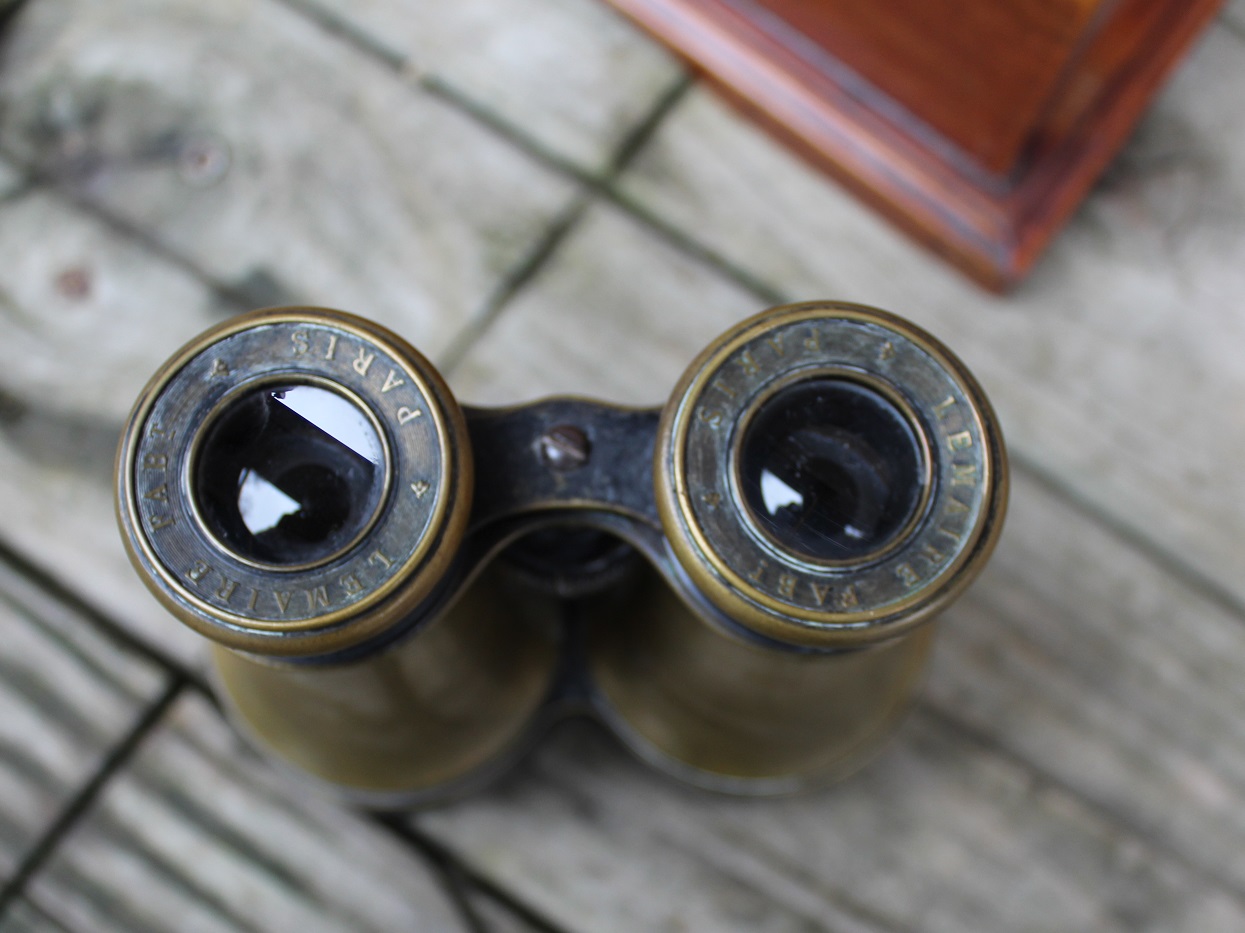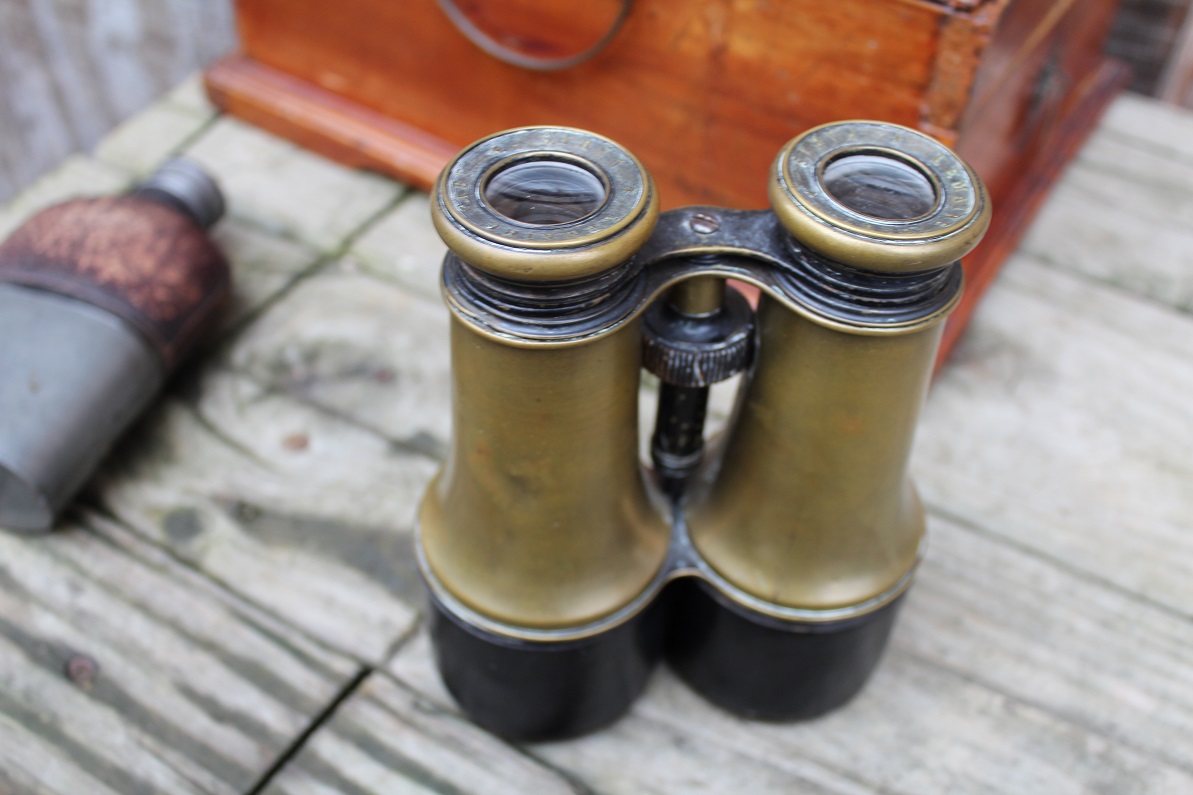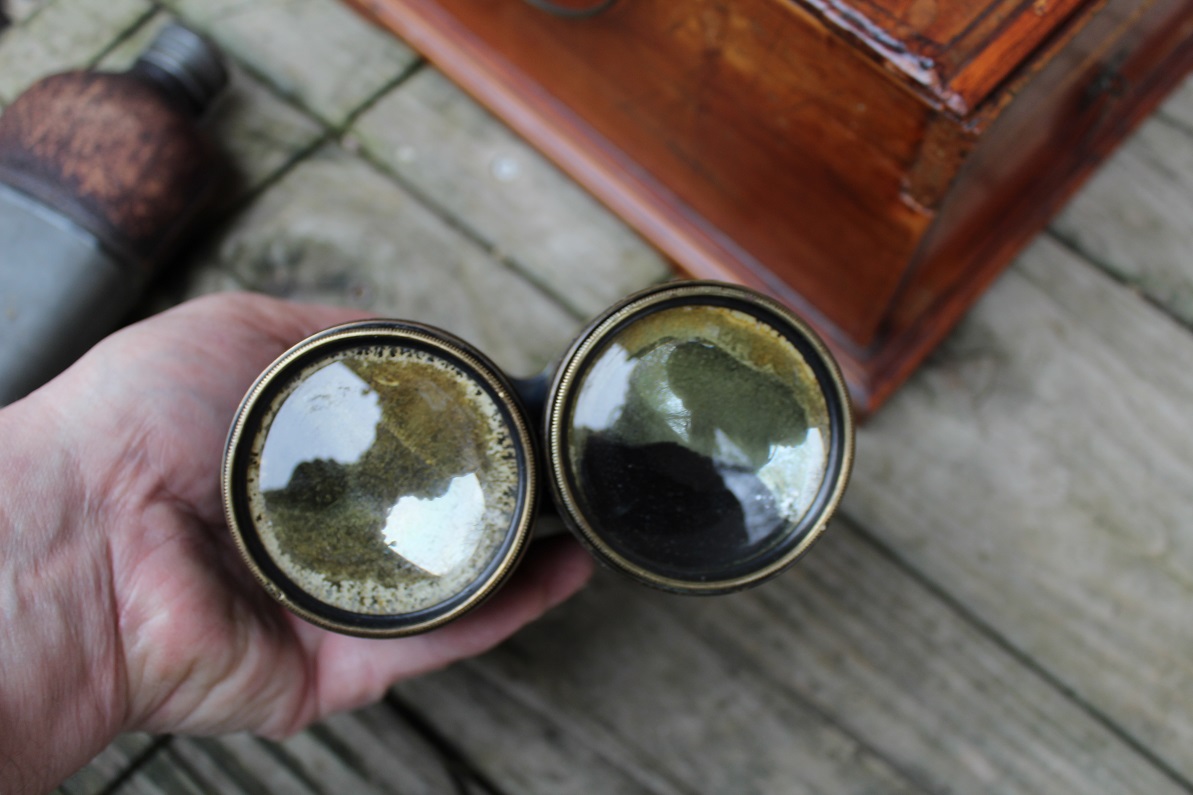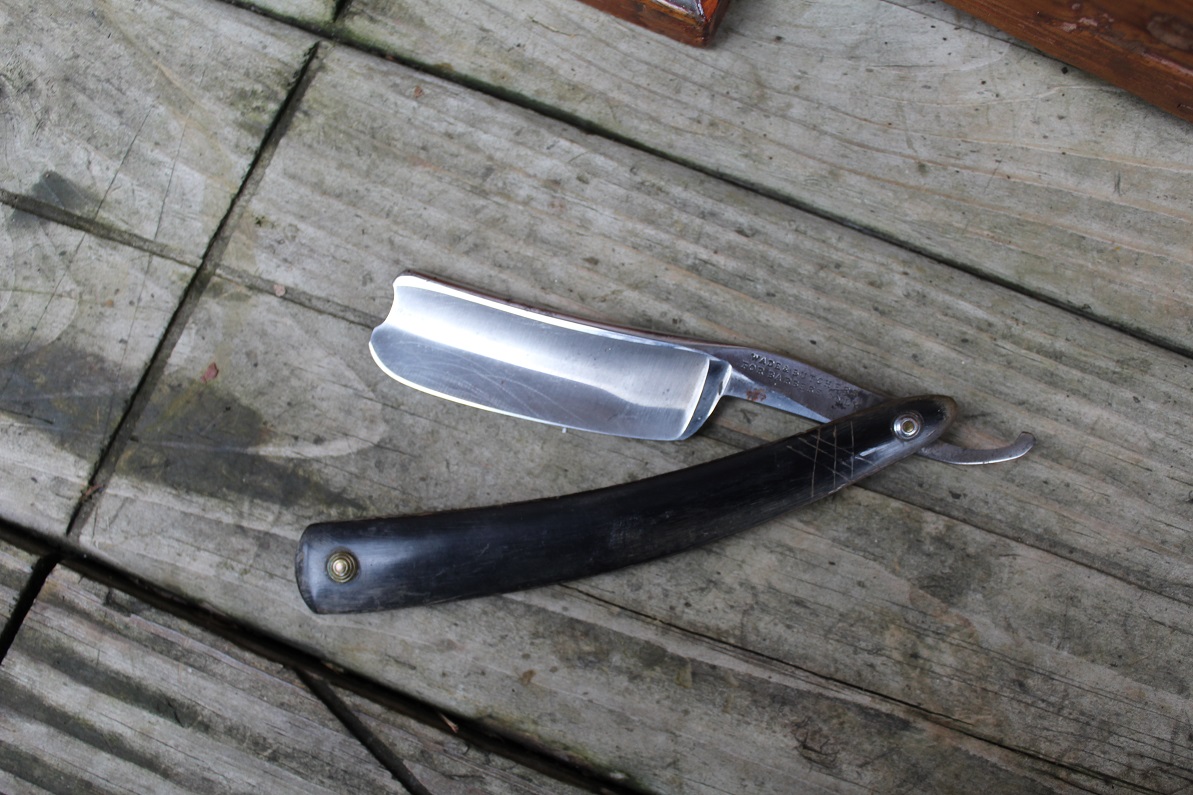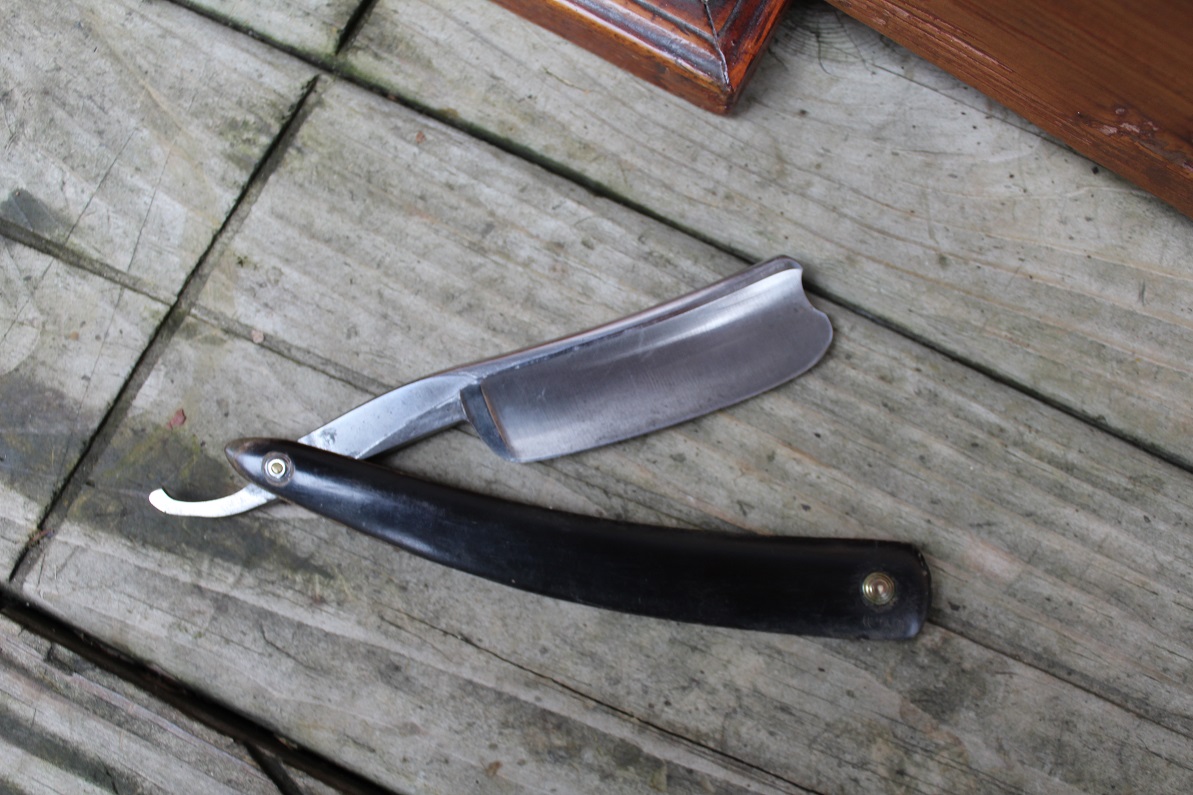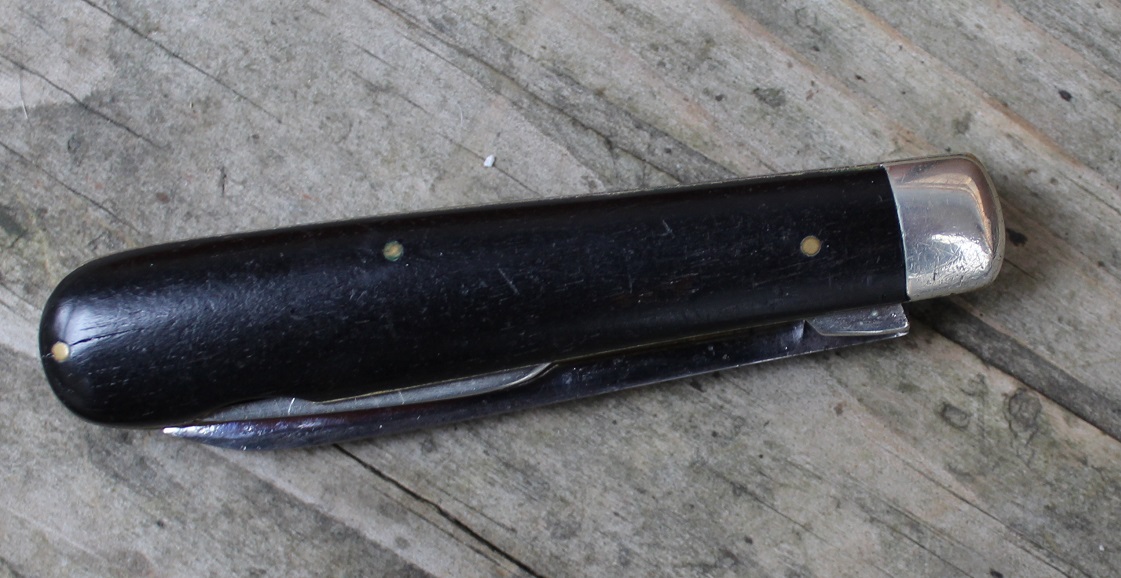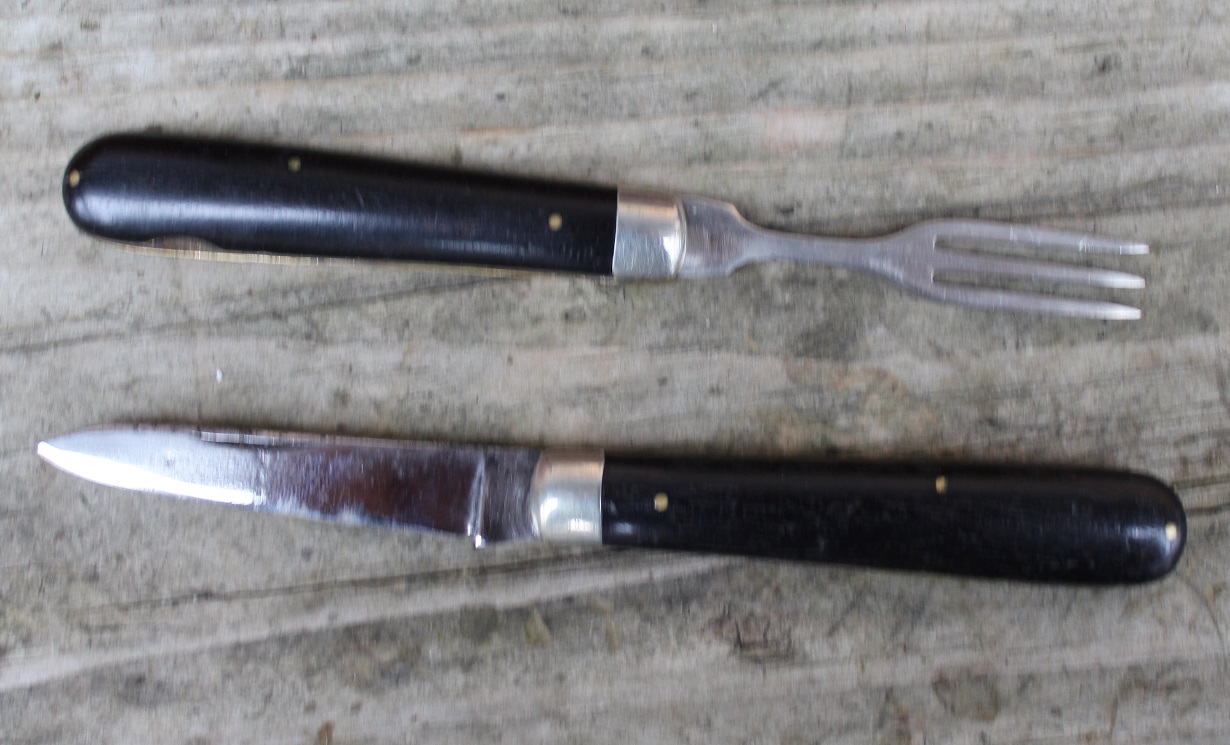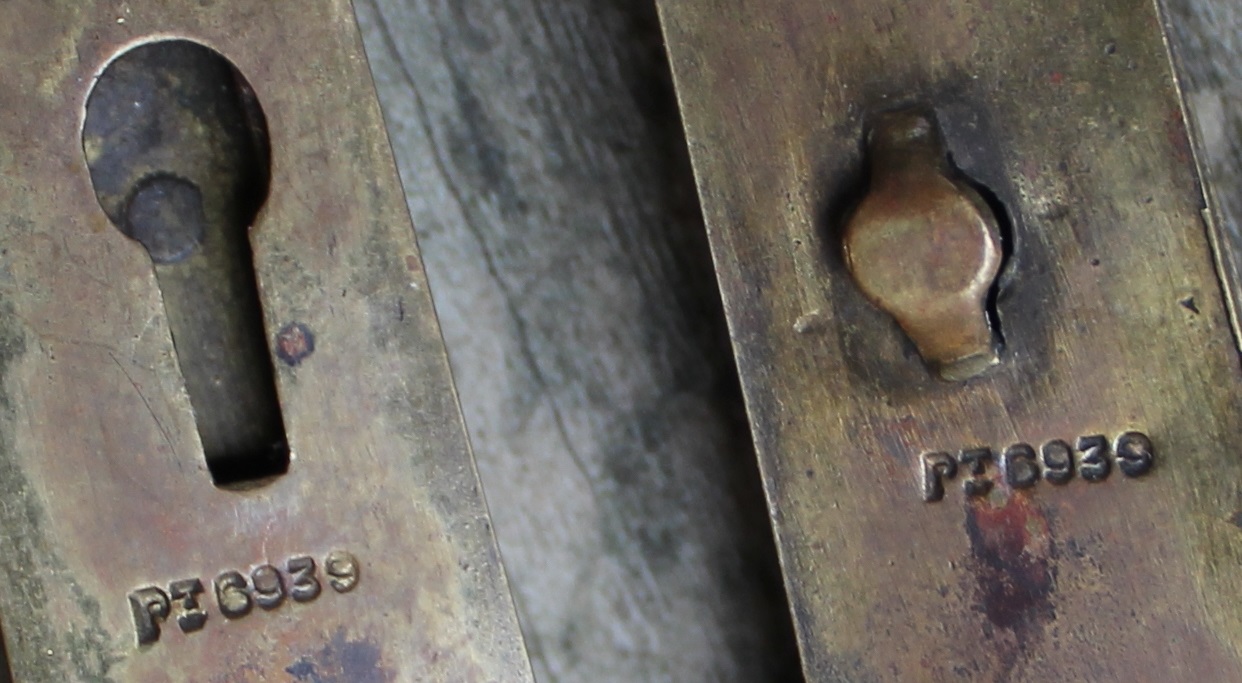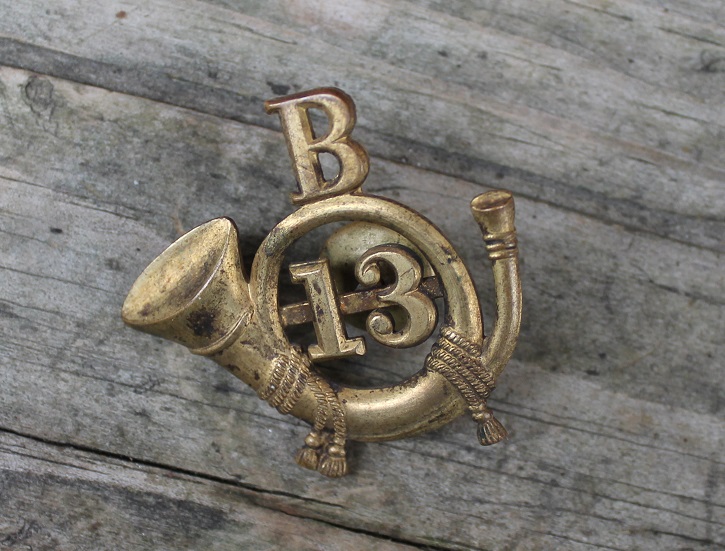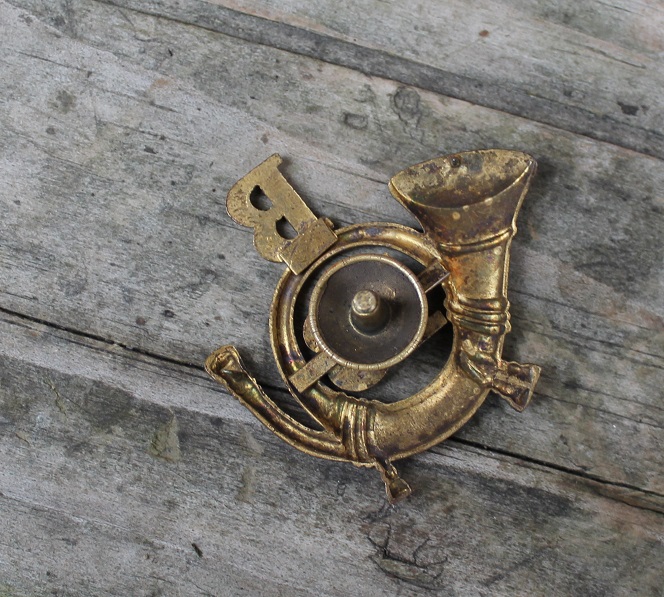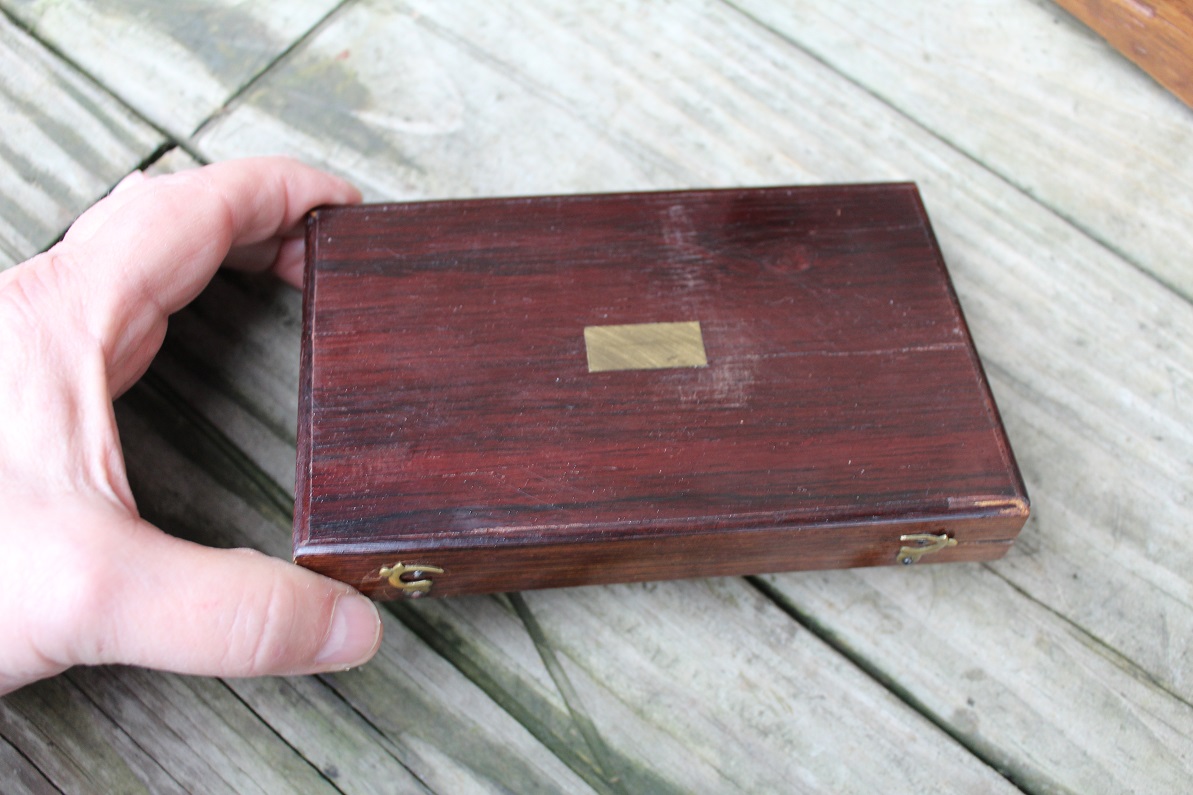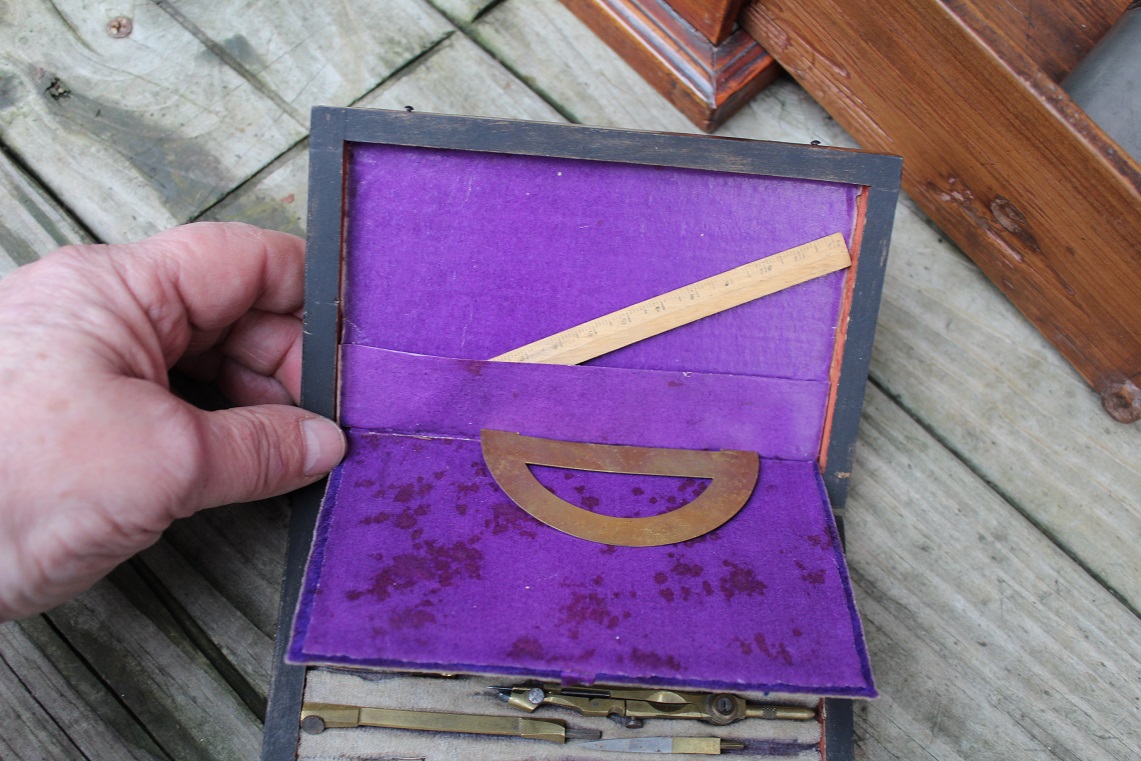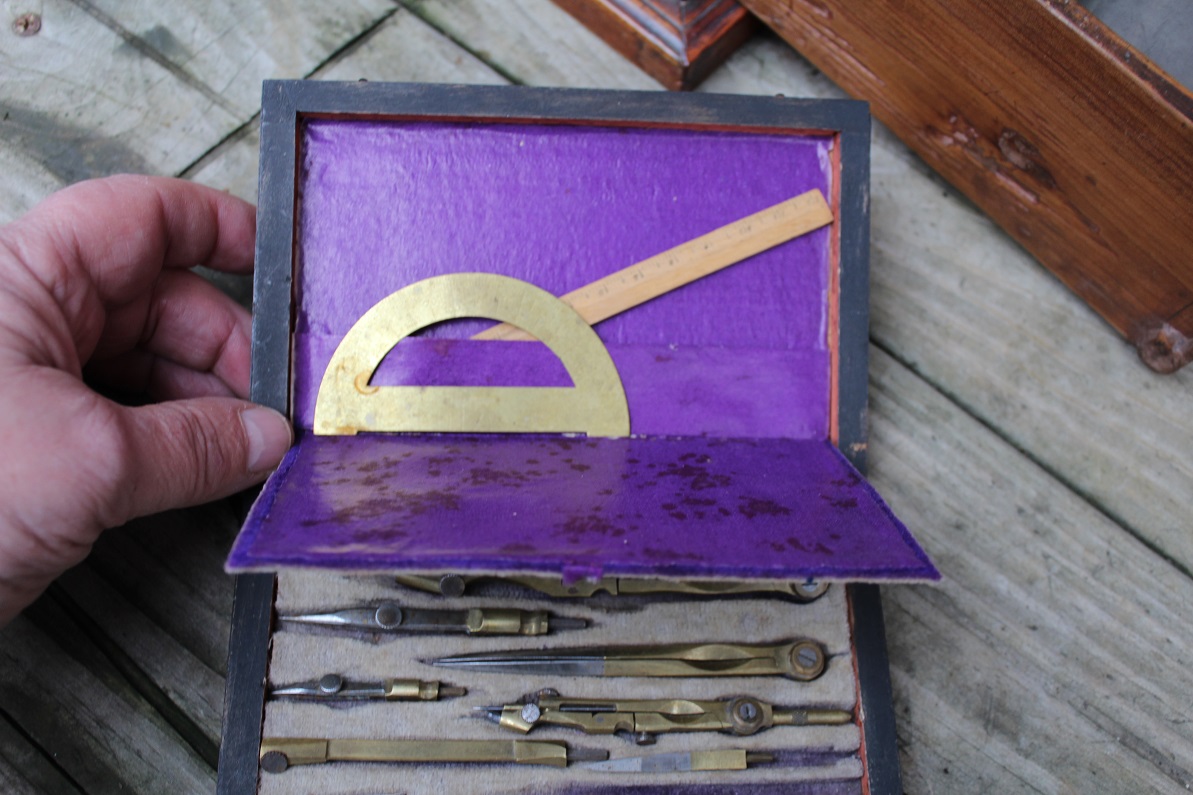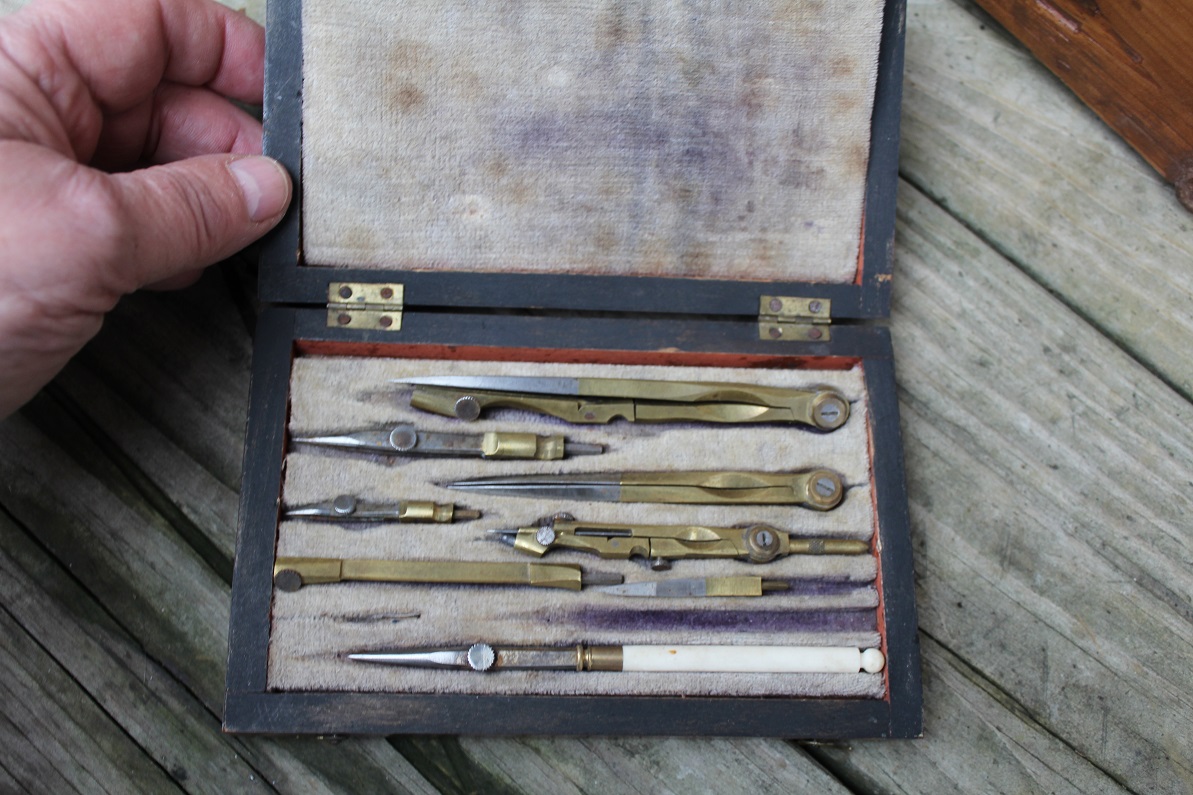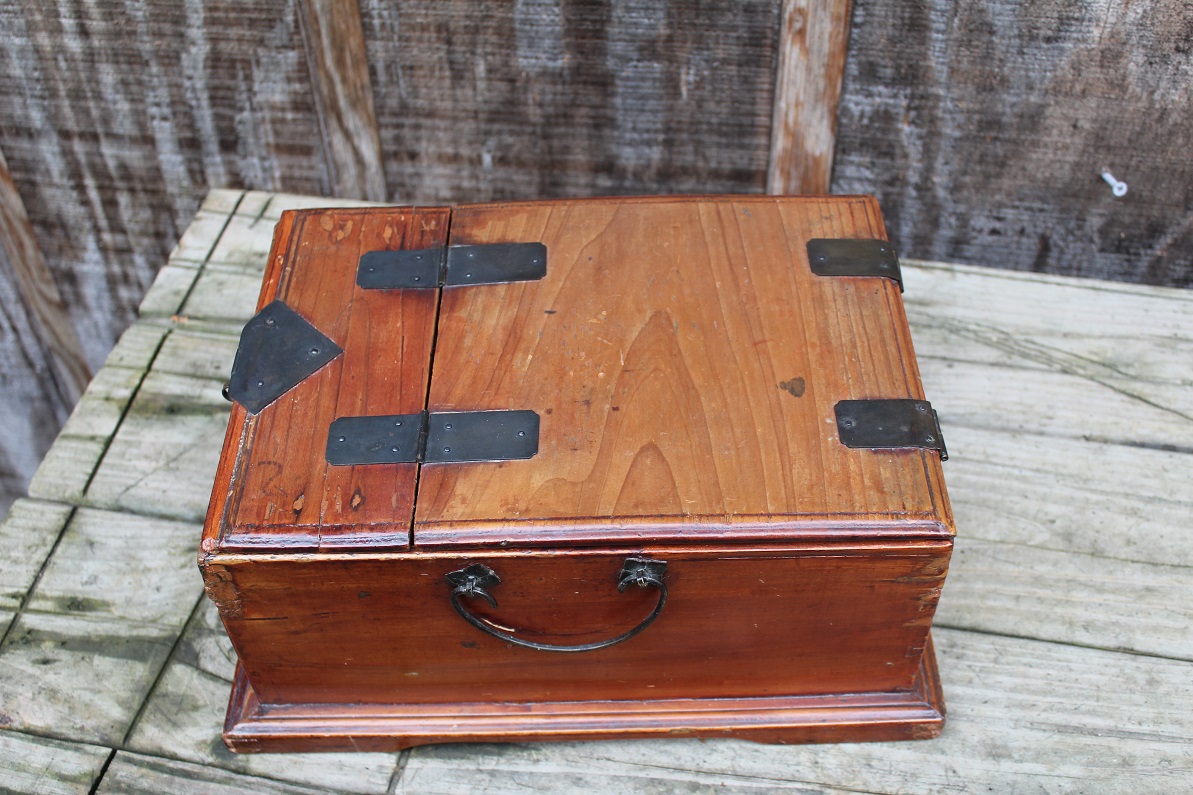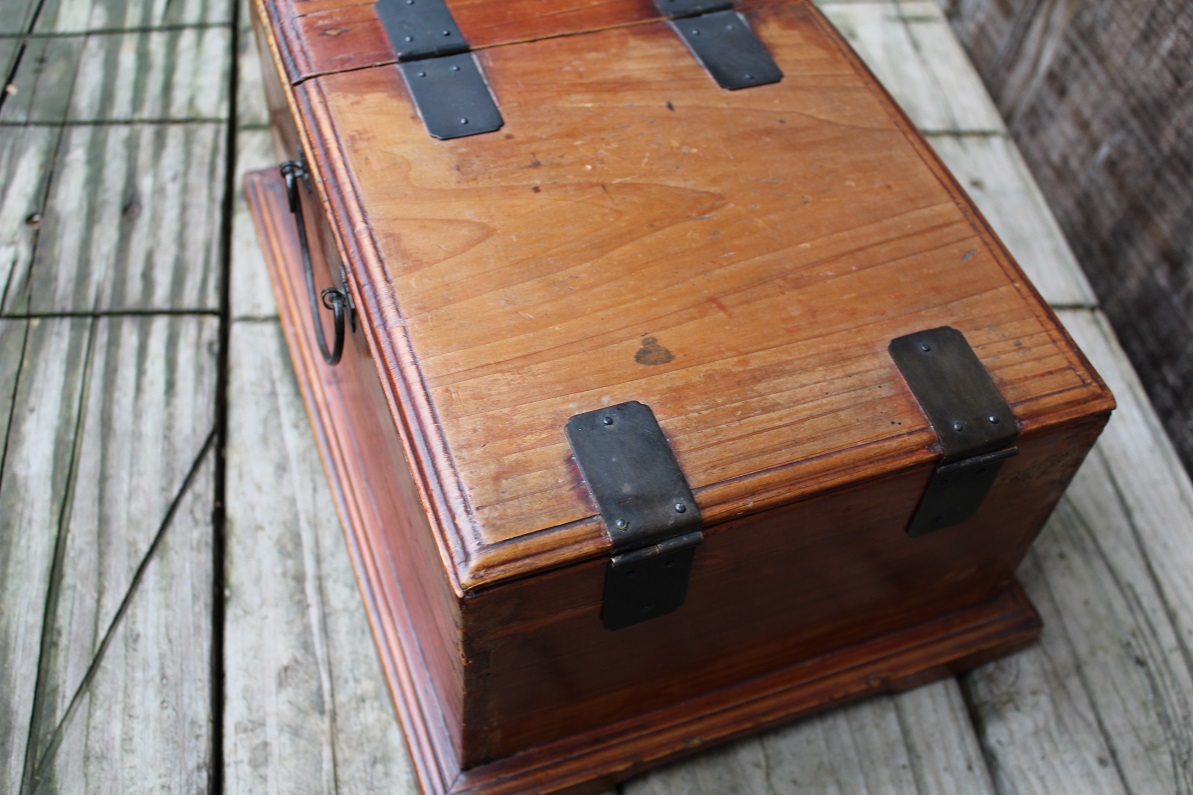 New Arrivals 24
Here's a rare scabbard to find by itself! This is an all steel or iron scabbard for the German Mounted Artillery Saber c. 1830-1840. You never find these available by themselfs and there are many swords out there that are missing scabbards. I will either sell you this scabbard or you sell me the sword that fits it. Either way is ok but if you want the scabbard then it is for sale for $250.00 Take a look at the pics!
I picked up percussion rifles from a friend in Michigan and here they are:
New Arrivals 23
This one is a full stock with the unusual 'MULE EAR' hammer on the lock. It's a percussion lock. The rifle is about 49 inches long with a 33 3/8ths inches long barrel with the name W. GARDNER-GENEVA stamped on it. In AMERICAN GUNSMITHS by Sellers there is a H. Gardner of Geneva New York that made a Pill Lock full stock and this is what they call this lock type. I call it Mule Eared like the Civil War Carbines . There was also a G Gardner that made the same kind of rifle with the same kind of lock from Geneva. The lock is marked W. GARDNER PATENT GENEVA so there must have been an entire family of gunmakers there. This barrel is heavy being octagonal with rifling being about 45 to 50 caliber. The ramrod is held in by 3 brass thimbles. The stock is walnut and has a few repairs around the lock and looks like the last 10 inches has been replace but they did a good job and it's definitely period. Hey, someone LOVED this rifle and kept it going! The cresent shaped butt plate is brass and so is the trigger guard. This is a single trigger set up. The lock and hammer is very nice with florals on it. There is a silver escutcheon on the top of the stock behind the barrel and there is a hole in the stock there as well so they may have used a tang sight at some point. There is a crack in the stock in front of the lock that terminates at about 2 inches out. You can see the repairs in the photos. There is a raised relief cheek rest on the reverse stock. This rifle weighs 12 #. It's a beauty even with the repairs! For this one $1,450.00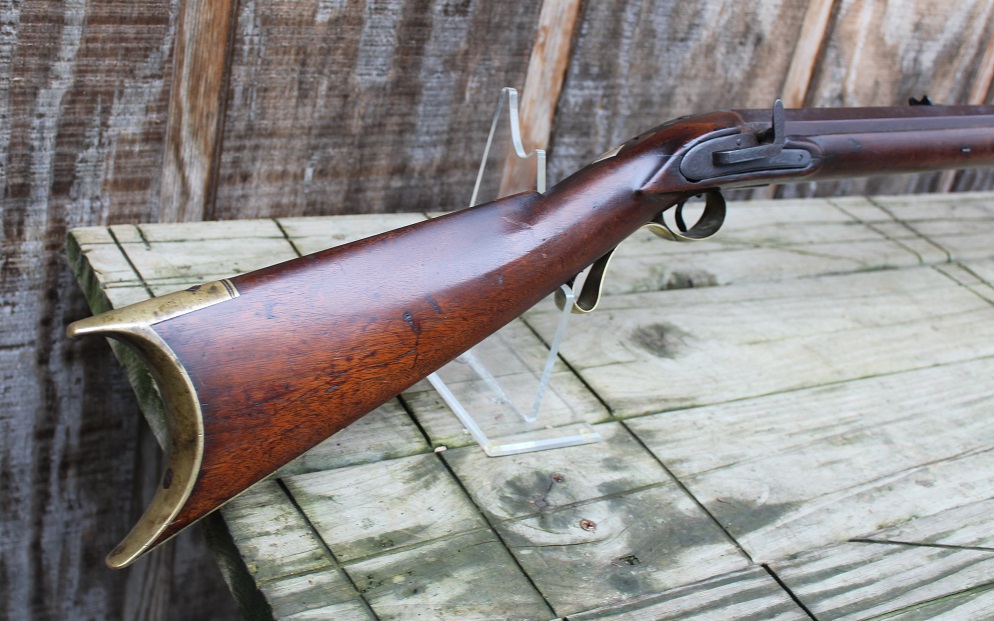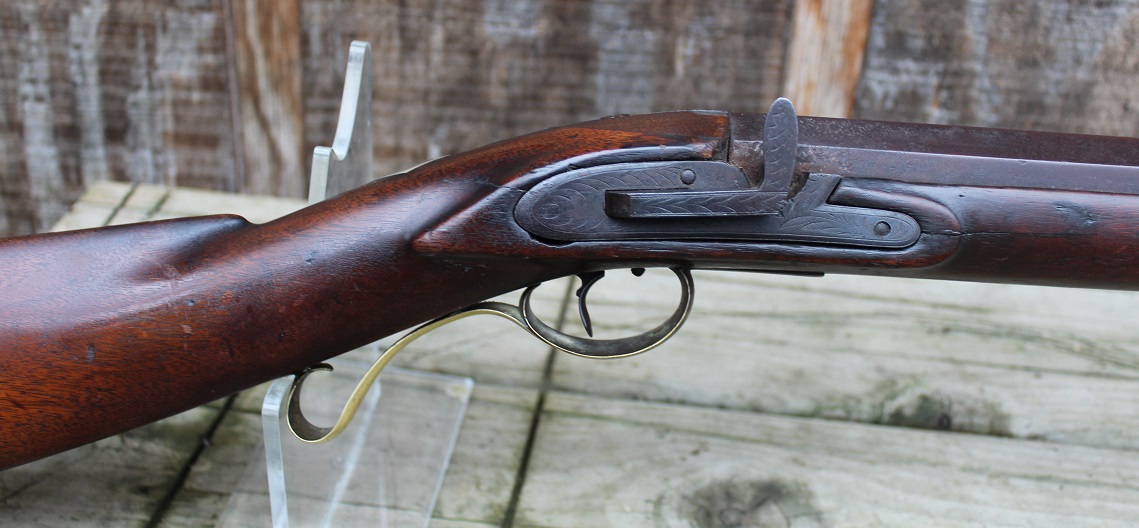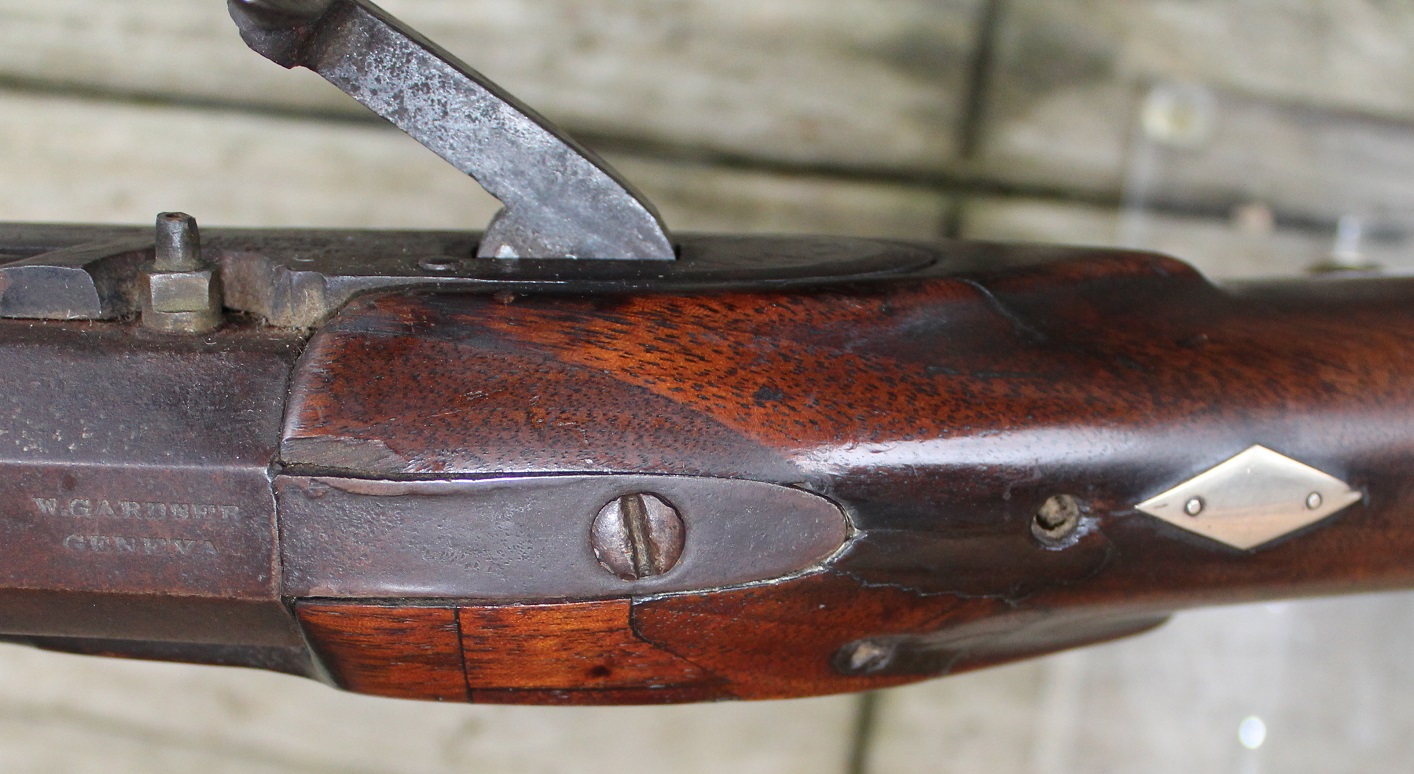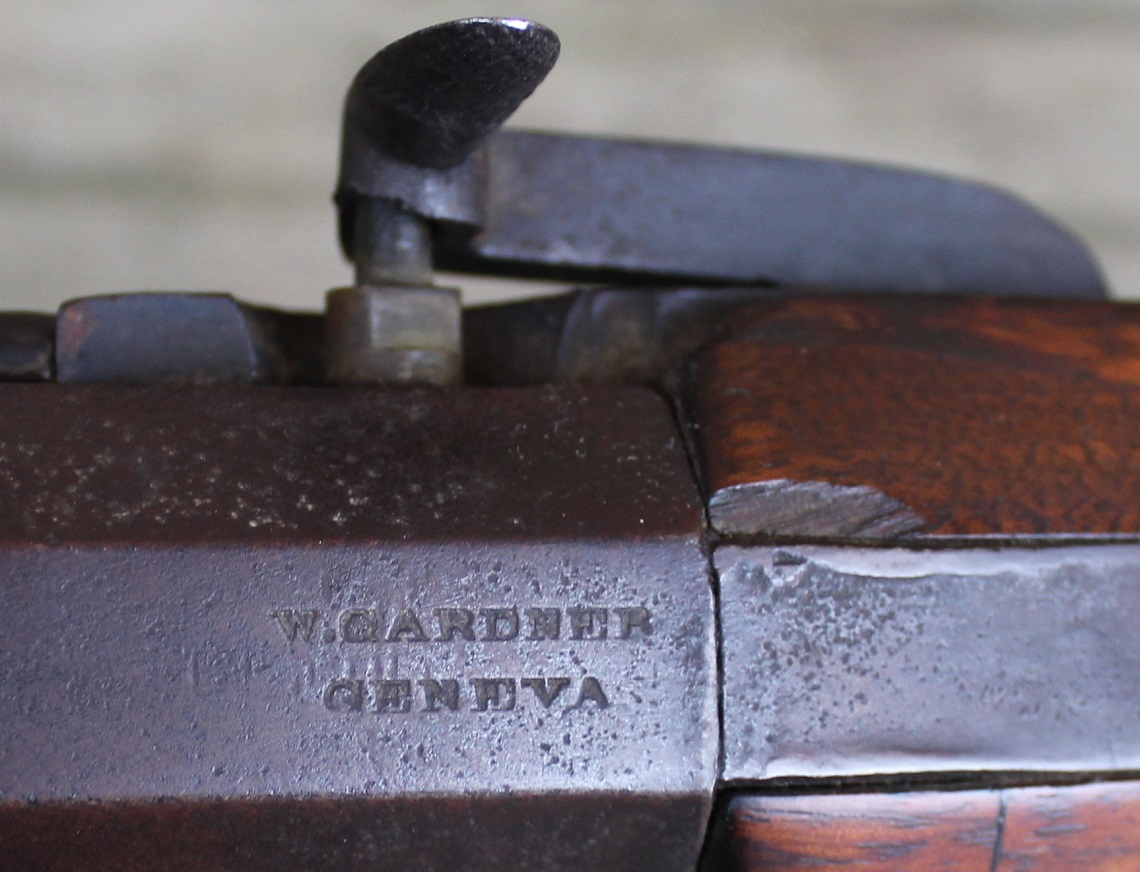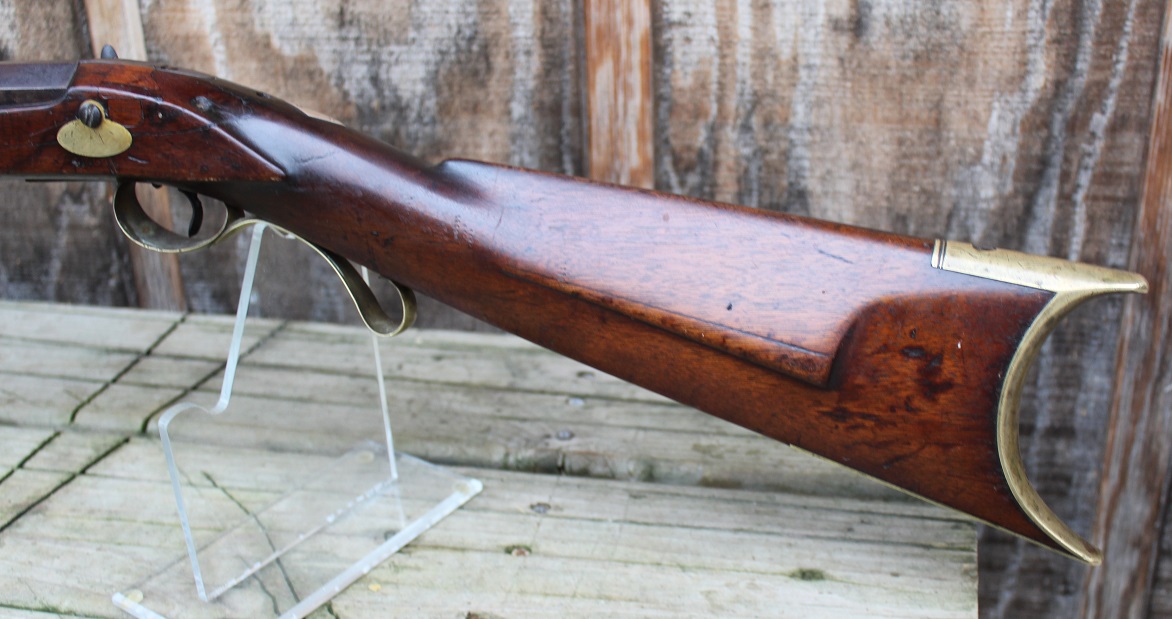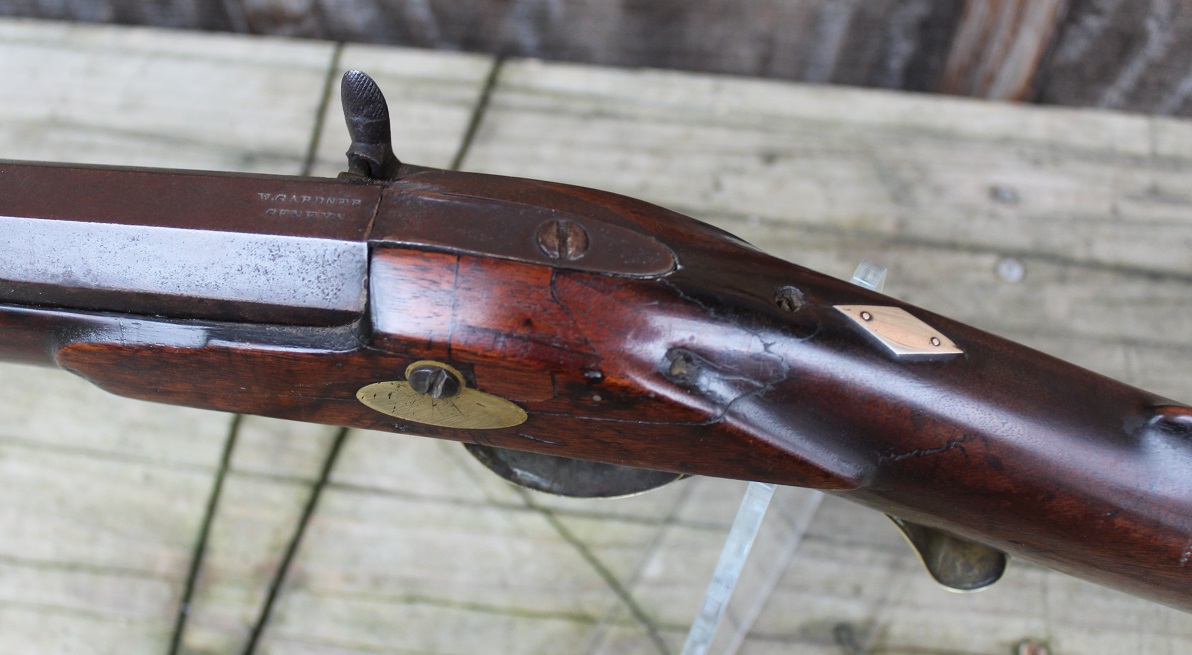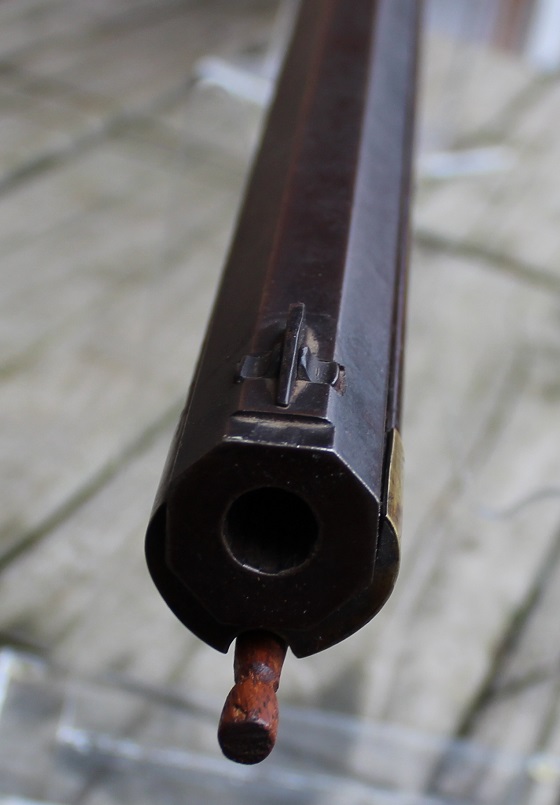 New Arrivals 22
Here we have a beautiful full stock rifle being about 50 caliber with a octagonal rifled barrel. This piece measures about 54 inches long with a 37 3/4 inch long barrel. The top of the barrel is marked S. BUCHANAN. I found a Samuel Buchanan who made guns from 1814 in Dauphin Co., Pennsylvania. This is a single trigger system and works very well being nice crisp and strong! The smaller walnut butt stock has raised relief carving on both sides and looks great! The stock terminates at the end in a brass nosecap. There is some wood burned behind the nipple as is normal. The nipple is still serviceable. It looks like there may be some age cracks to the stock but surface only and no breaks. There is a simple dovetailed "V" sight at rear and a simple dovetailed blade sight up front. This is really a very nice full stock rifle! Take a look at the pics! For this one $1,250.00
New Arrivals 21
Here we have a beautiful 10 1/2 pound halfstock approx. .45 caliber halfstock rifle by W. M. GARDNER and so stamped on the barrel. I believe age to be from the 1840-50's. There are several Gardner's listed in the book so I do not know which one it is however the earlier one I listed says GENEVA so it was made in NY so this one probably was too since I got them together This rifle is about 53 inches long with a 37 inch octagonal rifled barrel. Two thimbles under the barrel hold the ramrod. As with most of these old rifles this is a replace ramrod. The walnut stripped stock is excellent and just wonderful with no breaks or cracks, just a ding or two from age. The stock is ended proximal with a pewter nosecap and distally with a cresent brass butt plate. The triggerguard is also brass. The action works great with the set trigger set up being perfect. The lockplate is excellent with birds and florals on it. The hammer has some decoration on it and the nipple is in good condition. There is some minor burning around the nipple as usual and some pitting to the barrel also usual. The makers name is prominately stamped into the barrel on the top. This is one fine half stock! For this piece $895.00
New Arrivals 20
Here's a dagger that could very well be of Southern manufacture. It's a substantial knife and shows some crudeness in the blade. It's definitely a domestic made piece and not an import due to the crudeness. This knife is over 12 inches long with a tapered wooden hardwood grip into a brass ferrell. The blade is over 7 1/4 inches long by itself. The tang of the blade had a brass washer placed over it then it was peaned to hold it all together. The blade is the dagger style and is diamond in shape. There is no makers marks on the blade or knife anywhere. The cross guard is of brass and is 3 1/2 inches long from tip to tip. For this old knife $395.00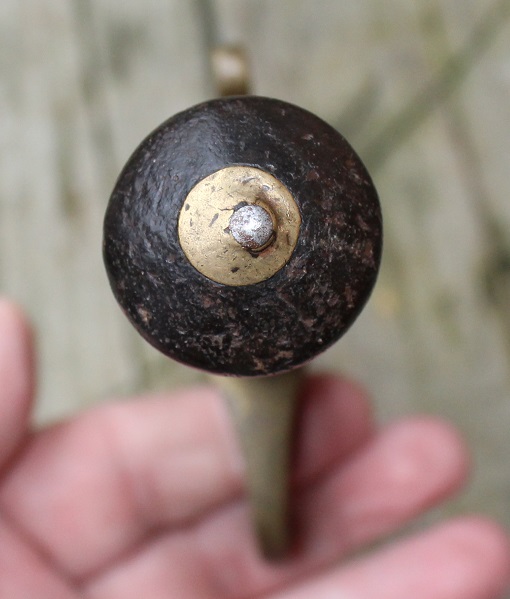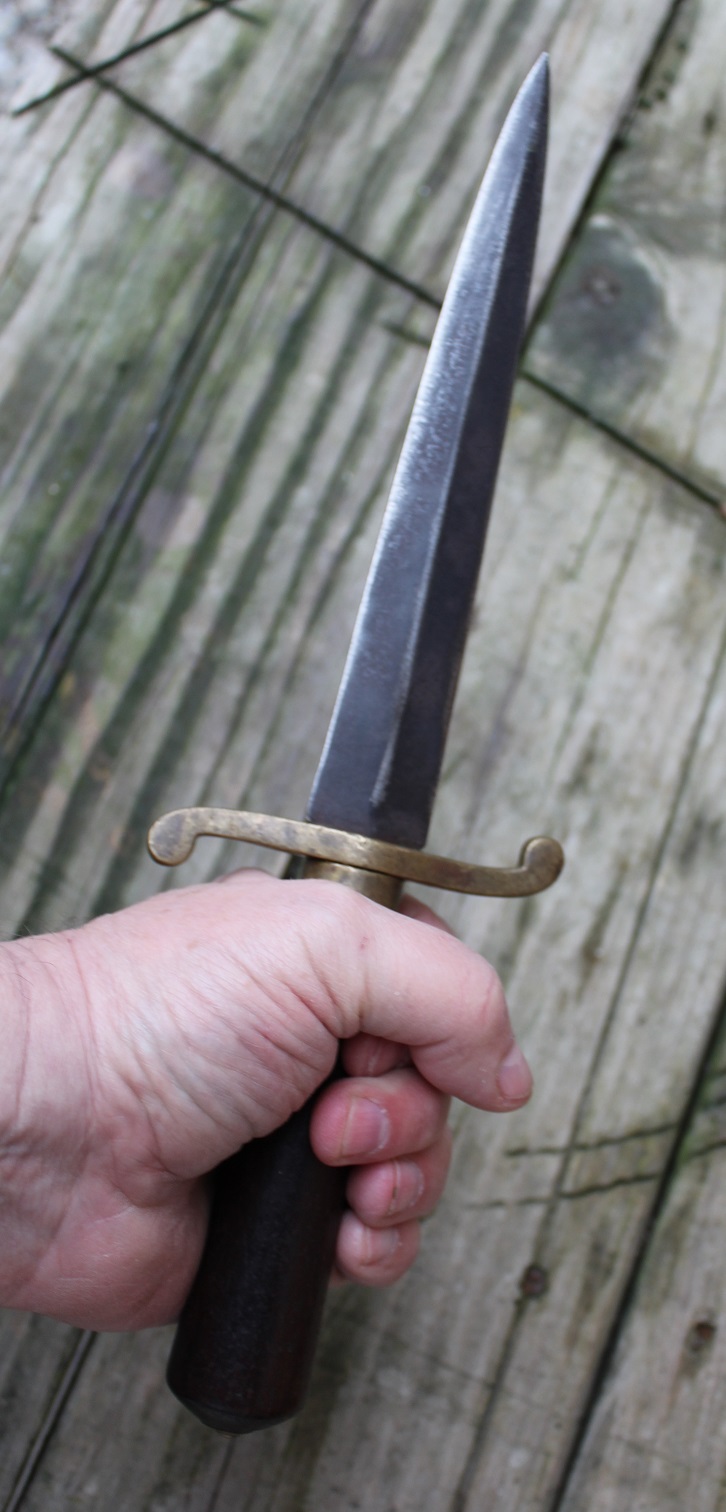 New Arrivals 19 Consignment
Here we have a relic Winchester Model 1894 Carbine in 30-30 I believe that was from Idaho and has been through a fire. I wish I knew more that than but I am afraid that's all the info we have. This old girl was not in a recent fire as the metal has darkened and rusted since then. The serial number of 1042300 makes it manufactured in 1928. The stocks are burned off of course and the magazine tube has split indicating that it may have had ammo in the tube during the fire. You can still see the spring through the split. The markings on the tank are all clear and both sights are present. Lots of 'speculation' stories here! No FFL needed for this fire damaged relic. Take a look at the pics. $350.00
New Arrivals 18
Here we have a Confederate Railroad Document in Acrylic frame. This document measures about 7 3/4 X 6 1/4 inches and is partially printed and partially filled out in ink on blue paper that has one fold in the middle. The Document is headed 'MISSISSIPPI CENTRAL RAILROAD COMPANY' and signed in two places Henry Vaughan and H. Vaughn for 45 cords 4 foot wood @ 2 ($2) (total) $90. The document goes on to have on it 'I certify the abo ve is correct. Feby 21st, 1863 R. S. Mackin, Feby 24, 1863, Approved E. D. Trask Supt. and under that H. Hall $90.-- Received May 14, 1863 of-------, Treasurer of Mississippi Central Railroad Co., Ninety Dollars, in full of above account H. Vaughan. Check out the pics and the back of the Document. There is a small amount of browning on the paper that does not touch any of the Printing or Ink. For this piece of Civil War Railroad memoribillia $125.00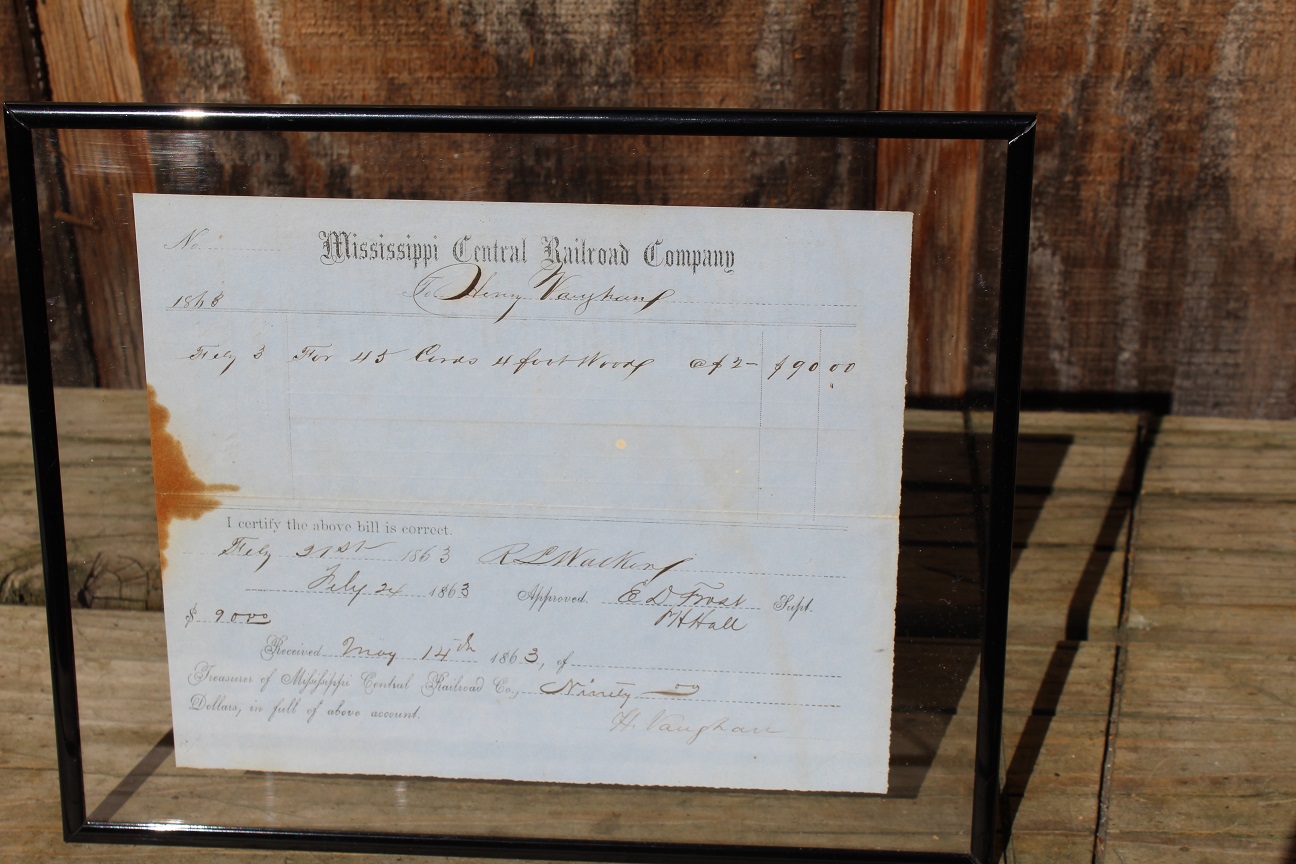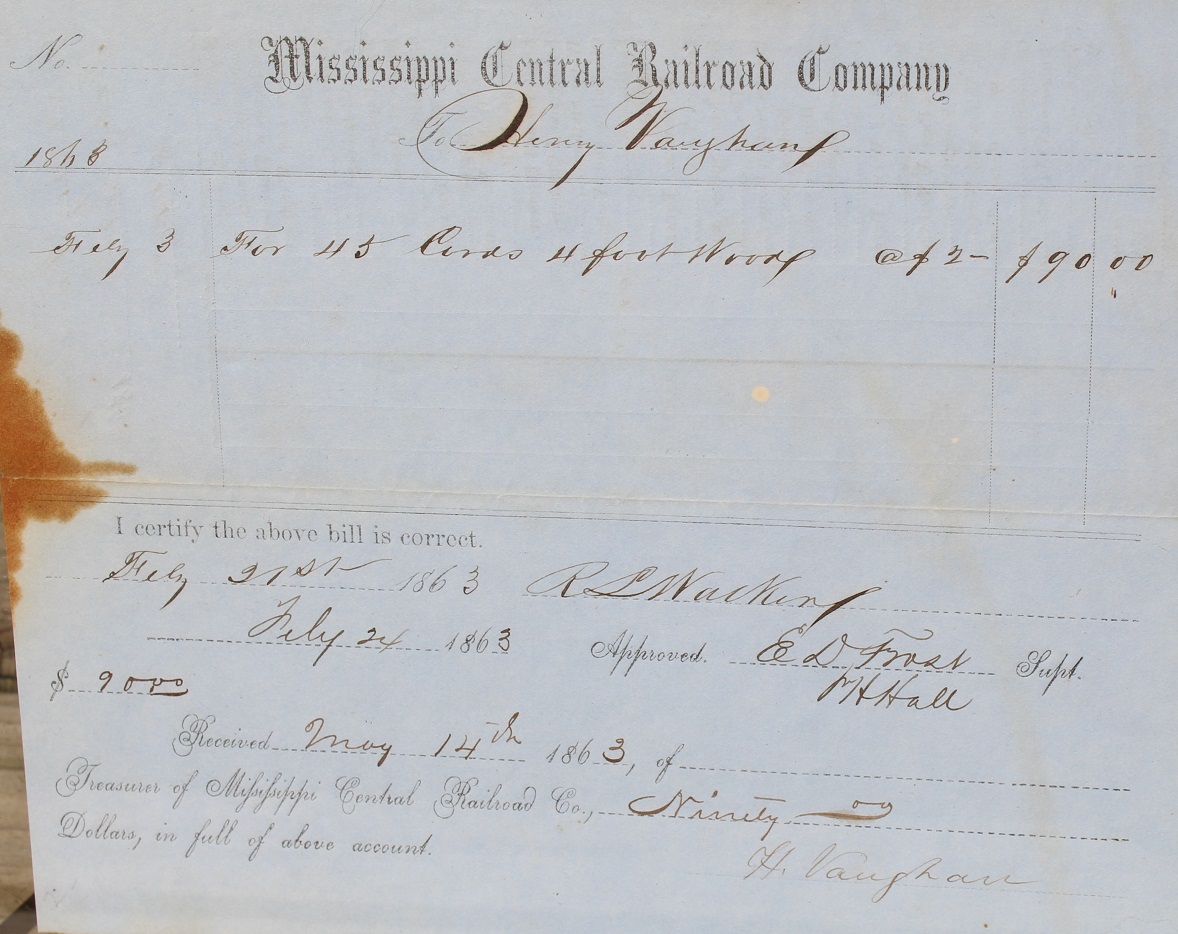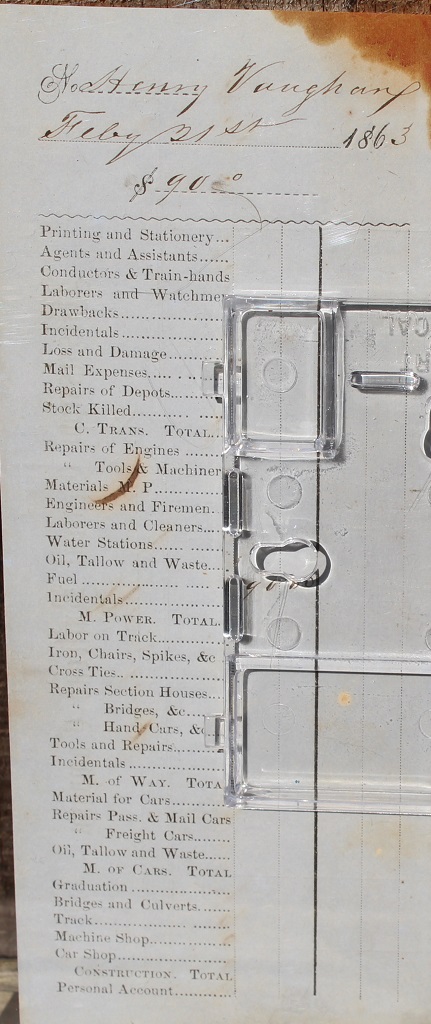 New Arrivals 17
Here we have a letter being 8 X 9 1/2 inches and written in Ink dated August 13.1862. The letter has been transcribed as sometimes the writting from back there is hard to read. The content is as follows: OFFICE MED. (medical) DIRECT TRANSPORTS Capt. Pitkin, Please inform me if it is possible for you under your instructions regarding the contrabands (slaves) to furnish me with a few for permanent duty on the hospital transports. There s a great deal of heavy and dirty work to be done on the transports and two or three to each ship could be kept in constant employ and made extemely serviceable. If you can comply with my request I would like tow immediately for duty on the Steamship Dan'l Webster. Very Espy, Yr. Obdt. Servt. E. S. Dumster, Asst. Surg. U.S.S. Med. Direct Transports.
On the reverse of the letter is: Capt. Sawtelle August 13, 1862 , Capt P.P.Pitkin, A.Qm. is instructed to furnish to Dr . Dunster Med. Director of transports for the sick such contrabands as he may from time to time make application for. Respy, C. G. Cawtelle, Capt & A. QM. Comdg Depot. Office of A.Q.M., Harrison's Landing VA. Aug. 18, 1862
This letter is positioned between two pieces of acrylic in a frame for viewing on both sides with a stand on the reverse for display. Nice piece! For this document regarding Negros and the Medial Department the price is $145.00
Check out the pics!!!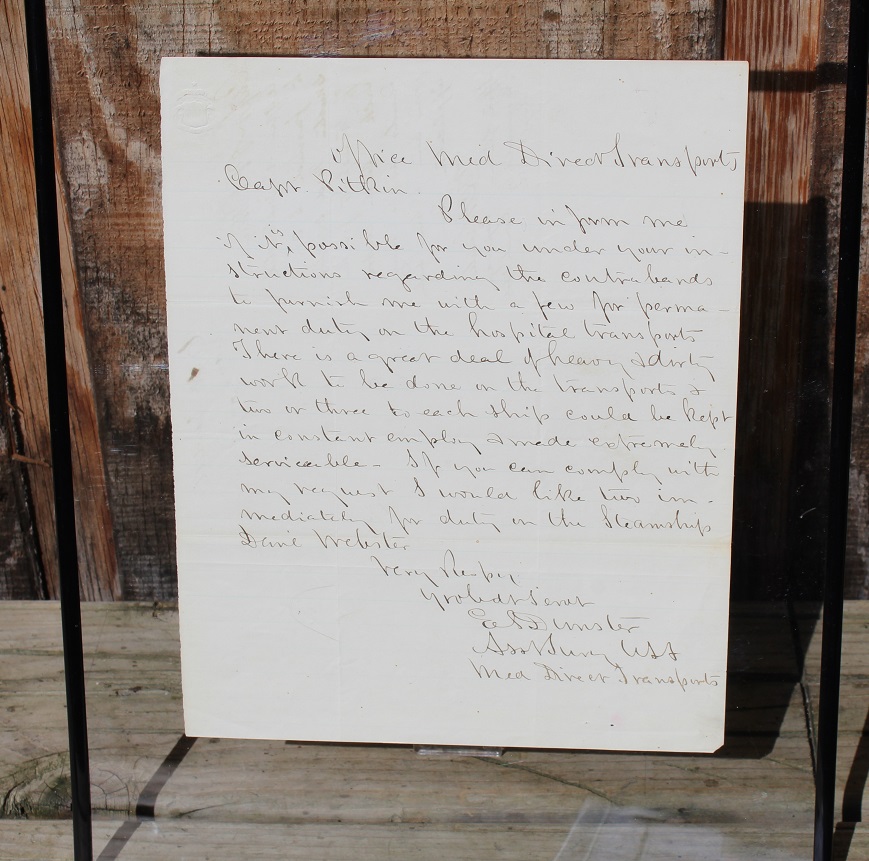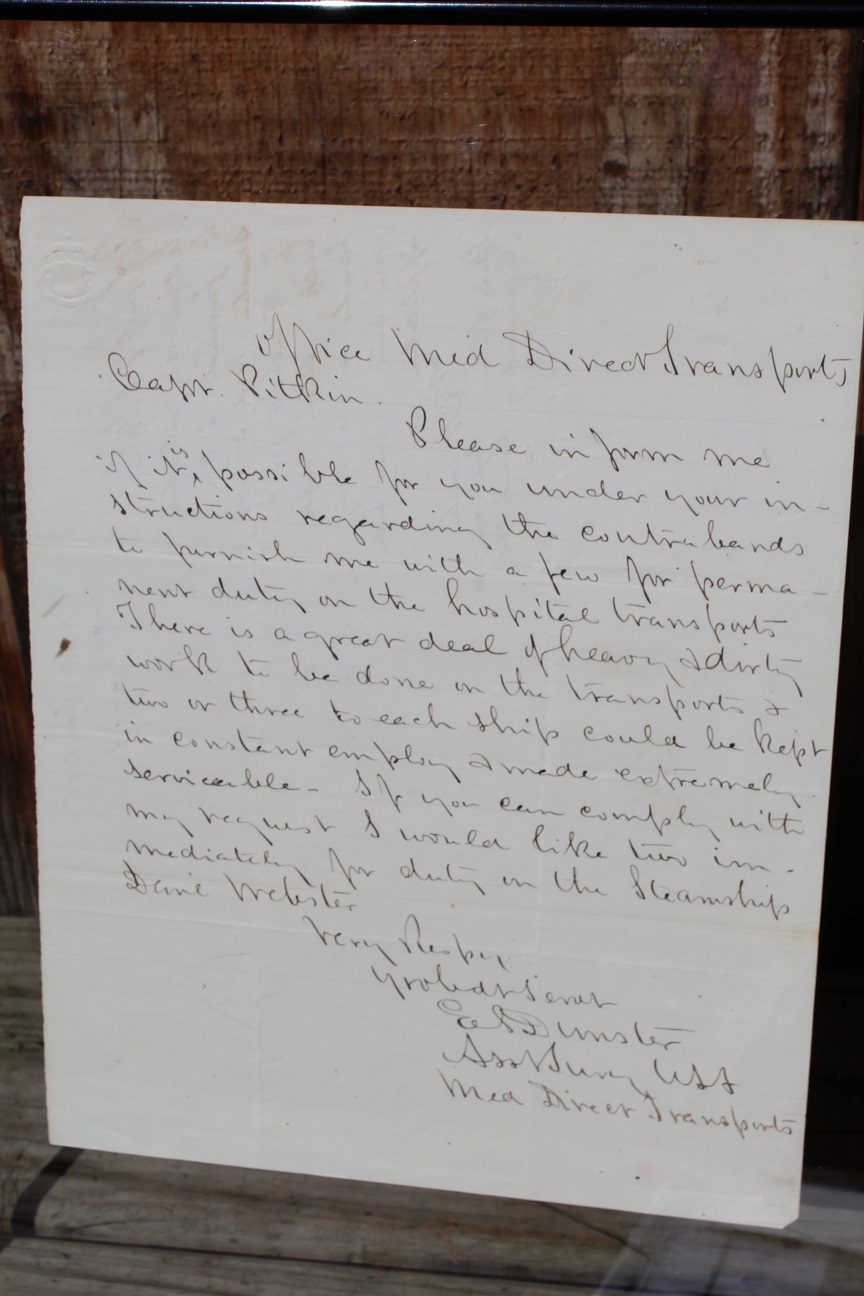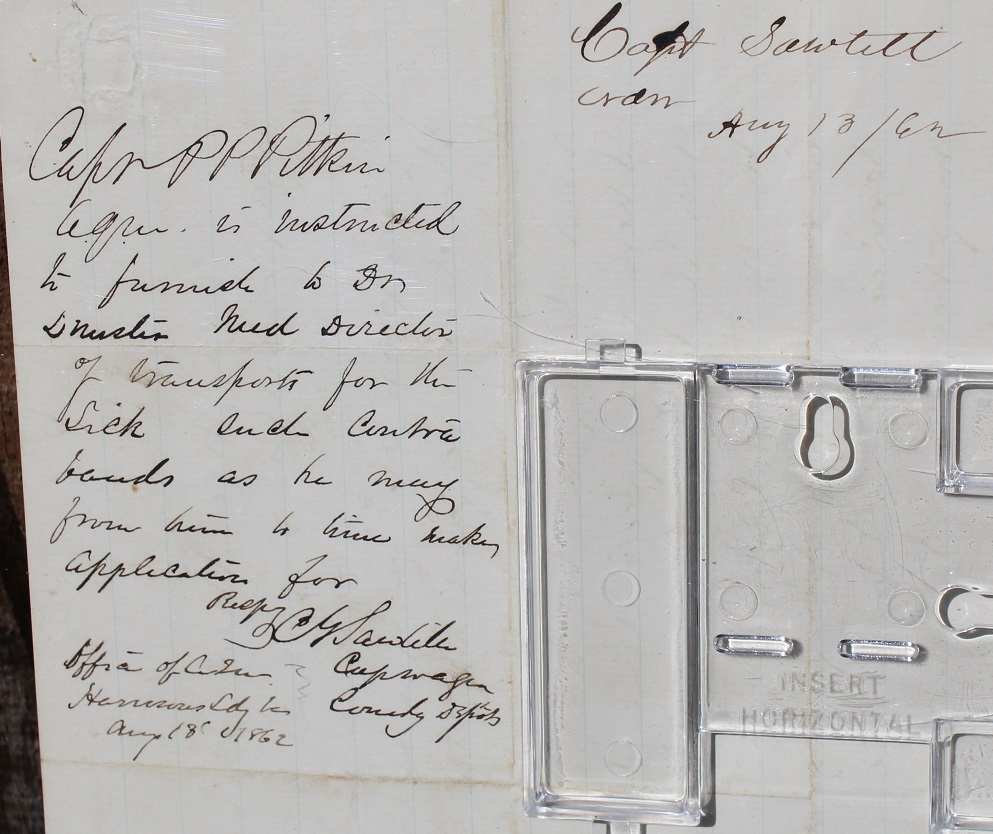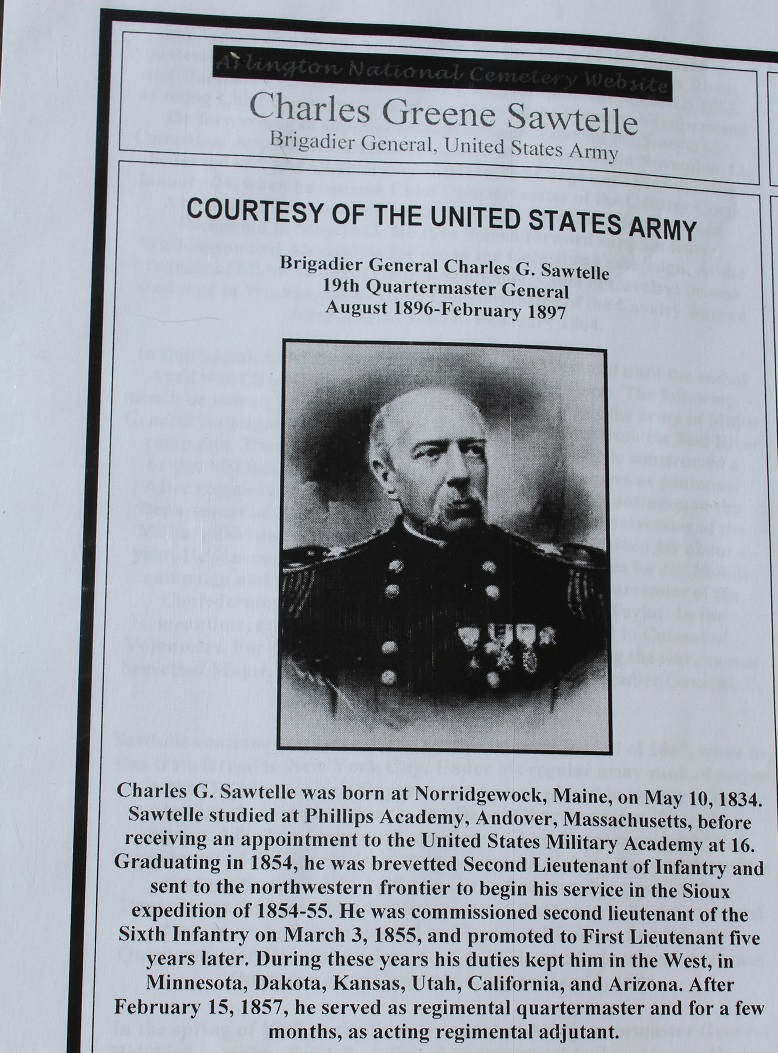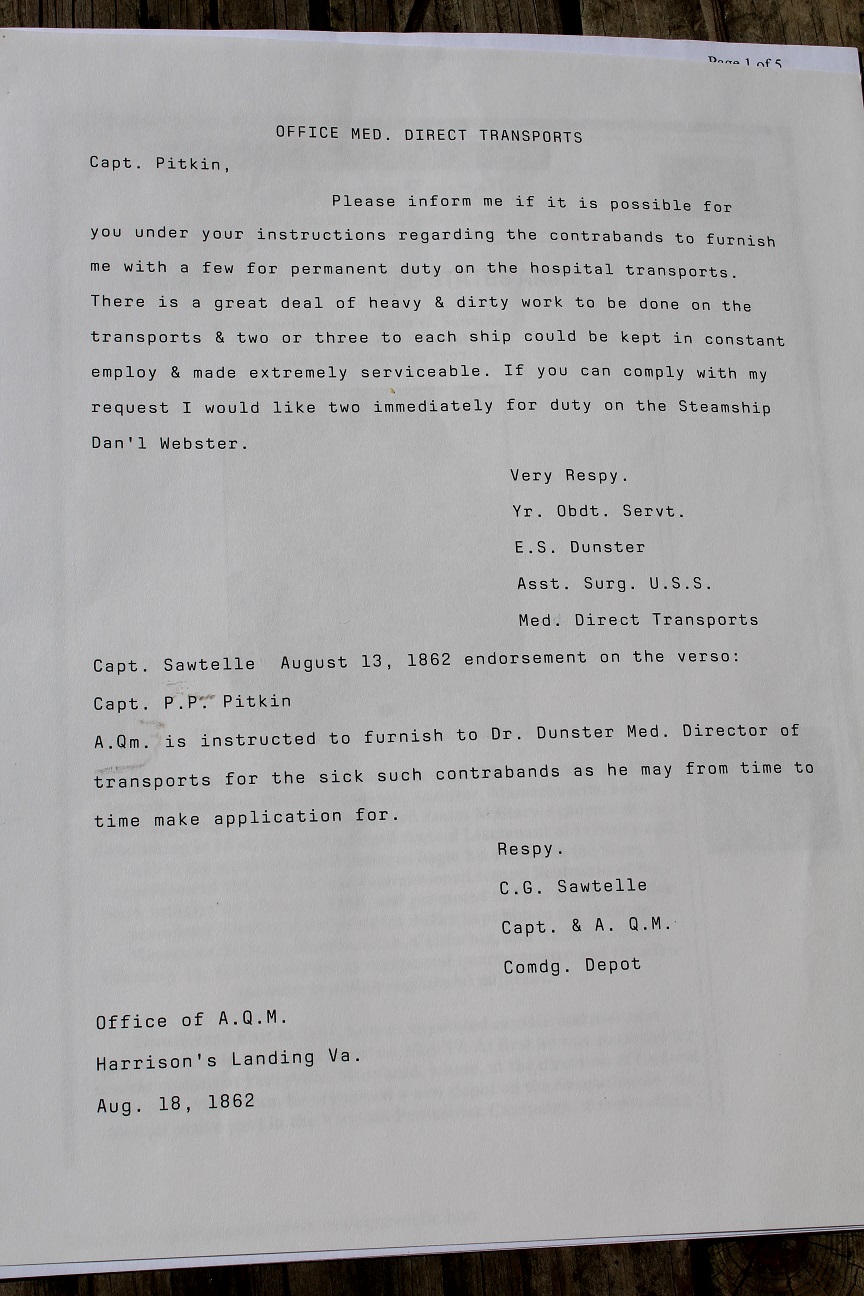 New Arrivals 16
This is a new built rifle made in 2008 by a good friend but since it is in the old tradition of percussion rifles then I will put it here. This is an entirely handbuilt full stock rifle in the tradition of the Mountain men and Indians of the early to mid 19th century. The rifle is in .45 caliber and has set triggers. The nipple is in unused condition and has a rubber washer over it to protect when your 'Friends' dry fire it in front of your very wide eyes!!! The entire piece is about 53 1/2 inches long with a 3 6 inch octagon rifled barrel. The barrel has been browned and looks great! The stock has the look of curley dark maple and is in very nice condition. There is a crack at the toe that you can see in the pic. The carvings on the stock are obviously hand done just as one would expect to see during the day. The owner has carved his name on the bottom of the buttstock with the year 2008 when he made it. The rifle has an adjustable sight on the rear and a simple blade sight up front. The buttstock has a raised cheek piece and there are 'Indian' tacks applied on the rear of the buttstock and brass tacks applied up and down the stock. This is a beautiful piece and will not break the bank at $675.00 !! Get a custom made percussion rifle at a decent price! Take a look at the pics!
New Arrivals 15
1863 State of Alabama 50 Cents Montgomery, Confederate States Treasury Note Small Obsolete Note. This is the Second Series and is catalogued as Criswell-4. It depicts the Alabama Tree and Map. This note is in Fine condition. Bold blue overprint. Showing a teee and map in the center with Juliett Hopkins in lower right. Confederate nurse Juliet Hopkins Juliet Hopkins (1818–1890) was born on a plantation in West Virginia, but moved to Mobile, Alabama after marrying Arthur Hopkins. When her husband was appointed to oversee hospitals during the Civil War, Juliet went to work converting tobacco factories into hospitals. $48.00
New Arrivals 14
1863 $20.00 State of Louisiana at Shreveport, March 10, 1863 with Confederate General P.T.G. Beauregard on the front. Design on the back. Unissued. Nice Note! NO folds. $125.00
New Arrivals 13
Here we have an old photo album that spans from the 1860's through the 1870's. There are 30 photographs in it consisting of a mix of CDV's and tintypes. The quality of the photographs are in generally better condition that my photo's show. The album shows much wear and foxing to the pages. Check out the pics! There are a couple of Civil War pics of guys in uniforms and some not in uniform as well as an early rendition of Martha Washington. All in all well worth the $165.00 that we are asking for it.
New Arrivals 12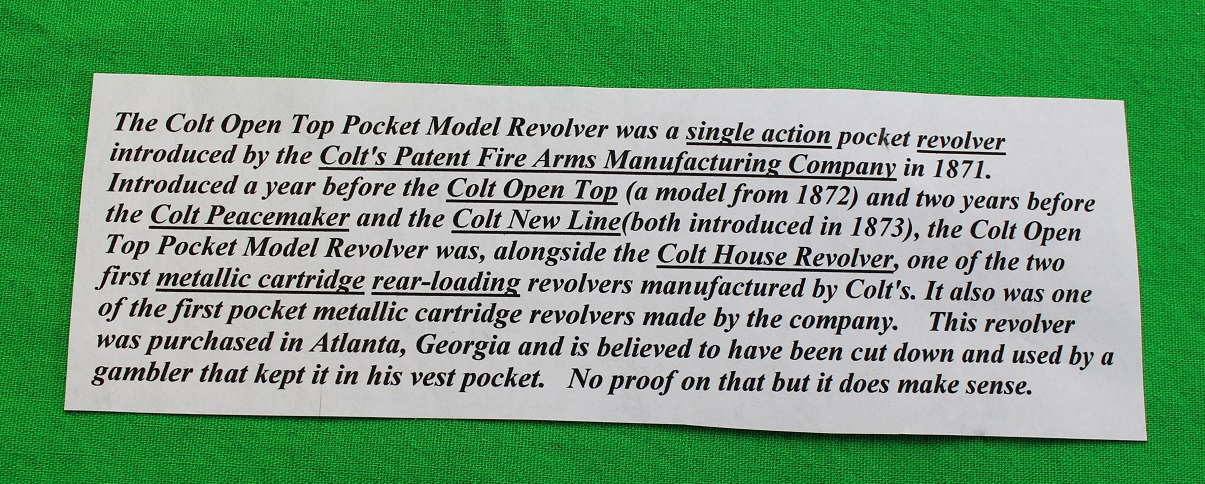 For this little Jewel $295.00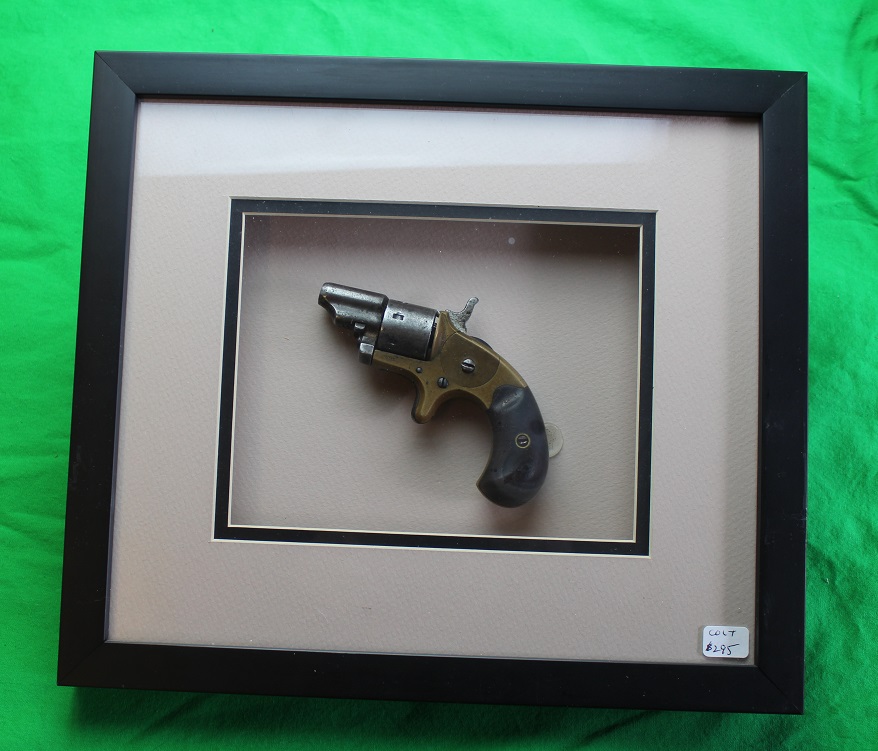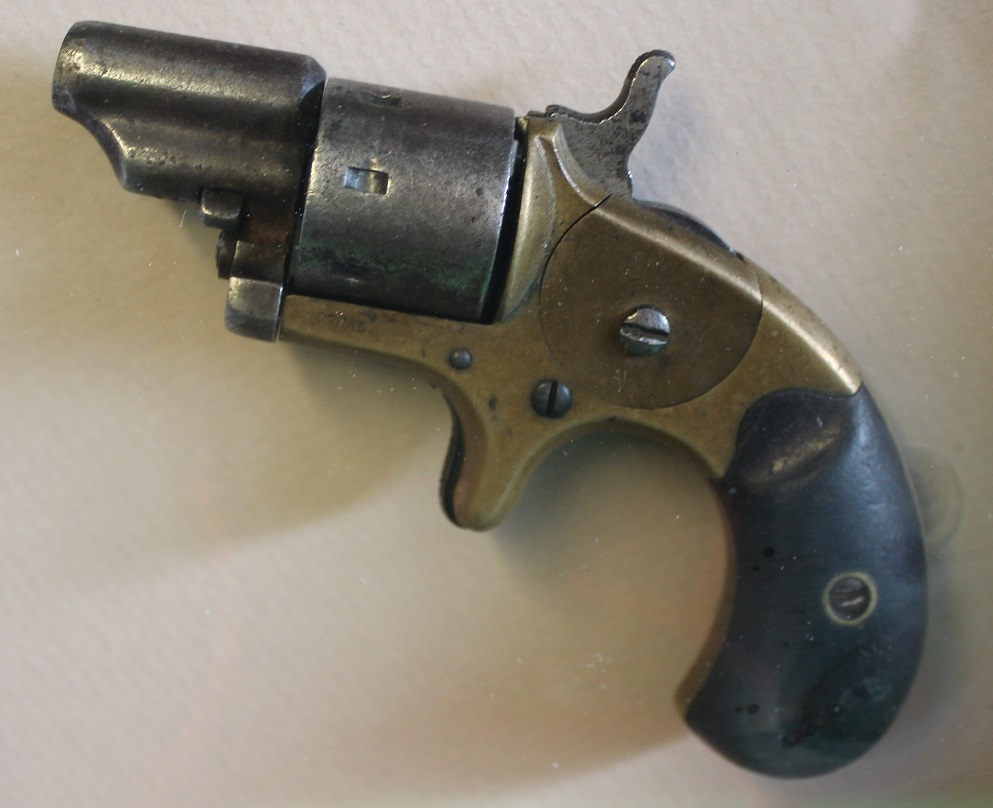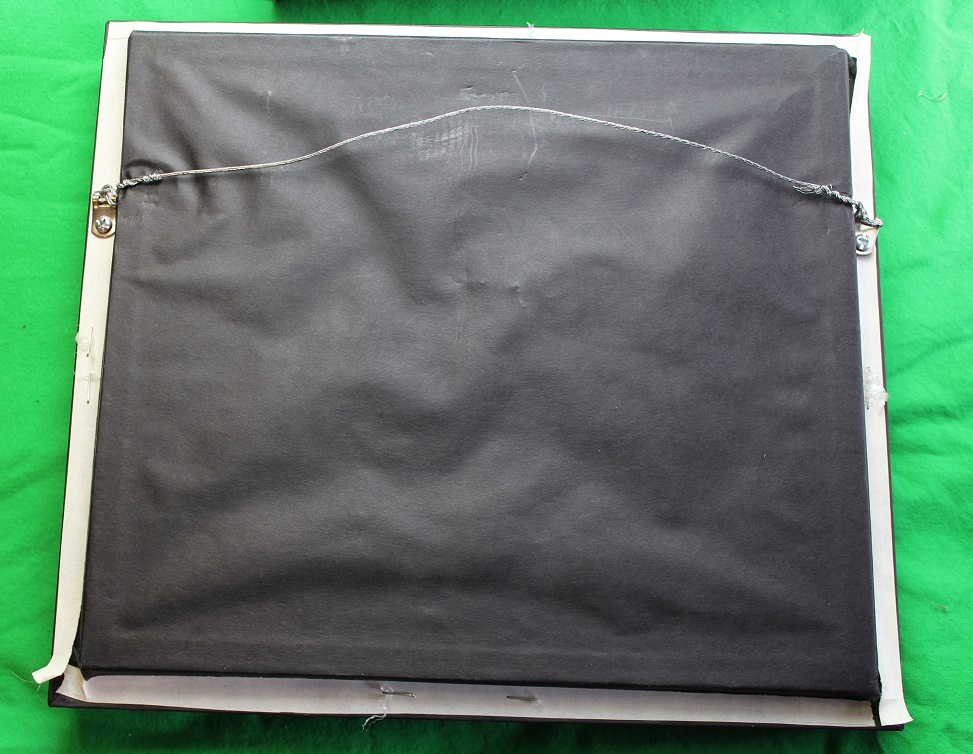 New Arrivals 11
Here we have a model 1864 Cartridge box that would be perfect for display and will not break the bank! This one has the embossed US on the front flap but you can see that a couple of slots were put it in so that a pre 1864 Cartridge Box plate could be mounted on the front. The box is in overall good condition with a couple of condition problems. The two roller buckles on the bottom are lacking and the implement tool pouch is missing. The tool pouch flap is there but the enclosure is lacking. The tins are present albeit one is missing the center divider. There is crazing to the leather, especially on the back but it looks stable now. C.S. STORMS MAKER N.Y. is stamped on each end piece. Heck, it's not perfect but it is a good example of what was used and the price is only $225.00
New Arrivals 10
Here we have a CDV of William J (T) Hahn who served with the 32nd Indiana Infantry otherwise known as the First German Rifles. Here are the stats from Civilwardata.com
William T. Hahn Residence North Vernon IN; Enlisted on 8/25/1861 as a Sergeant. On 8/25/1861 he mustered into "I" Co. IN 32nd Infantry He was Mustered Out on 9/7/1864 at Indianapolis, IN Promotions: * 2nd Lieut 1/10/1862 (As of Co. C) * 1st Lieut 9/11/1862 (As of Co. E) * Capt 5/11/1863 (As of Co. I) Intra Regimental Company Transfers: * 1/10/1862 from company I to company C * 9/11/1862 from company C to company E * 5/11/1863 from company E to company I Sources used by Historical Data Systems, Inc.: - Report of the Adjutant General of the State of Indiana (c) Historical Data Systems, Inc. @ www.civilwardata.com
32nd Regiment Indiana Volunteer Infantry was a Union Army infantry regiment during the American Civil War. It was also known as Indiana's "1st German" regiment because its members were mainly of German descent. Organized at Indianapolis, the regiment's first recruits mustered into service on August 24, 1861. From 1861 to 1865, the 32nd Indiana was attached to the first Army of the Ohio and the Army of the Cumberland, where it served in the Western Theater. The regiment's major engagements included the Battle of Rowlett's Station, the Battle of Shiloh, and Battle of Stones River during 1861 and 1862. The 32nd Indiana also participated in the Tullahoma Campaign, the Chickamauga Campaign, and the Chattanooga Campaign in 1863, and in numerous battles during the Atlanta Campaign in 1864. After its first group of three-year enlisted men mustered out at Indianapolis on September 7, 1864, the remaining troops in the regiment fought at the Battle of Jonesborough and the Battle of Lovejoy's Station. A reorganized 32nd Indiana, which included a battalion of four companies, was attached to the Department of Texas and served in Texas until its remaining men mustered out of service on December 4, 1865.
This CDV has written on the back that lists Wm. J Hahn ( The database has it as William T. Hahn but there are inconsistencies with name spellings in the database.) Millie Theobald's Father from Williamstown< KY and Captain 32nd Ind Inf First German Rifles. He was made Captain in 1864 and it looks that he has two bars on each front of his straps. The card has a crease in it but does not touch the photograph proper being just in the background. For this CDV $95.00
New Arrivals 9
U.S. Model 1898 Krag Rifle Complete Receiver by Springfield Armory. This one is serial numbered 178386. Any thing under 152670 is considered antique and anything over that has to be transfered by Federal Law. This is for the receiver and not the complete rifle. This rifle takes the 30-40 Krag round which was the first smokeless round adopted by the U.S. Government. The receiver is in very nice condition and needs the part to keep the magazine door shut. The action works fine. The markings are all nice and clear. There is about 7 inches or original barrel left and the stock has been cut off at the first barrel band. The butt plate is also original but the trigger guard is a home made affair. What's left of this piece is in very good condition and worthy to use as a restoration piece or parts. $250.00
New Arrivals 8
Here is a well worn U.S. Mills Cartridge Belt for the 45-70 Cartridge. There is room for 50 cartridges on the web belt. General Anson Mills developed this belt to be used with brass cartridges because of the chemical reaction between brass and leather and he made a fortune at it selling not only to the US Military but to other Nations Military all over the world! Anson was born about 10 miles from where I live in Thorntown, Indiana. This belt is the brown web belt and has been used much. Take a look at the pics and you can see the markings on the brass end pieces. There are no markings on the web belt itself. This is the late Indian Wars/Spanish American War belt with the last patent date of 1894. For this piece $165.00
Here we have a WW1 Magazine pouch marked APR 1917 MILLS complete with 2 Model 1911 - .45 caliber magazines (less cartridges). GI Magazines (from 1911Tuner) are marked and these magazines are marked thusly.
S=Scovill is on the toeplate of one magazine and L=MS Little is on the toeplate of the other magazine. The pouch is also marked 4519 inside the flap and C4519 on the reverse. You can see in the pics that it has a 'nip' where the flap folds over. The belt itself is a later issue and is marked with the large US on it. For the set- $95.00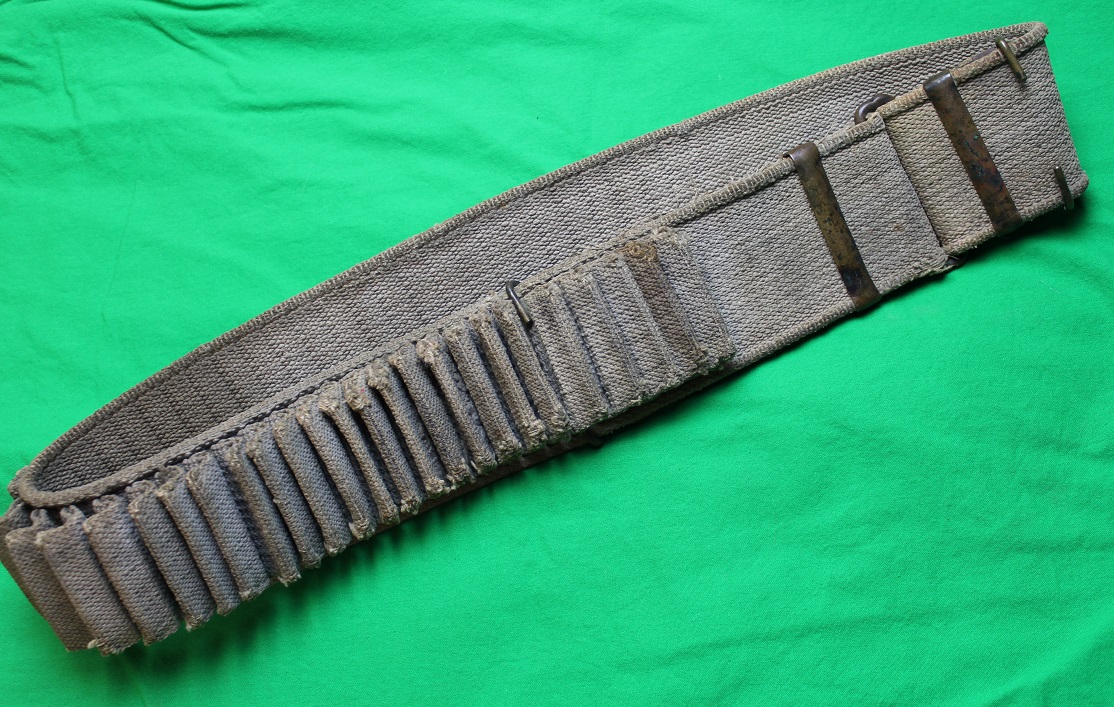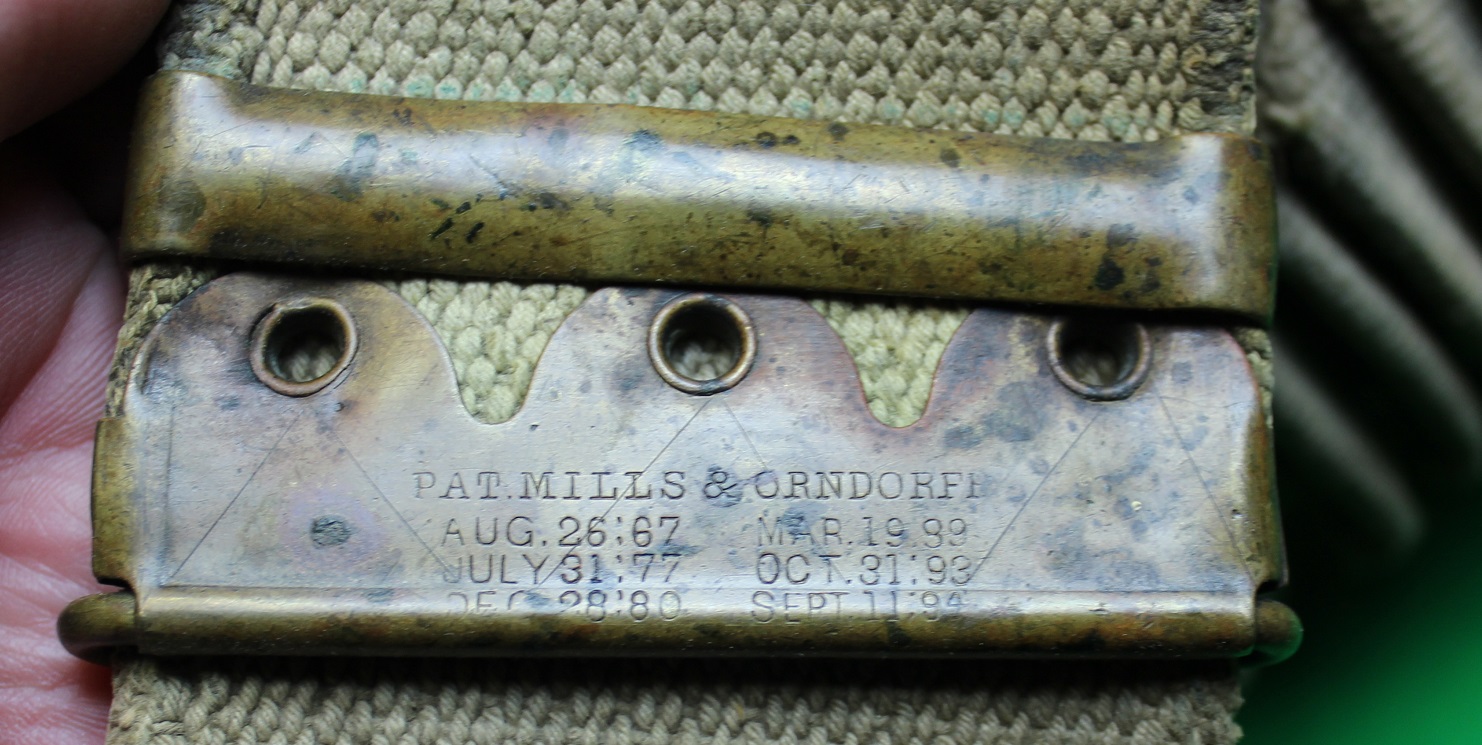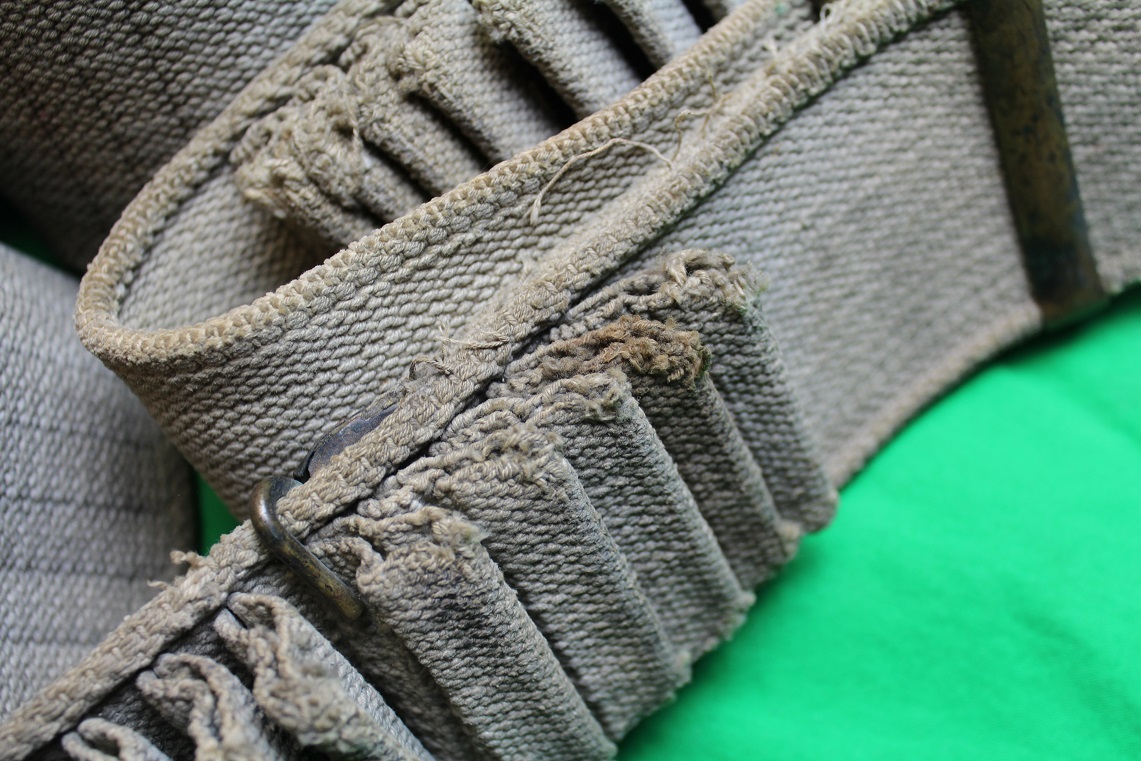 New Arrivals 7
Here we have a matched pair of ORIGINAL Model 1873 Colt Single Action Army checkered "Rampant Colt" hard rubber grips. It's has been said that the hard rubber grips were introduced in 1881-1882 and now they use the shiny hard plastic grips. This is a pair of the originals and each one has the same matching number scratched in them which was probably the serial number of the Colt Single Action Revolver that they were removed from. Also the words COLT'S HTFD, CONN. were molded into these grips on each bottom inside. The grips are in great condition with no cracks and no breaks. The screw may an original screw but the head is burgered up. For this fine set- $350.00

New Arrivals 6
Original Peters 410 GA. HIGH VELOCITY Rustless Shotgun Shell Box! This is an empty box but we do have available to us some full boxes if you are interested. This box is in excellent condition with just minor wear and a little dirt to it and the colors are still bright! Check out the pics! $65.00
New Arrivals 5
Here we have a full box of Winchester 10 GA NEW RIVAL Black Powder Shells. The graphics are pretty nice. The box has wear and age to it. These shells with the blue paper were made from 1920-1929. The shells are all in fine condition for their age! For this full box $350.00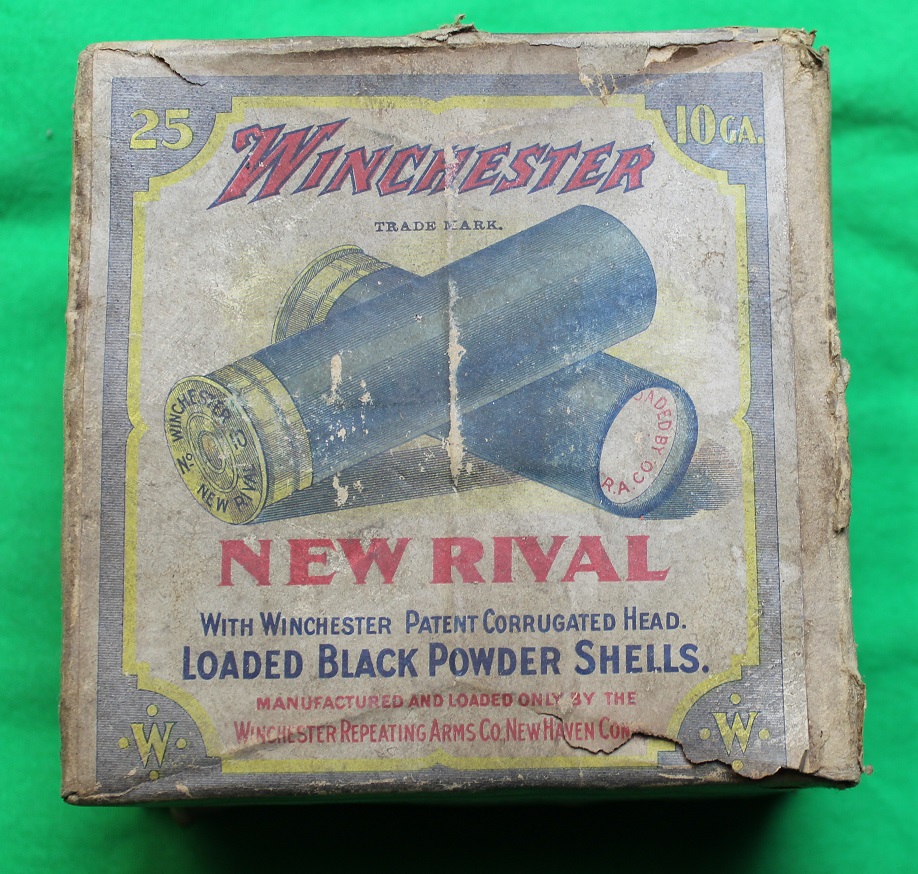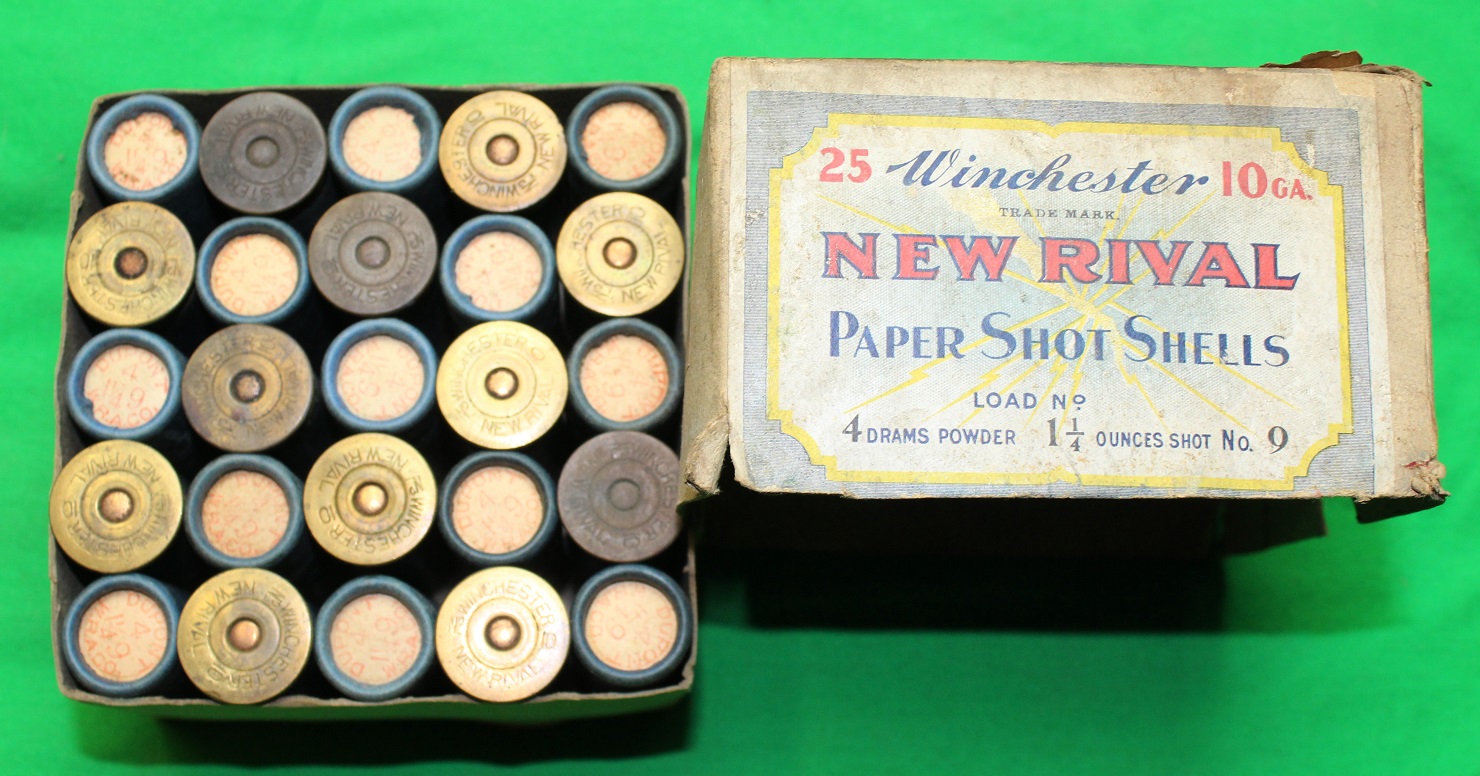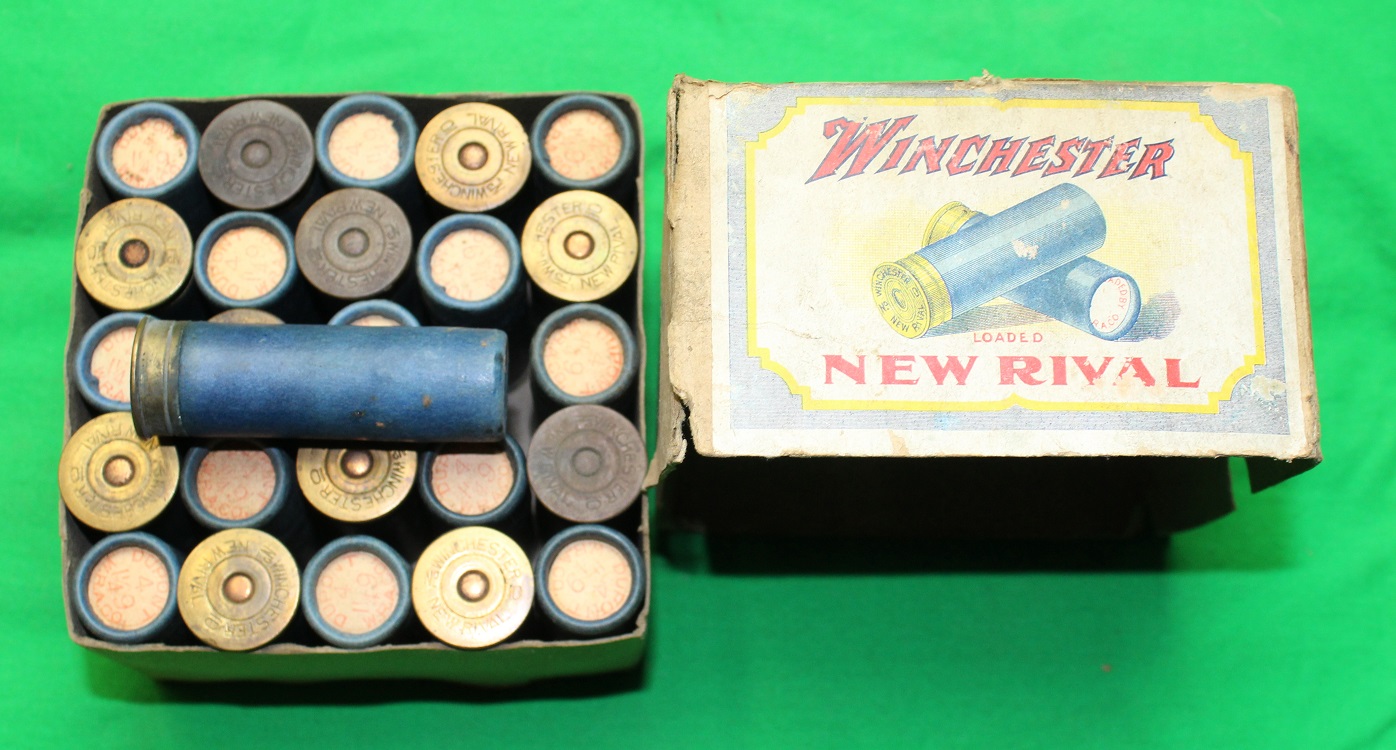 New Arrivals 4
Here we have a lot of 6 tins of Primer Cap 209 . These were made in Illinois and are made as primers for percussion firearms. This was a full sleeve that has been broken open but no primers have been opened. Each tin has 250 primers in them. $75 for the lot.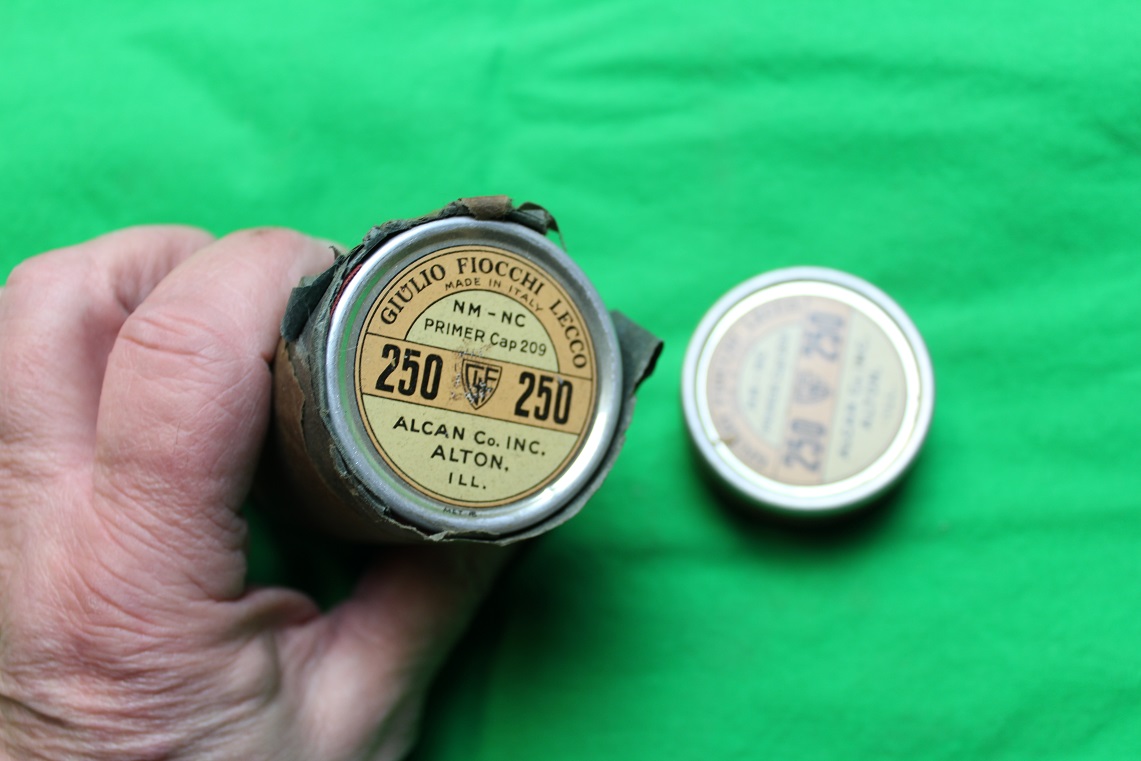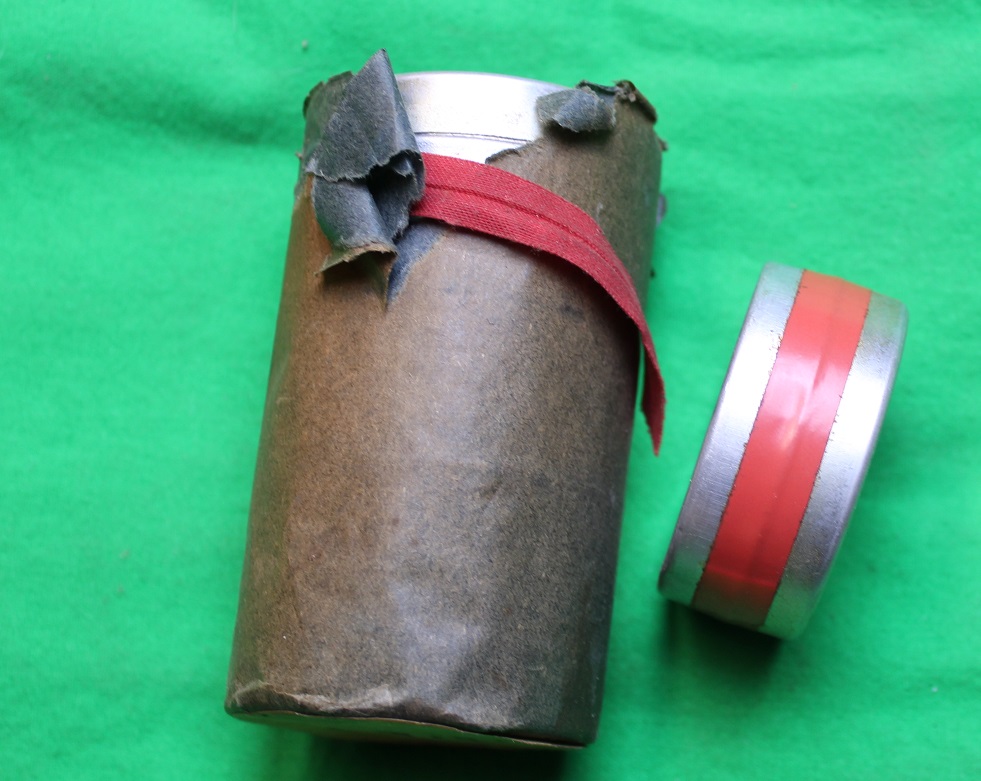 New Arrivals 3
Here we have an old vintage box of 23 STEVENS .25 RF PRIMED SHELLS without the powder or projectiles loaded in them. This box is supposed to house 50 of them but 27 are missing. The box is in good soiled condition with an nice label. For this piece $125.00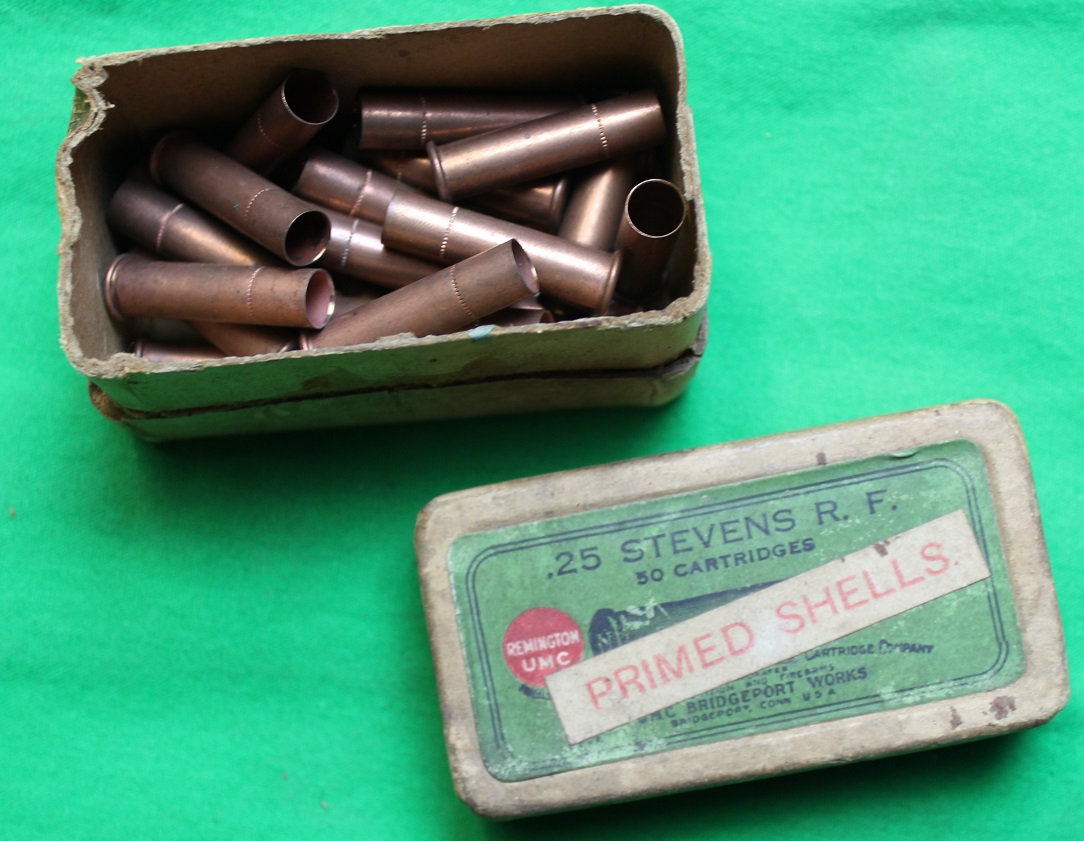 New Arrivals 2
Here we have a pretty nice old 'hammerless' double barrel shotgun marked on each side of the lock SPENCER GUN CO. My research shows that Spencer Gun Company was a tradename used by Hibbard, Spencer, Bartlett & Co., Chicago or Hibbard Spencer Bartlett Company of St. Louis,MO. It is commonly referred to as a "Trade Brand Name" shotgun. That is a shotgun made by a major maker for and sold by a wholesaler or retailer who chose the name to go on the gun. This shotgun was made by the Crescent Fire Arms Company of Norwich,CT (1892 to 1931) There was no connection to the famous Spencer Rifle Company and was probably named this to boost sales. This shotgun is 45 1/2 inches long with a set of 30 inch wire twist barrels. The barrels are in generally good condition and a scrubbing would probably make them shine but I don't think it would be safe to shoot even though it's nice and tight. There is some original bluing left on the locks and barrels but not a ton of it. The walnut stocks are in good condition with several dings to the forearm and less to the buttstock. The finial disk at the bottom of the pistol grip is missing but replacements are probably easy to find. It may not be for this shotgun but I'm sure one can be acqired. The forearm and buttstock have some checkering on them. Also, the original butt plate is present being hard rubber with a large squirrel on it. Overall a very nice looking shotgun that would look nice over the fireplace along with a couple of duck decoys! We are sure that this one was made prior to 1898 with the 4 digit serial number so no transfer necessary. For this piece $225.00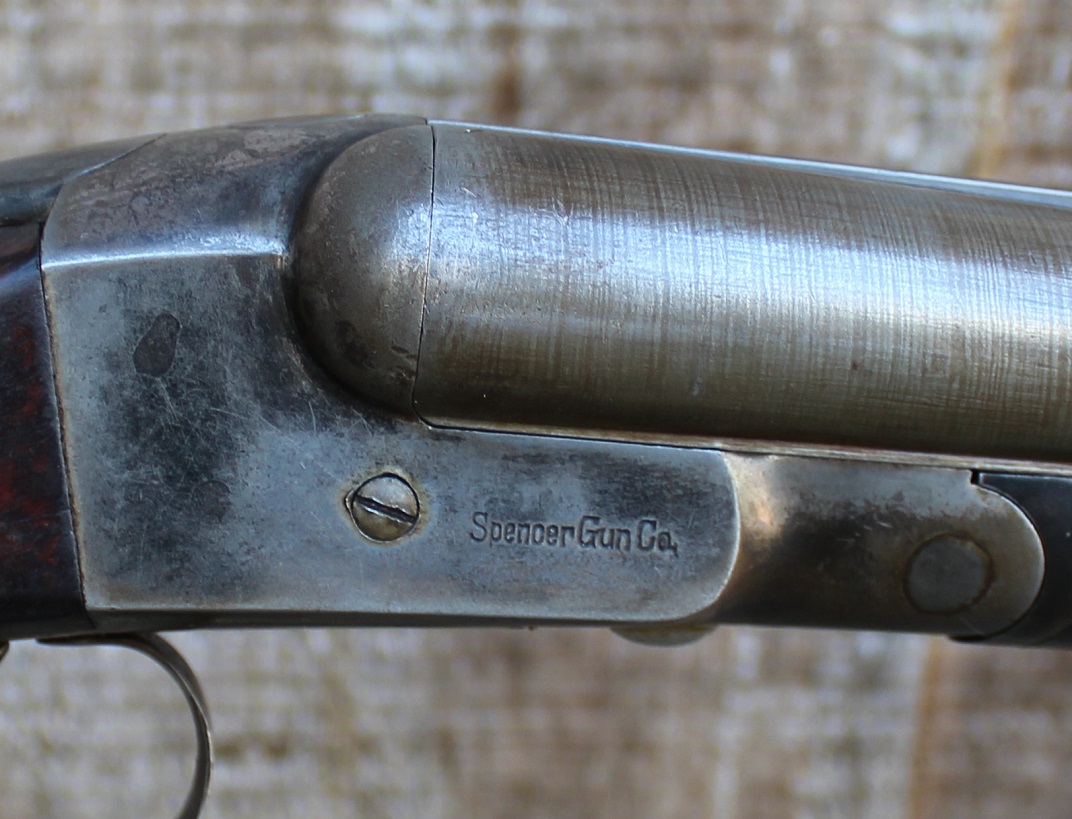 New Arrivals! Consignment 1
Middle Eastern Arab Flintlock Pistol! This old war horse is about 60 caliber smoothbore. The barrel is 10 3/8 inches long with various designs and proof marks on it. The entire piece is about 17 inches long and has brass, highly engraved, furniture that has been cleaned at some point. The wood is some kind of hardwood that also has carvings/designs embossed/carved into it. The ramrod is a faux ramrod, just carved into it to give it the appearance of a ramrod along with brass ferrels. The hardwood stock is in generally good condition for an 18th century piece but is missing a sliver of wood on the fore stock to about 4 inches back that you can see in the pics. There is also a sliver of wood missing at the bottom of the lock plate. With that sliver missing you can view inside the lock plate cavity. The lock doesn't work so I'm sure the mainspring is missing and when I look inside the cavity I can see the tumbler but nothing else. The outside of the lock is complete and the frizzen works fine with a strong spring. With the exception of the two places mentioned as to damage on that stock that's it except for the usual minor dings but no cracks or breaks. A great display piece at a reasonable price of $395.00 Take a look at the pics!!!
WE'RE ALWAYS LOOKING FOR PIECES LIKE THIS!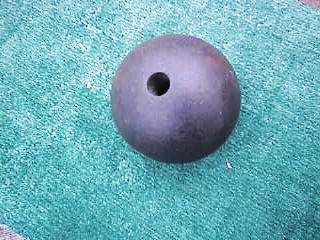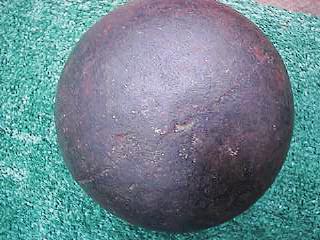 and This !!!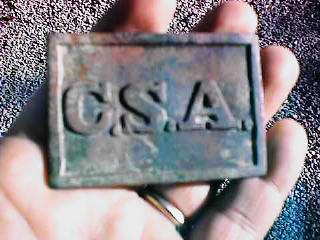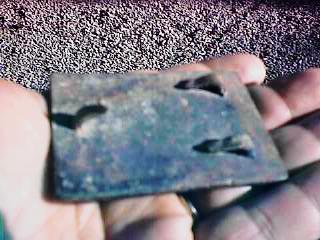 2h parlor gun 9.jpg">
WE'RE ALWAYS LOOKING FOR PIECES LIKE THIS!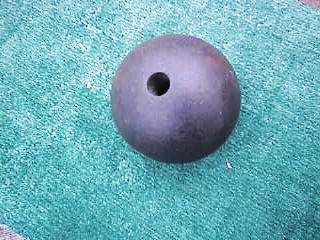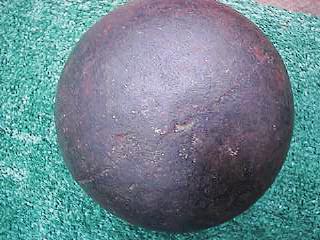 and This !!!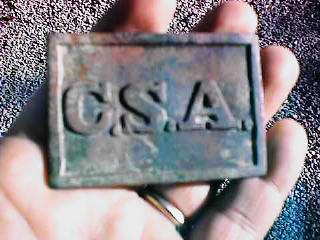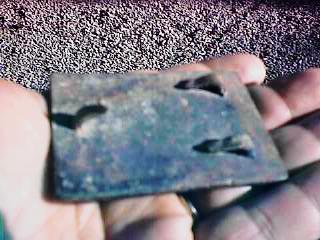 2