THANKS FOR LOOKING !!! TED & SALLIE
NOTE!
THESE NEXT SEVERAL FIREARMS WERE ACQUIRED FROM THE NOW DE-AQUISITIONED BODIE MUSEUM THAT WAS IN VIRGINIA CITY, MONTANA IN 1969. THESE FIREARMS WERE PURCHASED BY AN OLD TIME RODEO BRONK BUSTIN' COWBOY ALONG WITH EVERYTHING ELSE IN THE MUSEUM. THIS GENTLEMAN WAS ALSO A FANTASTIC ARTIST FOR MANY YEARS HAVING DONE ART WORK FOR JOHN WAYNE, RED SKELTON AND THE GOVERNOR OF MONTANA , AMONG OTHERS. THEY HAVE COMMISSIONED ME TO SELL THESE FIREARMS FOR THEM. THERE'S SOME GREAT FIREARMS HERE! TAKE A LOOK!
NEW ARRIVALS! We just got in 3 Winchester Carbines that were made in the first half of the 20th century.
This first Winchester is a Winchester '94 carbine that was made in 1940 and is still in good overall condition. The barrel and loading tube still have most of the original bluing on it. The markings are all fine on the barrel and the barrel is marked 'PROOF STEEL'. The wood stocks are in good condition and have hand checkering on them. This hand checkering was not done in the factory but probably by the original owner of the carbine. It's kind of crude but lends great character! The forearm has a crack in the front that you can see in the pics and is missing the band screw. The band screw is needed to keep the forearm in place The caliber of this firearm is marked 30 W.C.F. which is in fact a 30-30, probably the most popular old Cowboy Winchester! The bore is great! The action is perfect! The receiver is mostly in the white while the loading lever is mostly in the blue. This firearm has a steel crescent butt plate. Great old Western Gun from Montana! No history other than it came from the museum. $795.00
Second one!
This second Winchester 94 is also in 30 W.C.F. (30-30) and is in pretty nice condition! This carbine was made sometime from 1943 to 1948 because no records exist from that time! This one has had a rubber pad put on the butt stock and has had a leather sling added. This one retains most of the original bluing and the wood is in good condition as well. Action is great and the bore is great as well! This is a really pretty one. It's not perfect but it's pretty! All original except the butt pad and you can tell that it's been there for ever! $950.00
Third one!
Here is the last '94 Winchester and it's in pretty good condition as well. There are a couple of spots of corrosion on the receiver that probably happened while being used outside and getting a couple of spots of rust. Heck, cowboys carried these in the rain, dust storms, drought and whatever so it's not unusual to have some finish problems, otherwise most bluing is still here. This carbine is in 32 W.S and the bore is also sweet on this one. This carbine functions as it should and will be a great shooter for you. The markings are clear and sharp and 'PROOF STEEL' is also on the barrel of this one. This carbine was made in 1949. The stocks are in great condition with a ding here and there but no breaks or cracks that I can see. This one has had a nylon strap and plastic swivels put on it at some point. We're not sure when that happened. Also there is a rubber butt pad on this one as well. For this nice carbine $795.00
New Arrivals Consignment 399
Here we have a wonderful little 16 gauge double barrel shotgun. This is a F. Schilling 16 gauge double barrel break open sidelock Shotgun, external hammers, marked "F. SCHILLING COBURG" on top of solid rib with silver inlay with gold and silver inlay there as well; late 1800's somewhere around 1893 by my research. This shotgun is very high quality manufacture with highly ornate engraving most everywhere, including screws. Damascus barrels 31 3/8" long, forcing cones tapered/lengthened, chambers standard 16 gauge shells. The proof marks on the barrels and frame are a Crown over a V which indicates English made. Tubes are straight and smooth for most of their length no dings apparent. Exterior overall barrels have nice brown patina, and the fine old world craftsmanship in the extensive engraving and inlays is apparent on sidelocks and breech/frame. The Walnut stock is very nice with a few dings from use. The forearm has some chips to the edges and a couple of non displaced cracks. The sidelock is made of horn and someone lightly scratched their social security number onto the plate above it. The ornate trigger guard terminates at the rear into a horn finger piece. Both sling swivels are present. This is a beautiful, great piece! $1495.00 . Check out the pics!
New Arrivals Consignment 398
New Arrivals Consignment 398
Here we have a very unusual Shotgun dated 1861 from Spain! This Shotgun was a de acquisition from a Montana Museum. This Shotgun was a gift to the museum in 1937 from the W.A.Clarke Collection who was associated with Butte, Montana at one time. The collection was donated to the museum by his family. William A. Clark was a 'Copper King' who was worth, reputedly, some $50 Million dollars with a mining empire that stretched from Montana to Nevade and Arizona. Clark was notorious not only for his dominance in the mining field but also for purchasing a U.S. Senate seat. William Andrews Clark was born in poverty in Pennsylvania in 1839 to Scotch-Irish parents. When he was just 17, the family traveled to Iowa as homesteaders. Clark made up his mind early in life that he disliked poverty. By 1895, when he moved to New York, he had amassed one of the largest fortunes in the country, controlling silver and copper mines, operating railroads, and being elected to the Montana Senate. His reputation, however, was one of deceit, unscrupulous dealings, bribery and cut-throat schemes. Mark Twain wrote of him, "He is as rotten a human being as can be found anywhere under the flag; he is a shame to the American nation, and no one has helped to send him to the Senate who did not know that his proper place was the penitentiary, with a ball and chain on his legs. To my mind he is the most disgusting creature that the republic has produced since Tweed's time." Quite a Character! At the age of 86 William A. Clark died in his bedroom on March 25, 1925, one of the 50 richest men in America.
Now to this fine shotgun! This is a 12 gauge percussion shotgun being custom made by De-Cindas of Madrid Spain. The barrel is silver enlayed with EIBAR 1861 and PEDRO MARIA AQIIRRE E. HYO. This firearm was a wedding gift to the groom who enjoyed duck hunting! The action works well and the custom stock is without damage. The metal parts are all fantastic with a great deal of hand engraving. The barrel band is silver and shows a hunting dog on one side and a hunting dog chasing a boar on the other side. This firearm is definitely one of a kind! The gun is 50 inches long overall with an approximately 35 ½ inch long barrel. The stock is dark with quite a unique shape to it. The barrel has engravings and inlays in depth on it. The end of the barrel is decorated with what looks like gold wash or inlay. The ramrod mount is silver. The ramrod is original and a dark hardwood. A few minor pieces of silver inlay has popped out but it's still a gorgeous gun! $4995.00 Check out the pics!!!
New Arrivals Consignment 397
Here we have a beautiful target/parlor rifle in the tradition of the Scheutzen Rifle! This type of rifle is called "ZIMMERSTUTZEN" which Refers to a single shot target rifle in rimfire caliber usually used indoors on a 50 foot range. Most Zimmerstutzens were either manufactured in Germany or Austria pre-WWII. The Zimmerstutzen was the ancestor of the ten meter target rifle, and its German history dates back to at least 1840. The rough English translation of the word is "Parlor Rifle." The most common Zimmerstutzen caliber is 4mm, but there have been over 25 calibers noted that range from 4mm to 5.55mm. (this rifle is 5.55mm, or .22 caliber). Both fixed (standard rimfire cartridge as this one is) and separate (percussion cap and separate lead ball) ammunition have been used during the course of its manufacture. This Zimmerstutzen was built to fire a fixed round that looks like a tiny BB cap, kind of like an American CB .22 cap. The fixed round -- where both case and ball are one piece -- is considered ammunition by BATF; and the guns that use it are, therefore, considered to be firearms in the US.
This particular rifle is in excellent condition and looks absolutely beautiful! It's a very heavy piece and very ornate. The buttplate is in the tradition of the Schutzen rifle as well as the buttstock with it's cheek rests and thumb rest. Beautiful checkering remains on the buttstock. There is a ding here and there from use but not bad at all. The action is a drop block where the block drops straight down when the loading lever is pushed downward. The bore of the cartridge that this rifle uses extends as a sleeve up the barrel for about 10 inches or so and is rifled in excellent mirror finish. The rest of the hex barrel is not used for the firing of this firearm. This target rifle has a set trigger and when it's set the main trigger is a hair trigger. Case colors still are present on the receiver and on the hammer block. The rear sight is a very nice large dish peep sight and there is only a simple small post sight up front between slanted uprights. The barrel is in the brown as it should be and is marked GEORG PFLAUMER (Maker, as we have seen other firearms with this name on it) on one side and NEUSTADT A/AISCH (Town in Germany) on the other side. Very nice piece! Look at the pics! $2495.00
New Arrivals Consignment 396
Here we have an excellent Model 1866 Allin No. 2 Conversion of a Civil War .58 Caliber rifle dated 1864. Thanks to Wikipedia I have the following information:
The Springfield Model 1866 was the second iteration of the Allin-designed trapdoor breech-loading mechanism. Originally developed as a means of converting rifled muskets to breechloaders, the Allin modification ultimately became the basis for the definitive Model 1873, the first breech-loading rifle adopted by the United States War Department for manufacture and widespread issue to U.S. troops. The Model 1866 corrected problems encountered with the prototypical Model 1865, in particular a simplified and improved extractor and a superior .50 caliber centerfire cartridge (the Model 1865 used a .58 caliber rimfire cartridge with mediocre ballistics), among many other less significant changes. It employed a robust version of the "trapdoor" breechblock design originated by Erskine S. Allin, Master Armorer of the Springfield Armory. Approximately 25,000 .58 caliber Springfield Model 1863 rifled muskets were converted by Springfield Armory for use by U.S. troops, the barrels being relined and rifled to .50 caliber and the trapdoor breech system affixed. The rifle was chambered for the powerful centerfire .50-70 Government cartridge (.50 caliber 450-grain (29 g) bullet; 70 grains (4.5 g) of black powder). Though a significant improvement over the extractor of the Model 1865 Springfield Rifle, the Model 1866 extractor was still excessively complicated and the extractor spring somewhat prone to breakage. However, it is a misconception that a broken extractor disabled the weapon. In the official 1867 government user booklet "Description and Rules for the Management of the Springfield Breech-Loading Rifle Musket, Model 1866", the following is stated regarding a broken extractor and/or ejector: "It should be understood that the ejector and friction springs are convenient rather than necessary, and that the piece is not necessarily disabled if one or both of them should break, for the shell can be easily removed by the fingers after being loosened by the extractor hook." Furthermore, the "ramrod" of the rifle can be used quite effectively to remove a stuck case in an emergency. Thus it is clear that this weapon is not as easily disabled as is sometimes believed. The Model 1866 was issued to U.S. troops in 1867, and was a major factor in the Wagon Box Fight and the Hayfield Fight, along the Bozeman Trail in 1867. The rapid rate of fire which could be achieved disrupted the tactics of attacking Sioux and Cheyenne forces, who had faced muzzle-loading rifles during the Fetterman massacre only a few months before. The new rifles contributed decisively to the survival and success of severely outnumbered U.S. troops in these engagements.
This particular rifle is in unissued condition. I was told by the owner that the information received when he purchased it was that there was a wood chip missing from the buttstock at the buttplate and because of that this weapon was rejected by the military for use. The color of the chip damage and the color of the rest of the stock matches perfectly indication that this piece was lost a long time ago and is not a recent break. The wood stock has a minor bruise here and there and a couple of minor scratches from storage but the wood has no wear at all and the cartouche also is very sharp with no wear at all as well. The barrel, bands , slings, buttplate and triggerguard are in the white. The original case hardening on the lock is weak and the original black quenching on the trapdoor is also somewhat weak from age. Inside the trapdoor you can see alot of original black. The action works excellent and the bore is excellent as well. The original ramrod is present and still has the threads. This is an outstanding example of a short lived conversion rifle! $3795.00
New Arrivals Consignment 395
Here we have a very nice single shot Model 1842 Military Pistol by Aston in Showcase!
The US Model 1842 Pistol as produced by the firms of Henry Aston and Ira N Johnson represented both the beginning and the end of an era in US military handguns. This series of pistols were the last of the large bore, single shot, smooth bore pistols to be issued in any quantity and would essentially be replaced by the various multi-shot percussion revolvers that the government would begin to purchase during the 1850's and would continue to procure through the end of the Civil War era. It was also the first official percussion ignition pistol to be adopted by the US military. The Johnson and Aston produced 40,000 of these single-shot pistols ,not counting the "Palmetto Armory" production, with Aston producing some 30,000 of the guns. The M-1842 fired a .54 caliber round ball from an 8.5" smooth bore barrel, using the same ball as the M-1841 Mississippi Rifle. The 14" long pistol was the general service pistol of the time for the US military and saw use with the infantry, cavalry, dragoons, artillery and navy. Like previous single shot military pistols used by the US, this one had a large bulbous, metal-capped, butt that was designed to allow the pistol to be used as a club after discharging it. The end result is that cracked and damaged stocks are quite commonly encountered on these pistols.
This pistol is in EXCELLENT condition, with fantastic markings that are clear and sharp. The lock is clearly marked: MIDDTN / CONN / 1851 in three vertical lines behind the hammer and US / H ASTON & CO in two lines horizontally forward of the hammer. The tang of the pistol is dated with the matching 1851 date, and the breech is very clearly marked: US / GW / P in three lines. The barrel flat is also clearly marked with a small JH inspectors mark. Also on this pistol are the initials MS which indicates that after Military use by the US forces this particular pistol was re-issued to Massachuttes Militia. The bore in this 8 1/2" round barrel is a smooth bore and shows some pitting but not bad at all for this type pistol. The metal is in very nice condition with the arsenal bright barrel. The lock and hammer show signs of old color and the trigger is blued. The front sight is a simple brass blade front sight. The hammer screw is a brass replacement instead of the steel original. I believe the screw to be quite old but is not original to the gun. The brass has a nice mellow color and may have been slightly cleaned by handling over the years. This particular weapon weighs 2 lbs, 9 ozs. The lock works perfectly and the nipple, although full of grease, is original and in great shape. I do not believe that this pistol was used much and is the nicest one that I have seen. There are dings on this weapon in the stock which is normal and a couple of cracks in the stock from the top lock plate body screw on the reverse side to the barrel being about 1 inch long for one crack and about 1/4 inch long for the other. The 2 stock cartouches are the best I have ever seen and there is a large GWW stamped there as well. That could be from the Massachuttes Militia inspector but I do not know for sure. You would have to go some to see a better example! This is a bargain at $1500.00 !! Where you gonna find a better one!
New Arrivals Consignment 394
Here we have another example of a single shot Model 1842 Military Pistol by Aston in Showcase!
This example is not as nice as the one above but has shown real use! This particular pistol has pitting and wear which I like to call Character!!! The barrel is externally pitted but some of these weapons were used by the Navy and show such wear. I cannot see any Navy markings on the piece but who knows. This weapon shows that it has been fired quite a bit a witnessed by the pitting on the breech of the barrel which would have been caused by the corrosive black powder. The nipple has been replaced and since then doesn't look like it was used. The barrel markings are all but gone but I can still see what looks like a 'WN' stamped on the barrel on the reverse. I cannot see a barrel date on the tang due to the black powder pitting. This barrel has a good smoothbore with some pitting but not overwhelming. The lockplate functions very well and is marked MIDDLETON, CONN over 1851 at the tail of the plate and in front of the hammer is US over ASTON & CO. These marks are still very visible. The hammer is a nice dark patina and has the correct original hammer screw. The captured ramrod is complete and functions as it should. The brass parts are real nice, having been cleaned sometime in their past. It's not a brilliant brightness and is turning mellow. You can see an inspectors mark here and there on this piece. The walnut stock is in generally good condition with a crack here and there that you can see in the pics. Overall it's a very nice example that actually saw hard use! Take a look at the pics! $850.00
New Arrivals Consignment 393
Here we have a Model 1860 Army Revolver in .44 caliber. The serial number indicates that it was made in 1863. The Colt 1860 Army uses the same size frame as the .36 caliber 1851 Navy Revolver. The frame is relieved to allow the use of a rebated cylinder that enables the Army to be chambered in .44 caliber. The barrel on the 1860 Army has a forcing cone that is visibly shorter than that of the 1851 Navy, allowing the Army revolver to have a longer cylinder. Another distinguishing feature of the Colt 1860 Army, first introduced on the Colt 1855 Sidehammer Revolver, is the "creeping" loading lever. More than 200,000 were manufactured from 1860 through 1873. Colt's biggest customer was the US Government with no less than 129,730 units being purchased and issued to the troops. The weapon was a single-action, six-shot weapon accurate up to 75 to 100 yards, where the fixed sights were typically set when manufactured. The rear sight was a notch in the hammer, only usable when the revolver was fully cocked. The Colt .44-caliber "Army" Model was the most widely used revolver of the Civil War. It had a six-shot, rotating cylinder, and fired a 0.454-inch-diameter (11.5 mm) round spherical lead ball, or a conical-tipped bullet, typically propelled by a 30-grain charge of black powder, which was ignited by a small copper percussion cap that contained a volatile charge of fulminate of mercury (a substance that explodes upon being subjected to a sharp impact). The percussion cap, when struck by the hammer, ignited the powder charge. When fired, balls had a muzzle velocity of about 900 feet per second (274 meters/second), although this depended on how much powder it was loaded with.
This particular weapon has seen plenty of use as indicated by the wear and still functions quite excellent. There is no original color left, except on the loading lever and hammer, but the metal surfaces have turned a pleasant medium patina. There is no cylinder scene left as well as no serial number on the cylinder however the patina matches the frame quite well so I'm sure it's original to this particular firearm. The nipples are still in quite good condition. The barrel address is 'ADDRESS COL. SAML COLT NEW-YORK U.S. AMERICA' and still quite strong. The serial numbers all match except the wedge which is probably a replacement. COLTS PATENT that is on the frame has some pitting over it and makes it somewhat obscure. The brass trigger guard has a nice pleasing mellow patina and I can see an inspectors intial on it as well as the serial number. The stamp '44 cal.' has worn off. There are some dings and dents on the metal from use but , heck, this piece was used! The backstrap is iron and has an inspectors initial on it as well as the serial number. This particular Colt was cut to use a stock on if you so wanted to. There is a little pitting on it but not bad. The bore still shows strong rifling and some black powder corrosion. There are figures on the walnut handgrip of what I think is 7B but I must admit I do not know the meaning. The closest serial number that I found to this one which is 122590 was 122570 which was issued to a member of the 5th Kansas Cavalry. All in all this is a very good example of a hard used Colt Model 1860 Revolver! Take a look at the pics. $1650.00
New Arrivals Consignment 392
Here's a great display case for 3 Smith & Wesson Revolvers!!!
New Arrivals Consignment 391
Here we have a Sharps New Model 1863 Civil War Carbine!
The most famous, single-shot, percussion firearm used during the Civil War was the Sharps carbine, a .52 caliber, breechloading firearm invented and patented by Hartford, Connecticut native Christian Sharps. Presented here is a very good specimen of the New Model 1863 Sharp's carbine that features serial # 49799. I did not find this particular serial number listed on line but I did find one with the serial number of # 49797 that was issued to Company H of the 1st NY Cavalry. This Carbine has a 21½" long round barrel and a 'straight-breech' type lockplate fitted to its walnut stock and forend. Barrel address is worn but still readable with"SHARPS RIFLE / MANUFG CO. / HARTFORD, CONN" in front of rear sight. "NEW MODEL 1863" stamped to rear of sight. Stock and forend appear never to have been cleaned but may have been lightly coated. I cannot see the inspector cartouches at the sling bar area so probably worn off . The stock has dings and gouges from use and a crack or two but no breaks. The reverse lock has the patent date on it but partially worn. The obverse lock markings of "C SHARPS PAT OCT. 5TH, 1852" is strong. Lock screws are original and in good condition. Metal surface of the carbine appear a mottled gray as does the butt plate with some darker patina, especially on the buttplate which has been cut for the patchbox which is normal but there was no patchbox on this carbine which also was normal. No trace of original colors present. Maker markings and patent designations are mostly clear. Serial number sharp and strongly stamped unto the upper plate tang. Breechblock operating lever mechanics are crisp. Iron bar tight and has its iron ring. Bore with its six-groove rifling is somewhat bright with moderate pitting. There is the initials WT carved into the stock and more research is taking place. There are 8 possibilities for these initials if this carbine belonged to a member of the 1st New York Cavalry. I have the list thanks go a good friend of mine Take a look at the pics! $2750.00
END OF THE MUSEUM ACQUISITIONS!
New Arrivals 390b
SOLD!!!
Here we have a real nice Beretta 92G 9MM pistol with 2 magazines in hard case. This is an excellent pistol! The Beretta 92G pistol is a de-cock only version of the 92FS Tactical and Military Pistol. The G models (designed for the French "Gendarmerie Nationale") were adopted by the French Military as PAMAS; they feature a manual de-cocking lever only instead of the safety-de-cocking lever of the 92 FS. When the de-cocking lever is released, it automatically returns to the ready-to-fire position. There is no manual safety.
This pistol is in excellent condition with only a couple of small imperfections in the finish which are minor. Has nice night sights. The piece functions flawlessly and comes in a hard case with 2 magazines, a 10 round and a 15 round magazine. The bore is excellent and I do not believe that this fine pistol has seen much use. For this piece SOLD!!!
New Arrivals 390
Here we have a pair of very crude sand or dirt cast lead knuckles.
Metal ring and knuckle style weapons date back to ancient times and have been used all over the world for many hundreds of years. The Nihang Sikhs used an early variant called Sher Panja in the 18th century. Cast iron, brass, lead, and wood knuckles were made in the United States during the Civil War . Soldiers would often buy cast iron or brass knuckles from blacksmiths and sutlers and if they could not buy them, they would carve their own from wood, or cast them at camp by melting lead bullets and using a mold in the dirt as this pair looks to have been made.
The palm piece either was not refinely finished or was broken off and this pair of cast lead knuckles were discarded. It would be very uncomfortable to use these as they would simply tear up your palm. The finger holes are quite small as were the men generally during the Civil War and before. The finger holes seem to have been reamed out after the knuckles were cast. These knuckles weight about 11 1/2 ounces. Take a look at the pics! Unique and definitely one of a king! $95.00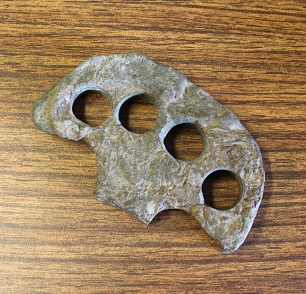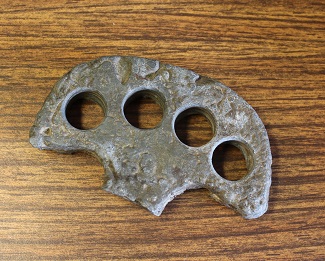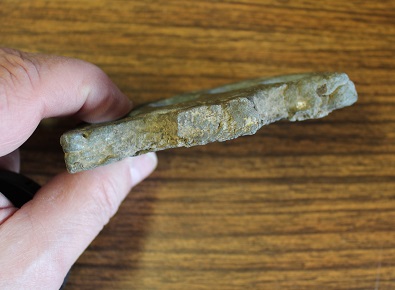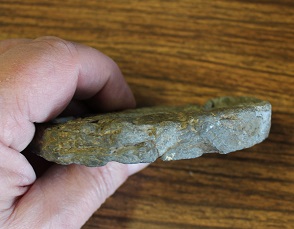 New Arrivals X4 389. Consignment
The next 4 Civil War Rifles/Muskets are mostly parts guns or can be restored if you have skills. These look to have been converted to shotguns. Some say that some of these Military Arms were converted to shotguns during the Civil War as Forage weapons but I believe that most were converted after the war to shotguns so that the general public could use the thousands of obsolete muskets that were left over from the war. The first one is:
1. Here is a Model 1842 Musket marked on the lock Springfield 1852 behind the hammer and has the Eagle over US forward of the hammer. The lock works perfectly and looks great!!! This musket has been cut down to be a shotgun and has the bead on the front of the barrel. The original 42 inch barrel is smooth bore and is now 33 1/4 inch long and the original ramrod has been cut down to match the barrel. The barrel had been converted from flintlock to the Bolster type percussion conversion. You can see VP on the opposite side faintly in the barrel. The stock has been cut off just forward the rear barel band and that band is original. There is no retaining spring. The orignal trigger guard is present and in great condition. This piece also has the original butt plate. The stock has been completely fractured at the wrist and lovingly had a steel bar place into the stock for strength. This was either done to same his beloved gun or just for neccesity's sake. It appears that this musket had seen considerable use but there is little burn out behind the nipple. The nipple has been battered some but is still there. This parts gun has a lock that's worth what we are asking for the entire piece. $350.00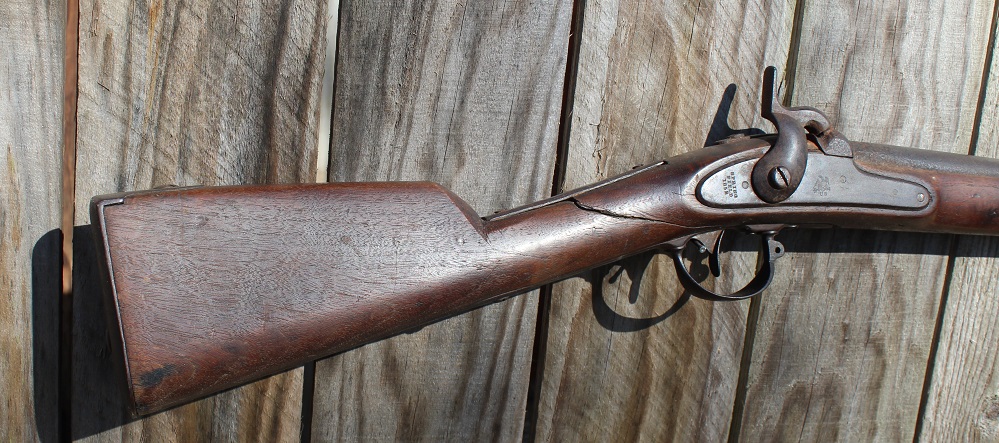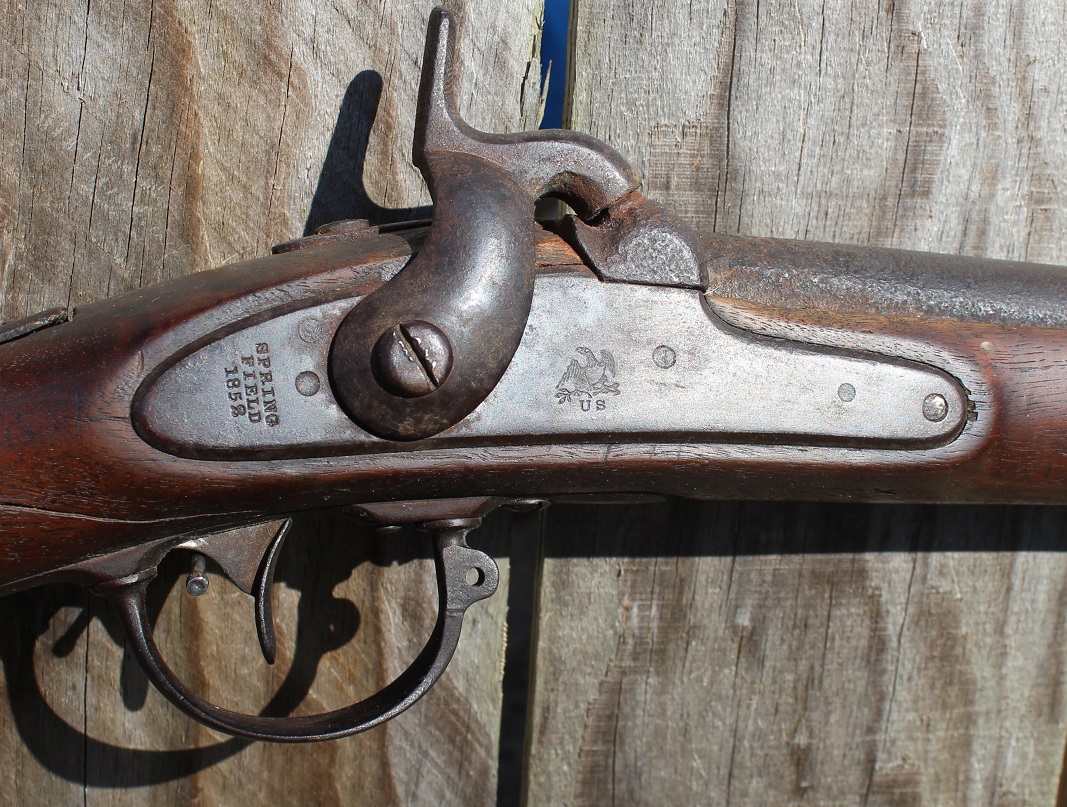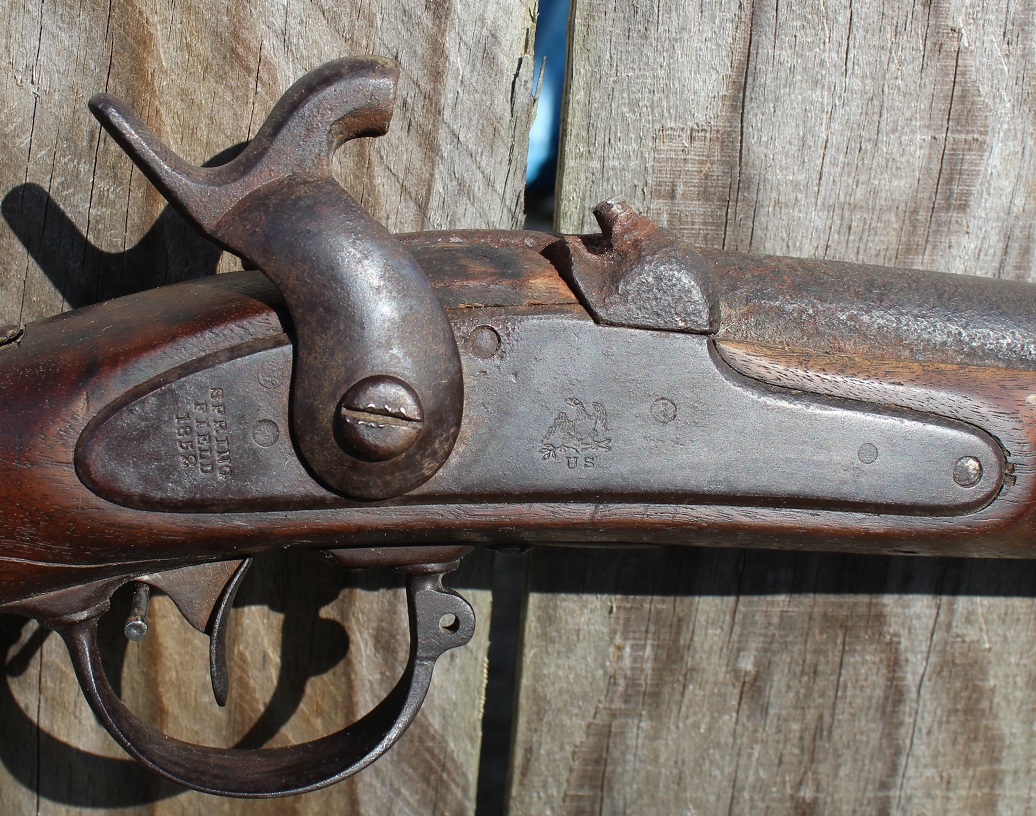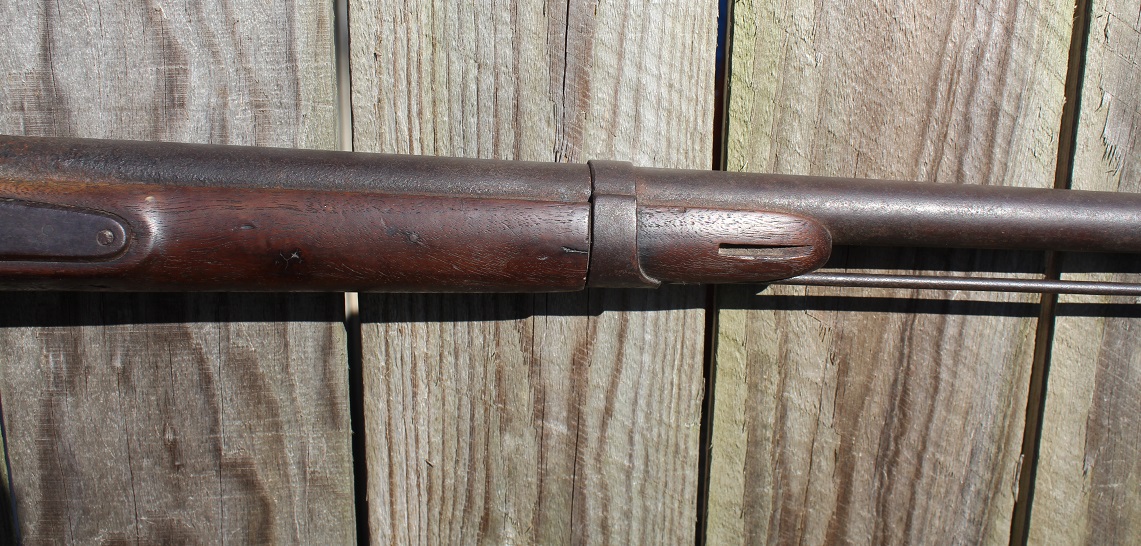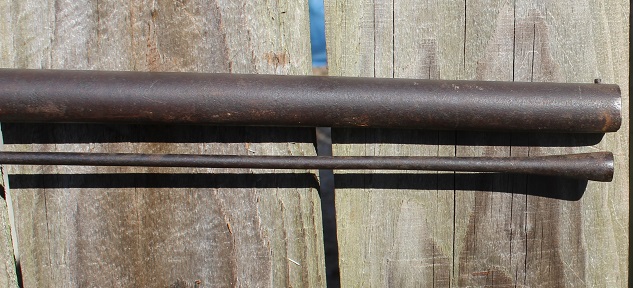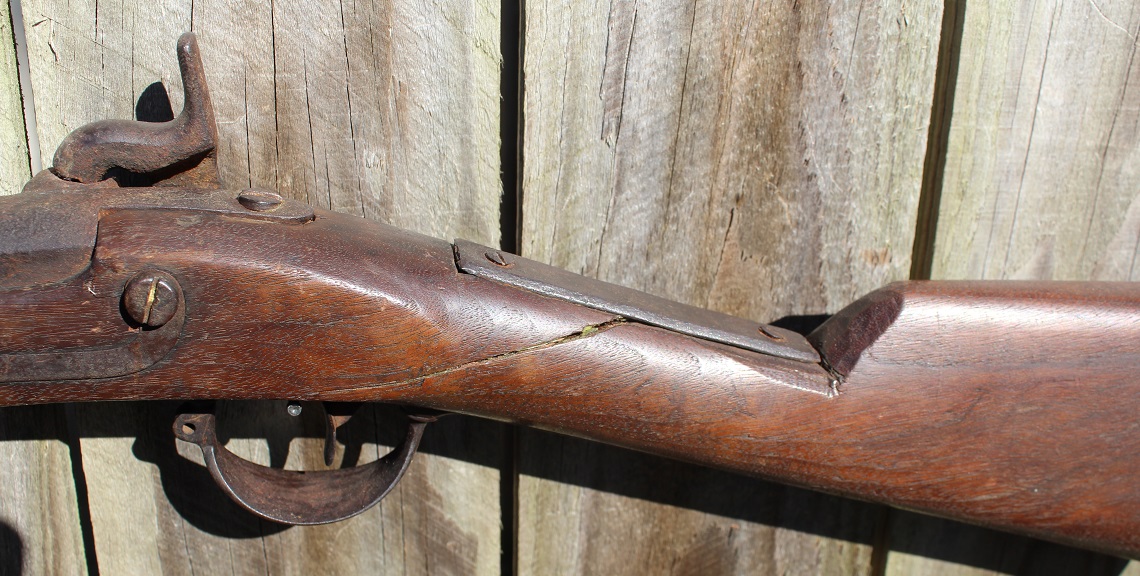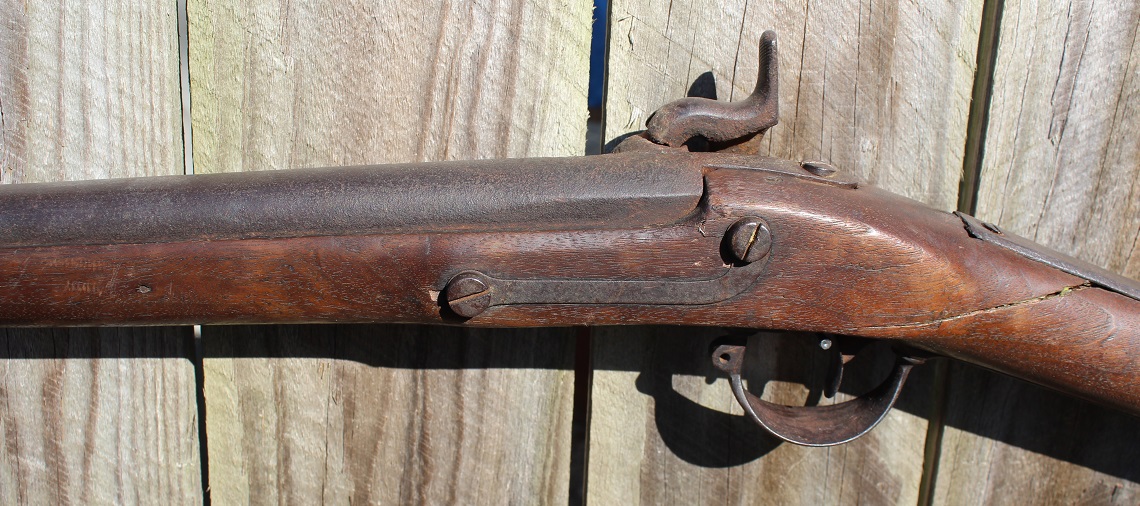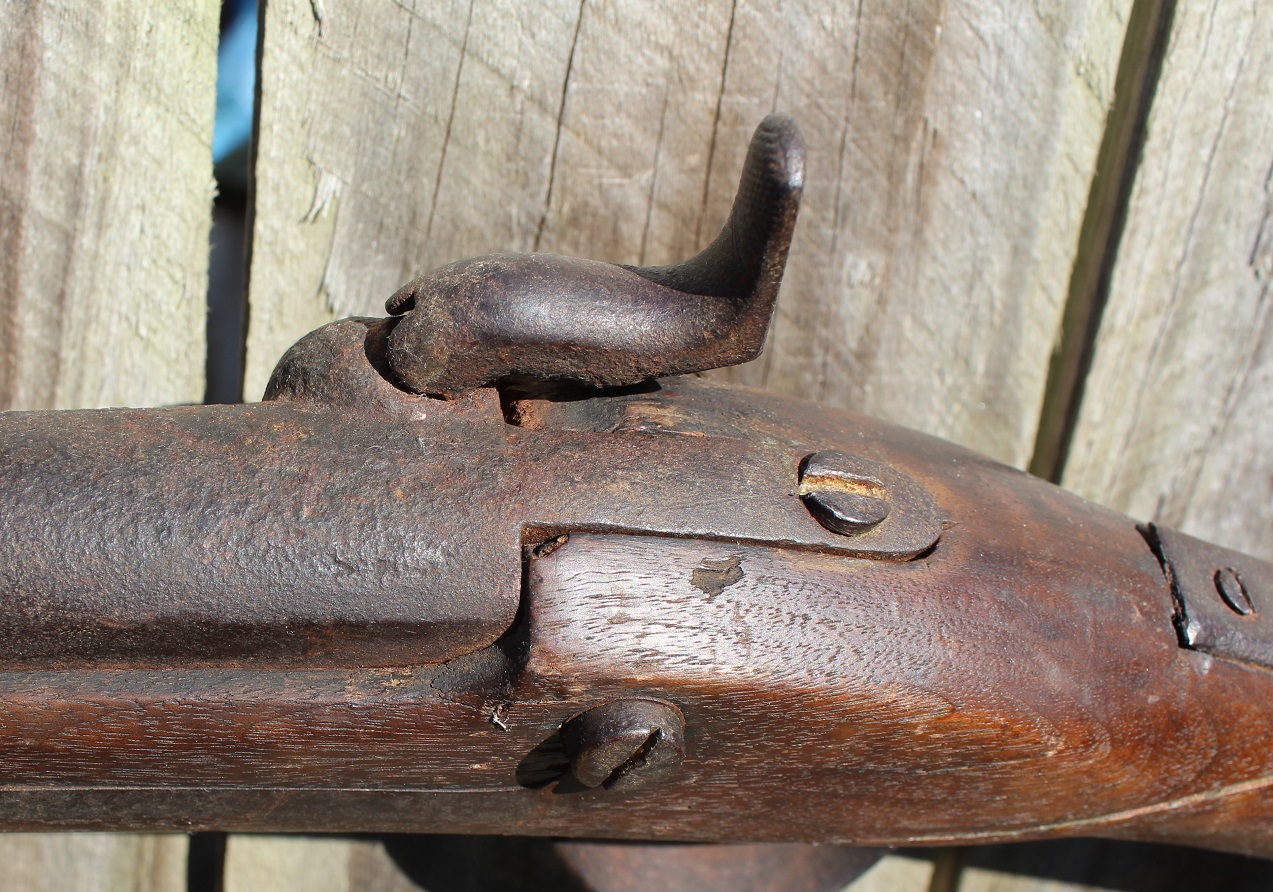 2. Here is an old .72 caliber Pottsdam Musket that was converted to a shotgun. The great thing about this piec is that it still retains it's original over 41 inch long barrel complete with the bayonet catch. This musket took a particular unusual bayonet that locked onto the barrel with this catch called the M-1842 Laukart system . The front sight would be on the front barrel band now lacking. The rear sight was a block sight which has been ground down some. The original lock looks great but the tumbler is broken so no hammer remains. This piece comes with the original brass butt plate as well as brass triggerguard and one sling swivel which are usually missing. This piece also has the reverse sideplate and screws. The rear barrel band is missing and the stock is tied on with a modern shoe lace. Great Parts here or use as a wall hanger. $325.00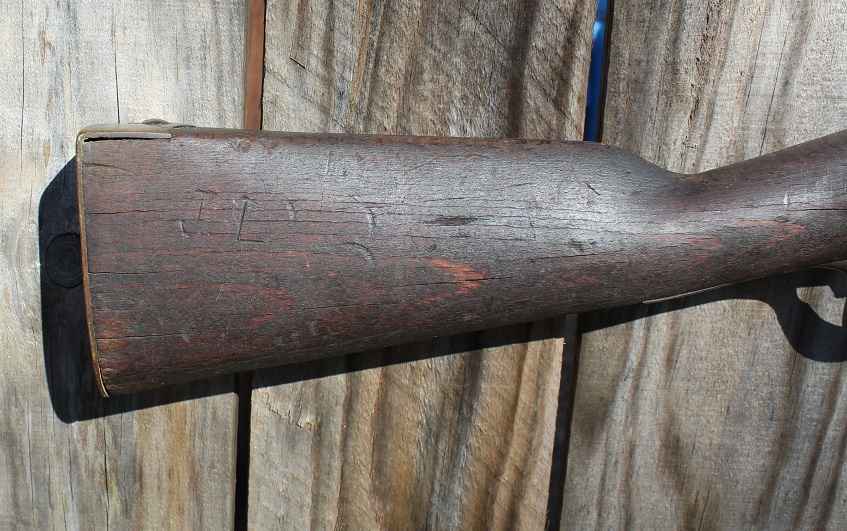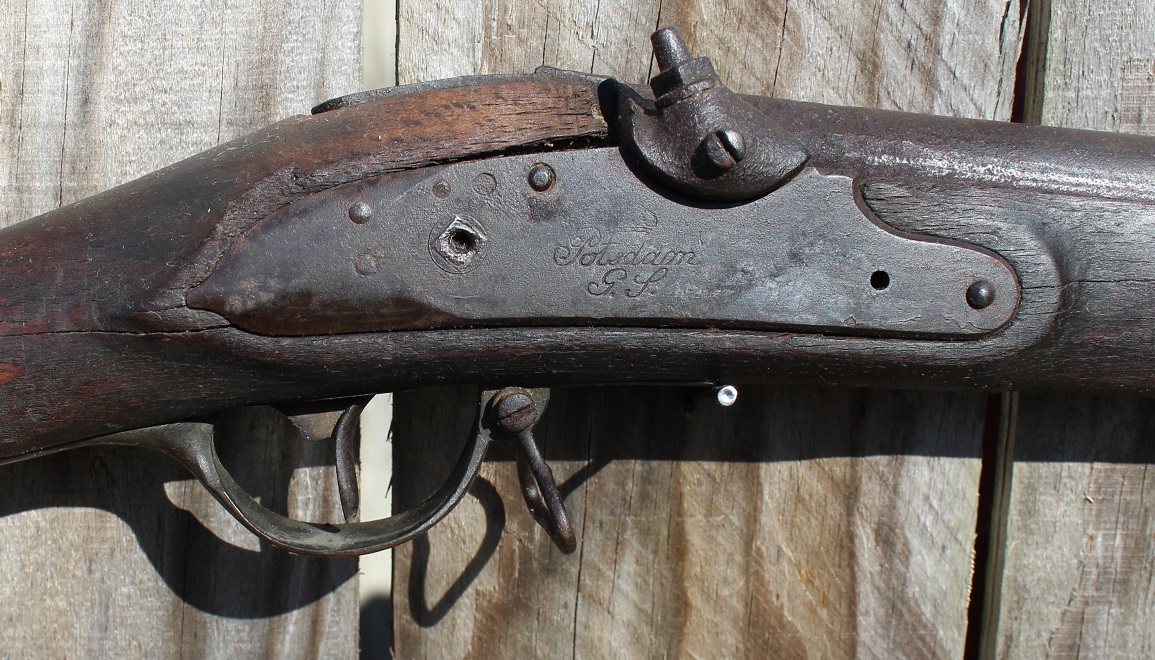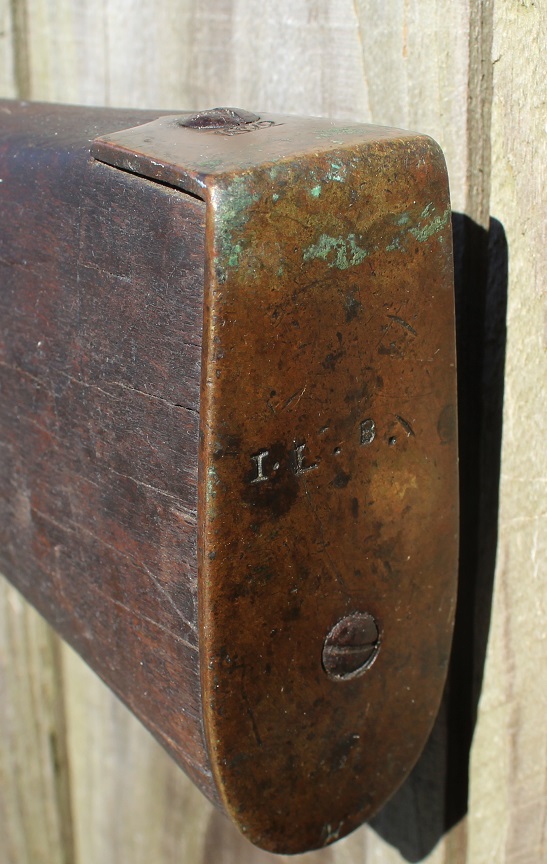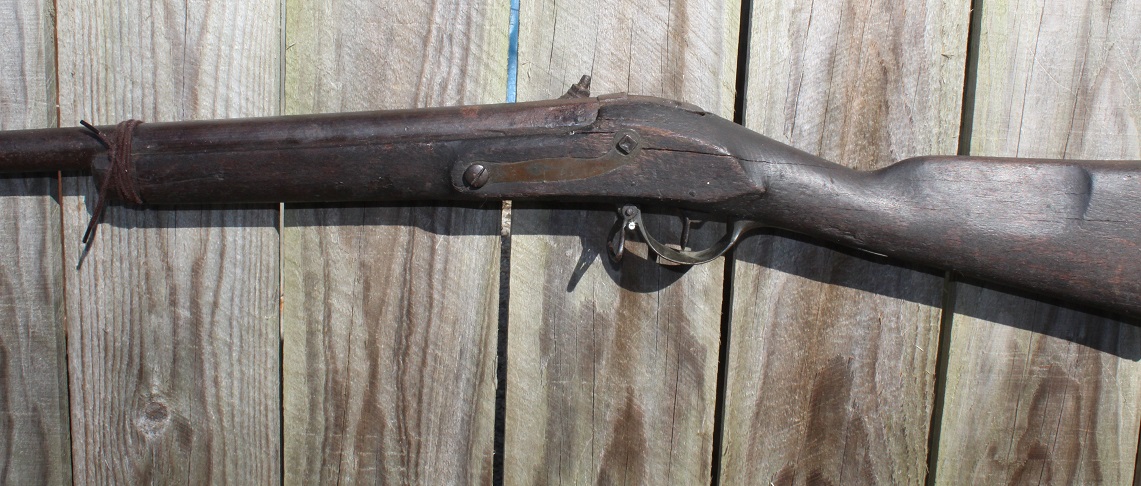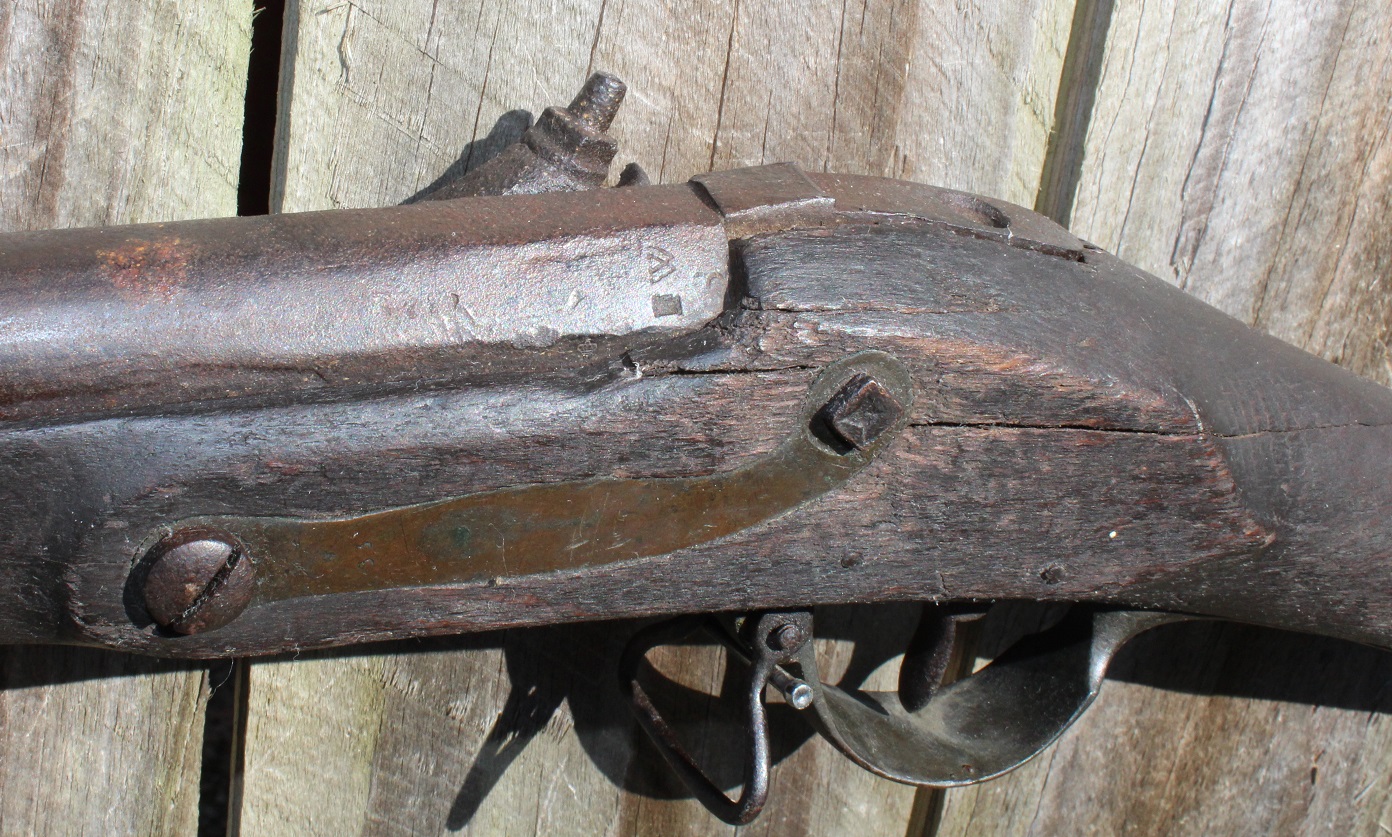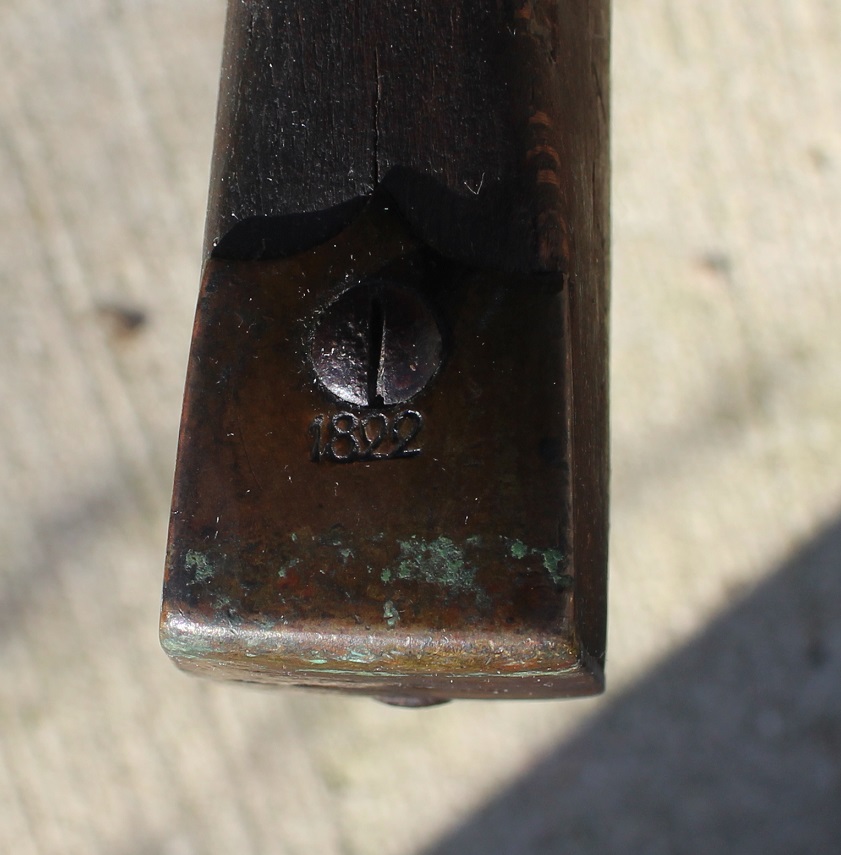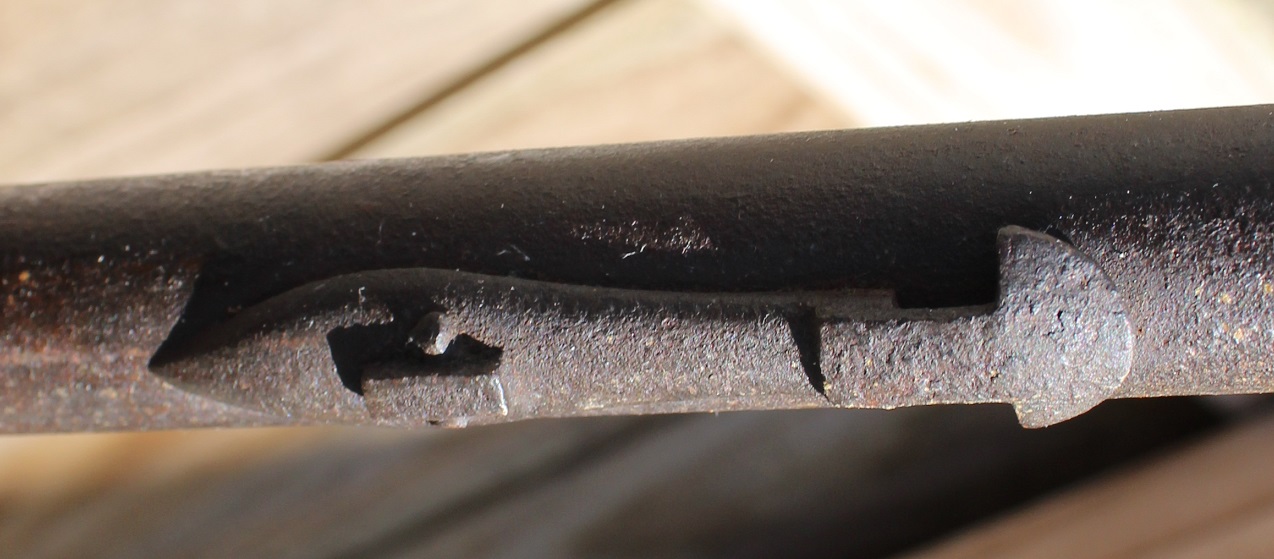 3. Here we have an 1864 dated Springfield Civil War Rifle. This one has been cut down as well and has been turned into a shotgun. The barrel on this piece is 32 1/4 inches long when it should be 40 inches long. There is a shotgun bead on the end of the barrel. This rifle has a great looking lockplate minus the hammer and hammer screw. The markings are all nice and crisp. The one barrel band remaining is the screw type with retaining spring. The spring is lacking as well. The stock has been cut off about nearly 4 inches in front of the rear band. ?The stock has a large chunk out of it above the lock behind the nipple. The stock shows evidence of two cartouches on the reverse side. The lock escutcheon screws are missing but the lockplate is tight into the stock. The original trigger bow is present and you can feel alot of spring tension behind the trigger pull. Nice parts here or hang it as it is. $325.00
4. This last one is a Civil War Enfield Rifle in .577 caliber as evidenced by the 25 25 stamped on the barrel. This one was also cut down to be a shotgun or sporting rifle. It has a rail soldered to the bottom of the 39 3/8" cutdown from 40 inch barrel. A 19 3/4 inch long section of the ramrod rail has became loose from the solder. There are 3 thimbles attached to the rail for the ramrod, now lacking as well. The barrel has very nice markings yet from the Civil War days, however, no rifling remains. The lockplate is excellent having the crown at rear of the lock and TOWER 1862 in front of the hammer. The lock works perfectly! This rifle turned into shotgun still retails the rear barrel band , the brass marked butt plate and the brass triggerbow. Display it as it is or use it to fix up a better Enfield Rifle. Having the 1862 date on the lockplate is a hugh plus! For this piece $345.00 Look at the pics!
New Arrivals 388 Consignment
Here we have a M91 Russian made but Finnish restocked Mosin Nagant
The Mosin–Nagant is a five-shot, bolt-action, internal magazine–fed, military rifle, developed by the Imperial Russian Army from 1882 to 1891, and used by the armed forces of the Russian Empire, the Soviet Union and various other nations. It is one of the most mass-produced military bolt-action rifles in history with over 37 million units having been made since its inception in 1891, and, in spite of its age, it has been used in various conflicts around the world even up to the modern day, rugged, simple to use, and effective, much like the AK-47 and its variants. To see them in action see the great Movie about the Russian Army in WW2 with emphasis on the Great Russian Sniper, Vasily Grigoryevich Zaytsev , 23 March 1915 – 15 December 1991. Vasily was a Soviet sniper and a Hero of the Soviet Union during World War II. Prior to November 10th, 1942 he killed 32 Axis soldiers with the standard-issue Mosin–Nagant rifle (effective range of 900 metres or 985 yards). Between November 10th, 1942 and December 17th, 1943, during the Battle of Stalingrad, he killed 225 soldiers and officers of the Wehrmacht and other Axis armies, including 11 enemy snipers. A feature-length film, Enemy at the Gates (2001), starring Jude Law as Zaytsev, was based on part of William Craig's non-fiction book Enemy at the Gates: The Battle for Stalingrad (1973), which includes a "sniper's duel" between Zaytsev and a Wehrmacht sniper school director, Major Erwin König. It's a great film! Check it out! Here are some stats on the Finish M91 Mosin Nagant:
Finnish M91 Mosin Nagant General Specifications: General Description: Weight -- 9 1/2 lbs. (4.3kg)) Length (over all) -- 51 1/2" (130.8 cm) Barrel Length -- 31 1/2" (80.0 cm) Stock length -- 47 1/2" (120.7 cm) • Produced from- as early as 1922 to as late as 1944. • Most common model of rifle used by the Finnish military
History Finland, during the war for independence from Russia in 1917 captured numerous M91 Mosins. Along with the captured weapons, they also already had many on hand from former Soviet occupation and decided to use it as the basis to supply and arm their military. The M91 was used to arm troops from the Civil Guard to the basic infantry. Finland also purchased or traded other arms for them. Most were aquired from other countries between 1924 thru 1941, from various places such as Poland, Bulgaria, and Yugoslavia. Some M91 rifles can be found in standard Russian built configuration with nothing more than a [SA] stamp. The Finnish military decided to modify the Mosin thru out it's use. The M91 can be found in many configurations. The one thing Finland would reuse is the receiver. The receiver can be found from all manufactures and all dates, the hex receiver being widely used. Much like other Finnish weapons, variations exist, a few later M91's have been found fitted with a round receiver (very rare). The most common variation is stocks, anything from a standard reused Russian issue stock to the two and three piece spliced Finnish stock can be found. The Finnish made stocks have a change also(these have been found used on Russian stocks also), the use of metal wire sling hangers, these sling hangers allow the many different sling variations the Finn's had to be attached. Brass shims are a common find in the action, these were used as accurizing methods, helping to adjust pressure on the barrel. Other small variations can also be found, trigger set-ups from other Finnish Mosins, front and rear sights can be expected at times. The normal rear sight is generally the standard Konoalov, with an extra step for 200 meter battle sight. The Russian arshin on the left side can be X'ed out, stamped through or scrubbed. The Finnish marked the right side of the base in meters.
This particular rifle has a Russian made and dated 1930 barrel assembly mounted on the Finish laminated 2 piece stock. The entire piece is in very good condition and only lacks the cleaning rod. The metal surfaces show most of the original bluing with only a little rusting to the butt plate. The action works well and the bore is very good. This would be a good shooter! The wood stock is in very nice condition and complete. I have shown a couple of pics with the laminated 2 piece stock in them. This is a caliber 7.62x54r which is quite readily available today. For this fine piece $350.00
New Arrivals 387 Consignment
Here we have a Japanese WW2 era type 38 training rifle probably for a school. Starting in the 1920's, the Japanese government required all junior and senior high school boys to have two hours a week of military training. Several companies started producing the necessary training rifles for this purpose. These training rifles had no standard design and were often made from older models of military rifles or parts from these rifles. Therefore you will find many variations of the same model. There are known models that used 1888 Mauser, type 99, type 30, and type 38 rifle parts. These training rifles continued to be produced until the late 1930's. Some of these rifles could not be fired while others would fire wooden bullet blank ammunition. Many of the blank firing rifles were made with smooth bore barrels. Rarely would any of these rifles fire the standard service round. Nearly all of these training rifles could carry bayonets. This one is in excellent overall condition and except for the smooth bore one would think that this is an operable firearm. Why the Japanese didn't make functional weapons that could fire both types of ammo is beyond me. This particular rifle is of an excellent quality with loading magazine, good sights, and a cleaning rod. There are no markings on the receiver like the military rifles. The serial number is 174 and matches on the bolt as well. The stock is in very good condition and only has one small chip out of it that I have shown in a pic below. The Japanese characters are stamped on the obverse and reverse buttstock. This rifle functions flawlessly and looks great. For this piece of history $295.00
New Arrivals 386 Consignment
Here is a Remington Model 10 Pump 12 Gauge. Conceived by Remington's designer John D. Pedersen, the gun was introduced in the Remington Arms Co. 1908-09 catalogue as the Remington Repeating Shotgun. In 1911, M. Hartley Dodge combined his firearms and ammunition companies as Remington Arms - Union Metallic Cartridge Co., and shortly thereafter they began calling the gun the Model No. 10. Wikipedia says "The Remington Model 10 is a pump-action shotgun designed by John Pedersen with an internal hammer and a tube magazine which loaded and ejected from a port in the bottom of the receiver. An updated version, the Model 29, was introduced in 1930 with improvements made by C.C. Loomis." "The United States military used a short-barreled version known variously as the "trench" or "riot" shotgun. The Winchester Model 1897 was the major production, but Remington made 3500 of the Model 10-A version for issue to U.S. troops during World War I. The Model 10 was modified by reducing barrel length to 23 inches (58 cm) and adding sling swivels, a wooden heat shield over the barrel, and an adapter with bayonet lug for affixing a M1917 bayonet. These trench guns with serial numbers between 128000 and 166000 were stamped with US and the flaming bomb insignia on the left side of the receiver. The United States military also purchased a number of Remington Model 10 with 20-inch (51-cm) barrels for guarding prisoners, and 26 to 30-inch (66 to 76-cm) barrels for training aerial gunners. The Model 10-A was used in limited numbers by the Marine Corps through the 1930s. Unfortunately this is not one of those guns. The serial number on this firearm is 62348 making this particular firearm being made in 1910 I believe. The shotgun is in good condition but lacks any color and there is a crack in the butt stock near the receiver on the reverse side that could be easily repaired. The bore is fine being shiny and bright with no pitting that I can see. There is a leather sleeve on the end of the buttstock. Good old collectible shotgun! For this one $250.00
New Arrivals 385 Consignment
Here we have a Lane & Reed Halfstock musket/fowler. If it's a musket it about .52 caliber and if it's a fowler it's about 28 gauge. The firm of Lane & Reed manufactured firearms in Boston from 1826 to 1849. This halfstock is approximately 48 inches long overall with a 32 1/2 inch long unrifled barrel with the last 2 1/2 inches of the barrel being octagon and the rest round. There is no rear sight but there is a simple small blade site at the front. I believe there is something stamped on the top of the breech but due to pitting from firing black powder I just can't make it out. There is some simple engraving on the tang. The lock is a back action lock and is marked nicely LANE & REED BOSTON. There is also simple engraving on the lock. The hardwood stock is in very good condition with the exception of a repair above the lock behind the nipple area. The wrist has some stimpling and cross hatching hand done on it. There is a small silver plate on the top that has the initials of 'I.M.D." in cursive on it. At least that's what I think it says. The butt plate is brass and very nicely engraved with a dove or partridge as well as line engravings. The trigger guard and ferrels are brass with the trigger guard and 1 stock ramrod ferrel having engraving on them. The other two ramrod ferrels have simple lines on them and they match. The action works well and the firearm looks very nice! There is a wooden fill on the bottom of the barrel to the ramrod that most firearms do not have. This is a very nice addition. The ramrod is the original metal ramrod with a cupped end and a nice treaded end to removed stuck bullets. The barrel escuteons are brass as is the key and the ramrod is pewter. Nice piece! $495.00
New Arrivals 384 Consignment
Here we have a very nice WW2 Japanese 7.7mm Arisaka Rifle. This is the type 99 and the Mum has been ground off revealing that it's a turned in weapon by the Japanese. This one however is a low serial number of 559. The arsenal it was made at was the Nagoya Arsenal. The rifle is in good overall condition and exhibits a great bore! The metal pieces all show a great amount 90% of the original bluing left with the exception of the triggerguard and pan which shows it may have undergone a light cleaning from probable surface rusting. All the parts match on this one including the bolt. This rifle has the anti aircraft rear sight on it minus the extendable 'wings'. The wooden stock is the original laminated type and in good condition with the usual dings and bruises, however, the top forestock has gouges on it like the solder warded off bayonet attacks probably from an American GI. Unusual! For this trophy from the South Pacific $350.00
New Arrivals 383 Consignment
Here we have a WW2 era French MAS Rifle. This is a MAS 36 rifle that is dated 1936 on the receiver . This is a 7.5X54mm caliber bolt action rifle with a 22.6" barrel and a 5 shot magazine. The bolt handle slants forward. This particular rifle was imported into this country in the 1990's and is in un-issued condition by CAI of Vermont. This arsenal reworked rifle has a gray parkerized finish and is in excellent condition. The MAS 1936 Model was manufactured from 1936 to 1949. The mechanics are fine and the bore is excellent. This is a really nice looking firearm! $375.00
New Arrivals 382 Consignment
Here we have a Bridgeport Gun Implement (BGI) Co. Gum Implement Set no. 961 for Shotguns. It seems to be complete with the exception of one small piece which you can see on the lable. Ithe missing piece is the 4th one from the left on the top row. Everything else is there. The box has wear as you can see but the fact that it is still here is a marvel! There is some clear tape around the top edge but not detracting. The hinge of the box is still attached. This would look great with an old Shotgun! For this set $120.00
New Arrivals 381 Consignment
Here is a great looking old Remington Model 11 semi automatic shotgun in 12 GA. This model was produced from 1911 to 1948 with approximately 300,000 being made. The serial number of this model is 282814 and I have found records that indicate that this particular firearm was made in 1923. I believe it has been buffed out and refinished at some point in it's lifetime. The markings are all fine but you can tell from high and low spots on the receiver and on the barrel. This barrel is pretty much shot out and I believe that they must have used steel shot for waterfoul instead of lead shot. It has a 28 inch long 12 guage full choke barrel. The wood is real nice and looks great but has also been refinished. This stock is the straight walnut stock pre 1940. After 1940 they had a checkered stock. The action works well. It's a nice looking piece! For this shotgun $450.00
New Arrivals 380 Consignment
Here we have an unusual Model 1816 U. S. Musket that has a Harper's Ferry 1831 dated lockplate on it. The lock is fine and marked nicely. This one was converted to the cone on the top of the barrel system which is quite common. The Lock works just fine. The barrel and stock has been cutdown at the end with the barrel now being 34 ¼ inch long instead of the usual 40 inches long. The barrel has been cut about a ¼ inch longer than the stock. You can see on top where the last band of the nose cap had been for many years. Rifling is in the barrel and still quite pronounced. The tang is marked with something but I cannot make it out-should be the year it was made but there is substantial pitting there. There still remains the middle and rear barrel bands and springs. The buttplate is also present and marked US as it should be. The stock is still in fair condition as to what is left – there is some burn out on the lock side and a substantial chip out of the reverse tang side. There are letters carved into both sides of the buttstock. Some of these old pieces were cut down for Cavalry use by the CS but who knows for sure. This one was purposely cutdown for some reason. It could have been damaged and salvaged for use by usually the Confederates but heck the Native Americans did it too. Usually the ones turned into shotguns after the war had shorter stocks and the rifling bored out of them which this one still has the rifling. No history accompanies this piece so who knows. For this piece $550.00
New Arrivals 379
Here's a brand new Palmetto AR-15 in .223/5.56 . Here are the stats on the lower:
PSA Complete Classic Enhanced Lower -
· Machined from Aluminum Forgings 7075-T6
· Hardcoat Anodizing: MIL-A-8625F, Type III, Class 2
· Milspec diameter Receiver Extension
· 6 position Receiver extension
· PSA Enhanced M4-style stock with QD sockets
· PSA Classic Grip in Black
· Mil-spec trigger guard
· Staked M4 Lock Nut
· Standard Carbine Buffer
· Caliber: Multi
· And here is the stats on the upper assembly
· PSA 18" Rifle Length .223 Wylde 1/7 Nitride 15" Keymod Lightweight Upper
· Barrel Length: 18"
· Gas System: Rifle-length
· Barrel Profile: A2 Style
· Barrel Steel: 4150V
· Barrel Finish: Nitride Black
· Chrome Lining: None
· Muzzle Thread: 1/2-28
· Chamber: 223 Wylde
· Twist Rate: 1:7
· Barrel Extension: M4
· Diameter at Gas Block: .750
· Gas Block Type: Low profile
· Muzzle Device: A2 Flash Hider
· Receiver Material: Forged 7075 T6
· Receiver Type: M4
· Hand guard Type: PSA 15" Keymod Lightweight Rail 
· Bolt Carrier Group Included
· Bolt Steel:
· Charging Handle included
· Overall Length: 26.5"
· Weight as configured without bolt: 3.70 lbs
· This rifle also has Generation 2 Magpul MBUS front and rear flip up sights as well as 2 Magpul PMAG 30, 5.56x45 Magazines.
Finally this nice outfit has been finished with a Leapers UTG D Vertival Front Grip with the innovative quick release deployable Bipod. The Grip Height is 5.1 inches and with the Bipod deployed it is 8 inches tall.
· This is one nice AR-15 Rifle! $850.00 · Check out the pics! · ·
·
·
·
·
·
·
·
·
·
New Arrivals 378
Here we have a wonderful Brand New Palmetto AR-9 Pistol! This pistol has the Palmetto PA-X9 lower. The PSA 9mm Billet Complete Classic Pistol Lower designed to use Glock®-style magazines..  Machined from Billet 7075 T6 forgings and then hard coat anodized, these lowers are purpose built to accept 9mm Glock®-style magazines.   Designed to work with PSA's new 9mm Hybrid uppers.  The lower is assembled with a Palmetto State Armory Pistol Lower Build Kit with a classic A2 Grip and PSA pistol buffer tube…
Now to the upper barrel assy:
This is the PSA 9mm 7.5" Pistol Length 6" Lightweight Keymod Upper - with Hybrid BCG and Charging Handle. Here are the stats:
Barrel Length: 7.5"
Barrel Profile: A2 Style
Barrel Steel: Chrome Moly
Barrel Finish: Melonite
Chrome Lining: No
Muzzle Thread: 1/2-36
Chamber: 9mm (9x19)
Twist Rate: 1 in 10"
Barrel Extension: 9mm
Muzzle Device: Bird cage style Flash Hider
Receiver Material: Forged 7075 T6
Receiver Type: M4
Hand guard Type: PSA 6" Keymod Lightweight Rail
Bolt Hybrid G-9
Bolt Steel: 8620
Charging Handle
Overall Length: 15.5"
Upper Weight as configured: 3.45 lbs
This pistol has the new Shockwave Stabilizer attached to it along with the FFL letter of compliance and attached to the stabilizer is a shoulder sling. The pistol is topped off with an outstanding BURRIS FAST FIRE 2 Red-Dot Reflex Sight w/ 4 MOA Dot Reticle and riser mount. Also accompanying the pistol is 2 GLOCK 31 round poly magazines. This is an outstanding pistol and handles very well! $825.00 Check out the pics! I can include a soft case for this pistol for an additional $30.00
New Arrivals 377 Consignment
Here we have an Abercrombie & Fitch Special purpose knife and oil cloth sheath. The only other marks that I find on this strange piece is MADE IN FRANCE on the blade. The special purpose knife has many purposes but I cannot find out anything about it. It came to me with the below bunch of military knifes and bayonets. If you know anything about it let me know. In the meantime I will continue to do research on it. Thanks! Ted
New Arrivals 376 Consignment
Here we have two fighting knives without scabbards. The first one is Camillus NY Navy Fighting knife. I believe it's known as the mark 1 as it has a Plastic Butt held with a threaded nut. It is marked CAMILLUS N.Y. on one side of the ricasso and USN on the other side. I believe this one to be WW2. The entire piece is 9 ½ inches long with a 5 inch blade. The blade looks to have been blued or blackened and exhibits some pitting. The markings are clear however. The leather washer handle is in very nice condition and it looks great. For this one $65.00
The second fighting knife is a Camillus Navy Pilot's Survival Knife without scabbard with, I believe, a No 1 type knife first made in 1957 with a nearly 6 inch blade being about 10 ½ inches long overall. The bottom of the cross guard has been cut off and two holes have been drilled into the top part of the cross guard. Strange! Must have had a purpose for that! The piece is in generally overall good condition otherwise with clear markings. No sheath for this one. $45.00
New Arrivals 375 Consignment
Here we have a pair of WW2 theatre made fighting knifes. Both of them have plastic grips. The top one is a 9 ½ inch long knife with a 5 ¼ inch long rusty blade. The blade is not thick but seems to be made of good quality spring steel. The plastic grip is made of rings of different colored plastic and ther is a threaded tang it's entire length then peened over at the end. Soldiers made all kinds of things in their spare time on the battlefield and this is just one example of that. $40.00
The bottom knife is a little better made and it looks to have been made from a bayonet as you can see a fuller running along it's length starting at the ricasso. The entire piece measures 10 ½ inches long with a 6 ¼ inch long blade. The slab grips are plastic and screw rivited into the tang. Near the blade is stamped PS 1944 on one side and ??44 on the other side. It's a nice looking piece! For this one $45.00 Take a look at the pics!
New Arrivals 374 Consignment
This is one of the better known, more widely used knifes during WW2, Korea and Viet Nam. This is the CAMILLUS U.S. Fighting Knife and since there is a U.S. on the blade over Camillus, N.Y. this is a post WW2 knife. The knife is in good condition with leather ringed grip and flat steel butt. The blade is 7 inches long with the entire piece being 12 inches long. The blade was originally parkerized but now there is some rust staining. The scabbard is in very good condition showing little to no use and may be a replacement. For this piece $85.00
New Arrivals 373 Consignment
Here is a nice WW2 PAL RH36 Knife and Sheath. A fighting knife, also commonly called a combat knife, is a knife designed for military use to be used specifically for close combat. This is a US fighting knife. Manufactured by PAL. The handle is made of a series of compressed leather rings with red rings being at the front of the grip and again at the back of the grip. The pommel is of aluminum construction.. The blade is marked PAL RH 36. This 6 ¾ inch blade was originally parkerized but has been buffed off. The blade is of single edge. The tip has a clip point Bowie type design. The knife is 11 ¼ inch long overall and complete with the original leather sheath in good condition. $120.00
New Arrivals 372 Consignment
Here we have a pretty nice CATTARAUGUS COMMANDO KNIFE!! The model 225q was designed for use by the US special forces. This one has a heavy 6" bright blade being 10 3/8 inches long overall with a leather washer handle. The heavy butt is made of steel washers. The blade is marked CATTARAUGUS/ 225Q. The knife has a couple of dents in the washers from use but is still pretty nice. The original scabbard accompanies the knife and it's in pretty good aged condition with everything present and accounted for. A nice rig! $225.00
New Arrivals 371 Consignment
Here is a later Ka-Bar U.S.M.C. production knife in leather sheath. This one is darn near perfect and probably from the 1960's or so. The leather sheath is marked KA-BAR over the Marine Insignia and then below that USMC. This type scabbard was not used during WW2. The knife is just beautiful with a parkerized blade that has U.S.M.C. on one side of the ricasso and KA-BAR over OLEAN, NY on the other ricasso. It's showing some age now but still great looking! For this fine piece $140.00
New Arrivals 370 Consignment
Here we have the U.S.M.C Ka-Bar Fighting knife in scabbard. The knife itself is in good condition just needing a good cleaning as it has surface rust on the blade and cross guard. The USMC is easily seen on the ricasso and KA-BAR Olean, NY is on the other side. The scabbard is made of Brown leather. Nine rivets are placed along the edge with heavy duty White cotton stitching closing the perimeter. It has the leather washer handle and the knife blade is 7 inches long. A little steel wool will do the trick! $160.00
New Arrivals 369 Consignment
Here we have a WW2 Folding Machete Army Air Force Survival Knife that was asopted in Oct. 1942 for the B-4 Emergency Bail Out Kit usually attached to the parachute Harness. This is the CAMILLUS marked knife and is in fair condition and functions as it should. The blade is 10 inches and has definitely seen use. Take a look at the pics! For this piece $125.00
New Arrivals 368 Consignment
Here we have a Russian Ak-47 bayonet and scabbard in fine condition except for the door dent in the scabbard which does not hamper sliding the bayonet in and out. 660 is the only mark I can find on this bayonet. This bayonet scabbard is metal with a distinctive lip around the tip and web belt loop. It has an added leather hilt strap. Many of these bayonets were supplied to Soviet satellite nations. The bayonet itself has a silvered blade with somewhat blunted tip that I believe is normal. The grip seems to be brown plastic/bakelite material. For this outfit $40.00
New Arrivals 367 Consignment
This is a Turkish Model 1935 Knife Bayonet, designed to fit the various Turkish contract German K98 Mauser carbines and rifles. They are very similar to the Turkish Model 1890 "Shortened" Bayonet but can be easily identified by the blade flutes (or fullers); on the Model 1890, the fullers run out of the tip, whereas on the Model 1935, the fullers are stopped before reaching the tip. All models have wood grips; steel pommel (with integral push-button latching mechanism), cross guard, and blade. The only markings I can find on this bayonet is 7965 stamped on the pommel. Mechanism works fine. The blade is fine as well. $45.00
New Arrivals 366 Consignment
Here we have an unusued, unissued Spanish Cetme Bayonet for the CETME 69 rifle. It is 13 1/4" overall with a 8 3/4" black phosphate finish blade with Spanish eagle that was copied from the bolo shaped blade of the Model 1941 bayonet. Comes with it original metal mounted plastic scabbard and leg tie. The grips are also plastic. For this unit $30.00
New Arrivals 365 Consignment
Here we have a pretty nice Model 1891 Bayonet and Scabbard for the Carcano Italian Rifle. This one has a nice leather scabbard with brass attachments. The bayonet is in nice condition with excellent wooden grips. The locking mechanism has a stout spring but works fine. The only markings on the bayonet is 1084 on the guard and an inspectors mark. The blade has been sharpened but not overly done. Nice one! $95.00
New Arrivals 364 Consignment
Here we have a nice British Model 1907 Bayonet with leather scabbard for the Enfield Rifle. This one is really nice complete with the original steel mounted scabbard that is in excellent condition. The bayonet is in nice condition as well showing little if any sharpening marks and loads of inspectors/arsenal marks as well as 1907 WILKINSON on the ricasse. It has a nice wooden grip and the locking mechanism works well. For this item $135.00
New Arrivals 363 Consignment
Here is another British Model 1907 Bayonet with leather scabbard for the Enfield Rifle. This one has a scabbard like the one above but with the steel mountings being painted black. These mounts have M/44 on them meaning, I believe that this model was made in 1944. The bayonet itself has a blackened guard and mounting ring plus the butt cap that has the same black paint on it that the scabbard has on it. This one has various arsenal marks and markers marks on it as well including the date of 1907 and ANDERSON. This blade has been sharpened and the tip is messed up as well as a gouge in the blade about 2 ½ inches back. I believe that this one saw a lot of use! $95.00
New Arrivals 362 Consignment
This is a WW2 GI made tanto from a Japanese Sword. The piece is 12 ½ inches long overall with a 6 ½ inch very sharp blade! The tsuba and fittings from the original grip and cross guard were used in the manufacture. I do not know if the blade is from the sword but it's made from very good steel so I suspect that it is. The leather grip looks like it was smoothed down and the end cap is held on with a little wooden peg. Take a look at the pics! It's a shame to cut down an original Japanese sword but was character this knife has! For this piece $250.00
New Arrivals 362 Consignment
Here is what I believe to be an early 20th century folding Bowie Marked No. 6 with folding cross guard as well. The blade is marked HUNTING KNIFE and on the ricasso is marked No.6 Sheffield Steel. There are 2, what looks like imperial german maltese crosses on the other side of the ricasso. The knife measures about 12 ½ inches long unfolded with a 7 ½ inch long blade. The knife has been sharpened but not enough to misshape it much. I believe the grips are dyed brown bone and there is a small crack at one of the rivits. Comes with a little sheath as well. For this one $125.00
New Arrivals 361 Consignment
Here we have an antique folding Bowie knife. This folding bowie knife is in good condition and does not have a cross guard. The stag handle is very good with some chipping on it right where you push on the tang to fold the bowie back up. The bowie has a push button to release the blade and them to unlock the blade you would then push a thumb lever and reclose. This bowie was made before the turn of the century in approximately 1870-1880. This knife is 15 inches long unfolded with a 10 inch blade. There is no sheath and I cannot find a makers name on it. For this nice old knife $1,250.00
New Arrivals 360 Consignment
Here we have what is marked on the blade as 'ORIGINAL WAIDMEFFER FUR SHALENMILD' on one side of the blade and 'PUMA-WERK SOLIGEN MADE IN GERMANY' 'HANDARBEIT No 3591'. Otherwise known as Game Keeper Knife. This is a Stag Fixed Blade Sheath Knife with a Sterling Silver Shield that has the initials GK stimpled into it. There is No Date Code (Made prior to 1964) - Pretty Stag Handles - No Cracks or breaks and the Blades in Handle Snap Open and Shut with No Wobble – Used and sharpened. Take a look at the pics! $295.00
New Arrivals 359 Consignment
Here's an unusual knife. I believe it to be made in the 20th century even though it has aged bone slab grips. The knife is marked Superior ??? on the top of the blade and on the ricasso is marked No. 6 Sheffield Steel. The other side of the ricasso has what looks like 2 small maltese crosses on it. The knife measures about 9 inches long overall with a nearly 5 inch blade. It's still in good condition but has been sharpened. An unusual arrangement! For this piece $95.00
New Arrivals 358 Consignment
This is an Imperial German Shooting Cutlass and although I cannot find any makers marks on it I believe it was made by Alcoso as I've seen other example close to this that they made. Normally the Imperial Shooting Cutlasses are not very elaborate, usually found with a stag grip. In the case of this example, it is much the sale as most but is also equipped with what appears to be a bone grip. This cutlass measures about 21½ overall. The mounts are of gilded brass. The pommel top has no decoration per se but is decorated with a set of double lines that run about the outside. The ferrule is raised. Below the ferrule is a fine cross guard which simulate a pair of stag hooves; the left flaring upward and the right angled downward. The clamshell guard looks like a clamshell while there is no reverse guard. As mentioned above, the grip appears to have been constructed out of bone. It has a fine patina on the surfaces with an age crack here and there. This grip is decorated with three ovals that you can see on one side of the grip but not the reverse side. The scabbard is a good black leather. The leather shows a little age and has shrunk some but is still supple. It is decorated with a set of twin lines running along the edges, and is sewn up the rear. The scabbard mounts are of a matching gilded brass. The upper mount is plain, except for an acorn lug, while the lower is decorated with a set of twin lines on the obverse facing. The slab-sided blade is a nearly 16" long example. It is etched. Unfortunately there is some age graying spread evenly throughout the surfaces of the blade. On the obverse side I can see floral etchings and a flag and drum I believe and on the reverse side I can see a Crowned Eagle over crossed cannons which is over a flag as well as some floral etchings. As previously mentioned the reverse ricasso is NOT marked with the familiar scale logo of the Alcoso firm, although I believe this to be of their firm, and there is a red felt blade buffer in place. All in all this is a pretty nice piece! $875.00
New Arrivals 357 Consignment
Here is an example of a Imperial German Hunting knife. This knife is 17 inches long in the scabbard. The unadorned dagger type blade is 12 inches long. The tip is a little dulled but the original leather blade washer is present. This blade is 1 1/16 inch wide at the hilt. The grip is stag and is very, very nice. The cross guard has a floral adornment and is silver plated I believe as is the grip ferule and the pommel cap. The leather scabbard is very nice for it's age with silver plated mounts. The leather has several small gouges but for it's age it's great and complete with no seam opening. I cannot find a makers mark anywhere on this piece. For this great knife $695.00
New Arrivals 356 Consignment
Here is an Imperial Hunting Sword without scabbard. This one is a beautiful example of a Solingen made Hunting Sword! I have taken pics of the makers marks but I cannot read them. On the other side of the blade is 'Solingen'. The piece is 24 ½ inches long with a 18 inch long blade. The blade is heavily engraved with floral engravings, stag in the forest stand of arms. The engravings extend 10 inches on each side of the blade. This is a strong blade being 1 inch wide and double edged. I believe the pommel cap, cross guard and langet are silver and exquisitely done! The langet has a Stags head on it as well as two Eagles or Hawks holding a cord. The cross guard terminates in two Wolf's heads. The ferrule is heavily embellished as well as the pommel cap. The handle is stag and in perfect condition. No scabbard with this one but what's here is phenomenal! $1,495.00
New Arrivals 355 Consignment
Here is an Imperial Hunting Association Honor Gift Sword
This Imperial Sword is a long weapon, measuring 21 1/2 inches long in the scabbard. The mounts throughout are of gilded brass, lightly patinated with what appears to be some small green junk on the lower drag. It is fitted with a traditional pommel cap with an "umbrella" flare at the upper portion and a silver medallion on it that has something on it but I can't quite make it out. The sword also has a nicely form round pommel nut that acts as the nut that retains the blade tang. This piece just spins having been peened on. The cross guard begins and ends in deer hooves. These hooves have had nicely simulated split engraved on each. It appears that a lot of the original gilding remains on this guard. The ferrule has line decorations as does the pommel cap. Beneath the guard is a fine fluted clamshell with that silver medallion already previously mentioned. The grip is an outstanding piece of antler, dark brown in color with slightly lighter grains. It was obviously chosen for it fine proportions as it perfectly fits the pommel and ferrule with no evidence of cutting. I would say the pommel and ferrule were crafted to fit the grip. The grip is decorated with three smooth brass nuts on the obverse that do not go all the way through. The 1 inch wide blade is 16 inches long with a false edge on top extending from the tip back about 6 inches. The bottom the blade is still fairly sharp but little evidence of sharpening. The blade has animal scenes engraved on it of a hare and a stag. There are also floral engraving on it as well as a Z in a shield which is for Clemen and Jung. The scabbard has provisions for a small knife, now lacking, but otherwise in good condition. The hunting sword has always been in the scabbard so the scabbard is still quite sound with some finish lacking. For this fine piece $1,295.00
New Arrivals 354 Consignment
Here is a 1800's era Childs sword of German mfg. I believe. The sword is almost 23 inches long with a 18 inch nickeled blade. The blade is blunted and there is no real edge for safety. The Cavalry hand guard is all brass and has a leather wrapped grip with twisted brass wire. It has an added feature of having an original sword know still attached to it which is rather phenomenal! The sword know is not in great condition but because it's there at all is something! This sword comes in a black japanned steel scabbard with a large over lapping seam. The scabbard has a single suspension ring with a single leather strap attached to it. This is really a nice piece! $275.00
New Arrivals 353 Consignment
Here's an original Model 1809 Potsdam bayonet in good dug condition. Actually I believe that this piece would clean up fairly well if you wanted to. It wouldn't be perfect but it would be serviceable. I do not know where it was dug at. The piece is in original condition and has the 'lug' on it where it turned on the Potsdam Musket barrel and locked into place by the attachment on the musket. It's in the original 22 inch long length with the 18 ¾ inch blade. For this piece $85.00
New Arrivals 352 Consignment
This bayonet is an Unknown Confederate Sword Bayonet No. 118 in THE AMERICAN BAYONET 1776-1964 by Albert N. Hardin Jr. This bayonet mostly conforms to the one listed in the book on page 139. This bayonet has a 18 ¾ (tip broken off) blade and has an unstopped fuller of approximately 16 inches long. This is a dug piece but we do not know where it was dug. The latch mechanism is broken and the all brass hilt has many casting flaws making us believe that it is probably Southern Manufacture. It has a thick muzzle ring and does resemble the Model 1862 Remington Zouave Sword Bayonet but also has differences that are quite noticeable, for one is the poorly cast brass hilt is rather heavily proportioned with relation to the small, more slender blade design. The cast brass hilt is 4 13/16 inches long. The thick upper guard is somewhat unusual in that it is canted to the rear at a slight angle. There are no hilt markings. $450.00
New Arrivals 351 Consignment
Here we have a Model 1862 Remington Zouave Sword Bayonet less sheath. The blade is 20 1/8th inch long being 1 1/16 wide and 5/16 thick. It has a 13 15/16 inch long unstopped fuller. The grip is brass and crudely cast as most were that I have seen. It's all brass hilt is 4 13/16 inches long with the thick upper gard having a .906 inch diameter bore. The upper grip flat is stamped B.H. and that's the only marks on this piece. The locking mechanish still works and the bayonet overall is in very good condition. For this piece $250.00
New Arrivals 350 Consignment
Here we have a Child's Cavalry Saber with scabbard circa 1870's-1880's. This one is of German Origin evidenced by the German Eagle wearing Crown on the knuckbow. This entire piece measures about 23 inches long in the scabbard. The blade itself is about 19 inches long with a rounded point for safety. The blade is fullered with floral engraving. I see no makers marks. The handguard and backstrap/pommel cap are brass. The excellent grip is leather wrapped with twisted wire wrapping. The scabbard is steel with brass rings and mounts. The scabbard has an old repair to the middle of it where it got broken. Probably got caught in the door! All in all it's a great little Child's saber! For this piece $250.00
New Arrivals 349 Consignment
Here we have a Child's Cavalry Saber without scabbard. It was common during the Civil War days to give little boys and girls actual weapon type toys to play with just like their Father's carried in the war. This one is a little Cavalry Saber that shows attributes to the French Model 1840/1860 Officer Cavalry Sabers and the 1972 Light Cavalry Saber. The entire piece is 26 ½ inches long with a nearly 22 inch flat edgeless blade without fullers. It does have a point however! The original little leather washer is still intact as well as the leather pebble grip and twisted brass wire. This is a cool item and in great condition! For this fine piece of history $250.00
New Arrivals 348 Consignment
Here we have an IOF (International order of Foresters) sword with gold gilt applied. The sword's hilt is modeled after the 1872 model Cavalry Saber with the 2 branches and knucklebow along with the ornate pommel cap and sharkskin grip wrap with twisted brass wire. The blade is straight on this piece measuring about 28 inches long with a fuller and an edge on one side. The blade is etched with various floral engravings along with the name 'Genl. J. A. Krise'. I am afraid that I do not know who this Genl. Is. The Independent Order of Foresters (IOF) is a fraternal organization, now based in Toronto, Ontario, Canada, and operating under the brand name Foresters Financial. Foresters traces its origin to a British Friendly Society, a mutual organization caring for the sick. The original Foresters groups allegedly banded together for mutual aid and protection in 14th-century England, in or near the ancient royal forests which belonged to the monarchy. Although the older history cannot be proven, there was a society called the Royal Foresters in the 18th century. Membership originally was gained by combat, first with quarterstaffs, then with swords and finally with cudgels, until initiation by combat was abandoned in 1843. In 1834 the Royal Foresters formed a Friendly Society, the Ancient Order of Foresters (AOF). The IOF in the United States became independent of the AOF in 1874, and as of 2014 operates a separate UK division, Forester Life, based in South London. The expansion of the Independent Order of Foresters (IOF) into Canada in 1875 is attributed to a prominent doctor and community leader, Oronhyatekha. Of Mohawk descent, born in 1841 at Six Nations near present-day Brantford, Ontario, Oronhyatekha ("Burning Sky") was baptized Peter Martin and later attended Oxford where he became an MD. Dr. Oronhyatekha held the office of Supreme Chief Ranger (now called "International Fraternal President") from 1879 until 1906; he died in 1907. By the early 1890s he had successfully transformed the Foresters into one of North America's leading fraternal benefit societies. Foresters membership reached 257,000 in 1906. Through the 20th century it amalgamated with various other fraternal organizations, including the Ontario part of one of the oldest, the Ancient Order of United Workmen. Like other friendly societies and fraternal organizations of the time, Foresters helped transform the insurance industry by extending insurance benefits to the average working family. In addition to admitting women as full members, Foresters provided orphan benefits to the children of deceased Foresters members – benefits that are still available today as part of Foresters membership. Historically, Foresters has also actively helped communities in need. As of 2014 Foresters supports various community causes in Canada, the US and UK, through direct investment in national and local community partnerships, branch funding and educational scholarships. Now back to the sword. The sword is german made as witnessed by the King's head on the ricasso. The other side of the ricasso is marked with the maker name of Henderson Ames Co., Kalamazoo, Michigan. In 1893, the Henderson-Ames Company was officially formed when Henderson consolidated with the Chicago branch of the Ames Sword Company in Chicopee, Massachusetts and lasted until 1933 when Ames combine forces with Lilly Company of Ohio. The hilt and pommel show a lot of gold gilt on them. The scabbard shows most of the gold gilt on the mountings but is worn thin and through on the body of the scabbard. The mountings are ornate with the top mount showing a Moose Head. For this fine old piece $295.00
New Arrivals 347 Consignment
This is a Civil War Springfield Rifle Musket that is believed to be a bring back and possible battle damaged. It was accompanied by a dug Potsdam bayonet and a Confederate Sword Bayonet. This rifle is a .58 caliber Springfield and is complete except that the stock is broken behind the wrist! Who knows how this happened. Was it done in Battle being broken over some Rebel's head? Was it damaged by a cannon ball? Or was it simple damaged when the soldier fell on it? Who knows as no history accompanies it. It would have been kind of useless after the stock broke. The rifle is complete otherwise with rear sight, ramrod with threads, all bands and springs and the lock works just fine. The barrel markings are all clear including the date on the tang of 1864. The lock markings are all fine too showing the Eagle with U.S. Springfield forward of the hammer and the date 1864 behind it. You can even still see the eagle stamped on the bolster. Still go rifling in the 40 inch long barrel and I checked, it's not loaded. If this was broken 'on the farm' so to speak they would have tried to fix it. It's hard to come by a battle damaged rifle and there's endless stories here! For this piece as is $695.00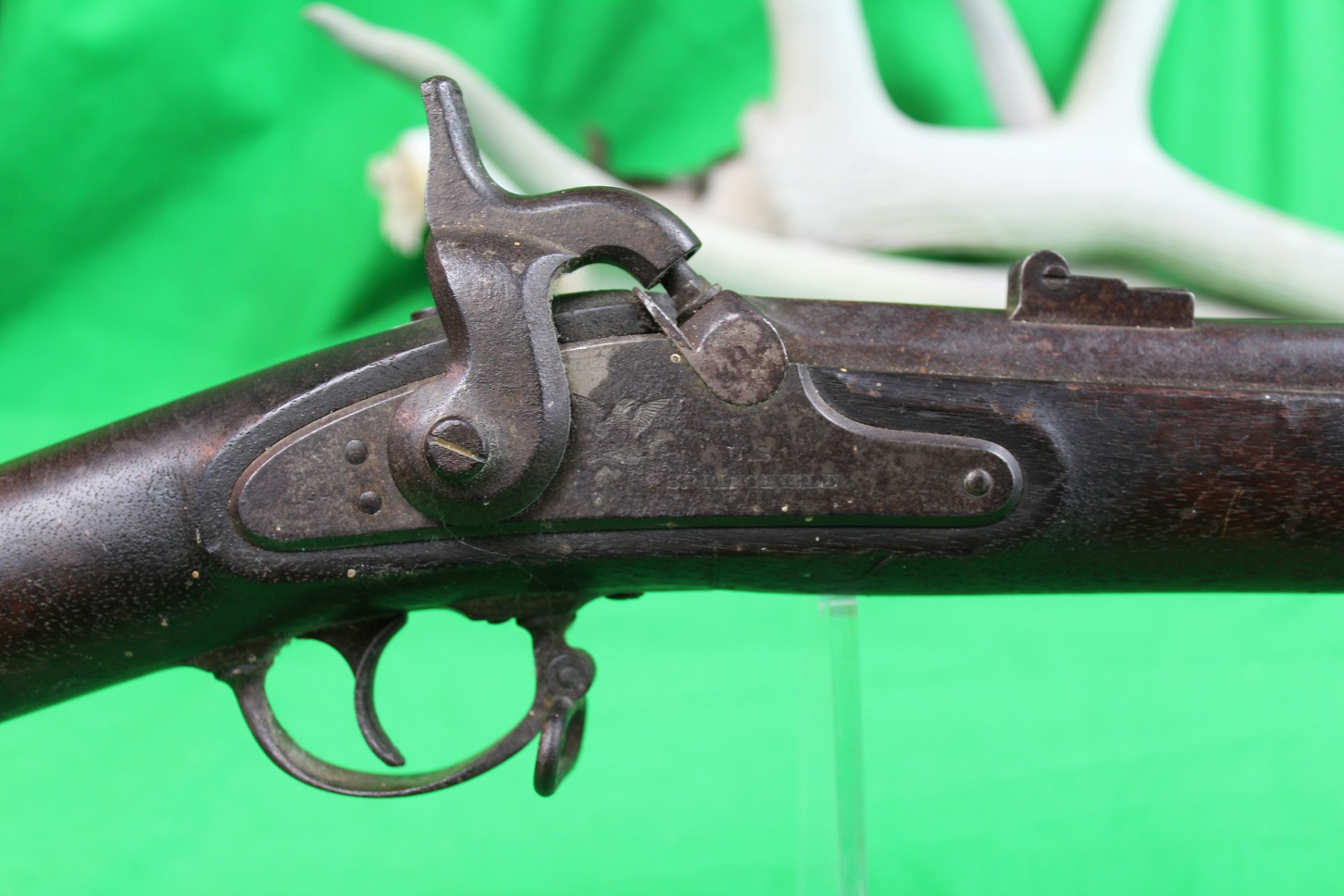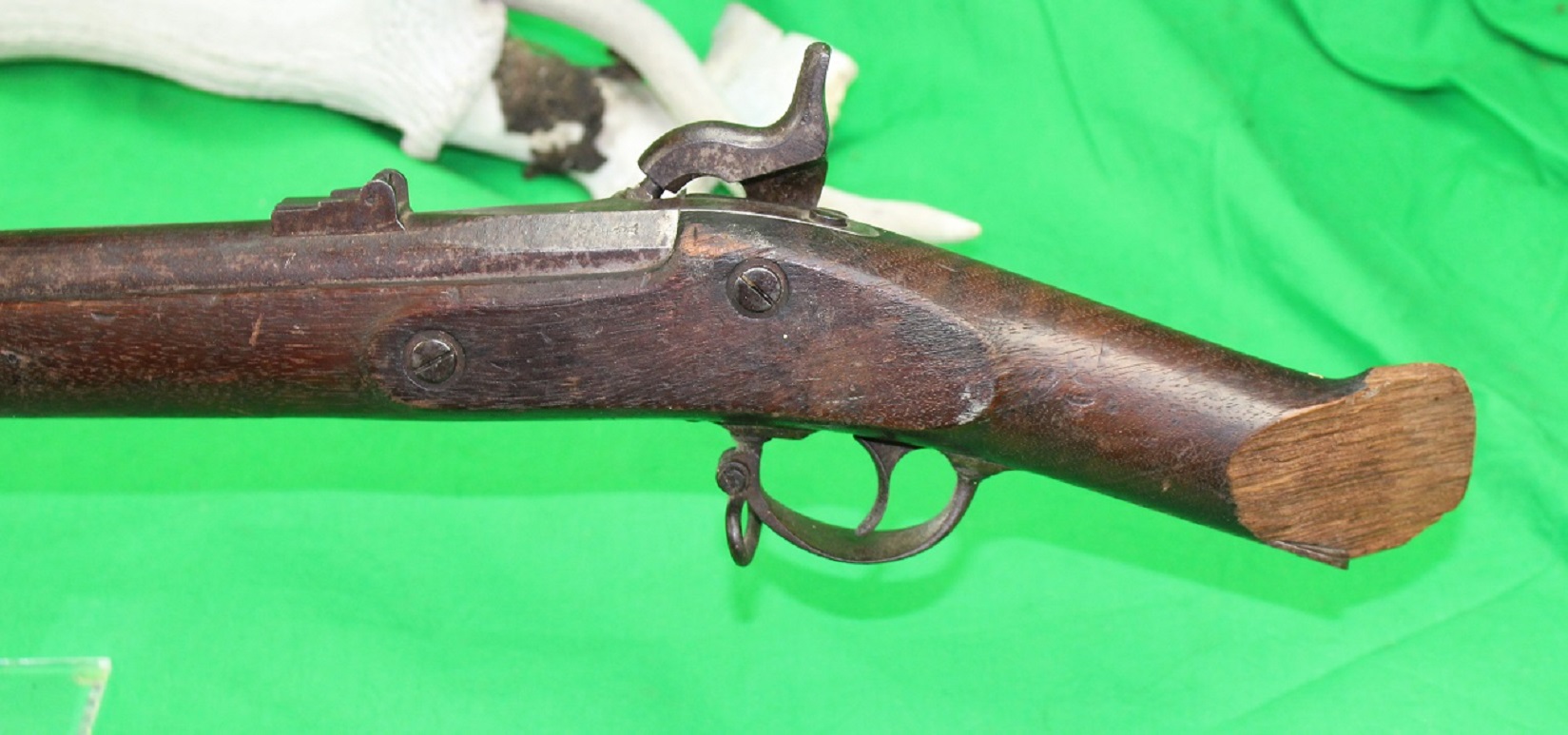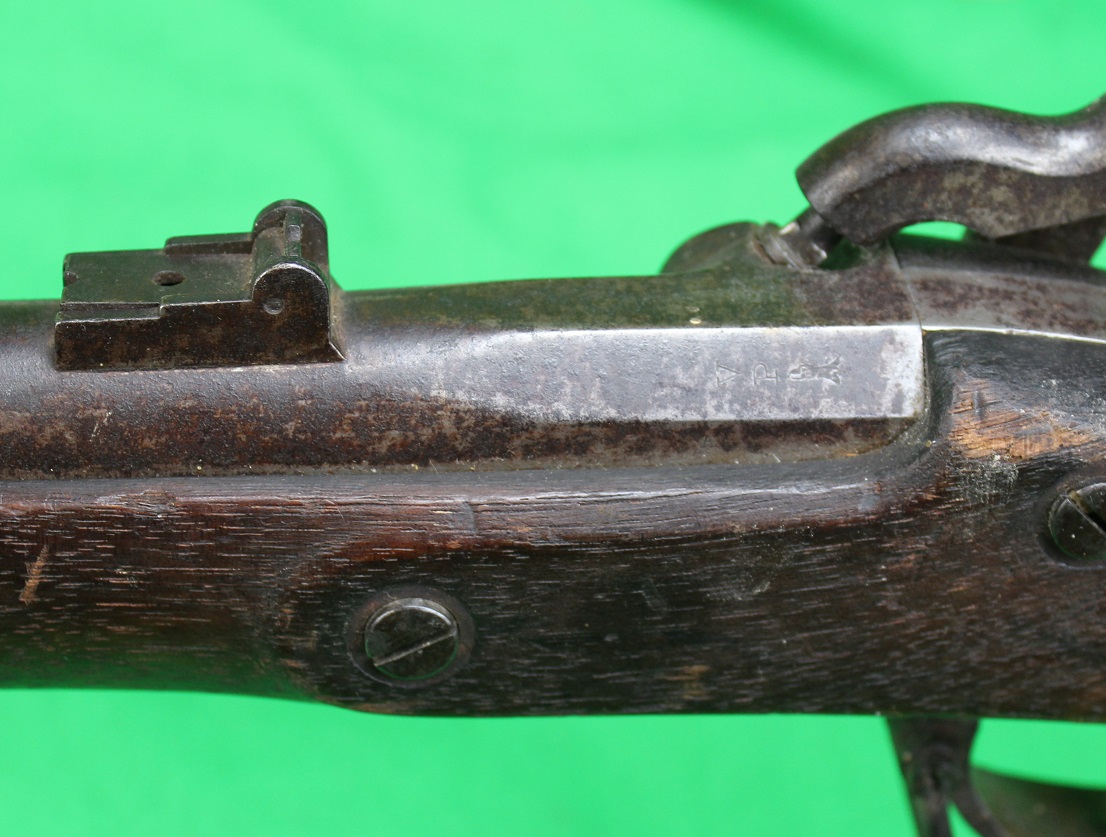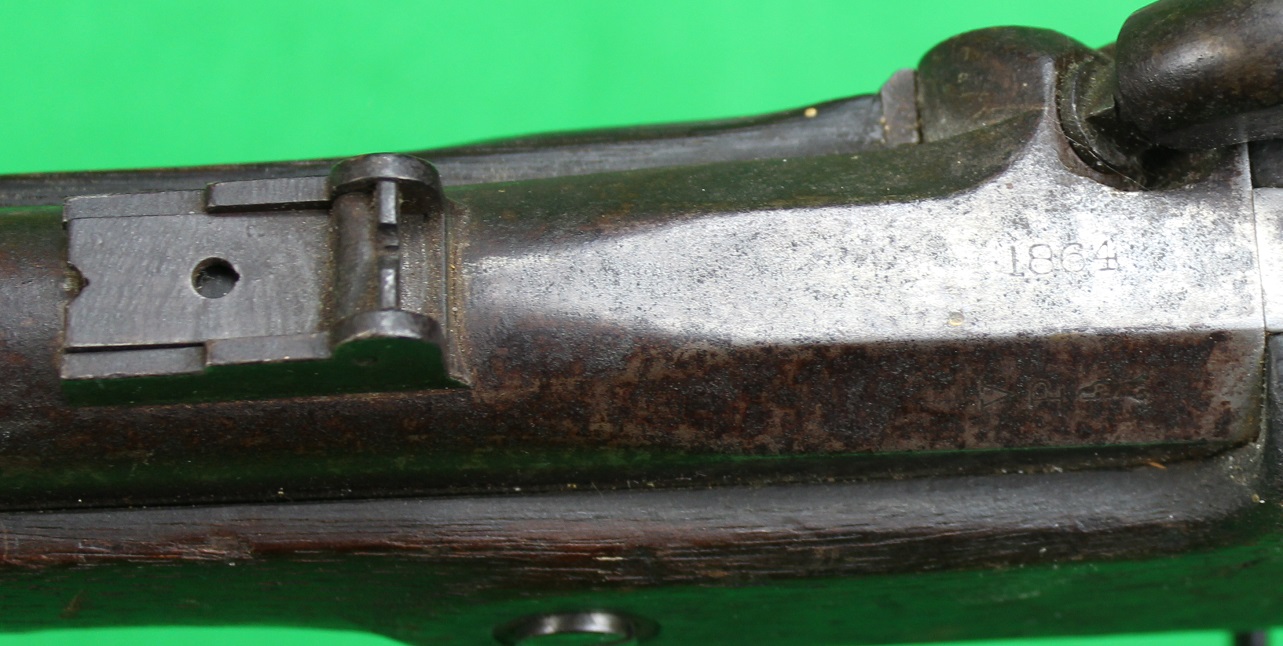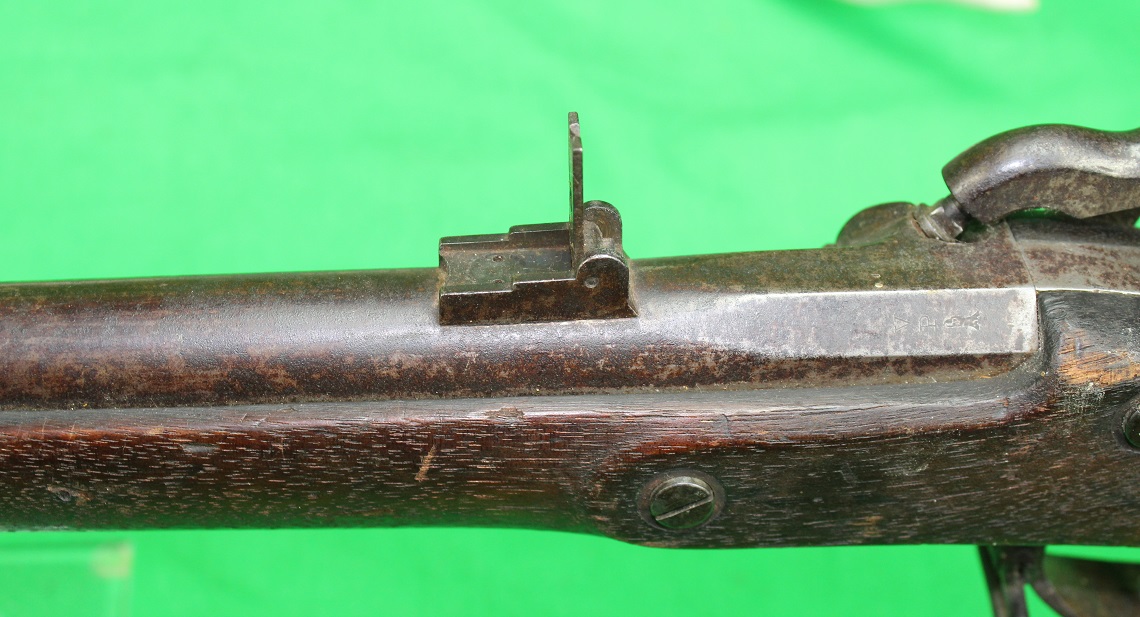 New Arrivals 346
I just got this half stock rifle from a friend of mine. This firearm is circa 1860's-70's being a Plains type rifle marked "C. Siebert – Columbus O." on the top of the barrel. There are other markings on the side of the reverse barrel that I just can't make out being partially obstructed by the stock. I have not taken the stock off to look at them. From what I can see it may ?? S. Siegfried and if it was he is listed as a barrel maker but location unknown. Christian Siebert was born in 1822 and died in 1886 in Columbus, Ohio. He was from a very famous gun making family. He was known for his fine sporting rifles. We believe that this rifle is known as a "Plains Rifle" rather than a target rifle because it does not have double set triggers. This rifle has a 33 inch octagonal steel barrel in 38 caliber. The entire piece from muzzle to buttplate is 49 inches. There is a rib under the barrel which the ramrod tubes are attached to with one tube lacking. The ramrod is not original to this piece. The sights are fairly common being a simple blade sight up front attached to a dovetailed piece and a simple buckhorn sight in the rear. The tang seems to be a replacement as it has some void around it. The stock is in generally good condition with a brass nose piece. The buttplate is also brass. There is a fairly high polish to the stock so it may have been coated in something at some point but it looks great. The triggerguard is iron and looks military to me. The hammer may be a replacement as it does not have the peppering that the rest of the piece has. I can see no markings on the lock, it functions very well. The drum and nipple have moved slightly forward. All in all a great piece! For this rifle $375.00
New Arrivals 345 Consignment
Here we have a nice WW2 Japanese Prayer / Good Luck Flag in great condition. This piece has been professionally framed years ago and I have not taken it out of the frame. The frame is 42 ½ inches long by 30 ½ inches tall. The flag itself is 36 X 28 with the 'Meatball' in the center and many Japanese characters painted on it. The flag has the leather end tie tabs. It kind of looks like something was mounted at the top of the frame under glass to hold the flag in place but I don't know for sure. Here is what Wikipedia has to say about Japanese WW2 Good luck flags:
The Good Luck Flag, known as hinomaru yosegaki in the Japanese language, was a traditional gift for Japanese servicemen deployed during the military campaigns of the Empire of Japan, though most notably during World War II. The flag given to a soldier was a national flag signed by friends and family, often with short messages wishing the soldier victory, safety, and good luck. The Japanese call their country's flag hinomaru, which translates literally to "sun's circle", referencing the red circle on a white field. When the hinomaru was signed, the Japanese characters were usually written vertically, and radiated outward from the edge of the red circle. This practice is referenced in the second term, yosegaki, meaning "sideways-writing". The phrase hinomaru-yosegaki can be interpreted as "To write sideways around the red sun", describing the appearance of the signed flag.
For this fine memento from WW2 $375.00 Ready to hang! I believe it is too large to ship and I will not separate it from the original frame. Contact me.
New Arrivals 344 Consignment
Here we have an old 12 ga double barrel shotgun that is marked HENRY ARMS CO. Henry Arms Co. was a name used on shotguns distributed by H&D Folsom c. 1900. It may have been manufactured by Crescent Firearms, Meriden, CT, or it may have been imported from a Belgian maker. It's lineage is not clear but one thing that is clear is that this shotgun had no relation to the famous Henry Repeating Rifles which were the forerunners of the Winchester lever actions. At any rate this is a good old shotgun and has seen action. It still works fine except that the right hand hammer will not stay back. It catches but pops forward at the slightest inclination. The barrels are fairly tight to the frame. On many of these old shotguns they wobble quite a bit. The metal parts: barrel, triggerguard, tang, hammers are a nice dark patina. The locks are a little less dark but match and I am quite confident that they are original to this piece. The bores are a little dull but I am quite surprised as to how good they are. The walnut stocks are in good condition showing a nice patina and are checkered. The butt plate is plastic. All in all a nice old shotgun! $250.00
New Arrivals 343
Consignment
The Remington 7600 is a pump or slide action rifle, available in a variety of calibers. This particular rifle is in .270 Winchester. This rifle is in very nice condition complete with Scope. The rifle has a 22 inch barrel with great rifling. It also comes with a detachable magazine. This rifle is blue with most blue remaining. There is some wear to the finish where it was put in and out of a gun sleeve. The obverse receiver is etched with a forested deer scene while the reverse is etched with a forested bear scene. The high gloss checkered walnut stock is in very good condition with no cracks or breaks with only a ding here and there from use. The markings are sharp and deep as they should be. The action is perfect and it's a joy to hold and look at. Nice one for $600.00
New Arrivals 342
Consignment
Here we have a nice 16 ga double barrel shotgun that was brought back from WW2 by an American GI. This shotgun shows 70% blue, good shiny bore, good walnut stock with checkering on both buttstock and forearm. The forearm has a small bite out of it on the right side that you can see in the pics. 28.75'' barrel, Pre WW2 manufacture in Germany. Boxlock action with crossbolt, auto-ejectors, double triggers, latch release forearm, full grip stock with cheekrest, original checkered buttplate present. Engraved on top of the right barrel "NIMROD-GEWEHR-FABRIK" and on top of the left barrel "THIEME & SCHLEGELMILCH, SUHL". Used with finish wear and handling marks. Mechanically fine with tight lockup. This is a dandy and a testament of German manufacture. Take a look at the pics. Nice! $1,300.00
New Arrivals 341
Consignment
This is a nice, used, but not abused Winchester Model 12 - 12 ga pump shotgun. The Standard Catalog of Firearms tells me that this model was designed by T.C. Johnson and was the first slide-action hammerless shotgun built by Winchester. This Model 12 enjoyed great success in its 68 year history and over 2,000,000 model 12's were built. Quite a success story! The Model 12 was well made and very popular. All Model 12s were the takedown variety. This Model 12 was dropped from the product line in 1963 but in 1972 the Model 12 was resurrected in their regular production line in 12 ga with a ventilated rib. This one does not have the ventilated rib and is thusly produced before 1963. The serial number of 13703XX shows that this weapon was made before 1963 as well. This firearm has the 30 inch barrel. This is the standard grade shotgun with the grooved slide handle. This shotgun is in generally good condition just showing slight wear from using. The metal finish is very nice with some wear here and there and a few minor scratches. The bore is nice and shiny. The stock is also in good condition with a ding here and there. No cracks and no breaks. This is a nice piece! For this shotgun $495.00
New Arrivals 340
Consignment
Here is a pretty nice used Connecticut Valley Arms short rifle. This rifle measures about 40 inches long with a 24 inch barrel. This is a percussion weapon and the single trigger action works well. The nipple is in good shape and not battered down. The stock is generally in good overall condition. I believe this is a kit gun that was finished by the consumer but was done pretty well. The rifle has a steel butt plate and a brass triggerguard. There is one brass ramrod thimble and the ramrod is aluminum with plastic tip. This would be a nice little rifle for a lady or a child. Take a look at the pics! Affordable at $125.00
The TRAPPER below is SOLD!!!
1. This is a pretty nice TRAPPER model Harrington & Richardson 7 shot .22 caliber revolver with decent brown leather tooled flap over holster. The H&R 'Trapper Model' was made between 1924 and 1941.
I believe that this piece was actually modeled after the Hunter model. The Hunter has a 10 inch octagonal barrel and the Trapper has a 6" octagonal barrel. This revolver is a double action revolver in good working order. This revolver exhibits about 60% to 65% bluing left. The walnut checkered grips are original to this piece and in good condition with some minor dings on the bottom of them. Markings are sharp. This is a nice revolver with holster. For this group $250.00
New Arrivals 338
Consignment
This is a little .32 caliber top break revolver marked US REVOLVER CO. that is made by Iver Johnson who was a US maker of firearms, bicycle and motorcycle manufacturer from 1871 to 1993. The company shared the same name as its founder, Norwegian-born Iver Johnson (1841-1895). After closing, the name was resold and in 2006 Iver Johnson Arms opened a company in Florida selling shotguns and M1911 pistols. However, the new Iver Johnson company does not have any parts, guns or information relating to the pre-1993 company. Not knowing exactly when this revolver was made it must be transferred. This little revolver is a 5 shot .32 caliber revolver with automatic ejector. It is a top break model and is nickel plated still showing approximately 75% to 80% nickel. The trigger guard is blued as is the trigger and hammer. The bore in this 3 inch barrel is in good condition. This is a double action revolver with pearl grips. One of the grips has a rather large chip out of it as seen in the photos. The action seems to work well in both single and double action. All in all this is a pretty good revolver and displays well. For this piece $125.00
New Arrivals 337
Consignment
We just got in this little beauty! This is a Savage Model 1907 Auto Pistol being an early made one with a 3 digit serial number! These were manufactured from 1910 to 1917 which this one being made in 1910! This 10 shot .32 ACP pistol uses a mag in the grip which you can see in the pics. This pistol is in the blue, being approximately in the 85% range with some thinning of the blue. It has fixed sights, metal grips (early manufacture in .32 ACP only until serial number 10,980) and an exposed cocking piece that's kind of like a rounded hammer. The bore is still pretty good with nice grooves. The action works well. I wouldn't be afraid to shoot this one! All in all it's a dandy example of an early Semi-Automatic pistol. Take a look at the pics! For this piece $650.00
New Arrivals 336 CONSIGNMENT
Here we have a decent Civil War Era 1850's – 1860's Percussion 12 ga. Double barrel shotgun. These type of guns were actually carried by sportsmen, hunters, farmers and soldiers. The Confederacy actually contracted for double barrel shotguns with some of them having bayonets made for them! I have attached a famous photo of a Confederate Master and Slave that were best friend that went off to war together. As you can see from the photo the black soldier is carrying a double barrel shotgun. I am in no way implying that this shotgun was used by the Confederacy. I have no history on this piece just wanting to show that they were used. This one is in decent shape being 48 inches long overall with 32 inch barrels. The walnut stock is in generally good condition with no breaks that I can see. One of the barrel lock escutcheons is damage and needs replaced. The barrel key is intact as well as the reverse escutcheon. The butt plate is iron. The box locks both work but the reverse one needs a little work as the hammer won't stay back routinely. The hammers do match. There is some simple floral engraving on the locks but nothing too fancy. This is the 2 trigger model as it should be and the iron trigger guard has the same simple floral engraving on it as the locks do. The wrist of the walnut stock has some hand checkering on it. I can see no makers name on this piece anywhere. The two ramrod thimbles are present being steel however the original ramrod is lacking. Most people just replace it with a walnut dowel rod. All in all this is a good example of a Civil War era shotgun. For this old piece $325.00
Consignment
New Arrivals 336.1
Here we have a Model 1873 Winchester Lever Action Rifle in .44-40 caliber!!
Winchester 73 toggle-link action
The Model 1873 was one of the most successful Winchester rifles of its day, gaining the reputation as "The Gun that Won the West". Still an icon almost a century and a half later, it was manufactured between 1873 and 1919. Originally chambered for the .44-40 cartridge, it was later produced in .38-40 and /32-20, all of which were also popular handgun cartridges of the day, allowing users to conveniently carry just one type of ammunition. The Model 1873 was produced in three variations: a 24" barrel rifle, 20" barrel carbine, and a "musket" (a term that, at the time, denoted a full length military-style stock, not to be confused with a true smoothbore musket). The easy to transport and handle carbine was the most popular, while the musket accounted for less than 5–10 percent of total production.
This particular weapon is the rifle measureing 43 inches long overall with a 24 inch rifled octagon barrel. The barrel markings are .44 W.C.F. & WINCHESTER'S REPEATING ARMS NEW HAVEN CONN. U.S.A. -KING'S IMPROVEMENT PATENTED MARCH 29, 1866 OCTOBER 16, 1860. Rifling can still be seen down the barrel although it is a bit dark and does have some minor pitting. The receiver has a dark type patina and the usual ding here and there from use. There is a small amount of pitting on the side plate and rear receiver on the reverse. The original dust cover is still present and in good condition. The action is smooth and tight with no wobble to the lever. The dark walnut stocks are in good condition with a ding here and there from use. The cleaning rod is missing from the buttstock but they usually are. The serial number of 3479XXB indicates that this weapon was made in 1890 so no paperwork will have to be done as it is an authentic legal Antique weapon. This is a beautiful gun that was there and was used!!! For this piece $1,995.00
New Arrivals 336.2
Here is a nice Civil War double-action Starr revolver in .44 caliber. I'm sure that this one has been reblued but was done by someone who knew what they were doing. All the markings are sharp and clear and it looks great! We like to have them with the original bluing on them but at least you can see what it must have looked like when it was issued. The action works great in single and double action. There is very little pitting on this piece. The bore shows a considerable amount of rifling and this piece could be fired today. The bright finished areas ie: loading lever, trigger guard and trigger, backstrap and hammer are finished in the bright and has a trace of a case hardening look to them. The grips are very nice and show dings here and there with 2 nice cartouches. One of the cartouches has been double stamped. The knurled top strap knob is a replacement and needs to be changed with an original . There is no slot in this replacement knob as per the original. One nipple has been changed however the other 5 are originals. There are serial numbers on the front frame and hammer rest but none on the cylinder, however, the cylinder is original. I have owned several Starr revolvers both single action and double action and have never had one with a serial number on the cylinder but I see pics on line that many do. I did not take off the grips to check there for a serial number. This one is numbered 21643. This model was made from the late 1850's through the early 1860's when it was replaced by the Single action revolver. The frame markings are STARR ARMS CO. NEW YORK and STARR'S PATENT JAN. 15, 1856. There are government inspector markings here and there on this piece. I don't think this revolver was restored recently as there is some age and wear to the bluing now. From a S.C. collection. For this fine piece-- $1,650.00
New Arrivals 335 CONSIGNMENT
Here is a dandy 1873 Model Single Action Army in .45 Long Colt. This is a true Cowboy and US Cavalry Revolver as used during that period. The serial number of 784XX dates this particular revolver to 1882. Lots of things going on in the west in 1882!! The revolver has matching serial numbers on the frame, trigger guard, butt strap and cylinder. There is a non- matching number on the loading gate but that may just be a part number. The markings are all clear and sharp on this piece. The barrel has good rifling in it and is 7 ½ inches long. The action works well and every time. The original blue has turned into a dark finish but looks pleasing. There seems to be a small amount of blue present in hidden places like screw heads and the hammer. Only one screw has been burgered up a little. The original Ivory grips are present and are very nice with typical age cracks. These grips are actually more yellow than my pics show. I am sure they were put on the revolver during the period. They have a slight shrinkage due to age but really very nice! Overall this is an excellent example of an Old West Gun that helped tame the West!!! For this fine piece $4500.00
New Arrivals 334 CONSIGNMENT
Here we have two camping hand axes that are marked SHARLEIGH HARDWARE CO. FOR SPORTSMEN that I believe are from the 1940's. You can find the history of this company at http://www.thckk.org/history/shapleigh-history.pdf Mr. Sharleigh opened in 1843 with two partners in St. Louis, MO. The name of the company changed in 1863 the name changed again. The slogan here on these axes were first used in 1909 although the Company changed names again in the early 1900's . Later on they joined with Simmons and even later on they became Sharleigh Keen Kutter . In 1918 the name changed to what is on these Axes now. This company closed in the 1960's . Nice hand axes being about 14 inches long overall with the ax head being 5 inches long from the bit to the poll. One has a nice hunting dog on point with the original paint still on it and the other has on it a Mallard Drake with green paint still on the head and an orange bill. The bits have been sharpened but that doesn't matter that much. The handles are the original handles and are in great condition! $450.00 for the pair. Where you gonna find others this good!
New Arrivals 333 CONSIGNMENT
Here we have a set of 4 Iver Johnson marked butter knives! They are each about 10 inches long with celluloid handles and each blade is marked IVER JOHNSON S.G. CO. BOSTON. Iver Johnson made many items including guns, knives, holsters, bicycles, clocks and many, many other items for the American Market. An internet search turned up nothing but if you go to http://www.oldbike.eu/iverjohnson/?page_id=247 you can see their online museum! For the 4 of them $65.00
New Arrivals 332 CONSIGNMENT
Here we have some miscellanous firearm related items for sale. They are:
1. Remington 1100 - 26 inch 20 Ga vented choked rib barrel for $225.00
2. Miscellanous remington chokes for the 1100 for $12.00 each
3. Smith & Wesson nice leather K frame holster for $25.00
4. Soft Holster that would fit a med frame semi auto like a Ruger LC9 that has bullet storage on the front for $17.50
5. Pachmayr grips for a Smith & Wesson 'K' frame revolver for $6.00
Check out the pics!
New Arrivals 331 CONSIGNMENT
SOLD!!!
Here we have an excellent condition German WW2 Dagger with two strap hanger. This is a WW2 German Heer Officers Dagger in great condition with the blade marked E.W.HOLLER – SOLINGEN.
Thanks to MILITARYITEMS.COM for this information: German Army Dagger - The german armed forces were very concerned with the appearance of the soldiers. They wanted to ensure that every combatant was proud of being a member of their unit. To that end, the general command deviced a series of items that would make every branch of the service distinctive. The German Army Officer's dagger is one of those items. The high quality construction and beauty of the daggers have made them a desirable military collectible. No other army in the world has ever had the number of variations and complexity in design for daggers as did the German armed forces of the Third Reich.
This one is in excellent condition with 2 strap marked hanger. The grip is orange celluloid and in very nice condition. This one is complete with the sheather which is also in excellent condition! The hanger is marked on the top attachment metal piece O.R.G.M. and so are the bottom attachment pieces. The strap material is silver bullion with green felt on reverse. This is an excellent specimen of German Daggers- To the Victors go the spoils!. For this excellent piece $575.00 Check out the pics!
New Arrivals 330 CONSIGNMENT
Here we have a circa 1889 to 1940 Harrington and Richardson .32 caliber six shot Double Action Top Break revolver serial number 427026 with the cylinder and ejector matching with the serial numbers 26. The top rib of the 3 3/8 inch long barrel is marked HARRINGTON & RICHARDSON ARMS Co WORCESTER, MASS. U.S.A. The obverse side of the barrel has no markings on it but the reverse side of the barrel has on it 32 S&W CTGE. The hinge is tight and solid and the ejector works as it should. Most of the original nickel finish is present on this piece estimated at 80-85%. The action works perfectly and the bore is fine. The grips have suffered some damage with chips missing on the bottom of both grips. Check out the pics. All in all this is a really pretty large frame .32 caliber revolver by a really well know company! $250.00
New Arrivals 329 CONSIGNMENT
Here we have a Harrington & Richardson YOUNG AMERICA DOUBLE ACTION revolver that was made from 1884 to 1941. This is the 2nd issue .22 caliber 7 shot revolver I believe but I do not know if it was made before 1898 or after since I don't see a serial number so it will have to be lawfully transferred. This revolver has a solid frame with later octagon 2 inch barrel. It is a nickel plated model with some nickel being worn through. The plating remaining is approximately 80% or slightly more. The action works well in double or single action and the rifling is good. This piece is complete and has a really nice set of rubber grips on it that has virtually no damage to them. Nice example of a little revolver that wasn't made to last. $250.00
New Arrivals 328 CONSIGNMENT
This is a very nice Collector's Quality H&R Automatic Ejection Double action top break revolver made c. 1889-1940 being a five shot .32 S&W caliber. This one has patent dates on the barrel of Apr. 2 '95 and Apr. 7 '95 with a serial number of 110357 so since we are not sure if it was made prior to 1898 we will have to transfer it legally. Total estimated quantity for this model 2 was estimated at 1,300,000 and whatever is left is generally not in this good of condition as this one. This revolver has the 2 7/8th inch barrel which is original and has not been cut. This one has the checkered hard rubber grips with the H&R Target design at the top. The grips are near perfect. This revolver has the company name and location along with the patent dates on the barrel rib. Nothing is stamped on the obverse side of the barrel but on the reverse side of the barrel is PREMIER 32 s&w ctge. The hinge is tight with no wobble and the action works fine. The nickel finish is very good with only an area of light frosting and a few chips that is less than normal. Case color is still highly visible on the hammer and trigger and nearly all the blue is left on the trigger guard. The matching cylinder serial numbers of 357 is also on the ejector and it's normal to use only the last 3 numbers due to space available on these parts. All in all this is an exceptional quality for this model. The barrel has some minor pitting but still has sharp lands and grooves and is shiny. This is a nice one! $275.00
New Arrivals 326
THE MASONIC SWORD BELOW IS SOLD!!!
Here we have a Fraternal or Society sword. Here is some history on the maker thanks to Kris Rzepczynski, Kalamazoo, Michigan Public Library Staff, :
Henderson-Ames Company: Regalia Makers One of the country's leading producers of uniforms and regalia, the Henderson-Ames Company of Kalamazoo, Michigan, served lodges, secret societies, and other social organizations for forty years. Frank Henderson first moved to Kalamazoo from Dowagiac in 1860 and formed a saddlery business with Charles Brown in 1866. After buying out his partner a few years later, Henderson expanded his business in 1868 by adding uniforms and regalia. Henderson formed a new partnership in 1870 with T. F. Giddings, but the two partners split three years later; Henderson maintained the new regalia division while Giddings kept the saddlery division. Nineteenth Century Growth In 1893, the Henderson-Ames Company was officially formed when Henderson consolidated with the Chicago branch of the Ames Sword Company in Chicopee, Massachusetts. Awarded the medal and diploma for excellence of quality and design at the 1893 Columbian Exposition in Chicago, the company quickly made a name for itself. In 1895, Henderson moved to a new home (Henderson Castle) on West Main Hill overlooking Kalamazoo. He died in 1899, so he did not live to see the scandal that undermined his company following the Spanish-American War. The company had purchased large quantities of unused militia uniforms at salvage prices, and after a few minor alterations, sold them back to the State of Michigan at full price. Twentieth Century Changes The company survived the scandal, and in 1900 built a five-story factory on the corner of W. Main Street (today Michigan Avenue) and N. Park Street. It dominated that intersection until it was razed in 1940. The company manufactured uniforms during World War I, and enjoyed great prosperity in the early part of the twentieth century. By 1924, it maintained over $1 million of business a year, but the great depression took its toll. In 1933, the Henderson-Ames Company merged with another regalia firm, the Lilley Company of Columbus, Ohio, to form the Lilley-Ames Company. Operations were soon moved to Ohio, effectively ending the company's affiliation with Kalamazoo. Collectors Items The Henderson-Ames Company manufactured uniforms, regalia, ceremonial swords, flags and emblems for fraternal organizations, secret societies, bands, police and fire departments, railroad workers, and even the United States military. Although it has been out of business for more than sixty years, many of its products--particularly its swords-- have become heirlooms and collectors items, which continue to carry the company's legacy all over the world. Written by Kris Rzepczynski, Kalamazoo Public Library Staff, 1998. Updated 14 September 1999.
The company with this name lasted from 1893 tp 1933 so this sword was made prior to 1934. The sword is marked on the crossguard In hoc signo vinces a Latin phrase meaning "In this sign you will conquer", often also rendered in early modern English as "In this sign thou shalt conquer". This phrase on swords were used by Masons – Knights Templars for ceremonies. For it's age this sword is in good condition only showing some flaking of the nickel plating. The gold plating is fantastic as well as the handgrip and hand guard. This entire piece is 38 inches long in the sheath. It's a German made sword as evidenced by the bear/lion logo on the ricasso and has some very nice etching on the blade. The Henderson-Ames makers markings are also on the ricasso. The blade itself is just over 30 inches long. This is still a nice piece and is complete with suspension rings. There is no previous owners name etched on the blade or scabbard. For this Ornate piece of Masonic History $195.00
New Arrivals 325
Here we have a RARE Remington 20 Ga. Single barreled percussion shotgun made circa 1866 through the 1870's. As per Flayderman's 9th Edition of the Antique Firearms Guide the quantity is unknown but the 1873 catalog mentioned having made and sold 10,000 of which they rarely show up on the market. In my 36 years of business this is only the 2nd one that I have obtained. This piece is a 20 gauge 35" round barrel, muzzle crowned firearm. It has a narrow, flat iron frame with center mounted hammer that has a deep "V" notched sighting slot on the hammer head. This piece, as normal, is completely unmarked except perhaps under the barrel with an inspectors mark or proof mark. I have not taken it apart to see. The shotgun has a walnut stock and short forend with iron tip. The forend has a repair with a splice of wood added due to damage. This is an old repair. The shotgun has an iron trigger guard and butt plate. It is of a simple design and construction. The ramrod is a replacement. The rear dovetailed sight is lacking but otherwise complete and in wonderful working condition. See the pics! $495.00
New Arrivals 324
Here we have a pretty nice complete 1840's through 1860's .32 caliber half stock rifle with set trigger. The action works well on this piece just as it should. I cannot check the bore as I do not have a bore light small enough to slip down the muzzle. This is an extremely long half stock rifle being over 56 1/2 inches long with a 40 inch octagon barrel. The barrel is in very nice shape however no makers name is on it. The previous owner told me that me believed it was made in Indiana but I have not seen any proof of that. I have not taken off the barrel so there may be a surprise under that. There is a long front blade sight on the front and a buckhorn type rear dovetailed sight on the back. There is evidence of another sight being there at one time or just the outline of the cut that never took place. The lockplate has some simple floral engraving on it but worn. It works well. The nipple has been battered some but most of it is there. The tang strap is long with 2 screws. The stock looks nice but I'm not sure what kind of wood it is. It looks dark but could just be a walnut stain. The stock has a simple cheek rest on the reverse. I do not see any breaks in the stock but a ding here and there, not bad at all. The cresent butt plate is brass as well as the cap box. This cap box is really shallow and would probably allow only 1 or 2 caps for storage. The forend is pewter. There are brass decorations enlayed into the stock and a 6 inch brass plate on the bottom for a post or hand rest during firing. All in all this is a nice piece but I do not believe it was commercially made but probably one of a kind by a novice maker and this may have been the only one he made. The stock is somewhat ill fitting next to the barrel but probably better than I could do! During the period you could purchase barrels and locks to build yourself a rifle. The ramrod thimbles seem to be of two different types. The ramrod is, of course, a replacement. Still a nice old half stock rifle! $495.00
A good friend of mine has several Civil War Items to sell. Here is one example. Here is a pair of Civil War English Import shoes of a type used by the Confederate Soldiers. You can find a like example on page 174 of Echoes of Glory-ARMS AND EQUIPMENT OF THE CONFEDERACY. You can read the text below in the pic showing the shoes in the book. These shoes were offered by Wacker's Militaria. Bill Wacker was a long time central Indiana Dealer that passed away a couple of years ago. He was a good friend and specialized from Civil War items through WW2. Now back to the boots:
These shoes look to have seen little use but are excellently made. I did find one company that reproduces them but they are a little different than what we have here. That company is Missouri Boot and Shoe and their website is missouribootandshoe.com where you can see the difference. There are no wooden pegs in the soles of these shoes like ones that I have seen on the Missouri Boot and Shoe website. This pair also differs from the pic in the book in that there are no metal eyelets in the uppers for the laces and the inletted heel plates have 4 nails that hold them on instead of 5 like the originals in the book. Other than that these are a dead ringer for the originals in the book. These shoes look to be about a size 8 or so. There are no markings on these shoes anywhere that I can see. Excellent condition! $700.00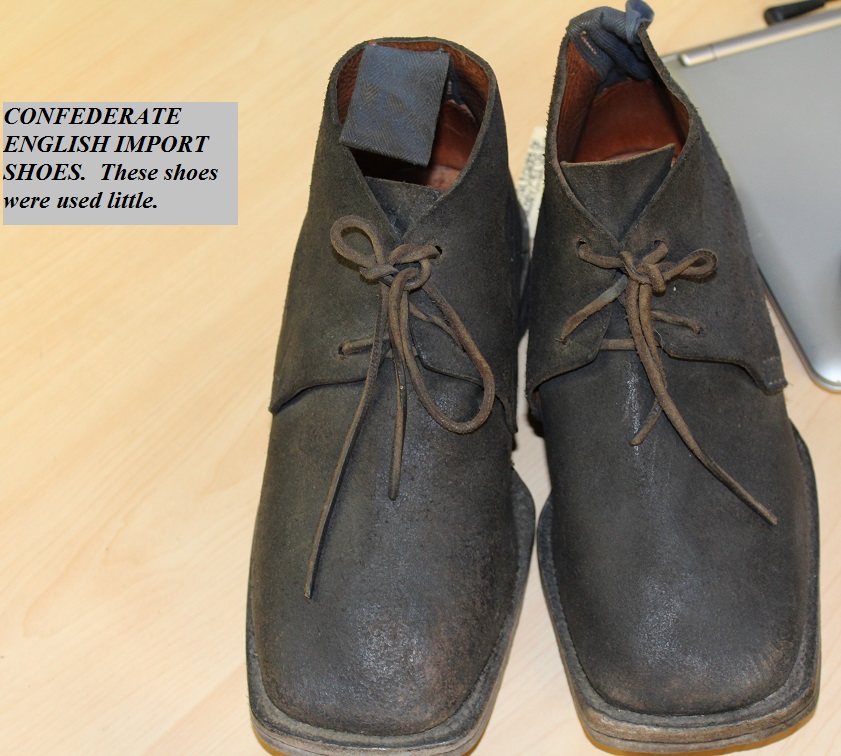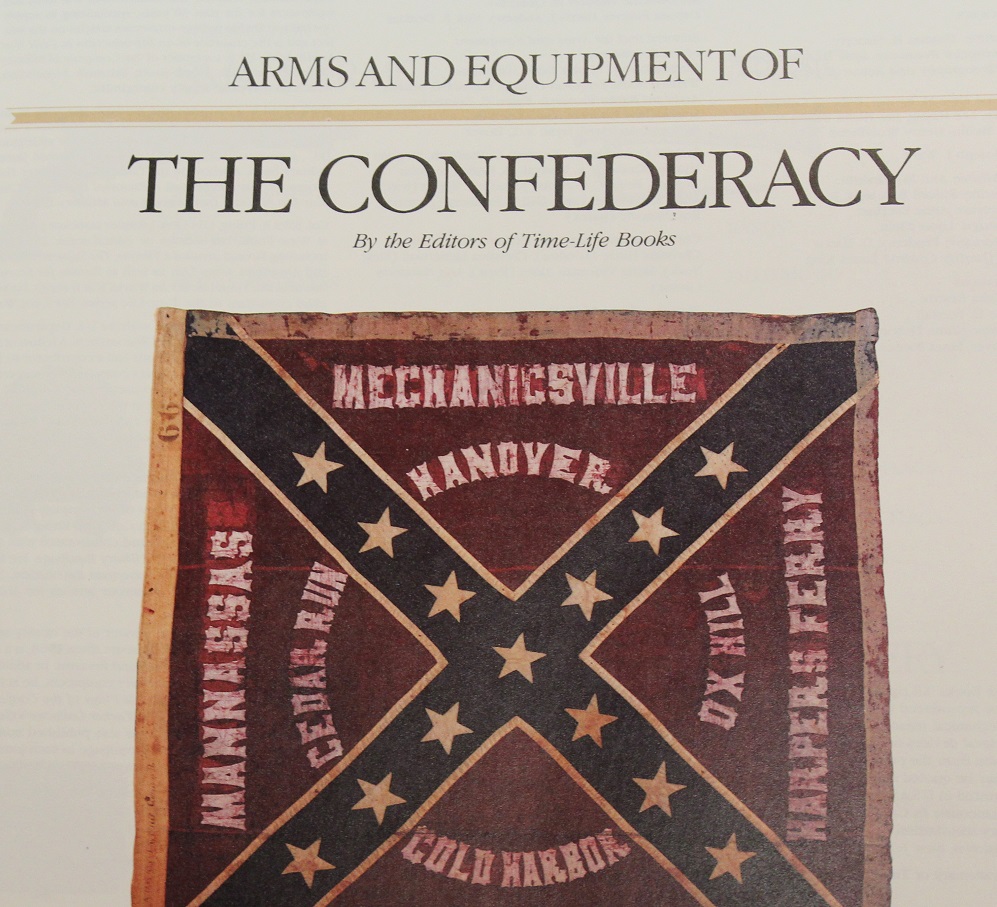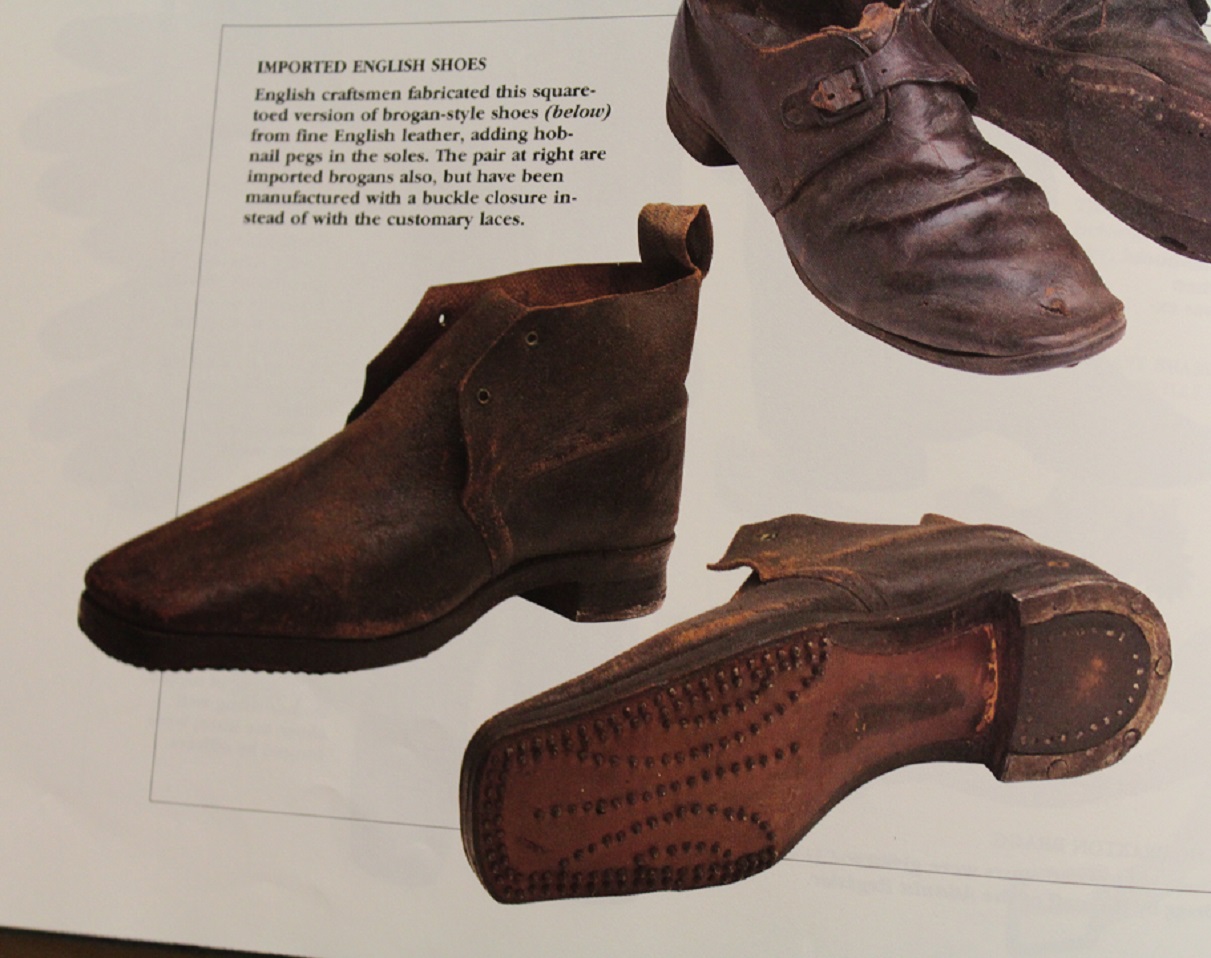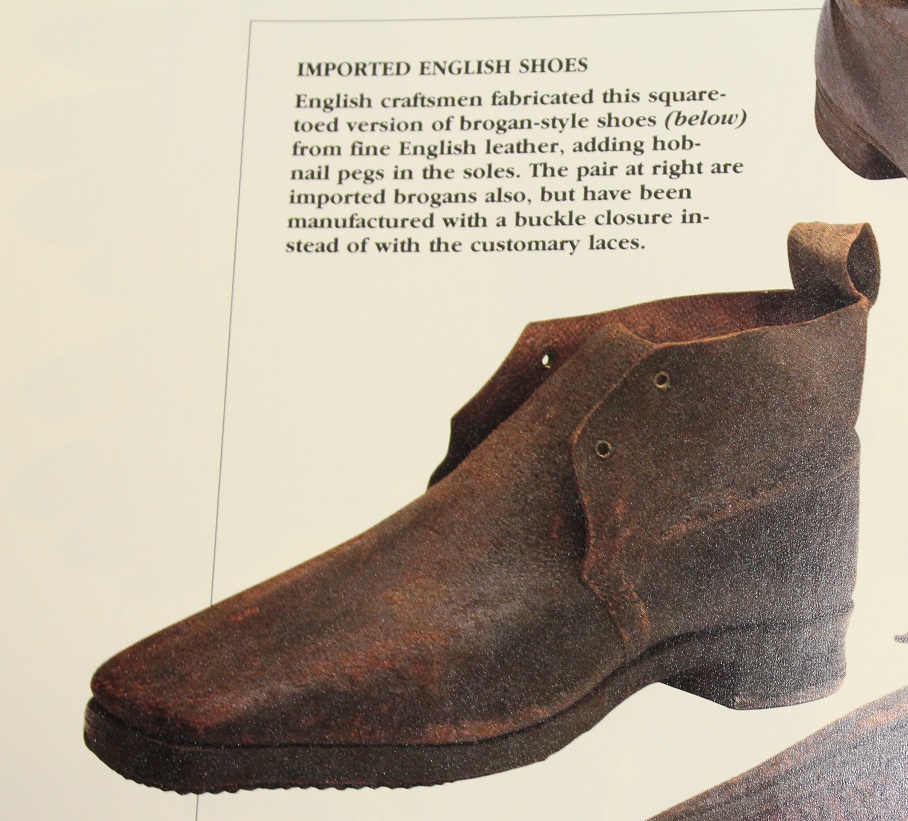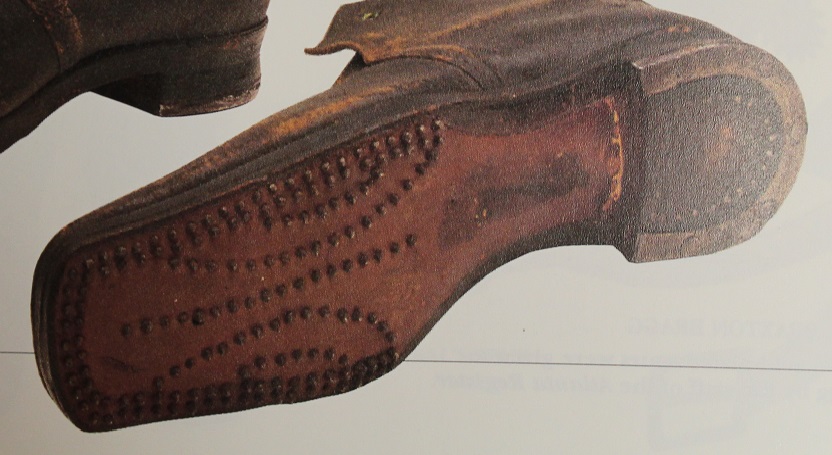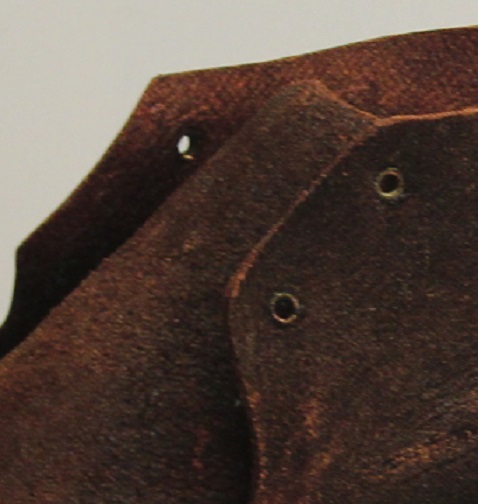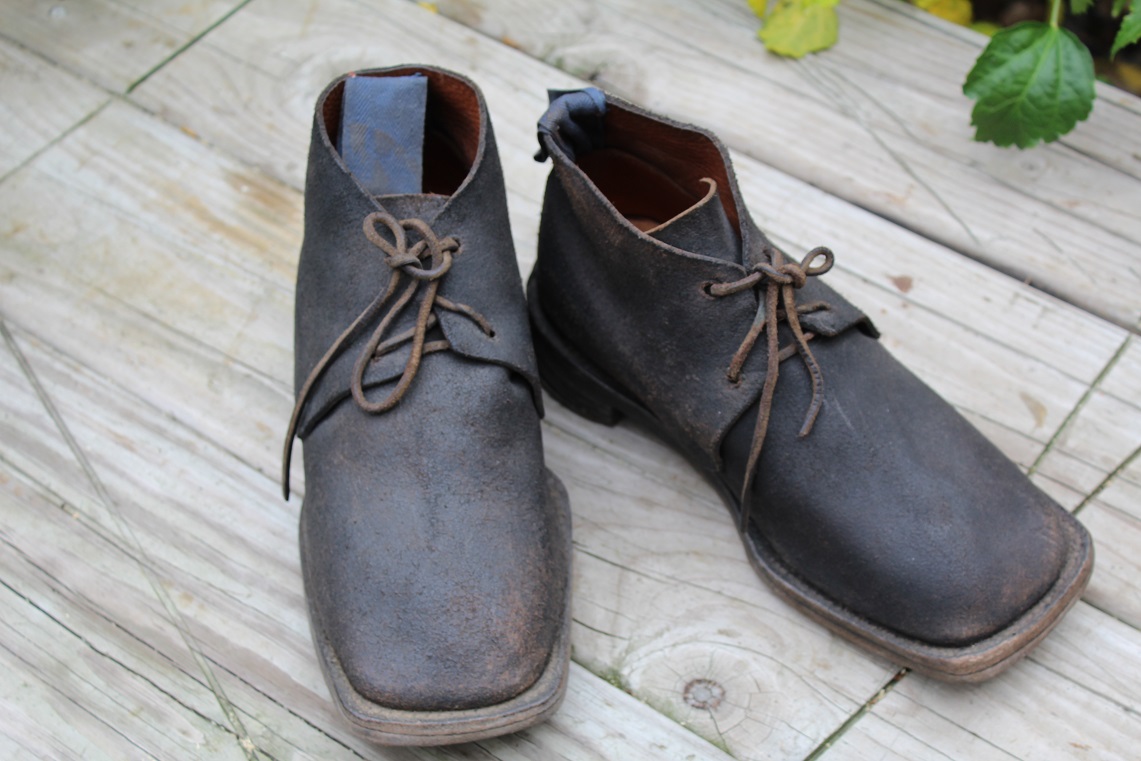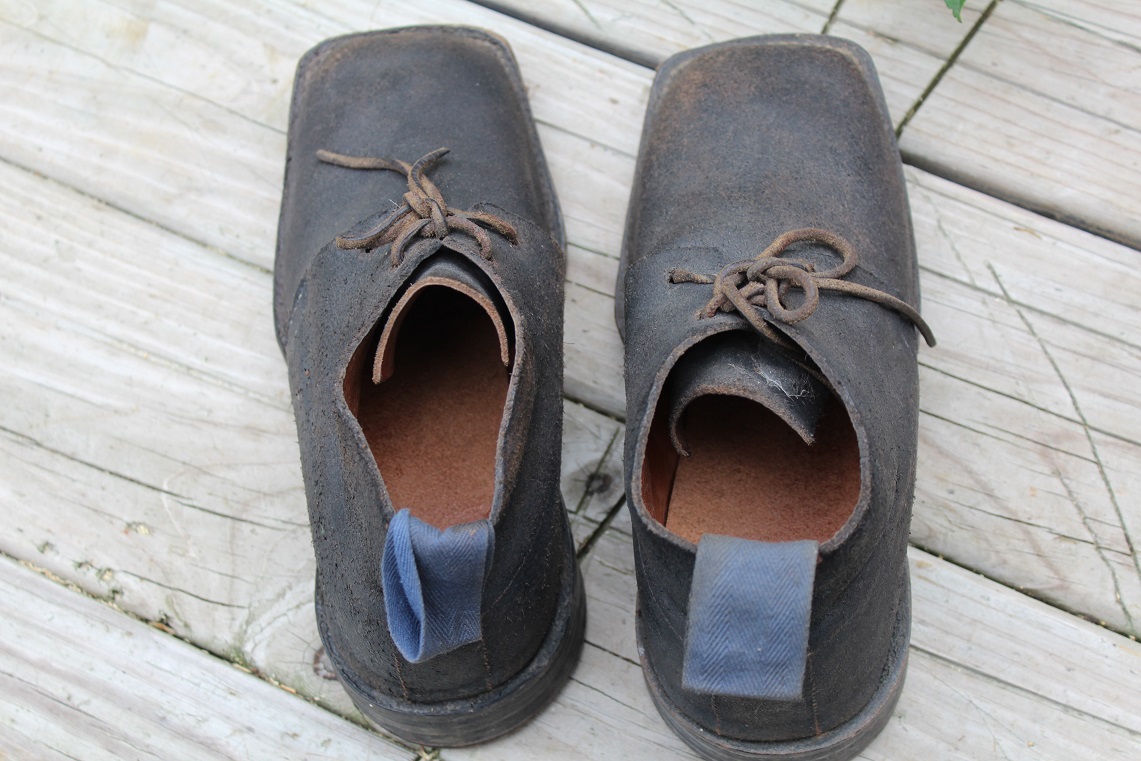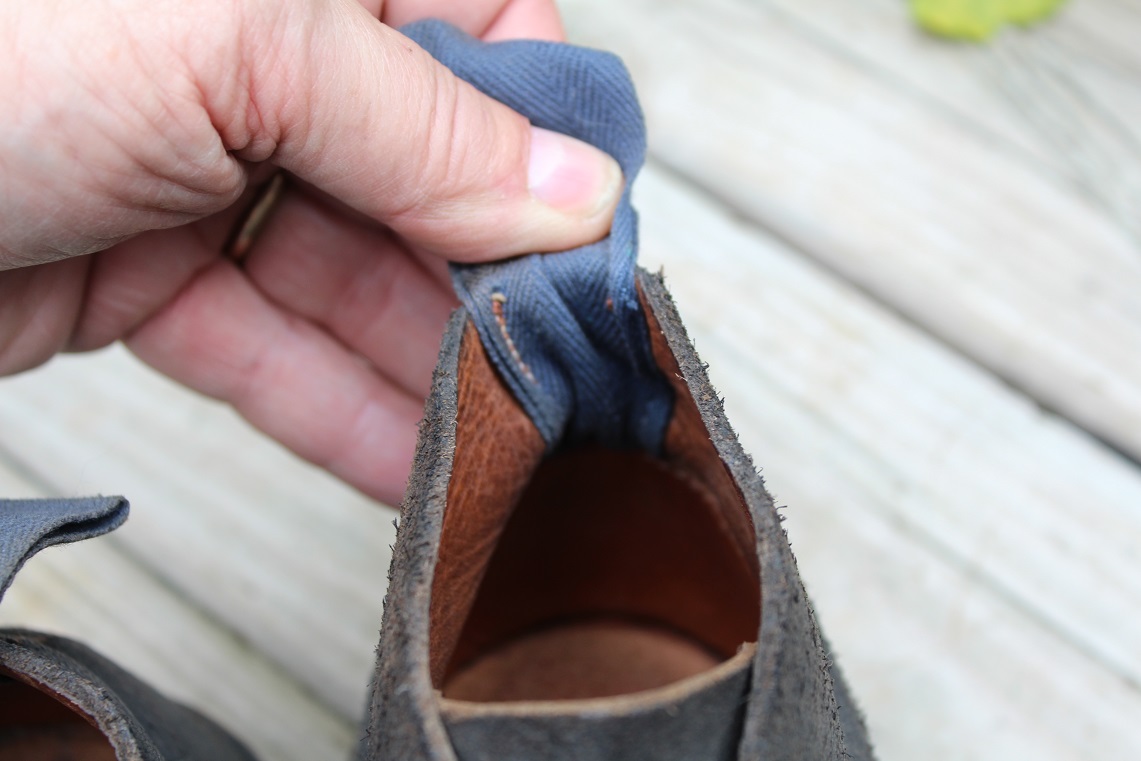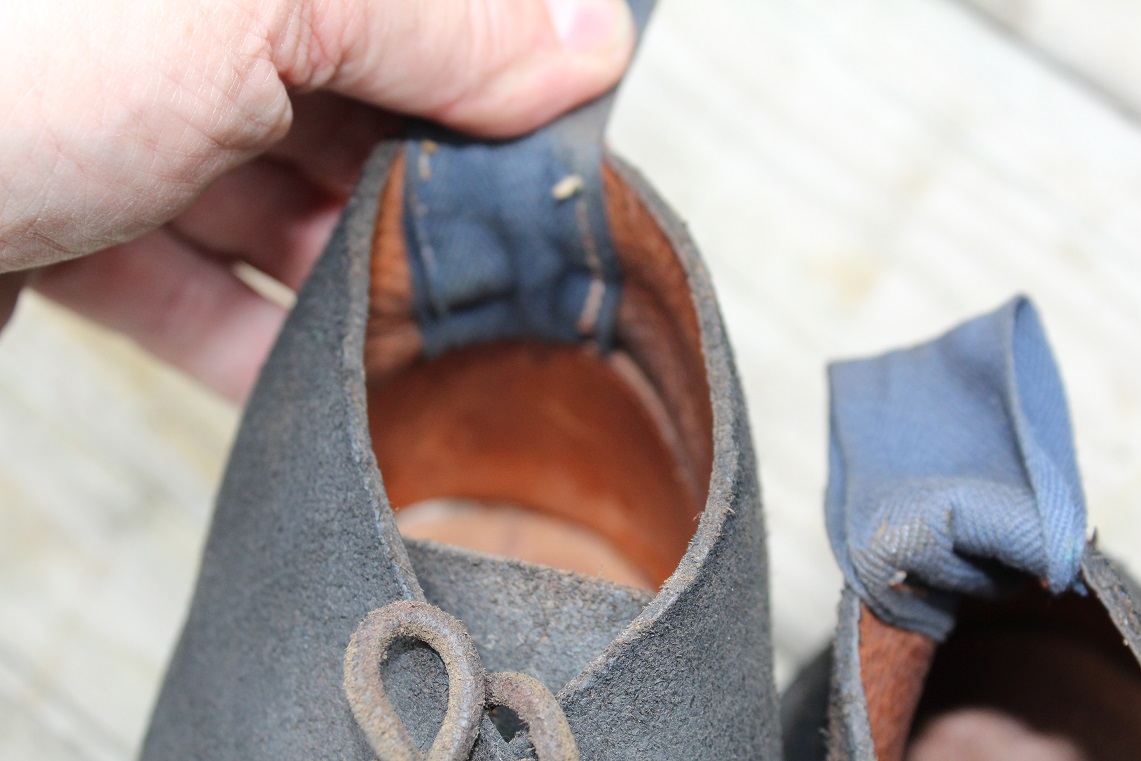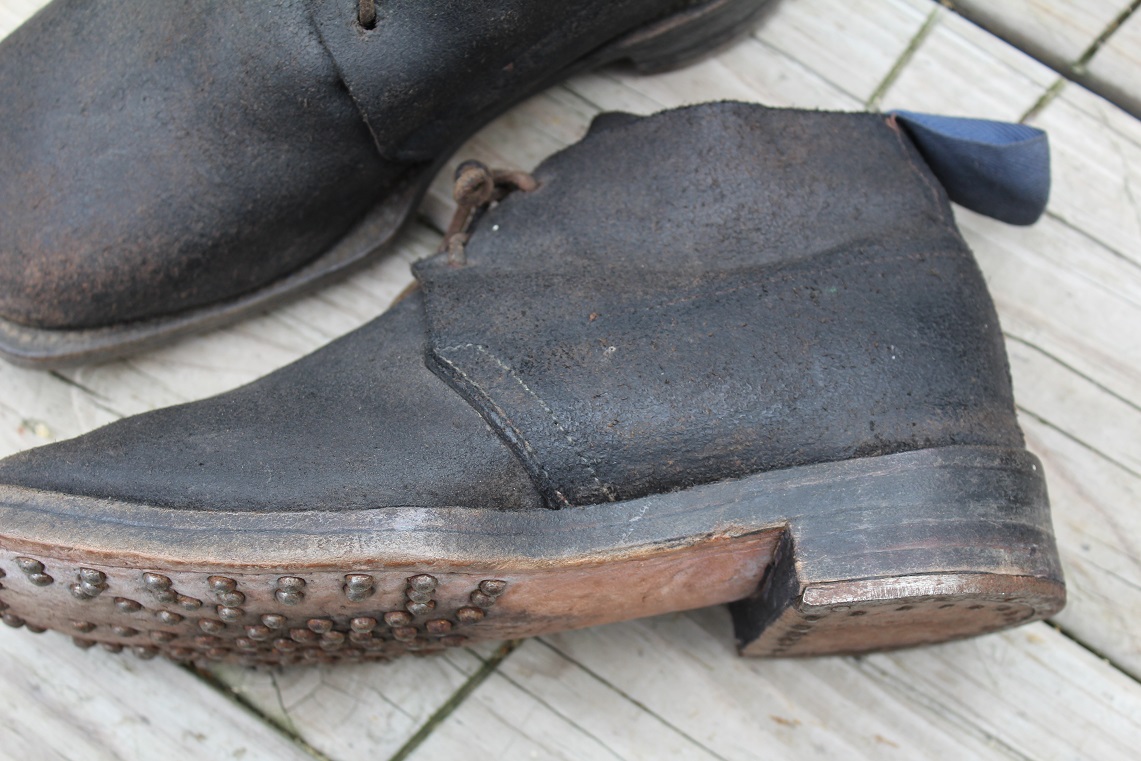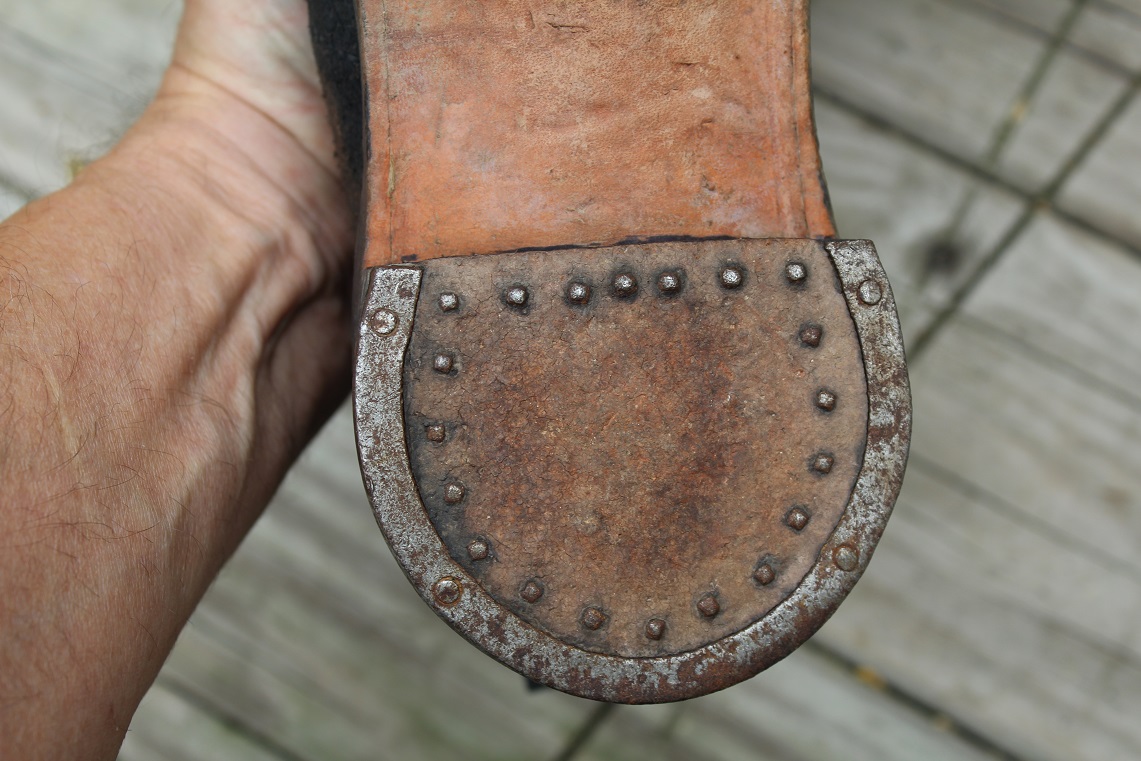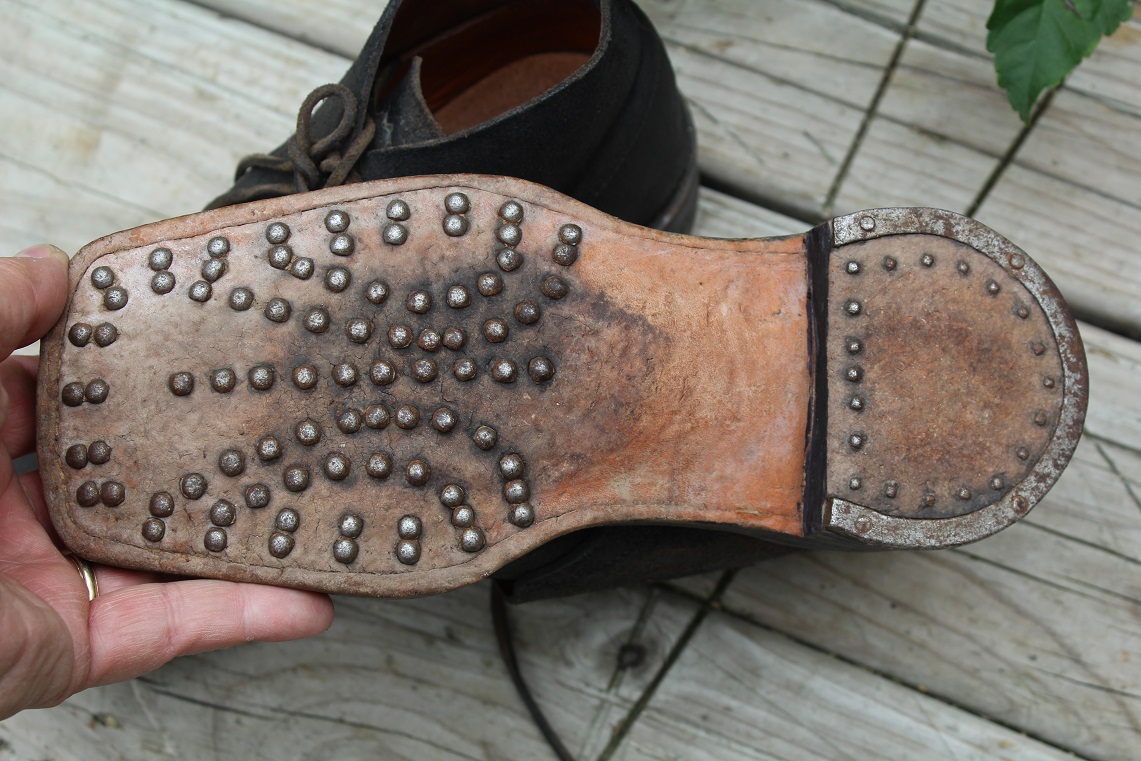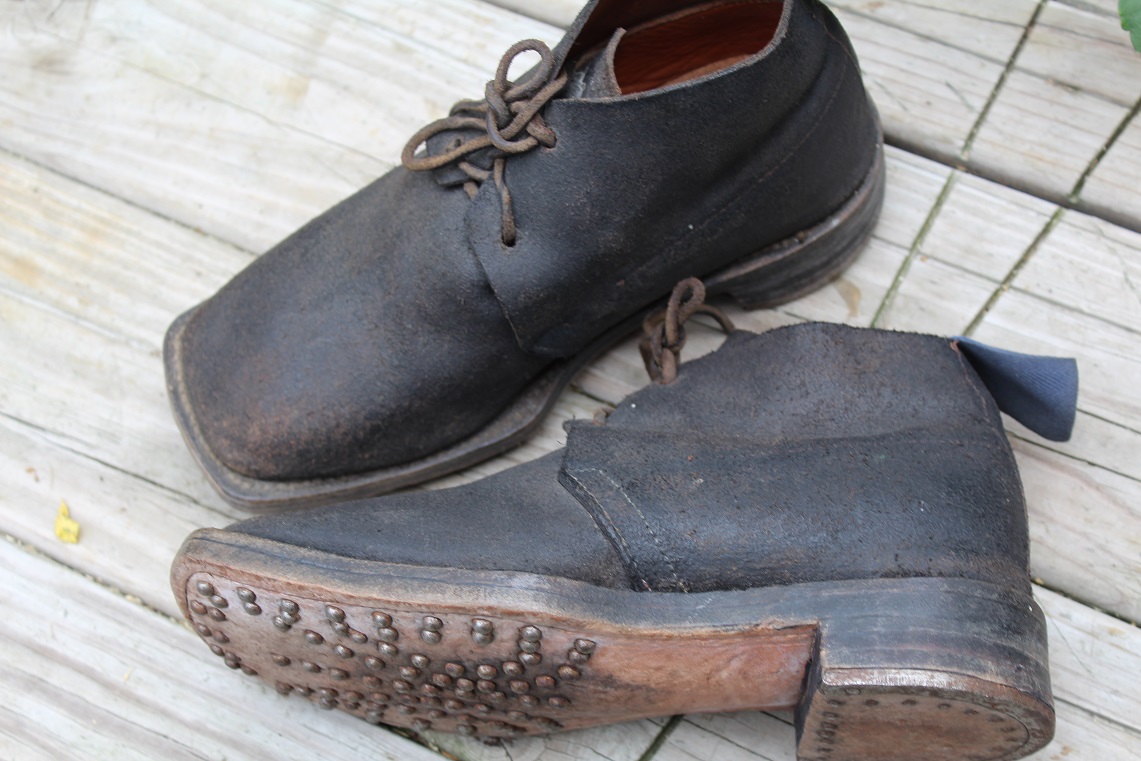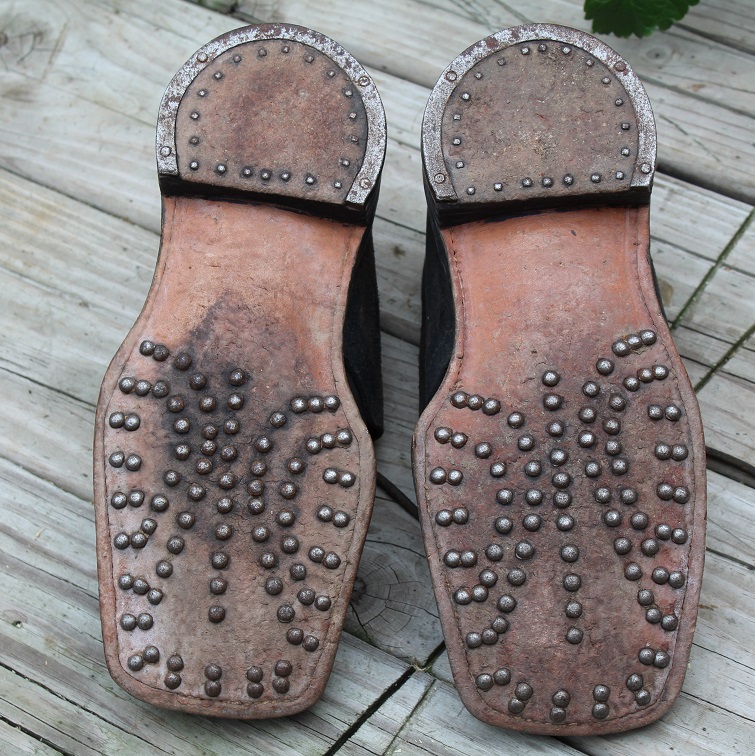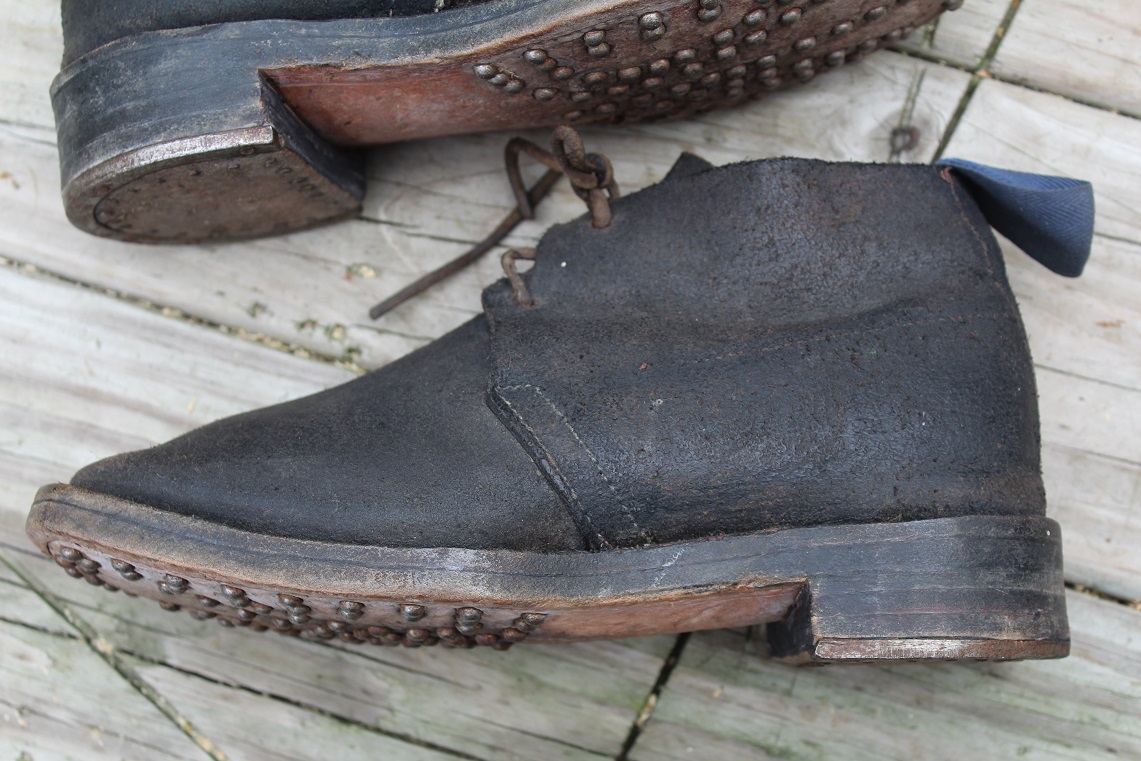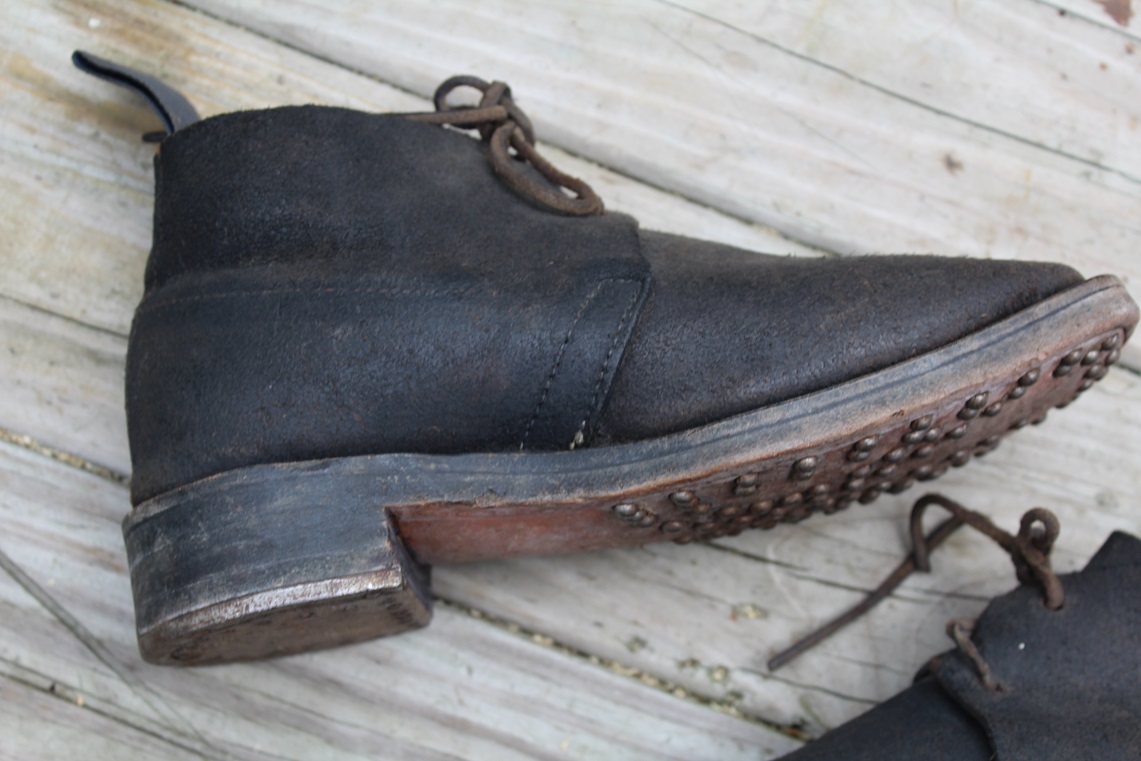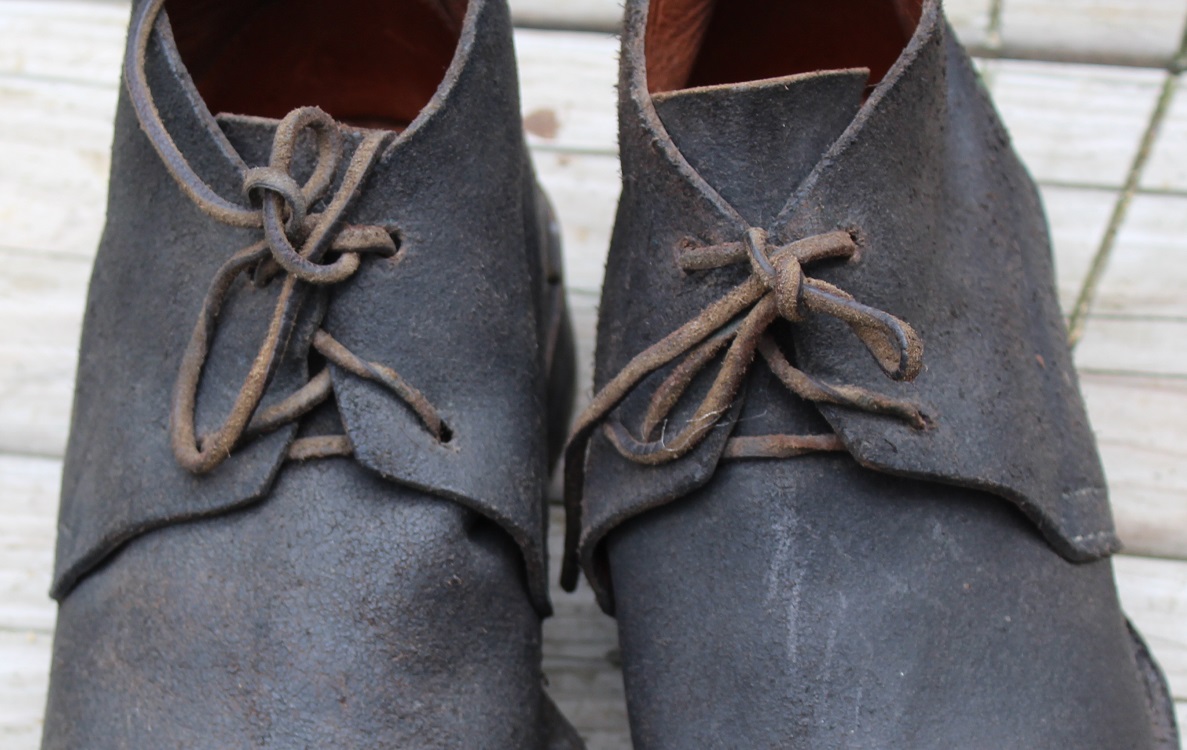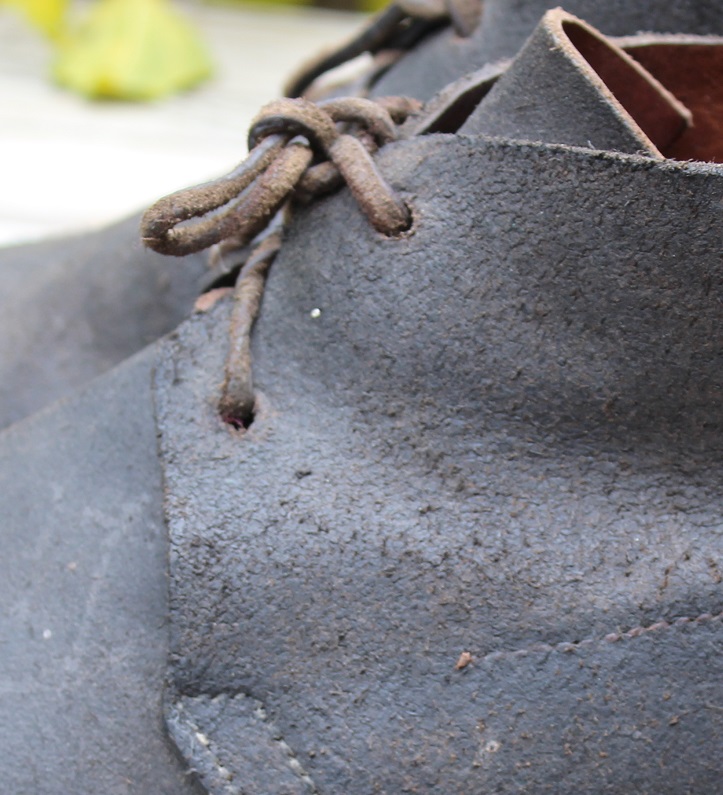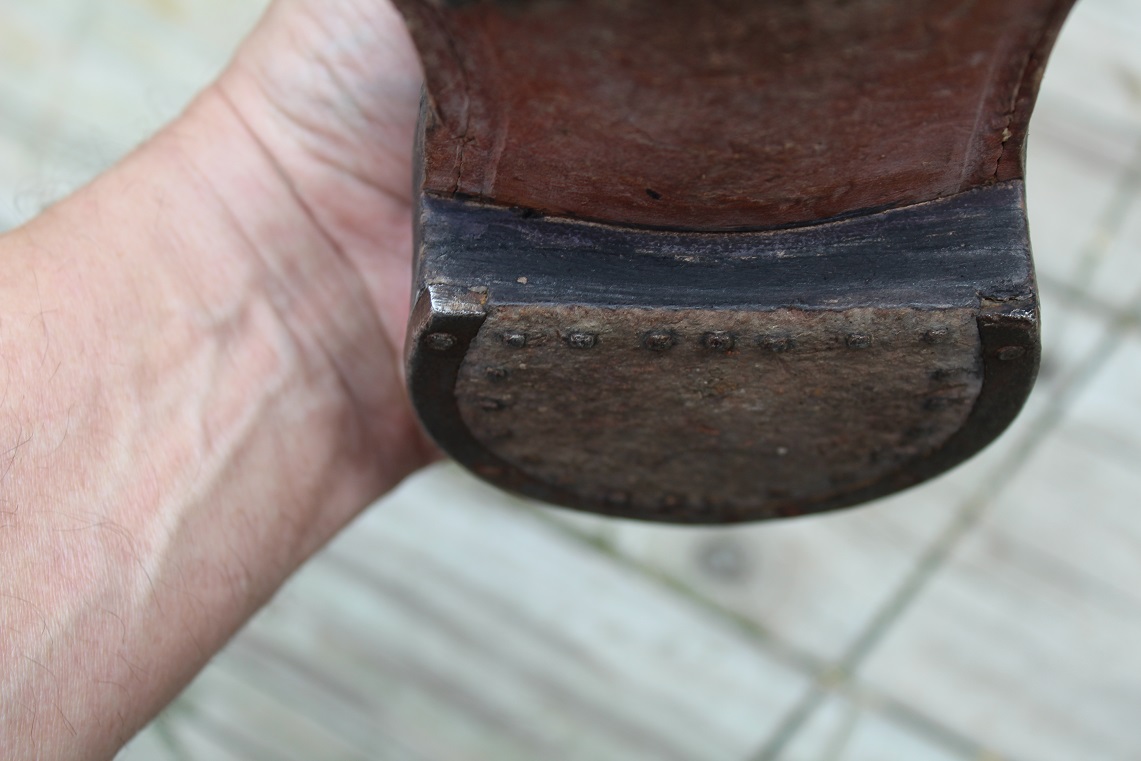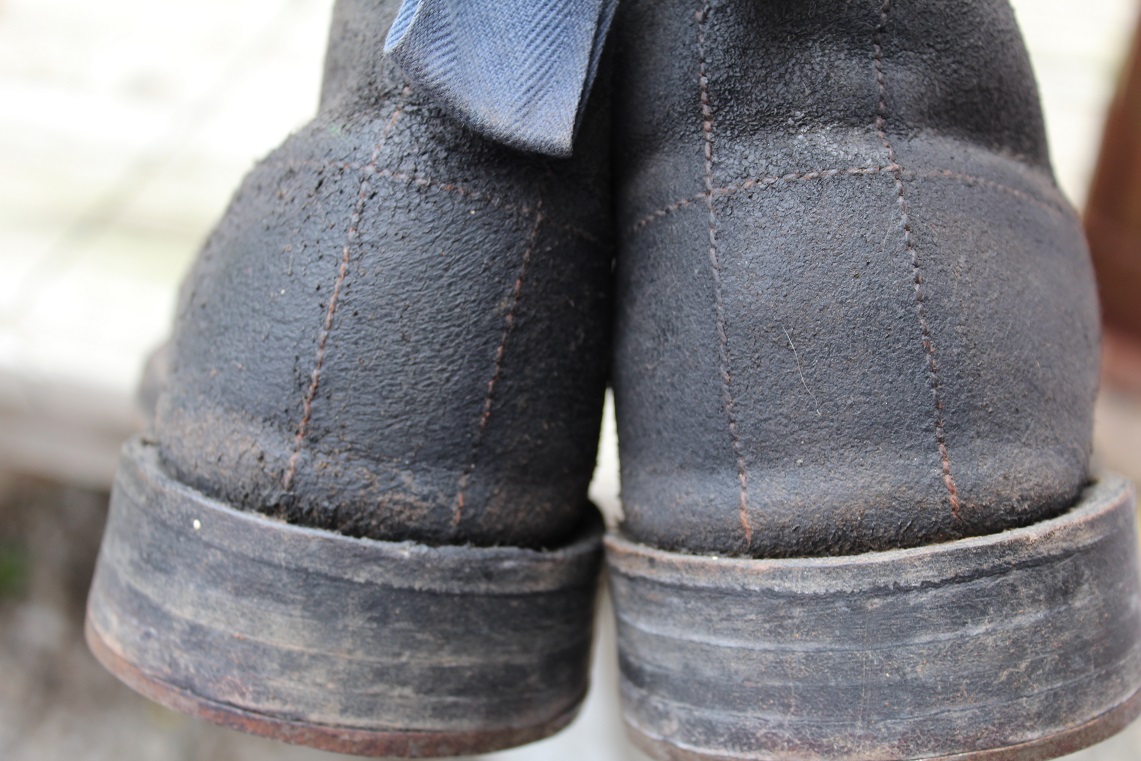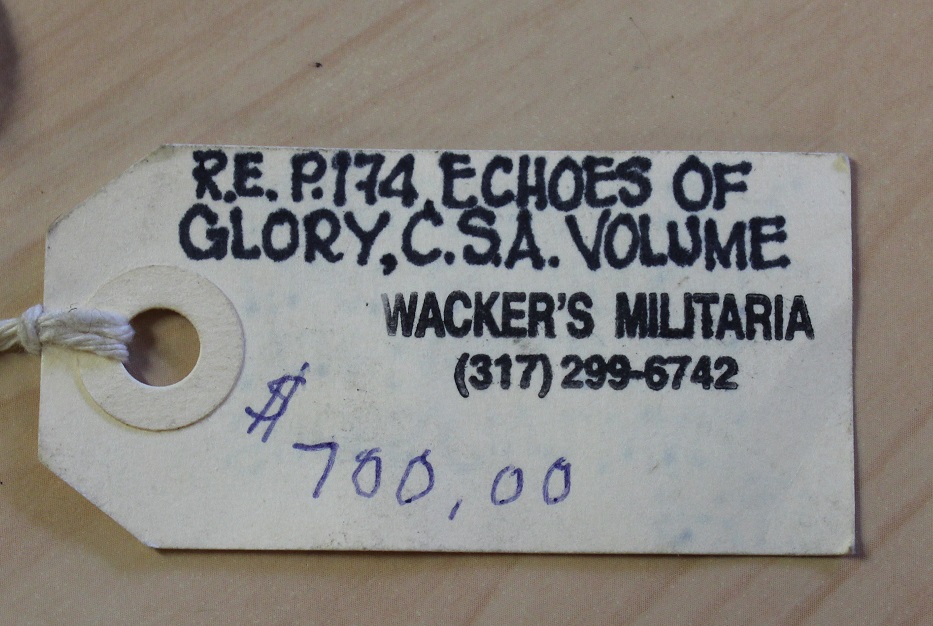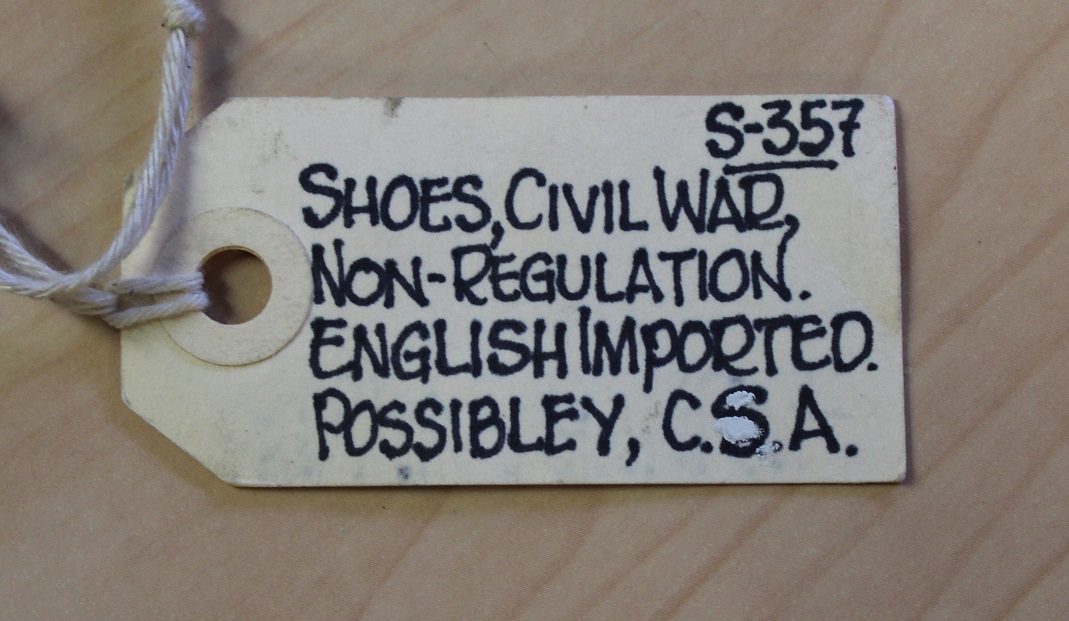 New Arrivals 323
Here are two complete wooden buttstocks with forearms for the H&R Handi Rifles. They also fit the New England Firearms. Both are complete with mounting bolts, just missing the sling swivels on the lighter wood set. If you have a H&R Handi rifle with messed up stocks then this is for you! $45 a pair. Like NEW!!!
New Arrivals 322
Here's a great book entitled THE WINCHESTER BOOK -1 OF 1000 and signed by the Author George Madis! This is a must have reference book for Winchester Collectors. Hardbound with DJ in fine condition. This book has 654 pages, illustrated with black and white photographs and measures 11 1/4 by 8 3/4 by 2 1/4 inches! Nice one! $150.00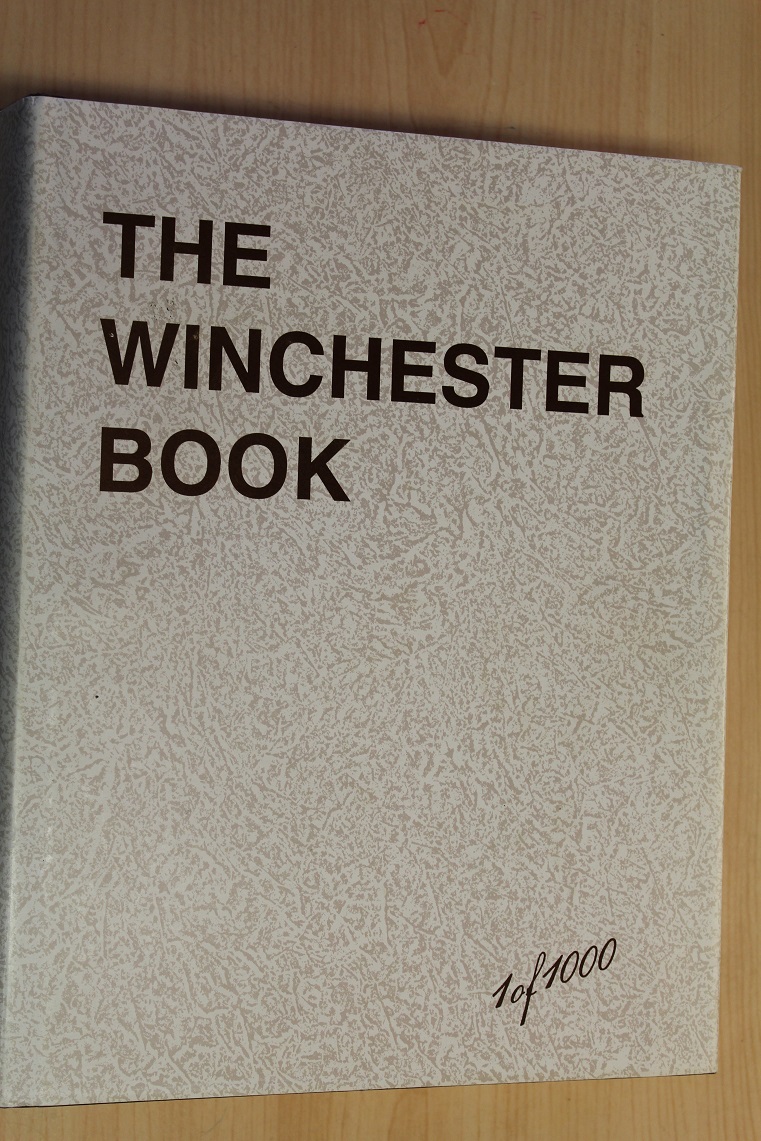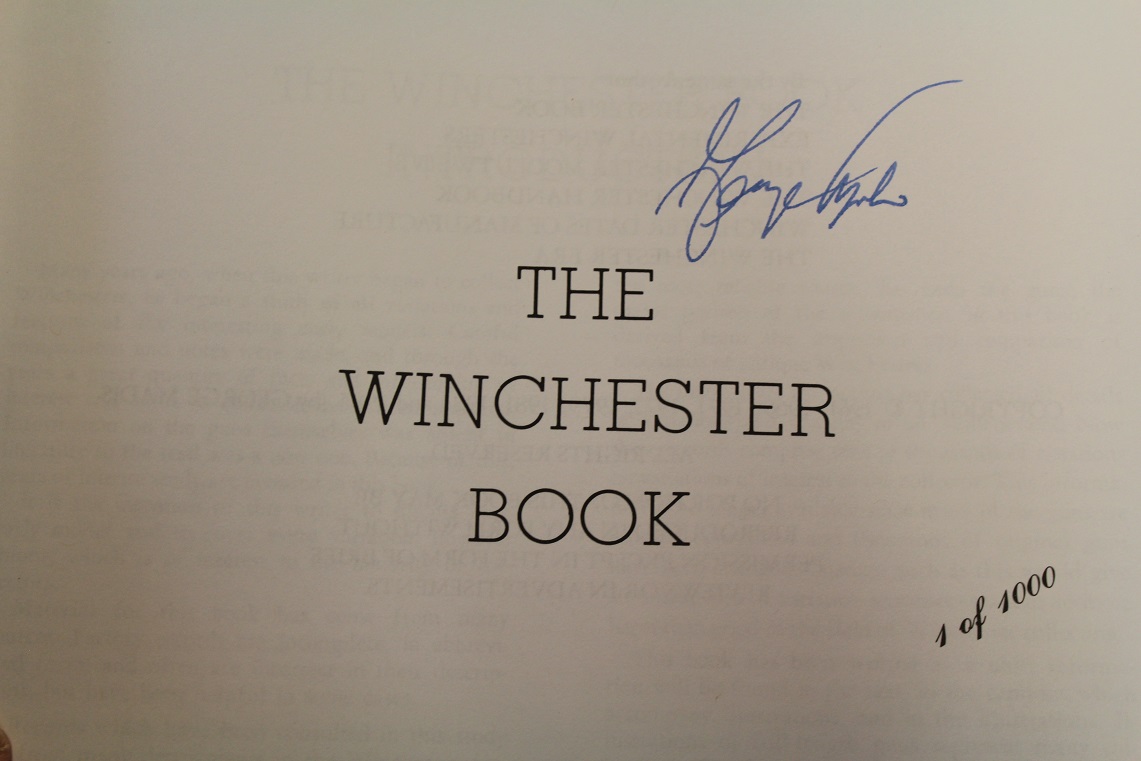 New Arrivals 321
Here's a great book entitled THE WINCHESTER HANDBOOK – 1 OF 1000 and signed by the author, George Madis! Per Amazon it says: This book gives comprehensive coverage on all Winchester models from 1849 with details on all variations of interest to collectors and dealers. Over 600 clear concise photographs, details of all models, sights, calibers, stocks, and special guns. Here you will find information that is not available from any other source including serial numbers of all 1 of 1,000 Winchesters. Included is all information on all collectors' guns and complete coverage of: Markings, Sights, Special Orders, Dates, Engraving, Barrels, Years of Production, Variations, Stocks, Calibers.
This is a hardbound book in dj being a smaller format of about 6 X 9 inches with 287 pages. Nearly like new! $150.00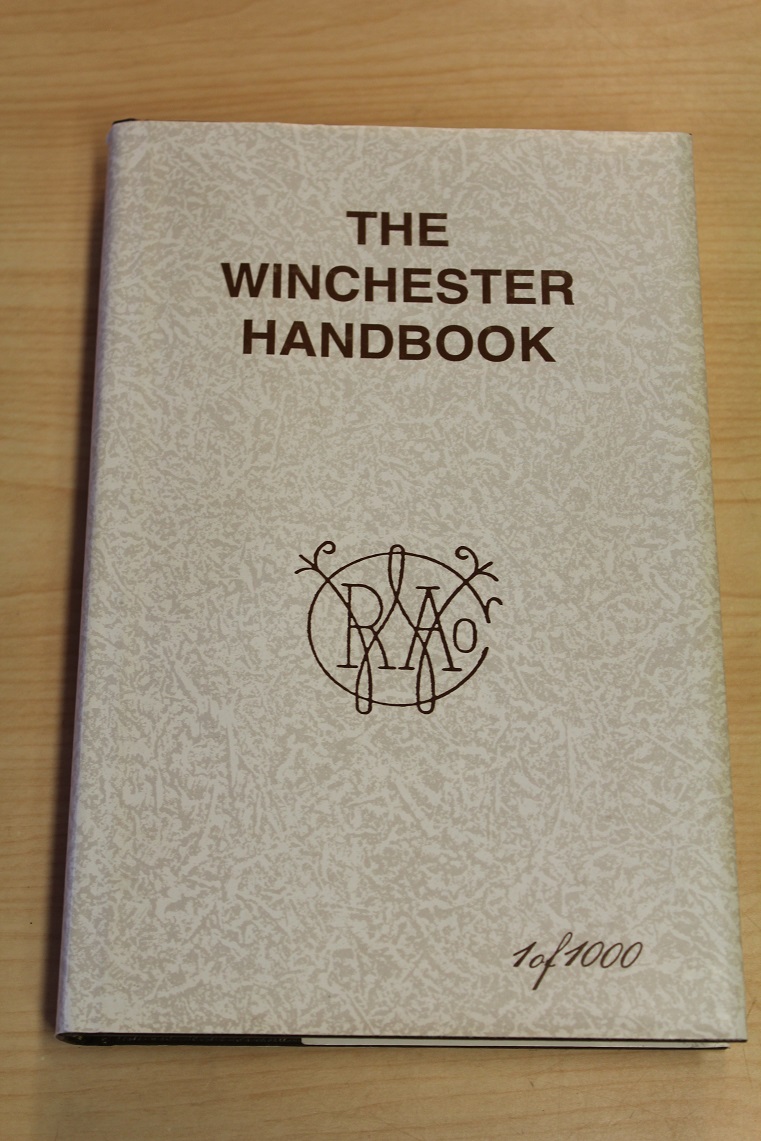 New Arrivals 320
Here is a fine book entitled WINCHESTER –AN AMERICAN LEGEND by R.L.Wilson 2004.
Here's a review by GOODREADS:
The most lavish work ever produced on American long arms, this book has been published with the full cooperation of the Winchester Division of the Olin Corporation, as well as Winchester licensee, the U.S. Repeating Arms Company. The book's large format presents many of the firearms in exquisite close-ups, accompanied by substantial details of history, development, and significance. Variations within model groups are given ample attention, and the book's organization gives an unequaled overview of nearly a century and a half of Winchester achievement. A unique, comprehensive table in the appendix gives serial numbers and related production data previously unavailable in any one source. Every collector and enthusiast will delight in its broad appeal, with over 300 photographs in full color and more than 165 in black and white.
This is a large formatted hardbound book with DJ measuring about 9 X 11 consisting of 404 pages of text and lavish color photographs! The original owners name is in it on the first page. For this fine copy $40.00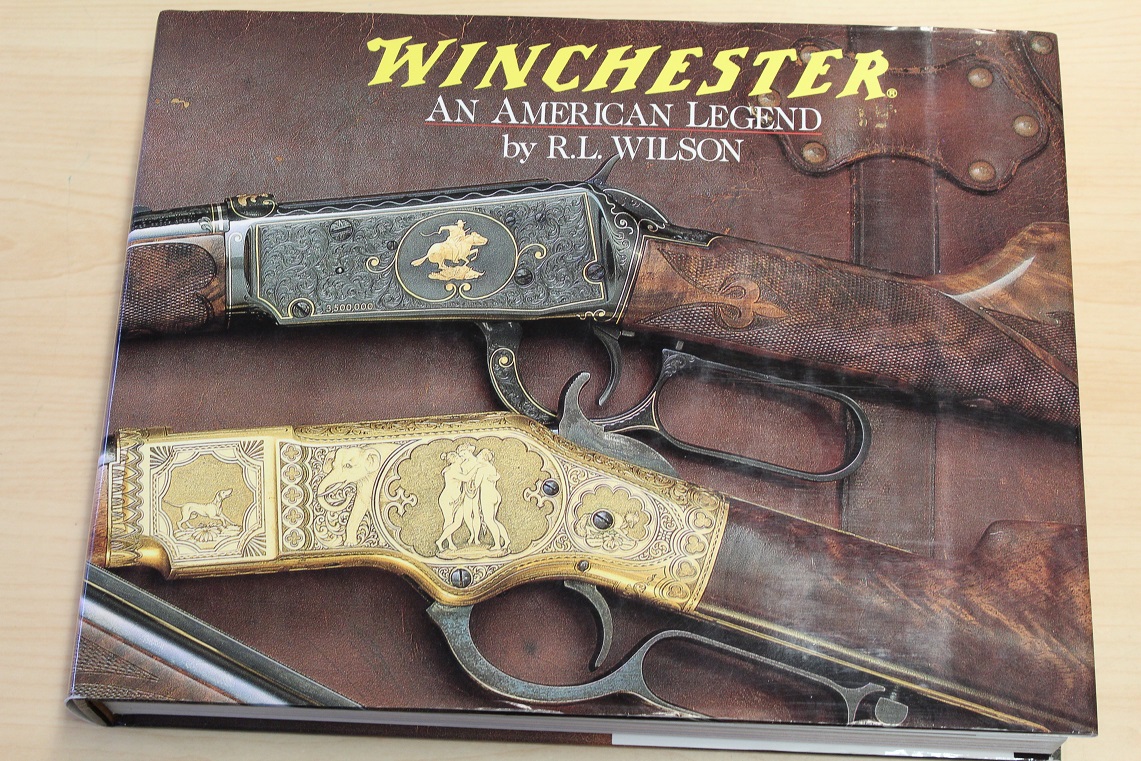 New Arrivals 319
Here's a dandy of a book entitled 'WINCHESTER REPEATING ARMS COMPANY-ITS HISTORY & DEVELOPMENT FROM 1865 TO 1981', by Herbert G. Houze, 1994.
Editorial Reviews From Booklist Houze's lavishly illustrated company history demonstrates that the name Winchester, chiefly associated with the manufacture of guns (especially rifles), should also be linked to such products as washing machines and sporting goods. Still, as expected, the emphasis is on firearms in this survey of the company's fortunes, from its 1856 emergence out of the ashes of the failed Volcanic Repeating Arms Company to its 1981 sale by then-owner Olin Industries. Houze recites the facts and figures of the burgeoning arms giant and sketches such important players in its history as Oliver F. Winchester and Frank Burton. Serious firearms collectors and aficionados will want to read about the seven newly identified 1860s Winchester models, while popular culturalists will enjoy the book's extensive examination of the art engraved on the company's products. Many examples of advertising art, some by N. C. Wyeth and other famous illustrators, appear alongside photos of the Winchester factories. More than just another corporate history, this book is crammed with Americana and the history of U.S. industrial organizations and work conditions. Mike Tribby
This is a large book format being over 9" X 11" being a hardback with dust jacket. There are 512 pages filled with illustrations and actual photographs! Outstanding book! For this fine copy $130.00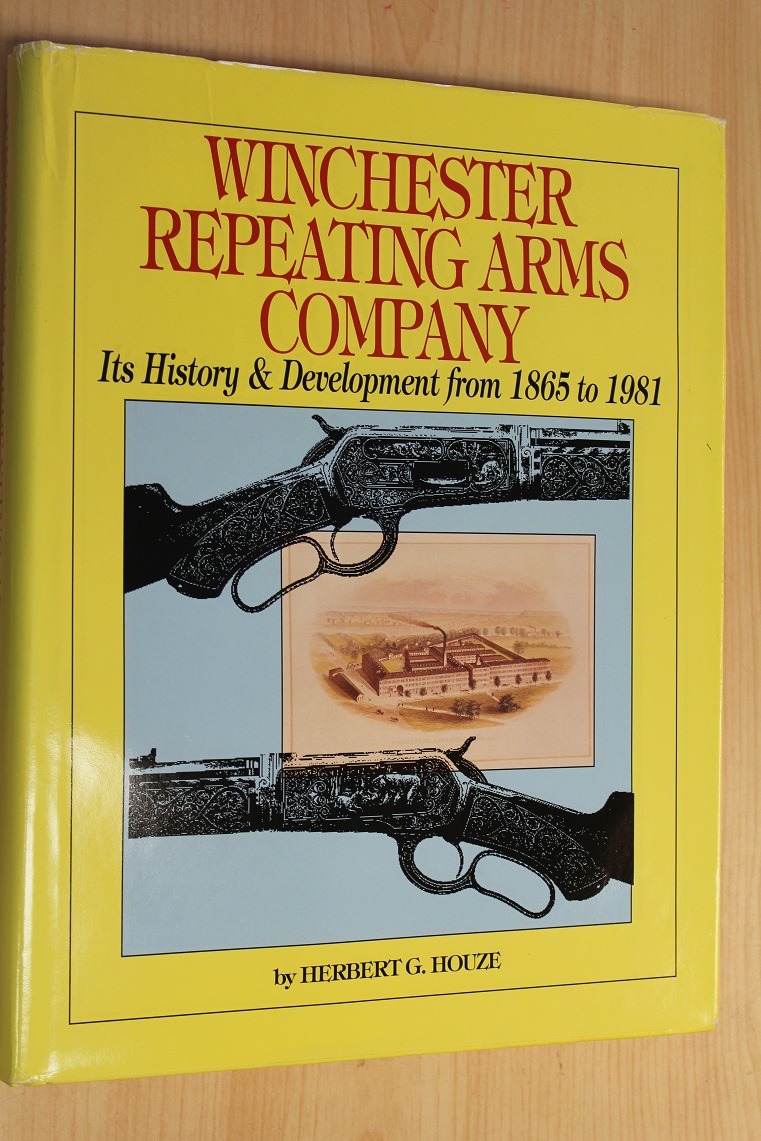 New Arrivals 318
Here's a nice book entitled " To The Dreams of Youth: WINCHESTER .22 Caliber Single Shot Rifle" by Herbert G. Houze. Published by Krause; 1993; Hardcover; FIRST EDITION. Overall in very good condition , in fact, just like new! 192 pages with loads of illustrations! Every kid wanted a Winchester!!! $80.00 for a First Edition!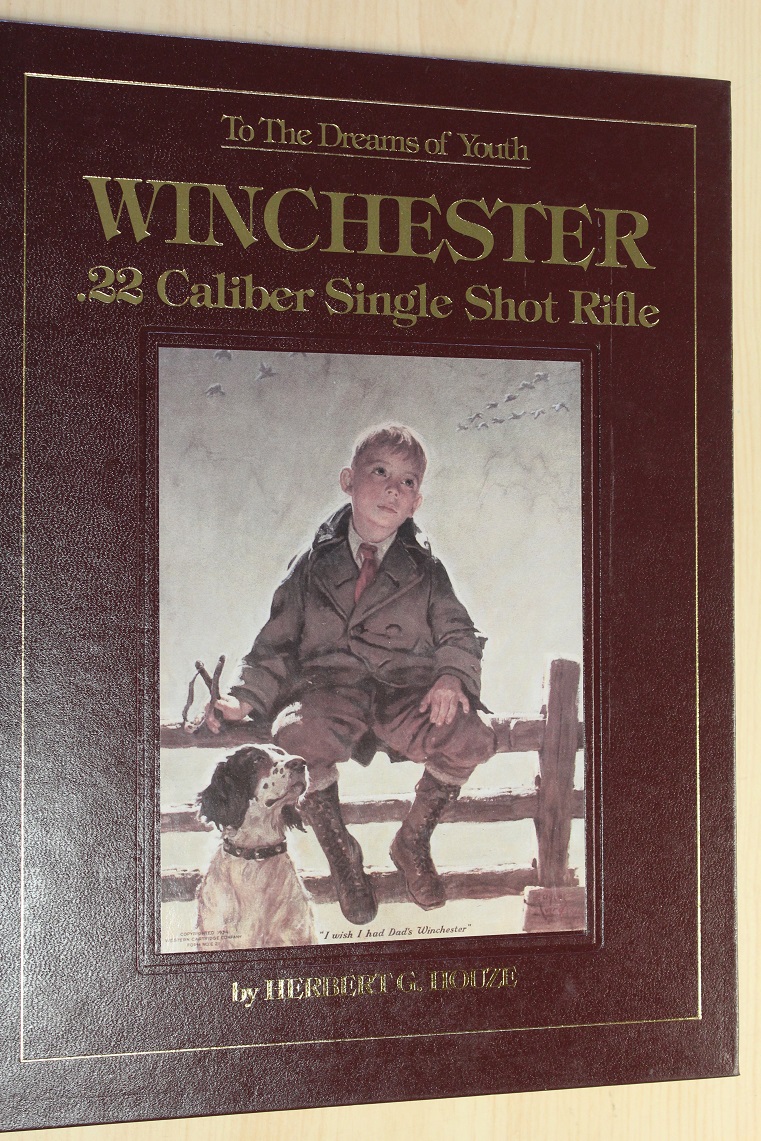 New Arrivals 317
Thomas Henshaw THE HISTORY OF WINCHESTER FIREARMS 1866-1992, Sixth Edition Updated. This classic-revised and completely updated through 1992- is the standard reference for all collectors and other seeking the facts about any Winchester firearm, old or new. This profusely illustrated volume describes and provides specifications for all the Winchesters, from the King's Improvement Patent of 1866 to the latest commemoratives. Background information on design, manufacture, history, and use is also provided. Serial number listings of some of the most famous Winchesters of all, including the Model 94, will help gun owners and collectors determine the age of their firearms. This is a hardcover book in dust jacket which shows a little wear but not bad. 268 pages of text and photographs. Great reference book! $30.00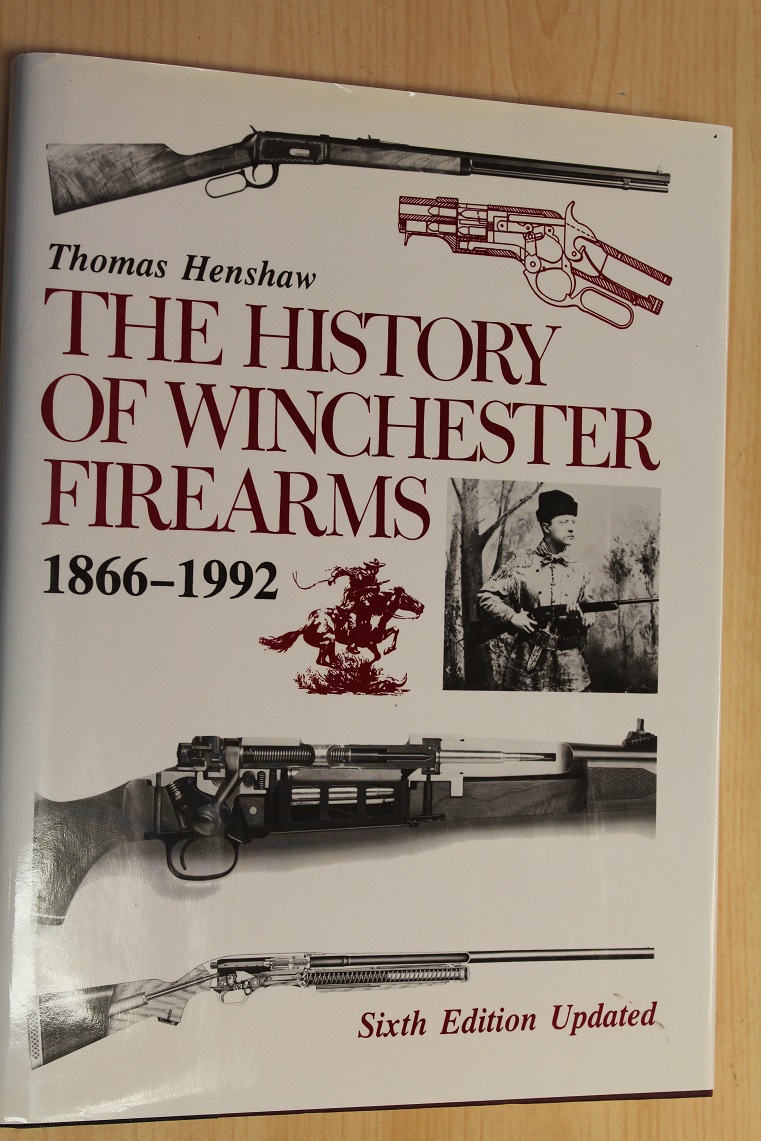 New Arrivals 316
Here we have a small book by Hank Wieand Bowman entitled Famous Guns from the Winchester Collection, 1958. There are 143 pages of photos and text. The last page has the top half of it removed for some reason. For this book $10.00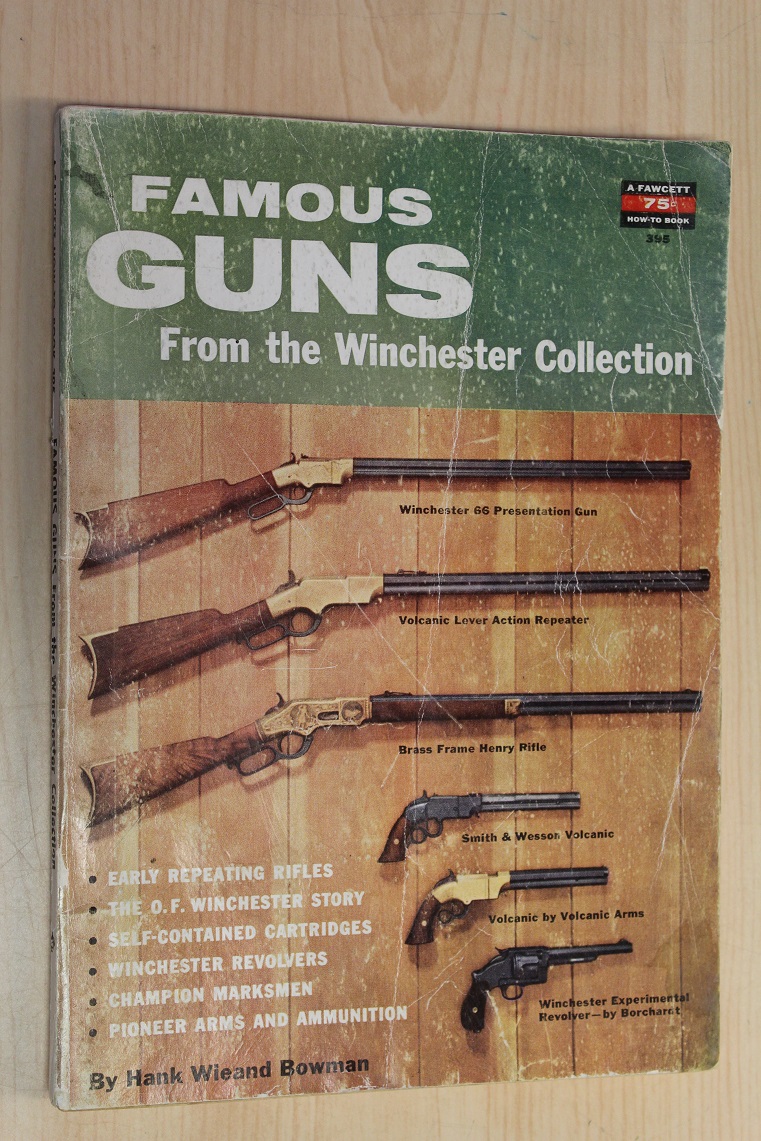 New Arrivals 315
Here we have a plethora of Winchester catalogs dating from 1963 to 2012. There are 14 catalogs in all and the dates are 1963, 1967, 1970, 1981, 1983, 1986, 1997, 1998, 1999, 2000, 2002, 2009, 2011 and 2012. They are all in great conditon! For the lot $95.00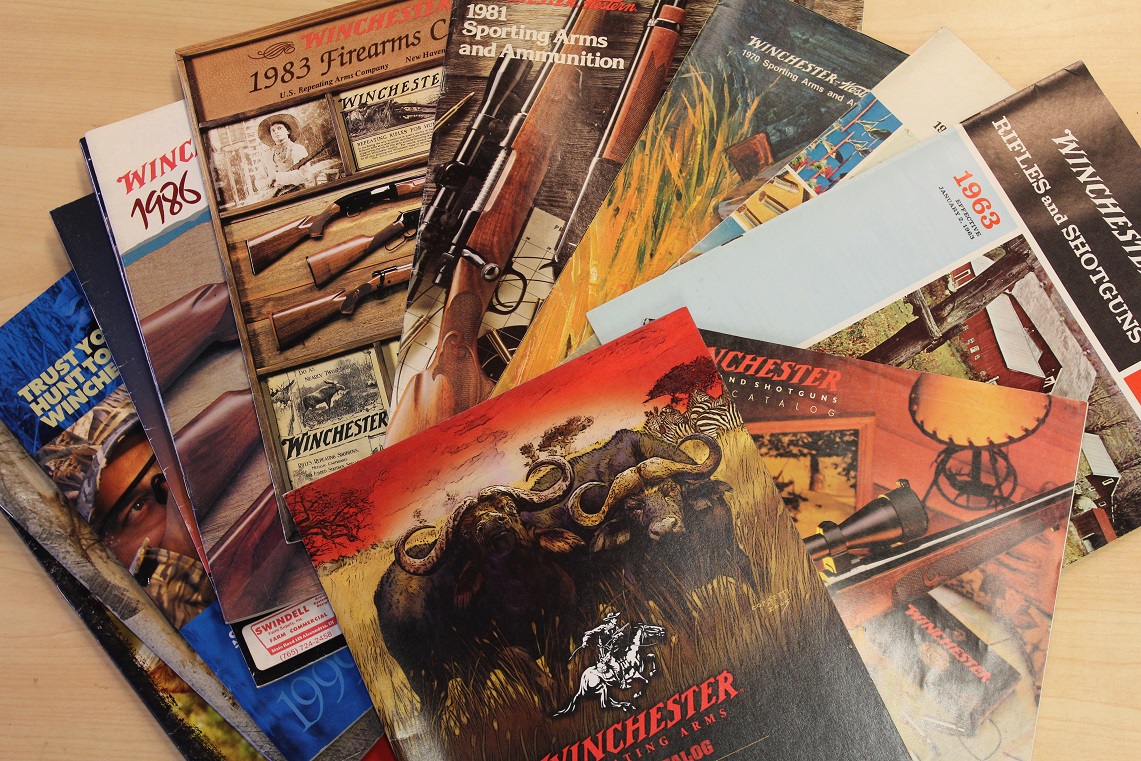 New Arrivals 314
Here we have an excellent copy of 1956 Winchester Gun Salesmans Handbook. This original catalog which measures 8-1/2" x 11" with 77 numbered pages has pictures of all the Winchester guns, the shells they use and the type of game for which each is designed. It also states where the game is found and a paragraph on the correct gun selection. There is also information on the different types of actions, sights, scopes, barrels, gauges, choke boring and stocks. There is a 2 page ballistics chart at the back with center fire cartridges listed. This is very nice with minor bends to the corners ! For this piece $70.00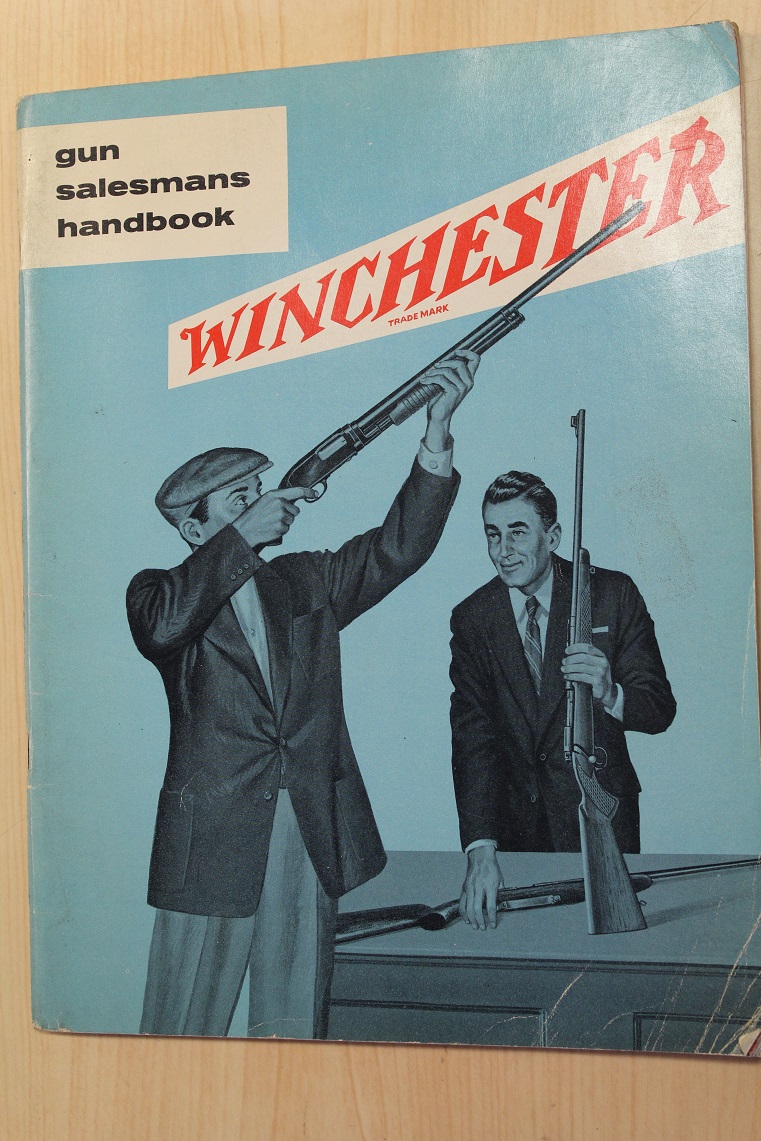 New Arrivals 313
Here we have a just like new copy of IVER JOHNSON ARMS & CYCLE WORKS FIREARMS 1871-1993 by W.E. Goforth, 2006. Softcover in excellent condition. 224 pages, about 8 1/2" x 11", glossy soft-cover in full color. New book, copyright 2006. Printed on high quality paper, perfect bound. Fully Illustrated. Iver-Johnson Arms&Cycle Works Firearms 1871-1993 details one of America's premier (but little known) firearms manufacturers and their arms. Concentrating on the firearms, mainly the revolvers, you'll be schooled on all the pertinent information the educated Iver-Johnson collector needs in pursuit of his or her passion. Bill Goforth has produced a well-illustrated book with literally hundreds of quality photos, adorned with model variations, specifications, serial number ranges, dates of manufacture, and all the "nuts and bolts" information needed to properly document your firearms. Chapters Include: 1. Early Solid Frame Handguns 1871-1899, 2. Early Solid Frame Double Action Revolvers 1878-1899, 3. Solid Frame Handguns 1900- 1954, 4. Post World War II Solid Frame Revolvers 1946-1978, 5. History and General Information on the Safety Automatic Revolver 1894-1941, 6. Large Frame Safety Automatic Revolvers, 7. Small Frame Hammer&Hammerless Safety Automatics, 8. Markings Found On the Safety Automatic Revolver, 9. Other Top Breaks of Interest, 10. Optional Accessories and Special Orders, 11. Post World War II Top Break Revolvers 1946-1978, 12. Firearms 1978-1993, 13. Safety Mechanism of Iver Johnson's Arms&Cycle Works, 14. Top Break Revolver Barrel Latches of Iver Johnson's Arms&Cycle Works, 15. Parts List and Diagrams 16. Specifications for Iver Johnson's Arms&Cycle Works Handguns, 17. Patents, Appendix A. Chronological Listing of all Firearms of Johnson&Bye, Iver Johnson's Arms&Cycle Works&Iver Johnson Arms., Appendix B. Dates of Interest in the History of Iver Johnson and Iver Johnson's Arms&Cycle Works of Fitchburg, Mass. U.S.A., Appendix C. Iver Johnson Obituary, Appendix D. Franchise Certificate. 8 1/2" x 11, softcover, photos, illus, 232pp. Everything you ever wanted to know about Iver and Johnson Handguns is listed here! $39.95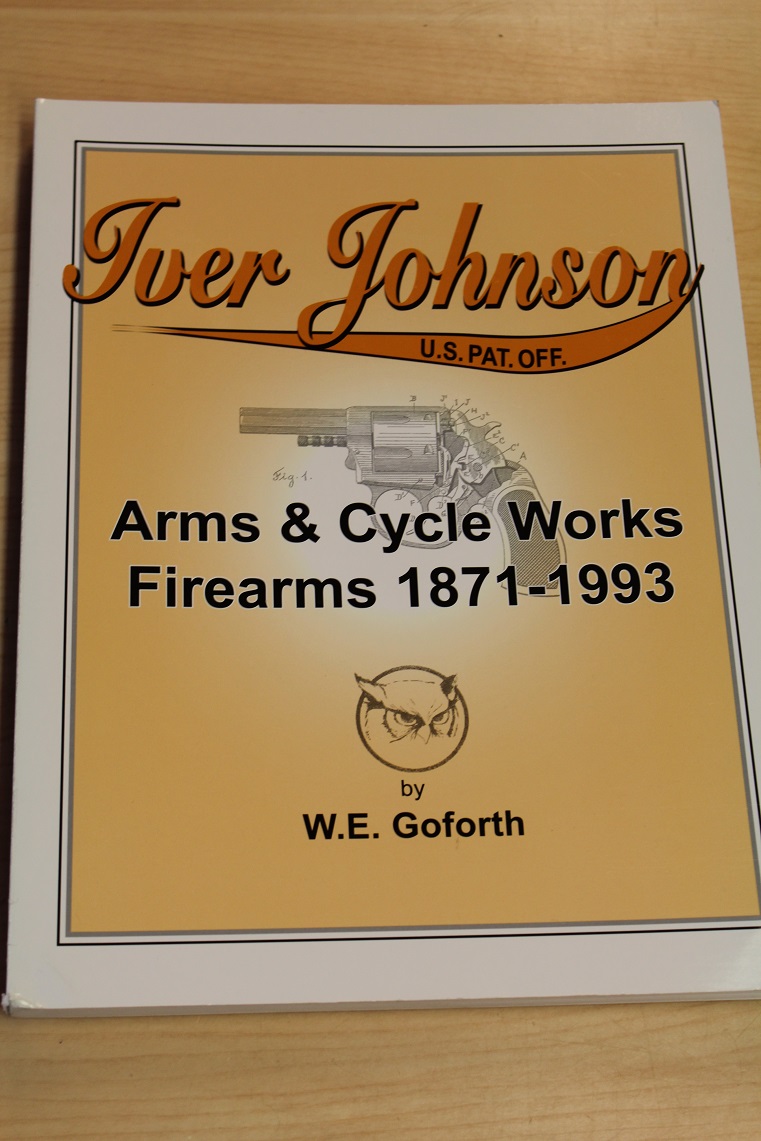 New Arrivals 312
Here we have a July 1, 1933 Catalog of Component Parts for Winchester Rifles and Shotguns with list Prices. This one is in the large format being 7 ½ X 10 ¾ with 53 pages that has illustrations of the various parts and pricelist. This piece is in excellent overall shape and definitely shows signs of use including a fold through the middle where it was folded up and put in a pocket. Very interesting!!! $50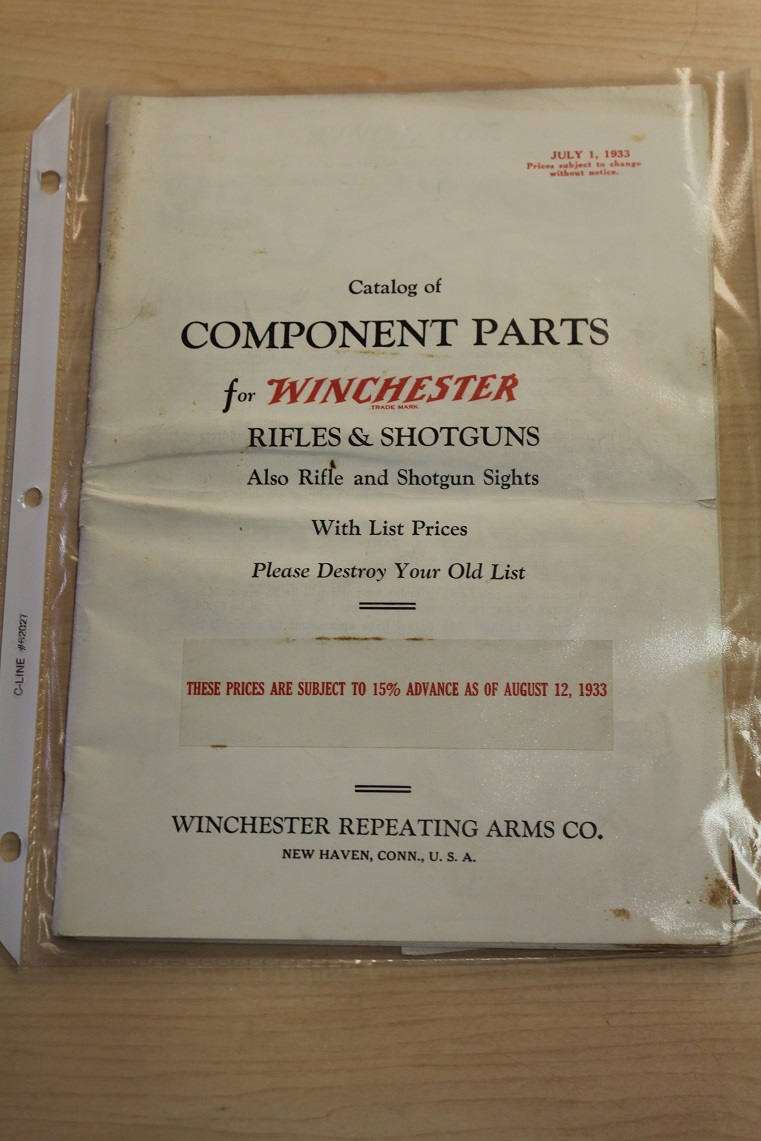 New Arrivals 311
Here we have two different old catalogs. The first one on the left is the Winchester World Standard Guns and Ammunition Catalog that was printed in 1933. This is the 1933 catalog that introduced the Model 21 Custom Built and the Tournament and Trap Grade Skeet Guns. It is also the first catalog to list the 2 ¾" chamber as standard for all gauges and the improved cylinder choke. The last blue book catalog was printed in 1934. The cover is separated from the text but easily glued back in if so desired. This catalog is complete with moderate damage to last page only. $75.00
The second catalog is an original Marble's Outing Equipment Catalog from 1933 being Catalog no 21. This one is in excellent condition with nice graphics as well! This one is 4" X 7" and consists of 32 pages. This catalogs front and back cover is a continuation beautiful outdoor painting showing a Whitetail deer running through the woods and a Moose standing in the water while a Wolf watches from the shoreline. The center spread portion shows the famous Game Getter. Loads of info! Excellent condition $95.00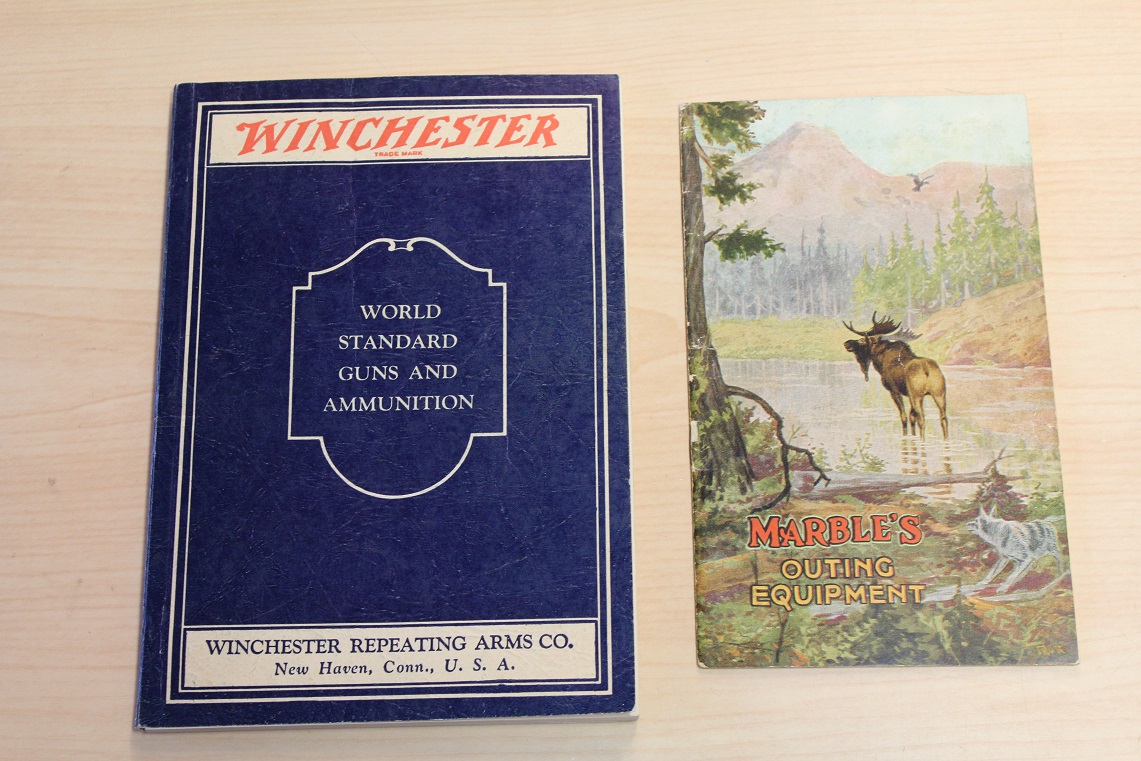 New Arrivals 310
Here is a set of vintage custom wooden grips that came off of a Colt Police Positive .32 caliber revolver. Probably the caliber doesn't matter as it would fit any Colt Police Positive. The wood is in good condition with only minor wear flaws to the finish. Buy now for $35.00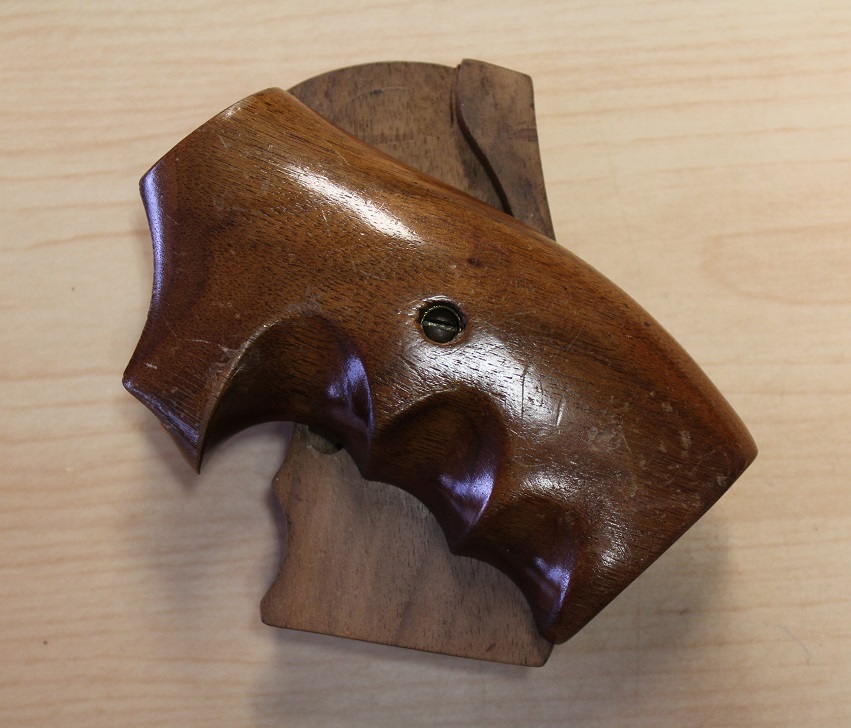 New Arrivals 309
Here we have a custom made WINCHESTER GUN RACK that would look great on any Man Cave Wall! Wouldn't your collection of Winchester Lever Actions or other Winchester Rifles or shotguns look great in this fine oak rack?!! The gun rack measures 51 inches tall by 36 inches wide and has room for 6 firearms. We actually have two of these exactly the same. $165 Each.
Take a look at the pics!!!
New Arrivals 308
Here we have a Remington No. 4 - .22 caliber rolling block sporting rifle. When the 1890's began, the Remington rolling block was the last of the pioneer single shot rifles still being produced but there was still enough market for it to persuade Remington to bring out a new model, thus, the No. 4 Rifle was born! The .22 caliber rim fire model was the most popular and most economical to shoot! This is the takedown model which wasn't made by Remington until after 1900 and was used until the end of No. 4 production in 1935. Around 1910 the lever type lock was replaced with a simpler round headed screw system so this particular rifle was made before 1910. This rifle is 38 ½ inches long overall with a standard 22 ½ inch hexagon barrel. This piece weighs about 4.3 pounds. This piece has seen a bit of use but was well loved and cared for. The rear sight is missing having slipped out of the mortise and the stock has a crack in it that has been shored up with a couple of single slot brass screws. This could easily be fixed if one was so inclined to do. The marking are all clear, nice and deep. The bore rates about good. The action is nice and crisp. 2132XX is the serial number. Everything is a nice dark patina. All in all still a nice example! A remington like this was my first rifle! Loved it but lost it in a house fire when I was young. For this example $295.00 FFL or C&R
New Arrivals 305
Consignment
This is a vintage pre 2012 Colt Mustang Pocketlite in .380. This one was introduced in 1987 and discontinued in 1999. My friend purchased this weapon from my good friend who was a gunsmith and Dealer during that period. My good friend passed away over 10 years ago. This Mustang appears to have been fired little with great rifling in the barrel. The action is crisp and tight. There is edge wear from holster carrying and the aluminum alloy frame/receiver has finish spots (not corrosion) on it that you can see in the pics, otherwise in excellent condition and comes with 4 magazines- two are original and two are aftermarket. This is still a nice piece and worth more than the ones made today. For this first production Colt with 4 magazines $550.00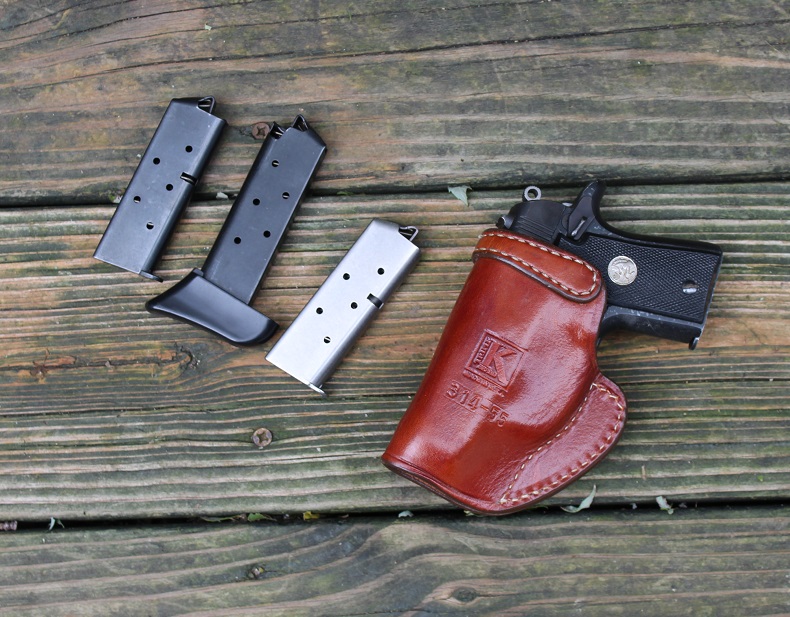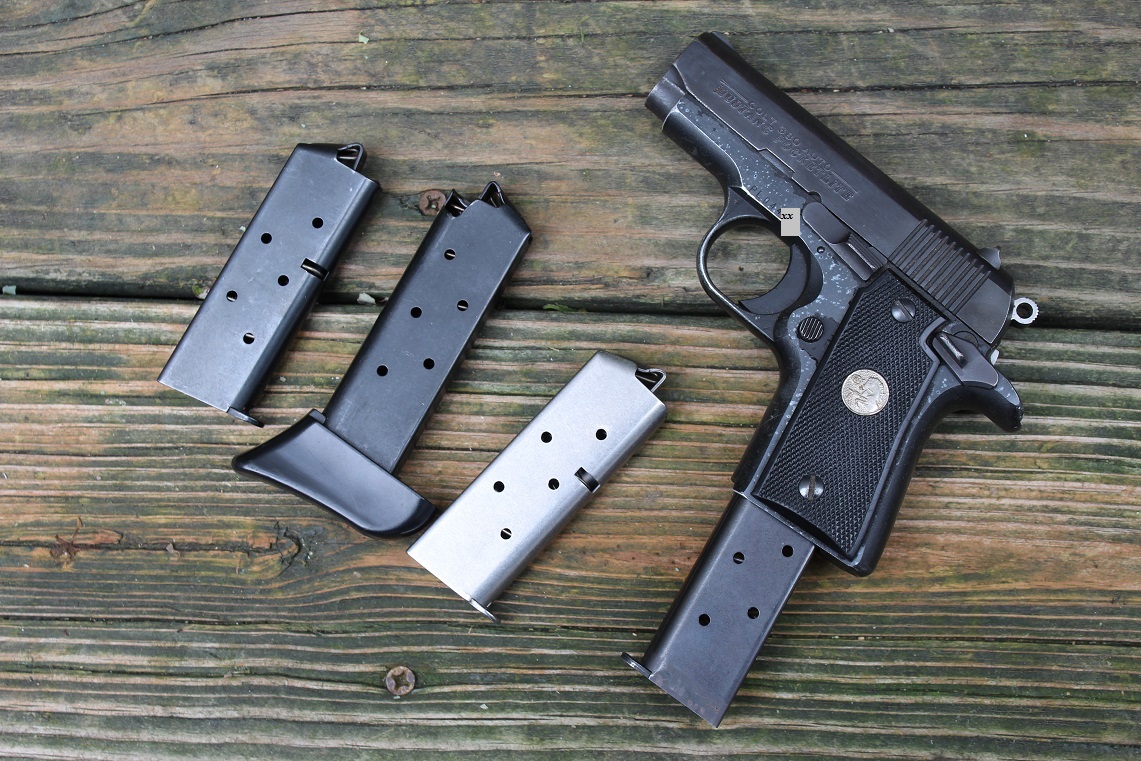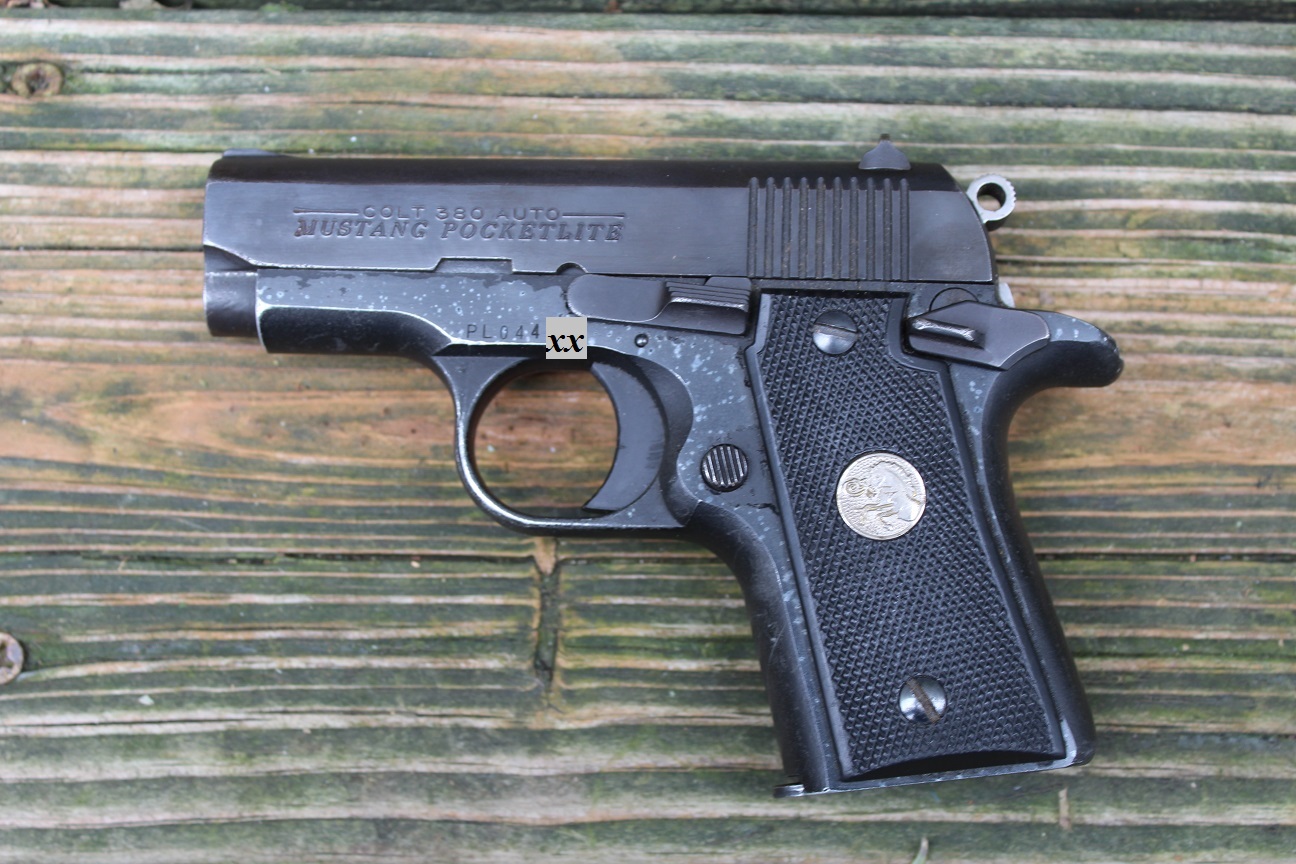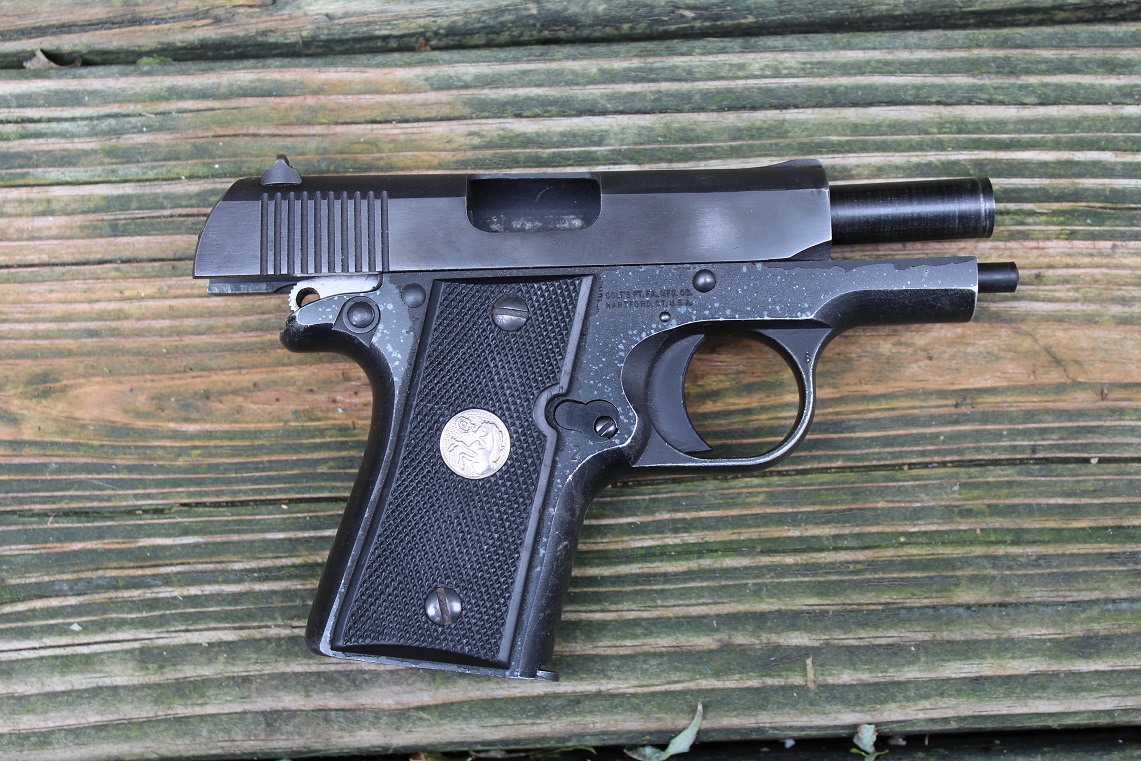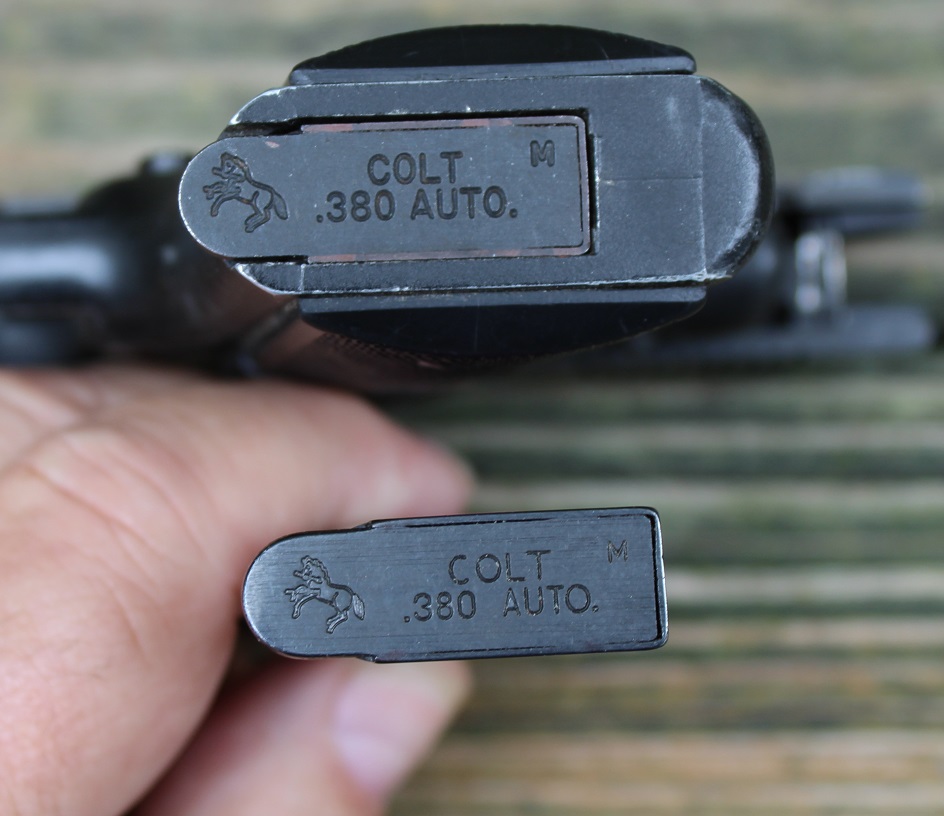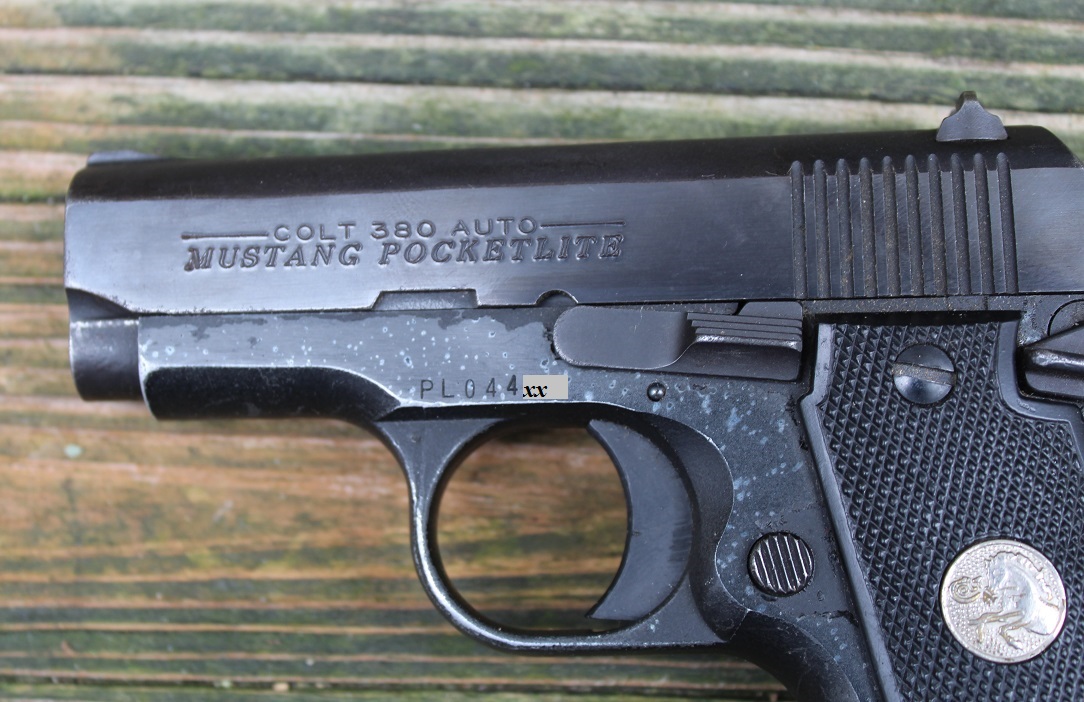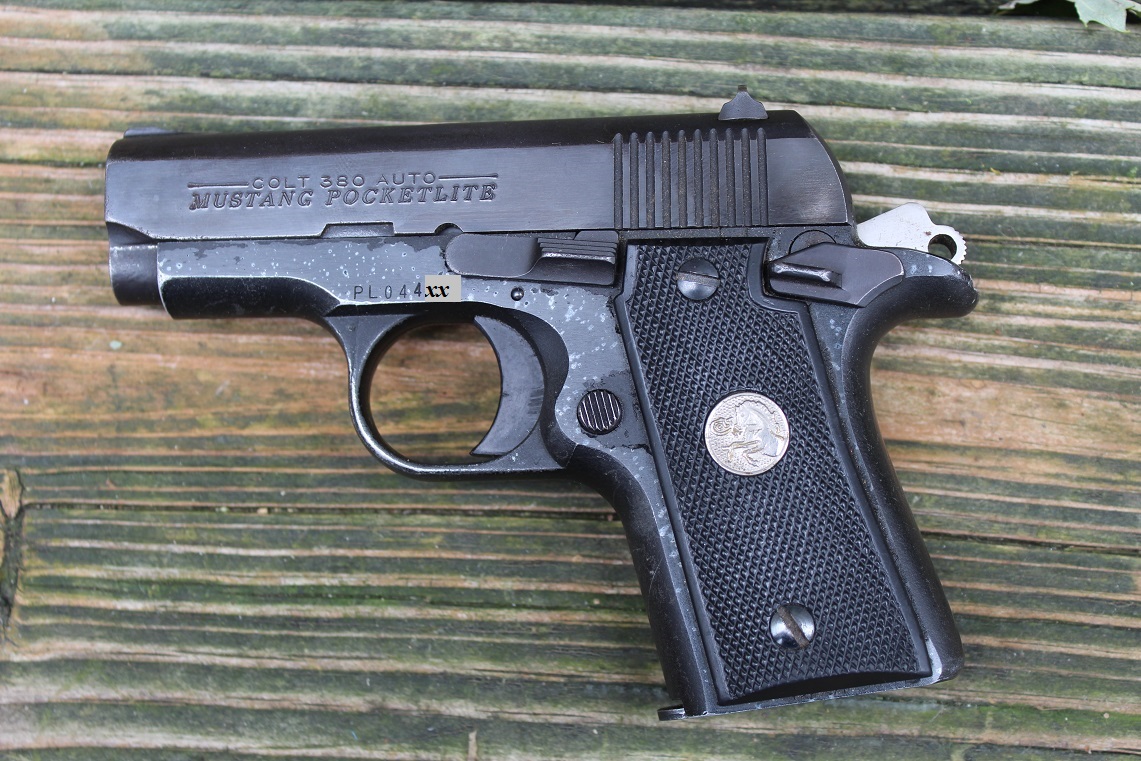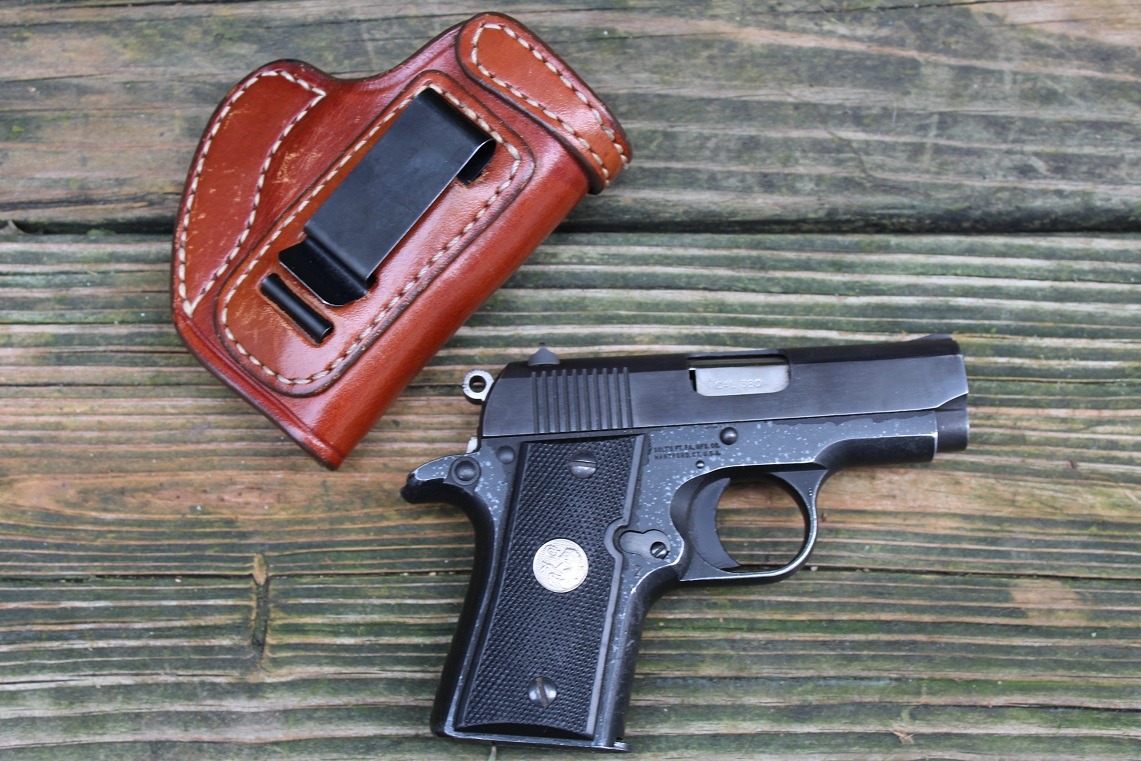 New Arrivals 304
Here we have an unused non dropped .56-56 Caliber Spencer Carbine round. This piece is just about mint with no dents or cracks. Measures 1 ½ inches long. If you need a good round to display with your carbine then this is for you! The headstamp is 'H' for Winchester Repeating Arms manufacture. For this fine condition Carbine cartridge $25.00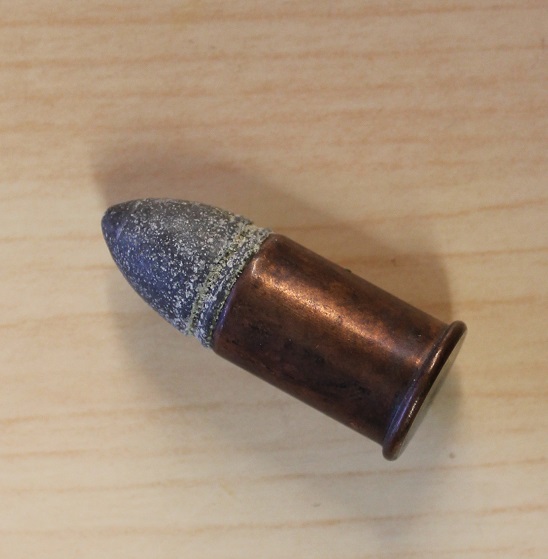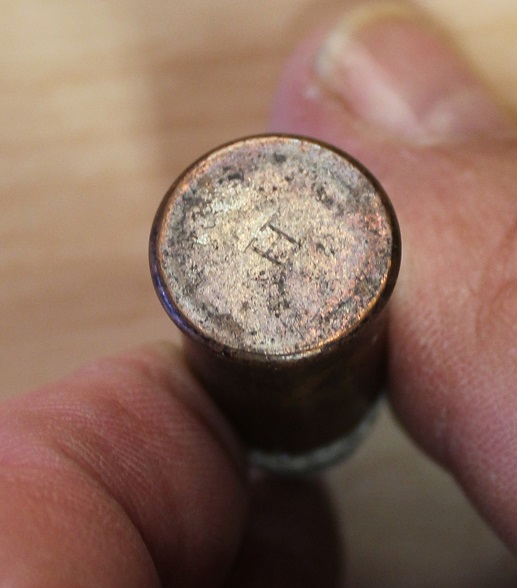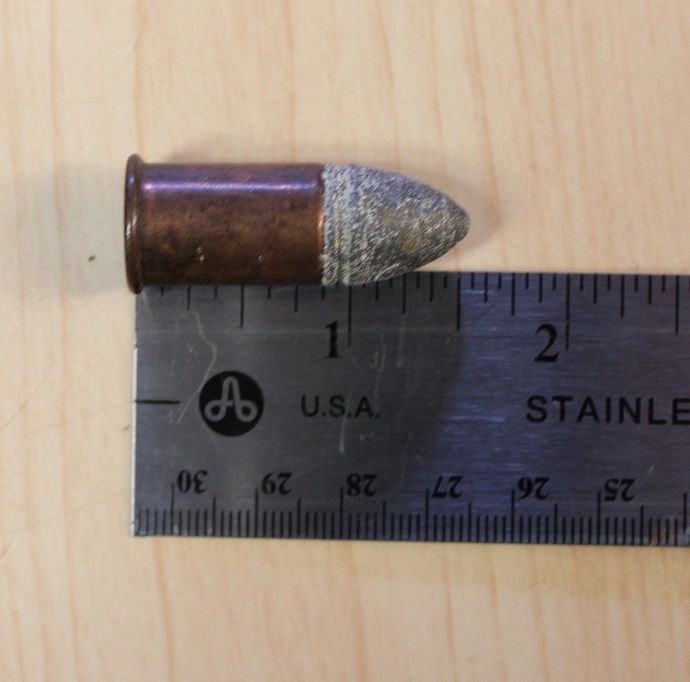 New Arrivals 303
Here we have a lot of Broom tail Mauser ammo in clips and in box! 7.63 MAUSER Ammo 7.63 Mauser ammunition goes by a few names, 7.63 x 25mm, 7.63 Mauser, and the .30 Mauser automatic. The round is quite proficient and famous, even if you've never heard of it before. 7.623 Mauser ammo was the round used in the famed C96 Mauser also known as the "Broomhandle Mauser". That's the famed weapon Han Solo wielded in the movie Star Wars. The Mauser factory has produced some of the greatest and most influential weapons and ammunition in the world. 7.63 Mauser rounds were one of the first massively successful automatic cartridge rounds, paving the way for commercial development of automatic pistols the world over. In Europe the round was widely adopted by everyone from Australia, Finland, Austria Hungary, to Germany. The 7.63 Mauser round was not only popular is pistols, but in sub machines guns as well. The Mauser C96 was also converted into one of the first machine pistols. The cartridge found service in numerous wars all over the world, including World War 1 and the Finnish Civil War. Today, 7.63 Mauser ammunition is still being produced and fired in weapons built over a hundred years ago. While the cartridge isn't in service with any modern military, the round is still popular with numerous collectors, re-enactors, and enthusiasts. 7.63 Mauser is still quite popular with modern ammunition being manufactured for it.
The Mauser C96 (Construktion 96) is a semi automatic pistol that was originally produced by German arms manufacturer Mauser from 1896 to 1937. Unlicensed copies of the gun were also manufactured in Spain and China in the first half of the 20th century. The distinctive characteristics of the C96 are the integral box magazine in front of the trigger, the long barrel, the wooden shoulder stock which gives it the stability of a short-barreled rifle and doubles as a holster or carrying case, and a unique grip shaped like the handle of a broom. The grip earned the gun the nickname "Broomhandle" in the English-speaking world because of its round wooden handle, and in China the C96 was nicknamed the "box cannon" (Chinese: ___; pinyin: hézipào) because of its rectangular internal magazine and the fact it could be holstered in its wooden box-like detachable stock. With its long barrel and high-velocity cartridge, the Mauser C96 had superior range and better penetration than most other pistols; the 7.63×25mm Mauser cartridge was the highest velocity commercially manufactured pistol cartridge until the advent of the .357 Magnum cartridge in 1935. Mauser manufactured approximately 1 million C96 pistols,]while the number produced in Spain and China was large but unknown due to the loss, non-existence or poor preservation of production records from those countries.
Here we have 95 vintage rounds of ammo and 9 separate stripper clips. $125 for the lot.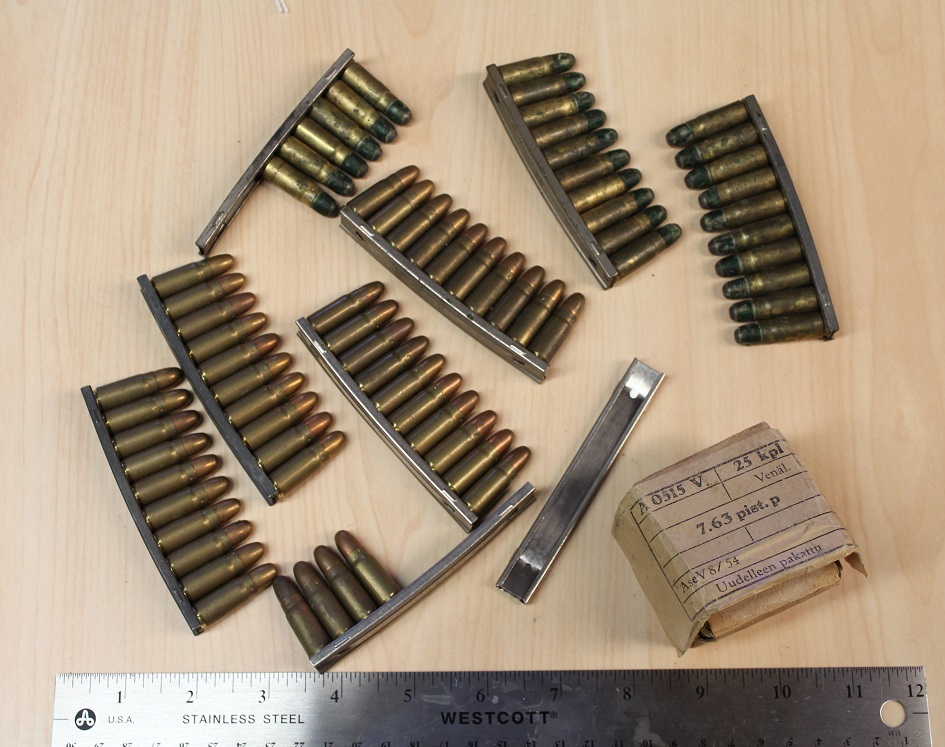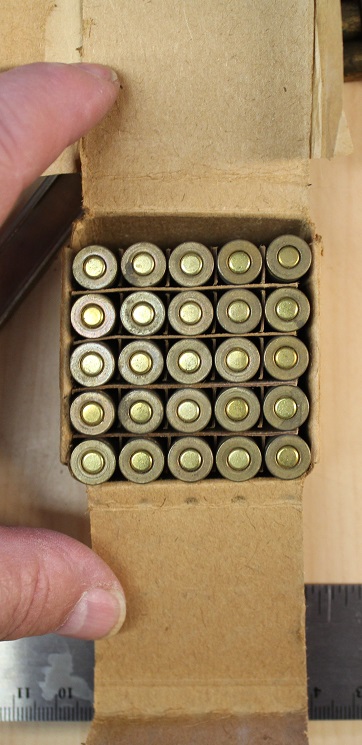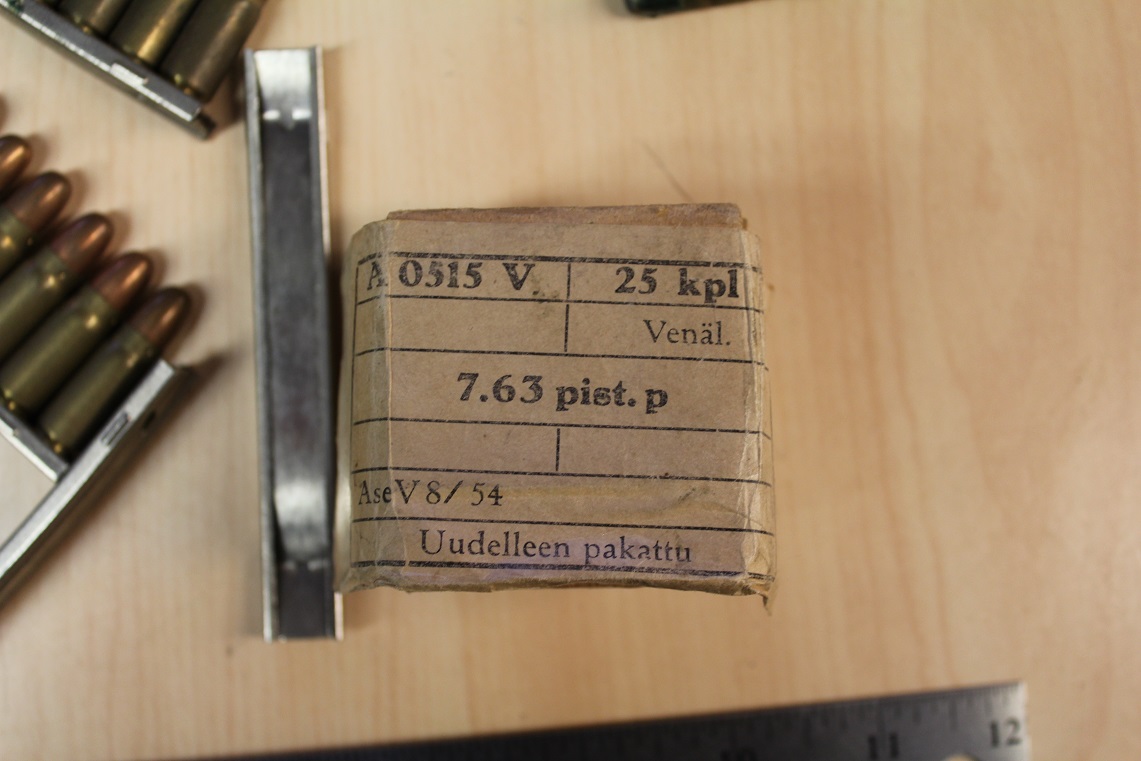 New Arrivals 302
Here we have a dug 12# Spherical shell with a Bormann time fuze still in it. Unfortunately I do not know where it was dug. It has been drilled and the powder tested which found it to be non-viable and not able to ignite, probably due to the fact that this Civil War Cannonball has been in water or wet ground. The shell has not been altered, with the exception of the drilling, and has not been cleaned. It has a diameter of 4.52 inches and weighs 11 pounds 1 ounce so this one is probably a Confederate Spherical Cased Shell as that is what they weigh while the Federal Spherical shell weighs 9 pounds 4 ounces. The shell has some old rusting/surface flaking on it but the rusting is not active at this time. Due to the repeated poor performance of the Confederate copy of the Bormann time fuze, its manufacture was discontinued by 1863. The remaining Bormann time fuzed projectiles were drilled and reamed in the center of the fuze to accept a paper time fuze that was inserted in the newly created fuze well. This one is for local pick up. $295.00
New Arrivals 301
Here we have a Single Shot .22 made in the 1950's by Mossberg. This is a beefy rifle that would be a wonderful stable shooter! It's bolt action and shoots .22 S-L-LR. The barrel is marked 'Wards Western FIeld 94M 390A' which is a Mossberg Model 26C. Many major retailers like Sears, Wards etc. had their brand name put on the firearms that they sold. Many of these guns were basically the same as the existing manufacturers with different wood, sights etc. This particular rifle is in excellent condition with most of the original bluing on it . The receiver is slightly turning brown and has been drilled and tapped but I don't know if that was original or not to this piece. The original sights are still on the rifle. The markings are nice and deep on the barrel and the rifling is nice and shiny with deep rifling. The original red and green safety buttons are present on the stock. The stock is a very nice piece of walnut with only a slight age crack by the front sling guide and a couple of dings (grooves) to the bottom of the stock, otherwise fine. This nice old rifle brings back memories!! $225.00
New Arrivals 300
This here is a very nice Stevens 44-SHOT smoothbore in excellent condition. The bluing is nearly perfect on the 26 inch round barrel and loading lever and the wood is very nice indeed. The receiver has a pretty bronze type color cast to it. This piece looks so good that it may be a restored piece. The only flaws that I see are an age crack on the obverse buttstock where it meets the receiver and some minor 'frosting' inside the bore. The action is real smooth and the screws are not all burgered up. The walnut stocks are real pretty. The markings on the receiver are real clear as is the 44-SHOT on the barrel. This piece locks up tight with no wobble whatsoever. This is one of the prettiest Stevens 44-SHOT's that I have ever seen. This firearm is chambered for the .44-40 shot cartridge, although ball cartridges could also be used. The gun is a single shot tip up action and the lever on the bottom opens the breech and also serves as the trigger guard. These guns were made from 1914 to 1920. The 44 shot was mainly used in America, while the .410 (12mm) was used in Europe. Eventually the .410 caught on and the .44 shot fell into disuse according to the info that I found at this web address http://jefenry.com/main/The44-Shot.php . Looks like it would be easy to manufacture your own ammo for this piece! The 44-SHOT used paper or brass cartridges. $395.00
New Arrivals 299
Here is a clip point bowie type side knife that was popular during the Civil War by soldiers and frontiersmen alike. This one is a later edition being after 1892 due to the county of origin being stamped on the blade. The stampings are CHALLENGE CUTLERY CO. SHEFFIELD, ENGLAND. The stamping is a little worn in the beginning but easily read. There was a Challenge Cutlery Co. from Bridgeport, Conn. Until the 1920's but this is the earlier version of that companies product that was being made in England I've been told. This is a nice used knife with stag 3-pin grips and silver crossguard. The entire piece is 10 inches long with a 6 inch blade. There is old minor pitting to the blade and evidence that it was cleaned at some point in it's history. The edges is sharp with indications of past sharpenings but not too bad. Still a great looking old vintage, antique knife that did it's job and held up to time. For this piece of history $175.00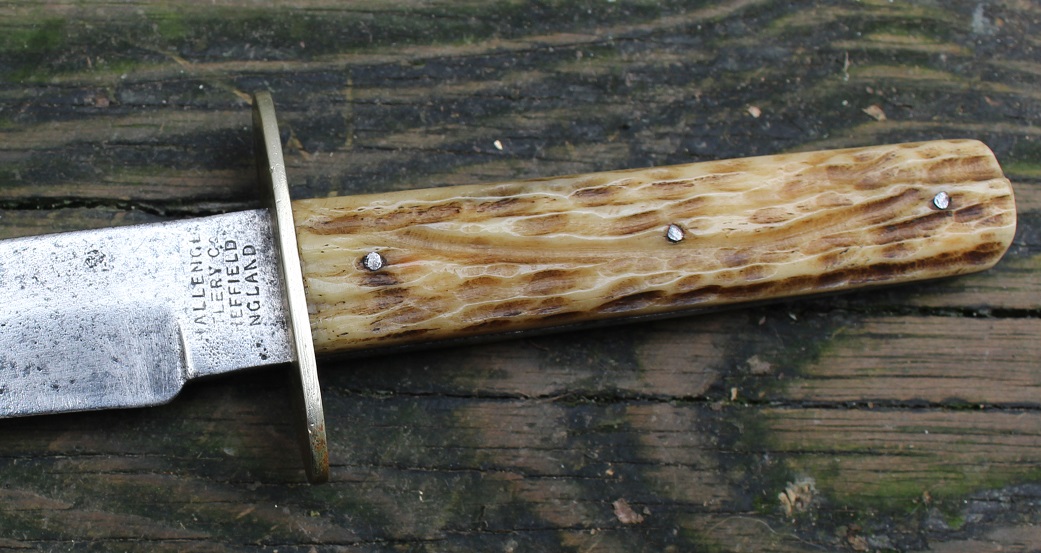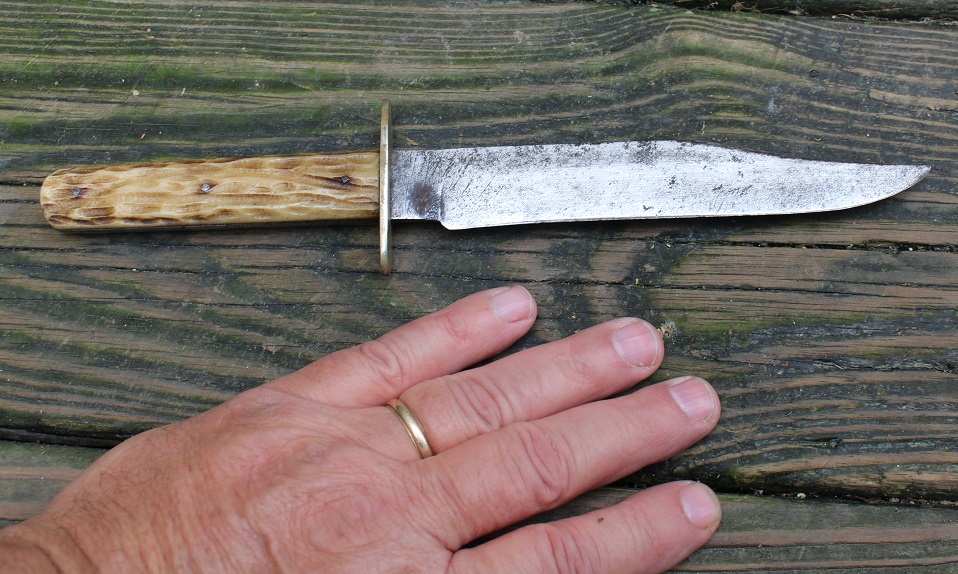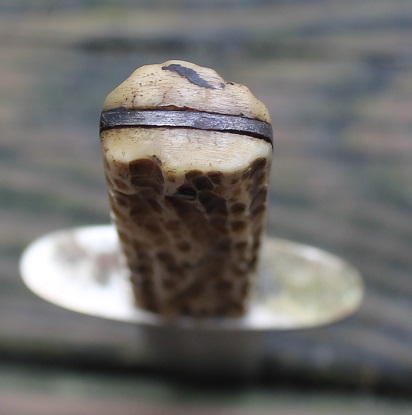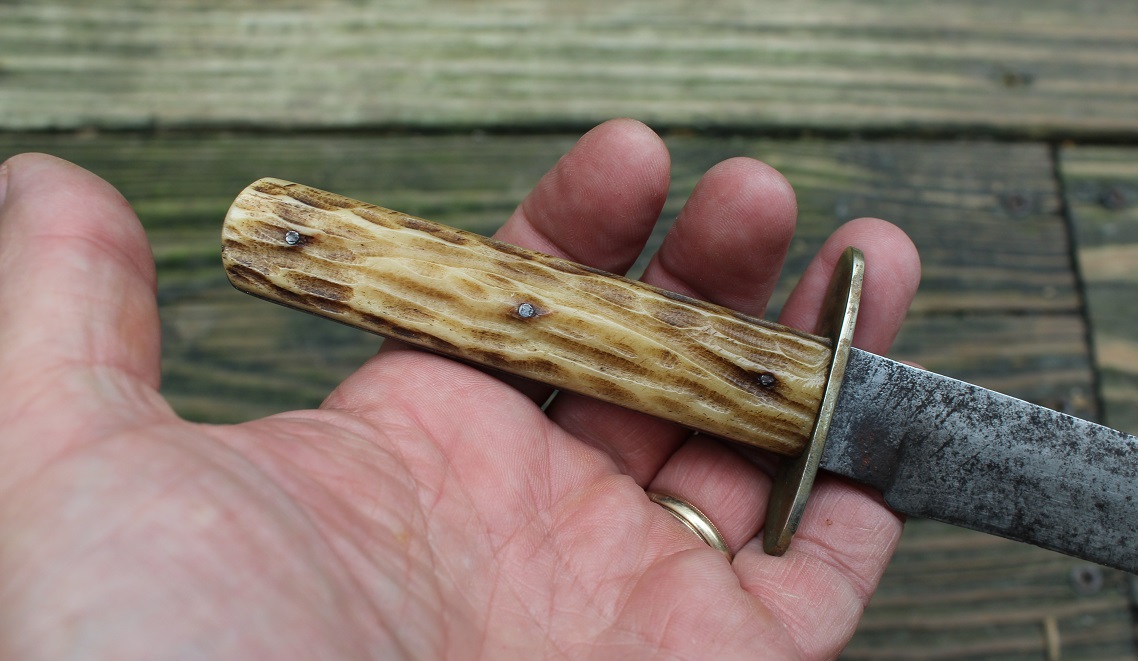 New Arrivals 298
Here is a small collection of items that belonged to a WW2 veteran that was a friend of mine. The collection consists of 6 racy small comic books each measuring about 3 inches by 4 ½ inches and accompanied GI's to the front lines. These particular books went to Europe and are kept in a German Folder for a H. Hoffman. (See the pics). The little books have many black and white pages of illustrations that I cannot show on line. The titles are: THE ART OF LOVE-POPEYE, LUKE McGLOOK " THE SMART BOY", SKIPPY IN HOT AND HAIRY, LITTLE ANNIE ROONEY, SADIE AND THE MILKMAN and THE BREAT BIG MAN FROM THE SOUTH STARRING BAREY GOOGLE! There are illustrations on each page and it makes me blush to look at most of them! Also inlcuded is a approx. 6 inch by 10 /2 inch long folded heavy piece of paper with a poem, article and ornery definitions on them. The last piece is a poem about Hitler and Germany and is quite racy as well! Definitely written by a WW2 GI.
My Friend served in the South Pacific but he was always trading for things brought in by Soldiers who were in the European theatre so that is probably the story here. He has since passed away so unfortunately I can't ask him. For the lot $165.00
New Arrivals 296
CONSIGNMENT
Here we have a nice 37MM disarmed shell with projectile. The 37 mm Gun M3 was the first dedicated anti-tank gun fielded by United States forces in numbers. Introduced in 1940, it became the standard anti-tank gun of the U.S. infantry with its size enabling it to be pulled by a jeep. However, the continuing improvement of German Tanks quickly rendered the 37 mm ineffective, and by 1943 it was being gradually replaced in the European and Mediterranean theaters by the more powerful British-developed 57mm Gun M1. In the Pacific, where the Japanese tank threat was less significant, the M3 remained in service until the end of the war. Like many other light anti-tank guns, the M3 was widely used in an infantry support role and as an anti-personnel weapon, firing high explosive and canister rounds. The M5 and M6 tank mounted variants were used in several models of armored vehicles most notably in the Stuart Light Tank M3/M5, the Lee Medium Tank M3, and Greyhound Light Armored Car M8. In addition, the M3 in its original version was mated to a number of other self-propelled carriages.
This particular shell is 13 inches long overall and the brass has been cleaned. The head stamp indicates a 1942 manufacture date. The projectile has been fastened securely to the base. This is a nice piece and an excellent display example! For this fine piece $125.00
New Arrivals 295
CONSIGNMENT
Here is a simple pine block display base holding 6 - .32 caliber long cartridges headstamped simply with the H stamp which I believe to be Winchester. Definitely showing age and displays well. For the lot $15.00
New Arrivals 291
Here we have a 1/6th plate tintype of two armed Rascals from the 1870's-1880's! These two are sitting ther quite cavalier with their Stetsons in their hands. There seems to be ribbons or flowers on their lapels so I think they are at a convention or gathering of some kind. The younger man has a pistol stuck in the waistband of his trousers while the other older man has one stuck in his belt. It's obvious that they wanted the camera to pick up the revolvers as their coats are pulled back to make sure that they were exposed! Tough guys!!! Comes in a half leatherette case. $125.00
New Arrivals 290
Here we have an original Civil War Knapsack. It's in pretty good condition and not too fragile as most are. There are a couple of rips in the tarred linen but it will still display nicely. This one is maker marked E.ROBINSON NEW YORK as well as has the U.S. Inspectors markings on it of R. VALENTINE. The knapsack is missing one small buckle and one other is also detached but there. The leather straps are flaking. All in all still a good example of an item that you just don't find that often anymore. For this one $225.00
New Arrivals 289
Here we have a nice collection or items recovered from Georgia Battlefields from the A. W. Hopkins Collection and so marked on the barrel of the 1860 recovered Colt Revolver. I must admit that I do not know Mr. Hopkins so I can't check it out but I got them all together from a good friend of mine. The Colt is the highlight of the collection and dates to 1864. The hammer still moves and cocks but obviously the cylinder is missing. It appears to have suffered a hard blow perhaps from a shell fragrant as the cylinder bolt is bent. The serial numbers all match that I can see. It was found on the ground obviously but was not there but a year or so before being picked up. At any rate it's a dandy! The collection also includes bullets, harness buckle, 10 eagle buttons (some pre civil war), 1 eagle button front, 2 marked button backs, a coin button and a couple of other items. What you see is what you get. The Colt Army really sets it off. You can still read the colt markings on the barrel and you can see the 44 cal and the colt mark on the reverse frame. Look at the pics! $750.00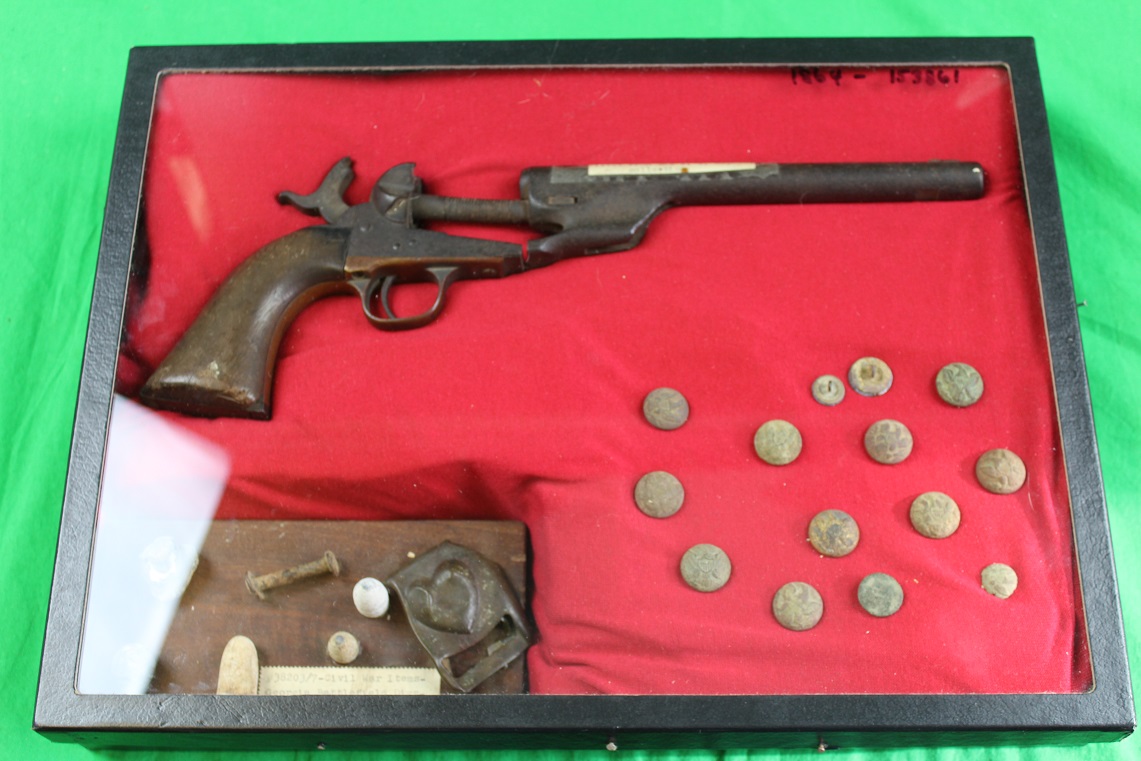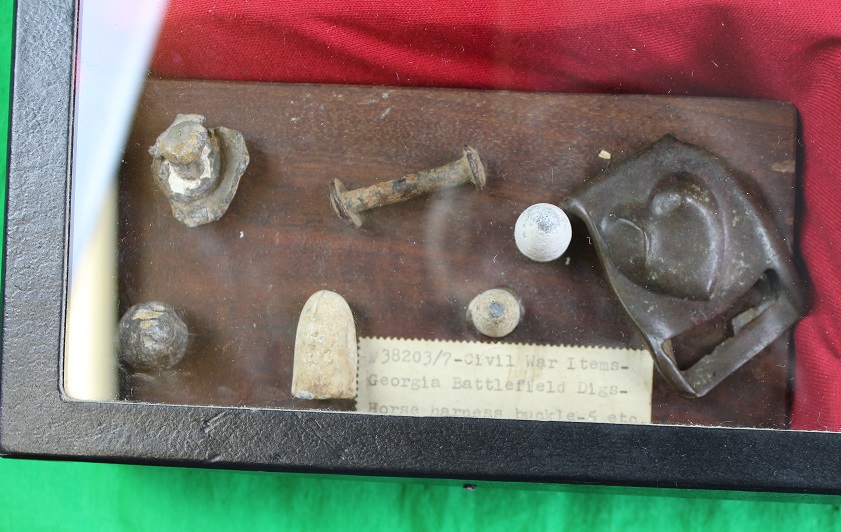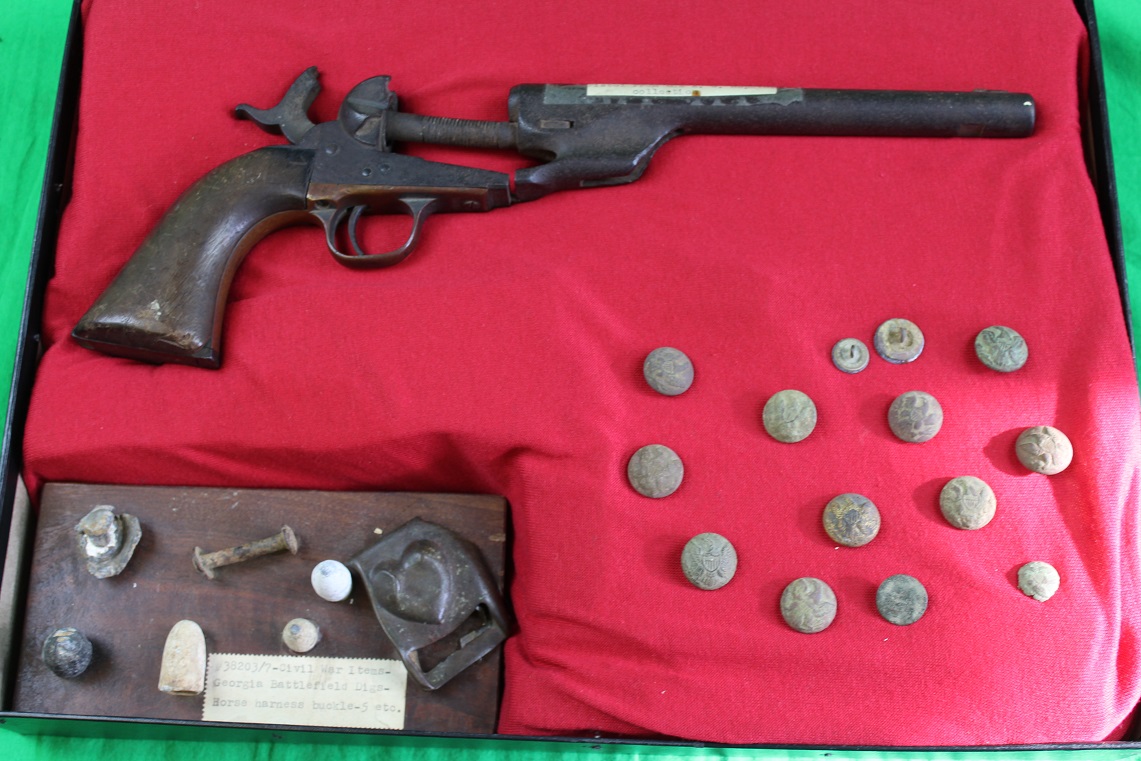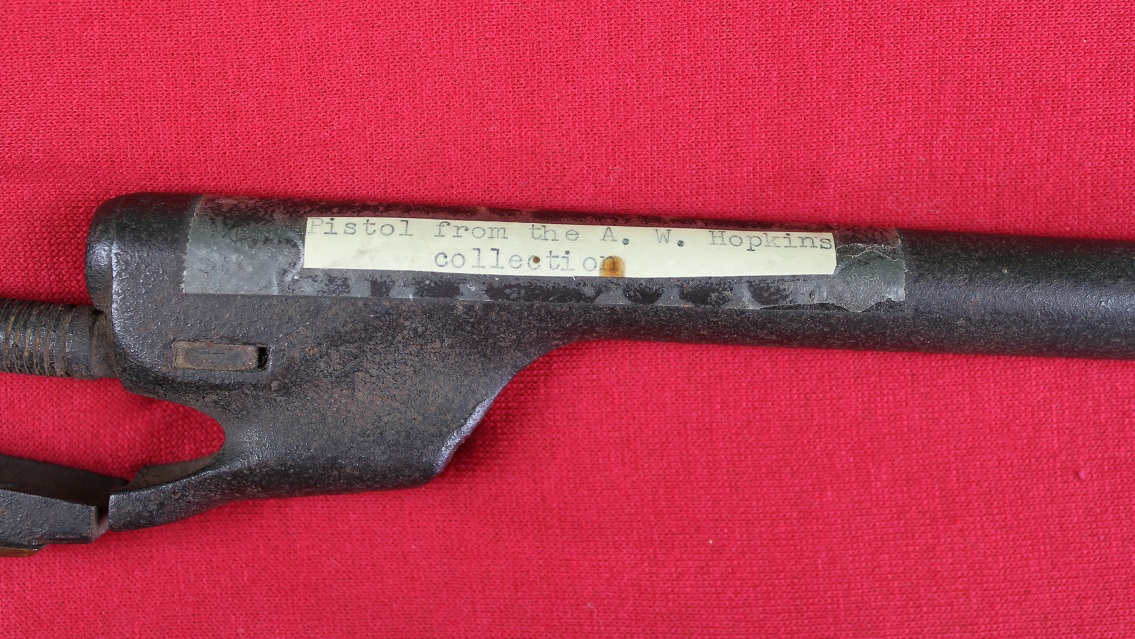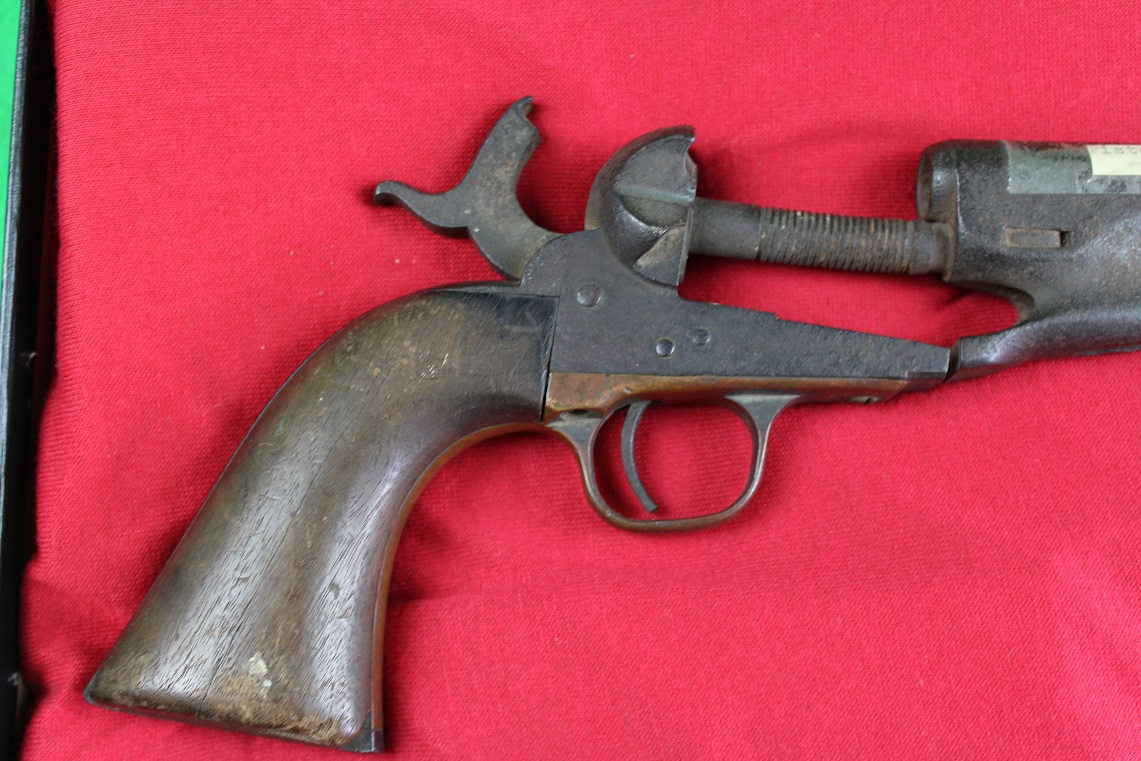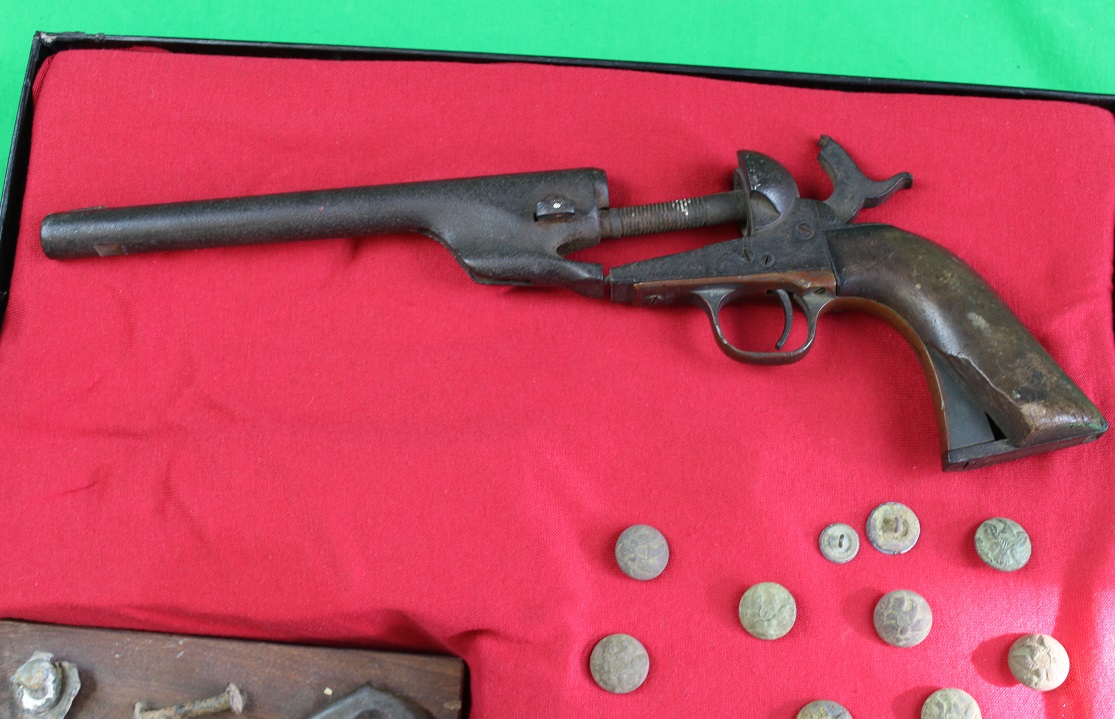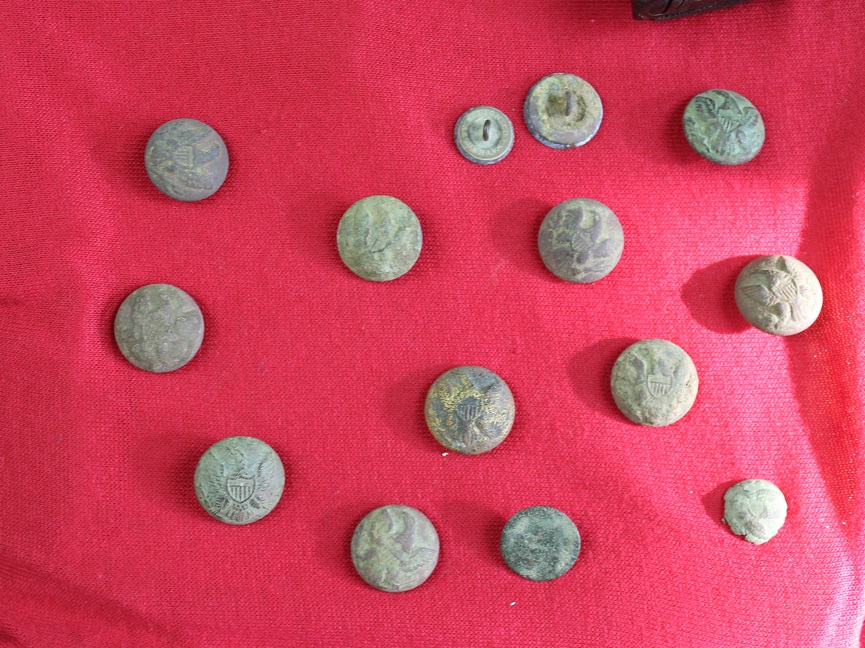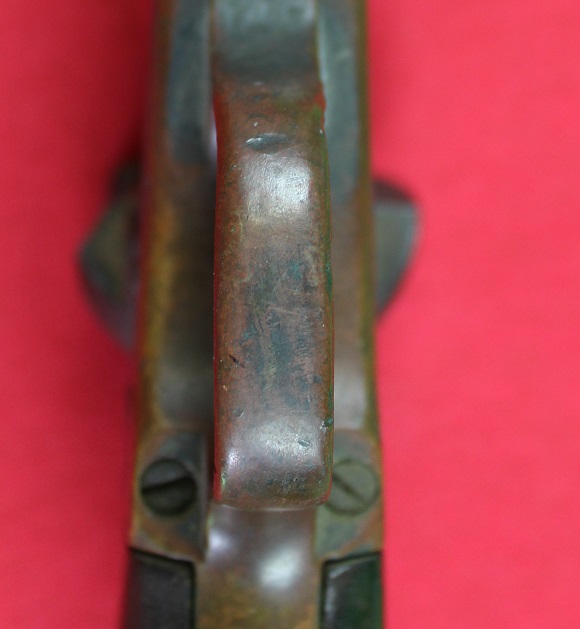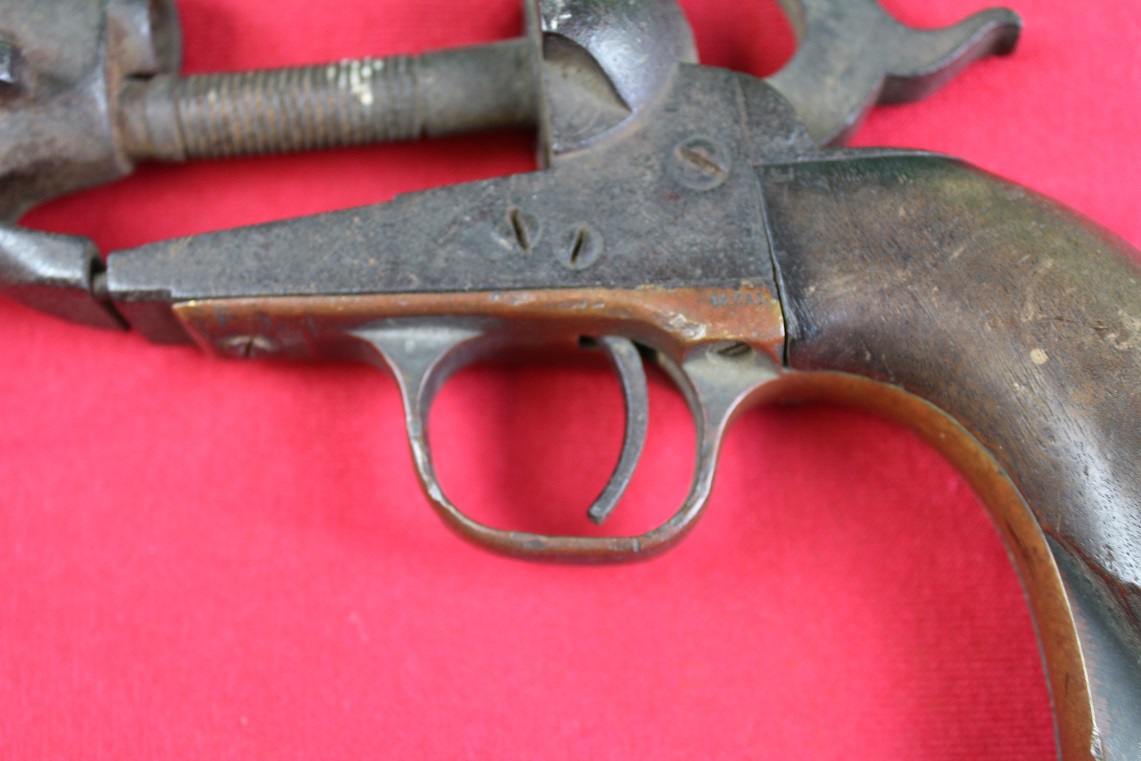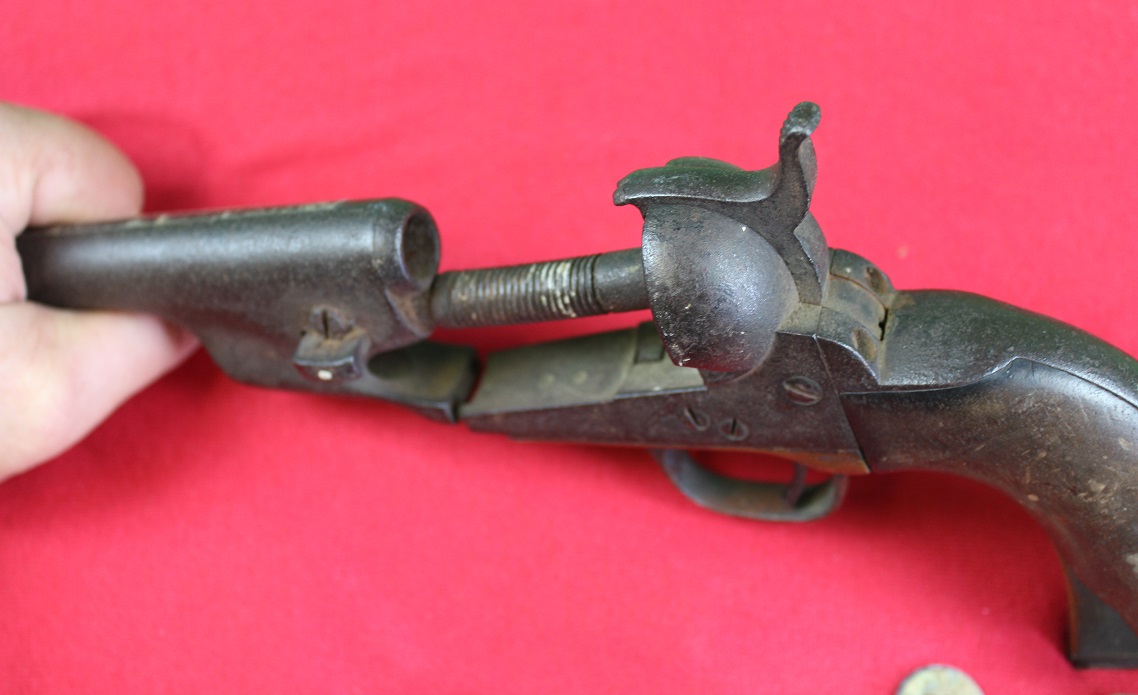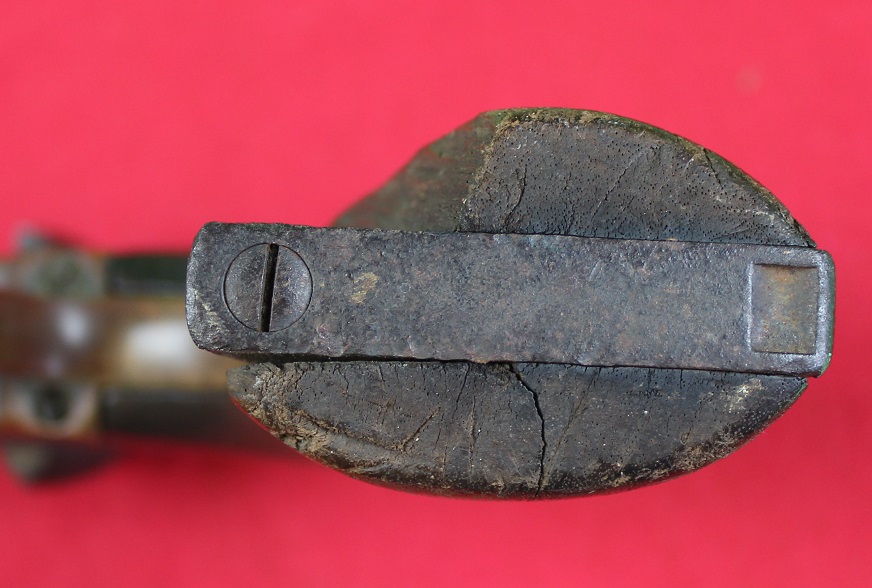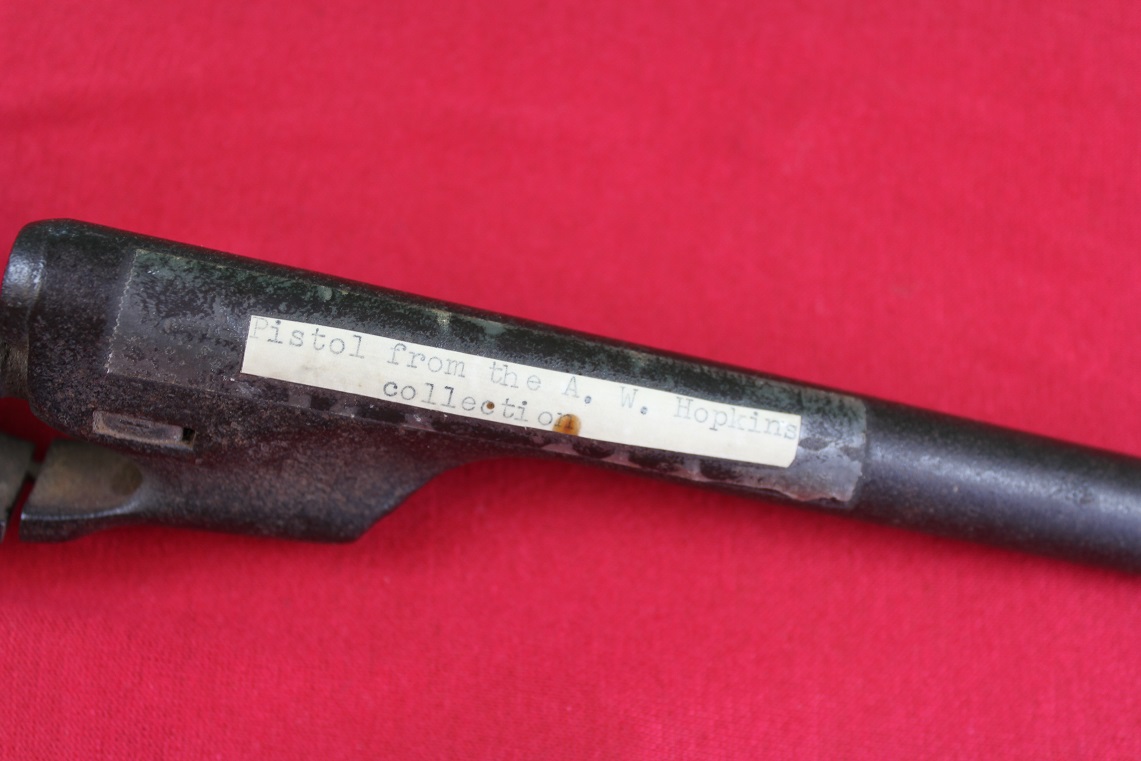 Consignment
New Arrivals 286
Here we have a extremely Huge Folding Bowie Knife that measures almost 24 inches long when the blade is folded out and locked in place. This piece is a Historic knife from the 1840's – 1850's. The grips are in 4 sections with 2 pearl inserts in the middle. The sections are etched with a Knight and floral designs on each side. These sections are bone and are pinned to the knife with brass pins. There are no cracks or breaks in the grips. The pommel end cap is steel in 3 sections representing 3 buttons on a rattlesnakes rattle with is typically American in nature. There is a line design on the buttons. The blade is in fair to good condition with some moderately severe pitting that is not active at this time. I could find no makers name on this piece. Take a look at the pics and comments under some of them. This is a highly unusual knive from the pre-Civil War days and you may not find one on an internet search. This is a very unique piece and if the condition was better this would be a $4500 knife! In this condition we have this fine old unusual folding bowie knife priced at $1950.00
Consignment
New Arrivals 285
Here we have two different TIME magazines. The smaller one is a May 7, 1945 Edition costing TEN CENTS and is the MEDITERRANEAN PONY EDITION which was printed in Italy for distributiion to the Armed Forces in the Meditterranean Theatre. This edition is seldom seen and most of the time when you see it then you will see a large red X over Hitlers face. All 32 pages are present although the middle page has come loose from the staples. The magazine is in fair to good condion and as previously noted, complete. Id'd on the front cover to a Hud Hudelson. Hard to find! $125.00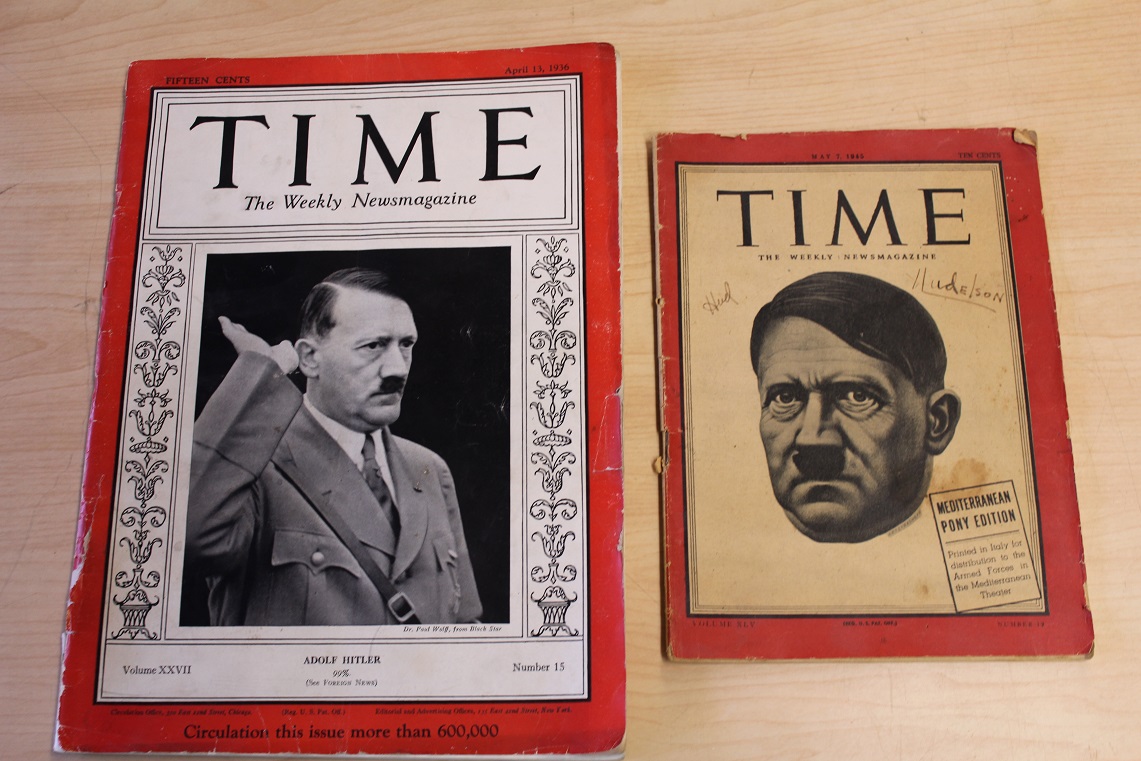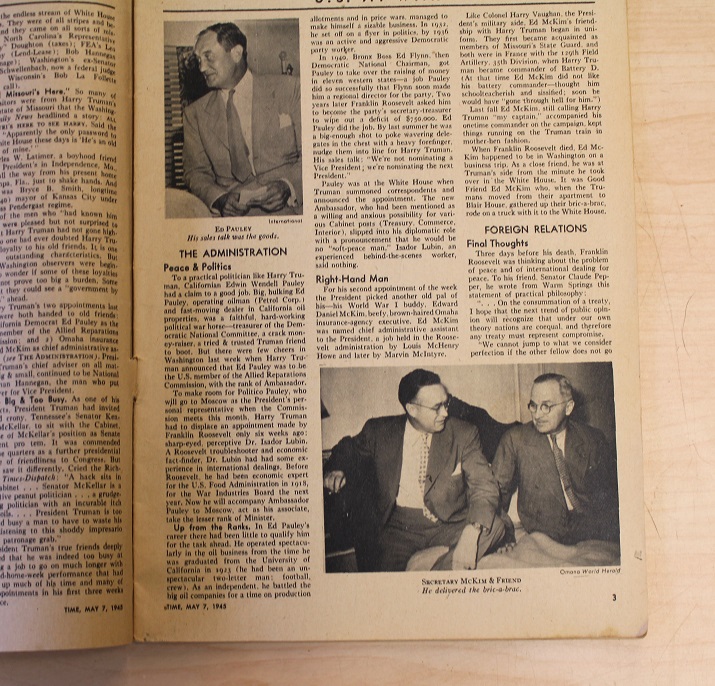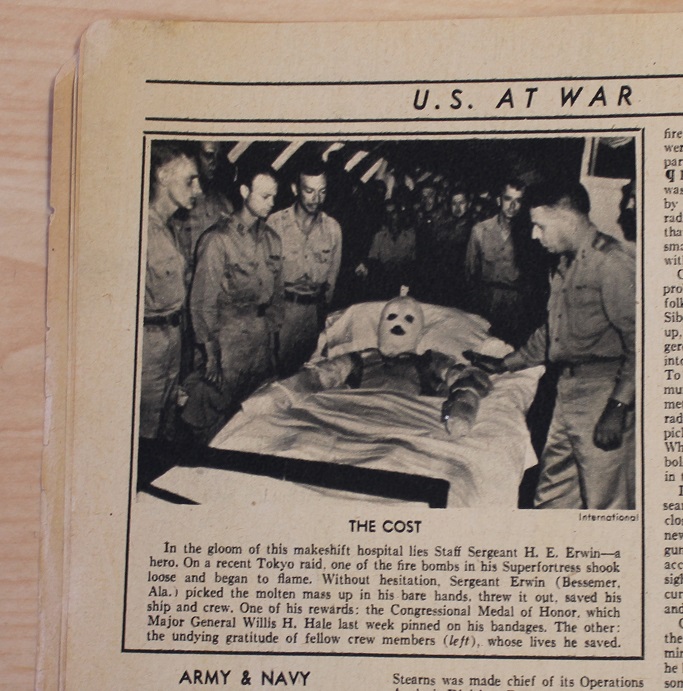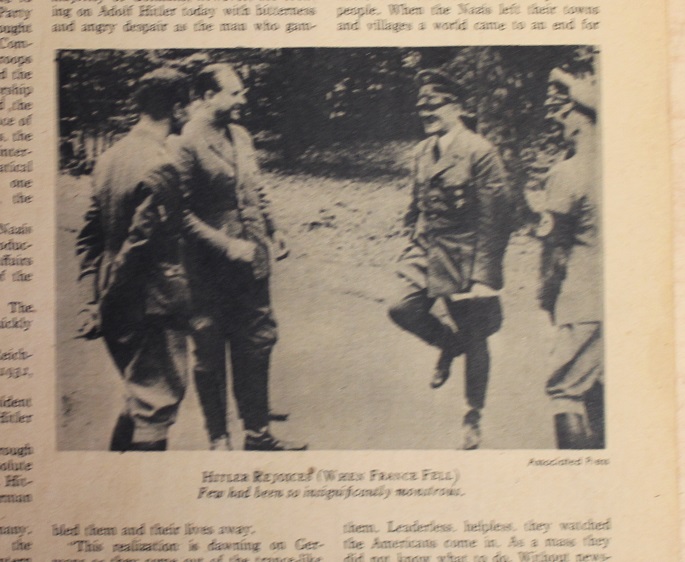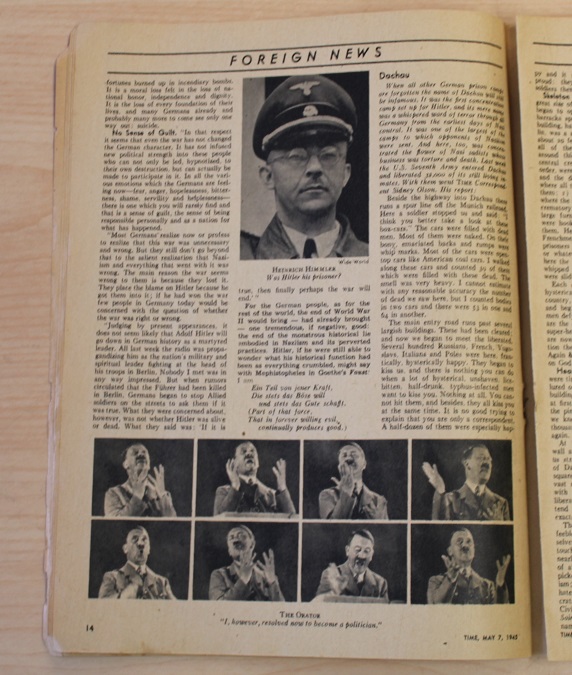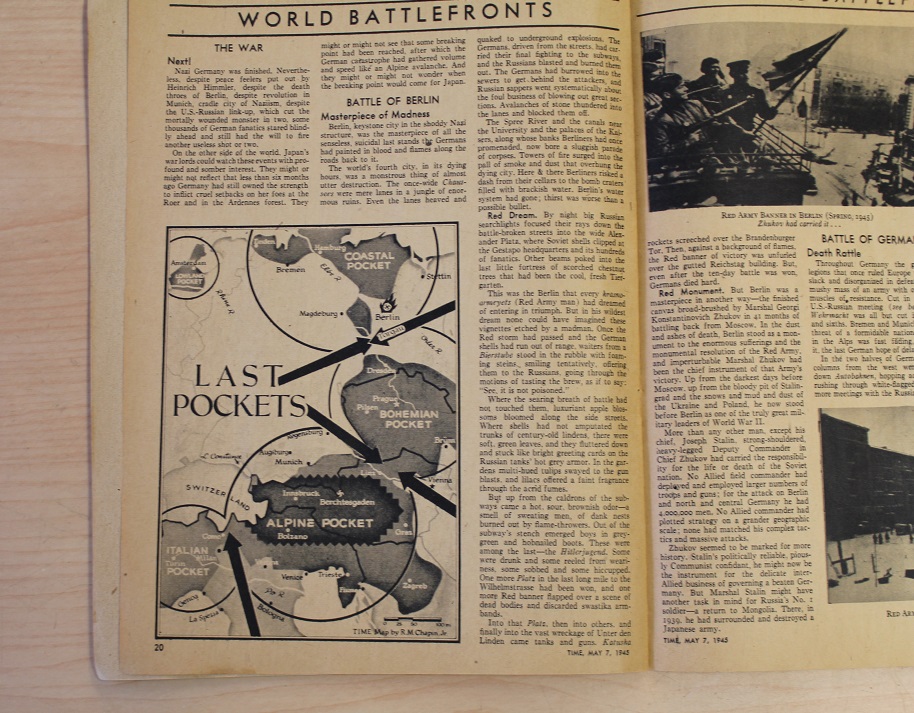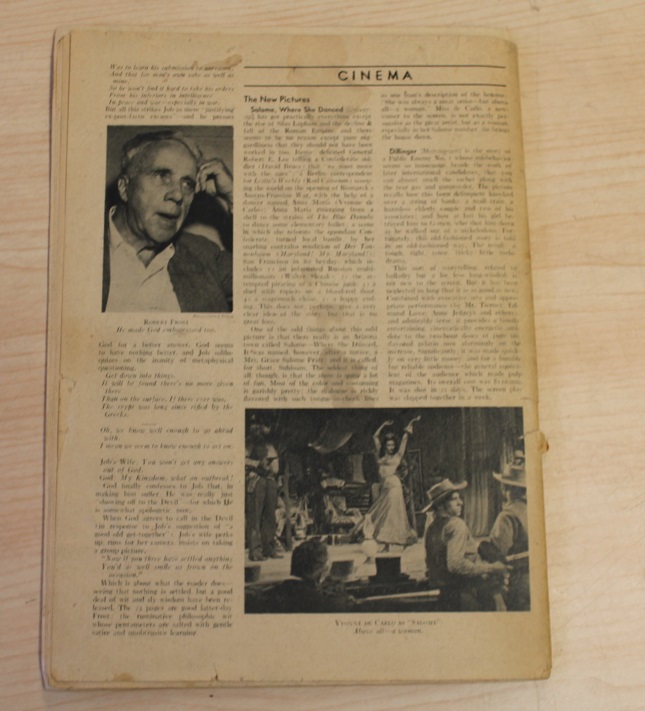 The larger magazine is a TIME magazine dated April 13, 1936 and shows a younger Adolf HItler on the cover. This magazine is also complete and consist of 92 pages in fair to good condition with many color photographs. Lots of car ads in here as well as a Canadian Pacific ad showing an Airship and several Airplane ads. The front cover is torn at the spline at the bottom and a couple of small tears on the edge, otherwise good. The Foreign News section talks about Hitlers rise at that time. Interesting reading! $125.00
Consignment
New Arrivals 284
Here is a small collection of Nazi / German items sent back by Dick Carroll (Indiana?) to Nancy (Carroll?). The grouping consists of a small wooden plaque measuring about 6 1/2 inches by 3 inches having been painted red with a Swastika in white circle near the top. There are two small incisions below the Swastika that indicate that something was mounted here at one time, perhaps a medal. All of these items were in a scrap book and some of them of these items have black paper stuck on the back. Besides the plaque there is a 1934 tinnie entitled ''DEUTSCH IST DIE SAAR', A 100,000 GERMAN BANK NOTE FROM 1923, A SMALL LADIES OR PINKY RING WITH A IRON CROSS ON IT and 3 COINS. The coins are 2 Francs coin from 1945, German 10 Pfennig coin from 1912 and a coin from Belguim I think that is dated 1945. There is also a small black slip of paper from the album that has on it DICK CARROLL SEND THESE FROM PARIS & GERMANY. and a small note to Nancy that says 'HELLO NANCY, I HAVEN'T MUCH TIME SO PLEASE EXCUSE THE SHORT NOTE. THE KNIFE IS FOR BROTHER AND THE REST IS YOURS. BIVE MY BEST TO MON & POP AND I'LL WRITE AGAIN SOON. T HERE'S NOT MUCH TO BUY OVER HERE SO HOPE YOU LIKE YOUR RING AND STUFF. LOVE & KISSES , DICK'. These pieces came out of Central Indiana (Lafayette) so something interesting could come up on ancestry.com if you care to look. For all the pieces $175.00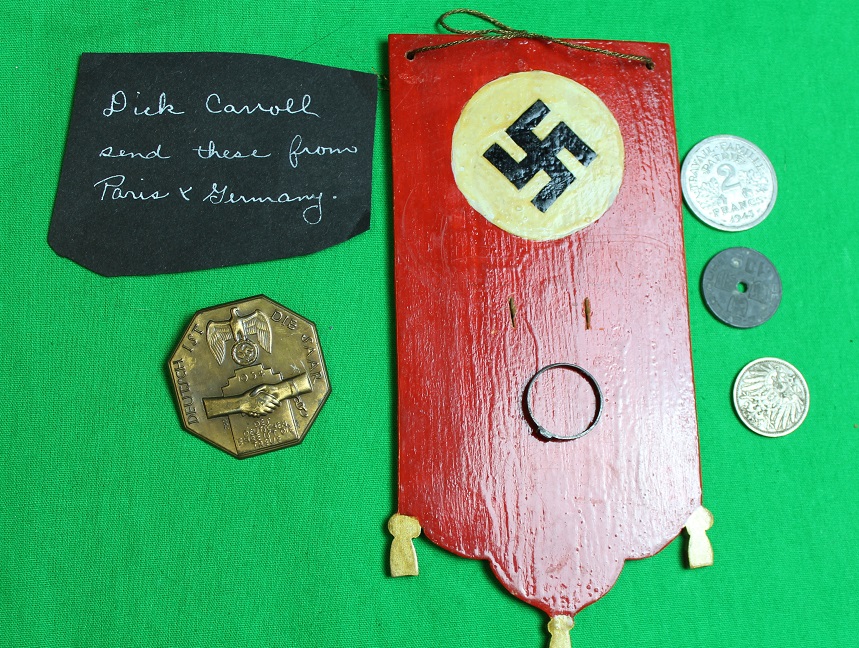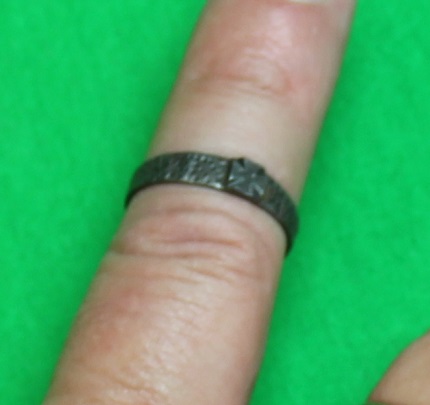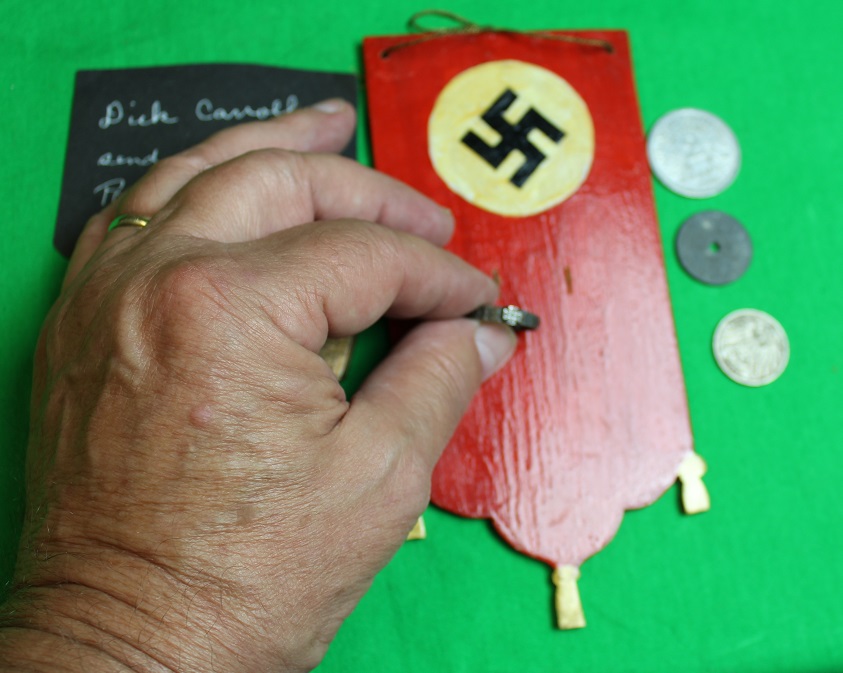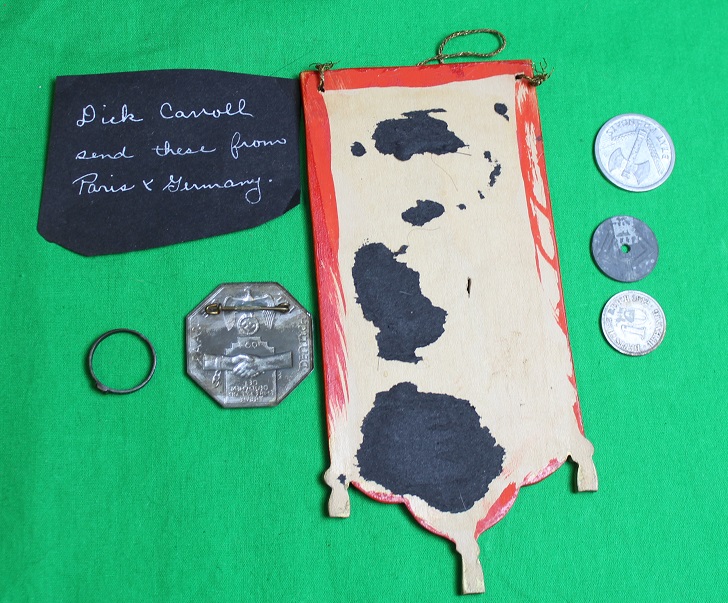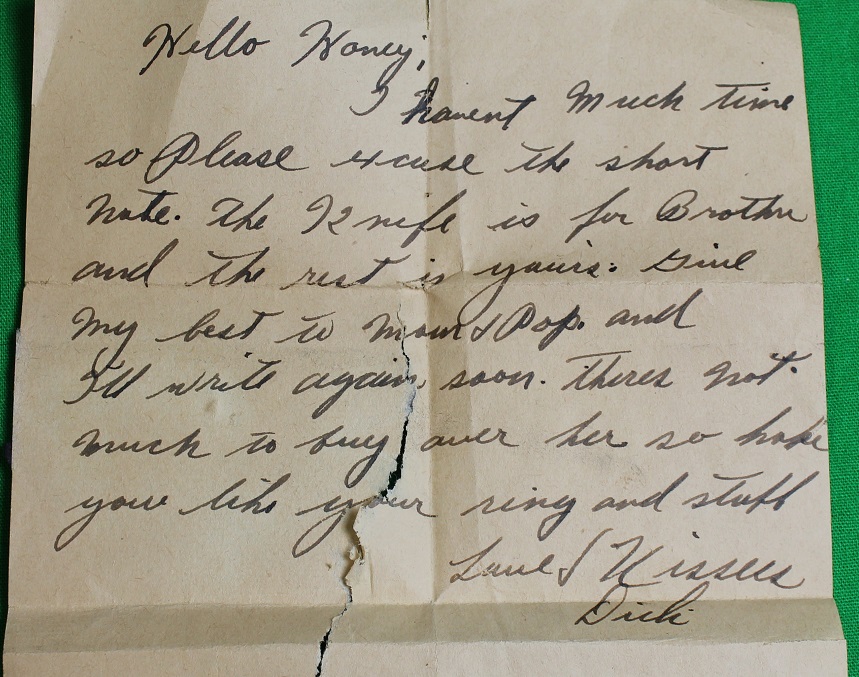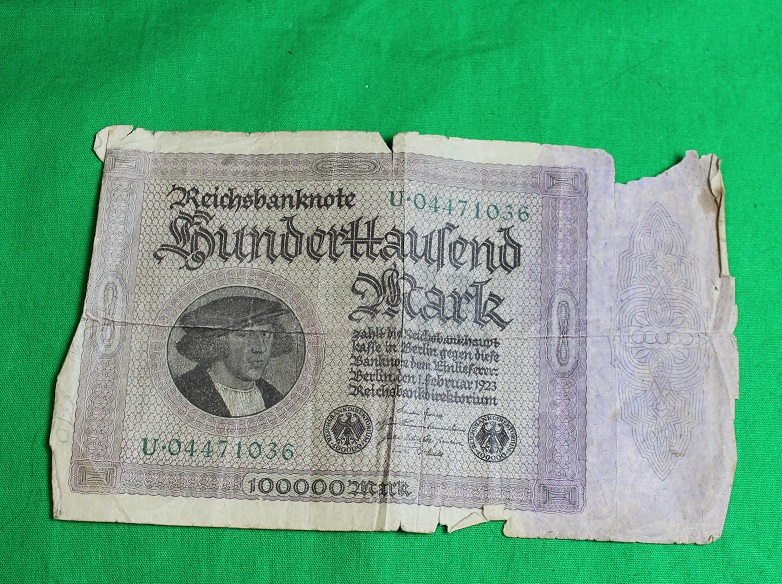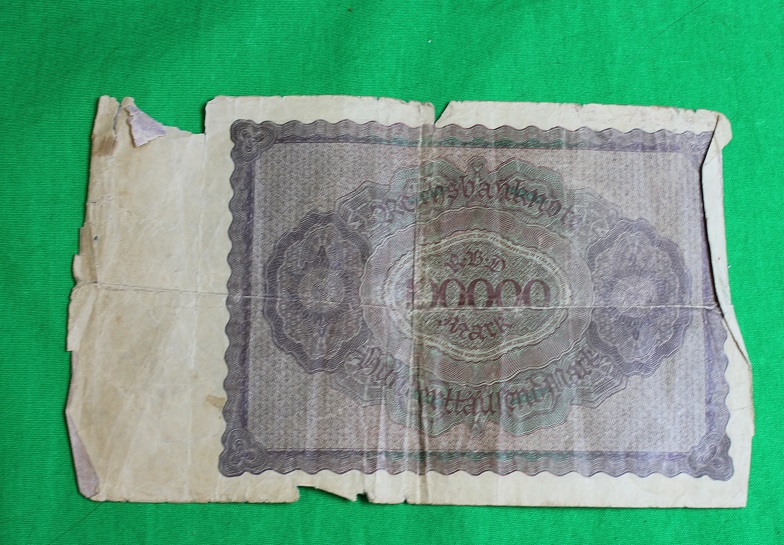 Consignment
New Arrivals 283
Here we have a very nice Model 92 Marlin Lever Action Rifle in .32 Caliber. This rifle , according to the serial number of 364864 was made in 1907. This rifle has a 24 inch round barrel that exhibits very nice rifling with a nice bright bore. This rifle also has the full length magazine tube and rear buckhorn as well as blade front sight. The action works perfectly! The color on the metal has turned to a nice dark plum patina with some original color present in protected areas. THe walnut stock is in very nice condition with a few minor dings here and there from wear but nothing really worth mentioning. The patent markings are clear and all there but some what worn however the Marlin Model 92 markings are deep and sharp. This is a very nice and desireable firearm! Check out the pics! $850.00
Consignment
New Arrivals 281
Here we have a new in the box Rossi Model 59 Gallery Pump Rifle in .22 magnum cartridge. This rifle is blue with a 23 inch barrel and holds 10 rounds. It's 39.25 inches long overall and weighs 5.5 pounds. The rifle is a takedown and looks to having not been fired or having been fired very little. There is a small worn spot on top of the barrel in the blue from box storage/transport as well as a small worn spot in the blue where the slide must have been opened up a time or two but the tag is still attached to the piece and I do not see any powder residue. The serial number on the box matches the rifle and the original paper work is included. See the pics! This is one nice little rifle! $750.00
Consignment
New Arrivals 278
We picked up some uniforms from WW1 on down so we'll list them as time allows. Here is the first one.
This is a U.S. Military SETAF marked uniform from the 1950's. SETAF stands for Southern European Task Force / U.S. Army Africa. SETAF was formally activated during a ceremony October 25, 1955. The headquarters, commanded by Maj. Gen. John Michaelis, was temporarily established at Camp Darby with units stationed in Vicenza and Verona. Shortly after activation, SETAF moved its headquarters to Verona. Troop strength reached 10,000 and SETAF was formally established with a U.S.-Italian agreement.
In 1959 a third agreement brought significant changes to SETAF, to include assigning Italian Army personnel to the SETAF general staff to assist with unique bi-national responsibilities.
In 1963, SETAF lent a helping hand to our Italian neighbors when a huge landslide forced a deluge of water over the Vajont Dam in the Piave Valley killing more than 2,000 people. SETAF helicopters were the first on the scene to provide assistance.
I believe this particular uniform to be an early one with the red banner SETAF patch on the right shoulder. The lot consists of three pieces: The overseas cap , the Ike jacket and the trousers. The cap is a size 7 and the jacket is marked size 38L and the date 20 May 1953. The trousers are the M-1952 with the last date of 18 Dec. 1952 on them. I don't see a size on them but I believe they are a size 30 to 32 waist. The wool material is in good condition with a minor moth hole here and there but not bad at all. The only patches on the Ike jacket besides the red banner SETAF patch is PFC subdued patches on either shoulder. The lining is green and in pretty good condition. For the three pieces $165.00
Consignment
New Arrivals 277
Here we have a nice 3 piece uniform grouping with the China/Burmese patch on the left shoulder of the tunic as well as sergant strips on both shoulders. This tunic is in pretty good condition with the 4 ribbons on the chest which include: 1. Good Conduct 2. WW2 Victory 3. American Campaign & lastly 4. Asiatic & Pacific Campaign Ribbon. There is one US collar disk on the collar while the other one is missing. The right breast has the Ruptured Duck indicating his discharge from the service. This tunic also has the Distinguished Unit wreath on the right lower sleeve. This jacket is a size 35 short and has the elastic at the back inside. The jacket was made by Albert Turner Inc. and the last date in it is Feb. 27, 1942. There were 3 patches found in the pocket with one being the subdued Sergeant's patch and two Army Service Forces patch. The Army Service Forces was one of the three autonomous components of the Army of the United States during World War II, the others being the Army Air Forces and Army Ground Forces. It was created on February 28, 1942 by Executive Order Number 9082 'Reorganizing the Army and the War Department' and War Department Circular No.59, dated March 2, 1942. Also found in the pocket was a partial ticket for The Rivoli Theatre in New Delhi, India. Take a look at the pics!
Also with this grouping is his duty long sleeve shirt also with subdued sgt's patches and the Distinguished Unit wreath. This shirt is in really nice condition with only one button having an edge broken off of it. The shirt has the attachments for the removable China/Burmese patch which we do not have.
Finally, the button fly trousers are in good condition with a quarter size spot on one of the legs. Unfortunately the soldier did not write his name in these. Small size as normal for the time. For this nice grouping of a U.S. China/Burmese uniform $275.00
Consignment
New Arrivals 276
Here we have a WW2 wool tunic for a Tech Corporal that has the Ruptured Duck patch on the front over the right breast pocket and has two different Armor patches on the shoulders. One is for the 12th Armored division and the other is for the 2nd Armored division. The 12th Armored Division was an armored division of the United States Army in World War II. It fought in the European Theater of Operations in France, Germany and Austria, between November 1944 and May 1945. The German Army called the 12th Armored Division the "Suicide Division" for its fierce defensive actions during Operation Nordwind in France, and they were nicknamed the "The Mystery Division" when they were temporarily transferred to the command of the Third Army under General George S. Patton, Jr., to cross the Rhine River. The 12th Armored Division was one of only ten U.S. Divisions (and only one of two U.S. armored Divisions) during World War II that had African-American combat companies integrated into the Division. One of the African American soldiers, Staff Sergeant Edward A. Carter, Jr. was awarded The Distinguished Service Cross for Gallantry in Combat during World War II, and was later awarded the Medal of Honor posthumously.
The 2nd Armored Division ("Hell on Wheels"). The division played an important role during World War II in the invasions of North Africa and Sicily and the liberation of France, Belgium, and the Netherlands and the invasion of Germany.
This soldier must have been assigned to each of them at some point during the war. This offering only has the tunic in it and it's generally in good condition with the exception of some wear on the collar. There are a few moth nips elsewhere but not all that bad. Size 36 R. For this tunis $85.00
Consignment
New Arrivals 275
Here we have a set that consists of a dress white tunic / jumper and trousers for a Navy Gunners Mate. There is an id in the jumper and the trousers of I.F. Bange. We believe this uniform belonged to Isaac Franklin Bange who was on the Andres DE-45 and was mustered in on March 15, 1943. It's beleived that he is from Morgan County. USS Andres (DE-45) was an Evarts-class destroyer escort constructed for the United States Navy during World War II. Sent off to the dangerous waters of the North Atlantic Ocean during the Battle of the Atlantic to protect convoys and other ships from Nazi Germany's Kriegsmarine U-boats and fighter aircraft, Andres performed escort and anti-submarine operations. Andres was originally built as HMS Capel (BDE-45) for the United Kingdom, allocated to the Royal Navy under Lend-Lease. Laid down on 12 February 1942 by the Philadelphia Navy Yard; launched on 24 July 1942; sponsored by Miss Mary Elizabeth Schumacher, the daughter of Captain Theodore L. Schumacher, USN, who was assigned to the Philadelphia Navy Yard; reclassified to DE-45 on 25 January 1943 when the ship was reallocated to the United States Navy; renamed Andres on 4 March 1943; and commissioned at her builders' yard on 15 March 1943, Lieutenant Commander Clayton R. Simmers in command.
The whites have turned a little yellow but are still in good displayable condition. His name I. F. BANGE is stenciled in both the tunic/jumper and the trousers. For the pair $95.00
Consignment
New Arrivals 274
Here we have a Vintage Model D35 Detective Gas Billy . The piece seems to function ok but we have no shells for it. This piece is about 6 3/4 inches long and unscrews for loading. This has a strong spring and should work just fine! I believe these use the Winchester Gas shell. These were used in the 40's and 50's I believe. Made of black machine aluminum. Check out the pics! For this piece $100.00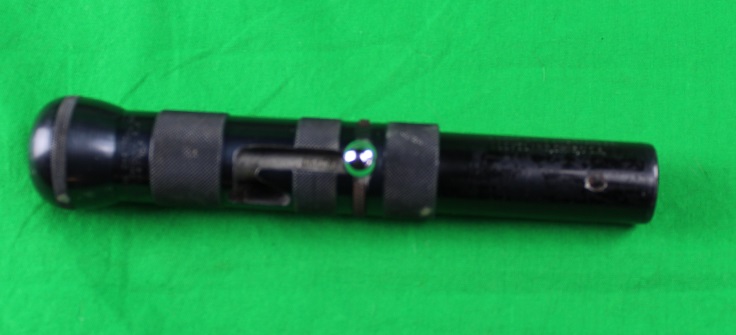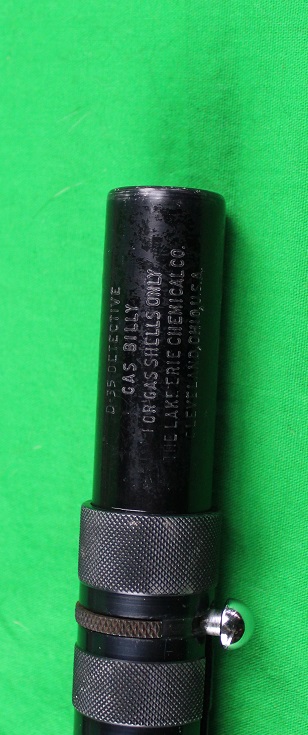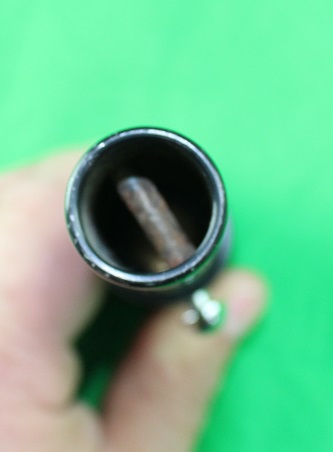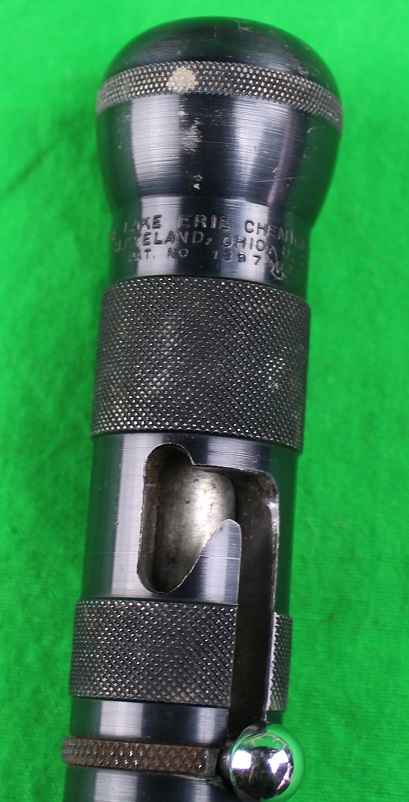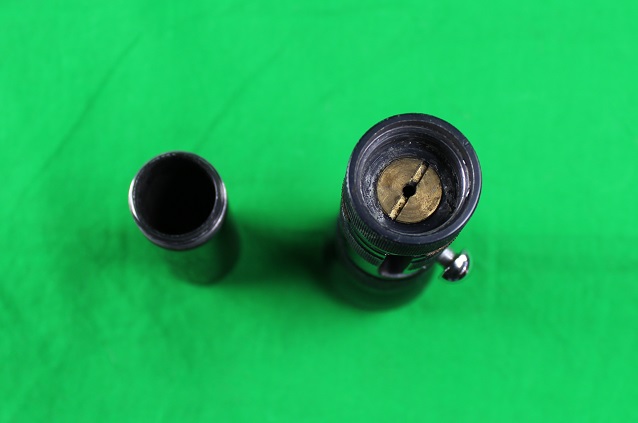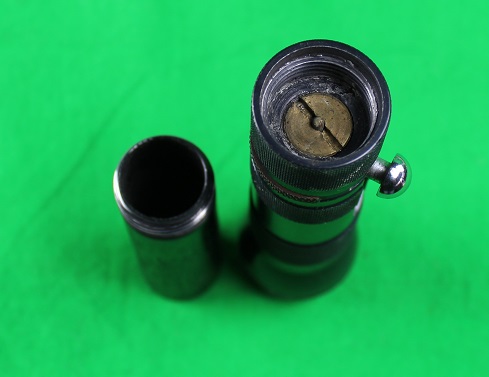 Consignment
Consignment
WE JUST TOOK IN SEVERAL FIREARMS, BOTH MODERN AND ANTIQUE, AS WELL AS A RUSSIAN MADE AK-47 75 ROUND DRUM MAGAZINE AND A COLLECTION OF PEWTER PLATES COMMERATING THE AMERICAN REVOLUTION. KEEP WATCHING FOR UPDATES!!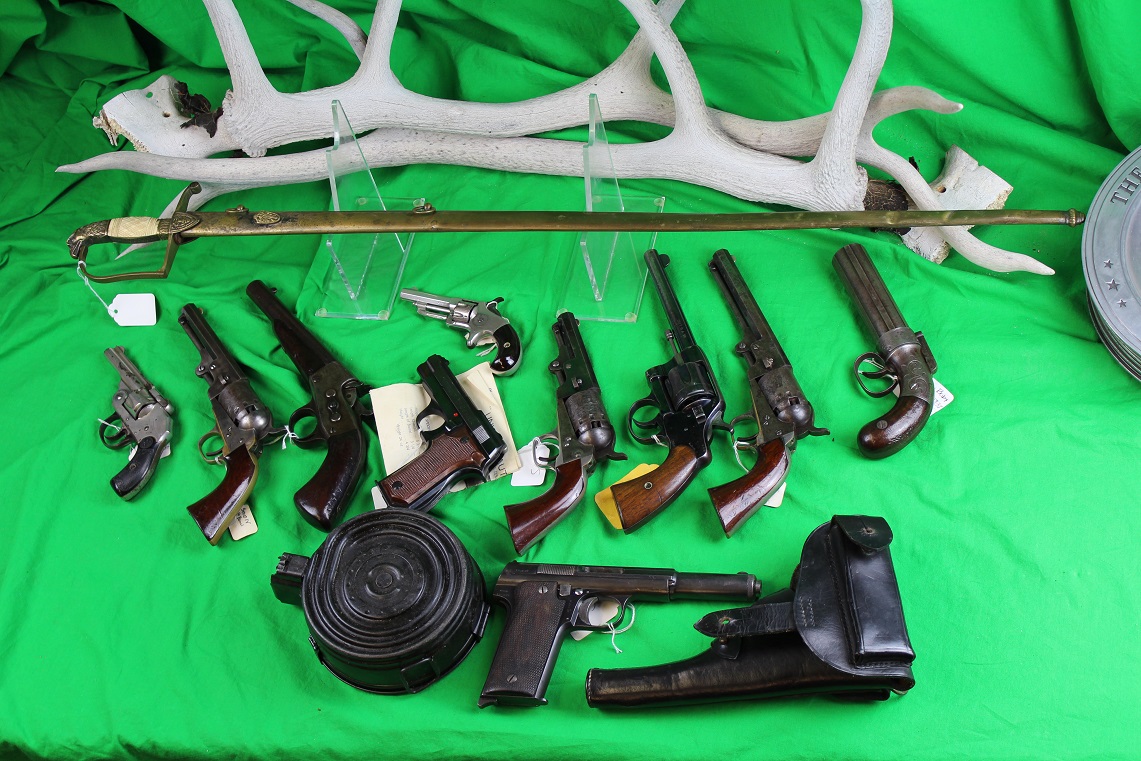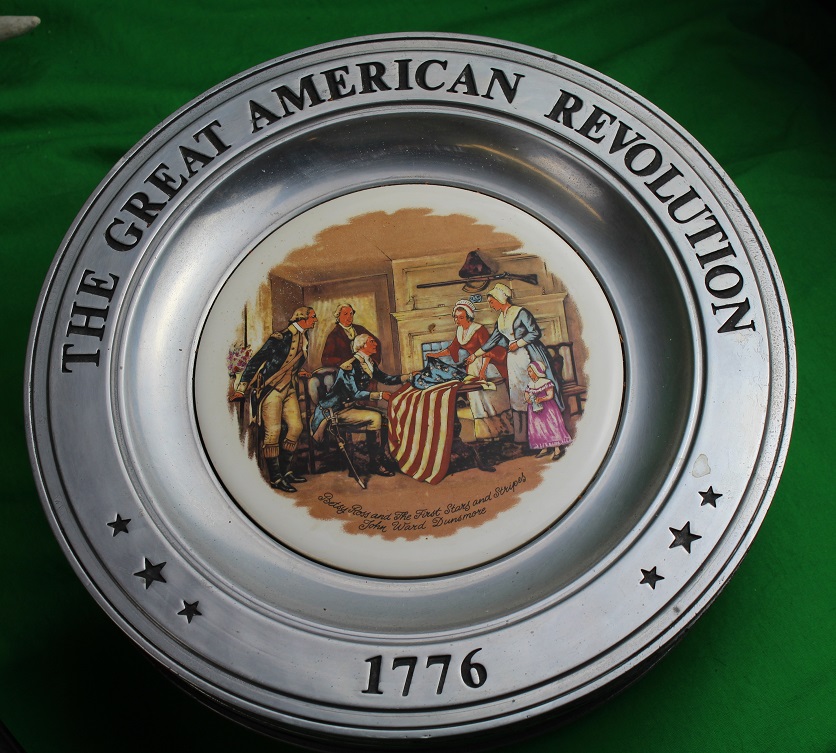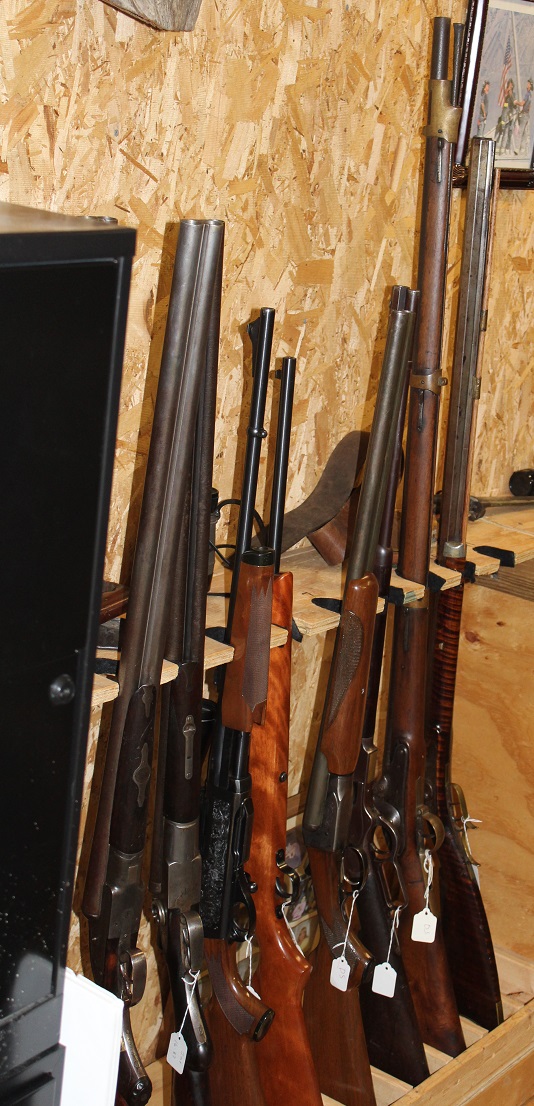 New Arrivals 272
Here we have a hand written letter by Benjamin Harrison, former President of the United States witten to Captain A. (Alfred) J. Ralph of Dana, Indiana on January 2,d, 1899. The letter thanks Captain Ralph , formerly of the Civil War 6th Michigan Infantry and later the Indiana Legion, for the birds (probably quail) that he sent to him. Unfortunately someone has clipped the President's signature but the letter is written in his hand guaranteed! Here's a pic of Captain Ralph in Uniform during the Civil War: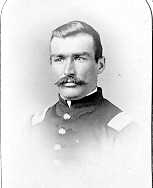 Now on to Benjamin Harrison's bio: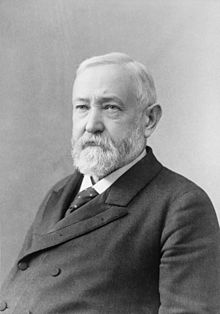 Benjamin Harrison (August 20, 1833 – March 13, 1901) was the 23rd President of the United States (1889–93); he was the grandson of the ninth President, William Henry Harrison. Before ascending to the presidency, Harrison established himself as a prominent local attorney, Presbyterian church leader and politician in Indianapolis, Indiana. During the American Civil War, he served the Union as a colonel and on February 14, 1865 was confirmed by the U.S. Senate as a brevet brigadier general of volunteers to rank from January 23, 1865. After the war, he unsuccessfully ran for the governorship of Indiana. He was later elected to the U.S. Senate by the Indiana legislature. A Republican, Harrison was elected to the presidency in 1888, defeating the Democratic incumbent Grover Cleveland. Hallmarks of his administration included unprecedented economic legislation, including the McKinley Tariff, which imposed historic protective trade rates, and the Sherman Antitrust Act; Harrison facilitated the creation of the National Forests through an amendment to the Land Revision Act of 1891. He also substantially strengthened and modernized the Navy, and conducted an active foreign policy. He proposed, in vain, federal education funding as well as voting rights enforcement for African Americans during his administration. Due in large part to surplus revenues from the tariffs, federal spending reached one billion dollars for the first time during his term. The spending issue in part led to the defeat of the Republicans in the 1890 mid-term elections. Harrison was defeated by Cleveland in his bid for re-election in 1892, due to the growing unpopularity of the high tariff and high federal spending. He then returned to private life in Indianapolis but later represented the Republic of Venezuela in an international case against the United Kingdom. In 1900, he traveled to Europe as part of the case and, after a brief stay, returned to Indianapolis. He died the following year of complications from influenza.
Here is the letters contents
Letterhead is "BENJAMIN HARRISON 1214 DELAWARE STREET, INDIANAPOLIS, IND.
January 2nd 1899
Captain A.J.Ralph, Dana, Ind. My dear Captain:
I thank you verymuch for the birds you were kind enough to send to me. I could not get out for a quail hunt early in the season, when the weather was decent, as I was too busy with my work. Later I undertook, with Captain Broden, to organize a hunting expedition, and we appointed several different days, but the weather proved to be such each time that we had to abandon the trip, so that I have not had any hunting at all. After this year I hope to be a little more at leisure and to have the pleasure once in a while of coming out to Dana either for squirrels or birds. With thanks to all of your Kindness and wishing hou a Happy New Year. I am, Very Sincerely yours, XXXXXXX It's too bad his signature was clipped off of this nice letter to a Military friend but it is what it is! For the letter without the signature but guaranteed for life to be in his hand writting $450.00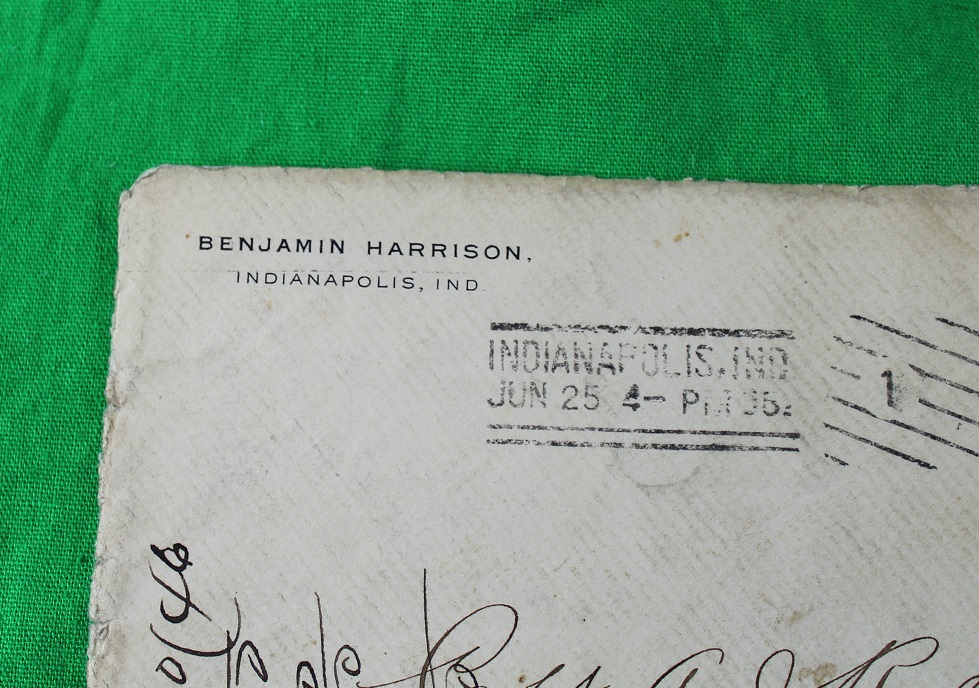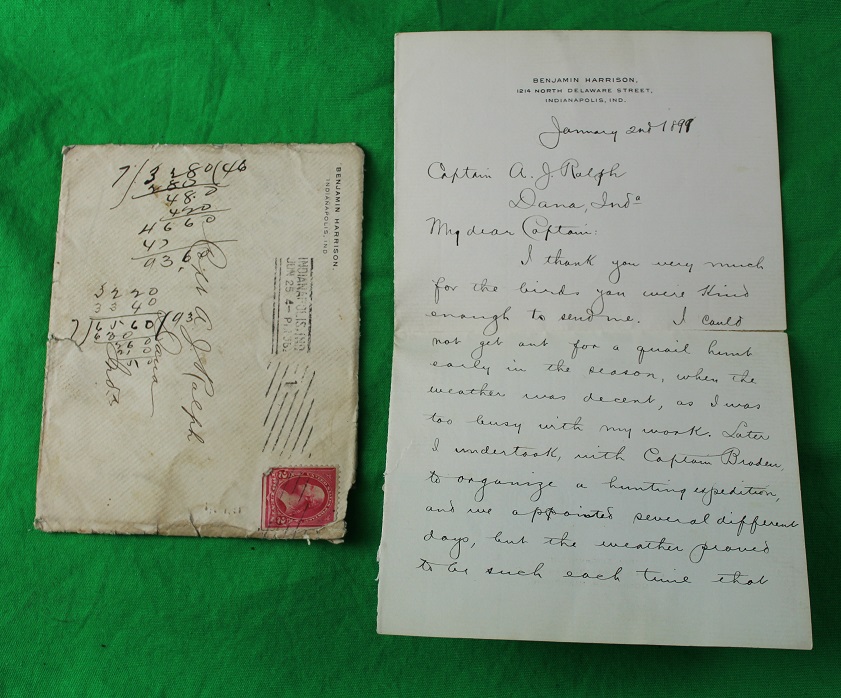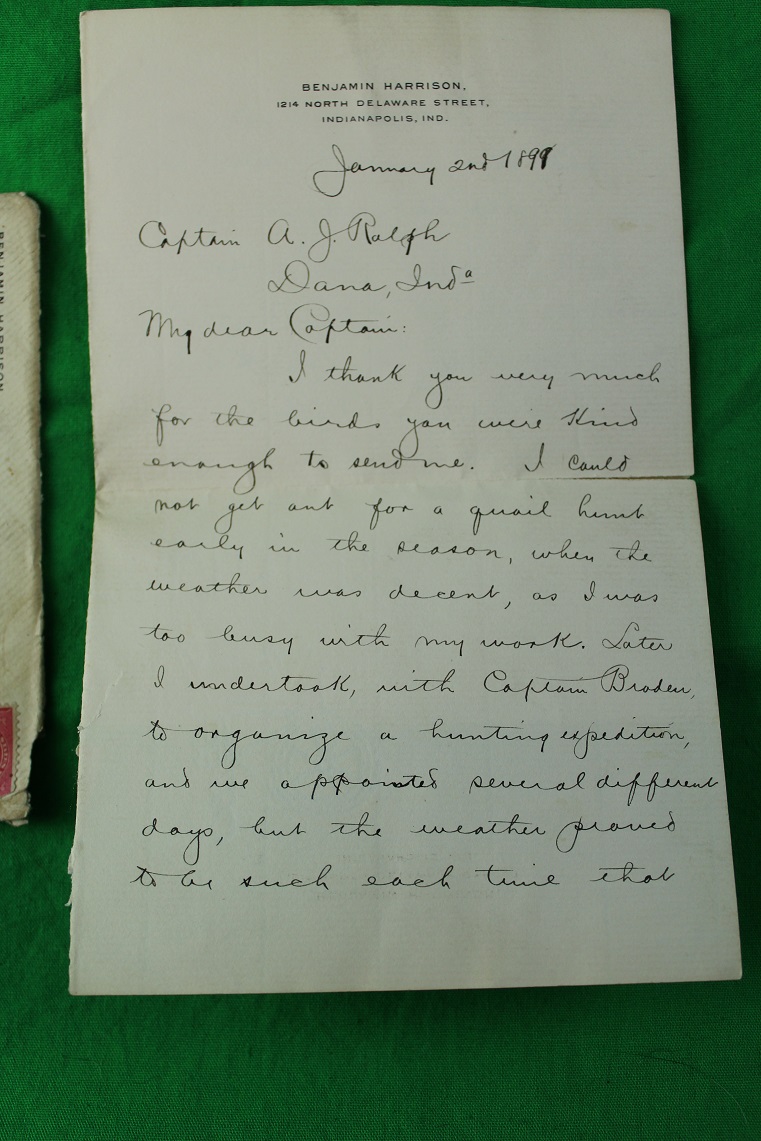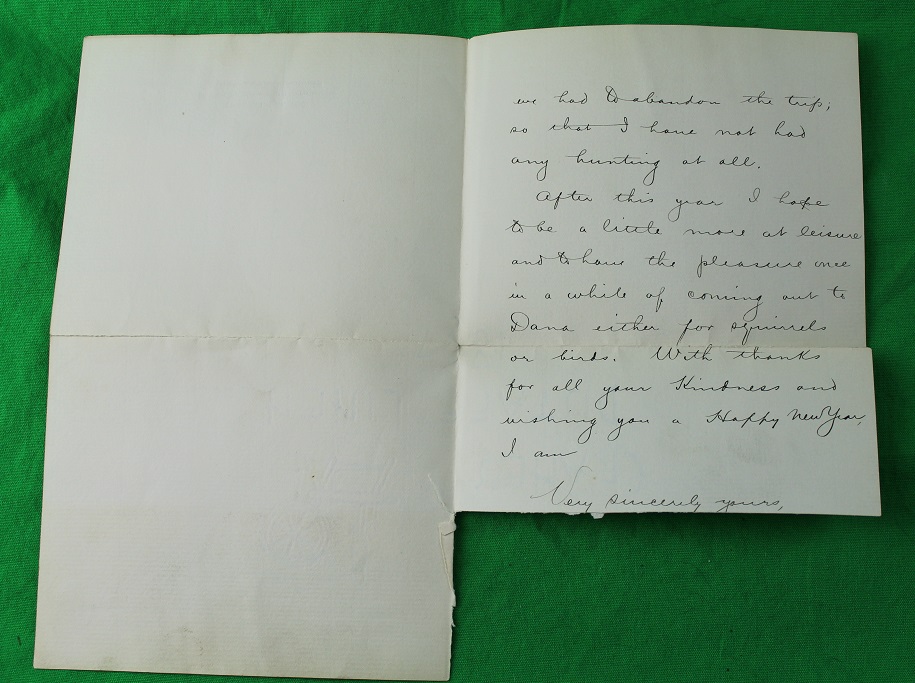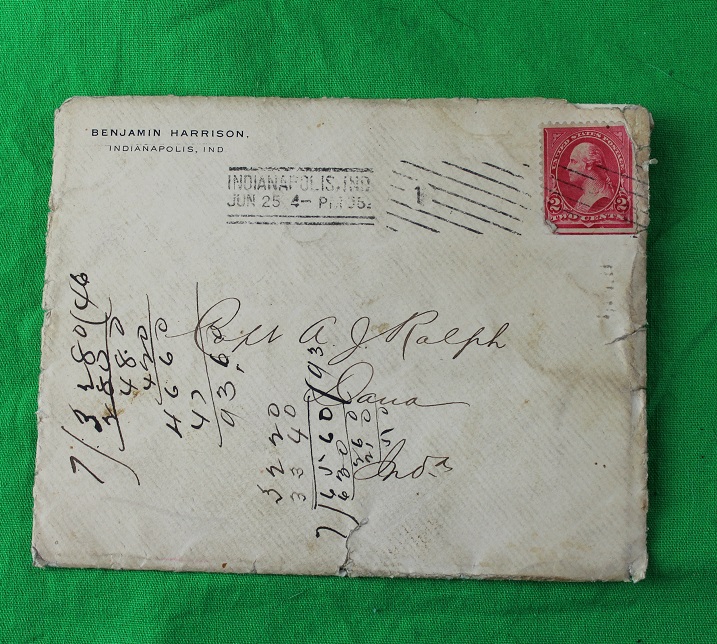 New Arrivals 271
Here we have a letter in a small envelope from Mansfield Ohio from John Sherman in a United States Senate envelope to Mr. A. (Alfred) J. Ralph of Dana, Indiana.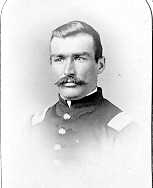 Captain Ralph was a Captain in the Civil War in the 6th Michigan and later in the Indiana Legion (National Guard). The envelope is approximately 3" X 6 " and is cut open along the bottom edge. The 5" X 8" hand written in ink note inside is from Senator John Sherman, brother of Union General William Tecumseh Sherman.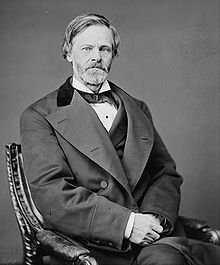 Here is John's bio:
John Sherman (May 10, 1823 – October 22, 1900) was an American Republican representative and senator from Ohio during the Civil War and into the late nineteenth century. He also served as both Secretary of the Treasury and Secretary of State. Sherman ran for the Republican presidential nomination three times, coming closest in 1888, but never won. His brothers included General William Tecumseh Sherman, Charles Taylor Sherman, a federal judge in Ohio, and Hoyt Sherman, an Iowa banker. Born in Lancaster, Ohio, Sherman later moved to Mansfield, Ohio, where he began a law career before entering politics. Initially a Whig, Sherman was among those anti-slavery activists who formed what became the Republican Party. He served three terms in the House of Representatives. As a member of the House, Sherman traveled to Kansas to investigate the unrest between pro- and anti-slavery partisans there. He rose in party leadership and was nearly elected Speaker in 1859. Sherman was elevated to the Senate in 1861. As a senator, he was a leader in financial matters, helping to redesign the United States' monetary system to meet the needs of a nation torn apart by civil war. After the war, he worked to produce legislation that would restore the nation's credit abroad and produce a stable, gold-backed currency at home. Serving as Secretary of the Treasury in the administration of Rutherford B. Hayes, Sherman continued his efforts for financial stability and solvency, overseeing an end to wartime inflationary measures and a return to gold-backed money. He returned to the Senate after his term expired, serving there for a further sixteen years. During that time he continued his work on financial legislation, as well as writing and debating laws on immigration, business competition law, and the regulation of interstate commerce. Sherman was the principal author of the Sherman Antitrust Act of 1890, which was signed into law by President Benjamin Harrison. In 1897, President William McKinley appointed him Secretary of State. Failing health and declining faculties made him unable to handle the burdens of the job, and he retired in 1898 at the start of the Spanish–American War. Sherman died at his home in Washington, D.C. in 1900.
This note is hand written by Senator Sherman and signed by him. The letter reads:
"Mansfield, O. July 25, 1896. Mr. A.J.Ralph,
Dear Sir:
The silver dollar is now a legal tender for all debts public and private. National banks can hold silver as lawful money and they can also redeem their bank bills with United States notes or Treasure notes. Very truly yours, John Sherman."
Very nice condition with the original postal cover that is written in his own hand as well. This note was written 4 years before he passed. Absolutely guaranteed for life to be authentic. For this fine piece from a very historic figure $950.00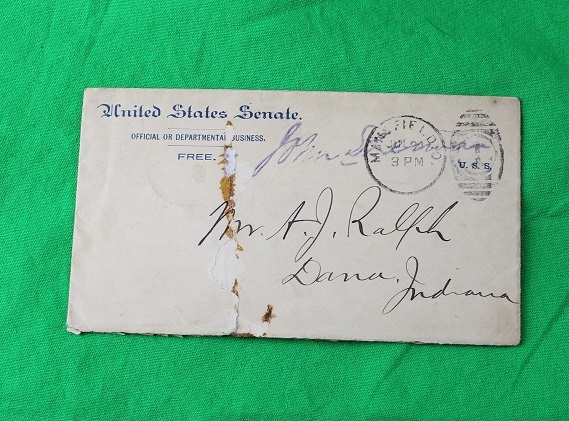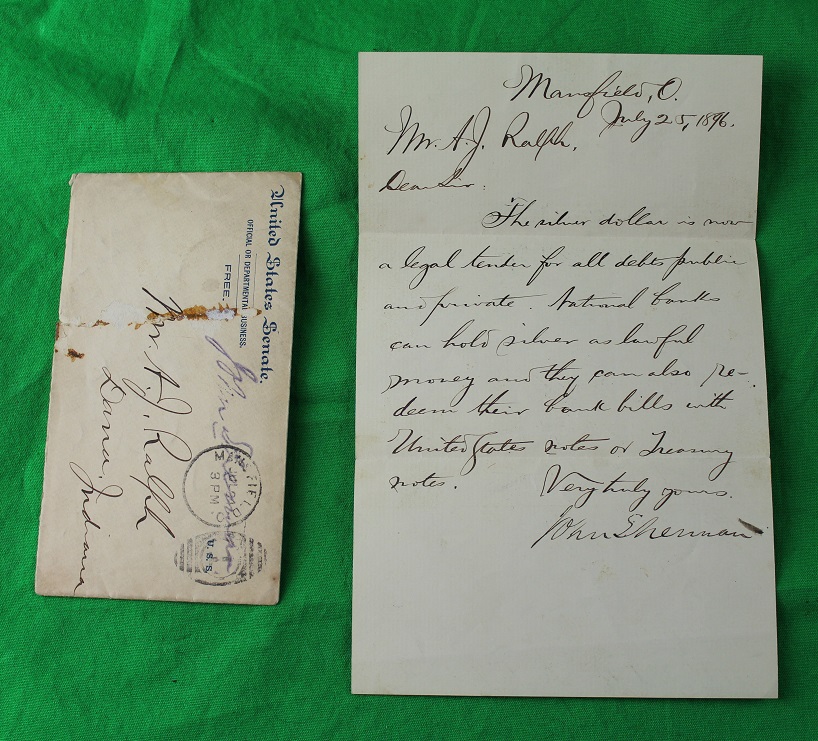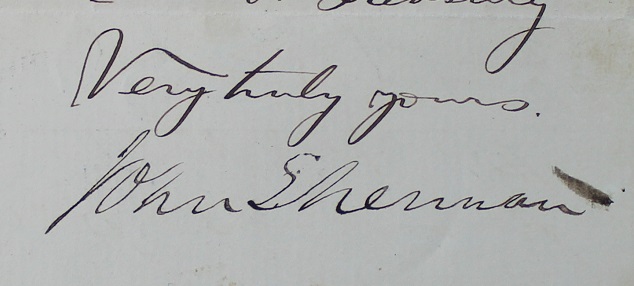 Consignments
New Arrivals 270
Here we have several wooden shotgun cleaning rods in various lengths. Most if not all of them appear to be hand made from the period of the 1800's for muzzleloaders. Check for availability. Price is from $15 to $20 each. Look at the pics!
Here is an old double barrel "Richards" shotgun from the late 1800's. This one is complete and in good condition except for the wrist of the stock that needs repair as it is cracked through. This shotgun is 12 guage with a side lever barrel release under the receiver. Both hammers match and the action works well. The barrels are laminated steel so I probably would not try to fire this piece. It's a piece of the old west era and would look great hanging on the wall in your den! The bores are typical with some pitting and they need a good scrubbing. The old shotgun is 47 inches long overall with 29 1/2 inch barrels. The action is tight but the forearm wiggles. Take a look at the pics! $275.00
Consignment
New Arrivals 269
Here we have a 12 gauge Lefever Double Barrel Shotgun. Here is some history on the company:
Daniel M. Lefever was born Aug. 27th, 1835 in Ontario County, NY. By 1850 he was thought to have been in an apprenticeship with John Cutler. By 1857 Dan had started in business on his own in Canandaigua NY.
John A. Nichols Dan Lefever left to build his new hammerless shotgun in 1879. John Nichols continued building the Nichols & Lefever hammer gun under John A Nichols. There were around 600 of the Nichols guns built. The only changes that Nichols had was an adjustable hinge pin and he added an AA grade gun.
DM Lefever In 1879 Dan Lefever left Nickols & Lefever to make his new side cocking shotgun. There was about 2300 sidecockers built AA grade through E grade. Sidecockers have been recorded in 10 ga, 12 ga, 14 ga, 16 ga, and 3 barrel guns.
Lefever Arms Co. Around 1884 the sidecocker was replaced by the automatic hammerless that cocked on opening amd Lefever Arms was formed with the help from Ames Howelett the Durston's. These are the most common of the Lefever guns. We referred to as the "Syracuse model". Dan was in his hay day designing new and iprovments to his Lefever Arms gun. By 1901 Dan had been pushed out of the front office and was the shop superintendent. By 1901 Dan had his fill and left Lefever Arms Co. LAC guns have been seen in grades 1000, Optimus, AA, A, B, C, D, E, F, G, H I, DS. In gauges from 8 ga, 10 ga, 12 ga, 14 ga, 16 ga, 20 ga, rifle and 3 barrel guns. Around 1916 the Durston's sold Lefever Arms to the Ithaca gun Co. Ithaca built or assambled the remaining Lefever Arms guns until about 1920.
This particular gun is a G grade gun is the Automatic Hammerless that cocked on opening and has a brass sheet repair to the wrist that was recessed into the wood so it would be a smooth transition. Whoever owed this old shotgun loved it enough to save it. The serial number on the "G" grade gun is 158XX with the last patent date of '87 on the triggerguard but I believe that this shotgun was made turn of the century into the 20th century. The action works well and the barrels are tight with no wobble to them at all. There is some pitting down the damascus barrels but mostly bright and would enjoy a good scrubbing! The original hard rubber buttplate is still there and in good condition. The stock is sound and original except where it was repaired. Some dings and nicks to the wood but pleasing. Heck, it's a 100 + year old firearm! For this good old girl $450.00
Consignment
New Arrivals 268
Here we have a L.C.Smith double barrel 12 ga shotgun. This is the 00 grade model as marked on the receiver. This shotgun is in good condition with a dark patina. Usual dings and dents from use. According to the serial number look up for Hunter Arms of which this shotgun is the manufacture date is 1922. The firearm functions as it should with 2 triggers. It locks up tight with no wiggle at all. 46 1/2 inches long overall with 30 inch barrels. The tubes do have some pitting in them and could use a good scrubbing. The dark walnut stocks have checkering on them as well as the usual dings and dents. Take a look at the pics! This is your chance to own a L. C. Smith for a reasonable price! $450.00
Consignment
New Arrivals 253
This is a COMPLETE SET of 6 - THE GREAT AMERICAN REVOLUTION 1776 COMMEMORATIVE PEWTER & TILE PLATES. It includes the following : THE BATTLE OF BUNKER HILL; DECLARATION OF INDEPENDENCE, THE SPIRIT OF '76, WASHINGTON CROSSING THE DELAWARE, BETSY ROSS & THE AMERICAN FLAG, & THE SURRENDER OF CORNWALLIS. Each plate has a built in hanger for wall display. They can also be used in a cabinet or displayed on plate racks. This is a gorgeous set and the tile pictures are sharp, crisp, and clear. This would make an awesome gift for someone who loves history or for those who love quality item to display in their homes. Each plate appears to be in excellent used condition. Well marked on the back of each plate with the following: CANTON OHIO, 1975 ( ALMOST 40 YEARS OLD) INITIALS OF: GIF SBB JSSR PVK NOTE: EACH PLATE IS HEAVILY STAMPED WITH THE INITIALS & A CANNON WITHIN A CIRCLE.
Each Plate measures 10 1/2" in diameter. These plates have age to them but look great !!! Take a look at the pics! For the complete set $125.00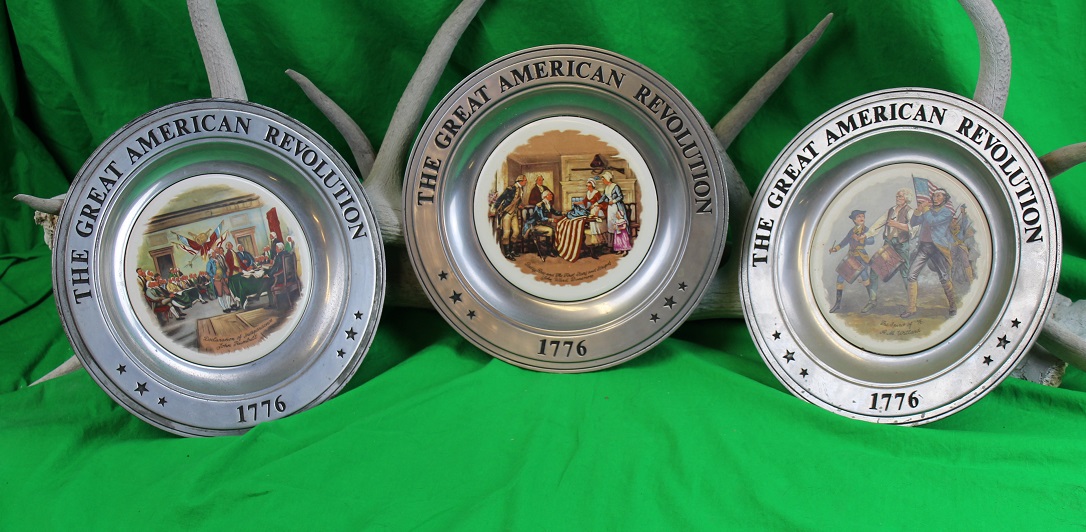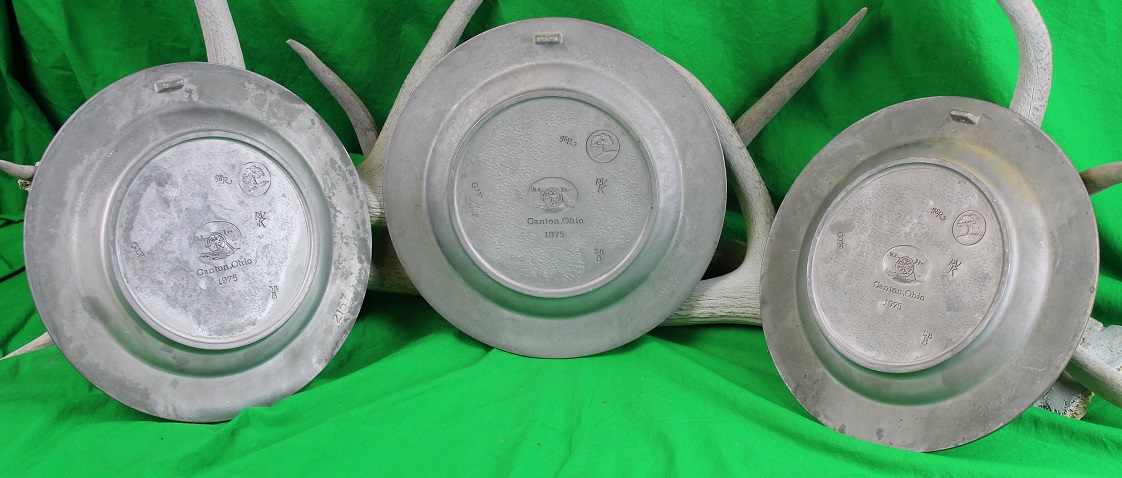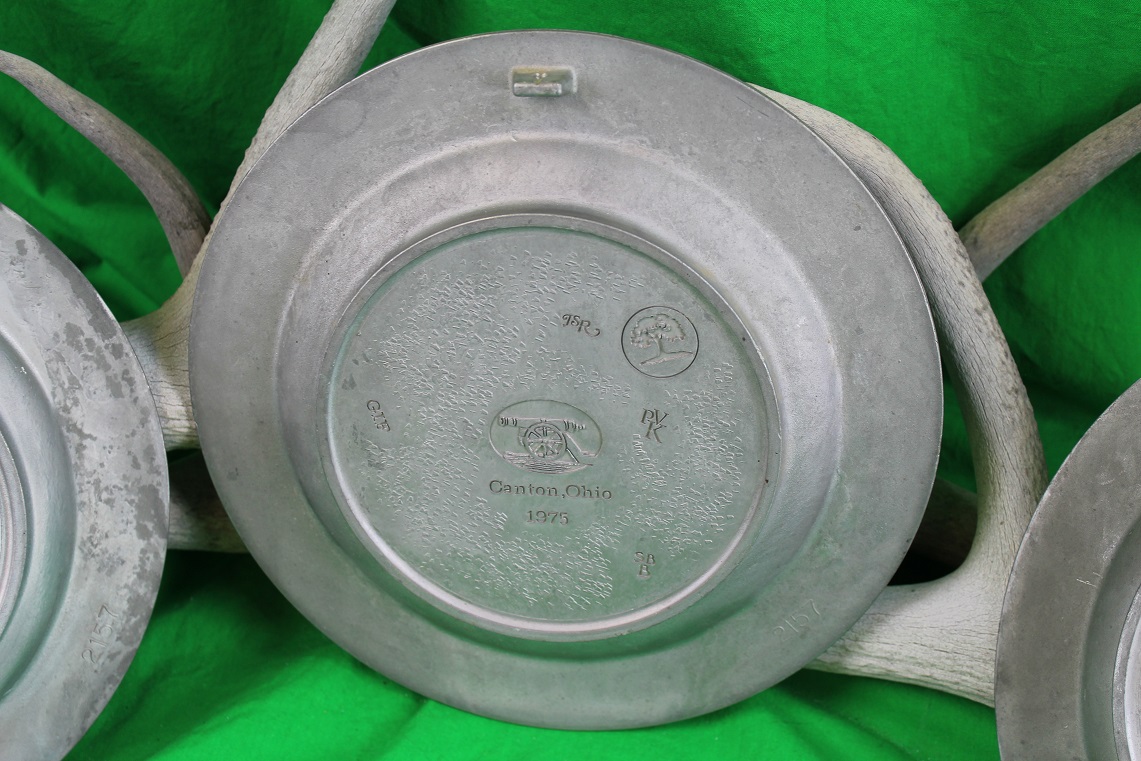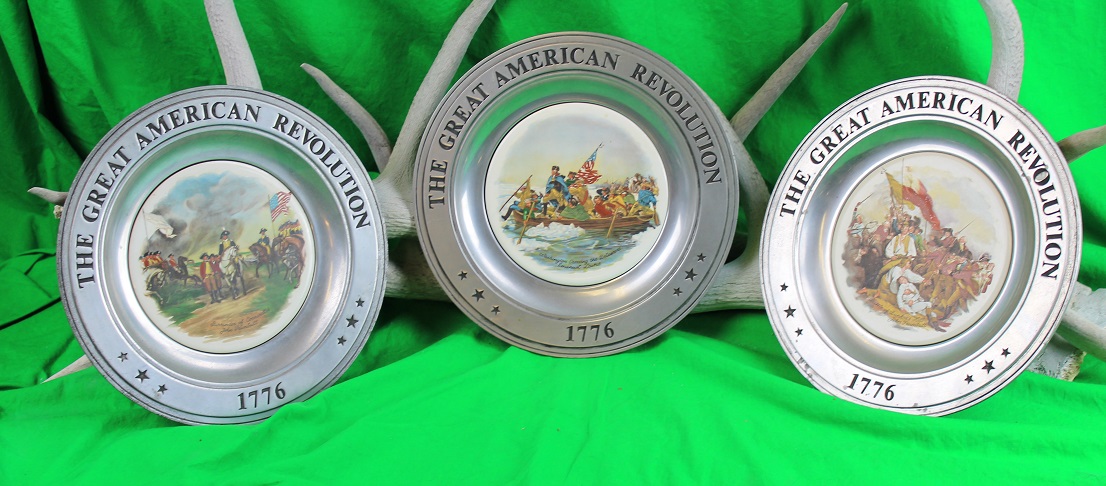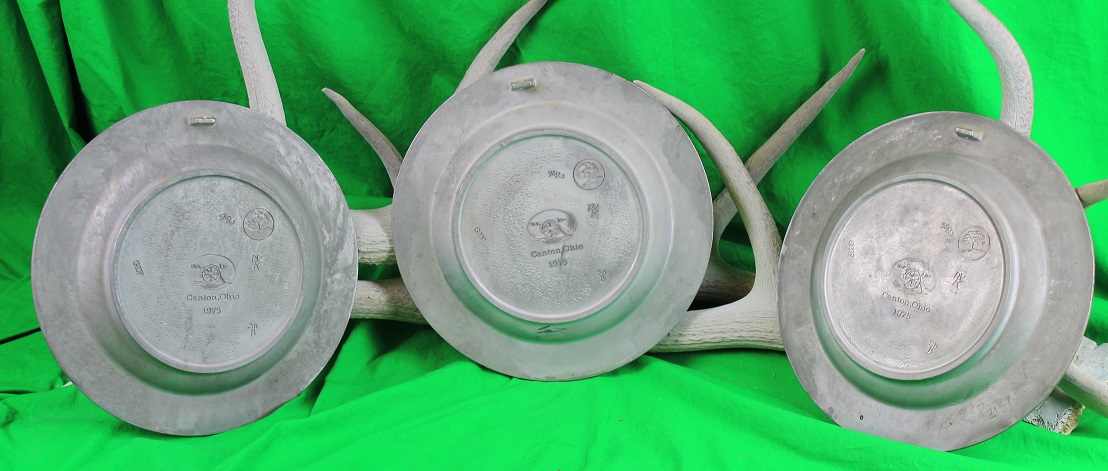 Consignment
New Arrivals 240
Here we have a WW1 photo and uniform that belonged to Pvt. Robert Kirkpatrick who served in the 132 Ambulance 108 Sanitary Train, 33rd Illinois Prairie Division. The photo was taken in uniform on June 4th, 1963 when he was 66 years old. The photo says Martinsville, Indiana and this grouping did come from Indiana. Here's the bio of the 33rd Illinois Prairie Division:
History of the 33rd Infantry Division Activated: July 1917 (National Guard Division from Illinois). Overseas: May 1918. Major operations: Meuse-Argonne, Somme offensive. Casualties: Total-6,864 (KIA-691, WIA-6,173). Commanders: Maj. Gen. George Bell, Jr. (25 August 1917), Brig. Gen. H. D. Todd, Jr. (19 September 1917), Maj. Gen. George Ball, Jr. (7 December 1917). Returned to U. S. and inactivated: May 1919.
As you can see this unit saw lots of action and Pvt Kirkpatrick would have been extremely busy with 6,864 American casualities!
The uniform consists of the tunic, cap and trousers. As you can see they are in generally good condition with some mothing here and there but not too bad at all. The worst is hole in the trousers. The cap has no mothing on it and is marked inside Max Greenberg & Bro. and is dated 1918. This is a small uniform as was common for the day. The US and Medical disc insignia is still on the collar as evidenced in the photos. The insignia on the cap is missing. The trousers are the mounted kind of trousers and are missing the tie strings for the lower legs. Take a look at the pics! $295.00
Consignment
New Arrivals 223
The BOTTOM H&R REVOLVER is SOLD!!! Here we have a pair of Harrington and Richardson Revolvers. One is obviously a relic while the other could be fixed I believe. (The one that can be fixed is sold!!!) Both are missing parts and neither function. These make great "Shadow Box" displays on the way and in their current state they are safe. Since they do have the possibility of being fixed they will have to be transfered by an FFL unless you have a C&R license in which they meet the criteria for that license. Look at the pics below!
Consignment
New Arrivals 222
Here we have an original WW2 Navy M-422A leather flight jacket.
Navy M-422A
The Navy's Bureau of Aeronautics (BuAero) first issued the M-422 to aviators in 1938. Admiral "Bull" Halsey wore an M-422 when Hornet launched Jimmy Doolittle's B-25s toward Tokyo in 1942. Lt. Butch O'Hare, the Navy's first ace and a Medal of Honor winner, wore his M-422 flying F-4Fs with Fighting 3. The Flying Tigers ordered M-422s for their pilots flying P-40s in China. BuAero widened the M-422's left pocket 1/2-inch in 1941, added a pencil slot, and designated the jacket M-422A. In 1942, the wide left pocket was eliminated and an inset welt pencil pocket was added. The Navy's M-422A specification required light seal brown goatskin with a reddish brown mouton (lamb's wool) collar. The lining was crimson twill. The zipper was a size 5 nickel zipper with bell pull. The knit cuffs were standard rib knit, but the waistband was a single layer of rib-rack.
Original M-422As had the letters "USN" stenciled under the collar in black, white, or silver paint, but the jacket did not have the letters punched into the storm flap like the G-1. They did have an inside, snap-shut chart pocket and a graceful throat latch to keep out the cold.
This actual jacket is in good condition with wear to the cuffs and the lining. There are some dust and spots on the outer part but not bad. You can see the shadow of US but no N on the back of the collar Check out the pics. This is a large jacket. The inside pocket is id'd to Lt. R.D. Hunt. I do not have any info on the Lt. The tag has been torn out of this jacket so I do not know who manufactured it. The zipper needs repair. Take a look at the pics! $275.00
Consignment
New Arrivals 221
Here we have a homemade leather Cowboy Cartridge Belt!! This piece measures about 36 inches long and is about 2 inches wide. There is room for 19 of the .32 caliber cartridges. The belt was made by folding over a piece of leather and bounding it together with brass studs and leather thongs. This is a pretty neat old piece! For this old belt $75.00
Consignment
New Arrivals 219
Here we have a WW1 Luger holster that is missing the top flap. Good for restoration or for parts. The reverse is marked N BURGHARD 1918 . The leather is still supple. For this piece $45.00
Consignment
New Arrivals 218
Here is a small cartridge belt that probably holds .32 caliber bullets. The belt is about 45 inches long and has loops to hold 35 shells. The belt is in pretty good condition considering it's age. Brown leather and is 1 1/2 inches long. $30.00
Consignment
New Arrivals 217
Here's on old leather cartridge belt that probably had a holster on it at one time. There are 18 cartridge loops on it with one fractured. It looks like they held .32 caliber ammo. The belt could use a little conditioning. It measures about 56 inches long and is 1 5/8 inches wide. $30.00
Consignment
New Arrivals 216
Here we have a Mills Military Web Belt that was used during the Indian Wars and Spanish American War. This particular belt was made by the Mill-Orndorff manufacturing facilities. Mills was a soldier and General from the Civil War on through the Indian wars and starting making these belts with Orndorf. General Mills grew up not far from my home where he lived in a home in Thorntown, Indiana. This belt has the C closure instead of a buckle and is in generally good condition albeit is dirty and has a fray here and there. There are accessory hooks on the bottom of the belt. The loops are set up for a large caliber like .45-70 or so. Both brass ends are marked with the Mills-Orndorff patent info with the last date being '94 (1894). For this old war horse $225.00
Consignment
New Arrivals 215
Here we have what I think is an early Motorcycle riders belt. The belt is about 35 inches long not counting the double tongue buckle. The belt is still pliable and about 1 5/8 inches wide. There are displays of six studs with a central located larger stud with either a blue or red plastic or glass insert in it located in 4 different spots on the belt. On the belt loop there is also a larger stud with a red insert in it. Kind of unique and unusual! $45.00
Consignment
New Arrivals 214
Whoops! You Missed Out! The one with the metal Eagle on it has been sold!!! Here are two WW2 Naval Hat Bands with Insignia that could be transfered from Hat to Hat without attaching them. One has a metal insignia and one is embroderied. The embroderied one has some damage to the eagle. For the one with metal insignal $25.00 and for the damaged one $20.00
Consignment
New Arrivals 213
Here is a very unusual studded leather belt ! This piece is about 49 inches long with two ornate brass buckles? on each end. I cannot tell how they are suppose to fasten together as I think some straps are lacking. The belt was white I believe at one time but now darkened a bit. The leather is 1 3/4 inches wide and has tons of hand applied brass 'nails' through the leather with the reverse beat down. Probably foreign but who knows! $125.00
WE'RE ALWAYS LOOKING FOR PIECES LIKE THIS!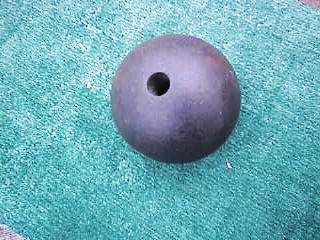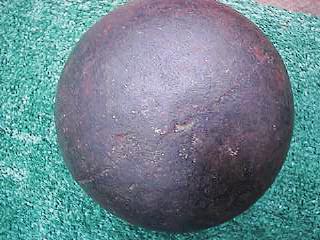 and This !!!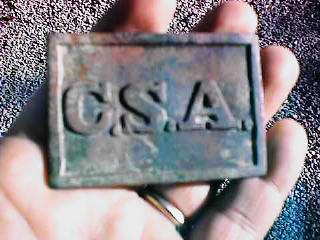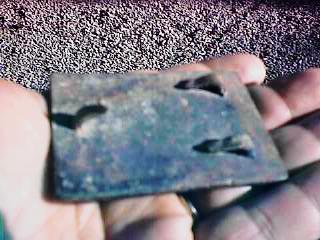 2