Modern Arrivals Consignment 42
Here we have recently acquired a shotshell hand reloader. The owner of this machine states that it is complete and ready to use. This is a 20 gauge reloader. Along with the 20 ga reloader is many empty shells and about 500 20 gauge wads! For this reloader with componets $175.00
Modern Arrival Consignment 41
Here we have a fairly hard to find Stevens Model 94 Single Shot 12 ga shotgun with brown plastic stock and forearm called tenite. The shotgun is in good condition with no cracks or breaks to the stock or forearm and most if not all case color left on the receiver. Patent markings are on the stock near the trigger. The bore is in good condition on this 30 inch barrel. There is some surface rust on the barrel in the form of specks but will definitely clean off with a little 000 steel wood and gun oil. The action works very well. The shotgun shows some handling wear but still pretty nice! For this piece $175.00
Modern Arrivals Consignment 40
Here we have a italian Sabatti over/under .410 shotgun in beautiful condition! Here's a history on the Sabatti family:
Beginning in the early 1700s Mr. Ludovico Sabatti (1674-1745) was busy producing flint lock pistols and most excellent barrels. Following, between 1760 and 1815, Giuseppe Sabatti became known as a pistol maker in Gardone Val Trompia. And, through an incandescent forge welding process, yet another Giuseppe Sabatti was regarded as one of the finest Damascus barrel makers in the first half of the 19th century. Over the years, the Sabatti family gravitated toward lock making. When the temporary government of Brescia requested that lock makers in the region defend their land "not with their blood, but with their work", four of the ten were of the Sabatti family. Additionally, documents from the same period identify Domenico Sabatti, a Master barrel maker, and Giovanni Sabatti, a pistol maker. In time, many members of the extended Sabatti family became respected practitioners of the trade, either starting individual workshops, or joining forces with others to open companies still in operation today. Immediately following World War II (1946), Antonio Sabatti entered into partnership with Giuseppe Tanfoglio. Together, they made a fresh push to produce hunting firearms and components, with focus on lock work. And, in approximately 1956 they began manufacturing semi-automatic pistols for personal defense. Four years later Antonio and Giuseppe elected to part ways, and the partnership was dissolved. Opening its doors in 1960, Antonio Sabatti's children founded the Sabatti company that is known and respected globally today. His children Emanuele, Antonio, and Marco, continue to manufacture hunting and competition guns to meet the expectations and demands of shooters worldwide. This particular firearm is one made after 1960 and imported by KBI INC of Harrisburg, PA. The firearm is nearly brand new condition with a single gold plated trigger. The 26 inch ribbed barrels have an outstanding bore. The action works perfectly. There are gold filled engravings on the receiver. The wood is finished in a high gloss finish and looks great! This is one beautiful over/under .410 shotgun !!! For this one $1200.00
Modern Arrivals Consignment 39
Here we have a Belgium Browning in 30-06 that is the High-Power Bolt-action rifle series and this one is the Safari grade with scroll engraving on the trigger guard and magazine door. This rifle is in very good condition with checkering on the monte carlo type walnut stock and some age crazing to the clear finish. No peeling just crazing. . There are dings here and there on the stock as it was used for many years but it is still in very nice condition with no breaks or cracks According to research and the serial number of 2L 164XX this rifle was made in 1969 being a F.N. Mauser Action. The bore is excellent on this 23 inch barrel. The finish on the barrel is excellent with just a little end wear from sliding in and out of a sleeve. The rifle is topped of with a SCOPE brand scope 3X-9X40 Model number 781-010 and is in excellent condition. Also comes with the sling. $1,450.00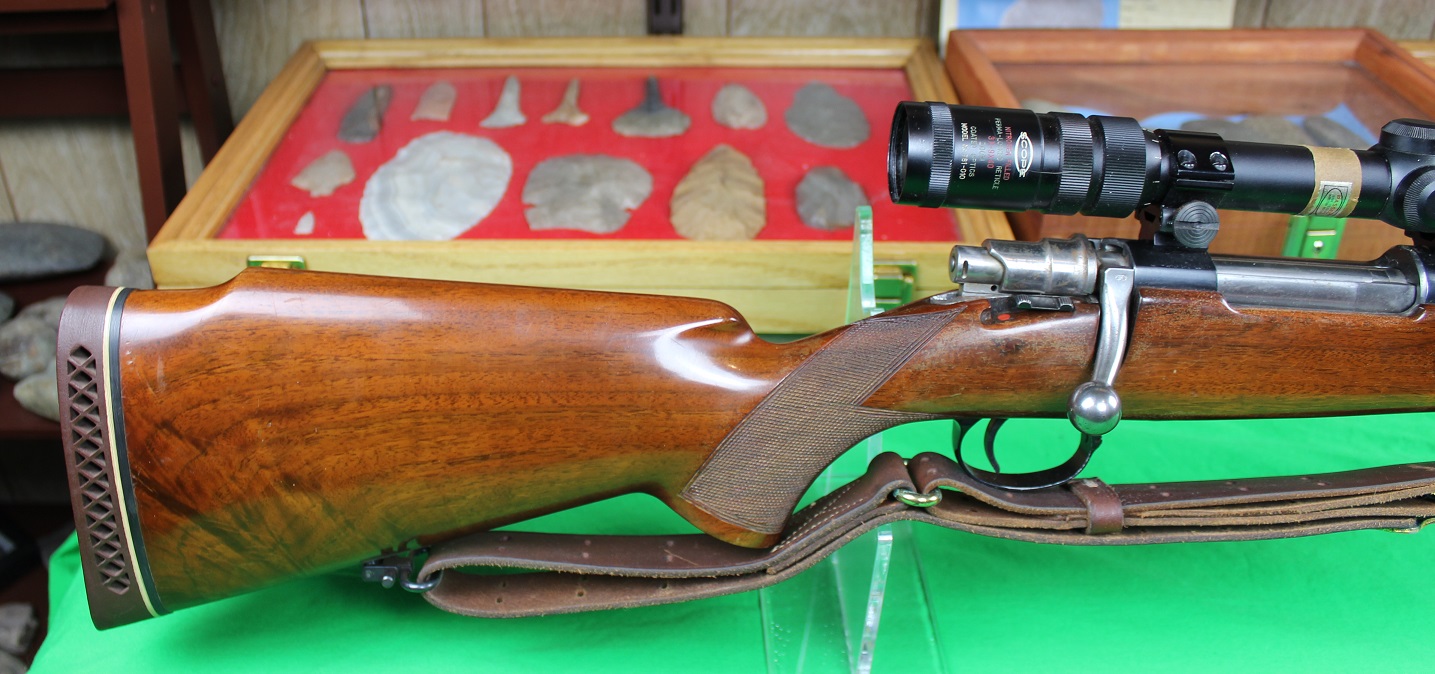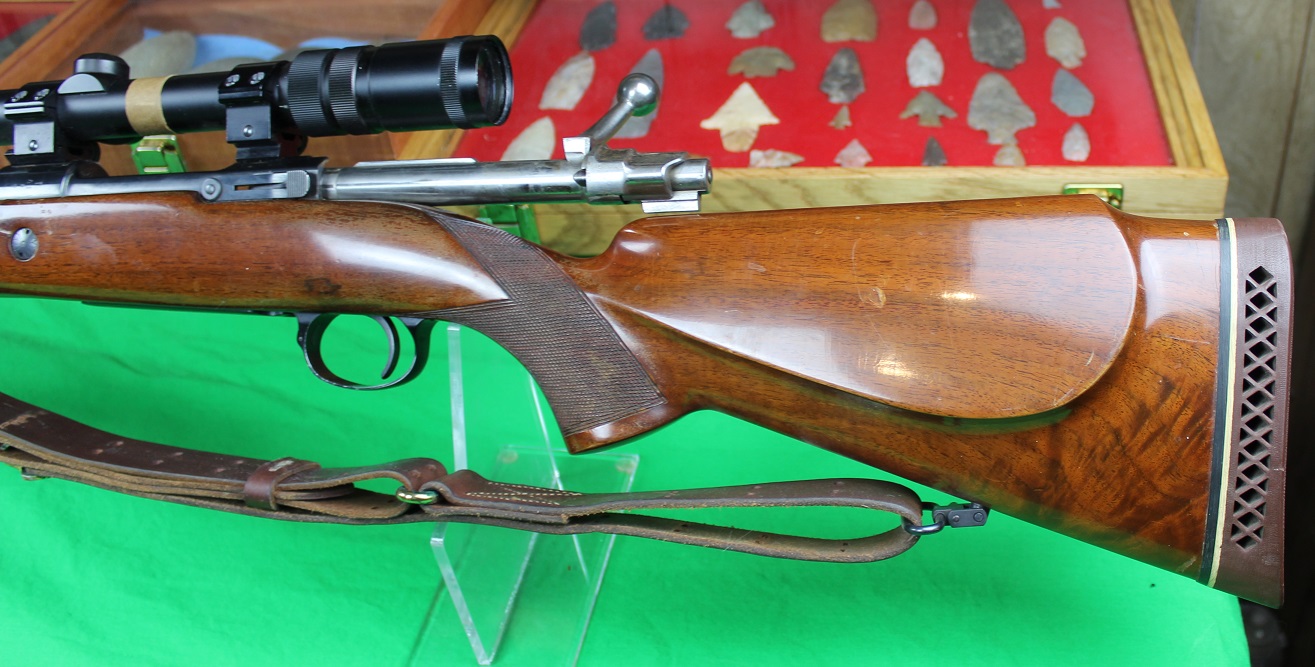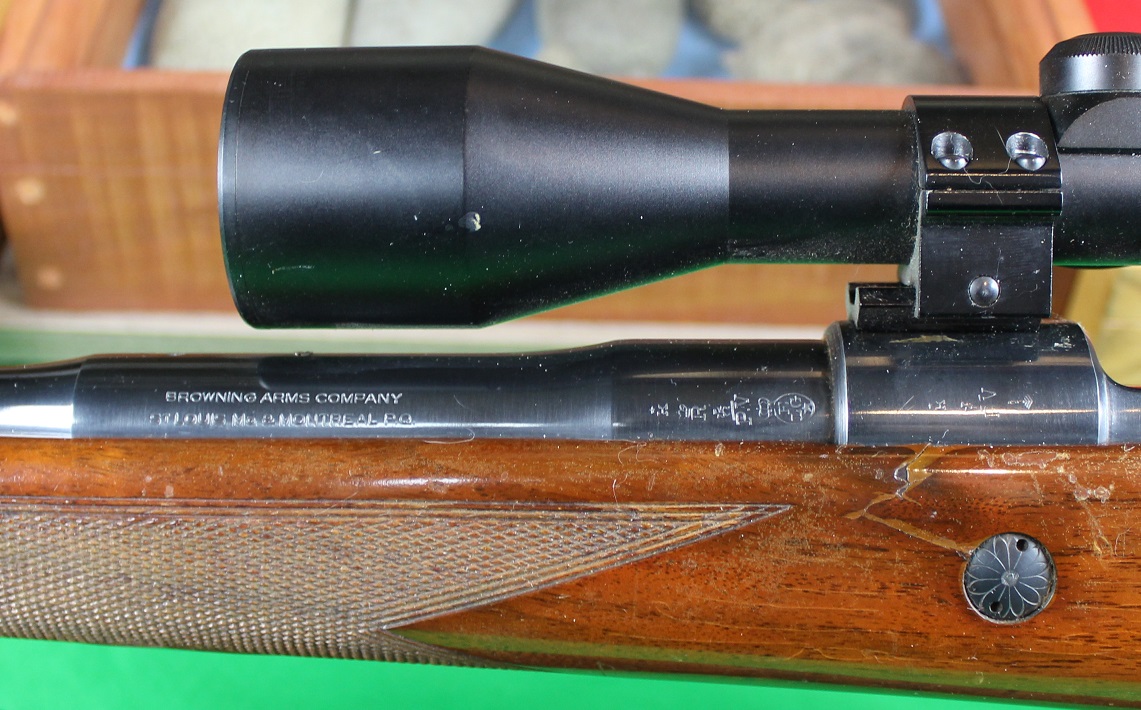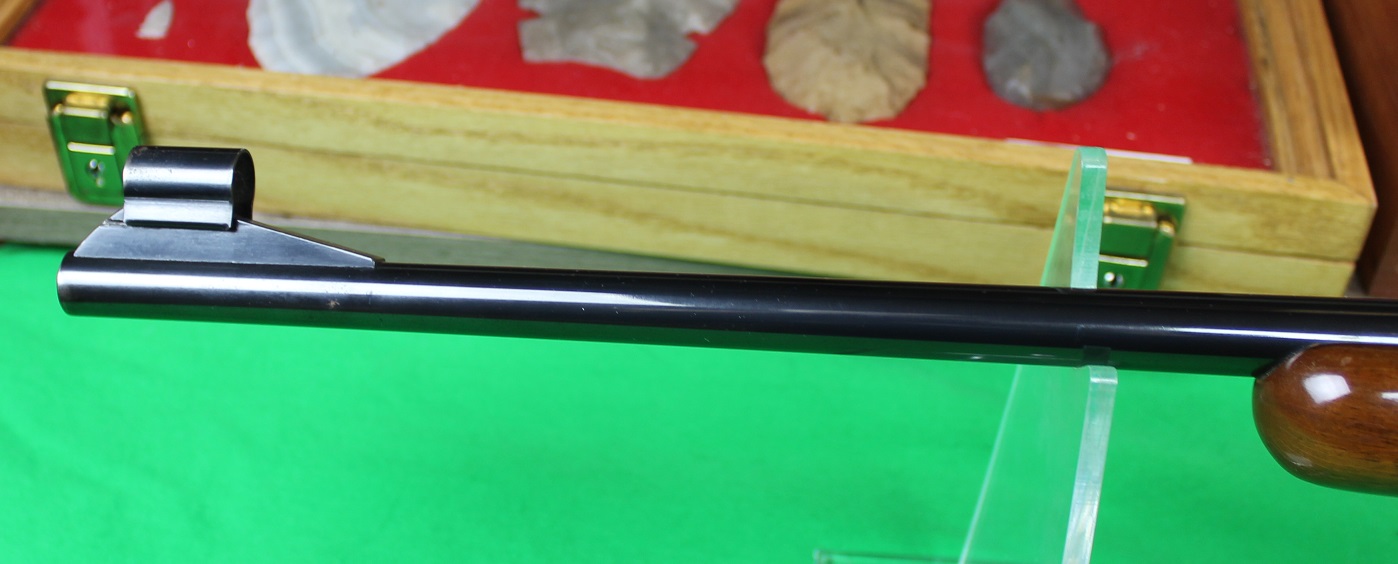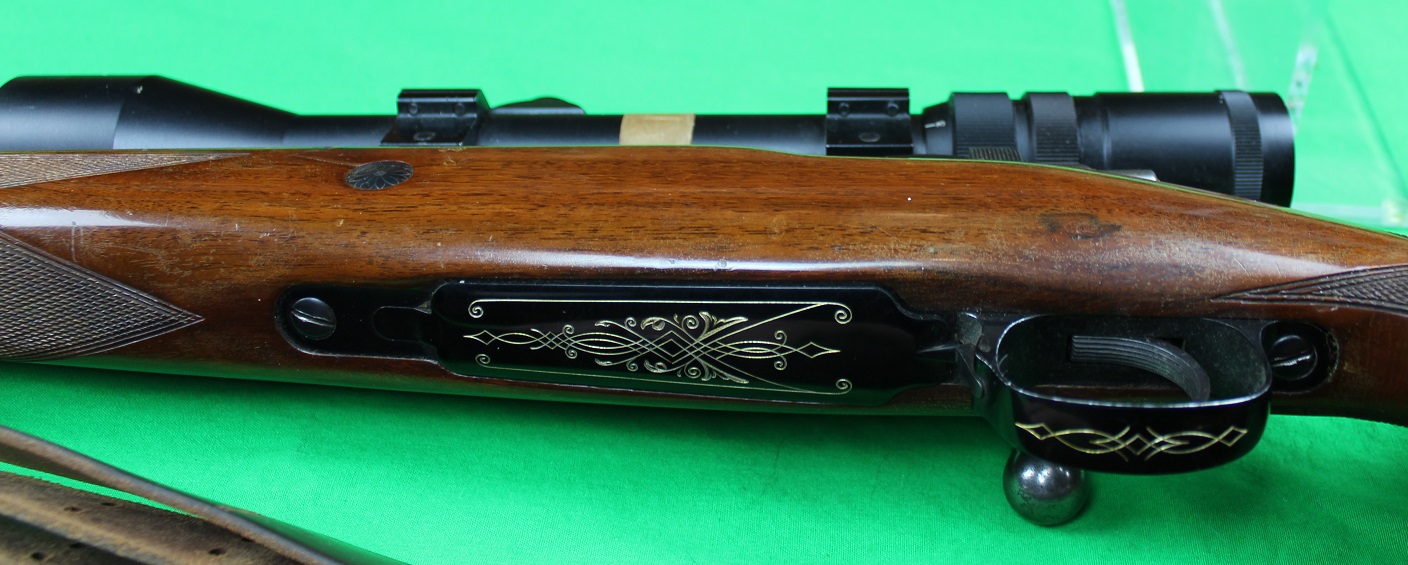 Modern Arrivals Consignment 38
This is a real nice Winchester Model 670 which is essentially a model 70 in 30-06 caliber. I believe the Model 670 was introduced in 1966. This one is a honey! It has a walnut stock with checkered comb and the usual minor dings. The 22 inch nicely rifled barrel does have sights and it's topped by a Savage-Suwa Japan Model 3833 scope with good optics. This rifle also has a sling. Nice, nice condition! Works perfect !! This is a honey! $550.00 Check out the pics!!!
Modern Arrivals Consignment 36 & 37
Here we have an excellent combo! We are offering the combo separately. First we have a Springfield Armory XDs in 9MM. Here are the stats:
Description: Springfield XDS-9 .9mm semi-auto pistol. Manufacturer: Springfield Model: XDS Mod 2 (XDSG9339B) Condition: Factory New Caliber/Gauge: 9mm Barrel Length: 3.3" Detailed Description from Springfield Armory:
Is it possible for a pistol small enough to carry every day to have all the features and capacity that you'd expect in a larger pistol? If that pistol is the XD-S® from Springfield Armory®, the answer is yes. The XD-S® 3.3_ Single Stack 9mm offers so much that you'll be astonished that it all fits in the small, concealable profile. The XD-S® Single Stack from Springfield Armory® has forever changed what you can expect out of your daily carry pistol. Use your XD-S® Single Stack with an X-Tension™ magazine and you'll find that your carry pistol has grown into something that will astonish and delight you on the range. Use a flush-fitting magazine when you carry it, and it shrinks such that you'll forget it's there. If you're looking for the most available capacity in the most concealable package, you should pick up an XD-S® 3.3_ Single Stack in 9mm. You don't have to settle for a larger gun to gain shooting comfort. Nor do you have to sacrifice size for capacity. Hold an XD-S® 3.3_ Single Stack today, and you'll want to shoot it. Put it in your holster, and you'll find that it's Noticeably Unnoticeable™.
This particular firearm is in excellent condition in the hard case with 3 magazines and all accessories that came with it included new fiber optic rods for the front sight. This pistol had about 100 to 150 rounds fired through it and it performed flawlessly!!! For this pistol $499.99 REDUCED!!! $450.00 .
Selling separately but fitting this pistol is the Crimson Trace Red Laser with the correct fitting hard shell holster for the XDS with this laser installed. Really nice! $249.00 REDUCED !! $199.00
Modern Arrival Firearms Consignment 45
Here we have received two fantastic pistols. The first one is a Springfield Armory TRP 1911 and is one of the best production 1911's that is semi-custom fitted. There was only about 50 rounds put through it. It is a sweet shooter and very accurate. With a holster and a mag carrier it makes this set a nice package deal. The TRP™ series of 1911s from Springfield Armory® are serious tools for the most serious of applications. These tactically proven pistols are intentionally designed to work under the worst conditions you'll encounter. You'll find all the quality, features and performance that you need in a 1911 of this class. This pistol comes in the hard case with all accessories shown which includes 3 mags, hard mag holder for 2 mags and the hard holster. All original paperwork/manuals are included as well. This pistol has seen practically no use at all and still looks like new!!! You won't go wrong here! Sorry but not for sale in California $1.550.00
modern Arrivals Consignment 34
Colt LE901-16S .308/7.62x51mm Rifle!
This particular model is becoming tougher and tougher to find and is a nice shooter with the powerful .308 cartridge. This piece has seen very little shots fired through it and has had less than 50 rounds through the rifle and it shows with its near brand new condition. The Colt LE901 is unique in that it allows you to covert to a 5.56x45mm/.223 upper assembly in minutes by simply using the conversion block kit that comes with the rifle still in the original packaging. This conversion kit is a nice addition for those times when you want to shoot the cheaper 5.56 round at the range or decide to use a smaller caliber for varmint hunting or coyotes. This Colt LE901 .308 caliber rifle is great for hunting on private property in the state of Indiana. Comes with the rifle, a 10 shot Magpul P-Mag, conversion block kit and the instruction manual. Here's some more info on this rifle from the Colt website:
These are more specs and info for the rifle pulled from Colt. Be it prairie dog hunting in Texas, whitetail hunting in Maine or elk hunting in Colorado, the Colt LE901-16S™ is the rifle for the hunt. Chambered in the classic .308 Winchester cartridge, the LE901-16S is the perfect choice for medium to large sized game animals. Exceptional accuracy is assured by its full floated, 16.1" chrome lined barrel and one-piece monolithic upper receiver, suitable for mounting your optic of choice. Keeping the varmint hunter in mind, the .308 Winchester upper receiver group can be easily swapped out for any Mil-Spec Colt upper receiver chambered in 5.56x45 NATO. The fact that all operating controls are ambidextrous, including the magazine release, bolt catch and safety selector, makes for versatility and ease of use. You can depend on the new Colt LE901-16S to take the shot of your lifetime!
Take a look at the pics! This is an outstanding Colt Rifle!!! No Box.
$2299.00
Modern Arrivals 33 Consignment PENDING
Here we have as slightly used Winchester Ranger Model 120 Modified 28 inch barrel in 12 gauge. This barrel has been on a shotgun but not much probably being swapped out for a slug barrel which is real popular in this area for hunting deer. This barrel looks nearly new! Take a look at the pics. For this piece $195.00
Consignment Modern Arrivals 32 SOLD!!!
Here we have a Stainless Steel Ruger P89DC in 9mm. I carry this exact model and have for years and it's a real work horse that has never let me down! This is a De cock model without a safety. The gun has two 10 round magazines with it and seems to have seen little use. This one has the HOGUE non slip grip which is real nice. The Ruger P89DC is known for it's exceptional reliability and function! This particular pistol has a little corrosion on the right side of the frame where something was dripped on it but it's stable and will not cause a problem. That makes this piece a real nice deal! $195.00 Check out the pics!!!
Consignment Modern Arrivals 31 PENDING
Here we have a very nice Stainless Steel Star Pistol in .45 Caliber in the box with extra magazine. Known as the "FIRESTAR" semi automatic pistol chambered in 45 acp caliber. It is an all steel pistol with the "STARVEL" finish I believe. . It has a Commander style hammer, fixed sights, ambidextrous safety. It functions perfectly and the bore is excellent with a nice mirror finish.. It is a very nice gun and comes with the original hard plastic case. Used but definitely not abused! $325.00 Check out the pics!
Consignment Modern Arrivals 30 SOLD!!!
Here we have an early real nice CALICO M-100P .22 LR pistol! The M100 is a blowback-operated semi-automatic rifle chambered in .22 LR, manufactured by Calico Light Weapons Systems in Hillsboro, Oregon, United States. It was originally designed and released in the 1980s to be of use to law enforcement and military markets due to its slim profile. Calico M100s were used to portray futuristic space weapons in the 1987 science fiction parody film Spaceballs. Calico M100s were also featured in the 2000 survival horror game Resident Evil- Code: Veronica .
This one is in real nice condition and I believe the magazine holds 100 rounds. This particular pistol has an aluminum faux suppressor on it for looks. Possessing a unique 100-round helical-fed magazine mounted on top of the weapon, the introduction of the Federal assault weapons ban made manufacture of the Calico family of weapons for sale to civilians illegal, until the legislation expired on September 13, 2004, in accordance with its sunset provision.
This is a nice pistol in good condition with just a little wear on it. Unique! For this piece $350.00 See the pics!!!
Consignment Modern Arrivals 29
Here we have a WW2 Mauser Stock. It looks to be in great condition for a short carbine. The buttplate is marked as you can see in the pics. This stock is pretty nice with all hardware and has no cracks or breaks. I don't know which model it fits so if you buy it it's yours! For this piece $350.00
Modern Arrivals 28 Consignment
Here we have a pretty nice M1 .30 Cal. Carbine complete with magazine and original sling/oiler. This one is an Inland Division Model 1945 carbine with a dated 9-44 barrel. This one seems to be all correct and operates flawlessly. There are no ordinance markings in the wood. The stock otherwise is very nice with no cracks or breaks but does have a few dings and scratches from wear. The rifling is very nice in the barrel. The barrel is marked INLAND MFG. DIV. GENERAL MOTORS 9-44. The receiver behind the rear sight is marked INLAND DIV 6230731. The receiver in front of the bolt is marked US CARBINE CAL. 30 M1. Take a look at he pics! This is a nice carbine! $1,100.00
Modern Arrivals 27 Consignment SOLD!!!
Here we have a battle used M1 Garand in 30-06. The rifle is made by Springfield Armory and was made in May 1943 per the serial number. The barrel is a Wnchester barrel stamped Winchester and 5535448 so this is probably an arsenal rework. The rifling is very nice and all markings are nice as well. This rifle operates very well and looks great . There is a crack at the top of the wrist near the receiver and a couple of old pins that were put in for repair that you can barely notice. The barrel is stamped BLUE SKY/ARLINGTON, VA and I was told that this company had imported many of these old rifles back into the states from South Korea. The metal finishes are parkerized. I can see no other example of import markings or other country ownership on this piece. Also, there are no cartouches in the stock anywhere that I can see. Comes with the original sling but absent of the cleaning rods. Check out the pics!!! $1,100.00
modern Arrivals Consignment 26
Here we have two new old stock Mint! Rossi Pump Carbines/Nickel .22 LR Model 62 SAC imported by INTERARMS , Alexandria, VA. From the Rossi Webpage: The Taurus Model 62 .22 Long Rifle carbine and rifle is faithful in most respects to the legendary design of the classic Model 62 that John Browning invented and American shooters fell in love with over 60 years ago. The Model 62, in pump-action carbine (C) or lever action (LA) looks, feels and shoots like the original. The Model 62 features a rifled barrel for accuracy and stocks carved of the finest hardwood. The fully adjustable sights allow for accurate shooting. Rossi purchased the tooling from Winchester in the 1970's so these are quality firearms !!!
These two consecutive numbered carbines are brand new in the box and don't believe they have ever been fired. For the pair - $895.00
modern Arrivals Consignment 25
Here we have a nearly new Marlin Stainless Model 883SS bolt action rifle in .22 WMR only. This rifle shows no use to speak of. The 22 inch stainless barrel has great sharp markings on it and the bore is just excellent. Take a look at the pics to see the true, very nice condition of this rifle! The action works fine and the laminated stock is just beautiful! A quality piece!!! For this rifle $325.00
modern Arrivals Consignment 24
Here we have a slightly used High Standard Sport King Field Model A-103 .22 caiber semi-automatic rifle capable of using short, long and LR ammunition interchangeable. This rifle has a 22 ¼ inch barrel with great riflling, open sights and tubular magazine. Magazine capacity is 21 short, 17 long and 12 LR. The walnut stock is in nice condition with the usual dings from being used but not bad at all. The finish of the bluing is quite nice! Action works fine. For this fine little rifle $360.00
modern Arrivals Consignment 23
Here we have a slightly used out of the box Rossi M59 .22 Magnum WMRF being a Pump /Slide Action Rifle, Takedown model. The serial number is stamped on the right side of the frame and the Rossi logo is stamped on the left side of the frame. The top of the barrel at the chamber is marked "22 Magnum". The barrel, forward of the forearm is marked "Amadeo Rossi / Made In Brasil / Interarms Alexandria Virginia Model M59". The round barrel length is 23" The front sight is a dovetail set blade and the rear sight is a dovetail set leaf and elevator notch sight. The stocks are smooth, lightly finished wood. The stocks rates in about unused condition. The rifle has a blue finish and looks unused except for a line through the finish from working the slide action. : The bore is bright and the rifling is sharp. This rifle retains about 99.9% of its metal finish. The markings are crisp. Overall, this rifle rates in about Fine nearly unused condition. Sorry, no box. $550.00
modern Arrivals Consignment 22
Here we have a brand new in the box Marlin Model 60 semi auto .22 caliber rifle. The Marlin Model 60 Semi-Auto Rimfire Rifle has year after year been one of the finest values in firearms you can find. The Model 60SN features Micro-Groove® rifling (16 grooves) that obtains maximum accuracy with .22 LR cartridge. An automatic last-shot, bolt hold-open lets you know when the 14-shot tubular magazine needs a refill. The 1-piece, fiberglass-filled synthetic stock holds up to extreme weather conditions, and the barrel is blued. The alloy receiver is grooved to accept 3/8" rimfire scope rings; and the rifle comes with adjustable open sights. The Model 60 Semi-Auto Rimfire Rifle features a cross-bolt safety that's easily reached with the shooter's trigger finger. Great rifle for the beginner or seasoned enthusiasts! $169.00
modern Arrivals Consignment 21
Here we have an inert ROCKET HE 66 MM ANTITANK M72A2 W/COUPLER in good displayable condition!!! . Used in Vietnam and usually discarded and destroyed after one time use. Take a look at the pics! This one $195.00
modern Arrivals Consignment 20
Here we have a Chinese Norinko SKS in 7.62 X 39 caliber. This piece has been mounted in a Tapco Scosk and looks very nice. There is also a nylon sling and an adjustable butt stock. The piece works very well and has a scope rail on the top back area. That piece is missing a screw that you can see in the pics. If I can find one in my stock parts I will replace it for you. The magazine is a Pro mag 30 round mag but does not fit correctly. It will work but you have to hold the front leg of the magazine up into the rifle for it to operate. You can see in the pic where that leg has a small piece broken off and the other end has been altered. It's been our experience that these rifles work much better with the lesser round magazines than the 30 round. The bore is excellent in this piece and it operates very well. . For this rifle $450.00
modern Arrivals Consignment 19
Here we have a pretty nice ols .410 Shotgun using the trade name 'VOLUNTEER' . Volunteer was a trade name used on shotguns made for Belknap Hardware Company of Louisville, KY. These shotguns were made by Crescent Fire Arms Company, Crescent-Davis Arms Corporation, Davis-Warner Arms Corporation, Iver Johnson Arms and Cycle Works and J. Stevens Arms Company. The shotgun is 41 inches long with a 26 inch single barrel with a good shiny bore and good bluing. The wood is dinged from use which is normal. The shotgun is complete and in good working order. The original plastic butt plate is present. The receiver is nickel plated with frosting. Nice old shotgun from the early 20th century we believe. .410 shotguns are highly collectible!!! For this piece $195.00
modern Arrivals 18
Here we have an old Boy's .22 caliber rolling block STEVENS JUNIOR single shot rifle!!! This rifle was made from 1924 to 1931 and was the last rifle made in the Boy's Rifle Series by Stevens. This rifle has a 20 inch good rifled barrel and the action works well. Most of the color is worn off the metal parts but can be easily blued if you want to. The wooden slab stock is in good condition and has obviously been refinished with no buttplate as normal. There are a few dings in the stock from use but no breaks. Every boy wanted one of these!!! I had a rifle since the age of 10 when my Mom would give me one .22 shell and tell me to go get a squirrel for supper. Can you imagine giving a 10 year old a gun to go hunting now! We lived on a farm and had a nice woods to hunt . Boy could my Mom fry up a squirrel and make great squirrel gravy! She insisted that I only use one shell and get a head shot so the squrrel wouldn't suffer. I didn't dare miss or get a body shot for the shame I would have to endure with Mom! I was darn good! Anyway this is a great old Boy's rifle and any improvements that you want to do to it won't hurt it at all! This one is $225.00 Check out the pics!!!
Modern Arrival Consignment 17
Here we have some new Federal 30-06 Ammo. 180 grain soft point 20 cartridge box for $20 a box. The consignor says he paid $30 a box for these cartridges. Also we have new 20 round boxes of 173 grain Sellier & Bellot 7X57 (7MM) ammo for $20 a box and PPU 7mm Mauser centerfire Rifle Cartridges 139 Grain for $20 as well. Same deal as the 30-06 ammo. Also we have 3 vintage boxes of Remington Kleanbore 7mm ammo for $40 a box.
Modern Arrival Consignment 39 Here we have a LEE Factory Crimp Die 7 X57 (7mm). The price on this piece is $15.00
Modern Arrival 16
Here we have a brand new in the box Palmetto State Armory PA-15 in multi caliber with a 5.56 barrel. Here are the stats:
Barrel Length: 16"
Gas System: Carbine Length
Barrel Profile: M4
Barrel Steel: 4150 Chrome-Moly Vanadium
Barrel Finish: Nitride
Chrome Lining: None
Muzzle Thread: 1/2-28
Chamber: multi
Twist Rate: 1:7
Barrel Extension: M4
Diameter at Gas Block: .750
Gas Block Type: F Marked Front Sight Base
Muzzle Device: A2 Flash Hider
Receiver Material: Forged 7075 T6
Receiver Type: M4
Handguard Type: PSA Classic Carbine Handguards, Flat Dark Earth
Stock Type: PSA Classic M4 Adjustable Stock, Flat Dark Earth
Grip Type: PSA Classic A2 Grip, Flat Dark Earth
Also, the carbine has a Magpul adjustable rear sight and also comes with 2 magpul 30 round magazines. This is a real nice piece and all American!!! For this nice piece $525.00
Modern Arrival Consignment 15
Here we have a military grade bipod. It is painted blade and is heavy construction. The legs spread out and have 6 height adjustments to them. It easily clamps to a 5/8's diameter barrel. Everything works as it should. The price is $20.00
Modern Arrival Consignment 14
SOLD!!!
Here we have a massive old combination pocket knife with many blades. The gentleman who owns it believes it to be WW2. I saw on one of the blades the word JAPAN so I think it is post war. STAINLESS is also stamped on the spoon and fork. It has 11 attachements I believe which include a spoon, fork, corkscrew, sissors, saw, can opener/bottle opener combo, an awl, a couple of screwdrivers and a couple of knife blades! There is a section of the handle grip chipped off where the spoon folds into the piece. For this unique all in one knife $20.00
Modern Arrival Consignment 13
Here we have a left handed lady's bow. I haven't had a bow since my old Ben Pearson Recurve days so I'm a little out of my element here but my friend wants to sell it. This is a PSC SRL-100 compound bow for a lady or child. 38-40 lbs and 26" draw. Comes with case. Look at the pics to see more. For this bow and case $125.00
Modern Arrival Consignment 12
Now we have a right handed man's bow. I haven't had a bow since my old Ben Pearson Recurve days so I'm a little out of my element here but my friend wants to sell it. This is a PSC NOVA and the bow is set on the low side at 53#. Price is $135. Take a look at the pics to know more.
Modern Arrival Consignment 11
Here is a nice Marlin Model 39-D Lever action .22 caliber rifle. The metal on this piece has some wear through the finish and a couple of minor rust spots . The wood is in really nice condition being better than the metal finish. The markings are sharp and the action works very well. The owner has installed a trigger shoe for a wider trigger. There has been a Tasco 4X32 scope added to the rifle giving it good optics and the original sights are still installed and present. The bore is very good on this rifle. This is an excellent squirrel and varmit rifle! The owner has this one priced at $575.00 REDUCED TO $500.00 !!! Check out the pics.
Modern arrivals 8 Consignment
Here we have a nearly new Ruger Mini-14 Tactical Rifle Semi Auto Rifle 5.56 NATO (also uses .223 ammo) . The previous owner states that he fired it only 8 or 9 times and I believe it as it shows practically no wear at all and looks new. This rifle comes with 8 different Ruger Magazines. As stated these are all Ruger mfg and not aftermarket magazines. There are two new 5 round mags, two new 10 round mags, two new 20 round mags and 2 new 30 round Ruger magazines. Here are some of the stats:
• Model Number: 5847
• Caliber: 5.56 NATO / 223 Rem
• StockBlack Synthetic
• Front SightBlade
• Rear SightAdjustable
• MaterialAlloy Steel
• Thread Pattern1/2"-28
• Twist1:9" RH
• Capacity20
• FinishBlued
• Weight6.7 lb.
• Overall Length 36.75"
• Barrel Length16.12"
• Length of Pull 13"
• Grooves6
This is a great rifle and is American Made Ruger Quality!!! $1,120.00 for everything. Check out the pics !!!
Modern arrivals 7
This last firearm here that came in with the 4 is a Charles Daly Superior II O/U shotgun made in Italy!! This firearm was distributed by Outdoor Sports of Dayton Ohio and made before 1988 I have been told. It is a, 12 Gauge with 26" vent-rib blue steel barrels, 2 3/4" chambers, fixed full & modified chokes, front barrel brass bead sights with a beautiful engraved antique silver finish on receiver, blue steel triggerguard, single selective gold plated trigger, selector on tang safety, beautiful checkered walnut stock and forend with glossy finish, 14" length of pull/ The bores are mirror finish. There are a couple of very minor spots on one area of the barrel that is shown in the pics. Obviously this firearm has not seen much use! Nice! Nice firearm! $895.00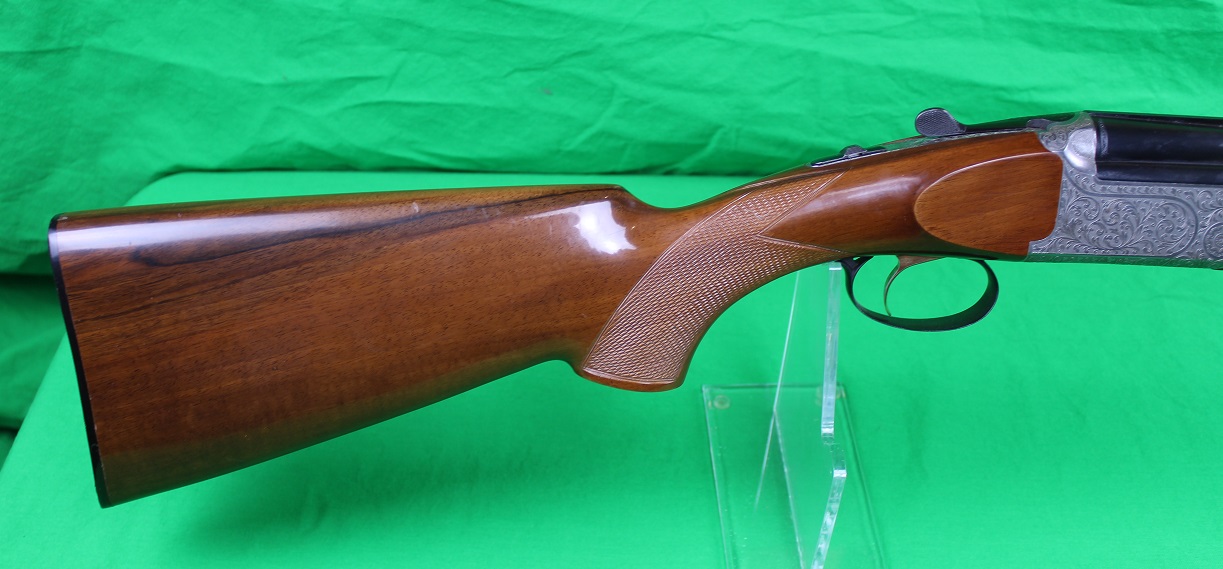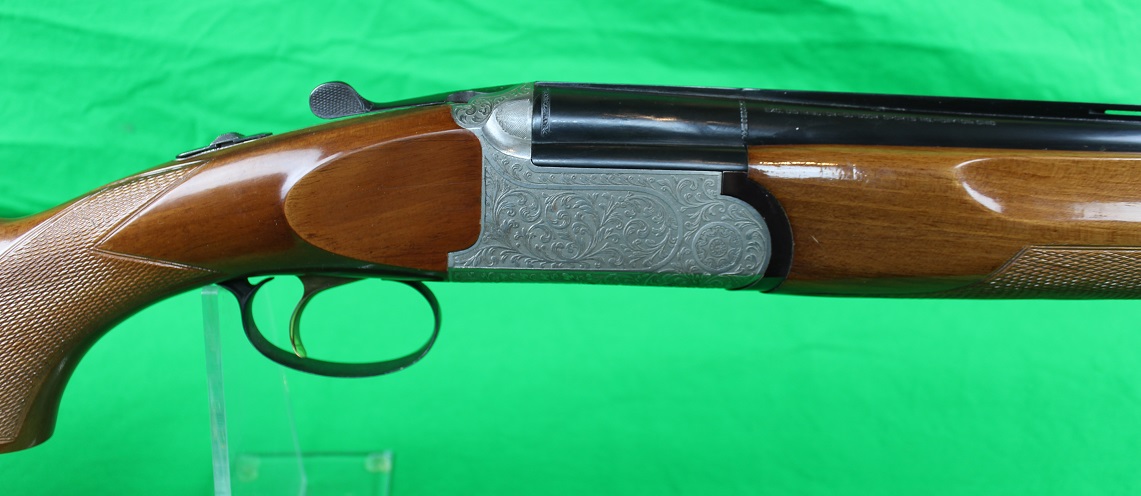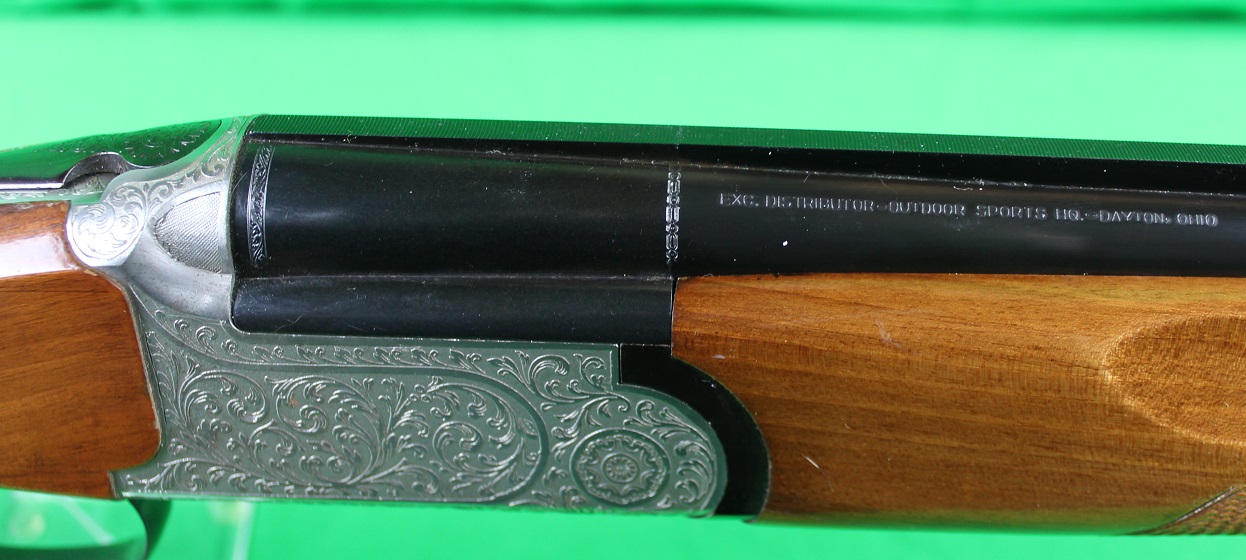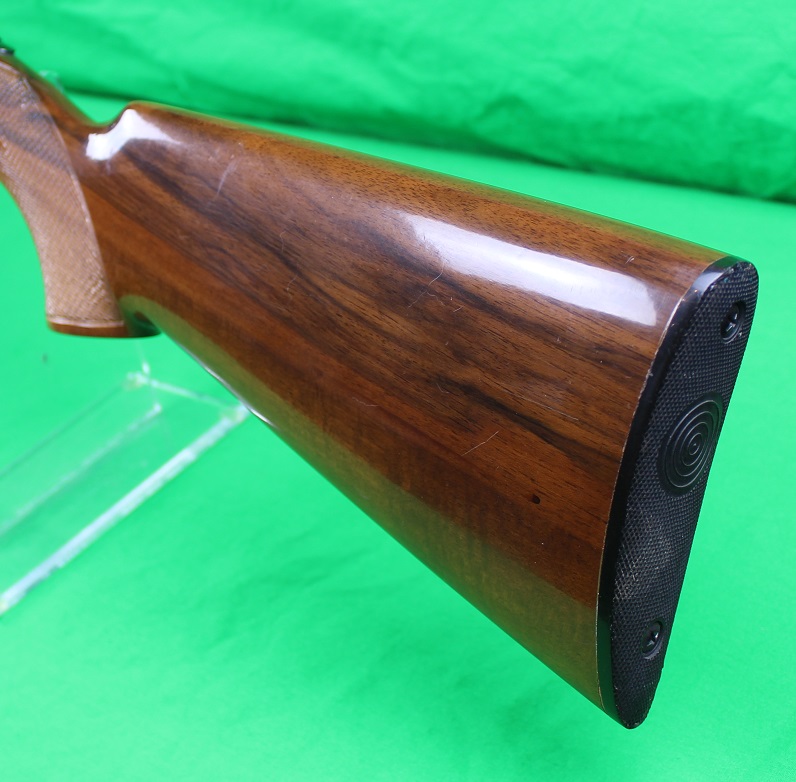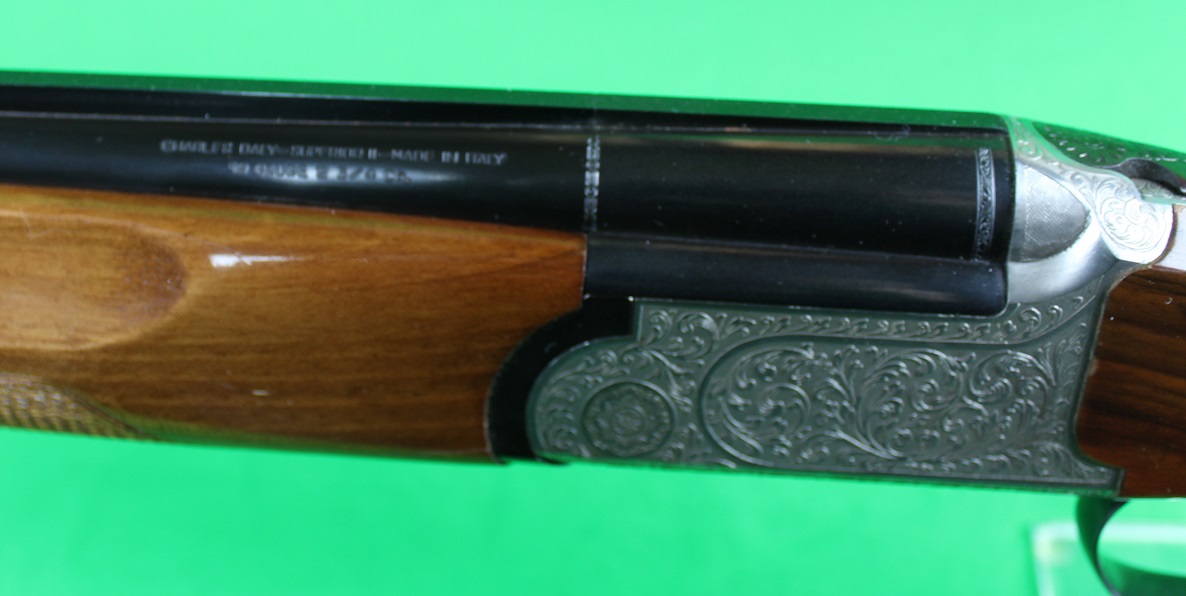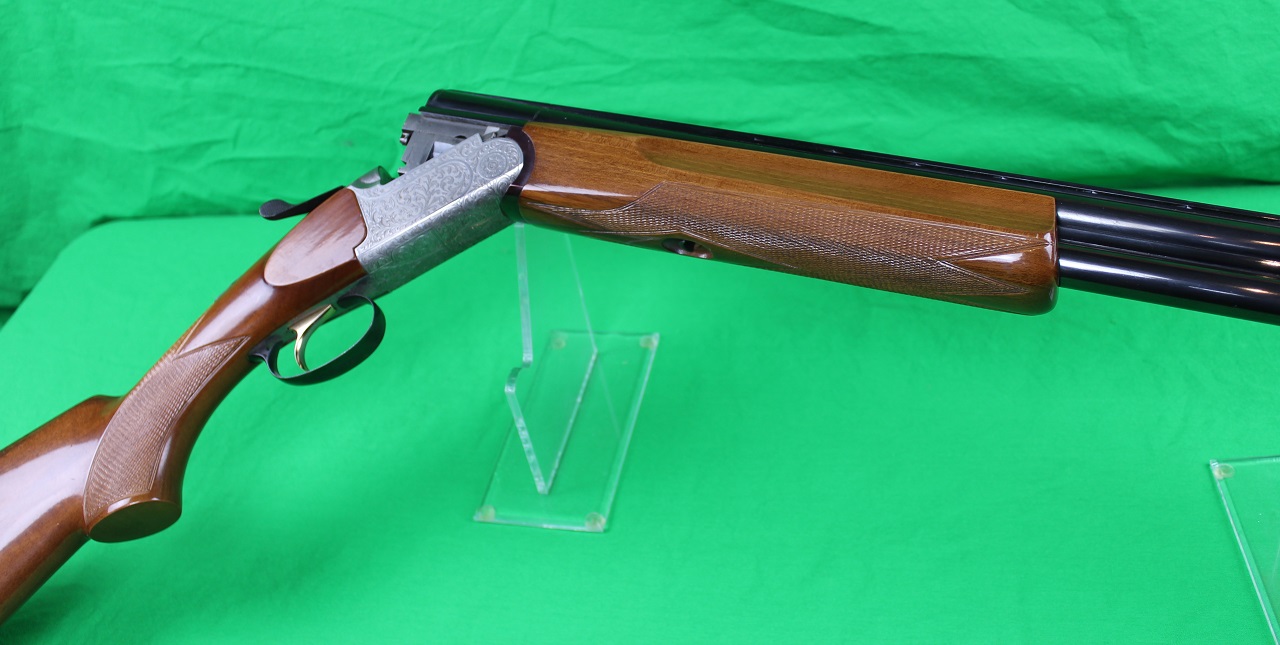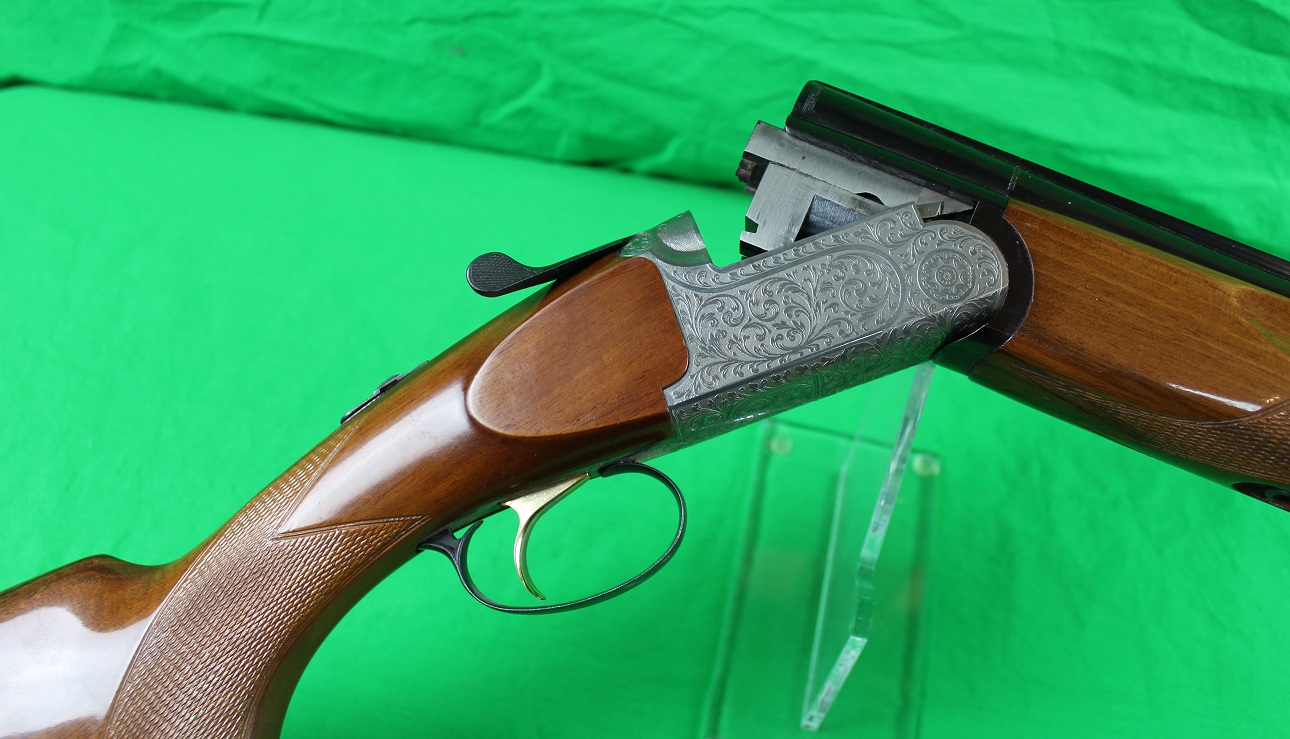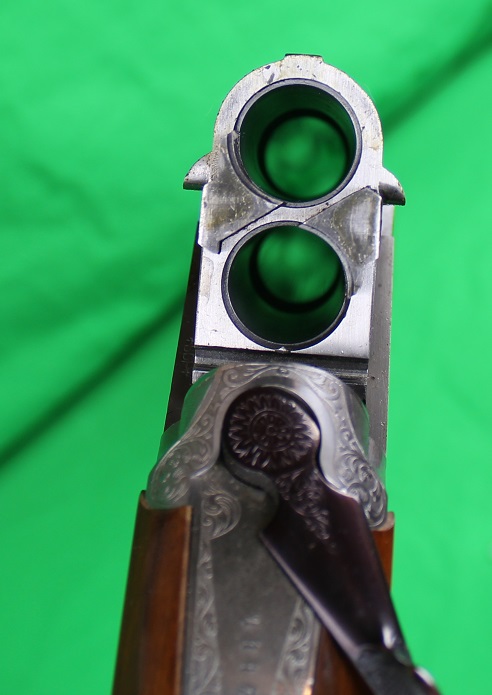 Modern arrivals 6
We just got in a small quantity of AR-15 Magazines in 30 round capacity. We have Magpul 30 AR/M4 GEN M2 rifle magazines in 5.56X45 NATO/ .223 REMINGTON . These magazines are compatible with AR15, M16 and M4. Polymer made in the USA. These mags are new in the bags and are $14 each. Also we have all metal 30 round magazines in Aluminum made by D&H Tactical out of Wisconsin. Each $11.00
Buy American!!!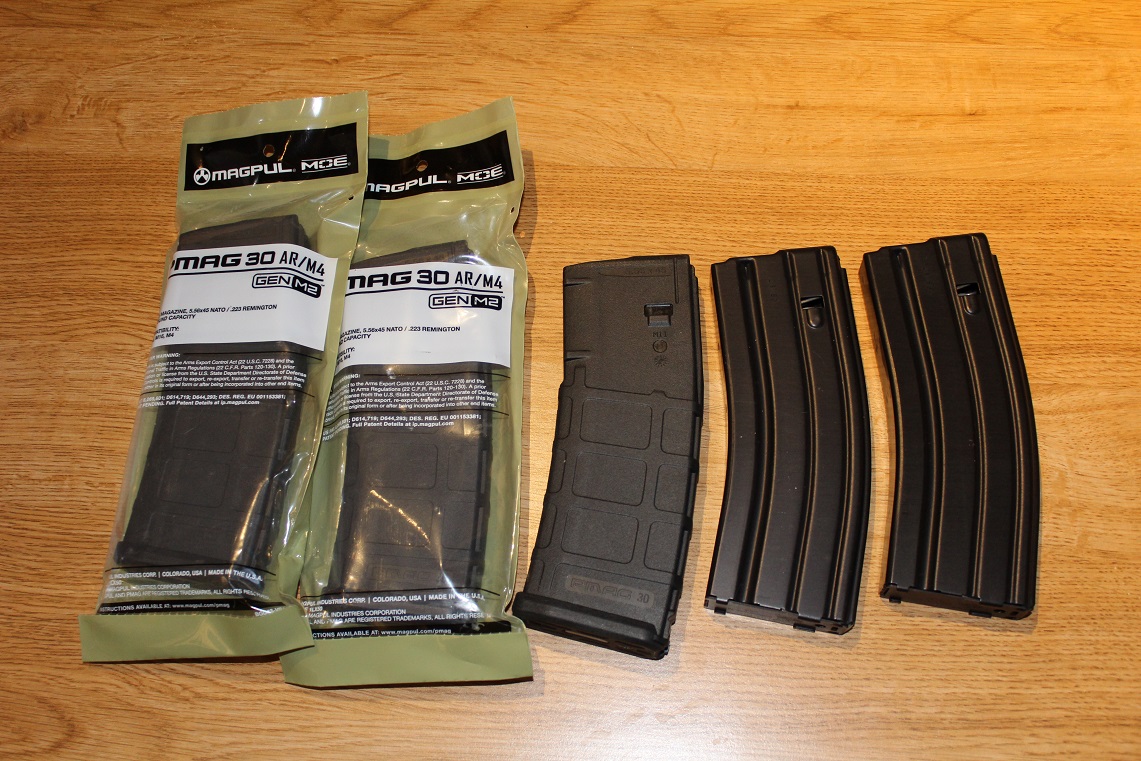 Modern arrivals 5
Here we have a brand new in the box, Smith & Wesson M&P 45 Shield!
Smith & Wesson M&P .45 ACP Shield. 3.3" BBL No Thumb Safety
Smith & Wesson's new M&P SHIELD™ is a slim, concealable, lightweight, striker-fired polymer pistol. The new M&P SHIELD features a slim design combined with the proven and trusted features found in the M&P Pistol Series. From the pistol's easily concealed one-inch profile to its optimized 18-degree grip angle, the M&P SHIELD offers professional-grade features that provide consumers with simple operation and reliable performance.
Smith & Wesson is going to make a lot of people happy with the announcement of new M&P Shield concealed carry pistols without manual safeties. The original Shield pistols have thumb safeties on the side. A small but welcome change, as many people who choose to carry a concealed handgun believe that there shouldn't be extra steps between drawing and shooting a gun. Manual safeties add a layer of security but also add an extra step when seconds matter most. Smith & Wesson heeded the call and is now delivering a "No Safety" version of the Shield. These polymer-framed striker-fired single-stack subcompacts have quickly become some of America's favorite concealed-carry pistols with their solid capacity, low recoil and compact package. Everything else remains the same, so people will be able to use the same magazines, night sights and aftermarket accessories like holsters and laser sights. The "No Safety" Shields have the same 18-degree grip angle, the same oversized trigger guard for use with gloves, the same low-profile takedown lever and low-profile slide stop. The only change is that these new Shields don't have thumb safeties.
The reality of protection is that you never know when you'll need it. We took the power and features of our full sized M&P pistols and put them into a slim, lightweight pistol the size of your hand. The M&P Shield is an easy to conceal pistol that offers professional grade features with simple operation and reliable performance day or night. One million Shield owners can't be wrong.
Features • New aggressive grip texture for M&P®45 SHIELD™ • Front cocking serrations • Incorporates the design features of the M&P Shield line of firearms • Extremely thin and lightweight - can be comfortably carried all day • 18 degree grip angle for natural point of aim • Striker-fired for short consistent trigger pull, every time • Backed by Smith & Wesson's Lifetime Service Policy • Armornite® Durable Corrosion Resistant Finish
Comes with two 6 +1 magazines and a finger extension on one of them for those 'bigger' hands!
This is a brand new, never fired handgun in the original box. This handgun retails for $479.00 but our price of $405.00 makes it great quality at an affordable price!!! Check out the pics!
Modern arrivals 4
Here we have a new in the box SnapSafe Modular Vault for storing handguns and other valuables. This box is easy to operate key lock and has a 1500 lb test steel security cable to secure the box to a stationary item. This box is great for providing secure storage at home, on a nightstand, in the car or when traveling. 9 1/2 x 6 1/2 x 1 3/4. Inexpensive basic security for $22.00 Keeps your handguns away from the kids!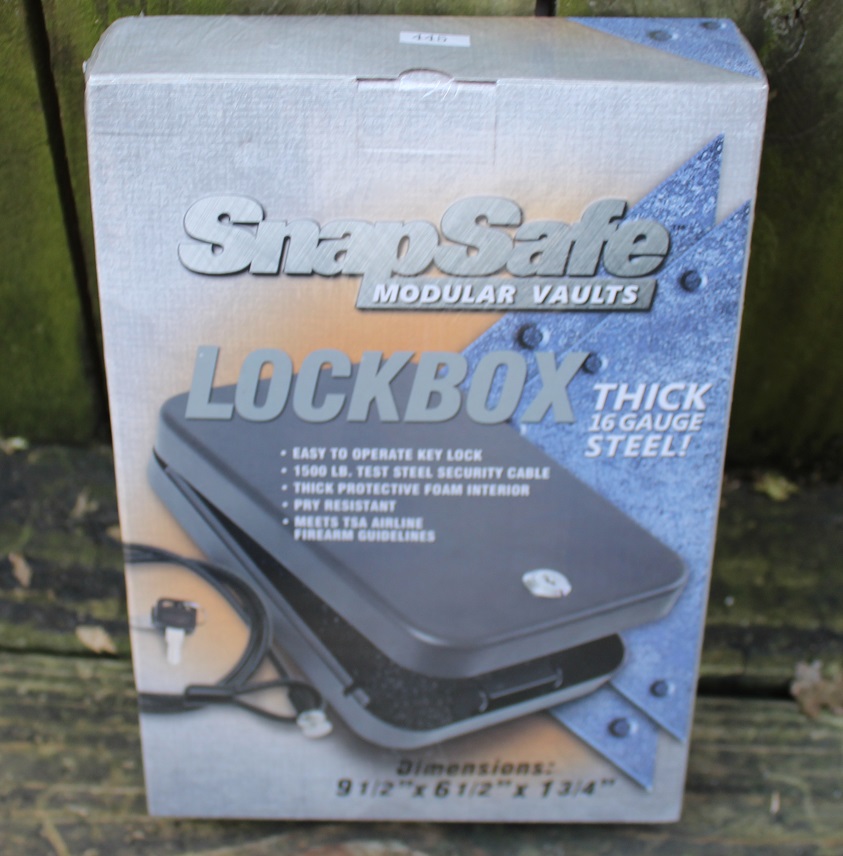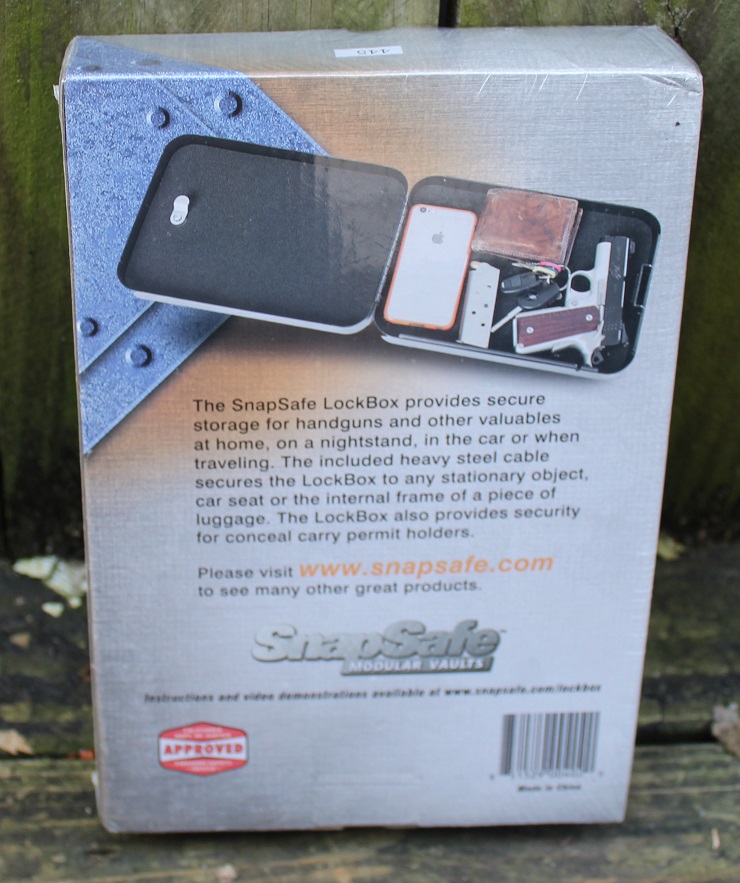 New Arrivals 3
Here we have, in a hard case, a brand new Dickinson Security Shotgun! This is the COMMANDO by Dickinson Model XX3B, 12 gauge , Pump Shotgun
Dickinson builds Guns of Distinction in their state of the art Turkish Factory where they blend old world craftsmanship with advanced technology. CNC machines are used to manufacture the precision parts which skilled craftsmen fit and finish producing a true work of art! A Dickinson is a durable, reliable, heirloom quality shotgun that you will enjoy shooting at the range and in the field for years to come! The Commando XX3B pump shotgun is built with a lightweight design that provides strength and simplicity of operation. The barrel, fore-end and bolt are easily removed as a unit to facilitate cleaning. You will immediately notice the smoothness of function and form whether you're firing light 2-3/4" shells or heavy 3" shells. This XX3B features an 18.5" tactical home defense barrel with a fixed cylinder bore and a rifle style front sight for rapid target acquisition. Manufactured using only the finest materials available, this shotgun will provide years of trouble free operation enjoyment. With a Dickinson XX3B Commando you will experience a deluxe quality shotgun at a price you can afford! Specifications and Features: Dickinson Commando XX3B XX3B-2 Pump Action Shotgun 12 Gauge 18.5" Barrel with Rifle Front Sight Fixed Cylinder Bore 3" Chamber 4 Rounds Polymer Synthetic Stock Blued Finish Weight 6 Pounds
When a home intruder hears the sound of you loading one in the chamber he will just right out of the window!!! That is a frightening sound! Great home defense Shotgun at a reasonable price! $199.00 Check out the pics below!
Modern arrivals 2
Here we have a new North American Arms small single action revolver. Here is some history on the company:
North American Arms History North American Arms is a United States firearms manufacturing company that specializes in pocket pistols and mini revolvers. Sandy Chisholm bought North American Arms in 1991 and has driven the company to become more successful since then. The small semi-automatic pistols and mini revolvers made by North American Arms are easy-to-carry, which is one of the reasons why these guns are perfect for everyday self-defense, concealed carry, and undercover law enforcement work. Besides the obvious practicality of North American Arms' petite guns, many buyers and collectors enjoy the novelty of the more vintage-looking designs complete with bluing or gold plating and mother of pearl handles. Some North American Arms mini revolvers are even able to fold into their own grips, making them safe to carry on a belt clip or in a gun holster. North American Arms' mini revolvers are made in .22 Short, .22 Long Rifle and .22 Winchester Magnum Rimfire caliber as well as in .22 Black powder cap and ball. Semi-automatic pistols made by North American Arms are chambered for .25 NAA, .32 ACP, .32 NAA and .380 ACP. Together this range of guns offers buyers the perfect size, weight, and firepower for them.
This North American Arms mini revolver is the sidewinder. It's cylinder swings out for loading making it easier to load and unload. This particular little revolver is in .22 Magnum. The grips are perfect as is the entire stainless steel revolver. Comes in it's own little case with padlock. For tis piece $350.00
2. Sold!!!
Modern arrivals 1 Consignment
Here we have 4 magazines for pistols. They are:
1. 8 round .25 caliber Beretta Magazine for $20.00
2. FN 6 round .25 caliber Auto Factory original Magazine for a Baby Browning pistol for $50.00
3. Walther PPK .380 7 round magazine for $35.00
4. Walther PPK .380 7 round magazine for $35.00
Anything you like? E-mail me here
Back to mainpage