modern Arrivals Consignment 58
Colt LE901-16S .308/7.62x51mm Rifle!
This particular model is becoming tougher and tougher to find and is a nice shooter with the powerful .308 cartridge. This piece has seen very little shots fired through it and has had less than 50 rounds through the rifle and it shows with its near brand new condition. The Colt LE901 is unique in that it allows you to covert to a 5.56x45mm/.223 upper assembly in minutes by simply using the conversion block kit that comes with the rifle still in the original packaging. This conversion kit is a nice addition for those times when you want to shoot the cheaper 5.56 round at the range or decide to use a smaller caliber for varmint hunting or coyotes. This Colt LE901 .308 caliber rifle is great for hunting on private property in the state of Indiana. Comes with the rifle, a 10 shot Magpul P-Mag, conversion block kit and the instruction manual. Here's some more info on this rifle from the Colt website:
These are more specs and info for the rifle pulled from Colt. Be it prairie dog hunting in Texas, whitetail hunting in Maine or elk hunting in Colorado, the Colt LE901-16S™ is the rifle for the hunt. Chambered in the classic .308 Winchester cartridge, the LE901-16S is the perfect choice for medium to large sized game animals. Exceptional accuracy is assured by its full floated, 16.1" chrome lined barrel and one-piece monolithic upper receiver, suitable for mounting your optic of choice. Keeping the varmint hunter in mind, the .308 Winchester upper receiver group can be easily swapped out for any Mil-Spec Colt upper receiver chambered in 5.56x45 NATO. The fact that all operating controls are ambidextrous, including the magazine release, bolt catch and safety selector, makes for versatility and ease of use. You can depend on the new Colt LE901-16S to take the shot of your lifetime!
Take a look at the pics! This is an outstanding Colt Rifle!!! No Box.
$2799.00
modern Arrivals Consignment 57
Here we have an inert ROCKET HE 66 MM ANTITANK M72A2 W/COUPLER in good displayable condition!!! . Used in Vietnam and usually discarded and destroyed after one time use. Take a look at the pics! This one $195.00
modern Arrivals Consignment 56
Here we have a Chinese Norinko SKS in 7.62 X 39 caliber. This piece has been mounted in a Tapco Scosk and looks very nice. There is also a nylon sling and an adjustable butt stock. The piece works very well and has a scope rail on the top back area. That piece is missing a screw that you can see in the pics. If I can find one in my stock parts I will replace it for you. The magazine is a Pro mag 30 round mag but does not fit correctly. It will work but you have to hold the front leg of the magazine up into the rifle for it to operate. You can see in the pic where that leg has a small piece broken off and the other end has been altered. It's been our experience that these rifles work much better with the lesser round magazines than the 30 round. The bore is excellent in this piece and it operates very well. . For this rifle $450.00
modern Arrivals Consignment 55
Here we have a pretty nice ols .410 Shotgun using the trade name 'VOLUNTEER' . Volunteer was a trade name used on shotguns made for Belknap Hardware Company of Louisville, KY. These shotguns were made by Crescent Fire Arms Company, Crescent-Davis Arms Corporation, Davis-Warner Arms Corporation, Iver Johnson Arms and Cycle Works and J. Stevens Arms Company. The shotgun is 41 inches long with a 26 inch single barrel with a good shiny bore and good bluing. The wood is dinged from use which is normal. The shotgun is complete and in good working order. The original plastic butt plate is present. The receiver is nickel plated with frosting. Nice old shotgun from the early 20th century we believe. .410 shotguns are highly collectible!!! For this piece $195.00
modern Arrivals Consignment 54
Here is a fine old firearm that just came into the shop. This is a Model 1885 Winchester Low Wall 'Winder' Musket in .22 short! This is a falling block rifle and the action is perfect. According to the serial number this one is one of 5999 produced in 1918. This one is marked US over a flaming bomb and was used for a Military training rifle. The rifle it topped with a 4X brass bodied Wollensak Scope that was made in the 1930's and it still has great optics!!! The rifle is in excellent condition with stocks! There are no cracks or breaks in the dark walnut stocks just dings from use. The barrel has excellent markings and most of the original color and the rifling/bore is really nice. There is an adjustable rear peep sight and a hooded blade sight up front. The receiver is a nice mellow brown patina with a couple of very minor scratches in it from use. The action is perfect. The buttplate is the original metal one and the patina petty much matches the receiver and rear peep sight mechanism. This is one nice training rifle!!! It appears to have the original military sling on it as well. For this fine piece $1195.00
modern Arrivals 51- 52- 53
Here's 3 guns that I just picked up recently. They are actually modern guns but they are old.
1. SOLD!!! Here is a model 1897 Marin "97" .22 caliber rifle with the serial number of 285506 indicating manufacture in 1903. The firearm looks very good but the action does not work. I was able to get the lever to come down and open the breech a couple of times but it was stiff but I have't been able to get it open today after messing with it for awhile. There might be something stuck in it or a loose part I just don't know and I do not have time to work on it so my loss could very easy be your gain. I cannot check the bore for condition as I cannot get the breech open at this time but I suspect that it is dark. If you look at the pics you will see that this piece is complete with worn lettering but still mostly legible on the tang and the 24 inch octagonal barrel . The walnut stocks are in pretty good condition for their age with the color of the stock and the metal being a nice dark patina. Looks great on the wall!!! If I have the time to get it working then it's a $650 rifle! As is only $395.00! C&R Eligible. Look at the pics!!!
2. Here we have an old Boy's .22 caliber rolling block STEVENS JUNIOR single shot rifle!!! This rifle was made from 1924 to 1931 and was the last rifle made in the Boy's Rifle Series by Stevens. This rifle has a 20 inch good rifled barrel and the action works well. Most of the color is worn off the metal parts but can be easily blued if you want to. The wooden slab stock is in good condition and has obviously been refinished with no buttplate as normal. There are a few dings in the stock from use but no breaks. Every boy wanted one of these!!! I had a rifle since the age of 10 when my Mom would give me one .22 shell and tell me to go get a squirrel for supper. Can you imagine giving a 10 year old a gun to go hunting now! We lived on a farm and had a nice woods to hunt . Boy could my Mom fry up a squirrel and make great squirrel gravy! She insisted that I only use one shell and get a head shot so the squrrel wouldn't suffer. I didn't dare miss or get a body shot for the shame I would have to endure with Mom! I was darn good! Anyway this is a great old Boy's rifle and any improvements that you want to do to it won't hurt it at all! This one is $225.00 Check out the pics!!!
3. SOLD!!! Here's the last one and I would call this a project gun. It would look great on the wall if you did nothing at all but the rolling block screw is missing so the rolling block falls out and there may be a couple of other parts in that area that it needs. This is a .22 long caliber Stevens CRACKSHOT and has a 20 inch round barrel. I believe this one to be the 26 1/2 smoothbore version of the No. 26. The bore is dark but I see no traces of rifling in it. The stocks are in good condition but it is missing the buttplate. Take a look at the pics! These old rifles bring back pleasant old times for me!!! $125.00
Modern Arrivals Consignment 50
SOLD!!!
Here we have Walther a P38 post WW2 9mm double action semi-auto pistol used by West German Police. Manufactured in November of 1963 and so marked by 11/63 on the slide. . The lightweight alloy frame is "Interarms Alex Va".. Left side is marked with the Walther Banner and "Carl Walther Waffenfabrik ULM/DO" - P38 Cal 9mm. Right side is date marked "11/63". Barrel is 4 7/8" and Serial Number is 2413XX. This pistol had only 1 magazine ran through it since being purchased by the owner. It comes with the holster and an extra magazine as well as the owners manual. Both magazines are marked Walther. It is housed in the original import box from Intearms of Alexandria, VA and so marked. The serial number on the box and both numbers that I can see on the firearm match. All in all a very nice piece that shows honest wear! $625.00
Modern Arrivals Consignment 49
SOLD!!!
Here we have a nice Glenfield Model 25 bolt action .22 caliber rifle with 3 magazines. There was a little rust on the barrel that needed cleaned off and we have removed most of that and there is a crack in the stock that you can see in the pics. The stock otherwise has a few dings from use but generally looks fine. Take a look at the pics. Action works well! Bore is good. Good old rifle with plenty of life left in her!!! $110.00
Modern Arrivals Consignment 47 & 48
Here we have an excellent combo! We are offering the combo separately. First we have a Springfield Armory XDs in 9MM. Here are the stats:
Description: Springfield XDS-9 .9mm semi-auto pistol. Manufacturer: Springfield Model: XDS Mod 2 (XDSG9339B) Condition: Factory New Caliber/Gauge: 9mm Barrel Length: 3.3" Detailed Description from Springfield Armory:
Is it possible for a pistol small enough to carry every day to have all the features and capacity that you'd expect in a larger pistol? If that pistol is the XD-S® from Springfield Armory®, the answer is yes. The XD-S® 3.3_ Single Stack 9mm offers so much that you'll be astonished that it all fits in the small, concealable profile. The XD-S® Single Stack from Springfield Armory® has forever changed what you can expect out of your daily carry pistol. Use your XD-S® Single Stack with an X-Tension™ magazine and you'll find that your carry pistol has grown into something that will astonish and delight you on the range. Use a flush-fitting magazine when you carry it, and it shrinks such that you'll forget it's there. If you're looking for the most available capacity in the most concealable package, you should pick up an XD-S® 3.3_ Single Stack in 9mm. You don't have to settle for a larger gun to gain shooting comfort. Nor do you have to sacrifice size for capacity. Hold an XD-S® 3.3_ Single Stack today, and you'll want to shoot it. Put it in your holster, and you'll find that it's Noticeably Unnoticeable™.
This particular firearm is in excellent condition in the hard case with 3 magazines and all accessories that came with it included new fiber optic rods for the front sight. This pistol had about 100 to 150 rounds fired through it and it performed flawlessly!!! For this pistol $499.99 REDUCED!!! $475.00 .
Selling separately but fitting this pistol is the Crimson Trace Red Laser with the correct fitting hard shell holster for the XDS with this laser installed. Really nice! $249.00 REDUCED !! $225.00
Modern Arrival Firearms Consignment 45 & 46
Here we have received two fantastic pistols. The first one is a Springfield Armory TRP 1911 and is one of the best production 1911's that is semi-custom fitted. There was only about 50 rounds put through it. It is a sweet shooter and very accurate. With a holster and a mag carrier it makes this set a nice package deal. The TRP™ series of 1911s from Springfield Armory® are serious tools for the most serious of applications. These tactically proven pistols are intentionally designed to work under the worst conditions you'll encounter. You'll find all the quality, features and performance that you need in a 1911 of this class. This pistol comes in the hard case with all accessories shown which includes 3 mags, hard mag holder for 2 mags and the hard holster. All original paperwork/manuals are included as well. This pistol has seen practically no use at all and still looks like new!!! You won't go wrong here! Sorry but not for sale in California $1,575.00
• Now we have the Springfield XDS-9 4.0 Bi-tone Stainless Steel which is a great piece for conceal carry. A very smooth shooter for being a smaller gun chambered in 9mm. Only put about 50-100 rounds through this pistol. 3 mags, a holster, and a mag carrier makes it a great little package. Here are the stats:
Caliber--- 9mm
Recoil System--- Dual Spring w/ Full Length Guide Rod
Sights--- Fiber Optic Front & Dovetail Rear (Steel)
Weight--- 25 ozs. w/ Compact Mag, 26 ozs. w/ X-Tension™
Height--- 4.4" w/ Compact Mag, 5" w/ Mid-Mag X-Tension™
Slide--- Forged Steel, Melonite® Finish
Barrel--- 4.0" Hammer Forged, Steel, Melonite® / 1:10 Twist
Length--- 7"
Grip Width--- .9"
Frame--- Black Polymer
Magazines--- 1 - 7 Round Flush Fitting, 2- 8 Round With Mid-Mag X-Tension™, Stainless Steel
Holster--- 1 XDS-PH1
Mag Holder--- capacity 2 mags
To create the XD-S Centerfire Pistols, Springfield Armory took the best innovations of the award-winning XD Series and trimmed down the frame to a perfect size for compact, concealed carry. Metal parts on each gun are forged and machined from billet with utmost precision. Fully hammer-forged barrels enhance accuracy. Corrosion-resistant finishes are either super-hard black Melonite® or classic bead-blasted stainless steel. The Ultra Safety Assurance Action Trigger System™ guards against accidental discharge by locking the trigger in place until direct rearward pressure is applied. Loaded-chamber indicator allows the shooter to verify without a doubt, visually or by touch, that there is a round in the chamber. Grip safety allows firing only when the shooter has a firm grip on the pistol. A more pronounced texture on the XD-S ensures your grip is always secure. A single-position Picatinny rail readily accepts lights, lasers or other pistol accessories. It is one of the only polymer pistols of this size with this feature. The XD-S trigger has a short travel along with a short reset, which keeps you on target with greater ease for quicker, more accurate follow-up shots. The low-profile rear sight is holster friendly. Fiber-optic front sight promotes easier and faster target acquisition. Customize your grip with two interchangeable backstraps. Includes rugged carry case, paddle holster, double magazine pouch, two interchangeable backstraps, two magazines, cable lock, bore brush and safety manual.
This particular pistol has seen little use and shows it as it looks brand new! This is a very nice pistol with accessories!!! For this pece. $549.00 Not for sale in California!!! REDUCED!!! $525.00
Modern Arrivals Consignment 44
SOLD!!!
Here we have a German WW2 Model 98 Rifle. This is the Best known of all Mauser rifles and the one that most of my German collecting customers ask for and they are always in short supply. This is a 7.92 mm (8mm) bolt action rifle with a 23.6" barrel. The barrel exhibits a nice deep rifles bore with some evidence of pitting but not bad at all. Magazine capacity is 5 rounds. This one was the standard should arm of the German military during World War II. Introduced in 1935 about 11,000,000 were produced. This one ws made in 1943 as marked on the receiver ring and is also marked bnz which is Steyr-Daimler Puch AG, Steyr . Also on the receiver is MOD 98 , s/n 4915 There are a couple of Nazi waffen markings on the barrel with Eagle and swastika. There is some pitting on the barrel and receiver that has finish in them indicating that at some point this weapon was refinished, perhaps by the arsenal. The magazine floor pan and mount are marked 9808 The stock is beech and in very good condition The handguard may be walnut. The action works well and it's a very nice looking rifle. The sling is a reproduction. Take a look at the pics!!! For this rifle $550.00
Modern Arrivals Consignment 43
SOLD!!!
Here we have a Czech Mauser. In 1924 the Czechs began to manufacture a number of Mauser designed rifles for export and for it's own military. Czech Mausers were based on the Model 98 action. This particular rifle is 7.92X54mm (8mm) and is in excellent condition. The rear sight has Turkish markings. The receiver is marked CS.ST. ZBROJOVKA BRNO and has lots of other small markings on it including the serial number 914. The magazine floor pan also has 914 stamped into it. The barrel is 29 inches long and exhibits a good deep rifled bore. The action works very well and the rifle looks very good overall with a very nice hardwood stock. Look at the pics! For this rifle $350.00
Modern Arrivals Consignment 42
Here we have a beautiful Mauser GEW 98 rifle with scope in 7MM. The scope is 4-12X40 Made by Hunan for Remington. The rifle has a beautiful hardwood stock with checkering. The forearm end is ebony with a blonde insert. The barrel is stepped down at the forearm and exhibits a deep blue. The finish on this piece is 98%. The bore is excellent and the action works perfectly! I believe it to have a 24 inch barrel. This is a nice rifle! It's been used but not abused! Look at the pics!
$675.00 REDUCED TO $495 !!!
Modern Arrivals Consignment 41
Here we have another great Mauser rifle In 30-06 caliber. This one is marked Mauser-Werk A.B. Oberndorf A. N. Model 3000. The barrel and receiver are serial numbered to each other. This rifle is topped by a 3 x 9 VARI-X II Leopold Scope. There is tape around the eye end of the scope for some reason that I don't know. The rifling is great as well as the aciton. The receiver is marked MADE IN GERMANY on it. 22 inch barrel. The finish on the barrel is about 98% while there is some wear to the triggerguard. The magazine floor plate on this rifle is very nice. The wood is in very nice condition with the very end of the forearm being inlay and just beautiful! There is checkering to the forearm and the pistol grip wrist. There is also a hardwood inlay to the end of the pistol grip. There is a piece of white enlay here as well. A trigger shoe has been added to the trigger. Beautiful rifle! Check out the pics! This one has also been used but not abused!! $850 for this one.- REDUCED TO $650.00 !!!
Modern Arrival Consignment 40
Here we have some new Federal 30-06 Ammo. 180 grain soft point 20 cartridge box for $20 a box. The consignor says he paid $30 a box for these cartridges. Also we have new 20 round boxes of 173 grain Sellier & Bellot 7X57 (7MM) ammo for $20 a box and PPU 7mm Mauser centerfire Rifle Cartridges 139 Grain for $20 as well. Same deal as the 30-06 ammo. Also we have 3 vintage boxes of Remington Kleanbore 7mm ammo for $40 a box.
Modern Arrival Consignment 39 Here we have a LEE Factory Crimp Die 7 X57 (7mm). The price on this piece is $15.00
Modern Arrival 38
Here we have a brand new in the box Palmetto State Armory PA-15 in multi caliber with a 5.56 barrel. Here are the stats:
Barrel Length: 16"
Gas System: Carbine Length
Barrel Profile: M4
Barrel Steel: 4150 Chrome-Moly Vanadium
Barrel Finish: Nitride
Chrome Lining: None
Muzzle Thread: 1/2-28
Chamber: multi
Twist Rate: 1:7
Barrel Extension: M4
Diameter at Gas Block: .750
Gas Block Type: F Marked Front Sight Base
Muzzle Device: A2 Flash Hider
Receiver Material: Forged 7075 T6
Receiver Type: M4
Handguard Type: PSA Classic Carbine Handguards, Flat Dark Earth
Stock Type: PSA Classic M4 Adjustable Stock, Flat Dark Earth
Grip Type: PSA Classic A2 Grip, Flat Dark Earth
Also, the carbine has a Magpul adjustable rear sight and also comes with 2 magpul 30 round magazines. This is a real nice piece and all American!!! For this nice piece $525.00
Modern Arrival Consignment 37
Here we have a military grade bipod. It is painted blade and is heavy construction. The legs spread out and have 6 height adjustments to them. It easily clamps to a 5/8's diameter barrel. Everything works as it should. The price is $20.00
Modern Arrival Consignment 36
PENDING!!!
Here we have a massive old combination pocket knife with many blades. The gentleman who owns it believes it to be WW2. I saw on one of the blades the word JAPAN so I think it is post war. STAINLESS is also stamped on the spoon and fork. It has 11 attachements I believe which include a spoon, fork, corkscrew, sissors, saw, can opener/bottle opener combo, an awl, a couple of screwdrivers and a couple of knife blades! There is a section of the handle grip chipped off where the spoon folds into the piece. For this unique all in one knife $20.00
Modern Arrival Consignment 35
Here we have a left handed lady's bow. I haven't had a bow since my old Ben Pearson Recurve days so I'm a little out of my element here but my friend wants to sell it. This is a PSC SRL-100 compound bow for a lady or child. 38-40 lbs and 26" draw. Comes with case. Look at the pics to see more. For this bow and case $125.00
Modern Arrival Consignment 34
Now we have a right handed man's bow. I haven't had a bow since my old Ben Pearson Recurve days so I'm a little out of my element here but my friend wants to sell it. This is a PSC NOVA and the bow is set on the low side at 53#. Price is $135. Take a look at the pics to know more.
Modern Arrival Consignment 33
Here we have a Marlin Model 1894 Lever Action rifle in .44 magnum. The rifle has had a Bushnell Whitetail scope added to it and the original sights have been taken off but are with the rifle if you want to put them back on. This rile has been used and has scratches to the receiver and worn spots in the blue finish but stillnice. The walnut stocks are in good condition with a small ding here and there. There is a chip missing at the top of the obverse buttstock at the receiver and another chip out of the forearm at the left top end near the receiver. You can see those things in the photos. The action works well and is crisp with a nice bore. The rifle is 37 1/2 inches long with a 20 inch rifled barrel. The trigger has a trigger shoe on it making the base wider. The buttstock has a rubber butt plate marked H&R by pachmeyer. I have been told that this rifle can be used for deer hunting on private land in Indiana. For this piece the owner wants $725.00 REDUCED TO $625.00 !!
Modern Arrival Consignment 32
I am listing this as modern as it was made in the fairly recent past. This is a Thompson Center .50 caliber percussion rifle and is quite massive. This rifle looks to have been kit built. The owner built several custom made percussion rifles but on the ones he would have used for hunting he used a more durable type of firearm that he wouldn't have minded to 'scratch'. Having said that I don't believe that this rifle has been used much at all. The wood is in great consition with no wear and the barrel doesn't look to have much wear to it at all either. The lock and hammer still have practically all of the case hardening left on them. This is a two trigger -set trigger- set up and the action works perfectly. This rifle has a steel buttplate with brass triggerguard. There is not a nosecap and looks like there never was. The rifle is 42 1/2 inches long with a 27 inch octagonal rifled barrel that looks to have been a subtle finish applied to it. This rifle should make a good Deer hunter in the fall. The rear sight is a more modern sight being adjustagle with the front sight is the typical blade sight. No cheekpiece on this one. Take a look at the pics! For this one $250.00 REDUCED TO $200.00 !!!
Modern Arrival Consignment 31
I am listing this as modern as it was made in the fairly recent past. This is a Connecticut Valley Arms "Hawken Type" percussion rifle that looks to have been a kit build. The owner built several custom made percussion rifles but on the ones he would have used for hunting he used a more durable type of firearm that he wouldn't have minded to 'scratch'. That being said I don't believe that this one was used much. It is a .50 caliber weapon with a heavy rifled octagon barrel. The entire piece measures 44 inches long with a 28 inch barrl. The rifle looks pretty good but I am sure it was made years ago. There is some 'burning' off of the color at the nipple and a few scratches on the barrel from use. This one is a set trigger model and it works perfectly. The stock looks great with no cracks or scratches and does have a patchbox and a cheekpiece on the reverse. The rear sight is a more modern sight while the front sight is a large blade sight. The triggerguard is brass and so is the nose cap, ramrod thimbles and barrel lock escutcheons. It's a nice piece and ready for deer hunting in the fall. For this one $265.00 REDUCED TO $225.00 !!
Modern Arrival Consignment 30
Here is a nice Marlin Model 39-D Lever action .22 caliber rifle. The metal on this piece has some wear through the finish and a couple of minor rust spots . The wood is in really nice condition being better than the metal finish. The markings are sharp and the action works very well. The owner has installed a trigger shoe for a wider trigger. There has been a Tasco 4X32 scope added to the rifle giving it good optics and the original sights are still installed and present. The bore is very good on this rifle. This is an excellent squirrel and varmit rifle! The owner has this one priced at $575.00 REDUCED TO $500.00 !!! Check out the pics.
Modern Arrival Consignment 29
SOLD!!!
Here we have a nice Remington 1100 semi auto 20 gauge shotgun with a 28 inch full choke barrel. The owner told me that this is known as a Trapstock shotgun. This shotgun has a real nice shiny bore with no pitting. The overall finish of the shotgun's medal is in really nice condition with a couple of very minor blemishes through use. The trigger has the wide attachment on it. The walnut stock is in the condition you would expect from light use with a couple of marks and blemishes on it as well. There is checkering to the forestock and the srist of the buttstock. The original rubber butt pad is present as well. The receiver has the factory engraving on it. This shotgun is in very nice condition. Check out the pics! The seller wants $525 for this one.
Modern Arrival Consignment 29B
SOLD!!!
Here is the companion barrel to the shotgun above. It's 26 inches long and has several vrious chokes that come with it. Take a look at the pics! $250.00
Modern Arrival Consignment 28
This is a Zabala Double Barrel Shotgun Model 200 in 20 Gauge. This shotgun is in really nice condition and resembles an Ithaca Model 100. The barrels measure at 26" and fires 3" or shorter shells. The chokes are improved for both sides and the tubes have a mirror finish. The aciton works well. Double triggers. The bluing is excellent as well as the wood. The oval finial at the bottom of the pistol grip has the urethane becoming discolored. This shotgun was imported by Richland Arms Company of Blissfield, Michigan. This is one nice piece and the consignor wants $675.00 for this one-REDUCED TO $575.00 !!!. Check out the pics!
Modern Arrival 26 & 27Consignment
Here we have recently acquired two shotshell hand reloaders. The owner of these machines states that they are complete and ready to use. One is a .410 shotshell reloader and the other is a 20 gauge reloader. Each one is $250.00 REDUCED TO $150.00 EACH!!
Modern Arrival 25 Consignment
SOLD!!!
This is a Russian Nagant Revolver with Holster. The Nagant model 1895 revolver is a seven shot, gas-seal revolver designed by Leon Nagant for the Russian Tsar. It's chambered in 7.62x38R. Russian and Soviet troops used the pistol during both world wars. Despite being out of production since 1950, security personnel around the world still use the Nagant m1895 revolver. This one is dated 1945 and is in excellent unusued condition! It comes complete with an original holster that was made in the 1950's.
Specifications caliber – 7.62x38R length – 10.5_ weight -28.8 oz. magazine capacity – 7 rounds
This revolver was imported into the United States by Inter Ordnance of Monroe, North Carolina. IO Inc. was founded in 1995. This revolver comes with a spare 7 shot cylinder. Originally priced at $550.00 THIS REVOLVER HAS BEEN REDUCED BY THE OWNER TO $400.00!!!
Modern arrivals 24 Consignment
Here we have a nearly new Ruger Mini-14 Tactical Rifle Semi Auto Rifle 5.56 NATO (also uses .223 ammo) . The previous owner states that he fired it only 8 or 9 times and I believe it as it shows practically no wear at all and looks new. This rifle comes with 8 different Ruger Magazines. As stated these are all Ruger mfg and not aftermarket magazines. There are two new 5 round mags, two new 10 round mags, two new 20 round mags and 2 new 30 round Ruger magazines. Here are some of the stats:
• Model Number: 5847
• Caliber: 5.56 NATO / 223 Rem
• StockBlack Synthetic
• Front SightBlade
• Rear SightAdjustable
• MaterialAlloy Steel
• Thread Pattern1/2"-28
• Twist1:9" RH
• Capacity20
• FinishBlued
• Weight6.7 lb.
• Overall Length 36.75"
• Barrel Length16.12"
• Length of Pull 13"
• Grooves6
This is a great rifle and is American Made Ruger Quality!!! $1,120.00 for everything. Check out the pics !!!
Modern arrivals 23
SOLD!!!
Here we have an outstanding custom built Colt Competition AR-15 that has never been fired! This rifle has the Colt Competition Handguard-3 versatile picatinny rails-Colt competition complete lower receiver-Colt complete factory 23-slot upper receiver -Ergo pistol grip-Colt Compete 6 position collapsible stock-.750 low profile gas block-carbine gas tube- Bear Creek Arsenal Twisted Fluted 16 INCH "WILDE' Barrel and Bear Creek Arsenal Bolt Carrier Group being headspaced correctly. We have not added sights or optics as that is more of a personal choice for the customer. Also included are two (2) Magpul 30 round magazines. Take a look at the pics as pics speak louder than words!!! For this fine Competition rifle/carbine $1,295.00
Modern arrivals 22
SOLD
Here we have a very nice. Winchester Model 94AE Trapper Lever Action Carbine, #62334XX (1991), .45 Colt cal., 16'' barrel, blue finish, straight walnut stock and forend, saddle ring, checkered Winchester buttplate, blade front sight with red optic, and Williams rear sight with green optics. The receiver has been drilled and tapped but believed done at the factory. The screws have evidence of being removed to remove a scope that was on it prior to selling. This receiver has the offset ejection and the hammer has a thumb assist on it. The condition of the metal is very nice with just a small blemish next to the right side of the dovetailed front sight. Condition is very good overall retaining approx. 99% blue. I believe this piece has been fired but it has not been fired very much. The bore is perfect. The walnut stocks are also perfect. With no signs of wear whatsoever. This is one beautiful carbine!!! For this one $850.00
Modern arrivals 21
The following are 3 rifles and one o/u shotgun that came into the shop recently. They are all vintage and in very good condition. They are:
New Arrivals 553
Here we have a Belgium Browning in 30-06 that is the High-Power Bolt-action rifle series and this one is the Safari grade with scroll engraving on the trigger guard and magazine door. This rifle is in very good condition with checkering on the monte carlo type walnut stock and some age crazing to the clear finish. No peeling just crazing. . There are dings here and there on the stock as it was used for many years but it is still in very nice condition with no breaks or cracks According to research and the serial number of 2L 164XX this rifle was made in 1969 being a F.N. Mauser Action. The bore is excellent on this 23 inch barrel. The finish on the barrel is excellent with just a little end wear from sliding in and out of a sleeve. The rifle is topped of with a SCOPE brand scope 3X-9X40 Model number 781-010 and is in excellent condition. Also comes with the sling. $1,450.00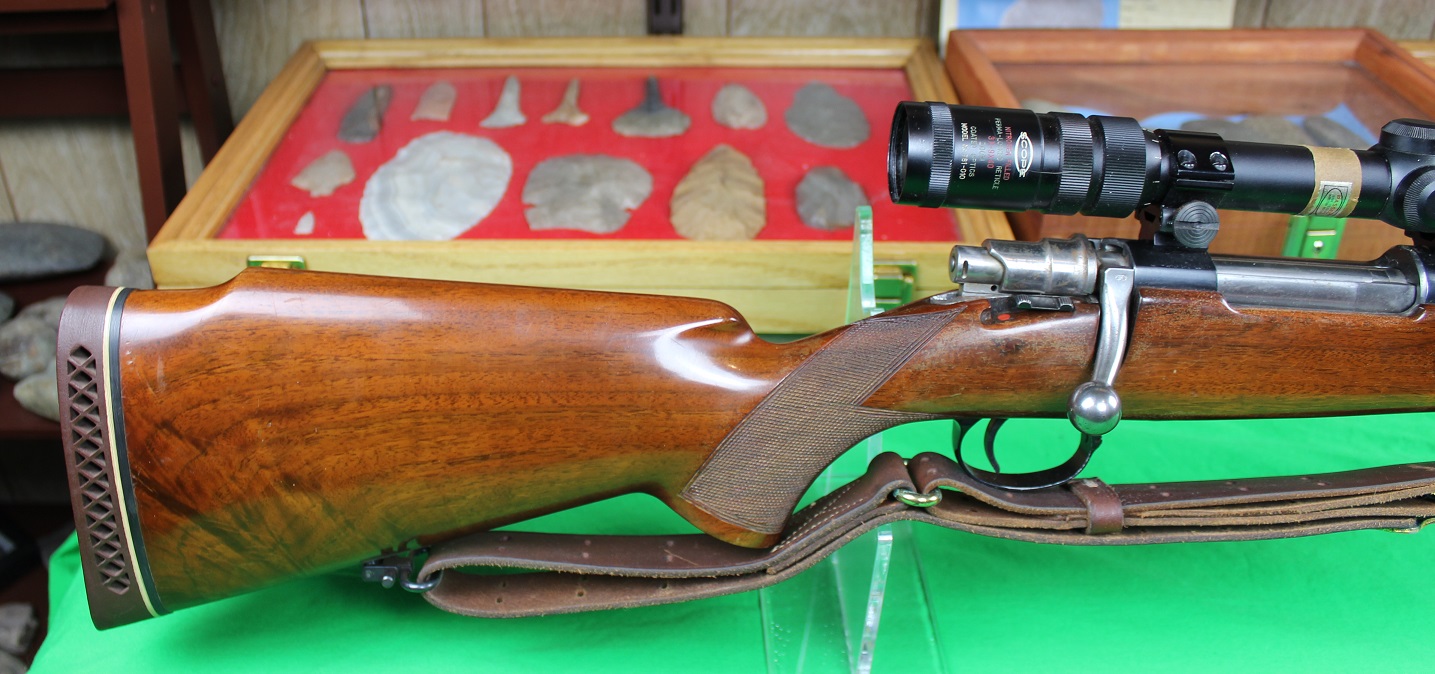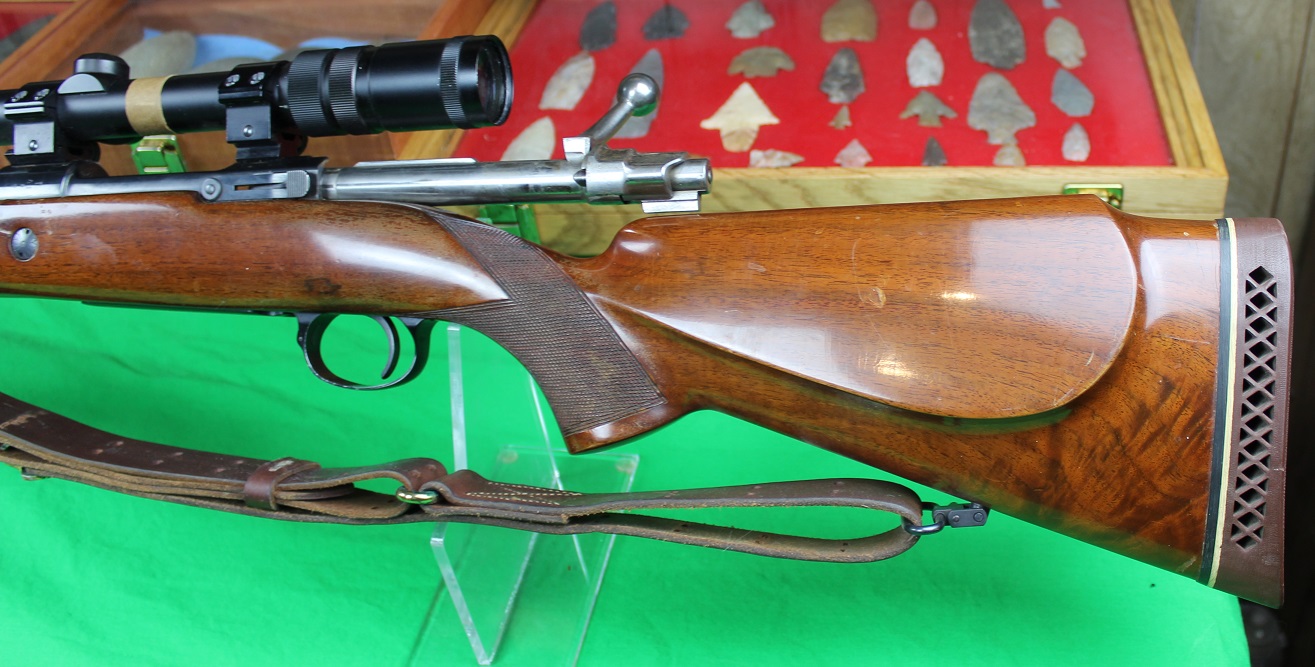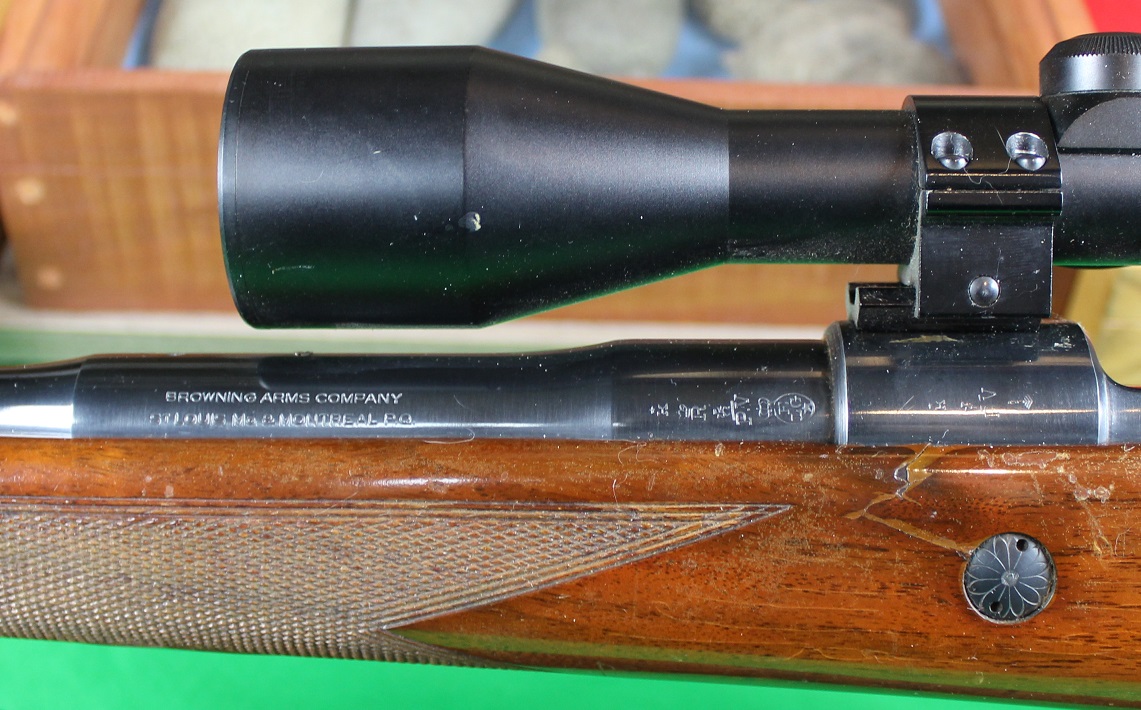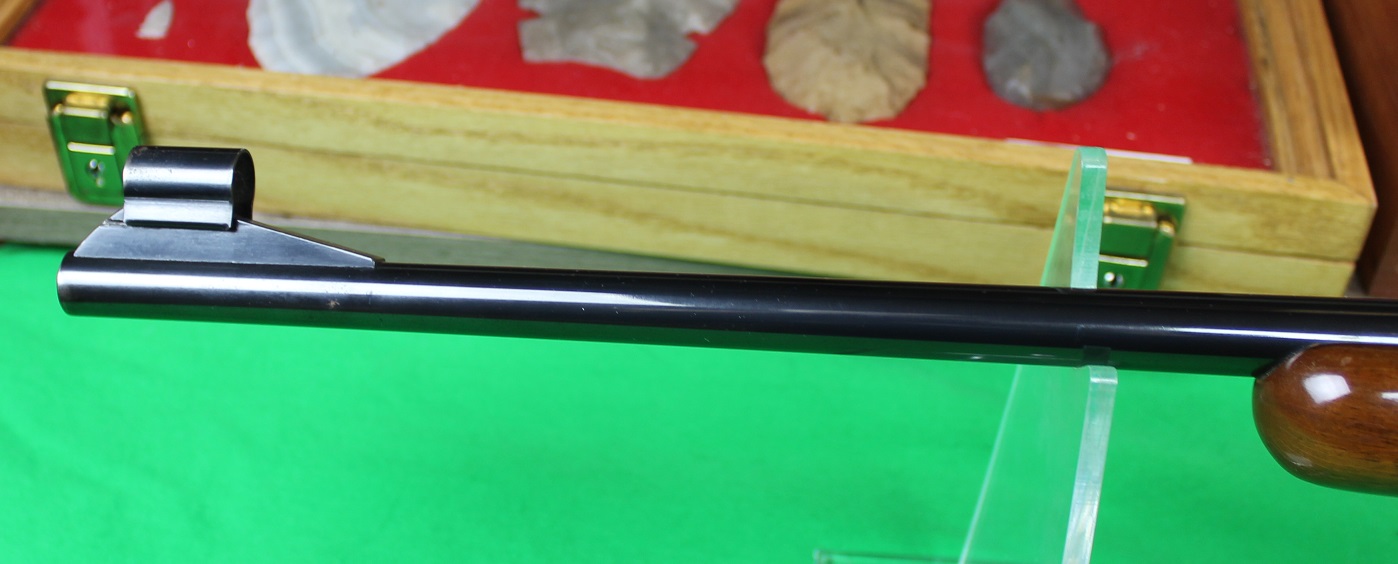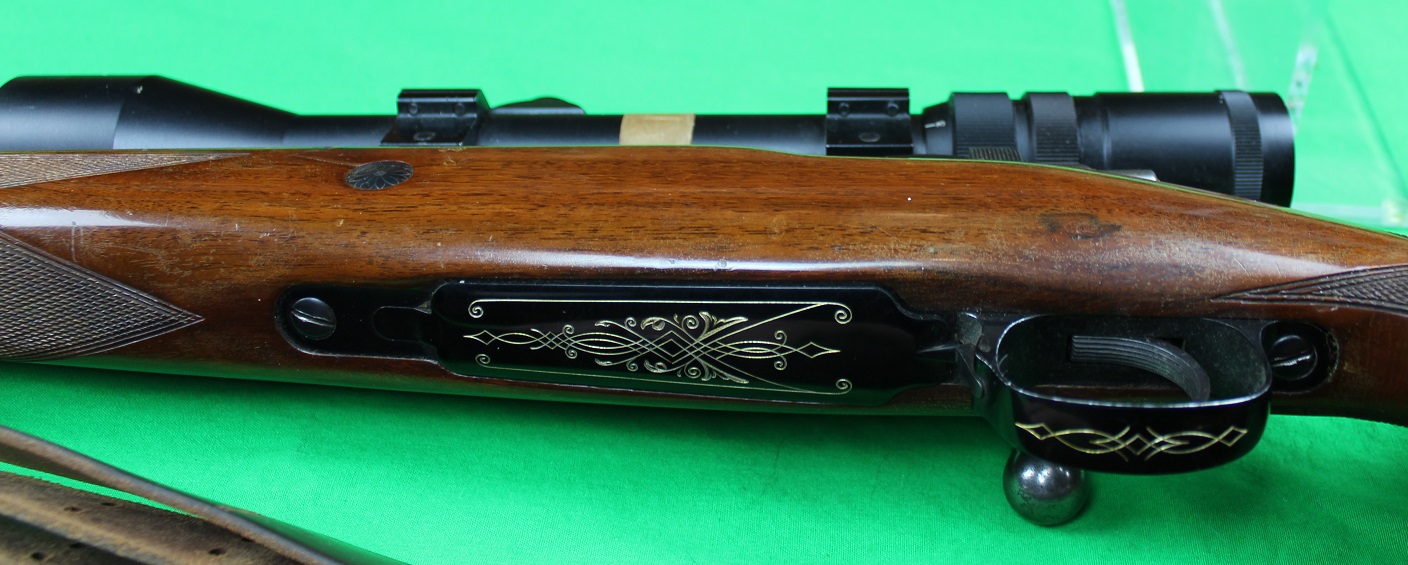 Modern arrivals 20
Here we have another Belgium Browning but in .338 Winchester Magnum. This one also has the serial number series in 2L 165XX and is also a Medallion grade rifle with scroll engraving on the trigger guard and magazine door. It's very pretty. This one has less dings on the monte carlo type stock and no crazing to the finish that I can see. It also has the sling, original rubber buttplate like the one above and also has a scope mounted on it. This scope is a Lyman 4X scope. See the pics. This is one beautiful firearm! 24 inch barrel to the receiver. According to research and the serial number of 2L 165XX this rifle was made in 1969 being a F.N. Mauser Action. This is a quality piece. $2,695.00
Modern arrivals 19
Here we have a Belgium Browning Semi-Automatic rifle in .270 only. 1968 Browning Catalog Cover. This is the issue introducing the sporting version of the new Browning BAR designed by Bruce Browning, the son of Val Browning. The BAR Sporting Version -- Interesting Facts. The Browning BAR sporting version is certainly a distinct and separate rifle from the military BAR M1918, but its design is the result of Browning's unmatched understanding and expertise with automatic rifles that started with John M. Browning. His grandson, Bruce Browning, was the driving force behind today's BAR. A large team of automatic firearms experts at the FN factory in Belgium also played a key role in its development. This group of FN automatic rifle designers, lead by Marcel Olinger, began serious work on the project code named "Carbine 66," with full-scale development and testing done throughout 1966 in preparation for an official 1967 product launch. The original prototypes had the distinctive scalloped receiver, which all early BARs had. The trigger group assembly was reliable, but complex. The design required the disassembly of the buttstock from the receiver to remove the trigger group. BARs at that time came with your choice of a right or left handed safety, but they were not reversible. All calibers were built on a long action length receiver.
This particular Vintage firearm is the exact type showing on that Browning Catalog Cover from 1968 with the scroll work and the Pronghorn Antelope on the receiver. There is also scroll work on the magazine door and on the trigger guard. This firearm is the FN produced firearm and not the ones assembled in Portugal. This one is serial numbered 924XXM69 meaning that it was produced in 1969. The firearm is in excellent condition with very light wear to it. It's been used but not abused. The 22 inch barrel but otherwise fine and the bore is excellent. The walnut wood is in very good condition and it has the original hard Browning butt plate present. There are a couple of very minor dings in the wood. The rear sight is a folding sight. I believe this firearm to be a Grade 2 Deluxe version that was made from 1967-1974. The receiver has been factory drilled and tapped but no scope was ever mounted to it. This firearm has the original Quick Draw sling on it that was placed on it when it was new. Nice Nice excellent firearm!!! $995.00
Modern arrivals 18
This last firearm here that came in with the 4 is a Charles Daly Superior II O/U shotgun made in Italy!! This firearm was distributed by Outdoor Sports of Dayton Ohio and made before 1988 I have been told. It is a, 12 Gauge with 26" vent-rib blue steel barrels, 2 3/4" chambers, fixed full & modified chokes, front barrel brass bead sights with a beautiful engraved antique silver finish on receiver, blue steel triggerguard, single selective gold plated trigger, selector on tang safety, beautiful checkered walnut stock and forend with glossy finish, 14" length of pull/ The bores are mirror finish. There are a couple of very minor spots on one area of the barrel that is shown in the pics. Obviously this firearm has not seen much use! Nice! Nice firearm! $895.00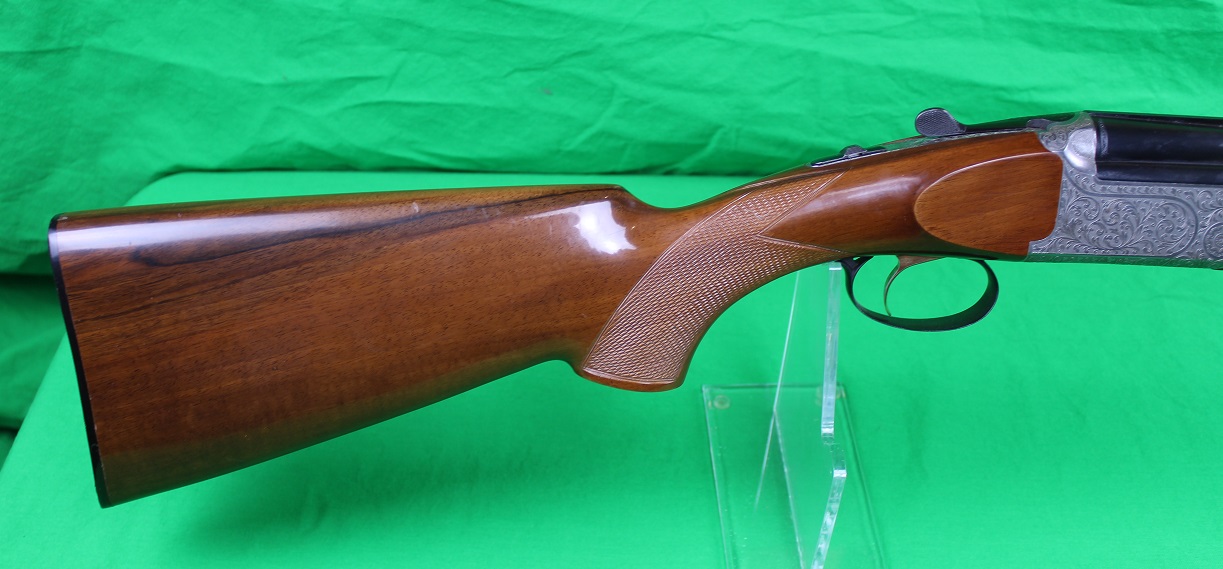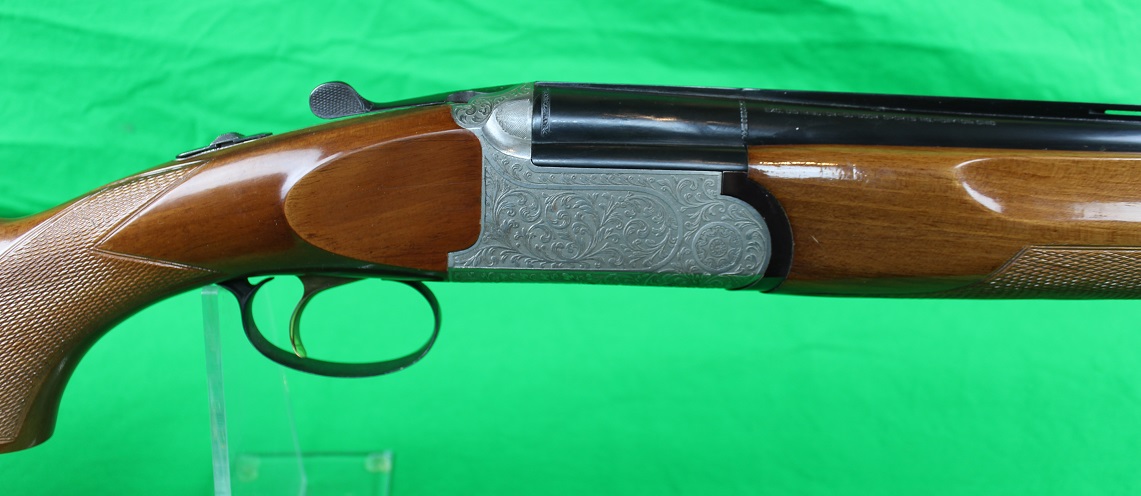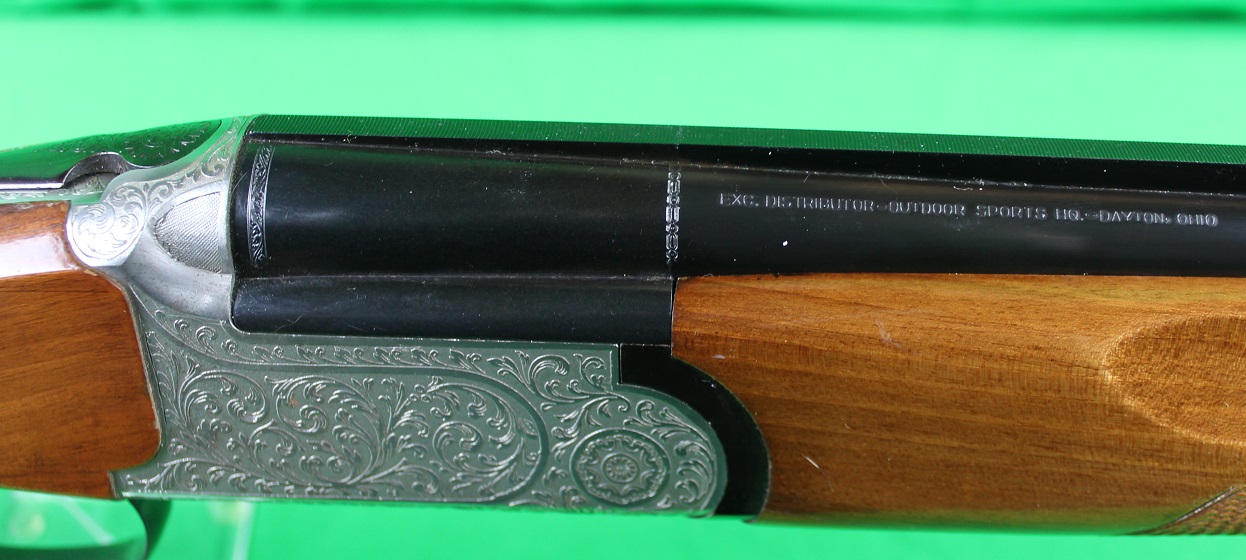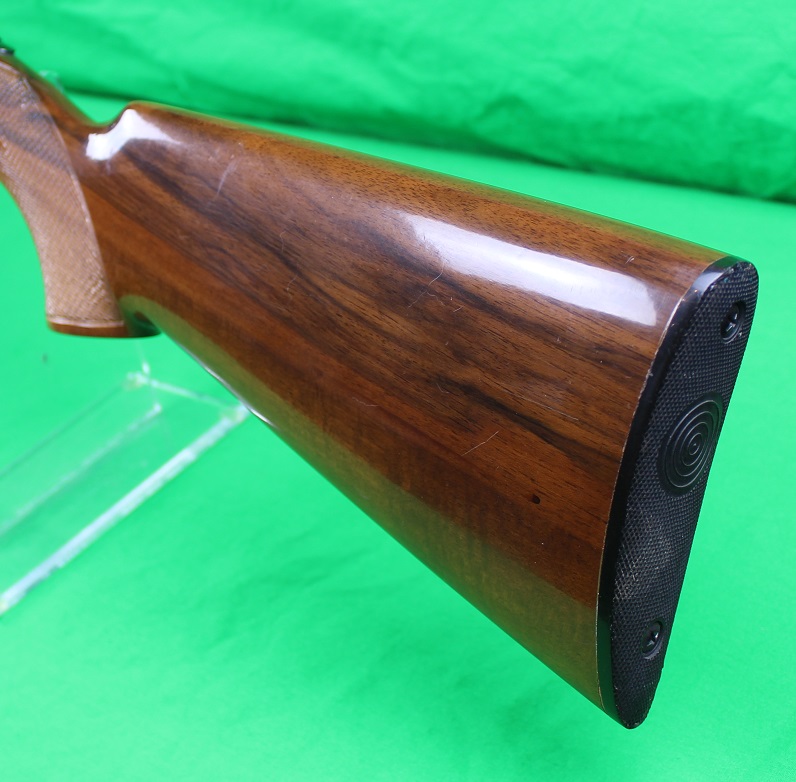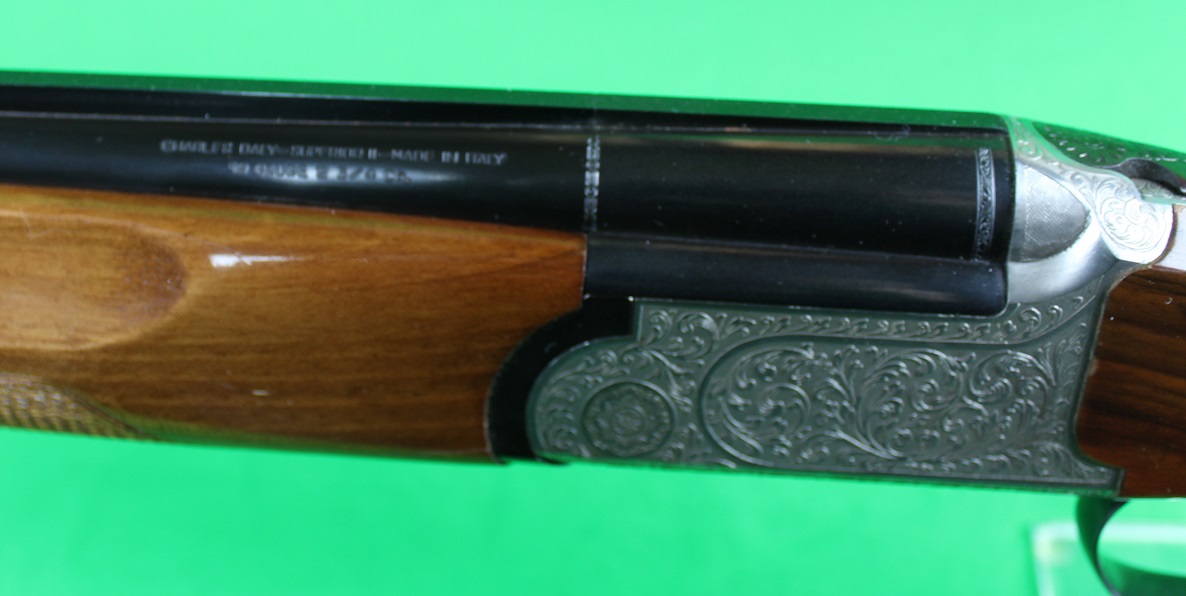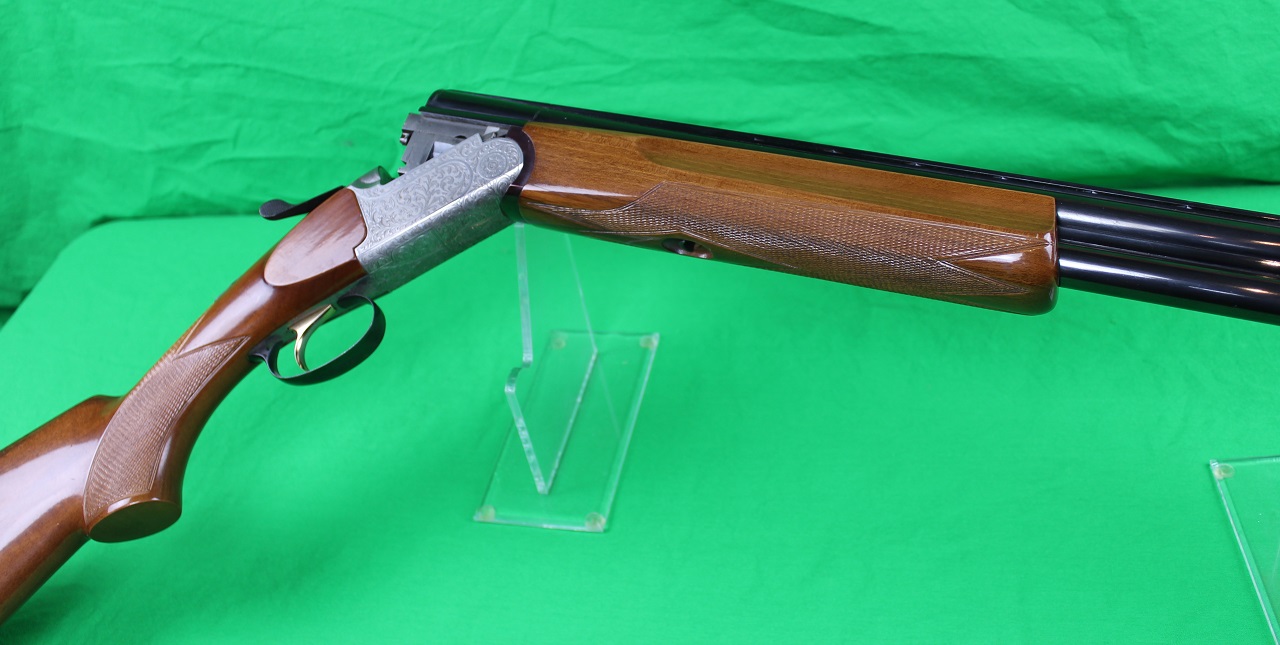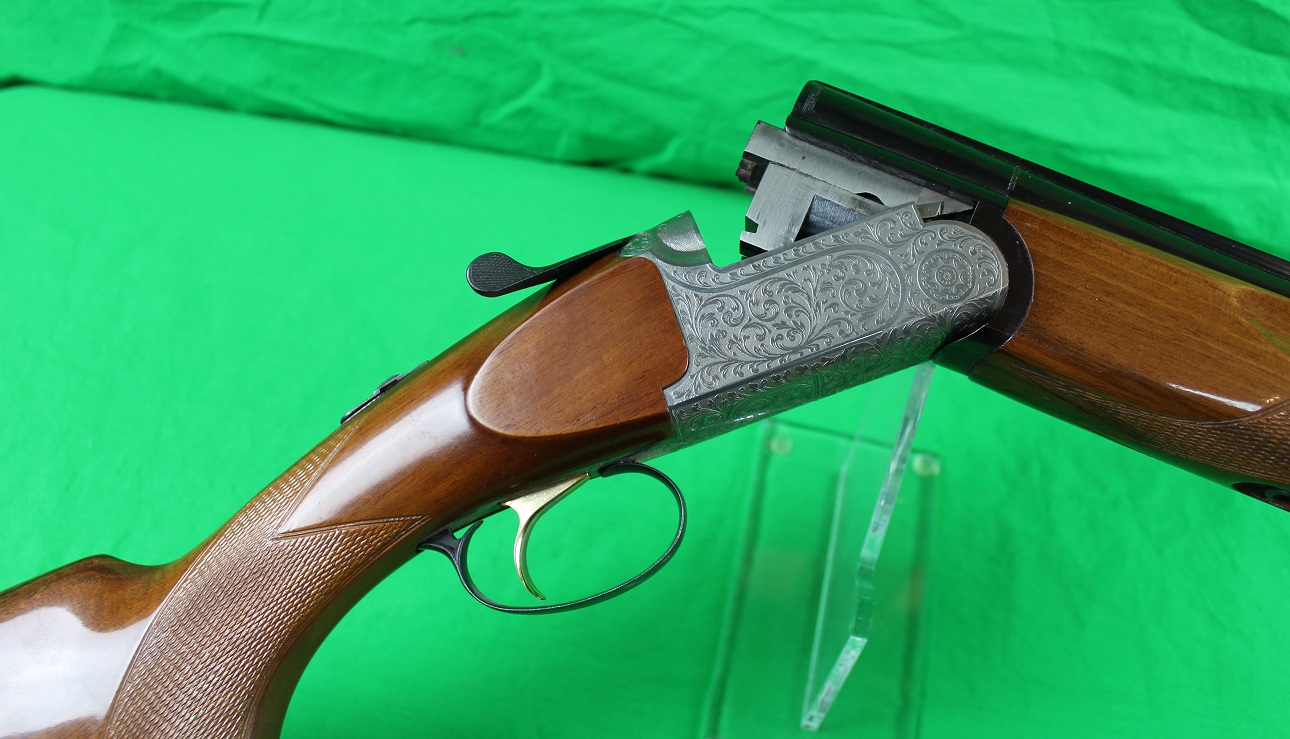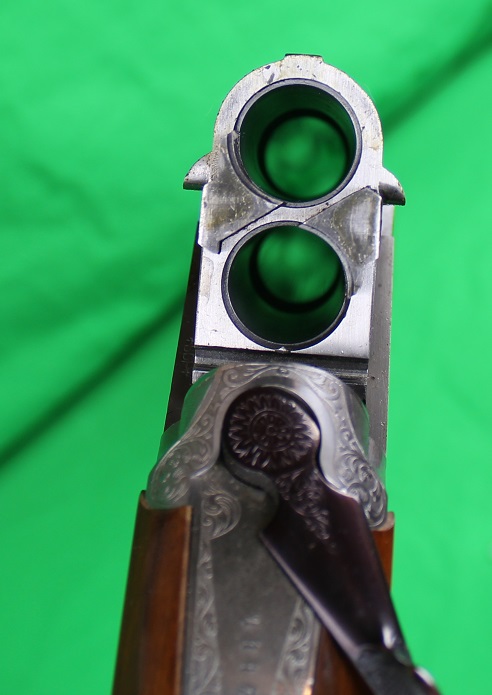 Modern arrivals 17
SOLD
Here we have a new condition Hi-Point extended 9mm magazine. This is an After market fifteen (15) round magazine for the Hi-Point 9mm carbine. For this piece $24.00
Modern arrivals 16
We just got in a small quantity of AR-15 Magazines in 30 round capacity. We have Magpul 30 AR/M4 GEN M2 rifle magazines in 5.56X45 NATO/ .223 REMINGTON . These magazines are compatible with AR15, M16 and M4. Polymer made in the USA. These mags are new in the bags and are $14 each. Also we have all metal 30 round magazines in Aluminum made by D&H Tactical out of Wisconsin. Each $11.00
Buy American!!!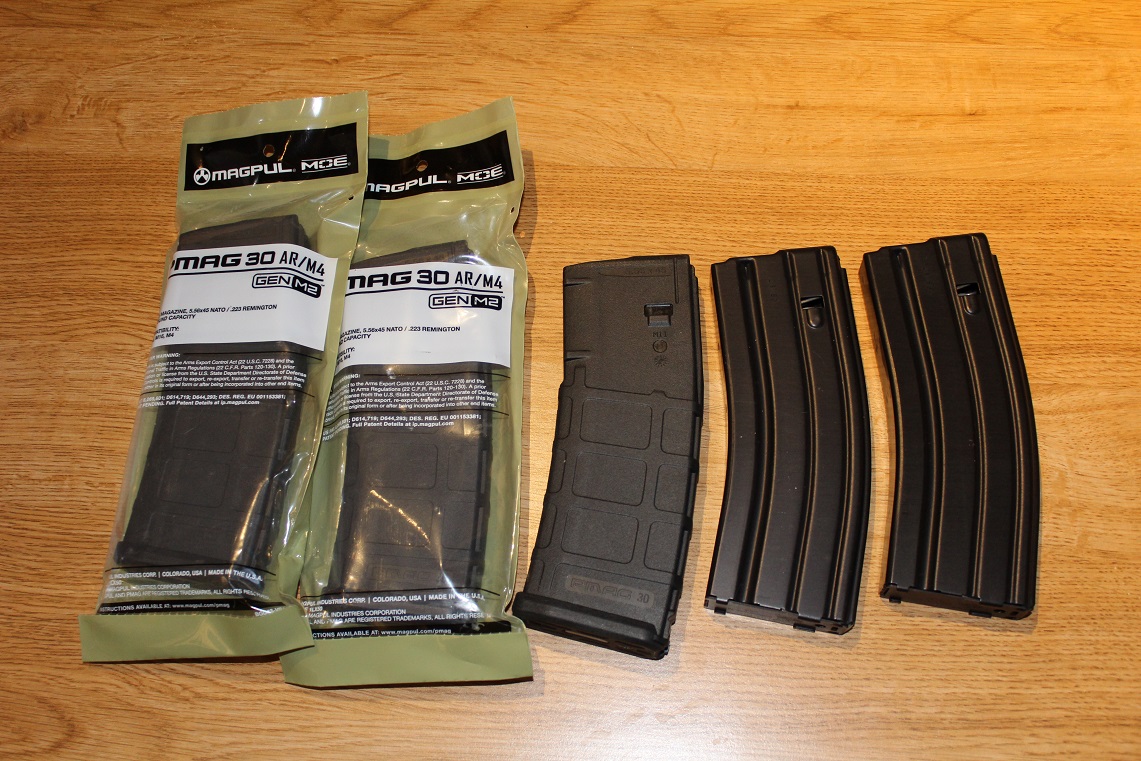 Modern arrivals 15
Here we have a brand new in the box, Smith & Wesson M&P 45 Shield!
Smith & Wesson M&P .45 ACP Shield. 3.3" BBL No Thumb Safety
Smith & Wesson's new M&P SHIELD™ is a slim, concealable, lightweight, striker-fired polymer pistol. The new M&P SHIELD features a slim design combined with the proven and trusted features found in the M&P Pistol Series. From the pistol's easily concealed one-inch profile to its optimized 18-degree grip angle, the M&P SHIELD offers professional-grade features that provide consumers with simple operation and reliable performance.
Smith & Wesson is going to make a lot of people happy with the announcement of new M&P Shield concealed carry pistols without manual safeties. The original Shield pistols have thumb safeties on the side. A small but welcome change, as many people who choose to carry a concealed handgun believe that there shouldn't be extra steps between drawing and shooting a gun. Manual safeties add a layer of security but also add an extra step when seconds matter most. Smith & Wesson heeded the call and is now delivering a "No Safety" version of the Shield. These polymer-framed striker-fired single-stack subcompacts have quickly become some of America's favorite concealed-carry pistols with their solid capacity, low recoil and compact package. Everything else remains the same, so people will be able to use the same magazines, night sights and aftermarket accessories like holsters and laser sights. The "No Safety" Shields have the same 18-degree grip angle, the same oversized trigger guard for use with gloves, the same low-profile takedown lever and low-profile slide stop. The only change is that these new Shields don't have thumb safeties.
The reality of protection is that you never know when you'll need it. We took the power and features of our full sized M&P pistols and put them into a slim, lightweight pistol the size of your hand. The M&P Shield is an easy to conceal pistol that offers professional grade features with simple operation and reliable performance day or night. One million Shield owners can't be wrong.
Features • New aggressive grip texture for M&P®45 SHIELD™ • Front cocking serrations • Incorporates the design features of the M&P Shield line of firearms • Extremely thin and lightweight - can be comfortably carried all day • 18 degree grip angle for natural point of aim • Striker-fired for short consistent trigger pull, every time • Backed by Smith & Wesson's Lifetime Service Policy • Armornite® Durable Corrosion Resistant Finish
Comes with two 6 +1 magazines and a finger extension on one of them for those 'bigger' hands!
This is a brand new, never fired handgun in the original box. This handgun retails for $479.00 but our price of $405.00 makes it great quality at an affordable price!!! Check out the pics!
Modern arrivals 14
Consignment SOLD!!!
Here we have a vintage STERLING Model 302 semi auto pistol in .22 LR caliber.Made by Sterling Arms of Lockport,NY Comes with a Blue finish, 2-1/4" barrel and 6 round magazine. Bore is excellent.95% + overall condition. Almost looks new! Made from 1967 to 1984. Sterling appears to have been created just before the Gun Control Act of 1968 devastated two aspects of the firearms industry: importation of firearms and purchasing firearms through mail order. The market for US-made inexpensive handguns was wide open. The company started in 1967 in Buffalo, but some time around 1968 moved to nearby Lockport, NY. The first Sterling pistol that we know of is the Model 285, a High Standard knockoff. There were alot of these made but you don't find too many in this condition! Operates flawlessly!!! For this piece $165.00
Modern arrivals 13
Here we have a new in the box SnapSafe Modular Vault for storing handguns and other valuables. This box is easy to operate key lock and has a 1500 lb test steel security cable to secure the box to a stationary item. This box is great for providing secure storage at home, on a nightstand, in the car or when traveling. 9 1/2 x 6 1/2 x 1 3/4. Inexpensive basic security for $22.00 Keeps your handguns away from the kids!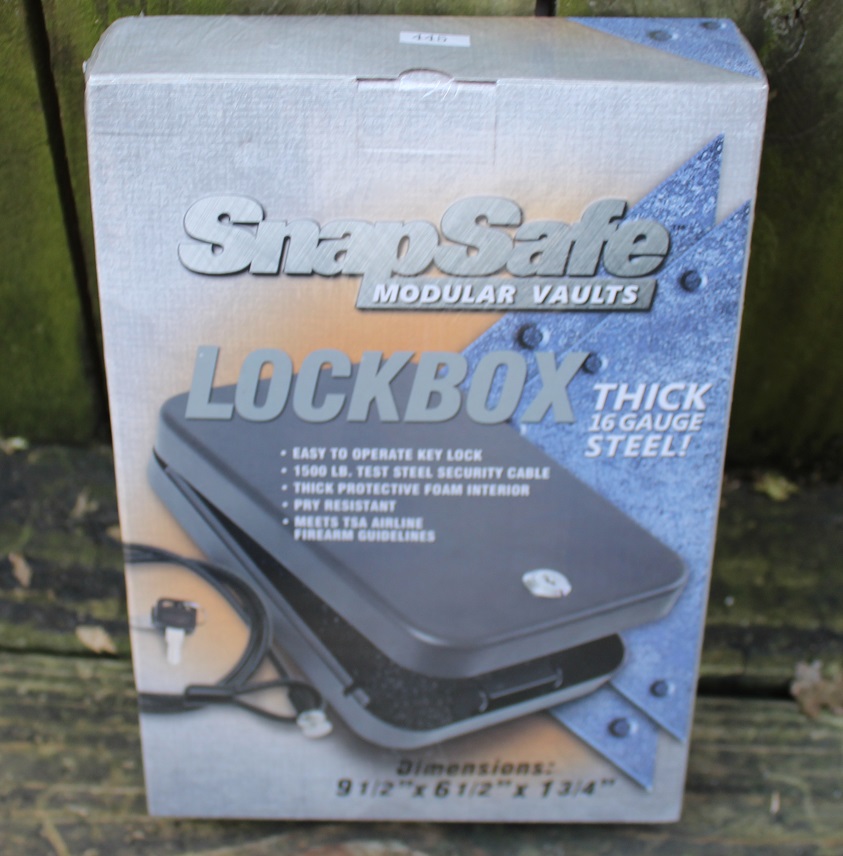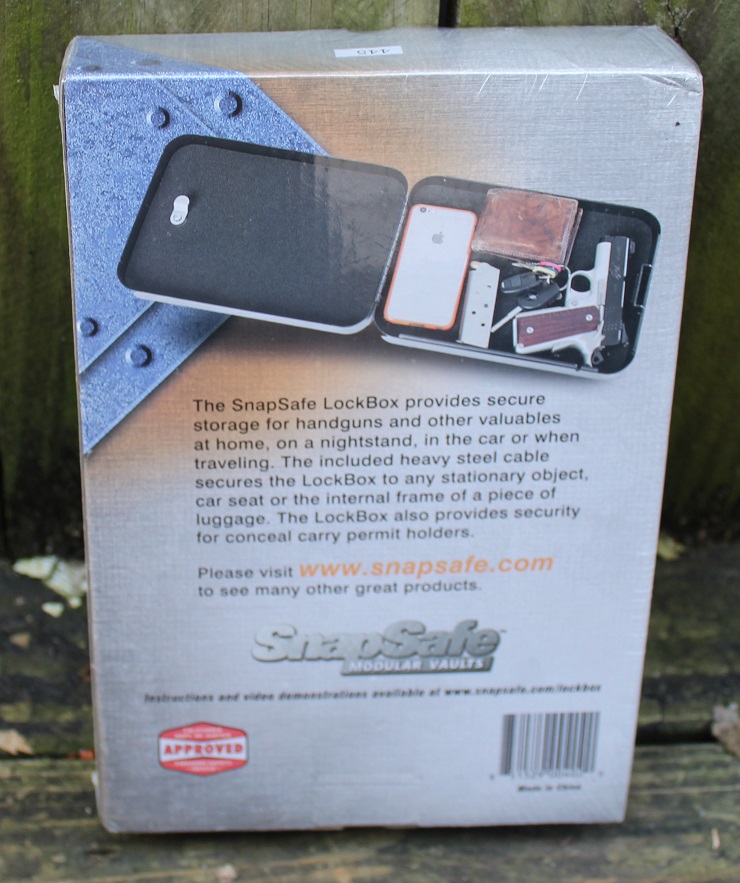 New Arrivals 541
Here we have, in a hard case, a brand new Dickinson Security Shotgun! This is the COMMANDO by Dickinson Model XX3B, 12 gauge , Pump Shotgun
Dickinson builds Guns of Distinction in their state of the art Turkish Factory where they blend old world craftsmanship with advanced technology. CNC machines are used to manufacture the precision parts which skilled craftsmen fit and finish producing a true work of art! A Dickinson is a durable, reliable, heirloom quality shotgun that you will enjoy shooting at the range and in the field for years to come! The Commando XX3B pump shotgun is built with a lightweight design that provides strength and simplicity of operation. The barrel, fore-end and bolt are easily removed as a unit to facilitate cleaning. You will immediately notice the smoothness of function and form whether you're firing light 2-3/4" shells or heavy 3" shells. This XX3B features an 18.5" tactical home defense barrel with a fixed cylinder bore and a rifle style front sight for rapid target acquisition. Manufactured using only the finest materials available, this shotgun will provide years of trouble free operation enjoyment. With a Dickinson XX3B Commando you will experience a deluxe quality shotgun at a price you can afford! Specifications and Features: Dickinson Commando XX3B XX3B-2 Pump Action Shotgun 12 Gauge 18.5" Barrel with Rifle Front Sight Fixed Cylinder Bore 3" Chamber 4 Rounds Polymer Synthetic Stock Blued Finish Weight 6 Pounds
When a home intruder hears the sound of you loading one in the chamber he will just right out of the window!!! That is a frightening sound! Great home defense Shotgun at a reasonable price! $199.00 Check out the pics below!
Modern arrivals 11 and 12
Here we have a couple of new North American Arms small single action revolvers. Here is some history on the company:
North American Arms History North American Arms is a United States firearms manufacturing company that specializes in pocket pistols and mini revolvers. Sandy Chisholm bought North American Arms in 1991 and has driven the company to become more successful since then. The small semi-automatic pistols and mini revolvers made by North American Arms are easy-to-carry, which is one of the reasons why these guns are perfect for everyday self-defense, concealed carry, and undercover law enforcement work. Besides the obvious practicality of North American Arms' petite guns, many buyers and collectors enjoy the novelty of the more vintage-looking designs complete with bluing or gold plating and mother of pearl handles. Some North American Arms mini revolvers are even able to fold into their own grips, making them safe to carry on a belt clip or in a gun holster. North American Arms' mini revolvers are made in .22 Short, .22 Long Rifle and .22 Winchester Magnum Rimfire caliber as well as in .22 Black powder cap and ball. Semi-automatic pistols made by North American Arms are chambered for .25 NAA, .32 ACP, .32 NAA and .380 ACP. Together this range of guns offers buyers the perfect size, weight, and firepower for them.
1. This first North American Arms mini revolver is the sidewinder. It's cylinder swings out for loading making it easier to load and unload. This particular little revolver is in .22 Magnum. The grips are perfect as is the entire stainless steel revolver. Comes in it's own little case with padlock. For tis piece $350.00
2. Here's the 2nd North American Arms mini revolver. It's also in new condition and comes in it's own metal lock box. This little six shot is single action and fires .22 shorts. It's a well made little stainless revolver with hardwood grips and is extremely easy to conceal. This is not a sidewinder so the cylinder has to come out to load but it's easy to do. Nice!!! $285.00
Modern arrivals 10 SOLD!!!
Here we have a vintage Smith & Wesson Model 10-5 in box that is like new! It' has only been fired 6 times and has just the faintest of turning marks on the cylinder! The Model 10-5 began production in 1962. This is a tapered barrel model. The serial number on this one is C8688XX. The barrel length is 5 inches and the 6 shot revolver uses the .38 S&W Special 100% of the bluing is present and all the case color on the hammer and trigger. The markings have absolutely no wear. The spots you may see in the pics are dust in the protective oil on the piece. The walnut grips are in excellent plus condition! This revolver comes in the original box with the price tag on it of $72.50! Ha Ha Ha! It can't be bought for that today!!! If you want a quality investment then this is it! You may be able to find a model 10 cheaper but you won't find one better! I never find this quality any longer! $675.00
Modern arrivals 9
SOLD
Here we have a very nice COLT GOLD GUP NATIONAL MATCH MARK IV/SERIES '70 .45 caliber pistol in box. The National Match M1911 Pistols are hand fitted and tuned for the National Match competitions which began at Caldwell, NJ and became the Camp Perry match. Among their numbers are some of the most beautiful and accurate pistols ever built. There are two kinds: the "National Match" pistols which were built by government armorers for the Army Marksmanship Unit for the Camp Perry competition, and the Colt National Match pistols which were produced by Colt for the retail market. In 1957 Colt began to produce "Gold Cup National Match" pistols which they produced until 1970. There was then a "Series 70 Gold Cup National Match, produced between 1970 and 1983. This particular pistol is one that was produced during that time. The Hartford, Connecticut-based works of Mr. Samuel Colt is synonymous with some of the best, not to mention the most classic, of all 1911 model pistols. Perhaps the pinnacles of their efforts were the Gold Cup National Match MKIV 70 series of handguns.
The Gold Cup
When introduced in 1970 (hence the term '70-series), the National Match MKIV Gold Cup pistol was the ultimate in .45ACP target pistols. After much feedback from the shooting community, Colt constructed this gun to be as complete as possible right out of the box. Remember, back then, there wasn't fifty companies making IDPA/IPSC race guns made to order. Competitive shooting itself with large caliber military-grade pistols was in its infancy compared to what we know today. The gun had many features unheard of in a factory pistol. This included an adjustable trigger stop that limited finger movement so that the aim wasn't skewed, grooves on the front of the receiver grip and wide super smooth, tuned trigger, and a special barrel and bushing (more on that later). The slide had a flared ejection port and a flat grooved top rib as well as angled (not strait as in GI 1911) rear serrations. The bluing on these guns is very deep and reflective, which was very different from military Parkerization. The thin beavertail on these guns is very different from comp 1911s today but was still handy and workable. Colt shipped these with an Accurizer barrel and bushing. This is what set the whole series apart from what came before it. Series 70 guns are a unique evolutionary development in the saga of the 1911. They are different from every Colt .45 that came before it. While looking at it, everything looks the same on the outside; the insides are a little different. These guns had an altered barrel bushing that had a 'collet' bushing with a series of rings to keep contact with the barrel. This made the gun more accurate and alleviated the change to the gun's firing pin safety block (or lack thereof). Some of the best production guns on the market and could be considered one of the first practical/tactical pistols that came direct from the factory.
This particular pistol is in very good condition rating about 85% as it was used but not alot and the bore is excellent! There are a couple of minor spots from being left in the styrofoam insert in the box but not too bad at all. The action works well and it feels good in the hand. The pistol has the original wooden grips with it but has the after market Bianchi grips on it now. Also comes with the Owners manual and the two tools and the original box that is serial numbered to the pistol. A wonderful .45 Caliber Pistol!!! This is a very nice piece! Check out the pics!!! $1195.00
Modern arrivals 8 SOLD!!!
Here we have a vintage Smith & Wesson topbreak revolver in .38 caliber . This is the double action 4th Model and approximately 326,300 were manufactured between1895-1909 with the serial number range being between 322,701 through 539,000. The serial number on this one is 3405xx indicating that this one was made before 1898 so thusly, is an antique except in California where the rules are crazy. This one works perfectly and still has a lot of original blue to it, probably 50% or so and the rest is a nice dark patinal. The markings are all clear and crisp and the original hard rubber grips are in excellent unbroken or uncracked condition with the S&W monogram on them. The S&W monogram is also stamped into the frame as it should be. The 3 1/4 inch barrel has an excellent bore! All in all for this year this is a very good plus condition example of an early Smith and Wesson topbreak. For this piece $395.00
Modern arrivals 7 SOLD!!!
Here we have a nice Savage Model 1917 Pistol! This is essentially a Savage Model 1907 which is a semi-automatic pocket pistol produced by the Savage Arms Company of Utica, New York. This pistol is in .32 ACP. Although smaller in size, it is derived from the .45 semi-automatic pistol Savage submitted to the 1906-1911 US Army trials to choose a new semi-automatic sidearm. After several years of testing the Savage pistol was one of two finalists but ultimately lost to the Colt entry, which became famous as the Colt Model 1911. 181 of these .45 ACP pistols were returned to Savage after the testing and sold on the civilian market. The Model 1907 is often erroneously called a Model 1905 because of the date Nov. 21, 1905 date stamped into the top of the slide on all Savage semi-automatic pistols. This is the date Elbert Searle was awarded one of his firearm patents, which were the design basis for all the Savage semi-automatic pistols. Advertised with the slogan "Ten shots quick!", the Model 1907 was very popular because, despite its small size, it had a 10-round double-stack magazine. The advertising included a number of early celebrity endorsers, including William "Buffalo Bill" Cody, Bat Masterson, and the Pinkerton Agency. Teddy Roosevelt was even presented with a Model 1907. Much of the advertising in the popular press played on the ability of an otherwise defenseless woman to use the Savage to subdue burglars and "tramps." A safety lever is located on the left side of the pistol, at the upper rear of the grip. Though it appears to have an external hammer, it is actually a striker-fired gun; the "hammer" is actually a cocking lever. Model 1907s made from 1913 until 1917 had a collared barrel and a loaded chamber indicator, allowing the shooter to tell by touching the shell ejection port whether a cartridge was chambered. The Model 1907 uses no screws (even the grips snap into place) and is simple to strip. The grips were made from gutta-percha, though some early production examples had metal grips. In 1912 the Model 1907 underwent a major design revision modifying almost every major component. As with most semi-automatics, the pistol is readied for firing by pulling back and releasing the slide, which inserts a cartridge into the chamber and cocks the pistol. The recoil from firing a cartridge automatically extracts and ejects the empty shell, cocks the firing pin and loads another cartridge into the chamber, ready for firing. The Model 1917 is mechanically the same as and shares almost all of its parts with the final version of the Model 1907 (including a smaller, thinner cocking lever "hammer"), but with a significantly larger handle. Because this required larger grips, the Model 1917 uses one screw through each grip to hold them to the pistol frame as does this pistol. These grips are also hard rubber and one has a small chip on the bottom that is shown in one of the pics. This paricular fiream was manufactured from 1917 to 1928. This pistol is in very nice condition overall probably being polished out at one time as the finish is better than the worn rubber grips. I do not believe that this is a refinish. The action works well and everything appears to be as it should be. Overall I would rate it as very good. For this piece $375.00
Modern arrivals 6 Consignment
Here we have 4 magazines for pistols. They are:
1. 8 round .25 caliber Beretta Magazine for $20.00
2. FN 6 round .25 caliber Auto Factory original Magazine for a Baby Browning pistol for $50.00
3. Walther PPK .380 7 round magazine for $35.00
4. Walther PPK .380 7 round magazine for $35.00
Modern arrivals 5
SOLD!!!
Here is a real nice IMPORT Mauser Model 1914. The Model 1914 is a very similar to the Model 1910 but the caliber is 7.65 caliber (.32 ACP). Also, the overall size of the gun is slightly larger than the small .25 cal 1910, mostly to accommodate it's larger caliber. The grips are not as straight backed as the 1910, they have a slight curvature to them. (not as much curvature as the model 1934). Grips can be black plastic ("Franzite"), hard rubber or checkered wood wrap around grip. This one has the checkered wood wrap around grip. It has a 3 inch barrel with excellent bore and an 8 round magazine and was made from 1914-1934.
This particular weapon was produced between the wars as it is marked GERMANY. The German guns were not marked GERMANY unless they were be sold commercially outside of the country. After WW1 ended and before WW2 started Mauser sold these pistols commercially around the world to keep the factory working as their economy was in shambles! Serial numbers from 40,000 to 180,00 will be seen with German military acceptance stamps. This one is well higher than that at 3405XX Nice pistol! $550.00 REDUCED BY THE OWNER TO $400.00 !!
Modern arrivals 4
SOLD
Here is a WW2 Smith and Wesson 38/200 British Service Revolver (S&W Caliber) - There were over 571,629 of these models produced between October 1941 and May 1945 for the British Common wealth countries. These countries include the Union of South Africa (21,347), Canada (45,328), and Australia (8,000). The remaining 384,100 shipped between 1941 and the end of World War II were supplied by the U.S. Army Ordnance through the lend lease program to Britain for distribution. This revolver is one made before making the Victory Models with the prefix 'V' before the serial number. The 'V' Prefix was used early in 1942 starting with V-1 and ending in August 1945 with VX811119. This revolver had a new cylinder that was rechambered after WW1 from 5 rounds originally to 6 rounds. Also, this revolver has the checkered walnut grips with the silver S&W medallion that was used until January 1942 after which only smooth walnut grips were made. This revolver is marked Smith and Wesson on the reverse side of the barrel and 38 S&W CTG on the obverse side of the barrel. The frame is marked MADE IN U.S.A. and the side cover has the Smith and Wesson logo on it. That side cover is a dull finish while the rest of the revolver is a higher gloss black finish. I don't believe that this revolver was used much as the bore is in excellent condition and most of the original finish is on this piece. The action works fine and there's a lot of case color on the trigger and the hammer. The original lanyard ring is present as well. There are proof marks on this revolver but the most interesting is where the original English markings of the Crown and Broad Arrow have been overstamped the Austrian Police designation. This .38/200 British Service Model Revolver "Lend Lease" pistol remained in service after the end of the war and was issued by the Allied Occupation Forces (USFA) to the Austrian Police. Interesting history! This is a fine condition pistol of mixed heritage! For this piece $850.00 REDUCED BY THE OWNER TO $550.00
Modern arrivals 3
We just got in 2 Winchester Carbines that were made in the first half of the 20th century.
First one!
405
REDUCED!!! Sold!!!
This Winchester 94 is also in 30 W.C.F. (30-30) and is in pretty nice condition! This carbine was made sometime from 1943 to 1948 because no records exist from that time! This one has had a rubber pad put on the butt stock and has had a leather sling added. This one retains most of the original bluing and the wood is in good condition as well. Action is great and the bore is great as well! This is a really pretty one. It's not perfect but it's pretty! All original except the butt pad and you can tell that it's been there for ever! $750.00 REDUCED BY THE OWNER TO $525.00 !!!
Modern arrivals 2
SOLD!!
Here is the second '94 Winchester and it's in pretty good condition as well. There are a couple of spots of corrosion on the receiver that probably happened while being used outside and getting a couple of spots of rust. Heck, cowboys carried these in the rain, dust storms, drought and whatever so it's not unusual to have some finish problems, otherwise most bluing is still here. This carbine is in 32 W.S and the bore is also sweet on this one. This carbine functions as it should and will be a great shooter for you. The markings are clear and sharp and 'PROOF STEEL' is also on the barrel of this one. This carbine was made in 1949. The stocks are in great condition with a ding here and there but no breaks or cracks that I can see. This one has had a nylon strap and plastic swivels put on it at some point but I believe this to have been put on after 1969 as I don't think that this kind of nylon strap or plastic swivels were available then. We're not really sure when that happened. Also there is a rubber butt pad on this one as well. For this nice carbine $795.00 REDUCED BY THE OWNER TO $525.00 !!!
Anything you like? E-mail me here
Back to mainpage