NOTICE!!!
We will be listing several firearms that we have received from estate. Most of the firearms are in excellent to nearly unused condition. This gentleman's hobby took him to many training sessions and he loved to improve, or upgrade if you would, his firearms with new barrels, stocks, grips, internal parts and so forth. We have several firearms so it will take a while so check back often! We also will be listing a TON of new ammo as well as holsters and accessories! It'll be worth the wait!
1. This first one is an excellent COLT DIAMONDBACK Revolver in .38 Special Ctg and so marked on the barrel. It's a six shot revolver with a 4 inch barrel. The bore is excellent and there are very minor turings on the cyliinder from light use. The grips are fantastic custom hardwood grips! The owner applied a little paint to the top of the front sight for contrast. The rear sight is adjustible. This revolver locks up tight and functions flawlessly! This beautiful Vintage Revolver was made in 1967. For this fine piece $2200.00
2. This second revolver is an excellent example of a Smith & Wesson Model 19.4 in nickel finish. This model was made from 1977 to 1982 I believe. The S&W Model 19 is a revolver produced by Smith & Wesson on its K-frame. The Model 19 is chambered for.357 Magnum. The K-frame is somewhat smaller and lighter than the original N-frame.357, usually known as the S&W Model 27. This particular firearm is in excellent condition and has Craig Spegel Custon Wood grips that were put on in 2007 being signed and dated by Craig on the inside of the grips. The firearm functions excellent and locks up tight! The finish is excellent with only the turnings on the cylinder showing that this firearm has been used. You can see the hammer and trigger have been brushed. The barrel on this 6 shot .357 revolver is 4 inches long with excellent bore!!! This is a very nice revolver that saw little use! $550.00
Consignment
Modern Arrivals 74
ON HOLD
Here we have a Harrington and Richardson M1 Garand that was produced in February of 1954. This one is a Civilian Marksmanship Program rifle and we just obtained it from an estate. It's in excellent condition being a Correct Grade rifle which is just below the top grade. I believe there's about 6 different grades. In the past several years, the M1 Garand, regardless of condition, has become a very hot collectors' item and sound financial investment. The popularity of the M1 Garand continues to grow as hundreds of new Garand "Fun" Matches are being held all across the USA each year. Over the past 65 years, most M1 rifles have been arsenal rebuilt, refinished, rebarreled or repaired at least once and often several times. Most will show signs of service (often considerable) and replacement of various parts. They are seldom encountered with all original parts and original finish as delivered from the manufacturer. Such "original" rifles, even in well-used condition, are highly prized by collectors Each M1 Garand rifle sold by CMP is an authentic U.S. Government rifle that has been inspected, headspaced, repaired if necessary and test fired for function. Each rifle is shipped with safety manual, one eight-round clip and chamber safety flag. Orders are filled on a first-come first serve basis. Rifles of all grades are packed for shipment purely by "luck of the draw". Rifles do not have import marks. Here's what the CMP website has to say about the Correct Grade Rifles:
CORRECT GRADE: (Very Good to Excellent) Correct Grade Rifles are similar to the Service Grade (above), but will show less wear and use. Correct Grade rifles will have all correct parts for the date of manufacture with 80% or better overall original metal finish. The stock and handguards will be of walnut and correct for the rifle but will have some dings, dents, scratches and marring of the wood finish. Stocks will have the appropriate original inspector's cartouche. The rifle bore will be very good with no significant defects and with a throat erosion of less than 4 and a muzzle wear of 2 or less. Very good to excellent condition. This grade is rare and is only available occasionally in limited quantities. Because of the scarcity of these rifles, they will only be sold on the CMP auction site at cmpauction.thecmp.org.
This rifle comes with a sling, two 8 round M1 Garand clips and The Certificate of Authenticity from the original owner. No cleaning rods in the buttstock. The reverse stock has the CMP Eagle stamp in it. NICE!!! $1500 .00 SEE THE PICS!!!
Modern Arrivals 73
Here we have a nearly new Taurus Millennial G-2, 9mm pistol for sale. From Handguns Buyer's Guide Magazine
The 9mm Taurus Millennium G2 received considerable attention when it was introduced. As well it should, because Taurus incorporated a number of new features that enhance its tactical utility compared to the PT-111 Millennium Pro. While the Pro is a good defensive pistol at a reasonable price, the G2 is a thoroughly up-to-date personal defense handgun that delivers even better value. Upgrades are found throughout the Millennium G2. For example, the slide sports new fully adjustable, three-dot sights. The rear sight notch is wide enough to allow a decent amount of light on either side of the front sight blade. This helps the shooter bring the G2 quickly on target. Fast sight acquisition is aided by the fact that the dots naturally fall in line when the pistol is pointed. Some semi-autos point high, but the G2 is dead-on when it's raised to eye level. One other new feature on the slide is a loaded-chamber indicator that protrudes about 0.13 inches from the top of the slide when a round is in battery. It's a useful feature for operating in low light, because checking the chamber does not require the shooter to look at the slide to determine if the pistol is loaded. One simply keeps his or her eyes on the target and runs the support-hand thumb over the slide, just aft of the ejection port. Changes to the frame include an accessory rail for mounting a tactical light, laser or a combination unit. In recent years, the miniaturization of tactical lights and lasers has made it possible to operate in very low light while keeping both hands on the pistol. Handheld lights still have an important use for conducting searches and providing additional light for performing routine tasks. However, the use of powerful LED bulbs in small gun-mounted lights allows you to point a gun in a safe direction and still "bounce" sufficient illumination in a room to move through it safely. A rail-mounted light also often eliminates the need for night sights, as the rail light casts enough light on the target to clearly aim using iron sights. The frame also has new textured panels on the front, sides and rear of the grip. These provide a very positive hold regardless of whether the shooter's hands are wet or dry. Dished-out areas for both the weak- and strong-hand thumbs seem to be a bit more pronounced on the G2 than on the PT-111 Millennium Pro. These depressions allow the shooter to clamp down and provide maximum lateral pressure on the pistol. Both the texturing and the dished-out areas for the thumbs contribute significantly to getting a rock-solid grip on the G2, and this improves recoil control and facilitates accurate shot placement during fast double- and triple-taps. All things considered, the Millennium G2 has one of the most comfortable and user-friendly grips on today's handgun market. The final changes are in the fire control system. A safety lever has been added to the trigger face. Trigger safety levers have become very popular in recent years. They help prevent accidental discharges if a foreign object snags the trigger, and they also contribute to accurate shot placement by requiring the shooter to properly engage the trigger. In addition, the manual safety lever and slide catch have been enlarged to make them easier to operate. Shooters who carry the G2 with the safety engaged will appreciate the larger manual safety. Field-stripping the G2 is a little different than it is with other popular polymer-framed semi-autos. With the G2, there is no need to pull the trigger or decock the sear before removing the slide from the frame. One simply pulls back about 0.13 inches on the slide and then lowers the slide-lock lever tabs on each side of the frame. It takes a bit of practice to get your hands in the proper position for removing the slide, but once you learn the procedure, field-stripping becomes a relatively easy task. The final element of the bench examination involved measuring the trigger pull with an RCBS Military Trigger Scale. The Taurus manual describes the G2 as a pistol with a double-action/single-action (DA/SA) trigger pull. However, this isn't the typical DA/SA pull with which most are familiar. The action is best described as being striker-fired with a second-strike capability. Traditional DA/SA trigger pulls have a long, heavy DA pull for the first shot and a short, light pull for the second. With my test G2, the first pull is long and quite light at 5 pounds. The second is long and a bit heavier at 6 pounds. The trigger releases the striker just before the end of the trigger stroke, and trigger reset occurs just before the trigger reaches its forward-most position. Final Notes The Taurus Millennium G2 is a reasonably accurate 9mm personal-defense pistol that is reliable with a variety of modern hollow-point loads. It has an MSRP of only $349, yet it holds 13 rounds and has features that are usually only found on pistols costing hundreds of dollars more. The G2 clearly showed itself to be a well-thought-out upgrade of the Millennium Pro
Here are stats from Taurus:
Taurus Millennium G2 Semi-automatic 9mm Topnotch Taurus quality. With its lightweight 22-oz. frame, thin profile and ramped 3.2" barrel, the Taurus Millennium G2 is the ideal concealed carry handgun. This model features a Picatinny rail for adding tactical accessories, high-profile sights, textured grips, and melted edges for added comfort and easy concealment. Simply put, it's an excellent choice for comfortable concealed carry. • Loaded chamber indicator • Picatinny rail for adding tactical accessories • Manual and trigger safety • Taurus Security System makes your pistol inoperable at the turn of a key • Includes (2) 12-rd. magazines Act now! Key Specifications • Item Number: 647216 • Caliber: 9mm • Action: Semi-automatic (SA / DA) • Round capacity: 12+1 • Barrel length: 3.25" • Frame: Polymer • Grips: Polymer • Sights: Fixed front / Adjustable 2-dot rear • Overall length: 6.24" • Overall height: 5.1" • Overall width: 1.2" • Overall weight: 22 oz. • Mfg. Number: 1111031G212 • UPC: 725327610601
This particular firearm was purchased for the young lady that owned it as a present but was a triffle too large for her to conceal carry. I don't think it's too large for that purpose for most people but sometimes ladies need a slightly smaller pistol. This pistol retailed for $349 and she only fired a couple of mags throught it. It has little wear and has two magazines with it. No box but does have owners manual. For this fine pistol $250.00 Check out the pics!!!
Modern arrivals 72
Here we have a brand new in the box, Smith & Wesson M&P 45 Shield!
Smith & Wesson M&P .45 ACP Shield. 3.3" BBL No Thumb Safety
Smith & Wesson's new M&P SHIELD™ is a slim, concealable, lightweight, striker-fired polymer pistol. The new M&P SHIELD features a slim design combined with the proven and trusted features found in the M&P Pistol Series. From the pistol's easily concealed one-inch profile to its optimized 18-degree grip angle, the M&P SHIELD offers professional-grade features that provide consumers with simple operation and reliable performance.
Smith & Wesson is going to make a lot of people happy with the announcement of new M&P Shield concealed carry pistols without manual safeties. The original Shield pistols have thumb safeties on the side. A small but welcome change, as many people who choose to carry a concealed handgun believe that there shouldn't be extra steps between drawing and shooting a gun. Manual safeties add a layer of security but also add an extra step when seconds matter most. Smith & Wesson heeded the call and is now delivering a "No Safety" version of the Shield. These polymer-framed striker-fired single-stack subcompacts have quickly become some of America's favorite concealed-carry pistols with their solid capacity, low recoil and compact package. Everything else remains the same, so people will be able to use the same magazines, night sights and aftermarket accessories like holsters and laser sights. The "No Safety" Shields have the same 18-degree grip angle, the same oversized trigger guard for use with gloves, the same low-profile takedown lever and low-profile slide stop. The only change is that these new Shields don't have thumb safeties.
The reality of protection is that you never know when you'll need it. We took the power and features of our full sized M&P pistols and put them into a slim, lightweight pistol the size of your hand. The M&P Shield is an easy to conceal pistol that offers professional grade features with simple operation and reliable performance day or night. One million Shield owners can't be wrong.
Features • New aggressive grip texture for M&P®45 SHIELD™ • Front cocking serrations • Incorporates the design features of the M&P Shield line of firearms • Extremely thin and lightweight - can be comfortably carried all day • 18 degree grip angle for natural point of aim • Striker-fired for short consistent trigger pull, every time • Backed by Smith & Wesson's Lifetime Service Policy • Armornite® Durable Corrosion Resistant Finish
Comes with two 6 +1 magazines and a finger extension on one of them for those 'bigger' hands!
This is a brand new, never fired handgun in the original box. This handgun retails for $479.00 but our price of $345.00 makes it great quality at an affordable price!!! Check out the pics!
Consignment 71
Here's a copy of one of the first Remington Hammerless shotguns model 1900 which was made to 1910. This is a 12 ga double hamerless with safety and two triggers. The entire piece is over 48 inches long with 32 inch damascus barrels with the Remington Info stamped into the rib on top. I would not say that these old damascus barreled shotguns are safe to shoot. The bores are not all shot out but could use a scrubbing. Both sides of the lock is marked REMINGTON ARMS CO. There is some pitting on the locks but not active and it could use a good scrubbing. The action seems to work ok. You can see in the pics where the forearm attachment was re-braised in on the barrel. The walnut stocks are in good condition with the usual dings from use. This old shotgun would look great with a duck decoy display! This shotgun is old but will still need a C&R or FFL to transfer. Take a look at the pics! $425.00
Consignment 70
Here we have a vintage Smith and Wesson Model 28-2 revolver is very nice condition! My consignor was a Police Officer for years in the great NorthWest and this was his duty gun. Here is some info courtesy Wikipedia:
The Model 28, also known as the Highway Patrolman, traces its heritage back to the Smith & Wesson Registered Magnum. The Registered Magnum morphed into the 357 Magnum (first production model completed April 8, 1935) The 357 Magnum was temporarily discontinued in 1941 when S&W turned their focus to wartime production, but was reintroduced in December 1948 with the new series beginning at serial number S72000. The new 357 Magnum had been modernized to incorporate the rebound slide operated hammer block and the new short throw hammer. It was redesignated the Model 27 in 1953. Law enforcement agencies favored the Model 27, but its high-polish finish and labor-intensive topstrap checkering added expense with no added utility for a police carry gun. The Model 28 is unusual in that Smith & Wesson removed, rather than added, features to the Model 27 to create it, in order to reduce production costs with no reduction in utility. The Model 915 resulted from a similar idea, forty years later. A classic N frame revolver, the Highway Patrolman is blued, but it is not polished, saving labor costs. The top strap and frame rounds are bead blasted to achieve a matte appearance. In the late 1940s and the first part of the 1950s Smith & Wesson was the only American gun company manufacturing a .357 magnum revolver. Since this relatively deluxe model was the only revolver available for this cartridge at the time, police departments, as well as individual officers and private shooters, requested from Smith & Wesson a more strictly utilitarian "budget" .357 magnum revolver. S&W responded with the Highway Patrolman (later renamed the Model 28 in 1957). The manufacturing changes made for a more affordable revolver, though mechanically the Highway Patrolman is the same as the more ornate Model 27. The Model 28 was in production from 1954 through 1986. For most of its production run it was a steady seller with both police officers and civilian shooters.
This particular revolver was deluxe in nature with the gold finish in the logo and lettering. This particular weapon has custom walnut grips with the S&W logo on each side and some gold plated silver wire inlay on either side. This particular revolver also comes with a Hogue monogrip should you desire that. Also included with this revolver is the original box serial numbered to this revolver and the original papers including owners manual, registration card, etc. The revolver looks great and functions great with a great bore in the 6 inch barrel. This revolver has a fixed front sight with an adjustable rear sight. There is a tiny ding or two from use but still this piece rates excellent! Take a look at the pics! For this fine vintage revolver in box with papers $775.00
Consignment 69
SOLD!!!
Here we have a very nice Ruger Flattop .357/9mm New Super Blackhawk 6 shot convertible revolver.
Here is what Ruger says about it: "Classic Lines, Classic Feel, Modern Features. The Ruger® New Model Blackhawk® is the most advanced single-action revolver ever made. While retaining the solid frame, feel and comfortable grip of the classic single-actions, they feature Ruger's patented transfer bar ignition system with loading gate interlock, an all-coil spring mechanism, adjustable sights, and frame-mounted firing pin. New Model Blackhawk revolvers have earned a reputation as the best value on the market due to their durability and affordability. Convertible models come equipped with an extra cylinder and are popular with shooters who appreciate the classic single-action revolver but opt for the versatility of being able to use more than one caliber in their handgun. With its interchangeable cylinder, Convertible models can be easily converted from one caliber to another without the use of tools. This versatility allows avid shooters of autoloading pistols to enjoy shooting a classic American single-action sidearm with their favorite pistol cartridge."
This particular revolver has seen little use. It's complete with the .357 magnum cylinder installed but does come with an extra cylinder in 9mm. The revolver shows a trifle bit of turning on the cylinders but not much at all. The action works fine and the 4 ½ inch barrel shows a great bore! Take a look at the pics! For this piece (no box) $475.00
Consignment 68
Here we have a nice vintage 1962 Ruger semi-automatic pistol being the Standard model with the 'Black Eagle Grips: The black eagle is only on one side of the grips being the reverse side. There are two magazines and one is the early 'Red Eagle' logo medallion on the bottom of the mag. This is an early one and is in very nice condition with a great bore! There are the usual little dings and light scratches from use but really not bad at all. The action works great and it's a great little pistol for the beginner and 'old salt' alike. These were produced from 1952 to 1982 and has a 4 ½ inch barrel. This is a great piece and only $265.00 (no box) Check out the pics!
NOTE: We received the following info from a fellow collector: Hi Just for clarity 1) The shown "red eagle" bottomed mag is a much more modern Mark II styled Ruger mag NOT an early mag 2) These standard pistols like this one were made from 1949-1981
New Arrivals 67
Here is a Model 870 Remington Tactical Shotgun in 12 guage. The model 870 Tactical shotgun is an all black shotgun, departing from the tactical guns with the OD Green finish. This Knoxx Spec-Ops stock feature recoil diminishing features to tame the recoil of the most potent magnum and is a folding stock . Specifications: Action Pump Gauge 12 Barrel Length 18" Capacity 6 + 1 Chamber 3" Length Adjustable Weight 6 7/8 lbs Drop 1 1/2" @ Comb & 2 1/2" @ Heel Stock Adj. Synthetic Finish Black. This shotgun has never been shot being in excellent original condition and comes with the original owners manual. Excellent home defense firearm!!! $345.00
New Arrivals 66
SOLD!!!
Here is a Yugoslavian M57 TT Tokarev M-57 Pistol - 7.62x25 Caliber - Surplus Good Condition –I do not believe that it is C&R Eligible. Yugoslavian TTC Tokarev Semi-Auto Pistol Manufactured by Zastava Arms, Servia - 7.62x25 caliber - Excellent Surplus Condition! The original grips were taken off and a rubber COMBAT grip was put on. The original grips are included with this piece. There is also two magazines. The ammo is in the pic just to show you an example. The ammo is NOT included with the pistol but readily available on line. The finish is great on this piece and I don't believe it was ever fired. The bore is just fantastic. Action works fine. This pistol has the glock style pistol. The new rubber grips makes the firearm fit my bigger hands just fine. It's a pleasure to hold. Check out the pics! For this fine pistol $265.00
Consignment 64 & 65
Here we have a few "Cracker Barrel" Guns!~ That means even though they can shoot their best purpose is over the fireplace for display!
This first one is Single barrel 12 ga shotgun Topper Model 158 by Harrington and Richardson. The bead is missing on the front of the barrel and the forearm is taped on for some reason and there's a crack in it but that's all I can find wrong with this one. The action works well and the patina is nice and the markings are clear as well. This old shotgun has the original rubber H&R buttplate on it as well. Check out the pics! $65.00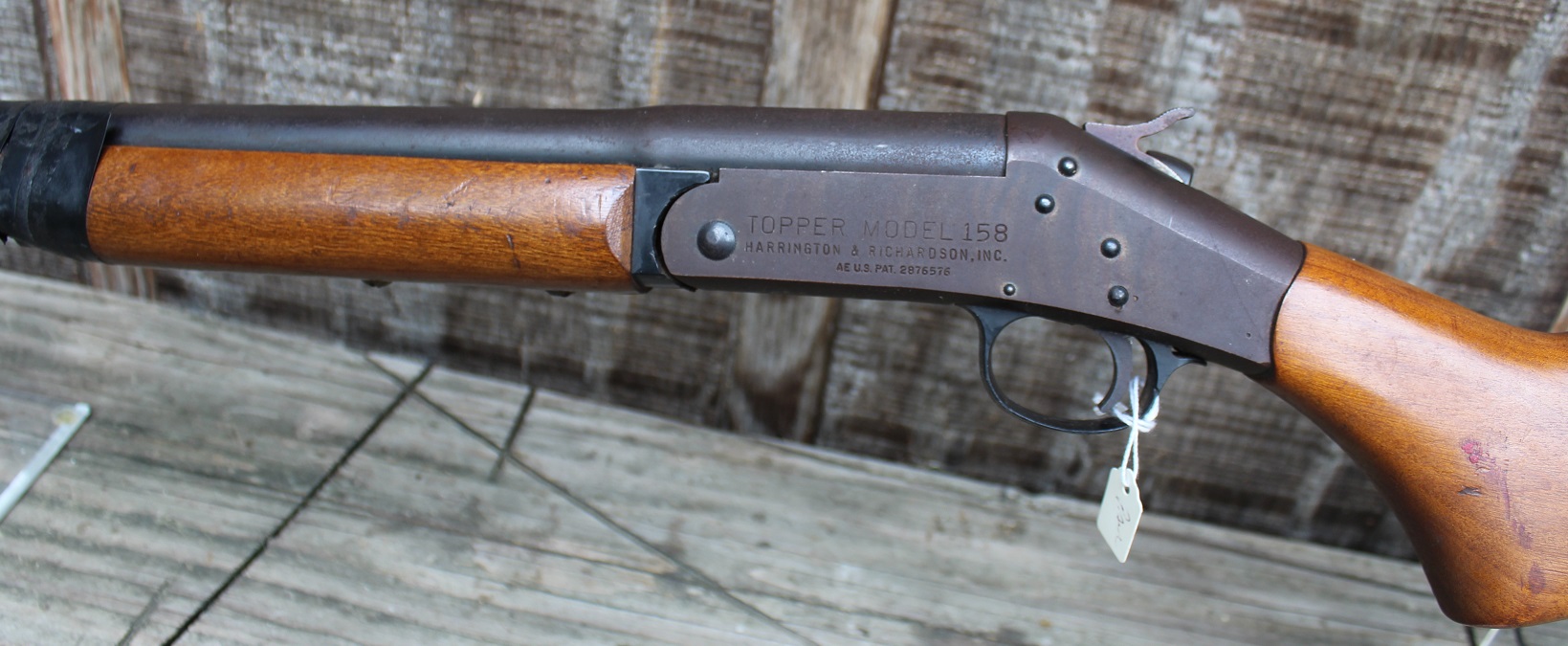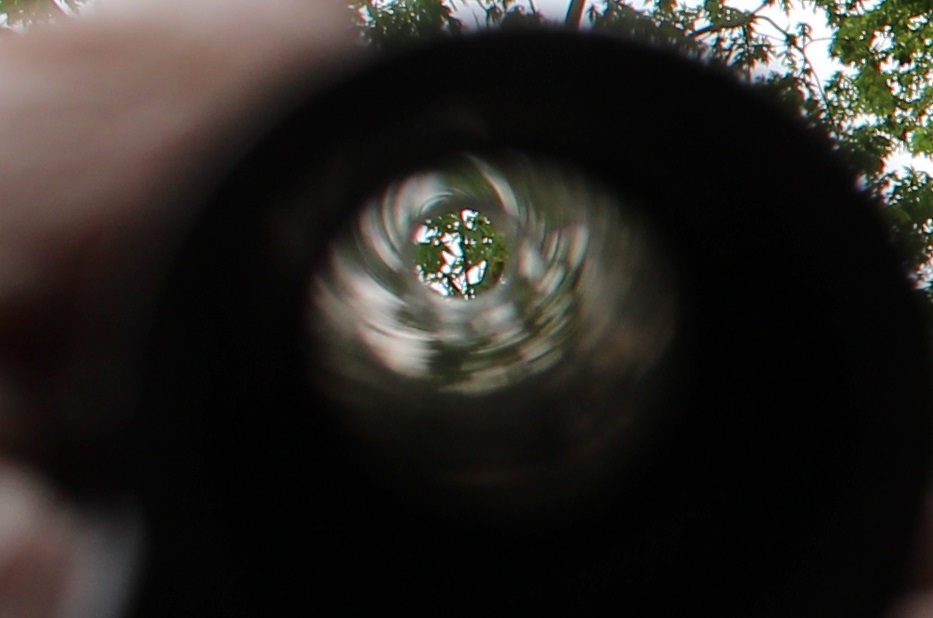 This second one is a single barrel Mass. Arms Co. 12 ga shotgun made in Chicopee Falls, Mass. The bore is rusty near the chamber and should clean from fair to poor. I wouldn't shoot this one but it could be shot. We never warrant these old guns to shoot! The metal is a nice dark patina and would look great over the fireplace. The action does work fine. The bead is missing at the end of the barrel. The stock has a 1 ½ inch sliver missing at the tang on the obverse side top and there is a crack behind the stock making the buttstock a little out of line. The forearm is fine just dings and dented as usual. Back in the day an old single barrel shotgun stood behind the door in many of a household! For this old war horse $65.00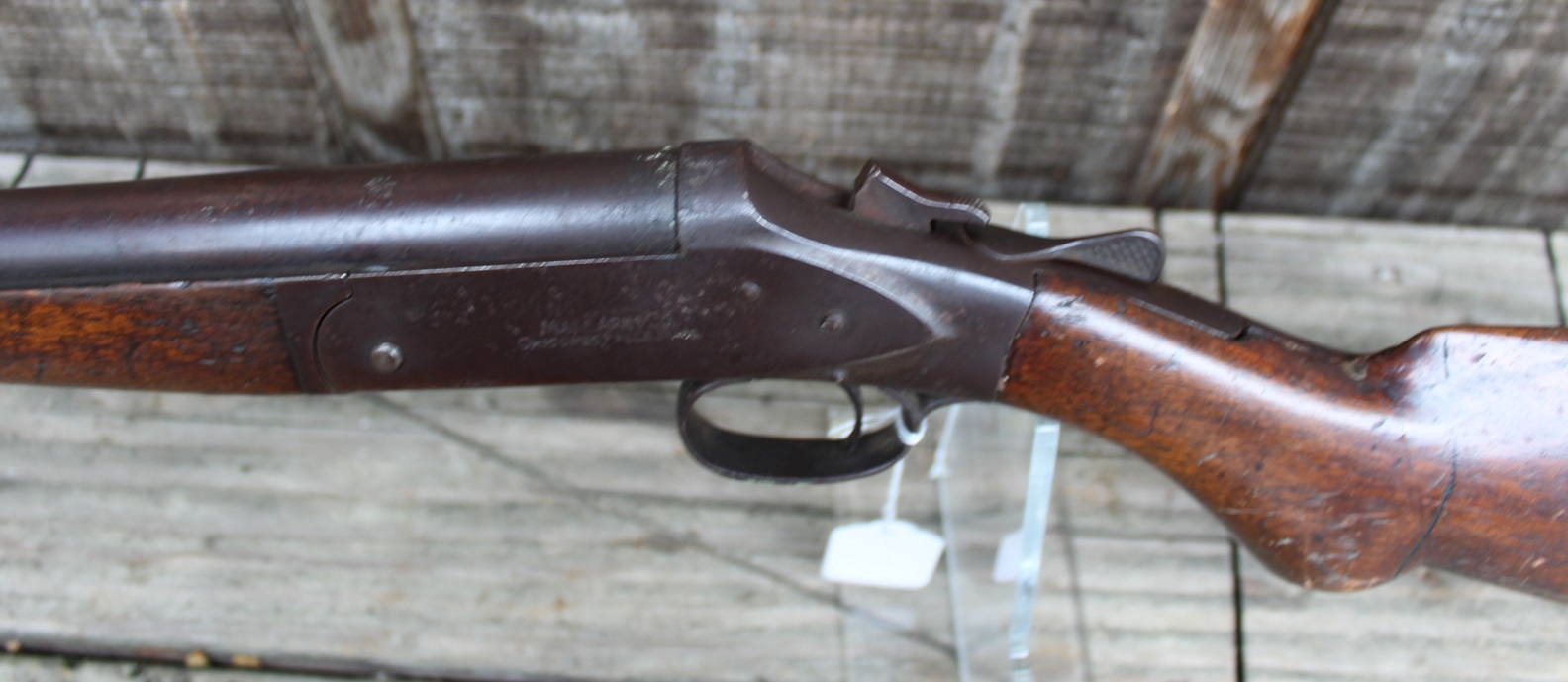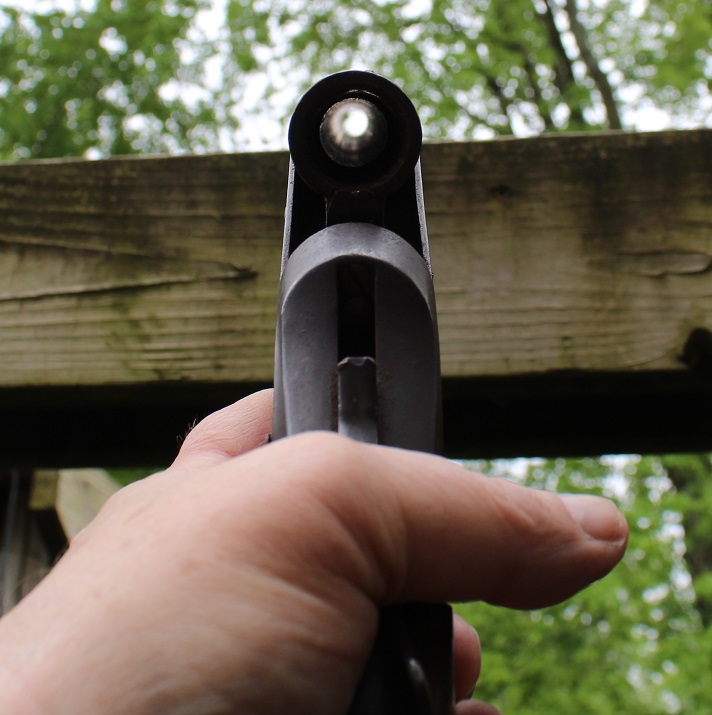 Consignment 63
Here we have an old J. STEVENS single barrel 12 gauge shotgun in working order. This old gun has seen lots of use and does have some pitting on the breech and on the end of the barrel. The bore needs a good scrubbing but would still only clean to fair I believe. The wood is in generally good condition with the usual dings from use and is a good candidate for restoration. The markings are in generally good condition and easily read. ELECTRO STEEL CHOKE BORED is marked on the top of the barrel. There is a small lever on the side of the receiver for taking the gun apart. A typical Grandpa's old gun! For this one $125.00
Consignment 62
Here we have an old NEWPORT "MODEL WN" single barrel 16 ga shotgun that is in fine working order. Newport was a trade name used on shotguns manufactured for Hibbard, Spencer, Bartlett and Company of Chicago by Crescent Fire Arms Company (1893-1930), W. H. Davenport Arms Company (1891-1910) or Iver Johnson Arms And Cycle Works (1895-1930+). These were inexpensive guns retailed in the hardware and mail order trade. 16 gauge guns of this era generally have chambers that are shorter than today's 2 3/4" shells. Early guns (1890-1910) could be equipped with Damascus, Twist or Laminated Steel barrels which are unsafe to use with modern ammunition. If shooting is contemplated, an evaluation by a competent gunsmith is recommenced to determine chamber length and barrel steel composition. Using modern ammunition in a short chamber creates dangerously high pressures that can damage the gun and injure the shooter and bystanders. If deemed safe to use, only light field and target loads are recommended. Now back to this particular firearm.
The wood is in good condition with no breaks or cracks but does have the usual dings from use. The action works fine and the bore would rate very good with a good scrubbing. All in all this is still a pretty nice old shotgun!!! Take a look at the pics! $110.00
Consignment 61
Here is a real find! This is a Japanese Type 97 Sniper Rifle lacking the scope. The Type 97 Sniper Rifle is a Japanese bolt-action rifle, based on the Type 38 Rifle. Following the standard practice of the time, it was adapted from an existing infantry rifle. The only difference between this rifle and the original Type 38 is that it had a lightened stock, a 2.5 power telescopic sight and a mid-band setup for a monopod, although later models had this deleted. The rifle entered service in 1937. When fired, the mild 6.5x50mm Arisaka cartridge gave off little flash or smoke and made counter-sniper activity difficult. The lack of flash and smoke comes from the length of the barrel; a 797 millimeters (31.4 in) long barrel allows cartridge propellant to fully burn and attain the optimum combination of accuracy and bullet velocity. The scope was offset to the left, to allow stripper clip loading. Like other Mauser pattern rifles, it has a five-round box magazine. The rifle can be loaded with either a 5-round stripper clip, or single rounds. The Type 97 was manufactured at the Nagoya Arsenal and Kokura Arsenal, with the bulk of them made in Nagoya as this one was. After fighting German-trained Chinese snipers, the Japanese Army decided to develop snipers for themselves. Training in camouflage, field craft and other such techniques was common to normal Japanese infantry, so snipers were specially trained only in shooting and given a sniper rifle. Type 97 was the standard Japanese sniper rifle, a regular Type 38 Arisaka fitted with a scope. The Type 97 was used frequently by Japanese snipers, often hidden in palm trees or more usually hidden positions, with deadly results. As they were chambered for the 6.5x50SR Japanese cartridge, which produced virtually no smoke or flash from the long barrel of the Type or Type 97, it was a difficult rifle to spot at ranges greater than 150 yards. Experienced US troops knew they had to continue their advance when fired on by Japanese snipers in order to get closer and spot the sniper.
This particular rifle is an early 3 digit Nagoya Rifle made with a folding monopod, now lacking, and the longer bent down bolt. The markings are all quite clear and distinct and ALL serial numbers match. The bore is also quite good. The 2.5 power scope is missing but the dovetail mount is present although the spring lock is broken. Both of these parts can still be obtained although the scope is not cheap! The cleaning rod is also missing. The stock has no breaks or cracks in it but does have the usual dings from use. The Mum is still present indicating that this is a captured weapon! The finish is quite good and mostly there indicating that it was probably obtained by the Marine who captured it early in the war. The action works well and the rear sight is complete as it should be. This rifle was recently found in an old collection in Indiana and unfortunately the owner has passed without leaving any info on this great piece of WW2 History. These are scarce with only 14,000 being produced at Nagoya Arsenal and how many survived is not known. Check out the pics! For this fine old American Captured Rifle . These rifles complete with scope usually are priced from $4500 to $5500 but since this one is missing the scope we are asking $3200.00
Consignment 60
Here we have an excellent Glock Model 36 .45 caliber compact pistol with two magazines. Six rounds of 45 Auto in a package that fits into the hands of any user. The GLOCK 36 presents grip ergonomics of the next dimension. The GLOCK single stack magazine allows for a slim frame and a slide with reduced width. Together with the secure-grip design and minimal trigger-to-grip distance this makes handling the pistol very simple. This particular pistol is in excellent condition with an excellent bore having been shot very little. Everything is tight as it should be and there is almost no wear at all.
Take a look at the pics! They about tell it all ! For this fine pistol $525.00
Consignment 59
Here are some various parts. I do not have a clue as to what they belong to. If you do let me know. Anything you are interested in? Look at the pics
and
and
and
and
and
Consignment 58 Here are some more parts!
Consignment 57
Here's something that we usually don't encounter. Here is a small collection of hunting licenses from Pennsylvania and 1 deer license from Utah . Therese have dates on them of 1961, 1962, 1948, 1959 and 1964. There are 6 licenses in all. $45 for all 6.
Consignment 50
Here is a hard one to find! This is a Walther .22 Nitro Model 2 that was made in the 1920's. This is a bolt action rifle but is unique in the fact that it is both a single shot rifle and a semi automatic rifle just by simply moving the bolt position. This one has provisions for the magazine but it is lacking. There are also some holes in the receiver but what reason I do not know as they don't appear to be threaded but they would not interfere with the operation of the rifle. The rifle overall is in fair to good condition with some paint specks on it from being in the corner while someone was roller painting the room so it will need a little cleaning. The wood stock is in good condition overall with some bumps and bruises as one would expect. Take a look at the pics! For this one $295.00
Modern Arrivals Consignment 48
SOLD!!!
Here we have a Harrington & Richardson Model 929 .22 long rifle 9 shot blued revolver with swing out cylinder and 2 ½ inch nicely rifled barrel. The action works wonderfully and is a single/double action revolver. The cylinder locks up nicely. There is little wear to this piece so I don't think that it was used very much. The only noticeable wear to the finish is where the cylinder turns to advance. There is also some very minor barrel wear and a little wear to the finish on the butt where there are sharp edges. Other than that it looks pretty much unused. This is a dandy!!! $329.00
Modern Arrivals Consignment 47
Here we have a brand new, never fired Smith & Wesson M&P 22 Compact with one (1) 10 round .22 long rifle magazine. Here is S&W's overview of this particular weapon:
Precision built to be the most accurate and reliable firearms, M&P pistols are an experience you have to feel to believe. Durable and comfortable, they are capable of handling as many rounds as you are. Engineered with an attention to detail and superior ergonomics, M&P22 pistols connect the shooter with the shot. Ideally suited for training or target shooting, this semi-automatic compact pistol maintains standard M&P pistol design features and includes a few extras.
Features
• Reduced scale version of the full-size M&P pistol
• Threaded barrel - 3/8"x24 takes 3/8"x24 to 1/2"x28 adapte
r • 2 magazines included (only 1 magazine here)
• Ambidextrous manual safety
• Reversible magazine release
• Picatinny-style accessory rail
• Magazine safety - will not fire without magazine inserted
• Internal lock
• Captured recoil guide rod & spring for easier assembly/disassembly
• Made in USA
ALL BACKED BY OUR SMITH & WESSON LIFETIME SERVICE POLICY.
This was originally purchased from Gander Mtn by an elderly gentleman who could not pull back the slide to load the chamber. It was never fired and he managed to lose the original box but the important part is still here being this fine unused S&W M&P 22 !!! Take a look at the pics! Comes with the lock keys, gun lock and spent cartridge as well as the owners manual . It's real nice!!! Lists for $389 but we'll just charge $359 for this one so save $30.00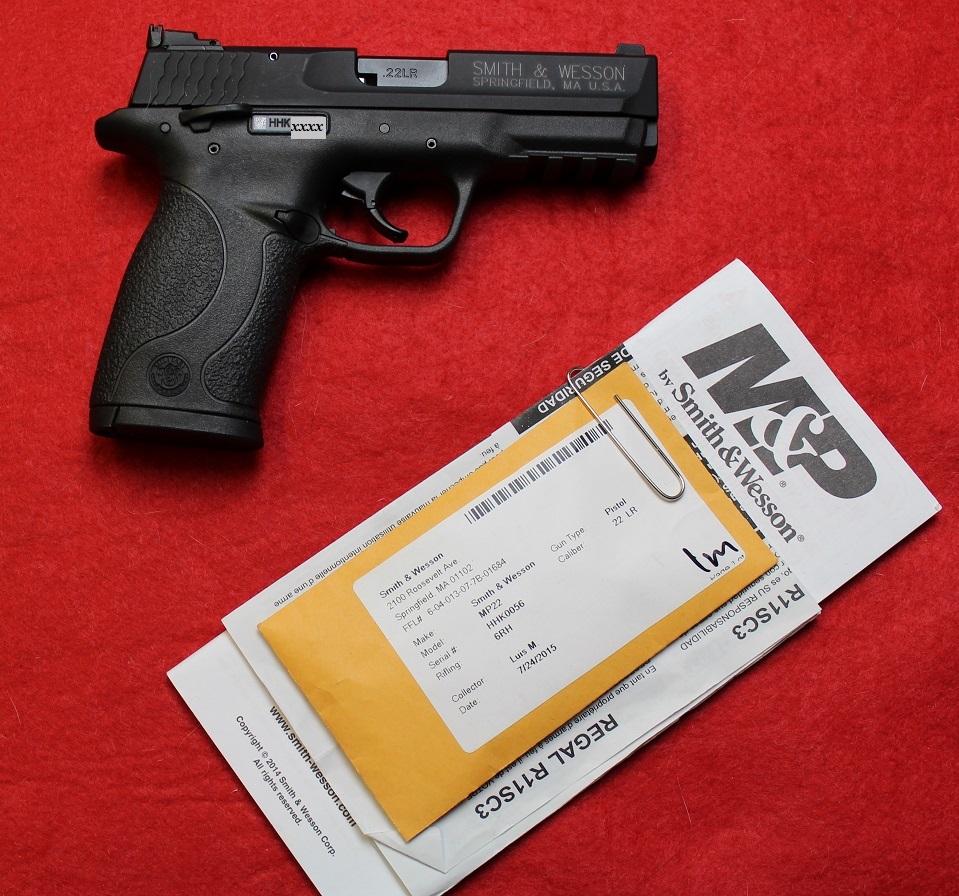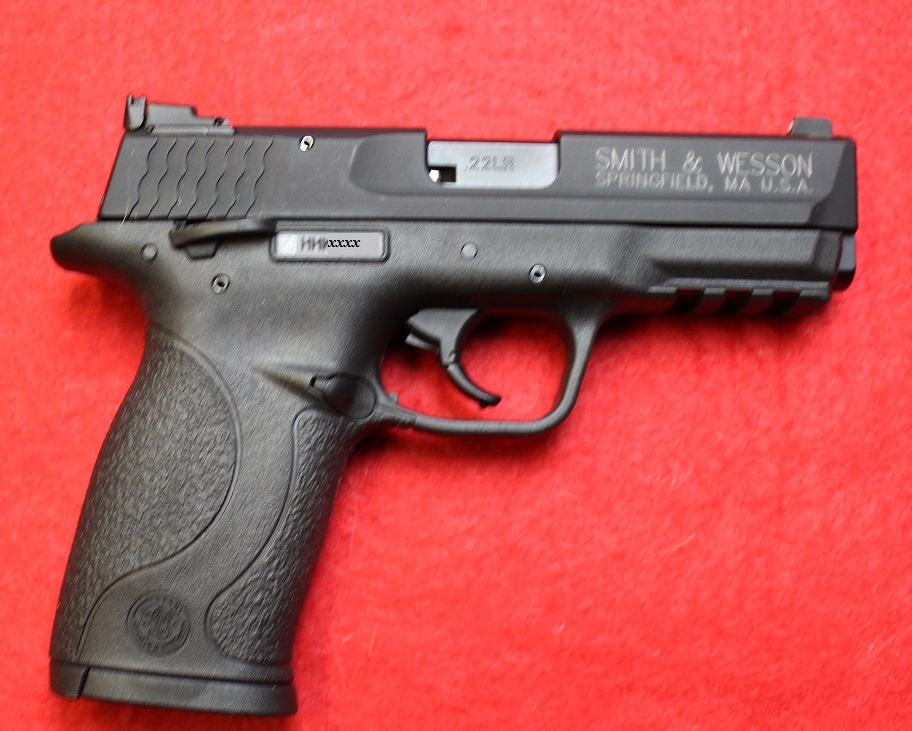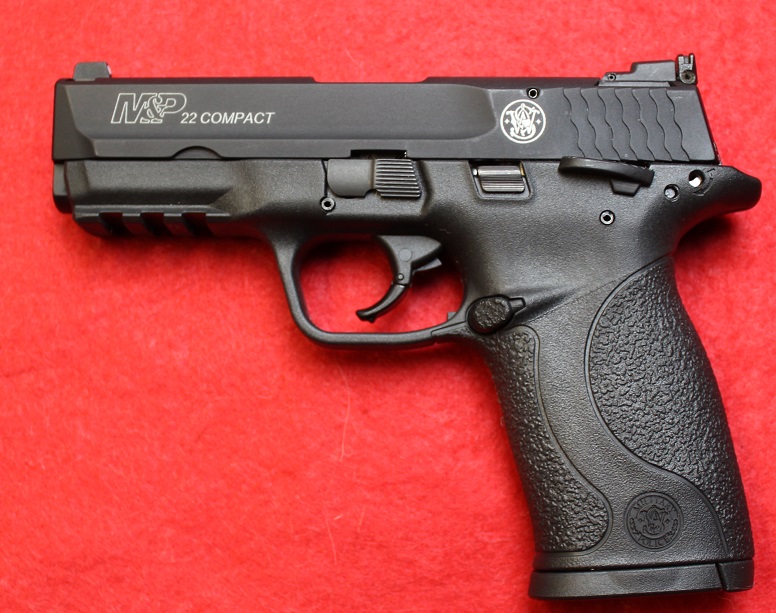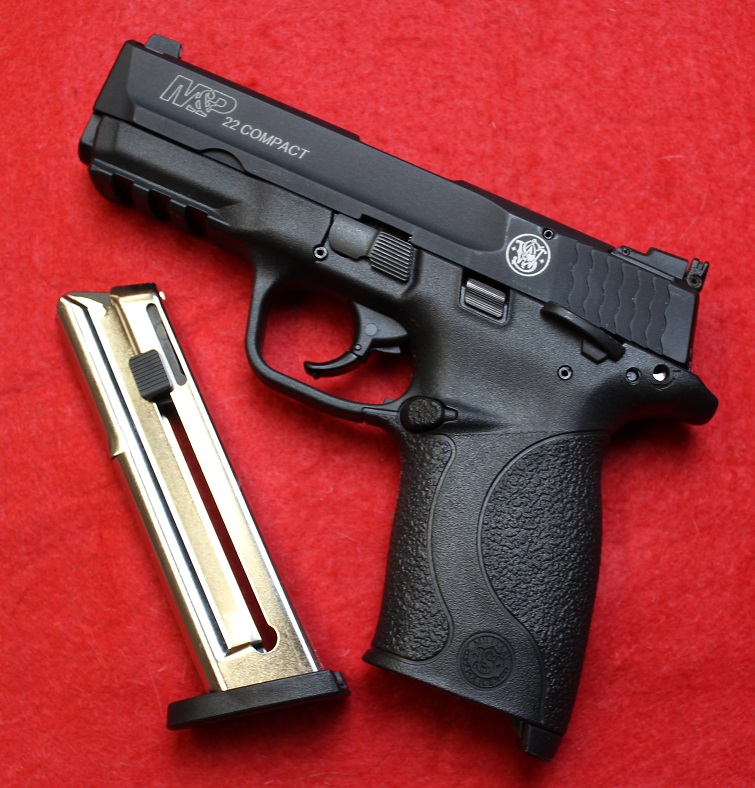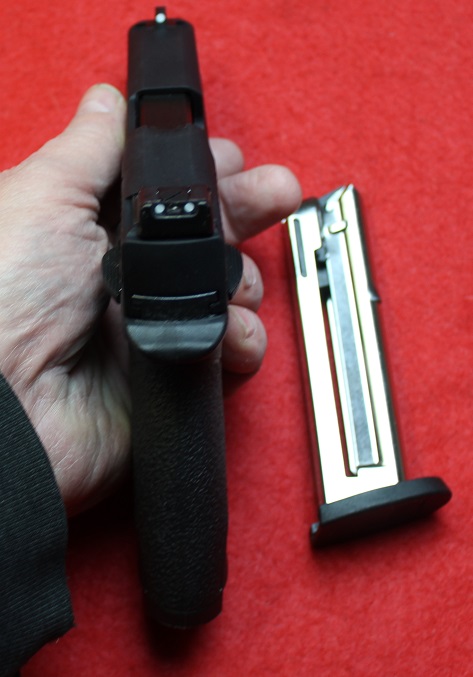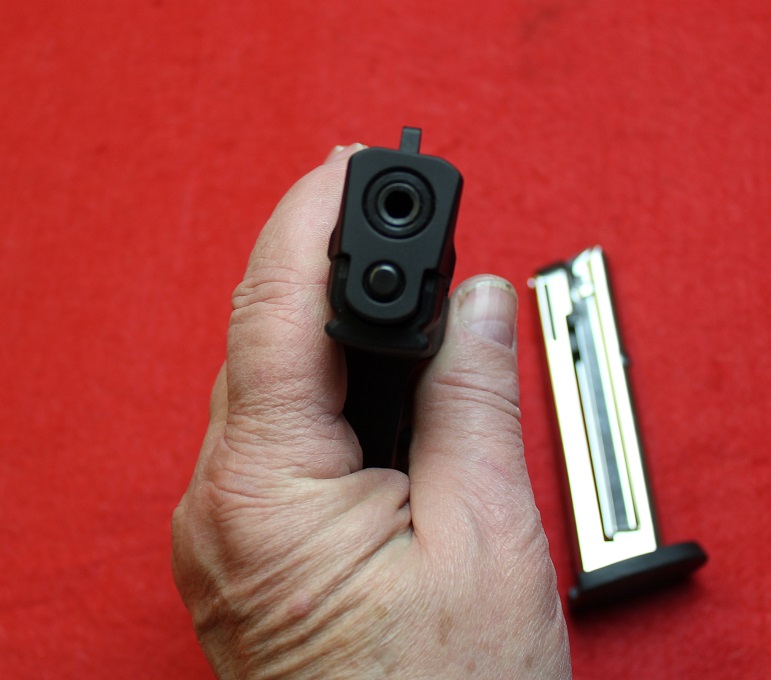 Consignment 45
Here is a nice Type 38 Rifle. It's much like the previous one but does not have the cleaning rod but does have the same markings including an intact MUM !! The action works well and the wood is in slightly more used condition and the bore is dark with deep lands and grooves. The stock has some slight separation at the dovetail and a few more bruises that the one above. More of the original bluing to the barrel and receiver is present on this one not having tured to a nice dark patina. The rear ladder sight is present and complete as well. This is a nice rifle is slightly less condition that it's mate above. This one was done at the same arsenal as the one above. Take a look at the pics! $425.00
Consignment 44
Here we have a very nice Browning BPS Invector 12 gauge pump shotgun! Few firearms ever earn the level of respect the Browning BPS boasts. The BPS has a solid reputation for long-lasting durability and an uncanny ability to keep on working in spite of what Mother Nature does to stop it. This shouldn't come as a surprise because the BPS has what most other pump shotguns don't — features like rigid dual machined steel action bars, a forged and machined steel receiver, a convenient top-tang safety and bottom ejection for ambidextrous operation, and legendary Browning balance and handling. The BPS continues to be the pump shotgun serious shotgunners like you can always rely on. Its advantages are more than just being a great shotgun for the left- OR right-handed shooter. The bottom ejection design and full, two-sided steel receiver combine for a level of durability and strength that is not common among pump action shotguns today. Ambidextrous The design is totally balanced, with matching dual steel slide action bars -- one on each side -- that balance forces for very smooth pumping. Top tang safety is functional convenience to the max. The receiver forms a "roof" over the action-- there is no opening on either side for an ejection port, so a drenching rain won't drip into the action. When you shoot bottom ejection makes sure there are no empties flying to the side, across your line of sight, to distract your aim. From the Browning Website.
This particuliar firearm is in excellent condition with just a couple of handling marks that I have taken photos of. It's a beautiful firearm and functions flawlessly. The receiver is nicely engraved with ducks on one side and pheasants on the other. The Browning Gold logo is stamped on the bottom of the triggerguard. This is one fine shotgun! Has a 28 inch ribbed barrel with a nice shiny bore. There is already one choke installed and comes with two more chokes. Both are 12 Plus lead-modified or steel-full. This one was made in Japan and is totaly steel. I wouldn't mind keeping this one! For this fine shotgun $450.00 Take a look at the pics!
Consignment 43
Here we have some real nice H&R revolvers in near mint shape! Take a look!
No. 1 SOLD
2
Here we have a beautiful H & R 622 revolver in S-L-LR. This is a 6 shot revoler in excellent condition being about 95% with just some slight marring to the matte black frame finish behind the left hand cylinder. The markings are all clear and deep and the action works well. There is only the slightest sign of turning on the cylinder. This is a pull pin revolver with a 2 ½ inch barrel. The plastic grips are excellent! This is the first model with the square butt and was made from 1957-1973. The serial number of this example is AX0128XX. Nice!!! $200.00
3
This one here comes with the original box! This H & R Revolver is the Model 829 Revolver which is a 22 LR nine-shot revolver with a swingout 9-shot cylinder, double- or single-action. The revolver has a 3 inch barrel, blue finish which is approximately 100% with just the tiniest cylinder wear on it. It has a transfer bar and was Mfg between 1981 and 1983 . The walnut grips are perfect!!! The action is perfect as well and it has an excellent bore. Was not used much! Take a look at the pics!!! $485.00
4
Here we have an excellent H & R Model 922 in .22 LR nine-shot revolver with the original box!! This is the second model large solid frame 4th variation which was made from 1948-1949. This piece is double action with a 2 ½ inch barrel and has a pull pin cylinder release. It has oversized one piece plastic grips which is in very nice condition with no cracks or breaks. No transfer bar on this early model. All markings are sharp and clear and the action works very well. The finish is excellent and there is little to no evidence of the cylinder turning. Has a few tiny minor finish spots. Rates very good ++ ! Nice!!! For this one $350.00
Modern Arrivals Consignment 42
Here we have recently acquired a shotshell hand reloader. The owner of this machine states that it is complete and ready to use. This is a 20 gauge reloader. Along with the 20 ga reloader is many empty shells and about 500 20 gauge wads! For this reloader with componets $175.00
Modern Arrivals Consignment 39
Here we have a Belgium Browning in 30-06 that is the High-Power Bolt-action rifle series and this one is the Safari grade with scroll engraving on the trigger guard and magazine door. This rifle is in very good condition with checkering on the monte carlo type walnut stock and some age crazing to the clear finish. No peeling just crazing. . There are dings here and there on the stock as it was used for many years but it is still in very nice condition with no breaks or cracks According to research and the serial number of 2L 164XX this rifle was made in 1969 being a F.N. Mauser Action. The bore is excellent on this 23 inch barrel. The finish on the barrel is excellent with just a little end wear from sliding in and out of a sleeve. The rifle is topped of with a SCOPE brand scope 3X-9X40 Model number 781-010 and is in excellent condition. Also comes with the sling. $1,450.00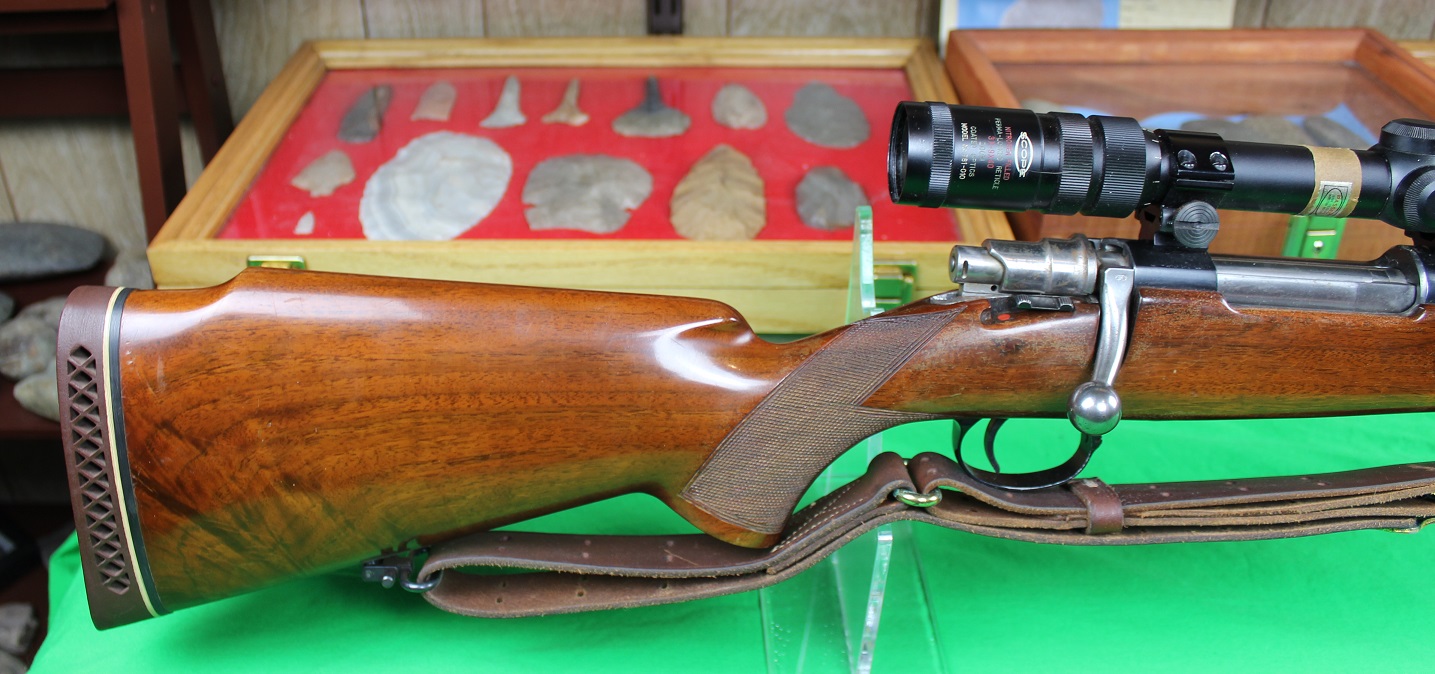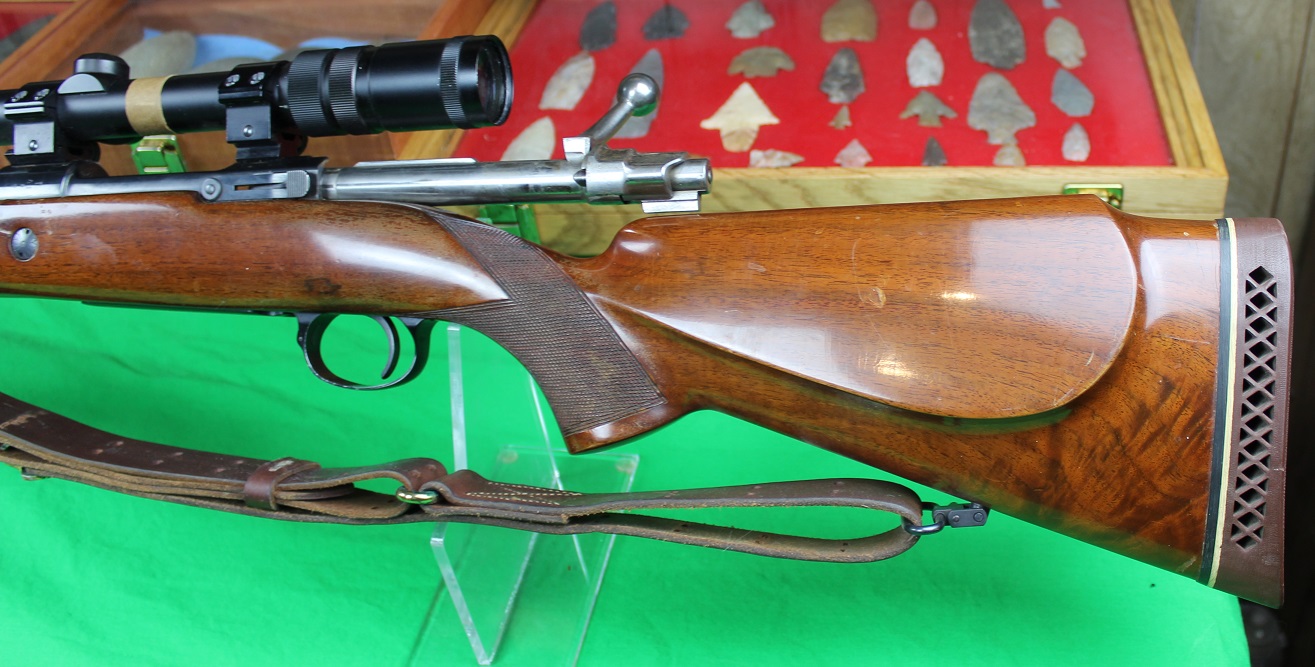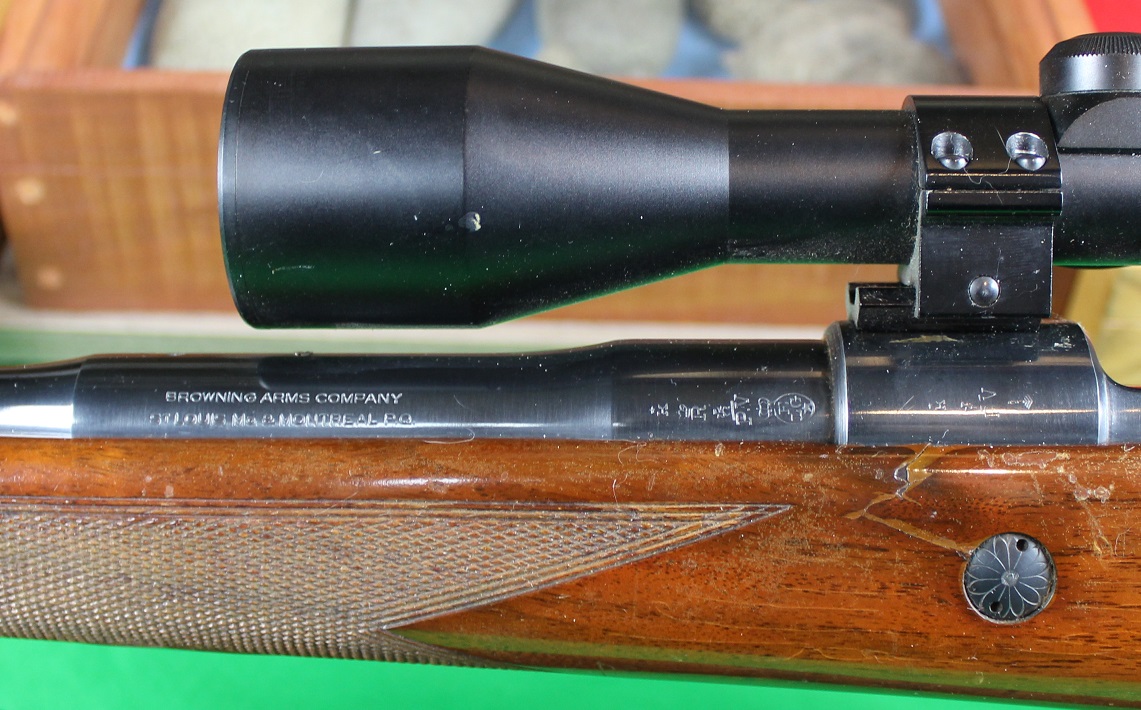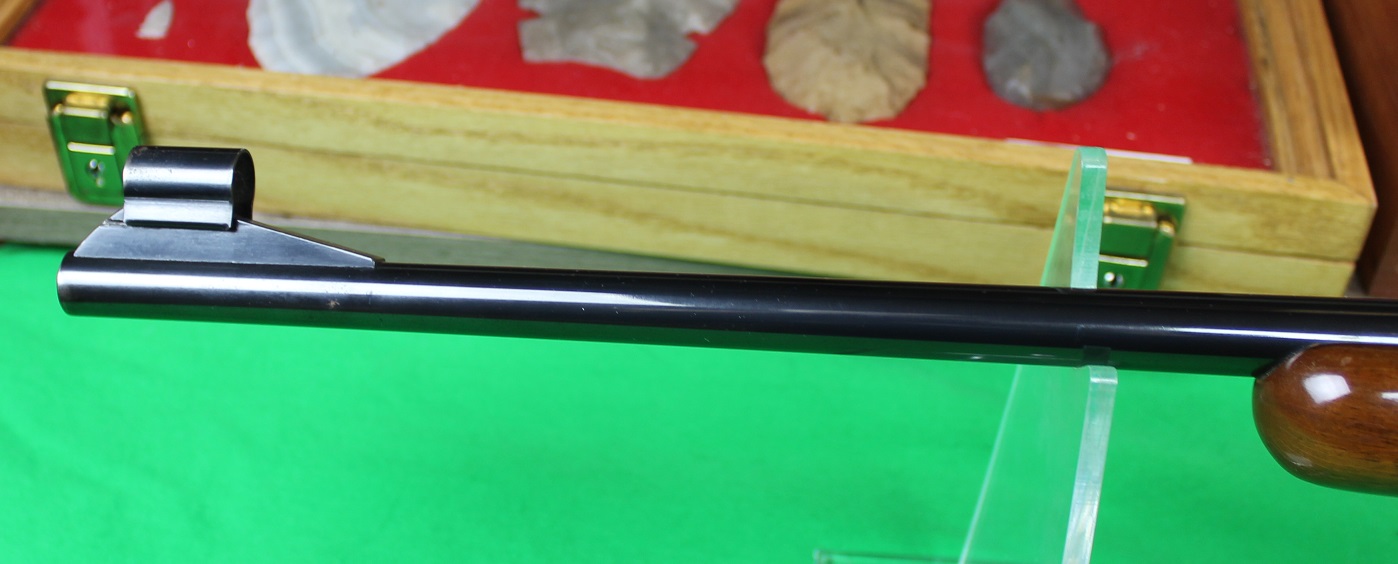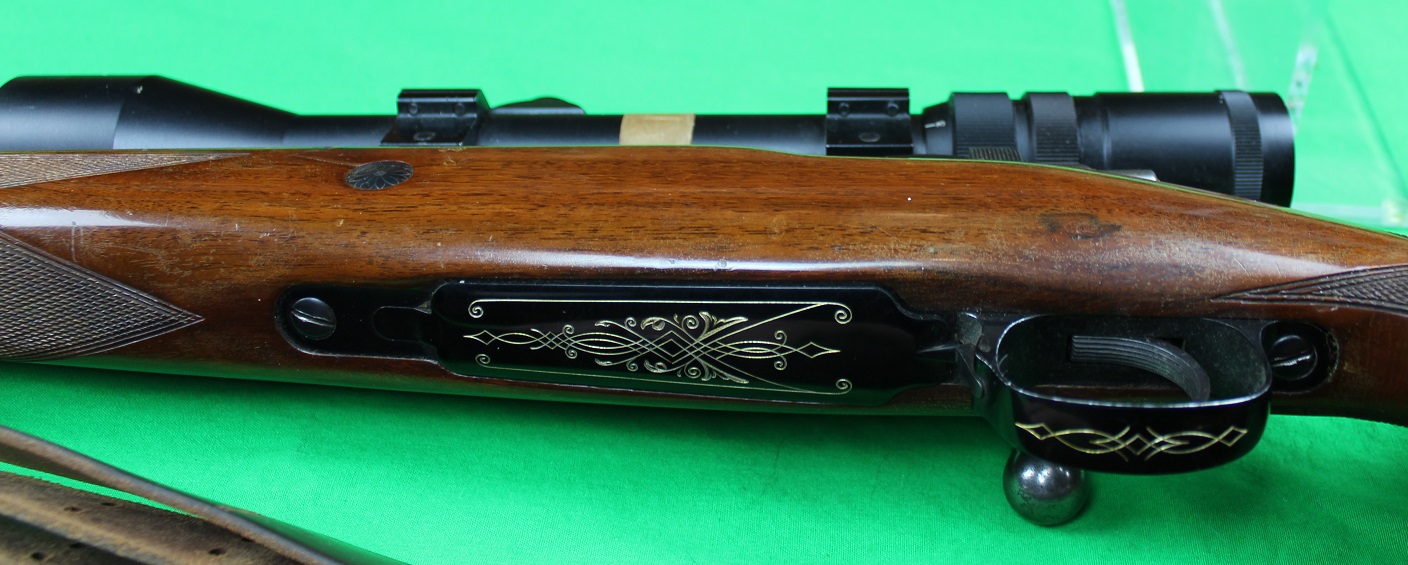 Modern Arrivals Consignment 36 & 37
Here we have an excellent combo! We are offering the combo separately. First we have a Springfield Armory XDs in 9MM. Here are the stats:
Description: Springfield XDS-9 .9mm semi-auto pistol. Manufacturer: Springfield Model: XDS Mod 2 (XDSG9339B) Condition: Factory New Caliber/Gauge: 9mm Barrel Length: 3.3" Detailed Description from Springfield Armory:
Is it possible for a pistol small enough to carry every day to have all the features and capacity that you'd expect in a larger pistol? If that pistol is the XD-S® from Springfield Armory®, the answer is yes. The XD-S® 3.3_ Single Stack 9mm offers so much that you'll be astonished that it all fits in the small, concealable profile. The XD-S® Single Stack from Springfield Armory® has forever changed what you can expect out of your daily carry pistol. Use your XD-S® Single Stack with an X-Tension™ magazine and you'll find that your carry pistol has grown into something that will astonish and delight you on the range. Use a flush-fitting magazine when you carry it, and it shrinks such that you'll forget it's there. If you're looking for the most available capacity in the most concealable package, you should pick up an XD-S® 3.3_ Single Stack in 9mm. You don't have to settle for a larger gun to gain shooting comfort. Nor do you have to sacrifice size for capacity. Hold an XD-S® 3.3_ Single Stack today, and you'll want to shoot it. Put it in your holster, and you'll find that it's Noticeably Unnoticeable™.
This particular firearm is in excellent condition in the hard case with 3 magazines and all accessories that came with it included new fiber optic rods for the front sight. This pistol had about 100 to 150 rounds fired through it and it performed flawlessly!!! For this pistol $499.99 REDUCED!!! $425.00 !!! .
Selling separately but fitting this pistol is the Crimson Trace Red Laser with the correct fitting hard shell holster for the XDS with this laser installed. Really nice! $249.00 REDUCED !! $175.00
Modern Arrival Firearms Consignment 45
Here we have received two fantastic pistols. The first one is a Springfield Armory TRP 1911 and is one of the best production 1911's that is semi-custom fitted. There was only about 50 rounds put through it. It is a sweet shooter and very accurate. With a holster and a mag carrier it makes this set a nice package deal. The TRP™ series of 1911s from Springfield Armory® are serious tools for the most serious of applications. These tactically proven pistols are intentionally designed to work under the worst conditions you'll encounter. You'll find all the quality, features and performance that you need in a 1911 of this class. This pistol comes in the hard case with all accessories shown which includes 3 mags, hard mag holder for 2 mags and the hard holster. All original paperwork/manuals are included as well. This pistol has seen practically no use at all and still looks like new!!! You won't go wrong here! Sorry but not for sale in California $1.550.00 Reduced!!! $1399.00
modern Arrivals Consignment 34
SOLD!!!
Colt LE901-16S .308/7.62x51mm Rifle!
This particular model is becoming tougher and tougher to find and is a nice shooter with the powerful .308 cartridge. This piece has seen very little shots fired through it and has had less than 50 rounds through the rifle and it shows with its near brand new condition. The Colt LE901 is unique in that it allows you to covert to a 5.56x45mm/.223 upper assembly in minutes by simply using the conversion block kit that comes with the rifle still in the original packaging. This conversion kit is a nice addition for those times when you want to shoot the cheaper 5.56 round at the range or decide to use a smaller caliber for varmint hunting or coyotes. This Colt LE901 .308 caliber rifle is great for hunting on private property in the state of Indiana. Comes with the rifle, a 10 shot Magpul P-Mag, conversion block kit and the instruction manual. Here's some more info on this rifle from the Colt website:
These are more specs and info for the rifle pulled from Colt. Be it prairie dog hunting in Texas, whitetail hunting in Maine or elk hunting in Colorado, the Colt LE901-16S™ is the rifle for the hunt. Chambered in the classic .308 Winchester cartridge, the LE901-16S is the perfect choice for medium to large sized game animals. Exceptional accuracy is assured by its full floated, 16.1" chrome lined barrel and one-piece monolithic upper receiver, suitable for mounting your optic of choice. Keeping the varmint hunter in mind, the .308 Winchester upper receiver group can be easily swapped out for any Mil-Spec Colt upper receiver chambered in 5.56x45 NATO. The fact that all operating controls are ambidextrous, including the magazine release, bolt catch and safety selector, makes for versatility and ease of use. You can depend on the new Colt LE901-16S to take the shot of your lifetime!
Take a look at the pics! This is an outstanding Colt Rifle!!! No Box.
$2299.00 Reduced!!! $2099.00 !!
Modern Arrivals 28 Consignment
Here we have a pretty nice M1 .30 Cal. Carbine complete with magazine and original sling/oiler. This one is an Inland Division Model 1945 carbine with a dated 9-44 barrel. This one seems to be all correct and operates flawlessly. There are no ordinance markings in the wood and it's a M-2 stock with the selector cut out in it. The stock otherwise is very nice with no cracks or breaks but does have a few dings and scratches from wear. The rifling is very nice in the barrel. The barrel is marked INLAND MFG. DIV. GENERAL MOTORS 9-44 with some damage to the I in Inland and the G in General. There is some roughness in the barrel below those barrel markings. I had a gentleman look at it and he thought that perhaps it was a Blue Sky Import that had the markings obliterated. I do not see any remnants of a Blue Sky Marking but it's possible so I will go that it is. You be the judge. I have included several pics of the barrel and the internals. I think that this piece is all INLAND but has been arsenal refinished. The receiver behind the rear sight is marked INLAND DIV 6230731. The receiver in front of the bolt is marked US CARBINE CAL. 30 M1. Take a look at he pics! This is a nice carbine! $1,100.00
modern Arrivals Consignment 26 SOLD!!!
Here we have two new old stock Mint! Rossi Pump Carbines/Nickel .22 LR Model 62 SAC imported by INTERARMS , Alexandria, VA. From the Rossi Webpage: The Taurus Model 62 .22 Long Rifle carbine and rifle is faithful in most respects to the legendary design of the classic Model 62 that John Browning invented and American shooters fell in love with over 60 years ago. The Model 62, in pump-action carbine (C) or lever action (LA) looks, feels and shoots like the original. The Model 62 features a rifled barrel for accuracy and stocks carved of the finest hardwood. The fully adjustable sights allow for accurate shooting. Rossi purchased the tooling from Winchester in the 1970's so these are quality firearms !!!
These two consecutive numbered carbines are brand new in the box and don't believe they have ever been fired. For the pair - SOLD!!!
modern Arrivals Consignment 25 SOLD!!!
Here we have a nearly new Marlin Stainless Model 883SS bolt action rifle in .22 WMR only. This rifle shows no use to speak of. The 22 inch stainless barrel has great sharp markings on it and the bore is just excellent. Take a look at the pics to see the true, very nice condition of this rifle! The action works fine and the laminated stock is just beautiful! A quality piece!!! For this rifle SOLD!!!
modern Arrivals Consignment 24 SOLD!!!
Here we have a slightly used High Standard Sport King Field Model A-103 .22 caiber semi-automatic rifle capable of using short, long and LR ammunition interchangeable. This rifle has a 22 ¼ inch barrel with great riflling, open sights and tubular magazine. Magazine capacity is 21 short, 17 long and 12 LR. The walnut stock is in nice condition with the usual dings from being used but not bad at all. The finish of the bluing is quite nice! Action works fine. For this fine little rifle SOLD!!!
modern Arrivals Consignment 23
Here we have a slightly used out of the box Rossi M59 .22 Magnum WMRF being a Pump /Slide Action Rifle, Takedown model. The serial number is stamped on the right side of the frame and the Rossi logo is stamped on the left side of the frame. The top of the barrel at the chamber is marked "22 Magnum". The barrel, forward of the forearm is marked "Amadeo Rossi / Made In Brasil / Interarms Alexandria Virginia Model M59". The round barrel length is 23" The front sight is a dovetail set blade and the rear sight is a dovetail set leaf and elevator notch sight. The stocks are smooth, lightly finished wood. The stocks rates in about unused condition. The rifle has a blue finish and looks unused except for a line through the finish from working the slide action. : The bore is bright and the rifling is sharp. This rifle retains about 99.9% of its metal finish. The markings are crisp. Overall, this rifle rates in about Fine nearly unused condition. Sorry, no box. $550.00
modern Arrivals Consignment 22
Here we have a brand new in the box Marlin Model 60 semi auto .22 caliber rifle. The Marlin Model 60 Semi-Auto Rimfire Rifle has year after year been one of the finest values in firearms you can find. The Model 60SN features Micro-Groove® rifling (16 grooves) that obtains maximum accuracy with .22 LR cartridge. An automatic last-shot, bolt hold-open lets you know when the 14-shot tubular magazine needs a refill. The 1-piece, fiberglass-filled synthetic stock holds up to extreme weather conditions, and the barrel is blued. The alloy receiver is grooved to accept 3/8" rimfire scope rings; and the rifle comes with adjustable open sights. The Model 60 Semi-Auto Rimfire Rifle features a cross-bolt safety that's easily reached with the shooter's trigger finger. Great rifle for the beginner or seasoned enthusiasts! $169.00
modern Arrivals Consignment 21
SOLD!!!
Here we have an inert ROCKET HE 66 MM ANTITANK M72A2 W/COUPLER in good displayable condition!!! . Used in Vietnam and usually discarded and destroyed after one time use. Take a look at the pics! This one $195.00
modern Arrivals Consignment 20
SOLD!!!
Here we have a Chinese Norinko SKS in 7.62 X 39 caliber. This piece has been mounted in a Tapco Scosk and looks very nice. There is also a nylon sling and an adjustable butt stock. The piece works very well and has a scope rail on the top back area. That piece is missing a screw that you can see in the pics. If I can find one in my stock parts I will replace it for you. The magazine is a Pro mag 30 round mag but does not fit correctly. It will work but you have to hold the front leg of the magazine up into the rifle for it to operate. You can see in the pic where that leg has a small piece broken off and the other end has been altered. It's been our experience that these rifles work much better with the lesser round magazines than the 30 round. The bore is excellent in this piece and it operates very well. . For this rifle $450.00
Modern Arrival Consignment 39 Here we have a LEE Factory Crimp Die 7 X57 (7mm). The price on this piece is $15.00
Modern Arrival 16
Here we have a brand new in the box Palmetto State Armory PA-15 in multi caliber with a 5.56 barrel. Here are the stats:
Barrel Length: 16"
Gas System: Carbine Length
Barrel Profile: M4
Barrel Steel: 4150 Chrome-Moly Vanadium
Barrel Finish: Nitride
Chrome Lining: None
Muzzle Thread: 1/2-28
Chamber: multi
Twist Rate: 1:7
Barrel Extension: M4
Diameter at Gas Block: .750
Gas Block Type: F Marked Front Sight Base
Muzzle Device: A2 Flash Hider
Receiver Material: Forged 7075 T6
Receiver Type: M4
Handguard Type: PSA Classic Carbine Handguards, Flat Dark Earth
Stock Type: PSA Classic M4 Adjustable Stock, Flat Dark Earth
Grip Type: PSA Classic A2 Grip, Flat Dark Earth
Also, the carbine has a Magpul adjustable rear sight and also comes with 2 magpul 30 round magazines. This is a real nice piece and all American!!! For this nice piece $525.00
Modern Arrival Consignment 15
Here we have a military grade bipod. It is painted blade and is heavy construction. The legs spread out and have 6 height adjustments to them. It easily clamps to a 5/8's diameter barrel. Everything works as it should. The price is $20.00
Modern Arrival Consignment 13
Here we have a left handed lady's bow. I haven't had a bow since my old Ben Pearson Recurve days so I'm a little out of my element here but my friend wants to sell it. This is a PSC SRL-100 compound bow for a lady or child. 38-40 lbs and 26" draw. Comes with case. Look at the pics to see more. For this bow and case $125.00
Modern Arrival Consignment 12
Now we have a right handed man's bow. I haven't had a bow since my old Ben Pearson Recurve days so I'm a little out of my element here but my friend wants to sell it. This is a PSC NOVA and the bow is set on the low side at 53#. Price is $135. Take a look at the pics to know more.
Modern Arrival Consignment 11 SOLD!!!
Here is a nice Marlin Model 39-D Lever action .22 caliber rifle. The metal on this piece has some wear through the finish and a couple of minor rust spots . The wood is in really nice condition being better than the metal finish. The markings are sharp and the action works very well. The owner has installed a trigger shoe for a wider trigger. There has been a Tasco 4X32 scope added to the rifle giving it good optics and the original sights are still installed and present. The bore is very good on this rifle. This is an excellent squirrel and varmit rifle! The owner has this one priced at SOLD!!!
Modern arrivals 8 Consignment
Here we have a nearly new Ruger Mini-14 Tactical Rifle Semi Auto Rifle 5.56 NATO (also uses .223 ammo) . The previous owner states that he fired it only 8 or 9 times and I believe it as it shows practically no wear at all and looks new. This rifle comes with 8 different Ruger Magazines. As stated these are all Ruger mfg and not aftermarket magazines. There are two new 5 round mags, two new 10 round mags, two new 20 round mags and 2 new 30 round Ruger magazines. Here are some of the stats:
• Model Number: 5847
• Caliber: 5.56 NATO / 223 Rem
• StockBlack Synthetic
• Front SightBlade
• Rear SightAdjustable
• MaterialAlloy Steel
• Thread Pattern1/2"-28
• Twist1:9" RH
• Capacity20
• FinishBlued
• Weight6.7 lb.
• Overall Length 36.75"
• Barrel Length16.12"
• Length of Pull 13"
• Grooves6
This is a great rifle and is American Made Ruger Quality!!! $1,120.00 for everything. Check out the pics !!!
Modern arrivals 7
This last firearm here that came in with the 4 is a Charles Daly Superior II O/U shotgun made in Italy!! This firearm was distributed by Outdoor Sports of Dayton Ohio and made before 1988 I have been told. It is a, 12 Gauge with 26" vent-rib blue steel barrels, 2 3/4" chambers, fixed full & modified chokes, front barrel brass bead sights with a beautiful engraved antique silver finish on receiver, blue steel triggerguard, single selective gold plated trigger, selector on tang safety, beautiful checkered walnut stock and forend with glossy finish, 14" length of pull/ The bores are mirror finish. There are a couple of very minor spots on one area of the barrel that is shown in the pics. Obviously this firearm has not seen much use! Nice! Nice firearm! $895.00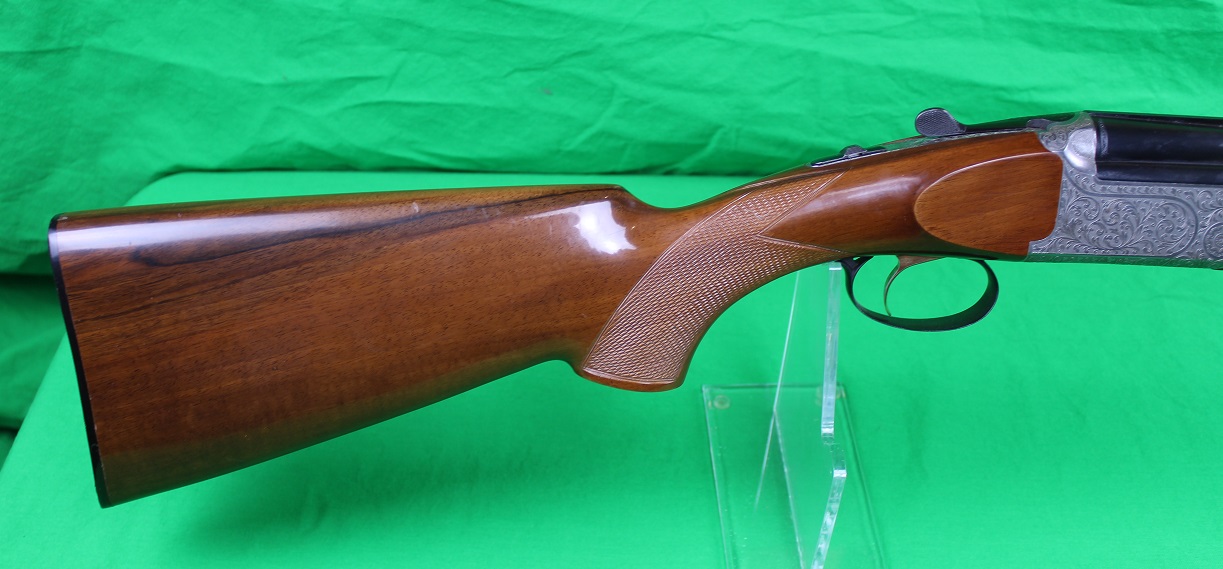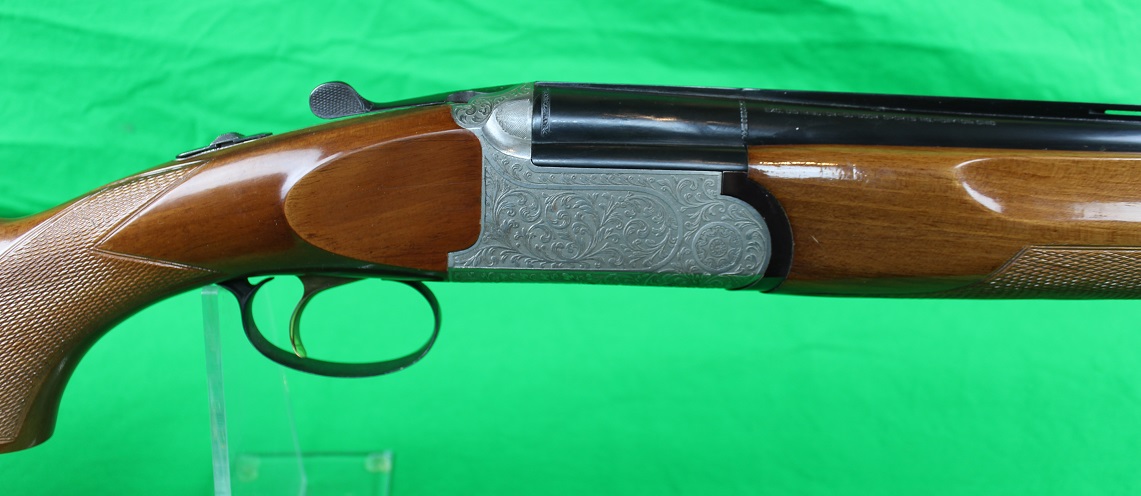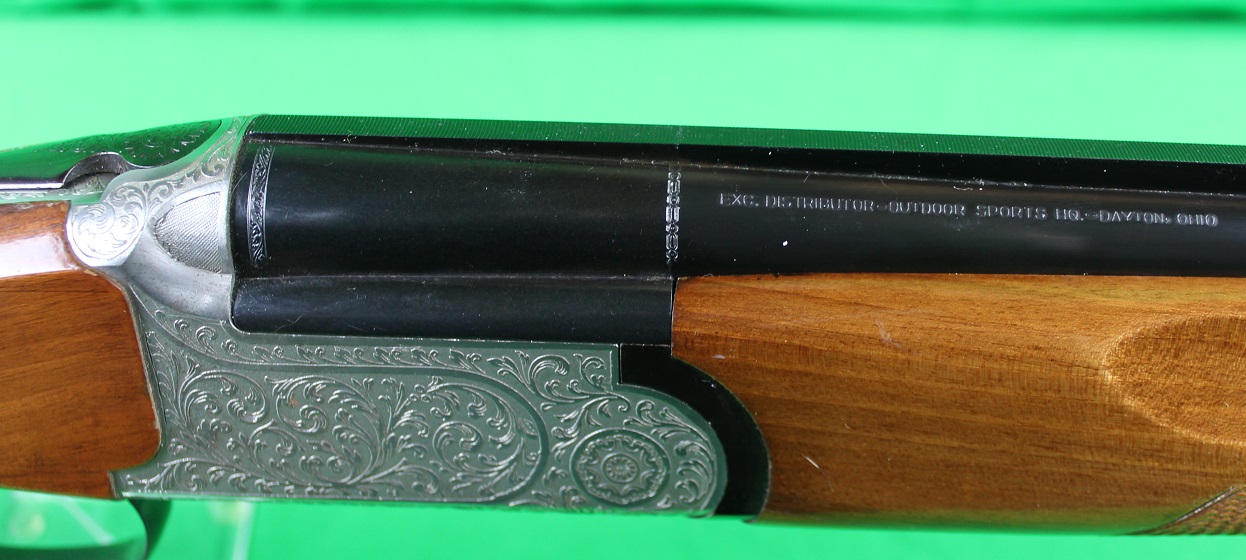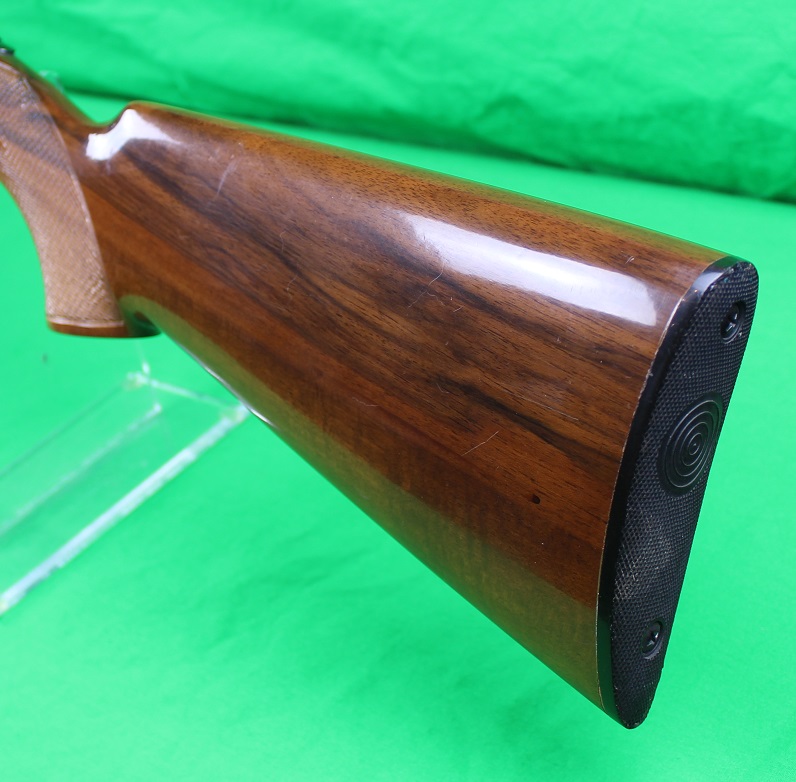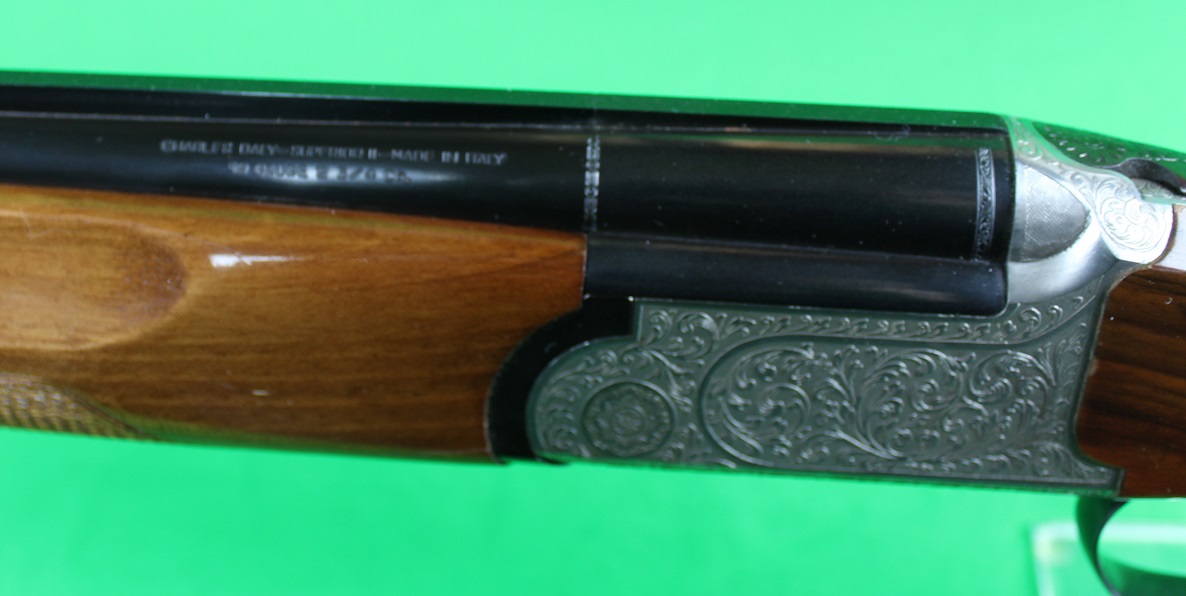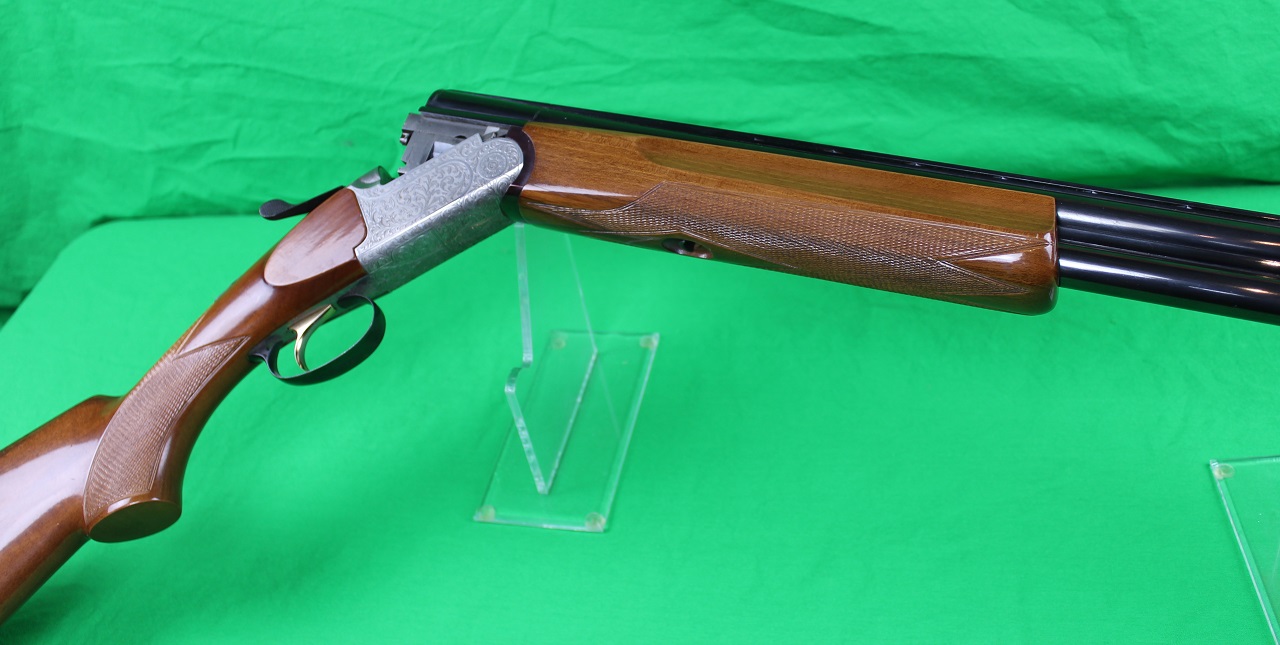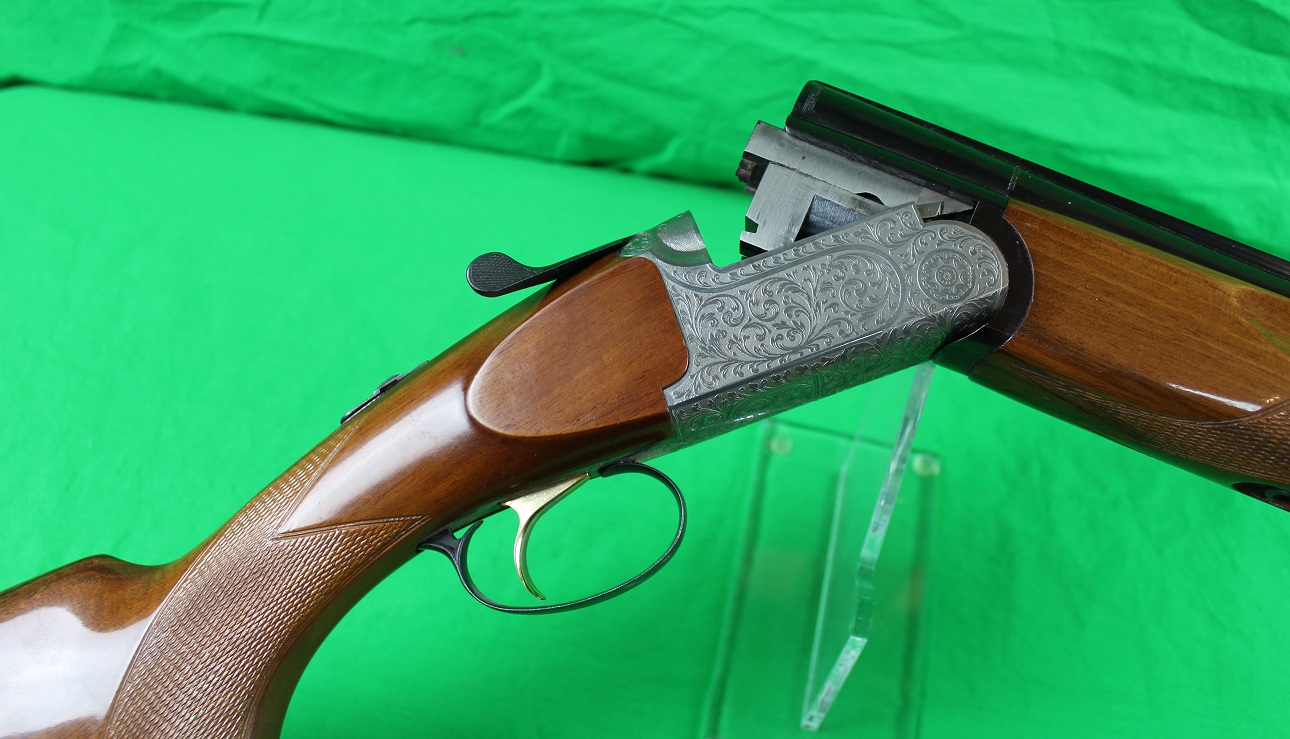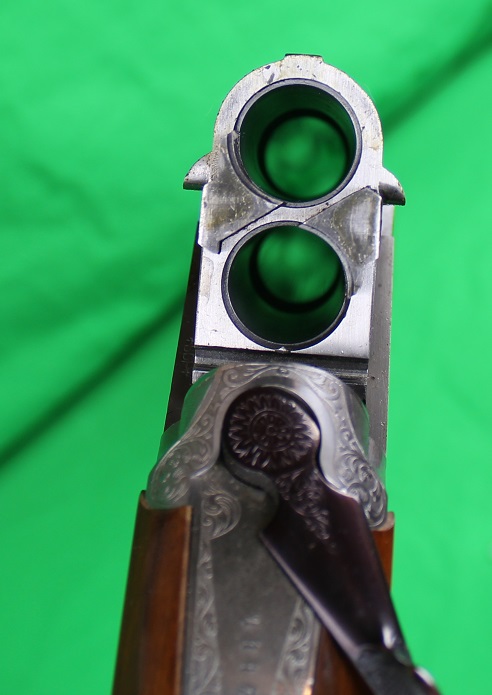 Modern arrivals 6
We just got in a small quantity of AR-15 Magazines in 30 round capacity. We have Magpul 30 AR/M4 GEN M2 rifle magazines in 5.56X45 NATO/ .223 REMINGTON . These magazines are compatible with AR15, M16 and M4. Polymer made in the USA. These mags are new in the bags and are $14 each. Also we have all metal 30 round magazines in Aluminum made by D&H Tactical out of Wisconsin. Each $11.00
Buy American!!!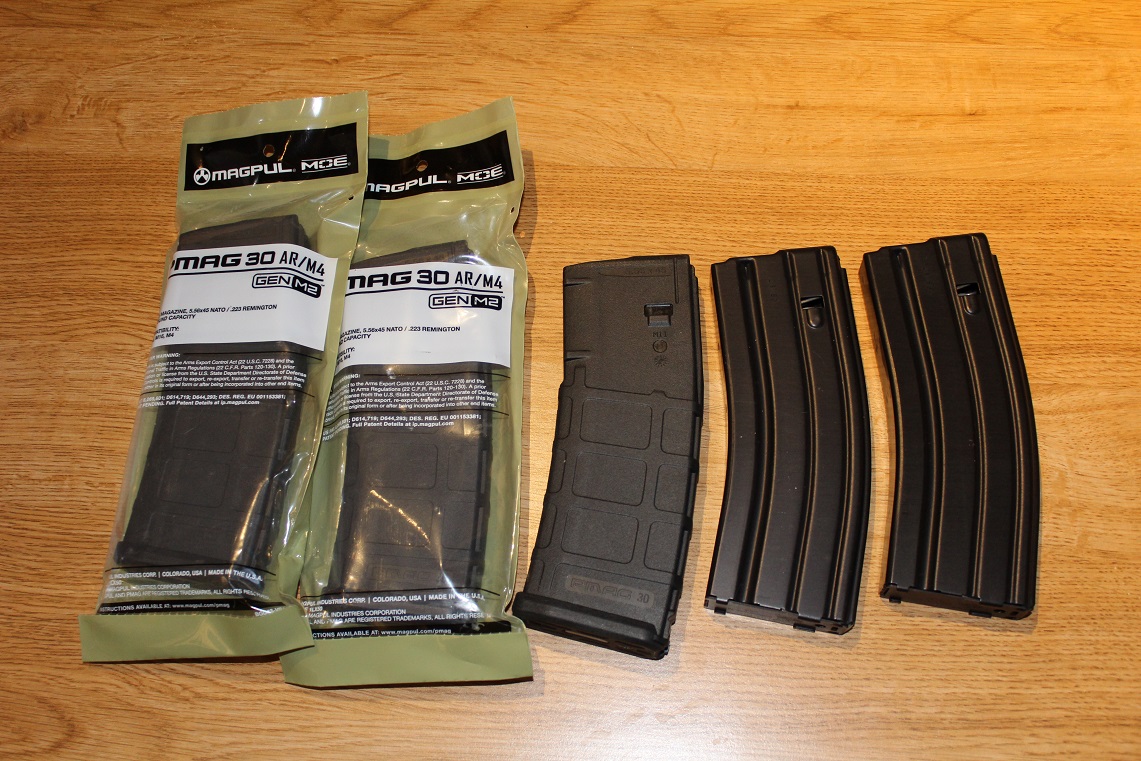 Modern arrivals 4
Here we have a new in the box SnapSafe Modular Vault for storing handguns and other valuables. This box is easy to operate key lock and has a 1500 lb test steel security cable to secure the box to a stationary item. This box is great for providing secure storage at home, on a nightstand, in the car or when traveling. 9 1/2 x 6 1/2 x 1 3/4. Inexpensive basic security for $22.00 Keeps your handguns away from the kids!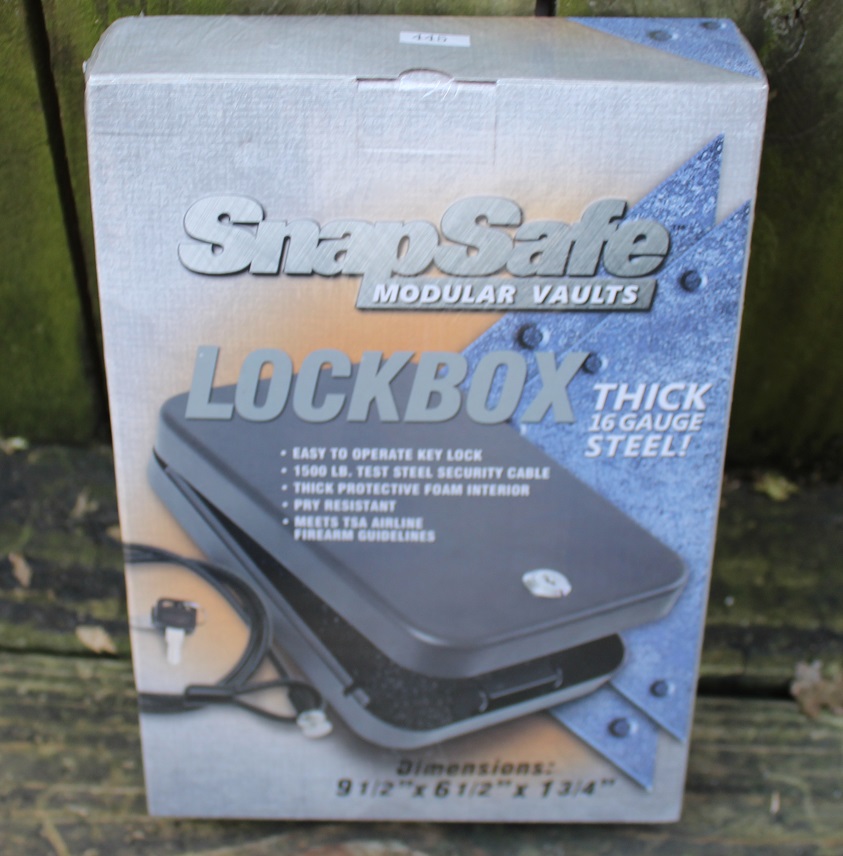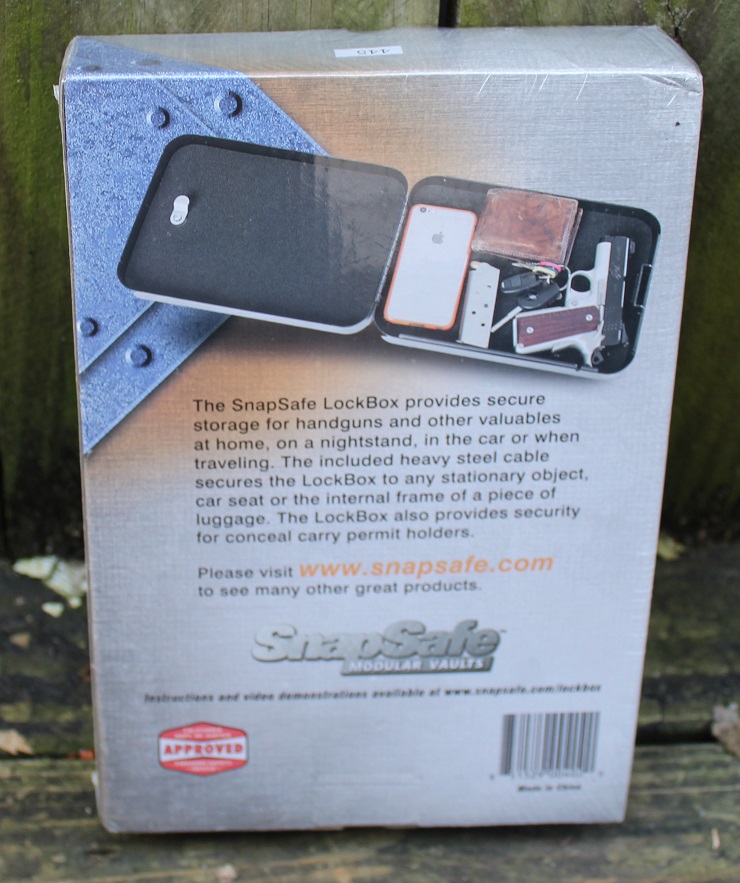 New Arrivals 3
Here we have, in a hard case, a brand new Dickinson Security Shotgun! This is the COMMANDO by Dickinson Model XX3B, 12 gauge , Pump Shotgun
Dickinson builds Guns of Distinction in their state of the art Turkish Factory where they blend old world craftsmanship with advanced technology. CNC machines are used to manufacture the precision parts which skilled craftsmen fit and finish producing a true work of art! A Dickinson is a durable, reliable, heirloom quality shotgun that you will enjoy shooting at the range and in the field for years to come! The Commando XX3B pump shotgun is built with a lightweight design that provides strength and simplicity of operation. The barrel, fore-end and bolt are easily removed as a unit to facilitate cleaning. You will immediately notice the smoothness of function and form whether you're firing light 2-3/4" shells or heavy 3" shells. This XX3B features an 18.5" tactical home defense barrel with a fixed cylinder bore and a rifle style front sight for rapid target acquisition. Manufactured using only the finest materials available, this shotgun will provide years of trouble free operation enjoyment. With a Dickinson XX3B Commando you will experience a deluxe quality shotgun at a price you can afford! Specifications and Features: Dickinson Commando XX3B XX3B-2 Pump Action Shotgun 12 Gauge 18.5" Barrel with Rifle Front Sight Fixed Cylinder Bore 3" Chamber 4 Rounds Polymer Synthetic Stock Blued Finish Weight 6 Pounds
When a home intruder hears the sound of you loading one in the chamber he will just right out of the window!!! That is a frightening sound! Great home defense Shotgun at a reasonable price! $199.00 Check out the pics below!
Modern arrivals 2
Here we have a new North American Arms small single action revolver. Here is some history on the company:
North American Arms History North American Arms is a United States firearms manufacturing company that specializes in pocket pistols and mini revolvers. Sandy Chisholm bought North American Arms in 1991 and has driven the company to become more successful since then. The small semi-automatic pistols and mini revolvers made by North American Arms are easy-to-carry, which is one of the reasons why these guns are perfect for everyday self-defense, concealed carry, and undercover law enforcement work. Besides the obvious practicality of North American Arms' petite guns, many buyers and collectors enjoy the novelty of the more vintage-looking designs complete with bluing or gold plating and mother of pearl handles. Some North American Arms mini revolvers are even able to fold into their own grips, making them safe to carry on a belt clip or in a gun holster. North American Arms' mini revolvers are made in .22 Short, .22 Long Rifle and .22 Winchester Magnum Rimfire caliber as well as in .22 Black powder cap and ball. Semi-automatic pistols made by North American Arms are chambered for .25 NAA, .32 ACP, .32 NAA and .380 ACP. Together this range of guns offers buyers the perfect size, weight, and firepower for them.
This North American Arms mini revolver is the sidewinder. It's cylinder swings out for loading making it easier to load and unload. This particular little revolver is in .22 Magnum. The grips are perfect as is the entire stainless steel revolver. Comes in it's own little case with padlock. For tis piece $350.00
2. Sold!!!
Modern arrivals 1 Consignment
Here we have 4 magazines for pistols. They are:
1. 8 round .25 caliber Beretta Magazine for $20.00
2. FN 6 round .25 caliber Auto Factory original Magazine for a Baby Browning pistol for $50.00
3. Walther PPK .380 7 round magazine for $35.00
4. Walther PPK .380 7 round magazine for $35.00
Anything you like? E-mail me here
Back to mainpage