Modern Arrivals to the shop
>
Consignment New Arrivals 320
Here we have quite a unique rifle! This is a Remington Model 510 Targetmaster.22 birdshot bolt action rifle with a Routledge bore. The Routledge Bore is an invention by Fred Routledge in the 1930's which consisted of the last 12"-17" of the barrel of a .22 bored to about 3/8" or .375" . This allows the tiny .22 shot payload to stop spinning from the rifling or in a fully smooth bore .22 to open smoothly in a sort of jug choke effect. The effect of the Routledge bore was to enable the .22 Shot cartridge to be effective at 15 yards or so on vermin,about 4 times farther than a .22 rifled barrel is able to deliver a useful pattern of it's tiny shot. They even use to shot tiny clay targets with this rifle. Sounds like loads of fun! This is a Remington single shot rifle for the .22 shot shell. I do not see a serial number. Many rifles of this period didn't have serial numbers. The rifle is in very good condition for it's age probably being made in the 1940's or so. The barrel measures 24.5 inches long and is a smoothbore. No need for rifling with shot shells. There is some spot rusting in the larger end but mostly shiny however the .22 portion is entirely bright. The wood stock is in excellent condition with just a small ding here and there. The metal is dark patina with a little stabilized corrosion to the finish that you can see in the pics. The piece operated flawlessly. This is a nice unusual rifle! Check out the pics! $599.00
Modern arrivals to the shop jmf 7 raven
Here we have a little .25 caiber Raven Arms MP 25 semi auto pistol in nickel. This pistol was discontinued in 1984. This pistol comes with 1 Six shot magazine. This semi automatic pistol is in very good overall condition with little wear. The wooden grips are in very good condition with all-over handling wear no cracks or chips still exhibiting the original varnish. The nickel finish on the frame is in very good condition with light handling wear . . Slide push safety works fine. I remember in the late 70's early 80's when these little pistols were very popular! Now a collectors item! American Made! $175.00
Modern Arrivals to the shop swl 4 SOLD!!!
Here we have an old 1940's Springfield Rifle in .22 caliber being a semi auto with an original Weaver scope! This scope has remarkably clear optics with crosshairs! It's missing one of the caps over the side adjustment knob but that doesn't keep it from working just fine! I tried to get a pic of it through the lens but it's really difficult to do but I got a couple of pics that don't do the optics justice. This old rifle would be a great squirrel rifle! This is the Springfield Stevens Arms Company model 87A in .22 Long Rifle. The Springfield Model 87A is the same as the Stevens Model 87. Both Stevens and Springfield, at the time, where subsidiaries of the Savage Arms Co. And the Model 87 was basically the same rifle as the Savage Model 6. The Model 87 began production in 1938 as The Springfield 87. The Springfield Model 87 was dropped in 1947 - 1948 when Savage dropped the Springfield name, but production of the rifle under the Stevens logo continued ito the 1960's. This particular rifle has the Springfield name on it so it was made in the 1940's. This rifle seems to be in good used condition. The stock looks pretty but does have dings and scapes on it and looks to have been refinished at some point in time but no cracks or breaks. The metal surfaces have some peppering on them. All the markings are clear. The bore is pretty good. The front and rear dovetail sights have been removed so that the user could use the vintage Weaver scope. The triggerguard is in good condition but needs repainted as it does have some paint loss. The original butt plate is still present and in good condition with one original screw and 1 replaced screw. There seems to be a screw missing on the reverse end of the receiver but I cannot find a schematic for that side of the rifle that shows what it was for. There is a safety on the right side of the receiver at the rear so I really don't know what this is but the firearm still works fine. This old gun is just what Dads used to hunt squirrels and rabbits when I was a kid in the 50's! Still a nice old rifle with collectible Weaver .22 caliber tip off scope which is worth $50 to $60 just by itself! Check out the pics! $165.00
ss 1 Consignment New Arrival to the shop
Here we have a very nice vintage Walther .380 PPK/S in the box with2 magazines and owners manual. This is the stainless steel model made in the USA by INTERARMS of Alexandria, VA. This firearm comes in the original box and is in very good condition. There are a very few minor scratches on the slide from use but minor indeed. The action works well and the bore is excellent. Don't believe that this one saw much use. Very Nice!!! Take a look a the pics!! NOTE*** Comes with 65 rounds of new American Gunner Hornady .380 Auto 90 gr. XTP Ammo (ammo has to ship separately) $715.00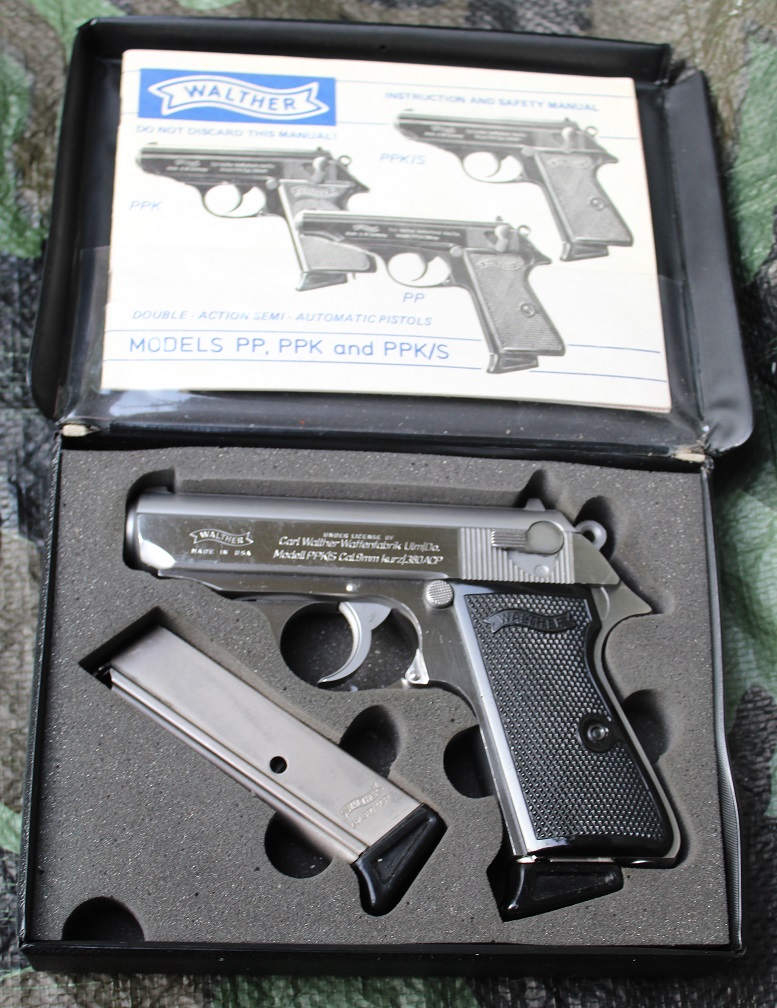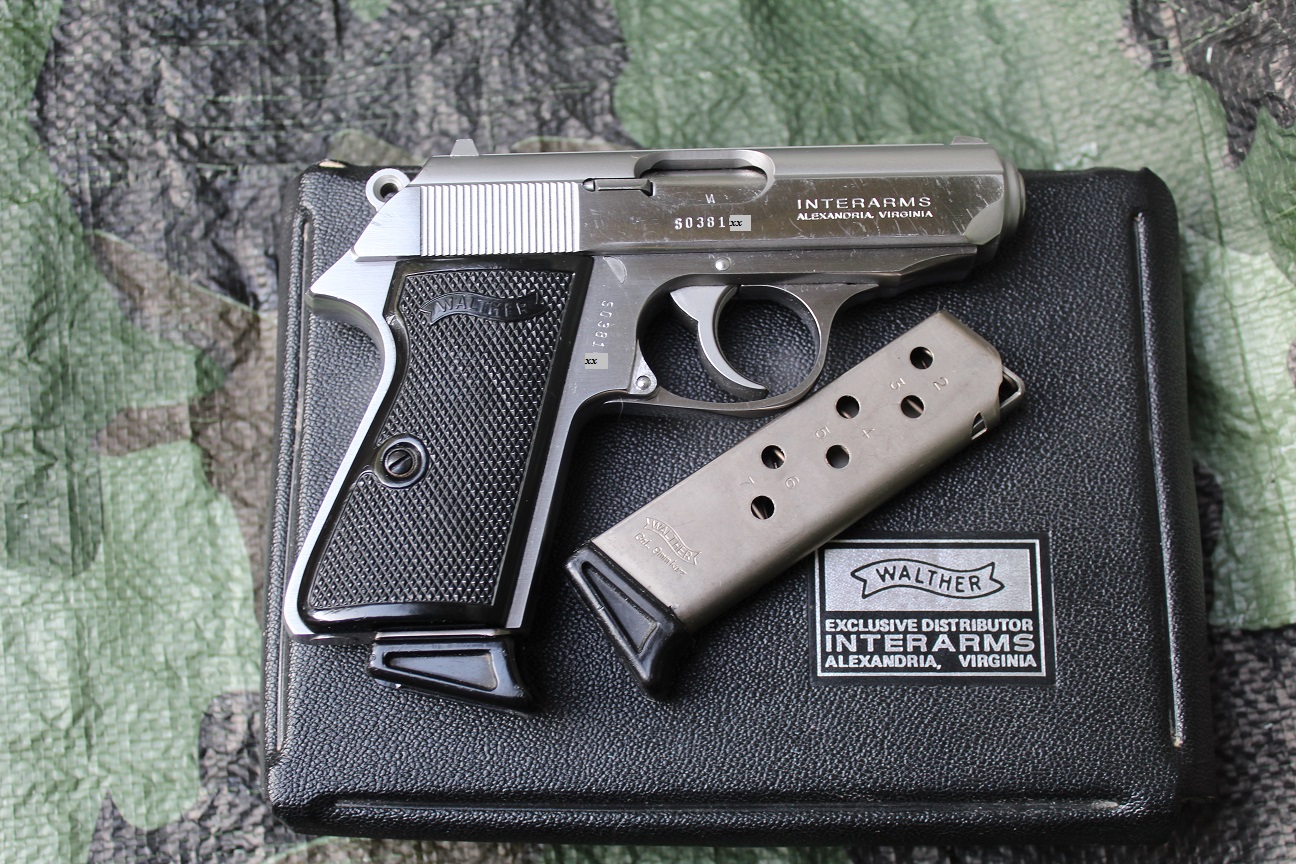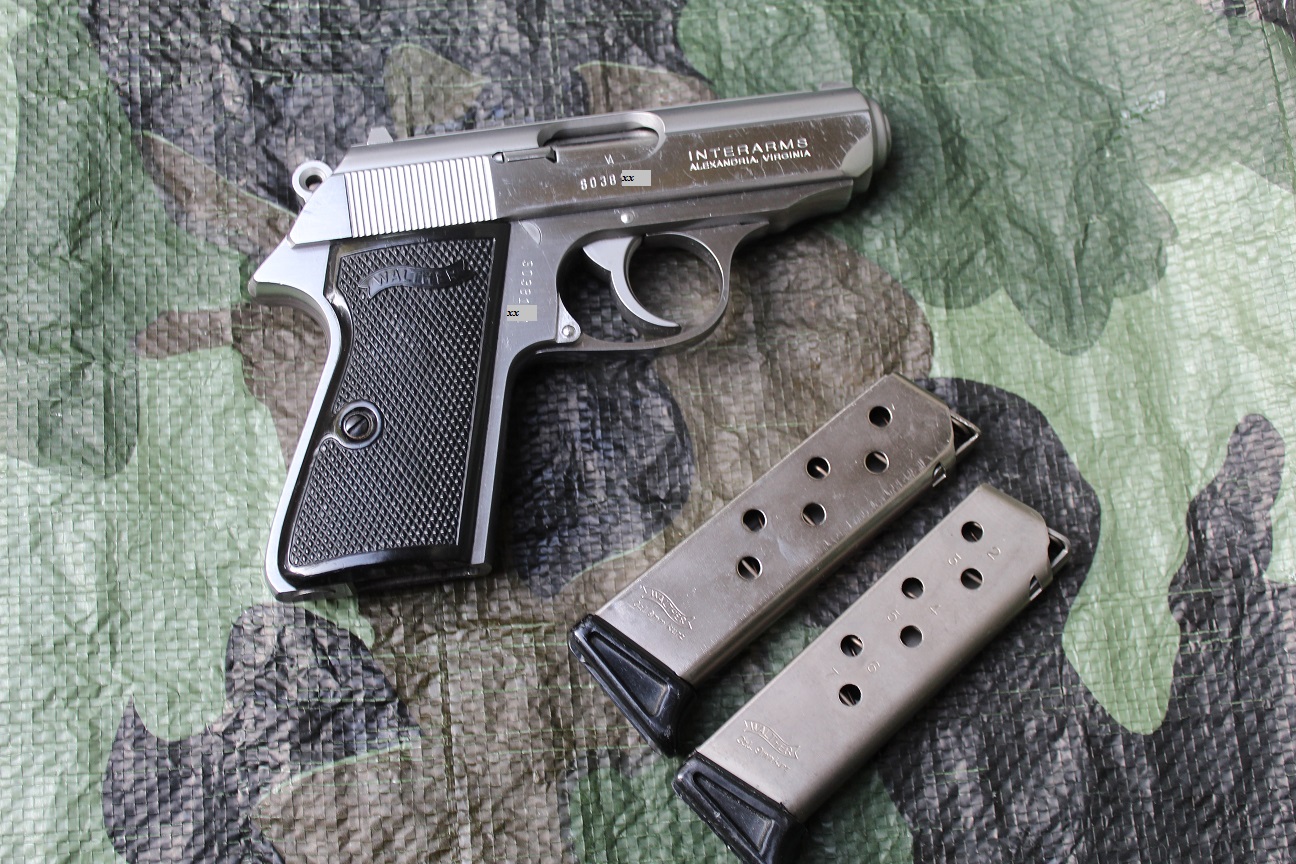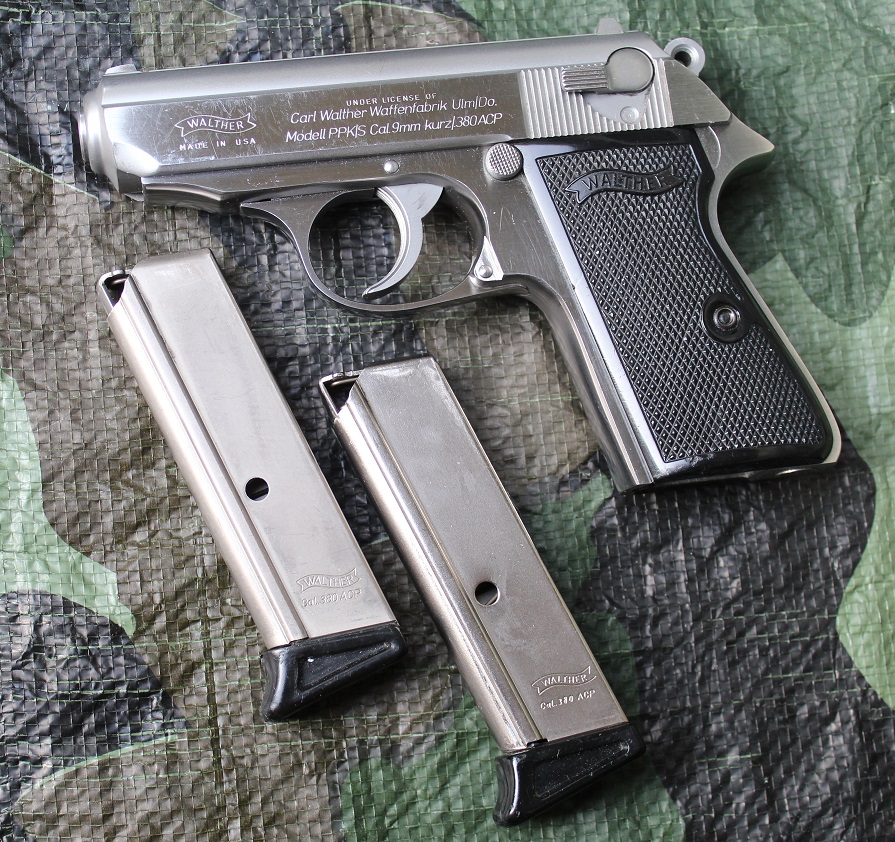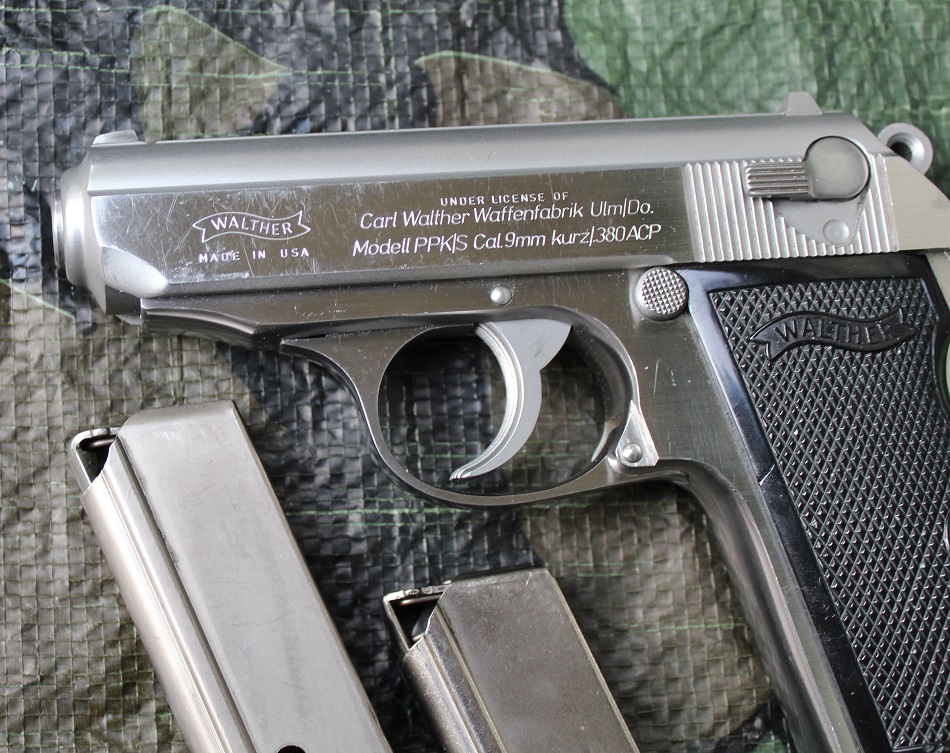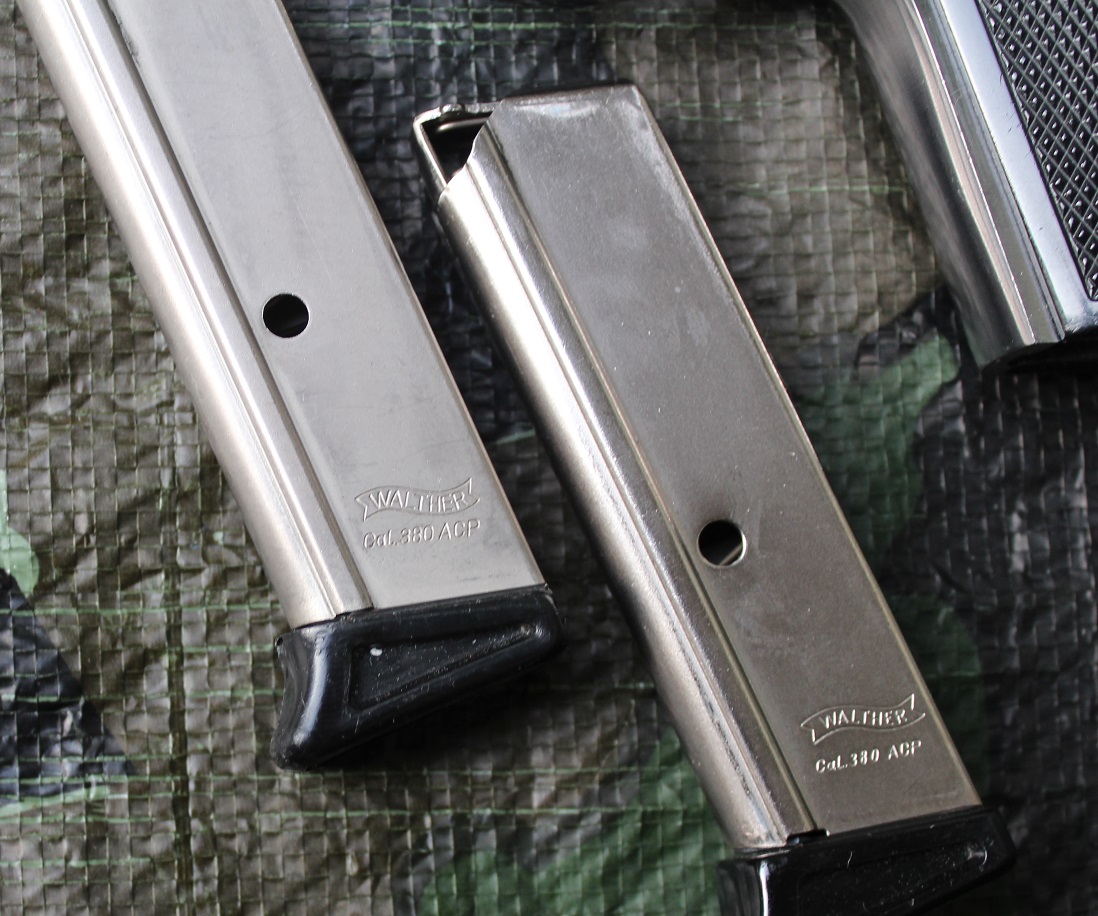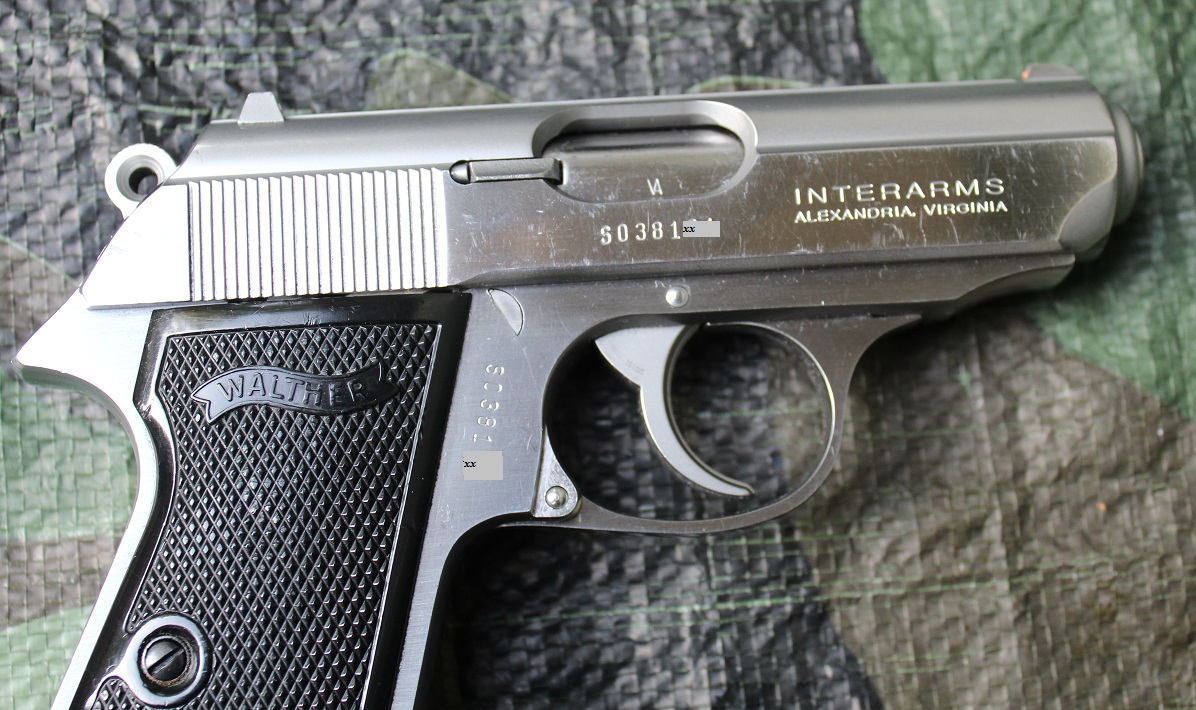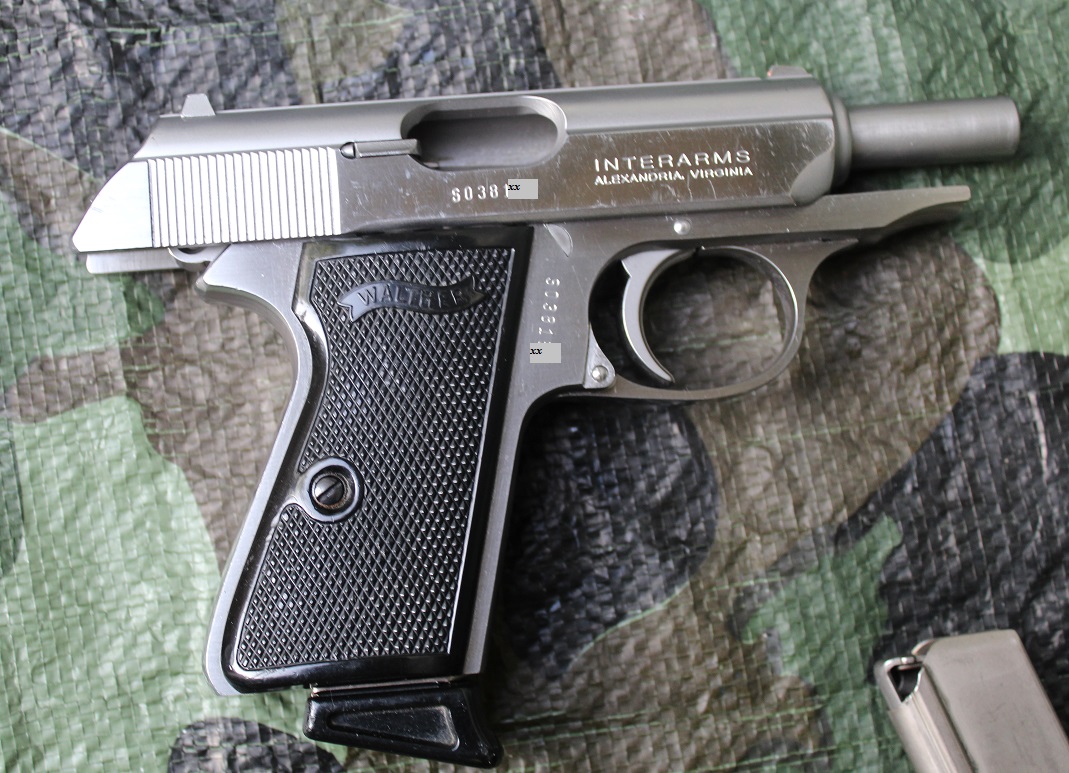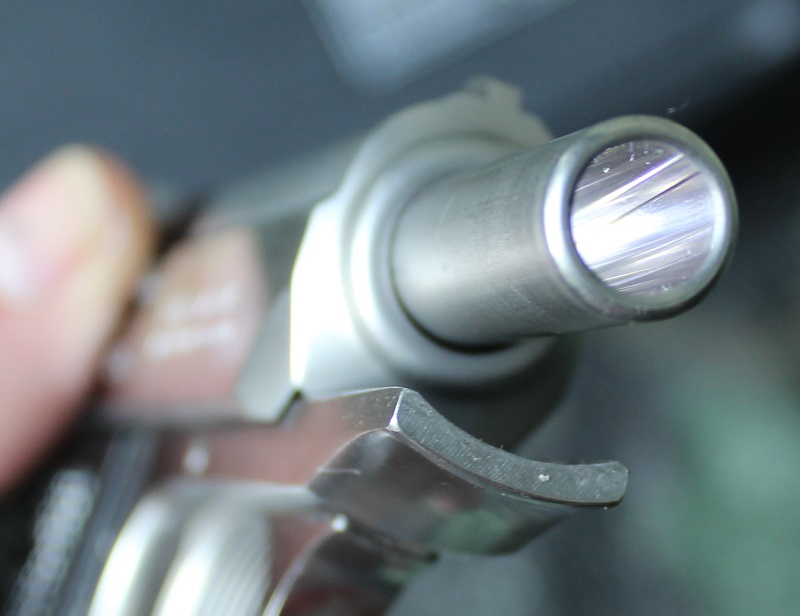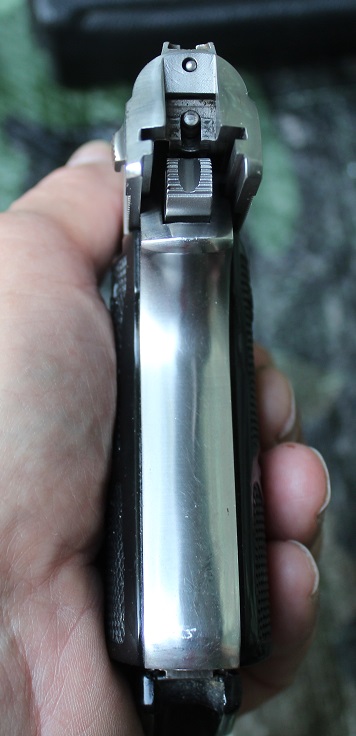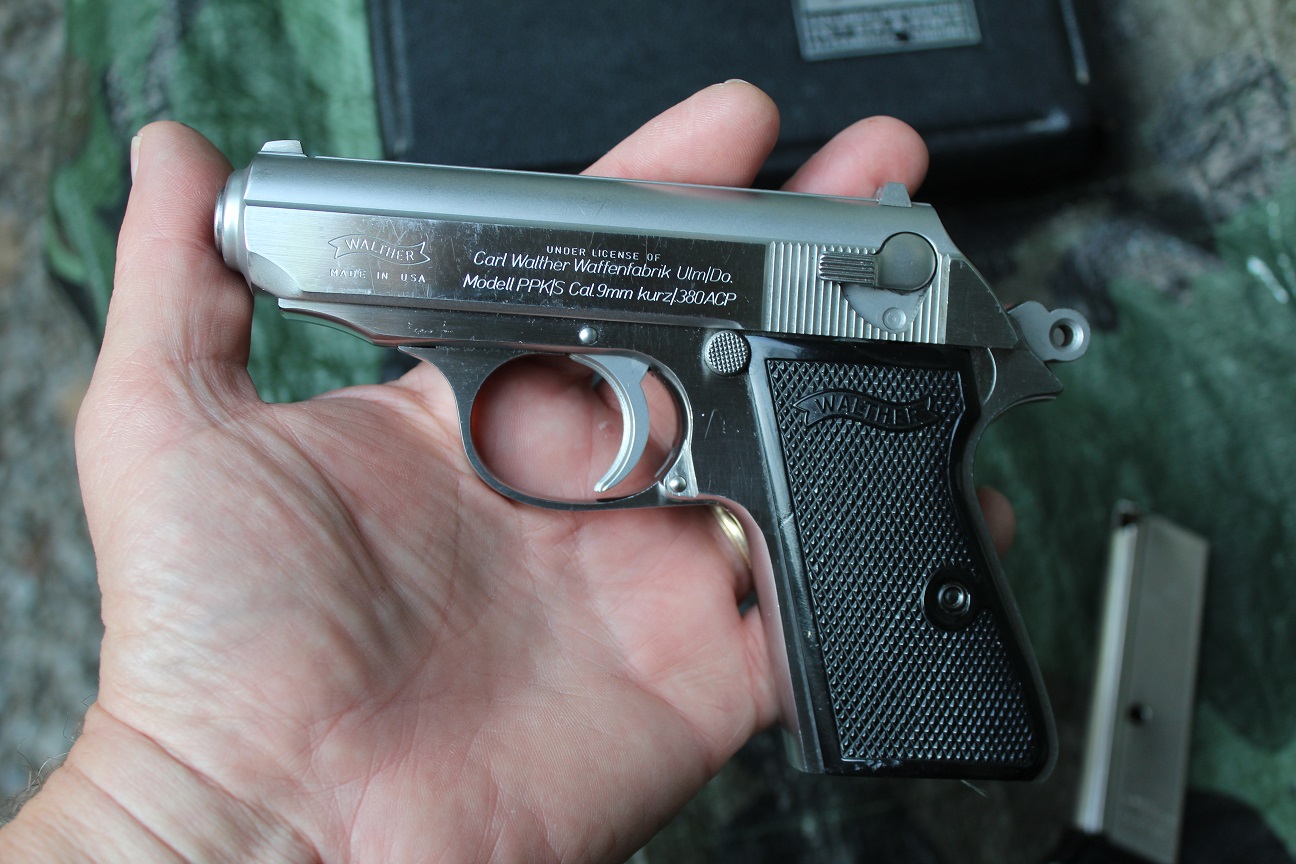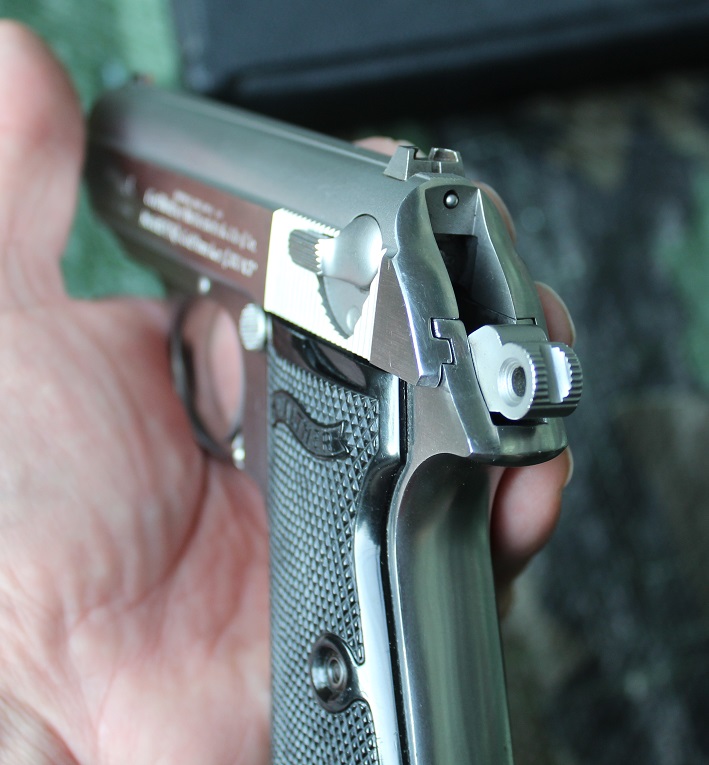 jmn 62 ss Consignment New Arrival to the shop
Here we have a really nice Stainless Steel Rossi Model 62 SA in S-L-LR. The barrel is 23 inches long and the bore is excellent! The entire piece is really nice and looks nearly new! The wood had virtually no dings in it. The action works very nice indeed as well. Take a look at the pics! For this nice rifle $950.00
Consignment New Arrival to the shop 368
This is a great outfit!! This is the Ruger SR40C Pistol in .40 Caliber! This is nearly new in the box only having a couple of magazines fired through it. It's a compact model and has the extended magazines for the larger hands. This pistol has two 14 round magazines and two 9 round magazines!!! The action works flawlessly and the bore is excellent. There is no wear on this pistol! Also with the pistol is the Ruger assist loader and padlock as well as paperwork which includes the owners manual. Check out the pics! $450.00
Consignment New Arrival to the shop 365
Here we have a nearly new in the box Remington RP45 semi auto pistol with four 15 round magazines. Has the owners manual and two grip adjusters plus the one on the firearm. This is a nice outfit and barely used! The action is perfect as is the bore. Nice! Check out the pics!!! $399.00
Consignment New Arrival to the shop 364
We have at our disposal several binders of THE GUN REPORT from many years back. Here is just one of them. This one is From 1972 and includes all the editions from 1972. Take a look at the pics. These are in amazing condition! For each binder $25.00
Consignment New Arrival to the shop 363
Here we have Stevens single shot 12 ga shotgun probably made in the 1940's. It's in pretty good condition for it's age and functions well. The bore is fair to good and all metal surfaces have a nice dark patina. Markings are clear as well. The stocks have the usual dings and scratches from used and there is a chip out of the plastic butt pad but overall it's still a useful serviceable firearm! Hang it up with a couple of duck decoys on the way and admire it and take it down to shoot it if you have an intruder. The price is low at $145.00 Take a look at the pics!
Consignment New Arrival to the shop 362
Here we have an old Stevens 16 GA shotgun single barrel. It has a stenite (plastic) forearm and a wooden butt stock that I feel is a replacement. That butt stock is in pretty poor condition but I consider these type of guns "CRACKER BARREL" guns for over the fireplace for esthetics. It will work and it is an actual firearm so it will have to be transferred. The action works fine and the bore is not too bad. Take a look at the pics! For this one $95.00
Consignment New Arrival to the shop 358
We have two of these fine Winchester Rifles and here's the first one!
Here we have a wonderful example of the Winchester Model 9422 XTR in .22 Magnum! The action works flawlessly and the bore is excellent!! This is a beautiful weapon and in very nice plus condition! It's been used but not much but does have some very small surface scratched on the top of the receiver where a scope was installed at one time in the grooved receiver mount. Made in 1981! Take a look at the pics!!! $1650.00
Consignment New Arrival to the shop 357
Here we have a wonderful example of the Winchester Model 9422 XTR in .22 S,L & LR. The action works flawlessly and the bore is excellent!! This is a beautiful weapon and in very nice plus condition! It's been used but not much. Made in 1980! Take a look at the pics!!! $1450.00
Consignment New Arrival to the shop 352
Here we have a great Winchester Model 74 in .22 short! The Winchester Model 74 was an American semi-automatic tube magazine-fed sporting rifle produced from 1938 to 1955 by the Winchester Repeating Arms Company. One of Winchester's semi-automatic sporting rifles, the Model 74 was marketed as a lower-cost .22 caliber repeater. The rifle was introduced in 1938 as a low-priced repeating sporting rifle alongside the Model 63 which had been sold for a number of years now. The Model 74 enjoyed moderate success and was quite popular, with some 406,574 produced by the time it was discontinued in 1955. Some amount of Model 74s would be purchased by the British Auxiliary Units during World War II. The weapon would be succeeded by the Winchester Model 141 in later years. This particular classic rifle is in excellent condition for it's age! The bore is in excellent condition. The color/bluing is also in excellent original condition with just a little wear on the muzzle end. The wood stock is excellent as well with just a couple of very minor dings. . All markings and proof marks are sharp and clear. Has not been drilled or tapped for a scope. What a fantastic rifle! Take a look at the pics!!! $625.00
Consignment New Arrival to the shop…333
Here we have a very nice Taurus Model 63 semi auto .22 LR Stainless Steel Rifle! . It features a 23-inch barrel with great bore, open target sights, a 10-round tube magazine, and great wood stock. Overall, this Taurus is in very good condition with extremely minor to no usage outside of the factory. The wood stocks are outstanding and the function ability of this rifle is outstanding! This rifle would be a good choice for recreational shooters. Check out the pics!!! ALSO! Comes with the original box! For this fine rifle $550.00
New Arrivals to the shop Consignment 329
Here we have a very nice carbine saddle boot scabbard for a Winchester or Marlin Saddle Ring carbine or rifle! We believe this boot would hold a 24 to 26 inch barrel and it is marked 24 26 on the back (look at pics). This top quality leather tool boot / scabbard is made by the George Lawrence Co. of Portland, Oregon. The George Lawrence Company, established in 1857 at 1st & Oak Streets in Portland, Oregon, was a saddlery and harness shop made famous by also producing exquisite leather goods such as handgun holsters, cartridge belts, slings, scabbards, etc. This company went out of business in 1985 and the logo on the back of the boot was used from 1940 to 1980's. This boot / scabbard is in great shape for it's age with no separations or loss of threading. Original owners initials branded on the reverse. Both saddle straps are present and in great condition! $225.00
Consignment New Arrival to the shop 328
Here we have an enigma! Here we have a Colt Model early production 1903 Pocket Automatic Pistol in .38 rimless cartridge. There were made from 1903 to 1929 with approximately 26,000. The magazine held 7 shots and the length of barrel is 4 ½ inches. The pistol cale with hard rubber, checkered grips with COLT and rampant colt motifs. One of the grips is a lighter color than the other one but that sometimes happens if it is exposed to the sunlight. Both grips are in excellent condition. The original finish on these were blue but the blue finish did not hold up well and this one is in the white! Looks like it has always been in the white! These pistols had the earlier round hammer up to about 22000 according to the Flayderman's book. This one is s/n 222XX so I know they went over that number a bit. The reverse slide is stamped PATENTED APR. 20, 1897 SEPT 9, 1902 and COLT'S PATENT FIRE ARMS MFG. CO. HARTFORD, CONN, U.S.A. over the serial number 222XX. The obverse slide has stamped in it AUTOMATIC COLT CALIBRE 38 RIMLESS SMOKELESS. The barrel has the original blue present but there is absolutely no blue present on the slide or frame. I even took the grips off and found no traces of bluing under the grips. The magazine is in similar condition with absolutely no markings on it anywhere. The grip screw heads and the trigger screw are all blue. I can see traces blue on the trigger. If the blueing was all removed on this piece they did a good job! It hasn't been buffed as all the markings are still sharp. Take a look at the pics. Get this unique piece for $2500.00!.
Consignment New Arrivals 322
Here we have a BSA (Birmingham Small Arms) No. 1 Bolt Action single shot rifle in .220 long rifle caliber. This is the same company who built BSA Motorcycles !! These were made after the turn of the century around 1910-20 or so. This one has the later bolt design of the 1920's and is in pretty nice condition with most metal color remaining. The wood stock has the usual dings and dents from use. All the markings are sharp and clear and the action works well. The rifling is also very nice. This one has a plate behind the bolt that has on it "BASE FOR BSA NO. 8 PEEP SIGHT'. The stock has no butt plate but rather the butt plate was carved into the stock! Take a look at the pics! Nice! $395.00
Consignment Modern Arrivals 311
Here is what every kid wanted in the early days when the first Hamilton Rifle No. 27 came off the line in 1906! This is a Hamilton Rifle No.27, 22 Cal with 16" barrel, Patented Oct.30,1900-Aug.13,1907 Manufactured by C.J.Hamilton & Son, Plymouth, Mich. U.S.A. It is a tip up rifle with stamped steel receiver. The barrel is brass lined over with stamped steel. This wasn't the first mode of Hamilton rifles or the last either for that matter. This rifle seems to be complete except for the rear sight. This little rifle was well loved and obviously has been in the attic for many, many years due to the very dark patina exhibited over it's entireity. The firing pin is still entact and the little fellow who owned it carved his initials into the stock and fitted a leather butt pad under the iron butt plate! The bore is not great but I bet it could still be shot! Nice piece of early boy's history! For this piece $165.00
Modern Arrivals Consignment 308
Here we have a brand new, never fired Smith & Wesson M&P 22 Compact with one (1) 10 round .22 long rifle magazine. Here is S&W's overview of this particular weapon:
Precision built to be the most accurate and reliable firearms, M&P pistols are an experience you have to feel to believe. Durable and comfortable, they are capable of handling as many rounds as you are. Engineered with an attention to detail and superior ergonomics, M&P22 pistols connect the shooter with the shot. Ideally suited for training or target shooting, this semi-automatic compact pistol maintains standard M&P pistol design features and includes a few extras.
Features
• Reduced scale version of the full-size M&P pistol
• Threaded barrel - 3/8"x24 takes 3/8"x24 to 1/2"x28 adapte
r • 2 magazines included (only 1 magazine here)
• Ambidextrous manual safety
• Reversible magazine release
• Picatinny-style accessory rail
• Magazine safety - will not fire without magazine inserted
• Internal lock
• Captured recoil guide rod & spring for easier assembly/disassembly
• Made in USA
ALL BACKED BY OUR SMITH & WESSON LIFETIME SERVICE POLICY.
This was originally purchased from Gander Mtn by an elderly gentleman who could not pull back the slide to load the chamber. It was never fired and he managed to lose the original box but the important part is still here being this fine unused S&W M&P 22 !!! Take a look at the pics! Comes with the lock keys, gun lock and spent cartridge as well as the owners manual . It's real nice!!! Lists for $389 but we'll just charge $359 for this one so save $30.00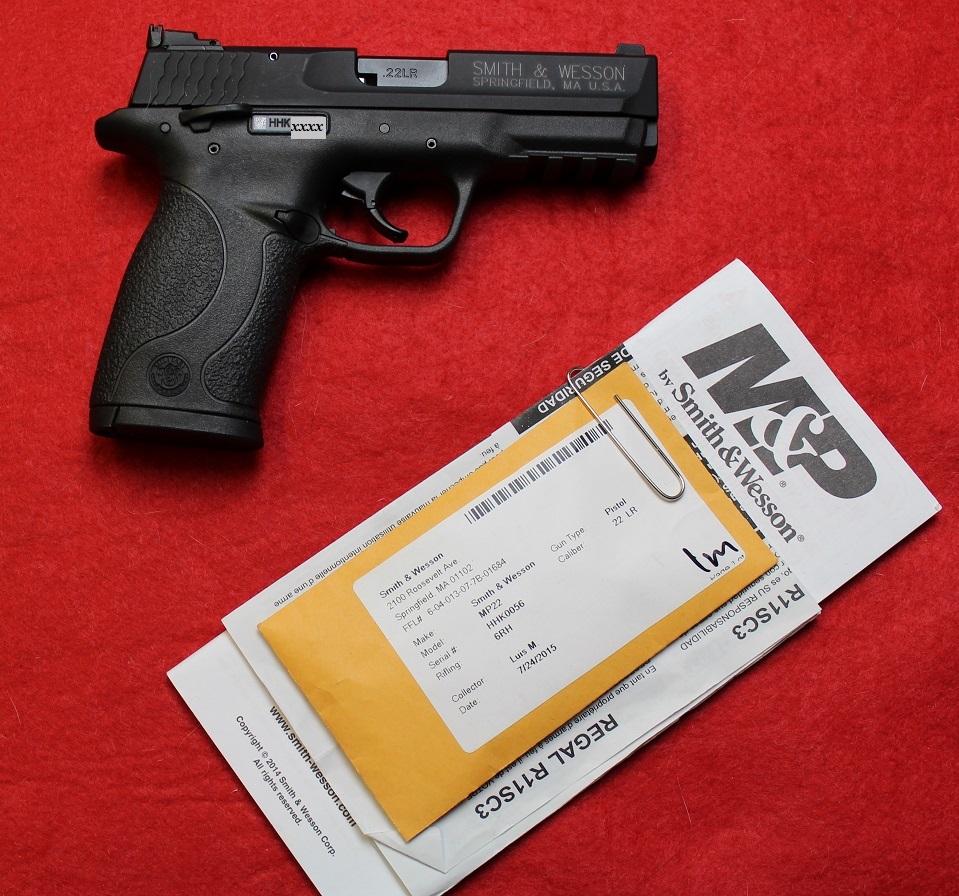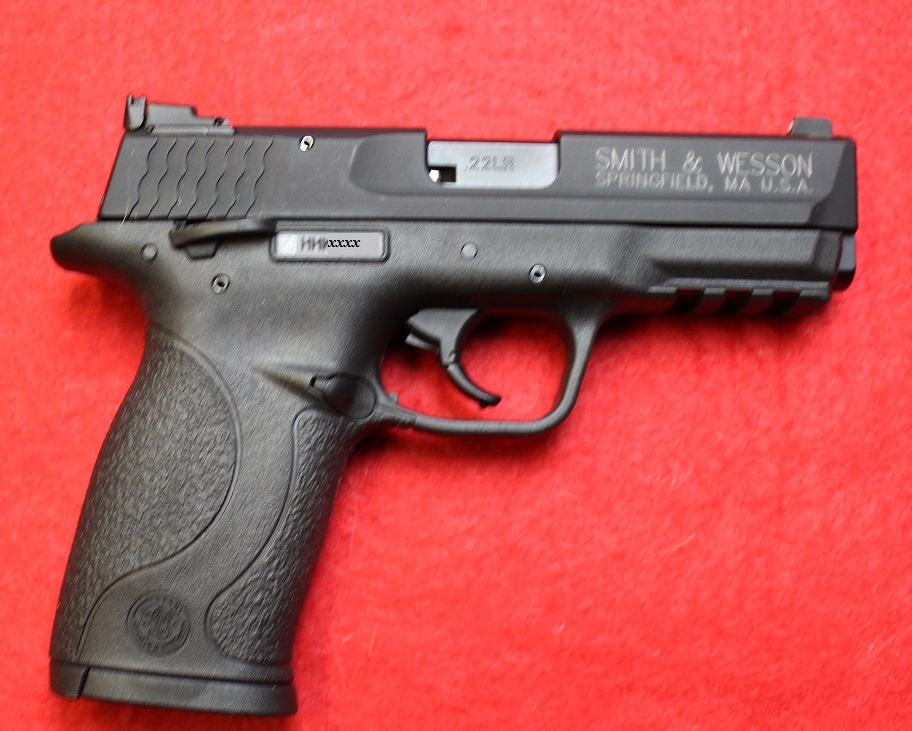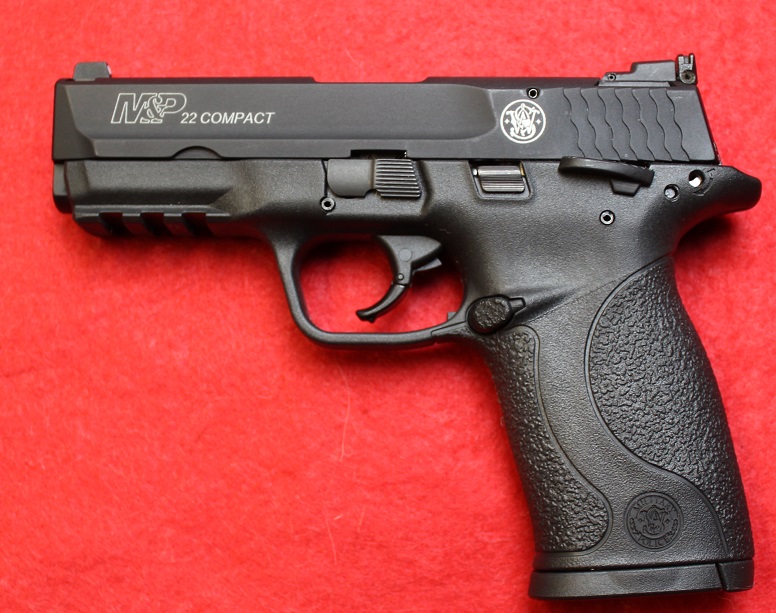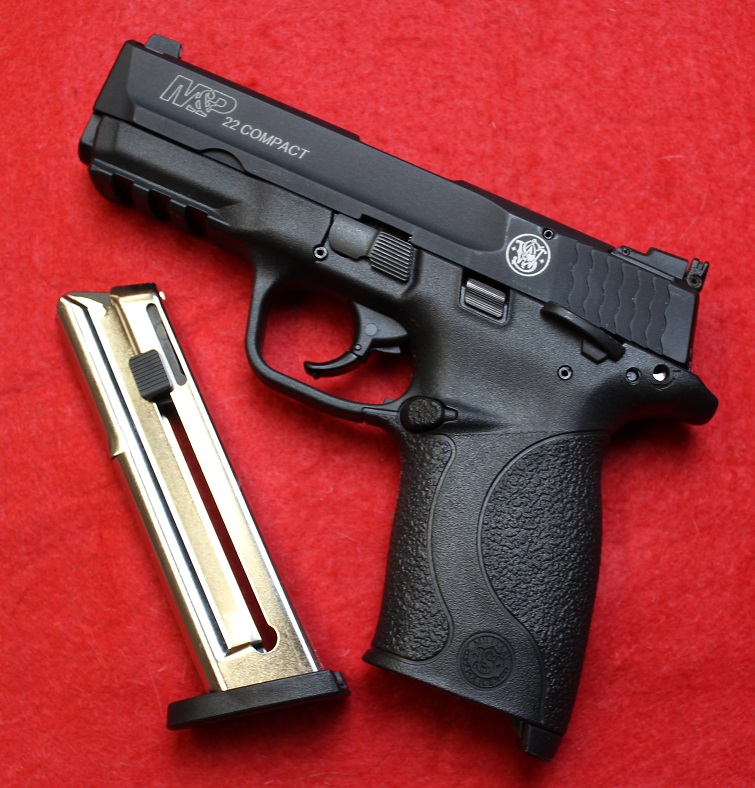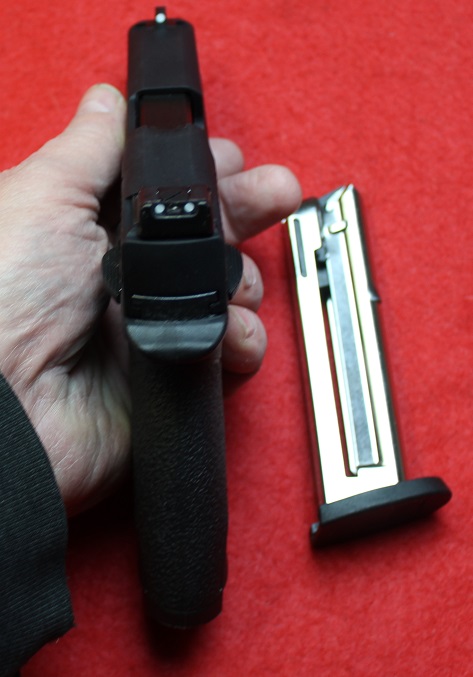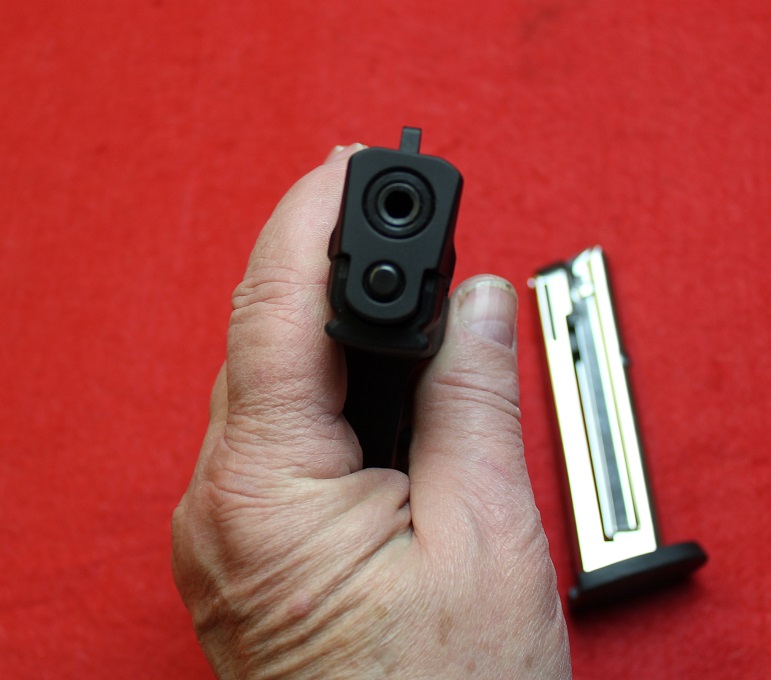 Modern Arrivals 307
Here we have a good used magazine for the Springfield M1A/M14 .308 Winchester 20 Rounds Steel Blued. This one is just like the ProMag magazine that sells for over $30 but here you can save as this one is $20. No markings.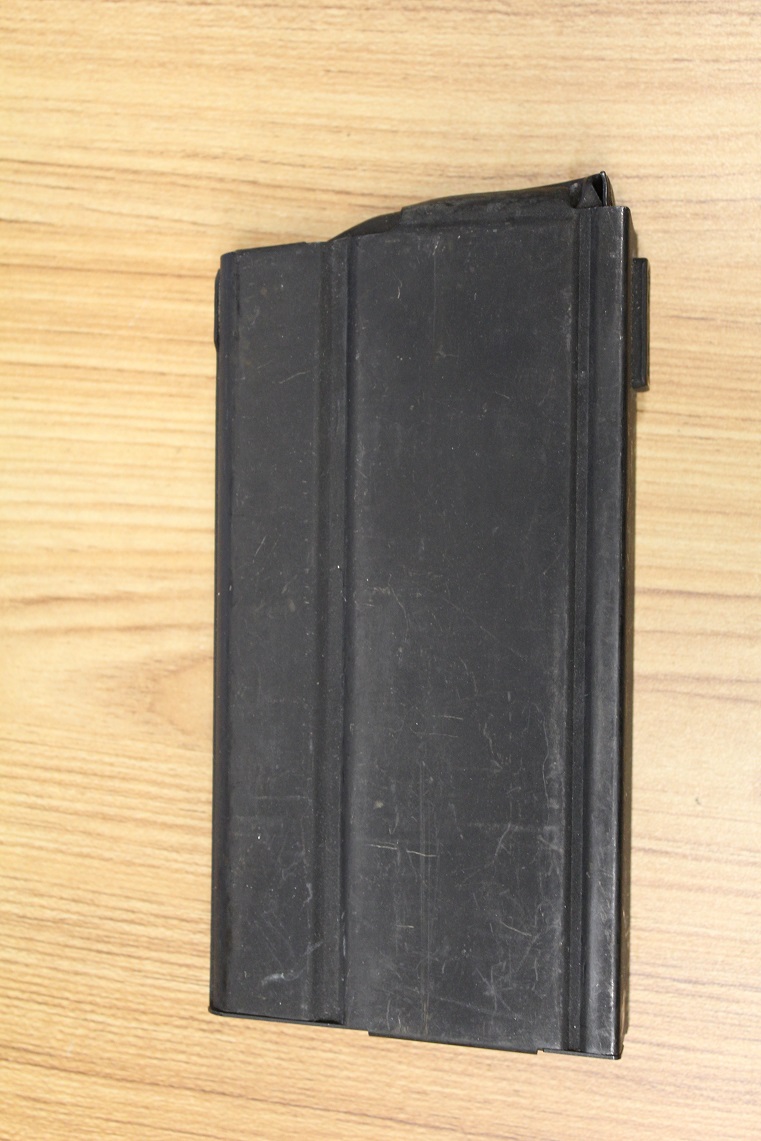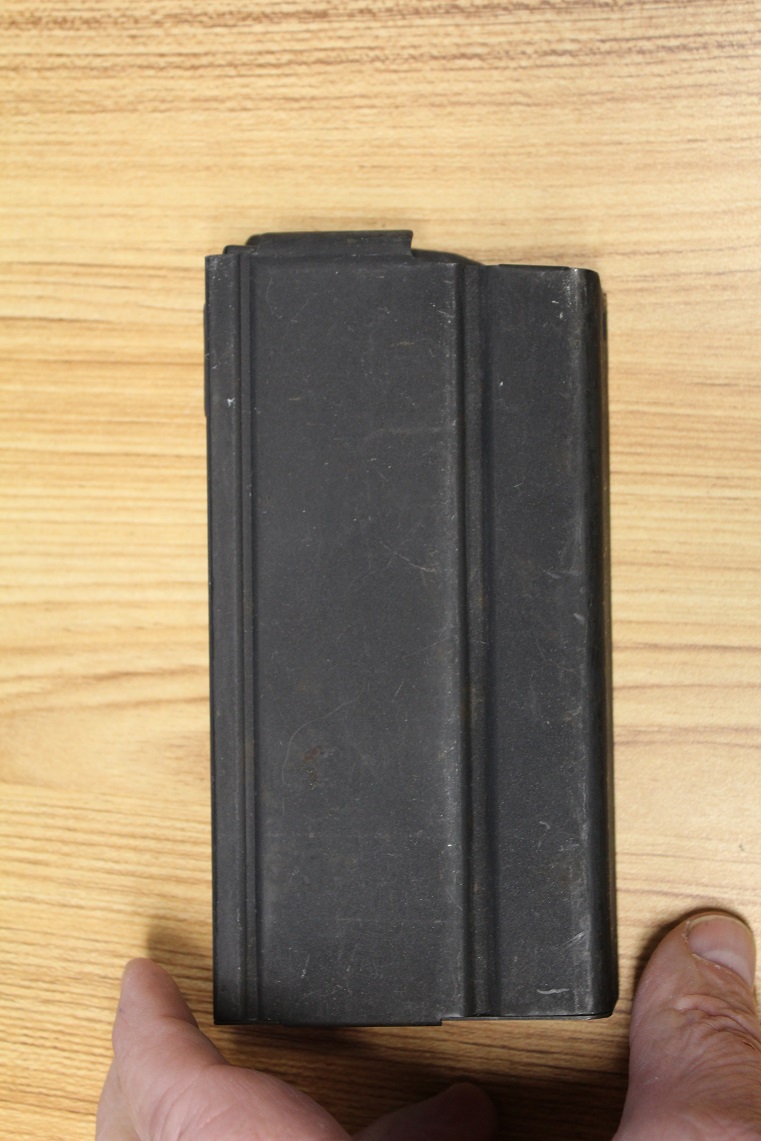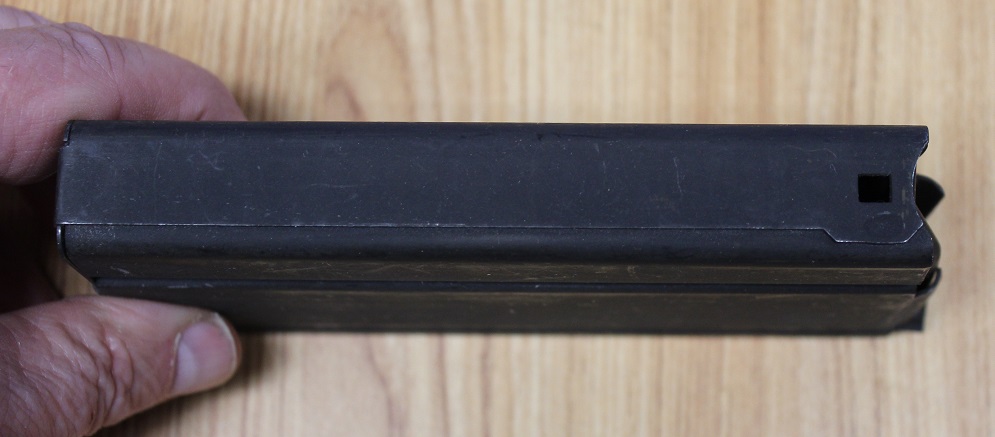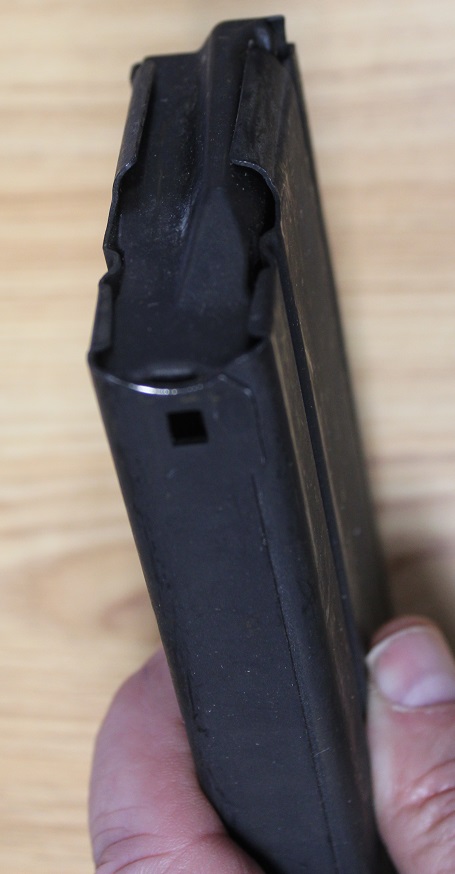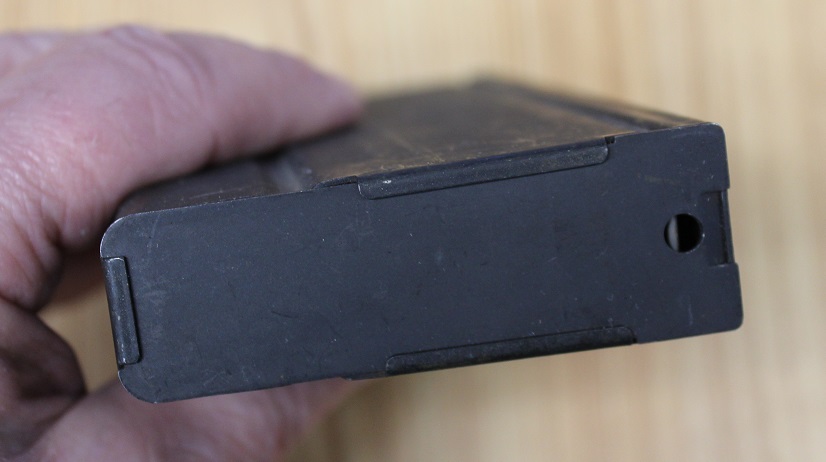 Consignment 292
Here we have 2 Tokarev Pistols in 7.62X25 caliber. Both are different. According to Wikipedia the 7.62×25mm Tokarev cartridge (designated as the 7,62 × 25 Tokarev by the C.I.P. ) is a Russian rimless bottlenecked pistol cartridge widely used in former Soviet satellite states, and in China and Pakistan among other countries. The cartridge has since been replaced in most capacities by the 9×18mm Makarov in Russian service.
This first one is a very nice pistol. This is a Romanian TT_33 Tokarev 7.62X25 pistol imported into the United States by Century Arms International in Georgia,VT. The finish is nice and the markings are clear. The action works smoothly! The grips do not have the STAR markings on them and are in excellent condition! The bore is very nice! This pistol comes with 2 magazines as well as a holster (missing cleaning rod) and a full box of shells. The shells must be sent Via UPS as they cannot accompany the firearm during shipment. For this combo $299.00
Check out the pics!
Consigment 291
Here we have a very nice Model 57 Tokarov Pistol in 7.62X25 caliber! This is actually the Yugoslavian TTC Tokarev Semi-Auto Pistol Manufactured by Zastava Arms - in - Good Surplus Condition! This one operates flawlessly and has a great fit and finish! Numbers match! Comes with 2 magazines, holster and 1 full box of ammo! The ammo must be sent separately from the firearm via UPS. Take a look at the pics!!! $299.00 for all.
Consignment New Arrivals 116
Here we have a very nice vintage Harrington and Richardson .22 caliber Break top 7 shot revolver. This little revolver is in very nice condition and has wonderful markings on it. We think it is a Premier Model but it is not marked Premier. The H&R Premier was manufactured between 1895 and 1941. The manufacturers info is on top of the barrel while .22 rim fire is on the side of the barrel. There is some wear to the bluing but most of it is there . I would say 75% or so. The action works great and the revolver looks great! The original plastic grips are in very nice condition. It would be extremely hard to find one in better condition!!! $340.00
Consignment New Arrivals 114
Here we have a very nice Model 1895 Russian Nagant 7 shot Revolver. This revolver takes the 7,62 mm Nagant ammunition. This particular revolver is an import and so marked, see the pics. It's in beautiful condition in every aspect! The action works fine in both single and double action. This revolver comes with cleaning tools and a gun lock. Can't ask for better!!! $399.99 with 1 box of 49 cartridges. Cartridges must ship separate from firearm. Nice!
Consignment modern Arrivals 96
Here we have a Wilson Combat Shooters Bag in nice condition. It's been used but not abused! The bag is 14 inches long by 8 inches wide and about 6 inches tall. This bag is in pretty good condition still and only $20.00
•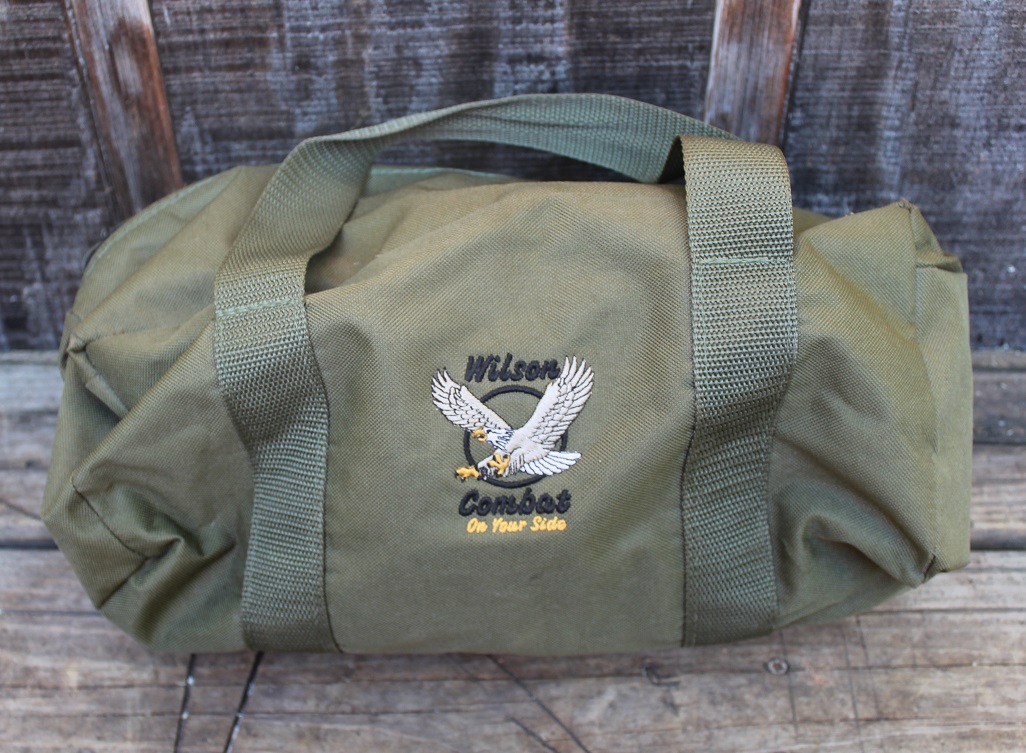 Consignment modern Arrivals 95
Here we have two different Wilson Combat Pistol Cases. Both in great condition for $20 each!
•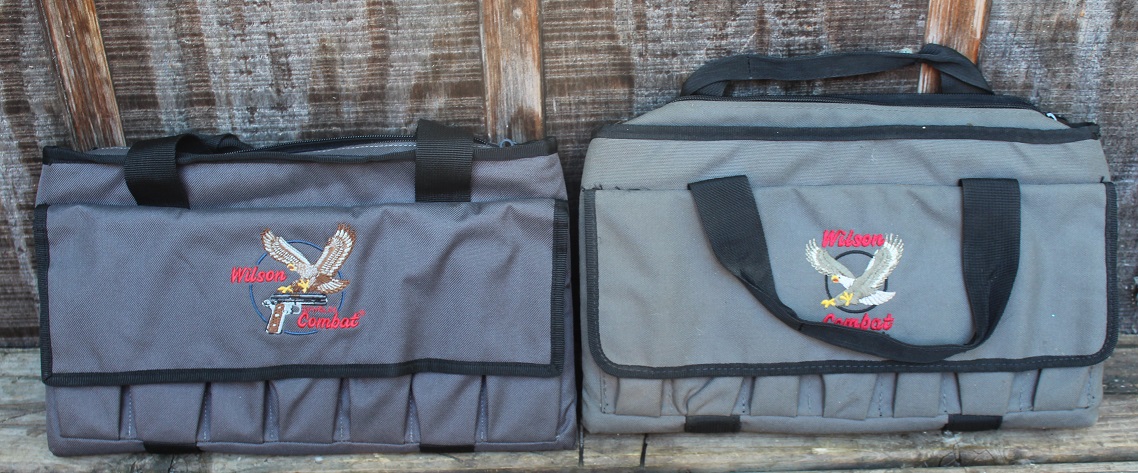 Consignment modern Arrivals 94
Black leather fanny pack with holster inside. The holster is held with velcro. The pack has a S for small on it but it goes around my 38 inch waist and would probably fit up to a 40 or 41 inch waist. For this pack $20.00
•
•
•
Consignment modern Arrivals 93
• Here we have a used over the shoulder or carry side opening bag by The Wilderness. $10.00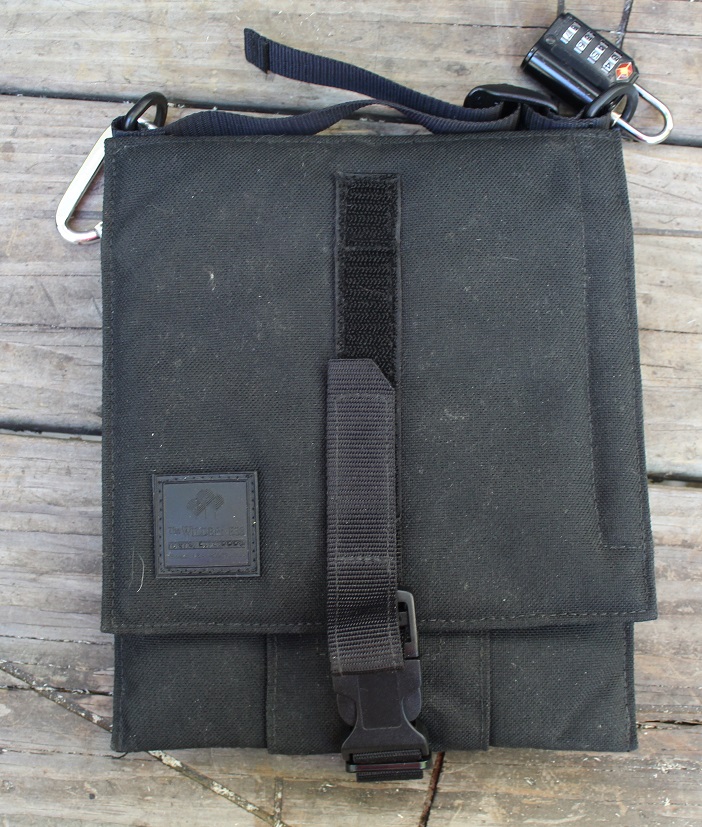 •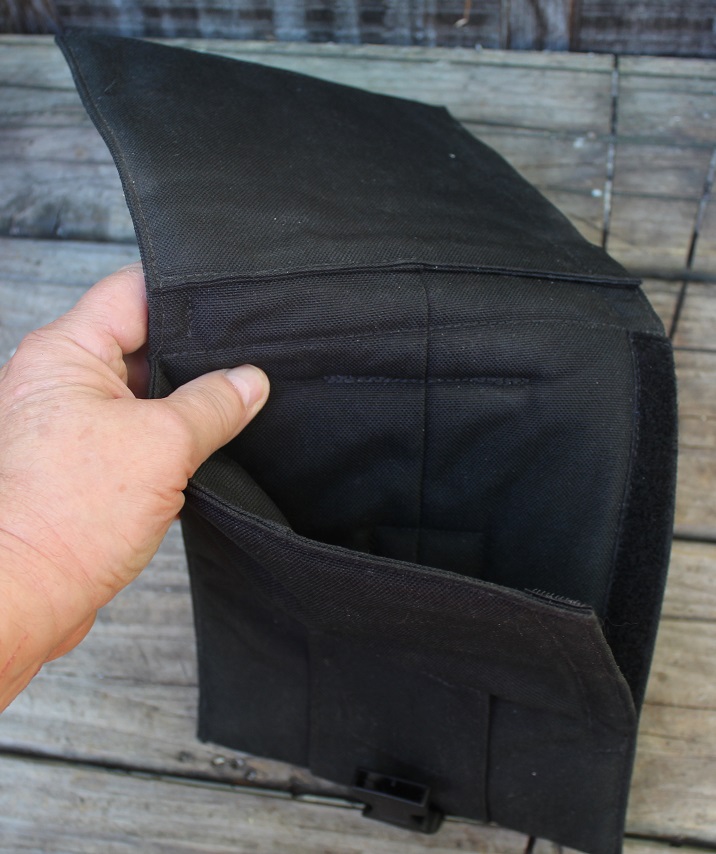 •
Consignment modern Arrivals 92
Over the shoulder shotgun bag. Take a look at the pics! $20.00
•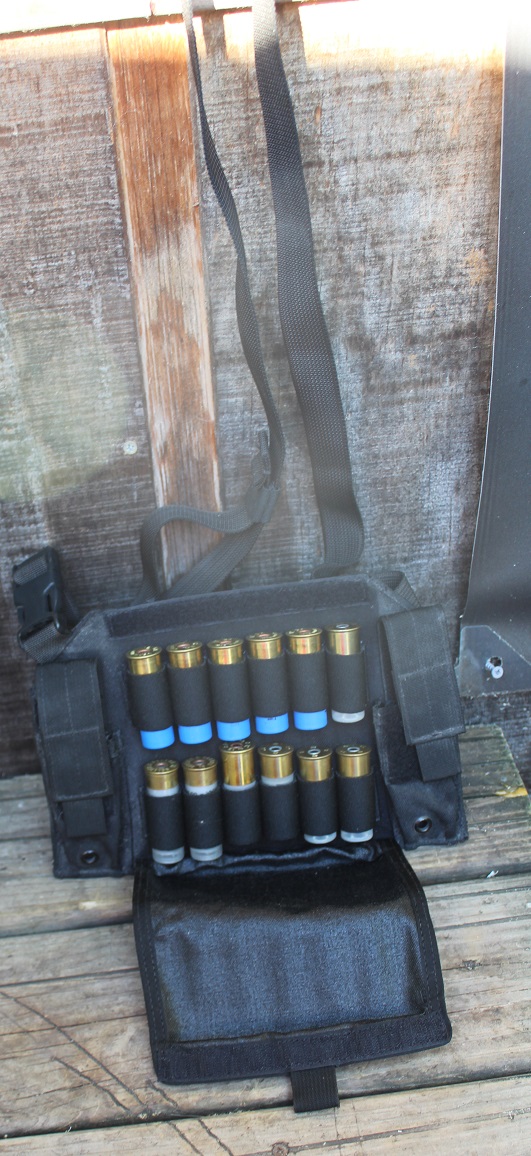 •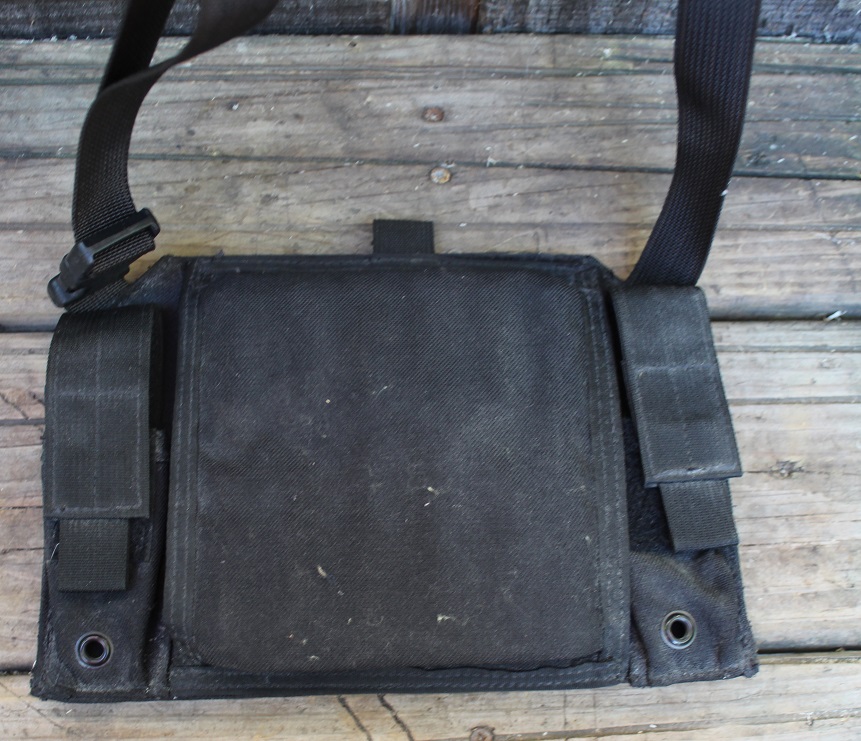 Consignment modern Arrivals 91
Here we have a very nice LaRue Tactical Bag. It can be used as a backpack or as an over the shoulder bag. $95.00
•
•
Consignment modern Arrivals 90
The Wilderness Tactical Shoulder Strap. New in bag, never used. $10.00
•
•
Consignment modern Arrivals 89
Another Wilderness Tactical strap in bronze for $10.00
•
•
Consignment Modern Arrivals 82
Here we have a PPAR-11 Cleaning station with Barrel Support
• Made with a thermoplastic welding process
• Material is highly resistant to rot, fading and all chemicals including gun solvents and cleaners
• Block is permanently affixed to the base, block goes into the magazine well
• Barrel support at the front when the rifle is open
• The AR locks down on the mag support just like when you lock in a magazine so the rifle is stable on the station and in no danger of comng off so no worry about damaging your valuable firearm. These cleaning stations are no available now that I know of. For this one $55.00
• Constructed using a thermoplastic welding process, these durable cleaning/maintenance racks for AR-15 style rifles are impervious to rot, corrosion, fading and chemicals. The vertical block inserts into the rifle's magazine well to stabilize it, while a barrel support allows the upper receiver to be pivoted forward for cleaning. The Heavy Duty stand makes it easier to perform work on a rifle's barrel or buffer tube.
NOTE: The rifle is for sale as well!
Consignment Modern Arrivals 81
Consignment Modern Arrivals 80
Here we have U.S.Palm Body Armor. This product provides level IIIA soft armor protection in the front panel and rear panel. The US PALM Defender also functions as a plate carrier designed to hold rifle protection plates in both the front and rear if desired by the end user. The Defender provides exceptional utility in an all day comfortable package at an incredibly economic price. Defenders are made in the USA! While the armor package in this kit has been certified to withstand up to and including .44 magnum, it is up to the customer to determine the suitability of this product for use in their particular application and customer assumes all risks associated with such determination. $325.00
Consignment Modern Arrivals 79
Here we have a brand new slightly used M1 Carbine Case with strap. Like the original. Fleece lined. $20.00
Consignment Modern Arrivals 78
Here is a very nice nearly new Coffin Case for carrying handguns. Velvet lined and beautiful! About 19 inches long by 9 ¼ inches at the widest point and 3 ½ inches tall. Made from aluminum. Retails for $74.95 but you can have this one for $59.95 Really very nice!
Consignment Modern Arrivals 77
Here we have Microtech Socom Alpha T/E Tactical Knife in hard sheath - Lists for $375.00
Our Price $325.00 !!!
Fixed Blade Knife in Sheath
Specifications
• Overall Length: 10 3/8"
• Blade Length:5 3/8"
• Cutting Edge:5.25"
• Blade Width:1.25"
• Blade Thickness:0.17"
• Blade Style:Clip Point
• Blade Grind:Flat
• Finish:Black grip/ grey blade
• S/N 00103
Made 12/2016 in the USA
This knife has never been sharpened and in fact looks like it may have been carried but never used!
NOTICE!!!
We will be listing several firearms that we have received from estate. Most of the firearms are in excellent to nearly unused condition. This gentleman's hobby took him to many training sessions and he loved to improve, or upgrade if you would, many of his firearms with new barrels, stocks, grips, internal parts and so forth. He had a special interest in Ballastics and he held an Engineering Degree from Purdue University. Quite a man! We have several firearms so it will take a while so check back often! We also will be listing a TON of new ammo as well as holsters and accessories! It'll be worth the wait! All of the semi-auto's have magazines, some have more than one. If I find more magazines while unpacking I will try to include at least 2 with each one. No guarantees but I'll try my best. Thanks!
•
La 3. Here we have a very unique custom Ruger 10-22 Rifle! 'The Ruger 10/22 is a series of semi-automatic rifles produced by American firearm manufacturer Sturm, Ruger & Co., chambered for the .22 Long Rifle rimfire cartridge. It uses a patented 10-round rotary magazine, though higher capacity box magazines are also available.' Wikipedia Barrel length: 18.5 in (470 mm) Length: 37 in (940 mm) Manufacturer: Sturm, Ruger & Co. Action: Semi-automatic Designer: William B. Ruger, Harry H. Sefried II Produced: 1964–present Cartridge: .22 Long Rifle
The only thing on this Ruger Rifle remaining from the original is the receiver which has been updated as well! The barrel is a carbon fiber bull barrel by Volquartsen which are highly appreciated in the market. Not cheap in the price but excellent quality. The rifle comes with 3 magazines of which one is the large capacity 'banana' style mag. The mag release is a quick release which is much faster than factory. The stock is a highly custom stock by Fajen and is just beautiful!!! It's called Laminated Wood Coffee and is no longer available. Finally the scope if a Nikon Buckmaster scope with flip up front shade and just tops this rifle off excellently! Excellent conversion!!! Look at the pics! $950.00
•
•
•
•
•
•
•
•
•
•
•
•
•
We have 8 round moon clips for the Smith & Wesson Performance Model 327 revolvers in stainless and steel. Inquire on prices:
Consignment 64 & 65
Here we have a few "Cracker Barrel" Guns!~ That means even though they can shoot their best purpose is over the fireplace for display!
This first one is Single barrel 12 ga shotgun Topper Model 158 by Harrington and Richardson. The bead is missing on the front of the barrel and the forearm is taped on for some reason and there's a crack in it but that's all I can find wrong with this one. The action works well and the patina is nice and the markings are clear as well. This old shotgun has the original rubber H&R buttplate on it as well. Check out the pics! $60.00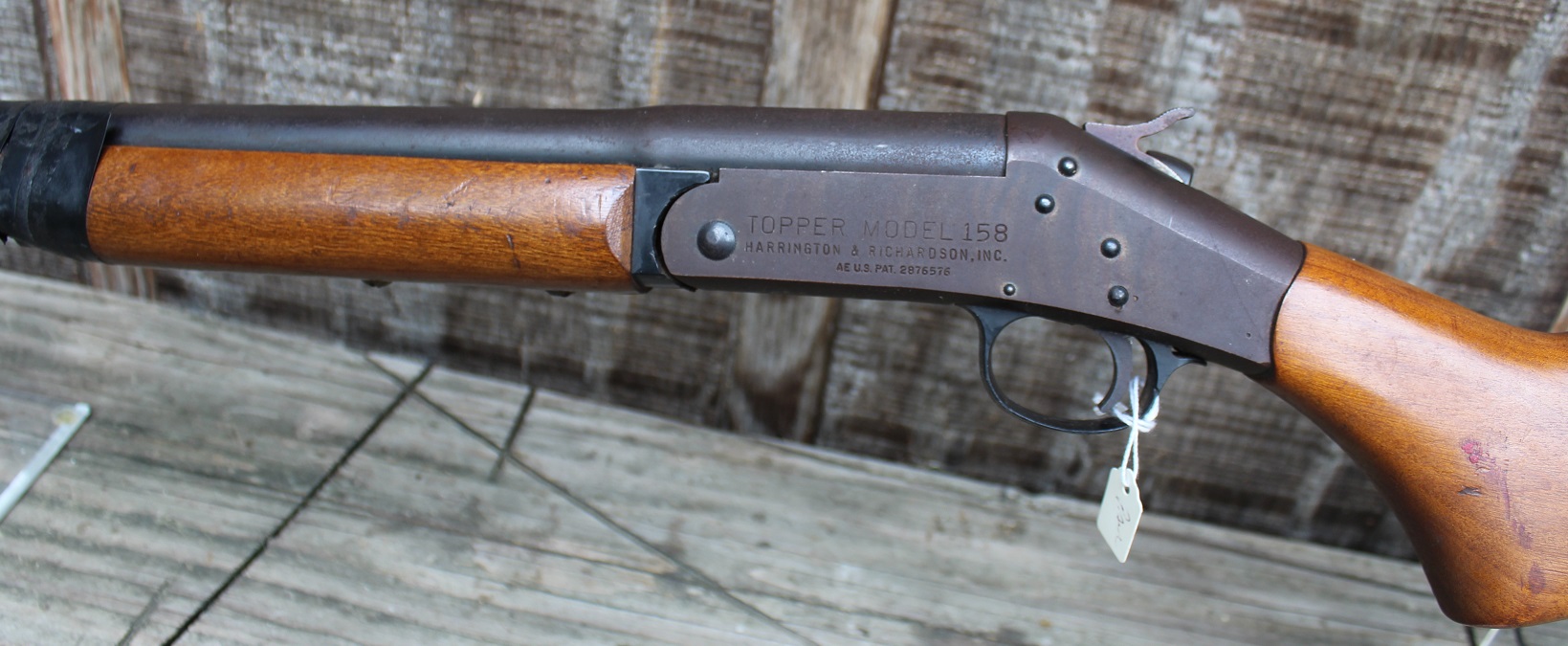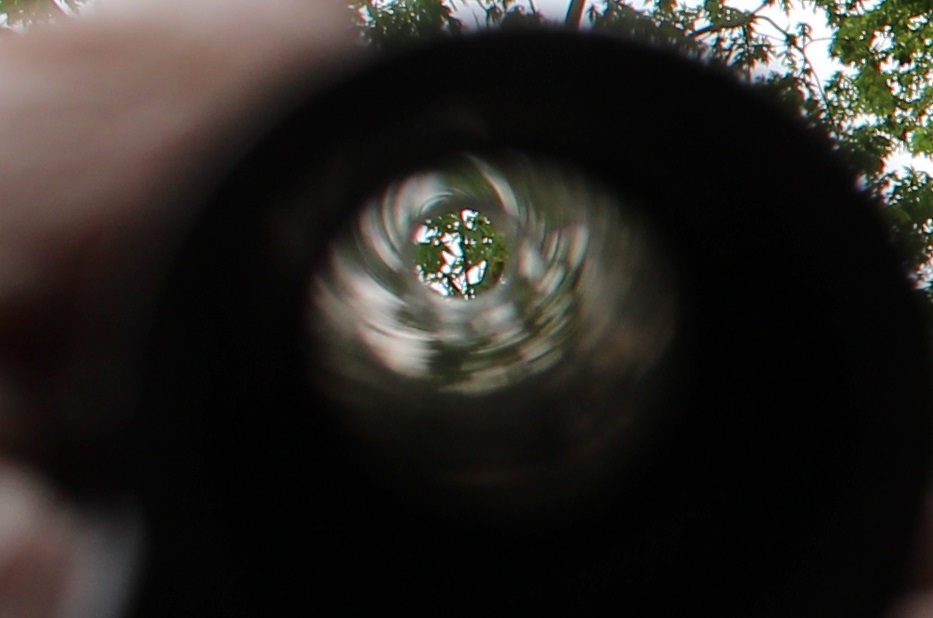 This second one is a single barrel Mass. Arms Co. 12 ga shotgun made in Chicopee Falls, Mass. The bore is rusty near the chamber and should clean from fair to poor. I wouldn't shoot this one but it could be shot. We never warrant these old guns to shoot! The metal is a nice dark patina and would look great over the fireplace. The action does work fine. The bead is missing at the end of the barrel. The stock has a 1 ½ inch sliver missing at the tang on the obverse side top and there is a crack behind the stock making the buttstock a little out of line. The forearm is fine just dings and dented as usual. Back in the day an old single barrel shotgun stood behind the door in many of a household! For this old war horse $60.00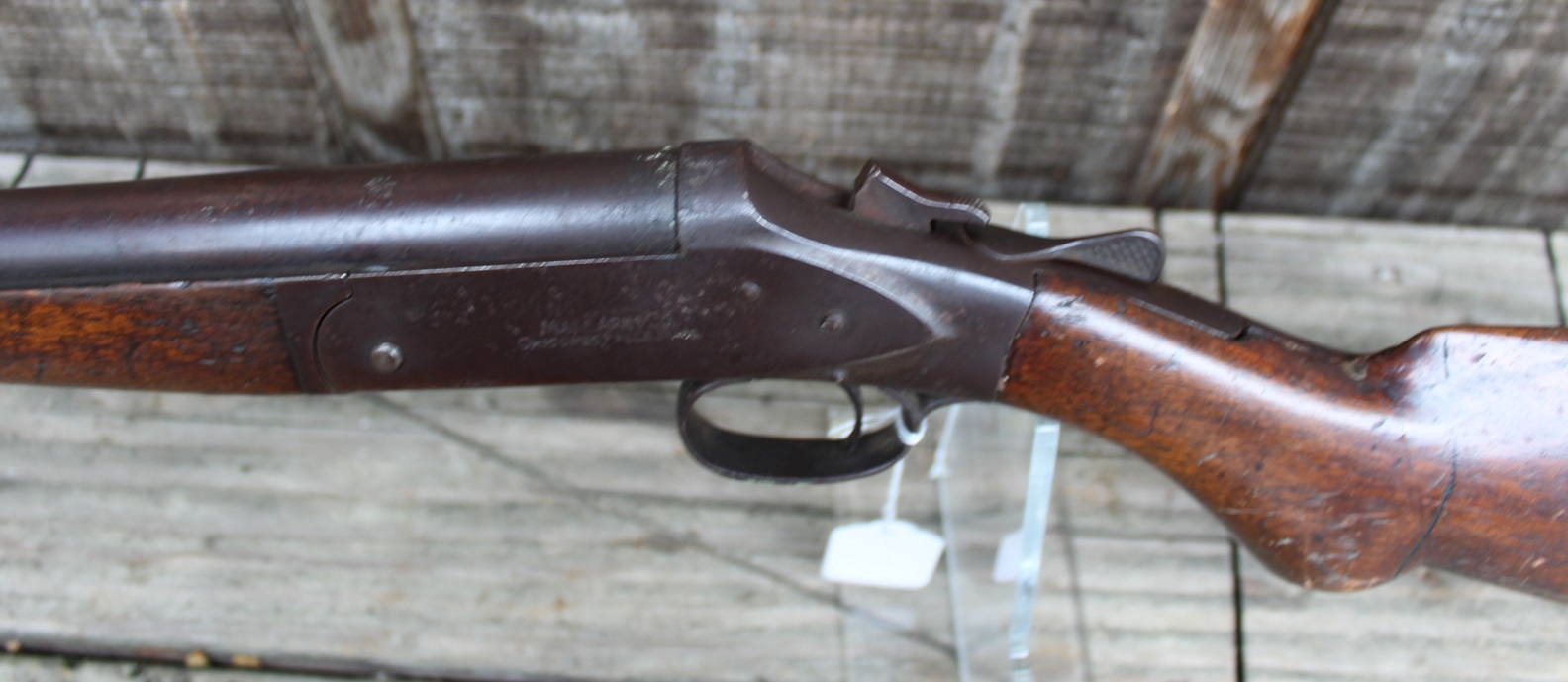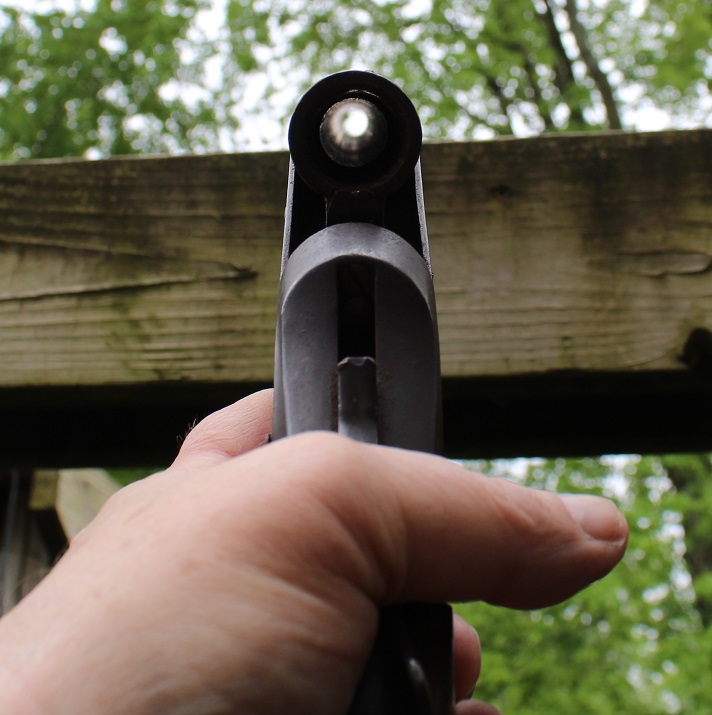 Consignment 59
Here are some various parts. I do not have a clue as to what they belong to. If you do let me know. Anything you are interested in? Look at the pics
and
and
and
and
and
Consignment 58 Here are some more parts!
Consignment 57
Here's something that we usually don't encounter. Here is a small collection of hunting licenses from Pennsylvania and 1 deer license from Utah . Therese have dates on them of 1961, 1962, 1948, 1959 and 1964. There are 6 licenses in all. $45 for all 6.
Consignment 50
Here is a hard one to find! This is a Walther .22 Nitro Model 2 that was made in the 1920's. This is a bolt action rifle but is unique in the fact that it is both a single shot rifle and a semi automatic rifle just by simply moving the bolt position. This one has provisions for the magazine but it is lacking. There are also some holes in the receiver but what reason I do not know as they don't appear to be threaded but they would not interfere with the operation of the rifle. The rifle overall is in fair to good condition with some paint specks on it from being in the corner while someone was roller painting the room so it will need a little cleaning. The wood stock is in good condition overall with some bumps and bruises as one would expect. Take a look at the pics! For this one $295.00
Consignment 45
Here is a nice Type 38 Rifle. This rifle does not have the cleaning rod but does have an intact MUM !! The action works well and the wood is in slightly more used condition and the bore is dark with deep lands and grooves. The stock has some slight separation at the dovetail and a few more bruises that the one above. More of the original bluing to the barrel and receiver is present on this one not having tured to a nice dark patina. The rear ladder sight is present and complete as well. This is a nice rifle is slightly less condition that it's mate above. This one was done at the same arsenal as the one above. Take a look at the pics! $425.00
Modern Arrivals Consignment 39
Here we have a Belgium Browning in 30-06 that is the High-Power Bolt-action rifle series and this one is the Safari grade with scroll engraving on the trigger guard and magazine door. This rifle is in very good condition with checkering on the monte carlo type walnut stock and some age crazing to the clear finish. No peeling just crazing. . There are dings here and there on the stock as it was used for many years but it is still in very nice condition with no breaks or cracks According to research and the serial number of 2L 164XX this rifle was made in 1962 being a F.N. Mauser Action. The bore is excellent on this 23 inch barrel. The finish on the barrel is excellent with just a little end wear from sliding in and out of a sleeve. The rifle is topped of with a SCOPE brand scope 3X-9X40 Model number 781-010 and is in excellent condition. Also comes with the sling. $950.00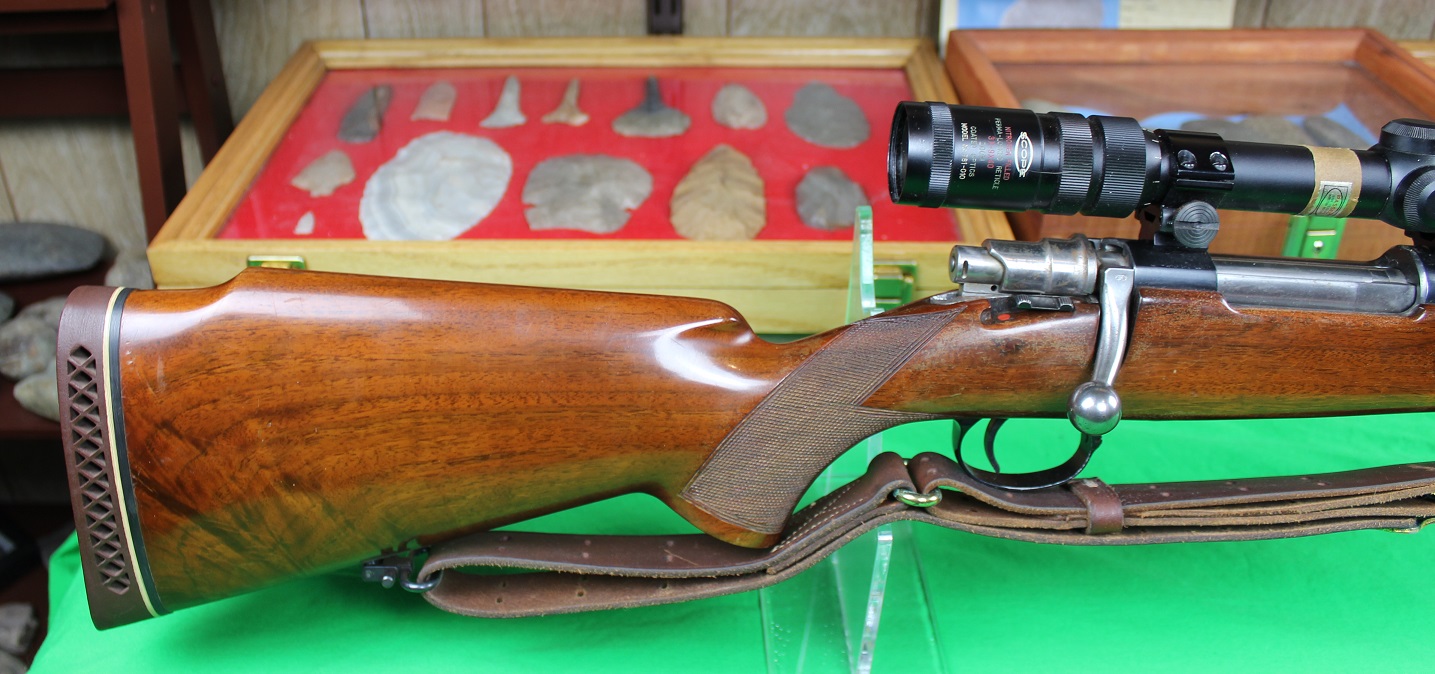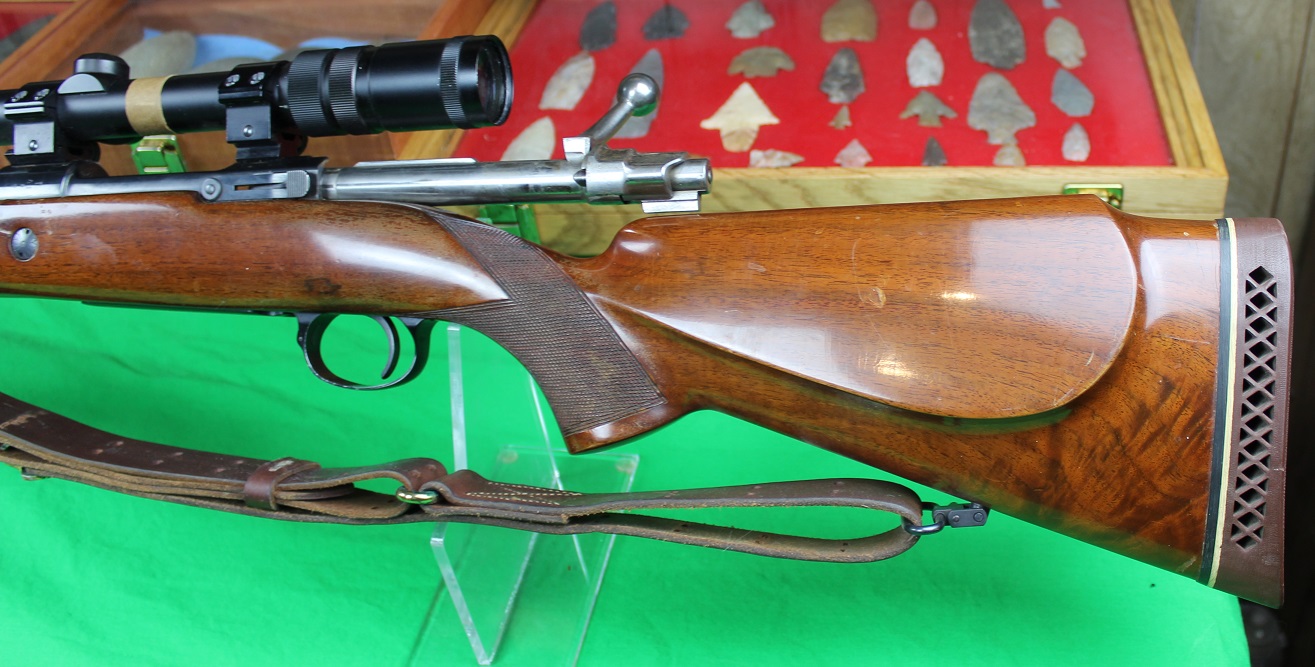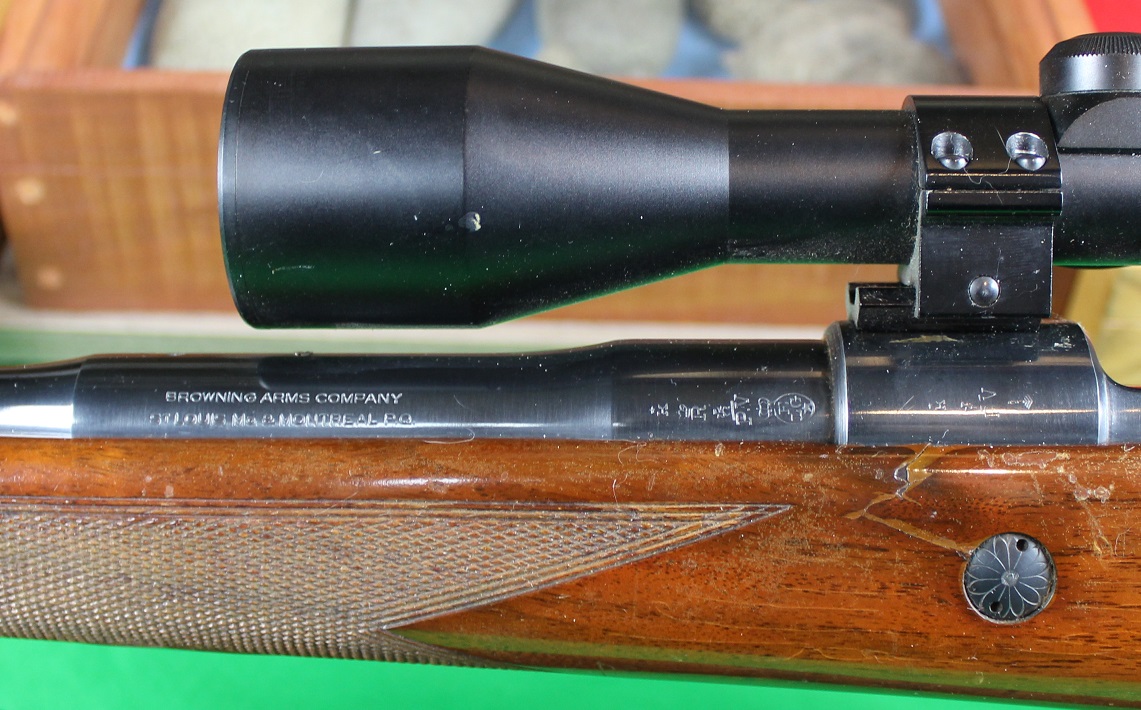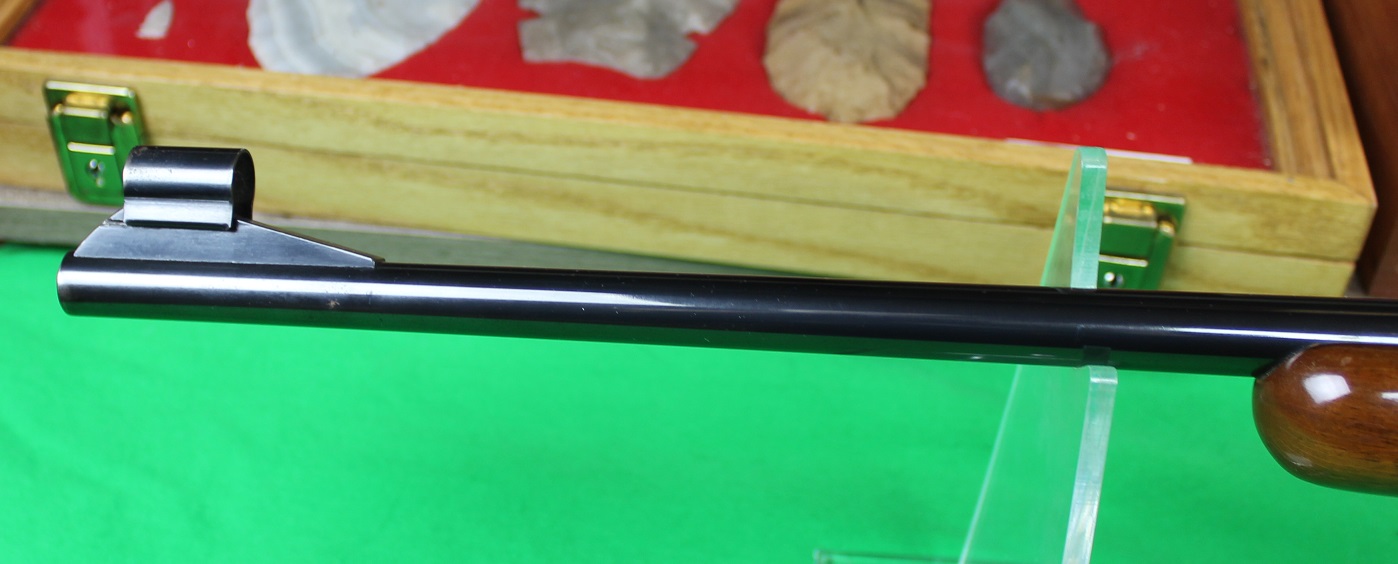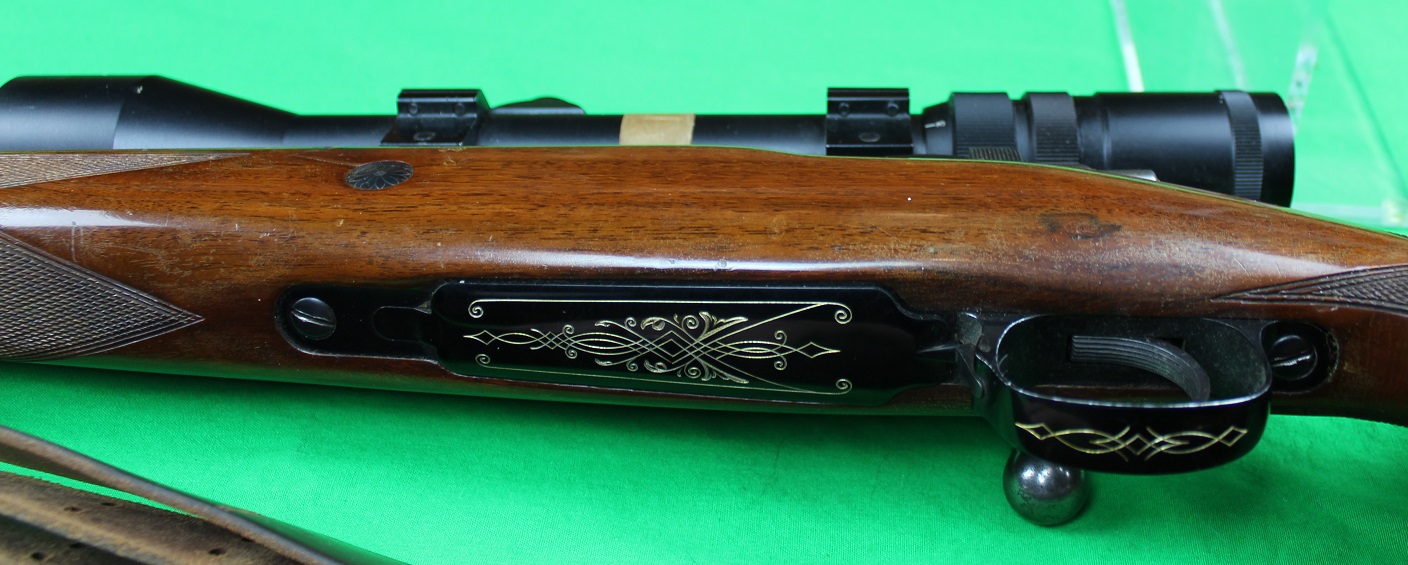 Modern arrivals 7
This last firearm here that came in with the 4 is a Charles Daly Superior II O/U shotgun made in Italy!! This firearm was distributed by Outdoor Sports of Dayton Ohio and made before 1988 I have been told. It is a, 12 Gauge with 26" vent-rib blue steel barrels, 2 3/4" chambers, fixed full & modified chokes, front barrel brass bead sights with a beautiful engraved antique silver finish on receiver, blue steel triggerguard, single selective gold plated trigger, selector on tang safety, beautiful checkered walnut stock and forend with glossy finish, 14" length of pull/ The bores are mirror finish. There are a couple of very minor spots on one area of the barrel that is shown in the pics. Obviously this firearm has not seen much use! Nice! Nice firearm! $895.00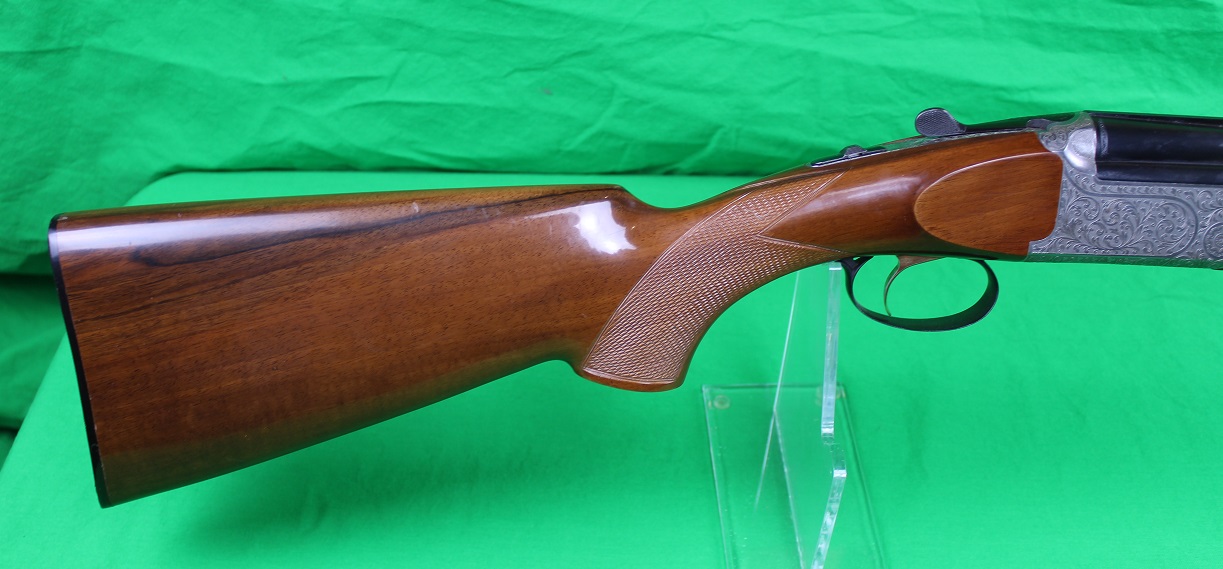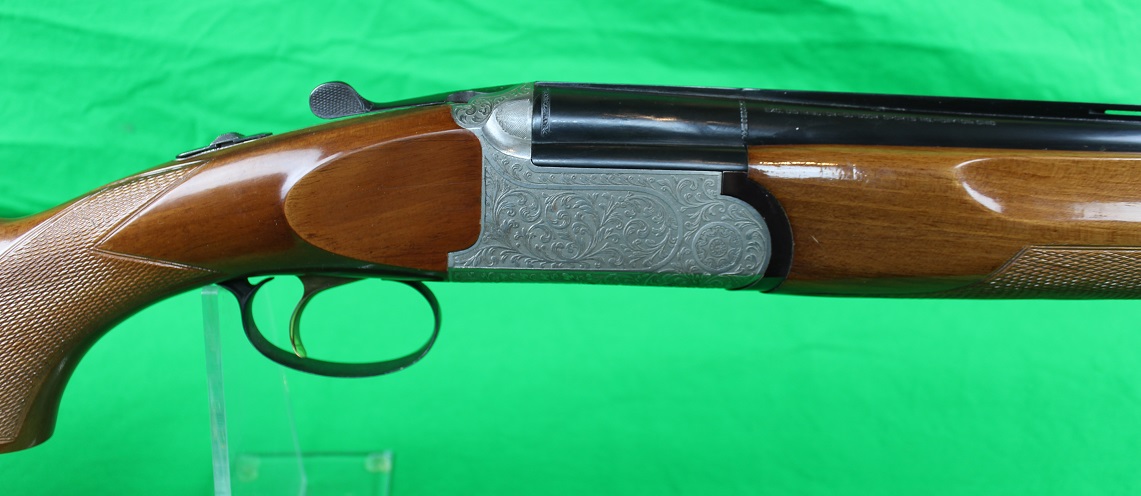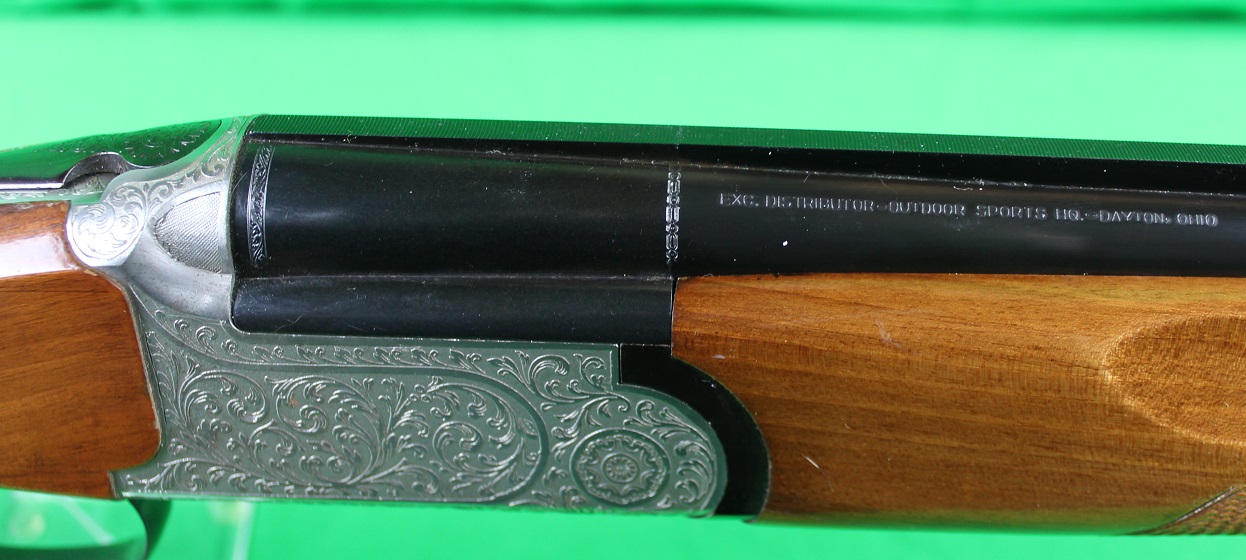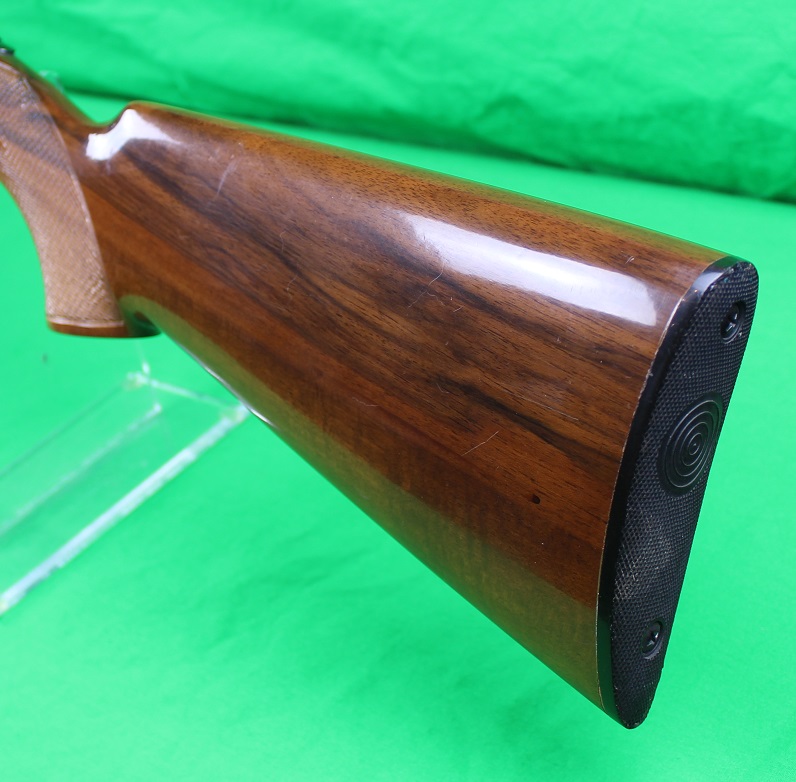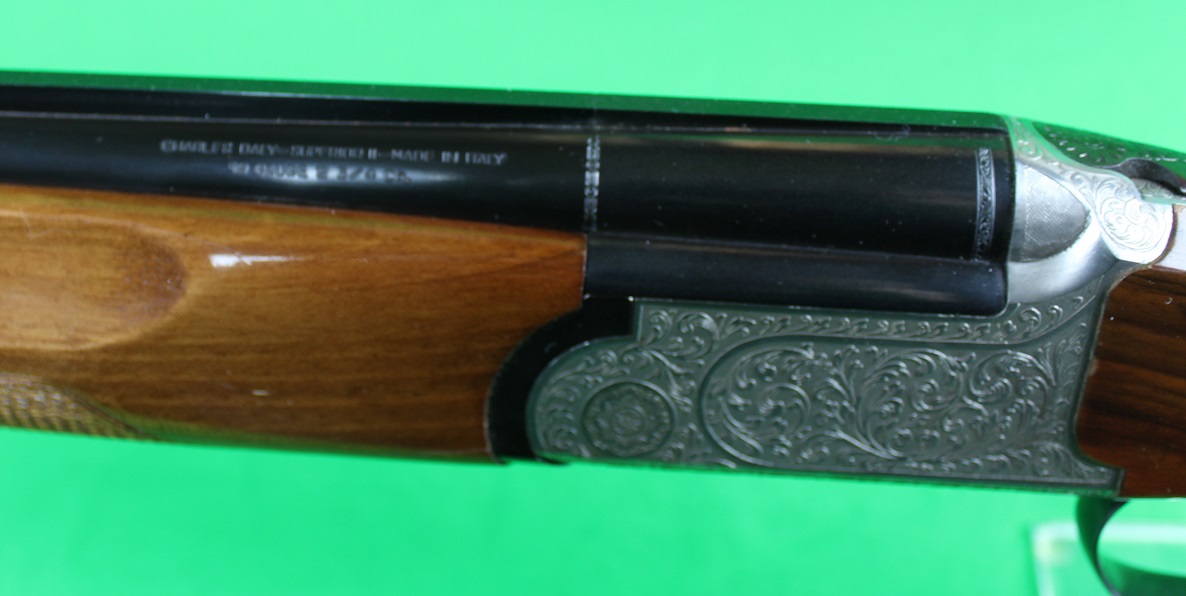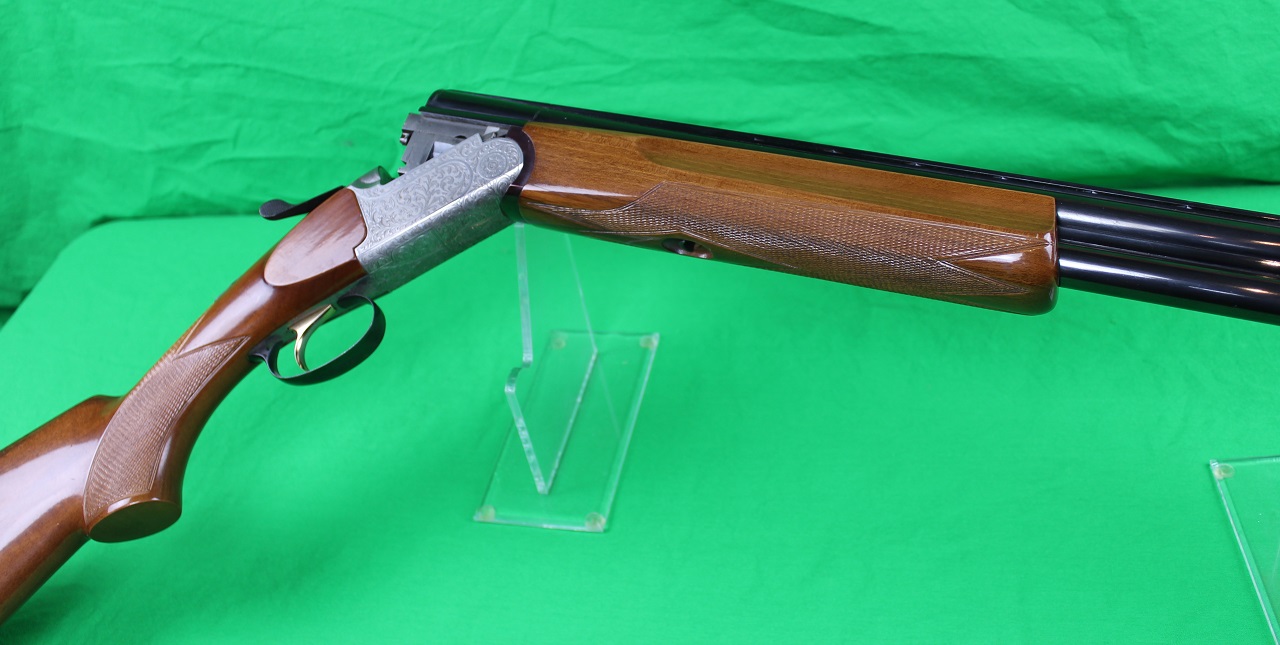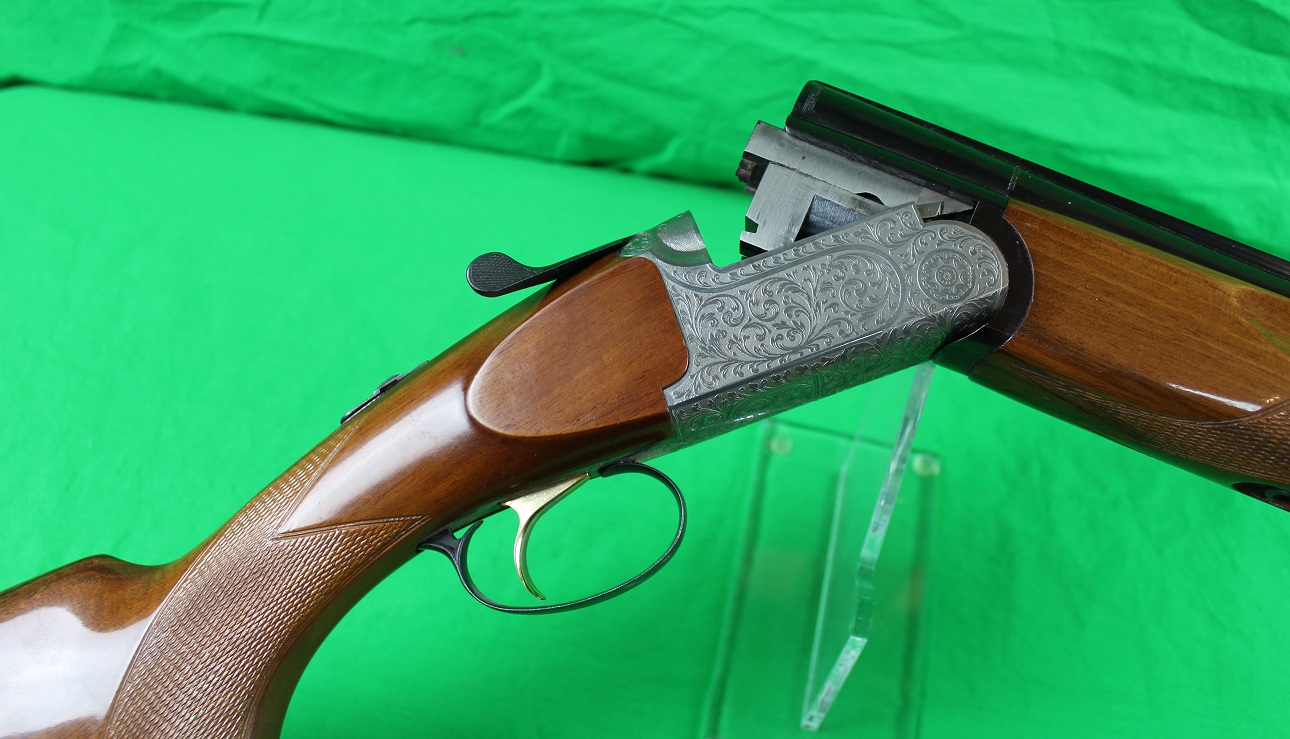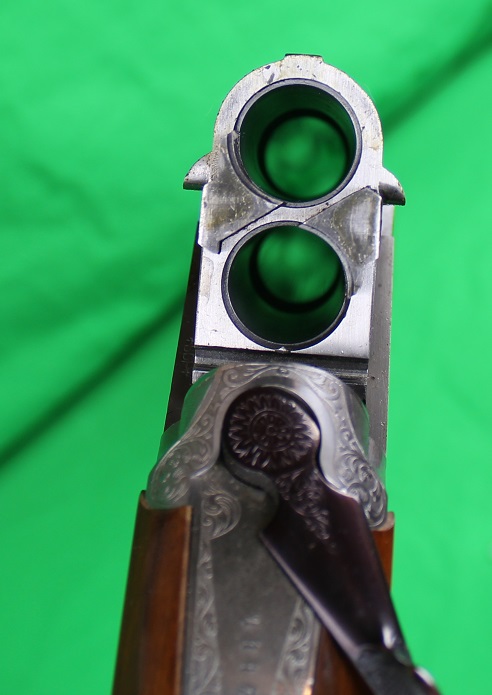 Modern arrivals 6
We just got in a small quantity of AR-15 Magazines in 30 round capacity. We have Magpul 30 AR/M4 GEN M2 rifle magazines in 5.56X45 NATO/ .223 REMINGTON . These magazines are compatible with AR15, M16 and M4. Polymer made in the USA. These mags are new in the bags and are $14 each. ALL POYMER MAGS ARE SOLD. Also we have all metal 30 round magazines in Aluminum made by D&H Tactical out of Wisconsin. Each $11.00
Buy American!!!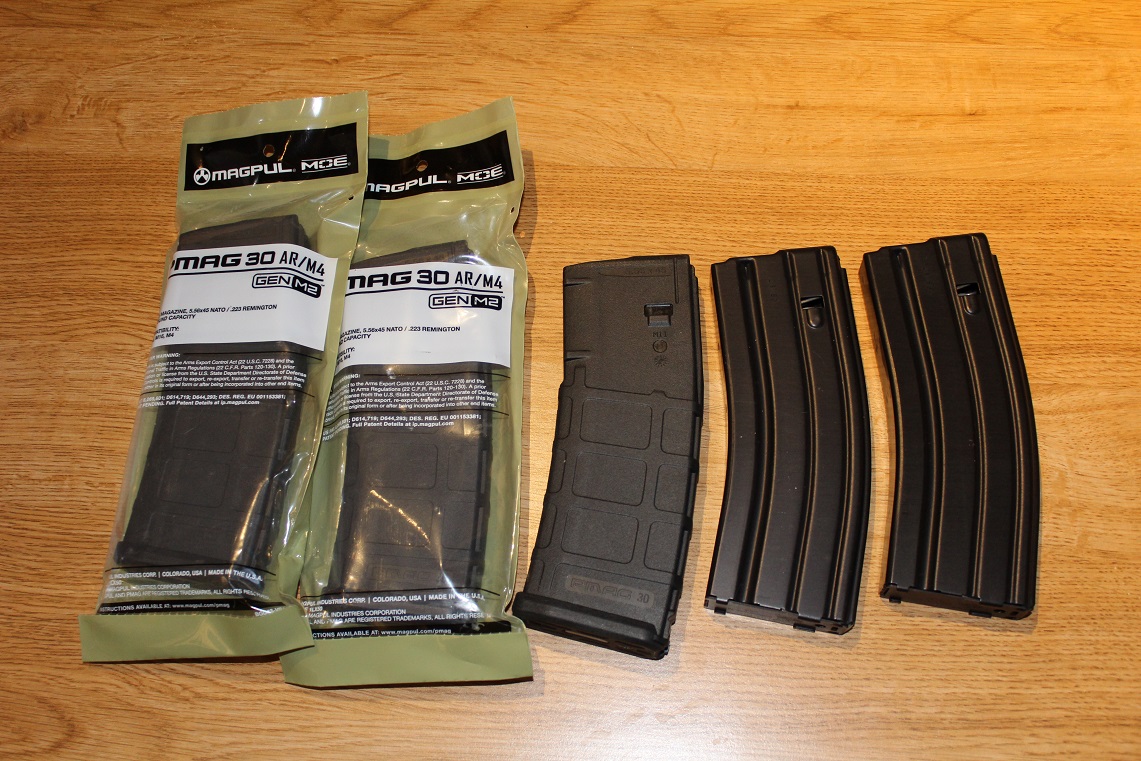 Modern arrivals 4
Here we have a new in the box SnapSafe Modular Vault for storing handguns and other valuables. This box is easy to operate key lock and has a 1500 lb test steel security cable to secure the box to a stationary item. This box is great for providing secure storage at home, on a nightstand, in the car or when traveling. 9 1/2 x 6 1/2 x 1 3/4. Inexpensive basic security for $22.00 Keeps your handguns away from the kids!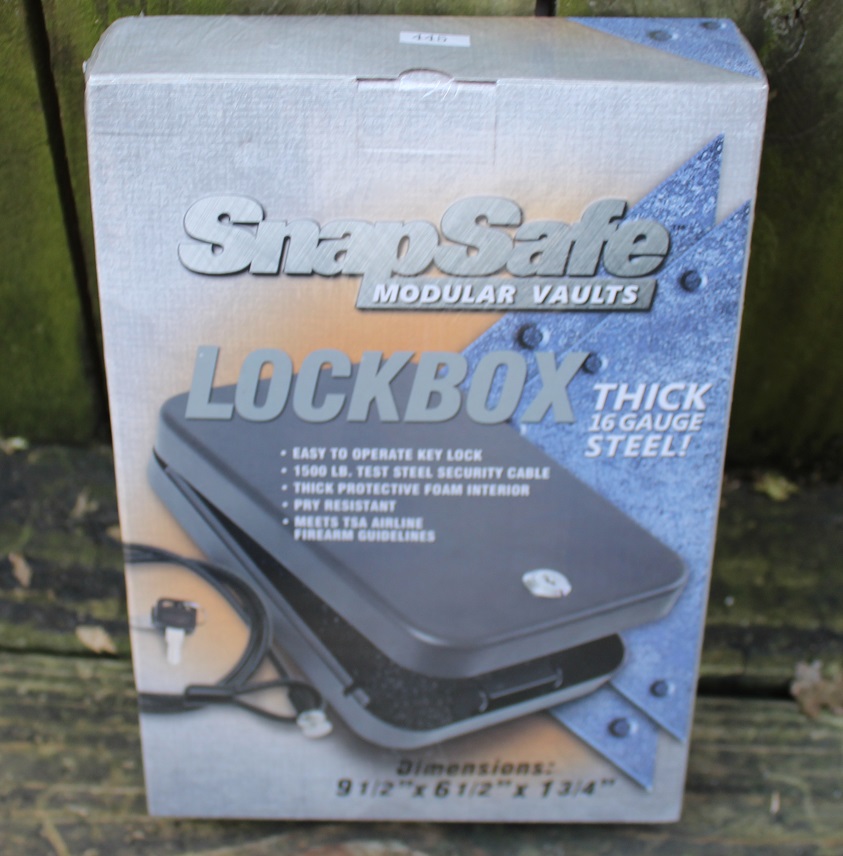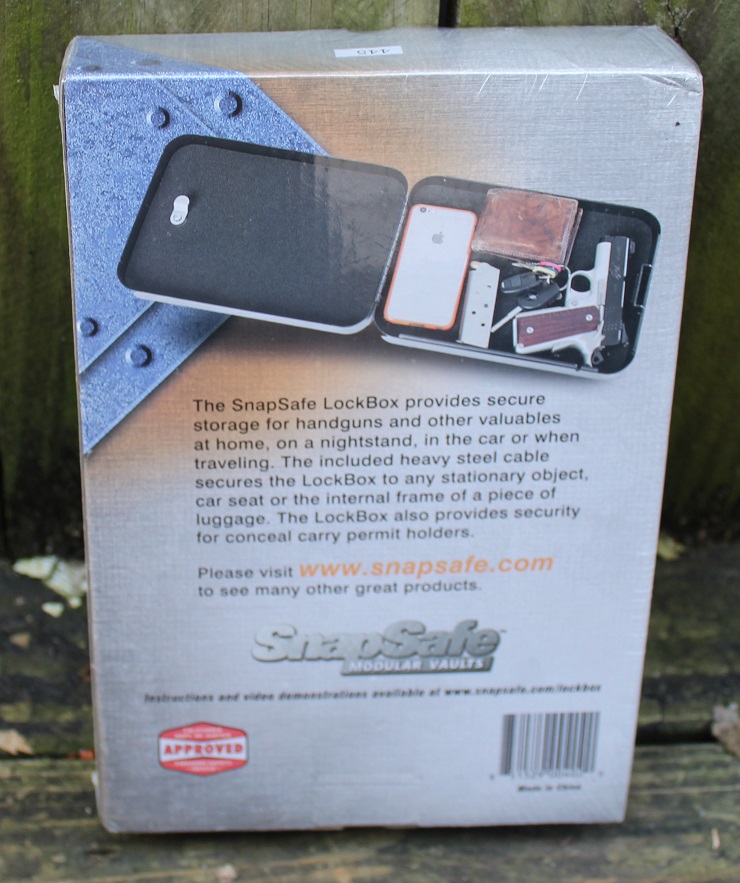 Modern arrivals 1 Consignment
Here we have 4 magazines for pistols. They are:
1. 8 round .25 caliber Beretta Magazine for $20.00
2. FN 6 round .25 caliber Auto Factory original Magazine for a Baby Browning pistol for $50.00
3. Walther PPK .380 7 round magazine for $35.00
4. Walther PPK .380 7 round magazine for $35.00
Anything you like? E-mail me here
Back to mainpage